Top 30 Best Easels for Kids 2023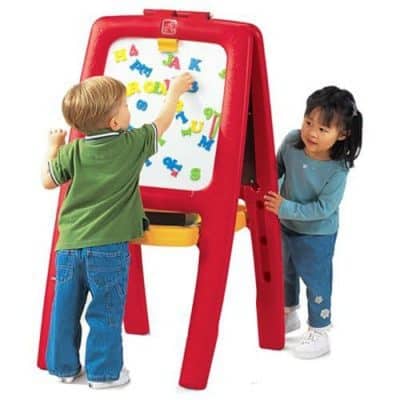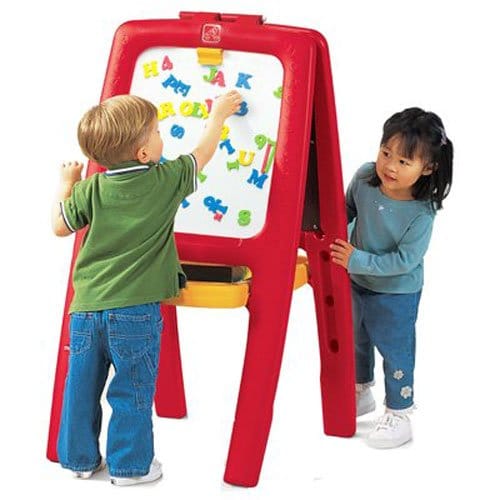 The Step2 Easel features two large surface areas that your toddler and a sibling or friend can use for double fun and creativity. This product features a chalkboard side and a magnetic dry erase board making it an excellent starter choice for the little artist who is discovering the world of art.
Comes with two large boards with one side being a standard chalkboard while the other features a metallic dry erase side giving your little artist a variety of options. Your young one will love doodling on the surface of the Step2 easel and discover the joy of using a variety of media to create artwork.
Additionally, the young artist can use colored chalks and whiteboard markers to express his ideas making it an excellent choice for solo play and play dates.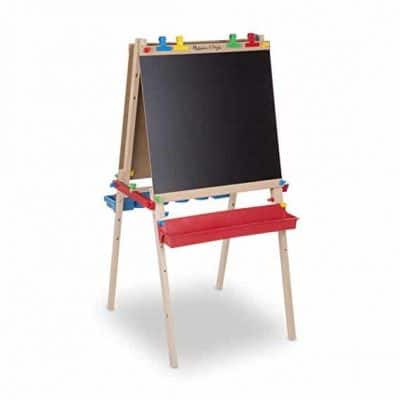 Melissa & Doug Deluxe standing easel is a perfect addition in your toddler's educational toy collection that features a multifaceted construction. It offers a variety of ways that your child can be creative through art while enhancing hand-eye coordination. This product comes with a dry-erase board and a chalkboard on the opposite surface, an excellent choice for an imaginative school play.
This stand-up easel comes with letters and number magnets that will allow the young one to have fun making new words every day. The dry erase board is easy to clean since it comes as a large smooth surface area for the young one who is practicing reading and writing giving him hours of practice.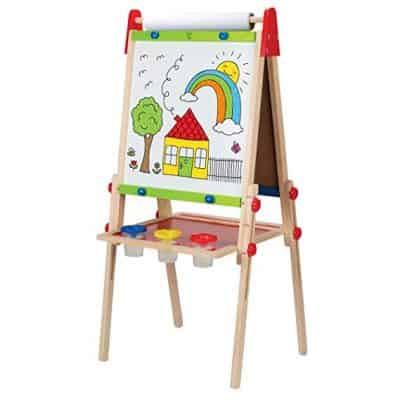 Hape All-in-one wooden double-sided kiddie easel with a magnetic whiteboard side and an erasable chalkboard side explicitly built for a variety of drawing, doodling, scribbling and writing. The Hape All-in-one wooden board is and an excellent choice for kids aged 2 to 8 years. Features a magnetic whiteboard that allows the young one to stick magnetic letters, shapes, numbers, animals and any other magnetic collection.
The budding artist can use the large surface area to tell a story. The large refillable paper roll allows your toddler to draw, write and scribble as much as he like offering hours of fun-filled creativity.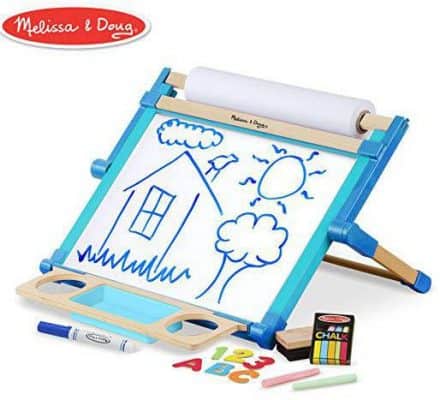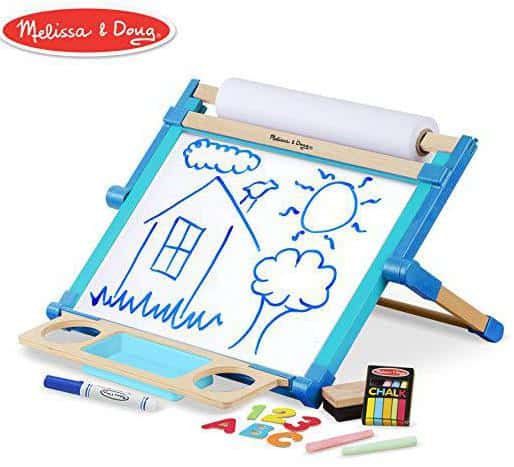 If you don't have space for a bulky easel, this double-sided tabletop easel from Melissa and Doug with a dry erase board and a chalkboard on each side and a built-in paper roll holder that can hold a 50-foot long drawing paper will provide hours of fun to the budding artist. This easel comes with 36 pieces of magnetic letters and numbers that the young one can use to make new words sparkling endless creativity creatively.
The dry erase board features a broad, smooth surface that is easy to wipe and clean specially made for little hands. This 17.5-inch tabletop easel can stand freely on its own so that the little one can doodle on the table or the floor. It features a sturdy wooden construction made from high-quality materials.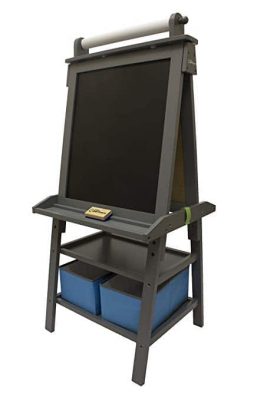 Your child will have endless creative possibilities with the Little Partners Deluxe Easel. It features two-sided boards and drawing paper roll making it the perfect easel for the young artist. This double-sided easel offers your kid with many possibilities. First, your budding artist can pretend play as a teacher and use the chalkboard to scribble or draw.
The second option is the magnetic dry erase board that will allow him to stick all the magnetic numbers, letters and other signs. Another suitable surface that the little one will enjoy doodling is the drawing craft paper which can be attached a sturdy inbuilt paper roll. The easel features high-quality solid wood construction with a non-toxic child safe paint finish with an easy to wipe smooth surface.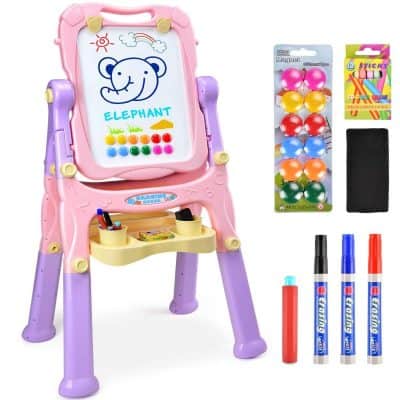 This is an on-the-go art easel with a simple assemble and detach design making it an excellent choice when traveling. Your kid can easily remove the easel from the frame and hold it to draw, scribble or doodle. This portable easel is a 4 in 1 multifunctional board with a magnetic dry erase board, a chalkboard, and two large paper clips for holding craft papers for drawing and painting giving your kid vital development skills.
Amagoing included a quick flip board design on this easel that makes it easy to access when doodling a perfect choice for solo play. Also, the portable handheld technology makes the easel easy to use when standing, on the ground, bed, table or couch.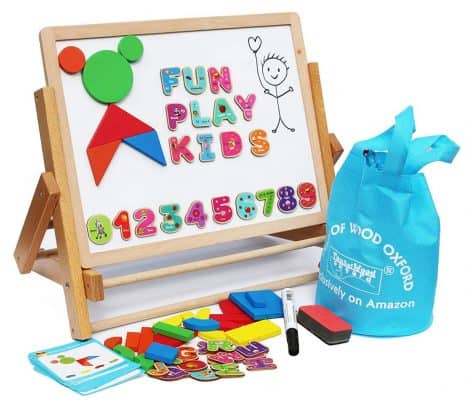 This easel features an easy to put together and store away design with clear easy to follow instructions that include how you can set it apart after use making it an easel that can allow you manage your living space.
Toys of Wood Oxford included foldable double-sided magnetic boards that will allow your budding artist to keep the painting and drawings flat on the surface for a comfortable experience. Besides your kid can use on the adjustable frame, on the floor or the table. The product features environmentally friendly wood with non-toxic paint.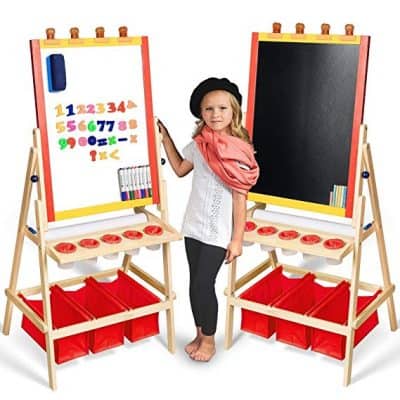 This easel comes with tons of supplies that will offer your kids with unlimited opportunities to express himself in the art world that include the refillable paper roll dispenser, dry erase markers and a set of magnetic symbols.
In addition to this feature, there's an easy to wipe large smooth surface that comes in two colors – black or white. Besides, there are three sizeable waterproof cloth bins that the young one can put all the accessories so that they won't get as well as help keep your floor clean. This product features sturdy wood construction with a child-safe paint finish that will serve the young artist with years of use.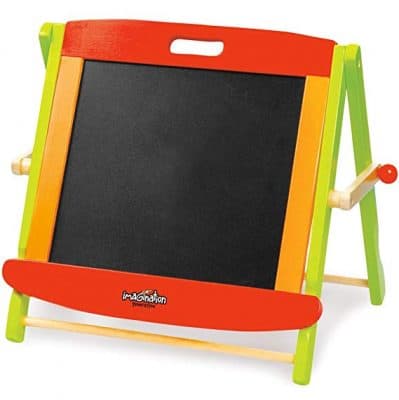 This magnetic whiteboard and chalkboard is a perfect educational toy that offers the opportunity to help your kid develop vocabulary, problem-solving, and motor skills. If you have limited in your home, the Little artists tabletop easel is easy to use on any surface like a table, the floor or on the bed and comes with a writing readiness for beginners.
The product folds flat making it easy to store after use. Your little one will not have a hard time assembling the tabletop easel or setting it apart for easy storage. In addition to this feature, the tabletop easel is easy to clean and wipe with a dry paper towel for easy use the next time your toddler will be playing.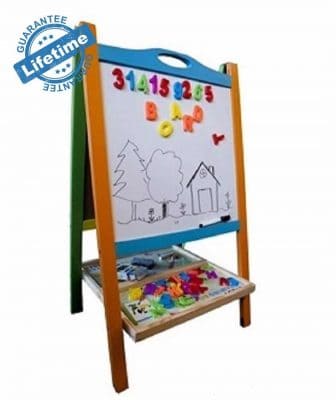 The Elk and Bear easel has an easy to carry and fold flat design that requires no assembly. This standing easel with a double-sided board slotted into a large A-frame stand needs sufficient space to set up and best for use in a daycare, playroom, or preschool. The set features the perfect height that toddlers and younger children can use to express themselves comfortably.
Also, the board features plastic-free construction that is environmentally friendly and best buy for your kid's health. There is a large storage bin that will help him to organize his chalks, markers, pens, and pencils making it a perfect add-on for nurturing organizational skills. The easel is suitable for developing the child's imagination, motor skills, and coordination and problem-solving skills.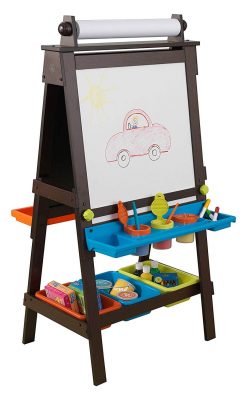 This easel features a bold espresso finish with a chalkboard surface and a magnetic board surface on the other hand that enhances your child's motor skills and open-ended play. The paper roll holder can accommodate 12-inch paper rolls stimulating imagination and hours of fun away from the screen.
Additionally, the color-coded sealable pots will allow the young one to hold paint markers and other artistic utensils keeping then organized to help nurture natural creativity. Along with the board, the set comes with high quality five pieces of colored chalk, an eraser, and other art supplies that your kids will use when doodling.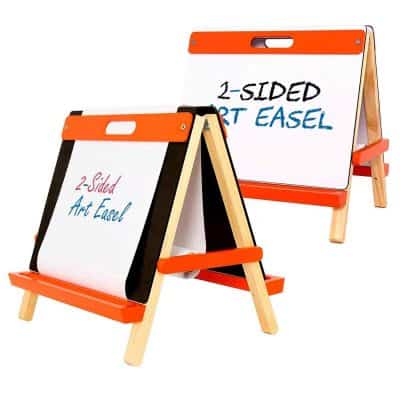 The versatile, high-quality double-sided table top made in the U.S.A features a sturdy pine wood frame and a portable folding design that makes it easy to store away after use. It does not need any assembly making it an easy to use learning tool suitable for young aspiring artists who want to learn how to paint, draw and write.
This 3-in-1 art activity easel features a clank storage tray on the chalkboard side that is usable for organizing the young artist's art supplies when working. The product folds flat for easy storage and portability.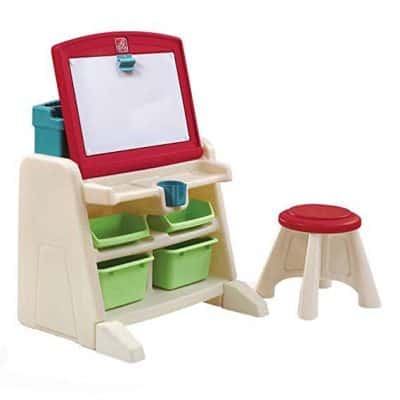 This flip and doodle desk easel features an upright design that can fold down into a desktop with huge inbuilt storage trays for holding craft materials to keep everything well organized. The set comes with a full working surface for all types of storage. Besides, there is the rare storage area can hold books encouraging reading and cognitive skills development. Step2 also included a magnetic dry erase board and a comfortable stool for working.
The product features minimum adult assembly making it the perfect easel for use in a playroom, bedroom or a reading corner in your home. There's also a large clip included in this product that helps to hold up drawing papers.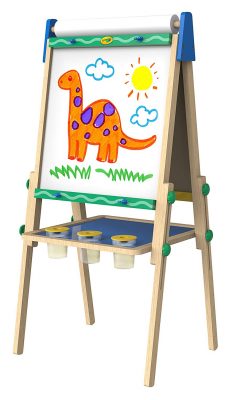 This product is suitable for kids aged four years and up. It includes two side broad usable surfaces – a magnetic dry erase board, a chalkboard and large paper locking clips that hold the drawing papers you're the little artist is drawing, writing or painting. The wooden easel features an adjustable height that your kid can grow with from the toddler learning stages for limitless activity.
In addition to these features, there's an inbuilt paper roll dispenser and an ample storage shelf that keep your kid's craft supplies organized. This multifunctional easel must assemble with the help of an adult. It features a simple to assemble design that comes complete with all fittings to help the budding artist harness their artistic skills all day long.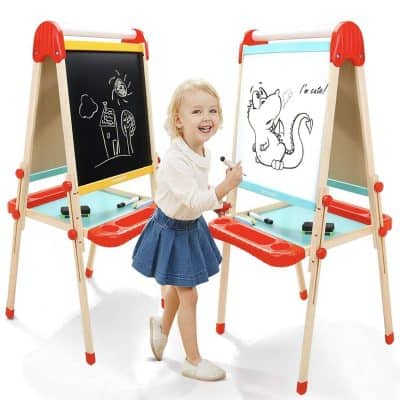 The 3-in-1 easel provides a variety of artwork for the young artist in the making with a child-specific screw and non-slip foot design that holds firmly on the ground for better grip when using. The adjustable height helps you to customize the height as your kid grows and an excellent gift for raising kids.
Additionally, there is a sturdy tray that the budding artist can use to keep all the accessories safe and near him while working. Top Bright included a functional, robust paper roll holder. The product is suitable for use with kids aged 2 to 6 years. This multifunctional easel comes with an easy to set up design which you can place at a corner in your house and a full range of accessories. Whenever your little artist is done using the easel, you can fold it easily and store away.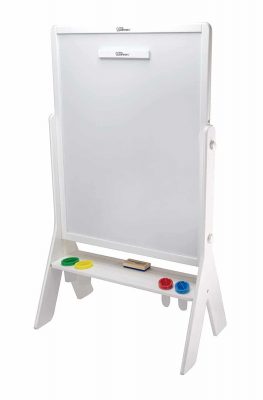 This extra large double-sided wooden easel features an adjustable writing surface provides your child with a large working area for creative and educational experiences. The large wooden magnet included in this product holds papers and pictures in a place where your little one can get all the learning instructions while the durable chalkboard eraser provides quick cleaning.
There are four non-spill paint cups and a storage bar that your kid can use to keeps the art supplies organized. The product is available in soft white and earl grey colors with an easy to setup design.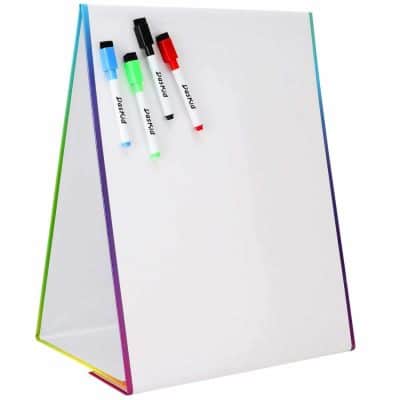 The two-sided magnetic whiteboard easel is an excellent choice for children aged three years and up. The board allows the young one to use magnetic letters, numbers, and toys for fun and interactive time away from the screen. Daskid tabletop easel is versatile and features an easy to fold and store away design for easy portability and storage.
The magnetic surface will open up many opportunities that your child can creatively learn and play by sticking numbers and letters on the easel from word and sentence building to alphabet recognition. Also, the easel features a stand-alone design that gives the budding artist a head start on basic concepts.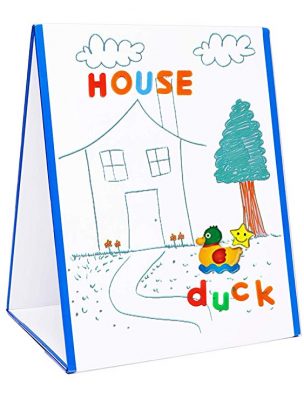 The Edukid dry erase whiteboard features two side magnetic boards for easy table fun perfect for writing, scribbling, and drawing. The little one can use it to stick magnetic letters, numbers, and animals for hours of creative fun and learning. The tabletop comes with a large surface area for working and folds flat for easy storage a practical, portable toy for educational purposes.
Additionally, the folding easel would make a perfect gift for children aged three years and above for fun art projects. It also wipes clean for repeated use and hours of creative play.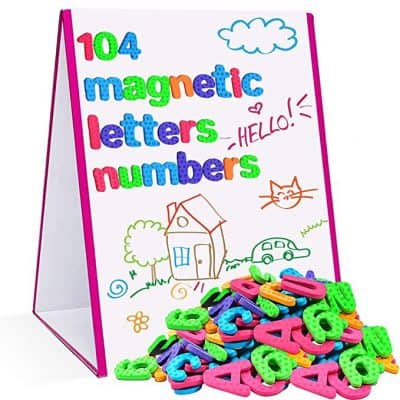 The magnetic dry erase board is a self-standing easel with an easy to fold design for storage and portability. It comes with 104 magnetic pieces that include uppercase, lower case letters and magnetic symbols for sentence building and math skills. Also, the young scholar can use this large surface board for writing, drawing, and scribbling. The product is a perfect choice for kids aged three years.
A good easel must be able to withstand the creative quests of kids of various ages. Star Right easel features durable construction that will last a long time to come. The easel wipes down easily for repeated use every time.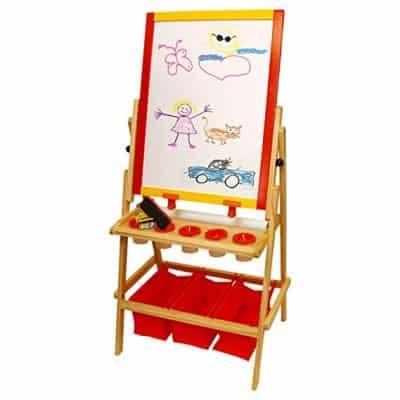 The versatile easel with a flip-over double-sided design can accommodate all your child's learning needs. It features an adjustable height to provide learning for children of different ages making it an excellent choice that your child can grow with as he continues to explore the creative side.
The easel notably features a built-in extra-large clip on both sides perfect for securing drawing papers. At the bottom of the easel, there are three large bins and a tray for keeping your kid's crafts and materials organized. The no-spill paint cups prevents spills on the floor providing a mess-free fun and educational time.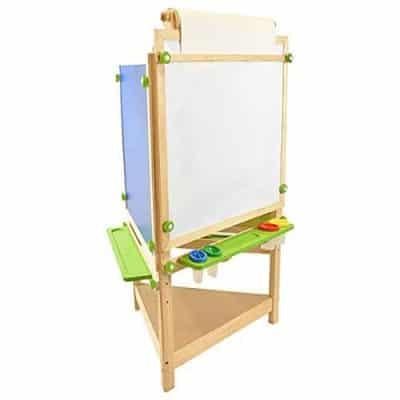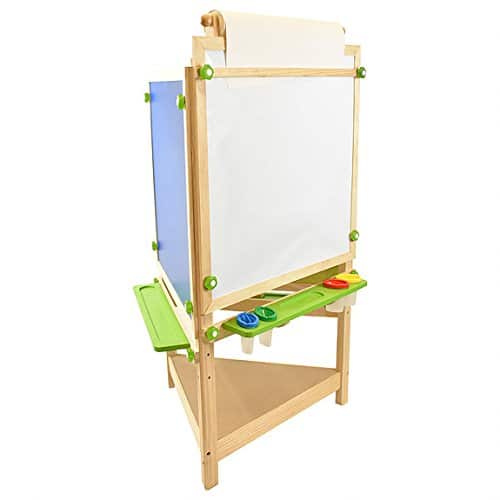 This versatile easel features three sturdy sideboards within a triangular frame with a chalkboard; magnetic erase board and a felt board that provides endless artwork creations and learning to the young one. Some easels feature a built-in paper roll while others use a clip to dispense papers. The paper roll holder is a bonus feature in this easel. Once all the drawing papers are used up, you can buy more supplies.
This tri-side easel notably features an adjustable height that and an extra-wide large base where the kid can keep all his artwork supplies for better organization and easy reach.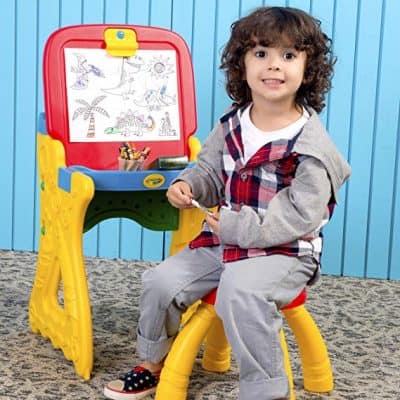 The multipurpose easel features a large chalkboard surface for drawing and writing with a brightly colored desk where the young artist can comfortably workout his art creations. Crayola included storage areas where young one can store the art supplies as they discover their budding talent.
The easel includes a sturdy clip for holding drawing papers like coloring pages where your toddler can work. Also, the chalkboard comes with an easy to assemble and set apart design for portability and storage.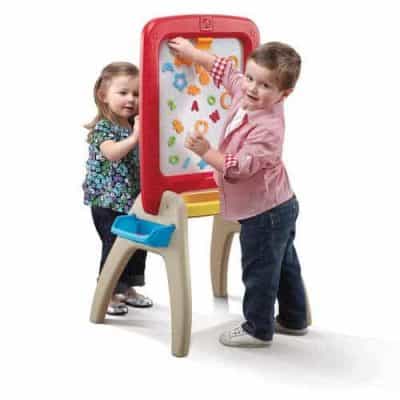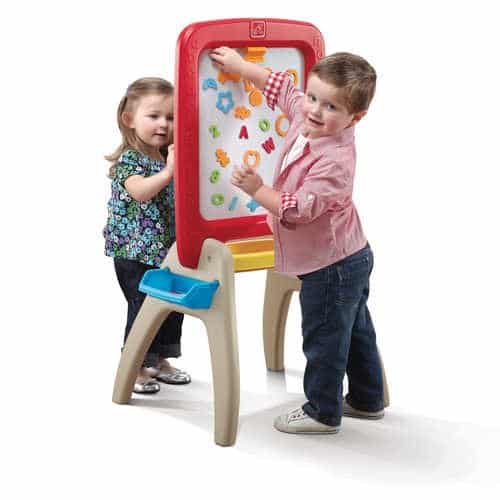 This easel is the perfect gift for a beginner artist. It features a multifunctional design with a dry erase board and a chalkboard suitable for toddlers who have begun the journey of discovering their artistic skills. It's a fun toy to use as a solo player and even more exciting for play dates.
The set comes with 94 non-toxic foam magnets and two removable sturdy, deep plastic trays that also come in handy when storing art supplies when the young one is working to keep them within reach. Step2 All Around easel is available in three colors; red, yellow and tan.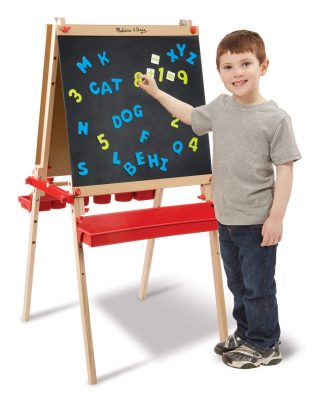 The Deluxe double-sided standing easel features high-quality standards suitable for kids aged 3 to 8 years. The art easel notably features sturdy wooden construction with a magnetic dry erase board and a dry erase board that make it useful for drawing, scribbling, and writing that sparks creativity.
This product comes with a locking paper roll holder that also includes mounting of 12 or 18 paper rolls. There are two removable art supply trays that the budding artist can use to keep his supplies organized and easy to reach.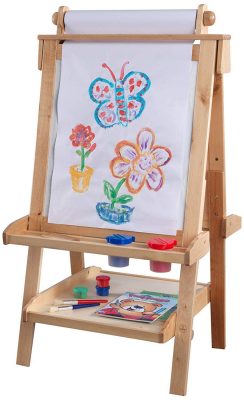 The multifaceted easel features a durable wooden frame construction from natural materials and spill-proof spill paint cups to keep the floor mess-free and clean every time.
This KidKraft Wood easel also features a double-sided design that sets the stage for the inspiring young artist. The product comes with a foldable design for easy storage when not in use. In addition to these features is a large paper roll dispenser for easy refill.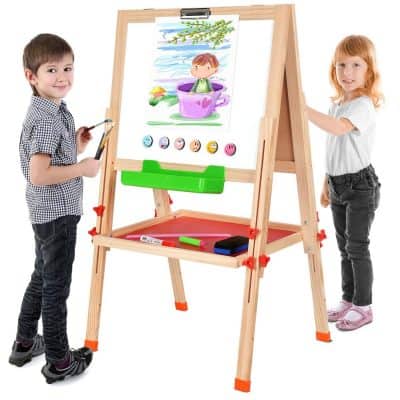 The Battop easel comes with endless creative possibilities which offer the budding artist freedom to experiment with the various features included in this product. The drawing board is an excellent choice for toddlers ages 3 to 12 years old.
The Battop is a versatile multi-functional double sided easel that allows the young one to free-form expression. The extra large chalkboard will give your child the freedom to spend hours doodling, sketching, drawing and scribbling. The Battop double sided easel comes with a robust, durable construction while the extra-wide stance gives it additional stability for use by the little hands. New Zealand imported materials are durable and long lasting.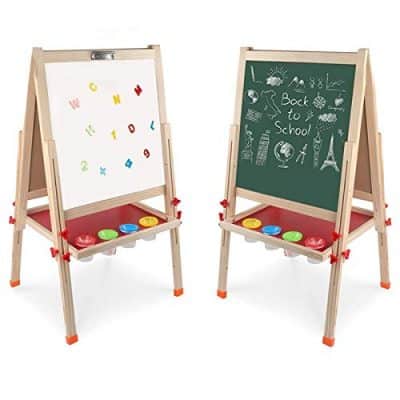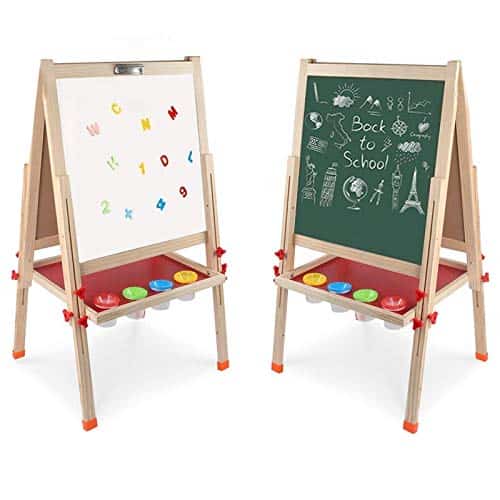 This unique easel comes with solid wood construction, 52 pieces of colorful magnetic letters that includes numbers and letters. Beneath the Arkmiido boards are four painting cups and a large, sturdy tray that hold your toddler's art supplies like brushes, paint, markers, chalks, and erasers for easy reach so that they'll not be rolling everywhere.
The Arkmiido double-sided easel features sturdy material construction that is safe for use by the little hands. Also, the easel features a fully adjustable design for different height levels for the best artistic experience. There are two large clips at the top of the easel for holding painting and drawing craft paper.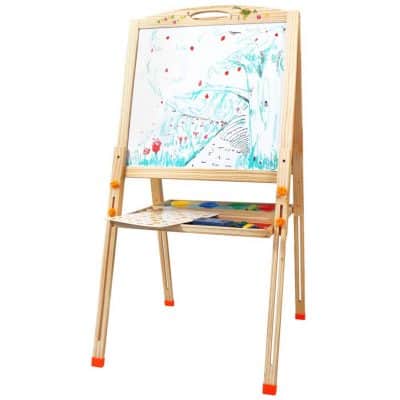 The Fajiabao wooden easel is easy to assemble and set apart making moving and storing hassle free. In addition to this feature, the easel has an adjustable height making it an excellent starter choice for beginners who are exploring artistic skills for the first time. This product features a scratch-resistant smooth whiteboard surface that improves the finish and aesthetic beauty.
This multifunctional easel features natural wood construction with smoothened edges safe for use lighting up your child's talent, cultivating hand-eye coordination, imagination and creativity skills.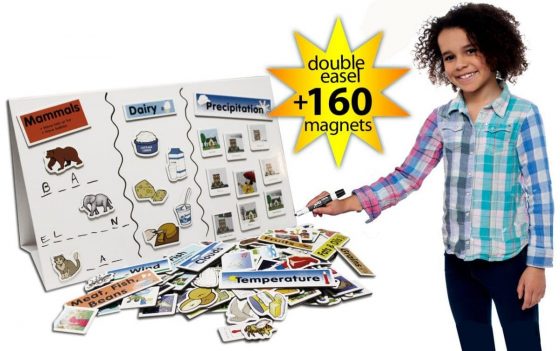 This educational toy features a large working area and 160 magnets making it an excellent gift for kids aged three years and above. This self-standing easel from Childcraft features a lightweight design and folds flat for portability and easy storage. Besides, the magnets include a wide range of topics that will allow the young one to learn a variety of subjects.
When you purchase an easel, you must be ready to put up with a decent amount of mess. The little one will draw and paint on it, and therefore, it's vital that you're able to clean it quickly. Unlike wood and plastic easels which are a little difficult to clean, this tabletop magnetic easel is comfortable to wipe and clean.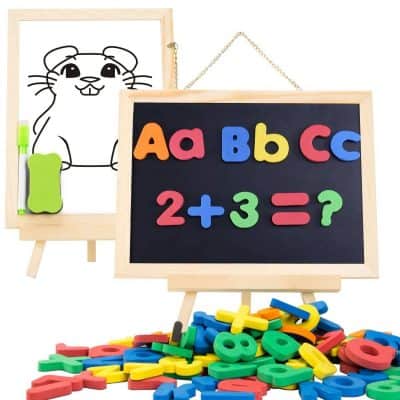 TEPSMIGO is an educational dry-erase whiteboard chalkboard for toddlers and an excellent choice for kindergarten children, playschool and home use. It features non-toxic soft foam letters and numbers with eco-friendly materials for safe use with the little one.
Once you've assembled the easel, you expect it to be easy to set down. A good easel should have features that will allow you to take it apart quickly, fold it and store away when not in use. This easel folds flat for easy storage making it an excellent addition in your home.