Some of the best baby dolls are very lifelike. Kids can make learning the basics of dolls and baby care simply by playing with them. From putting dolls to bed to feeding or taking them out for a walk, there are a few types of activities that kids can perform with dolls. But not all of them are the same. Some dolls come with accessories such as different clothes, bottles of milk or other baby products. But most importantly, the following dolls can be an inspired gift for kids to cherish for a long time.
Top 30 Best Baby Dolls for Kids & Toddlers 2020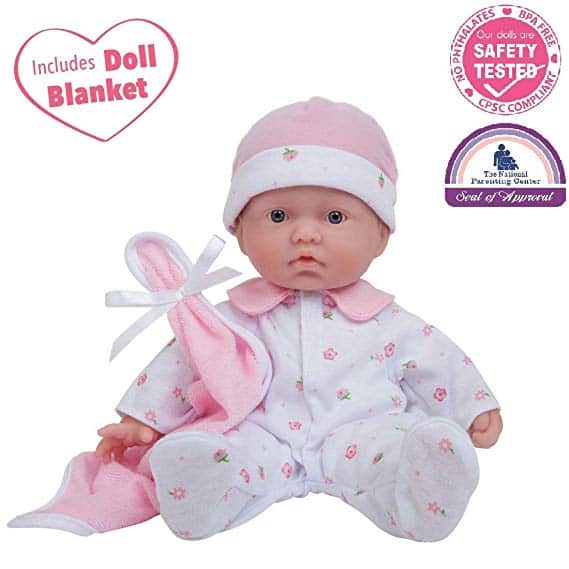 The lifelike play doll comes with a size of 11-inches so that it is easy to carry around. Made from safe materials which also look realistic, the play doll can easily occupy the play time of the little ones. Made with no moving parts such as eyelids, the doll is actually one of the durable options.
La Baby is available in multiple ethnicities. Kids can use the doll with the ethnicity representing them. The safety elements are the same on all dolls. Its materials are actually free from fragrances. Even more, keeping the doll clean proves important in the long run. It's why the doll can actually be hand washed.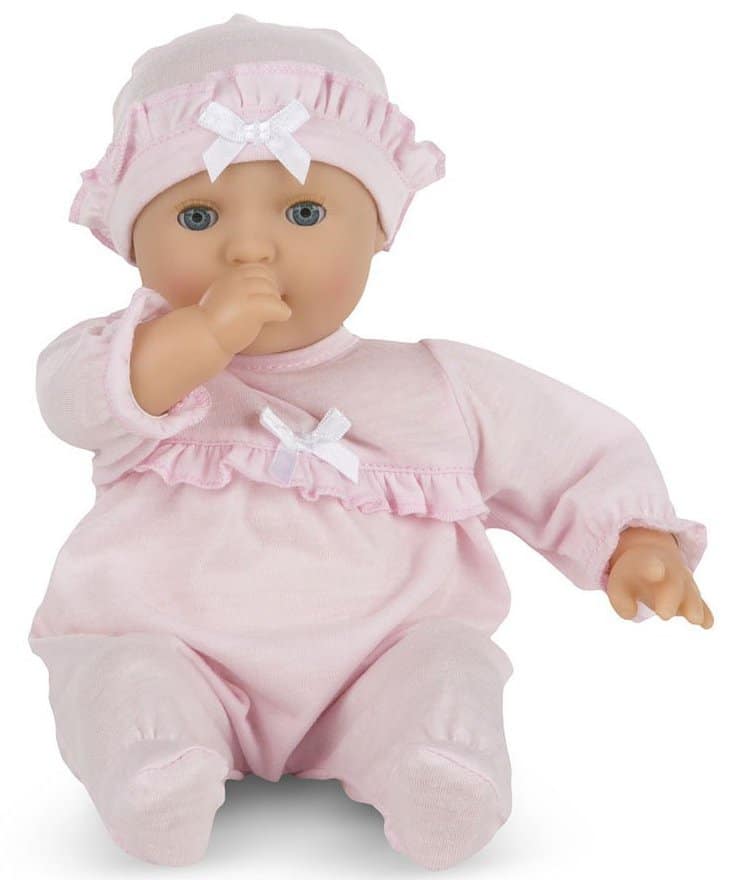 Made with realistic baby cheeks and eyes, the doll is recommended for kids 18 months and up. At 12 inches, it is considered small and it is easy to carry as a result. In usual circumstances, it's available with the Melissa & Doug branding on the clothing. But the doll is also available in a personalized name version.
The doll has a small but popular list of features which might make kids even more connected and willing to interact with it. The cap it wears can be removed and its arms can be wiped clean. At the same time, the closing eyes of the doll can be handy when rocking it to sleep. With cute baby cheeks, the doll is one of the realistic designs kids can relate to and improve their imagination as well.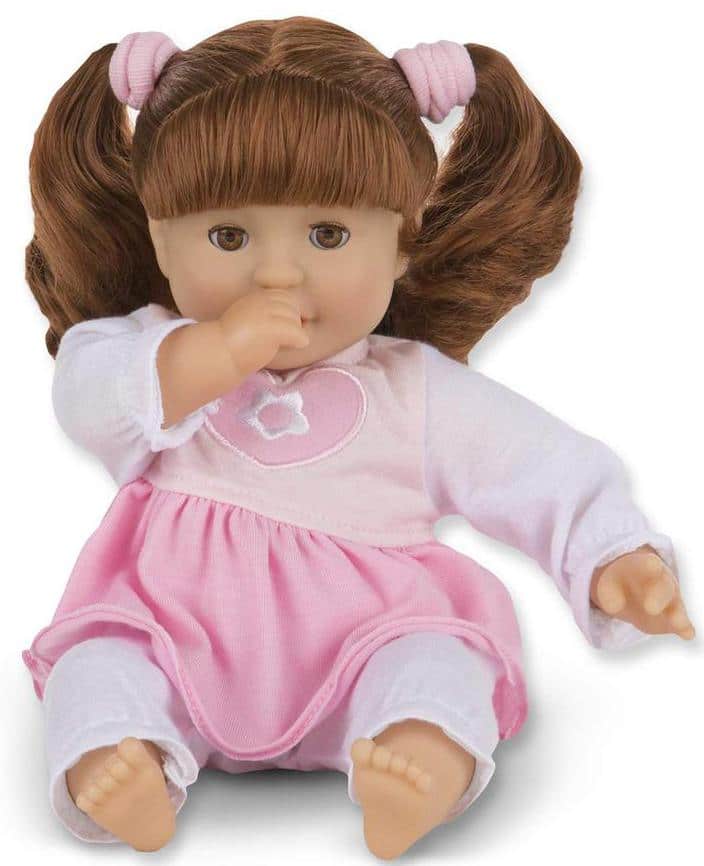 As one of the dolls which comes with changing hairstyle combinations, Brianna is ready for a bit of attention from kids every day. The hair can be arranged in different styles but the doll also features other characteristics. For example, it comes with closing eyes and a mouth which is always open. This is why kids can feed the doll daily.
The clothes of the doll can be removed and changed. Although there are no second outfits shipped with the doll, parents can still purchase them separately. A feeding bottle could also be purchased separately. Made from squishy materials, the doll is also held comfortably by kids and it represents a viable solution for hugs every day. As expected from the manufacturer, it also comes with a size of just 12 inches.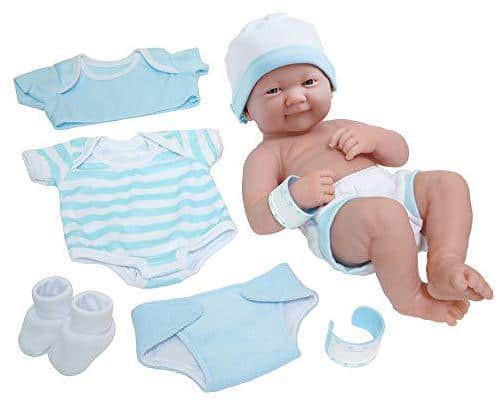 The doll comes with a full set of accessories which make it one of the complex options in its class. With a size of 14", it is not the smallest doll but it has realistic features. It is why parents can also use it to make their kids better understand their future brothers and sisters.
The outfit includes a hat, a t-shirt, bodysuits, boots, a diaper, and a diaper cover. It has been seen as one of the true options to make kids understand more about future brothers and sisters and this is why the doll even comes with a hospital bracelet. The 8-piece set is also useful to get kids into learning more about carrying and playing with babies.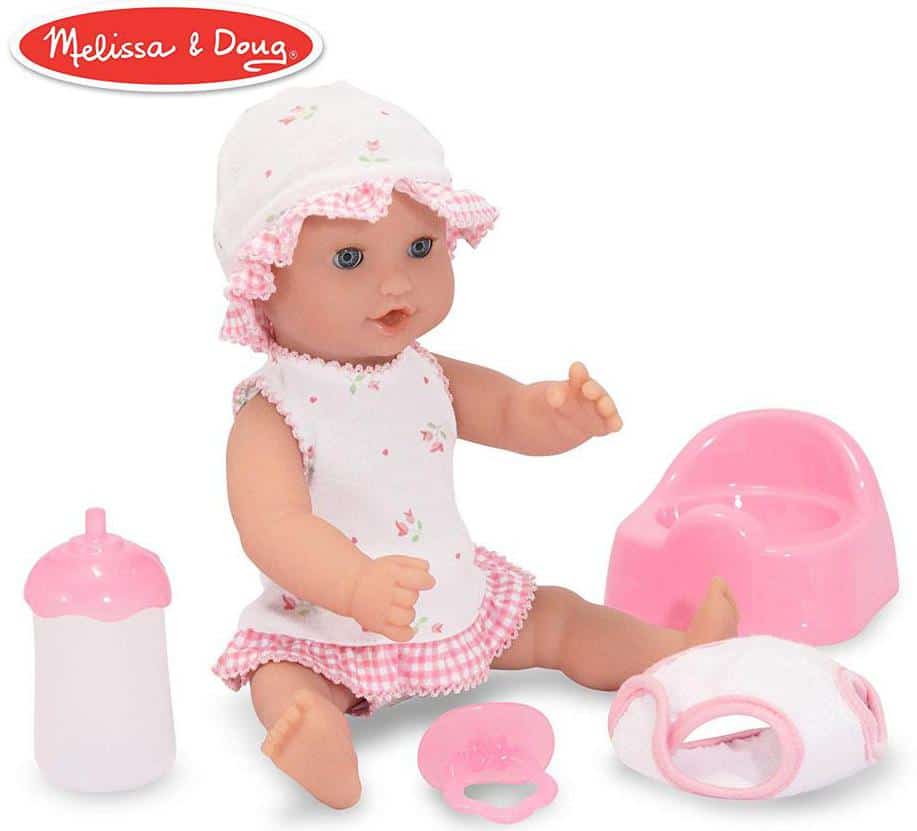 Made with high-quality materials such as clothing resistant to frequent use, the doll is perfect for potty training. Based on the concept of drinking and sitting on her own potty, the doll can come as an educational tool that kids can learn from.
Shipped with various accessories, the doll is among the simplest designs to make kids understand potty training. She also comes with eyes which open and closes as well as with a pink pacifier. When the potty time is over, children can her diapers with the help of the self-stick tabs. Dressed in a charming outfit with a matching bonnet, the doll is suitable for kids between the ages of 3 and 6.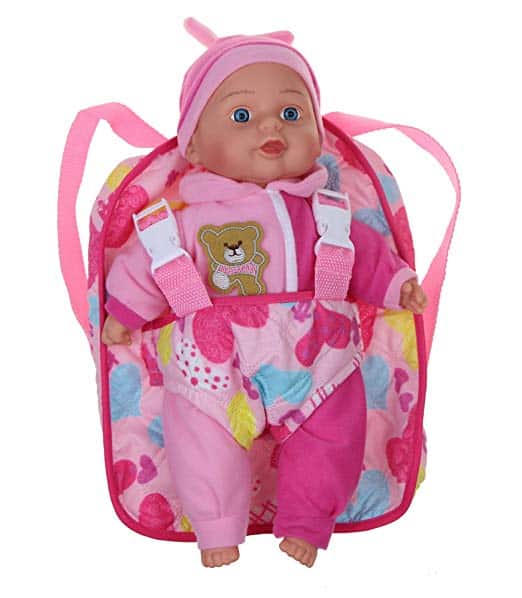 In a combination with a backpack, the doll is one of the few options girls have when it comes to travel. Instead of carrying the doll to places like stores or parks, kids can simply place the doll on the backpack and have it with them at all times.
There are a few instances where a doll carried around might also be more than just a toy. Dolls to Play acknowledges the positive aspects of actually carrying a doll around and playing with it from a psychological perspective. With a real alternative to video games, the doll can actually play its role in effective child development. Physical touch has also proven vastly superior to video games in terms of emotional development. The great part is the 12" doll can be carried around easily with all of its accessories in the backpack.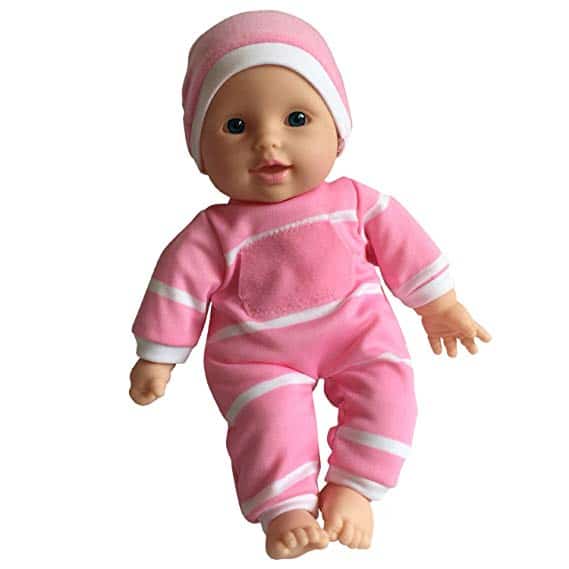 Available in 4 styles, the comfortable to hold toy can be an inspired gift idea. With a pink body outfit and a pink bonnet, it looks as cute as kids would imagine. But it also comes in other colors and ethnicities which can make it a custom option for girls of all ages.
Kids can use the doll to learn how to properly hold a baby. It is why so many parents are actually using such dolls to get their kids to learn more about babies and how to care for their siblings. At the same time, the doll offers an imaginative solution for play time. Since it is made from durable materials, it also represents one of the simple and efficient designs in terms of child safety as it has no small parts to worry about. Kids above the age of 2 can play with the doll.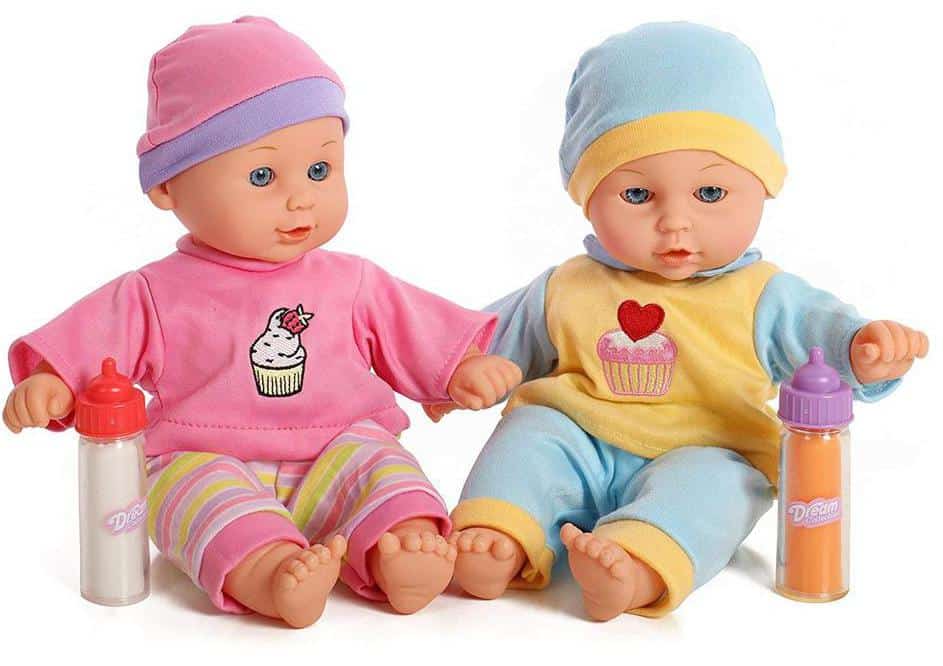 There are not too many twin baby dolls to consider. This is why Mommy & Me Doll Collection is one of the top solutions for kids who want or who need to understand more about twins. The 12" soft dolls are perfect for kids who want to enjoy better play time as well, as it is not all about learning.
With a 3-piece outfit, each doll can offer a more realistic experience for kids to enjoy. Parents can also purchase additional doll outfits from any leading brand to offer their kids a special gift and a great alternative to gadgets.
With included feeding bottles, kids can even ensure the dolls are properly fed at lunchtime. Of course, there is no actual liquid in the bottles and they are colored just so it looks like there is. Nicely packaged, the dolls also represent a great gift idea.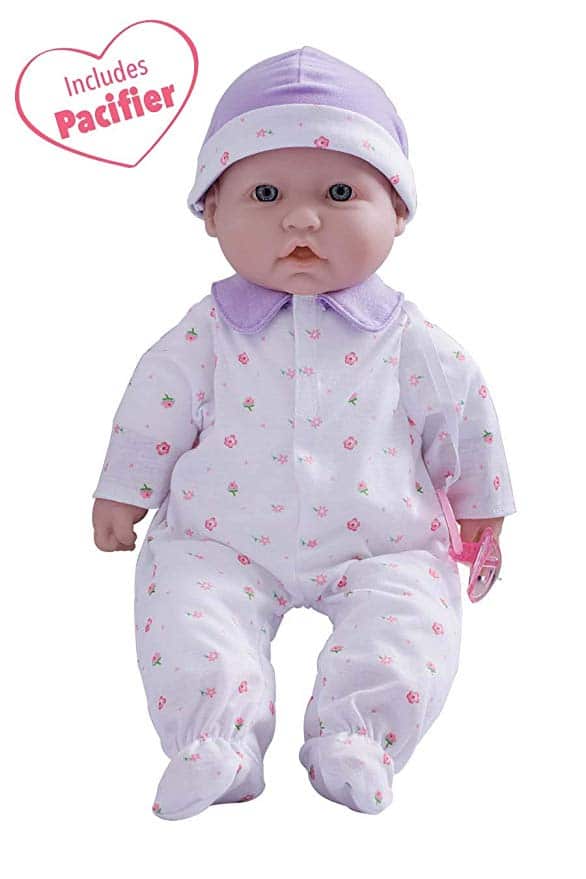 As one of the larger baby dolls, JC Toys' design is slightly larger than what can be found from similar brands. At 16", the doll is not too large and neither too small as it is actually one of the best in class. Dressed with a washable outfit, the doll is truly one of the leading options in its class for customization.
With a soft touch vinyl design, the doll is perfect for all day hugs. As many kids expect from the manufacturer, the eyes remain open as well. The lifelike doll is one of the true designs to make kids more aware of how babies are handled as a result.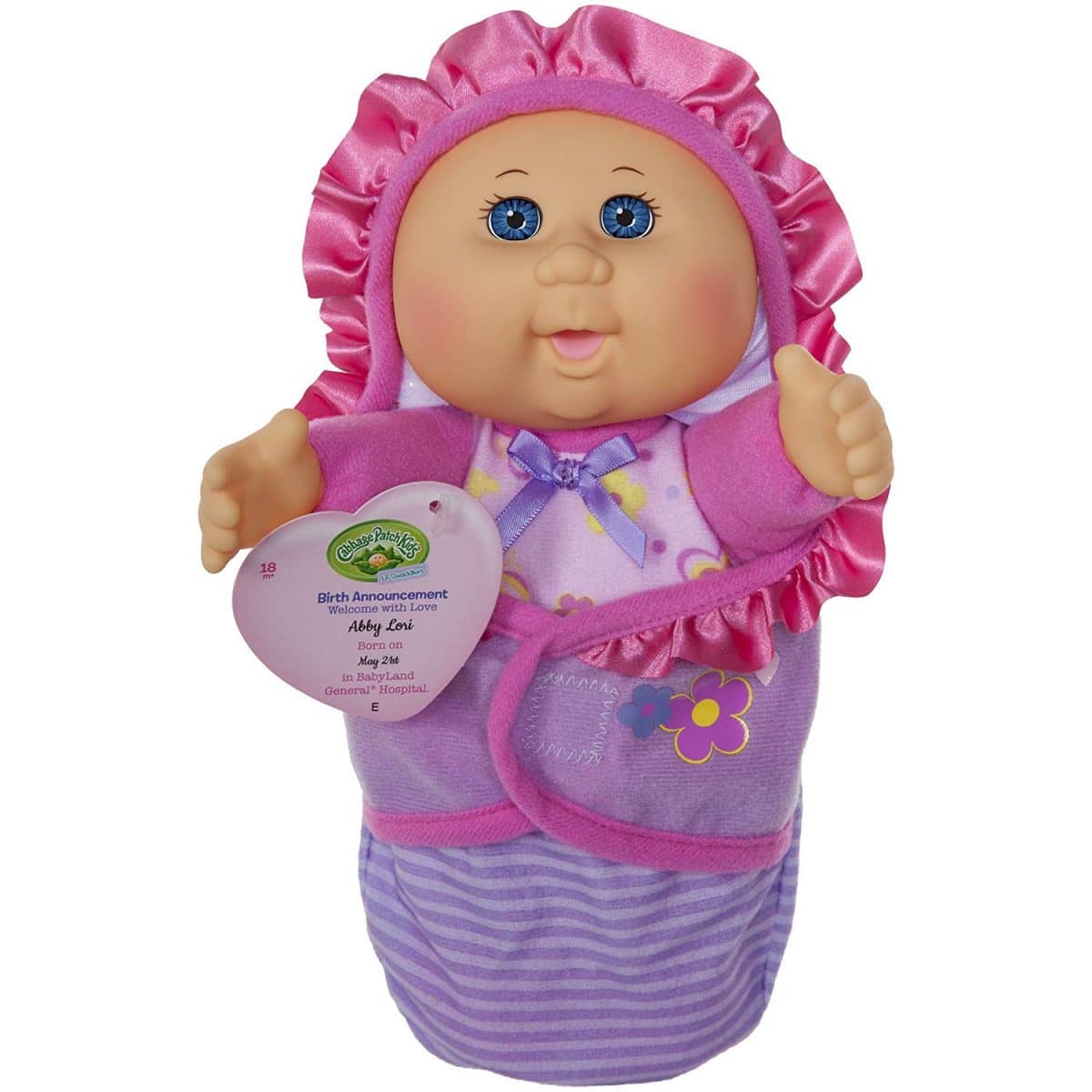 Small as a newborn, this interesting doll is one of the best for smaller kids or for children who need to learn how to handle babies. With a size of just 9 inches, the small doll is also one of the capable designs when it comes to handling different outfits. At the same time, it comes with the newborn-specific outfits about which children can learn more by playing with the doll.
With unique features such as the capacity to suck its thumbs, the doll is very lifelike. It comes with a signature Cabbage Patch scent but it can be used by all kids of age 1 and above. The doll can even be a top choice for kids who want to play with friends and learn more about babies.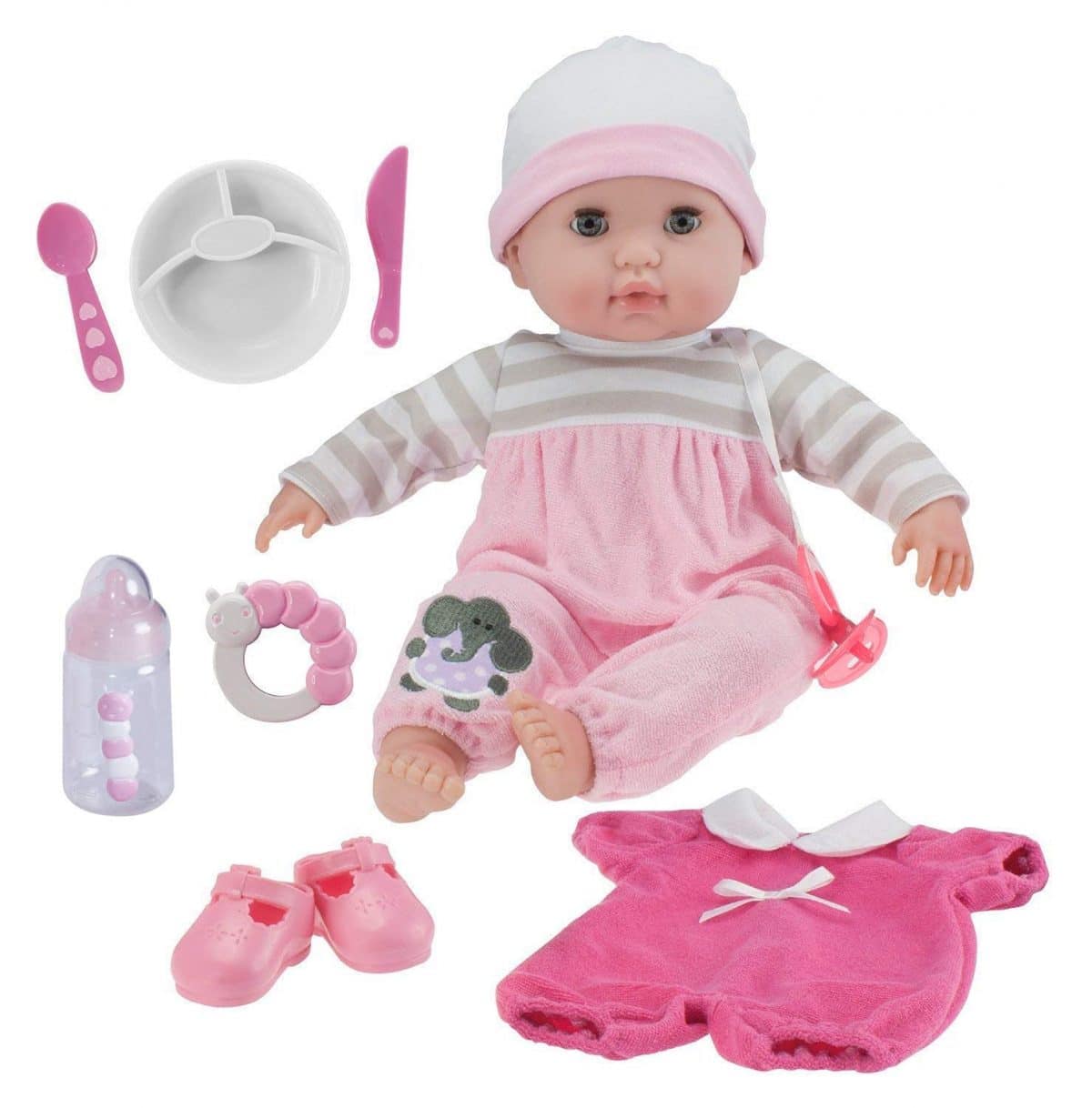 With a cute face and an entire set of accessories, this doll is one of the most attractive from JC Toys. Featuring open and closed eyes versatility, the doll is one of the most efficient at offering a lifelike experience.
Made with a soft body, the doll is practically made for hugging. Cuddling with their favorite doll can be one of the favorite activities children have. Furthermore, it comes with a complete list of feeding accessories. They are mainly suitable for lunch time and dinner time. But kids can also learn more about feeding their doll from a bottle.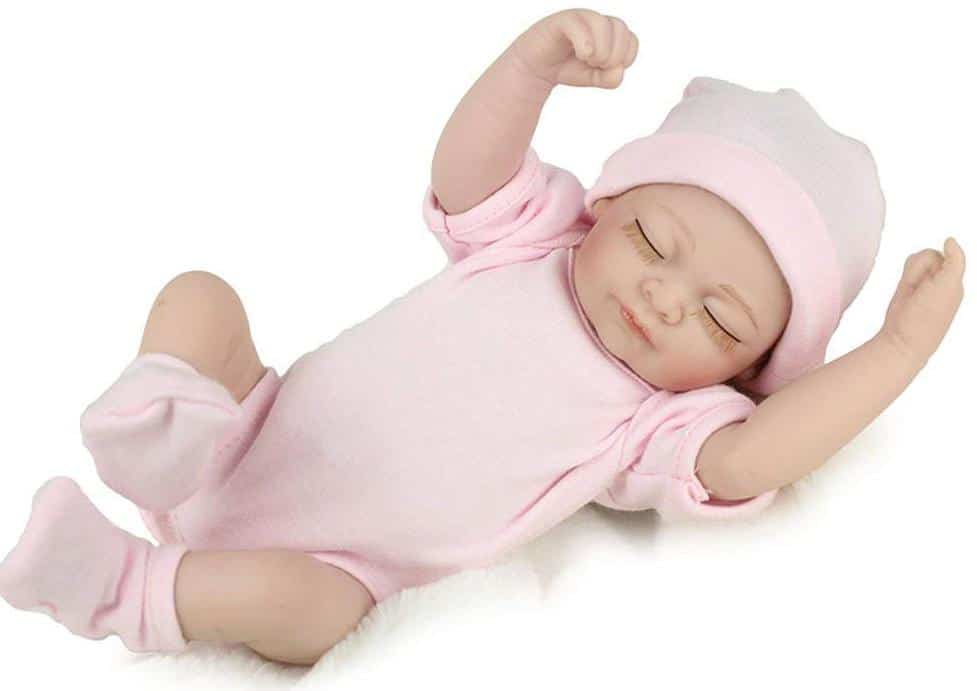 This unique lifelike doll has been one of the top choices for both kids and adults. Due to its lifelike face, it is also one of the collectible dolls for adults to consider. Kids love its & peaceful sleeping face and its tiny feet and hands. With a size of just 10", it is one of the smaller dolls and it can be a reason to give it to younger kids between the ages of 2 and 4.
The body of the doll is made with added weight. It gives it a more realistic feel and one of the distinct friendly bodies for kids to hold and hug for the entire day. Since the doll is likely to be hugged for days in a row, it might need a bit of cleaning from time to time. It's reassuring to know that kids or even parents can actually wipe the doll clean with a few wet wipes or with simple clean water.
Made with full body silicone vinyl, the doll is one of the friendliest to the touch. The material is not unique to Penson & Co as it is used by a number of brands. This, however, is proof of its versatility and durability.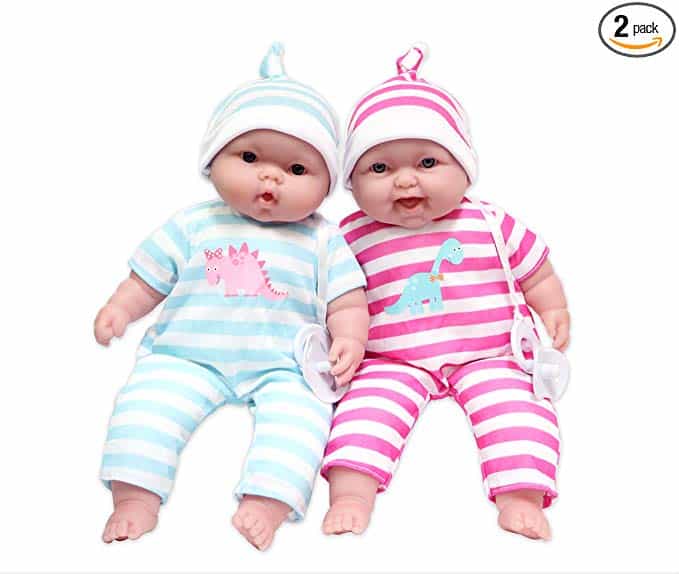 These unique Berenguer twins offer a unique playing and caring perspective for kids. With soft vinyl heads, hands and feet, the dolls offer a friendly touch and feel for kids of various ages. There are two dolls in the set which can recommend them for actual twins or for kids about to have twin siblings.
With pink and blue outfits, the dolls are easy to differentiate. Of course, parents can even purchase additional outfits to make their kids more involved in how dolls are cared for. Both outfits are machine washable and they will need to be washed from time to time as kids carry them around the house and place them on floors.
The dolls themselves can also be easily cleaned. They are among the simplest from this perspective and both silicone and vinyl are actually very easy to clean. Minimum attention is required, especially when it comes to avoiding harsh cleaning solutions.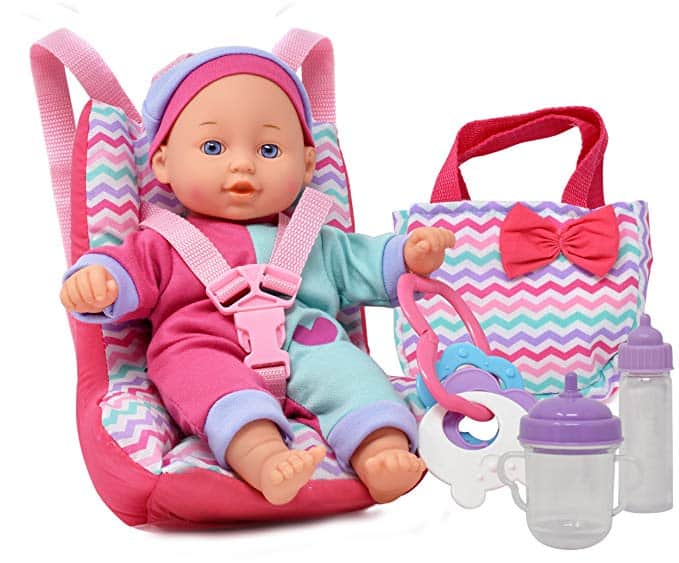 Are there any dolls to teach kids about car travel safety? Not many. But Dolls to Play offers such a rare sight with its dolls and accessories. Kids can often play with dolls in different ways. But when it comes to learning more about care safety, they might need a bit of extra help and even compare themselves traveling in a car seat to the doll if they feel like traveling without it.
Shipped with a small and realistic care seat, the doll can come on all family drives with the car. Kids can tuck the dolls in the car seat and even secure them with a 3-point harness. There is a traveling bag with extra goodies which is shipped as well. It might just be one of the most complete sets for traveling dolls.
With different feeding accessories, kids can play with the doll while traveling ensuring that feeding time is never skipped. The doll itself is 12" tall so this means it is quite small. When reaching the destination, kids can remove it from the car seat and enjoy playtime as with any other baby doll.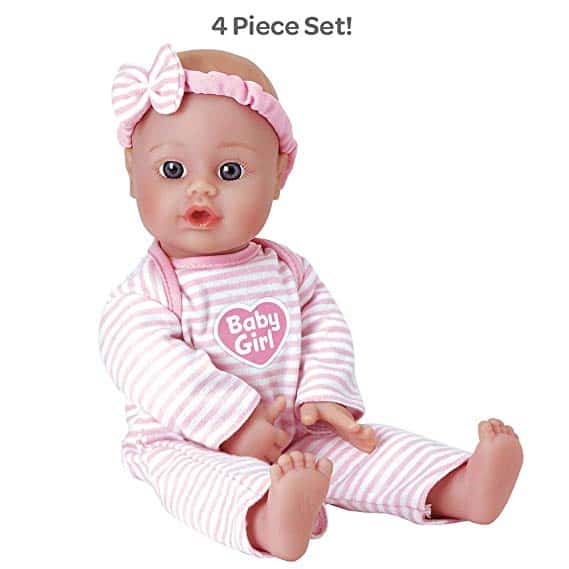 With large blue eyes and light blonde hair, the realistic baby dolls are used to develop motor skills and to offer kids a play time alternative. With a small bonnet, kids can also learn how to properly dress and undress the doll. This is where they can learn more about how to control their own movements and even improve their early development.
At a size of just 11", the doll is very easy to carry around. Children can play with it at home, at the kindergarten or on weekends away from home. The clothes of the doll are machine washable. Kids can learn how to wash the clothes together with their mums and get a better understanding of what makes clothes clean.
With movable limbs and a soft vinyl touch, the doll is huggable every day. Its cute face will also make kids relate to it faster. Free from BPA and allergens, the doll can offer friendly hugs as many times as kids want through the day.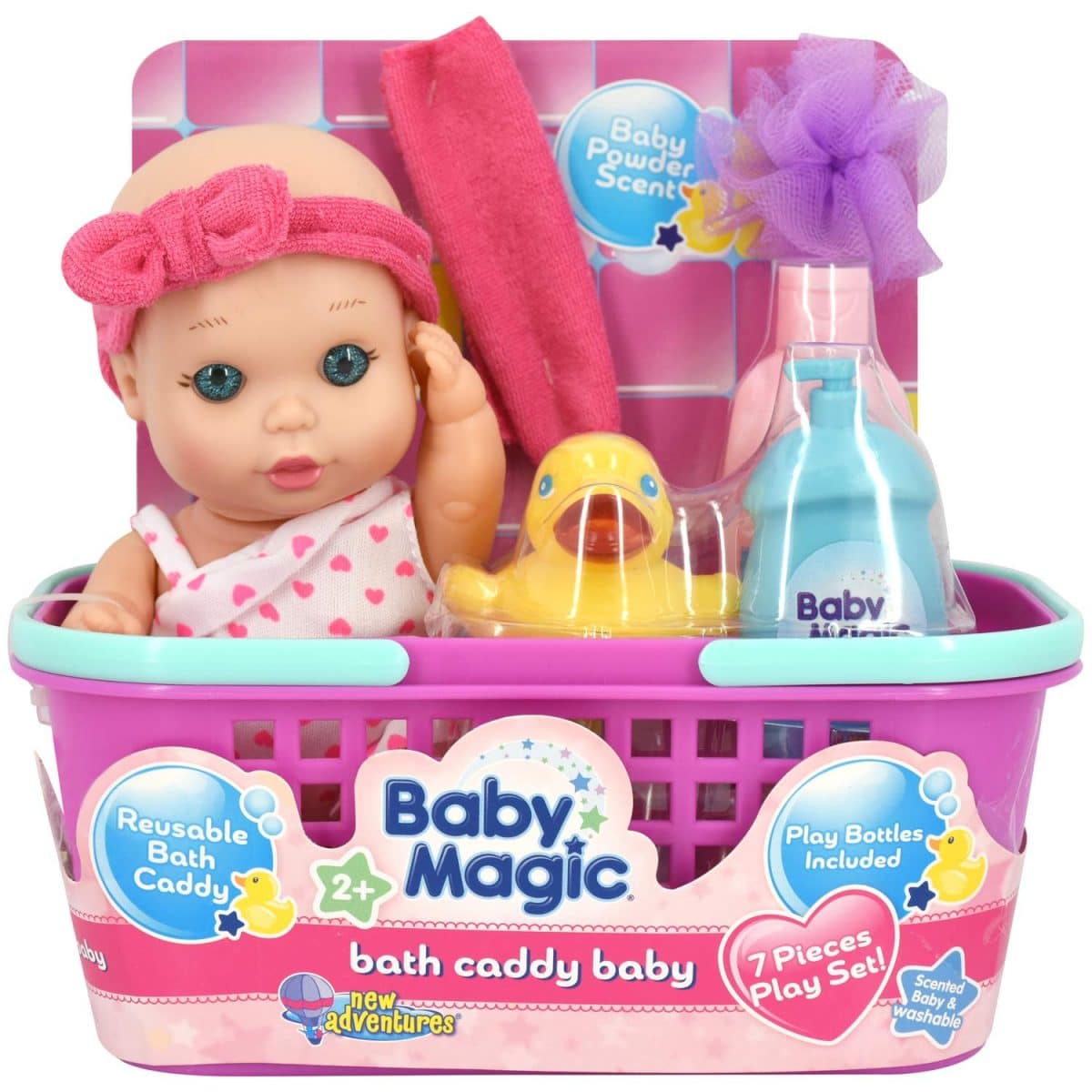 Made as a unique bath time set, the Baby Magic doll is a top choice for little girls who want to get their hands in action. There is a distinct pink caddy which is shipped with the doll. It holds all the accessories kids would need to understand bath time. These accessories include a washcloth, bottles and a rubber duck.
Little girls can take their time enjoying the little baby doll and ensuring it clean and smelling good bathing it. While there are many dolls which can be washed, having a special kit with cleaning products can make kids even more interested in imaginative playtime.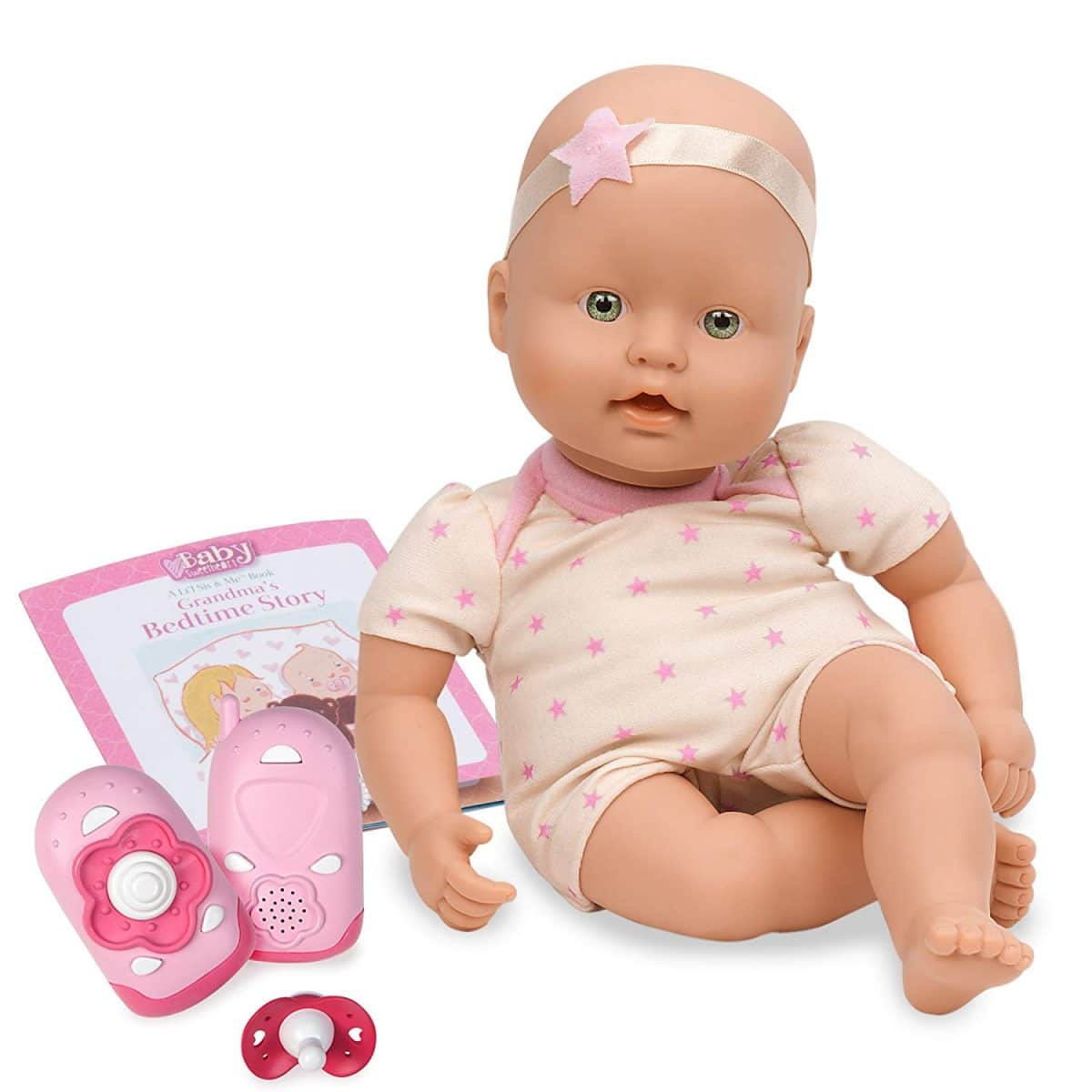 Suitable for kids 2 and up, this affordable baby doll is perfect for both kids and parents. Kids can practice their empathic side and learn how to properly care for a baby and even for themselves. Made with a cute face, movable arms, and legs, the baby doll is among the small dolls for kids to hold with its 12" size.
There are a few other accessories which are packed together with the doll. Kids will receive a pacifier and even a transmitter and a receiver in order to get used to the baby monitoring system. Furthermore, kids also get a simple storybook with the doll. Parents can start practicing their story-reading skills which play an important role in the way they relate to their kids.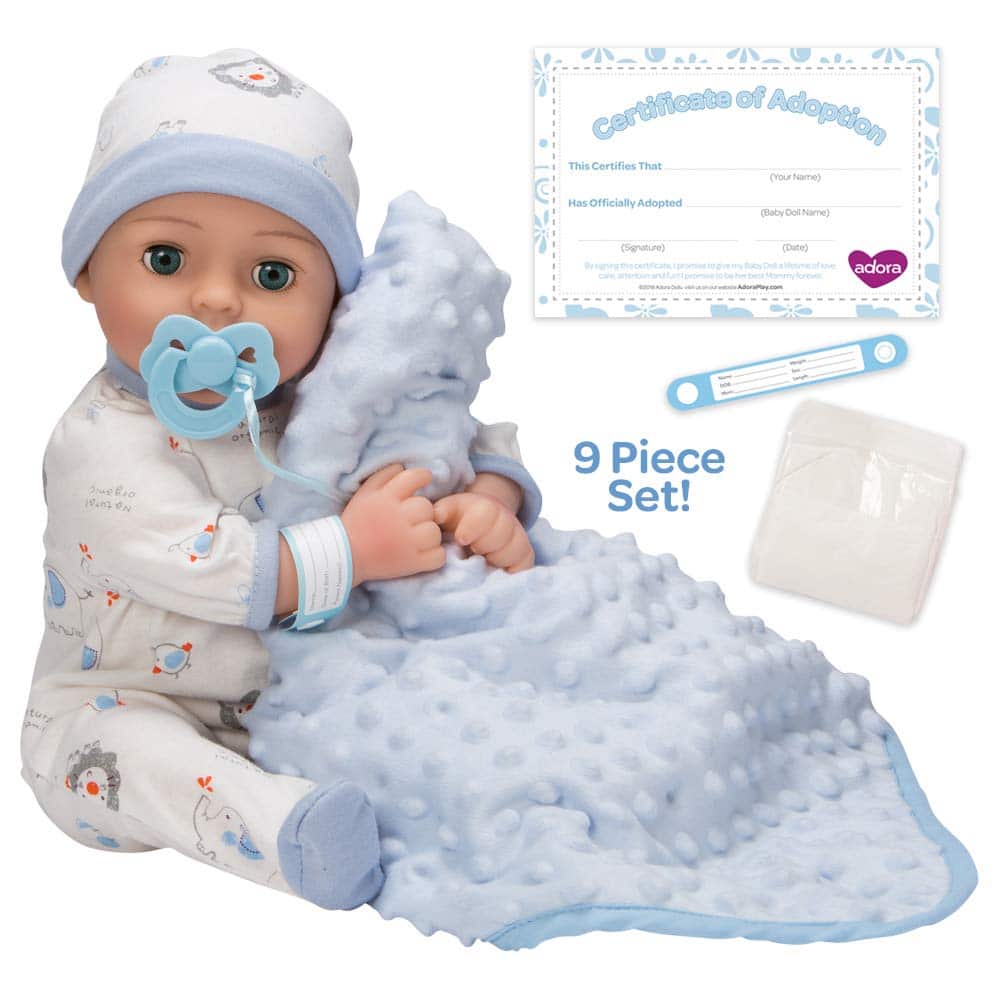 Suitable for kids of all ages, the handsome baby doll has a double role. First, it is a simple doll which can be used as any other alternative. But secondly, the baby doll comes with a certificate of adoption which can be useful for families which try to teach their kids about upcoming adoption siblings.
There are a few characteristics which go beyond the certificate of adoption which is a one-time accessory to present children. The actual doll comes with open/close eye functionality. With a fresh baby powder scent and even an included hospital bracelet, kids can learn a thing or two about babies. An essential part of baby care includes changing clothes. This is why the doll comes with removable clothing, mainly suitable for practice.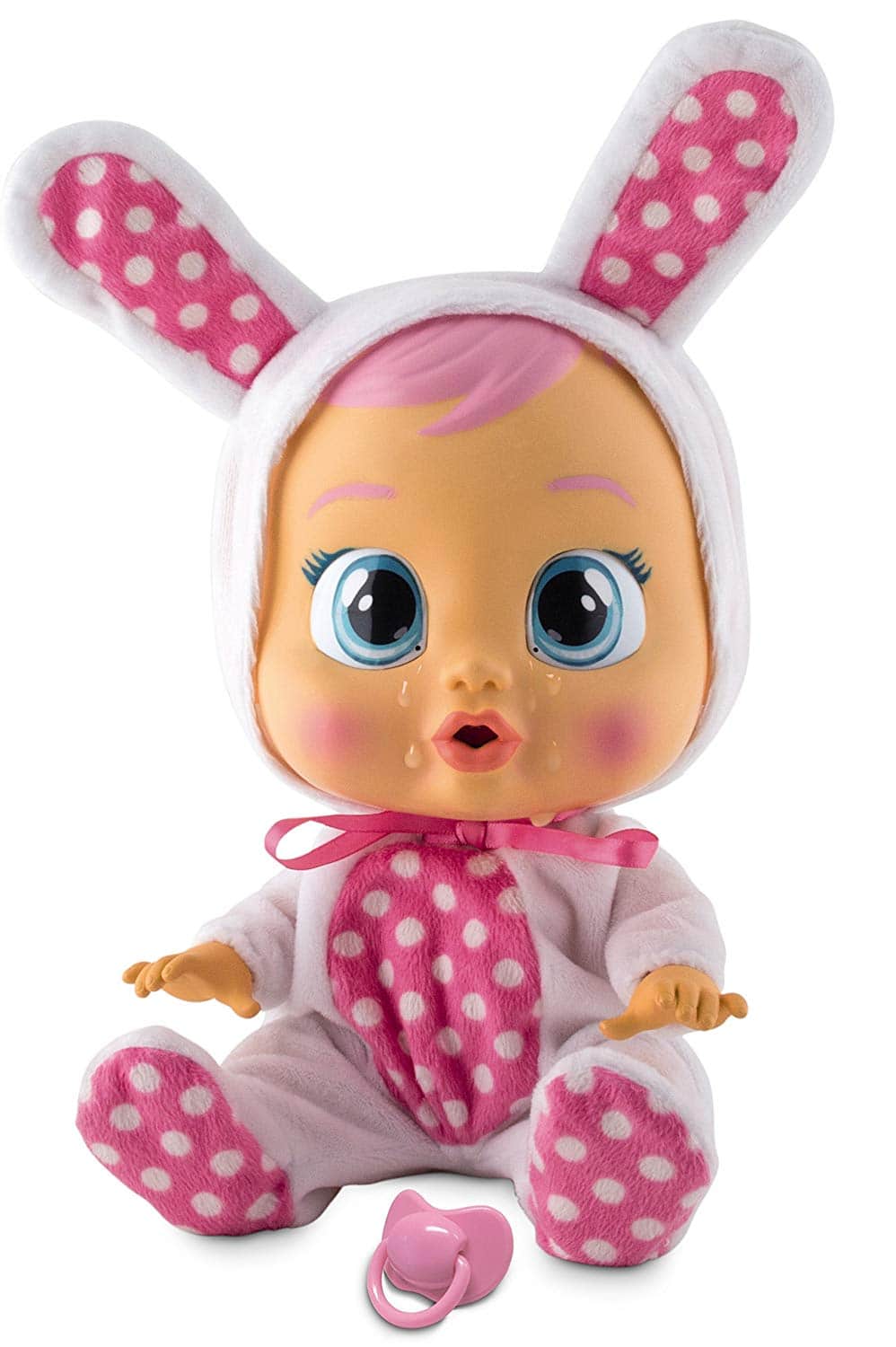 Made with no small parts, the Coney Doll is one of the few designs which can even be gifted to 1-year olds. Made with a compact size, the doll is a solution for both indoor and outdoor play. Part of its appeal comes with its giggling nature which will have kids carrying it around wherever they go. Simply rubbing its tummy will lead to plenty of friendly giggles which all kids enjoy.
Helping children develop motor skills, the baby doll comes as a full learning toy. Its clothes can be removed and washed together with the laundry so that kids get to learn the basics of baby care. Washing the doll is also possible to ensure it is clear of dirt and that it always smells good.
Made by a company with doll manufacturing experience going back to 1916, the doll is truly friendly by design. Its soft texture will motivate kids to hug her all day long.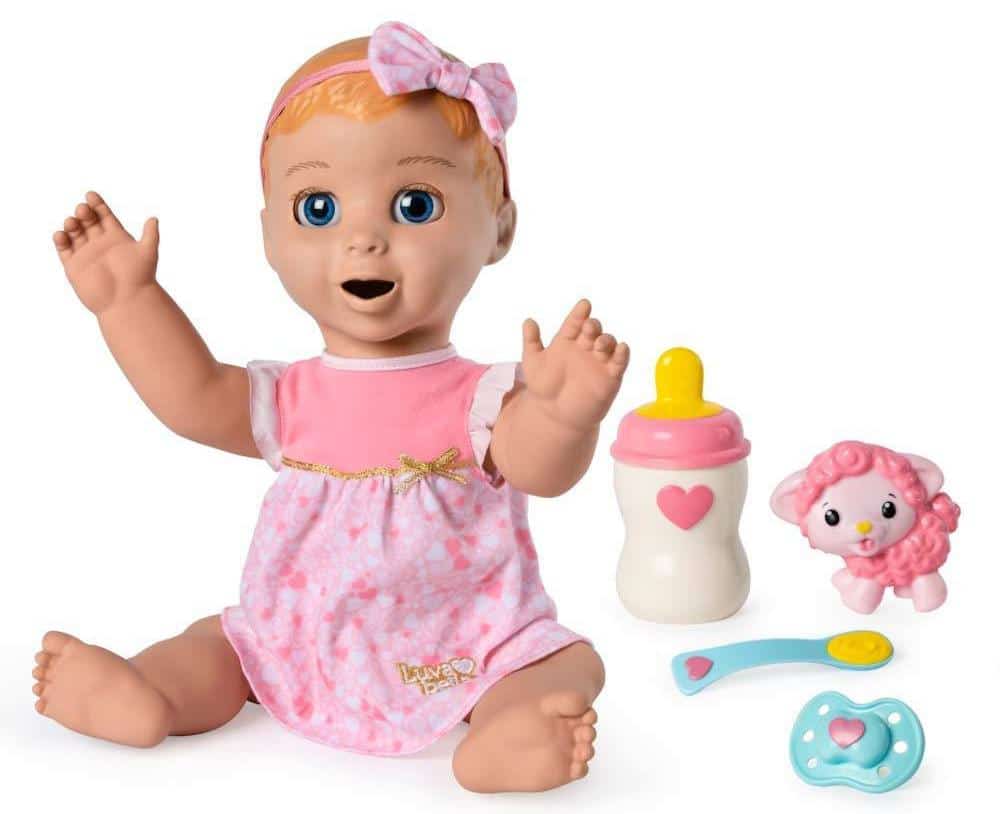 The interactive baby doll is one of the most interesting learning designs in its class. As its name suggests, it actually talks back to kids. But this is not a standard occurring. In the beginning, the doll will only be able to verbalize a few words. But the more kids talk to her the more words she will be able to speak. Up to 100 words are in the doll's vocabulary and they are unlocked by talking to her.
Apart from the doll, kids will also find a few accessories in the pack. They include a feeding bottle, a feeding spoon, and a pacifier. Kids can be though how to feed the doll and also how to talk to her in order to enrich her vocabulary. With realistic facial expressions, the doll is among the top choices in its class for an added element of trust.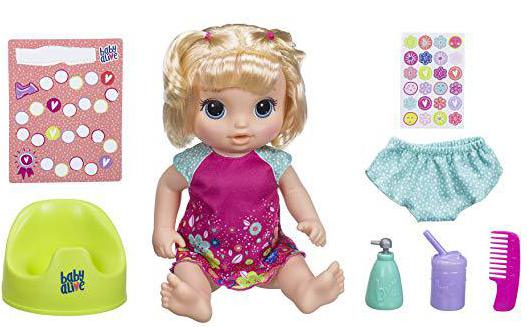 With a talking design, the doll is suitable for kids who love the interaction. There are about 50 phrases which the doll can speak both in English and Spanish. With a full set of accessories, it is a true interactive doll as it can be part of many pretend activities.
One of the crucial activities for baby dolls comes with bath time. But the doll can even go potty which allows kids to better understand how they should go potty as well. A few accessories such as the small hand soap dispenser can help kids learn about basic hygiene as well.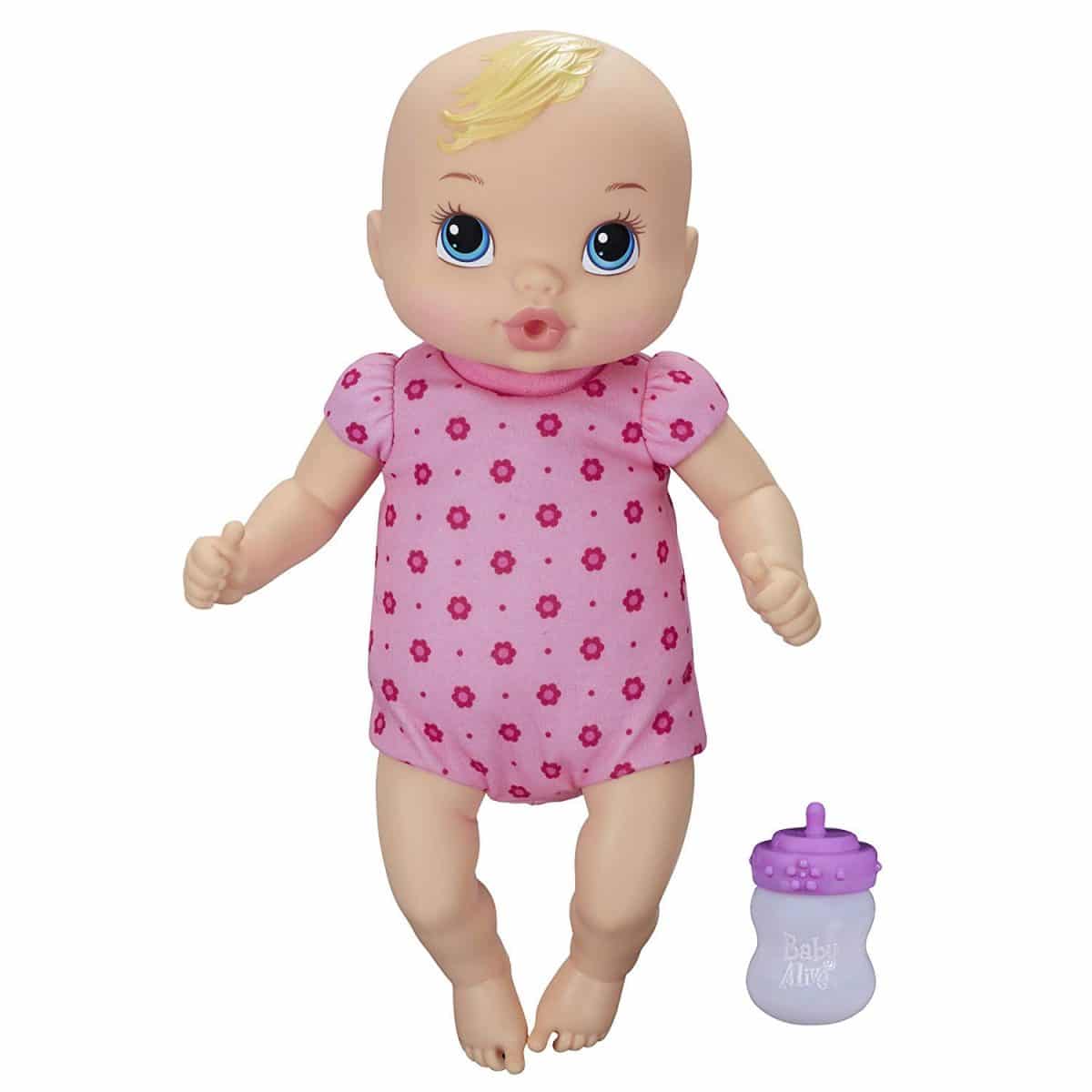 This cute doll is perfect for young kids and baby training. With such a small body, the doll is made for kids who like to carry the toy around. Since a heavier toy would not be so easy to carry, the Baby Alive doll is mainly suitable for small kids.
Apart from its cute face, the baby doll also comes with a feeding bottle. The bottle is small and kids need to be told not to use it in other purposes, just as with other small toys. Suitable for kids of 18 months and up, the baby doll comes in distinct clear packaging. Wrapping it as a gift is easy as a result.
With a plush soft body, the doll is a hug-friendly design, perfect for young kids. But its outfit is not actually removable. This is why kids will mostly stick to hugging and feeding during play time.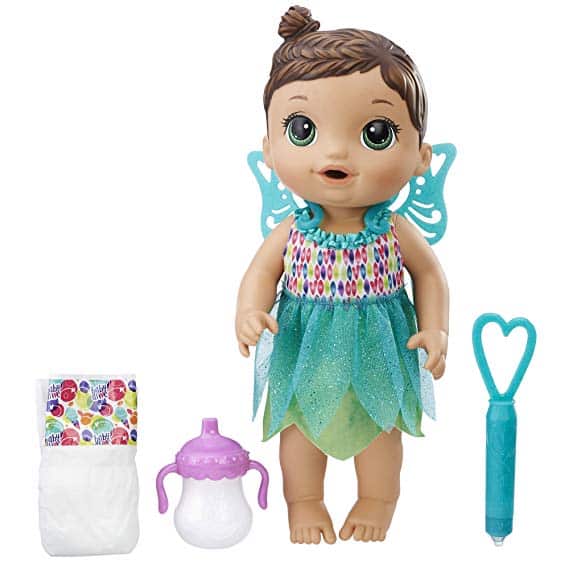 This magical fairy doll is one of the original designs kids can play with. If many dolls are similar, the fairy doll is very distinct. It comes with unique characteristics and it is certainly doll kids would actually enjoy holding and playing with.
Using ice water, kids can draw on the doll's face. The good news is these drawings quickly and magically disappear simply by wiping them with warm hands. Dressed in a distinct fairy outfit, the doll has a special appeal to girls who are already familiar with fairies from cartoons or from movies.
With accessories such as a feeding bottle, a diaper, a set of wings and a fairy wand, the doll can be the base for hours of fun. Kids can even make the doll the center point of a party as it can be drawn on and played with together with all the accessories included in the pack.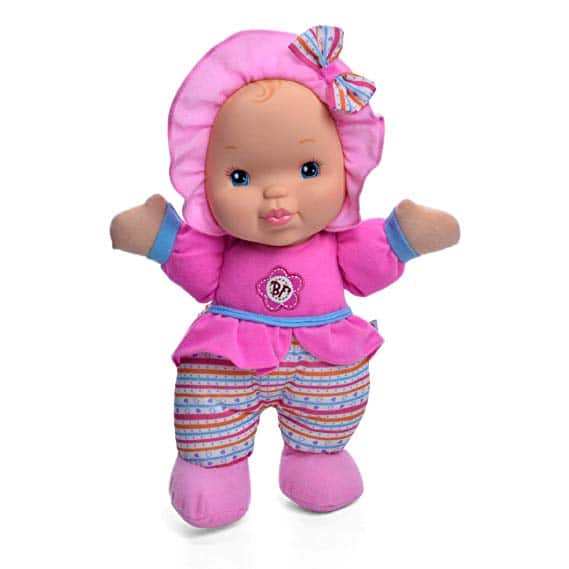 These cute small dolls are machine washable and always looking sharp as a result. At a size of 13", the baby doll is a bit larger than the average dolls in its class. But it is still small enough so that young kids could actually play with her.
Unlike other vinyl toys, the baby doll is actually made with softer materials which are a top choice for hugging friendliness. There are no accessories and no small parts to worry about in the pack. As a result, kids as young as 1 can actually play with it.
The hypoallergenic doll is also a safe design for kids with various allergies. However, as with all toys in this situation, the doll should be actually free from dust and store in a space where dust mites are not an issue to protect kids with allergies.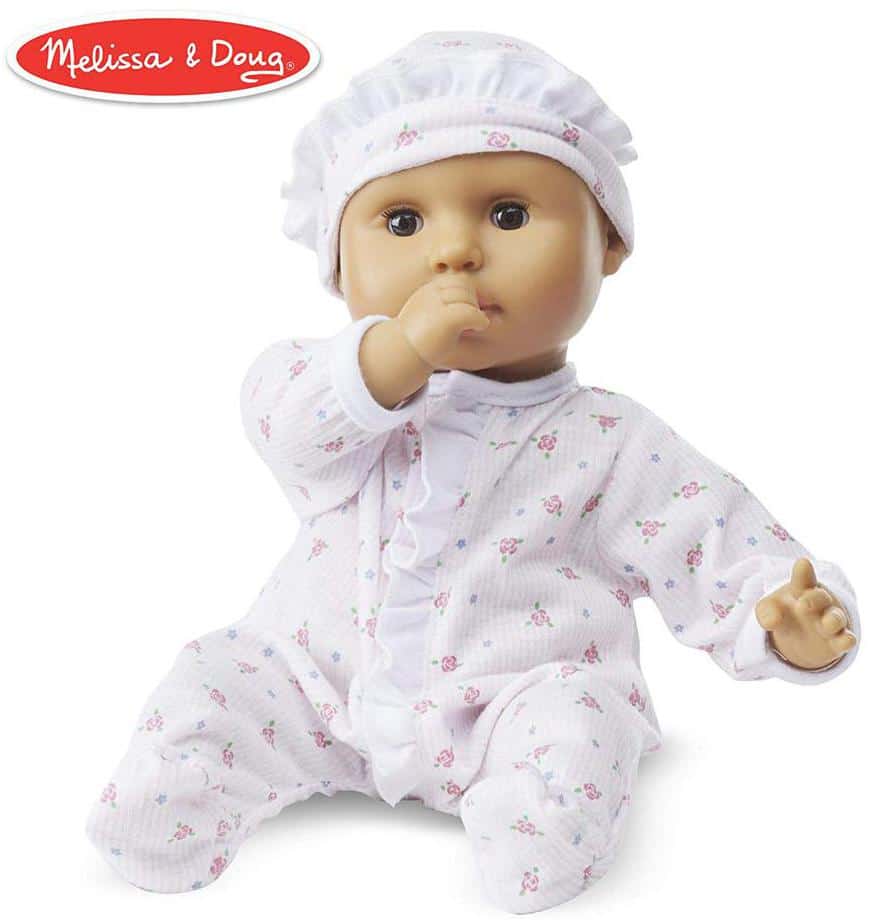 Dressed in a bright with a romper, the baby doll is one of the simplest and most efficient designs for kids to consider. Made with a cute face and eyes which open and close as the doll is rocked to sleep, it offers kids a straightforward experience in terms of baby care.
The romper and the bonnet can be removed and kids can actually wipe the doll clean. With movable arms and legs, the doll can also be laid to sleep or made to sit and watch TV with the kids. With an experience of over 3 decades in toy making, Melissa & Doug have also made the doll soft, so that kids actually enjoy hugging it.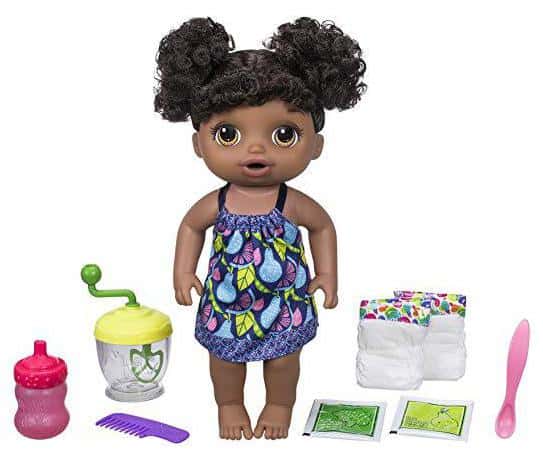 The small baby doll comes with multiple accessories. They include feeding accessories and diapers. The diapers will need to be changed as the doll poops and pees after feeding. Kids will also be interested to know the doll comes with 2 packs of a powdered food which makes feeding even more realistic.
With movable arms and legs, the doll can also be put on the child's high chair at the table for feeding time. Kids can use a makeshift food processor or a feeding bottle to ensure the doll is never hungry. Feeding the doll with the spoon is easy and kids can actually use a makeshift food processor in order to prepare the food before feeding. With a cute face, the compact doll is even one of the rare designs which come with hair which can be combed.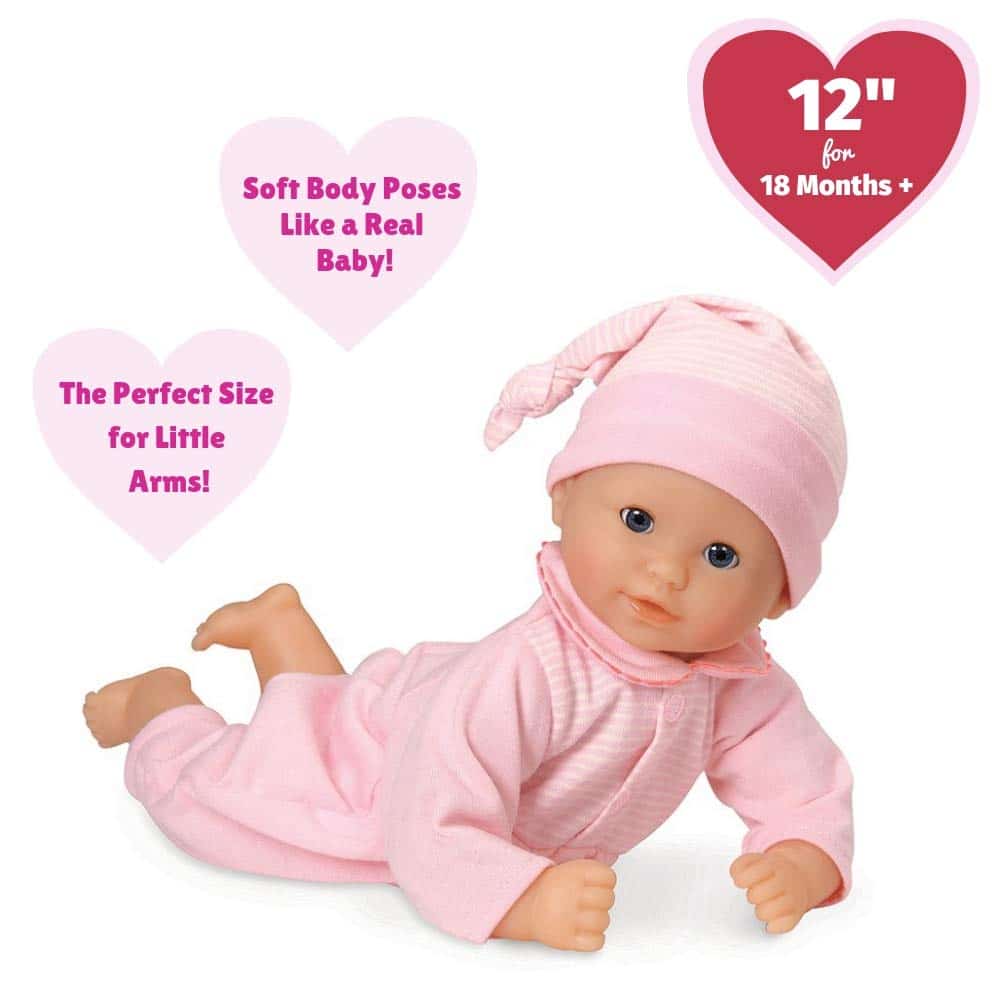 With a friendly scent, the doll is already a popular choice for kids of different ages. It comes with a distinct nighttime outfit which makes the doll stand out. All essentials have been made with extra attention. For example, the manufacturer ensured the doll's eyes are actually realistic. It is also why the eyes close when the doll is laid to sleep.
With a soft bean-filled body, the doll represents a huggable design. It comes as one of the best solutions for kids who prefer to sleep with their dolls. Since it comes with an outfit which covers most of its body, the doll is perfectly huggable even during sleeping time.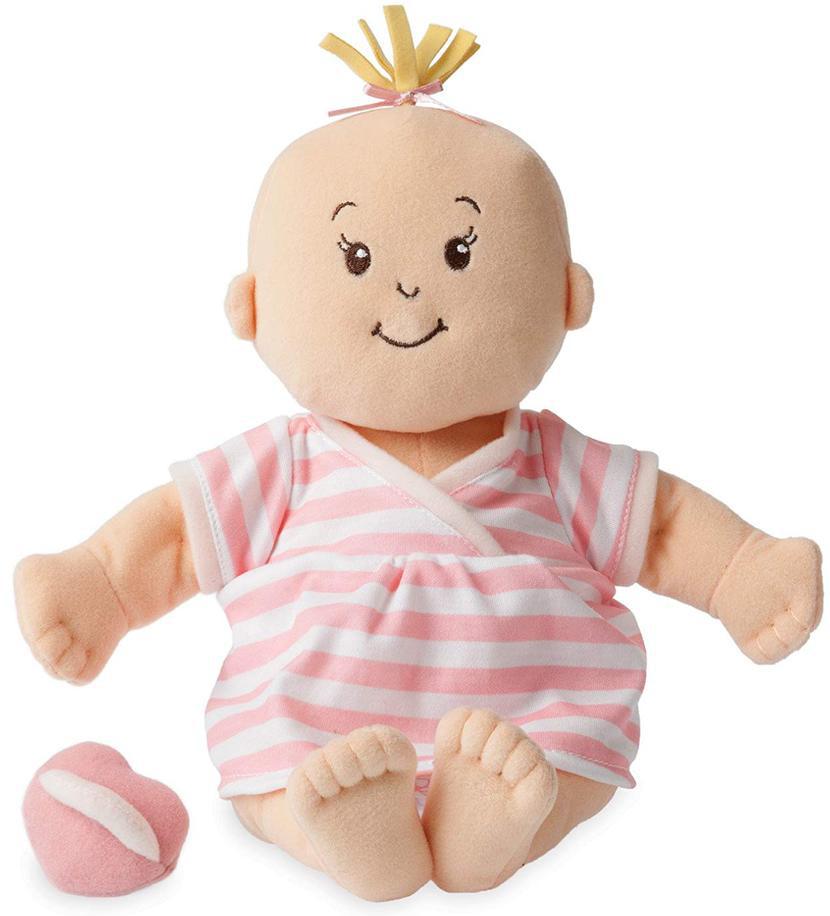 Suitable for ages 1 and up, this soft baby doll is made for hugs. Even if it is actually made from textile materials, it still has the functions of vinyl alternatives. For example, the pacifier is actually held in place by a magnet. But the doll also comes with a removable outfit, perfect for kids to actually learn how to dress and undress themselves as well.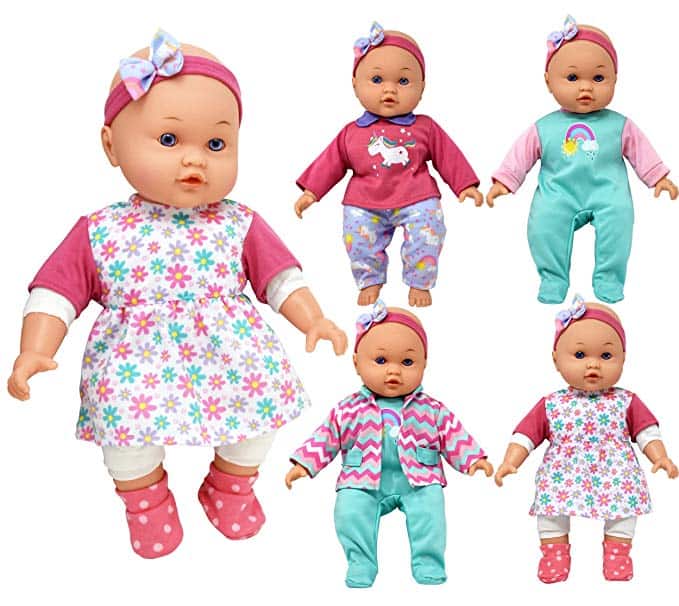 There are not too many baby dolls which are actually offering multiple outfits. But Dolls to Play offers such an option. It is why kids can dress her and undress her as many times as they want. There are 4 outfits to consider and they are suitable for daytime activities or for sleeping time. All outfits are safe to wash in the washing machine together with the rest of the clothes.
Singing the ABCs when its tummy is touched, the baby doll is one of the recommended learning designs. It represents one of the most efficient solutions for teaching at a young age. Apart from its educational purpose, it also comes in a hilarious outfit which will make kids giggle whenever they see her.
Final words
Some of the best baby dolls of the moment are made to a high standard of credibility. They are safer and better made than ever before. In fact, kids can play with them in various ways. From feeding the dolls to actually bathing them, there are different activities to consider.
With different sizes and designs, the dolls can also fit distinct personalities. However, having a friendly and lifelike design as well as a soft construction can lead to plenty of hugs and to an inspired gift to kids which can be even as young as 1 if the doll is small enough.