Times have changed and now safe, fun, electric powered cars for kids are all the rage. These fun toys usually fit kids about 2 and up with a max weight limit of around 130 pounds. Beloved by both boys and girls, these fun vehicles are inexpensive and great for getting around the neighborhood in style. There are more options than ever to consider, with electric cars emulating today's coolest super cars and rugged off-road trucks.
Finding Your Kid's Dream Car
Having a quick look over an electric car's most important characteristics can offer parents a better idea on what to look for. Safer and less expensive than ever, electric cars can be a blast for kids during a nice summer day, or even inside.
Weight Limit and Number of Passengers
The weight a car can handle is among its most important features. Depending on the amount of seats, this weight refers to the weight of the driver as well as the passenger. Some of the best cars on the market handle between 100 and 130lbs of weight. This can include two kids of up to 8 in certain cars. Other cars can only handle a single child.
Speed
All kids are interested in the top speed of a car: they'd prefer it'd be quick, parents prefer it be slow. Fortunately, most cars are made with a top speed of 5mph, a little quicker than a brisk walk. If the car is weighed down with multiple passengers, it'll be slower. Other cars have a lower driving speed, around the 2.5mph mark. Lower speeds are great for maneuverability or off-road driving.
From 2.5 to 5mph, most electric cars have a controlled, limited speed for children's' safety. Made with adjustable speeds, the best electric cars are always made to be accessible to new drivers. Once a child is fully comfortable driving their new vehicle, they'll be able to get a bit closer to the limits of their car.
Battery Life
Battery life has improved on electric cars, with some cars now lasting for a whole afternoon. Parents should expect at least a few hours of driving fun before having to recharge the batteries, and batteries are lasting longer than ever. Of course, results vary depending on variables like speed, car age, and passenger weight. A car with two kids inside will run out of batteries faster.
Whether your kid is an off-roader, a speedster, or just looking to take a spin around the block on a nice afternoon, we've selected an electric car that will meet their needs.
Top 10 Best Electric Cars for Kids 2023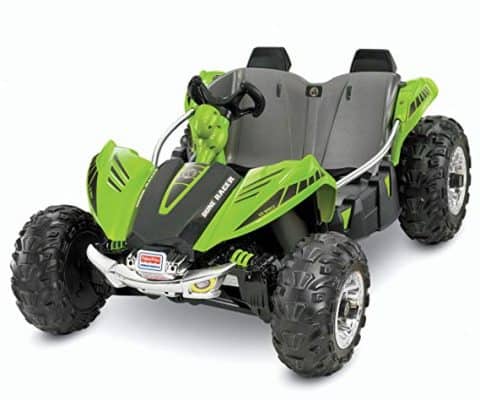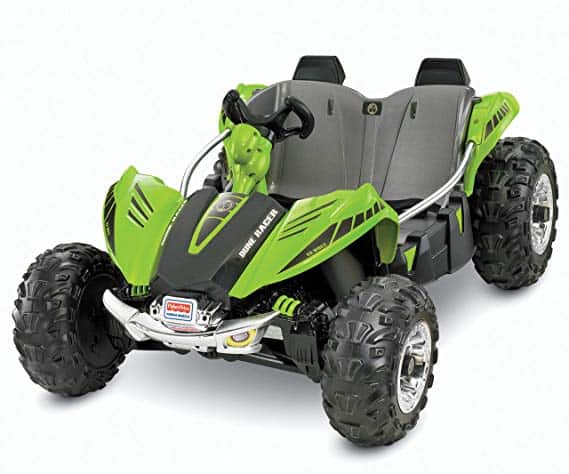 Why we like it:
With the power to roll along even on rough terrain, this dune racer is a great combination between driving fun and impressive performance.
Editor's Rating:
Design
This dune racer is convertible style with a perfect open-top design. The main design approach is based on versatility, as this car is just at home off-road as on road. It is spacious and practical, offering fun riding experiences for up to two kids. As with any off-road adventurer, there are no side doors to worry about. There's no danger of falling out, either, given the two metal sidebars and the seatbelts.
Driving on grass or driving on gravel requires sturdy wheels, which this electric car has. The manufacturer-installed tires are able to tackle small obstacles, ensuring kids aren't limited to the sidewalk as they can venture off around the yard for their own driving fun. Of course, driving on hard surfaces is the easiest and has the highest potential speed. Whipping around the driveway, the vehicle can feel even faster.
Performance
With a strong motor, this vehicle carries kids of various ages. Anyone from 3 to 9 is eligible thanks to a high weight limit and ample legroom. Most importantly, the vehicle comes with decent speed to offer enough thrills for these ages. There are two speed settings, the first one at 2.5 mph and the second speed at 5 mph. It's also got a reverse gear for tight parking maneuvers.
The vehicle ships with a 12V battery and a charger, making it great for multiple drives per week as recharge times are quick. In terms of safety, it's nice to know that power lock brakes are activated as soon as the brake pedal is pushed. When it comes to comfort, it can be improved with a simple seat pad since the vehicle's seats aren't padded.
Verdict
With an aggressive off-road design that is great on the road as well, the vehicle represents a versatile solution for adventurous kids.
Pros
Offers hours of driving

Tackles all types of surfaces

Made with metal sidebars

Supports a driver and a co-pilot
Cons
No cushioning on the seats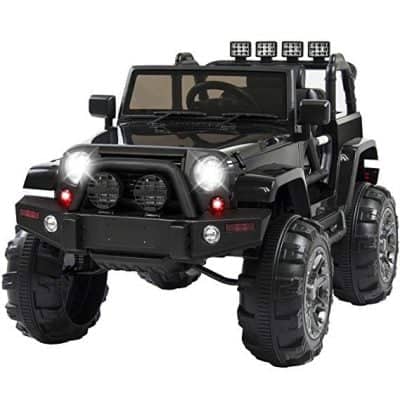 Why we like it:
This affordable electric car is tons of fun, but doesn't break the bank.
Editor's Rating:
Design
Designed with large wheels that can tackle even small bumps, the vehicle is ready to carry one passenger up and down the road in total comfort. The driver's seat is like no other. Anatomically-shaped, it offers plenty of lateral support, just as a real car seat. There is a seatbelt for extra safety as well. Getting inside the vehicle is not complicated. Kids can do so without any doors, simply by going over the metal side rails.
With a dash that would impress adults, the vehicle's interior offers plenty of options to keep young drivers busy. Apart from the modern steering wheel, there is a full dash with instruments as well. If kids are already into music, they can connect their favorite devices to the auxiliary jack to listen to their favorite tunes while at the wheel. The outside of the vehicle looks rugged. It's available in black, blue, green, yellow, red, and white. All colors come with impressive LED lights to make it look even more distinct.
Performance
When it comes to the actual driving, the vehicle impresses with its 3-speed selection. If many alternatives come with two speeds only, has three speeds which can be controlled through the vehicle or through the remote control by the parents. But when it comes to the smoothness of the ride, nothing compared to the added springs, which absorb some of the shocks kids would encounter on their off-road adventures.
At a weight of 45lbs, the vehicle is not too heavy to be put into storage when not in use. However, some kids looking towards the faster vehicle on the market might be put off by the 3.7mph limit on the truck. Of course, being filled with features such as a built-in radio leaves less space for passengers so the vehicle can only accommodate one kid.
Verdict
With a full list of entertainment features and good torque, the truck is a top choice for hours of driving fun.
Pros
Made with a distinct look

Features a working radio and a Jack input

Controlled by pedals or remote control

Built-in LED lights

Minimum assembly required

A reliable spring suspension system
Cons
Doesn't accommodate an extra passenger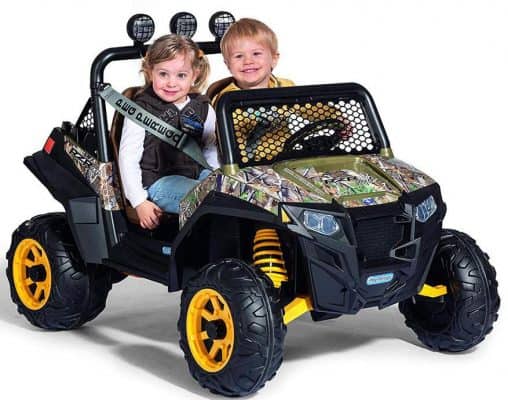 Why we like it:
This cool ATV-style car is a great choice for a relaxing ride thanks to its included cup holders.
Editor's Rating:
Design
Driving all day is fun, but kids need to stay hydrated, which is why this vehicle comes with included cup holders. They can be used for tea or a refreshing lemonade for the summer months. Of course, being more relaxed doesn't mean they don't have to deal with traffic and this is why the vehicle comes with an included horn.
Based on the adventure spirit of an off-road vehicle, it comes with practical seatbelts and an operation mode which includes the pedals or the remote control. Designed with large wheels suitable for the best traction, the vehicle can even be considered on grass when going out to the park with the parents.
Performance
The relaxed atmosphere of the vehicle's design is certainly met with a powerful performance instead. Reaching speeds of up to 5mph, it is actually one of the most reliable solutions when it comes to proper speed and control. With a lower 2.5mph speed, the vehicle is ready to deal with every possible obstacle in the yard and even reverse its way back into its parking spot.
With good torque, this speed remains constant even when a passenger is traveling with the driver. Up to 130 pounds can be transported with ease by the off-roader.
Verdict
With a unique summer vibe, the vehicle can be an option for kids who want to drive with all their favorite drinks on board.
Pros
Made with large wheels for traction

Carries up to 130 pounds of weight

Suitable for two kids

Made with 2 speeds

Designed with an on-board horn
Cons
Doesn't come with a modern dashboard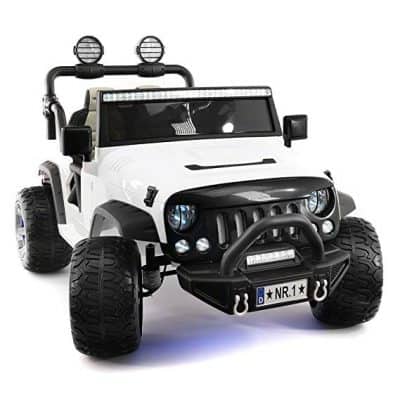 Why we like it:
This luxury vehicle includes an entertainment system so kids can cruise around in style.
Editor's Rating:
Design
Designed with special attention to the interior, the vehicle offers one of the best options for kids in love with comfort and entertainment. It supports USB, Bluetooth, SD card and iPod connectivity, making it the leading option for in-car entertainment.
But the luxury interior can also be admired with the impressive seats. Covered with PU leather, the seats offer real comfort for the driver and up to one extra passenger. In case two kids are inside the vehicle, they can be secured with a common seatbelt or they can be secured with an individual seatbelt. The good news is that regardless of the number of passengers, the vehicle's design allows for a smooth driving experience. Thanks to its foam wheels, the vehicle tackles soft and hard running surfaces with a good degree of shock absorption.
Performance
Vehicle performance is at a high standard. Up to 90 minutes of driving can be achieved on a single battery charge, which should be enough for daily driving around the yard. The battery takes up to 10 hours to charge, being one of the fastest from this perspective.
But there are other advanced features worth taking into consideration. For example, the vehicle immediately brakes after the foot is taken off the acceleration pedal. With the help of the added LED lights, the vehicle can also reach further, being one of the options to be visible in low light conditions. A shifter is also added, and it can as such be an educational tool of cause and effect for smaller drivers. It has a gear for going forward, one for parking and one for reversing.
However, the vehicle comes with its drawbacks as well. For example, its maximum weight capacity is slightly reduced compared to the best electric cars for kids. It is limited at 100lbs or two kids of up to 6 years of age.
Verdict
With plenty of options to listen to music, the vehicle is a successful design for hours of great fun outside the house.
Pros
Made with Bluetooth compatibility

Comes with an included shifter

PU leather seats

Included LED lights

10-hours maximum battery charging time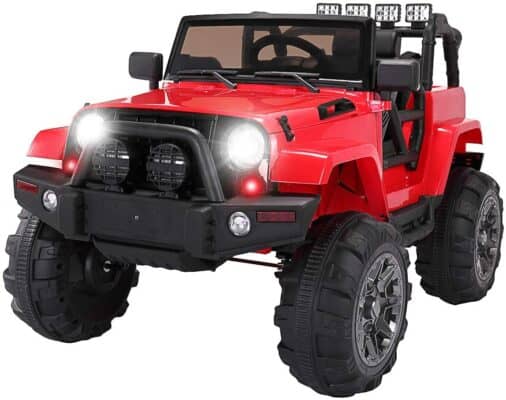 Why we like it:
This off-road vehicle looks exactly like a Jeep Wrangler, and offers similar all-terrain performance.
Editor's Rating:
Design
Inspired by the classic Jeep Wrangler, this vehicle well deserves its place among great electric options for first-time drivers. It comes with an attractive design that will make your kid feel like a real off-roader. When it's time to drive, kids can simply jump in the vehicle, as there are no doors to worry about. Inside, they will find enough room for even the gnarliest driving maneuvers along with space to take a friend along for the ride.
It includes some cool features that come standard on real cars as well. A built in MP3 player can blast great tunes while an AUX input is a good backup. LED lights can show the way, even when it's dark out, and the gear changer has three speed options as well as a reverse gear. A USB port can even charge your kids' favorite devices.
Performance
The vehicle's performance is quite impressive. With a 5mph top speed, it represents a solid solution for fun driving both on and off road. It even includes features such as auto slow-down, where the vehicle applies the brakes if the foot is taken off the pedal. Braking is smooth and consistent.
With a maximum weight capacity of 130lbs or two kids, the vehicle has enough traction to go over both smooth and uneven surfaces. This all happens at one of three speeds, along with a reverse gear which kids can use to back up or exit their parking spot.
But unlike the actual Jeep Wrangler, the vehicle is neither expensive to buy nor expensive to run. Kids won't have to line up at the gas station as their vehicle comes with battery power. A full charge yields a few hours of driving and accessory power, although a full charge takes a bit of time at up to 18 hours. There's no quick charging feature, so you'll have to leave it plugged in overnight.
Verdict
With top performance, this Jeep Wrangler lookalike is recommended for kids who love to use their electric truck both on and off road.
Pros
Made for up to two kids

Uses pre-recorded songs

Comes with horn sounds

Included voice amplified

Up to 5mph at its top speed
Cons
Takes up to 2 hours to assemble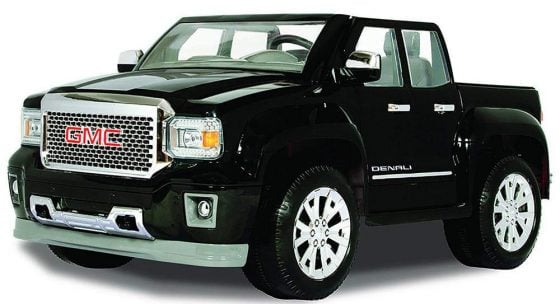 Why we like it:
This electric car is a near exact replica of a DMC Denali, and offers a smooth, comfortable driving experience.
Editor's Rating:
Design
Made with a realistic design, this GMC electric car is one of the most interesting choices when it comes to realistic vehicles. If the kids are already familiar with GMC, they'll feel grown up as they roll around the neighborhood in their Denali lookalike.
The vehicle is made with two working access doors. These doors can be used by kids 3 and up with a combined weight of up to 130lbs. With an exterior which looks impressive and which resembles the president's convoy cars, the GMC looks impressive for mods kids.
Performance
The performance of the vehicle is not to be overlooked. With a maximum speed of 5mph, it offers quite the sensation for today's kids. Even more, it can be among the vehicles to be considered for its long list of features. Working LED lights have been added to this list. A battery life indicator is also available. Whenever the batteries are too low, kids can even use the external plug on their own to get some extra driving power.
An MP3 port has also been added to the vehicle. Kids can plug-in their favorite tracks to listen while driving. From their favorite Disney tracks to pop or sing-along jams, they'll be able to listen to their favorite music for a more enjoyable experience.
Additional options include a horn and an engine sound. But these two sounds are not connected to the main battery. They'll need two additional AA batteries to work. The good news is that they don't need to work all the time and drain the main battery even further.
As a GMC-imitation, the car suffers from a problem of the real thing: it's not exactly lightweight. With a weight of over 60 pounds, it's large and durable, but not too maneuverable. It can still be easily parked in the backyard or in the garage, but it'll need some extra space. Its folding mirrors can prove quite useful for cutting down on parking space.
Verdict
With an impressive 5mph top speed and two working doors, the GMC electric kids car is ready for hours of fun on a single battery charge.
Pros
Made with a realistic GMC design

Includes a 12V battery for power

Uses 2 access doors for the driver and a passenger

Supports horn and engine sounds

Recommended for drivers 3 and up
Cons
Needs two extra AA batteries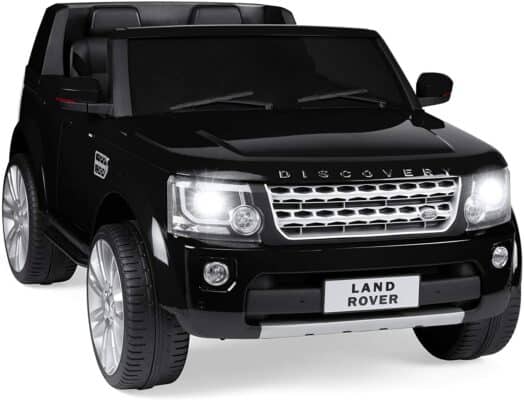 Why we like it:
This kiddy Land Rover is built to last, and that high-quality construction extends to many features that will keep your kids safe no matter what.
Editor's Rating:
Design
We've got to admit that for a slightly above-average price, this two-seater does a great job of imitating both the look, feel, and features of a real Land Rover ride-on. It can be steered from within or also via a remote control that can be controlled by parents. It's one of the safest in our lineup, with a maximum speed of only 3.7 mph and solid seatbelts holding everyone in place. Lots of legroom mean there's a minimal chance of kids hitting their shins on a hard stop, soft rubber tires means stopping distances are quick and off-road driving is easy.
But best of all is the jet-black look of the Land Rover mimic. For fans of bigger SUVs, this car is a great option, and a larger format yields a larger weight limit at almost 130 pounds. Two seats mean that you can always ride with a friend, and an MP3 system means you can always blast your favorite tunes.
Performance
Our favorite feature is the parental controls, which operate at 2.5GHz to help control the car at a safe speed and take over driving if things get a little wild. There are two speed settings, 1.8mph or 3.7mph. There's even four-wheel suspension that yields an incredibly comfortable ride!
An aux input and MP3 play the best jams, there are also working LED headlights, a horn button on the steering wheel, and a startup sound to make this truck feel like the real deal.
Verdict
This incredibly luxurious and feature-rich Land Rover is based on the Discovery, a model with LED headlights, steering wheels, and a startup sound.
Pros
MP3 player and aux player to play music

Realistic startup sound

Luxury car is feature-rich

Four-wheel suspension gives a comfortable ride
Cons
Maximum speed is just 3.7 miles per hour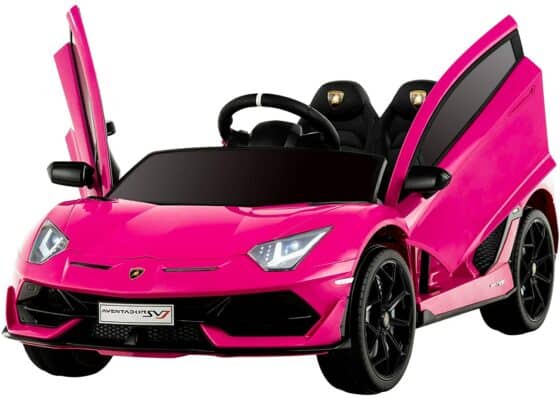 Why we like it:
This quick, low-profile roadster is an imitation of one of the fastest cars in the world, a Lamborghini Aventador.
Editor's Rating:
Design
Based on a speedy-looking Lamborghini Aventador design, this car has a fashionable and quick look that will impress even those who don't know much about the automotive world. Based off of the world-record-setting Lamborghini Aventador, this electric supercar will impress even those who don't know much about cars.
Although it's based on a supercar, don't worry: it's still quite kids friendly. When driven inside the house, its non-marking wheels won't leave black marks on the floor. While it can be driven outside on hard surfaces, grass and trails will give it a bit more trouble. If you want your kids to be able to ride around in the grass, consider something like the Power Wheels Dune Racer.
Designed after Lamborghini cars, the vehicle even comes with its own windshield wipers. But while a beautiful exterior is a great selling point, the interior is impressive as well. The included MP3 player plays the kids' favorite music directly and via Bluetooth connectivity. The comfortable seats fit two kids.
Performance
With speeds of 2mph and 4mph, the car is not the fastest but it certainly has enough speed to add joy to most kids. It includes a forward gear and a reverse gear, which can teach kids basic concepts about driving. If younger kids need a bit more help, parents can also take over the driving of the luxury car via the remote control.
Verdict
This classy vehicle is recommended for Lamborghini fans who love luxury and cool, stylish touches.
Pros
Made with a realistic Lamborghini design

Includes a gear shifter

Ships with a remote control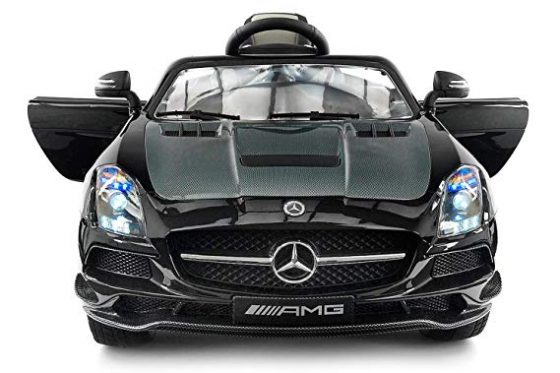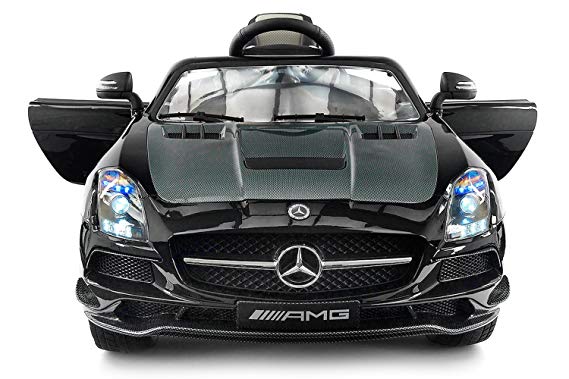 Why we like it:
As a true sports car, the SLS AMG will impress any kid with a need for speed.
Editor's Rating:
Design
From the exterior, the car really looks like an SLS AMG, an impressive feat for such a unique-looking car. Available in black, red and pearl white, the car impresses with its sporty look. Even if it's just a toy, it still looks like a sports car.
Even as a kid's electric car, it delivers more than the little driver expects. Its interior design is even more impressive. With PU leather seating, the car offers a comfortable and even unique driving experience. Even the steering wheel is covered in soft PU leather. With a unique racing-style seat belt, the car can make the little drivers feel special. Getting in the car is easy with the rear doors. Inside the luxury car, drivers will also find a protective floor mat. Before driving off, drivers can ensure all obstacles are out of the way with the realist SLS AMG mirrors.
Music is an important part of the fun experience. It is why the vehicle comes with USB and SD card compatibility to offer unrivaled track-playing options. Practically, kids can listen to a large number of tracks of their own choice.
Performance
Like any sports car, speed is one of the main concerns of the driver. The Mercedes SLS AMG comes with a top speed of 6mph, which impresses most kids, but is still safe. Cruising speed is also available at 3mph. Both can be controlled by the driver or by the parents with the use of its remote control.
Nighttime driving is possible as well. In fact, once the car comes out of the garage, a few cool new features of the car are reviewed. Its interior dash lights are impressive. The car also comes with front lights, backlights and tire lights for the full nighttime driving experience. But since kids are kids, their favorite toys can also join the ride in the free space in the trunk.
Verdict
This Mercedes-based car comes with impressive characteristics as well as the working front and rear lights needed to drive safely in all conditions.
Pros
Made with a realistic design

Uses exterior lights

Compatible with USB and SD cards

Top speed of 6mph

Foam rubber tires for a smooth ride
Cons
Only has room for the driver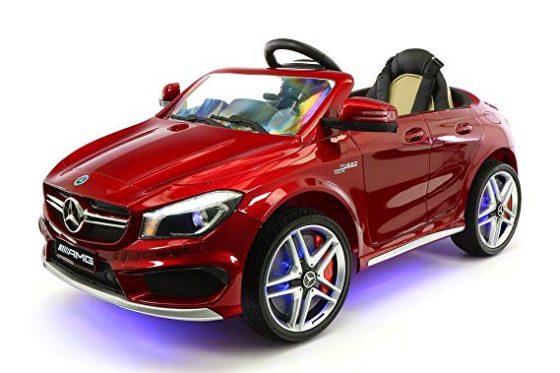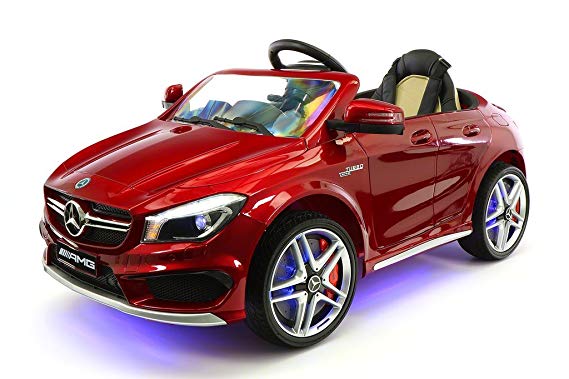 Why we like it:
This capable CLA Mercedes comes with all the luxury features young drivers could possibly hope for.
Editor's Rating:
Design
Designed to mimic a real CLA Mercedes, the electric car is perfect for quick drivers around the yard. It comes with plenty of design characteristics to consider it as a reliable car for all kids' tastes. It even includes an MP3 player with Bluetooth connectivity. Even if it's made to fit only the driver, the car can be among the top options for comfort. With leather seats and a 5-point sports seatbelt, it must be said the car even look cool for adults.
Performance
Getting inside the car is done through any of the side doors. Furthermore, it can be said the CLA Mercedes drives as well as it looks. With a battery indicator on the dashboard, kids know exactly how much driving fun time they have left.
The additional steering-wheel controls can even take their experience to the next level. Most kids can find it fun to switch between the gears as well, even if the CLA only comes with 2 speeds and a maximum power output which makes the car go with 5mph. With easy step-by-step assembly, the car can easily be ready for a comfortable drive within an hour.
Verdict
Based on the real Mercedes CLA, the vehicle is a high-quality sedan made for comfort.
Pros
Plays MP3 and connects to Android phones

Comes with an included remote control

Built with a weight of just 45lbs

Offers soft PU leather seats
Picking Out the Best Electric Car for Kids
Choosing the best electric car for kids is an important decision. All electric cars for kids are different: some in the way they look, some in the way they perform. Apart from being fun, they can also increase mobility and allow kids to develop responsibility and maturity. Parents should consider the following characteristics when looking for an electric car.
Entertainment Options
Even if the cars are just a toy, they might still come with modern entertainment options. This usually comes in the form of music entertainment. Many cars come with pre-recorded songs to relax the drivers and to make the experience even more fun. But the high energy can be maintained with the kids' own music.
Some of the best electric cars for kids allow users to connect their music via an SD card or via a USB memory drive. This is how kids can actually listen to their favorite music. Even more, it is also worth taking into consideration that the cars also come with other types of sounds which include a horn or a fun voice amplifier. There are many other fun entertainment options to consider. Many of them include LED lights in the front, in the back or in the wheels.
Design
Arguably the most important characteristic of a car is its design. If the kids don't like how a car looks, they are less likely to enjoy the car itself. Luckily, there are plenty of inspired options to choose from. Starting with cars which actually mimic real vehicles to other unique designs, there are impressive cars to consider. From sedans to adventure-based off-road vehicles, the little drivers can find their own way around the yard with their favorite vehicle.
Some of the best designs on the market are practical as well. Allowing one or two kids to sit in the car, they can even come with leather seats, which is still impressive for a toy car. But the electric cars are also able to come with other sports-orientated design characteristics such as the 5-point seatbelt. With plenty of accessories to consider, all of these cars should run for at least an hour at maximum capacity.
Getting Your Electric Car up and Running
It should not take more than a couple of hours to assemble the best electric cars for kids. However, many parents actually recommend using proper tools for the process instead of the tools the cars come with. Furthermore, parents should not rush through the process and simply go through the step-by-step instructions to ensure the car is in full working order.
In most cases, the electric cars ship with batteries. In rare cases, extra batteries might be needed for a few extra options. Such an example can be seen with cars such as those which include a horn or a music player which might actually be connected to additional batteries in order not to drain the main battery.
The charging time is also different from case to case. It is believed that the batteries should be charged within 18 hours. However, a few batteries might actually be charged in about 10 hours which is considered fast charging in this segment. However, since the cars can actually run up to 90 minutes, it is advisable to plan this process ahead and avoid having empty batteries whenever kids want to drive.
FAQ
Plenty of parents have questions on the safety, utility, and capability of electric cars for kids. We answer some of the most common questions below.
Can Kids Drive an Electric Car on Their Own?
All kids can learn how to drive an electric car on their own. If they need any help, parents can lend them a hand with the help of the remote control.
Are There Safety Features in Kids Electric Cars?
Electric cars are generally safe. The best of them even come with mini seatbelts. Some electric cars even have functional doors to keep kids inside during tight turns.
How Long Do Electric Car Batteries Last?
Some of the best 12V batteries on electric cars can last up to 120 minutes. However, using car lights or listening to music can shorten this period to about 60 minutes.
Can an Electric Car Be Driven on Grass?
Some of the best electric cars come with large wheels made from foam. These wheels offer sufficient traction to get the cars off the driveway. Truck-style or dune buggy-style cars are better off road.
Can You Use an Electric Car Indoors?
If there is enough space inside the house, the cars can be driven at lower speeds in safe conditions. Make sure your car has non-mark wheels so as to not leave ugly black marks on the floor.
Final Thoughts
Finally, it is important to also consider the educational perspective of an electric car for kids. It can teach children about physics, and even more about how cars work. Kids are always willing to learn as long as the process is fun for them—so be sure to choose a car that they'll love to drive!