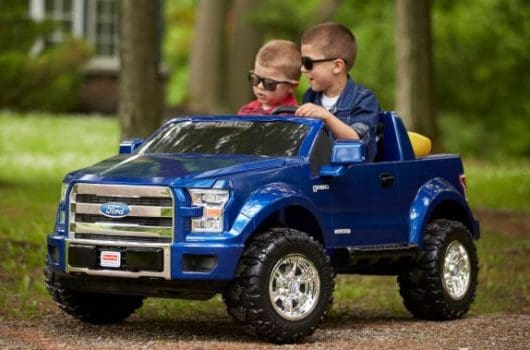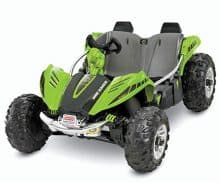 Power Wheels Dune Racer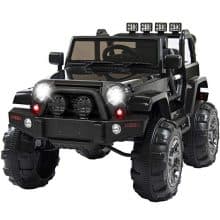 Best Choice Products 12V Ride On Car Truck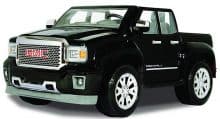 Rollplay GMC Sierra Denali 12 Volt Ride-On Vehicle
Previous
Next
Times have changed and the best electric cars for kids are now affordable. They are also a lot of fun and they can be an inspired gift for kids of various ages. Both boys and girls can fall in love with these cars. From the self-drive cars to the remote control cars driven by parents for extra safety, there are plenty of options to consider.
Choosing the Best Electric Car for Kids
The following options are among the best electric cars for kids in various categories such as off-road or even sports models. Having a quick look over their important characteristics can offer parents a better idea on what to expect.
Speed
From 2.5 to 5mph, most electric cars can offer real thrills for kids. Made with adjustable speeds, the best electric cars are always made to be friendly to new drivers. When kids are fully comfortable driving their new vehicle, they can even increase the speed in safe limits.
Battery life
Battery life has improved on electric cars. Parents should expect at least a few hours of driving fun before having to recharge the batteries. Of course, results vary depending on variables. A car with two kids inside will run out of batteries faster.
Design
If the specs are important, the way a car looks is at least as important as well. From off-road vehicles to pickup trucks, there are plenty of inspiring designs to choose from. As with real cars, kids can choose between options for boys or girls.
Top 10 Best Electric Cars for Kids 2020
FAQ
Can kids really drive an electric car on their own?
All kids can learn how to drive an electric car on their own. If they need any help, parents can lend them a hand with the help of the remote control.
Are there any safety features on electric cars for kids?
Electric cars are generally safe. The best of them even come with mini seatbelts. Some electric cars even have functional doors to keep kids inside during tight turns.
Can cars be used in the rain?
All cars are convertible so the kids fit easily inside. It means they can't be used if the weather is not right.
How long do the batteries last for?
Some of the best 12V batteries on electric cars can last up to 90 minutes. However, using car lights or listening to music can shorten this period to about 60 minutes.
Can an electric car for kids be driven on grass?
Some of the best electric cars come with large wheels made from foam. These wheels offer sufficient traction to get the cars off the driveway.
Can the kids drive inside the house?
If there is enough space inside the house, the cars can be driven at lower speeds in safe conditions.
How to choose the best electric car for kids
Choosing the best electric car for kids is actually an important decision. All cars are different at least in the way they look if not in the way they perform. Apart from being fun, they can also increase mobility. It is why parents can start with the following characteristics when making the decision.
Weight and number of passengers
The weight a car can handle is among its most important features. It represents the actual weight of the driver and even possibly the added weight of a passenger. Some of the best cars on the market handle between 100 and 130lbs of weight. This can include two kids of up to 8 in certain cars. Other cars can only handle a single child.
Top speed
All kids are interested in the top speed of a car. This is somewhat similar but still different. Most cars are made with a top speed of 5mph. If the car is lighter, it can even come with a top speed of 6mph. The good news is that this offers a nice sensation to the kids. But the cars usually also come with a lower driving speed, around the 2.5mph mark. This is mainly suitable for driving around obstacles or even when parking the car.
The top speed is also influenced by different performance aspects. The more weight a car has to carry, the less able it will become to reach its top speed. At the same time, the car might still need to travel on flat surfaces for the fastest speeds as this is where it comes with the best grip. Weight can come from the passengers or even from the load as many cars come with a trunk which can carry anything from toys to sand.
Entertainment options
Even if the cars are just a toy, they might still come with modern entertainment options. This usually comes in the form of music entertainment. Many cars come with pre-recorded songs to relax the drivers and to make the experience even more fun. But the high energy can be maintained with the kids' own music.
Some of the best electric cars for kids allow users to connect their music via an SD card or via a USB memory drive. This is how kids can actually listen to their favorite music. Even more, it is also worth taking into consideration that the cars also come with other types of sounds which include a horn or a fun voice amplifier. There are many other fun entertainment options to consider. Many of them include LED lights in the front, in the back or in the wheels.
Design
Arguably the most important characteristic of a car is its design. If the kids don't like how a car looks, they are less likely to enjoy the car itself. Luckily, there are plenty of inspired options to choose from. Starting with cars which actually mimic real vehicles to other unique designs, there are impressive cars to consider. From sedans to adventure-based off-road vehicles, the little drivers can find their own way around the yard with their favorite vehicle.
Some of the best designs on the market are practical as well. Allowing one or two kids to sit in the car, they can even come with leather seats, which is still impressive for a toy car. But the electric cars are also able to come with other sports-orientated design characteristics such as the 5-point seatbelt. With plenty of accessories to consider, all of these cars should run for at least an hour on maximum capacity.
Final considerations
It should not take more than a couple of hours to assemble the best electric cars for kids. However, many parents actually recommend using proper tools for the process instead of the tools the cars come with. Furthermore, parents should not rush through the process and simply go through the step-by-step instructions to ensure the car is in full working order.
In most cases, the electric cars ship with batteries. In rare cases, extra batteries might be needed for a few extra options. Such an example can be seen with cars such as those which include a horn or a music player which might actually be connected to additional batteries in order not to drain the main battery.
The charging time is also different from case to case. It is believed that the batteries should be charged within 18 hours. However, a few batteries might actually be charged in about 10 hours which is considered fast charging in this segment. However, since the cars can actually run up to 90 minutes, it is advisable to plan this process ahead and avoid having empty batteries whenever kids want to drive.
Finally, it is important to also consider the educational perspective of an electric car for kids. It can teach children about causes and effect and it can show them more about physics and even more about how cars work. It is why parents have the ability to spend quality time with their kids while they have time but also teaching them about the basics of a gear shifter. Most kids are always willing to learn as long as the process is fun for them.