Can any toy be as simple and as fun as a wagon? The best wagon for kids is surely one of the most durable toys made to impress both adults and kids themselves. Wagons have always been popular over the past few decades. Even with modern gadgets with shiny screens, there's something which can't be matched in the joy of a child sitting in a wagon pulled by a friend or an adult.
Where fun starts with the best wagons for kids
Choosing the best wagon is not rocket science. Most parents can make an informed decision with no help. But it is always a good idea to have a quick look at what differentiates a good wagon from the best wagon.
Size
The size of the wagon is crucial. It can carry kids or toys. Some wagons can carry both and kids' friends as well. Parents should ensure their chosen wagon is fit for the activities their kids enjoy the most.
Design
The design of a wagon is what attracts kids in the first instance. With classic and modern designs, there are plenty of quality wagons to choose from. However, their design and materials can also mean they are suited for different activities.
Materials
From textile materials to plastic and even wood frames, wagons are made with different identities. Plastic wagons are usually very easy to clean. Textile materials might offer the versatility of folding designs. Wooden wagons might come with a more premium feel. The following options are a selection of the best wagons for kids.
Top 10 Best Wagons for Kids 2020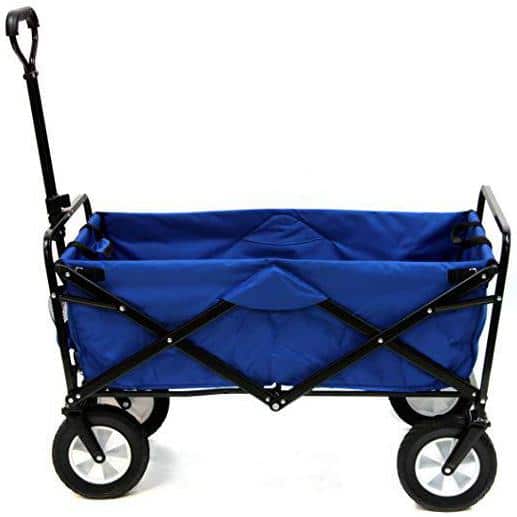 Why we like it:
With a large capacity and a fully foldable design, this wagon challenges what it believed about these toys in the past few years.
Editor's Rating:
Design features
At a size of 30" X 20" X 24", the wagon can seem quite large. It can carry so many toys that kids would even struggle to fully fill it. But it comes with design characteristics which impress everybody. The wagon is fully foldable which means it can actually be fitted behind the sofa when not in use. This foldable frame gives it's a unique advantage. For example, kids can take the wagon with them on weekends away as they don't need too much space for it in the car's trunk.
This also means its walls are actually made from fabric. The 600D fabric is durable, flexible and it can be easily washed which means parents will be happier. Fully folded at 8 inches, the wagon is mainly seen as a design for kids and parents who love versatility.
Convenient features
Some kids might think that such a flexible design would have a few problems here and there with weight support. But this is far from the truth. With a weight capacity of 150lbs, it can even carry two kids, which seems even more impressive based on its foldable construction.
Of course, this weight capacity can certainly be attractive for adults as well. They can also use the wagon for various tasks around the house or even better, allow the kids to use the wagon to help with daily chores. For example, kids can load all the groceries from the car and carry them to the house using the cart. At a length of over 30", there is plenty of room for the weekly groceries to be carried around.
Of course, even with its minimalistic and foldable design, the wagon also comes with an attractive design. Kids can choose from black, red, green, camo or even pink colors. It is why it suits both boys and girls.
Verdict
Fully folded or fully unfolded, the wagon impresses with its flexible frame which is still able to carry large loads.
Pros
Made on a fully foldable frame
Compacts to 8" in length
Made with 600D textile materials
Comes with a length of 30"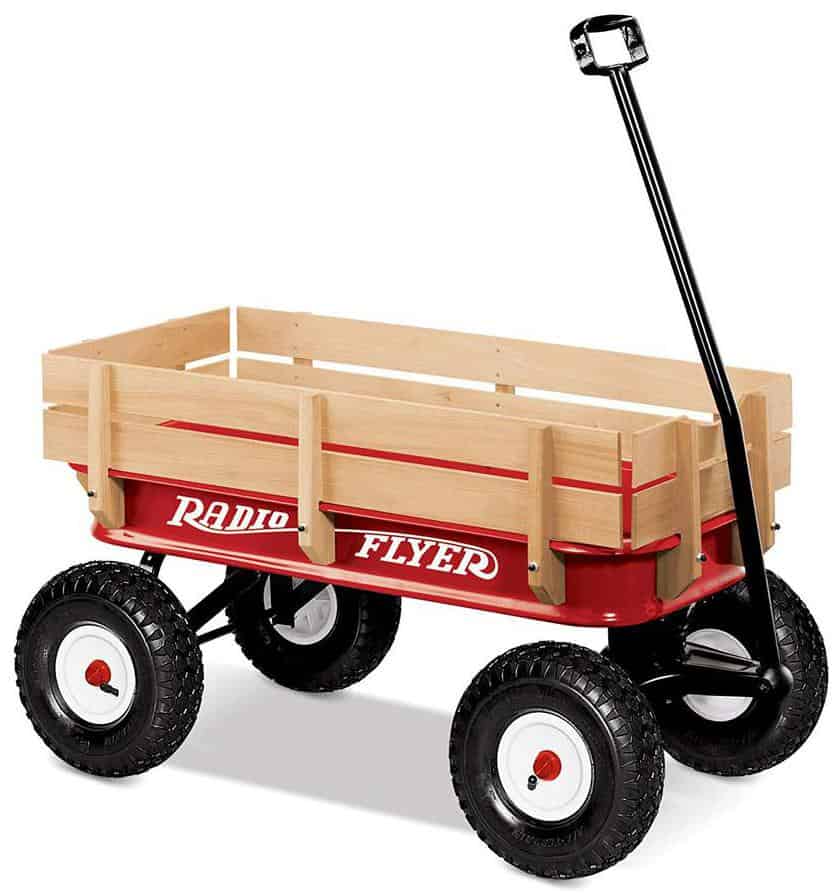 Why we like it:
As one of the longest wagons with large wheels, the Radio Flyer is perfect to tackle uneven terrains.
Editor's Rating:
Design features
The Chicago-based company was producing the Radio Flyer as early as 1917. That means that it can be one of the heritage brands parents can consider. The design of their wagon lives up to the brand's name and it makes it one of the most durable options in its class. Furthermore, the Radio Flyer is one of the best-looking wagons available for kids.
Based on a metal frame, the Radio Flyer comes with durable wooden materials for its stake sides. The combination of metal and wood is superb, creating a visual identity even adults could fall in love with. But one of the biggest characteristics of the Radio Flyer actually comes with the 10" wheels. The large wheels are perfect to take the kids over small bumps and all types of terrains around the house, around the farm or in the park. Furthermore, they are plenty of good reasons to consider the wagon for multiple kids as it comes with an impressive length of 40.5".
Convenient features
With a long handle which can be turned to the sides, the wagon can be pulled in all directions. Of course, the handle can also be folded under the wagon. This means kids can push it as well. Based on large air wheels, even when kids ride in it, the wagon is smoother than many of its alternative.
Many parents would expect it to come with a larger weight capacity based on its ruggedness. This is certainly the case as the wagon offers a maximum load capacity of 200lbs. So picking vegetables out in the field can be supported by the wagon. Many toys can fit this red wagon. Even two or three kids can be placed inside and pulled along the street or on green park meadows.
One of the most convenient features remains the controlled turning radius. It limits the tipping possibility of ensuring all toys are tucked safely inside when pulled by the kids. The latest generation of the Radio Flyer proves some premium designs are truly timeless.
Verdict
Combining wood and metal construction, the large wagon is the choice for increased carrying capacity.
Pros
One of the largest wagons in its class
Made with metal and wood
Carries up to 200lbs
Designed with a controlled turning radius
Cons
Thinner materials than on the original Radio Flyer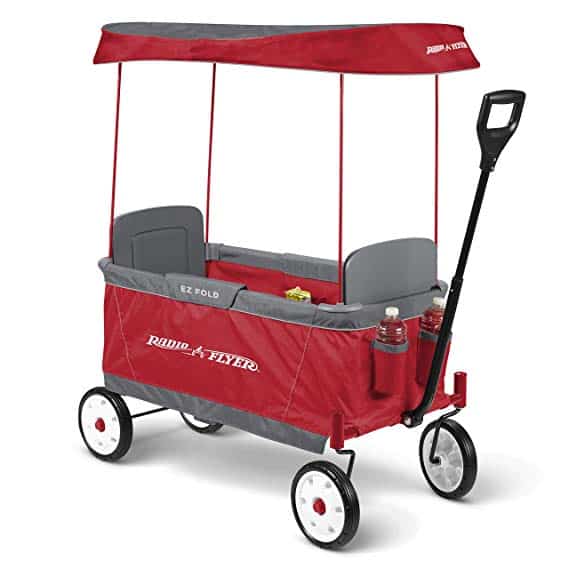 Why we like it:
Made with a removable canopy and a telescoping handle, this wagon seems like it can handle any type of task, regardless of the weather.
Editor's Rating:
Design features
As a textile design, the wagon manages to offer plenty of versatility. There is even a canopy added to keep the kids or the toys safe from the hot sun or from the rain. The manufacturer also added a long telescoping handle which keeps all kids who pull the wagon at a safe distance from it, allowing the wagon to be pulled in all directions safely.
But the wagon also comes with added seatbelts for two kids. This makes it a safe option and together with the extra-safe telescoping handle, it can be a great first wagon for younger kids. But its comfort is not bad either. If they are shaded from the sun by the canopy, the wagon can also act to improve the feeling kids get on a hot day with its drink holders.
Convenient features
Made with DuraClean fabrics, the wagon is responsible for some of the cleanest wagons kids can hope for. The material washes easily with a bit of soap and warm water. But it is also made with UV protection which means it will last longer, even if used in the Southern parts where the sun is hot and shining for extra hours every day.
Made by a company which knows how to produce Radio Flyers, the wagon is indeed comfortable. Its convenience can be seen in the two-seat design. But the wagon is also made to be used easily. It comes with a one-hand fold which means there are no complicated textiles to fold and no frames to worry about.
Handling up to two kids at the same time, the wagon can be pulled across various terrains. Most importantly, it maintains a lightweight profile due to its materials which replace wood and plastic with UV-treated fabrics.
Verdict
As one of the wagons with two seats and seatbelts, the Radio Flyer is a top choice for kids who enjoy relaxing while out of the house.
Pros
Made with practical foldability
Based on UV-treated materials
Designed with seats and seatbelts
Includes two drink holders
Cons
120lbs maximum weight only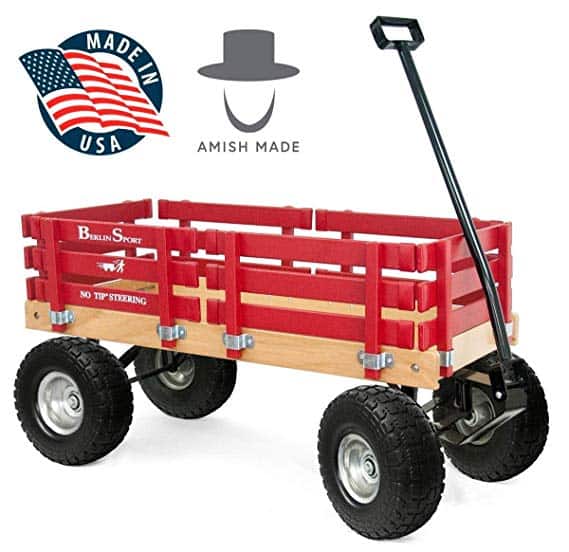 Why we like it:
This Amish-made wagon is hard to match when users seek the highest weight capacity.
Editor's Rating:
Design features
With an elegant wooden design, this wagon is made by the Amish. As a result, it actually represents one of the most interesting solutions when it comes to its simplicity and durability. It uses wooden side rails which are distinctly painted in red. It also means that the wagon is probably one of the most classy options among its alternatives.
The attention to detail on the design is impressive. For example, each end of a rail is protected by rubber insertions which even keep the kids away from possible scratches. There are 6 removable side rails which allow the wagon to be stripped down if needed.
Another impressive feature is seen with the large wheels. The 10" wheels are among the largest in the category. If they are good enough for Amish environments, they are certainly going to roll over nicely in larger cities as well.
Convenient features
There is a limit to how much these wheels can actually turn. This is why their added convenience means the wagon is actually safe for the kids, even when pulled with higher speeds. The foam-filled tires can reach these higher speeds, even if they might not be as fast as the air-filled tires.
The Belrin Flyer is already a success story. It is actually used by UK's Prince George who made it famous. However, with quality materials and one of the sturdiest designs in its class, the wagon might need no extra introductions. At a length of 36", it can carry up to two kids and all the toys and accessories they can dream of.
Verdict
Made with rubber-protected wooden rails, the wagon is one of the premium designs to consider for its wise choice of materials.
Pros
Made with a length of 36"
Impressive 300lbs weight capacity
Prevents oversteering
Made in the USA
Cons
Tires are filled with foam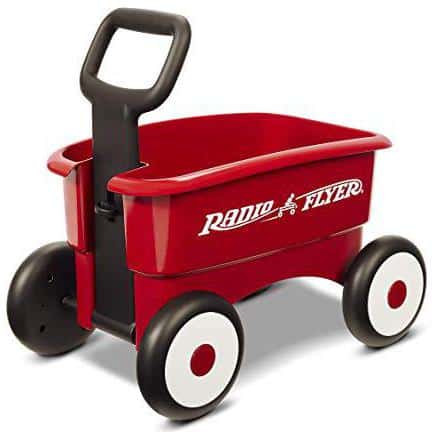 Why we like it:
Suitable for kids between 1 and 4, the wagon comes with a mature profile offering one of the most professional designs in its class.
Editor's Rating:
Design features
The wagon comes with a small profile. At a length of only 19", it is clearly made for toddlers. But this means it is also much more practical than its bigger brothers. Its handle can be locked in a position which means it can simply be used for walks around the house.
Made by a company which knows how to manufacturer kids' wagons for decades, it is also one of the most reliable solutions for transporting toys. It has an XL storage capacity at a maximum weight of 35lbs. This makes it a viable option when it comes to overall functionality with the toys around the house.
With a plastic body, it also means parents can wipe it clean whenever needed. It represents one of the most durable constructions as well as the plastic is not demanding and not influenced by the rain or moist such as wooden alternatives.
Convenient features
Made to be walked or pulled, the wagon comes with a handle which can be locked in position. This means it can handle its purpose very well, even if those pulling it are barely learning to walk themselves. Of course, its walker functionality also means the wagon can offer some help for the kids learning their first steps in a vertical position.
With rolling wheels, the wagon might not go over some soft or uneven terrains. But then again, those up to the age of 4 are not really expected to venture off too much from the backyard on difficult terrains.
Most importantly, the chosen materials maximize durability. The wheels are made from plastic and not rubber filled with air. It means they are not going to face possible punctures and that they are going to last for years and years.
The 2-in-1 design of the wagon favors pulling and pushing. Without any wooden materials, the lightweight wagon can easily be handled by toddlers. It is a top companion for the first steps on even surfaces.
Verdict
With lightweight plastic materials, the wagon can be a top choice for toddlers making the first steps with its walker function.
Pros
Made from durable plastic
Designed to handle up to 35lbs
Suitable for kids of at least 1 year of age
Designed with a locking handle function
Cons
Not really made for climbing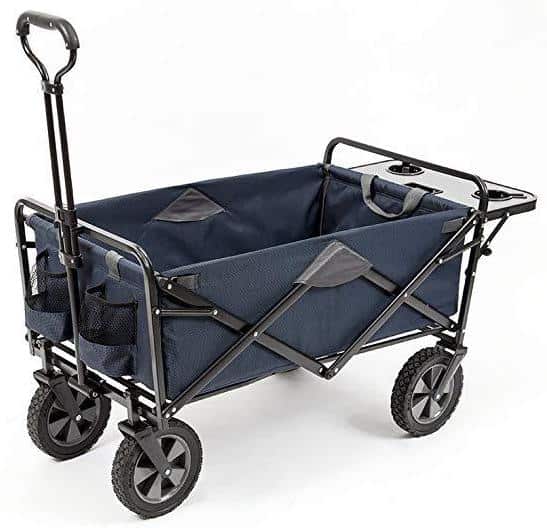 Why we like it:
With an ultra-long design, this wagon can be considered for its extra space and its foldable design.
Editor's Rating:
Design features
As Mac Sports fans might already know, the manufacturer offers some of the best foldable wagons in their class. This is also the case of the Collapsible Outdoor Utility Wagon. Although not necessarily made for kids, it can be one of the top options for children who have the strength to deal with a larger design.
It comes with a length of 43" which sees it as one of the leading options when it comes to the space to carry goods or toys. It is one of the longest on the market. Even in these conditions, the wagon still comes with plenty of great features. Of course, its main design strength lies in its foldability. The wagon folds to a thickness of just 8", making it ready for storage. Its textile materials remain on its frame while folded which means kids won't have too much to worry about when it comes to folding and unfolding.
Convenient features
Suitable for parks, camping or playing around the house, the convenient wagon can be used by kids of various ages who would like the extra capacity. With considerable room inside, kids can even carry various household items in its. But this larger size doesn't translate into an increased weight capacity. The wagon offers the same 150lbs which would expect from the manufacturer.
With large wheels and an adjustable handle, the wagon is among the most durable options for daily use. Even when left outside on rainy days by mistake, it can still dry quickly based on its textile materials. Kids can ensure proper accessories are with them as well and refreshments have their own compartments for this purpose.
Verdict
With a long wheelbase, the wagon can be chosen by parents who have kids with many toys as it offers extra carrying space.
Pros
Made with a foldable design
8" in thickness when fully folded
Based on large transportation wheels
Impressive 43" in length when fully open
Cons
Not the highest weight capacity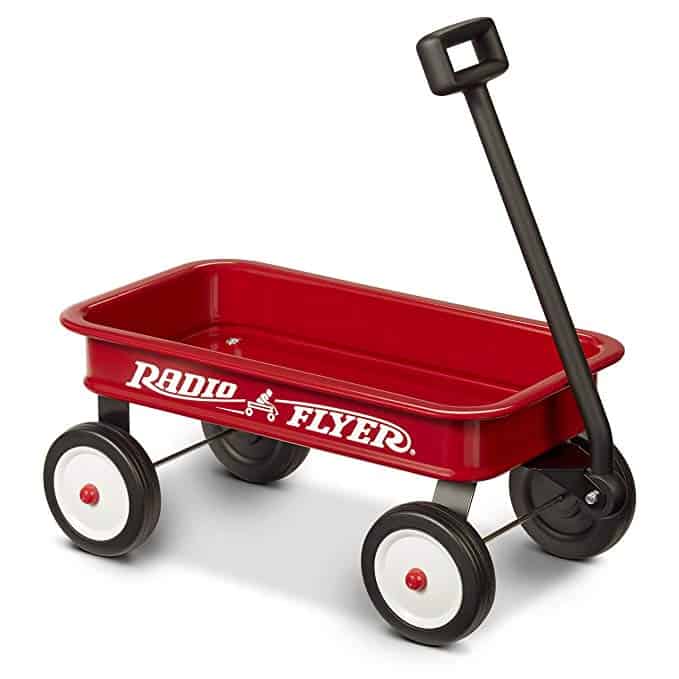 Why we like it:
This toy version of the original Radio Flyer can be one of the distinct gift ideas kids can use on a regular basis.
Editor's Rating:
Design features
Made by one of the most respected manufacturers in the wagons for kids market, this wagon doesn't fail to impress. It comes with a more compact profile which makes it a viable solution in a few situations. For example, its smaller size means it can be used by smaller kids. Of course, it can't carry the kids themselves. But it can carry plenty of objects or toys from around the house. In most situations, the wagon can also prove to offer a versatility which would allow it to reach tighter spaces. For storage purpose, it is also a clear winner.
At a length of 19", the metal wagon is still a good platform for a toy, music instruments, plush toys or even for a few snacks to be pulled around the yard. With a weight of just over 3lbs, the wagon impresses with its speedy performance.
Convenient features
Suitable for ages 3 and up, it's not hard to see how kids would integrate this fun wagon into their daily play activities. It doesn't sit on rubber wheels, but it is still responsive enough to be pulled around the yard. Its plastic wheels are a plus when it comes to durability, even if the roll is not suitable for the highest speeds.
My 1st Wagon is actually an inspired first choice in the wagon world. It represents a top priority for those who want to get their kids more familiar with the wagons they can play within so many ways.
Most importantly, it builds on the heritage of the original Radio Flyer. Like its little brother, the wagon comes from the same respected manufacturer building quality wagons for over 100 years. Made in the USA, My 1st Wagon is also a testament to pure build quality.
Verdict
Based on the original Radio Flyer, the wagon proves versatility is underappreciated with many of its competitors.
Pros
Perfect for beginners
Made with a low weight
Comes with a length of just 19.25"
Suitable for toys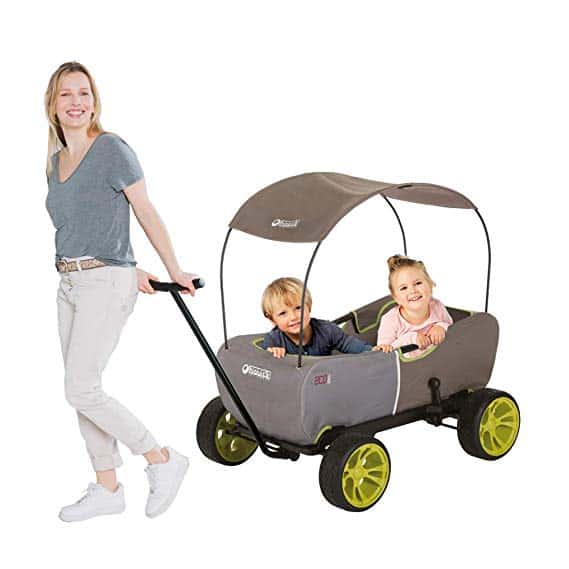 Why we like it:
With real bearings in the rings, the wagon stands out with its smooth ride experience.
Editor's Rating:
Design features
There are not too many wagons which look as good when made from textile materials. With an added canopy, the wagon can feel quite cozy for most kids. Its design is actually entirely based on comfort. It is why there are even two seats inside to accommodate kids first and not toys.
But the main design strength comes with the fully foldable nature of the wagon. Its collapsible walls mean it can easily be stored away when not needed. It helps parents fit it in the trunk or even in the car in-between the front and the backseat.
With a steel frame, the wagon measures 100cm in height. It makes it one of the highest in its class and one of the suitable options for extra sun protection. Keeping rain away is also possible to an extent based on the same canopy benefits.
Convenient features
Based on large wheels, the wagon can tackle all types of surfaces. Even more, it can go as smooth as many kids can only dream of. But this is mainly due to another characteristic. The wheels are actually based in steel bearings. It is this set of two bearings which makes sense when seeking the ultimate ride comfort. With such quality wheels, the wagon feels like a true premium design. But the wheels' engineering does not stop here. The single hand locking brakes are added to ensure it doesn't leave the sight when parked on uneven surfaces.
Verdict
This premium wagon is mainly recommended for parents who want to pull their kids in maximum comfort.
Pros
Based on a collapsible design
Made with wheels on bearings
Includes single-hand locking brakes
Based on a durable steel frame
Cons
Doesn't come with any drink holders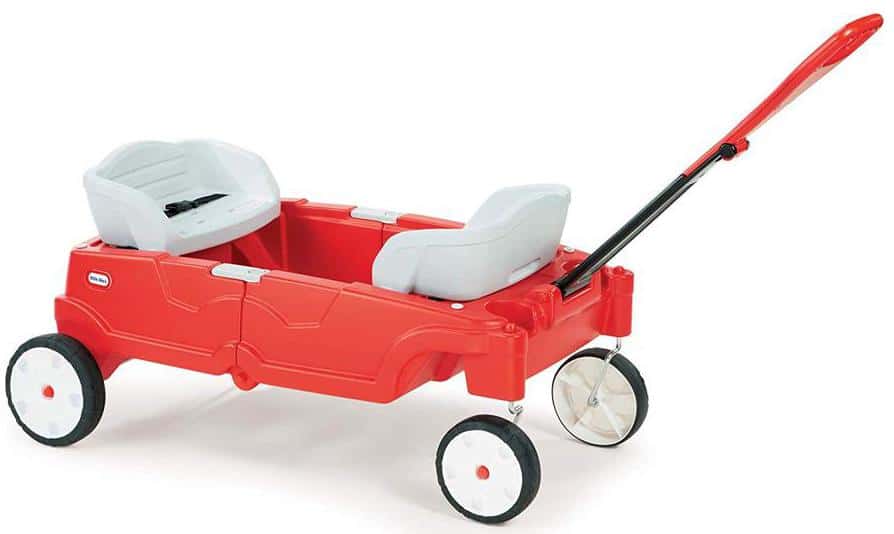 Why we like it:
The small wagon is recommended for kids' comfort with its added 4 drink holders.
Editor's Rating:
Design features
As one of the comfortable wagons, it is option kid get to like. Actually, they can sit back comfortable on one of the two included seats. They can even ensure they are safely tucked in the seats by securing their seatbelts. There are 4 drink holders added to the wagon. This means each child can have up to two drinks while sitting back and enjoying the scenery. It is one of the wagons which places such attention on the small details.
Being made with a foldable design, the wagon can be considered by parents who have limited storage or limited trunk space. It allows the wagon to be carried to the favorite park or even to the next weekend gateway.
With a built-in handle, the wagon can be pulled by either adults or the kids themselves. Suitable for ages 1.5 and up, it is not too complicated to maneuver around the yard. Even its reduced dimensions with a length of just 24.9" mean kids would be able to enjoy it without too much stress.
Convenient features
One of the convenient features of the wagon comes with the versatility of the actual seats. They can also fold down when not in use. It is here that kids themselves can actually carry their own toys or parents can carry their groceries with a bit of extra space.
With no needed assembly, the wagon is ready for action as soon as possible. However, it has its drawbacks as well. One of the drawbacks comes with the actual materials. While the wagon folds, the plastic does not fully collapse. Another issue to consider comes with the plastic wheels which might not be the fastest or the smoothest options seen by kids today.
Verdict
With a foldable plastic design, the robust wagon is made for versatility within the limits of a durable product.
Pros
Based on a foldable design
Comes with 2 child seats
Includes seatbelts
Made with 4 drink holders
Cons
Not the most compact when folded
Why we like it:
Made specifically for princesses, this distinct pink wagon can offer a special feel which most alternatives can't. As all vehicles for princesses, it is actually made with great style.
Editor's Rating:
Design features
This distinct wagon is made to make little girls feel special. Everything about its design reminds just how stable and capable it is in offering a comfortable and distinct ride for one or two girls. There are two seats for the girls to choose from.
Designed with a chariot-style door, the wagon allows easy access. Most importantly, it favors access in style so that girls really feel like princesses. The top of the wagon is dominated by a princess canopy. This canopy is actually removable. While its material is too thin to keep rain away, the canopy can still offer some shade for the little princesses. At the same time, it can still be removed completely for the ultimate experience on the road.
Convenient features
As all princesses know, too much comfort is never an issue. It is why the chariot-type wagon sits on large rubberized wheels. These wheels are responsible for a smooth roll which translates into a more relaxed riding experience. With the help of the two drink holders, princesses can also take a sip of their favorite drink as they enjoy the passing scenery.
Adults can pull the chariot wagon across various surfaces with the help of the long handlebar. But even the girls can pull the wagon themselves as the wheels offer such responsiveness.
Perfect for a day in the park or a ride down the street, the wagon is one of the few options fully dedicated to girls. Of course, its delicate materials might get dirty faster, but princesses need all the help they can get from the washing machine to maintain their sharp look.
Verdict
With distinct vivid colors and based on large smooth wheels, the wagon can be the solution for little girls.
Pros
Inspired by chariots
Made with an access door
Comes with a distinct canopy
Included seats with seatbelts
Cons
A canopy can get dirty fast
FAQ
How can my child use a wagon?
A wagon can be a versatile toy. Kids can ride in it but they can also use it for various games. They can enjoy a day outside by riding in the wagon. Children can also pull the wagon filled with their toys to carry them outside the house.
Which wheels are the best for a wagon?
There are many types of wheels on modern wagons. The most affordable option comes with plastic wheels. Foam wheels can add a bit more comfort. Air-filled wheels offer a more realistic riding experience.
Is a wagon for kids going to be durable?
Most wagons are made to be durable. It is usually the moving parts such as the wheels which break first before anything else. Many manufacturers offer replacement parts as a result.
How can I tell if can place my kids in the wagon?
Placing a kid in a wagon is a matter of age and the wagon's design. If the child is below one year of age, a wagon might not be the best idea. If there is a special seat inside the wagon, kids might feel more comfortable and safer without moving inside the wagon. All wagons also have a maximum weight capacity. It means that the average wagon will only take up to two kids at the same time.
Does my wagon need any maintenance?
Most wagons don't need any type of maintenance work. But cleaning it from time to time is advisable. Ensuring there is no debris on the wheels and on the wagon is a must. Keeping it away from the rain and snow also means rust will not affect the wagon. Plenty of other tips can be applied but all users should read the product's manual to ensure they follow the indications of the manufacturer.
Can I carry my things in the child's wagon?
Some wagons come with a large load capacity between 150lbs and 300lbs. It means adults might be tempted to use it for their own tasks. All adults should check the maximum weight capacity of the wagon before doing so.
How to choose the best wagons for kids
Wagons are very simple when made with the right design and with the right materials. But parents might still be unsure about the type of wagon to choose, especially if their kids are already bigger which would mean they could handle any wagon.
Weight capacity
The weight capacity of a wagon is a number which refers to the maximum pounds which can be loaded without putting unnecessary pressure on the materials. The wagons above come with a weight capacity between 30lbs and 300lbs. Of course, this means they are suited for a different purpose. Some of the most versatile wagons are actually those with high weight capacity.
Size and foldability
The size of the wagon can dictate if kids can fit in it. It is why the wagons can offer one of the best options for those who want to offer their kids a different type of playing. But the size can also be impacted by folding design. Even some of the largest designs on the market can be folded which is perfect for storage purposes.
Materials
From UV-treated textiles to plastic and even real wood, wagons for kids can use different materials. Metal can sometimes be added to the platform as it offers sufficient weight support. But wood might need a bit more care compared to other materials. It should not be left out in the rain or stored in high-humidity places such as the basement.
Wheels size
The size of the wheels is accompanied by endless debates. But the truth is larger wheels such as those of 10" are perfect for uneven terrains. If the wagon is only going to be used on sidewalks, this might be a diminished problem. But it's highly unlikely kids would stick to paved areas and this is where large wheels are better for improved versatility.
There are different types of wheels to consider apart from their diameter characteristics. Foam-filled, air-filled and pure plastic wheels are on offer. They can't really be customized and selected by the customer. But parents can have a better understanding of what their kids can expect when comparing these wheels.
Final considerations
Some of the best wagons for kids are actually made to fit up to two kids. Others are only made to fit toys or other small objects. Regardless of their design, most wagons still remain one of the most innocent tools for hours, days and years of fun. A single wagon can provide sufficient entertainment even for groups of children.
Some of the most respected brands in the industry are already manufacturing wagons for decades. This also means the models on offer are very distinct. For most kids, wagons can offer a very specific design. Parents can offer them compact wagons which can also be used as a walker. Larger kids can use their larger-capacity wagons to carry their toys. Kids above the age of 6 can even have their fun with a foldable wagon which offers the most versatility.
Beyond a simple tool to provide thrills, a wagon offers a creative way of playing and improving visual ability. Kids can come together. They can learn the importance of sharing. Most kids can actually take turns playing with the wagon and this can be one of the crucial lessons they need to attend.
A wagon can also offer an opportunity to develop social skills. Kids can improve the way they communicate both with their parents and among friends when playing. At the same time, a wagon is not dependent on batteries. Kids can play while outside at home or while away for the weekend. With more time spent outside, they can enjoy the fresh air and see more sun exposure. With so many benefits, it's no wonder that some wagons have been in production for nearly 100 years in the US.