Top 30 Best Gardening Tools for Kids 2022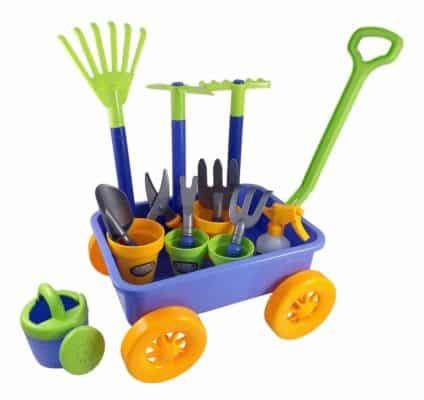 The Liberty Imports Garden Wagon & Tools Toy Set for Kids could very well be the best children's gardening set you could ever find as it comes with more functional backyard implements. This set comes with a hand rake, a fork, a clipper or shears, a spade, and a wrench. Also packaged into the set are 2 sets of large and small flower pots complete with a spray bottle and a watering can. Moreover, there's also a standard rake, a pick mattock, and a leaf rake. What's amazing is the wagon that's used to carry all of these implements. Whether your kid will decide to use these implements in your backyard or at the beach, chances are they will be having blast make-believe with this superb kids gardening set.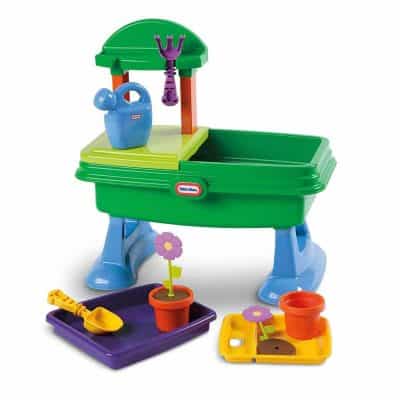 Gardening with little ones can be messy. This garden table is the perfect solution. It features a place for the dirt, water, and all the mess. And when it's time to clean up, it's easy. Everything from the set either hangs up or fits into the basin. It makes gardening with a toddler even more fun. The design of this playset is versatile since it can be used in any place you would like. From planting flowers to watering them, then watching them grow, this table is great. The basin on the table can hold water or dirt. It features an easy to drain plug that's built right into the design. It even comes with a watering can that really works. Moreover, the table top design of this product is great for more than one kid at a time playing. The set includes the garden table, a shovel, a rake, 4 pots for the flowers, soil discs, a tray, a tray for sifting, and a working watering can. From pretend play to real-play, this garden table is great for any inspiring little gardener.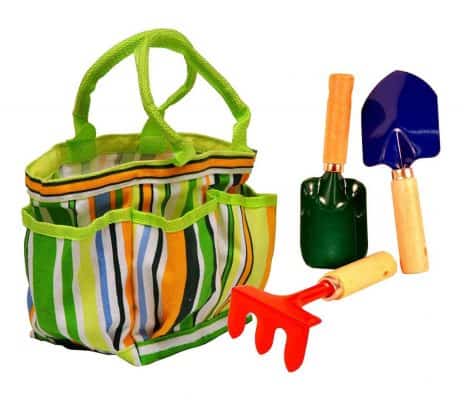 The G & F Products Toysmith Kids' Garden Tote with Tools includes a trowel, a hand rake, and a shovel. The three implements are beautifully carried in a colorful and fashionable tote bag that can turn heads. The choice of neon green for its handle draws attention to the beauty of the bag. If you pay attention to the tote bag, it's a very stylish and fashionable bag for storing gardening implements. In fact, it's too posh to be used in the garden. Nevertheless, it comes with a lovely wooden handle plus a very sturdy and durable implement that surely resembles the tools that moms and dads use. You can now go gardening with your kids and everyone will be having a great time.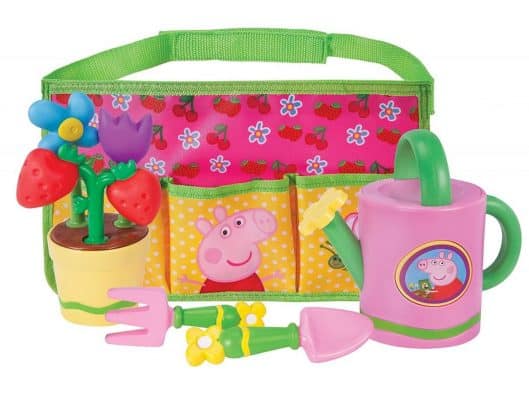 This Peppa Pig set comes with a shovel, tiny rake, watering can, a fake plant with the cutest little strawberries, and a carrying kit to put it all in. Kids will be delighted to have this gardening set as their first and it'll inspire them to have a garden just like their parents. The Peppa Pig theme comes through pretty strongly with this gardening set and is sure to be a hit with lovers of the show. It's bright and colorful and even though it's a toy, there's no reason these tools can't be used outside to help out in the garden. It's a great starter kit for toddlers who don't yet know complex gardening, and with it, they'll have no problems wanting to spend time outside with you.
Gloves are an essential part of heavy-duty gardening for some and for a list of good reasons. For starters, they keep your hands clean when you're pushing dirt aside. Some plants are even more delicate than others and need a little extra love, which means burying them by hand rather than by scooping dirt with a shovel. Two, they keep dirt out of your nails which can become a super messy job cleaning up later on. Three, they protect your hands from any wicked weed, including poison ivy, poison oak, and, of course, any bugs that might potentially sting or bite. For kids, gloves are extra important because of all these things. The G & F gloves are one size fits all, breathable, and even come in four different designs.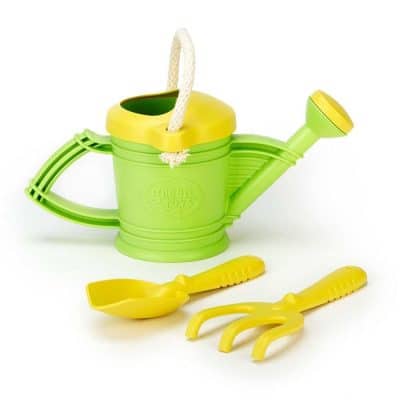 The Green Toys Watering Can is a complete toddler gardening set constructed of 100% fully recycled plastic which significantly reduces its carbon footprint by eliminating the need for the production of high-quality plastic from raw materials. However, you shouldn't worry too much as the company has undergone rigorous testing for its products and have been certified to be free from PVC, phthalates, BPA, or any other external coatings. The prints used in all of its labelings are made from soy ink, further improving its eco-friendliness. This set comes with a fork and a shovel in addition to the yellow and green watering can. Kids, especially young ones, will have a great time watering the different plant and blooms in mommy's garden. It's going to be useful for some beach fun as well. This toy is also durable enough to provide many hours of outdoor fun.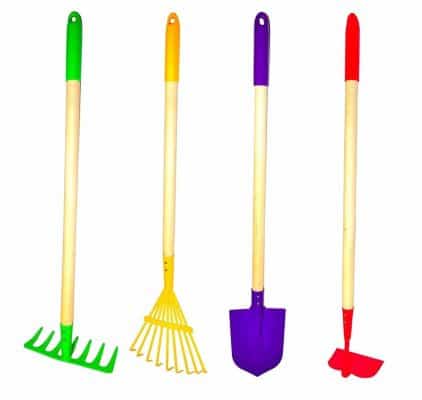 This set of tools includes a rake, a spade, a hoe, and a leaf rake complete with their elongated handles for more efficient handling. The handle is made of highly durable solid wood to give your child a firmer grip while swinging these gadgets in the air before striking them on the ground. The functional heads of these instruments are made of premium quality metal and are combined with the solid wood handle using G & F's patented Enhanced Binding Technology, ensuring that the union between wood and metal is kept and safeguarded. Because of the metal component of the JustForKids, these are primarily intended only for older children and should never be allowed to be used or handled by younger kids. The overall length of the tools, which is about 27-inches, also adds to the risk of accidents in instances where the gadgets are used by younger children or kids who may not have adequate control of their motor skills. With this set, your child will soon be planting their own vegetables.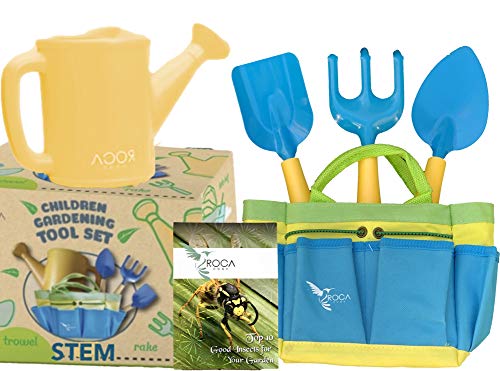 Everything that your little one will need to discover gardening has been included in this set. They're perfectly sized tools that are ready for them to enjoy. The set can be used indoors to plant simple herb gardens or used outdoors learning how to plant a home garden. All the tools have been created from kid-friendly materials and are ideal for their little hands. Each of the metal tools has had all the edges rounded, ensuring that nothing will be sharp. The set includes two different types of shovels, a small rake, a gardening tool bag, watering can, and their first set of seeds, plus a STEM learning guide. The STEM learning guide helps parents learn about how to promote nature and animals to their little one. Get your kid off their tablets and get some dirt on their hands with this all-inclusive gardening kit for kids.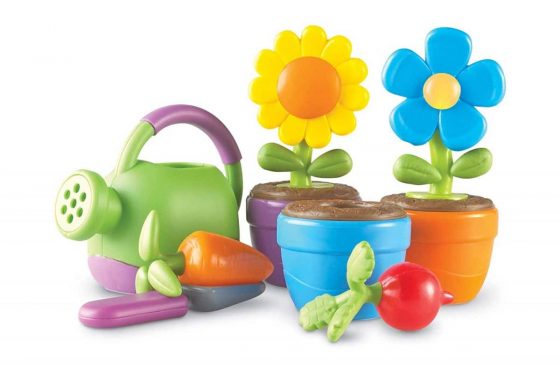 This garden set is full of imagination building toys. Kids are able to plant, grow, and see the 'fruits' of their labor right before their eyes. Each set has flowers and vegetables, a watering can, three planting pots, and a shovel. The flowers can be mixed and matched plus they're super colorful. There are two flowers, a carrot, and radish vegetables, plus the plants. The planting pots have been filled with playtime dirt that looks real without all the mess of real dirt. All of the flowers and vegetables can be placed in any colored pot. The design is perfect for their little hands and growing imaginations. It's durable, constructed from soft plastic, and easy to hold. The set has been designed for little ones that are older than two years old. Keeping your kids active outside and inside can be tough, but using their imagination with this learning garden set is easy. They'll do all the hard work themselves.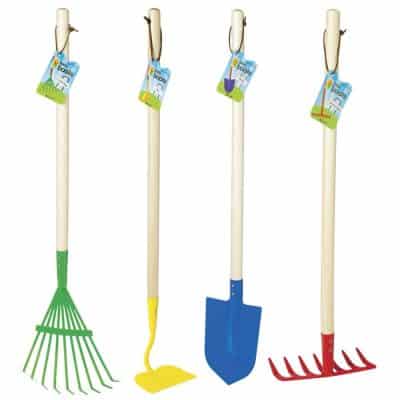 This Big Kids Garden Tool Set comes with everything your little one needs to help you do all the yard work. While it can often feel like a chore to them, the gifting of their own personal gardening tools can help them feel empowered and ready to take on a day in the year. They'll feel a sense of maturity knowing that they have their own tools to help mom and dad in the yard doing all the things they see grown-ups doing, only now they can do it with tools that fit their tiny hands. Each one of these tools is created with high-quality materials and come complete with wooden handles and a string to be hung up in the garage or on a wall in the basement. The set comes with a spade, rake, hoe, and leaf rake. This makes it perfect for tackling yard work in the spring, summer, or fall.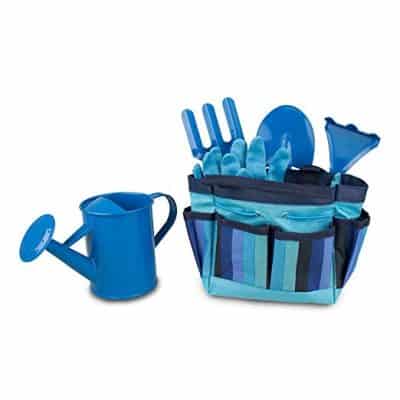 The Gardenline Kids Gardening Toolset is a very fantastic kids' gardening tool set made primarily for kids that are around nine years of age. It consists of a shovel, watering can, a fork and a rake. Furthermore, this kids gardening tool set comes with a bag that allows you to keep all the tools in and gardening gloves to protect their hands from dirt or germs. Moreover, these gardening tools come with wooden handles that make kids feel like they're handling the real thing while also allowing them to hold their appliances well. Their heads are also made of metal which makes them have a little more weight. However, despite this fact, these tools are produced with safety in mind as their edges are well rounded to minimize injuries. Because of the iron and the weight, it makes this tool suitable for 9-year olds and above rather than toddlers.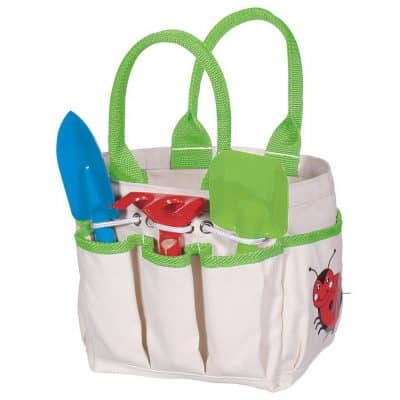 One of the best toddler's gardening set you can find is the Toysmith Kids Garden Tote Playset as it comprises of high-quality garden tools that perform gardening functions for kids. This set of gardening tools consist of a rake, spade, leaf rake, and garden rake. These tools have a wooden handle and a metallic edge with leather loops on each of them. This toddler's gardening tool kit is for kids from age 5 and above and it promises a very high safety standard. It's very useful when your child wants to have fun in the garden with you or when you aren't present in the garden.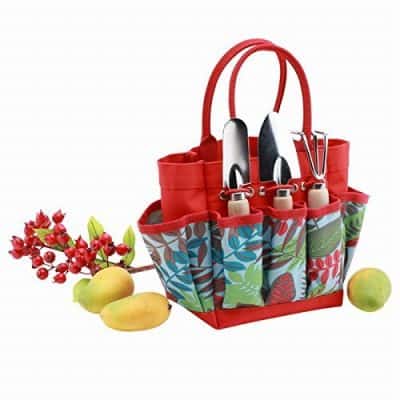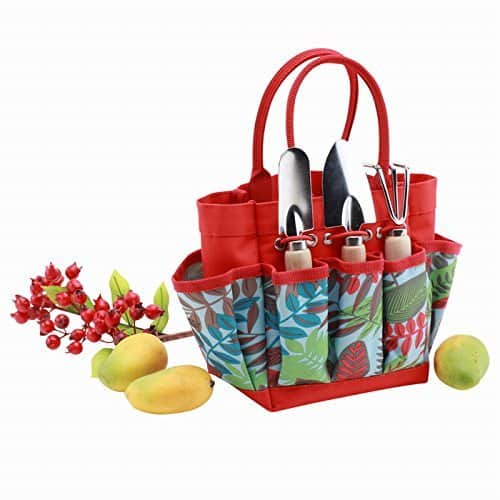 When looking for gardening tool equipment that looks like the real deal, then the Bo Kids Garden Tool Set with tote is the one for you. This toolset consists of a trowel, rake, and shovel. In addition, it comes with a durable and beautiful canvas bag that has side pockets that allows you to keep your garden tools in them. The handles of these tools are made from hardwood and the edges are made of metal which can be heavy for toddlers. According to the manufacturers of these tools, they are suitable for ages 3 to 8 but we recommend that age 5 upwards should be the one using them to avoid injuries. The tote bag in this toddlers' gardening set can also be used as picnic bags or lunch bags for yourself or for kids.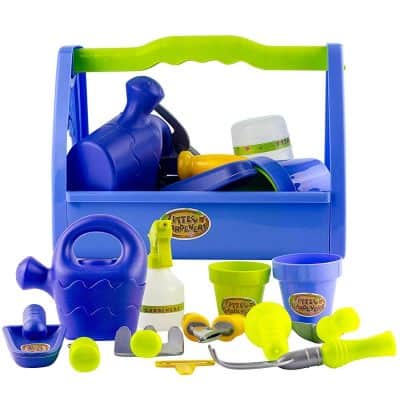 When looking for garden tools for toddlers that has more than the regular spade, fork, and watering can, then the Liberty Imports Gardening Tool Box Set is the one for you. The whole package includes a wrench, a shovel, a spade, a fork, a rake, a clipper, a watering can, a water spray bottle, and 2 flower pots. Amazingly, these tools are being contained in a toolbox instead of the regular tote bag which makes it easier for you to carry all your tools and flower pots. Kids can experience using different types of tools from the set rather than having to stick with the regular type of tools you get in other kids garden set.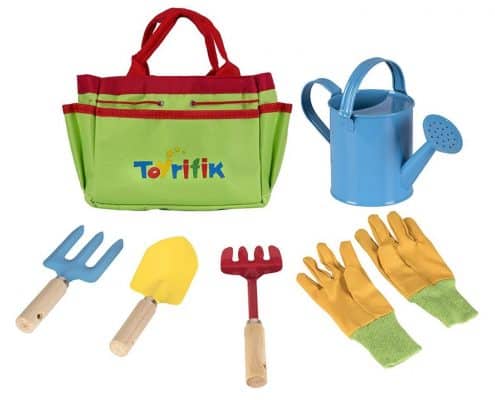 If you have fun looking kids gardening toolset that can allow you to dig, water flowers or even rake the soil, then the Toyfrik Little Gardener Tool Set with a bag is the right choice for you. This toolset comprises of a tote bag, a rake, gardening gloves, fork, and shovel. Additionally, the handles of these tools are made of wood while the heads are made of round-edged metals for the safety of kids. These tools also come in bright and exciting colors ranging from blue, yellow, green to red. The tools are very safe and they are good for performing real gardening work.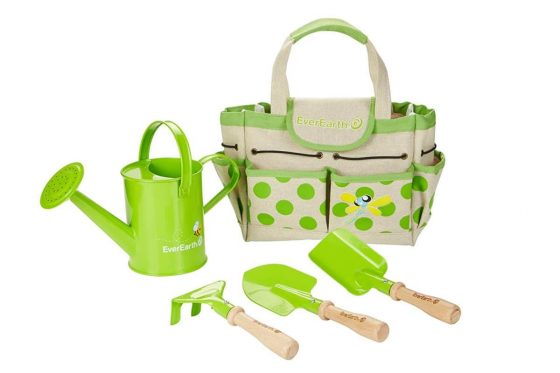 The EverEarth Children's Gardening Bag with Tools is an ideal toolset for kids over the age of 3 which comprises of a trowel, watering can, shovel and rake. The tools are made like adult gardening tools but the only difference is that the EverEarth tools are smaller. Digging, raking and watering of plants by your kids can't feel more real than when using them. The edges of the tools are well rounded to prevent kids from getting hurt while gardening. Furthermore, the tools are painted with non-toxic paints. This tools box doesn't only allow kids to work in the garden for real, it also lets them be responsible for their plants because of the watering can.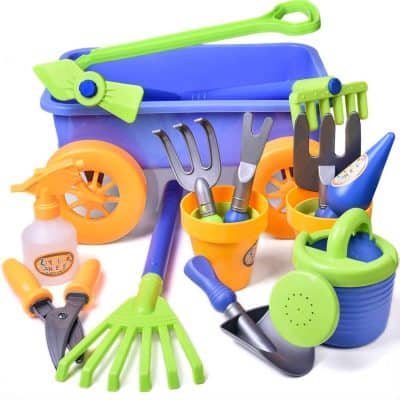 The Fun Little Toy's Kid's Garden Tool Toys Set is great for gardening on the go. This tough but lightweight blue wagon is packed with 15 separate gardening tools including shears, hand shovel, spade, watering can spray bottle and more. All the tools are made from BPS-free thick plastic which is non-toxic and safe for kids aged 3 and up. Aside from the garden tools, the wagon has been designed to be pulled across beaches and snow. Besides, this toy set comes with a complete 90-day warranty.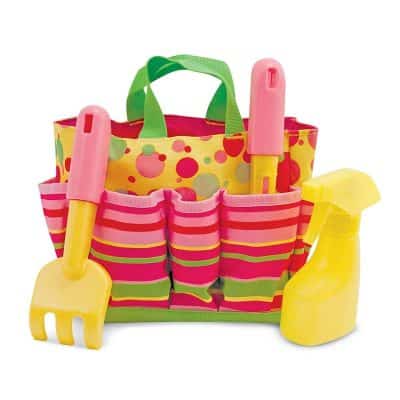 This is another high-quality product from Melissa & Doug. The small set of durable but safe plastic toys is perfect for kids between the ages of three and five. The set comes with a spade, small rake, and a spray bottle. While probably not suitable for actual gardening, they're great fun for digging in the dirt and playing pretend. Additionally, this set includes a vibrantly-colored tote bag which easily fits all the included tools. The durable canvas bag is easy for kids to carry while also providing a convenient storage location for when play is done for the day. All plastic tools can simply be rinsed off with water while the bag is machine washable.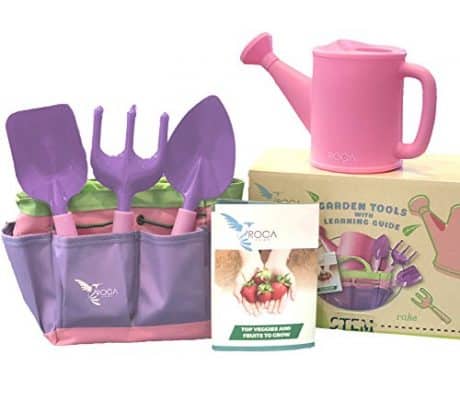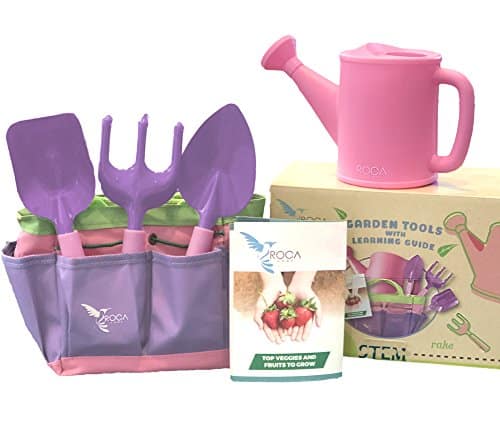 These are real gardening tools safe for kids as old as 3 and up. It includes a spade, hand shovel, hand rake, and watering can. All tools fit into a pink and purple gardening bag for easy carry around the garden. Tools have durable plastic handles which are easy for little hands to grip. The heads on the tools are metal with rounded, non-sharp edges. These are real toys kids can use to dig in the soil and otherwise garden. It also includes a detailed learning guide featuring fun lessons about STEM subjects, gardening, animals and more. This is a fun, early introduction to science and nature which combines both reading and hands-on learning.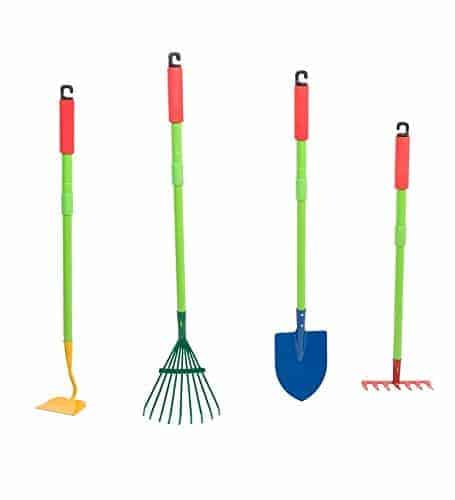 Like shoes, garden tools need to fit well if they are to be comfortable, safe, and enjoyable enough for kids to use. The Grow-with-Me Garden Tool Set from HearthSong is specially sized for kids who are growing as fast as their gardens. It's four sturdy tools feature soft-grip handles and metal shafts that adjust from 33" long to 39.5" long so kids can enjoy them for a long time. It includes a shovel, a hoe, leaf rake, and soil rake. This set is recommended for kids aged 3 and up.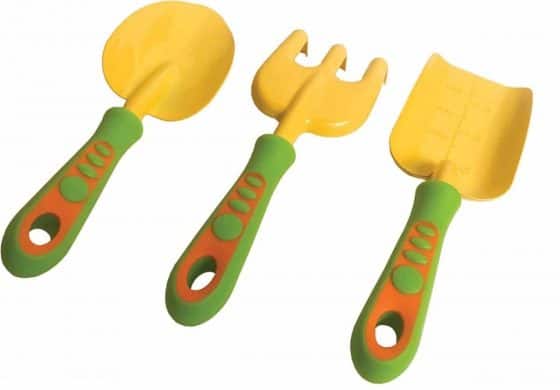 Get your kids to grow with the Curious Gardener 3-Piece Garden Tool Set. The set includes a kid-sized trowel, shovel, and hand rake, the essential tools for any budding gardener. Designed with metal heads and soft touch grips, the tools are strong enough to get the job done but small and comfy enough for your child to easily use. With these tools, you can teach your child to the garden right alongside you. They can learn how to count and measure while learning about plant growth and photosynthesis.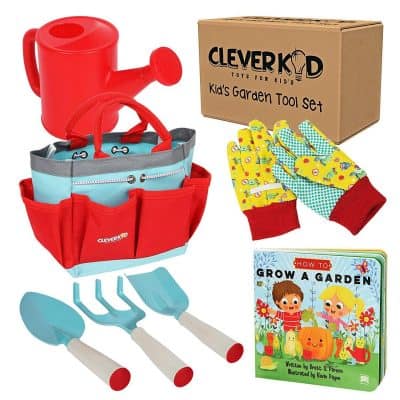 The Clever Kid Toys Gardening Set includes everything you need for hours of fun outdoor play, a sturdy tote bag, a shove, rake, trowel, small gloves, and a watering can. It's the perfect gardening gift for your preschool age, or kindergarten, boy or girl. This set will help promote educational STEM early learning development about nature and healthy food eating among kids as they grow plants, fruits, and vegetables. Moreover, this toolset has been crafted from durable, non-hazardous materials. The plastic handles are ideal for little hands and the real no sharp metal heads are built to last through physical activity.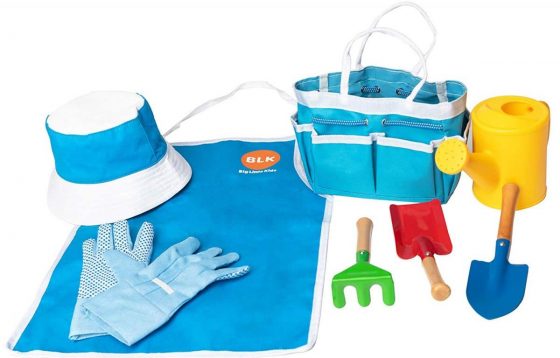 The Big Little Kids Complete Garden Toy Set comes with a toy rake, shovel, and spade, a little watering can, a kid's gardening tool bag, plus a hat, apron, and kids' gardening gloves. This set will give your little ones a hands-on experience to promote a more fun, educational, and interactive way to learn. The gardening tools are made with a wooden handle and rounded steel metal heads to ensure both safety and durability. The watering can is made of durable plastic and can be used for all activities.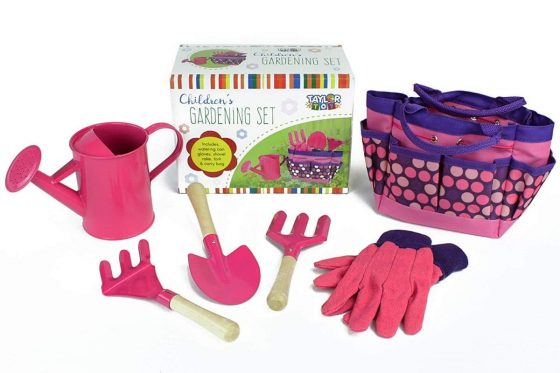 The Taylor Toy Children Gardening Tool Set includes a toy shovel, gloves, watering can, rake, fork and a tote bag. You can put kids and their imaginations to work while playing safely with the kids Gardening toolset. Each tool has been quality made with wooden handles and metal ends. The metal ends are rounded at the edges to ensure safety and durability. This tools set is sure to get kids off the screen and to the garden as they create a fun tradition of planting spring buds. Kids will have fun playing with this gardening tool as they get a little dirt under their fingernails and fresh air with the gardening set. It's available in both pink and blue for girls and boys.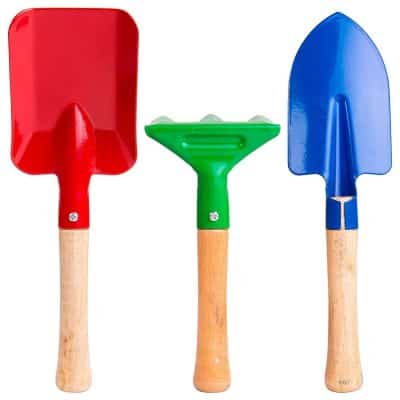 This little gardening tools set contains everything a young gardener needs for hours of fun in the backyard or on the beach. Kids will learn much more about nature than just gardening. These tools are designed for outdoor play time and constructed of high-quality strong metal with firmly attached wooden handles that ensure durability. They feel like real gardening tools and kids will love this. This tool set is great for promoting family time as you let them work alongside you in the garden.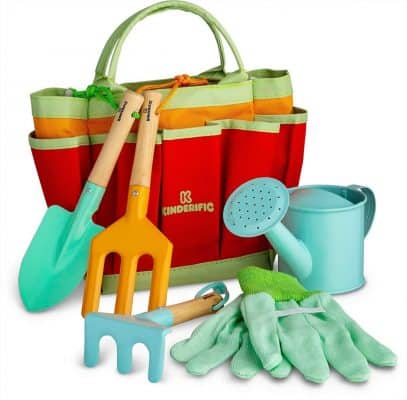 The Kinderific Gardening Set for kids comes with a tote bag, rake, trowel, gloves, and a fork. This set is made with nice pastel colors and is a great idea to teach your kids about gardening while also having fun at the same time. It's also a great beach toy and exciting tools set that can be used for more than just dirt. You can take them to the beach and build sand castles. The tools are made from non-hazardous materials and the items don't have sharp edges. It's easy to clean and designed for longtime use.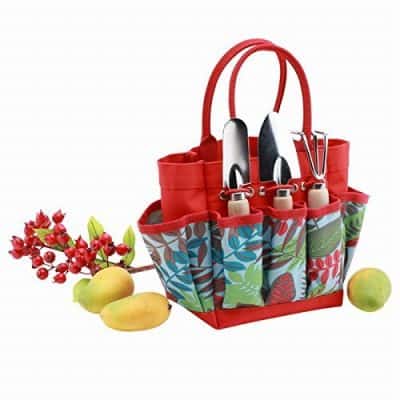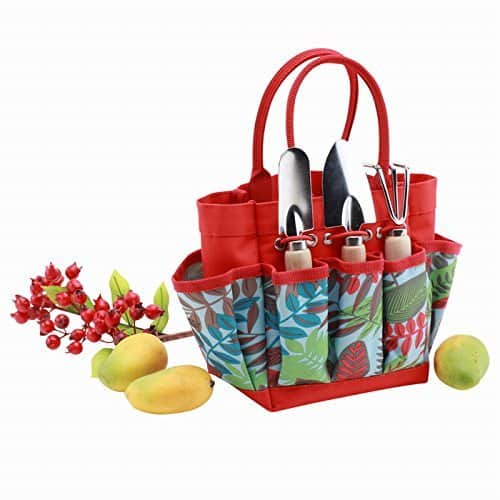 When looking for gardening tool equipment that looks like the real deal, then the Bo Kids Garden Tool Set with tote is the one for you. This toolset consists of a trowel, rake, and shovel. In addition, it comes with a durable and beautiful canvas bag that has side pockets that allows you to keep your garden tools in them. The handles of these tools are made from hardwood and the edges are made of metal which can be heavy for toddlers. According to the manufacturers of these tools, they are suitable for ages 3 to 8 but we recommend that age 5 upwards should be the one using them to avoid injuries. The tote bag in this toddlers' gardening set can also be used as picnic bags or lunch bags for yourself or for kids.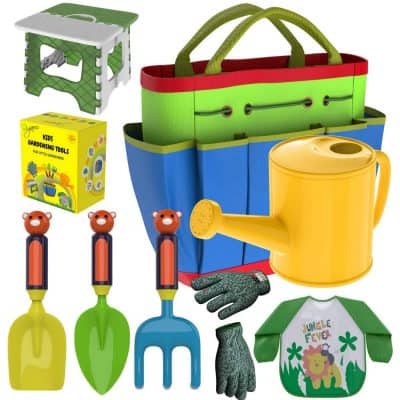 The Rigaorz Kids Gardening Tools Set comes with a foldable stool bench, a waterproof apron, gardening gloves, a watering can, a set of trowels and a rake, and a canvas carrying tote. You can easily carry this bag to the beach and build castles if you aren't digging in the garden. This set will help improve hand-eye coordination, arouse scientific curiosity and aid in early education as kids garden with them.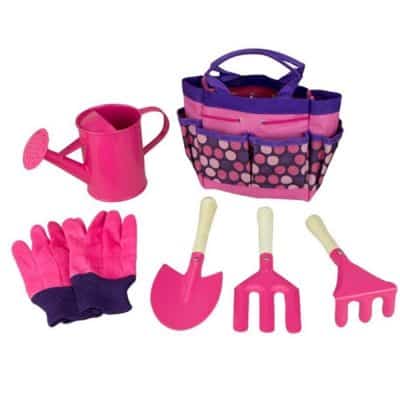 This Garden Tools Set from Baboom includes a sturdy canvas tote bag with pockets, a rake, shovel, fork, trowel, and cute watering pail bucket. It's the perfect gift for your little one. The wooden handles are ideal for little hands and the real steel metal head with rounded non-sharp edges are built to last in through physical activity.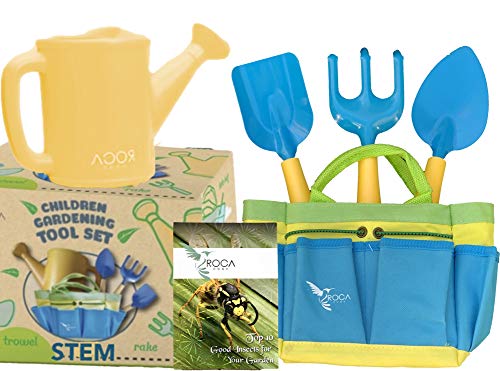 The limited edition of the ROCA Home Kids Curated Garden Box is filled with fun gardening arts and crafts, a set of gardening tools, a pair of gardening gloves and much more. Kids will have endless hours of fun playing with the fun arts and crafts activities found in this box. It also includes a detailed learning guide featuring fun lessons about STEM subjects, gardening, animals and more. This is a fun, early introduction to science and nature which combines both reading and hands-on learning.