Top 30 Best Lego Sets for Boys 2023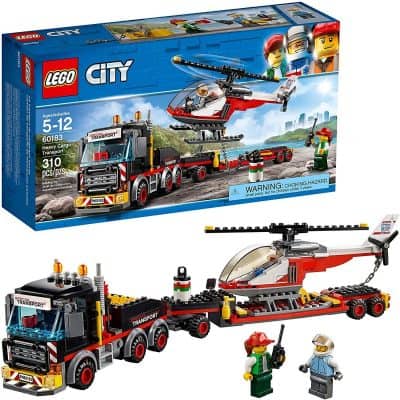 The Heavy Cargo Transport set has 310 pieces that help your kid build a heavy truck, a flatbed trailer, and a toy helicopter which features spinning rotors and an opening cockpit. Your child can use his imagination to play with the toys by connecting the trailer to the heavy truck or hooking the helicopter's chain to the oil barrels which can be taken to the job site for transport. The set comes with a truck driver, helicopter pilot figure, toolbox, bull bars, and a chain. This set is suitable for boys and girls aged between 5 and 12.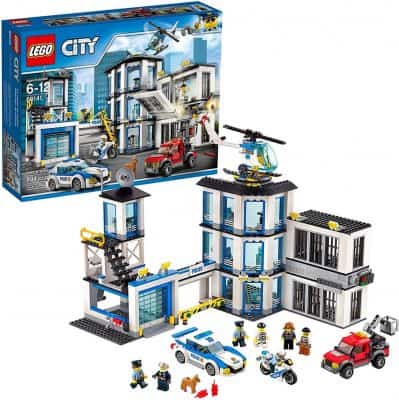 Lego City Police Station set comes with several pieces including a 3-level police station, a police car, a jail cell, a helicopter, and toy motorcycles. This is a fun set as it has 4 police officer mini-figures who use a police cruiser and a police dog to arrest the 3 crooks mini-figures. It has 894 pieces to help kids create a jailbreak. The crooks' truck has a rotating cherry picker to carry the bad guys. It comes with several accessories such as watchtower, garage, and offices. This set provokes the kids' imagination to create a perfect drama of a jailbreak. This set is ideal for boys and girls aged between 6 and 12.
The Lego Creator 3 in 1 has 223 pieces enabling kids to build a fire-breathing dragon with terrifying eyes, large fangs, and sharp claws. Children can have fun and experience their creative skills by rebuilding the pieces into a spider or troll toy. This toy has movable legs, tail, head, and wings, which helps the kids to use their imagination as they play with the monstrous creatures. The set is suitable for boys and girls between the ages of 7 and 12.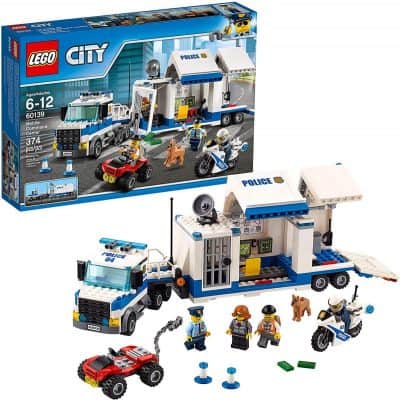 The Lego City Police Mobile Command Center includes a jail cell, a satellite dish, and a motorbike. It has a female and male police officer mini-figures with their police dog figure, who can be tasked to chase the bad guys who use an ATV. Your child can use the police motorbike and a detachable truck cab to develop his fine motor skills. The monitoring room features an opening roof, rear lump, side doors, and storage space where the motorbike and tools can be stored. This 374-piece set is suitable for boys and girls aged 6 and 12.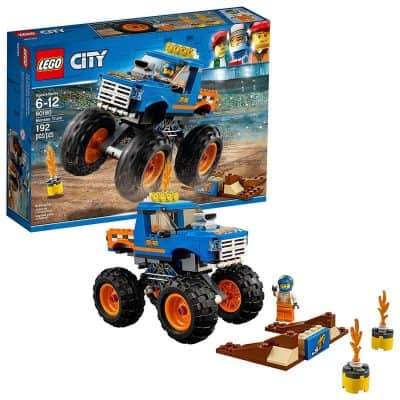 The Lego City Monster Truck is geared towards kids who are between the ages of 6 and 12. It has 2 fire barrels which feature flame elements, a buildable ramp, and a stunt driver mini-figure. This set has 192 pieces to create a stunt show for your child. While kids will be building the monster truck, they will be developing their building skills. The truck also has air scoop and working suspension to make it appear authentic. Your child will enjoy watching his truck moving over the barrels with flames or through the barriers.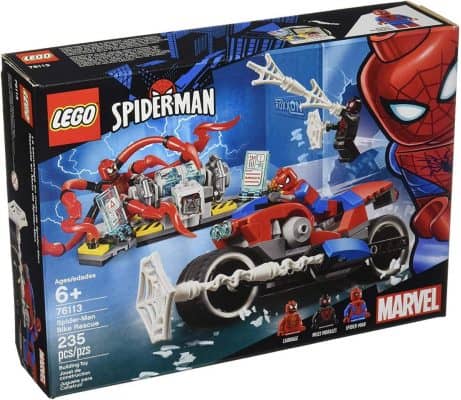 Marvel Spider-Man Bike Rescue has 235 pieces which are enough for your child to play with. He can put together the Spider-man bike which has a spider shooter which has a shooting function that gives an extra dimension to the play. It also has a web gun which is non-shooting and a buildable generator featuring an explode function. This set comes with superhero mini-figures of the Spider-Man and Miles Morales, and a figure of a carnage. This set is designed for kids of all ages who can create their own role-play battles involving their adorable superheroes.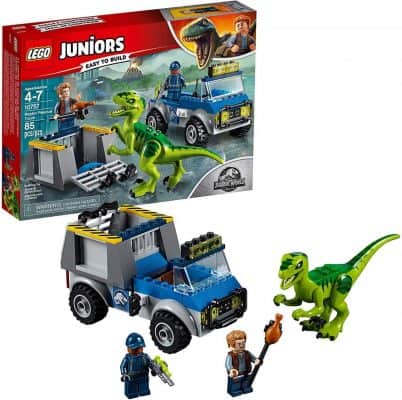 This set of 85 pieces is suitable for kids aged between 4 and 7. Kids can learn to build a posable Raptor dinosaur figure which has an opening mouth which can be put in a cage with a closing gate. An off-road truck comes with Starter Brick chassis. Children will have plenty of fun engaging with figures of Own, a tracker, and a Raptor figure as they relive the scenes of the Jurassic World. This set is easy to build because it's designed to build confidence in children. A guide allows the kids to follow the simple instructions.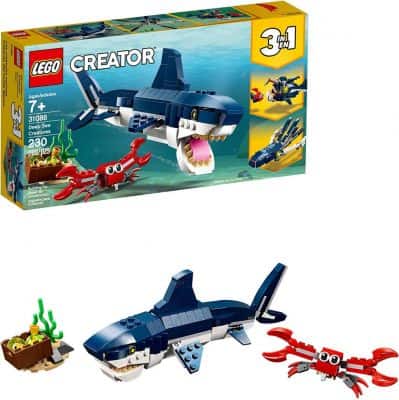 The Lego Creator 3in1 is perfect for kids aged from 7 and above. Children can build a shark, a crab, and a treasure box. If they want to be creative, the kids can rebuild the pieces to make a squid or even an Angler Fish. The scary shark toy has an opening mouth with pointy teeth and the fins are posable. To add extra fun, the shark's joints are movable and it has reflective eyes. This set comes with 230 pieces to provide hours of play. Kids will have a lot of realistic underwater themes as this set has dark-blue and white colors.
Lego Classic Medium Creative Brick Box has pieces which are 35 different colors. This adds another dimension to their creativity because it provides open-ended options to building play. Kids can construct trains and cars with the 18 tires and wheel rims that can be put on the baseplate for role-playing. They can also use their imagination to build tiger figurines to use in their play. This set features windows, toy eyes, and a container to place the assembled parts for storage. It comes with a simple to follow instructions to provide great building ideas for your kid. This set of 484 pieces is suitable for kids aged from 4 and above.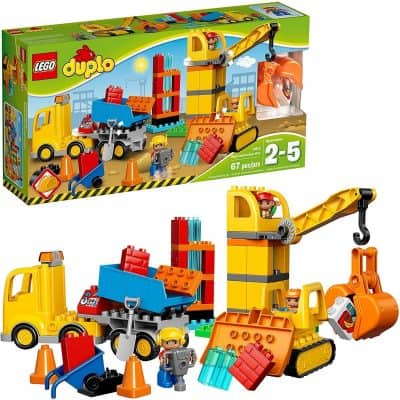 Lego Duplo Big Construction Site remodels a construction site with its 67 pieces. This set is packed with pieces to build construction vehicles which helps them to develop fine motor skills when they are playing. With extra pieces that come with the set, your child will have hours of play time. There are a variety of items they can build including a toy bulldozer, toy crane that has a rotating cabin, and dump truck featuring a tipping bucket. It also has 3 construction worker figures to encourage the kids for creative play. The set has other accessories such as safety helmets and a wheelbarrow that can be used for role-playing. Children can also make use of Lego Duplo stories skill that uses storytelling and it is available in the Echo. This set is ideal for kids aged between 2 and 5.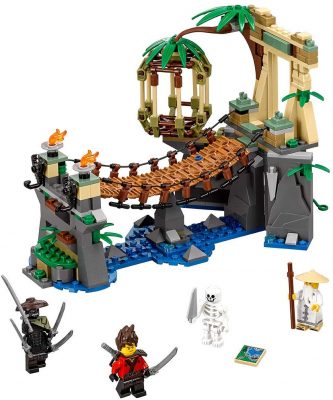 This Lego set is made up of 312 pieces and is great for kids aged between  7 and 14. Kids can build Master Falls that consists of a jungle bridge, an opening cage, and a cave which has a skeleton. It has several accessories including tropical leaf elements to help children with 3 ninja mini-figures who have various weapons as they demonstrate courage and discipline. The kids can create the scenes from The Lego Ninjago Movie as they role play. This is an exciting set that has brave characters and provides children with long hours of play. This will give an opportunity for kids to take a break from watching the TV and be involved in this epic battle.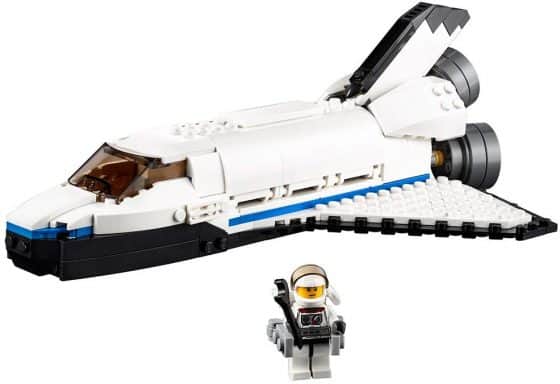 The Lego Creator Space Shuttle Explorer features an opening payload bay that has a robotic arm, a satellite that has fold-out wings, and a robotic arm. It also comes with a mini-figure cockpit that has tinted canopy to encourage kids to use their imagination as they create a Moon Station or Space Rover with wheels. They have a well-made interior to inspire kids to play. The astronaut mini-figure is a good addition that helps children to be creative as they explore the space for hours. This is a suitable set for kids aged between 7 and 12. It's great fun for children who are passionate about adventures and love building. It comes with 285 pieces to provide plenty of options for building.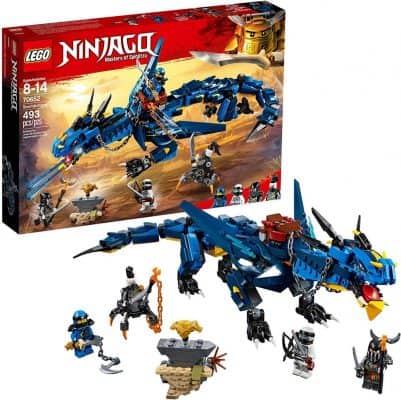 Lego Ninjago Masters of Spinjitzu is made up of 493 pieces to build a blue Stormbringer the Lightning Dragon. It includes characters of superheroes Zane, Jay, and Daddy No Legs for children to have hours of fun as they role play. Kids can ride the dragon using the mini-figures as they go for battles. The set also comes with an assortment of ninja weapon pieces such as a dragon bone to encourage role-play. The Stormbringer features poseable features including opening jaws, swiping tail and it has a pedestal for placing the chest plate. This set is also featured in the TV series making it perfect for kids who have watched it to imitate the scenes off the screen.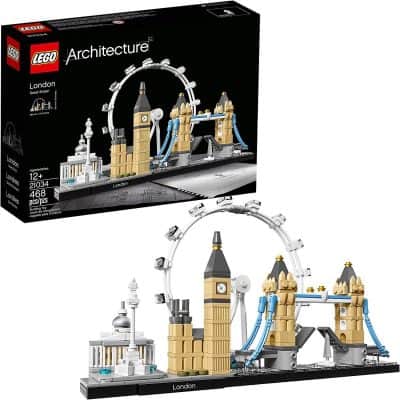 Lego Architecture London Skyline is made up of 468 pieces to enable kids to remodel London's buildings. This set is sure going to excite your kid and it's suitable for children aged from 12 years and above. Kids can build 5 of the London's sites including the National Gallery, London Eye, and Big Ben. It comes with a booklet full of information about the design, architecture, and even the history of the iconic landmarks. This architectural model kit is also ideal for those interested in architecture, culture, and history. After assembling the model, it can be displayed in your home or office as an ornament.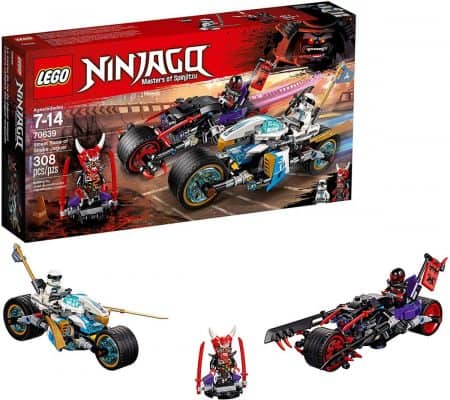 This set has 308 pieces to give kids a lot of building possibilities including a motorbike for Ninja Zane. It comes with 2 stud shooters and a detachable drone to give kids endless fun. Children can role play by having a street race involving the Oni Bike that features chopping blades, 2 detachable swords, and stud shooters. The mini-figures of Zane and  Mr. E, in addition to a platform that has the Oni Mask of Vengeance, makes the play perfect. Kids can play the scenes as shown in the TV series of Ninjago Masters of Spinjitzu.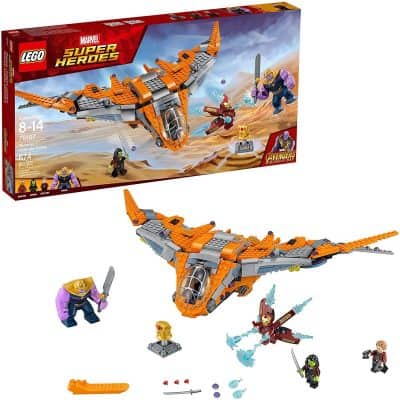 Lego Marvel Super Heroes Avengers is perfect for growing minds as they build Infinity Thanos with the 674 pieces. This set has the Guardians of the Galaxy Starship and the Benetar. With the inclusion of a Thanos figure and Infinity Gauntlet, it makes this set exciting to build. It has a lot of accessories including 4 mini-figures, Infinity Stones which can be placed to the Thanos figure, and a sword. The Guardian's Starship has an opening cockpit where you can put the space scooter. There is an opening rear room and storage room to keep the Infinity Gauntlet which comes with its own stand, and stud shooters. This set recreates scenes as depicted in the Marvel movie.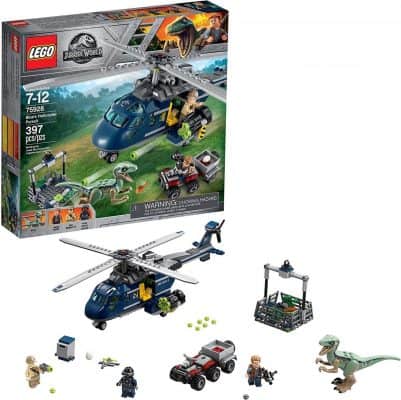 Lego Jurassic Helicopter Pursuit has 397 pieces and is suitable for kids aged between 7 and 12 years. Children can build a Jurassic World helicopter toy which requires a lot of focus and creativity. The helicopter has rotating blades, dual searchlights, and stud shooters. The mini-figures of Owen, Wheatley, and a pilot makes the rescue mission of Blue raptor figure who is trapped in a cage fun.  Kids can also save the dinosaur and its egg using the quad bike which features a trailer. This set helps children to be imaginative and it develops their fine motor skills as they play.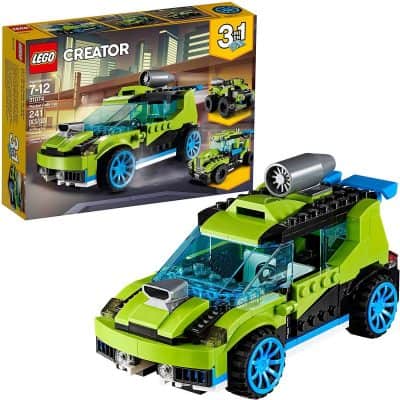 This building set is a 3in1 meaning kids have endless opportunities for play. Children can build a Rally Car which has a rocket engine and blue alloy rimes to give it immaculate looks. The car also has low profile tires and a hood scoop which can be raised for more fun. Apart from the rally car, kids can also assemble a Jet Truck and a Quad Bike. Playing with this set will develop the kid's creativity and imagination. This is 241 pieces set that provide more action, adventure, and long hours of play.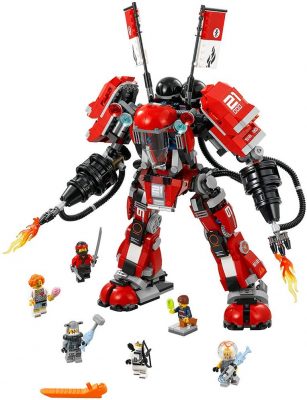 Lego Ninjago Movie Fire Mech is ideal for kids aged between 9 and 14 years. Kids get to build the Fire Mech which has an opening cockpit for a mini-figure. It also has posable arms and legs to create a lot of fun while playing with it. It comes with non-shooting fire blasters which feature translucent fire elements to imitative the real fire and shoulder disc shooters. This set is shown in The Lego Ninjago Movies, meaning kids can play with their favorite characters. The set has six mini-figures that include Kai, Zane, Lauren, and Henry. There are 944 pieces with this set which makes long hours of play possible.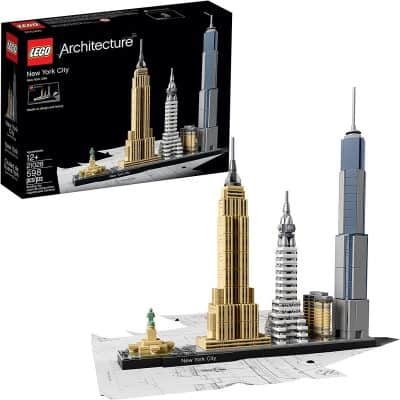 Lego Architecture New York City is made up of 598 pieces to build a model of New York City. The model building set has New York City buildings such as Statue of Liberty, Chrysler Building, and One World Trade Center. The assembled pieces can either be used as a toy building for children or an architectural model for grownups who can display it in the office or home as it has an accurate representation of the city. Children will have long hours of play and fun as they engage with the city that never sleeps. The set includes a collectible booklet of important information including the history of the toy skyscrapers.
Children can have long hours of fun with Lego Duplo Large Playground Brick Box as they build a treehouse that has a slide, a large swing space featuring a windmill and a bouncing car ride which is on a spring. The set comes with 71 pieces with different bright colors including red, yellow, and green. It has additional pieces to encourage creativity and constructive play for preschool kids aged between 2 and 5 years. It comes with a storage box to keep the pieces together after play.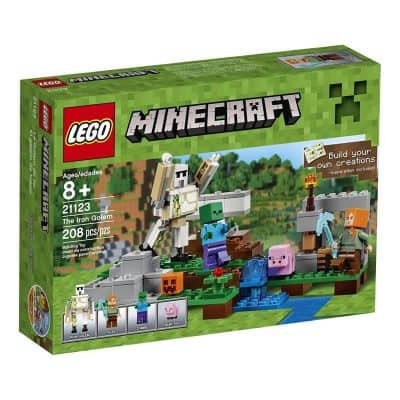 The goal of this set is to create an iron golem to scare aware of hostile zombies. But to do that, Alex needs to mine for iron ingots using his pickaxe. Then he has to smelt the iron ingots in the furnace and lastly, craft iron blocks on the crafting table to create an iron golem. The iron golem toy set comes equipped with a pickaxe, a secret iron golem pop-up function, and three mini figures; Alex, a zombie, and a piglet. In this toy set, Alex needs to make the most out of daylight because trouble comes after sunset. He has to create an iron golem with the tools he has at his disposal to protect himself and the piglet from zombies and other hostiles. Accessory elements include a buildable torch and pumpkin. Measures over 3″ (8cm) high, 7″ (19cm) wide and 5″ (15cm) deep.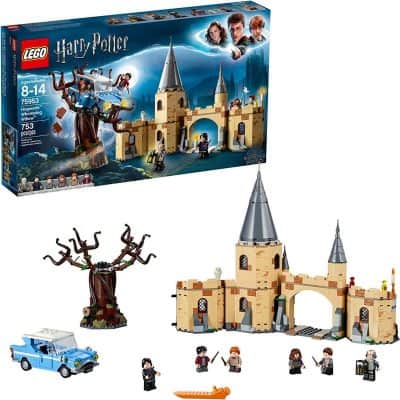 Lego Harry Potter and The Chamber of Secret Hogwarts is suitable for kids who love Harry Potter movies. The set has 753 pieces to create various scenes from the movie including building Hogwarts Whomping Willow that has spinning branches that can capture a car. It comes with a flying toy car and the magic three-story castle that has a gate. There are six mini-figures of several characters such as Harry Potter, Ron Weasley, and Argus Filch to make the scenes appear real and fun. The set has other interesting accessories such as potions wands.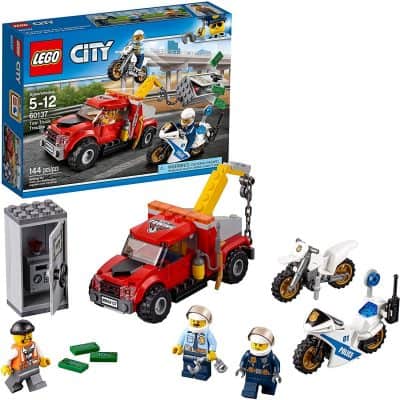 Lego City Police Tow Truck Trouble is suitable for kids aged between 5 and 12 years. This set will help your child learn and play, children will learn about good and bad guys. It has 144 pieces to build a tow truck that has a stolen safe and two bikes for police officers to chase the crook. The tow truck features a movable tow arm and a chain for towing the safe with an opening door. This is a great toy for kids to learn fine motor skills as they are playing. There are three mini-figures of police officers and a crook. It also has a lot of accessories including money bills, a walkie-talkie, and handcuffs to make the play exciting.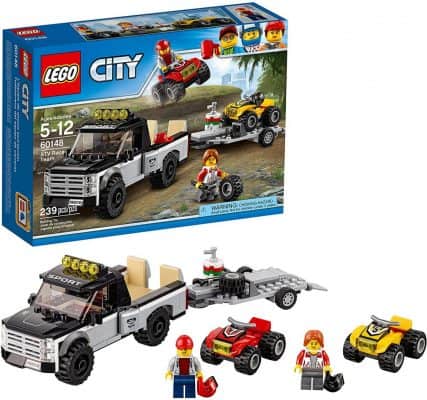 Lego City ATV Race Team has a toy truck with a trailer to carry ATV toy cars. This is an engaging set that would involve long hours of play as kids race to the finish line. This set also comes with plenty of car accessories such as a wrench, a helmet, a spare tire, and a fuel barrel. The toy truck features two ATV mini-figures of riders who can fit in the truck. Plus, the truck has a pickup bed with enough space for one ATV toy, a toy ramp, a trailer hitch, and space which is upfront for another ATV toy. This set is suitable for kids aged between 5 and 12 years.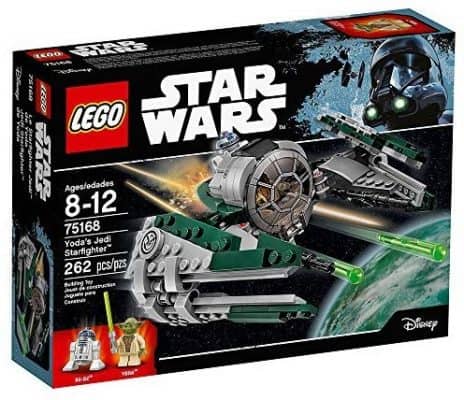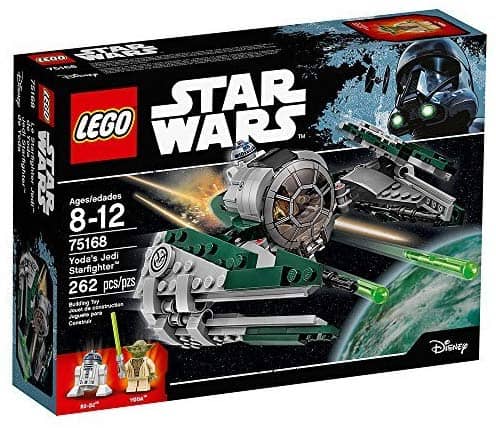 Lego Star Wars set features a Starfighter that has folding wings, a front and top opening cockpit for putting a mini-figure of Yoda and R2D2. This toy also features two laser cannons as well as loaded shooters. Other accessories include a Yoda's mini-figure, lightsaber, and additional shooter ammunition. This set is designed for kids aged between 8 and 12. This is a classic ship that will give plenty of fun as the kids fine-tune their fine motor skills and use their imagination to play.
Klutz Lego Chain Reactions set will encourage your child to use his imagination and be creative as he creates 10 various moving machines. This set has plenty of options as it features 10 modules, 6 plastic balls, paper ramps, a string, and it comes with an instructional book of 80 pages to help assemble it. It also has 30 important Lego elements and the set is suitable for children aged from 8 years and above. Children can use the machine alone to get awesome results. They can also combine the machines together to get their own chain reactions, this helps the kids to be creative by coming up with clever chain reaction machines.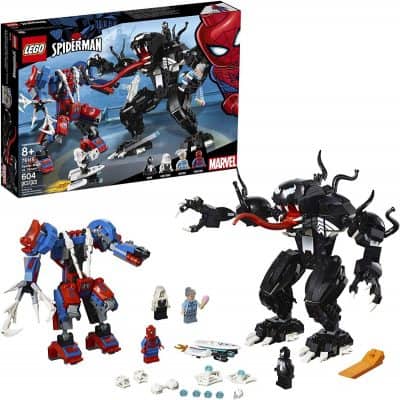 This set has 604 pieces to assemble the posable Spider Mech. It comes with a tech spider shooter with claws to add a new dimension to the creative play. There are mini-figures of a Spider-Man, a Venom, Aunt May, and a Ghost Spider, which are attractive to the children. The Ghost Spider has a hoverboard featuring stud shooters to make it fun to play fun to engage with. This set is suitable for kids aged from 8 years and above. This is action-packed set that involves saving Aunt May from the Venom clutches and kids can role-play for more fun.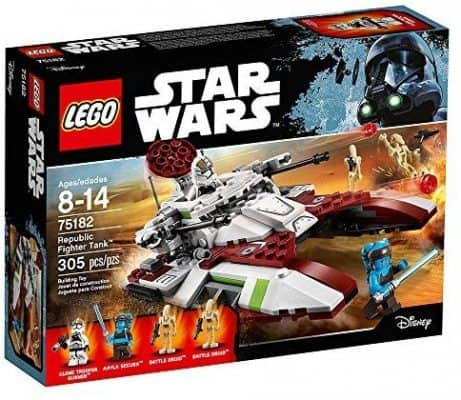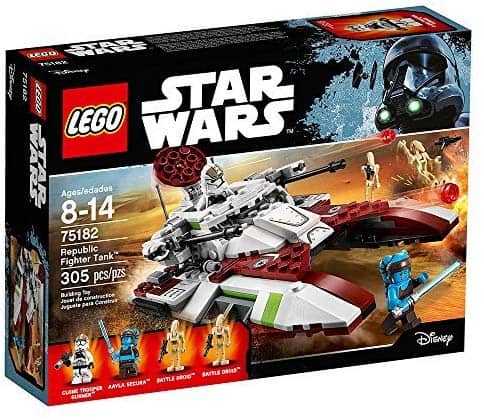 Lego Star Wars Republic Fighter Tank is suitable for children aged between 8 and 14 years. It comes with 305 pieces to help children build the Republic Fighter Tank which can be used in the epic battles. This set is shown in the Star Wars series. It has Aayla Secura, two Battle Droids as well as a Clone Trooper Gunner, which creates a perfect environment for battles. Kids would love to go into battle against the droids using Aayla Secura. The set makes it easy to recreate the scenes from the movies and it's a good collection for adults as well.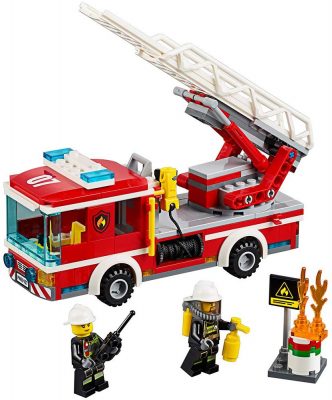 Lego City Fire Ladder Truck is made up of 214 pieces and is ideal for kids aged between 5 and 12 years. This is a great set for children to learn creative building as they assemble a fire truck. The truck has an extending ladder that can spin around to 360 degrees. It also has a fire hose for extinguishing the fire and a stud-shooter function. Other accessories that are included are a shovel, a circular saw, 2 firefighter mini-figures, and an ax, to create almost a real firefighting scene. This set can be used with other Lego City pieces to have a lot of role play and fun.