Top 30 Best Gift Ideas for Teenage Girls 2023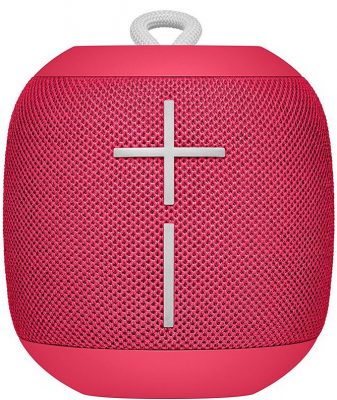 Teenage girls like to stand out in the crowd and among their friends and what better to make them do so than a portable Bluetooth speaker? She can easily carry it by hand by hanging the hoop on a finger, and it will also fit in her bag so she can play music and dance to it anywhere. The speaker's small size does not match up to the big sound it produces. It plays music for up to 10 hours on a single charge making it perfect for hiking and camping. It will also never get ruined in the rain and even when it falls in water as it is completely waterproof. It is sturdy and can connect to audio devices up to 30 meters away. Your girl will become confident and express herself anywhere and use her talent.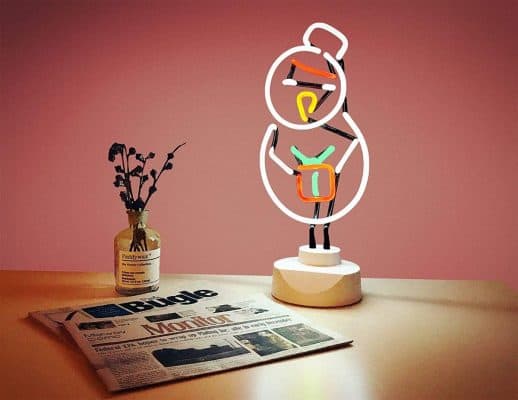 Every girl wants her room to look fancy and beautiful because they spend most of their time there. She will always be having her friends for sleepovers, and this lamp will lighten their mood as they talk about their crushes and people they don't like. The lamp comes in different shapes to match your daughter's personality, and the soft light it produces is a great source of relaxation. It is powered by plugging into a socket and produces surprisingly bright light, and with proper care, this lamp will last a long time. The lamp will add beauty to your daughter's room, and it will make it accommodating so your daughter will enjoy spending her time there.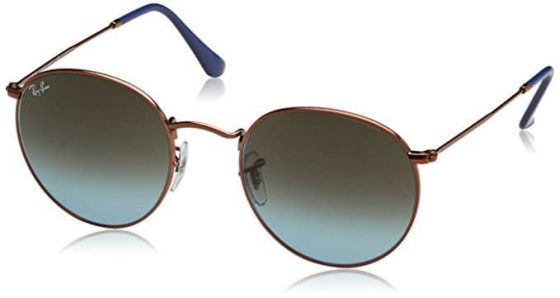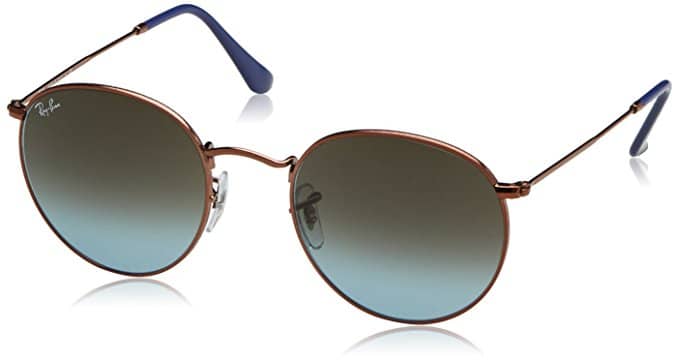 Teenage girls like being fancy and these sunglasses are perfect for making your daughter look the part. Your daughter will love these because they trendy and fashionable and they are similar to those worn by her favorite celebrities. The metal frame is light, and the adjustable nose pads make the sunglasses to sit comfortably on the nose bridge. The lenses are prescription-ready thus will not affect your daughter's sight, and she turns heads while walking down the street she will become more confident and feel good about herself. The sunglasses are also protective, and your daughter's eyes will be safe from UV rays, dust, and other undesirables.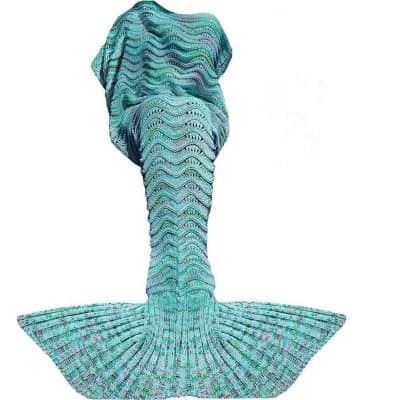 No one wants to spend her days and nights feeling cold especially during winter. This mermaid tail blanket is a great source of warmth for your daughter and is ideal for sleepovers, camping, or just relaxing in the house watching a movie. It is crocheted and is soft to the skin and comfortable to wear. The blanket is made from good quality yarn can be worn by people of all ages and will fit your daughter even as she grows, or she can pass it down to her younger sister. It is breathable and has an opening at the bottom to make it easy to wear and move in it. It will add fun and warmth to your daughter's cold nights, and she won't have to struggle with battling other blankets to cover her feet properly.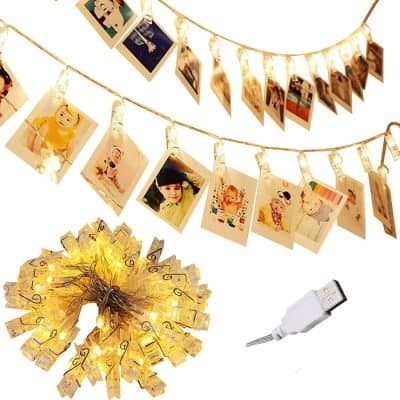 It is nice to have wonderful memories which you can always escape to when you are not having a great day. This product will allow your daughter to put up her photos and hang them in her bedroom. The lights are also decorative and will add beauty to your daughter's room. The wire is long and flexible to follow the desired shape and can support pictures and most artworks. The lights are powered by connecting the USB to a power source. It allows your daughter to have quick and easy access to happy memories and is also a great decorative piece. It also allows her to become creative with how she wants to shape the wire.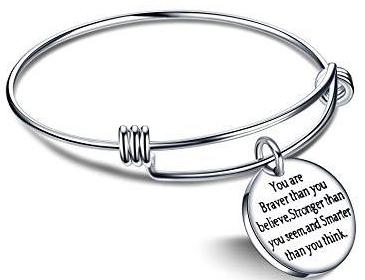 Your teenage daughter is most likely experiencing esteem issues and needs to be continuously reminded of how awesome she is. Since you will not always be there to encourage her, this bracelet with inspirational words will come in handy since she will be wearing it wherever she goes. She will refer to it whenever she feels down or incapable and instantly feel good about herself. The bracelet is expandable so your daughter will not outgrow it and it is made of good quality stainless steel safe to your daughter's skin. It is also light and comfortable to wear, and the positive message is a great source of confidence for your daughter.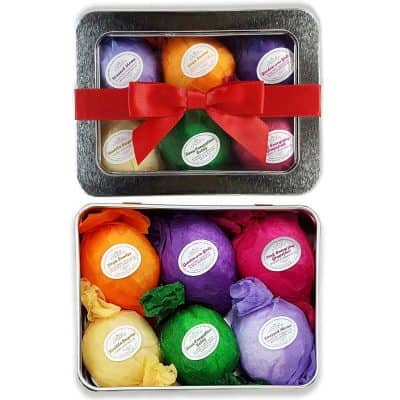 Bath bombs are a trend, and they turn any bath time into a fun mixture of frizzing effervescence and mind-blowing scent. This bath bomb set comes in a metal box which can be repurposed and not only do they add fun to the bath, they are also good for the skin as they contain moisturizing and rejuvenating properties. These bath bombs are not colored, so you don't have to worry about the tub getting stained. They are made from non-toxic ingredients and rinse off easily without leaving any oil ring around the tub. The bath bombs will bring relaxation and relief to your daughter, and she can use that time to reflect on herself and just enjoy the bath.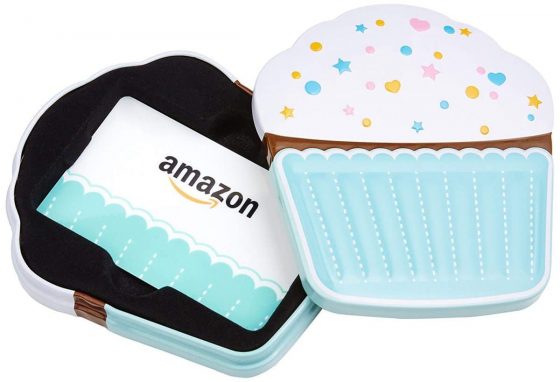 Gift your daughter with this Amazon.com gift card to buy anything she wants. The gift card comes in a cute little tin shaped like a cupcake so your daughter can keep it safe and she can repurpose the tin later. It has no expiry date, and your daughter can use it at any time, and it only needs to be scanned using the phone or tablet camera to redeem it. The gift card is a great gift idea because your daughter will buy what she has always wanted and you will avoid disappointing your daughter by getting her a wrong gift.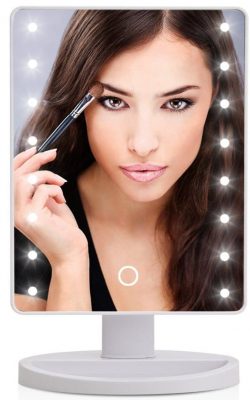 Your daughter needs a good mirror to use while applying her makeup and this light vanity makeup mirror would make a perfect one. The light allows your daughter to see herself clearly and not go wrong with her lipstick or mascara. She can adjust the brightness of the light or turn it on and off to suit her preference. The mirror is portable and also allows your daughter to adjust it to the angle she desires to have a perfect view of her face. It is easy to set up and use, and the lights work a long time on one set of batteries. Your daughter will have an easy time applying her makeup as she won't have to stand against the window or a source of light with her mirror to see clearly.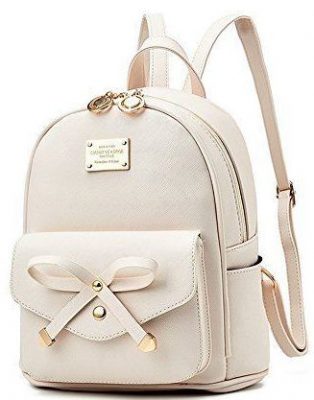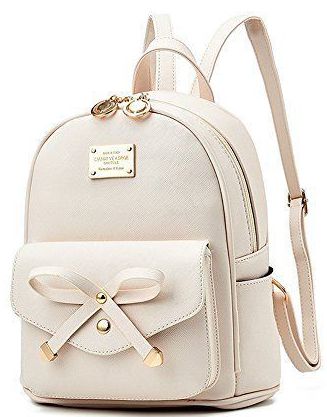 This amazing backpack is perfect for your girl. It is very feminine and stylish, and your daughter will receive a lot of compliments about the bag as she walks down the street. It is spacious and well partitioned for your daughter to store her items separately. She can carry it as a school bag or use it to carry her essentials on a short trip around the city. The straps are adjustable to fit your daughter perfectly, and it is light and comfortable. It is great quality and will last a long time, and your daughter will use it as she grows. The bag comes in many colors, and it allows your daughter to organize her stuff, so she won't have to struggle to look for small items inside the bag.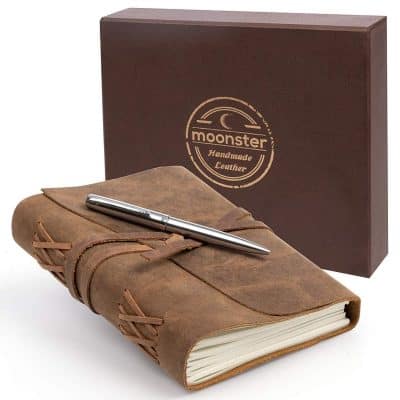 This is the perfect gift for your girl if she loves to draw and write. The beautiful leather cover with real leather scent is soft and durable, and scratches and fold marks can be easily rubbed off. It features a pen holder and comes with a pen for writing anywhere and at any time. The journal is perfectly sized to fit your daughter's bag, and she can also comfortably carry it around in her hands. The sheets are made from good quality paper that won't let ink through, and the vintage look will make your daughter want to write in it all the time. She will be able to express her thoughts and use her creativity while she also learns to be a good writer.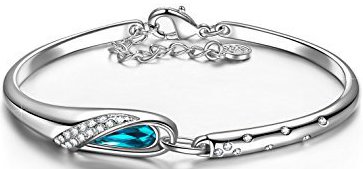 Bracelets compliment every girl's hand, and this bracelet is going to make your daughter more beautiful. The bracelet is fairy tale inspired, and your daughter will feel like a princess when she wears it. It is lead-free and nickel-free hence safe to your daughter's skin. It is made from crystals from genuine Swarovski crystals, and it is good quality and durable. It is adjustable to fit your daughter's wrist perfectly, and she will wear it as she grows. The bracelet comes in a lovely box ready to be gifted. It has just enough detail and will complement most types of dressing making it an everyday bracelet for her. Your daughter is going to love it, and she is going to love you even more.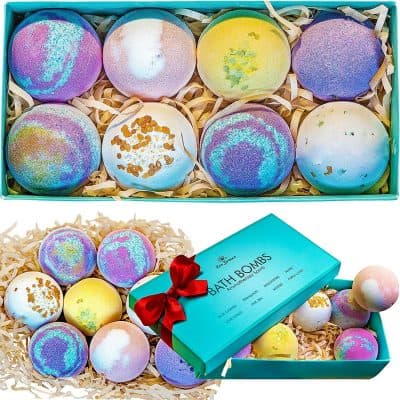 This gift set includes eight bath bombs to add color and life to your daughter's bath. They are colorful and quickly dissolve in water, so the fun begins the moment they get thrown into the water. They contain natural ingredients and essential oils to leave your daughter's skin smooth and moisturized. The bath bombs each vary in color, and your daughter will have a different experience each time she uses one. They do not leave any mess behind to make cleaning easier. The bath bombs come in a beautiful box making it easy for you to surprise your daughter. The color and scent produced act as stress relievers and allow your daughter to relax.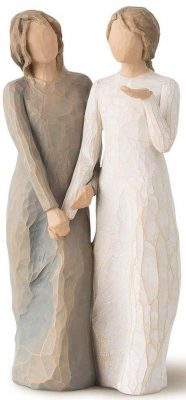 This is an excellent gift if you have a teenage sister and would like to show her some love. It shows your sister that you love and cherish her. The statue is fully sculpted and painted by hand and carries love with it. Your teenage sister might feel alone and unloved sometimes, but this statue will remind her that she has someone that cares for her. The way the figure is carved expresses how the sisters feel toward each other without having to be communicated with words and it would make great birthday and Thanksgiving gift. It is good quality and comes in a box ready for gifting, and it will brighten your sister's day and make the bond between you even stronger.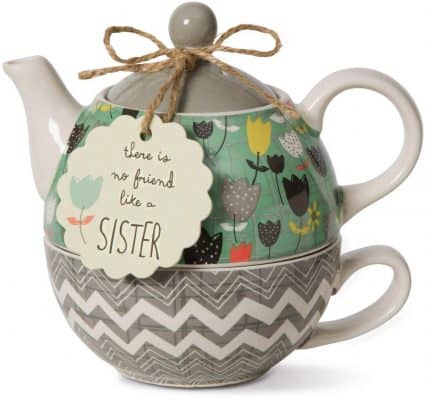 There is no friend like a sister because she will always stand by you even when everybody else is against you. It is good to show your sister that you appreciate her by getting her a gift from the heart once in a while and this teapot is an excellent idea. It is beautifully decorated and comes with a matching cup, and the lid also has a tag with a message for your sister. She can use this set for her tea and place it in the dishwasher for cleaning or keep it in her room as a decorative piece. It will strengthen the bond between you and your sister, and she will have something that will remind her of you.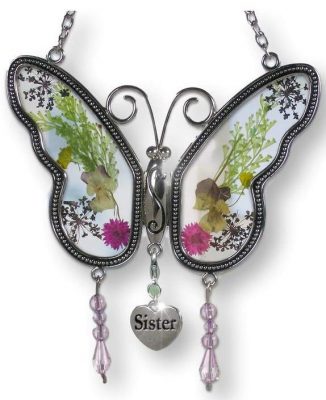 Suncatchers are beautiful and add life wherever they are hung. This beautiful sister butterfly suncatcher will make a great gift for your sister, and she will have something to remember you by when you're not near her. It has assorted real flowers pressed between the glass and a heart-shaped charm with the word Sister engraved on it. It also has colorful beads hanging on each wing the suncatcher comes with a suction cup and a hook for hanging the window and the suction will serve its purpose for a long time. It will add beauty to your sister's room especially when it 'catches' the sun, and this will put a smile on her face.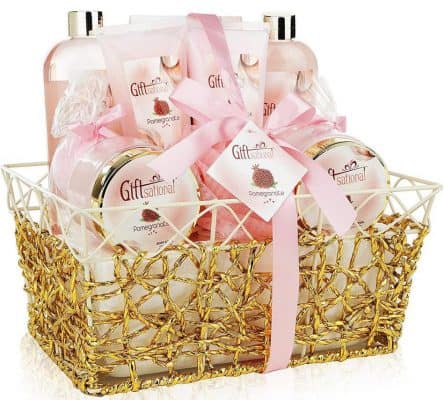 Teenagers want to look and smell good all the time for themselves and also to be noticed by a hot guy at school. This spa gift set will do wonders to your daughter's skin and mood in general. It includes a shower gel, a bubble bath, body lotion, body scrub, bath bombs and bath salts presented in a beautiful woven basket to provide your daughter with the ultimate spa experience. The products have a lovely fragrance that will last a while. The beautiful golden basket makes sure the products stay organized, and she can use it as a decorative piece as well. The products are good quality and safe for the skin, and they leave the skin feeling rejuvenated.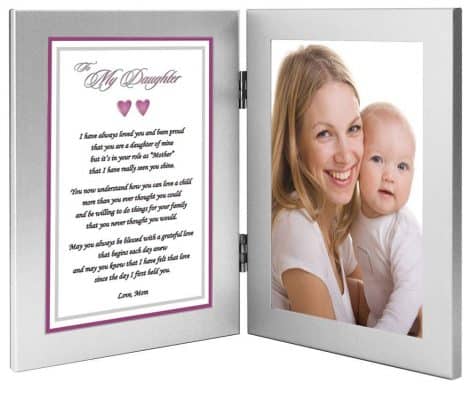 Teenage girls don't usually get along with their mothers and think that their parents have something against them when you're just a good parent. It is nice therefore to remind her often that she is a good girl and that you are proud of her and this poem is an ideal way to do so. The poem contains words of praise and love for your daughter, and it comes in two frames that are attached, one with the poem and the other for a photo. The frame has a glass front to display the poem and photo, and it can steadily stand on any flat surface. This frame will assure your daughter that you have nothing against her and your bond will be made stronger.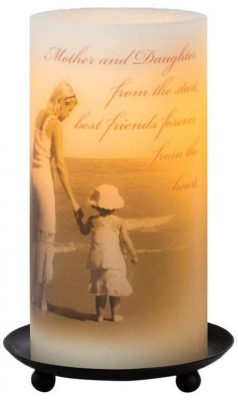 Get closer to your daughter by getting her something that will always remind her about you. Sometimes all she needs are loving words from her mommy. This candle has a lovely message to your daughter written on it. It is flameless and uses batteries to glow thus preventing accidental fires or burns, but it flickers like the real candle. The candle has a 5-hour timer, and it will glow for 5 hours and automatically shut itself down and continues to do this daily so your daughter will not have to set the timer every day. It is a beautiful decorative piece and a source of happiness for your daughter.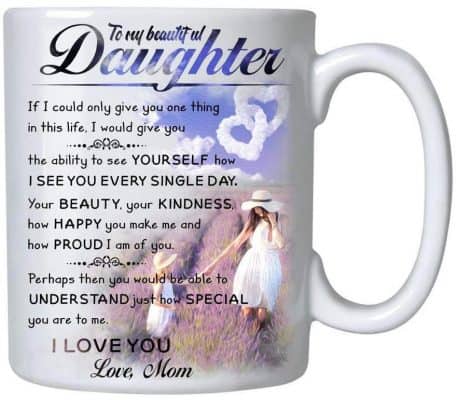 Show your daughter you appreciate her by gifting her with this mug. It has a beautiful message written on it from you to your precious girl, and she can use it to take her tea or coffee or put in in her room as decoration. It is made of ceramic, and it can be gifted on any occasion. It can hold up to 11 ounces of your daughter's favorite beverage and has beautiful design and color. It does not get stained by coffee or tea, and with proper care, your daughter will use it for a long time. It will make your girl feel closer to you and make her smile whenever she thinks about you.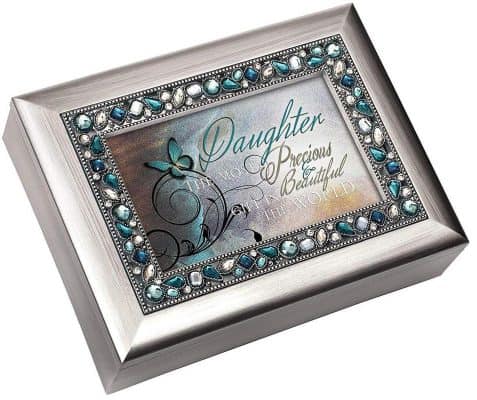 This product will make a great gift for your daughter, and it can be gifted on any occasion. It is beautifully designed with a photo frame lid which your daughter can insert her photo to have her own customized music box, and the inside has a velvet lining to protect her jewelry. It plays beautiful music, and its appearance and design also make it a beautiful decorative piece. The hinged lid ensures that your daughter's jewelry stay safely inside The box is sturdily built and your daughter will use it for as long as she can. The box will improve the appearance of your daughter's room while allowing her to be organized and store her jewelry, especially the small ones, safely.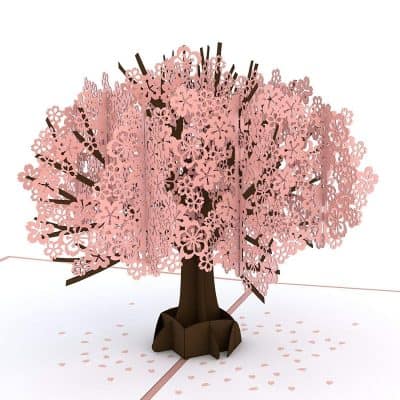 This card pops up to a lovely cherry blossom tree in full bloom when it is opened. It is highly detailed and has cherry blossom petals falling off the tree to the ground around the tree to create a realistic look. It has a beautiful color that will catch anyone's eyes, and your daughter will love having it as a decorative piece in her room. The card is high quality and comes in a lovely envelope ready to be gifted, and it is a great way of showing your daughter how much you love her. Therefore, you can gift it on any occasion. The cherry blossom will add fun and color to your daughter's room and give her something to remember you by.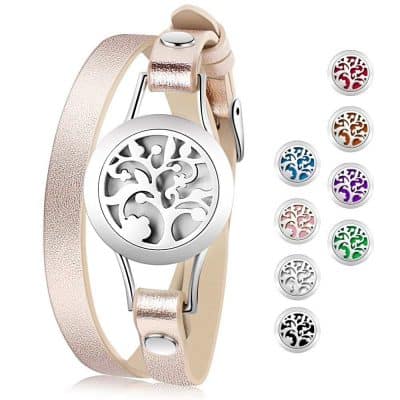 Girls love wearing bracelets, and this one will make your daughter very happy. It is made of good quality leather and stainless steel to ensure it lasts longer. It comes with eight pads for adding essential oil to leave your daughter with her favorite scent throughout the day. The pads come in different colors to match your daughter's outfit, and they are enclosed in a beautifully carved locket. The strap can be adjusted to fit your daughter's wrist comfortably as she grows up or if she gains or loses some weight. The pads are easy to change and can be washed in water to prevent scents from mixing. The bracelet will add to your daughter's confidence as she will be receiving compliments whenever and wherever.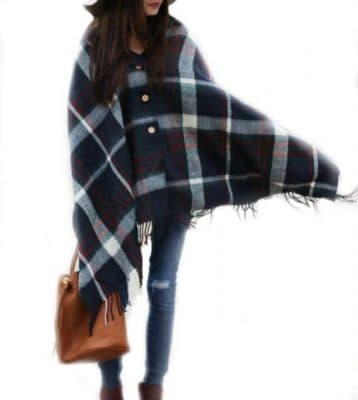 Give your daughter something to keep her warm especially during this cold season. The pretty simple women's wrap is warm yet stylish so your daughter can wear it confidently wherever she goes either as an accessory or to keep her warm. It comes in many colors so you can choose your daughter's favorite color and it can be worn in several ways depending on how she likes it. It has buttons sown to it to ensure your daughter stays warm. The scarf is light and good quality and can be worn comfortably for a long time with the proper care instructions. It will add color to your daughter's appearance while also keeping her safe from the cold.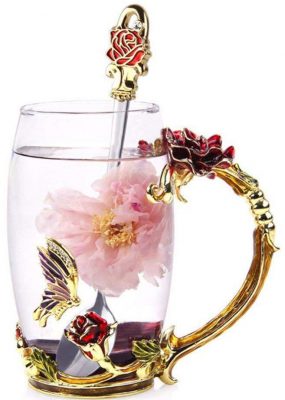 There's nothing better than taking your coffee or tea from the cup you love. This coffee mug and teacup has a beautiful and unique appearance, and your daughter is going to love it. It is made of heavy glass and can hold up to 12 ounces of coffee to ensure your daughter has enough coffee to satisfy her without having to refill her cup. The mug comes with a beautiful spoon, a drink coaster, and a cleaning cloth and saves you the trouble of having to buy them differently. It is good quality, and your daughter will use it for a long time with the proper care. The coffee mug will brighten your daughter's day because of its beautiful and sturdy design.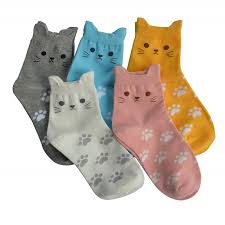 Your daughter will be delighted with these cute animals socks especially if she loves cats. They have cute cat faces, and paws printed on them and come in different colors to match your daughter's outfit and mood for the day. The socks are thick, and they stretch to fit your girl's feet. They are soft and comfortable to the feet and are good quality to last long. They can be easily washed by throwing them into the washing machine, and the fabric ensures they do not expand or shrink when washed. These socks will keep your daughter's feet warm during this cold season or any other season as she can wear it whenever she pleases.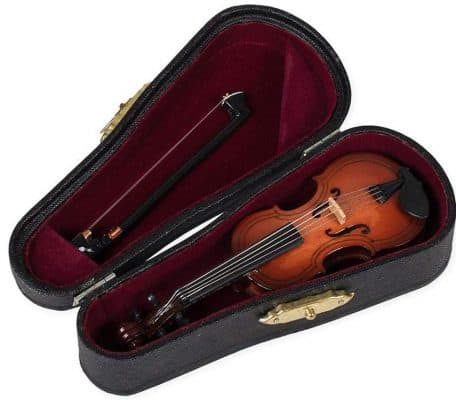 This is an awesome gift for your daughter if she loves to play the violin. It is not exactly functional, but your daughter can carry it in her purse as a toy which she can use to make people laugh by pretending to play it. It comes in a hinged case with velvet lining on the inside, and it includes a small bow giving it a realistic look. This violin will also make your daughter feel close to you whenever she misses you since it will remind her of you. The wooden case is sturdy to ensure the violin is safe inside it and it will make a fine collectible. It is great for brightening your daughter's and everyone else's day.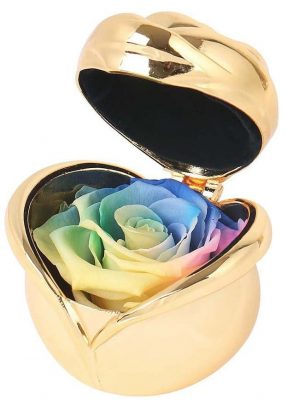 Roses are a symbol of love, and this Angel Lover preserved flower rose is a perfect gift for showing your daughter that you love her. The flower is preserved using environmentally safe chemicals and lasts up to 5 years without needing to be watered. The petals have beautiful colors and are soft to touch. The rose sits in an attractive holder, and it comes in a beautiful gift box ready for gifting. The box is good quality and sturdy allowing your daughter to repurpose it as a jewelry box or to store small items. She can place it beside her bed so she can always look at it whenever she thinks about you.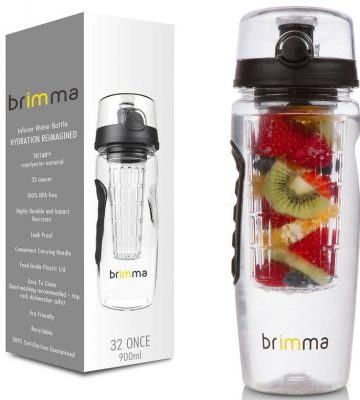 Water is good for the body, and your daughter needs to stay hydrated all the time, and she needs a water bottle she can carry wherever she goes. This water bottle is perfect for her as it will allow your daughter to drink water infused with flavors from her favorite fruits and avoid artificial flavors and added sugar. It is BPA free and made from good quality plastic which is recyclable. The bottle does not leak, and the lid has a handle to make it easy to carry. It holds up to 32 ounces of water to ensure your daughter has enough water for the day. Staying hydrated will improve your daughter's health and ensure her skin remains smooth.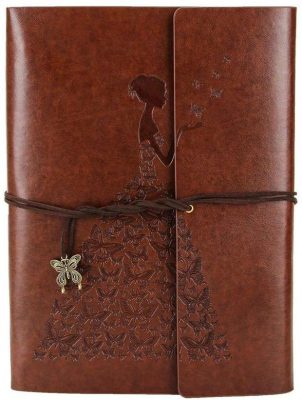 This is an excellent notebook for your daughter to write in about her day or draw anything she can think about. The leather cover is good quality and has a beautiful design to match your girl's charming personality. The notebook is refillable, and your daughter can replace the blank pages with grid or dotted ones to improve her writing and sketching experience. This also allows her to add pages to the journal meaning that she will use the notebook for a long as she wants. The size is perfect for carrying in the bag, and it comes with a pen so your daughter can write it wherever and whenever. She will be creative and write down her thoughts, and it will also promote her drawing skills.