Top 30 Best Hot Wheels Toys for Kids 2023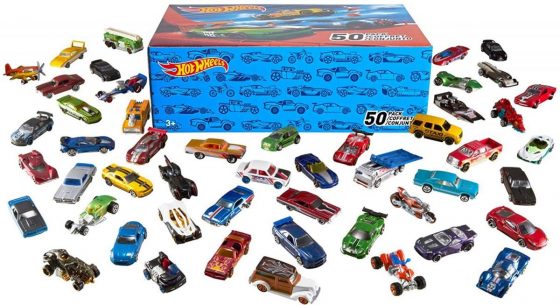 If you're looking for variety, this 50 Car Gift Pack is the best you can get. Each car has its own packaging, so there's a lot of flexibility. You can use it as a gift or separate it out and use it for giveaways during birthday parties.
All 50 cars are of the same high quality you'd expect from Hot Wheels. That means realistic details and durable components. Interestingly enough, the selection that you get in the box is random, no two sets are the same. You are guaranteed to get 50 different cars however.
The box can also be used as a storage box for their new cars. This set is an amazing way to start or expand your collection. Just remember if they're starting out they might also need a track to race on!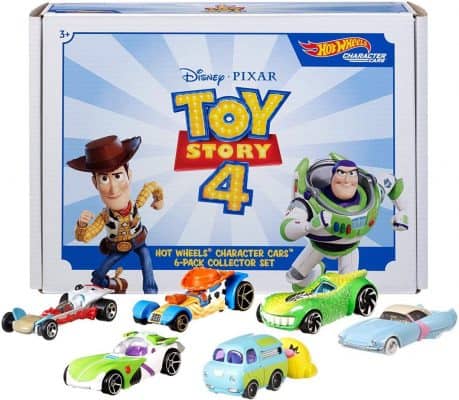 The Toy Story Car Bundle reimagines all the characters from the hit animated film into their very own Hot Wheels car.
All the favorites are here, including Woody, Buzz, and Rex. Your kids can also get newer characters like Forky and Ducky & Bunny.
The design of each character is well done. You get a sense of what character each car represents. The attention to detail and finish is excellent as well.
This car bundle is the perfect gift for any kid that's a big fan of Toy Story. They also make exceptional collector items for adults as well.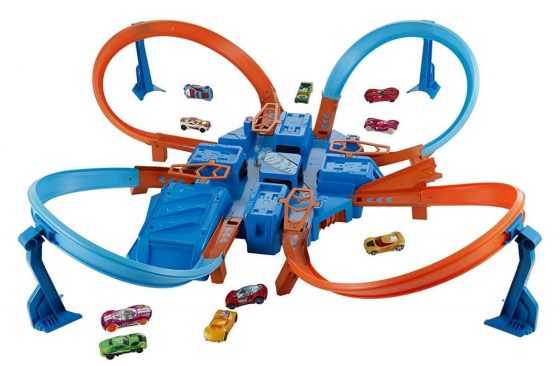 The Criss Cross Crash Track Set is one of the best Hot Wheels tracks around. The 16 feet track can satisfy any little one's need to crash cars – all in a safe environment.
The highlight of this track is the four loops, which all intersect in the middle. It's where the action happens, as cars from the four loops have the possibility of crashing here.
Cars enter the track through a feeder. Your kid can time his car's entry just right to avoid crashing into other vehicles. Alternatively, they can time it deliberately to knock another car off the track.
If you think this is just another excuse to crash cars with each other, it's more than that. This toy enhances your kid's timing, planning, and hand-eye coordination.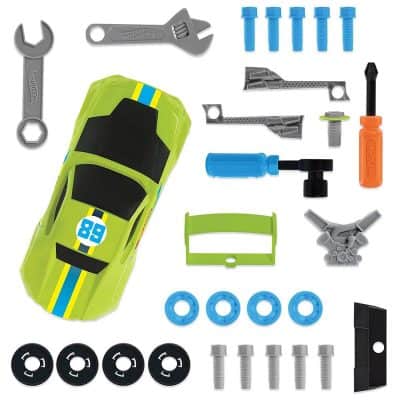 The Ready to Race Car Builder is ideal for developing your child's love of tinkering. This toy gives your child the experience of tuning and customizing their race car.
The Car Builder's car body can be customized with 29 other parts and tools. Your kid can choose between different types of spoilers and tire rims. It even has an engine and air filter.
Assembly requires the use of the included screws and bolts. Kids need to use the toy screwdriver and wrench (also included) to attach and detach it. It makes pretend-play much more realistic.

The Straight Track and Car Pack contains a total of 15 feet worth of straight tracks. It has 12" track pieces, 9" track pieces, and connectors to join them together. It even has one Hot Wheels car included.
This pack is great for kids who want to extend their existing Hot Wheels tracks or connect their sets with each other.
It's also an excellent pack to get for new Hot Wheels owners, but it might be too limiting. At most, they can create a long, straight track to test the speed of cars in their collection.
Nevertheless, this is a good number of tracks at an affordable price.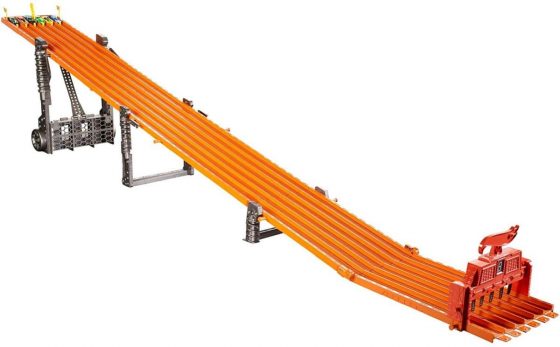 The Super 6-Lane Raceway is the perfect track for when your kid has some friends over. It can accommodate up to 6 racers for the ultimate racing experience!
The track has an 8-feet incline that ends at the finish line. An announcer then calls out the number of the winning car and displays it on the LCD screen. The feature settles any disputes of who won a race! Realistic lights and sounds also accompany the fanfare.
The entire track folds down into a trolley-shape complete with wheels. This feature makes it easy to bring it to someone else's house to continue the fun.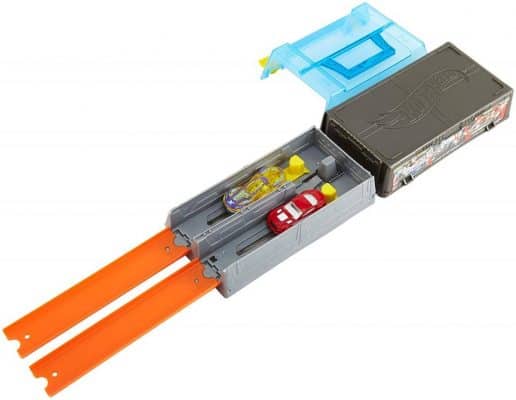 The Race Case Track Set is great for boys who want a quick race anywhere they go. It's composed of two launchers lined up side-by-side. Racers can then line up two cars and see which one of them is the fastest.
When not in use, the track set folds into a convenient Race Case for easy carrying. It also has space for bringing up to four Hot Wheels cars for racing anywhere.
On its own, the Race Case Track Set is excellent for quick races. However, it shines best when connected with other Track Builder sets.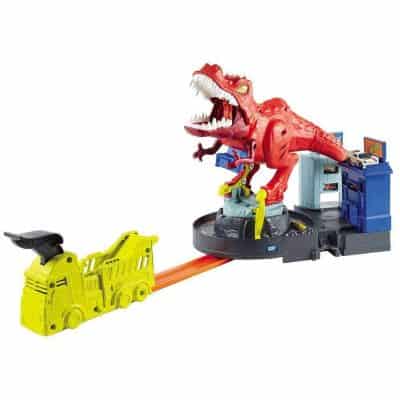 A T-Rex is attacking the city, and it's up to you to stop it!
That's the premise of the new T-Rex Rampage add-on.
To bring the T-Rex down, your kid needs to launch Hot Wheels cars to collide with the dinosaur. However, they need to be careful as one wrong move and the T-Rex will eat their car! You also have to hurry before the T-Rex topples all of the buildings down.
This is a fun new mechanic to the standard Hot Wheels track, turning your kid's ordinary cars into heroes that have to save the day. It helps develop patience and timing, as well as teamwork.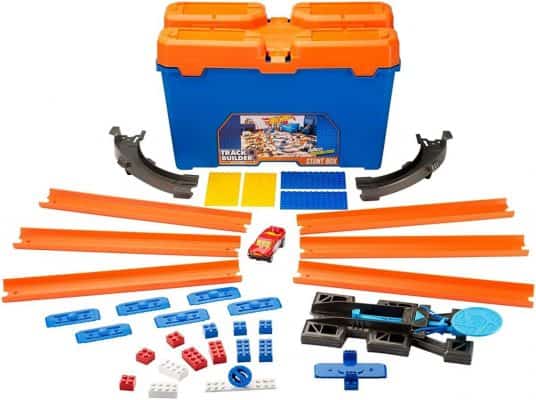 The Track Builder Stunt Box is an excellent beginner's set for children who want to explore the world of Hot Wheels. It includes 35 track pieces that kids can use to experiment and build their creations.
The pieces inside this set include six standard straight tracks that will form the foundation of most layouts. The 90-degree curved tracks allow your cars to change direction. Then kids can use the launcher to speed their cars along the tracks.
The set also has stunt components like bricks and lids. You're even encouraged to experiment with the box itself and some basic household items while building your unique tracks.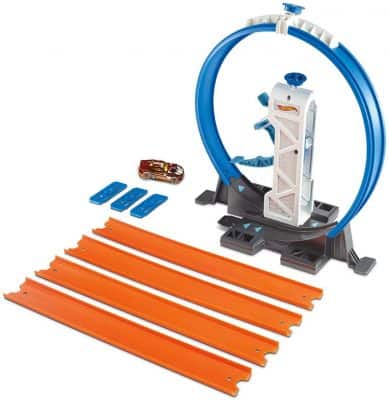 If your kid can't get enough of loops, the Loop Launcher Playset is a good buy for them.
The centerpiece of this kit is the loop component with an accelerator add-on. It kicks the car as it passes through the loop, giving it an extra power boost to rev through at full speed.
The playset allows your kid to perform different stunts, such as Spin Launch and Turn Kicker. Each variant is excellent for developing creativity and problem-solving skills for your kids.
The Loop Launcher is also compatible with other Hot Wheels Track Builder Sets.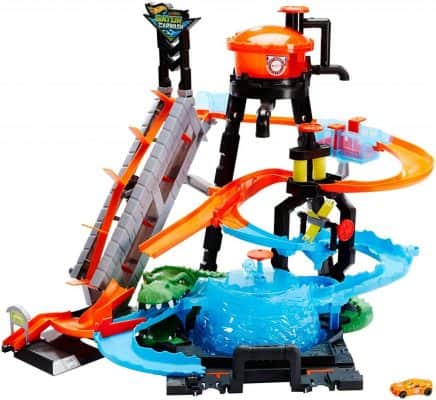 The Ultimate Gator Car Wash is a water-themed track that makes use of the Color Shifters line of Hot Wheel cars. These cars change color in warm water and change back when icy water is applied.
The set is a towering car wash that uses real water. The route includes water elements like an overhead water tank that sprays warm water at passing cars. It then slides through a pair of soft rollers, before dropping into a whirlpool. Press the button to escape, but beware of the gator as you pass through.
Then bring the car back up using the crank elevator to do it all over again.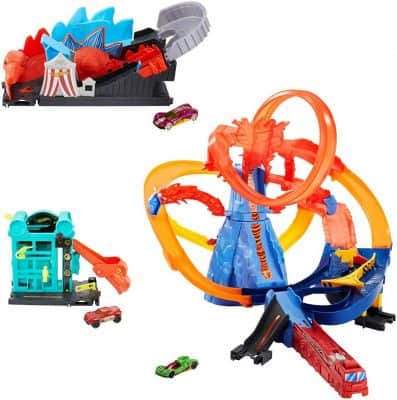 The Hot Wheels Ultimate Nemesis Adventure Bundle combines four playsets into one package. These include Volcano Escape, Dino Coaster Attack, Speed Shop Escape, and Bat Manor Attack.
All of these playsets require timing and skill to be able to escape the many obstacles they present. In The Volcano Escape, for instance, kids need to avoid the raging volcano while running loops around it.
Each playset can be played standalone, but the whole package is impressive when connected. It forms one continuous obstacle course that will keep your child challenged for hours.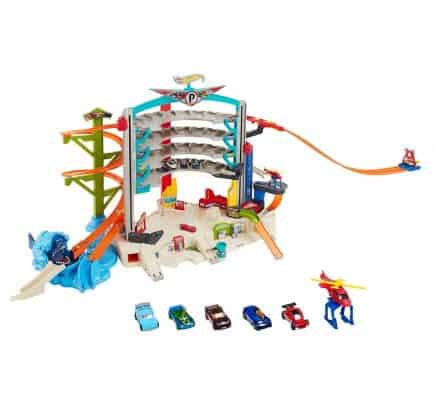 The Ultimate Garage is impressive as it is massive, and is sure to wow any kid.
This playset is the ultimate car storage solution for your kids. It stands at more than 3 feet tall and can accommodate up to 140 Hot Wheels cars. It also includes four vehicles and a massive jet plane which can use the landing pad at the top.
More than just a parking space, the Ultimate Garage also has a corkscrew track. It's where cars can race from the penthouse level down to the ground. They can then hitch a ride in the motorized elevator to return to the top floor.
Ultimate Garage also has features that any real-life garage would have. These include a spinning car wash and tune-up areas to prep cars in time for race time.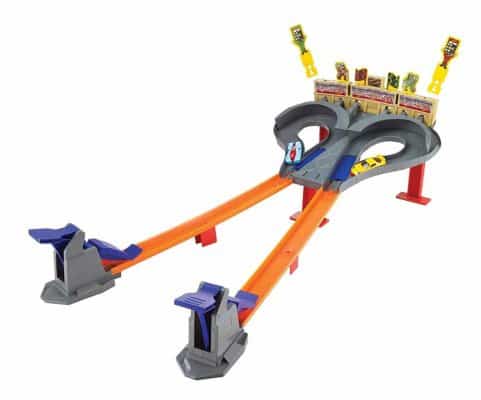 The Super Speed Blastway Track Set gives your kids the chance to race against each other, and knowing precisely who won!
Determining who wins is done via the pop-up flags. Every time a car completes a lap, a character pops off in the grandstand. Finally, when one car crosses the finish line, the final flag raises to signify the winner.
This track lets you know who won the race. No more disagreements or petty fights on who won or lost the race.
And the fantastic part is that it can connect with any Hot Wheels track set. Now you can finally settle the dispute over who won in your kid's other tracks as well!
Launching the cars is done by two Slam Launchers, which boys will have a blast using. Both are built to withstand repeated heavy usage pretty well.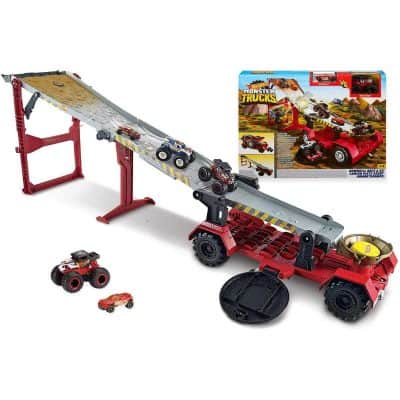 If your kid is into monster trucks, then this Monster Trucks Downhill Race and Go Playset is just the one for them. Unlike the standard Hot Wheels race track, this playset is wide enough to accommodate the larger size of monster trucks.
The Downhill Race and Go Playset is a 2-in-1 track and transporter. The track is a long 4-ft downhill slope. The aim is to be the first one to land on the trophy at the bottom of the road.
Although made for Hot Wheels monster trucks, regular Hot Wheels cars can also race down this track.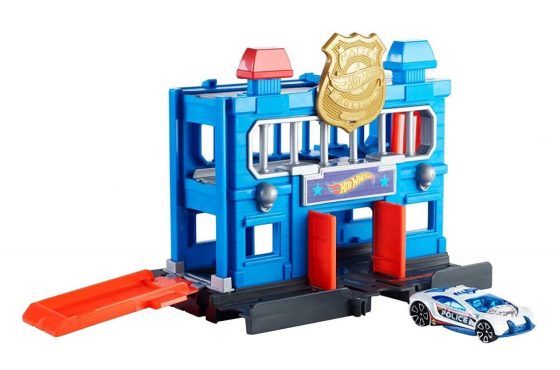 The Downtown Police Station is part of the Hot Wheels City playset series. Each feature an iconic landmark in the city. It happens to be one of their more most bought playsets because every town needs a police station, right?
This playset features a police station motif. The included police car can be launched down the ramp via the launch button on top. It also has a holding area for imprisoning misbehaving cars!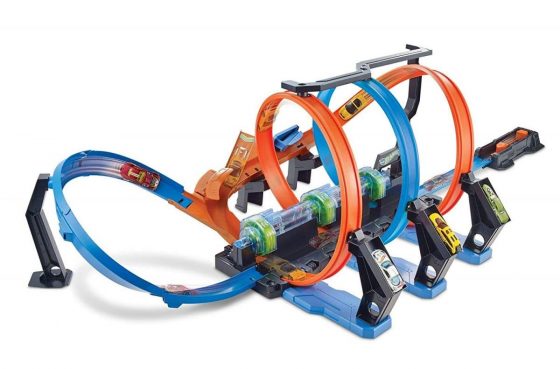 The Corkscrew Crash Track Set is a playset filled with mayhem waiting to happen.
The track is composed of three loops and three crash zones. Cars can continuously run through the circuit via the unique corkscrew design and high-speed boosters at regular intervals. Your kids can also introduce cars into the fray via Drop-in Ramps.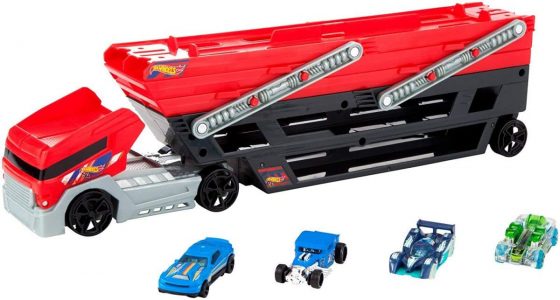 The Mega Hauler is a great way to store all of your kid's Hot Wheels car collection. This mega truck can store up to 50 cars. The six expandable layers give your kid a chance to sort his collection correctly.
If you're buying the 50 Car Gift Set, this is an excellent companion toy. The Mega Hauler has four cars included, so it adds to your kid's car collection as well.
This truck is even compatible with other Hot Wheels tracks. You can connect it to those tracks to give cars extra space on which to race around.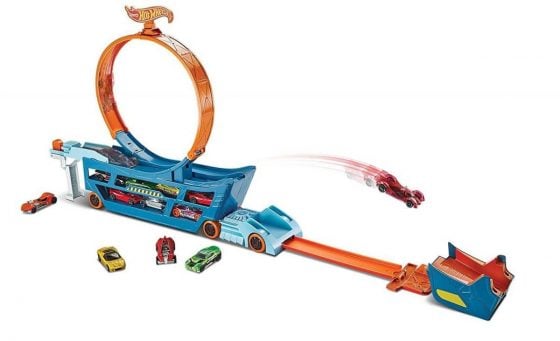 The Stunt n' Go Track Set is for the little daredevil who wants to perform Hot Wheels stunts on the go.
The great thing about the Stunt n' Go is that it folds into a compact mobile haul truck. It's capable of holding 19 Hot Wheels cars while in storage, perfect for your kid to bring along the best stunt-worthy cars from his collection.
Once they're ready to play, the Stunt n' Go unfolds into a looped track. The front cab pulls down to create a dramatic jump for cars to perform. The distance is extendable for even longer jumps.
The 4-Speed launcher gives a nice amount of speed boost to allow cars to clear the ramp and fly up in the air. It's quieter than most launchers, so that's a plus.

The Blastin' Rig Vehicle is a storage truck and launcher built into one. It has storage space for up to 14 Hot Wheels cars from your kid's collection.
They can then launch the cars with the built-in "kid-powered" launcher – so-called because your kid needs to pull it back manually.
The Blastin' Rig Vehicle already includes four Hot Wheels cars, so your kid can start using this one right out of the box.
The rig itself is solidly built and feels durable throughout.

If your little one loves superheroes (and what child doesn't?) then this Justice League 5-Pack will be a real treat.
This 5-car pack allows them to drive as any one of their favorite DC superheroes. They can choose between Superman, Batman, Wonder Woman, Aquaman, and Cyborg.
The great thing about these cars is the fun design, which kids will appreciate. They're also built to last like most Hot Wheels cars. This means they can withstand some abuse from the hours of play your son or daughter will likely spend with these cars.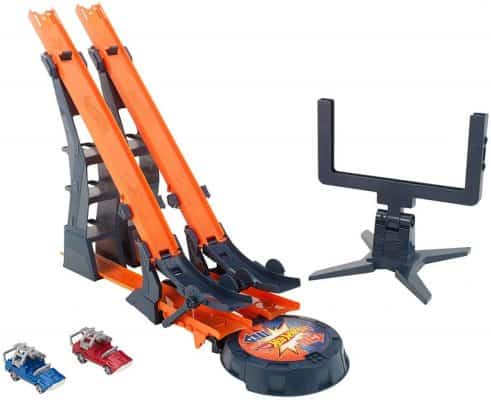 The Versus Track Set allows your kids and his friends to go into intense, head-on car battles that end in spectacular crashes!
The track can be arranged to do a traditional side-by-side race. Launch the cars and see who gets to the bottom the fastest. Or it can also be arranged head-on to make the cars crash into each other!
The included cars have clamps that can carry any small object. Kids will have fun experimenting and crashing with many different things, from action figures to water balloons.
And what's a good crash without some video replay? The set includes a smartphone stand so that you can record footage of the crash. Your little ones will have lots of fun creating and reviewing their crash footage over and over again.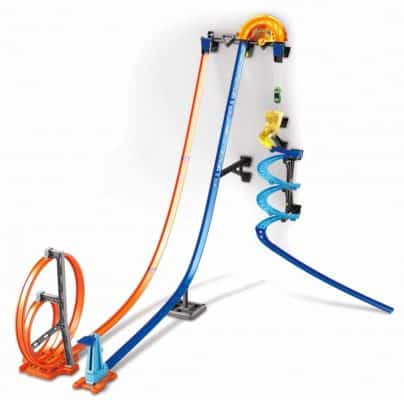 The Track Builder Vertical Launch Kit allows your kid to build HIGHER instead of FURTHER, unlike other track sets.
This playset is nearly 50 inches tall. It's made possible by attaching parts of the track on the wall using a unique 3M Command Strips. You can experiment with tracks like loops and corkscrews against the wall.
Since most of the components are attached to the wall, clean up is easy. You can store tracks and cars on storage areas on the wall brackets.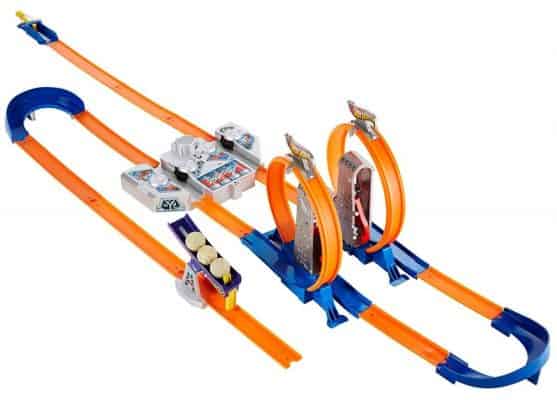 The Total Turbo Takeover Track Set is an excellent entry set or expansion to your child's existing Hot Wheels Set. It contains everything your child will ever need to build the perfect stunt track right out of the box.
Aside from the standard straight and curved tracks, your kid will also get some unique features to enhance their racing experience.
The launchers are noticeably more powerful here, giving cars the necessary boost to clear the entire track. It also has two loops and a variety of car-activated stunts.
The whole set is completely customizable. Your child will spend hours trying to design the perfect layout. Like any Hot Wheels track, it's compatible with other Track Builder sets.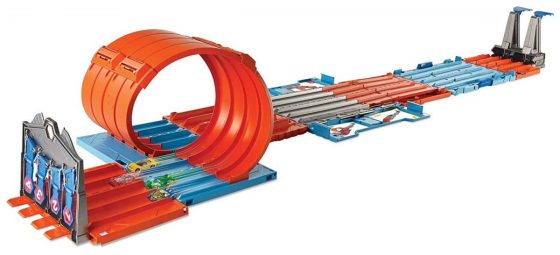 The Track Builder System Race Crate allows your kids to race in three different ways. All of it involves using the included tracks plus the crate itself, which doubles as both storage container and track holder.
The standard is the Drag Race, which launches the cars in a long track that finally ends in a loop. Elevate the straight track a bit, and you end up with a Gravity Drop. Or create a ramp using the crate to see the cars fly in the air as they complete the Mega Jump track.
These are just the beginning, though, as the track is entirely customizable. Your kids can mix and match the track layout, which is great for fostering creativity.
The Track Builder System Race Crate is also compatible with other Track Builder Systems. It contains 8 feet worth of straight tracks and loops to add to your kid's own existing sets.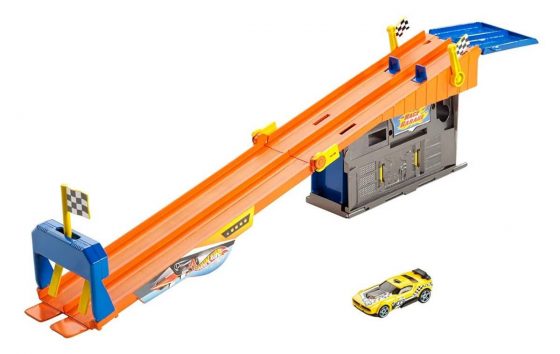 The Rooftop Race Garage is perfect for your little racer and mechanic.
Your kids can race down the two inclined straight tracks that end in a finish line flag. Unlike other playsets, this one doesn't have a launcher. Instead, it uses the power of gravity for a natural boost. It makes this toy less noisy than most Hot Wheels tracks.
The track also has a garage included for racers to pretend "tune-up" their cars before and after a race.
After playing, Rooftop Race Garage folds up neatly into a carrying case. It makes it easy to bring this set along anywhere your family goes.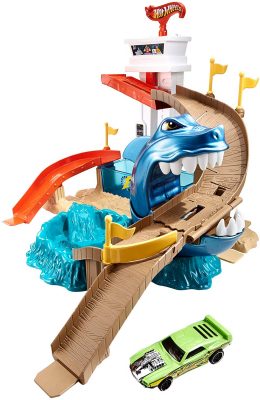 The Sharkport Showdown is one of the Hot Wheels playsets that cater to the brand's Color Shifter line of cars. These cars change their color when they pass through either cold or warm water.
As expected, this playset is a water-themed track that involves a giant shark. It can capture cars that pass by using its jaws. The only way to escape is to send another vehicle to hit the release lever the right way.
The track also includes water features like the splash pool and dunk tank. These give Color Shifter cars the chance to showcase their color-changing abilities.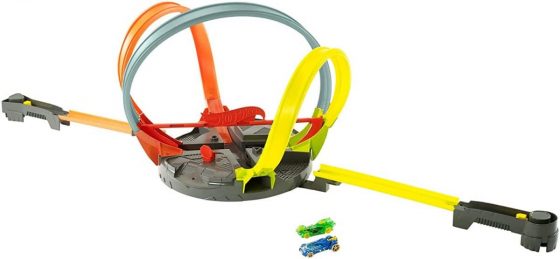 The Roto Revolution Track Set is an interactive track that will test your kid's launching skills.
This track is composed of a central area of four loops that all rotate around. Your kid must be able to time his launches just as the tracks line up to successfully enter the loop.
It's an excellent toy for developing your child's hand-eye coordination, accuracy, and timing. But most of all, it requires your child to practice patience. It's not every day that you find a toy that does that.
Despite the occasional frustration, kids will get addicted to the joy of successfully launching their cars into the loop.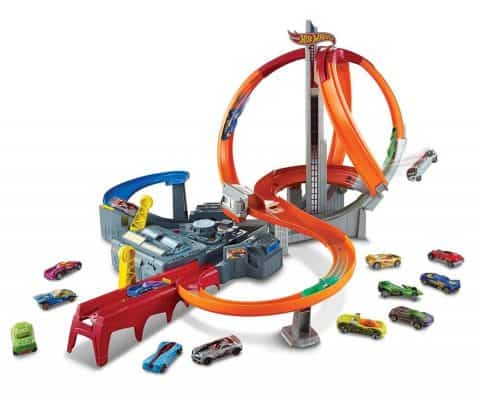 The Spin Storm Track Set is an impressive track with all the loops and stunts to keep any child happy.
The Amazon-exclusive track set features lots of looped sections and three crash zones. It allows your kids to experience some exciting crashing action.
Two motorized launchers launch the cars, enabling high-speed racing and crashes. It also allows multiple vehicles to race around the track.
The playset is excellent on its own, but can also connect with other Hot Wheels Track Builder sets for even longer race tracks.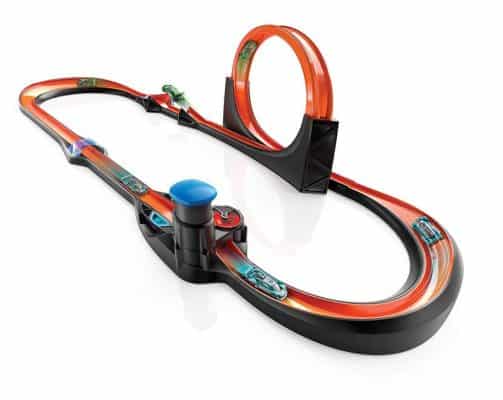 Hot Wheels id is an innovative concept that combines digital and physical play. It allows you to scan Hot Wheels id cars to a smartphone app. Once uploaded, you can then upgrade the cars or race with them digitally inside the app.
One of the coolest features of the Smart Track Kit is the ability to sync the physical track to the virtual app. It gives you the ability to keep track of your speed and other stats in the app while the physical car is racing in the actual track!
How cool is that?
You can also build the physical track and see it reflected in real-time. Once you finish it, you'll see the same route in the app but with a full virtual background surrounding it.