Top 30 Best Inflatable Water Slides for Kids 2023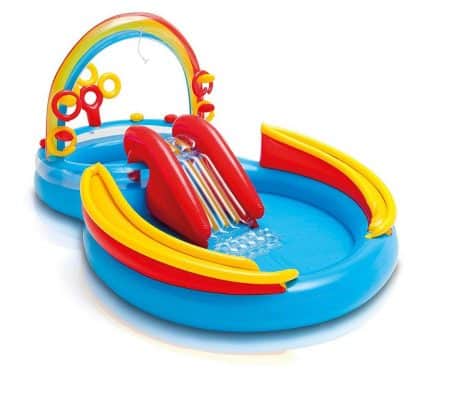 The Intex Rainbow Ring makes it to the top of our list of the best inflatable water slides due to its sheer versatility. It's colorful and super fun for kids, especially in the summer when they need to keep entertained.
It comes with a built-in sprayer, which you attach to a garden hose that keeps your kids cool all through playtime, and a convenient drain plug, repair patch and landing mat for extra padding and safety.
See the pool in action here: Kids' Pool Party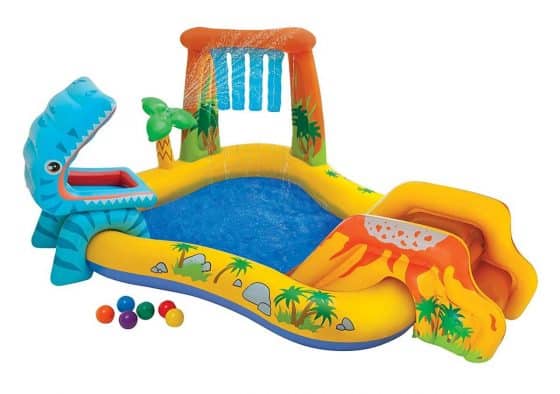 The Intex Dinosaur has a fun theme and colorful design that keeps kids engaged. It can never get boring with this water slide in your back yard.
The control valves monitor water flow into and out of the sprayer and waterfall, and it has a built-in sprayer that attaches to a garden hose for convenient water supply. The landing mat also provides extra padding for safe play, and a suitable drain plug at the pool floor makes this unit easy to empty and store.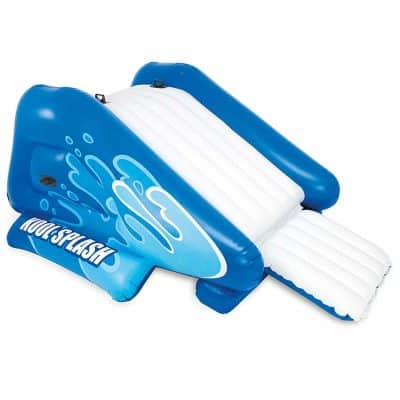 The Intex Water Slide displays fun wave graphics that make it a favorite among many kids.
It has five air chambers, sturdy 20-gauge vinyl construction, and six heavy-duty handles for the ultimate stability. For safety, this product also has robust climbing steps, grips, and an inflatable stepping mat.
The slide also has a repair patch that adds to its longevity.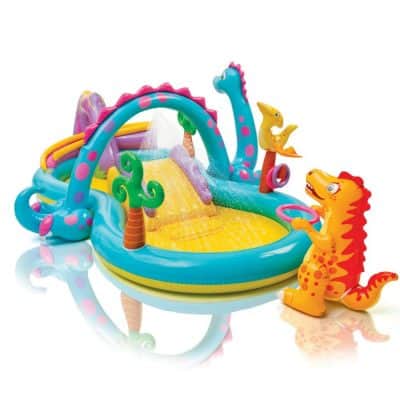 Recommended for children aged three years and above, we've love this water slide because of the unique dino hoops and volcanic ball roller games, which would enchant any child for hours.
The Intex Dinoland also has a slide landing mat for extra padding, which promotes safe play, and a convenient drain plug for easy cleanup. It also comes with a repair patch to ensure that a little damage doesn't stop the fun and games.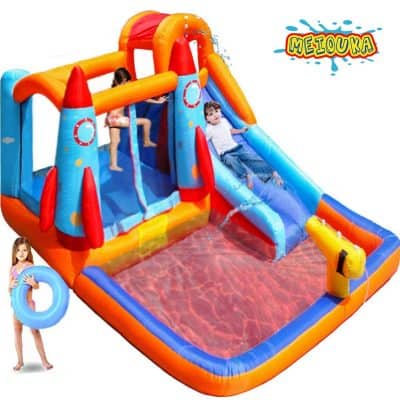 This MEIOUKA Kids Bounce House is the ultimate multifunctional play center.
It's not a pure waterslide, as it includes a bouncing area, a water gun, climbing area and pool where kids can jump, hide, slide, climb, and bounce freely. The bounce house is also safely covered with a black safety net to prevent children from tumbling over.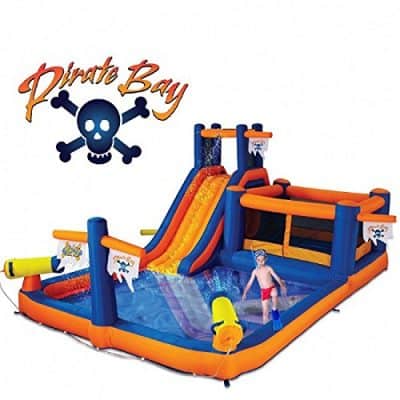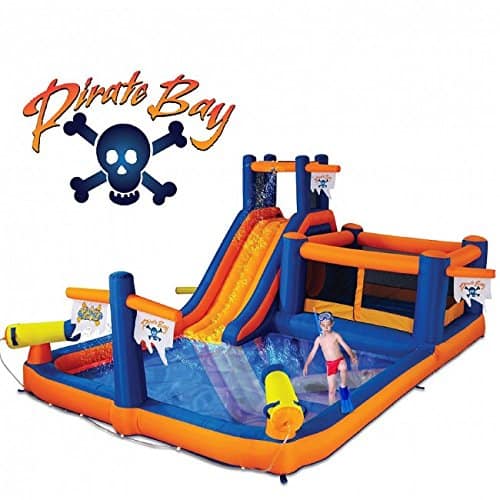 This BLAST ZONE Pirate Bay water slide is big on safety. It comes with commercial-grade vinyl and soft safety netting to prevent abrasion as children play. It also features numerous anchor points for stability and safe slide heights.
The generous splash area allows kids and their friends space they need to splash about care-free, and the sturdy climbing wall enables kids to zoom down to meet water cannons down below safely.
With this water slide, your kids will jump, swim, crawl, and tumble to their heart's content!
Video: Blast Zone Pirate Bay Vlog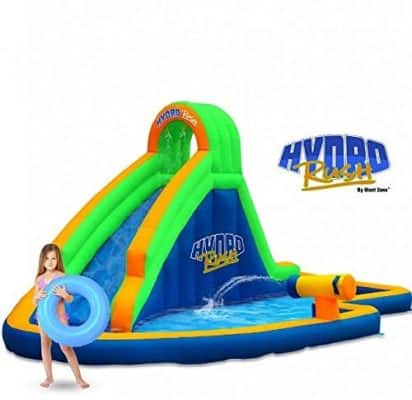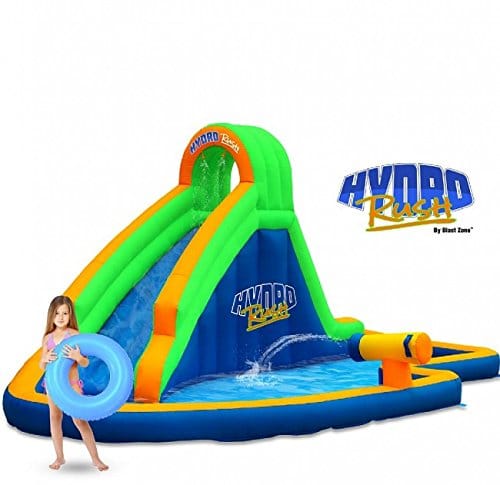 Another great Blast Zone waterslide that comes equipped with water cannons.
Its fabric consists of commercial-grade vinyl, and the circular design is perfect as it keeps out the dirt. Also, safety features give you peace of mind. They include safe height for sliding, soft safety netting that prevents abrasion, and numerous anchor points.
However, this slide lacks a plug at the bottom to drain water quickly, making disassembly and drainage that much harder.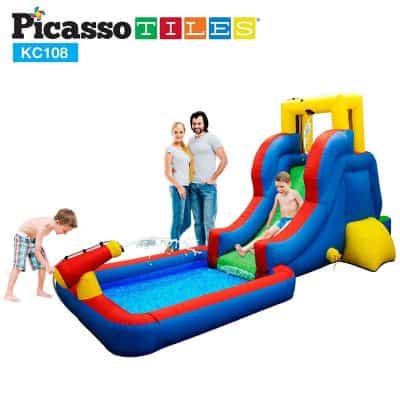 Are you worried about your kid's enthusiasm for outdoor summer play? Then invest in this Picasso Tiles water slide that ensures your kids can play for hours outdoors without getting bored.
The durable and robust pool can hold multiple kids comfortably and has a soft safety net, which allows kids to jump high as they want without the fear of falling over. This slide uses toxic-free fabric that reduces cases of skin irritability after play.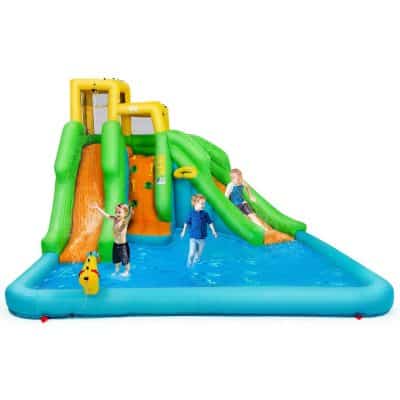 The Bouncetech Mighty Water Park comes with excellent safety features like a soft safety net coated with P.V.C. for extra protection. Also, it takes a short time to dry so you can store it on the same day after use.
The blower is sturdy and reliable, and the water drains outside the pool in intervals to avoid flooding. Connect the unit to a garden hose to use as a waterpark. Kids can slide down the built-in slides or spray each other with the included water cannon.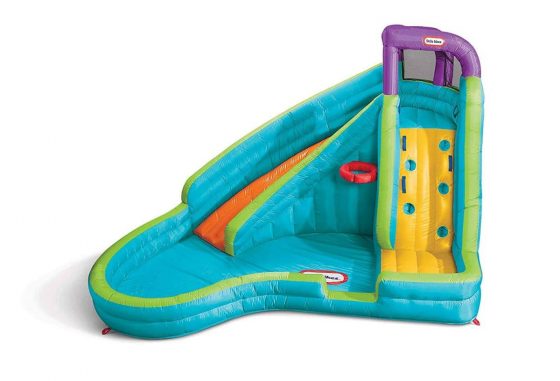 Little Tikes Slam 'N Curve is one of the best gifts you can give to your precious little one for summer play. The slide holds up to five kids per session and s built with a sturdy vinyl material for longevity and durability.
This inflatable comes with stakes to anchor it firmly in place, and a heavy-duty blower to provide continuous airflow. Also included is a basketball hoop at the splash area, which makes your kid's playtime varied and worthwhile. However, don't expose this water slide to sunlight for long periods to avoid fade damage.
Video: Little Tikes Promo Video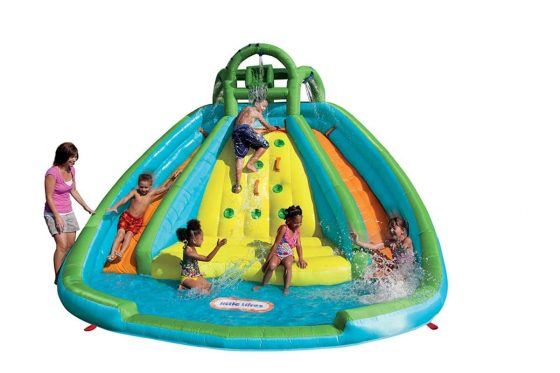 Your child will love their summer with this double slide water park. With a slide at each end, kids ascend the climbing wall before getting into position to race each other down to the large splash area below.
It's got a bright, colorful aesthetic that kids will adore and it comes from a reputable brand that has a long history in making excellent inflatable products for kids.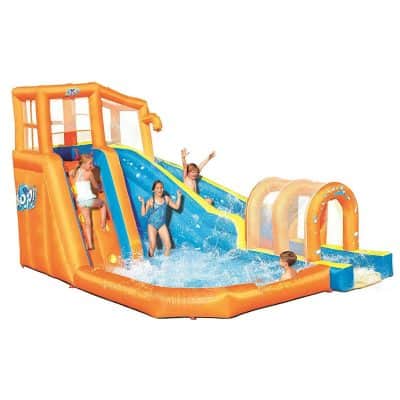 This large water park features a superb sliding area. It curves around the space to give your child maximum descent time. There's also a wide climbing wall and spacious water pool, so it can comfortably accommodate 6 children which is impressive.
This is a great party slide. The water sprayers included mean children can shoot at their friends as they descend or as they paddle in the pool. The included 110-120V blower inflates the area in under two minutes, which is great considering the size of it.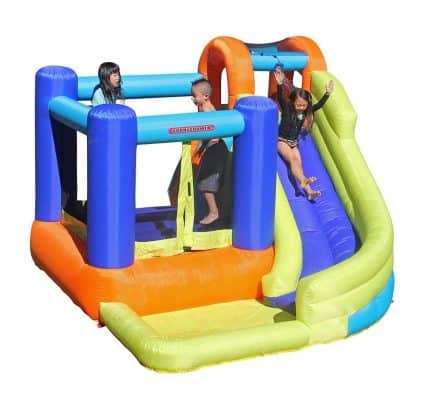 The Sportspower My First Jump 'N Slide is the best inflatable for your children to enjoy outdoor or indoor activities. It consists of durable vinyl material and sturdy mesh walls to protect kids as you watch them play.
This slide also meets ASTM safety standards and includes an anchoring set for stability. Unfortunately, it doesn't store very effectively, so you'll need some space to put it away.
Video: My First Jump N Slide Review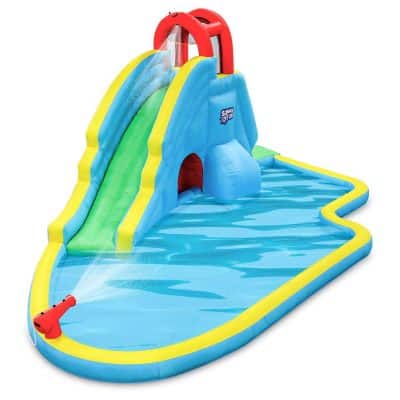 This slide park has a wide variety of wild, fun moments to offer. It comes with a reliable electric pump that inflates it within minutes.
Additionally, its heavy-duty nylon fabric and repair patches prolong its durability and make it safe to use for longer. The downside of this water slide is that the seams start to tear after some use, but this is repairable.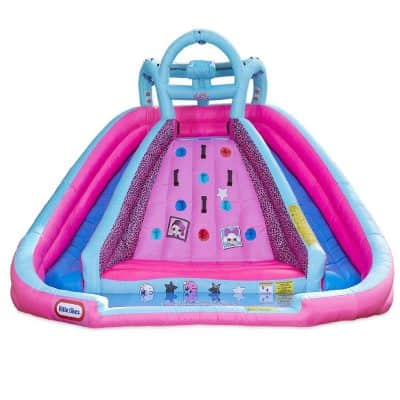 This inflatable water slide comes with two slippery slides, a dump bucket, and a climbing wall. Children will play for a long time on this unit owing to the constant water flow. Furthermore, the water slide can allow multiple kids to play at once.
The durable fabric and ease of assembly make this water slide worth your money. The weak point, however, is the long hours you'll have to wait for this unit to dry before storing it, as it cannot be put into storage wet.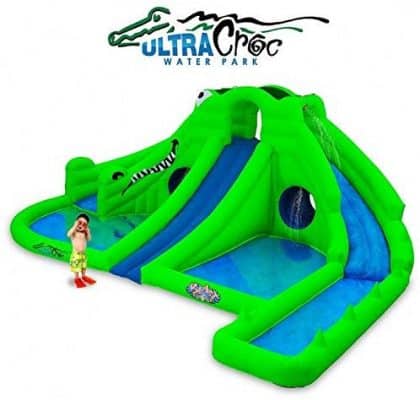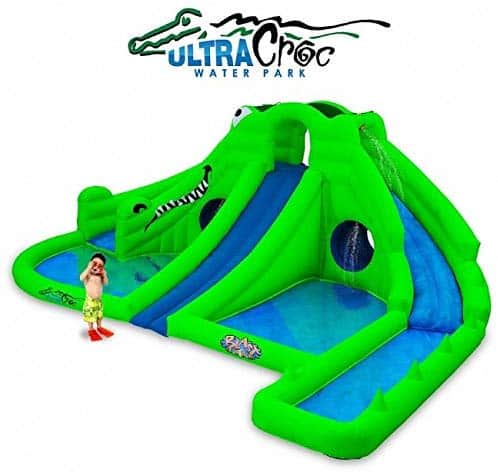 This water slide is perfect for a family with many kids or a large playgroup. It's convenient to use in any weather; if the weather changes from hot to cold, you can add play balls to form a ball bit.
And we just love the variety! Enjoy three commercial vinyl slides and splash pools, two commercial vinyl spray tunnels, and one industrial vinyl climbing wall. It also features a soft, safe net to keep jumpers safe at all times and is simple to assemble, although it takes longer to deflate.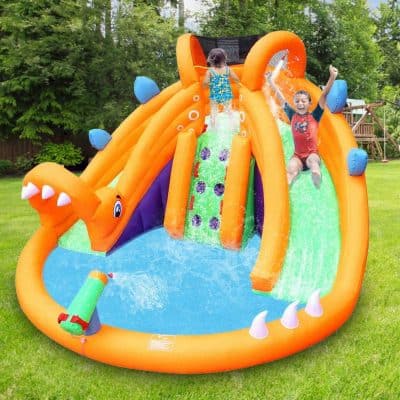 The BEST PARTY Dinosaur has a giant dinosaur that watches over your kids as they make a splash. Kids can play basketball, climb walls, and wave at watchful parents as they play.
The heavy-duty fabric and puncture-proof material also ensure durability and safety for kids who dare to scale the heights. Also, the product represents real value for money as it comes with a repair kit and a transport bag, which makes it easier to carry and store.
We recommend buying an extension cable since it does not come with the package.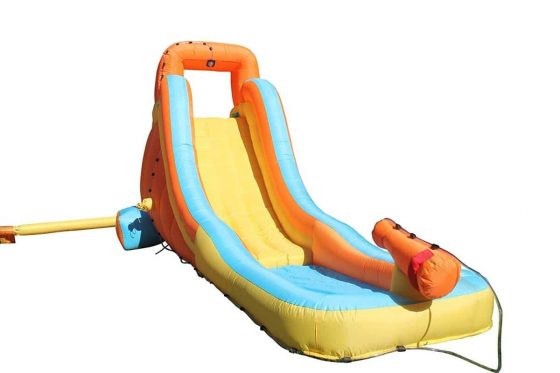 The Sportwear My First Inflatable features a slide, water cannon, and splash pool. It consists of durable, puncture-resistant polyester with a P.V.C. coating for added toughness.
The powerful air blower inflates in less than 2 minutes and comes water-ready with an in-built ground fault circuit interrupter and blower. This water slide also gives you peace of mind as it meets ASTM safety standards and includes an anchoring set for perfect stability.
However, it takes longer to dry. But this wait is worth it, as it's mostly a safety measure.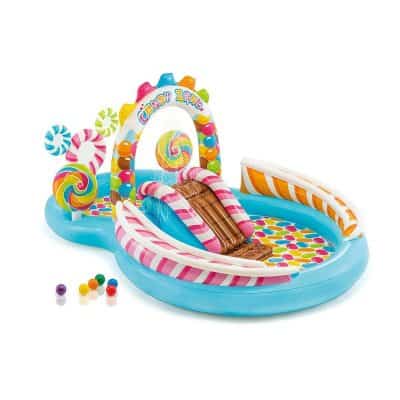 The Intex Candy Zone makes those extra-hot days more relaxed for your children. The water slide has a water sprayer that can attach to your garden hose, keeping the kids fresher for longer. It features a sturdy water slide and two rails for rolling balls.
The landing pad provides extra safety and stops kids hurtling into the grass. It also comes with a repair kit for longevity and a convenient drain plug for natural drainage.
However, this slide is not suitable for creating a ball pit. This omission isn't a deal-breaker, though, since kids can have fun with the six included balls.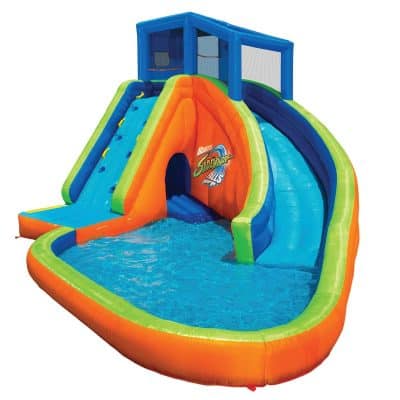 The BANZAI Sidewinder Falls comes with a sizeable sliding area and an extra tunnel, which makes sliding down exciting and adventurous for children. The big pool can accommodate several children providing a combination of comfort and warmth.
It also takes a short time to inflate, and the strong dura-tech construction makes it a worthy investment. The seams can tear at times, but with the repair kit, this defect is manageable.
Video: Banzai Sidewinder Falls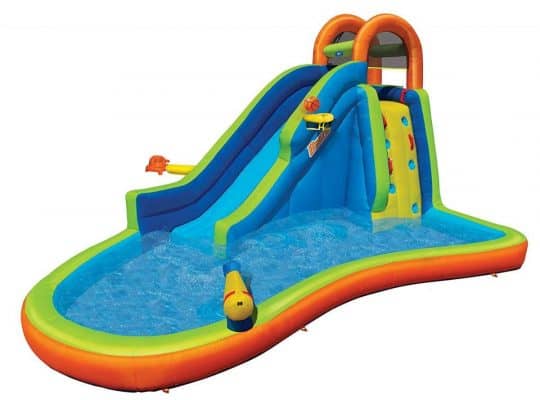 The BANZAI Big Blast Water Park lives up to its name – it's large and fun! The basketball hoop provides challenging fun, and the ball is included. The overhead sprinkler will make your kids stay outside for longer. Don't forget the water-blasting water cannons that surprise and delight.
It's durable, made with dura-tech construction technology, and is easy to set up with an inflation time of fewer than 2 minutes. The downside of this water park is that it takes two days to dry, so it is probably only suitable for weekend fun.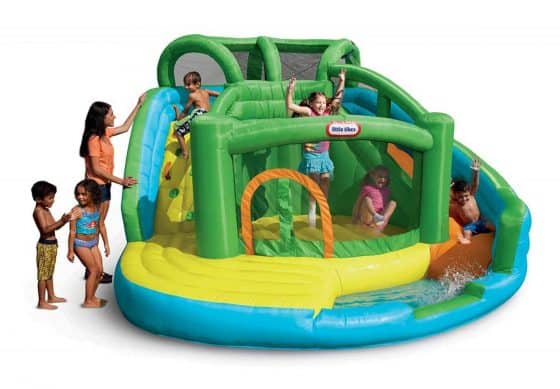 This 2-in-1 Wet or Dry inflatable bouncer has sturdy climbing walls that lead, interestingly, to a crawl-through tunnel and giant slide. The refreshing splash pool provides a sizeable area for soft, fun, and safe landings, and the large bouncing surface with a safety net entrance way emphasizes the safety aspect.
The Little Tikes Wet 'N Dry is built explicitly for outdoor use. It is an excellent investment for birthday parties and neighborhood playgroups. It offers value for money as it comes with eight bouncer stakes, one GFCI blower with four blower stakes, one carry bag, a hose assembly kit, and four repair patches.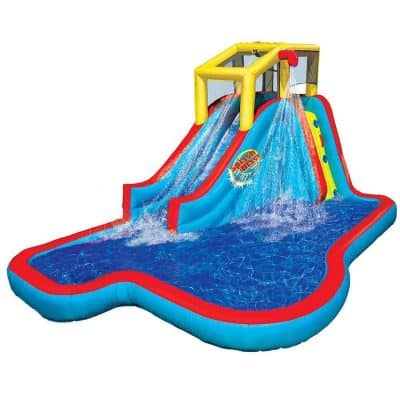 The BANZAI Slide N Soak Splash Park inflatable is the epitome of beach vibes. It has a durable climbing wall and sprinklers and sprayers in the 8-inch lagoon-style pool that kids can comfortably climb, slide, splash, staying refreshed and entertained all day.
The quick 2-minute inflation time means no waiting around for fun to begin, and the robust and durable materials with extra padded lining provide comfort. Repair patches, a GCFI-certified air blower, and hose attachment are all included.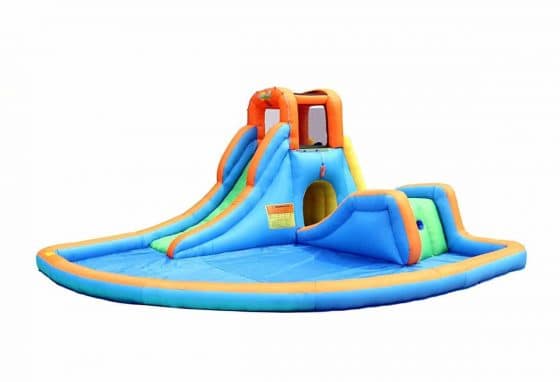 This dual water slide and humongous pool give the Bounceland Inflatable Cascade ample room for multiple children to enjoy themselves. A robust U.L. blower that is included in the package powers the unit and inflates it in less than a minute!
This slide also features quadruple stitches on its seams and a heavy-duty, puncture-proof material for durability and longevity. It comes with nine stakes that firmly secure it to the ground, and long fill tubes that ensure inflation is safe and quick.
We love the safety features that come with this water slide. The ASTM certification offers consumer safety, and the 16CFR1500.3/16CFR1505 certifications offer materials safety. The CPSC and U.L. with a 25-foot power cord and GFCI plug, more than meet the standards of the American Consumer Safety Committee.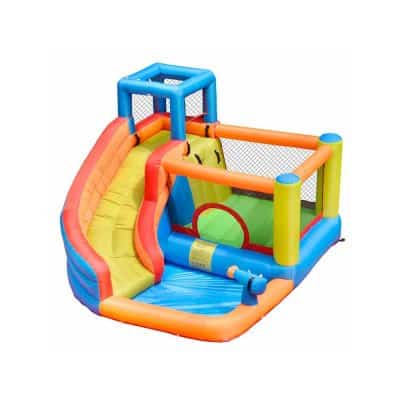 The Dr. Dolphin Bounce Slide House is a well-built water slide with a water spray that kids love when it comes to having the ultimate summer fun.
It consists of puncture-resistant 420D nylon and P.V.C. tarpaulin that ensures durability. For safety, the inflatable has an anchor and knot to keep it in place and mesh netting all-round to keep kids in the bounce house. This unit is quick to inflate, typically in less than 2 minutes, and requires the blower to run as kids play. Store it easily or carry it anywhere with the supplied bag. Included is a heavy-duty and waterproof air blower that keeps the unit functional.
Video: Dr. Dolphin Bounce House Review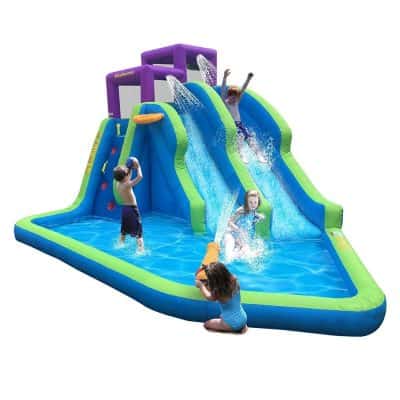 The Kahuna 90793 lives up to its name – it is, well, the 'Big Kahuna' of water slides!
It offers plenty of room for children to enjoy the two slides, a large splash pool, climbing wall, sprinklers, water cannon, and basketball hoop. This slide is also quick to set up as it inflates in less than 2 minutes, and versatile as it attaches effortlessly to any garden hose for fast accessibility.
The heavy-duty P.V.C. construction ensures durability. For safety, it features double-stitched seams and strong climbing walls that keep children protected as they play.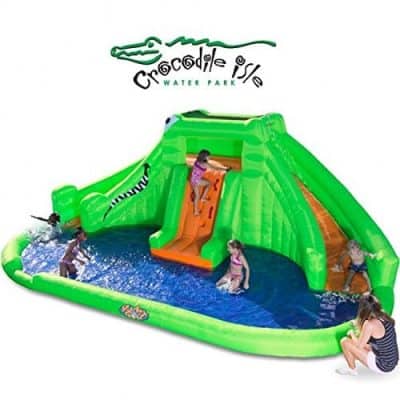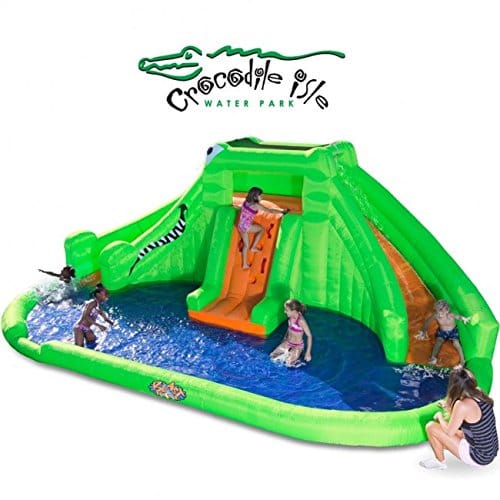 This BLAST ZONE Crocodile Isle conjures up vivid images for your children and transports them to a jungle paradise. Kids can easily create unforgettable adventures by escaping the crocodile and racing each other to the large lagoon.
This new version has higher walls and widened ramps for ultimate safety. The slides each have sprayers which make water fights part of the action.
The slide consists of commercial-grade vinyl, which ensures durability and longevity in the climbing and slide surfaces. Also, the massive splash area can accommodate up to six children with room to spare.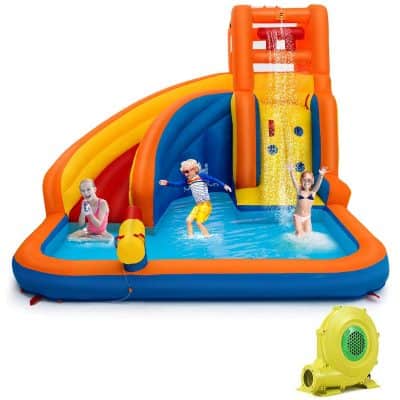 This Costzon Inflatable 5-in-1 is a versatile water slide and bouncer. It features three sprayers that splash simultaneously, a water cannon, curved slide, a climbing wall, and protective netting for safety.
The construction is decidedly heavy-duty and consists of puncture-resistant 420D oxford material with a wear-resistant coating, perfect for prolonged outdoor use. Included is a 735-watt blower, a repairing kit, and a carrying bag to allow for compact storage.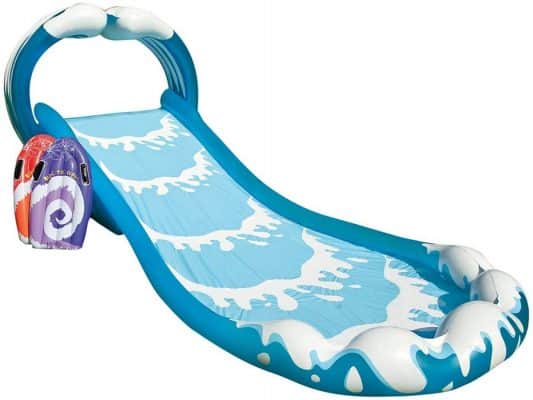 Intex is known for its fun play centers, and with this Intex Surf 'N Slide inflatable, they didn't disappoint. This water slide has a landing mat underneath for extra padding, a garden hose attachment for sprayers to wet the sliding surface, and a repair patch that comes in handy in case of a little damage.
You can also attach your garden hose for sprayers to wet the slide surface, and we'd highly recommend a pump to inflate this unit quicker.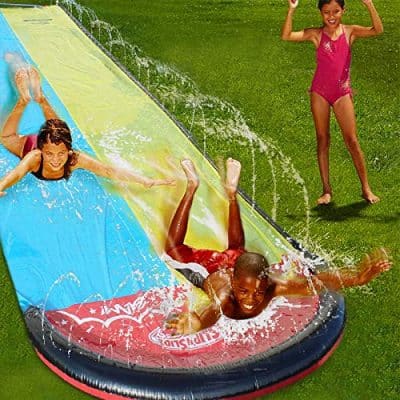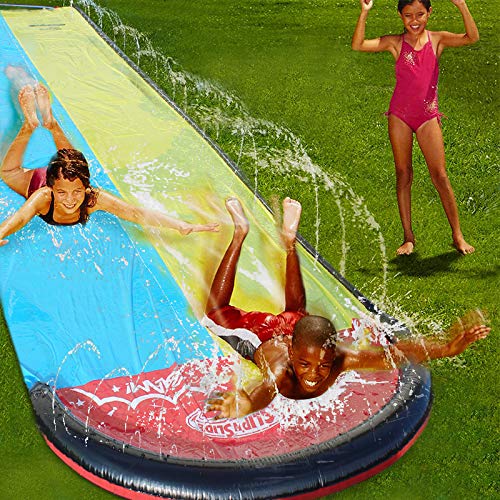 The Giant Lawn is a fun outdoor water slide that would make any child play with it for hours, especially with their friends around.
The slide consists of heavy-duty, environmental-protection P.V.C. that will not irritate your child's skin as they play. Its length of 16 feet and 3.3-pound weight makes it perfect for everyday backyards.
Connect this unit to regular-sized garden hoses without the need for adaptors and set up the slide quickly and easily using a self-filling bumper.