One of the most important buying decisions that new parents have to make you'll have to make is which car seat to buy for their newborn. If this decision makes you nervous, you're not alone. Babyproofing your house is one thing, but when you're in the car, there are lots of variables you can't control, namely other drivers.
What you can control, however, is the environment inside the vehicle. Picking an infant seat you can count on goes a long way to having peace of mind. To help make your decision easier, we ranked our favorite infant car seats for 2021.
Choosing the Perfect Infant Car Seat
An accident, or even just a sudden stop, can happen at any moment. By ensuring your infant is riding in a properly tested safety seat, you can minimize their risk of injury or worse as a result of a crash. In addition to safety features, there is a wide variety of convenience features available that make parent's lives easier.
But before you get into the details, you need to determine what kind of car seat suits your needs. Here are some of the most commonly purchased types of infant car seats.
Rear-facing Car Seat
Most of the infant car seats on this list are designed to face the rear of the automobile. This is for good reason, as pediatricians agree that riding backward in the car is the safest way for babies and that they should ride this way for as long as they fit in the seat.
Removable Carrier
Infant car seats with a removable carrier make getting your baby in and out of the car a snap. Usually featuring an adjustable handle for easy carrying, these seats attach to a base that is securely installed in the car. The Graco SnugRide 35 LX Infant Car Seat is our favorite removable carrier car seat.
Convertible Car Seat
A good choice for value-conscious parents, a convertible car seat can adjust to accommodate your baby's needs as they grow. This prevents parents from having to buy a new safety seat when their kid becomes a toddler. For instance, with a 10-year lifespan, the Graco 4Ever DLX 4 in 1 Car Seat is the only car seat your child will ever need.
Features to Consider in Good Infant Car Seats
Choosing the right type of infant car seat isn't enough, as they're not all created equal. To ensure you're picking the perfect seat, keep the following factors in mind.
Safety
A good car seat, of course, needs to be safe above all else, so things like a rear-facing design, a generous weight limit, and high-quality straps played a huge role in our selection criteria.
Comfort
The seat's comfort level another hugely important consideration. Yes, keeping your little one protected is the most important factor, but you also want them to be happy while they're along for the ride—for both their sake and yours, as you'll soon figure out if you pick a seat that they're not a fan of.
Ease of Installation
We know these seats can be frustrating to use because they're often difficult to install. This even leads to some households not using them or installing them correctly, but that's dangerous and illegal. To make sure you don't dread every time you need to set your seat up, we've only chosen car seats that install with relative ease.
We'll say it again: it's one of the most important decisions you'll ever make and we want to make it as easy as possible for you. Let's get this right.
Ready to start shopping?
Top 10 Best Infant Car Seats 2023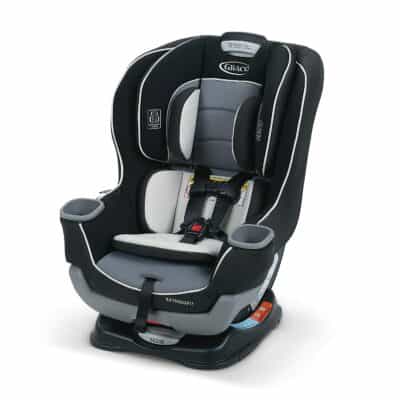 Why we like it:
For parents who feel more comfortable with their baby riding in a rear-facing car seat, the Graco Extend2Fit Convertible Car Seat adjusts to allow babies to keep riding as they grow.
Editor's Rating:
Specifications:
Dimensions: 22.10" (L) x 19.20" (W) x 25.20" (H)
Item Weight: 23.19 lbs
Weight Recommendation: 5 – 65 lbs
Design & Installation
Infants and toddlers who ride facing the rear of the car are 5 times safer than when facing forward. That's why we appreciate the adjustable design of the Graco Extend2Fit Convertible Car Seat which allows babies to remain rear-facing in the car until they reach 50 pounds. Most other rear-facing car seats we looked at only accommodated around 35 pounds when configured in this way.
Installation is quick and easy in vehicles that include the LATCH system, allowing this seat to be secured in less than a minute. However, the unique design of this car seat makes it a little more frustrating to install this in a vehicle without LATCH. The Graco Extend2Fit Convertible Car Seat can also be used in front-facing mode until your child reaches 65 pounds.
Comfort
Thanks to the sturdy frame and soft padding, the Graco Extend2Fit Convertible Car Seat provides a smooth and comfortable ride. The headrest, footrest, and reclining angle of the seat are all adjustable for the perfect fit for your baby.
Unfortunately for parents, this car seat does not include a removable carrier, meaning that babies will need to be placed in the seat while it is in the car—if this bothers you, you may want to consider the smaller, more portable Grace SnugRide.
Safety
The Graco Extend2Fit Convertible Car Seat comes with the Simply Safe Adjust Harness system, allowing the safety harness to be adjusted in various places, ensuring that your baby is always comfortably secured while riding. The steel-reinforced frame is ultra-strong, durable, and provides excellent protection in a crash.
Pros
Allows babies to remain rear-facing for longer than most infant car seats

Adjustable headrest and leg rest for the perfect fit and a comfortable ride

Transitions to forward-facing for older kids
Cons
Can be frustrating to install in cars without the LATCH system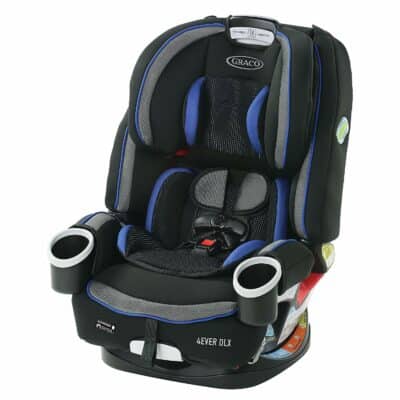 Why we like it:
With one of the longest lifespans of any of the infant seats we reviewed, the Graco 4Ever DLX 4-in-1 Car Seat will accommodate your baby from their infancy until their 10th birthday.
Editor's Rating:
Specifications:
Dimensions: 20" (L) x 21.5" (W) x 24" (H)
Item Weight: 22.8 lbs
Weight Recommendation: 4 – 65 lbs
Design & Installation
When configured as an infant seat, the Graco 4Ever DLX 4-in-1 Car Seat faces the rear of the vehicle and reclined. As your baby gets older, they will eventually transition to a forward-facing and progress through the 10 headrest height levels.
Finally, this seat transitions into a booster seat, allowing your little one to make the final transition into being able to sit in the car safely without a seat.
Installation of the Graco 4Ever DLX 4-in-1 Car Seat is easy and only takes a second in cars equipped with the LATCH system for installing child seats. Because this seat can be configured in so many different ways, there is a bit of a learning curve when it comes to adjusting the headrest and other settings, so parents should make sure to take some time becoming familiar with this seat before trying to load their little ones up in a dark parking lot.
Comfort
The Graco 4Ever DLX 4-in-1 Car Seat has 6 different reclining positions for infant and toddler riders. There are also 10 positions for the adjustable headrest to ensure a comfortable fit for your baby. The seat cover is made from soft fabric, machine washable, and can be quickly removed without uninstalling the seat.
Safety
The Graco 4Ever DLX 4-in-1 Car Seat features a steel-reinforced frame that provides it with excellent stability and durability. This car seat has undergone extensive crash testing as part of Graco's ProtectPlus engineering initiative. That means this seat has been tested to withstand impacts from the side, frontal, and rollover crashes, far exceeding the minimum car seat safety guidelines.
Pros
The seat accommodates kids between infant and 10 years

Transforms to continue providing a safe and comfortable ride as your baby grows

Installs in less than a second using the LATCH system
Cons
Can be tricky to adjust the headrest and other settings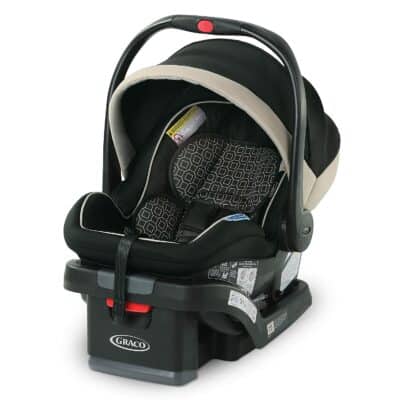 Why we like it:
The Graco SnugRide 35 LX Infant Car Seat is a lightweight and sturdy option that makes getting in and out of the car easy, especially when paired with a compatible stroller.
Editor's Rating:
Specifications:
Dimensions: 30.67" (L) x 11.75" (W) x 15.59" (H)
Item Weight: 17.55 lbs
Weight Recommendation: 5.50 – 35 lbs
Design & Installation
The Graco SnugRide SnugLock 35 LX Infant Car Seat installs in the back seat of any vehicle in only three steps using a standard seat belt or LATCH system. This rear-facing seat adjusts to fit babies as small as 4 pounds or as large as 35 pounds. This car seat has also been rigorously tested to withstand frontal, side, and rollover crashes.
Parents who also buy a Graco Quick Connect Stroller can easily transfer the seat between the base located in the car and the stroller, making for effortless transitions in and out of the car. This seat is made for infants only, and babies will need to transition to a larger seat like the Graco 4Ever DLX 4 in 1 Car Seat once they are large enough.
Comfort
Thanks to the four different reclining positions of the Graco SnugRide 35, your baby is guaranteed a comfortable ride. The removable seat is lightweight, easy to carry, and is easily adjustable with only one hand, making it a breeze to take along to the store or on errands. There is also a canopy that protects your baby from harmful UV rays and prevents them from being disturbed by the sun while sleeping.
Safety
The Graco SnugRide 35 is ProtectPlus engineered to provide maximum protection to your little one in the event of a crash. Especially when installed with the LATCH system, this model is one of the most secure seats we reviewed. This means fewer bumps in the road and more protection in an accident.
Pros
Easily installs in only three steps

The handle can be adjusted with only one hand

Saftey backed by Graco's ProtectPlus engineering
Cons
Does not transition to fit larger babies or toddlers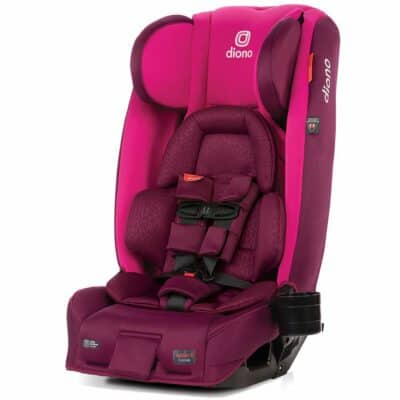 Why we like it:
The Diono Radian 3RXT can be a lifesaver for parents of multiples. The ultra-slim design allows for three seats to be installed in a standard backseat.
Editor's Rating:
Specifications:
Dimensions: 16" (L) x 17" (W) x 28.50" (H)
Item Weight: 30.6 lbs
Weight Recommendation: 5 – 120 lbs
Design & Installation
The Diono Radian 3RXT is a premium, convertible car seat that accommodates riders from birth until 10 years of age. It has relatively few bells and whistles included in its design but offers a smooth and secure ride for your little ones. The real selling feature for this seat is the thin design, allowing up to three of these seats to be installed simultaneously.
Using the included SuperLATCH connectors, this seat quickly connects to any compatible vehicle with an audible click. However, it may be necessary to use the vehicle's seat belts for installation if you are placing three in the same row of seating.
This seat is also portable, folding up easily to carry or to bring along on an airplane. The Diono Radian 3RXT is FAA approved and certified for use as a safety seat while on an aircraft.
Comfort
Even though the Diono Radian 3RXT has an ultra-thin design, it does not compromise in comfort for its riders. The 2-in-1 headrest offers comfort and support while memory foam padding in the seat cushions little bottoms from bumps and keeps them cool and comfortable, even on long car rides.
It is more expensive than many other options we reviewed, but given the excellent quality and long lifespan, we think this seat is a smart investment for families planning for multiple babies in a short timespan.
Safety
We were the most impressed by the Diono Radian 3RXT's ability to accommodate babies sitting rear-facing for longer than many other infant seats, allowing them to ride in this safer position until they exceed 50 pounds.
There is a removable infant insert included to ensure your newborn baby rides are the safest and most comfortable position until they are large enough for the seat.
Pros
Allows for three car seats to be installed in a single row of seating

Memory foam cushions for a comfortable ride

Removable infant insert included
Cons
Not good value if you only need one seat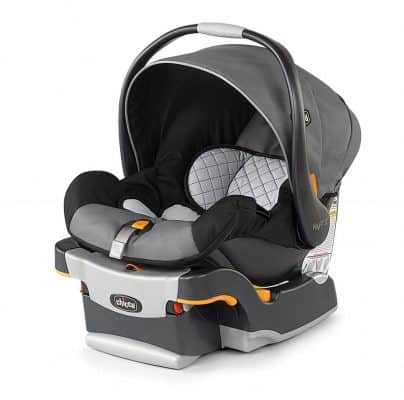 Why we like it:
Instead of focusing on only one aspect, the designers of this easy-to-install car seat made a good all-around car seat that can handle anything.
Editor's Rating:
Specifications:
Dimensions: 27.5" (L) x 17" (W) x 24" (H)
Item Weight: 17 lbs
Weight Recommendation: 4 – 30 lbs
Design & Installation
Firstly, you won't struggle to get this unit in and out of the car. The sturdy base stays inside while you only move the carrier. The base is state of the art, with an enclosed bottom to minimize the damage to your seats. On top, it allows for different installation options incorporating your seat belts.
The base's angle can even be adjusted via the ReclineSure leveling foot pedal and RideRight bubble level indicators. Further proof that they thought of everything. And when it's time to get out of the car, the carrier fits onto other Chicco equipment such as strollers.
Comfort
The carrier further ensures comfort for all sized infants, since it contains removable head and body supports. Help your baby find comfy positions whether he or she is a newborn or even old enough to start looking around at what's going on outside.
Safety
Your baby is kept safe by the carrier's foam which can absorb the energy from an impact. He or she will be kept in place by the five-point harness. Even the sun won't hurt your child since there's a canopy as well
Pros
Absorbs impact

Easy to install in car

Useful for different aged infants

Very affordable unit
Cons
Too large for small cars and even shopping carts

Sunshade is very small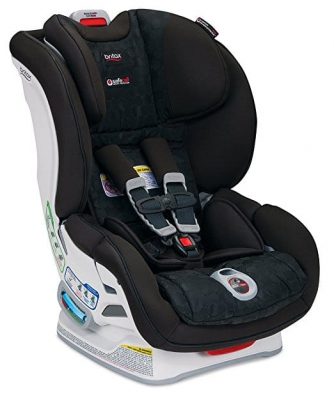 Why we like it:
If your child wants to see more of what's going on you can adjust the height without taking the seat out first.
Editor's Rating:
Specifications:
Dimensions: 23" (L) x 18.50" (W) x 23.50" (H)
Item Weight: 29.40 lbs
Weight Recommendation: 5 – 65 lbs
Design & Installation
It's one of the more user-friendly models regarding installation because the seat is divided in two. You simply take off the front part, strap the seatbelt over the back part, and set the front section back in place again.
While many other products are hard to fasten, you're guided by Britax's Click & Safe feature. When you hear it 'click' you'll know it's firmly in place. It's a little heavier than many other models, but it's actually smaller in size.
Comfort
Imagine how comfortable you can make your child by customizing the straps with the 14 different positions of the harness.
Safety
Next, it impresses with its protective measures as it provides multiple layers of padding to help prevent injury and shock. It's called SafeCell Impact Protection and incorporates a metal framework, a base that can absorb energy, and staged release stitches which actually limit forward movement if a crash should happen.
Pros
Easy installation

High weight capacity

Practical size to save space in small cars
Cons
No head support for newborns

Heavy to carry

Seat not very comfortable—that's one thing the brand can improve upon

Buckles—especially the one at the crotch—are a bit short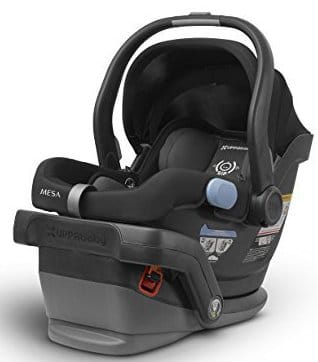 Why we like it:
This solid car seat emphasizes safety above all else, ensuring that your baby will stay safe and secure while on the road.
Editor's Rating:
Specifications:
Dimensions: 26.50" (L) x 17.50" (W) x 23" (H)
Item Weight: 20 lbs
Weight Recommendation: 4 – 35 lbs
Design & Installation
There are a few seats that come with easy installation options, and this is one of them. Getting it in and out of your car should be a breeze. And yes, it does work for smaller cars too, although you'll have less space to maneuver to install it.
Just note that this is one of the heavier models on this list. Using this as a carrier while you do shopping isn't very practical. Luckily—and this is why it's such a loved model—it fits on a variety of brands' strollers without the need for adapters.
Comfort
Though the seat is bulky enough that it might not be too comfortable for you to carry around, your little one won't have a problem with it. There's also a canopy that gives SPF protection so your baby won't be bothered by the sun shining in their eyes.
Safety
The most important part of the body is well protected because the headrest has integrated Side Impact Protection features. But on top of that, it's generally solid, secure, and well-built: making it perfect for added peace of mind on long road trips or bumpy roads.
Pros
Installation takes seconds

Can use with VISTA/CRUZ strollers

Very secure

Can rock seat when placed on floor
Cons
Can only hand wash

Heavy to carry around

Polyfoam used is flammable

Expensive model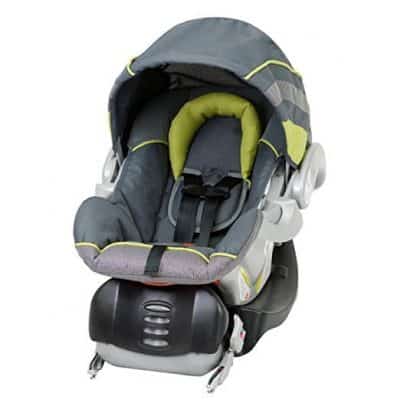 Why we like it:
This easy-carry seat has less chance of jolting the seat and waking the baby—and your comfort is important too.
Editor's Rating:
Specifications:
Dimensions: 16.25" (L) x 14.66" (W) x 26" (H)
Item Weight: 16.87 lbs
Weight Recommendation: 5 – 30 lbs
Design & Installation
The manufacturer tries to make it as easy as possible for parents to use since many features only require one step to complete. There's the one hand adjustable harness and the seat's adjustable height feature that also operates with a push button.
It couldn't be easier, so when you're in a rush you'll love this chair.
You can leave the base in the car and only move the seat. The seat also fits on the manufacturer's stroller equipment so transporting your baby outside your car is so easy.
The seat is quite narrow, so if space in your car is a problem, this is one of the better options on this list. Just make sure there's enough space lengthwise as well.
Comfort
The seat 'grows' with your child because the straps and height can be adjusted. It does cater to smaller children, making it great if your baby is born prematurely—but it'll work perfectly for any kids within its weight limit.
Safety
The safety harness is tested to sustain strain, so will keep your baby in position during impact. The chair's EPS energy-absorbing foam will minimize the effect of trauma to the area around your baby's head.
Pros
Can fit three seats on an average car's back seat

Easy to install

Light weight
Cons
Upright position causes babies' heads to fall forward

Not enough support for small babies

Not soft and comfortable as other seats on this list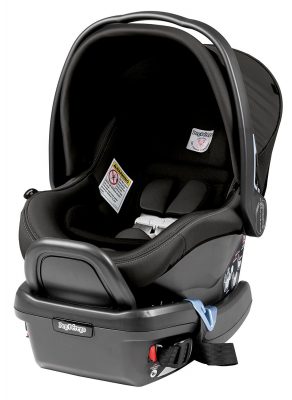 Why we like it:
A unique feature is a short handle that's extremely accommodating to moving the carrier in and out of the car.
Editor's Rating:
Specifications:
Dimensions: 28.90" (L) x 17" (W) x 25.30" (H)
Item Weight: 21 lbs
Weight Recommendation: 4 – 35 lbs
Design & Installation
This model has a base that stays in the car, so you only have to fit the carrier into it instead of installing the whole unit. It's lighter than other models of similar design, so it's a better option if you know you'll want to carry your baby in its seat. Installation is easy thanks to color-coded belt straps that show you what goes where.
Comfort
We also love that the chair caters to small children There is support for babies' necks and bottoms. As your baby grows, these support units can adjust. During every drive your baby will be kept comfortable thanks to the breathable fabric used.
Safety
As stated at the beginning of this article, car seats should be designed to help you prepare for the worst. This model does exactly that by containing an anti-rebound bar. If an accident should happen this will minimize movement and prevent injuries to your baby. Plus, at all times the baby is kept in place with a well-made five-point harness.
Pros
Can adjust as baby grows

Caters for small babies

Many safety features

Plush interior
Cons
Strap system is confusing despite the color coding

Difficult to gauge whether base is locked in place

You can't use the canopy and the handle at the same time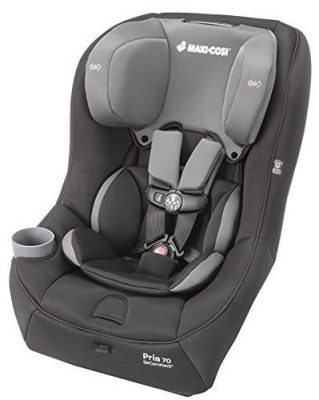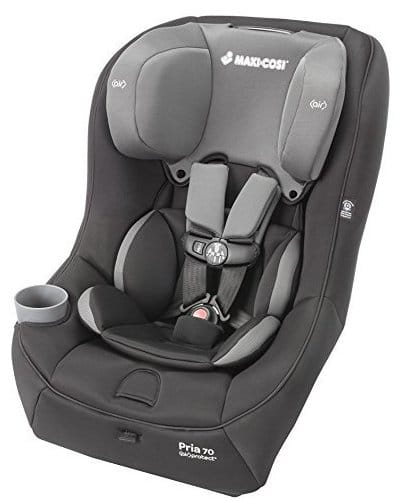 Why we like it:
This convertible car seat is incredibly light and takes up less space than many other seats.
Editor's Rating:
Specifications:
Dimensions: 22.80" (L) x 21.20" (W) x 29.50" (H)
Item Weight: 23 lbs
Weight Recommendation: 9 – 70 lbs
Design & Installation
This chair caters to very small babies so even your preemie may find comfort in this model. The base stays in your car so no more struggling to get the seat in and out. The fabric is washable and the seat can latch onto the brand's stroller
Comfort
Your baby will love it riding in this car seat because It's comfortable, Tactile fabric is used which will feel soft but also stimulate senses and there are also bright colors to stimulate the senses.
Safety
Mico's patented AP (Air Protect) technology in the form of a cushioning system is used to protect your baby's head. A five-point harness will keep your baby secure.
One thing parents always note is that these five-point harnesses are tricky to fit because you struggle to guide a child's arms through the openings. However, it's probably the safest type of harness so we believe it's worth the effort.
Pros
Caters for preemies

Ergonomic handle for easy carrying

Sun canopy flips out is available
Cons
Only usable for a short time in a baby's life

Children outgrow it very quickly and it can feel uncomfortable even long before they're 12 months old

Canopy is low quality
Guide to Buying the Best Infant Car Seat
You're going to use your infant car seat for months or even years. It's vital to your budget that you make the right decision. It's also vital to your sanity because you don't want to struggle with this unit every time you get ready to travel with your child.
You won't think of a car seat until you need one, so you may not be experienced in what makes a seat really great. So we're going to list the most important aspects for you. Whether you pick from the list above or go on a shopping spree, this insight will help you make wiser decisions.
Here's what you need to know.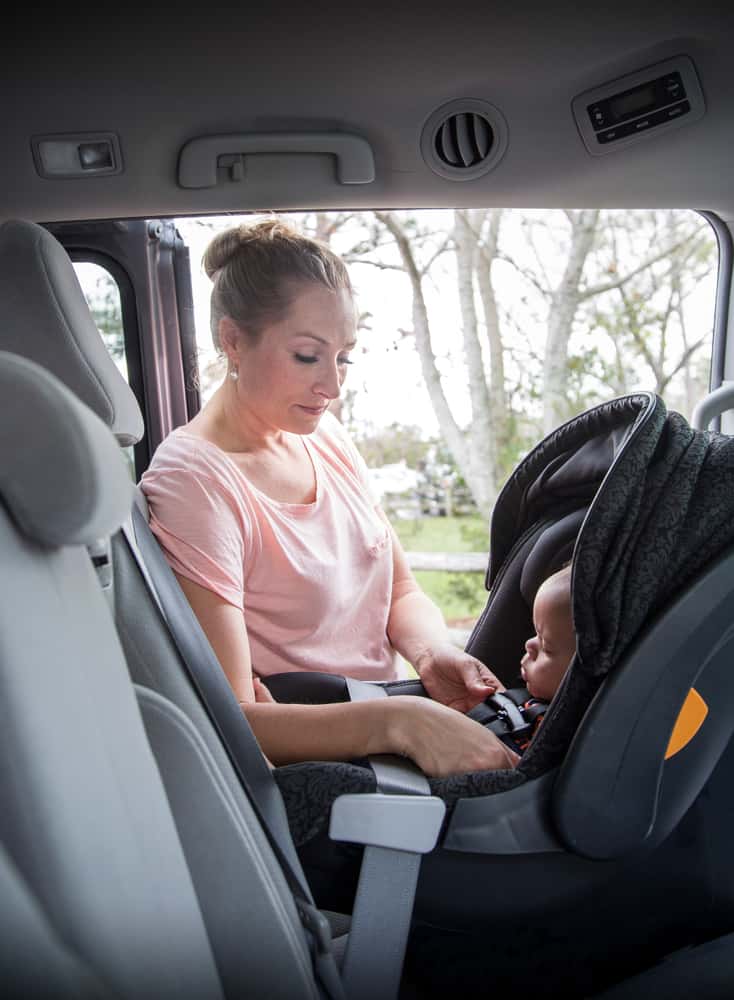 What Makes a Good Car Seat?
There's a reason there are so many seat models on the market. There's so much that can go wrong during a drive and each brand is trying to offer easy solutions.
So here's your checklist for when you start shopping around.
Is It Easy to Clean?
You know a mess is inevitable when it comes to children. So what will you do? You can't leave a seat dirty because it's unhygienic and can cause discomfort for your child.
Therefore it's vital your seat must be easy to clean, like the Graco 4Ever DLX 4-in-1 Car Seat.
If the fabric is smooth and easy to wipe down, it helps already. The winning option, however, is when you can take off the cover and put it in your washing machine and even the dryer.
Also, make sure it's very easy to take off the cover. When you have kids, you want quick and simple options.
Is It Comfortable for You?
Another easy solution you want is how to put the seat into the car or take it out. Here are a few thoughts:
If it's too heavy to carry you'll struggle placing it in the car.
It must be easy to lift out so you don't wake your baby sleeping inside the seat.
Make sure it's easy to fasten in place because you don't want to waste time each time you get ready to travel.
Are the straps easy to adjust so you can create comfortable seating as your baby grows?
Some car seats, like the  Baby Trend Flex-Loc Infant Car Seat, were specifically designed to be as easy as possible on parents.
Is It Comfortable for Your Child?
Your child's comfort is paramount, because you want him or her to feel content while sitting inside. There's nothing worse than your baby crying simply because you're placing it in the safety seat. Often this crying is brought on by discomfort.
Firstly see if you can adjust the inside to customize it according to your baby's build and future growth. A newborn shouldn't roll around, while a bigger toddler shouldn't feel squashed.
The straps should also be in the right place so the fabric doesn't create friction on sensitive skin, such as near the crotch. Read a few reviews and you'll quickly gauge which seats were designed with a baby's form in mind—the  Graco SnugRide 35 LX Infant Car Seat is a great choice.
What Are the Safety Features?
And now for the most important consideration: Safety. After all, this is why you're buying a car seat.
Each brand will have a unique approach to safety, so read reviews to see if new inventions actually work. At the least you should find these characteristics if you want one of the safest infant car seats:
A sturdy frame
Strong straps
The seat must be kept in place securely
There must be enough padding to absorb shock in the event of a collision
Support in vital areas such as the neck and back, especially for newborns
Though all of the seats on this list are quite safe, the UPPAbaby MESA Infant Car Seat is the best of the bunch and will ensure that your baby won't even feel a bounce on the roughest terrain.
Making Sure Your Car Seat Fits
Before you simply purchase a seat, you must first look at your car. Will the seats' dimensions we mention in the reviews above fit into your vehicle?
An important aspect many parents forget is that the seat not only takes up the space on the back seat. Because of excessive padding, sun visors, and footrests, a baby seat may require front seats to be pushed forward.
When you know you'll often drive with your baby alone, you can simply put him or her on or behind the passenger seat. But what happens when more people join you in the car?
You also can't risk the driver feeling uncomfortable. If two or more baby seats are required for larger families, you must ensure it won't affect driver seat positioning.
To ensure everyone's comfort—and safety—you must measure the maximum space available behind your seats and find an infant car seat that will fit into that space.
Here's another important tip: Make sure the size of your doors allows for easy access to the baby's seat. Whether you're putting the baby inside, placing the seat in place or taking the seat out to carry your sleeping baby with you, you want it effortless, right?
You may have to do this every day of your life, so pick wisely.
Let's Talk About Price
It's not necessary to break the bank simply because you need a car seat. Yes, the high end seats provide exceptional protection, and usually they have super easy ways of fitting in your car and strapping in your child.
These brands put effort into designing new mechanisms and that's why their prices are high.
That does not mean a more affordable seat isn't worth checking out. After all, safety—not ease of use—is the most important factor you must consider. As long as the seat you purchase affords secure strapping and enough padding to absorb shock, your child will be safe.
There are other features you can splurge money on, but you can easily find a DIY way to add it to any car seat:
Fabric that channels away heat and moisture.
Sun visors
Cup holders
These aren't essentials, but yes, you—and your baby—will love them, so they're worth it if they fit into your budget.
Final Words
Did you find your favorite infant car seat on our list? We know it's a tough decision, but with a little bit of care you'll be able to find the perfect car seat so that you can enjoy all your journeys with your baby by your side.