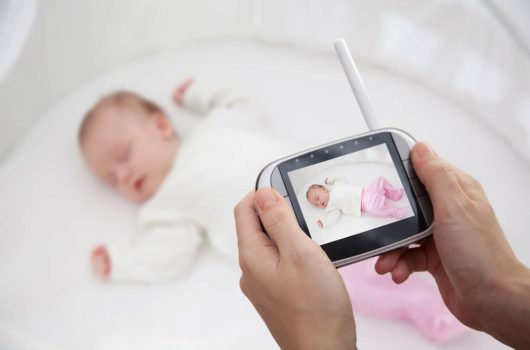 O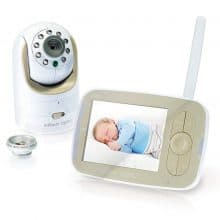 Infant Optics DXR-8 Video Baby Monitor with Interchangeable Optical Lens
B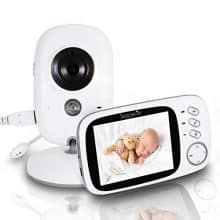 SereneLife Wireless Video Baby Monitor Dual System
P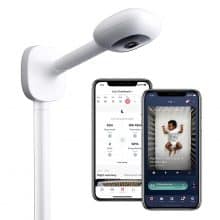 Nanit Plus
Previous
Next
Every parent wants to protect their baby, and while you can't always be by your child's side, an extra pair of eyes watching over your baby gives you peace of mind. Baby monitors are convenient devices that ensure you can keep a safe eye on your child even when you are away from them.
If you are a new parent, you may find yourself going into a panic whenever you leave your baby alone to sleep. It's a common feeling, but you know that things must continue to get done and you can't watch your baby 24/7. Finding the perfect baby monitor for you will take off some of the anxiety during the baby's nap time and help you get a better night's sleep. Here are our picks for the best baby monitors in 2020.
While baby monitors can be worthwhile, many parents have observed common problems – like batteries that run for a short time, static, privacy interference, and poor audio quality. Today, we look at some of the best baby monitors on the market that overcome these issues and offer outstanding features for the modern parent. From audio monitors to wireless, touchscreen, and video monitors, we'll be covering the details and important features that make these devices stand out.
The factors to think about before buying a baby monitor
Screen Size and Audio Output
It's important that you ensure the audio is loud enough for you to hear the baby clearly. The screen should also be large so you can see the baby's sleeping position. Your baby's monitor should not be susceptible to too much interference especially if you live in an apartment or in urban areas.
Temperature Sensor
This feature is important to help parents maintain the ideal sleeping conditions for the baby. They allow you to make changes such as turn on the cooler when it's hot or turn on the heater when it's too cold.
Range
How far can the signal reach? Most baby monitors have a range of around 600-900ft. This should enable you to step away as far as possible and still be connected to the baby's transmitter.
Night Vision
For parents who still want to see their baby when sleeping without having to turn on the baby's room light. A baby monitor with night vision makes this possible.
Volume Control
Some baby monitors are so loud that they can become a nuisance while some are so quiet they are hard to hear. That's why you'll want to make sure your baby monitor has proper volume controls so you can turn it down to your ideal sound level.
Expandability
Some monitors allow you to add additional cameras or receiving units. An expandable monitor comes in handy when you want to monitor more than one baby.
Analog vs. Digital
Analog monitors send signals directly to the monitor while digital monitors encrypt the signal before sending it. Digital monitors are more secure as they are less susceptible to hacking. This additional security feature on digital monitors helps keep your baby safe from people who could be listening in on your baby.
Top 10 Best Baby Monitors 2020
Guide to Buying the Best Baby Monitor
Whether you are a new parent or preparing for a new baby, this guide will point the way to finding your ideal baby monitor.
What is a baby monitor?
This is a device designed to transmit movements and sounds that a baby makes. The first baby monitors only allowed transmitting of audio, but recent developments have allowed them to send and record video. Baby monitors give parents live audio and video feeds of the baby's room so that they can be aware of their movements.
Who should use a baby monitor?
You might be wondering if you need a monitor in the first place.  If you can always see your baby, say you live in a small apartment or the baby's crib is in your bedroom, you do not have to rely on a baby monitor.
But if your baby sleeps in a nursery, you'll love the convenience brought about by a baby monitor. If you are a heavy sleeper, you may not hear when the baby wakes up, especially from several rooms away. As such, a baby monitor will alert you when your child is awake.
Advantages of a Baby Monitor
They can help train your child to sleep
Although not scientifically proven, many parents find that they can hold out on picking up the baby every time they cry, as they can wait for the baby to self-soothe before they intervene.
Video monitors, in particular, provide parents with the input they need to determine whether to walk into the nursery or not. If the baby is standing in the cot, for example, they may not go back to sleep until you intervene but if he/she is still lying down, chances are they might go back to sleep on their own.
Allow parents to take on regular household duties
Taking care of a family comes with completing chores. But if you have to walk in the nursery hour every single hour, you may end up wasting too much time and not getting anything done. With a baby monitor, you can establish a connection with the baby's room and only attend to your baby when it is necessary.
Keep track of the baby's sleep pattern
Knowing whether the baby is getting enough sleep is important. Some babies do not cry when they wake, and audio monitors will not tell you that they are awake. Video monitors, on the other hand, allow you to see whether the baby is asleep or just playing with their feet. Some of the more recent monitors allow you to record video using voice commands.
Security for your baby
Baby monitors transmit sound and movement so parents can know when someone else walks into the baby's room. Even better, with a video monitor you can see when the baby is trying to get out of their crib, thus preventing future falls.
Disadvantages of Baby Monitors
Some monitors are overly sensitive and can pick up every single sound in the room. Instead of helping you sleep, you can spend time awake responding to every single movement that a healthy baby makes in their sleep. There is also fear of hacking, but it would take a committed person to try and a good baby monitor will offer some security features, and there are steps you can take to defend yourself.
What to look for in a baby monitor
Minimal Audio Interference
The common challenge in finding baby monitors is getting one without static, irritating noise, or static. Many monitors can pick noise from nearby electronic devices like washers which can drown out the baby's sounds.
Monitors that use the 2.4GHz frequency band tend to be culprits of interference as the band is shared by other public airwaves like microwaves and laptops.
Manufacturers that use digital transmission like Digital Enhanced Cordless Technology (DECT) can provide better audio performance. This is because they transmit encrypted data that cannot be intercepted.
Type of Baby Monitor:
Audio Monitors
These models have sensors that detect sound and transmit it to the parent monitor. They can have temperature sensors to monitor baby's room conditions and an LCD screen to display readings. They are generally inexpensive but the price increases with improved features.This is our favorite audio monitor.
Video Monitors
Apart from audio, the video monitor will provide a live feed of the baby via a camera. They can connect wirelessly or via a wired connection. These devices can also allow connecting with smartphones and other mobile devices. Video/audio monitors have a higher price tag thanks to the additional advancements. Our top pick is a great video monitor.
Battery Life
You'll want a device that does not run out batteries as soon as the first alarm goes off. Baby monitors have either corded or cordless usage. Rechargeable batteries provide portability while AC connections limit movement. Look for units that can offer either capability; or at least 7 hours on rechargeable batteries.
Functional Features
All the extra features that come with baby monitors are intended to make life easier. Some important features that you'll want in a baby monitor include; night vision, temperature and humidity sensors, lights, out-of-range indicators, low-battery indicator, expandability to include additional cameras, and volume control.
Conclusion
Baby monitors are a blessing. We all know the joy and hassle of watching a baby in their first few months, but that doesn't mean being stressed out of your mind. Let these baby monitors lend a helping hand by being the third eye as you go about your day.
We've reviewed every baby monitor we could find, and now you hopefully have the information you need to pick the right one for you.