Every parent wants to protect their baby. While you can't always be by your child's side, an extra pair of eyes watching over your baby gives you added safety, security, and peace of mind. Baby monitors are convenient devices that ensure you can keep tabs on your child even when you're doing something else in a different room.
If you are a new parent, you may find yourself with some anxiety whenever you leave your baby alone to sleep. It's a common feeling, but at the same time, you know that you need to take care of your own needs: it's impossible to watch your baby 24/7. Finding the perfect baby monitor will help ease some of the anxiety during the baby's downtime and help you get a better night's sleep.
What to Look for in a Baby Monitor
It's important to get a baby monitor that works for both you and your family: each child and parent is different, and thus families have different priorities when selecting monitoring tech. Make sure to consider the common issues with baby monitors as well: typically short battery life, staticky sounds, privacy interference, and poor audio quality.
Today, we look at some of the best baby monitors on the market that overcome these issues and offer outstanding features for the modern parent. From audio monitors to wireless, touchscreen, video monitors, we'll be covering the details and important features that make these devices stand out.
Screen Size and Audio Output
It's important that you ensure the audio is loud and high-quality enough for you to hear your baby clearly. The screen should also be large, so you can see your baby's sleeping position. Other monitors will connect directly to your smartphone, which can be good or bad depending on your own preferences.
Range
How far can the signal reach? Most baby monitors have a range of around 600 to 900 feet. This should enable you to step away as far as possible and still be connected to the baby's transmitter.
Battery Life
You'll want a device that does not run out of batteries as soon as the first alarm goes off. Baby monitors have either corded or cordless usage. Rechargeable batteries provide portability while AC connections limit movement. Look for units that can offer either capability; or at least 7 hours on rechargeable batteries.
Night Vision
For parents who still want to see their baby when sleeping without having to turn on the baby's room light, they make monitors with night vision. A baby monitor with this tech allows you to keep tabs on your child even when it's dark.
Volume Control
Some baby monitors are so loud that they can become a nuisance, while some are so quiet they are hard to hear. That's why you'll want to make sure your baby monitor has proper volume controls so you can adjust it to your ideal sound level.
Temperature Sensor
This feature is important to help parents maintain the ideal sleeping conditions for the baby. They allow you to make changes such as turn on the AC when it's hot or turn on the heater when it's too cold. A comfortable baby stays asleep, giving you some time to yourself.
Expandability
Some monitors allow you to add additional cameras or receiving units. An expandable monitor comes in handy when you want to monitor more than one baby or need more than one angle on a room. You can also install different cameras in different rooms that all route to the same monitoring screen.
To help you out, we've made a list of the best baby monitors available in 2021. Check them out below!
Top 10 Best Baby Monitors 2023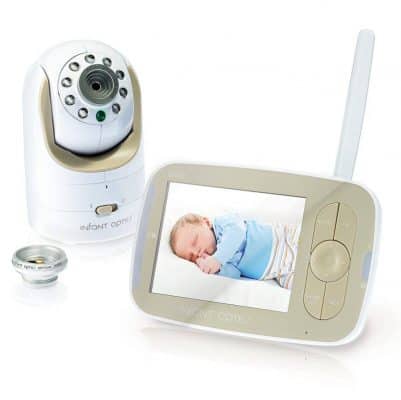 Why we like it:
One of the most popular monitors, the Infant Optics DXR-8 has an innovative design and is packed with unique features.
Editor's Rating:
Quick Facts:
Screen Size: 3.5"
Range: 700 feet
Power Source: Battery (12 hours audio, 8 hours video)
Our top-rated baby monitor is the Infant Optics DXR-8. This unit combines a high degree of functionality and performance. The DXR-8 provides the convenience of listening and watching your baby without ever entering the nursery. Its wide-angle lens and its ability to zoom in and out means you can adjust the camera to see what you need to from the monitor itself.
Features
The Infant Optics DXR-8 is the first-ever baby monitor with the ability to change the lens. You'll have to buy the interchangeable lens separately, but if you do, it gives you the chance to customize the zoom without turning the camera tilt angle.
The included lens provides both regular viewing and a zoom option, while the wide-angle interchangeable lens offers a larger view of the whole room. The panoramic view comes in handy when your baby starts to move and play. It means you can always monitor their playtime as they move around.
Performance
We were impressed by how accurately the temperature sensor reports the temperature of the baby's room – allowing parents to make adjustments as they see fit. Turning the screen off and switching to audio-only mode with the screen off reduces battery consumption by up to 50%. This is useful for monitoring when you are not able to look at the screen. When the volume is turned down, a row of LEDs will light up, ensuring you'll be alerted of noises even when the device is muted.
In addition, you can talk into the monitor. This assures the baby that you are around, and you can soothe them back to sleep. Do note that you won't be able to take snapshots with the camera or even record video—to do all of those things, you'll need to upgrade to the smart-phone compatible Nanit Plus.
We like that this monitor is not very loud, so it won't startle you awake in the middle of the night. Overall, the Infant Optics VXR-8 is our top pick for new parents.
Pros
High-quality videos and sound clarity

Wide angle lens provides all-around viewing of baby's room

The monitor is expandable to handle four cameras

Uses secure 2.4GHz band connection

Wide 3.5-inch screen
Cons
Does not record video

It cannot be used with a smartphone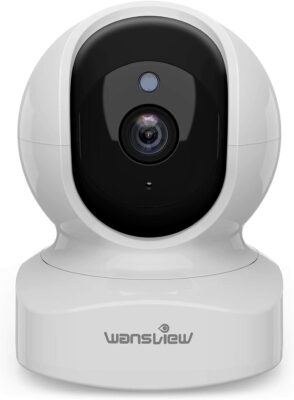 Why we like it:
Doubling as a home security camera, the Wansview Wireless WiFi camera has a huge number of features and a tiny price tag.
Editor's Rating:
Quick Facts:
Screen Size: Connects to smartphone
Range: Connects to WiFi network
Power Source: Wired
It wasn't long ago that parents had little more than scratchy audio from a baby monitor to keep tabs on their little one while they sleep or play in their crib. Thanks to this baby monitor from Wansview, today's parents can feel like they are keeping a closer eye on their baby than ever before. It features crystal clear HD video and an impressive array of features.
Features
The first feature most parents will notice when setting up the Wansview Wireless Security Camera in their baby's nursery is the impressive tilt and panning range offered. Connecting to your home's WiFi network, this monitor does not contain a receiver unit. Rather, parents can use their phone, tablet, or another mobile device to check in on their baby's nursery while at home or out. This is ideal for some, but if you want a device with a decitated screen, you'll need to look elsewhere—try the Nanit Plus.
This monitor is also compatible with Amazon Alexa, making it a great choice for parents who already have Amazon Fire TV or an Echo Show device. The camera does require the Wansview cloud app, so if you already have a different brand of WIFi camera in your house, the setup could be a bit tricky.
Performance
Unlike several options on our list, this baby monitor features full 1080p HD video. This may not seem like a big deal at first, but this clarity can be very helpful when trying to make out small details in the video feed, like trying to figure out exactly what is in your baby's hands from a distance. We were also impressed by the clarity of the audio when using the two-way communication feature.
Pros
1080p HD video for excellent clarity

Compatible with Amazon Alexa

Lots of great features

Horizontal and vertical rotation
Cons
Only works with Wansview Cloud app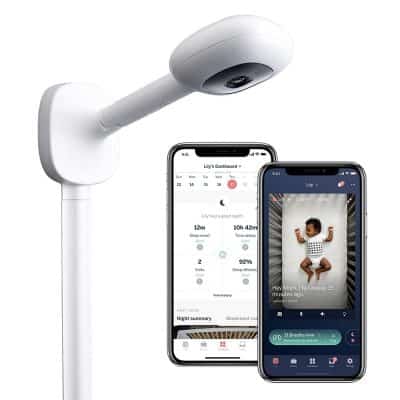 Why we like it:
This is the perfect monitor for parents who want to see everything. No other monitor lets you watch your baby's crib as closely as the Nanit Plus.
Editor's Rating:
Quick Facts:
Screen Size: Connects to smartphone
Range: Connects to WiFi network
Power Source: Wired
One of the most advanced baby monitors you can buy, the Nanit Plus is a wall-mounted HD camera meant to give you a bird's-eye view of your baby as they sleep. Allowing parents to monitor their babies using their smartphone, this high tech monitor offers a ton of advanced features like night vision, sleep tracking, and more.
Features
This is an ideal baby monitor for parents who want to keep track of everything. In addition to offering the perfect vantage point for watching your little one sleep, you will be able to use the included app to gain insight into your baby's health like never before. You will be able to track their sleep patterns and identify problems in their sleeping behavior as early as possible.
The Nanit Plus has more features than any other baby monitor we reviewed. Not only do you get the perfect angle for watching the crib and standard features like night vision, but you also get features like breathing monitoring and sensors that track temperature and humidity.
Performance
Parents we talked to felt perfectly comfortable relying on their Nanit Plus for their infant's safety. The Nanit Plus is more expensive than many of the alternatives, but its performance and feature set are unmatched.
Pros
Highly advanced

Provides perfect vantage point for watching your sleeping baby

The included app tracks your babies sleeping habits and helps you identify problems early
Cons
Most expensive baby monitor on our list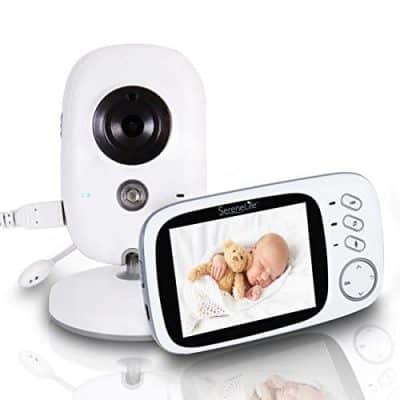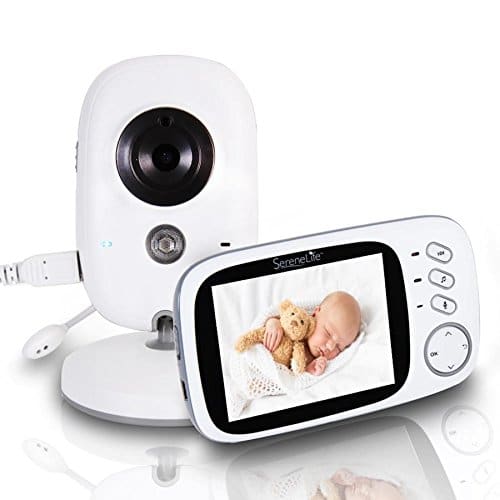 Why we like it:
A long-range monitor with the convenience to suit modern parents. SereneLife offers audio and video output and a solid guarantee at a great price.
Editor's Rating:
Quick Facts:
Screen Size: 2"
Range: 850 feet
Power Source: Battery (24 hours)
Day and night monitoring of your baby becomes easier as they grow up. But the first few months are hectic, and if you are overly panicky, you may never get anything done around the house. The SereneLife Wireless baby monitor provides both audio and video output, allowing you to go about your chores during the baby's nap time.
Features
A 2-inch wireless screen provides digital video via the 2.4GHz frequency band. The rechargeable monitor offers wireless use as you can take it anywhere around the house, up to 850ft. Better still, you can wear it on your body, making it easy to carry as you go about your day.
Performance
A built-in rechargeable battery comes in handy for long hours of use. You don't have to keep charging this unit as it provides longer battery life than regular replaceable batteries. A built-in thermometer shows how hot the room is. This ensures your baby sleeps in the ideal conditions.
The SereneLife Wireless Video Monitor is one of the less expensive devices. It provides outstanding performance from the 2.4GHz band connectivity to the built-in rechargeable battery, and wireless operation. It is a top performer in this category.
Pros
360-degree camera viewing angle

Button controls activate lullabies and melodies

Built-in thermometer

Wireless connectivity

Secure via the 2.4GHz band
Cons
Melodies are loud

The backlight is bright such that it loses charge first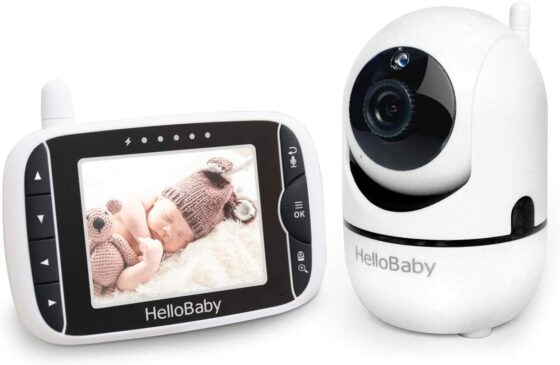 Why we like it:
A high tech interface incorporates a camera that pans, tilts, and zooms for maximum usability and a nearly 360-degree field of view.
Editor's Rating:
Quick Facts:
Screen Size: 3.2"
Range: 1000 feet
Power Source: Battery (8 hours)
This baby monitor is highly adjustable, with its primary advantage being the fact that it can pan, tilt, and zoom to get the best view of your nursery and your baby. This will keep your baby safe, as you'll be able to see them at all times, but it also makes your life easier, as you won't have to constantly reposition the camera.
Features
This baby monitor has a fantastic screen, a 3.2-inch LCD display with satisfying, rubberized controls. It feels pretty high tech, and it's HD-enough to always have a good view of your baby. More important, though, are the remote adjustment features that allow you to reposition the camera from up to 1000 feet away; that's the range for the video streaming as well.
The pan, tilt, and zoom features provide a wide panorama, with 355 degrees of horizontal rotation, functionally making the camera able to view all angles. 120 up-and-down degrees aren't as impressive, but it's typically enough to see floor-to-ceiling. Oddly enough, the things that are close up are hardest to see due to these angles.
Performance
It's evident that there's a great deal of engineering and design thinking behind this baby monitor, as controls and tech are seamless. Connection issues are rare, and the device is a good combination of durable and easy-to-use. The night vision function is a bit finicky and sometimes doesn't properly adjust in the light, and the charging port can be tricky to set up properly.
Pros
Highly adjustable camera can be adjusted remotely

3.2 HD LCD display

Streams up to 1000 feet away

Has pan, tilt, and zoom features that provide versatile functionality
Cons
Night vision function sometimes doesn't properly adjust

Charging port is a bit tricky to use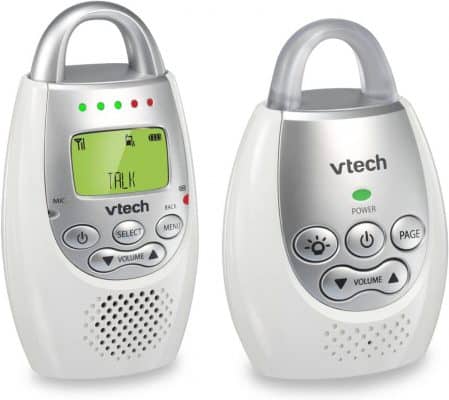 Why we like it:
Our favorite audio-only baby monitor. Recent technological advances let the VTech DM221 Audio Baby Monitor offer excellent quality at a very low price.
Editor's Rating:
Quick Facts:
Screen Size: N/A
Range: 1,000 feet
Power Source: Battery (16 hours)
While video monitors are gaining popularity, many parents still prefer to keep tabs on their babies using a traditional audio monitor. The VTech DM221 Audio Baby Monitor is the clearest sounding baby monitor we tested. It also allows parents to talk back to their babies through the parent monitors.
One major advantage of an audio-only monitor is battery life. The parent monitoring unit in this set can run for up to 18 hours on a single charge. When buying, you can choose to get either one parent monitor or two.
Featuring an impressive 1,000 foot range, another benefit to an audio-only baby monitor is that they are considerably less expensive than a video monitor. We especially like the vibration feature that makes it easy to notice when your baby begins to stir.
Features
The VTech DM221 Audio Baby Monitor has quite a few innovative features. There is a nightlight on top of the transmitter that emits a pleasant glow at night. There is also an intercom feature that allows parents to talk back and soothe their babies.
Performance
Thanks to DECT 6.0 digital technology, the audio is crystal clear and even the faintest sound can be heard. There is a long, 1,000 foot radius on the signal and it is encrypted and interference-free. For an audio-only monitor, it can't be beat.
Pros
The rechargeable battery lasts up to 18 hours on a single charge.

Intercom system lets parents talk back

Visual sound indicator and vibration

Large savings over a video baby monitor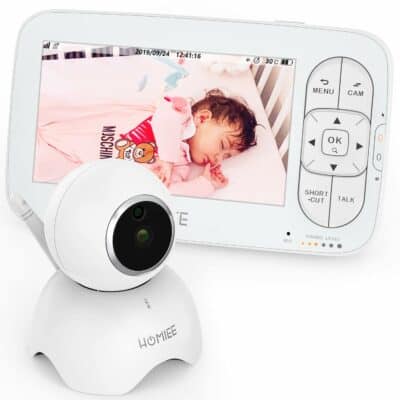 Why we like it:
This baby monitor from direct-to-consumer company Homiee is fantastic for new parents, with an interface that's highly customizable and easy to use.
Editor's Rating:
Quick Facts:
Screen Size: 5"
Range: 1,000 feet
Power Source: Battery (5 hours video, 8 hours audio)
Our favorite aspect of this baby monitor from Homiee is its user interface, with an actual physical remote control allowing you to adjust everything from the menu and settings to the camera itself. The small, wireless base looks a lot like a webcam, with a small antenna letting users change the angle and zoom of the camera from up to 1000 feet away.
Features
The camera is feature-packed with plenty to play with that's easy to turn off if you want to keep it simple. A room temperature monitor keeps tabs on things and will ping you if it goes outside of the designated range.
Brightness is adjustable and a wall mount is included with the camera, along with the ability to pair with up to four more cameras. You can set alerts for yourself, the most useful of which is a feeding alarm that's adjustable and helps you keep your baby well fed. This will make your life much easier: a well-fed baby is a happy baby.
Performance
While the baby monitor has the same features as most expensive models, they're not as quick or as reliable as other monitors. The monitor has a voice-listening feature that automatically activates when the baby is restless, and some parents find that screen doesn't turn on every time the baby cries. That's not a big deal since the monitor is always running, so you'll always be able to hear your baby, but it'd be nice if that feature worked correctly.
You can change the noise sensitivity to make it more likely to pick up a crying baby, and you can adjust the volume on your own side to amplify noises and wake up even the heaviest sleeper. A charge lasts a whole night and the unit is phenomenally durable, with all parts backed up by a 12-month warranty.
Pros
Wireless module with a small antenna

1000 foot range

12-month warranty

Inexpensive with similar features to expensive models
Cons
Voice listening feature doesn't work perfectly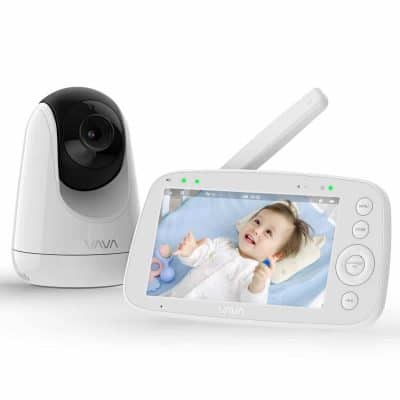 Why we like it:
Thanks to the large screen and the easy-to-use controls, the VAVA 720p HD Video Baby Monitor will give you a crystal clear look at your baby's room.
Editor's Rating:
Quick Facts:
Screen Size: 5"
Range: 900 feet
Power Source: Battery (24 hours audio, 12 hours video)
For parents looking for a video monitor that allows them to tilt and pan to look around a room, the VAVA 720P HD Video Baby monitor delivers crisp, real-time images with an impressive level of detail. At 5", the screen is much larger than most other video baby monitors. When operating in video mode, the handheld display can last for up to 12 hours at a time using the rechargeable battery, with twice the battery life in audio-only mode.
Features
The VAVA Baby Monitor has an impressive array of video features that allow you to pan, tilt, and zoom the camera wirelessly using the handheld display. You can also turn off the video feature and listen in on your baby using audio-only mode. This extends the battery life considerably.
There are also 7 volume level indicators on the handheld monitor, so there is a visual cue when your baby starts making noise.
The VAVA 720p helps you monitor your baby effortlessly with a screen much larger than most other video baby monitors. The camera can be totally controlled remotely by the handheld monitoring unit. You can't mount this camera to a wall, though, so it'll have to be placed on a surface—for a large-screen mountable camera, we recommend the Vava Split View Baby Monitor.
Performance
The VAVA 720p HD Video display monitor transmits crystal-clear video up to 900 feet in your house. We found the notification functions to be reliable and loud enough to wake up even heavy sleepers.
Pros
Large 5" handheld video screen for HD video monitoring

Tilt, pan, and zoom camera remotely using the handheld monitor

The stable wireless connection delivers crisp video up to 900 feet away
Cons
Does not mount to the wall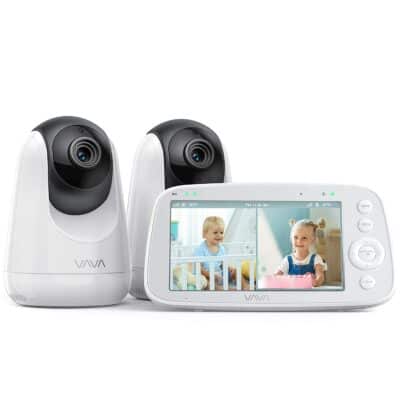 Why we like it:
For those with multiple children or multiple play areas, this camera setup is a lifesaver, allowing you to keep an eye on your baby via multiple included cameras.
Editor's Rating:
Quick Facts:
Screen Size: 5"
Range: 900 feet
Power Source: Battery (18 hours audio, 10 hours video)
Adding another camera to the conventional single-lens set up changes the game for larger families and opens up a world of possibilities. Multiple rooms? Set up one camera in each. Multiple kids? You can use one camera for each. It's even nice to be double-covered in a single room, as sometimes pets or kids can get up to no good—it's good to keep your bases covered.
Features
For a price this high you expect the best, and Vava delivers with a slick interface and easy operation. Controls are simple and don't freeze, while the camera zooms 2x and 4x while simultaneously delivering a panoramic scan feature that lets you see the whole room.
The Vava cameras are impressive and futuristic in terms of both looks and use. Among other features, they can be adjusted remotely, use a large lens to capture more of the room, and they're practically unbreakable: a huge pro if you live in a chaotic household.
While they're wireless, which is somewhat nice, we think most users would simply prefer the option to plug it in, just in case. For this reason, we wish that each camera came with its own charger.
Performance
Performance is about average for the camera, and Vava either beats or matches industry averages for benchmarks such as range (900 feet), battery life (all night long), and screen size (5 inches.) Other than that, there's surprisingly little to report, which is maybe a good thing: you don't need a baby monitor to blow your mind, you just need it to work.
If you've got twins but there's something you don't like about this camera, be sure to check out our extensive list of the best 2-camera baby monitors on the market.
Pros
Opens new possibilities with a split-screen/double camera setup

Slick interface and easy operation

Panoramic scan and zoom features

Camera units are practically unbreakable
Cons
High price

Wireless cameras should come with a charger for just-in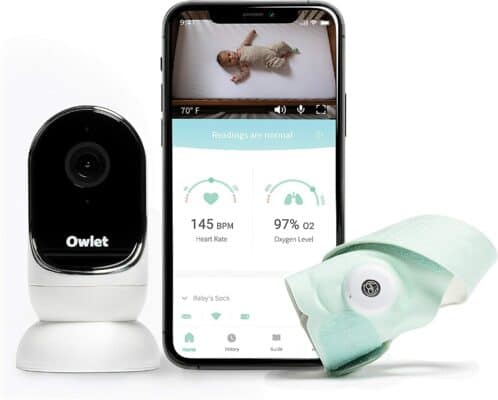 Why we like it:
Taking an unconventional approach to baby monitors, the Owlet Smart Sock Baby Monitor constantly watches your baby's vital signs to make sure they are okay.
Editor's Rating:
Quick Facts:
Screen Size: Connects to smartphone
Range: Connects to WiFi network
Power Source: Battery (16 hours)
The most unique monitor on our list, the Owlet Smart Sock is a wearable monitor that tracks your baby's heart rate and oxygen levels. If the Smart Sock detects something is wrong, it will immediately notify you via a notification on your phone as well as lights and sounds that come from the base station in your baby's room.
Parents love feeling like they can be confident that their baby is okay because their vital signs are being constantly monitored. Knowing that the system is actively monitoring them while they sleep is comforting, but the lack of video or audio monitoring does make it difficult to use the smart sock as your only baby monitor—thankfully, this kit also includes a baby monitor that connects to your smartphone!
Features
The Owlet Smart Sock is designed to be worn around a baby's ankle and foot. It uses proven technology to track heart rate or oxygen levels and relay that information to the base unit. The most important feature is that it instantly notifies you if there is a problem.
Performance
Most parents report that the Owlet Smart Sock works as intended, though thankfully many of them have not experienced the alarm saying their baby's heart rate or oxygen levels are getting dangerously low. One performance issue experienced by a few parents was the sock disconnecting from the base, triggering the notifications and alarm – which can be frightening.
Pros
Smart monitor keeps track of vital signs to ensure your baby is healthy

Get better sleep knowing your baby is okay

Notifies you the moment there is a problem
Cons
Sounds a loud alarm if the Smart Sock disconnects from the base unit
Buying the Best Baby Monitor
Whether you are a new parent or preparing for a new baby, this guide will point the way to finding your ideal baby monitor.
What Is a Baby Monitor?
This is a device designed to transmit movements and sounds that a baby makes. The first baby monitors only allowed for the transmission of audio, but recent developments have allowed them to send and record video. Baby monitors give parents live audio and video feeds of the baby's room so that they can be aware of their movements.
Video Monitors
A video monitor will provide a live feed of the baby via a camera. They can connect wirelessly or via a wired connection. Some of these devices, like the Nanit Plus also allow connecting with smartphones and other mobile devices.
Video/audio monitors have a higher price tag thanks to the additional advancements, but in recent years this cost has come down, so all but one of our recommendations offer video functionality.
Audio Monitors
These models have sensors that detect sound and transmit it to the parent monitor. They can have temperature sensors to monitor the baby's room conditions and an LCD screen to display readings. They are generally inexpensive but the price increases with improved features.
Most baby monitors we recommend offer audio and video, but the VTech Audio Baby Monitor is a great audio-only choice.
Why Should I Use a Baby Monitor?
You might be wondering if you need a monitor in the first place.  If you can always see your baby, say you live in a small apartment or the baby's crib is in your bedroom, you do not have to rely on a baby monitor.
But if your baby sleeps in a nursery, you'll love the convenience brought about by a baby monitor. If you are a heavy sleeper, you may not hear when the baby wakes up, especially from several rooms away. As such, a baby monitor will alert you when your child is awake.
Sleep Training
Although not scientifically proven, many parents find that they can hold out on picking up the baby every time they cry, as they can wait for the baby to self-soothe before they intervene.
Video monitors, in particular, provide parents with the input they need to determine whether to walk into the nursery or not. If the baby is standing in the cot, for example, they may not go back to sleep until you intervene, but if they are still lying down, chances are they might go back to sleep on their own.
Household Duties
Taking care of a family comes with completing chores. But if you have to walk in the nursery hour every single hour, you may end up wasting too much time and not getting anything done. With a baby monitor, you can establish a connection with the baby's room and only attend to your baby when it is necessary.
Sleep Tracking
Knowing whether the baby is getting enough sleep is important. Some babies do not cry when they wake, and audio monitors will not tell you that they are awake. Video monitors, on the other hand, allow you to see whether the baby is asleep or just playing with their feet. Some of the more recent monitors, like the Homiee Video Baby Monitor allow you to record video using voice commands.
Safety and Security
Baby monitors transmit sound and movement so parents can know when someone else walks into the baby's room. Even better, with a video monitor you can see when the baby is trying to get out of their crib, thus preventing future falls.
Are There Any Reasons Not to Use a Baby Monitor?
Some monitors are overly sensitive and can pick up every single sound in the room. Instead of helping you sleep, you can spend time awake, responding to every single movement that a healthy baby makes in their sleep.
To avoid this, look for a monitor with a combination of audio and visual alerts like the Infant Optics DXR-8 Video Baby Monitor.
There is also a possibility of hacking, but there are steps you can take to defend yourself.
Final Thoughts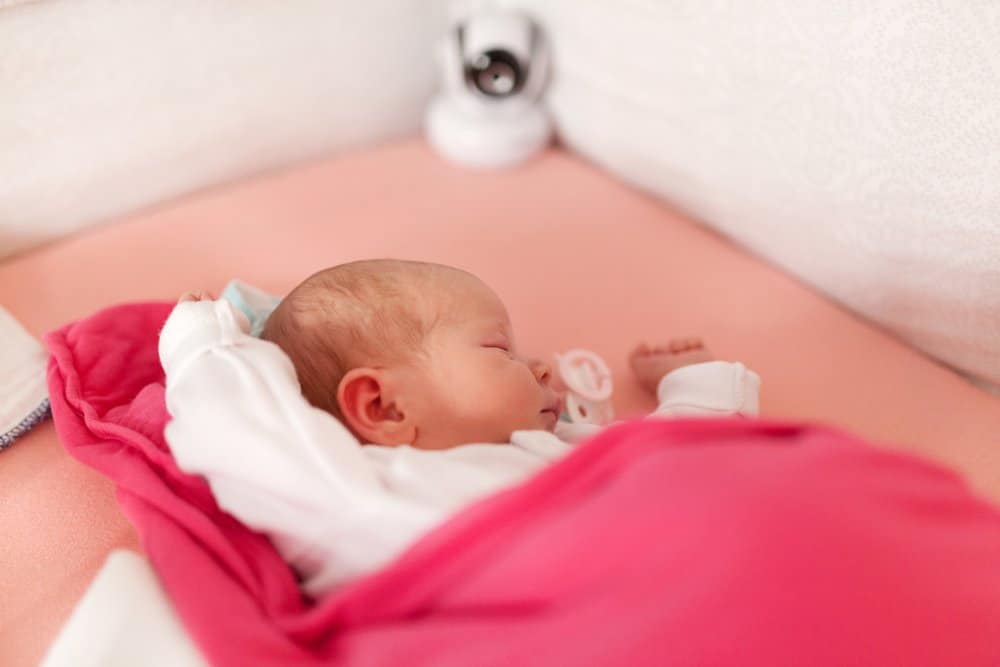 Baby monitors are a blessing. We all know the joy and hassle of watching a baby in their first few months, but that doesn't mean being stressed out of your mind. Let these baby monitors lend a helping hand by being the third eye as you go about your day.