Top 30 Best Laser Tag Toys 2021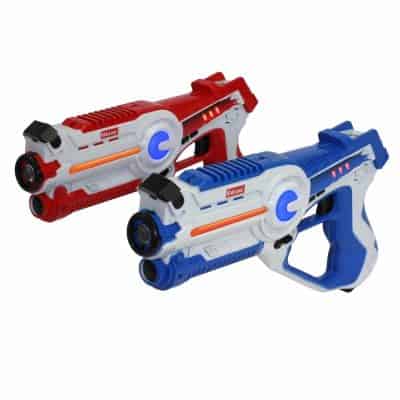 This laser gun comes with four different gun modes that offer attractive options with a range of shots like a submachine gun, rocket, shotgun, and pistol. It also includes tactile vibrations and cool lights for exciting blasting fun moments. The toy features superior quality construction and rigorously tested for durability.
The toy includes a switch to easily and quickly reload when on the battlefield. Besides, the players don't need a vest as the built-in receiver allows this laser gun to act as the target with a maximum shooting range of 130 feet. There are nine lives that the opponent has to save, which are indicated by nine bars on the toy.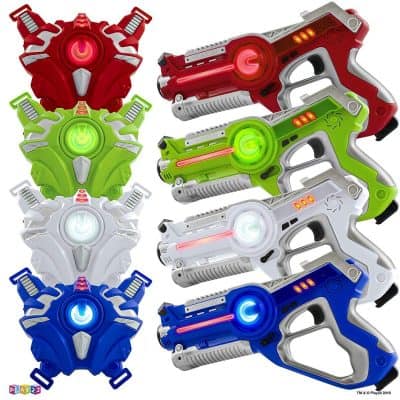 The Play22 laser Tag Set features lighting that helps the players to play in the dark. It includes one on and off button switch, a shooting button and another one for changing the team. The gun allows your kid to easily and quickly change the ammo and the firing mode when needed providing lots of fun for kids and adults alike. Also, it doesn't make noise when shooting making it an excellent gun for a sneak attack.
The shotgun setting is the most powerful for relatively long range shooting while the pistol mode is the most extended range in this laser tag but the weakest. Besides, if your kid decides to use the rocket mode, it features high power although it takes time to load.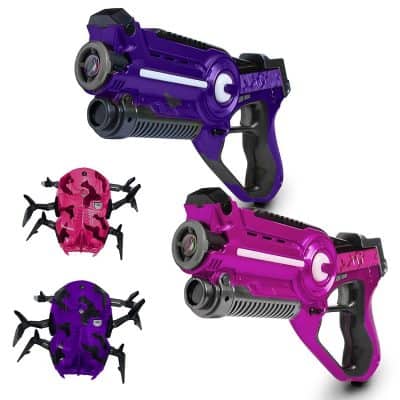 USA Toyz Space Blaster Laser Tag set features shotgun, pistol, submachine gun, and rocket launcher modes that will offer players thrilling fun. Besides, this toy will enhance target shooting skills in the young players' thanks to the spider training bots that are included in the package.
The set also comes with target vests, which can be enabled or disabled with lifelike shooting sounds to immerse the players in the battlefield fully. Additionally, the blasters are color-coded for team play with four selectable colors and include 130 feet long range shooting. The package consists of rechargeable T-Bots that you can count on for hours of endless fun.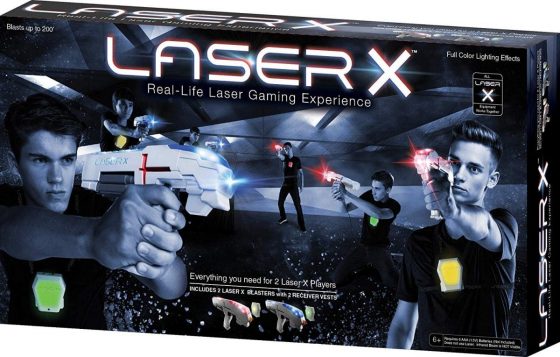 The X 88016 Laser Gaming Set includes two blasters which are compatible with all other Laser X sets which encourage individual and team games. The toy notably features long-range shooting at 200 feet and full-color lighting effects that allow you to keep track of shots and hits. 
Additionally, the set includes interactive voice coach that guides the player during the game with soundtracks and effects that makes the battlefield more real. The X 88016 Gaming Set is safe to use and features harmless infrared beams.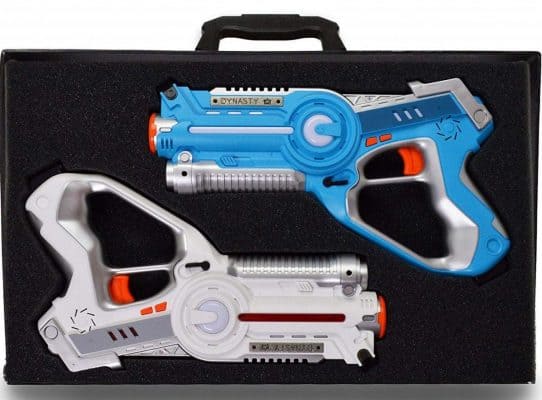 The laser gun comes in different shooting modes that include pistol, shotgun, submachine gun, and rocket launcher modes. Depending on which fire mode you choose to use, you'll take away different amounts of health. For instance, the rocket mode takes away three health bars while the pistol mode takes one health bar and when all light bars are gone, it means you've been defeated in the game.
These laser guns are comfortable to hold thanks to the ergonomic handles that DYNASTY TOYS included in this set. Your kids will enjoy playing with them outdoors, especially during family get together. It also comes with a carrying case for easy portability and storage when not in use.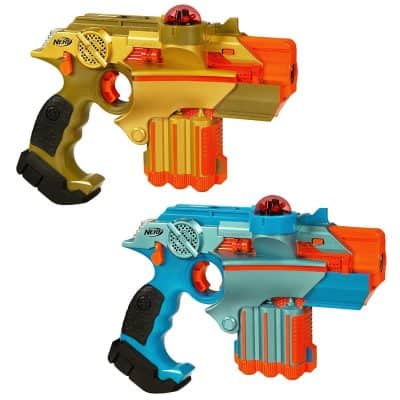 To start the match,  the player needs to pull the trigger which activates a ten-second countdown before the game begins.  Nerf Official Laser Tag Phoenix LTX Tagger 2 Pack is an incredibly well thought out toy, sturdy and loaded with features. 
This laser tag features a small slide at the back at every cycle to offer a shooting range of 100 feet. Phoenix LTX can be at 10 to 25 lives and works at a maximum of 300 feet, and register hits from all angles since the dome is on top of the receiver. The set also includes light on the side to indicate how much ammo you have left.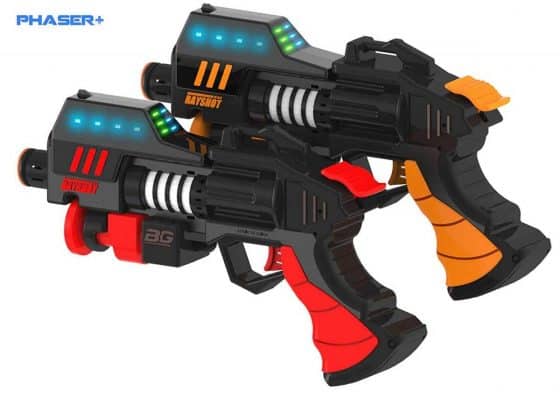 The RAYSHOT Phaser and Interactive Toy Gun Set feature two packs of guns that are red and orange in color, giving them aesthetic looks. The set includes ergonomic handles that allow the player to grasp and shoot without missing the target for fun hours of play. 
It comes with a shooting range of up to 50 feet at an angle of 10 to 15 degrees for guaranteed fun all day long. RAYSHOT Phaser and Interactive Toy Gun Set include vibration and recoil effects for real laser battle games. The toy gun is compatible and comes in two weapon modes- the pistol and machine gun.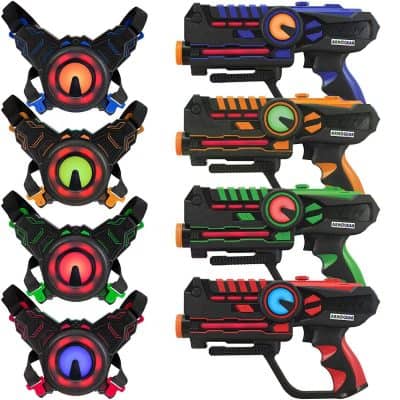 Armor Gear Infrared Laser Tag Blasters is a revolutionary four-team action game with no age limit, making it ideal for a family smashing laser tag tournament. Additionally, what makes this game superior is the included stealth fighting mode that turns the light off for 15-second invisibility.
Armor Gear also included duo target options on the target vests and 150 feet shooting range for flawless performance to win any battle. This multiplayer laser tag game also features built-in voice prompts that lead you through the game and is 100% safe for children.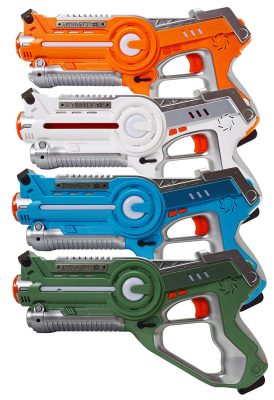 This multiplayer set features lifelike shooting sounds that will have the kids immersed in the game for hours of fun. The four separate blasters come with their own unique settings with specific strengths and weaknesses to damage, range, and reload time. It's easy to set up and sturdy enough to handle intense gaming action. 
The blasters include a built-in voice command prompt that notifies the player when the gun has reloaded or guide him along the way. It comes with no strapping vests making the blaster the target. The four-team modes for group play feature an unlimited number of members in a team for more fun.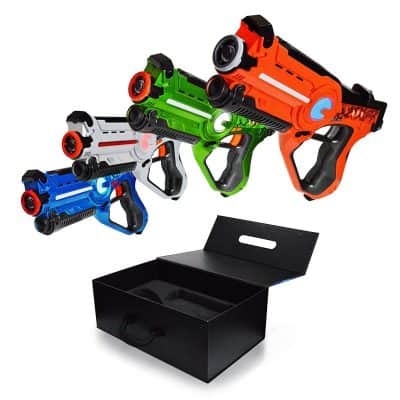 The blaster offers four weapon modes to choose from that include pistol, machine gun, shotgun, and rocket mode. The set is compatible with Dynasty guns and comes with a magnetic latch, a well-built handle making it easy to learn, fun and at the same time challenging. 
The laser tag gun features a sturdy build with lighting effects on the side that indicate your health and when you need to reload the ammo. Besides, the blaster is the target; therefore, you don't need any vests. Also, the team sizes are limitless, making it an excellent choice for bigger games.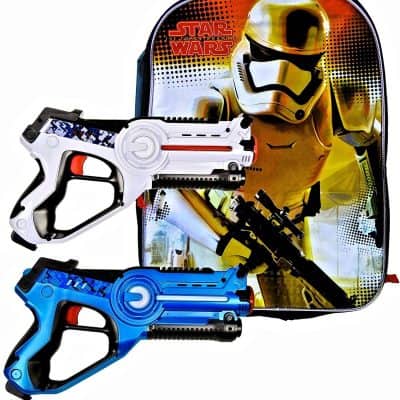 The shooting mode in this blaster would affect the number of bars indicated on the side of the toy. It comes with an excellent shooting range and four unique team settings for hours of laser tag battle in your backyard or indoors on cold days. 
Boy Star Wars Birthday Party blasters are packed with lights, sounds, and vibrations making it a laser tag gun set for solo and multiplayer fun. The package includes a sturdy carry bag that your kid can use to store the blasters after use. Besides, the bay allows easy portability when traveling.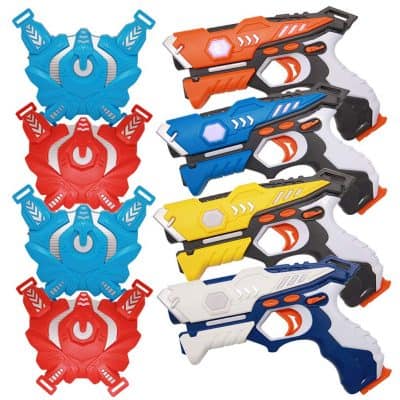 The laser tag blaster features infrared settings that are safe for children to use in both indoor and outdoor use. It also includes a status meter that reminds you if need to reload your ammo or if you're close to victory. The shooting range in this blaster is more than 100 feet but can also go up to 150 feet depending on the mode you choose. 
Other features in the Yofit laser tag gun include vibrations and incredible sound effects that make the player feel as if they're in a real battlefield. Also, the different types of ammunition in this set make the game more interesting.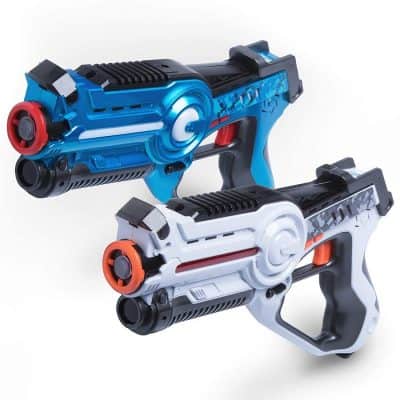 The USA Toyz Laser Tag Multiplayer is an epic laser tag game thanks to the handy features included in the game making it a fun and entertaining toy for solo play, team 1 and team 2 plays. There's a life meter in the blasters that indicate the health of a player and whether he needs to reload or is close to winning a game. 
Additionally, this laser tag gun includes four modes – rocket, pistol, submachine, and pistol modes giving the players a great choice to choose from and have hours of laser tag battle. Besides, USA Toyz included sound effects and vibrations that make the game more real. It also comes with a 130 feet shooting range to enjoy an action-packed fun.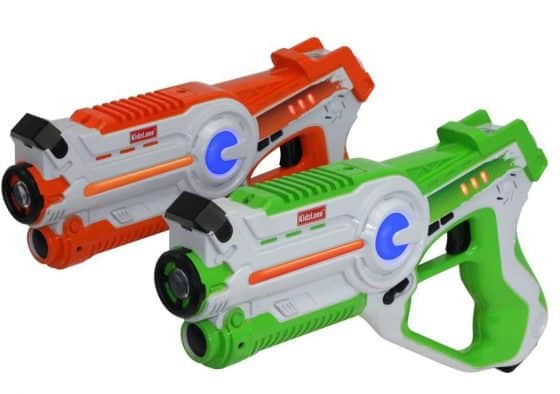 The Kidzlane laser tag game set features a life meter that tracks the health of the player indicating if its time to reload or if getting closer to winning. The collection notably features four modes and four different life bars that light up when shooting or when a player has been hit. 
The game will make you feel like you're in a real battle line thanks to the realistic shooting sound effects for each gun mode included in the blasters. The shooting range is 130 feet making this laser tag a great outdoor and indoor toy.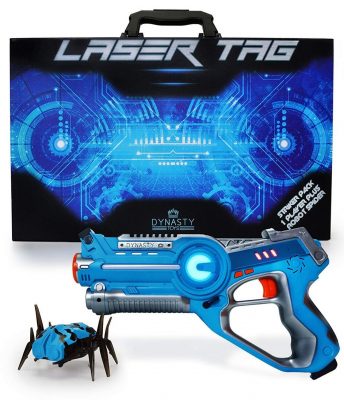 The set features one blaster and a robot spider nano-bug target for lots of fun to save the planet from a robot invasion. The blaster includes an infrared laser and a life meter that indicates if the player needs to reload. No vest is required for the target, it also comes with a solid grip, sound effects, and vibrations.
There are four laser tag modes in this blaster that include a pistol, submachine, rocket, and shotgun setting and can score up to 130 feet, making it suitable for indoor and outdoor games.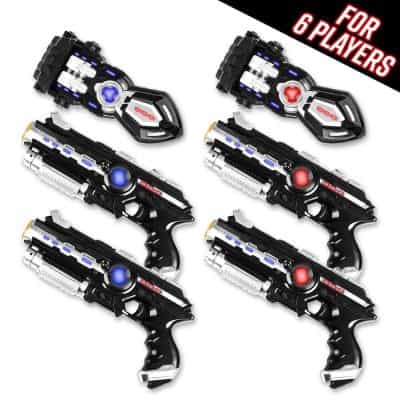 This is a multiplayer set that includes 4 players. It consists of an unlimited number of teams and four firing modes that deliver varying amounts of damage to the opponents. The collection features high-quality material construction which guarantees long-lasting quality.
The Power Tag Laser gun is built with child-safe infrared with a signal emission below 1mW, so you don't have to be worried. It also notably features vibrations and flashing lights that give a perfect setting for shooting in night battles.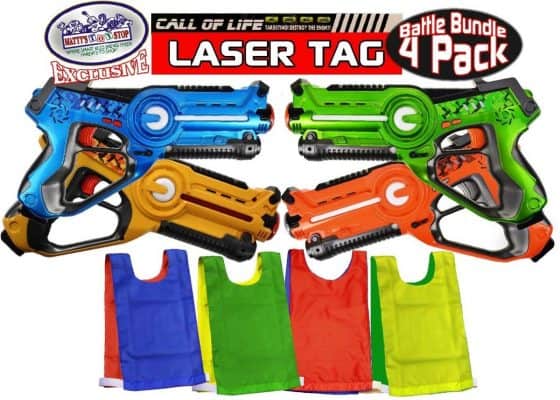 The Matty's Toy Stop Exclusive Infrared Tag Battle Bundle features 4 player set that includes Red, Green, Blue and Yellow blasters that allows you to play individually and in a team of two. The package also contains reversible team vests and tons of other useful features.
The blaster comes with a life bar that displays the remaining lives and how far you are from victory. The laser tag uses invisible infrared beams and sound effects that heighten the gaming experience. It also includes four weapon modes – pistol, shotgun, rocket, and submachine settings.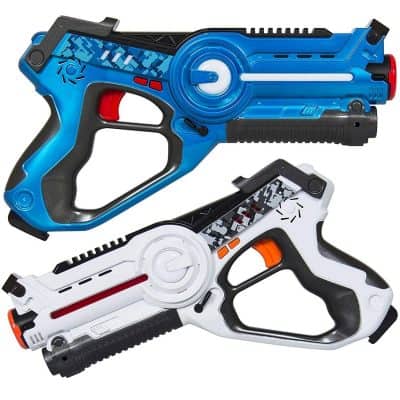 Best Choice Products Set Interactive Laser Blaster includes settings that allow multiplayer and teams. It comes with four blaster settings from a pistol, shotgun, missile launcher, and submachine modes.
There are three life indicators in the blasters with nine lives for each battle and an ergonomic handle built with the young in mind. Best choice also included lights and sound effect settings in the blasters for realistic sound effects and vibrations. When the guns and vests reach zero health, the player is eliminated.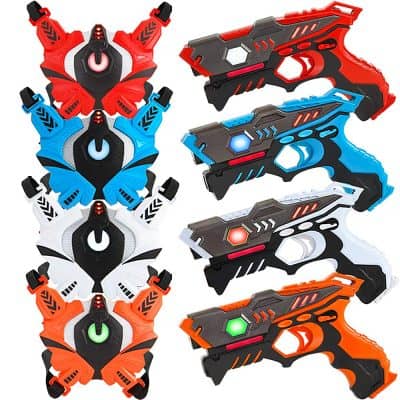 This laser tag gun features safe infrared signal technology that is safe for kids. It also includes a compact design with a unique handle, making it easy to play and hold. LUKAT also included four weapon modes in this blaster that include pistol, machine gun, shotgun, and rocket mode setting.
The package includes laser-marked suit vest that vibrates when a player is attacked making the battle more realistic. There are indicator bars on the side of the blaster that point out the health of a player. This laser tag gun comes with a child-safe infrared technology with the emission of 0.9mW.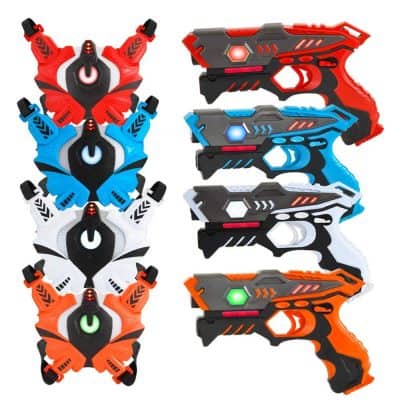 The blaster features several weapon options that a player can choose from that include the shotgun mode, pistol, machine gun, and rocket missile settings making it a fun toy to play with for hours of fun. 
VATOS laser tag gun includes lights on the side of the blaster that indicates the lives that a player has, a power switch and a team indicator light. The set allows multiplayer and solo play making it a versatile toy for playing with a team of four players.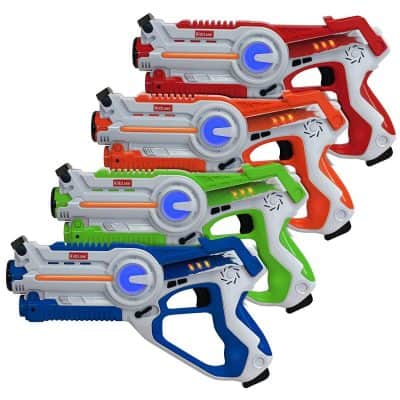 The Kidzlane Infrared Laser Tag Set features red, green, white, and blue blasters that include four diverse weapon modes – pistol, rocket, sub machine and shot gun settings to annihilate the enemy. 
The blasters include high-quality construction with a well-built handle that provides a firm grip during a battle. Additionally, the set features lights and vibration effects when a player is hit, making the game more interesting. Besides, the shooting range is at 130 feet, making it suitable for both indoor and outdoor play.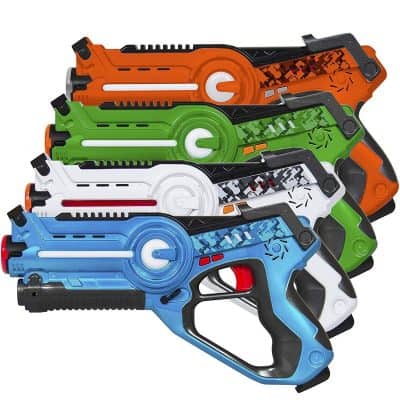 This laser tag from Best Choice Products features four blasters that come in four different colors, making it an excellent all-around choice. It also includes an infrared receiver that is harmless and child-safe. 
Best Choice Products Interactive Infrared Blaster Laser Tag notably features remarkable sound effects and vibrations when the player is hit. There's also a light bar indicator that allows the player to see the health of the blaster and when drawing closer to winning the game.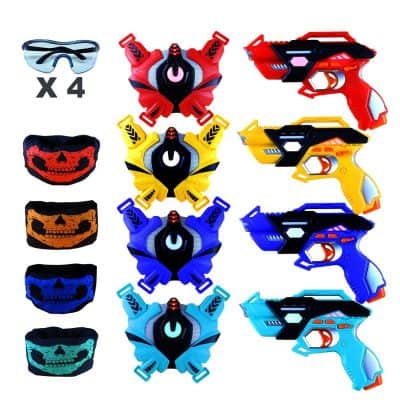 This multiplayer set includes four tactical masks and protective glasses to keep the kids safe from the flickering lights during play. The four-pack guns feature red, yellow, green and blue colors for a multiplayer game and four vests for each player. 
Additionally, MEXISI included four weapon modes. The type of setting a player chooses affects the number if lives indicated in the blaster. The vest features a total of nine lives and a solid handle that is easy to hold when shooting in a battle.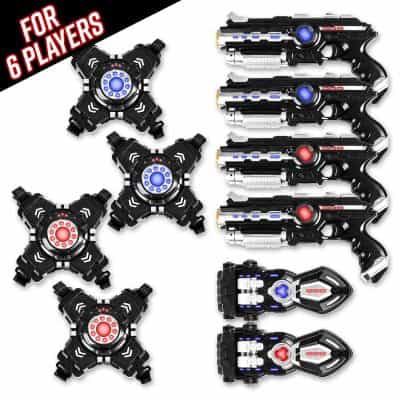 This laser tag gun from Power Tag is a sleek, lightweight device for comfortable handling even with very young players. Additionally, the set includes a life bar that indicates the health status of a player and whether they need to reload or are close to winning a game. 
There are four types of ammunition featured in this set that includes a pistol, shotgun, missile, and machine gun with each mode delivering a varying amount of damage to the opponent. The vibrations and the sound effects make the game more real for an epic laser tag game.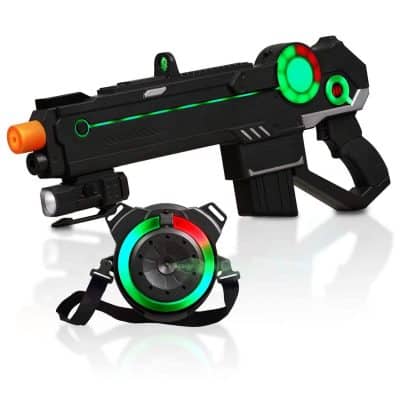 Strike Pros Ranger 1 Laser Tag Gaming Kit packs a shooting range of 225 feet long for ha fast-paced incredible shooting later tag game in the backyard or indoors play. The vest and the gun synchronize perfectly to take you to an action-packed battlefield.
The Ranger 1 laser tag features a safe infrared under all conditions of regular use. cIts also easy to use and comes with four weapon modes that include the submachine, pistol, shotgun, and missile. Strike Pros also included smoke-like water vapor emitter for dramatic effects.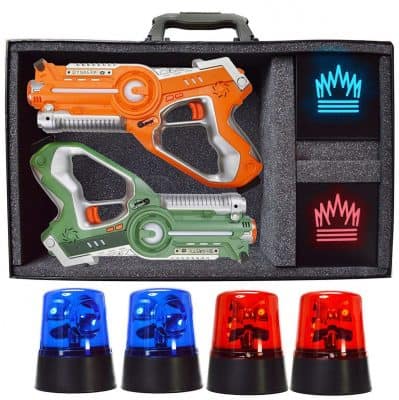 The DYNASTY Toys Capture The Flag 2 Player Laser Tag Set is an excellent alternative to video games and smartphones. It offers 2 laser tag guns that come in two different colors and four siren barrister lights for an action-packed laser game battle in the backyard. The kids will have lots of fun with team settings or blast settings. 
The blaster is the target and comes with four diverse shooting setting for added fun to capture the enemy's flag. The guns feature high-quality construction that makes this device safe for use by children.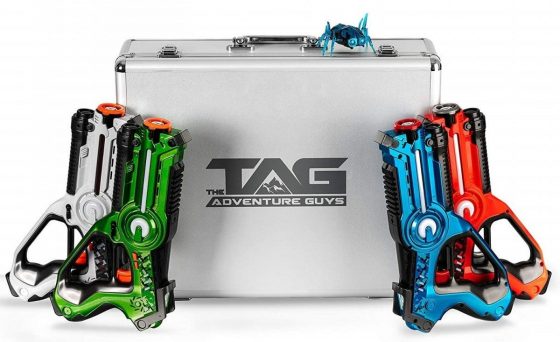 The Adventure Guys Deluxe Edtion Laser tag Gun includes four premium quality laser blasters that come in four colors- white, green, blue, and red for the multiplayer set game. There's also an interactive beetle bug that flips and wiggles when hit by the laser gun. 
The package comes with a portable carrying case that allows you to quickly store away the laser gun set when not in use. There are four firing selection modes included in each gun that include the rocket launcher, pistol, shotgun hand machine gun.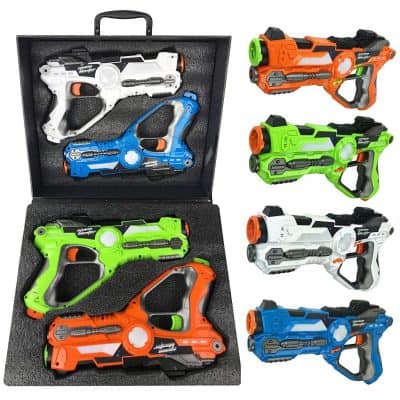 Liberty Imports Multiplayer Laser Tag Mega 4 Pack Game Set features limitless team sizes, making it a suitable choice for group play. Besides, the gets to choose between the four available weapon settings – the pistol, submachine, rocket launcher, and shotgun.
Each different ammunition level features its setting to tackle an opponent effectively. The player can change the weapon mode at any time during the battle thanks to a dedicated button that Liberty Imports included in the set.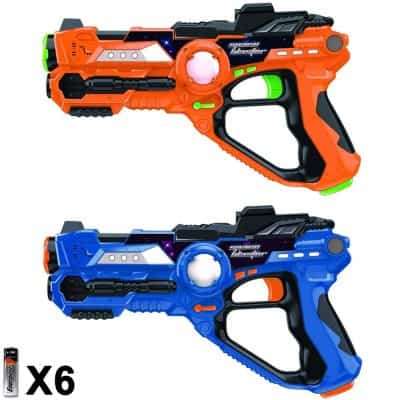 The Toyard Laser Tag Gun Set features non-toxic ABS plastic construction durable to last a long time to come. Additionally, there are light bars on the side of the device that indicate the health of a player. 
The kids will enjoy playing with this set, which enhances imagination and creativity. It also comes with a shooting range of more than 50 feet. The gadget is powered by six AA batteries.
The laser tag features multiple gun options that a player can choose to attack an opponent. Besides, it includes infrared beams that don't emit actual laser beams; therefore, kids won't get hurt when playing the game.
The set also includes vests with built-in infrared sensors that vibrate when the opponent is shot at, enhancing the authenticity of the game. The guns feature an ergonomic handle, which makes it easy for kids to grasp during a battle.