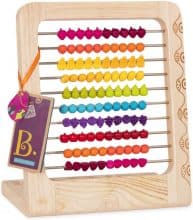 B. toys Two-ty Fruity Wooden Abacus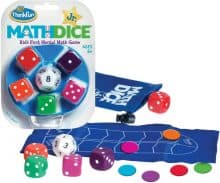 Think Fun Math Dice Junior Game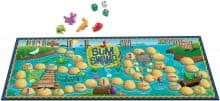 Learning Resources Sum Swamp Game
Previous
Next
Making children enjoy math is a hassle for most parents. Right? Math is a subject that requires a lot of brain power to focus and pay attention, which can seem like hard work. Being knowledgeable in math is critical to surviving in today or at least to solve everyday problems like when shopping, cooking, and doing other daily tasks. Non-math careers also require sharp analytic reasoning skills making math an indispensable subject.
Children are more likely to learn math principles more effectively when surrounded by relevant concepts. Besides, young boys and girls are more receptive when a subject is associated with play than work. This guide explores the Best Math Toys For kids that will provide your child with a solid math foundation in school and later in life.
Top 30 Best Math Toys For Kids 2020
Bottom Line
Math activities can boost your child's learning in many ways. Since young boys and girls are more receptive to learning when a subject is linked with play and toys, it's an excellent idea to expose young boys and girls to math in entertaining ways.
These toys we've outlined in this guide will help you to come up with approaches on how to create modest communications and early training math projects to assist in build a solid foundation for more advanced math tasks in the future. Helping your kid to enjoy math will allow the young one to grow to associate math with fun and pleasure.