Top 30 Best Math Toys For Kids 2021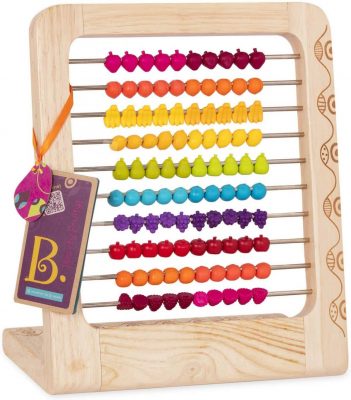 Adding this abacus tool in early childhood learning has many benefits. For instance, it will help your child develop calculation skills, improve problem-solving, sharpen concentration, and help her build confidence in a meaningful and fun way.
The Two-ty Fruity Abacus features a sturdy natural wooden housing that will help the little one learn basic mathematic concepts like patterns, counting, and numbers as they identify with textured, fruity beads. It includes 100 bright fruit beads placed on ten coated wires. Additionally, this tool is safe for use with toddlers, thanks to BPA-free and Phthalates-free material construction.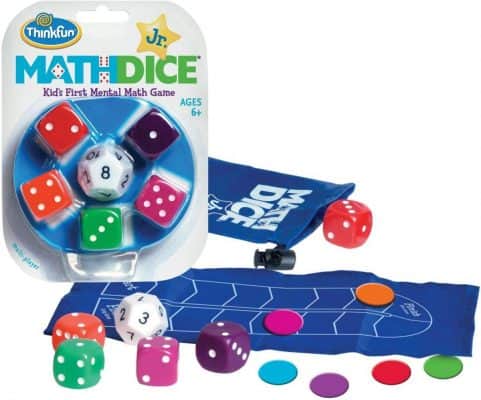 The Math Dice Junior game includes six dice, a scoring track, easy to read and understand instructions and a game-go bag for storing the toy after use making it an excellent choice for children aged 6 to 15 years.
This toy will help the young one develop early mathematical concepts that he will need later on in elementary school. Besides, the Dice Junior game will allow your child to count accurately or make a good guess of the quantity or size of something.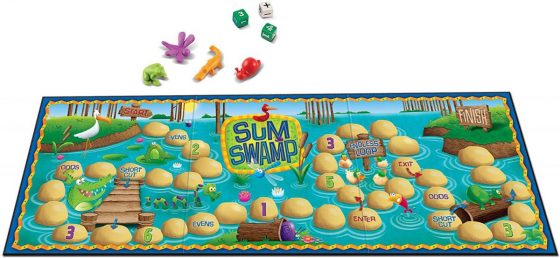 Sum Swamp features a board game with four swamp creature game pieces, an operation die and two number dice that encourage boring math drills and makes them into a fun journey through the swamp where they face challenges and develop problem skills to get through the swamp creatures.
The game helps the young one develop problem-solving skills where they recognize there's more than one path to the answer, which requires logical thinking skills to find the answer. Toddlers, learn better through visuals and touching things around them, making this toy an ideal choice for children of all ages.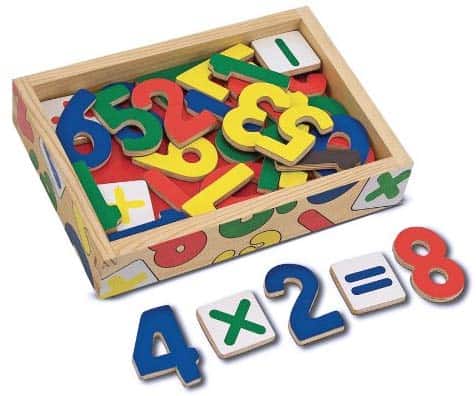 Although playtime may seem informal, it can be influential on a child's learning just as if they were in school. This toy is an ideal gift for children aged 36 months to five years and allows you to figure out a way how you can create simple interactions that serve as a foundation for your kid to enjoy math.
Besides, the magnets feature durable material construction doesn't peel or tear to withstand destructive little hands wonderfully. Additionally, the set includes 25 pieces of brightly colored magnets in a sturdy storage box.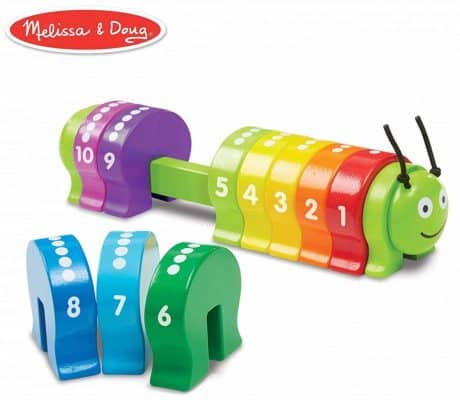 This brightly colored caterpillar is a simple toy that allows the young one to come up with countless ways to play like lining it up, stacking it up, tossing and counting. The toy features sturdy material construction that will serve you a long time to come. 
Besides, it's a tool that incorporates simple fun play and introduces the little on to different concepts in math that will help your child learn how to work on numbers, numerical order, shapes, and colors as they explore their imagination.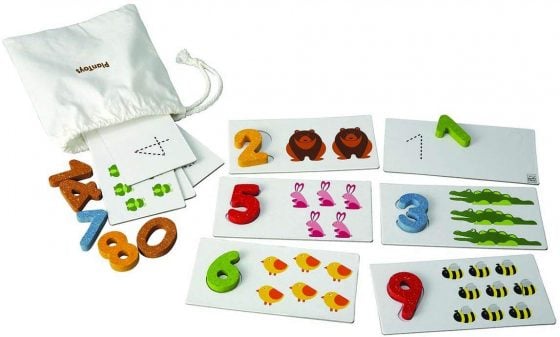 The toy is simple and supports the development of early math skills in the young one. The PlanToys Preschool Number 1-10 set will allow your child to enter school, ready to learn more advanced math concepts.
This PlanToys set features numerals 1-10, ten animal cards, and dashed lines at the back of the cards where your child can trace the numbers on their own teaching them basic counting and writing skills. The set features select material construction that is safe for use with toddlers, infants, and preschoolers.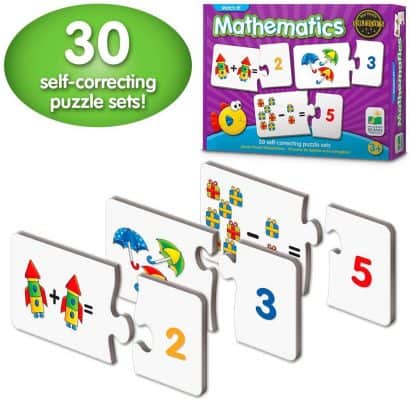 The 30 two-piece puzzles feature thick, durable, cardboard construction. It includes ten pairs of addition, subtraction and counting pieces that introduce the little one to counting, and early mathematical concepts of BODMAS. Additionally, the set notably features safe materials that are will not harm the child and are also environmentally-friendly.
The Self-Correcting Puzzle set aims to make it fun to learn the necessary mathematics abilities in the early stages of a child's life. Also, the toy is an ideal choice for learning spatial relationships and geometry.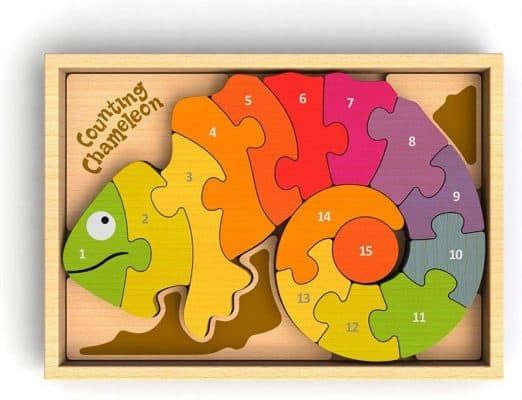 The game is a cool and colorful chameleon puzzle set that features rubber tree material construction that makes it safe for use with toddlers, infants, and children to offer a balanced approach to play and learning. It measures 7 inches by 10 inches and comes in a storage tray for easy portability or wrapping up as a gift.
Your child will benefit through learning numbers and language. Additionally, the little one will develop problem-solving skills and creative thinking. BeginAgain Counting Chameleon Puzzle allows little boys and girls to create a comprehension of their environment and social surroundings from an early age.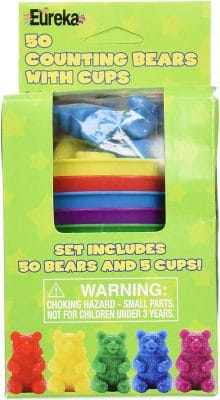 The Counting Bears With 5 Cups toy features durable brightly colored plastic material construction that is safe for use with young children. Your child will count and sort the small toys based on the color of each bear. 
The set will help the young learner recognize numbers in a fun and educational way. Sorting bears with cups allow offer guidance in the early stages of visual perception. Additionally, the movement and placement of the toys help them to be aware of balance, coordination, and gravity.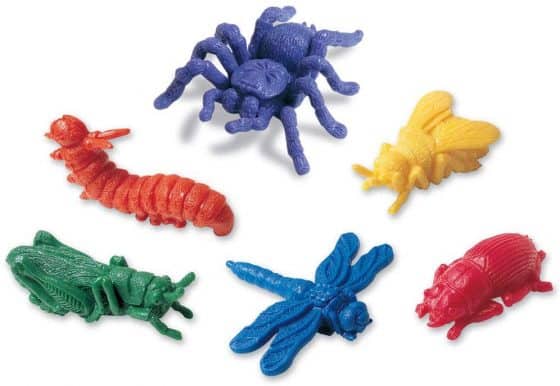 Animals and numbers are a great way of arousing children's interest in different subjects. Learning Resources Creepy Crawly Counters Turn helps to build a natural curiosity that further strengthens the young learner's thinking skills as well as problem-solving skills. 
The set features 72 counters that come in various colors, which include beetles, spider, grasshopper, bumblebee, caterpillar, and dragonfly. It encourages your child to use creative skills and come up with their way to play with the toy making it an ideal choice for kids above three years. The toy notably features soft rubber construction and comes packaged in a reusable plastic tub.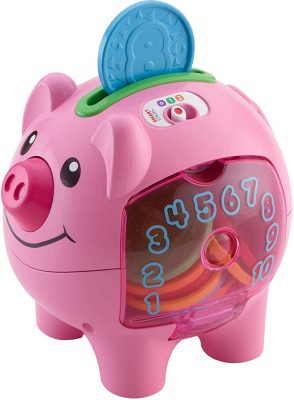 The Piggy set includes Smart Stages technology that offers two levels of play for fun phrases, songs, and sounds which are age appropriate. It's also easy to play as sparks curiosity when the little one presses the nose to open the door and listen to the songs and phrases. Besides, this toy introduces Spanish words.
This Fisher-Price Piggy Bank includes ten colorful coins that feature animal imprint on one side and numbers on the other side. The toy will encourage the child to learn rational counting to improve one-on-one correspondence.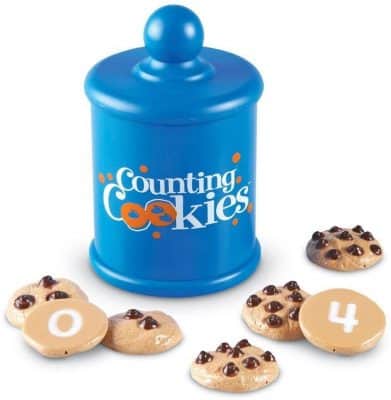 These delicious looking cookies feature 11 pieces with numbers 0-10 printed on the back of each chocolate chip cookie. The package includes a cookie jar and a lid that the young one can use to store away the toys once they are through with playing.
The set is also an excellent addition to your child's play kitchen with a bonus of the number counting feature as she will learn numbers. The cookies and the jar feature durable plastic material construction and fit little hands perfectly. Besides the educational aspect, the toy allows pretend-play.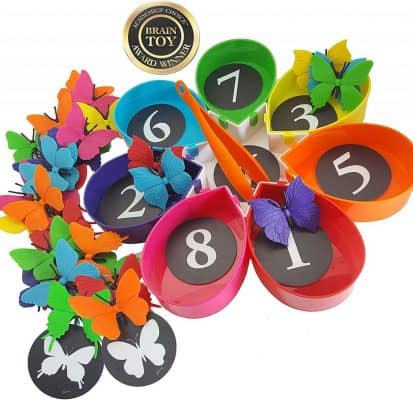 Skoolzy Butterfly Garden 56 butterfly counters come in seven different colors, seven matching flower petals, one butterfly tong catcher, one-star flower center, eight double-sided matching and counting cards, an activity eBook and a storage backpack. 
The set introduces patterns and sequencing, which helps the young one to organize and order successive events and experiences which allows your child to develop a sense of order, reason, and purpose. Besides, reading the activity eBook with the young learner emphasizes how a story logically unfolds building a mindset for rational thinking.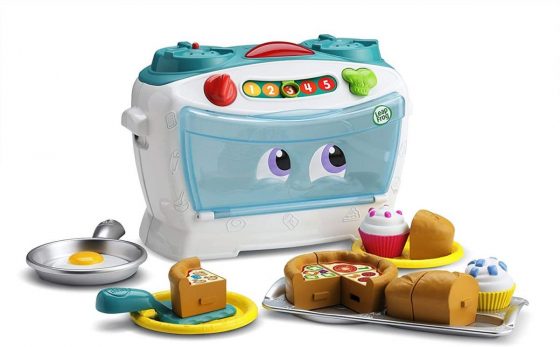 The set offers the perfect counting and number learning fun. It allows pretend-play where the young one can cook, count, and share as they cut the food into 2, 3, or 4 pieces. It includes more than 30 phrases and songs that explore numbers, temperature, and time concepts from the slider included in the oven. 
Additionally, the set feature safe and durable plastic construction that will last you a long time. The toys are easy to put away when your child is through playing thanks to the large oven that fits everything.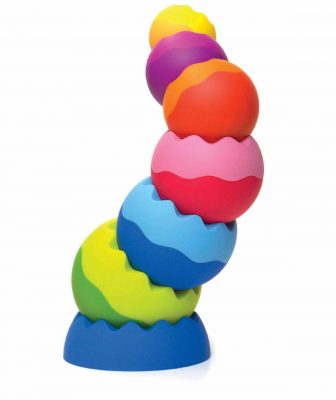 Fat Brain Toy Inchimals are effective math blocks that feature high-quality material construction that observes safety standards to ensure that parents and children get the best experience possible by inspiring creativity and sparking curiosity. The sequence blocks help the young learner to develop organization and order of events and experiences from the shortest to the longest.
The mathematical safari adventure set includes 12 wooden blocks that come with vibrant printed animal characters. It allows the young one to compare, identify, and examine specific properties of the various objects and make a judgment on how they are similar or different.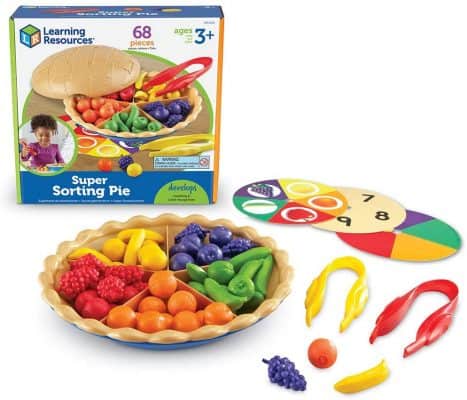 The set includes 60 fruit counters in ten different shapes and five different colors. Learning Resources also included double-sided sorting cards, tweezers, and activity instructions. Besides, this vibrantly colored toy offers more sorting challenges that will help the young learn similar attributes of grouped items. 
The Learning Resources fruit pie also encourages group play, which improves social and communication skills. Furthermore, when children play together, they develop creativity skills, enhanced understanding of the concepts they've discussed, and gain more confidence.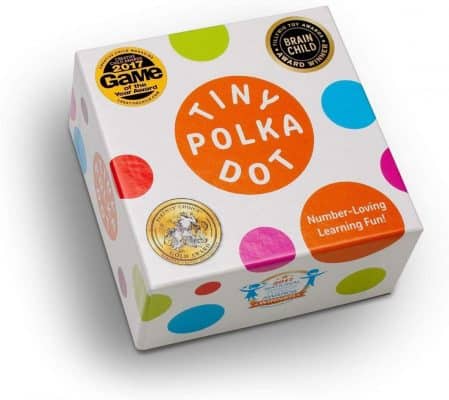 This set of cards features many game variations with varying difficulty that a child can play with providing hours of fun. There are several decks of cards included in the package with 0-10 cards that come in different patterns that seem to align with ten-frames. The young learner must try to find the ten frame that has the same number as the dice card – which is the Polka Dot.
The game offers hours of fun and learning experience where a whole family can also play for an evening of entertainment. This product features quality material construction and is perfectly sized to fit little hands.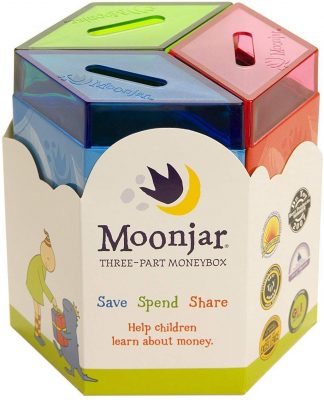 The Moonjar Three-Part Moneybox features three sections – the spend, save and share that allow the young learner develop excellent bookkeeping skills as well as build charitable habit later in life making this jar an ideal choice for teaching kids about managing money. 
The tin features sturdy metal construction that seems durable and will serve you a long time to come. Also, the lids notably feature plastic material that is held together with rubber bands for safe storage and stays on reasonably well.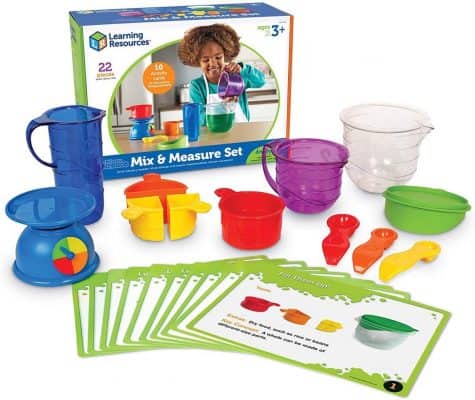 The Mix and Measure activity set features durable plastic material construction that comes with mixing tools, three self-standing spoon and six measuring cups that will allow the young leaner conduct her experiments as she tries to solve real-life problems at home.
The kit will help your child understand numbers and relationships and how they're affected by operations. When the kid develops a strong number sense, they'll become better problem solvers and can approach an equation in many different ways. Besides, scientific experiments involve identifying errors and improving the situation.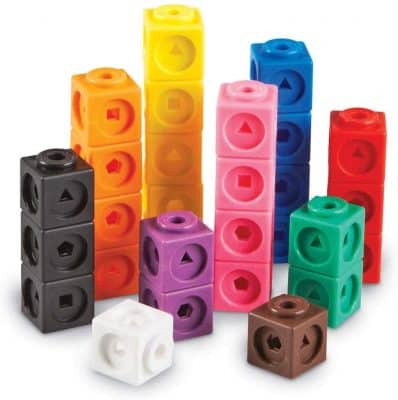 The Math Link allows the young one to stack up against the cubes to help them promote and understand early math concepts. This set features 0.75-inch cubes that are a perfect fit for little children to grasp and snap together for fun learning activity all day long.
Additionally, the toy notably features durable plastic material construction in ten colors that the young one will sort and count. The cube includes a geometry shape cutout that will help little boys and girls identify various shapes like hexagon, square, and more. Learning Resources Mathlink Cubes Counting toy offers countless ways of playing.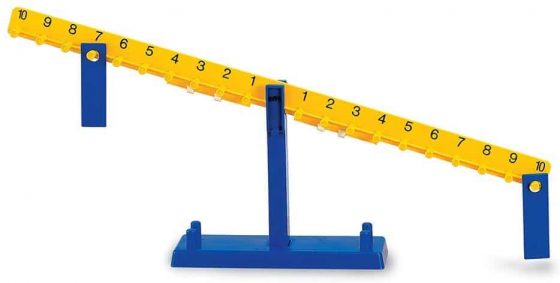 This Math Balance scale allows little boys and girls to explore the weight and mass of objects in pounds and ounces. Besides, this toy will help the young one learn mathematical and scientific concepts, including inequalities, mass, comparisons, and order.
The set includes ½-inch balance, labels, twenty 10g weights, and an activity guide. It notably features durable material construction that is safe for use while teaching addition, multiplication, and division.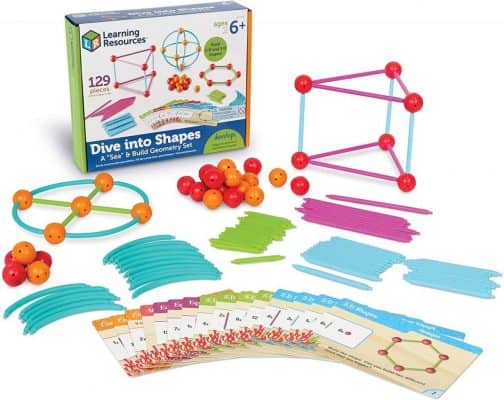 The Learning Resources Build 2D and 3D Shapes set will help the little one come up with the different shapes and sizes of things that he interacts with every day. For instance, a triangle shaped yellow sign or a green rectangle shaped sign. You can ask your child to think about other objects in the environment.
The kit features 129 pieces of 2D and 3D shapes, 60 sticks that come in there different sizes, connectors, curves, and double-sided activity cards for learning activities. Your kid will build confidence in geometry as he has fun creating the composite shapes.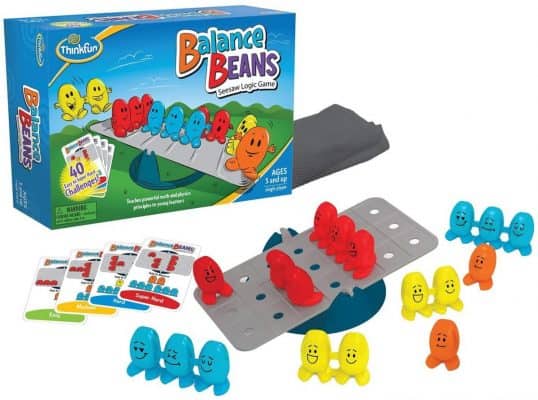 This Think Fun Balance Beans Math toy features brightly colored cards that are light enough for little hands. It's also easy to set up, set down, and store after use. Once the young one balances the seesaw using the beans provided, they balance the equation and win the game. 
It's a simple toy to use with multiple benefits such as developing math skills, problem-solving, reasoning skills, and social skills. The Balance Beans is a single and multiple player game that introduces the young learner to the concept of algebra, physics, and hands-on format.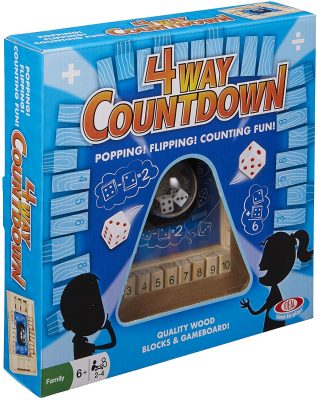 The game starts when each player lays their wooden keys on the board then the first player rolls the dice in the center of the game board and the two numbers. The player who flips all ten keys on their side of the playing board becomes the winner making it an ideal choice for children aged 6-15 years for practicing basic math facts.
Ideal 4-Way Count Down Game features high-quality wood construction, and the dice keeps everything held together so that no parts are lost. The board is large enough to accommodate 2-4 players and comes with a simple to read and understand instructions.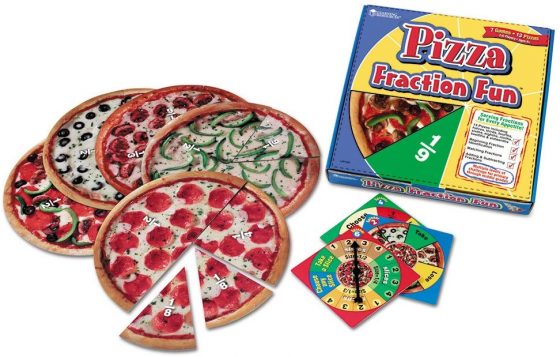 The toy includes 13 double-sided pizzas, including thirds, halves, fourths, eighths, ninths, and more  Learning Resources also included three double-sided spinners and easy to read and understand instructions. 
The Pizza Fraction Fun Game will help the child to learn problem-solving skills, logical thinking, mental fluency, and understand particular mathematical concepts. The game features seven different ways to play with various levels of challenges.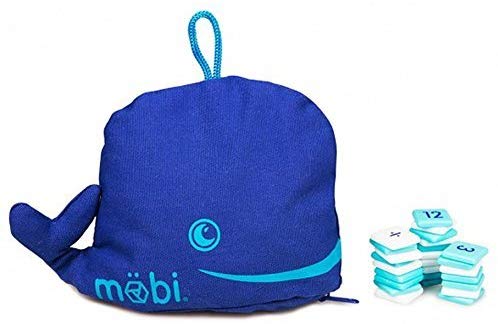 Mobi is a fun, fast-paced game that helps your child develop an enthusiasm for numeracy. Besides, your kid can play this game with multiple players providing hours of fun and learning activity for the whole family.  
The game features 162 blue and white tiles – the blue ones have printed numbers on them while the white ones have the math signs printed on them for making simple math equations. The toy will also help teach valuable social and communication skills through sharing and interacting.
Melon Rid Clumpsy Thief Money toy is a fun fast paced game that is easy to learn where players are actively adding and snatching cards from each other. The player with the most money wins the game. 
Additionally, this deck of cards features high-quality material construction. It allows the young one to make combinations of numbers to reach a target of $100, which encourages him to real-life problems outside the home.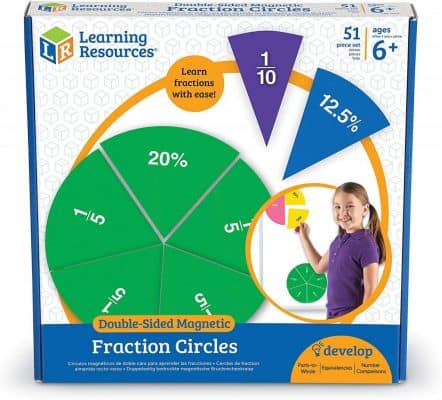 Learning Resources Double-Sided Magnetic Fractions game features nine double-sided magnetic circles that represent whole numbers from halves, quarters, eighths, and more. The magnets feature sturdy material construction that will give you service for a long time. 
The young learners will learn abstract fraction concepts with ease thanks to the familiar pie-sliced shapes with clearly labeled fractions on one side. Your child will also learn relationships between fractions and percentages. To grab their attention, place the magnets on a  whiteboard, which is an excellent magnetic-receptive surface.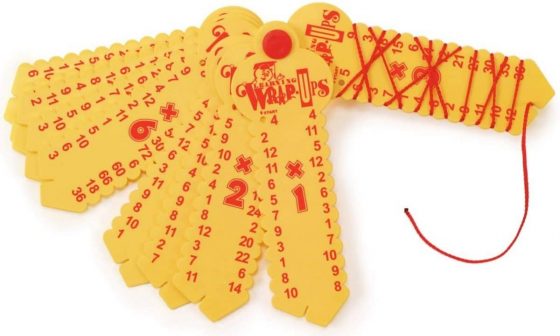 Learning Wrap-Ups Multiplication Keys features ten self-correcting keys that total up to 120 multiplication factors. The product notably features a new and improved version which includes sturdy material construction and riveted at the top to make them easy to use and organize. 
The toy offers the young learners an easy and fun way to master multiplication and helps to build a natural curiosity towards math concepts, develop problem-solving skills for more advanced mathematical skills thanks to the math foundation.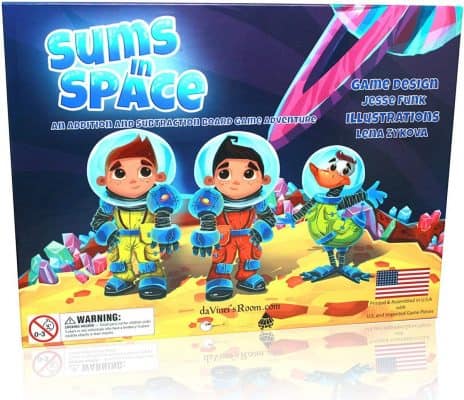 The Sums in Space Addition and Subtraction Board Game Adventure improves the young learner's math skills by adding and subtracting 0-9 as they have fun getting back in the space ship as fast as they can!
The game encourages both independent and collaborative play where everyone plays together to get all the astronauts back in the space ship. There are several benefits when kids play together like teach each other, which helps to improve social and communication skills.