In the past decades, Star Wars Movies have become popular. They feature iconic battleships, dropships, gunships, and starfighters, modeled to suit the intended theme. They also have different characters who heroically take on dangerous missions across the galaxies.
For the love of Star Wars, Lego Company has brought the thrill closer by designing exciting LEGO Star Wars toys which are a replica of the characters and space ships in the movie. There are numerous toys to choose from and it can be hectic to find the best toys in the market.
To ease the hustle, this article has carefully selected 30 best star war toys. They are detailed to help you know what to expect from the toy.
Top 30 Best Lego Star Wars Toys 2020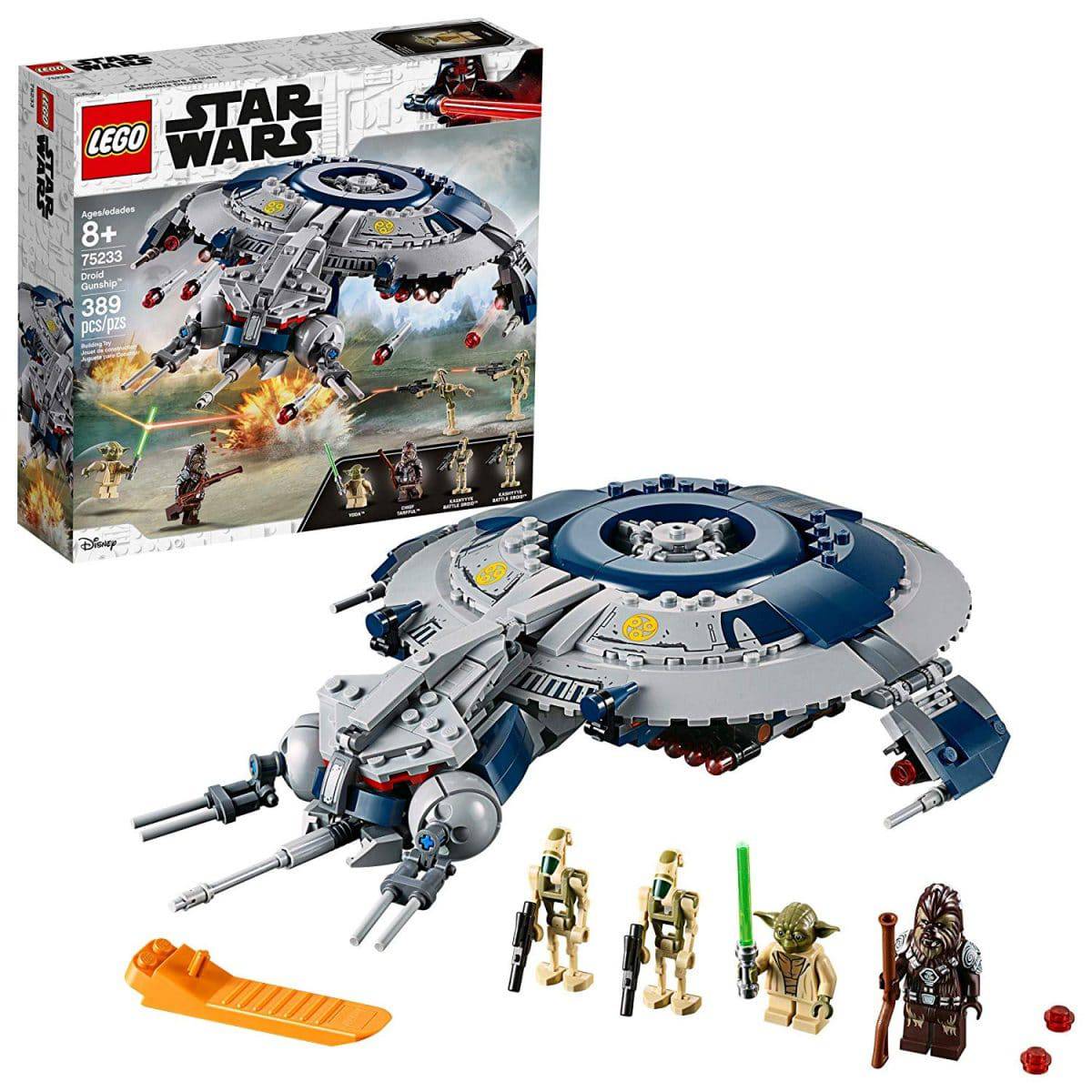 With 329 pieces to put together, this battleship is designed to create fun and epic missions. It has an opening cockpit where you can place a minifigure. It is equipped with rotating, non-firing canons. There are 8 missiles on board and 2 stud shooters. This 75233 gunship has the needed firepower for an intense battle.
Also, it features 4 minifigures. Yoda, Chief Tarfful, and two Kashyyyk Droids are included. Each minifigure owns a weapon. The droids carry blasters while Chief Tarfful has a Lightsaber. Yoda on the other hand has a long gun.
This toy will engage both kids and adults. Engage in creating fun adventurous missions across the galaxy. Take part in rescue missions or any other creativity.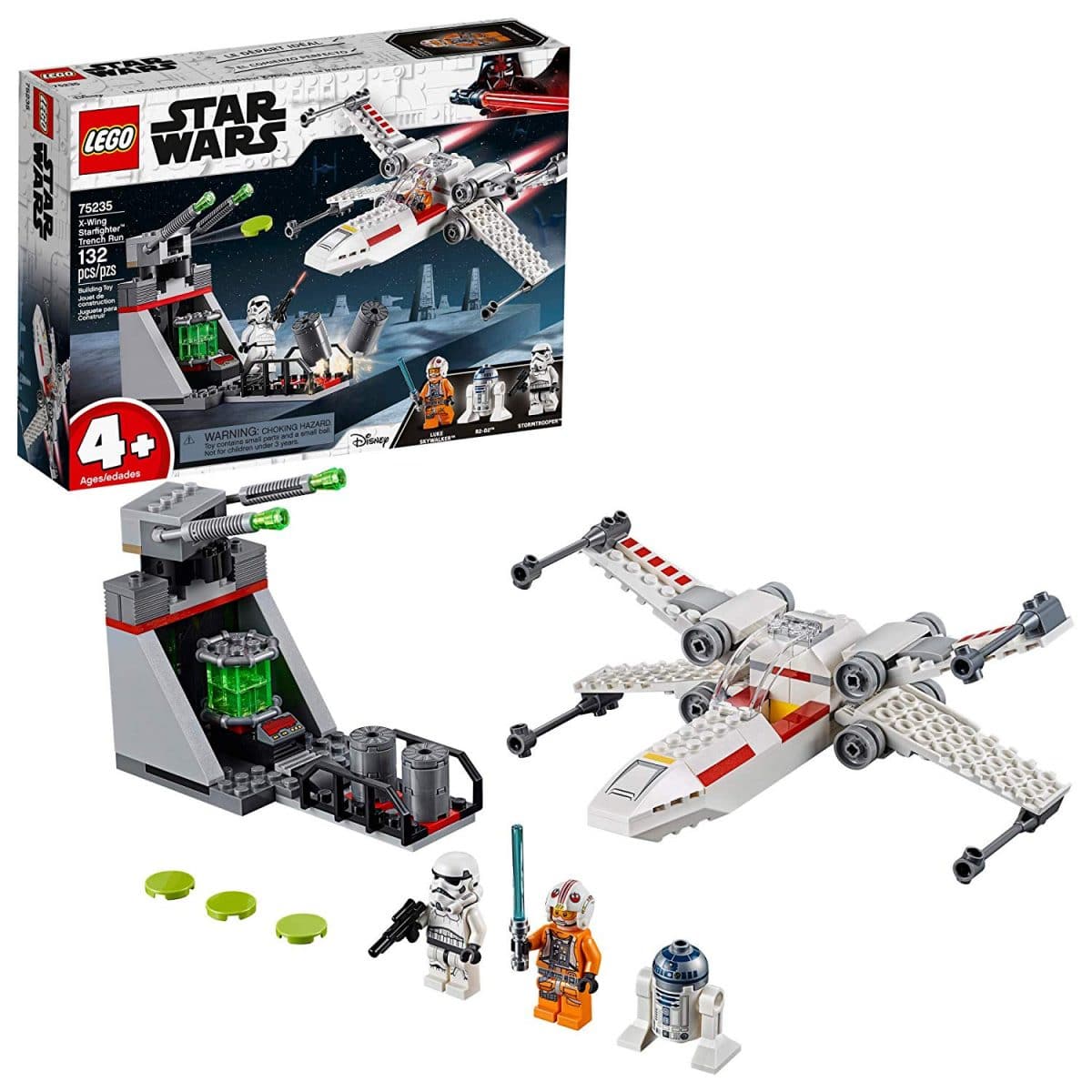 The toy includes a simple guide that even beginner LEGO users can follow and assemble the toy. Kids can learn how to follow instructions by using this guide. This way, they will create their adventures.
Additionally, the toy recreates the X wing movie. The wings fold while the turret rotates just like in the movie. These features will replicate the action in the movie. Having the ability to create an action-adventure will develop your kid's imaginative skills.
The X-Wing Starfighter toy has 3 LEGO Star Wars figures Luke Skywalker, Stormtrooper, and an R2-D2 Minifigure. They are equipped with their war tools to fight galactic wars.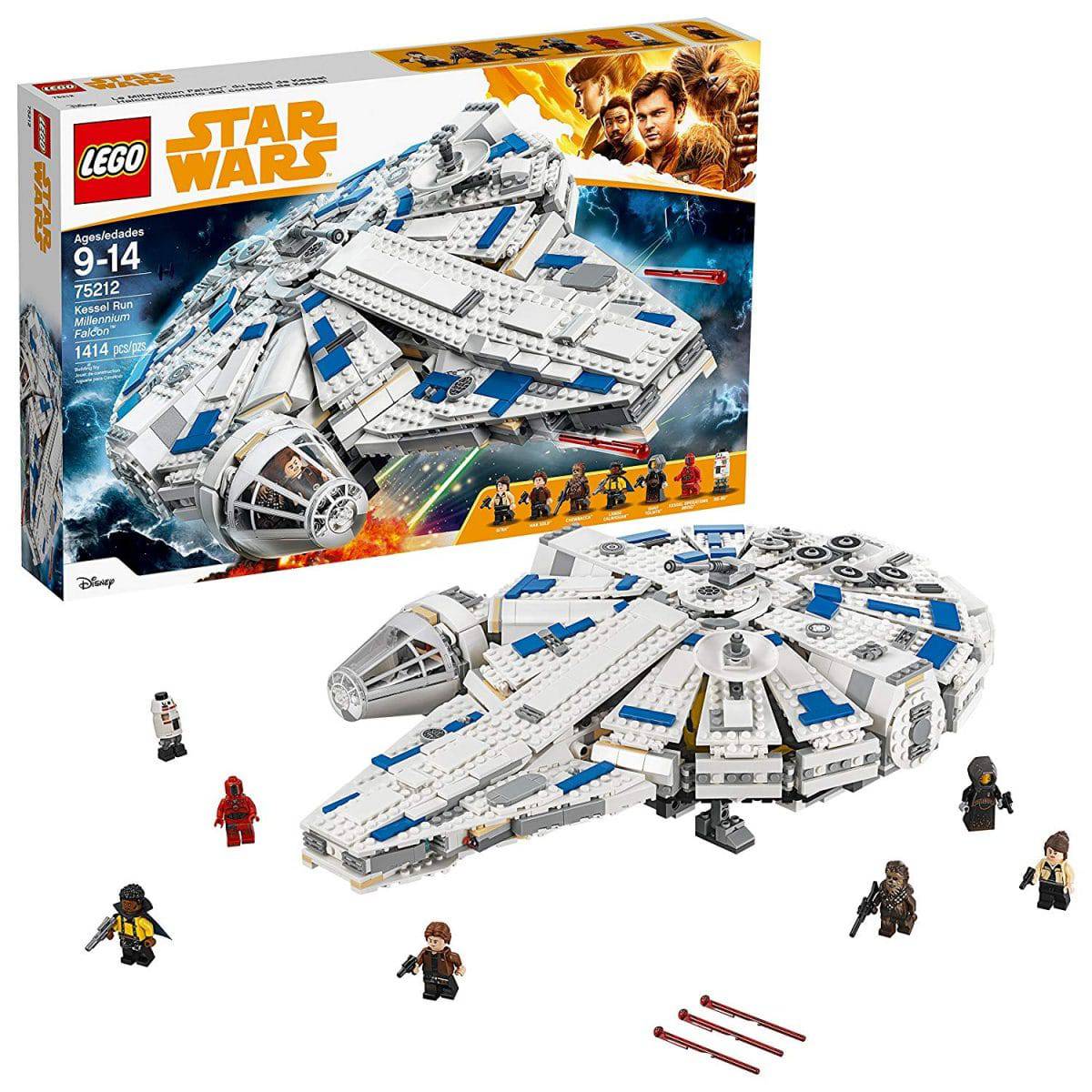 The Millennium Falcon is the fastest ship in the Galaxy. It can run at speeds of less than 12 parsecs. The ship can jump into light speed when the hyperdrive is disengaged. This way, you can escape from Quay Tolsite who is a villainous character. You can also choose to use the laser turrets to fire at your enemy.
When there are no battles, you can choose to relax on the battleship. The cockpit has an espresso machine. You can prepare yourself a cup of coffee as you travel. Alternatively, you can enjoy playing Dejarik. Chewbacca is known to lose and it wouldn't hurt to give him a win.
The toy has several Minifigures namely: Kessel Droid, Lando, Chewie, Han, Quay Tolsite, Qira, and DD-BD Droid. Having learned the role of each character from the movie will heighten the action.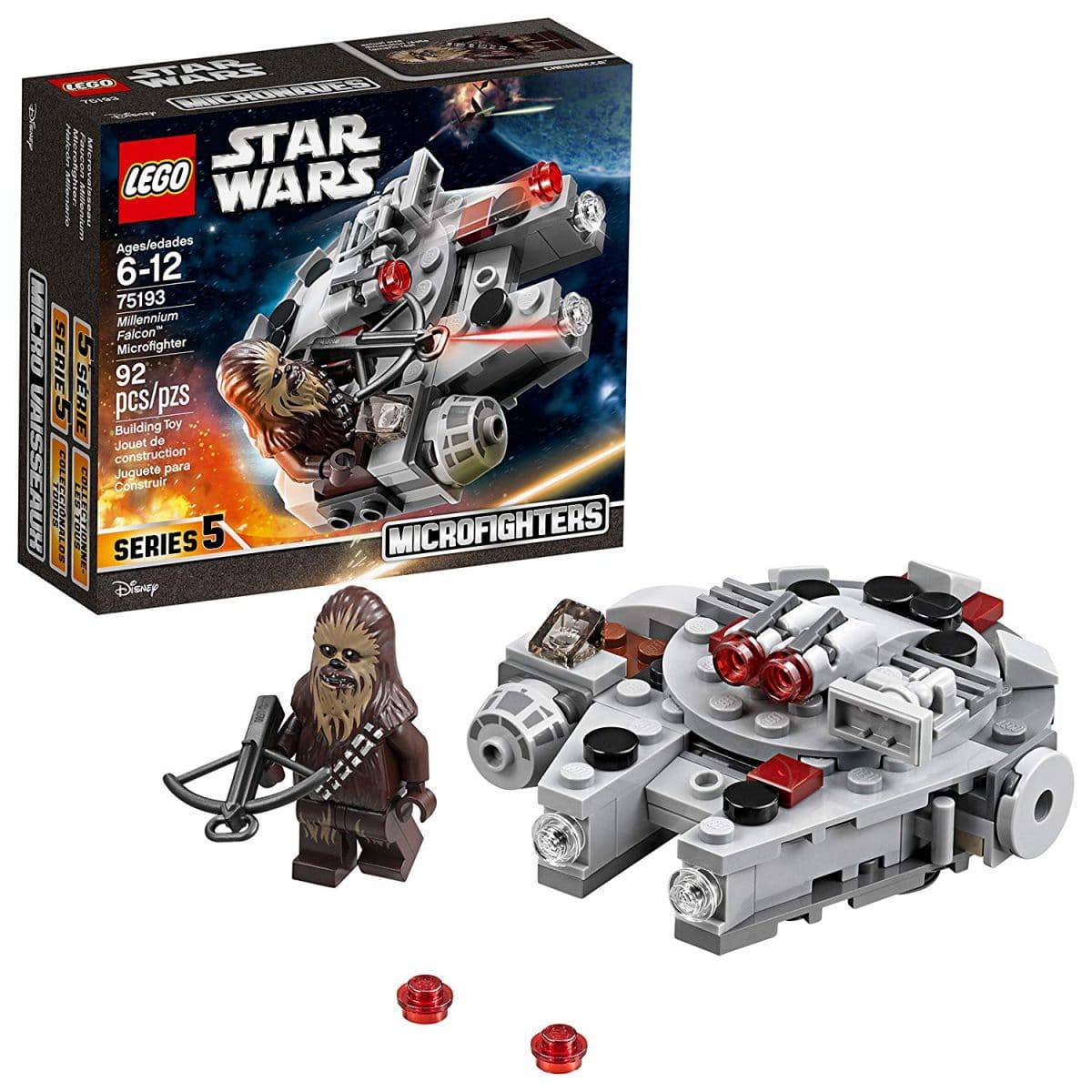 Rush into a war zone with the Millennium Falcon Microfighter. It includes one Minifigure, Chewbacca. The Wookie comes equipped with a bowcaster ready for action. He is in charge of the cockpit where he can load the stud shooters as he prepares for battle.
You can easily assemble the toy and start playing right away. The 92 pieces are easy to assemble. The guide has clear instructions on how to go about it. This toy will develop your creativity and imagination. It will also aid in coordination skills.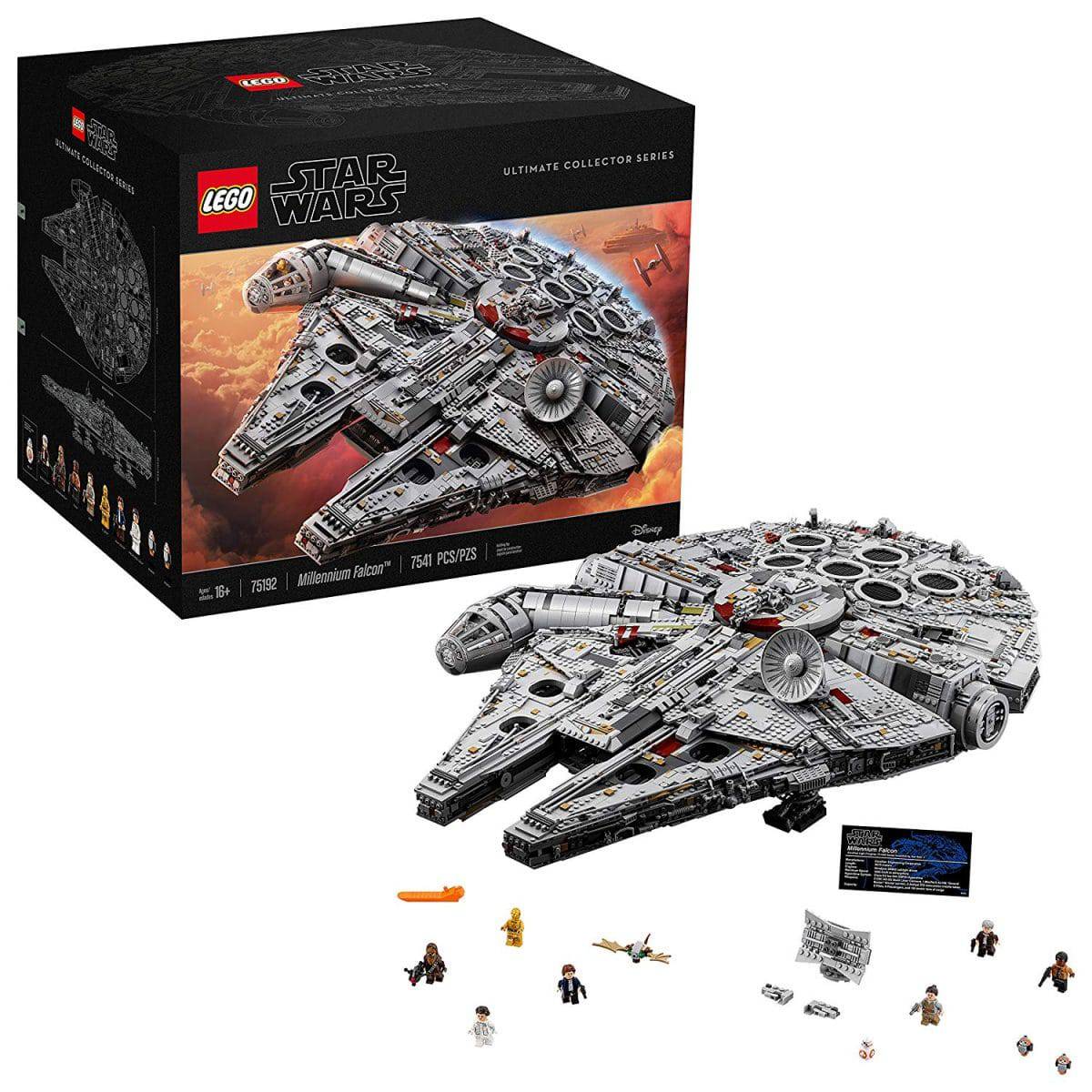 There is so much you can create with this Millennial Falcon. It has too many features to accommodate your imagination. It has a concealed canon for battle, a cockpit that can hold 4 Minifigures, boarding ramp, interchangeable sensor dishes both rounded and rectangular, and removable hulls.
This battleship has 7541 pieces to put together. It is one of the biggest LEGO constructions and will take your time and energy constructing but the end product will be worth it.
It includes 7 Minifigures from different episodes to keep the adventure exciting.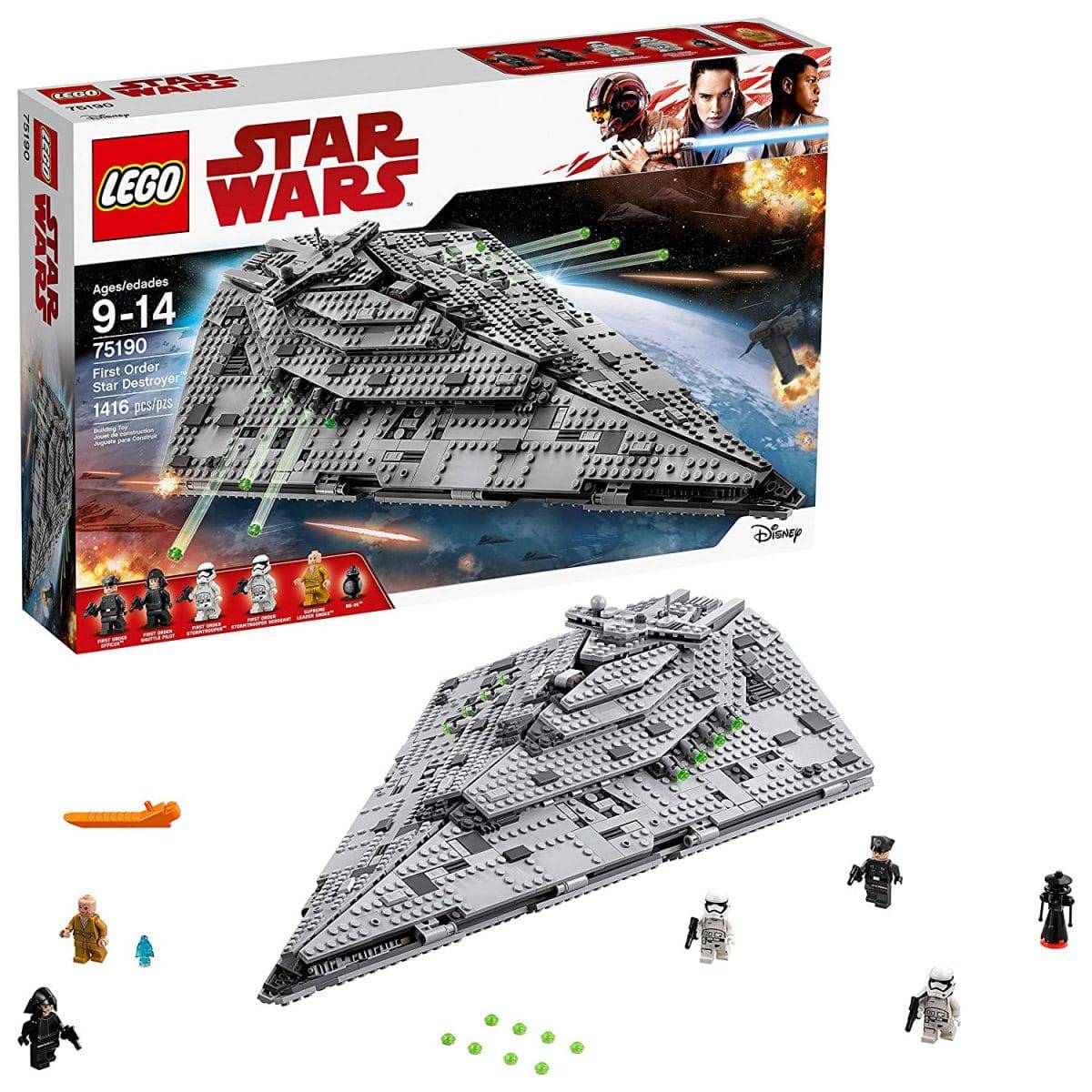 The star destroyer features a control room, conference area, passageway, working elevator, and a bridge with seats for the crew. The passageway helps ease movement between the conference room and the control room. You can also use the elevator to move across levels.
Since this is a star destroyer, it is equipped with eight stud shooters, 2 blaster pistols, and 2 blasters. It has been made to last intensive action on the battlefield. It is mainly designed for kids aged nine to fourteen.
The ship has 2 droids and 5 Minifigures. They are all replicas of the characters in the movie. You can assemble this toy alone or with your kid. This will be a great bonding experience.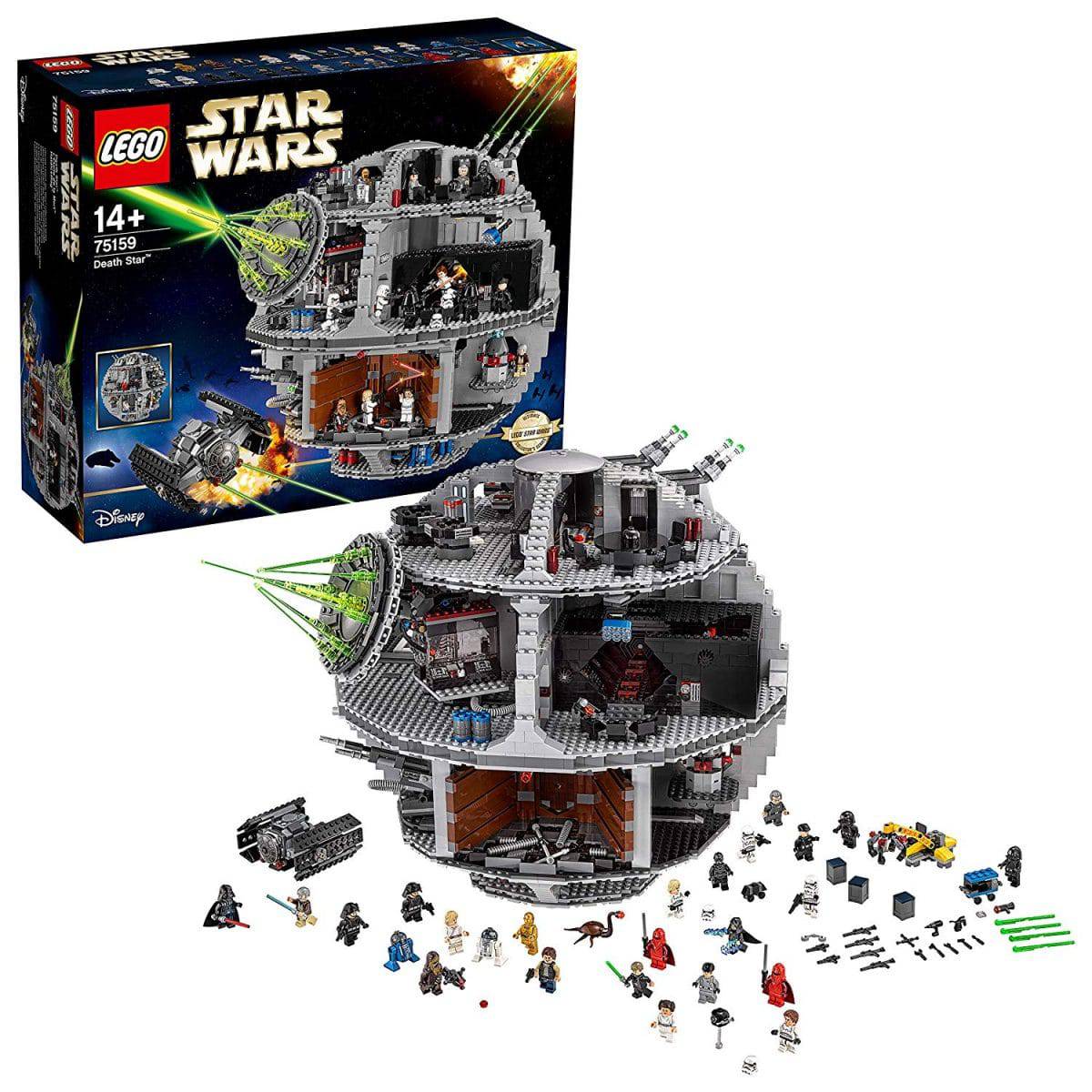 This toy is suitable for 14-year-olds and adults. With 4,016 pieces, you get to create the spherical death starship. It includes favorite star wars Minifigures like Luke the skywalker, Princess Leila, and Chewbacca. You can recreate your unforgettable scenes in your home with the death star.
It features different rooms like the trash compactor, laser control room, conference chamber, detention room, and Palpatine's throne room. These are just a few of the many compartments in the ship. These rooms will provide endless playtime activities.
The death starship is loaded with weapons to suit its name. It has a bowcaster, 2 force pikes, 2 force lightning elements, 3 lightsabers, 3 blaster pistols, 4 blasters, and 4 blaster rifles. Besides, it has two laser towers which can move to the intended direction.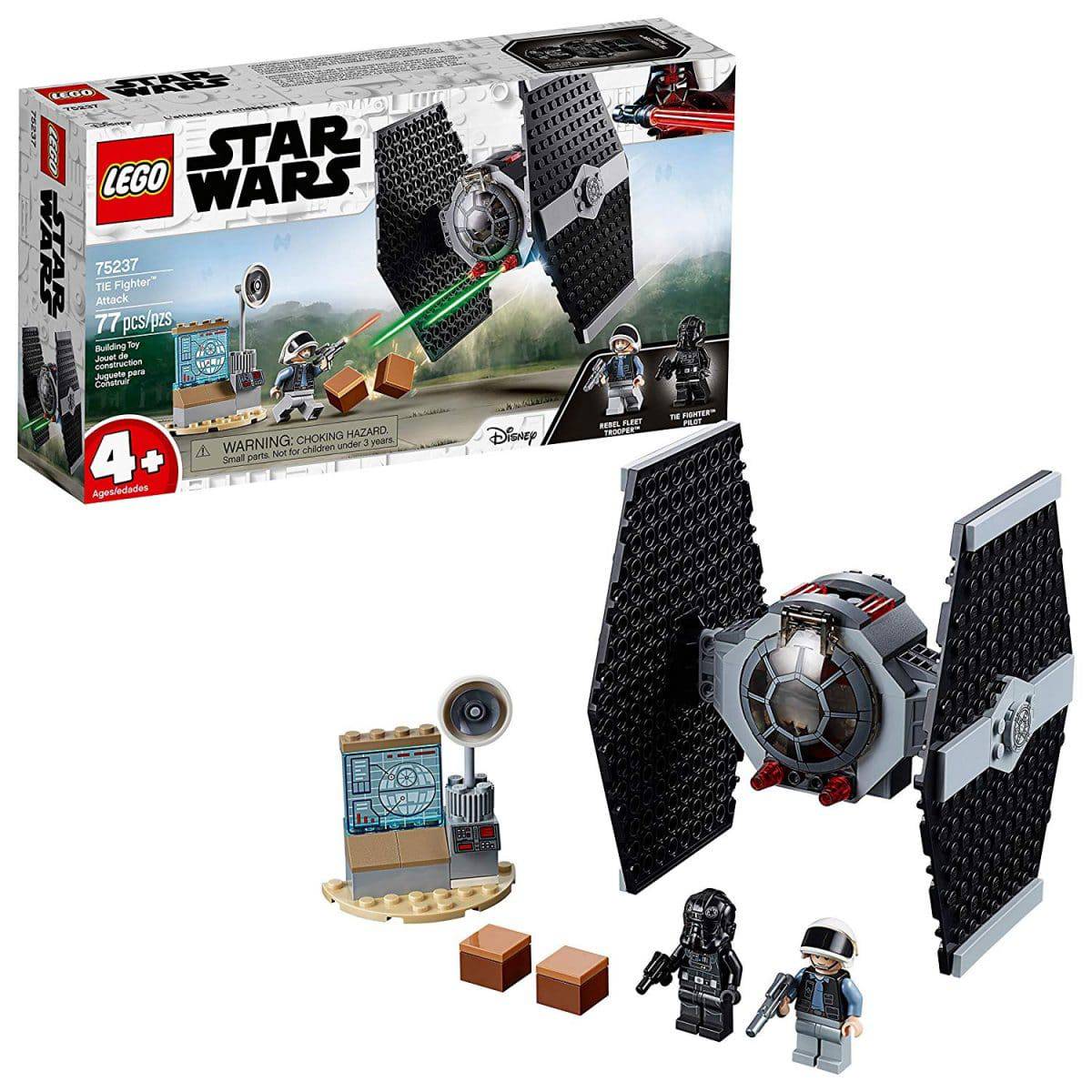 This LEGO toy can be built by beginners since it requires you to follow simple assembling guidelines. Once the fighter toy has been set up, you can create numerous adventurous scenarios.
The cockpit can accommodate one Minifigure to control the space ship. It opens to give room for the TIE Fighter Pilot to stay in play or leave the cockpit once the ship gets to the intended destination.
The ship includes two Minifigures, the TIE fighter pilot and the Rebel Trooper who are equipped with their weapons. They carry 2 blaster weapons ready for action.
This set is designed to help you visualize and conceptualize a replay of your best and unforgettable scenes in the movie in reality.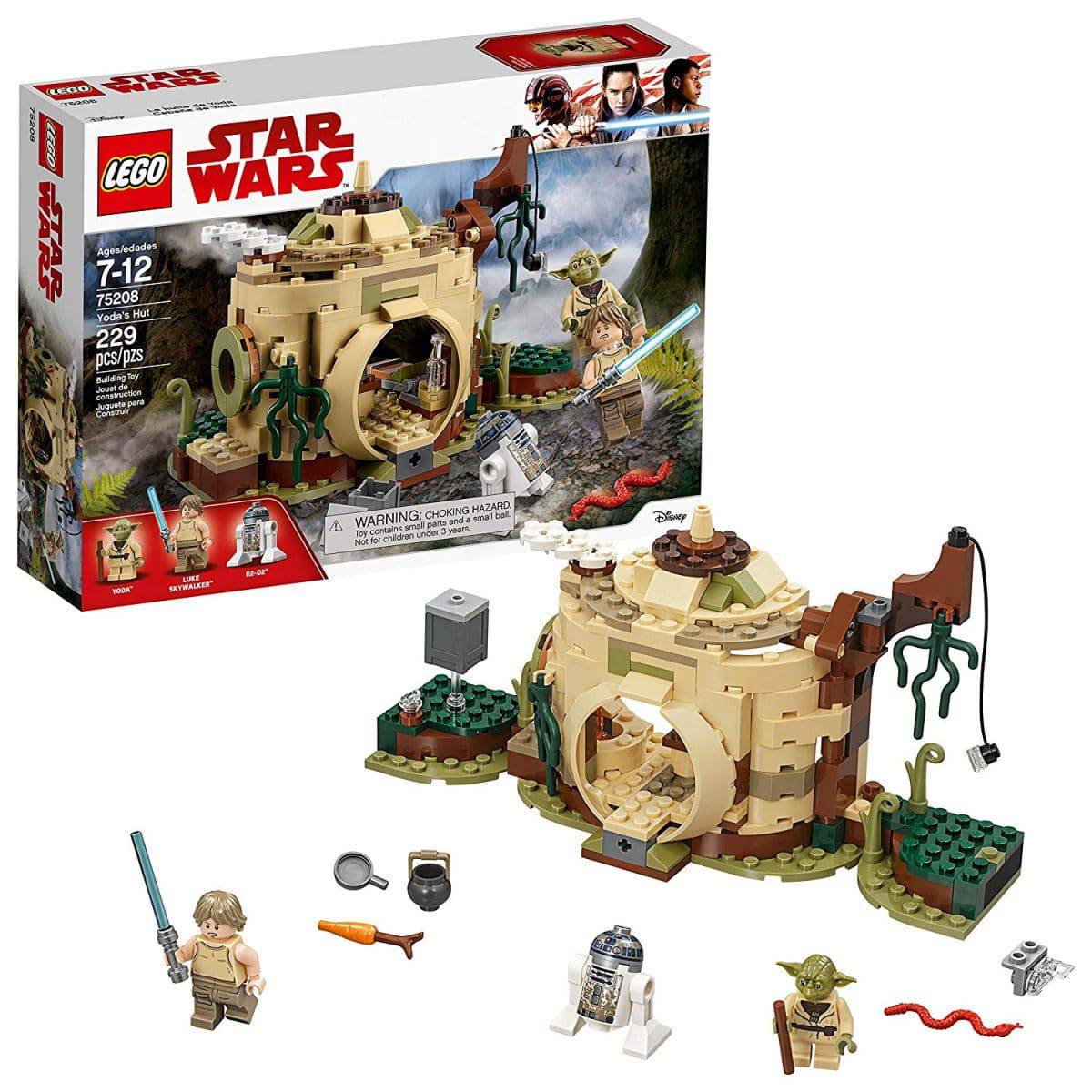 This toy will help you relive the fun from the movie. You get the chance to replay Luke's training, learn your Jedi powers by swinging from the vines like Luke or learn control. There is so much you can derive from the movie and put it into practice.
Alternatively, you can find a friend or your kid to share the moments with. By doing so, you will create numerous fun memories filled with laughter.
The set includes Luke and Yoda who are equipped with 2 lightsabers. There is also an R2-D2 Minifigure to recreate the Dagobah scenario.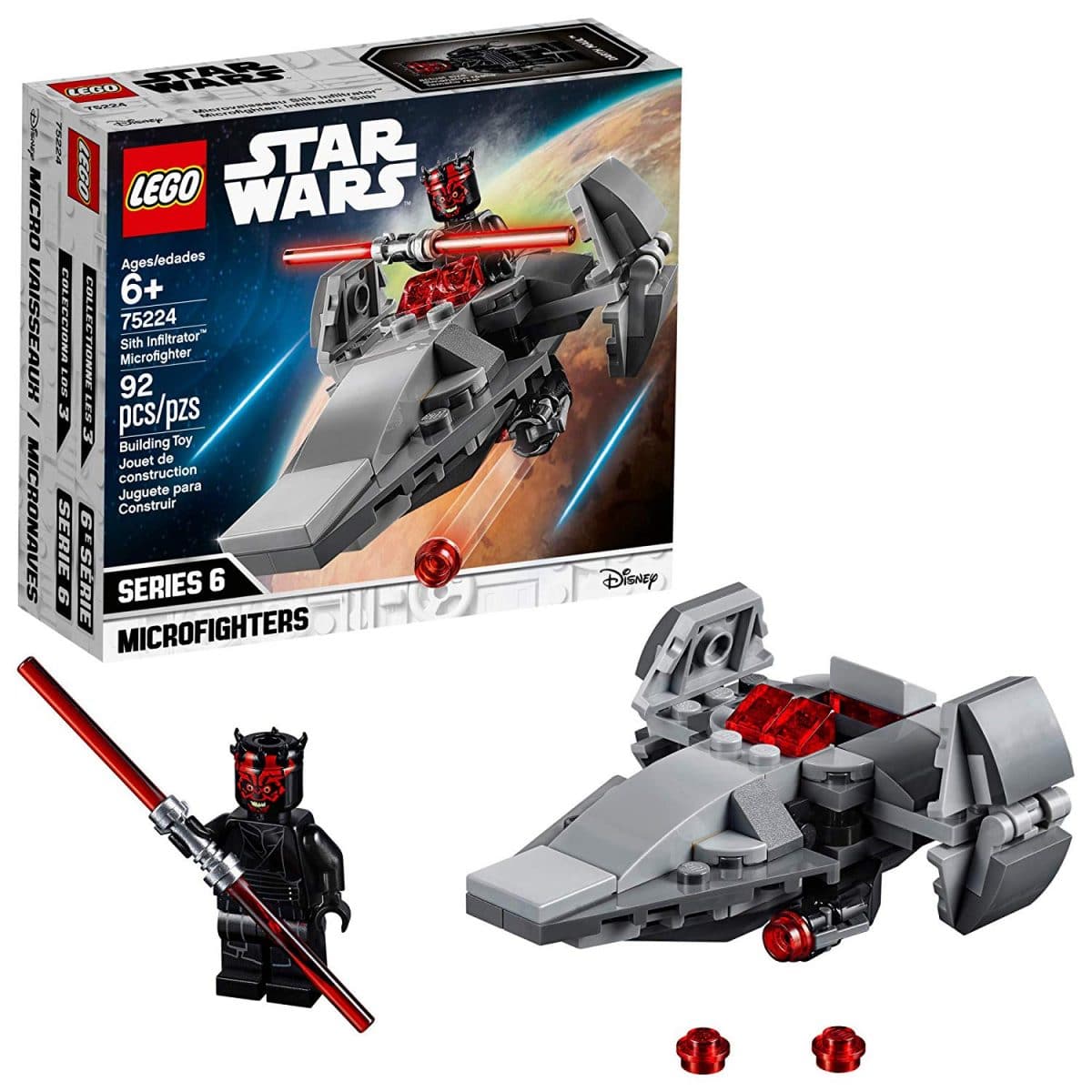 This kit has 92 pieces which will not take long to build. The fun starts immediately after unwrapping it from the package. The toy measures 4cm high, 9cm long and 7cm wide. This Sith Microfighter is perfect for carrying and running around since it is lightweight.
It features one Minifigure, Darth Maul. He carries a double-edged lightsaber to his space missions. Also, the ship has 2 stud shooters. Despite its small size, the ship can attack and cripple villains. This ship is an item to consider gifting a friend or child.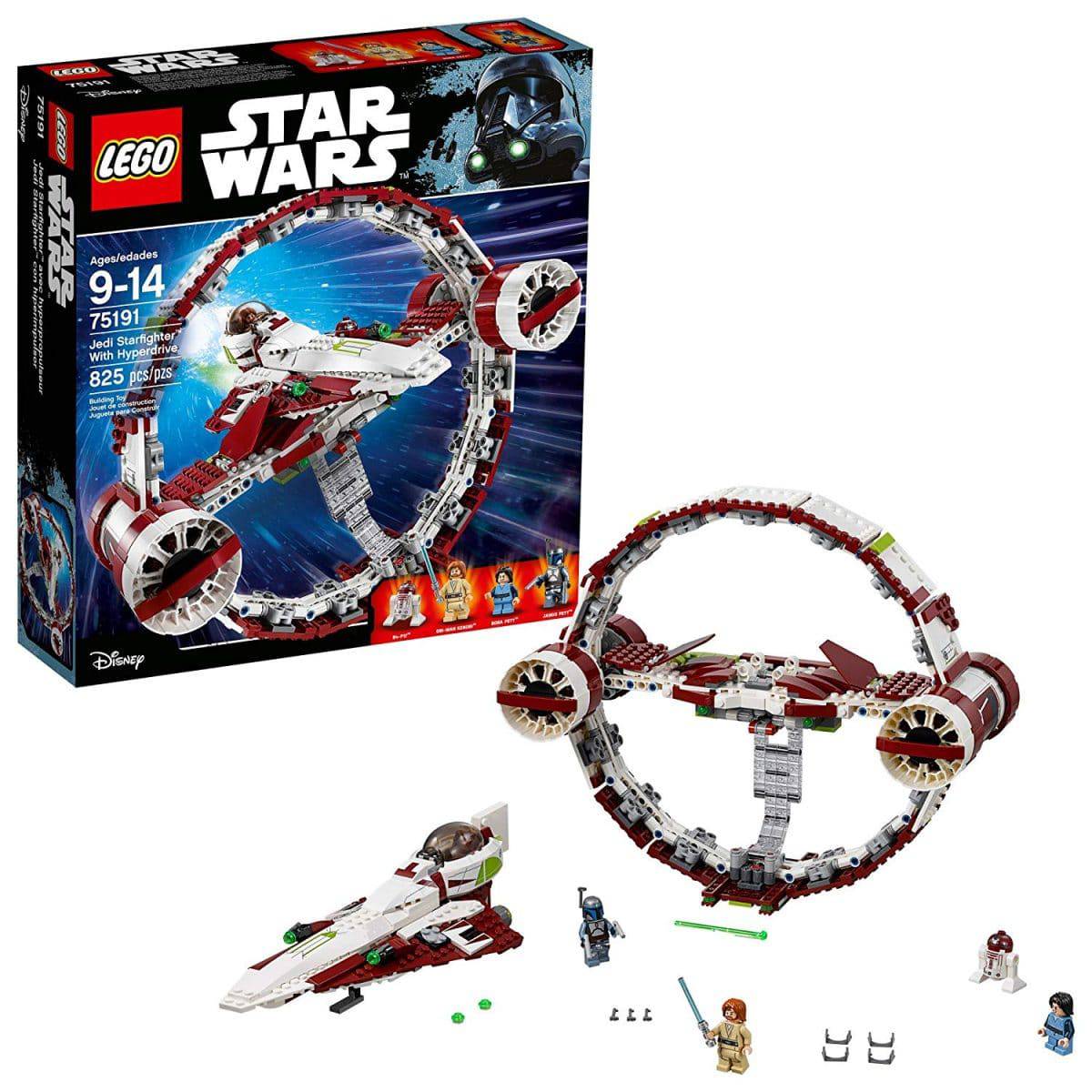 Speed your way across the galaxy at hyper speeds and ready for action. The cockpit can accommodate Obi-Wan and a Droid. You can wage war with the separatists and attack using the spring-loaded shooters. That's not all! The ship has 2 additional stud shooters for more action. You will get to relive enjoyable scenes.
This 825 piece has big engines to power the performance and hyperdrive arm that helps you carry the model around. It features 3 mini-figures, Obi-Wan, young Boba Fett, and Jango Fett. It also includes a droid.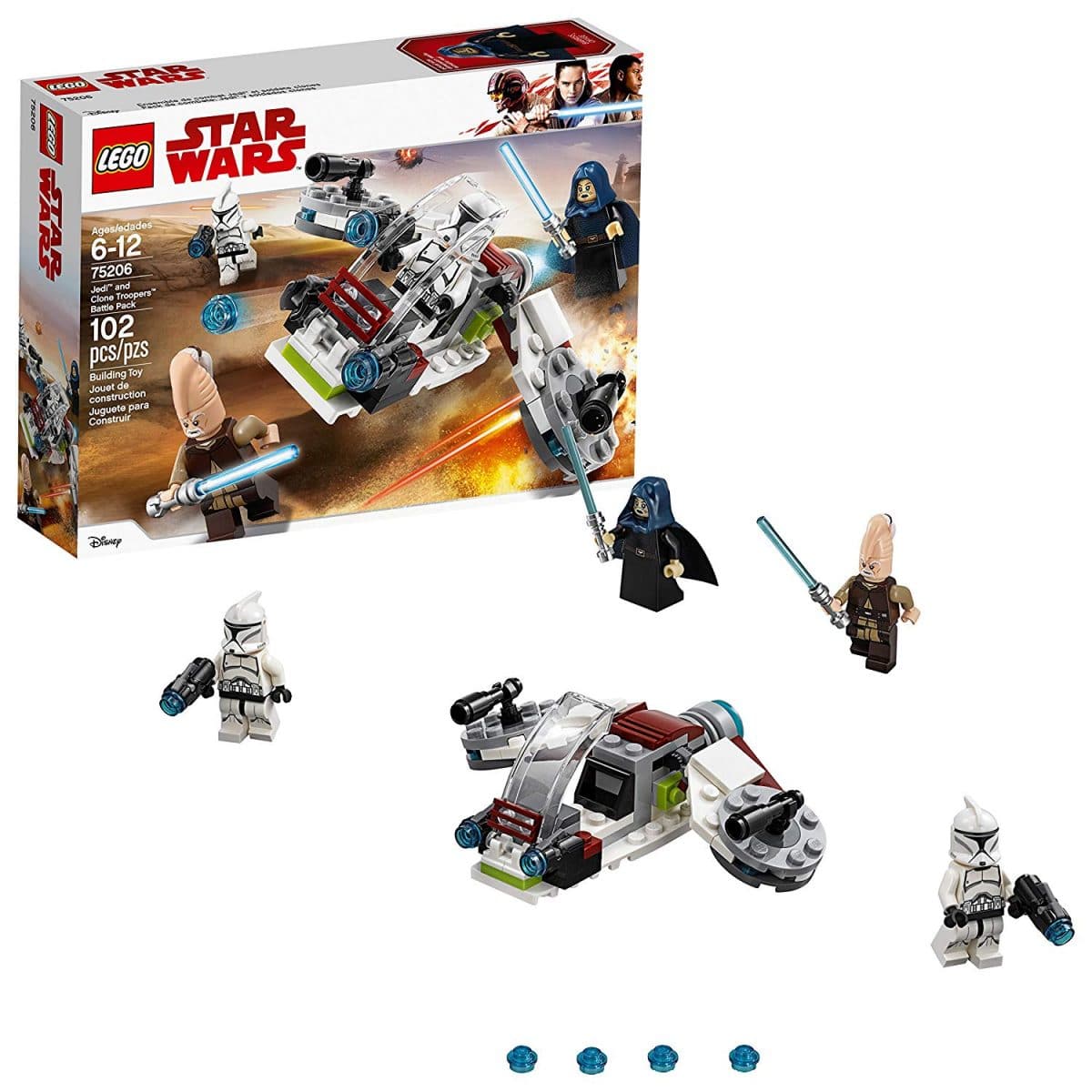 Imagine adventures and relive the action. Fight against the Droids and defeat them. This building kit can strike at top speed. All you have to do is be in charge of the cockpit and aim at villains. It also has rotating wing guns that can shoot in any direction. It also has plenty of stud shooters for battle. No matter how many enemies you encounter, you are assured of plenty firepower.
The ship includes 4 Minifigures: Jedi warriors and clone troopers. The Jedi warriors are Barriss Offee and Ki-Adi Mudi. They are all armed with their weapons.
You can take charge of your adventures. This kit is quite easy to put together meaning you will instantly get into action.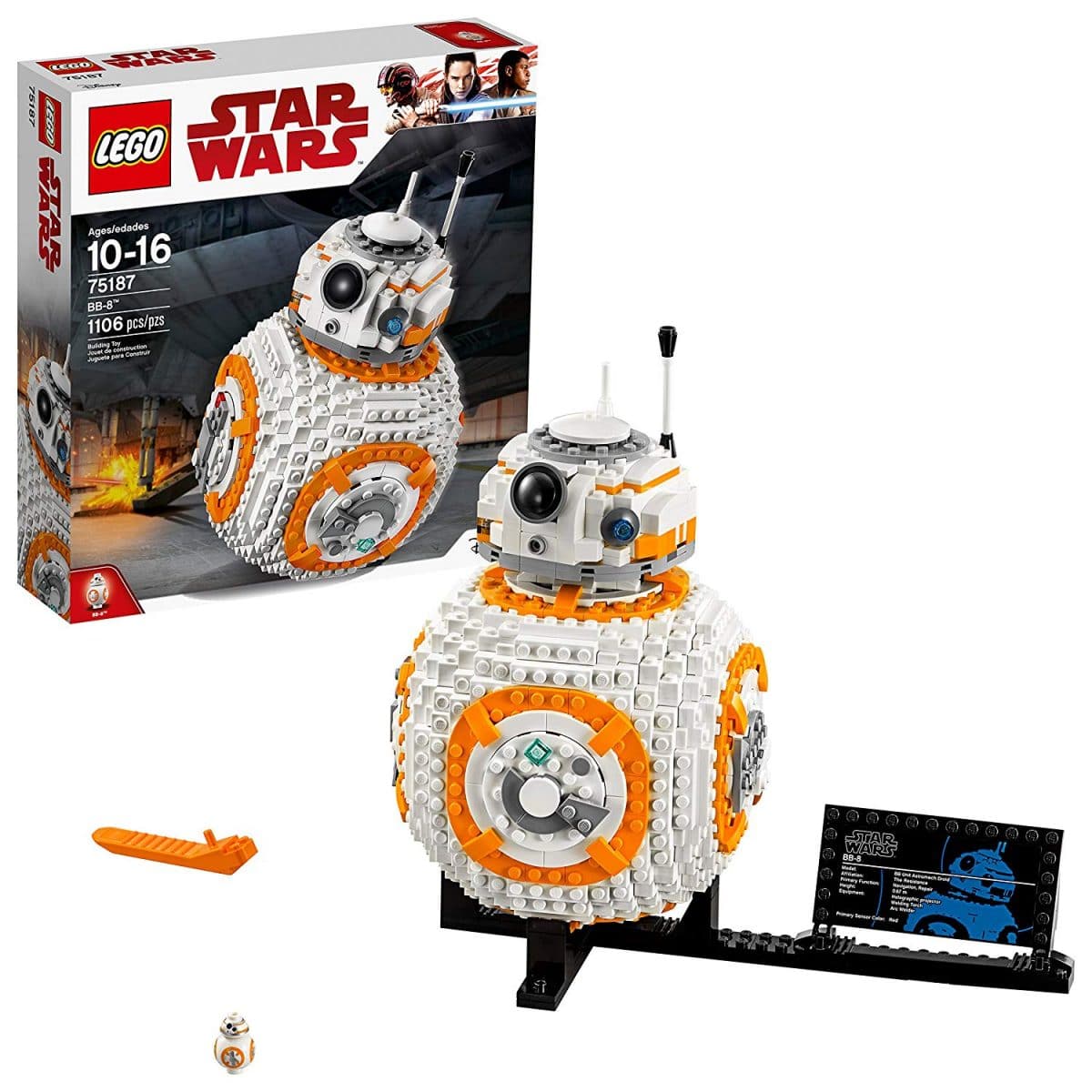 The BB-8 has a rotating wheel activated head. There is also a hatch that opens to display a welding torch. The torch is non-functioning but serves the purpose. This kit does not roll despite its spherical shape.
With more than 1100 pieces to put together, be assured your building skills will be put to test. LEGO includes assembling instructions to guide you. The kit has authentic details and is an achievement to show off to your friends once you are done assembling it. You can also add it to your office, bedroom or living room collection for display.
This star wars set has a BB-8 Minifigure included. It can be used by kids and adults.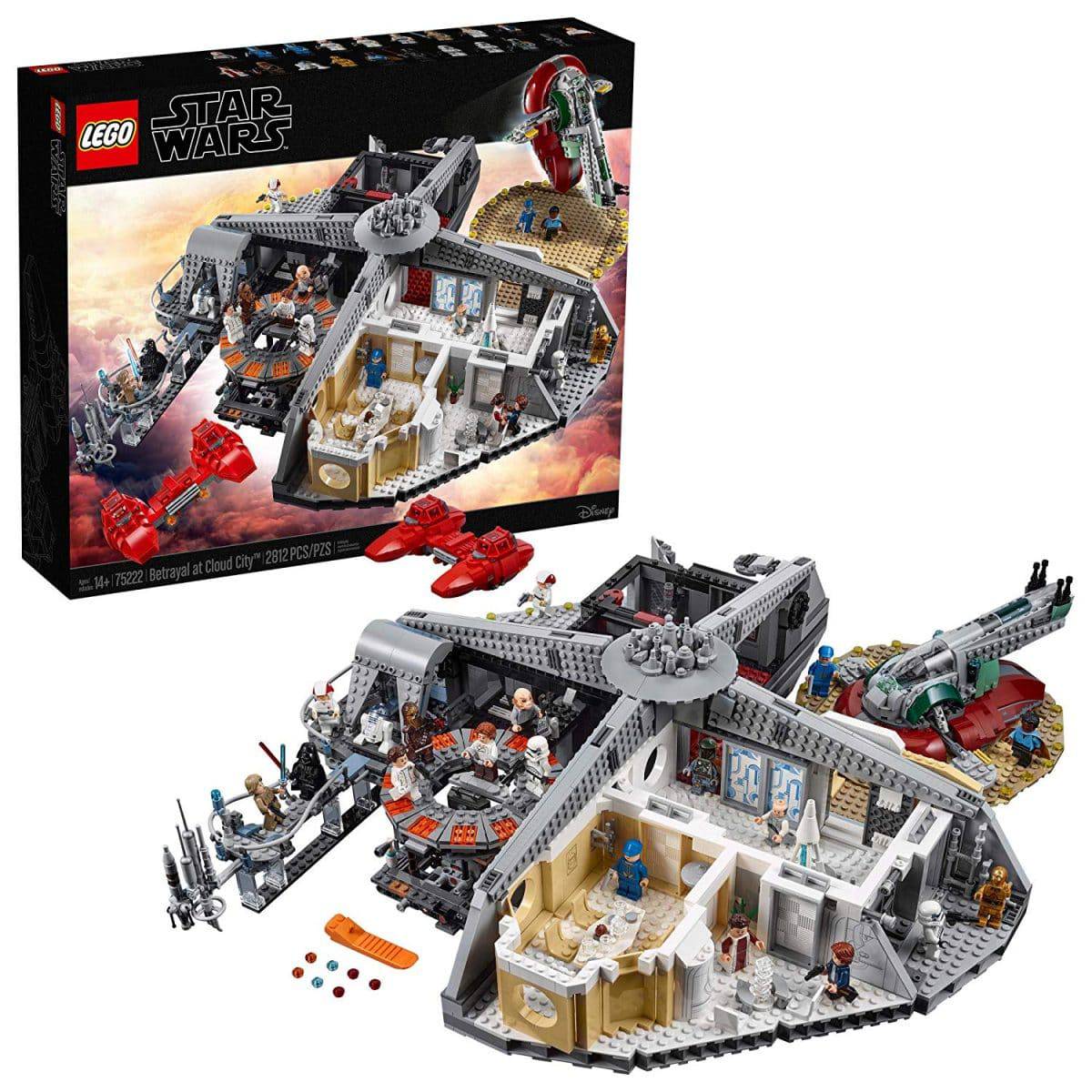 The cloud city has 2812 pieces for assembling. It can be used by both kids and adults. The cloud city has a dining room, garbage room, a balcony, an interrogation room, a carbon freeze room, prison chamber, and a docking site for the slave 1 starship. It also has a twin-pod cloud car to help you keep the skies safe.
Also, the cloud city includes 18 Minifigures and 2 droids. There is a danger, suspense and action here. It is unknown what the Dark Lord is planning and uncertain whether Chewbacca and Leila will save ha from the carbon freeze room. There is also a battle for the sensory balcony between Luke and Vader. Lando Calrissian is unpredictable. He can switch sides at any time becoming a friend or an enemy. Creating these scenes will engage you in endless hours of fun playtime.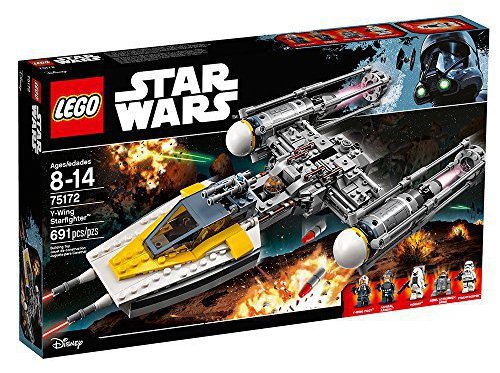 This building kit comes with 691 pieces designed to build up the iconic Starfighter. It has rotating guns, extra ammo, and a weapons loader. You can assign the ship to fight against the evil galactic empire. When you open the gear wheel, the hatch opens to release bombs. There are also rotating ion cannon and 2 spring shooters. Your crew has the needed weapons to wage war.
It includes a rebel droid, Stormtrooper, Moroff, Admiral Raddus, and the pilot. The starfighter sits in the opening cockpit. The figures are distinctively designed and can be differentiated from their attire. This toy will provide endless fun.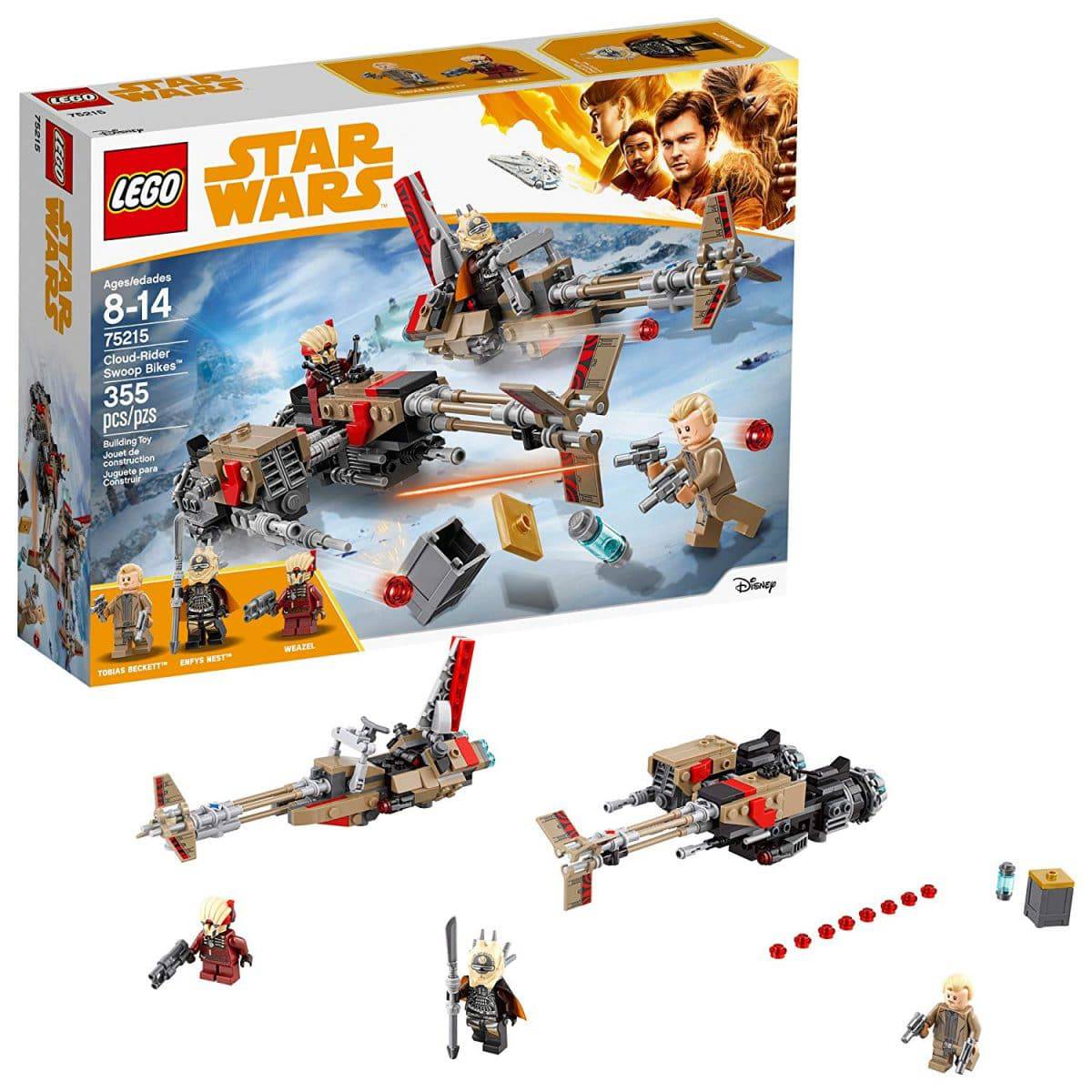 This cloud rider comes packed in three bags. The first bag contains Weasel's Minifigure and his parts. The second bag contains Tobias Beckett and a sidecar attached to the swoop bike while the third bag has Enfy's nest together with the largest bike.
The sidecar lacks steering controls. To make up for this, it is attached to the main swoop using click hinges. Weasel's swoop bike has level controls where weasel stands since he has short legs. It also has a stud shooter on the left side. Enfy's swoop has lovely rear engines to propel this gangster lady.
You get the chance to protect the coaxium from the gangsters despite their powerful machinery. Re-enact the epic scenes from the movie for more adventure.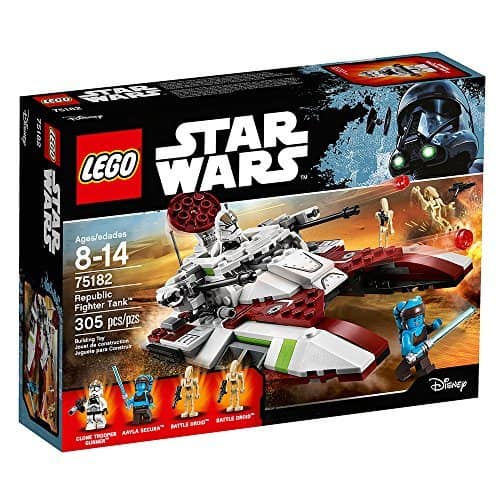 Expand your Lego collection with this fighter tank. It includes 2 Minifigures; Aayla Secura and a clone trooper, and two droids. It is easy to assemble it and you can get right into the action. The pieces are unbreakable and fit perfectly. It is suitable for kids between 8 and 14 years. However, this does not mean the ship is restricted to this age group.
Despite its small size, it is sturdy. The tank looks just like in the movie. It has 2 elevated guns ready for battle, and hidden wheels to make it look and feel like a rover. There is a hidden ammo store at the rear as a backup. There is an open hatch on top that can accommodate a Minifigure in the cockpit.
This fighter ship will help recreate epic scenes in the movies.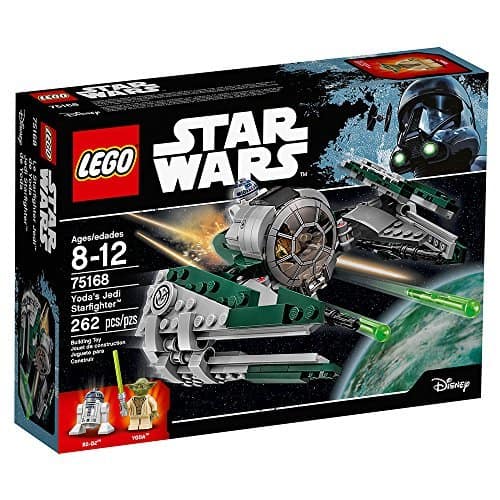 The Jedi's Starfighter is an ideal ship to fly you to the stars. Place Yoda and the D2-R2 droid in the cockpit and you are ready to go. The ship is equipped for battle since it has spring-loaded shooters and 2 laser cannons. The wings are foldable and will avoid a collision when the ship is maneuvering through limited space.
Yoda is also armed with his lightsaber just in case he is to get involved in a battle. There is also extra ammo on the ship for intense battles. It is fun and easy to set the 262 pieces. You will get value for your money if you choose to purchase this kit.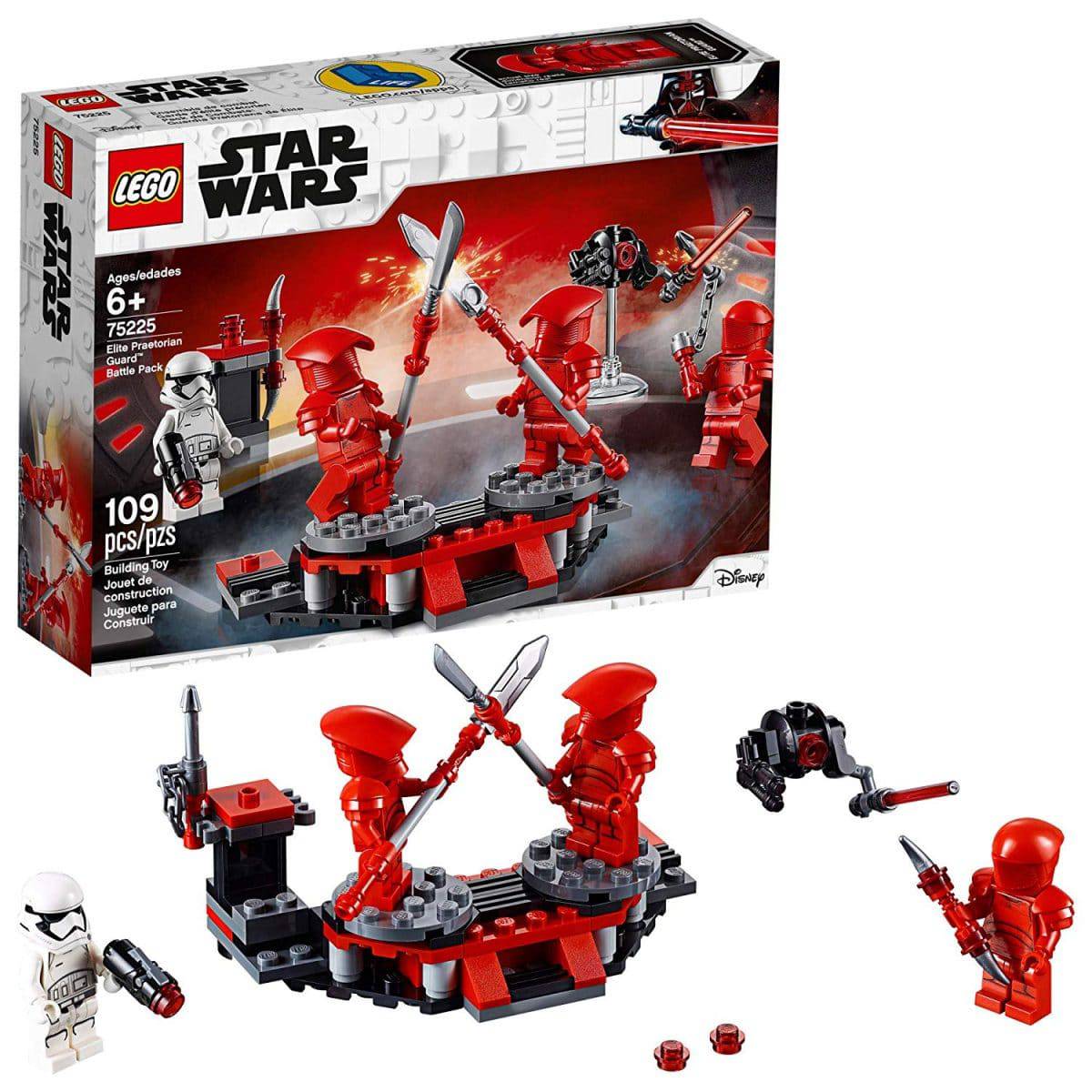 This LEGO toy includes 4 Minifigures: a First Order Stormtrooper, 3 Praetorian guards and a training droid. There is a wide range of weapons for the Praetorian guards to choose from. They are clothed in red while the Stormtrooper is in his usual white costume. There is also a spin turn-table where your characters get to play pretense battle during training.
There is a weapon rack in this kit with detachable weapons. There's a Vibro Axe, twin Vibro blades, and an Electro staff. Learn to use these weapons just like in the movie scenes.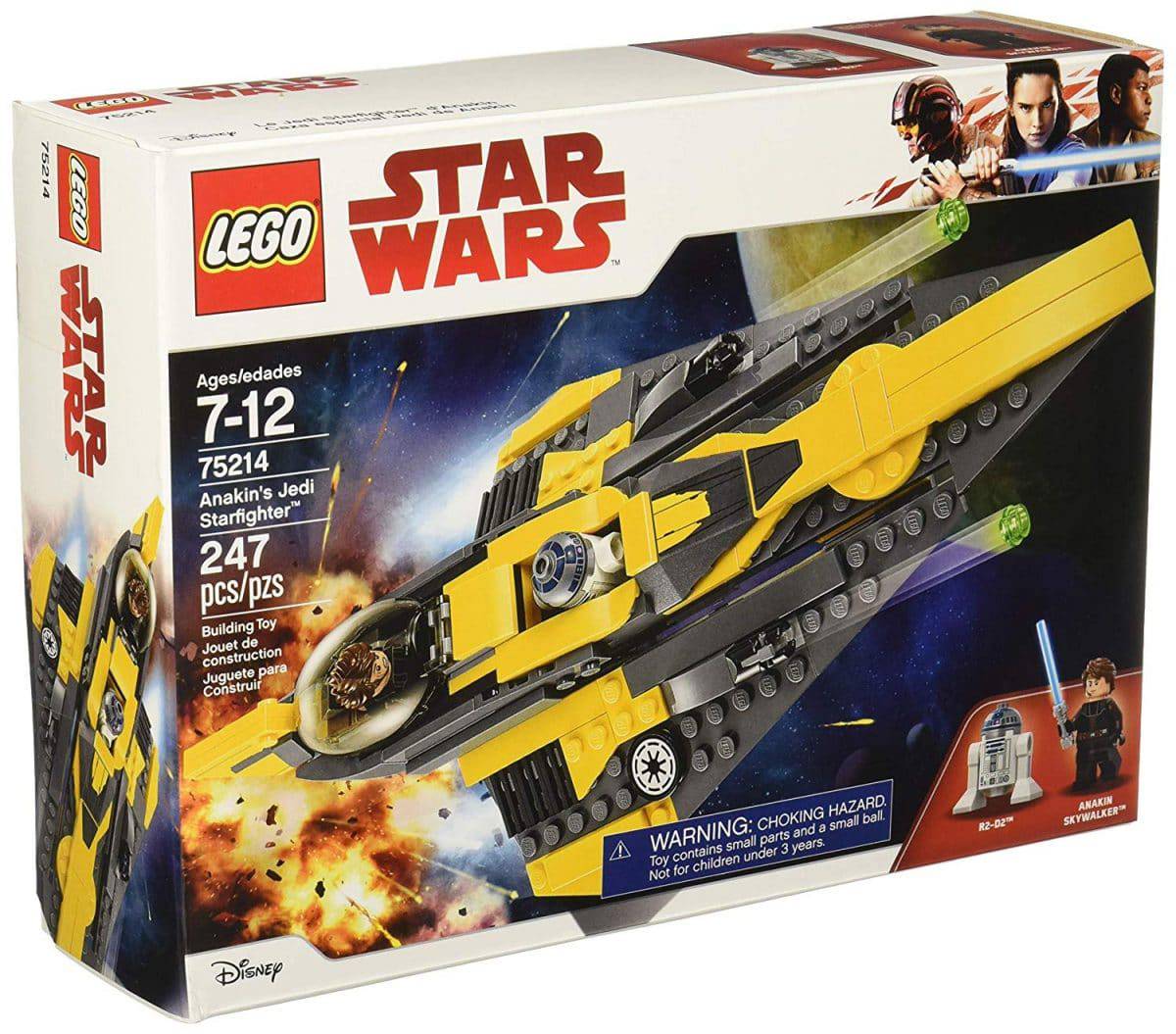 The ship has a retractable landing gear to enable you to fly across the galaxies and land at ease. It has one Minifigure, Anakin Skywalker who is in charge of the cockpit. There is also an R2-D2 droid.
The wings can fire stud shooters to the enemy. You have the privilege of taking the battle to the enemy front.
It is easy to assemble the 247 pieces. You can create it with your kid and boost their self-confidence. It is ideal for kids between 7-12 and adult fans of the star wars.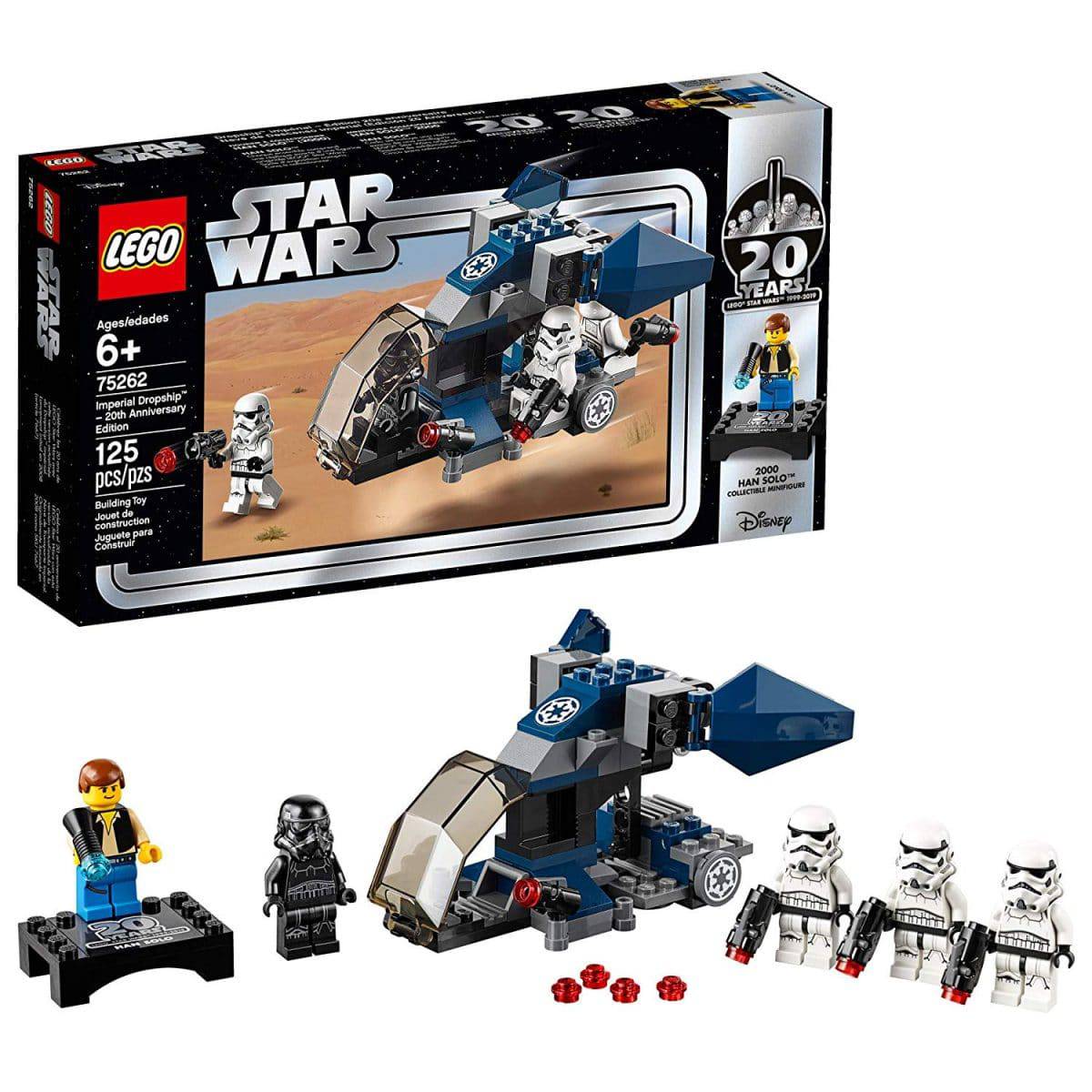 With 125 construction pieces to put together, this toy will provide ground for endless creativity and imagination. It includes 5 Minifigures, 3 of whom are storm troopers, one shadow trooper and Han Solo who is a bonus and rare figure.
The Dropship has an opening cockpit that can sit one Minifigure. It also has a detachable platform where Stormtroopers can seat or store their weapons. It can also be detached to transport the troopers.
The toy can be used by children at 6 years and above. It aids cognitive development and building skills. It is a fun ship to build that won't take much of your time.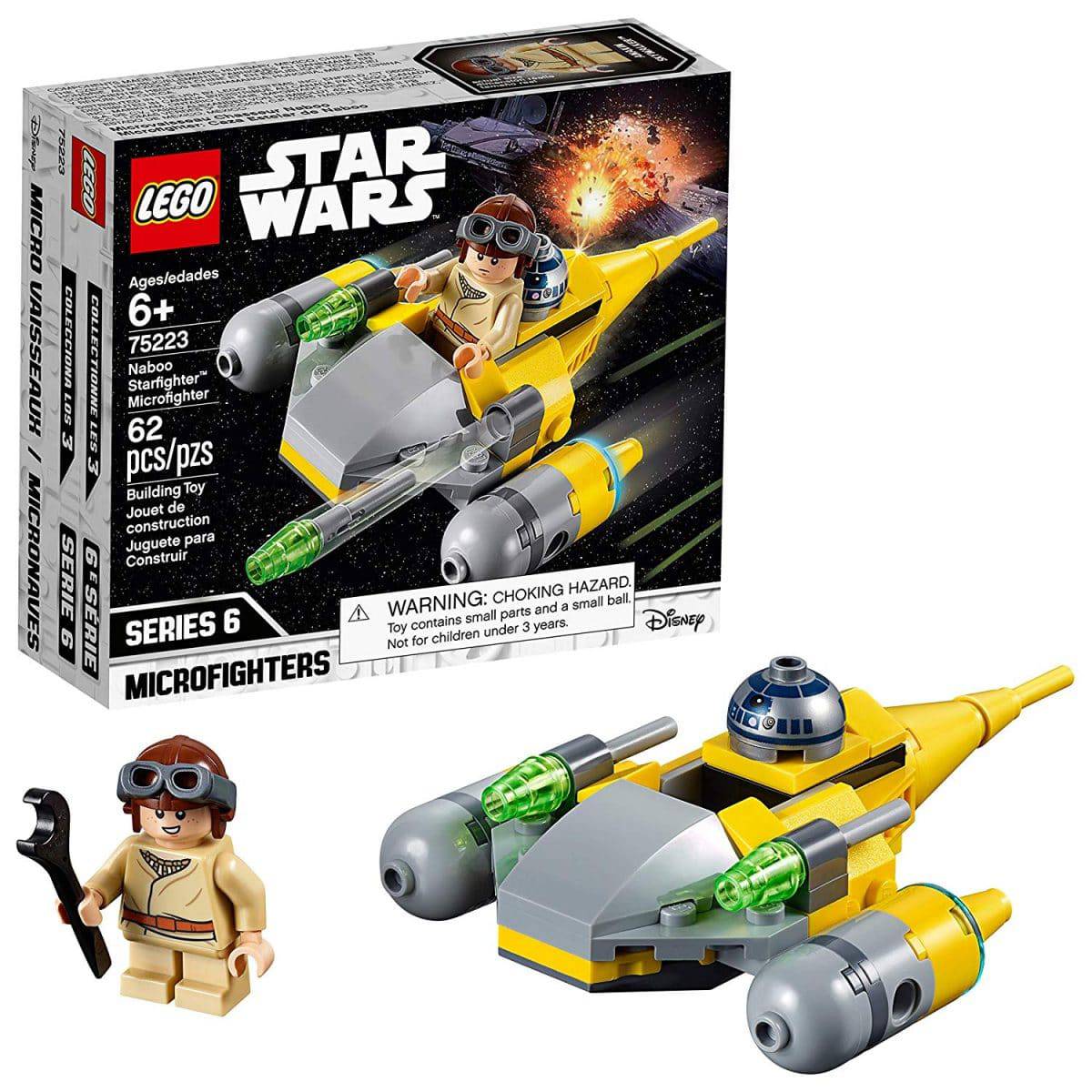 This Microfighter can be used by both boys and girls. It has 62 pieces which are pretty easy to build. All-Star Wars fans can enjoy this set.
It includes only one Minifigure, Anakin Skywalker, and a droid. He can sit in the cockpit and launch missiles or use his wrench. Despite its size, it can still perform as the super Starfighter.
This is a great piece to recreate epic star wars scenes. The details are authentic thereby displaying a perfect gift for a loved one. You can gift it on a birthday event or during Christmas.
The model includes a frozen bed, 3 Minifigures Han Solo, Boba Fett, and an Ugnaut, a staircase, elevator, and a control room. The freeze bed has a freeze option to put Han Solo in peril. Han solo's fate is in your hands. Whether he gets to be rescued or frozen for all eternity depends on you. Get in the action with Boba Fett who is determined to freeze Han Solo.
This Freezing Chamber will engage you for countless hours. You will have the chance to recreate scenes from the Star Wars: Episode V The Empire Strikes Back. You also get the chance to create new exciting adventures.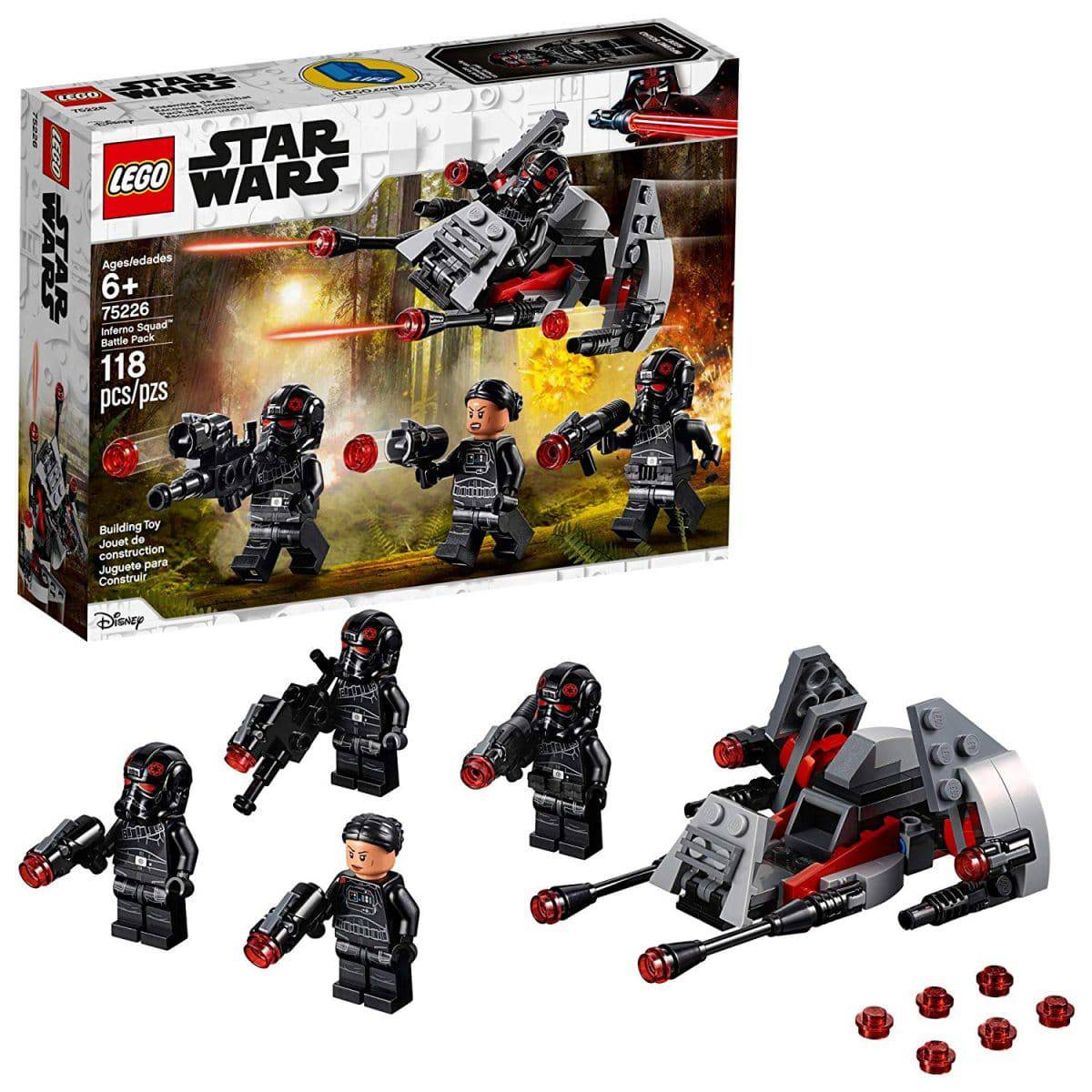 This battle pack includes 3 inferno squad agents and Iden Versio who are well printed. The characters are equipped with a stud blaster rifle and stud firing blasters. The ship also has an additional weapon which are dual stud shooters for more fun.
Assembling this toy is quite easy and you get kick instantly in action. Help the squad agents fight alongside the heroic Iden. Create new adventures as you recreate favorite movie scenes.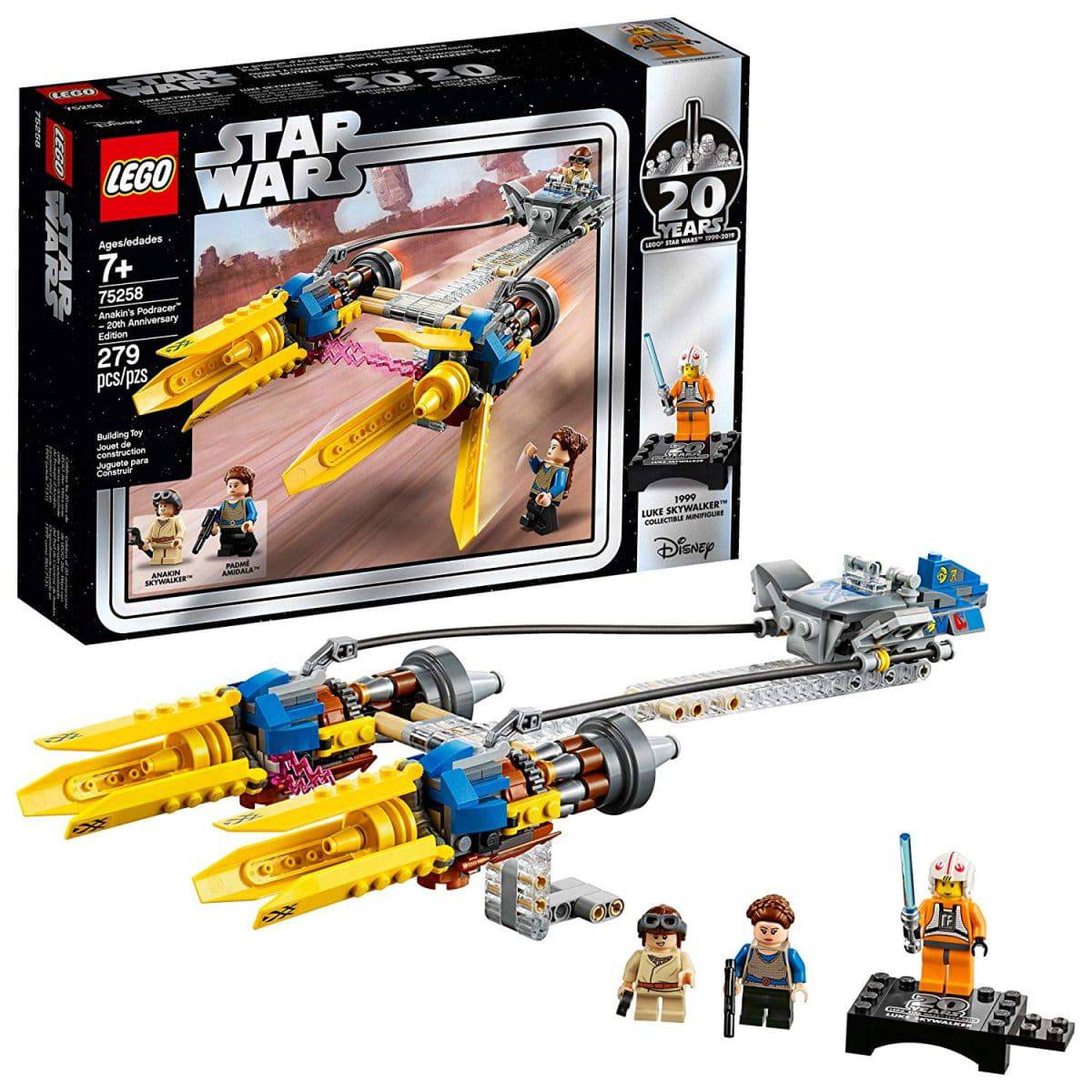 This building toy features Anakin's Podracer that has big powerful engines, an open cockpit, extending flaps, and a convenient handle to carry it around. The cockpit can hold just one Minifigure. It has a detachable stand to give it a hover look.
The phantom menace has 3 Minifigures: Anakin Skywalker, Luke Skywalker, and Padme Amidala. The Luke Minifigure is the original version produced in 1999. It is no wonder a celebratory bonus.
The display stands can attach. You can arraign the characters on the stands for more role-play.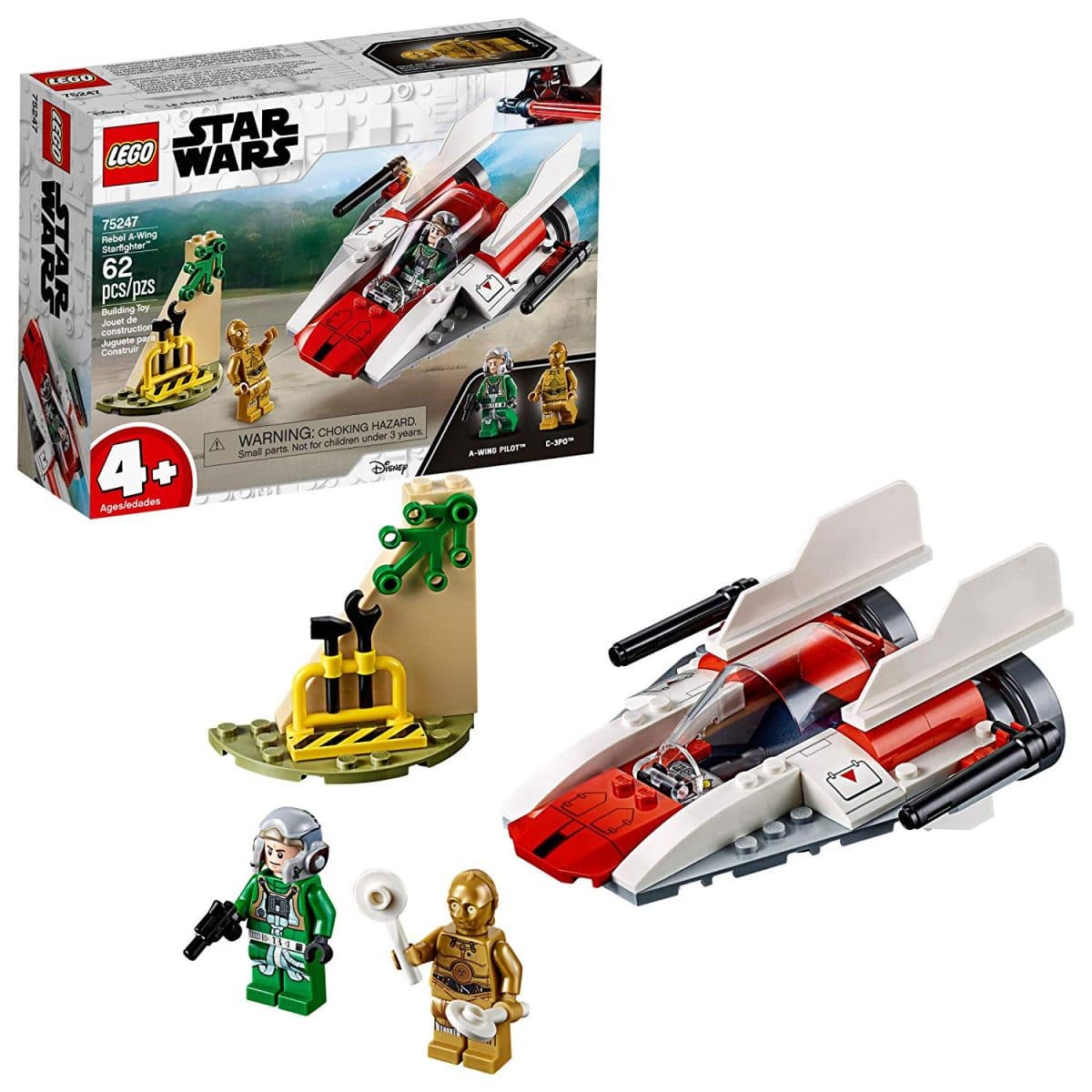 This building kit features original LEGO bricks and is easy to assemble. It is suitable for kids aged 4 and above. It comes with an easy guideline for your kid to follow the steps. Once your kid finishes building the ship, his confidence grows. They also learn how to follow instructions. Both boys and girl can use this Starfighter.
The brick features 2 Minifigures, a C-3PO Droid, and an A-Wing pilot. The pilot fits in the open cockpit and your kid gets the chance to create a memorable adventure across the galaxy. In the event of a battle, the pilot is equipped with a blaster pistol while the droid carries a marshaling paddle.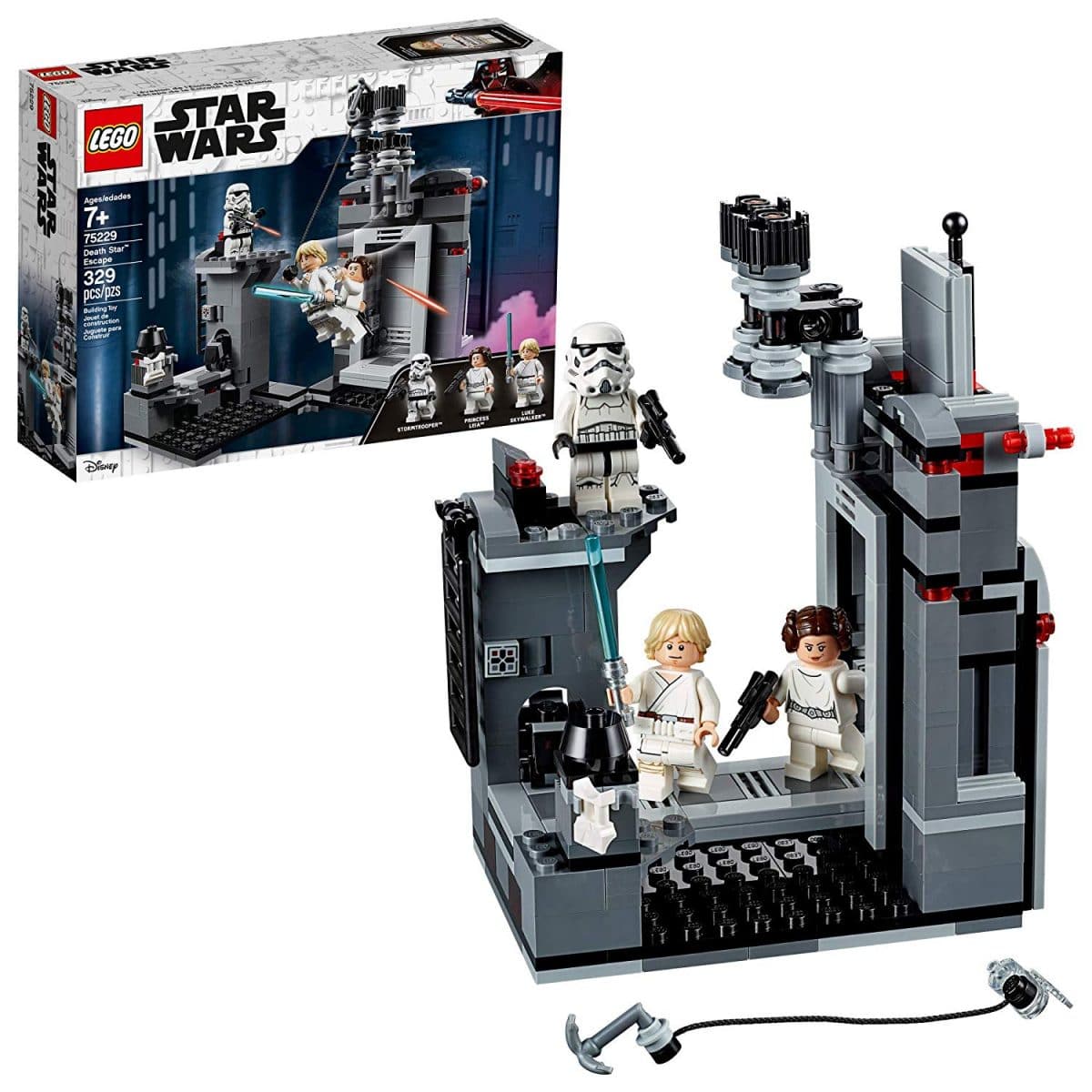 This building kit features Luke Skywalker, Princess Leia, and a mouse Droid figure. Luke Skywalker is equipped with his lightsaber while Leia and the droid have a stud shooter each. During the action, you can spin the wheel and topple a storm walker. There is also a retractable walkway that forces Luke and Leia to swing to safety. This toy will keep you engaged for hours.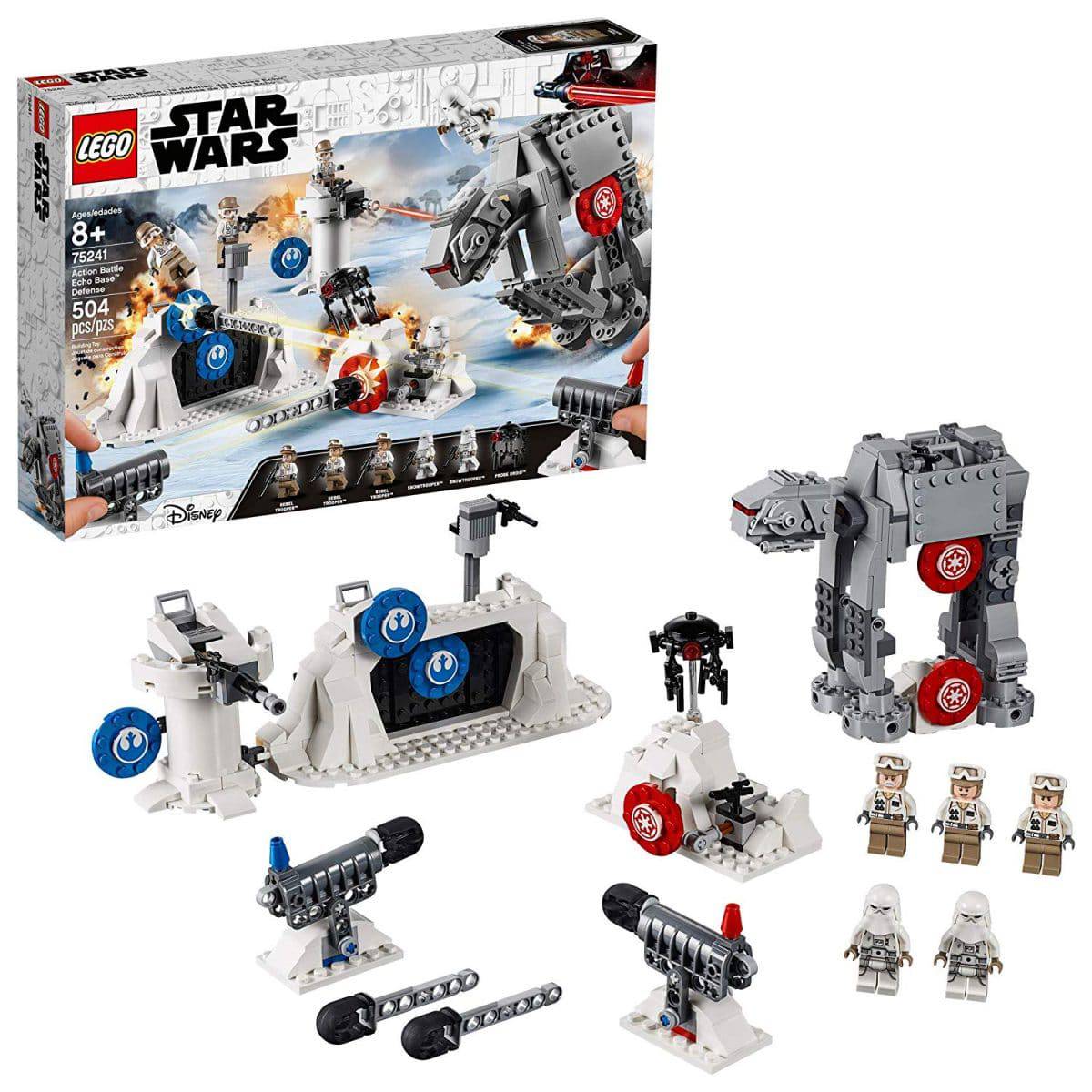 This Lego set features 5 Minifigures: 3 rebel troopers and 2 snow troopers, al equipped with weapons ready for battle. It also has targets to hit. When you hit the blue target, you send the rebel troopers flying and crashing the gate open but if you hit the red target, you will instead send the snow troopers flying and crashing. Hitting the exact spot will be a motivation to spend more time reenacting this scene.
The toy comes with 2 powerful shooters and 4 missiles. The model will intensify playtime and keep kids engaged for long.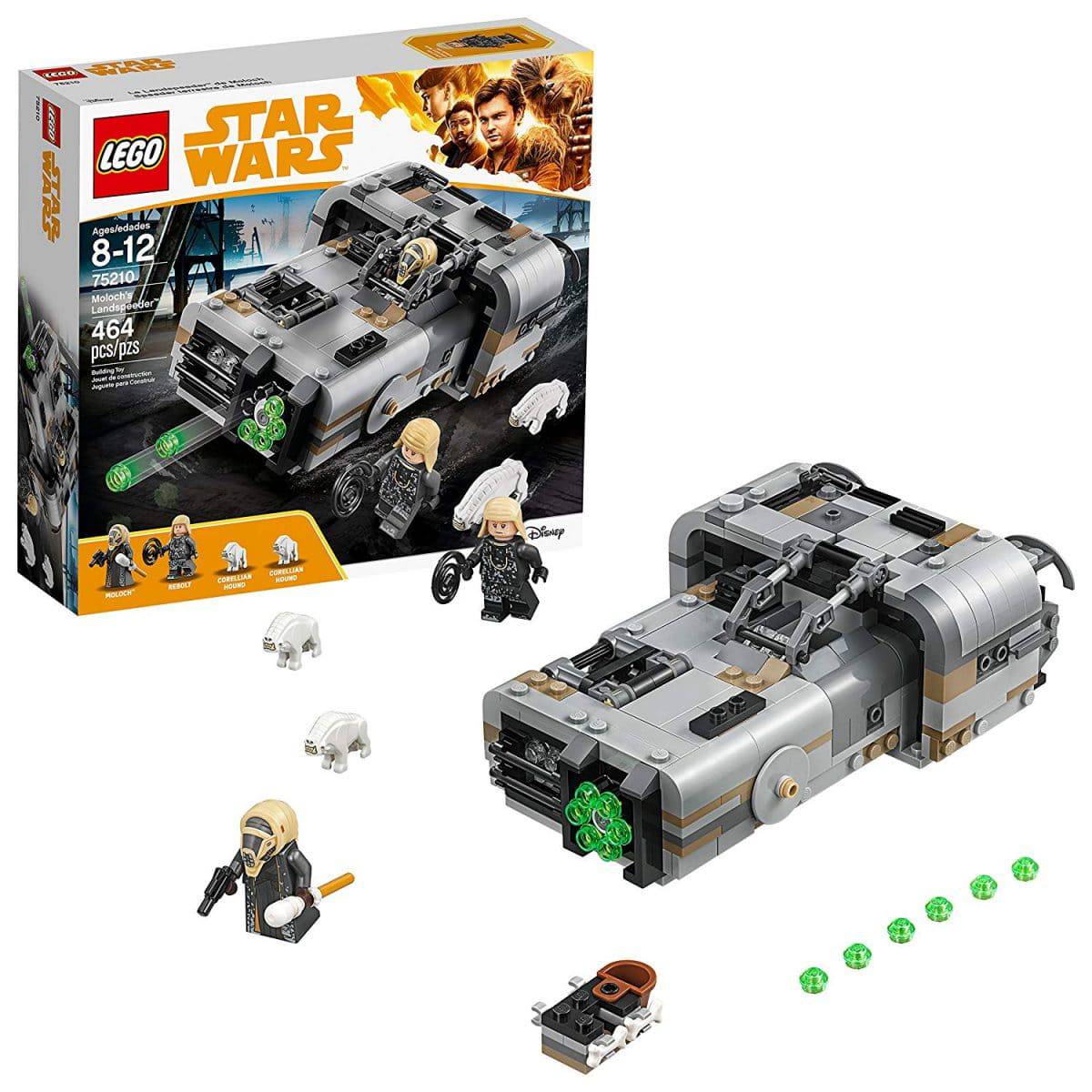 Create all your adventure based on Moloch and Rebolt characters. Ride with them as they go on a hunt. Help Rebolt release the Corellian Hounds by opening the cage and cracking his whip.
Apart from hunting adventures, the Landspeeder is also enabled to fight enemies. It has a multi stud shooter ready to fire at enemies. You can play chase scenes from the movie or create new ones.
The toy also has an open cockpit, hidden wheels for a hover feel, and a storage unit at the rear. There is so much you can do with this Lego toy.
The X-Wing Starfighter can be used by novice Lego builders. It is easy and fun to assemble with an easy guide to help you.
The toy's wings fold just like in the movie to create a replica of the Starfighter. It also has a defense turret which rotates to give you a feel of the action. You get the chance to relive adventures or create new ones. It depends on you on what course of action to take.
This Lego model features Luke Skywalker, a stormtrooper, and a droid figure. You can arm Luke with his lightsaber and the Stormtrooper with his blaster.
Bottom line
Whether you a novice or an expert in Legos, you can never run short of options. This article will help you find just the right Lego star wars toy that matches your preference.