If your child is deep into Legos but needs a more extreme challenge that includes programming and creating moving parts, you'll need to challenge them with a Lego technic set. Lego Technic sets are the most complex category of Legos and require an extensive amount of preparation, attention, and skilled execution. Picking out Lego technic sets is likely more difficult than picking out any other kind of Lego set, too.
Technic sets aren't uniform in their complexity, and there's a massive range of difficulty. Which technic set is the best for someone who's starting to dive in? Which ones are having issues that make them not-so-good, and which are easy to get up and running? Here's a review of the top 30 best Lego technic sets so that you can get the right one for your aspiring roboticist.
Top 30 Best Lego Technic Sets 2020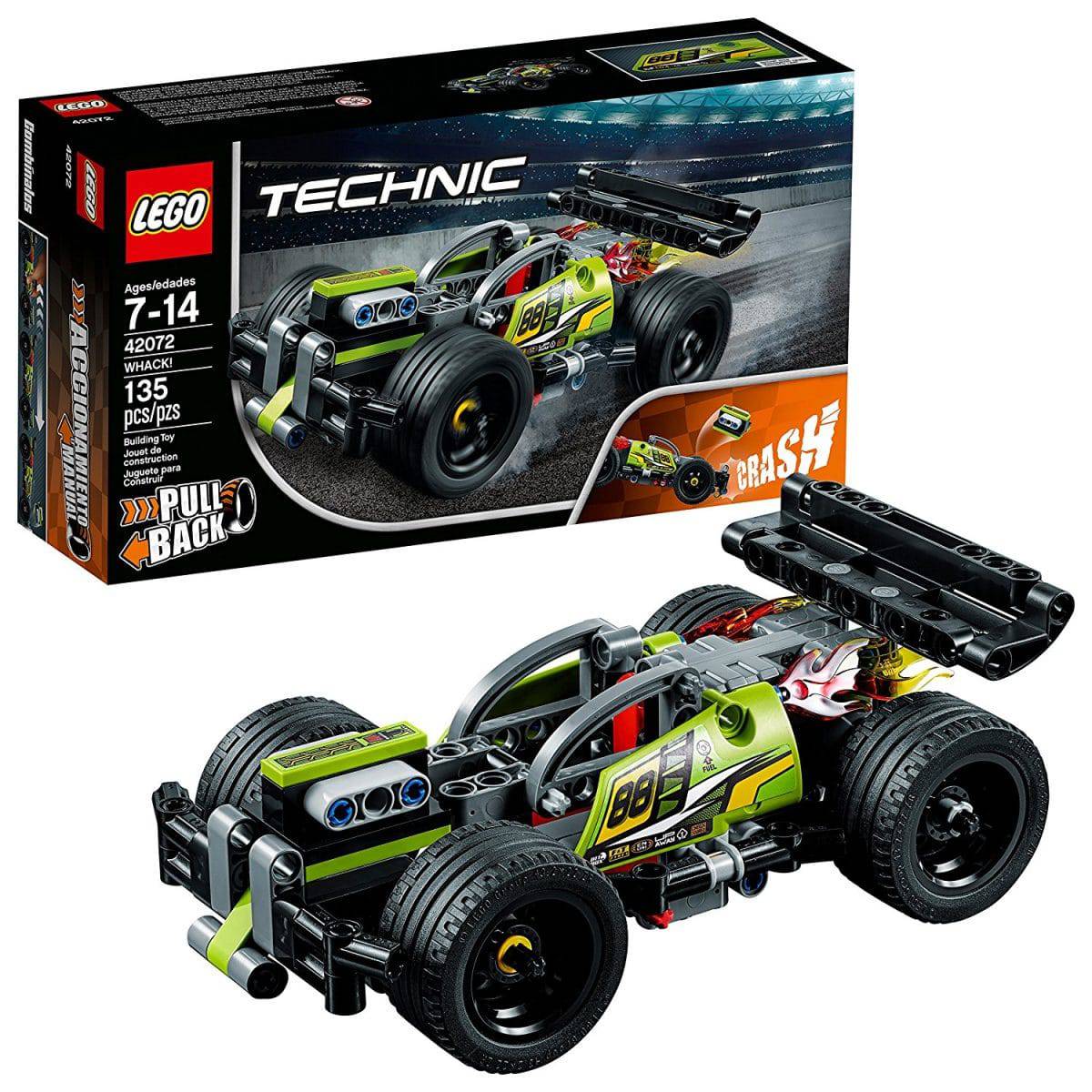 This set includes 135 pieces total and is most suitable for children between the ages of seven and fourteen. It's compatible with all Lego construction pieces to allow customization. Simply pull back, let go, and watch this car soar! Construction and building toys allow children to expand their fine motor skills, dexterity, hand-eye coordination, and critical thinking. Then once the toy is built, they can enjoy all the fun of creative play with their new stunt car! The WHACK is a stunt car with a steady front bumper and an oversized rear spoiler. It features wide black rims with low profile tires and an engine that pops out upon impact during a collision.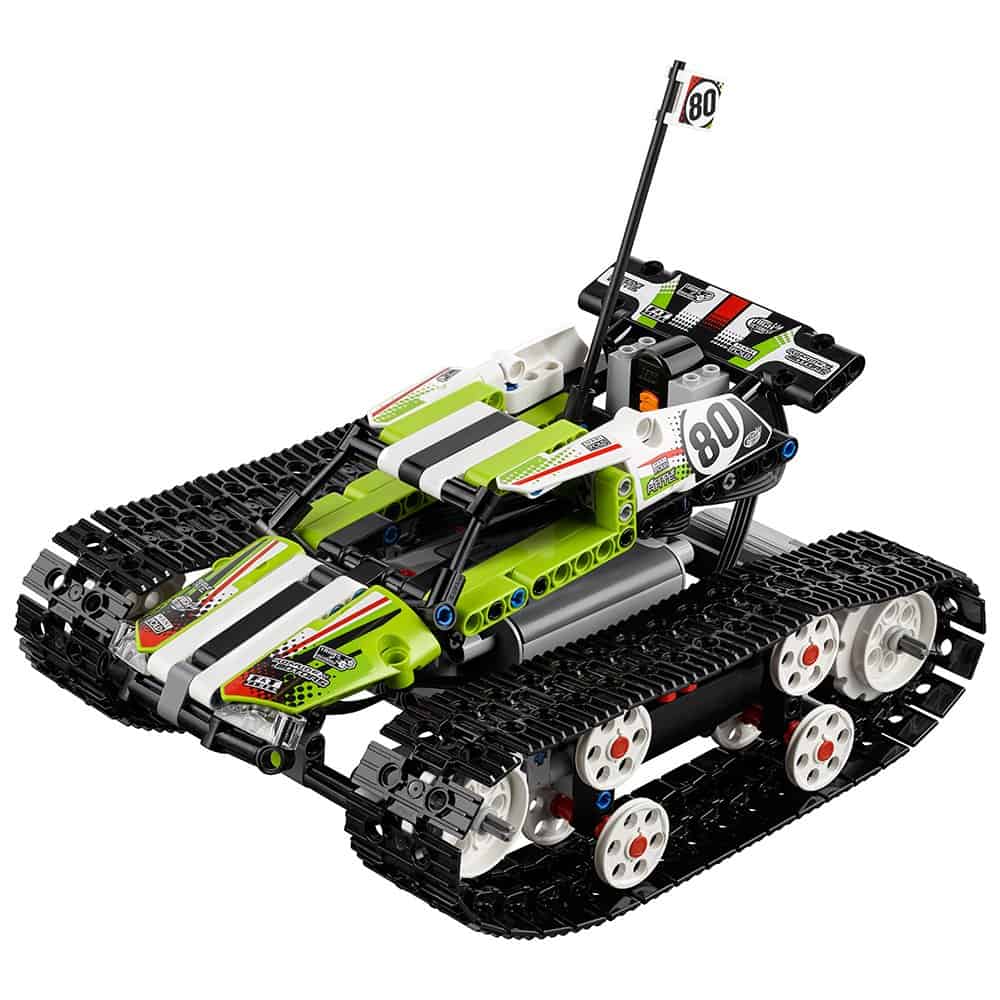 Car-obsessed but too young for their license? This ought to scratch that moto-itch for a while. Kids love race cars. RC cars are a big hit, but what's even cooler than racing your car around is building it, and then racing it around. The RC Tracked Race set allows kids to construct their race car capable of driving left, right, forward, backward and making 360-degree turns. The set is compatible with other Technic sets for creative building and contains 370 pieces in total. Kids will learn how to construct their RC car, complete with motor and receiver. Not only will children work the usual skill sets flexed with building toys, but they'll also get to learn about radio transmission and the cause and effect of motors. Two medium LEGO power function motors keep the little guy zooming around, while a receiver and remote control give your child full control over the car.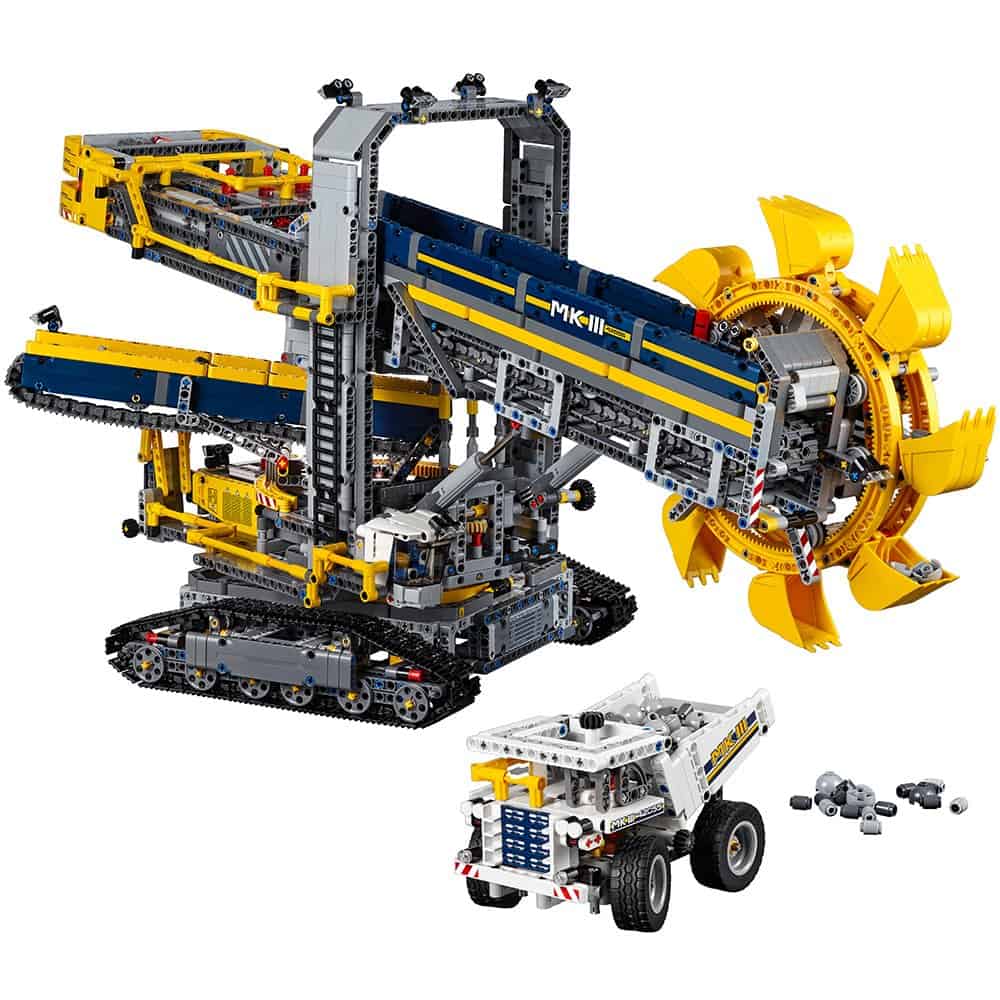 Build an excavator and mini-truck, or opt for the Mobile Aggregate Processing Plant. Hand-railed walkways and a carefully crafted cab show attention to detail in the model replica. With thousands of pieces involved in the build, the Bucket Wheel Excavator is certain to challenge even the most accomplished LEGO enthusiasts. Your child will sharpen their motor skills and problem-solving abilities over many hours, also teaching them the value of patience and hard work. Equipped with a multitude of LEGO power functions, this excavation set is the largest Technic set ever made, and one of the coolest. It features forward and reverse driving, a rotating bucket wheel, a moving conveyor belt, and a rotating superstructure. The 3,929 pieces involved in construction will keep your family busy.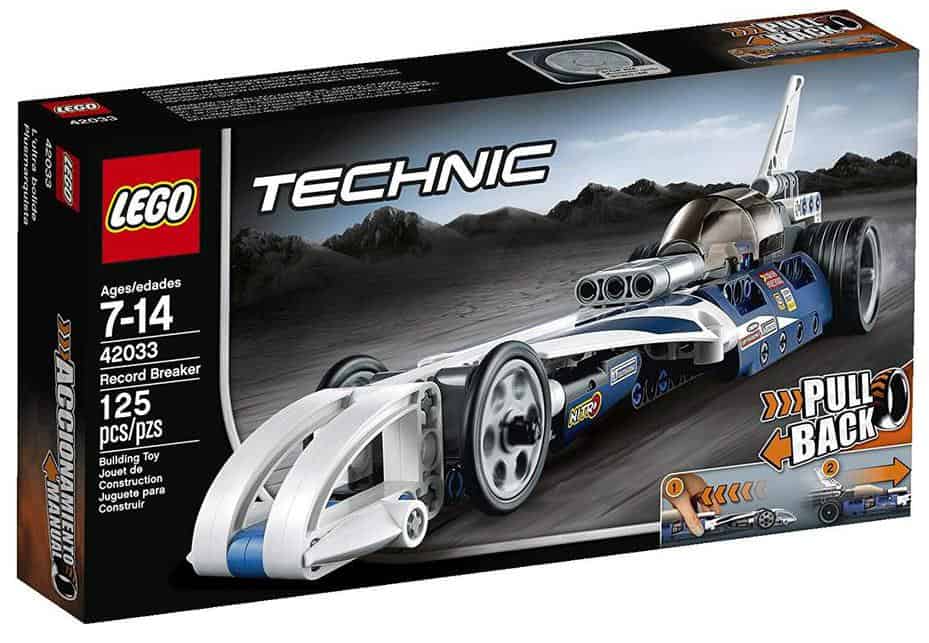 With a sleek, chic, aerodynamic design, the Record Breaker is a fan favorite. As with many other LEGO Technics builds, it's powered by a pull-back motor, but that doesn't detract from the car's speed or racing ability. A tinted canopy and detailed engine round out a solid, aesthetically pleasing design. Measuring over three inches high, eleven inches long, and two inches wide, it's a good size for small hands to manage. The set is a great, intermediate build, and allows for a separate construction design as well when bought in tandem with the Quad Bike set. Building sets challenge children's physical dexterity and motor skills as well as their mental capacities. If you purchase the Quad Bike in the series, you can combine the pieces of both sets to create the Extreme Off-Roader as well. Lean and mean, this racing machine is bound to have your little ones eagerly setting up their tracks and testing their vehicle's limits.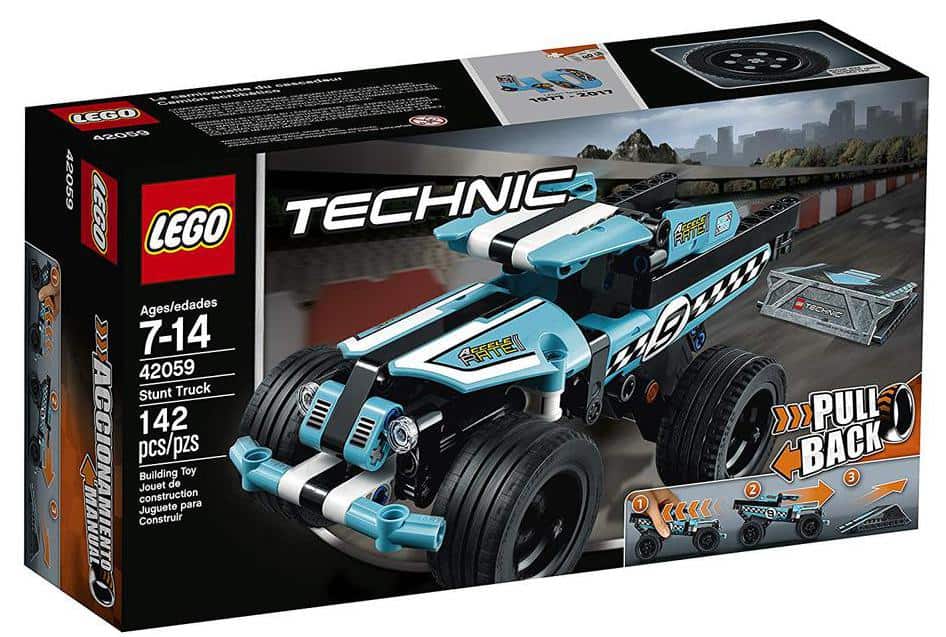 Pull it back, then let it soar. With the Stunt Truck Set, children will get to build their pull-back stunt car and ramp. Checkered racing stickers let kids design their ride as they please. It's a low-piece count, so if you're easing younger ones into the Technic line, this is a good place to start. The pull-back motor is fun too and allows for all-day racing without wasting batteries. Kids will get to work their logic skills and dexterity as they build the little stunt car. Once it's complete, they've got more fun to look forward to, as they pull it back to engage the powerful pull-back engine, and watch it race and do stunts off the included buildable ramp. Combine the set with the Stunt Pull-Back Model to create even more building and racing possibilities. Designed to be an appropriate build for children ages 7 to 14, the car is a great introductory to racing and stunt cars.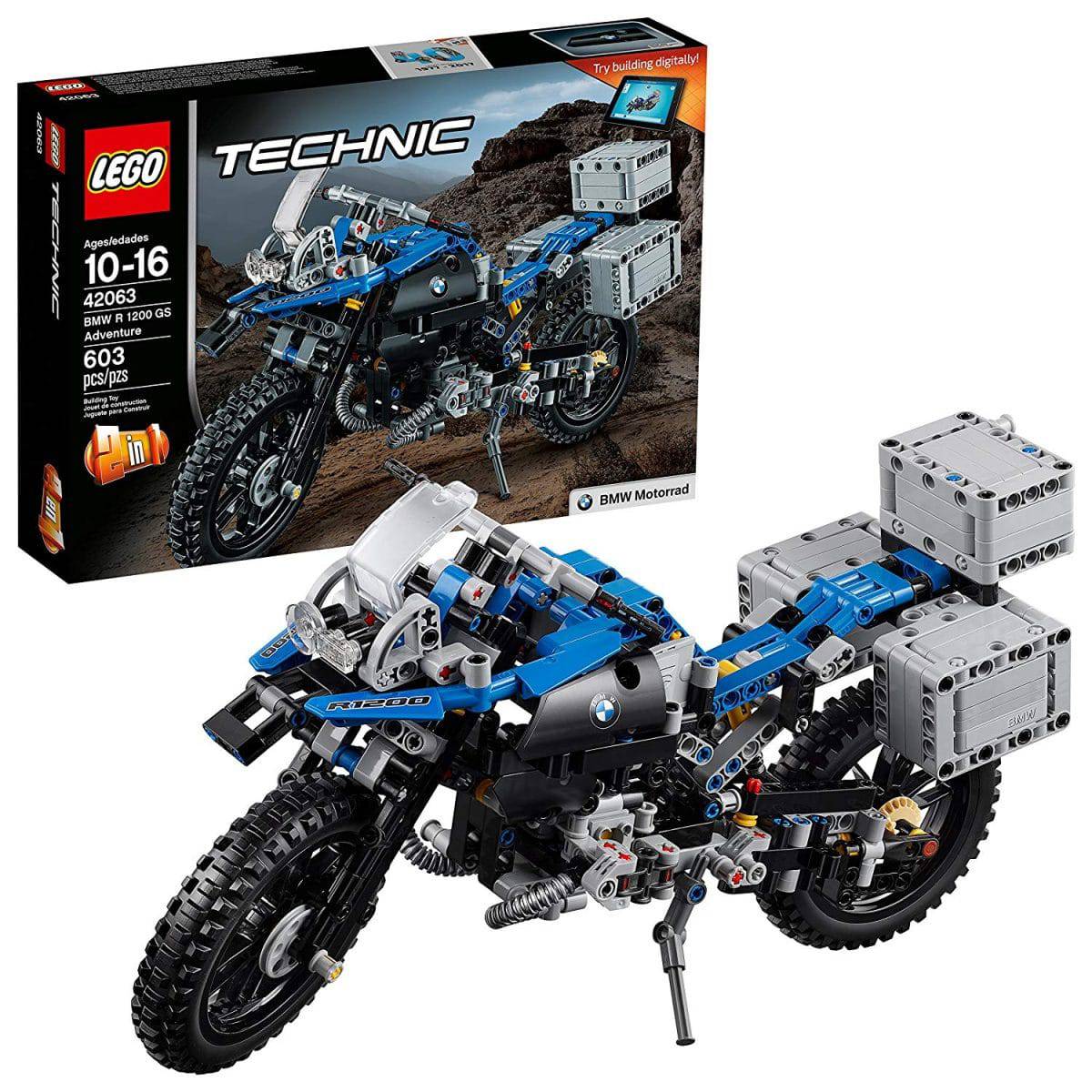 It's a great, highly authentic little set, perfect for budding motocross fans, and motorcycle aficionados alike. The set contains more than 1,000 pieces but isn't too difficult to put together, so you could build it with your kids or most likely leave them to their own devices. The Technic set is a study in attention to detail. The interactive 3D building app is a fun way to engage children who are interested in both engineering and technology. Kids will learn to sort and problem-solve while working their motor skills. The set creates two different models and is recommended for builders ages 10 to 16. Handlebar steering, a front suspension system, aerodynamic windshield, dashboard, and exhaust are all byproducts of the collaboration, resulting in a model that feels true to its original inspiration. Other fun features include an opening top case, luggage panniers, and a kickstand.
The rims with the low profile tires, all the icons, and even the red suspension system that you see on the cars driving around are all included. The detailed orange body color is striking as the real model itself. Then there's the classic design of the headlights. That's what people most often associate the Porsche car design with and they have beautifully included all those details in the model. Each of the element of the Porsche GT Technic Lego model comes boxed in a series of four boxes. It has been designed to allow the builder to work through the series of boxes one by one to create the model. The other cool thing is that the sequence of the build is also the real-life assembly process. It's through the details that this build truly is one of a kind process. Putting together a car model is an experience that's like no other.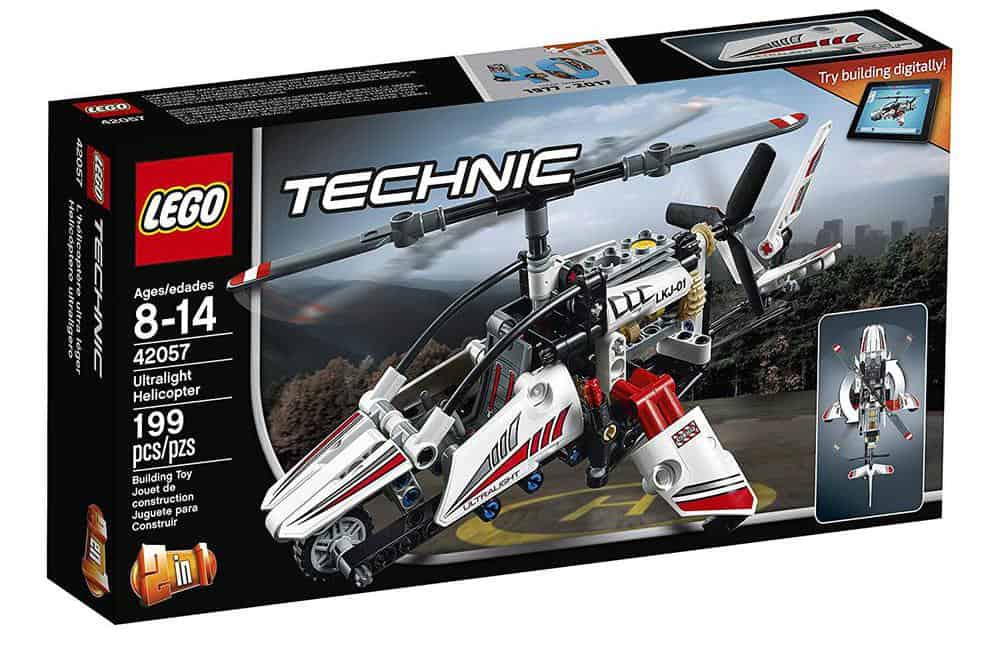 When the set was designed, it was created to target builders between the ages of 8-years old and 14-years old. The set is an age-appropriate build for children this age with some experience in building blocks. The interactive 3D design creates an acceptable challenge for children this age. With the challenge of the build comes the reward of the coolest looking airship they have ever created from Legos. You get an immersive and gratifying experience with the Lego Technic set with the two in one design. From building the ultralight helicopter to creating the experimental aircraft, the set will provide builders with an experience that's both rewarding and challenging. It'll test their fine motor skills and ability to follow instructions. One of the neatest things about the set is the included 3D building instructions. They can become interactive through a downloadable app that can be installed on any smart device. This brings creating the models and learning to use the guide in full circle.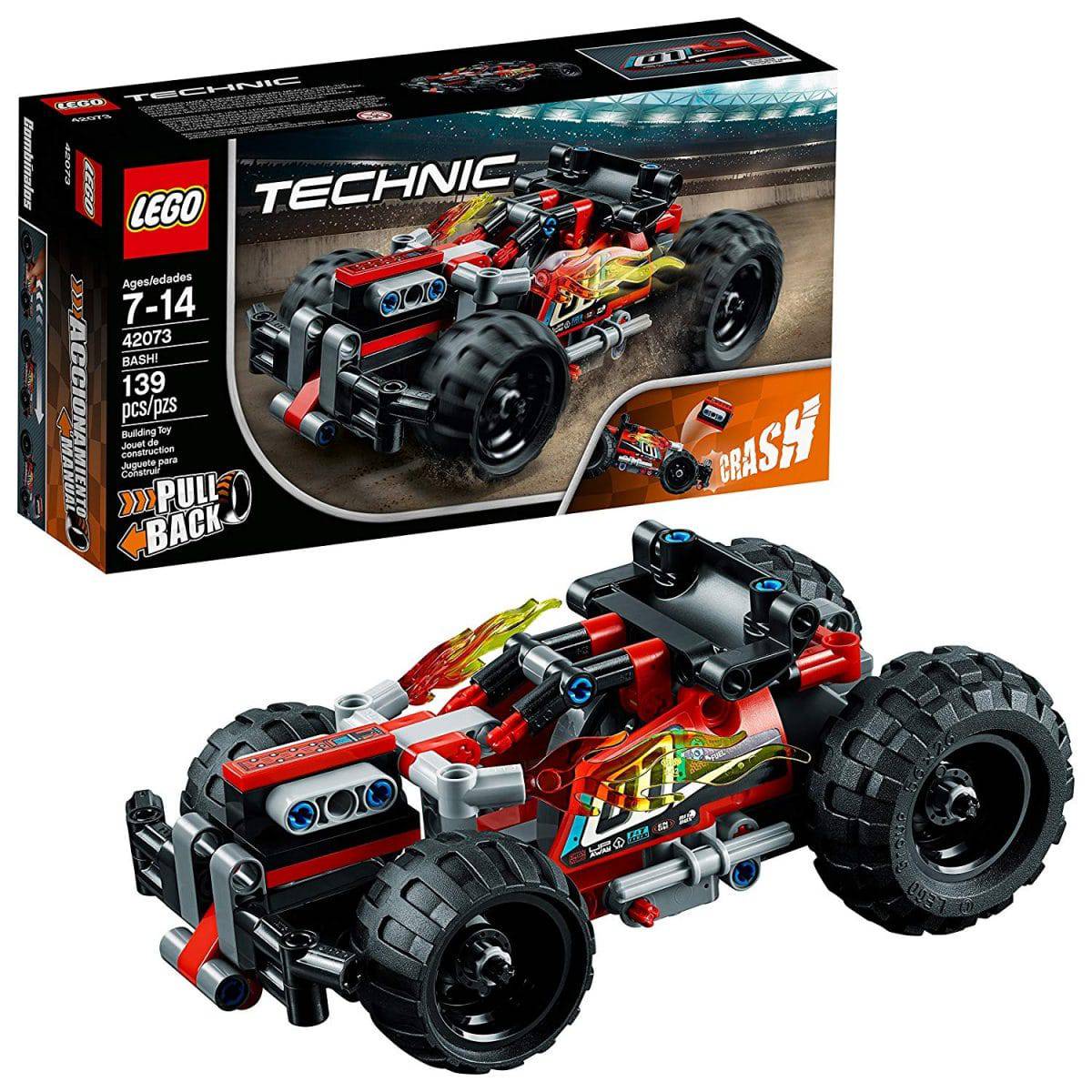 It's a great little race car and you can combine it with other LEGO technics to make a sort of supercar. It's durable, so it can handle collisions and some rough play without busting apart permanently. Building kits challenge children's motor skills as well as their critical thinking and pattern recognition. Plus, once the build is finished, there's a fun toy for imaginative role-playing. The sturdy front bumper and the large rear spoiler makes it durable enough to withstand impact as it darts around the house. The kit includes 139 total pieces for construction and is most suitable for children between the ages of seven and fourteen. Combine it with the WHACK Kit. Assemble the mega model, or race them separately! Either way, there's plenty of fun to be had.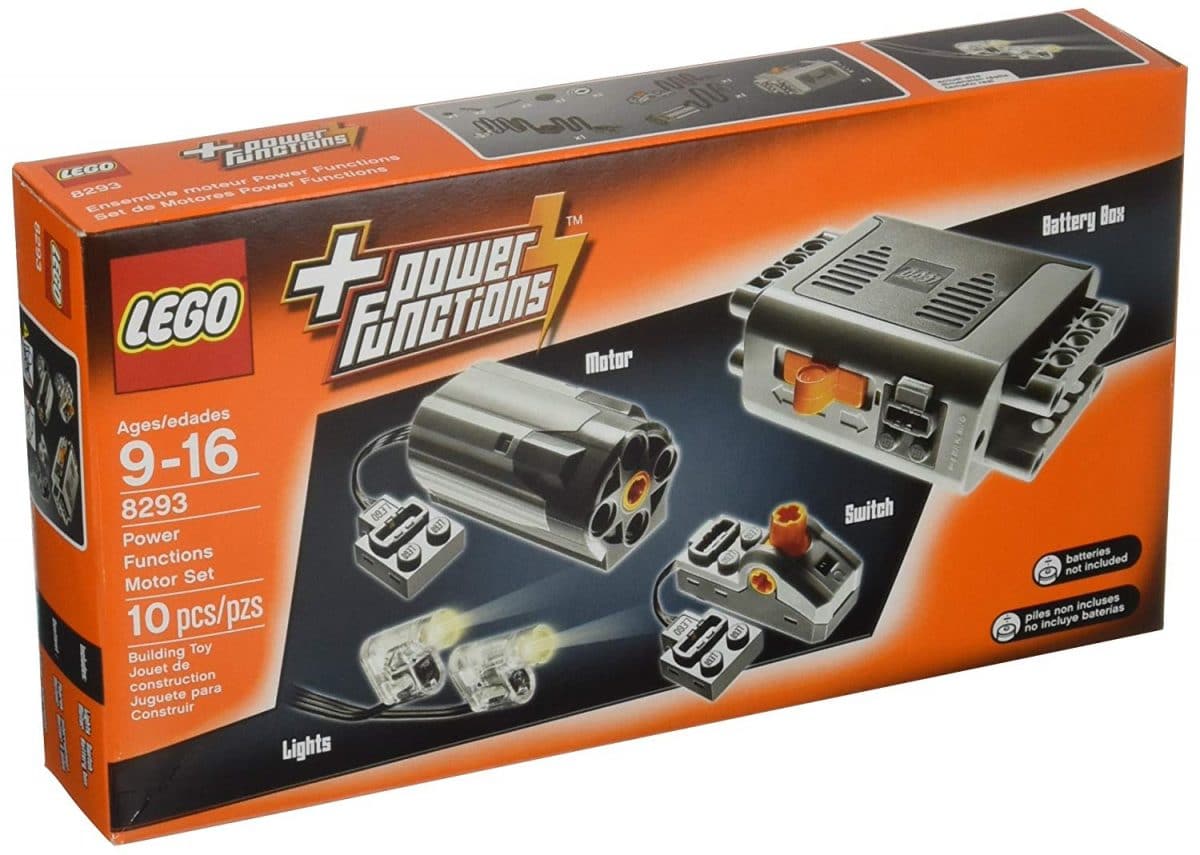 While the Power Function Accessory Box isn't a Technic playset, it does bring to life all the Legos we have in this list. You can consider the Power Function as the heart of each of these playsets, giving power to the LED lights, revving up engines, and even moving different parts of your favorite Technic model. The awesome accessory will give your child's Technic sets that extra oomph they need to be truly mesmerizing. It comes with everything you need to make any build completely mechanized, thereby increasing your child's enjoyment. Take their learning experience to the next level by giving them the chance to explore how electricity can completely transform their creations. This addition of somewhat advanced features is a great way to broaden their total experience. The kit already includes a motor, a light cable, a battery box, and a switch as well as other electronic components to breathe life into your creations.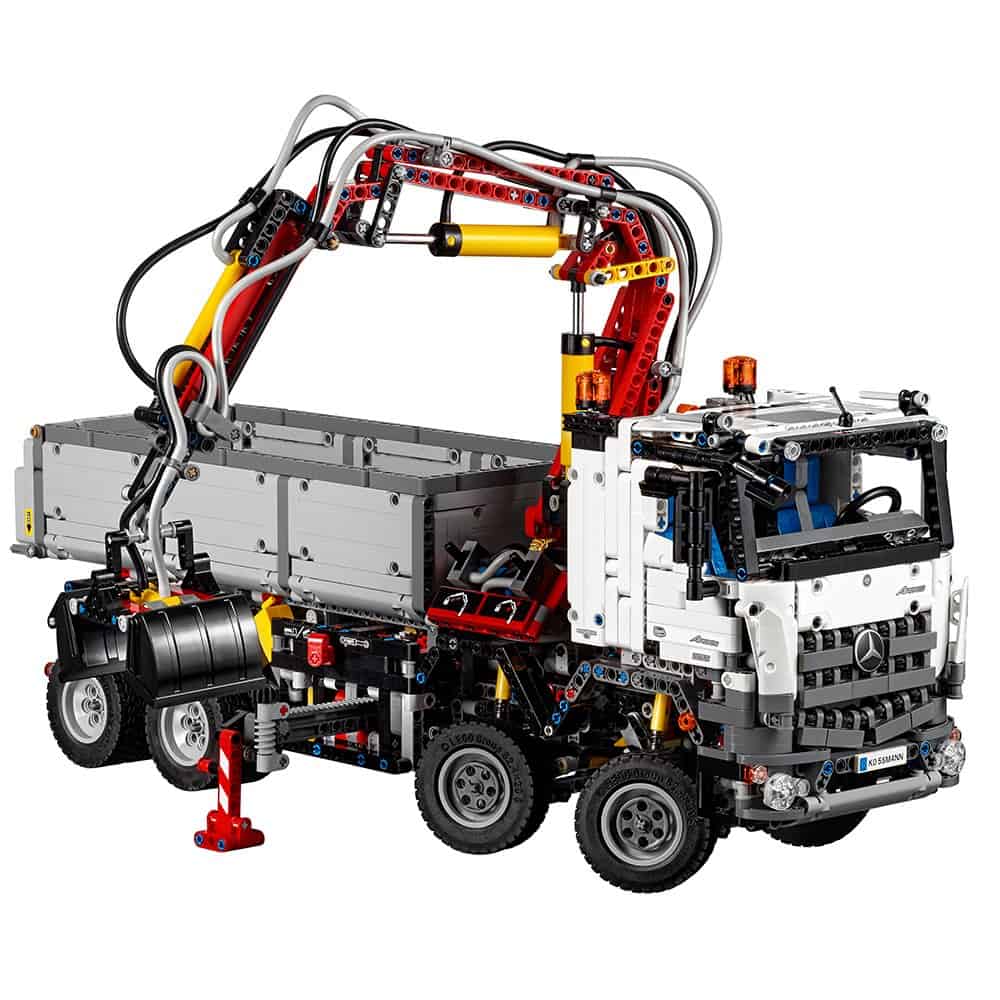 The truck's defining feature is its robotic arm. The arm is equipped with a scoop at the end and is articulated at no fewer than seven points. Constructing the arm and making it work properly will be the crown jewel in your Lego lover's collection. The vehicle itself aside from the arm is of high-quality and is aesthetically pleasing, but don't get confused about the purpose of the set. The set is entirely about the robotic arm. The software and hardware in the set will make using the arm easier than it is to build, but your Lego lover will need to use their best mind to make it into a reality. The instructions that come with the kit are extensive. There are over 2,700 pieces in the kit, and each piece locks into the others with precision. If there's a missed step, it may become a massive headache later down the line. Make sure your little one is ready for a multimodal challenge. The kit is not for the faint of heart, and it'll require extensive software and hardware testing to get it to work perfectly.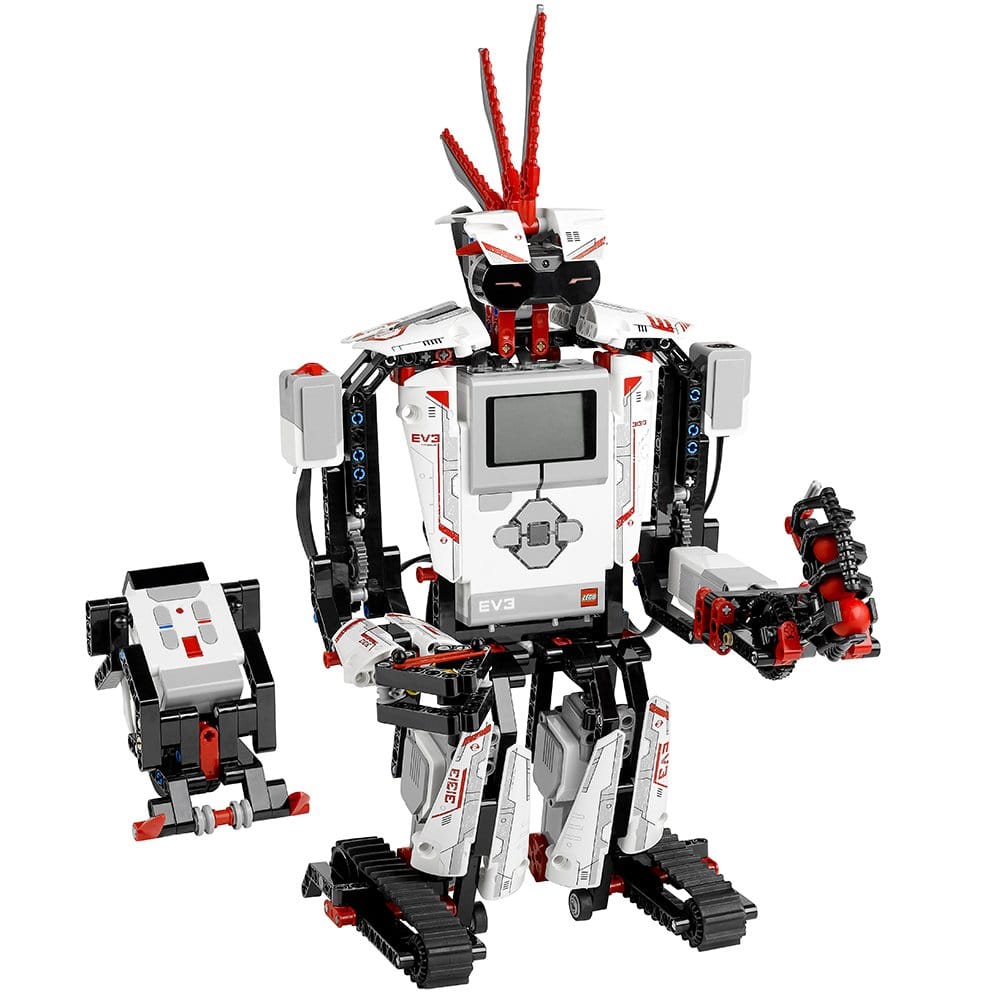 Unlike other technic sets reviewed so far, the set is a bit more laid back. You might even consider the robot to be a good introduction to the Lego technic field. Children who are accustomed to assembling Lego sets will find it to be right up their alley regarding construction difficulty. It isn't too hard, nor is it too simple. Getting the robot to respond to commands is a bit more difficult but it remains manageable. With 601 pieces and 16-inches of height, the robot will find its way into your home without much trouble. Children seeking a more complex challenge will probably be satisfied with the set. The only major drawback of the set is its price. Even for a technic set, it has been priced very high. Nonetheless, its value as an entry price into the technic field makes it worthwhile.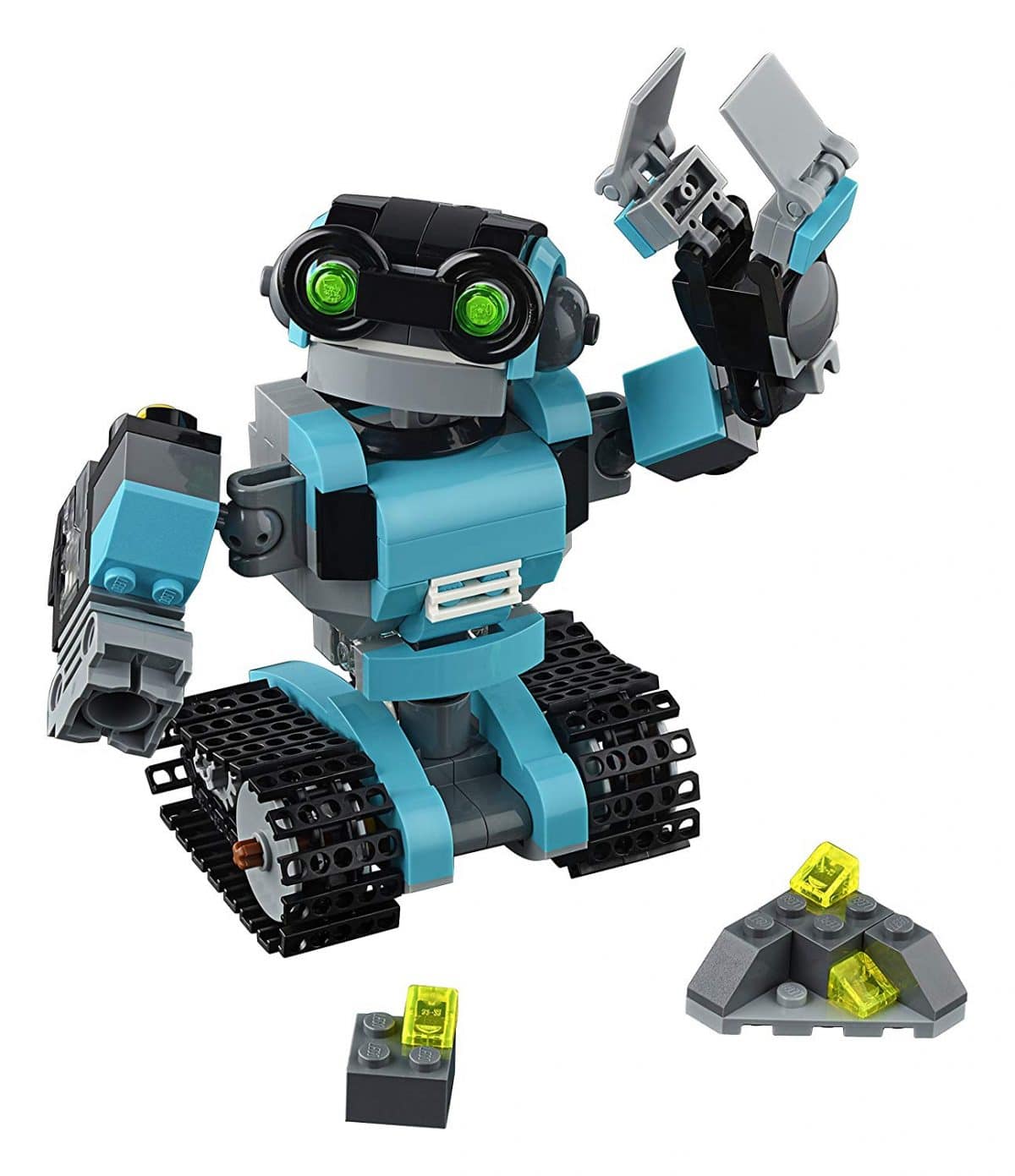 Even though it's very simple by design, the set has a lot of play value. Your child should probably build the toy before they dive into any of the more complex technic sets because it teaches several valuable lessons simply. First, the set has no motors. Most children expect their technic set to have motors, but the set is useful because it introduces concepts like degrees of motion, articulated joints, power sources, and the different vectors of mechanical force. Without these concepts, your child's dive into a genuine technic set with motors will be much more confusing. The robot has the degrees of motion in its limbs that are covered in technic sets, but your child will learn which direction the force will need to go to articulate the limb in a certain way. When they're later assembling servos and connecting the motion points to the motor, these early lessons will make the process very intuitive. The set is too simple for children who are already involved in technics, but it's a good final step in the world of traditional Legos before graduating to technic sets.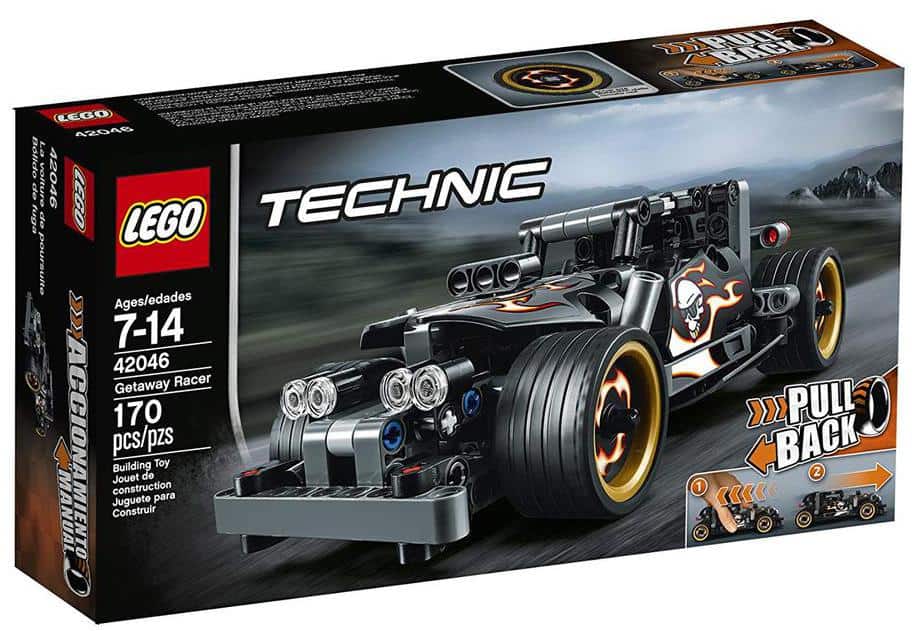 The set uses a stored kinetic energy motor to move the drag race. Your child will learn about the concepts like stored energy and aerodynamics with the set. The set isn't very difficult to assemble, and your child will learn to enjoy the technic Legos without having to worry about coding any motors to activate. The set is also great for kids who aren't crazy about robot arms and who would prefer a vehicle that they can get down and play with without having to worry about breaking it. As far as technic sets go, this set is very durable. Your child can get it dirty without a problem. The motor is wind-up and easy to keep in action.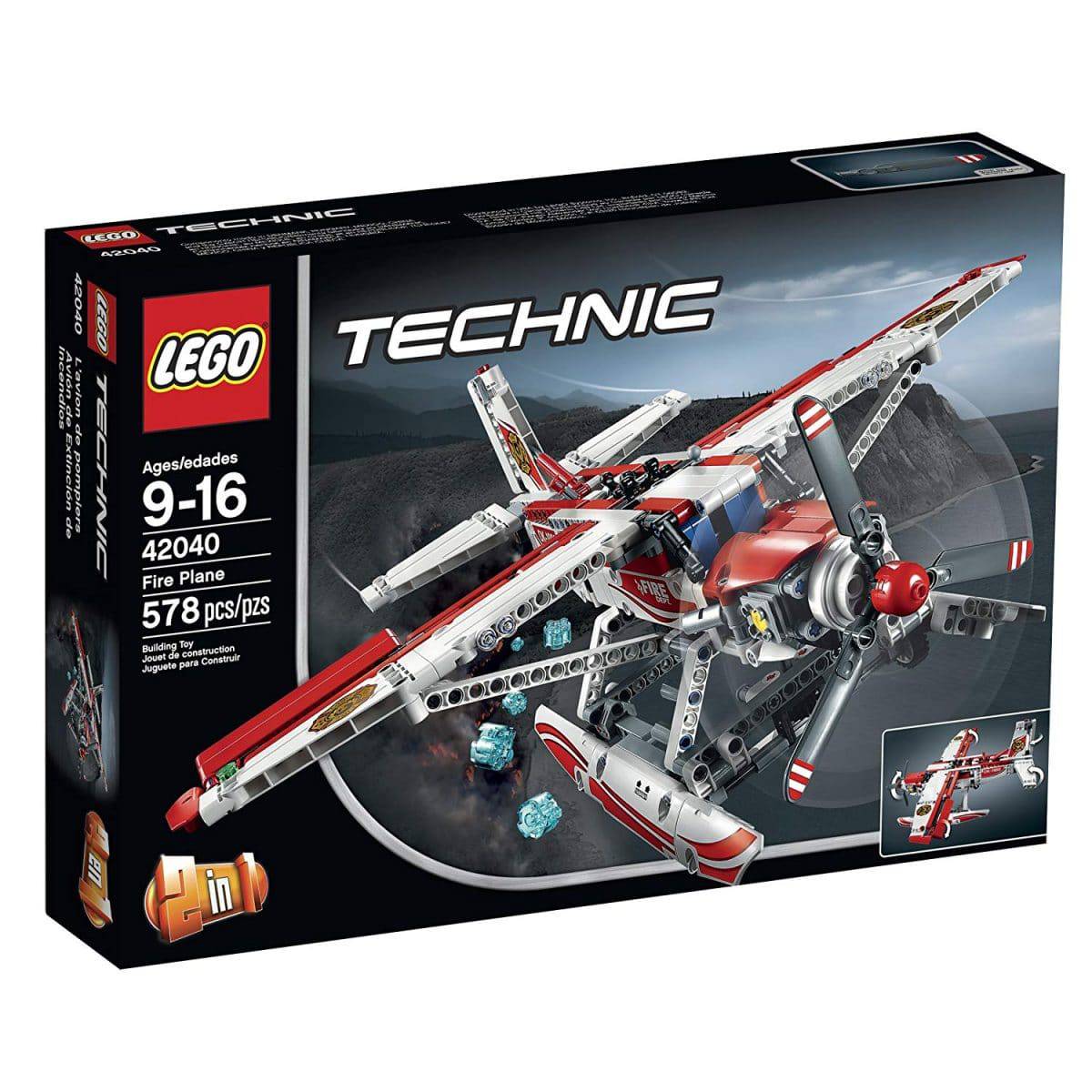 This 578-piece is made with a beautiful red and white color scheme, just like an actual emergency fire vehicle. Even if there comes a playtime where your kids don't want to play with the fire airplane, they can simply rebuild it into a jet plane for more fun-filled, high-octane adventures. This fun-filled model is intricately detailed with an accurate 2-cylinder engine, large pontoons, and wing supports. There's also a little truck for when the plane is grounded for refueling. The button on the remote control plane will release a collection of tiny water-styled LEGO bricks. This means the plane can perform realistic water drops around your playroom. Just make sure you don't step on them.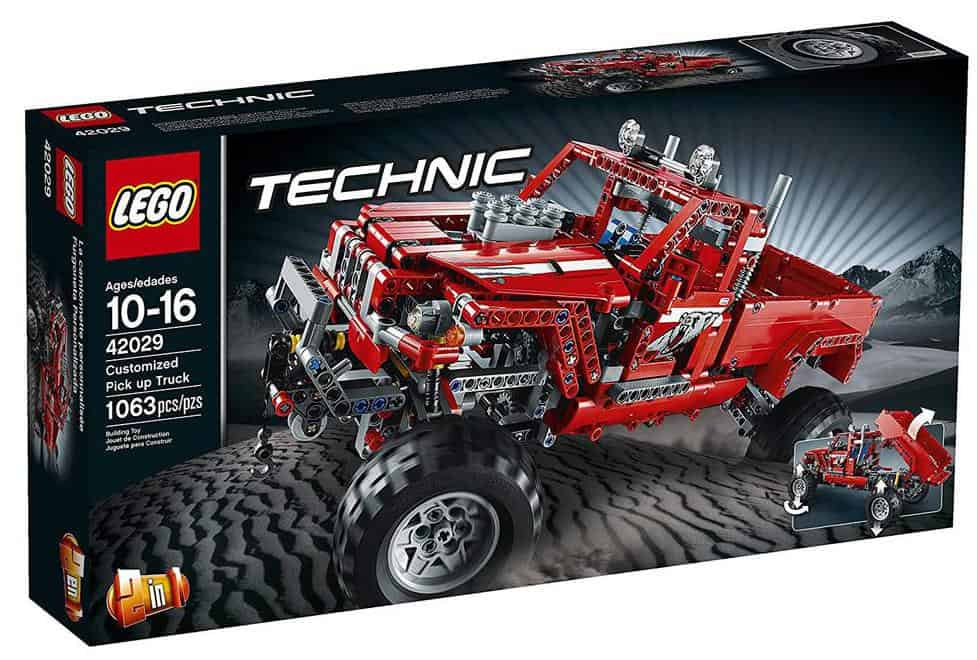 The awesome 2-in-1 LEGO set is highly durable and ready to traverse any rugged playroom terrain it comes across, ready to rescue your child's other toys. The customized pick-up truck is full of features, just waiting to be explored. The truck just screams entertainment, from the huge wheels on the base, moving up to the fully-independent suspension function to the fully-operational tipping bed. There's even a grill guard with a winch that works. There's plenty of attention to the details of the truck, easily making it one of the most entertaining technic sets. You can also open and close the doors, and use the front-wheel steering. That also makes it one of the most realistic technic sets in the market.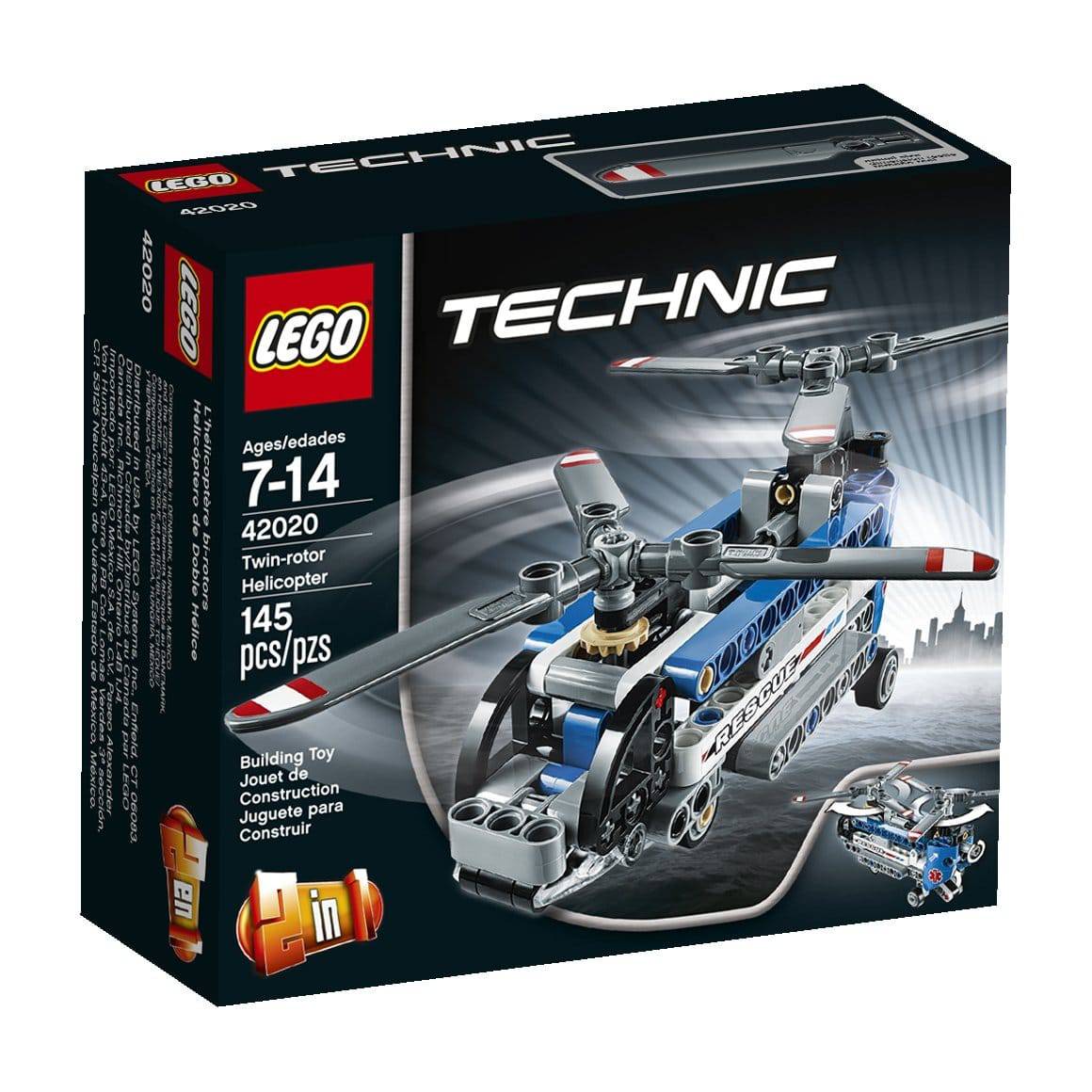 The awesome technic kit will let your children build a huge, twin-rotor helicopter with all the bells and whistles. You can redesign and rebuild the helicopter into a single-rotor version, perfect for all your children's air adventures around your home. This is quite a simple design, but will still be a fair challenge to younger children, making this a great set when introducing your children to the technic range. Once built, each version of the helicopter sports a cool rescue theme and will work perfectly with your children's existing toys, other technic sets or for simply playing with on its own. Moreover, all the rotors are fully-functional with spinning blades, a turning wheel, and an operational cargo door. The limits are infinite with the helicopter toy.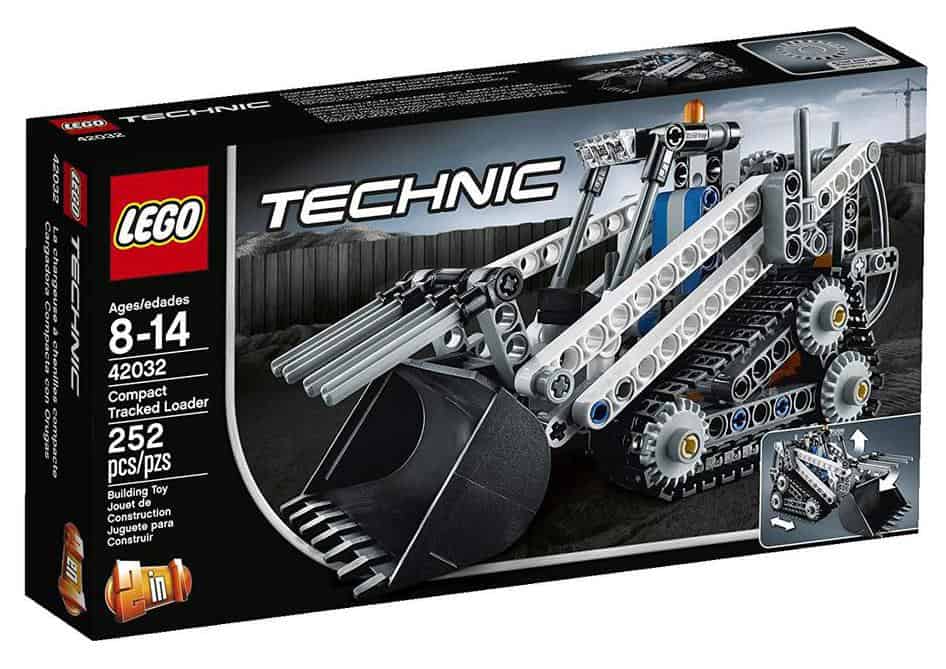 Kids love construction toys. On top of all the entertainment factors, there are so many beneficial educational factors as well. Fueling your children's imagination is such an important part of growing up, and playing with construction toys if one of the best ways to nurture this. With the technic set, you and your children can build a fully-operational compact tracked loader, complete with a huge moveable tipping bucket. What's more, there's even a working grabber, working roof spotlights, a warning beacon, a rear-hinged boom mechanism, a workable gear lever, and a realistic exhaust stack. There's just so much here to keep your kids occupied and entertained. This is the perfect set to play alongside other technic sets, with your children's other toys, or on its own with other LEGO pieces.
The Chevrolet Corvette ZR1 set comes with the 2-in-1 feature that lets kids rebuild the pieces from a car into a Hot Rod replica. So, when your kids have built and played with one model, they can disassemble and reassemble it into a different on. It ensures that they can be entertained for hours on end. Building the 2 models is excellent for your child's motor skills and hand-eye coordination too. It's also quite impressive how detailed the models are. There are black spoke rims, low profile tires, steering that works, and V8 pistons that move. They all make the toy more exciting for kids to play with, which is awesome for their creative thinking skills.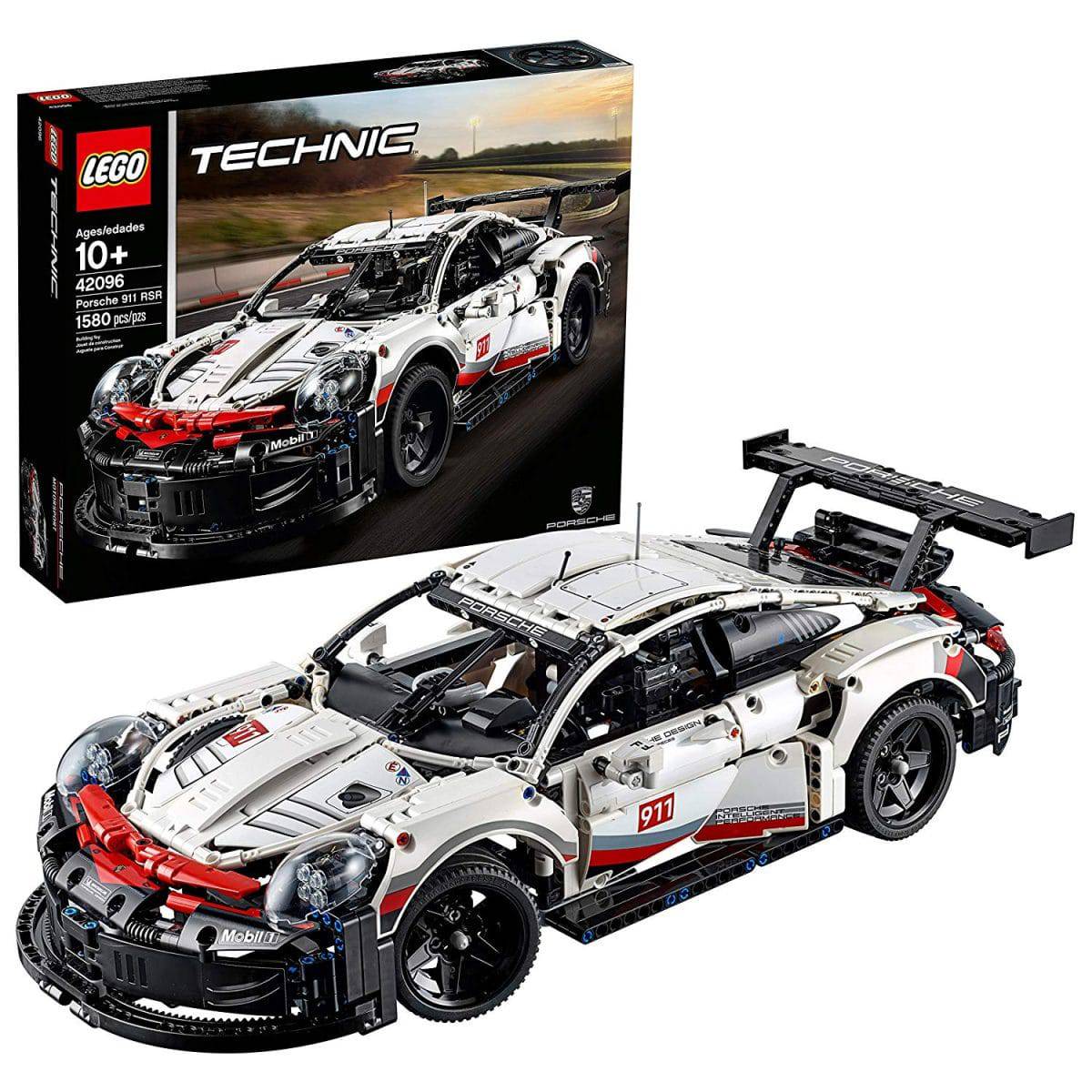 The Porsche 911 RSR Building Kit has been made to look just like the real car. They've included black spoke rims, steering that works, a 6 cylinder boxer engine, and pistons that move. All of these features are fantastic for making the playing experience more realistic for kids. As a result, you can expect them to play with it with lots of imagination, which is great for their creative thinking skill. It's also impressive that there are 1,580 pieces available. This is plenty of parts for kids to be engaged with assembling for a long time. Their motor skills and hand-eye coordination can develop well. Not to mention, their problem-solving abilities are stimulated because of how many pieces are available.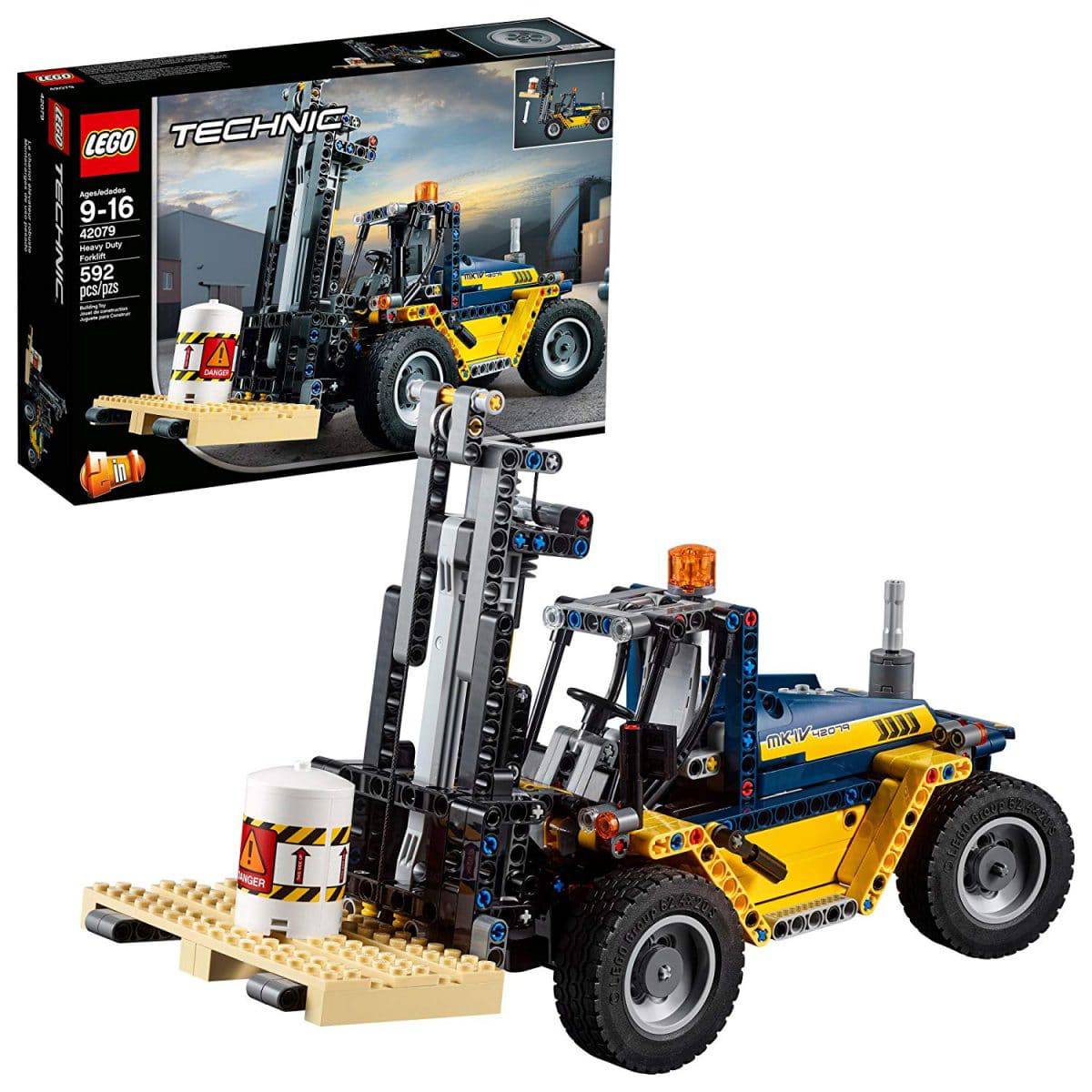 The Heavy Duty Forklift Building Kit comes with a total of 592 pieces that provides children with plenty of parts to stay busy assembling for a while. The construction process is awesome for developing their motor skills and hand-eye coordination. It's also impressive how there's a 2-in-1 feature that lets kids rebuild the forklift into a tow truck. So, once kids have finished and played with one model, they can move onto assembling the next. As a result, they're able to play with a lot of creativity. This is especially great since there are some awesome realistic features available to explore. This includes a moving piston engine, working steering, and a functioning lifting arm.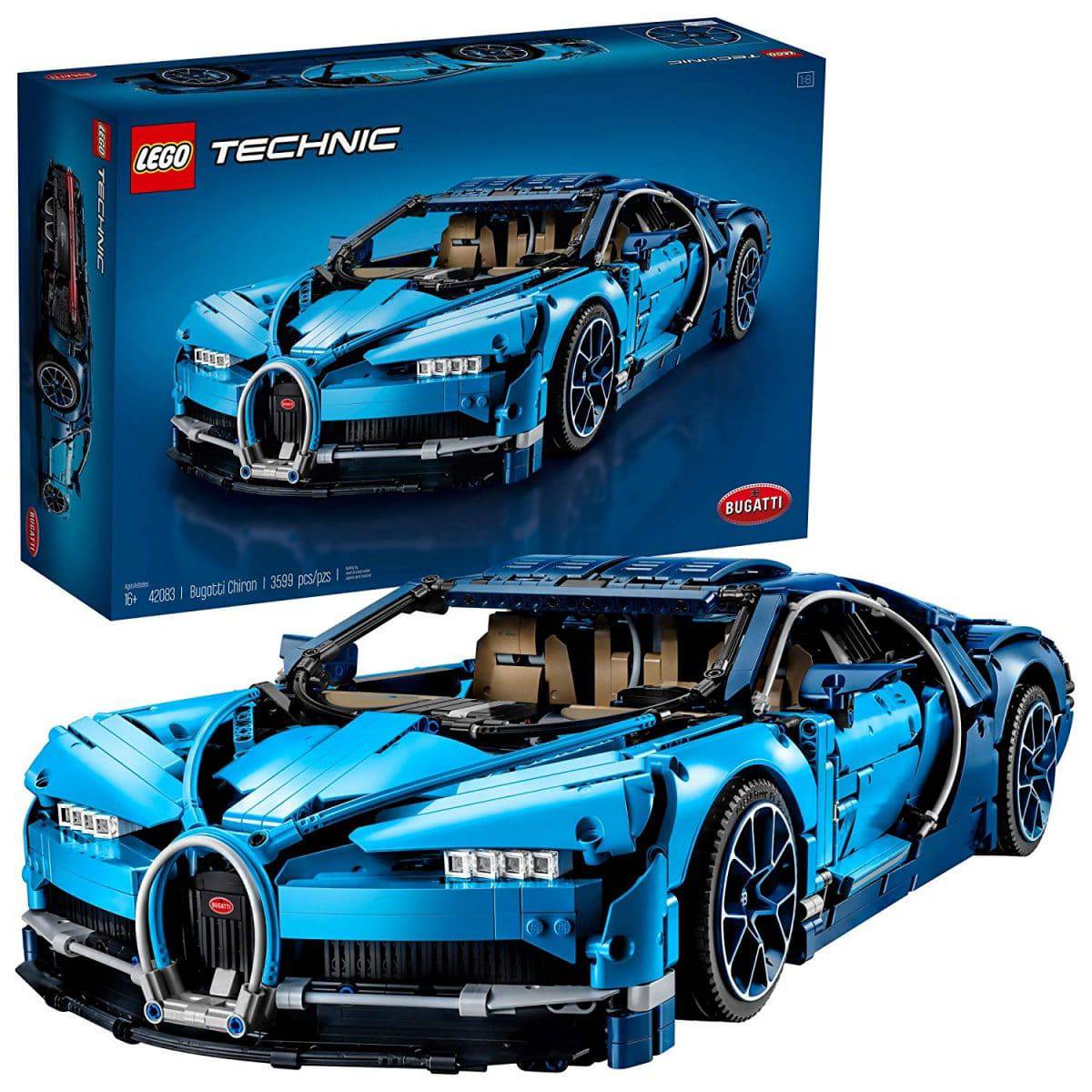 The Bugatti Chiron Race Car Building Kit comes with an impressive range of 3,599 pieces, which means your child will be engaged with building this one for a while. During the process, their hand-eye coordination and motor skills can develop well. Not to mention, with so many pieces available, their problem-solving abilities will improve greatly. There are also several realistic features included in the model. These include an 8-speed gearbox, rear wing, paddle gear shift, W16 engine, suspension, and a steering wheel. It's also impressive how it can be built along with other Lego technic sets as it allows kids to expand their creative thinking abilities.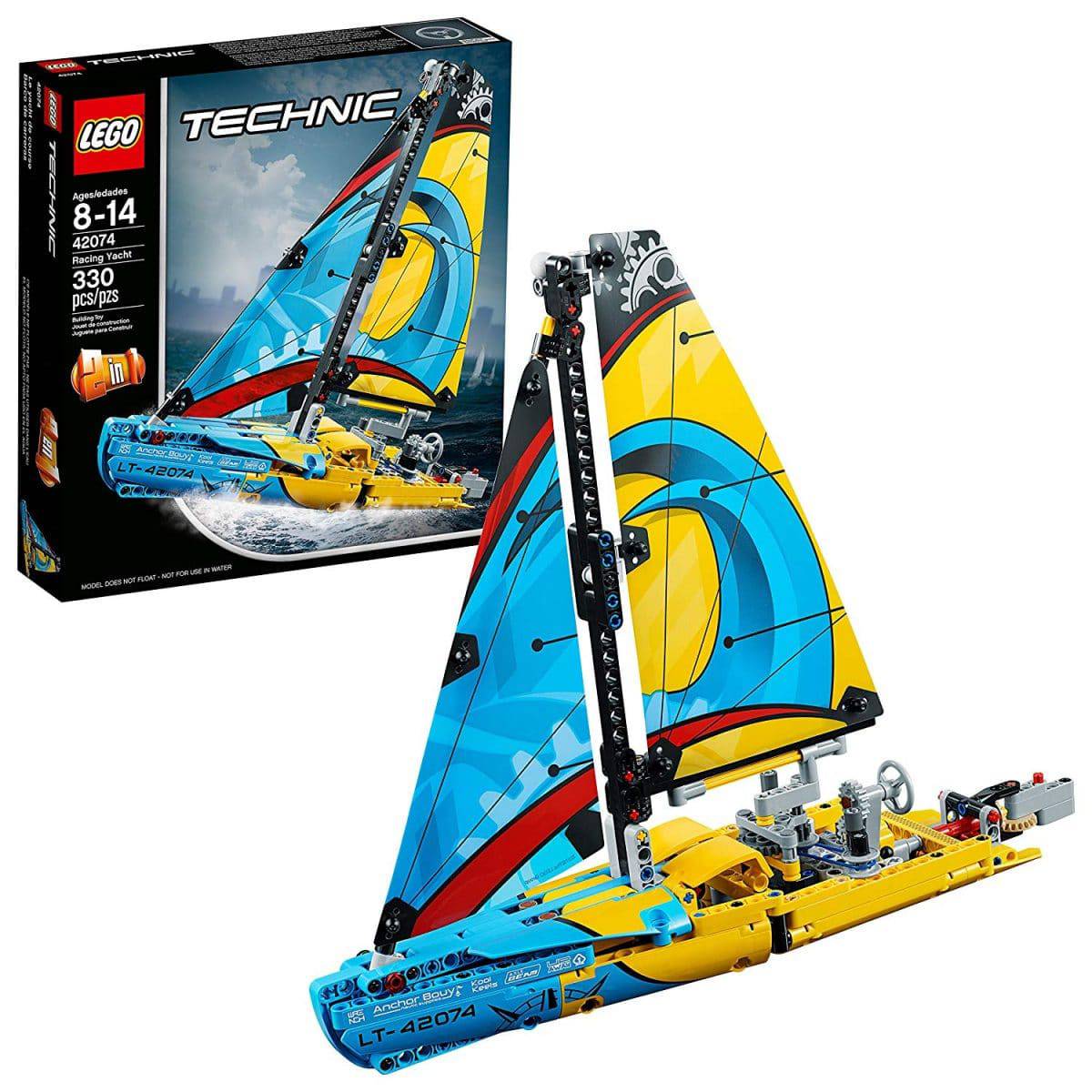 The Racing Yacht Building Kit is another one that has a 2-in-1 feature. It lets kids rebuild the yacht into a Catamaran, ensuring that they have plenty to be engaged with for hours of play. While assembling the different models, kids are given a great opportunity to develop their hand-eye coordination and motor skills. Moreover, if they find some parts a little tricky, their problem-solving abilities will come into play. There are 330 pieces available for kids to build. This is enough to challenge them. The set is also compatible with other Lego sets that encourage kids to broaden their mind to play more creatively.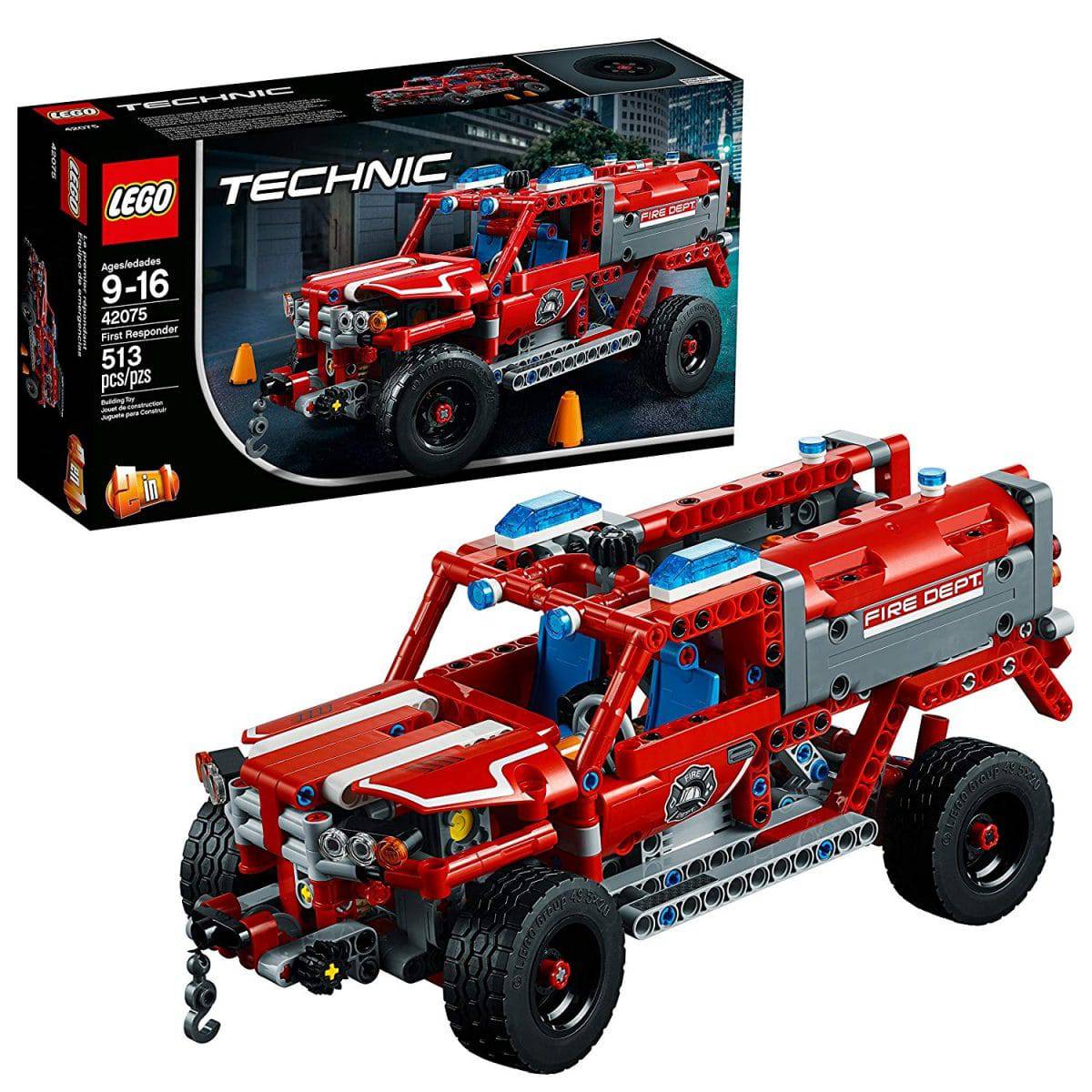 The First Responder Building Kit comes with a range of 513 pieces that provides kids with plenty of parts to be engaged with assembling. As a result, you can expect their motor skills and hand-eye coordination to develop well. The 2-in-1 feature lets kids disassemble the SUV vehicle and rebuild it into a Fire Racer model. Therefore, children can be entertained for a long time. The set is also compatible with other Lego set that provides kids with a great opportunity to build more complex structures. Therefore, their creative thinking skills can flourish remarkably well.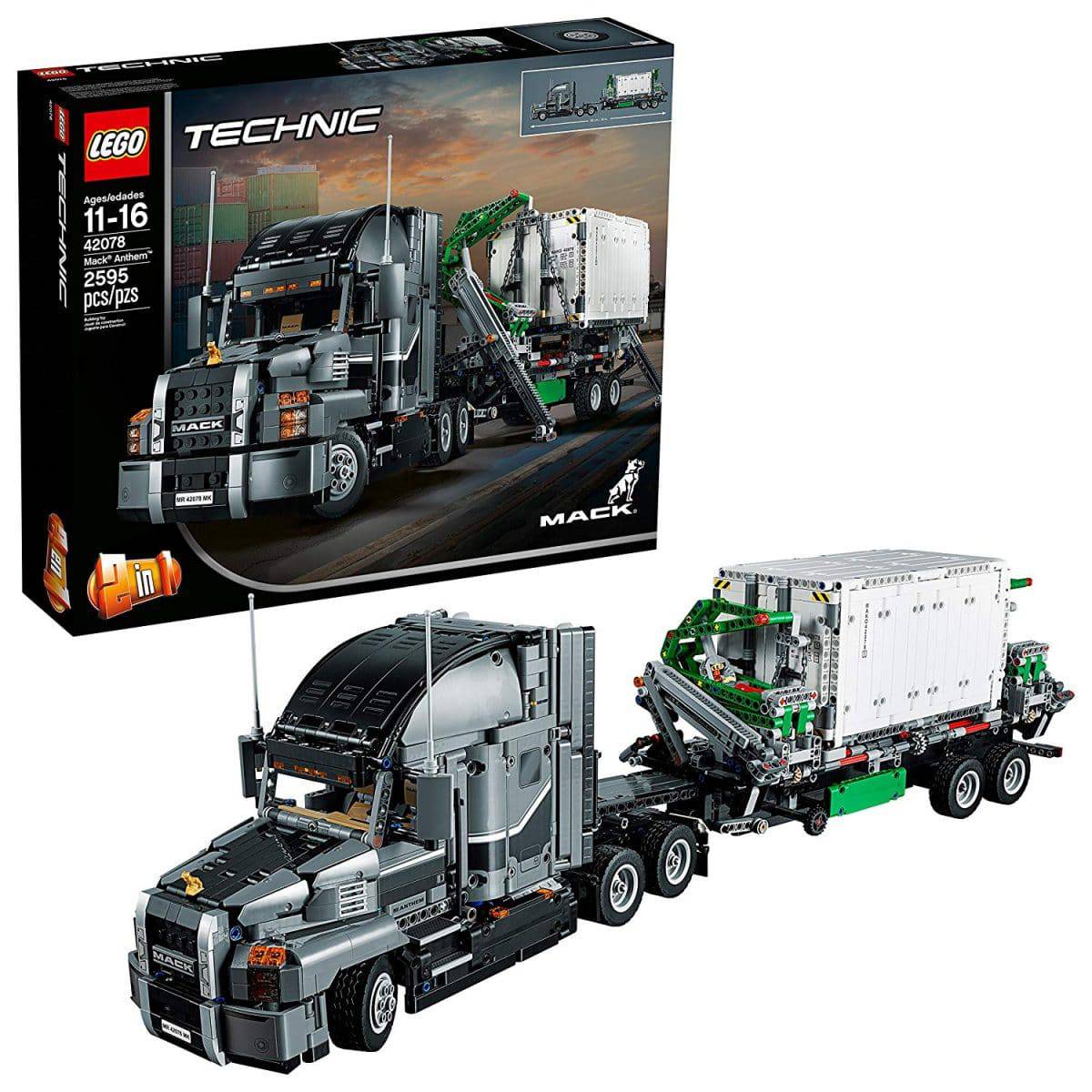 The Mack Anthem Semi Truck Building Kit has a fantastic 2-in-1 design that lets kid build it into a truck, as well as a Mack LR garbage truck. There's a total of 2,595 pieces available, ensuring kids have plenty to construct for hours on end. The construction process is excellent for stimulating your child's motor skills and hand-eye coordination. Moreover, due to the number of available pieces, they can work on their problem-solving abilities too. The Mack Anthem truck has a crane boom with 6 cylinders and moving pistons, as well as a driver's cab that has a lot of detail. These features make it more realistic for kids to play with enhancing their creative thinking skill. It's also compatible with other sets too.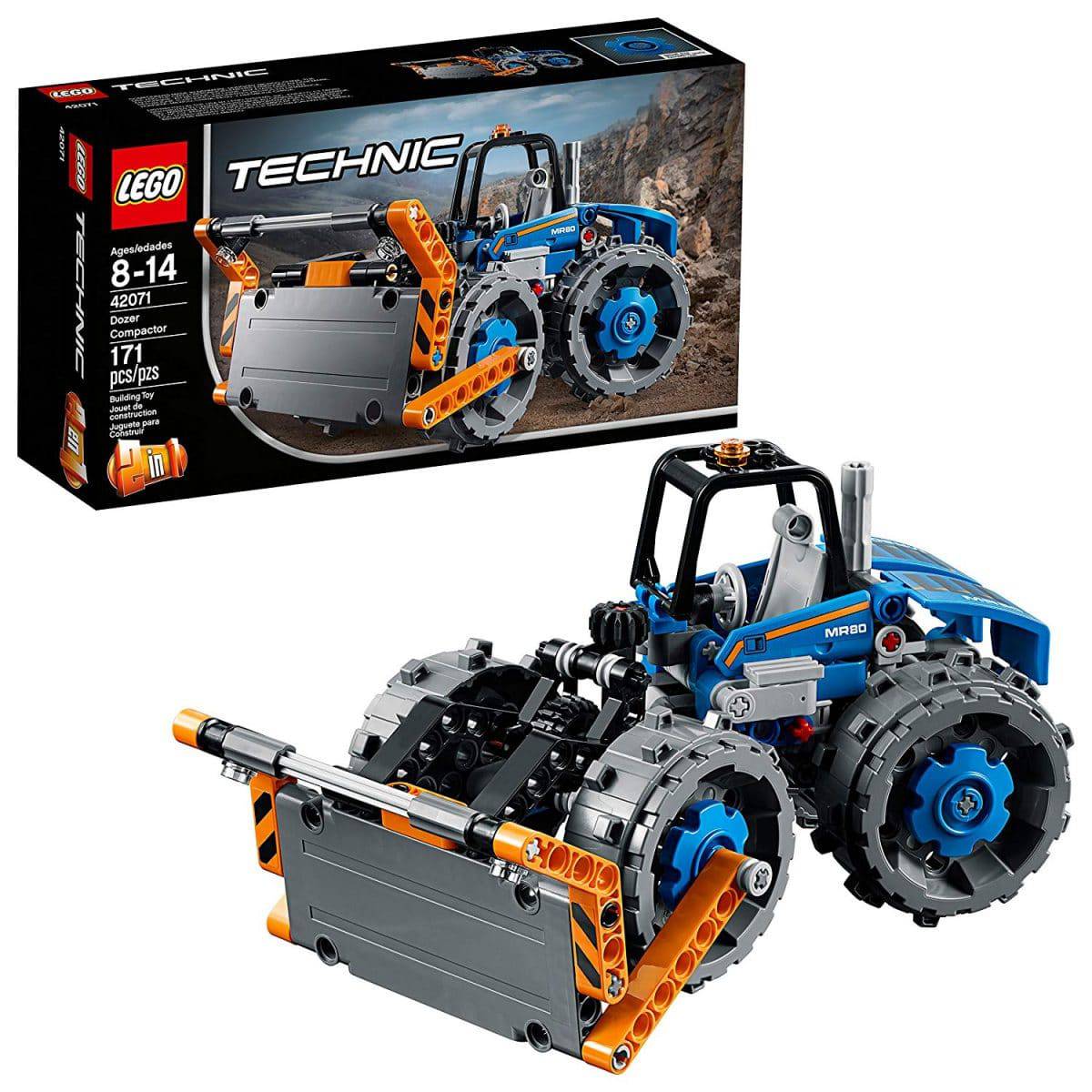 The 2-in-1 feature of the Dozer Building Kit enables kids to build the dozer compactor, as well as an articulated truck, providing them with plenty to stay busy with for a while. There are 171 pieces available, ensuring that children are given a great opportunity to develop their hand-eye coordination and motor skills. The building process can also be great for their problem-solving skills. It's also impressive how much detail has gone into the design of these toys. There's a driver's cab, steering function, hard compactor wheels, and a bulldozer blade that works. All of these features make it more exciting for kids and stimulates their creative thinking skills.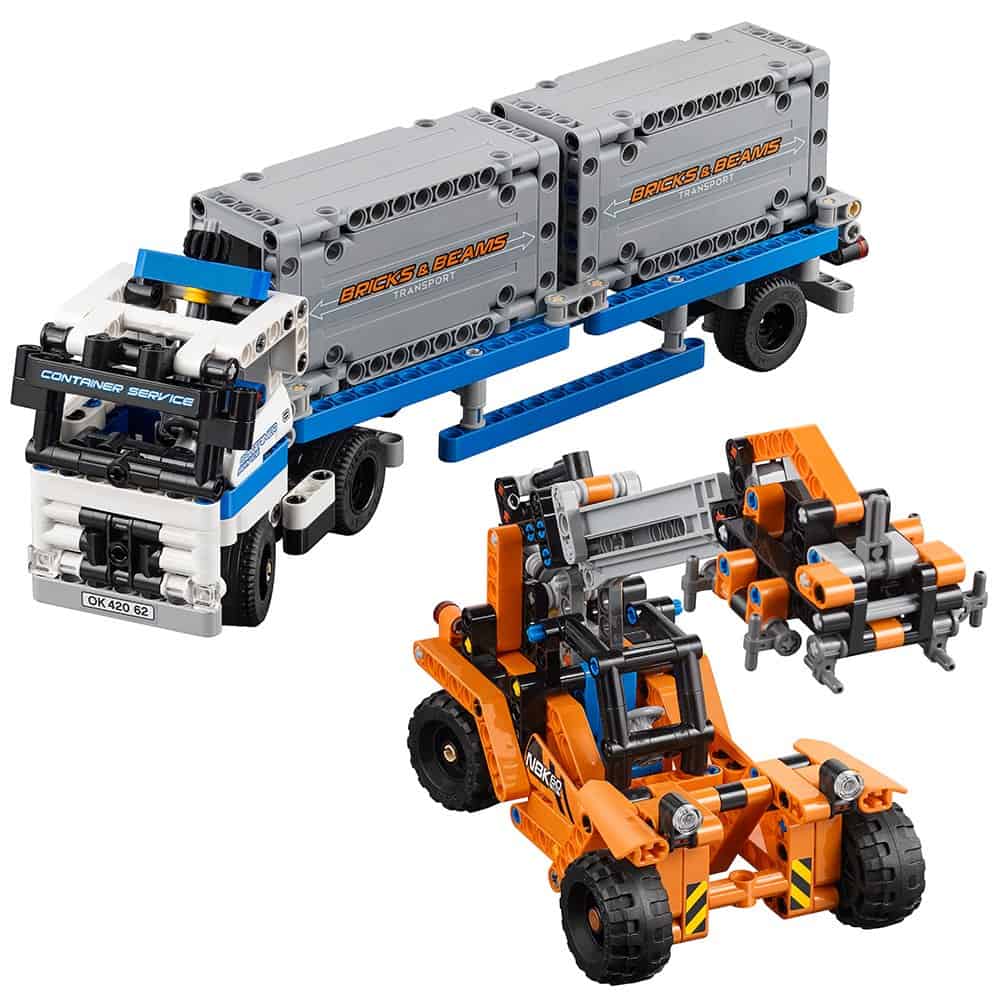 The Container Yard Building Kit is a 2-in1 model that can be rebuilt into a container straddle-carrier that comes with a truck. There's a total of 631 pieces available for kids to use to assemble these different toys. This is plenty to keep them engaged for hours. Their motor skills and hand-eye coordination develops well during the construction process. Moreover, due to the number of pieces available, your child' problem-solving abilities can come into play too. Besides this, it's impressive how much detail has gone into these toys. There are functioning doors, a detachable trailer, steering that works, and a grabber. All these features encourage children to play with more imagination.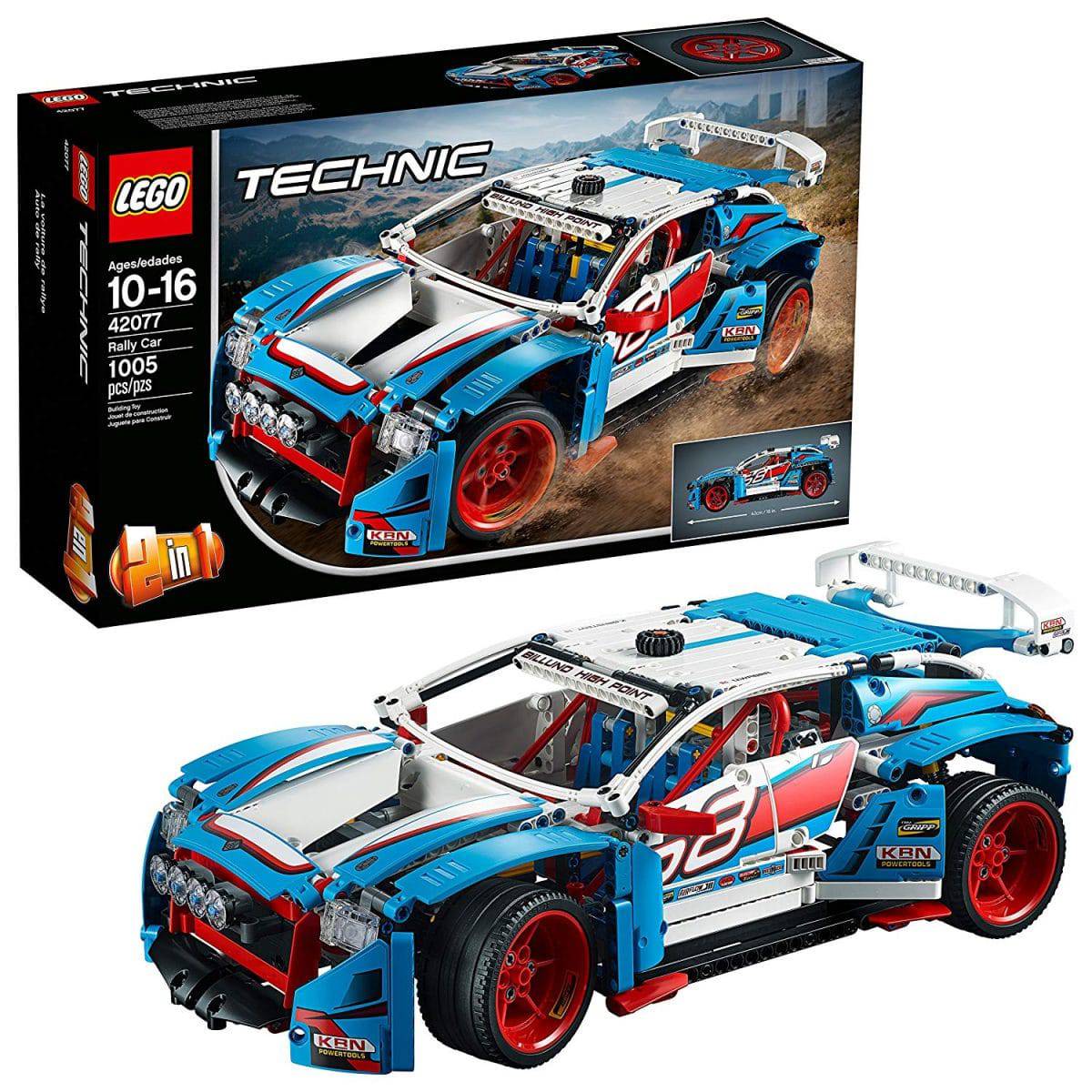 With a range of 1,005 pieces available to build, kids are provided with plenty to be engaged with for a while. These pieces can be used to build 2 different models that include a rally car and a buggy. Therefore, kids have plenty to play with and be creative for hours of play. The construction process is excellent for developing a child's motor skills and hand-eye coordination. Besides, the set has working steering, suspension, 6 spoke red rims, a rear spoiler, an opening/closing hood, and a V6 engine with pistons that move. These realistic features inspire children to play with lots of imagination.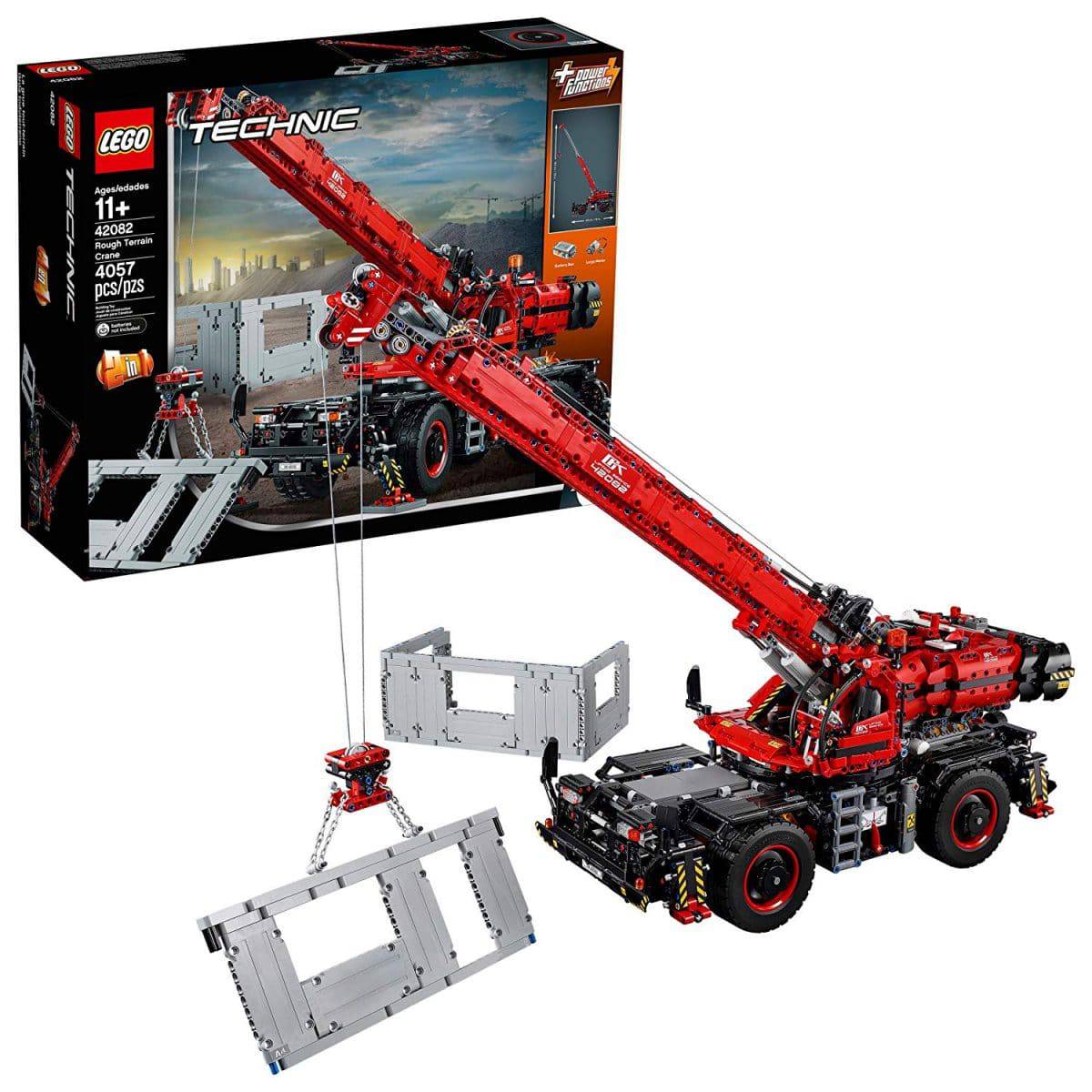 The model features an impressive total of 4,057 pieces that are plenty to keep kids engaged for hours on end. There's a 2-in-1 feature available as well that kids build a crane and a mobile pile driver. You can be sure your child will be thoroughly entertained and challenge with the set. While constructing the pieces, their motor skills and hand-eye coordination can develop well. Not to mention, with so many pieces available, your child's problem-solving abilities improve too. The crane also has various motorized functions. There's a lot of attention to detail as well that makes the set more exciting and realistic for children. As a result, their creative thinking skills can develop well.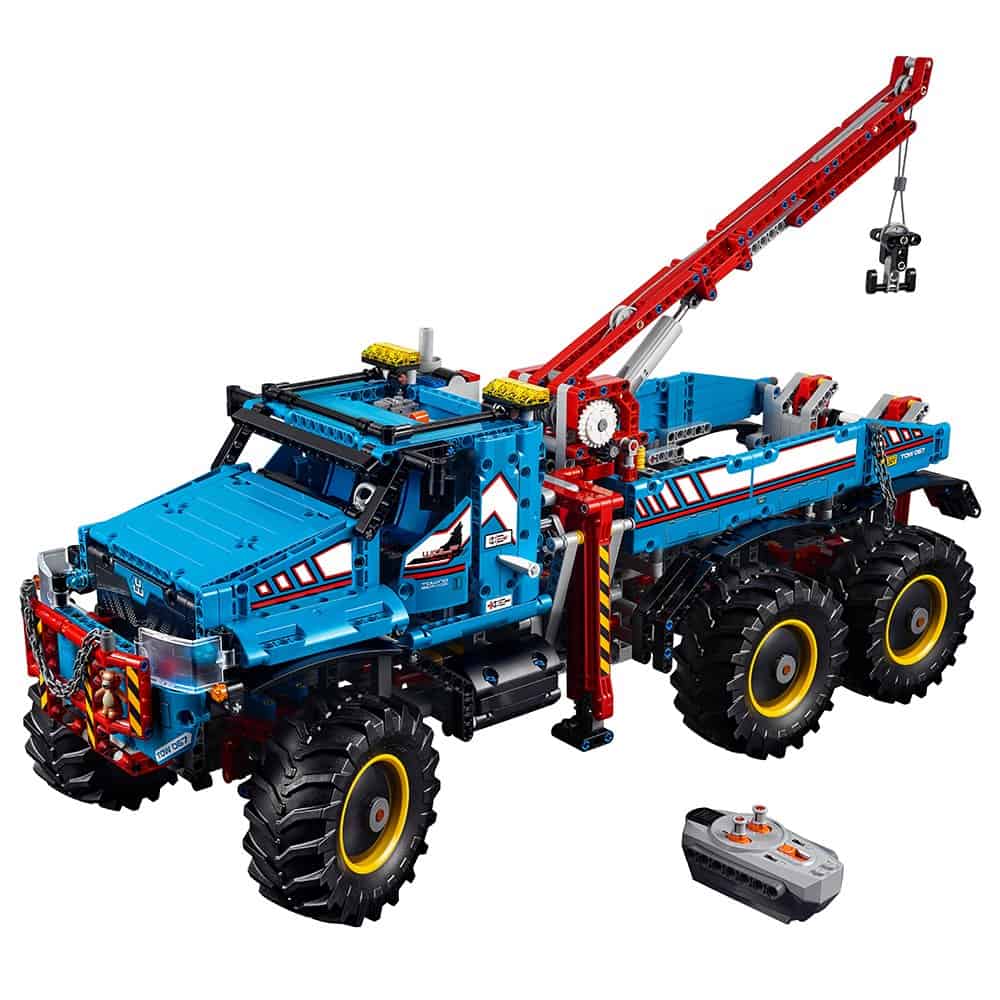 The model features a fantastic 2-in-1 feature that lets kids build a tow truck as well as a research explorer vehicle. Children have a blast being able to construct the pieces into different models and it develops their motor skills and hand-eye coordination. There's a remote available that lets kids control the toys and play in different ways. They can drive the toys and use the working crane in their pretend play scenarios. As a result, you can expect their creative thinking skills to improve. The design of the toys available in the set is also realistic. This makes the experience more exciting for children and inspires them even further to be more imaginative.
The Verdict
Each Lego technic set reviewed above stands out on their own because they're fun to build, cool to look at, and have detailed mechanics and operations that exceed the rest. So whether you're new to the world of building Lego technics or have been a fan for quite some time, they'll bring fun and exciting challenges to your home mechanic's shop.
Unlike regular Lego sets, they come with a lift arm or a studless construction that makes it easier to go vertical and get creative. Even if your set doesn't come with a remote control function, more of them are being retrofitted by a builder with the official Lego modifications. The best Lego technic toys will mesmerize not just children, but adults alike!