The world of magic can be pretty amazing to children. It can provide them with amazement that engages them for hours and sometimes even years. Watching magic, learning magic, and completing the illusions by themselves can give them some of the strongest developmental benefits. Performing illusions and tricks takes lots of practice.
It requires children to master several skills that benefit them physically and mentally. The challenges will benefit them with a skill set that gives them hand dexterity, excellent fine motor skills, gross motor skills, and self-confidence that cannot only be seen in a social setting but also in the classroom as well. Giving your child a magic set will allow them to experience the art of illusions first-hand.
Top 30 Best Magic Kits for Kids 2020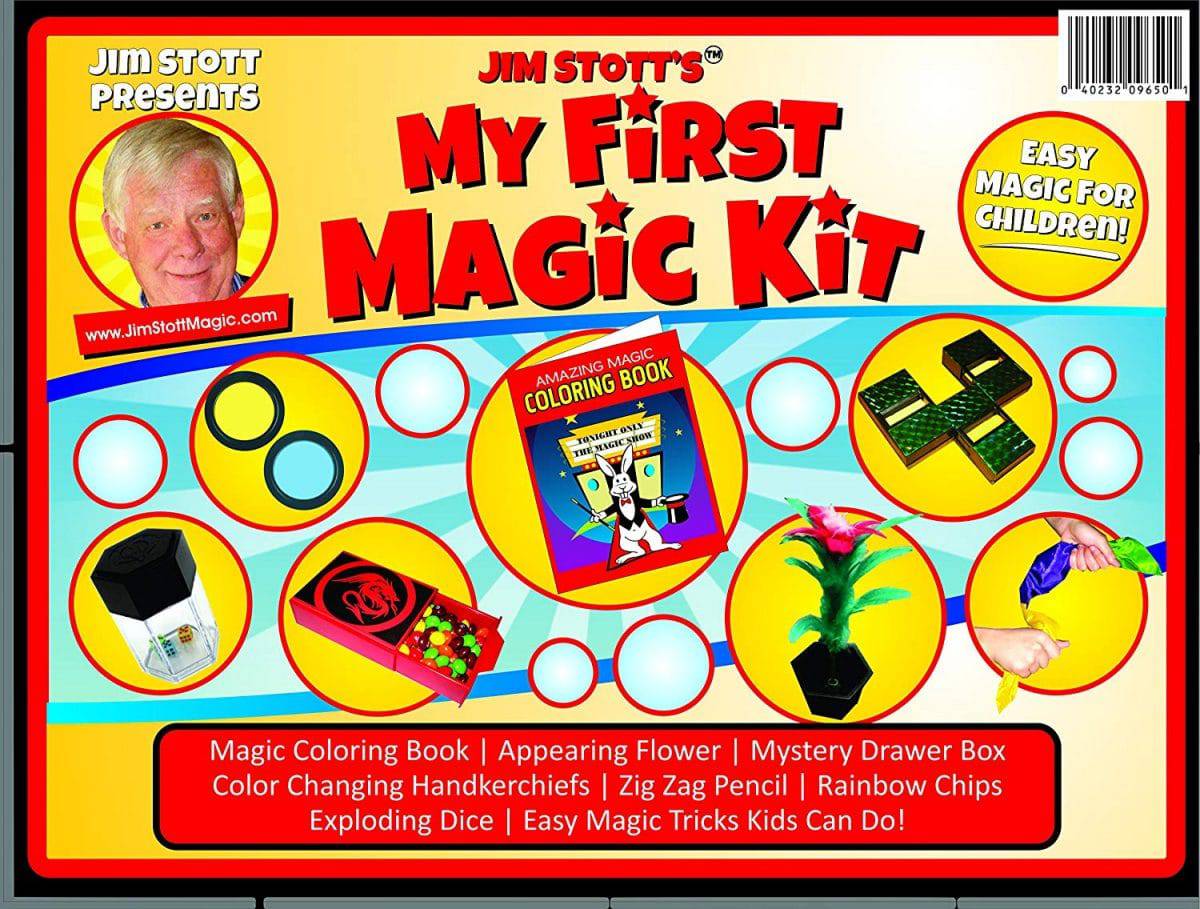 Jim Scott's My First Magic Kit for Kids is great for stimulating your child's imagination at an early age. Not only will the kit help your kid to quickly master the art of illusion, but it's going to open up new doors in your child's mind. Everything is so easy to learn to ensure that your kid has an absolute blast whilst learning about all that the wonderful world of magic has to offer. This is a set that's geared towards beginners as it's recommended for kids aged 5 and up.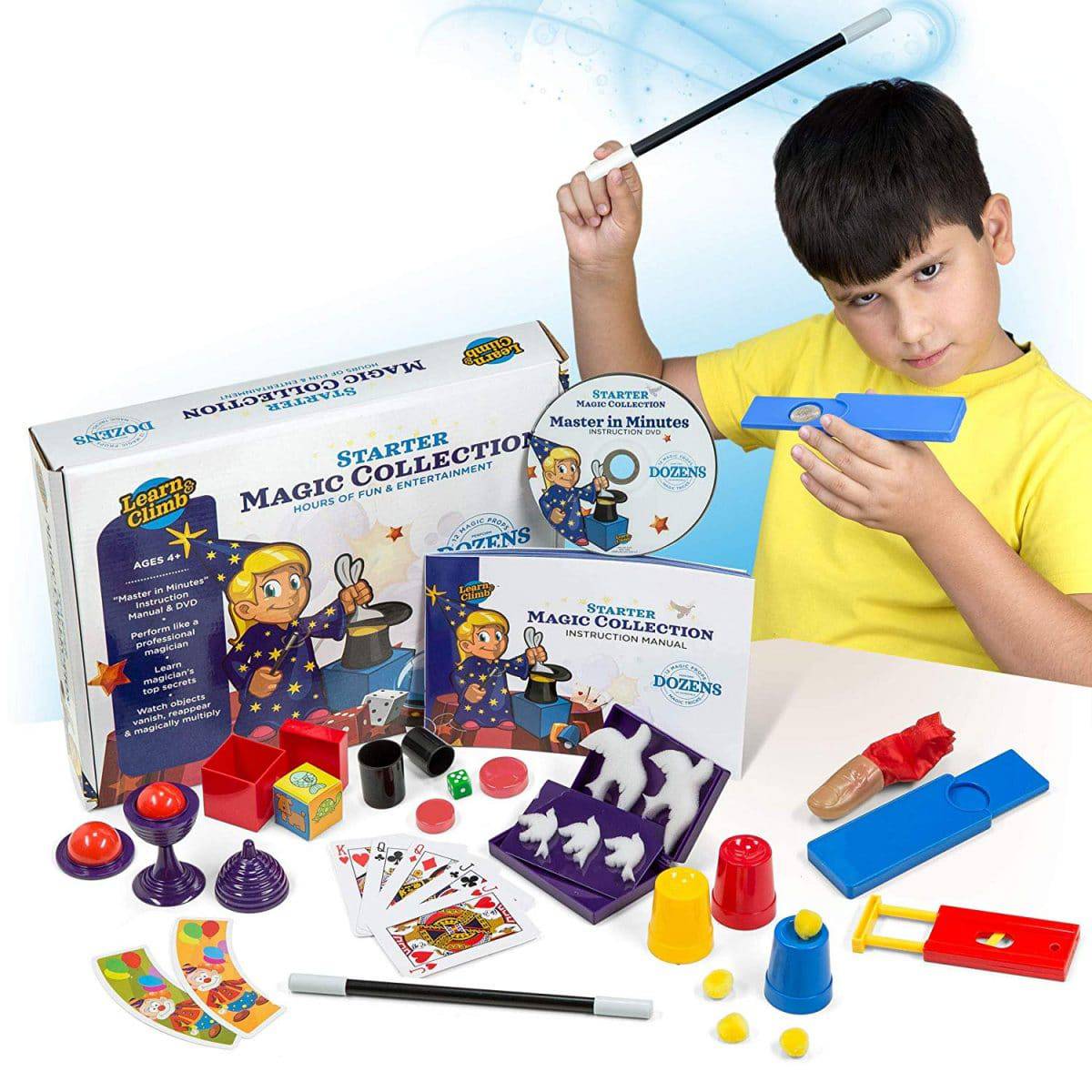 Learning how to perform magic tricks for the kids has never been as easy as the kit makes it. The set includes a very easy-to-follow and clear instruction manual that enables kids to perform the tricks easily and will allow them to replicate each time with confidence. Included is also a DVD that has step-by-step instructions. This is great for kids at different reading levels. Included with the set are 12 props that are magical and which can be used to create a variety of different tricks and illusions. A magic show wouldn't be complete without a magic wand that has hidden properties to perform illusions of its own. Everything that the kids need to start their magic show has been included. All that's left to do is find the magician.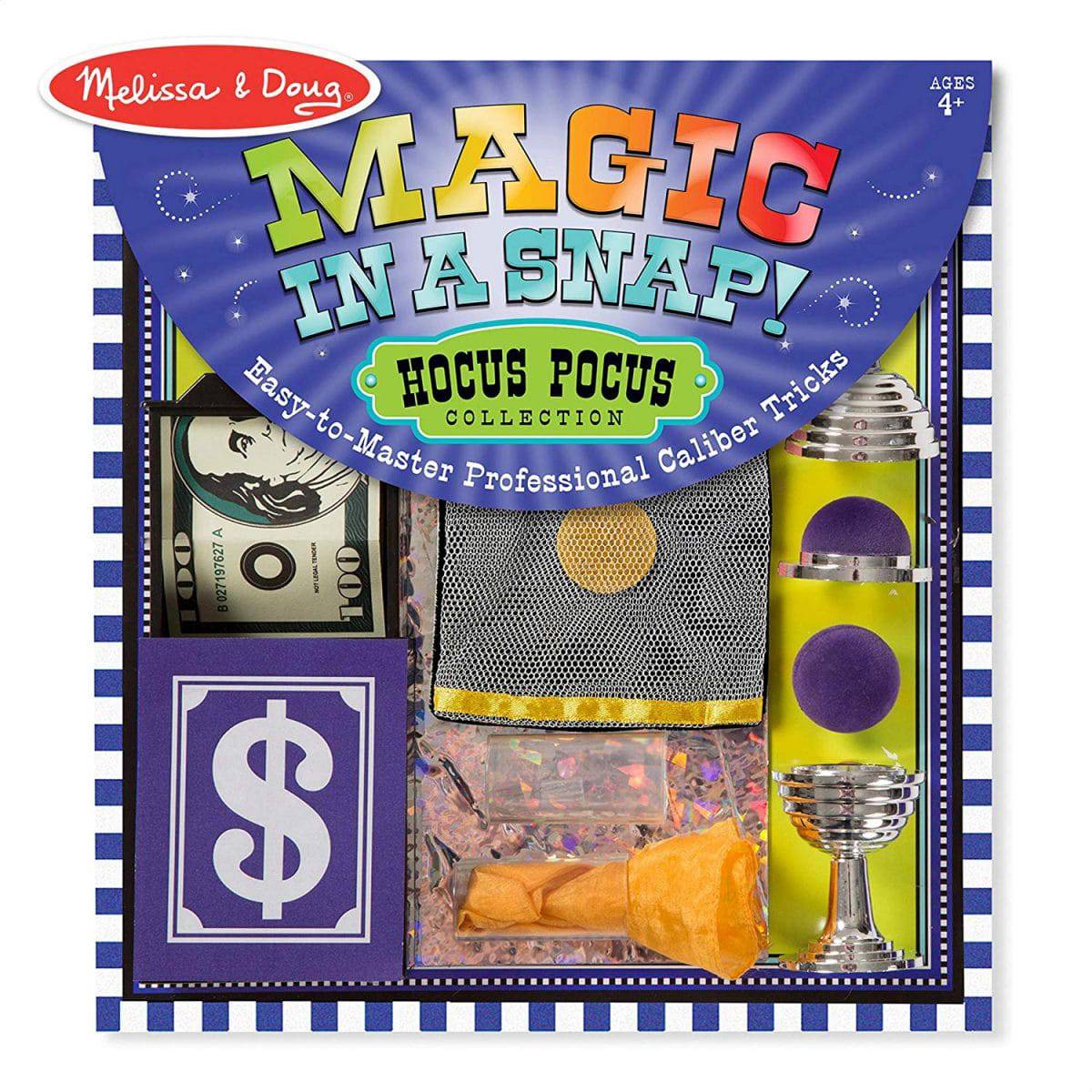 Kids can learn how to perform magic tricks that are on the professional-caliber with the kit. The collection has been created for a target audience of children that are between ages 4 years old to 8 years old. Included in the set are 12-pieces of magic equipment that come together to create a wonderful experience for all. There is one magic coin bag, a crash case, vase and ball trick, and a magical tube. All the materials used to create the items are kid-friendly and high-quality. It has been created to be able to use with frequent use and stand up to the test of time. When children perform magic tricks, it is a boost of confidence for them. When they're up there in front of the audience, it gives them the boost that they need to enjoy the experience and work towards getting better and better each time. It also sparks their imagination and allows them to get real hands-on-experience with performing.
Self-confidence can be built at a very young age. Children that are exposed to magic and have the chance to perform their magic for others will have better self-confidence and perform better under pressure. This is a skill set that's great to have as an adult. A very unique way to learn and perform magic is learning the science behind it. It allows children to master the art of being a magician. It gives them the basics of how the magic works and the knowledge behind why it works. The set includes nine different activities that'll teach the kids how chemical reactions occur and how they can use them in their magic tricks performances. The set chemicals include baking soda, red cabbage powder, zinc sulfide, and much more. It also comes with the supplies needed such as test tubes, wand, wand caps, measuring scoops, paper, stickers, and guide. The activity guide is easy to read and follow. It's best suited for children over the age of six with adult supervision.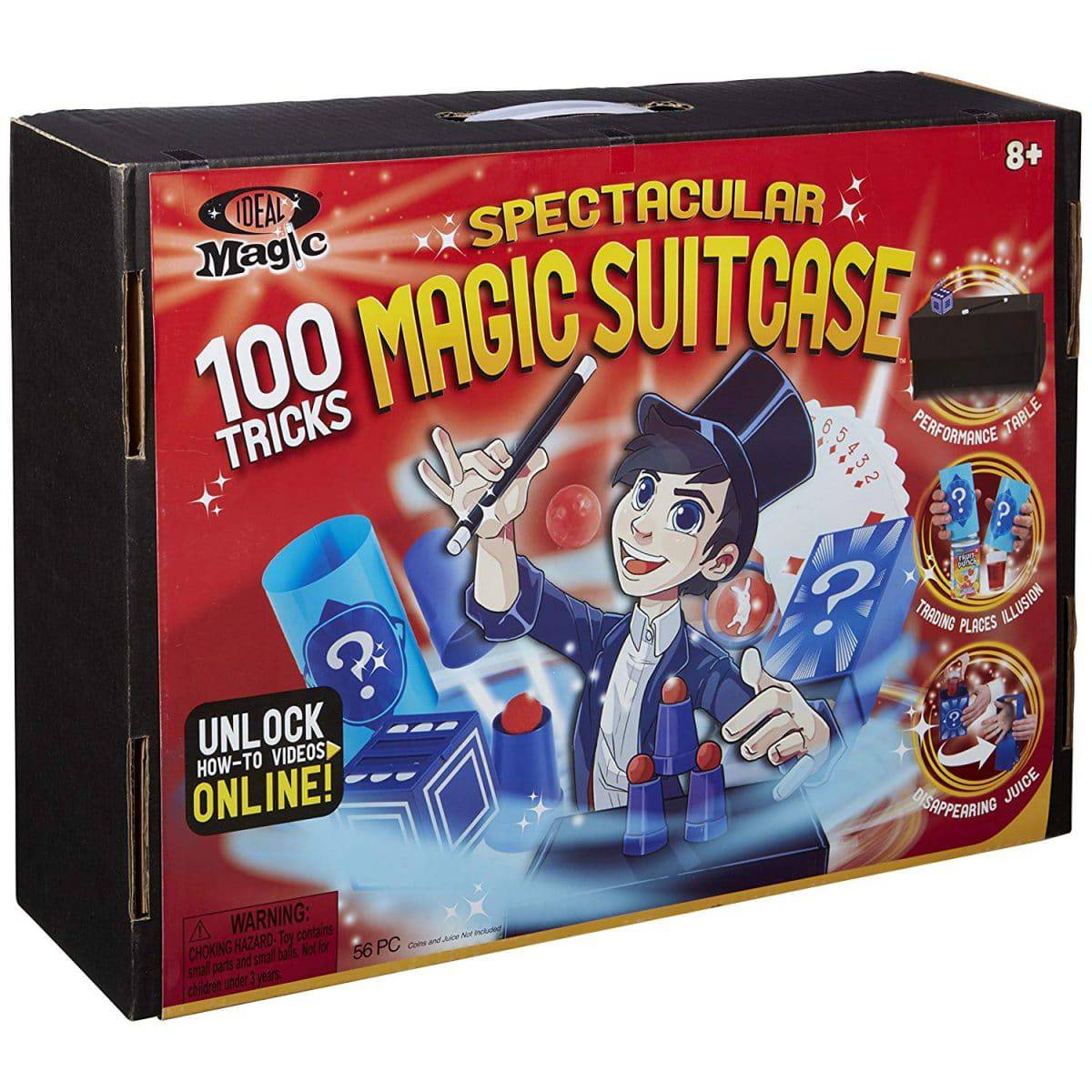 There's a wide multitude of tricks for your kid to master, and it even comes with a hat and wand to give your kid the authentic look of a magician. It stimulates the imagination and the portability, hat, and wand is a plus. Also, 100 tricks guarantee a ton of fun and will open up your kid's eyes to new possibilities. The magic set is bound to stimulate your child's imagination, and we all know that the endless imagination is key to a child's creative and critical abilities. The wide variety of tricks lets your kid practice tons of different magical feats that'll help your child's imagination grow even further than you probably thought possible. It comes with a step-by-step instructional DVD starring professional magician Ryan Oakes. Learning all the ins and outs of being a magician from a true professional always guarantees that your kid learns all the skills needed to become a master magician. The storage suitcase also doubles as a portable table meaning your kid can perform magic tricks anywhere at any time.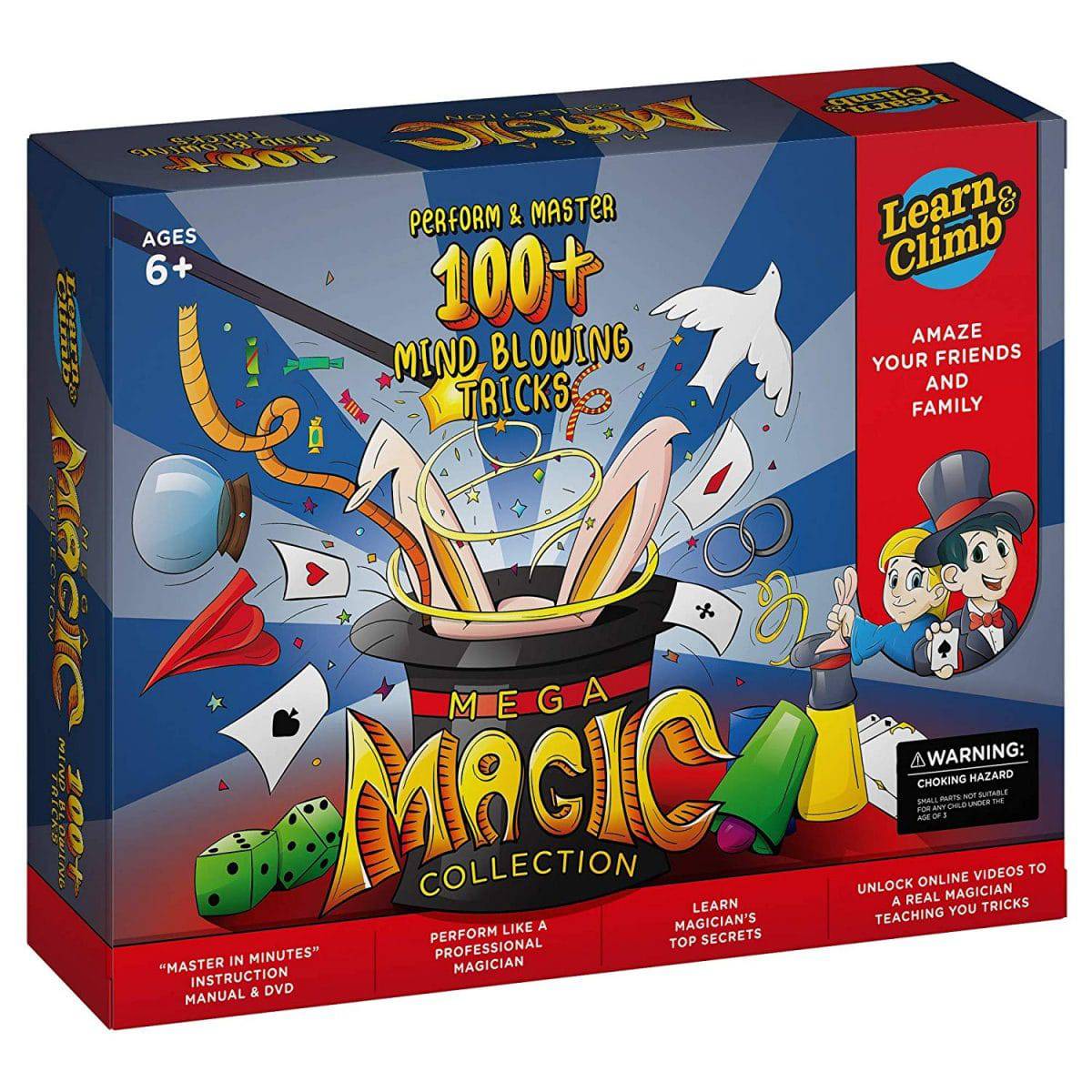 Let your children become the next big star as a magician with the magic set. It features 28 props that'll make it possible for your kid to perform well over 100 tricks for their audience. The set includes step-by-step instructions on how to perform the tricks and they'll have them mastered in no time. They're easy to follow and simple to complete magic acts. Inside the set, your child will find different levels of tricks. This continues to keep them engaged in the set time after time, plus is a huge audience, please. The set comes with a risk-free guarantee. If your child doesn't like the set, you can return it free for the first 30-days. All the materials used to create the tricks have been made of the highest quality materials. There's a bonus performance table included that has two drawers for storing the items when they're not performing.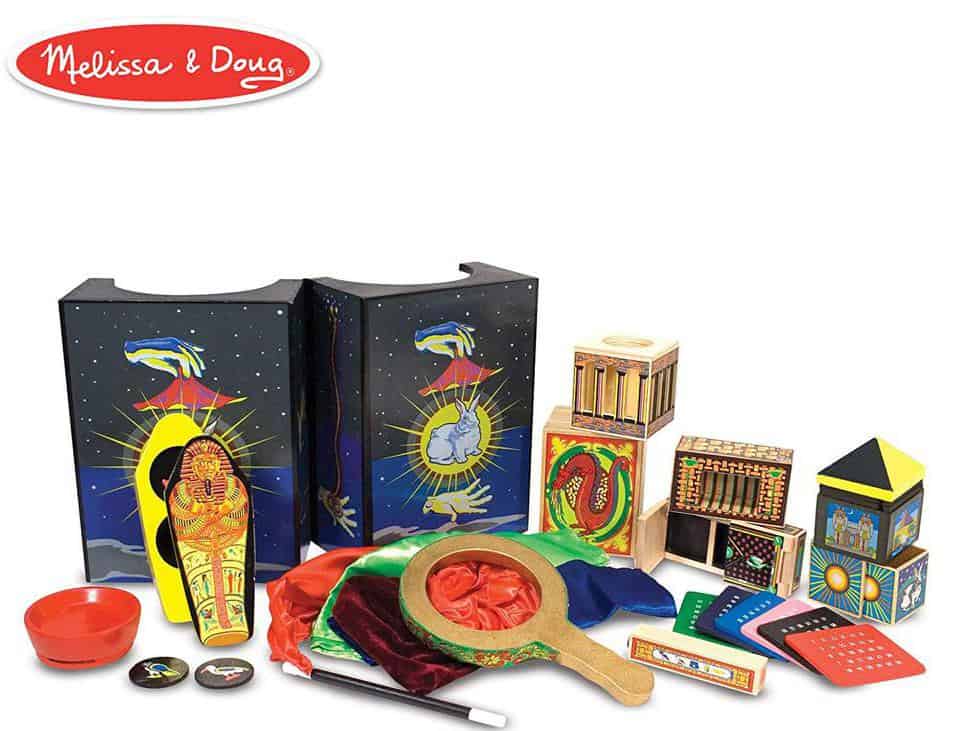 It's a great way to expand your child's imagination while learning critical thinking skills and developing fine motor skills. The Melissa & Doug Deluxe Magic Set is a fantastic way for a child to create a world of wizardry and wonder. The magic set doesn't have as many tricks, but that doesn't mean it isn't an excellent kit for introducing your child to magic. The set comes with ten tricks and includes a magic coin box, Egyptian prediction, great escape, disappearing ball, moneymaker, cylinder squeeze, vanishing zone, vanishing coin, magic number prediction, and secret skills. Moreover, it's a solid wood set. If your kid is looking to wow and amaze family and friends with incredible magic tricks while simultaneously developing fine motor skills, then the set is a great way to go.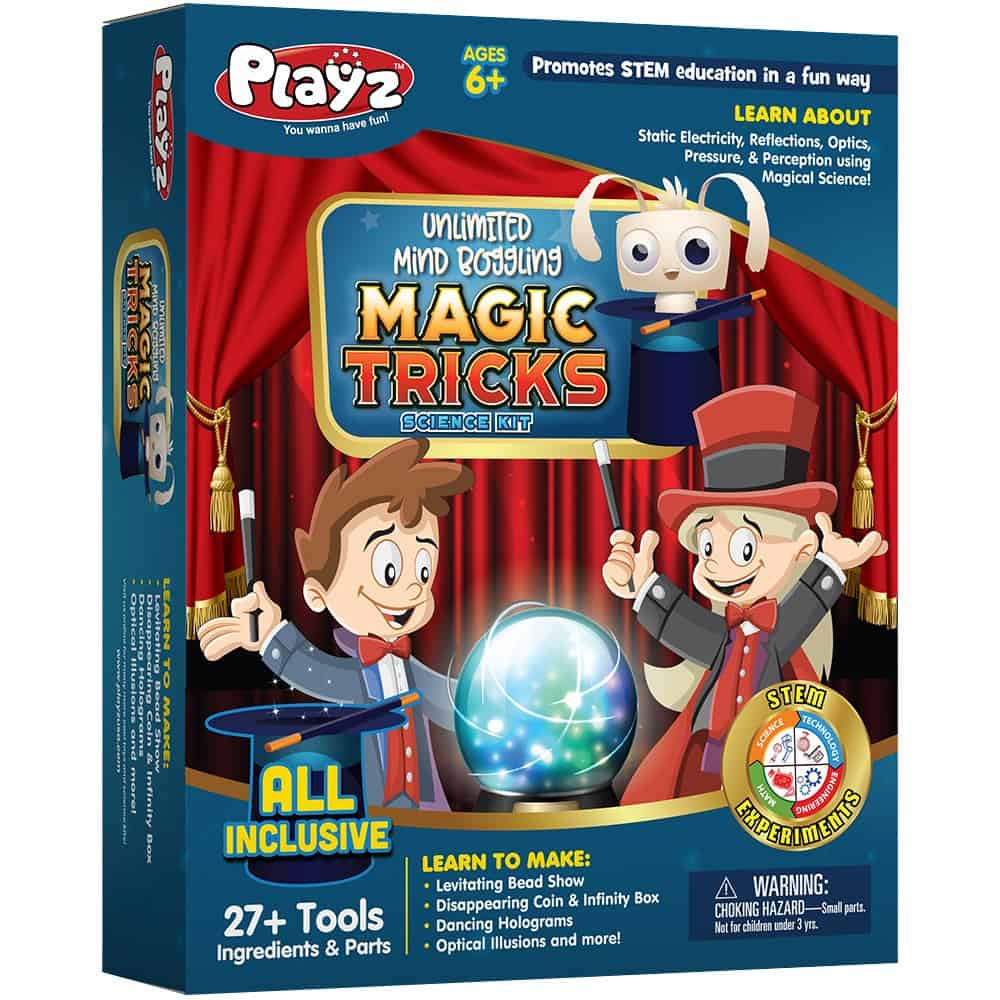 The magic kit is best suited for children age 6-years old or older. Inside the kit, there are small pieces that are a choking hazard to small children. The kit is perfect for inspiring young kids to become masters of the tricks. It features some cool tricks that teach kids about static electricity, optics, reflections, and pressure. It's the perfect magical science perfection. Included are all the tools, ingredients, and parts. It'll bring the fun of science and the mastery of magic together in one fun-filled kit of magic. Engaging the mind and activating the body is what the kit has been designed to do. It takes the STEM challenge and sets your child's mind to a place where they're able to learn and have fun at the same time. Following the easy to read and understand the instruction guide, kids get to learn about classroom lessons in a fun magical way. As they work through the tricks and perform the magical experiment, the set has a guide included helping test them and grade as they improve.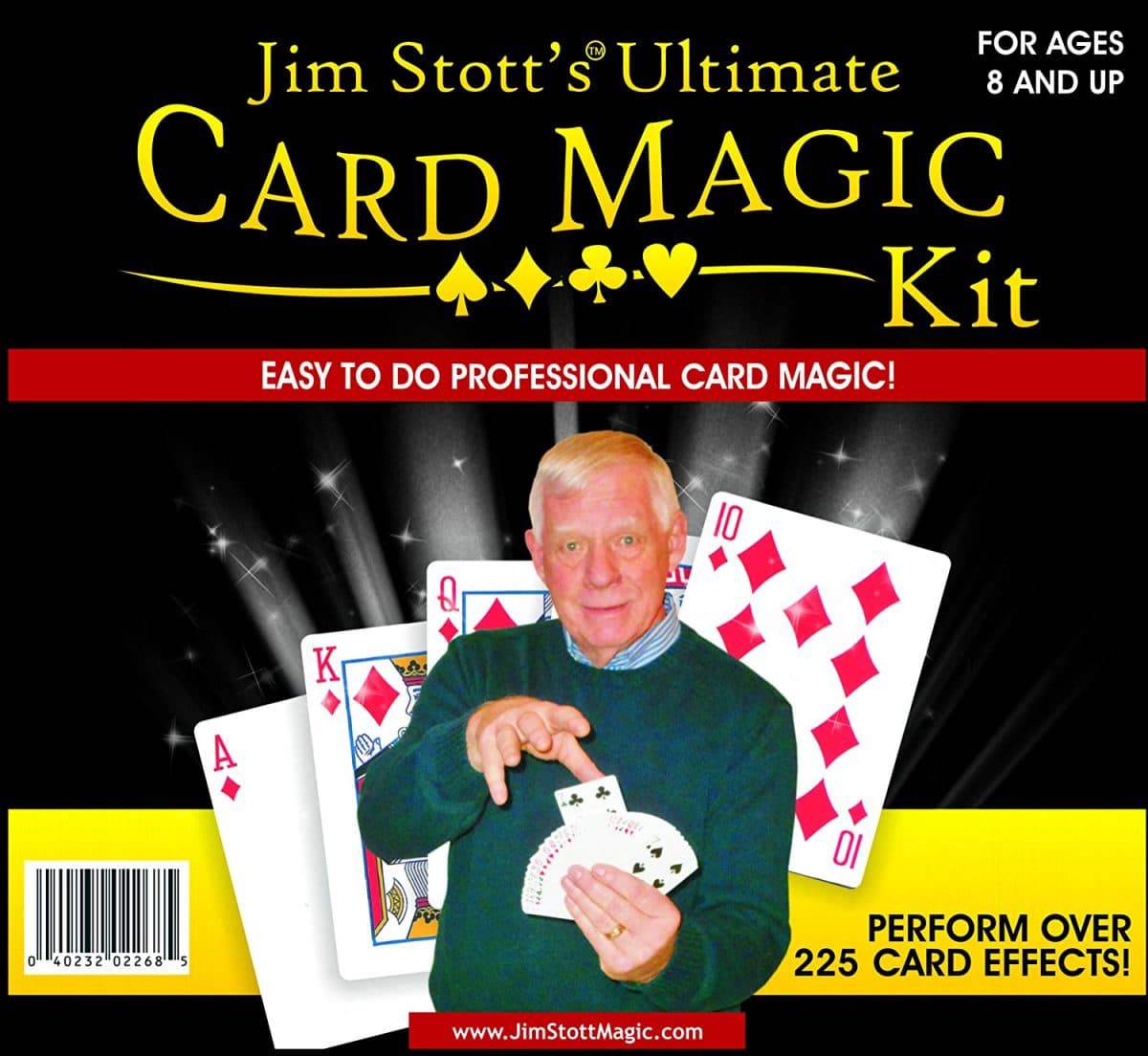 One of the greatest things about the kit is that it allows your kid the opportunity to perform tricks at any location. Your kid can bring their card decks with them wherever they go, or they can use anyone else's card deck if your kid is performing a trick that doesn't require the special deck. This gives your child the chances to impress friends and family members in a variety of environments, allowing your kid to mystify audiences without having to carry around a full magic kit. For a majority of these tricks, the special decks that come with the kit are needed, but many tricks can be performed with a regular deck. You get a secret Welcome Letter postcard that has the address to Jim Scott's website where you can find all the instructions needed to perform these mind-bending tricks.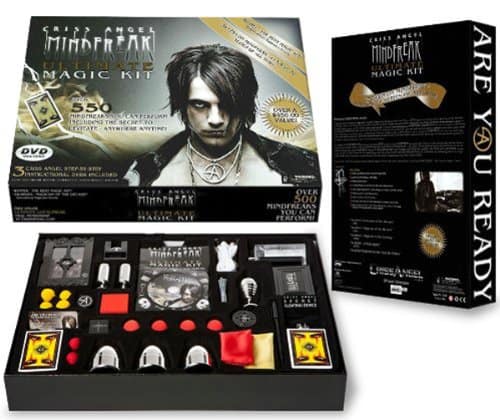 The ultimate mind freak magic tricks will come right to your living room with the magic set. It features mind-blowing tricks that are illusions just like the one performed on TV. One of the biggest and best names in the industry has created the kit for use right at home. It includes props that allow the user to create over 500 different magic tricks, even the classics like Money Printer and Cups and Balls. With the set, they'll receive detailed step-by-step instructions on how to perform and execute the illusion with ease. The instructional DVD makes it easy for kids to even learn without help from an adult. It has been created for anyone from the ages of 8-years old to 108-years old. The set has mind-blowing illusions that'll have them learning more and more about the skills.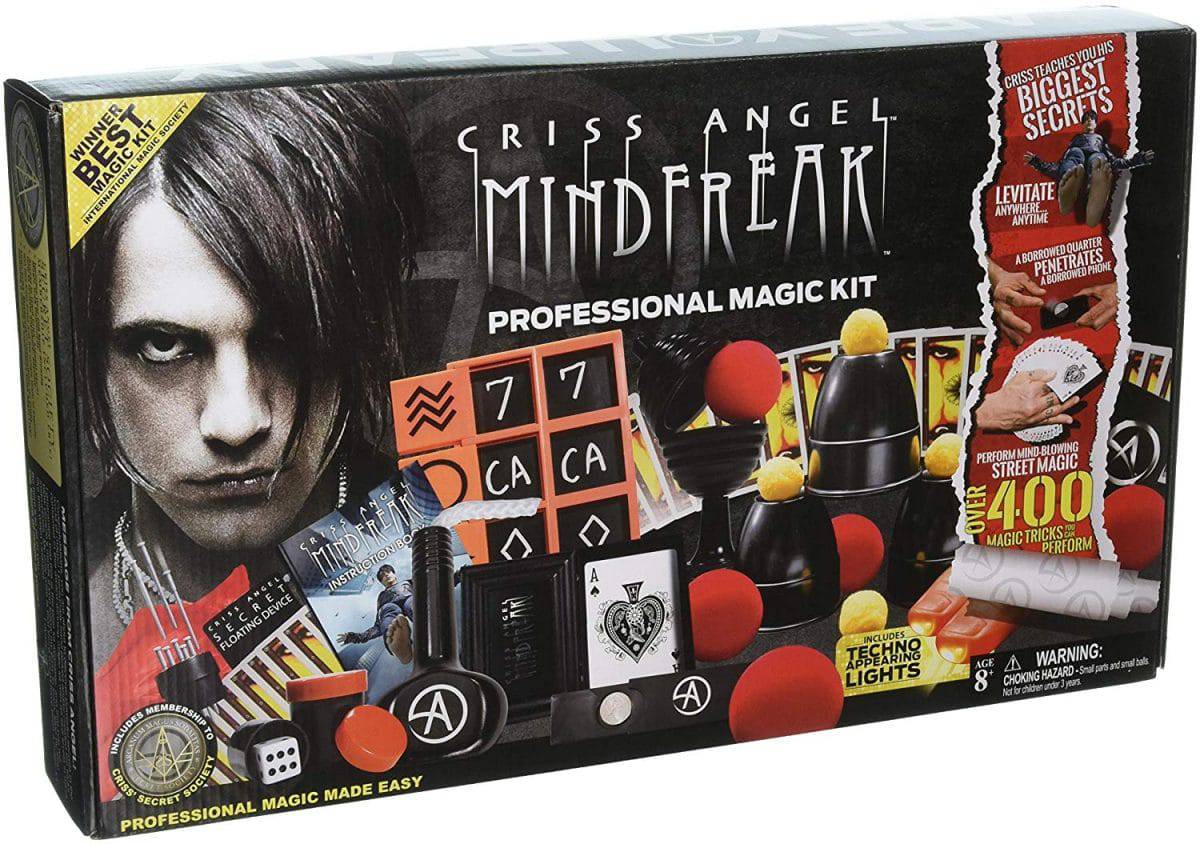 Criss Angel is famous among magicians for his camera tricks and questionable magic, but there's no denying that he puts together some pretty sweet magic sets for kids. It's the newest, most comprehensive and unprecedented magic kit with over 400 magic tricks, like Mental Freak and Penetration Glass, along with detailed, step-by-step directions. With video downloads taught by Criss himself, you'll be performing this award-winning magic kit in no time. This is a great gist for anyone looking to learn some magic and have fun while doing it. The tricks aren't too complicated for a young child to replicate. It's a perfect magic trick kit for a beginner. It's a good value for the money.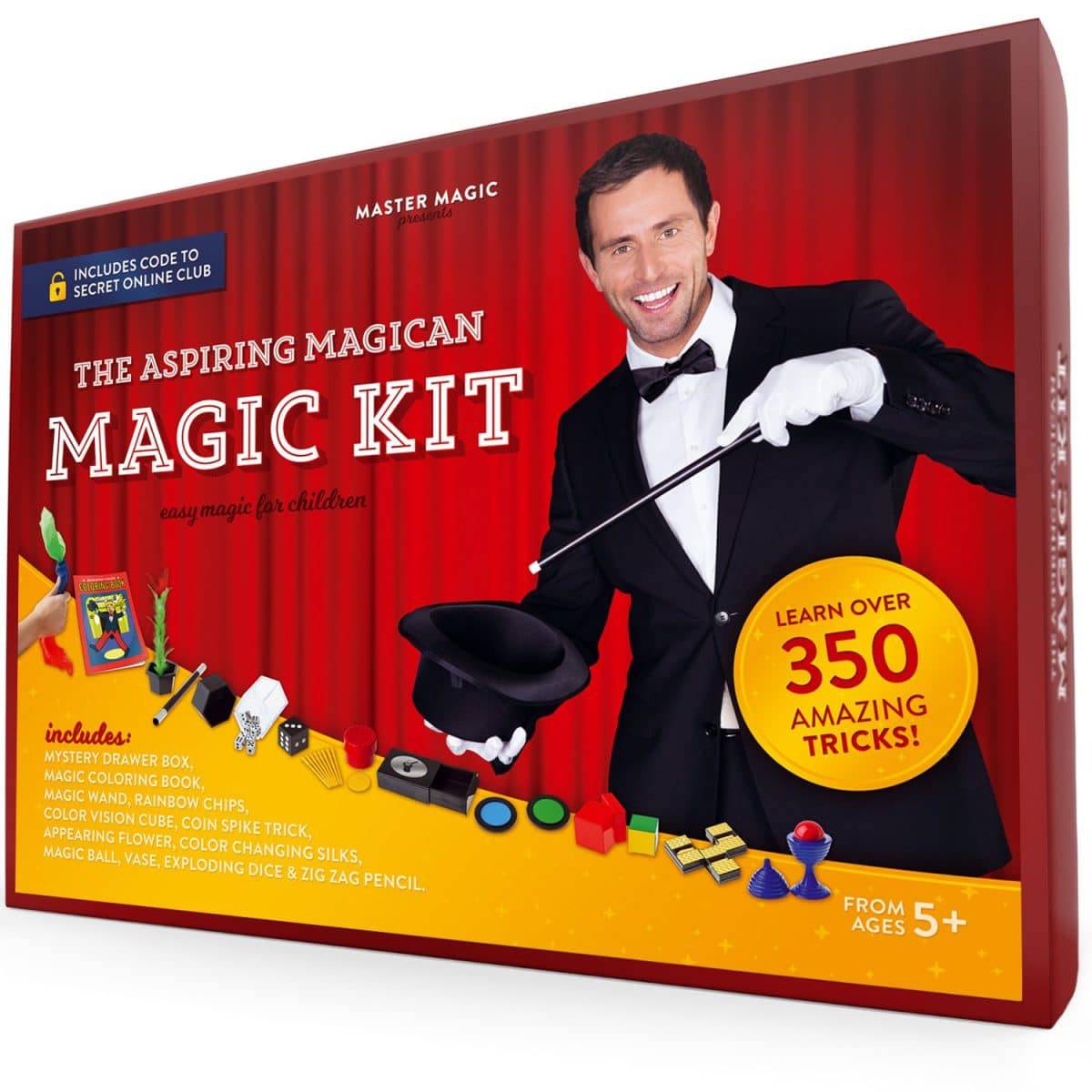 The magic trick toy is perfect for kids 5-14 years old. Your child can present a magic show for family and friends as the magic kit has enough materials for it with over 350 easy to learn magic tricks. The kit includes access to the secret website of the manufacturer with step-by-step video walkthroughs of even more tricks that don't require the use of the kit. You can also find three bonus EBooks there. These are Modern Coin Magic: Learn Over 236 Amazing Tricks Using Coins, Encyclopedia of Card Tricks, and Expert at the Card Table. The fun will never stop with the children's magic kit. One of the main drawbacks is the complicated instructions that smaller kids won't understand without the help even if they're good readers. What's good about instructions is that they give suggestions on how to change up the trick.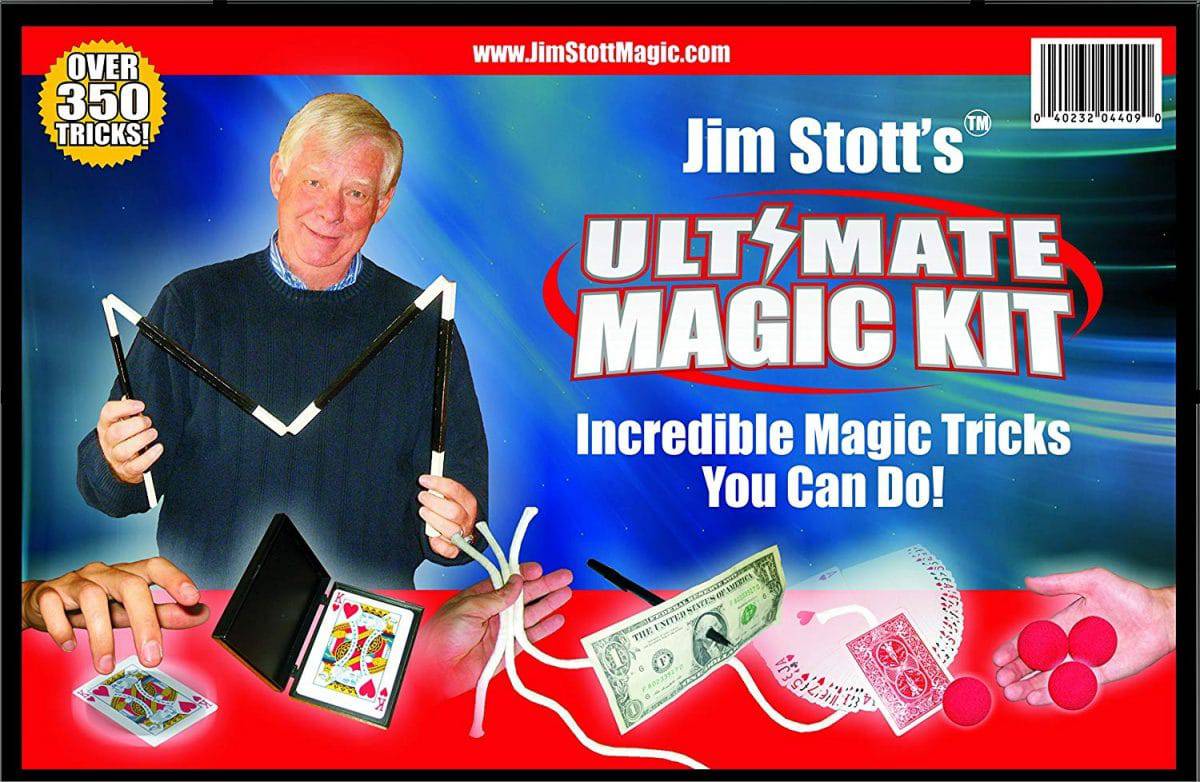 Magic is fun to watch and even more fun to perform. The magic trick kit was made for older kids and adults to start learning magic. The kit includes tricks like magic cards box, Svengali card deck, the 3 rope mystery, the incredible levitation system, 4 magic sponge balls, top-secret vanishing device, and magic pen penetration. You'll get everything you need to do over 350 magic tricks as well as a link to the secret webpage that allows you to look at the video tutorials on how to use all the props in the kit. Some things can be done right away and some will need looking up in the manual or in the videos for which links are supplied. The magic set is tons of fun and is a great tool for helping to build critical thinking and problem-solving skills.
Your little magician will perform an amazing magic show with the help of the Thames & Kosmos Magic Hat. The kit comes with 35 tricks and over 40 props for these tricks. Among the props, you can find a plastic hat and a rabbit puppet that'll help your kids feel like real magicians. The kit also includes 20-page illustrated manual instructions where the majority of tricks come in three basic steps. The first step helps children select the props needed for the trick, the second step teaches kids how to prepare it and finally, the third step demonstrates how the trick is performed.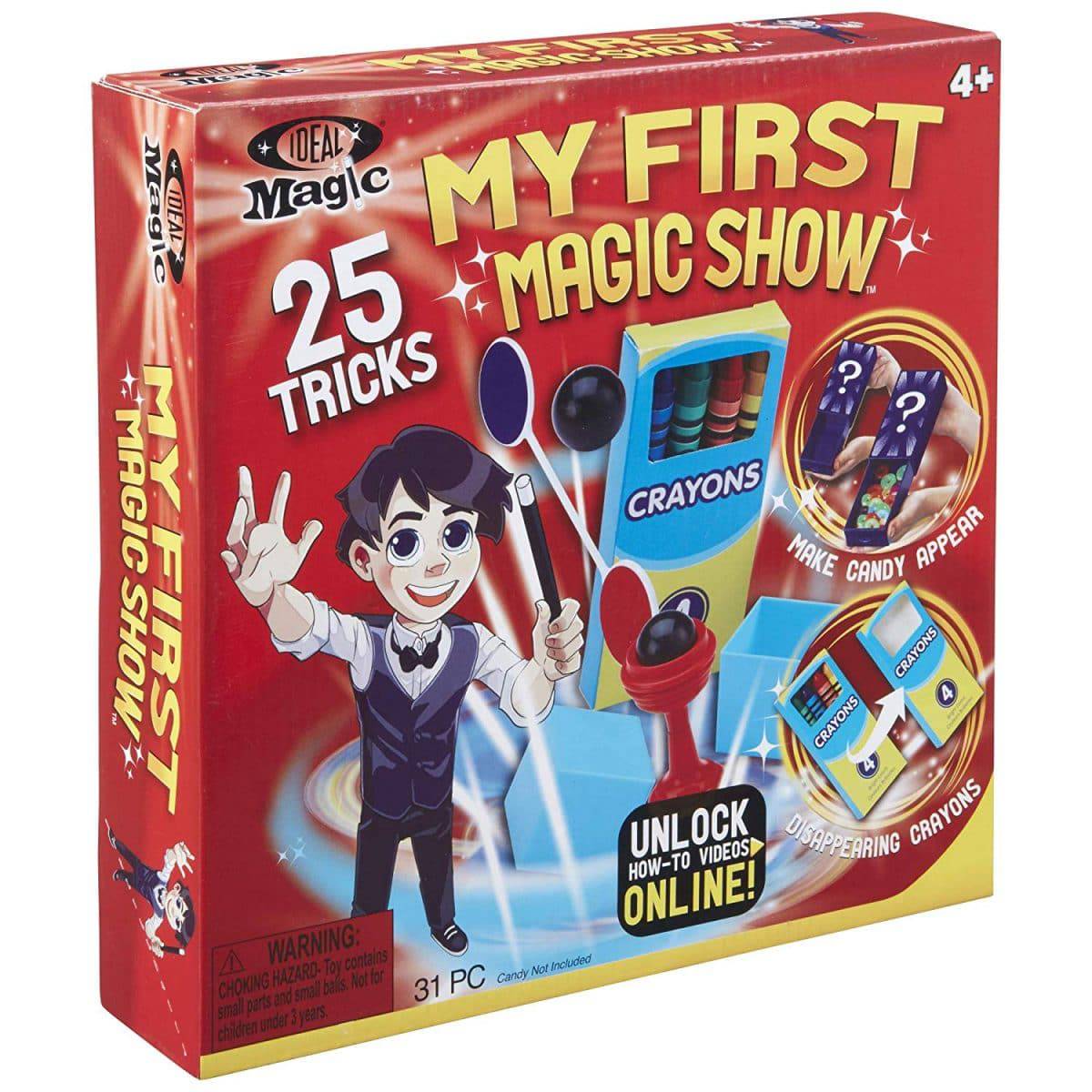 It's a cool magic set that includes 25 easy to learn tricks and high-quality props. The kit is perfect for kids who are new to the art of magic. It's worth noting that the magic kit teaches kids how to perform the same tricks as professional magicians. These tricks are easy to learn and follow with the step-by-step instructions that come both in manual and DVD. The recommended age is from 4-years old but younger kids will need an adult's help.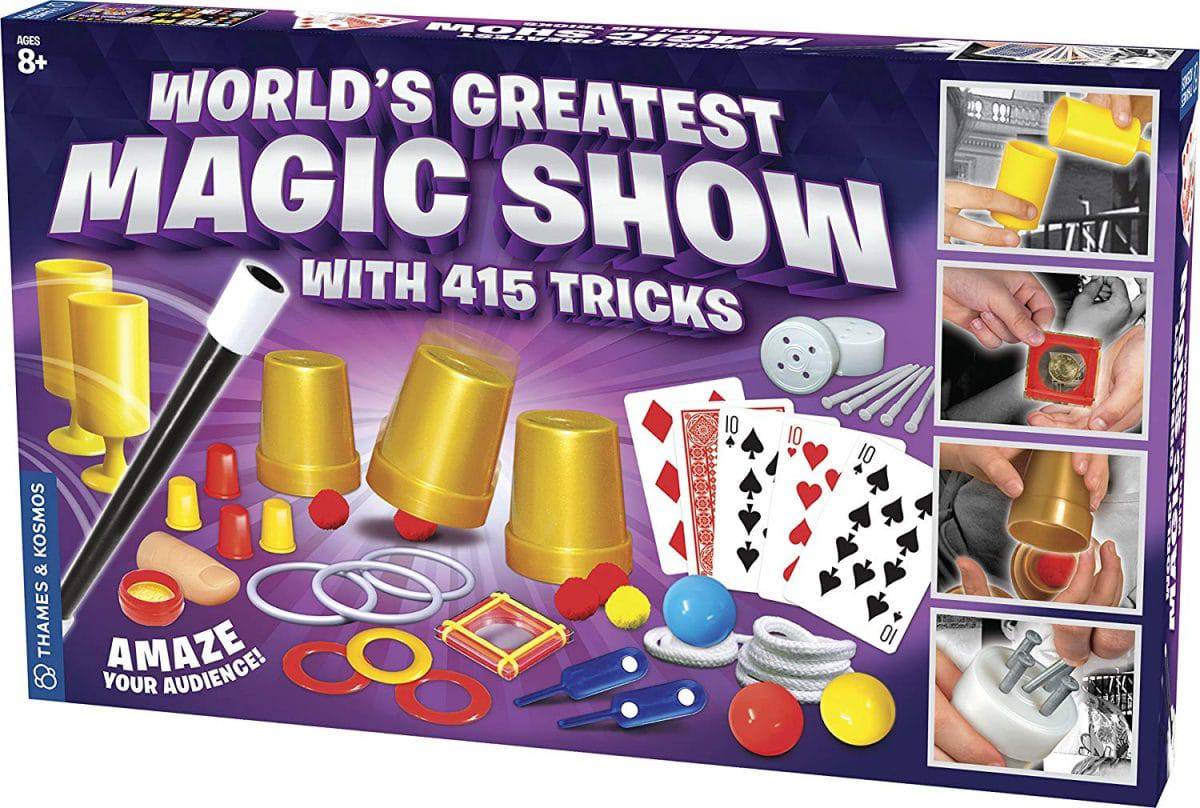 For kids that love magic, the Thames & Kosmos World's Greatest Magic Show is a great starter kit for them. The magic kit allows kids to perform 415 tricks where 140 of the tricks are with cards. The kit includes 90-pages of step-by-step photo instructions and the video tutorials are available online. Kids will love the kit as it allows them to present a great magic show by their own with the help of 49-props that include rings, cards, coins, and rope.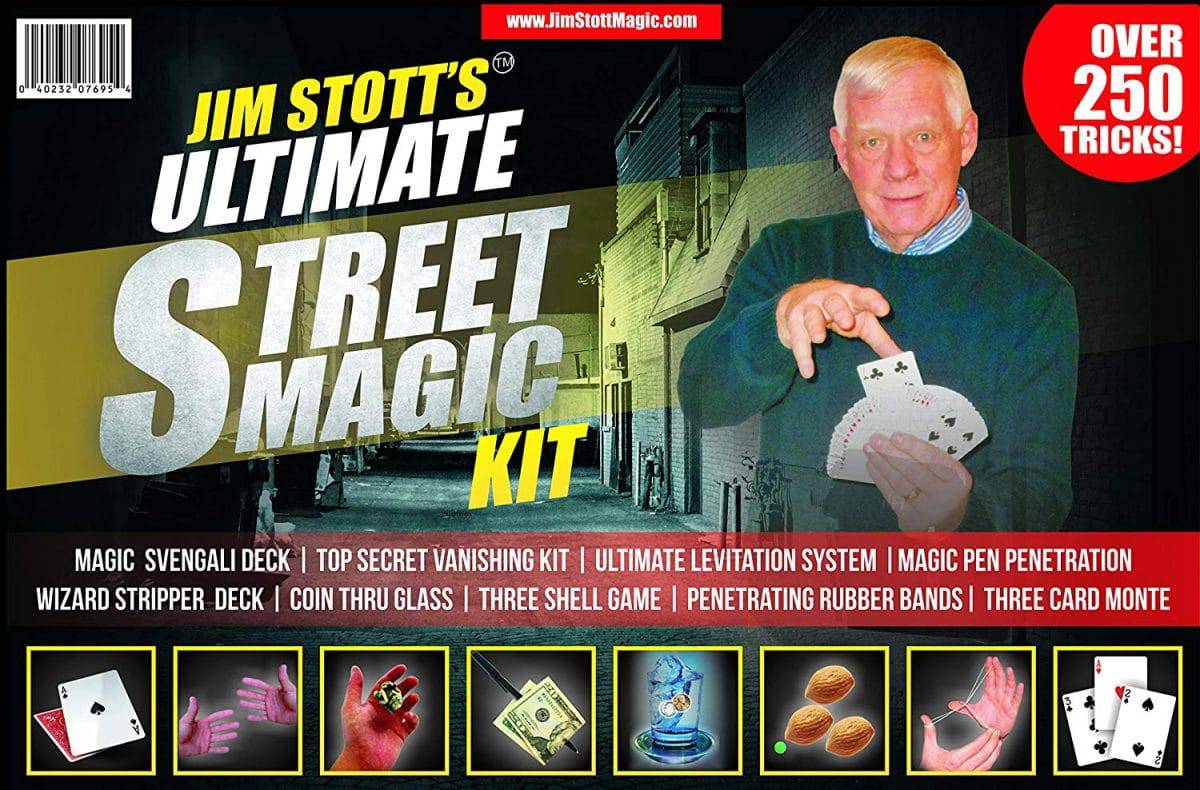 Jim Stott is a world-renowned magician who sees the need to encourage the younger generation to pick up the art of magic. It's in this vein that he came up with the Jim Stott Ultimate Street Magic Kit. The box features many interesting and exciting items for the creating of impressive street magic tricks your audience will love. All tricks are quick to pick up and can be performed by both beginners and magic pros. There are also online videos where Jim takes you through many exciting magic tricks to add to your collection. The kit is suitable for both 5-year-old and 50-year-olds and is used by people of all ages. Learning magic tricks teaches kids essential reading and understanding skills, confidence and the relevance of practice.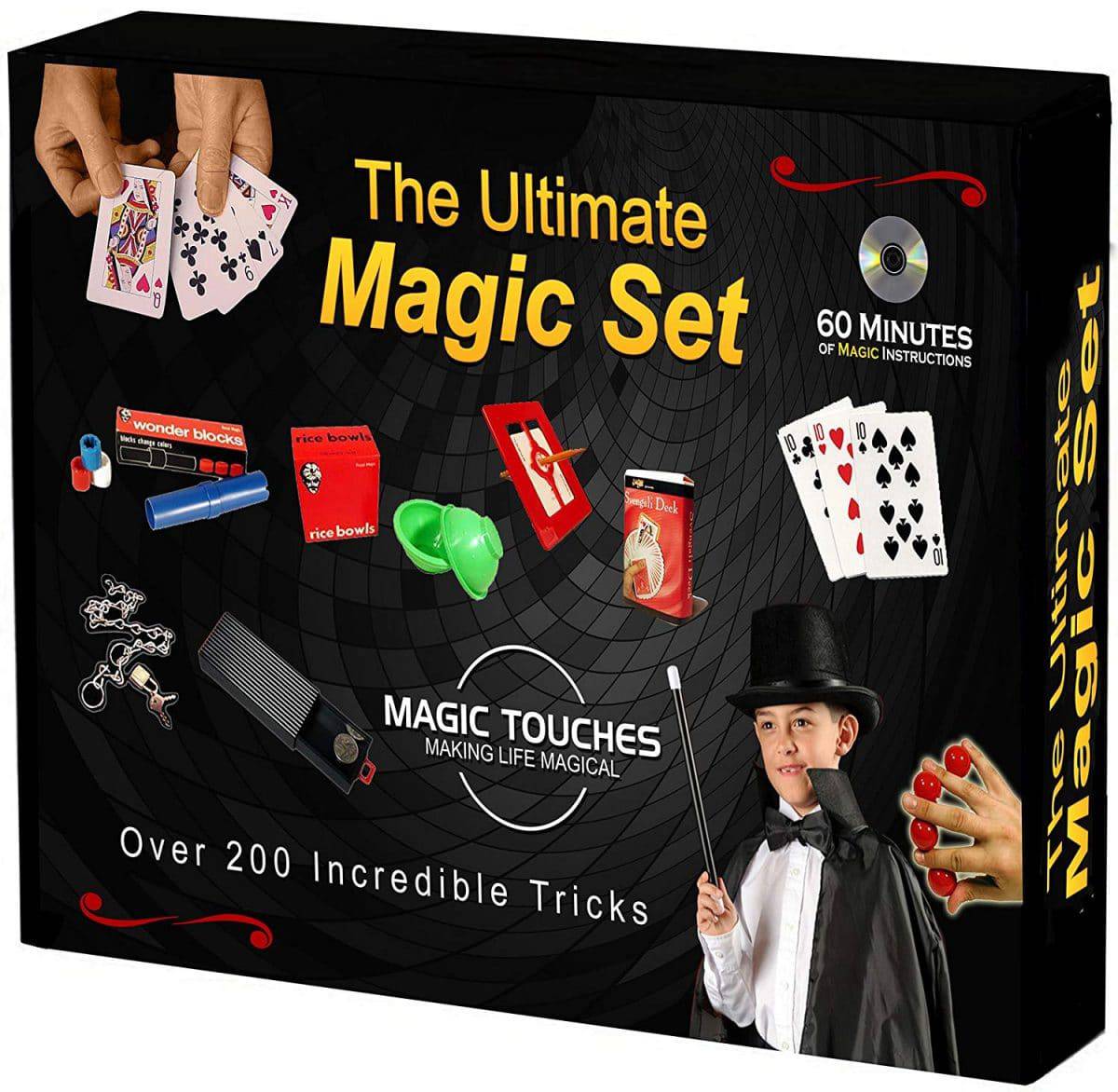 An excellent gift idea for all budding magicians and magic enthusiasts, the magic kit contains a classic collection of tricks meant to thrill any audience with ease. Amaze your friends and family by discovering the many secrets of all famous magic tricks around the world. All tricks in the kit are easy to understand and implement, as they've been explained in detail in writing and with an attached DVD instructional. The magic supplies identified in the kit comprise of a chain escape, penetration frame, wonder blocks, a magic wand, a drawer box and many more. It also features a bonus deck of Amazon Trick cards with a set of instructions to guide you in the performance of over a hundred card tricks and illusions.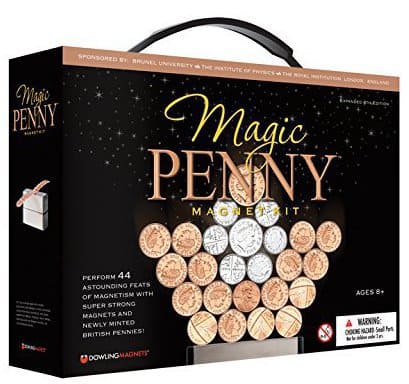 There's great joy in pulling rabbits from hats or building castles with tags, but performing magic with magnetism is one for the books. The Dowling Magnets Magic Penny Magnet Kit is a unit that helps you or your child or other family member discover everything about magnetic forces, stability, and motion, and perform marvelous tricks concerning magnetism to your faithful audience. The kit can be used in schools or at home to discuss shapes, geometry, symmetry, planes, and many math-related issues. With the kit, you get to play as you learn and perform all the tricks you're being taught.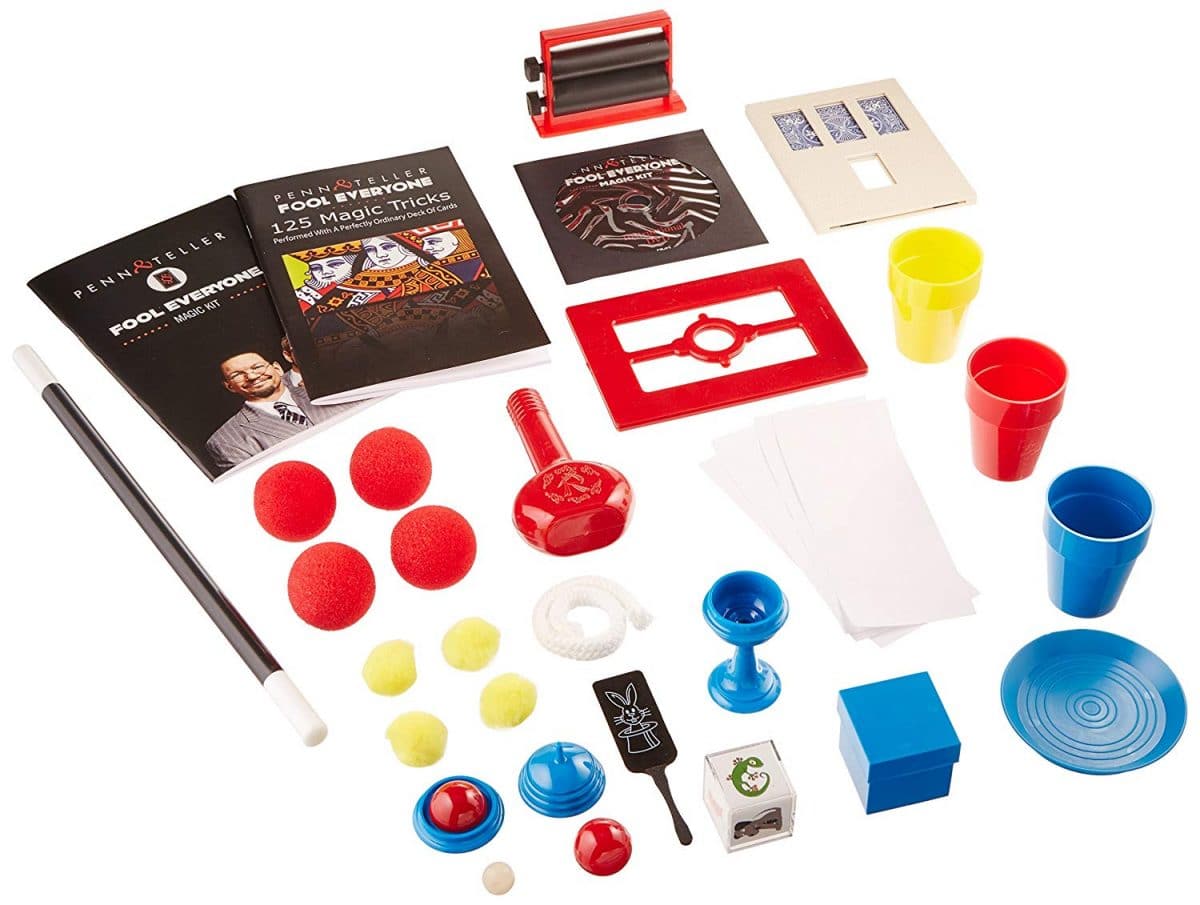 This famous duo is the masters of magic, so it's no surprise that their magic set will have kids doing tricks that'll leave you and their friends stumped. The set will teach them how to perform over 200 tricks that aren't easy to learn but will keep your child entertained for hours learning them. The set is best suited for a little older kids, at least 8-years-old. It's worth noting that of the 200 tricks, many are card tricks, and surprisingly the kit doesn't include a deck of cards. However, the other tricks will utilize the props included. Some of the tricks and illusions kids will learn to include Penn & Teller's Signature Cups & Balls trick, Zig Zag Card, Penn-A-Tration Frame, and others.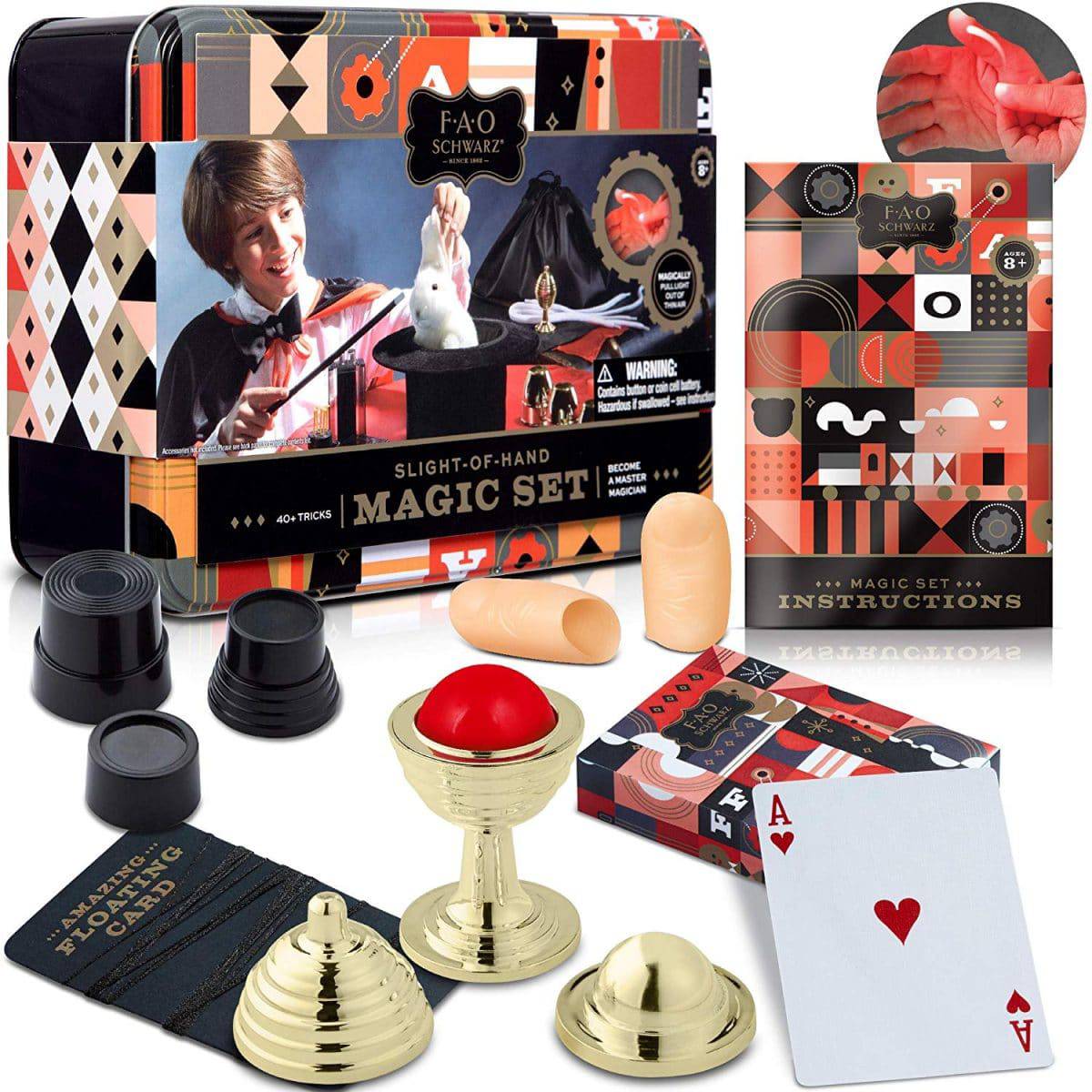 If your kid dreams about great performance among their friends or family, then you have a chance to gladden them with the magic set created by FAO Schwarz. The set disposes of eight fascinating items that'll be wonderful assistants to make your toddler the new Houdini. Simple tricks may be showed easily thanks to respective instructions particularly illustrated for you. One deck of cards is capable of making miracles. Long hours of enjoyment are ensured for all aged kids. Just start to play with it.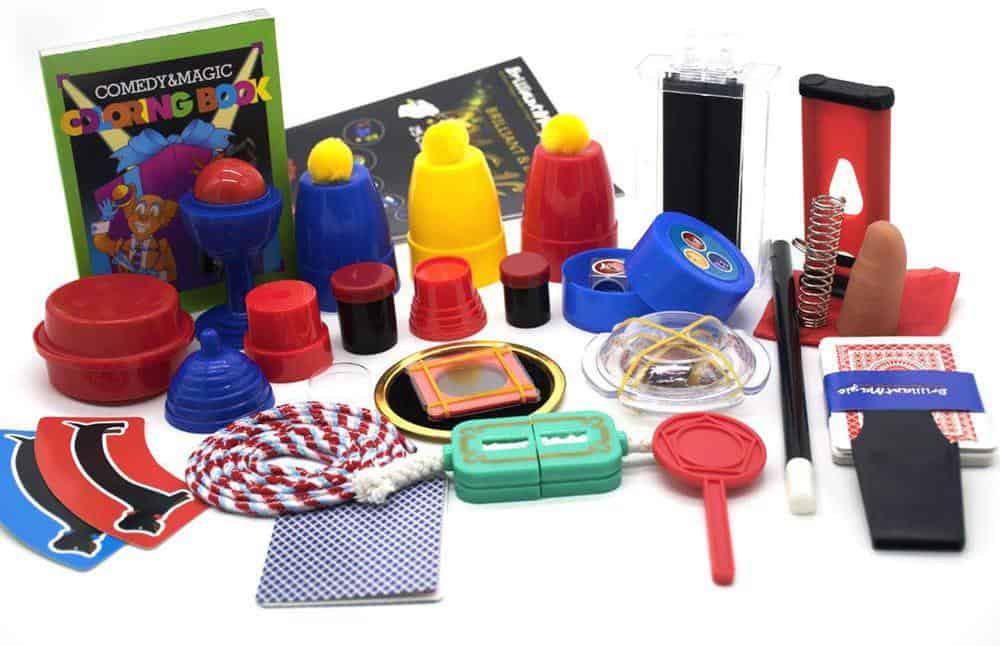 To impress your friends or future audience, your kid should have a full toolkit of magic props. PINKYSTAR can suggest to you 25 versatile options of classic tricks. The material is safe and has high-grade quality. It means that you have an opportunity to be convinced in the durability of the material. Astonishing tricks are available now not only for professionals but for those who truly have a wish to learn the ropes of magic. A detailed tutorial is ready to help you with a spectacular journey of a young magician. Thanks to the simplicity of the tricks, everyone can join the process. Finally, parents and children will be able to spend precious time together.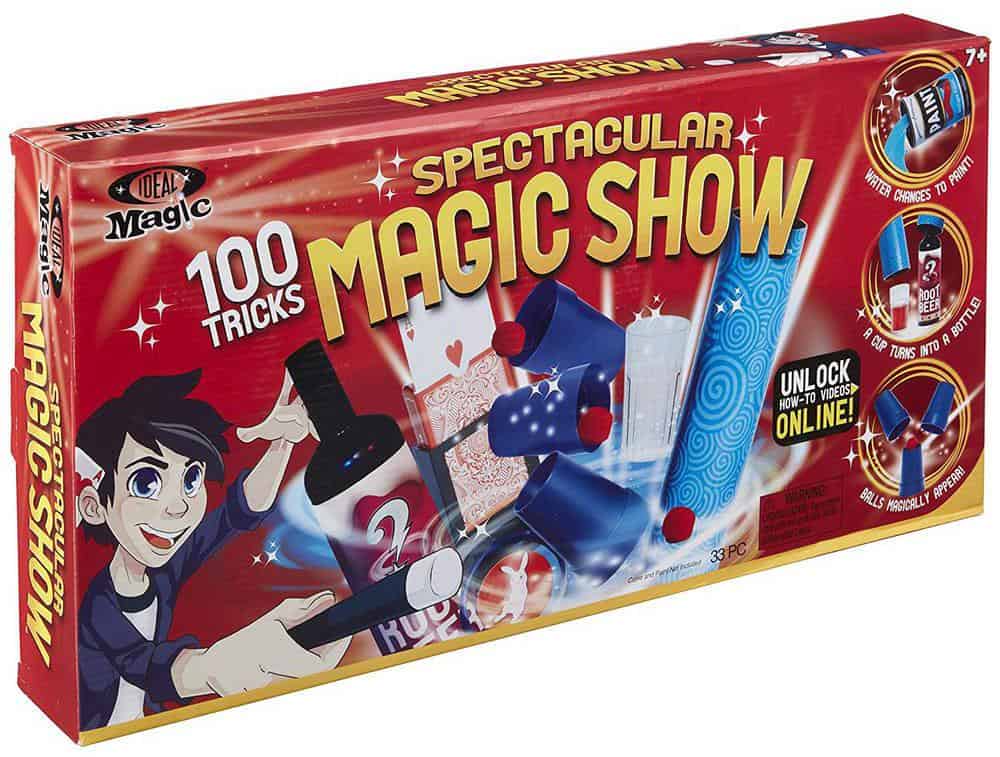 The sturdy suitcase-style bag is stuffed with 100 of the most tricks and items, such as – the material magic hat, outdoor patio of magician's playing cards, efficiency desk, academic DVD and Tricks of 100 Magic Tricks guide. With over 110 elements creating up the set, this is one of the most satisfactory magic places ever made. It also includes miracle techniques such as Bottle and Glass Switch-A-Room, the Disappearing Card Box, The Magic Paint Can, Bewildering Jail Escape and more. It's recommended for children 7-years of age and older.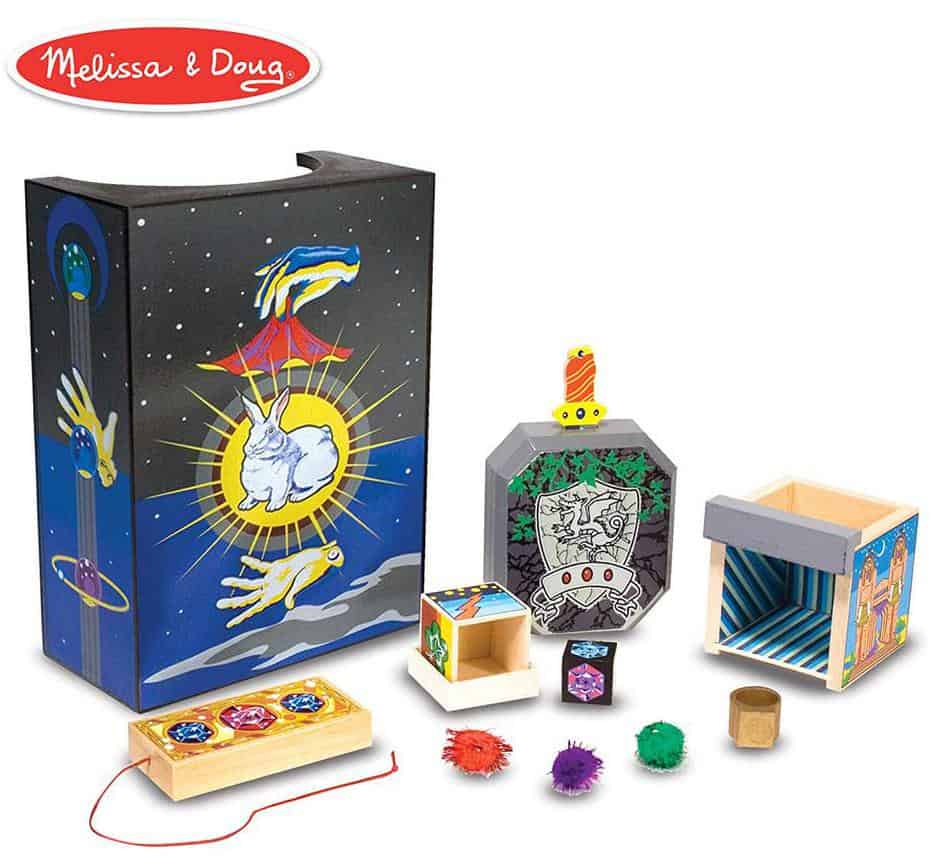 This is the perfect magic set for budding magicians aged six and up. It's classic, professional-quality tricks are simple to master and amazing to behold. The solid wooden set includes four easy-to-master illusions and sleight-of-hand tricks with impressive results to amazing family and friends. These include Magic Jewel Box, Color-Changing String, Chamber of Illusion, and Sword in the Stone. The detailed, illustrated instructions help kids learn to perform these tricks independently. All pieces are stored in a beautifully-decorated wooden box, so there's no magic involved in keeping things neat and clean. By mastering these simplified versions of professional magic tricks and putting on an impressive magic show, kids will build huge self-confidence that'll positively affect them in their lives.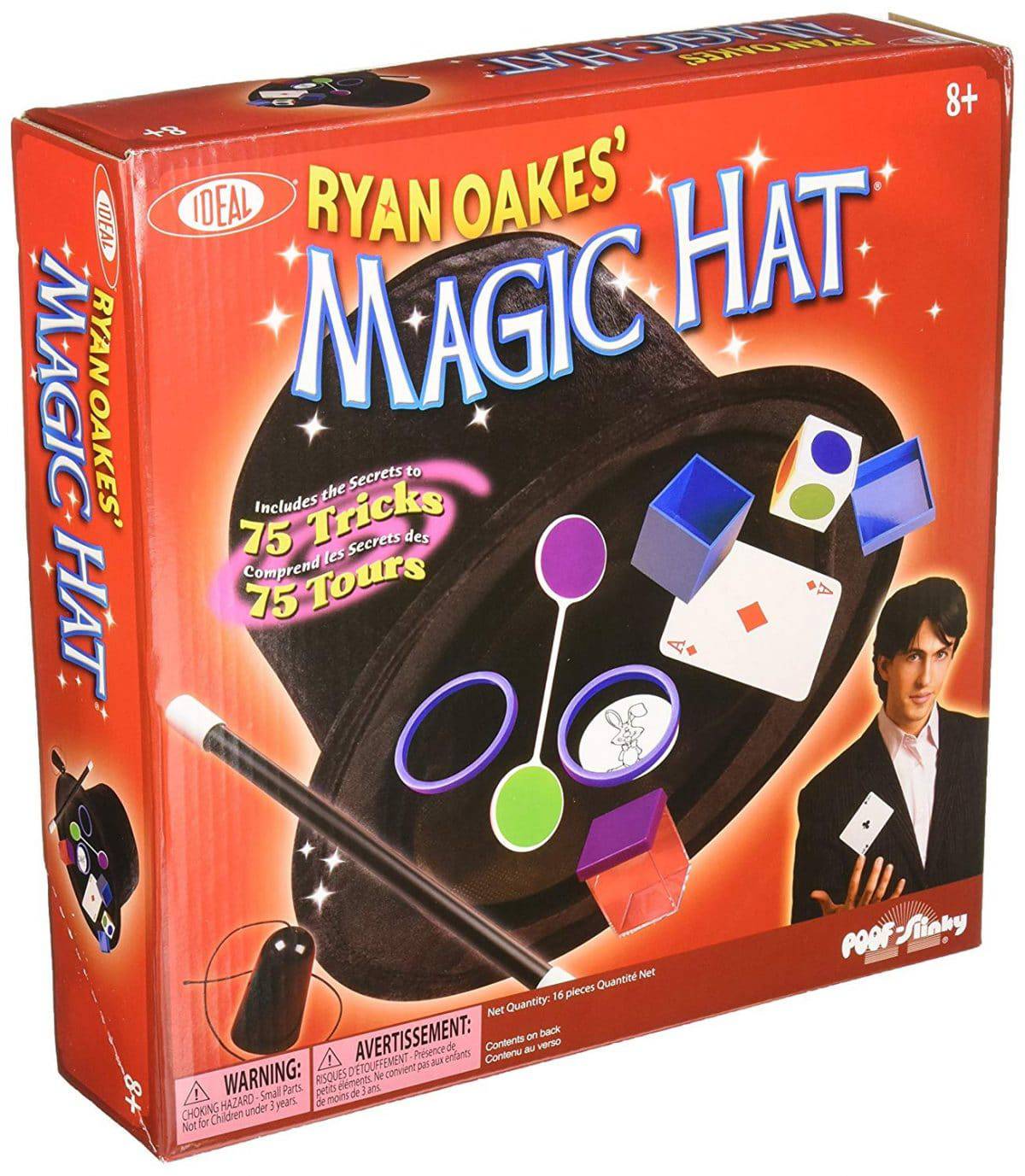 The magic show kit includes a magician's hat, rings, a magic wand to perform tricks, vanishing coins, illusion boxes, magic cards, and some more. There are 75 tricks to perform with these props. All the magic tricks are well described in an illustrated booklet that's included. The package is small and can be easily stored anywhere in your house, which is very convenient. The tricks are simple and easy to learn. Not only will your children have fun while performing them, but they'll also improve fine motor skills and hand-eye coordination skills.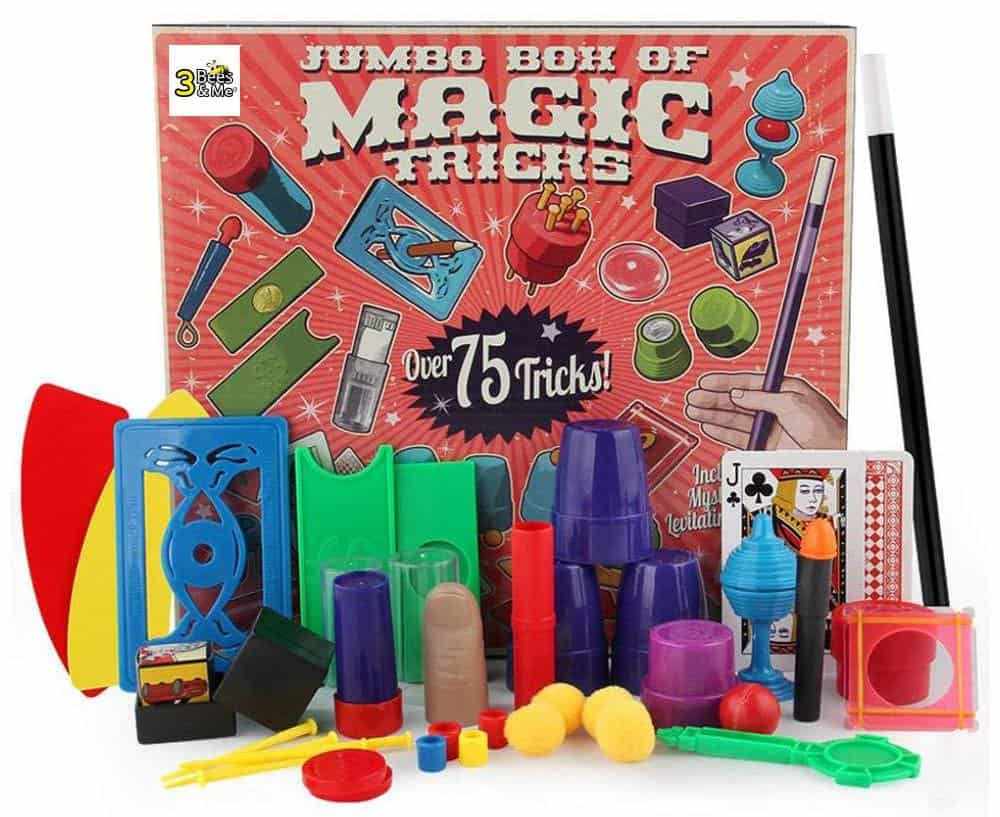 Introduce kids six and older to the world of magic with the beginner magic kit from 3 Bees & Me. It's filled with fun, classic tricks such as the levitating wand, card tricks, coin tricks, disappearing thumb, and other classics. There are 75 different tricks included. All the instructions are clear, easy-to-understand and written for young beginners. Aside from the included guide book, you also get access to online instruction videos. It's a great gift for any kid who wants to learn about the world of magic.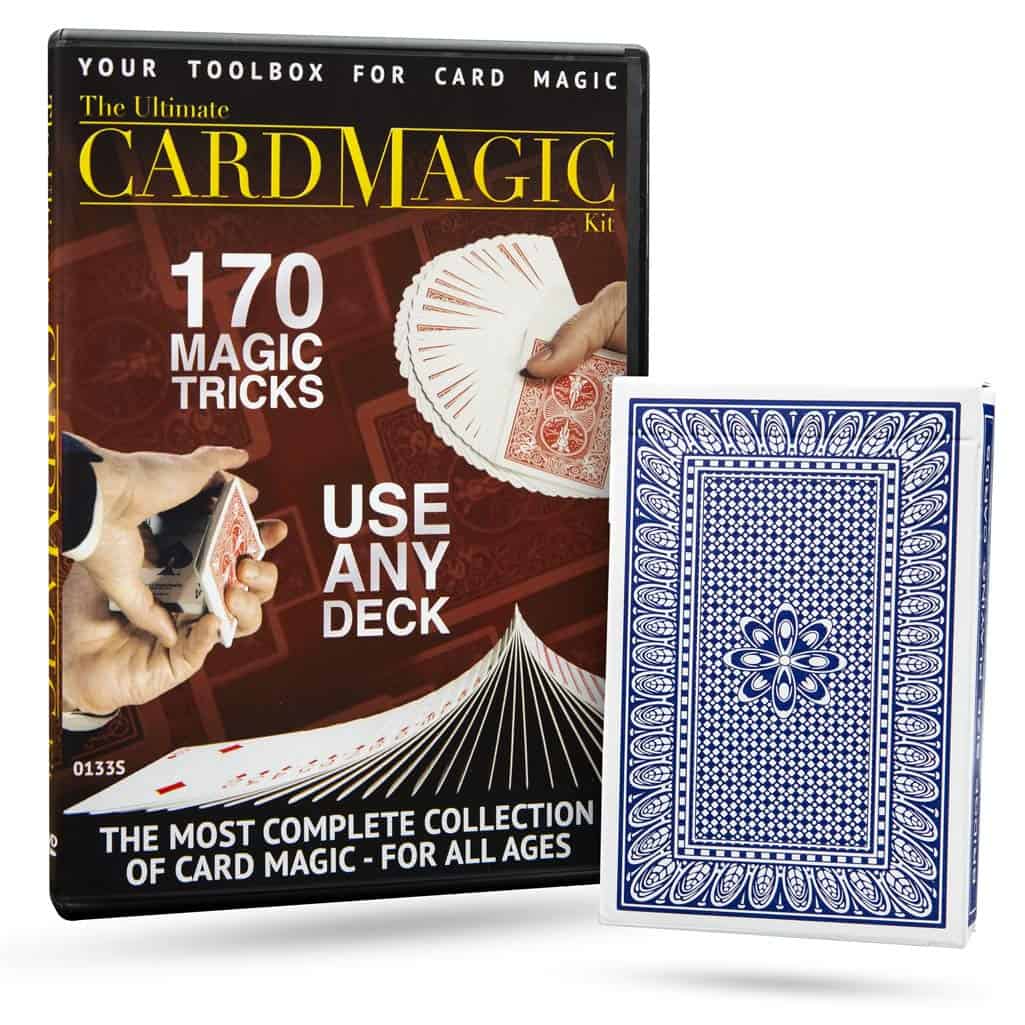 This is a great set of ultimate card moves! Simon Lovell's Toolbox Collection puts together over 170 card moves from beginner to expert level. Whether you're just starting to find new techniques for maneuvering cards or are an experienced magician brushing up on ideas, this is the right DVD for your kid. Magician and comedian Simon Lovell walks through each move on the included DVD and bonus online lessons.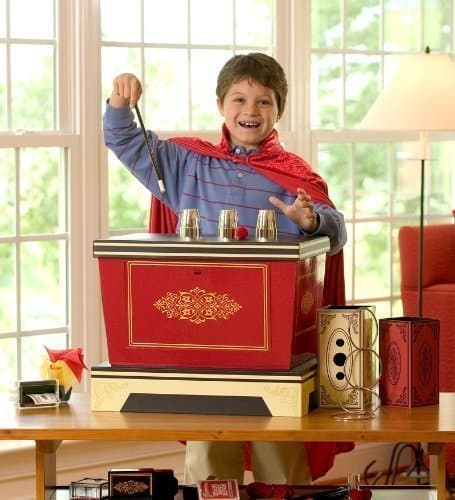 Learn over 300 cool tricks. When kids see the 90-minute DVD included in the kit of Houdini and other famous magicians performing their tricks, they'll believe they can do those tricks too. What makes the kit so special is the "illusion box" that helps kids make items appear and disappear, and that also makes a very official-looking performance table. It includes a plethora of props such as production tubes, phantom deck, Chinese sticks, puzzle box, metal linking rings, drawer box, and more. There's also an 82-page illustrated instruction manual that both teaches you how to perform amazing tricks. It also offers great tips on what's perhaps one of the most important parts of any magic show – using conversation to keep your audience enthralled.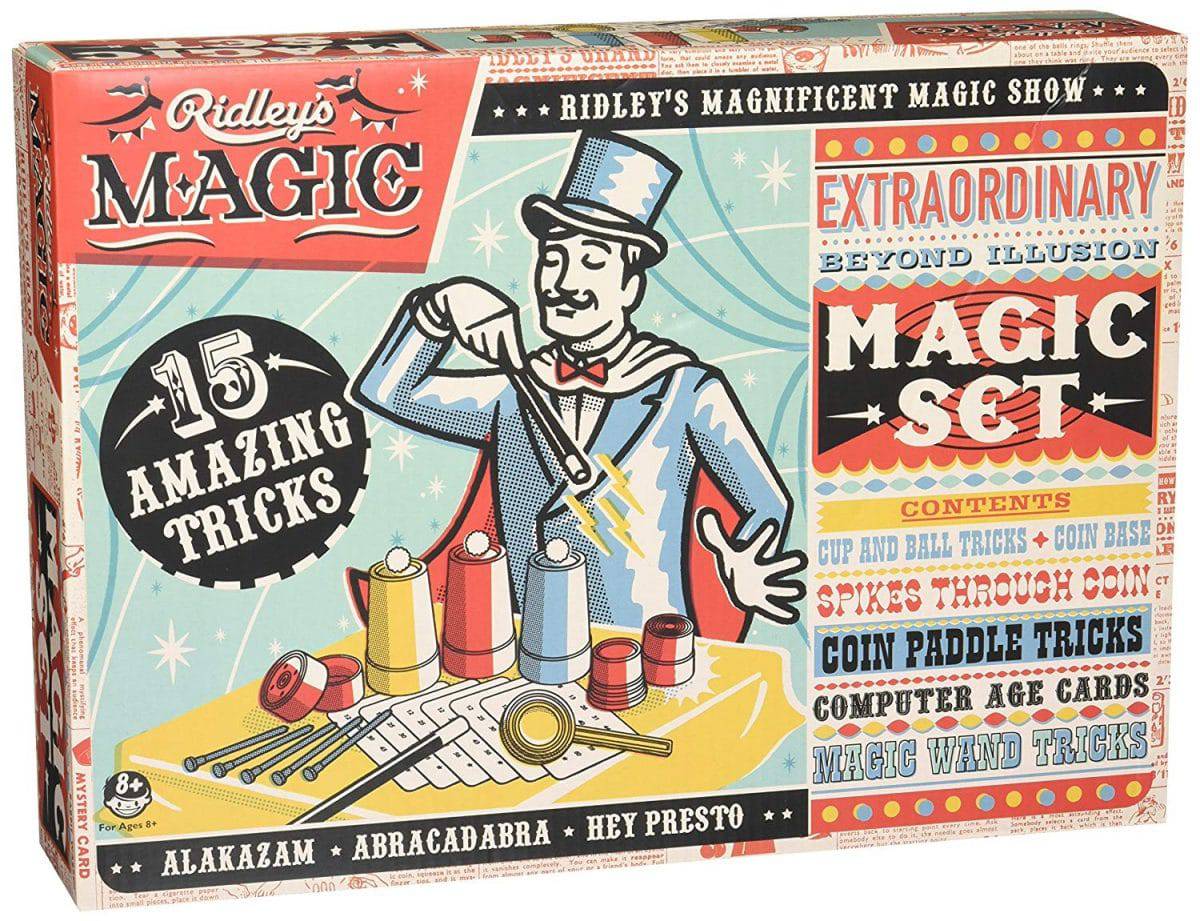 With its retro design and classic tricks, the magic set will take you back in time. Children and adults can enjoy the telepathy cards, illusion paddle, spike-through-coin trick, and even magic wand tricks. To aid the magicians, the set provides a detailed instruction manual to ensure that they put on a mystifying performance. The product is recommended for children ages 6 and up.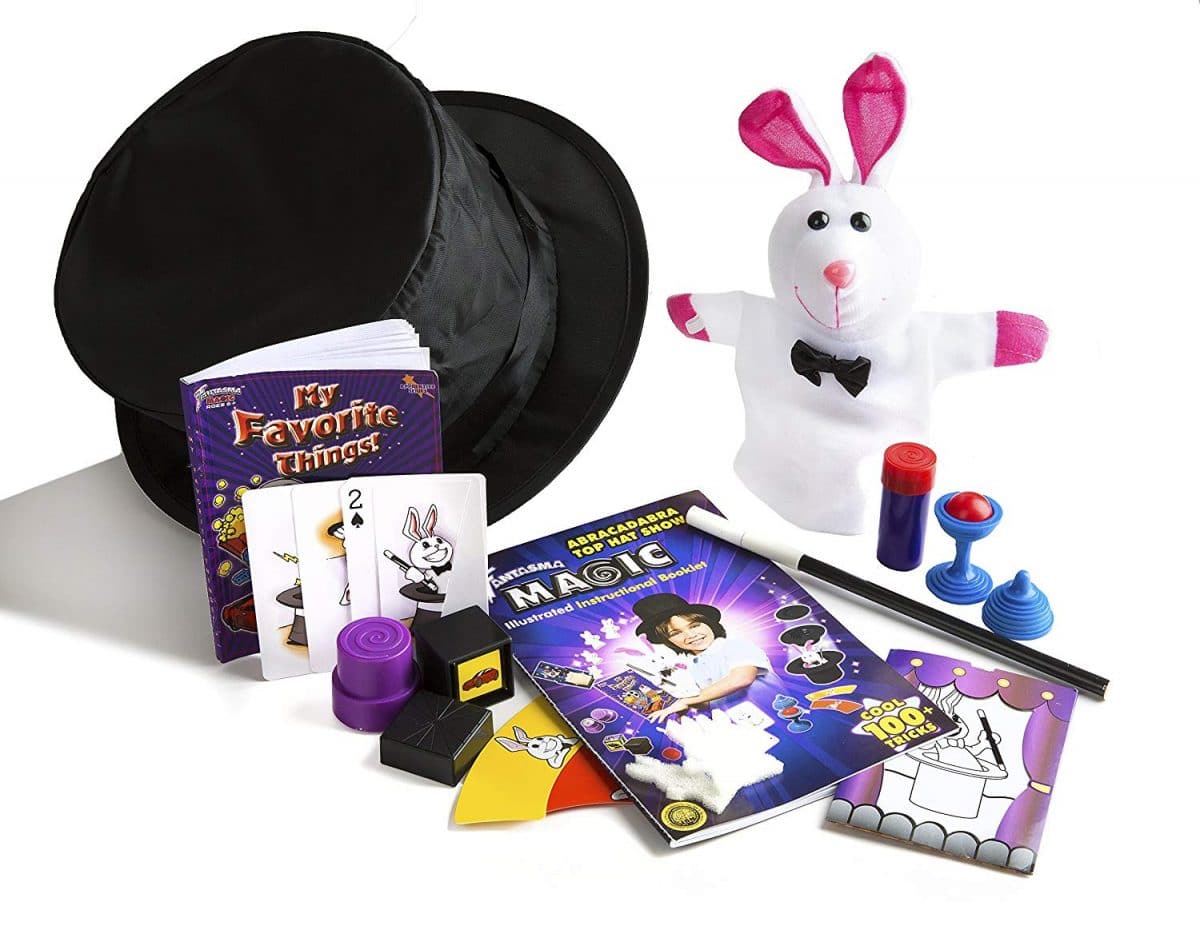 Your kid can learn the classic pull the rabbit out of a hat trick and make handkerchiefs change colors right before their audience's eyes. The tricks are easy to learn and awesome to perform. The magic set is perfect for kids and adults alike who want to dabble in the art of illusion. The set includes an illustrated instructional booklet to walk you, step by step, through each trick. Whether you're a beginner or seasoned magician, you'll be learning every illusion in no time and performing for crowds. Performing magic is a skill that must be learned through practice and hard work. I the process, though, you don't just become a magician. Learning how to perform these illusions helps develop several skills, including self-esteem, hand-eye coordination, public speaking, and critical thinking skills.
The Verdict
Everyone likes magic. Just imagine your child's face when you watch their show with delight! Learning the magic not only develops fine motor skills at a young age but also helps prevent stage fright and build self-confidence. All of this will help to prepare kids for real life and dealing with people.
These awesome magic kits for kids and beginners will bring your child off to a good start due to the completeness of each kit. When kids learn about magic, they also end up learning about science. Performing magic tricks is also a great way to help kids build their self-confidence besides developing critical thinking skills, cognitive skills, and hand-eye coordination. The best magic kit contains kid-friendly instructions, high-quality props and a variety of easy-to-learn tricks.