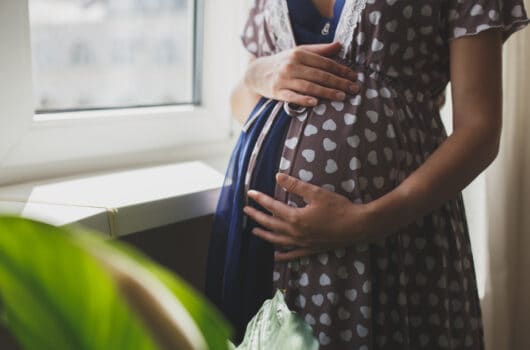 O

Baby Be Mine Maternity Labor Delivery Nursing Robe
B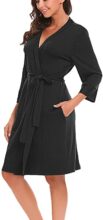 BLUETIME Women Robe Soft Kimono Robes
P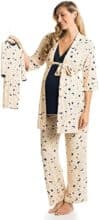 5 Piece Maternity and Nursing PJ Pant Set
Previous
Next
When you're pregnant, it can feel like your body changes every single day. You're probably already dealing with food restrictions, nursery prep, and Lamaze classes, so the last thing you should worry about is having something to wear. On days when nothing feels comfortable, having a trusty robe or nightgown you can depend on can be a lifesaver. Wearing real clothes is overrated, anyway.
Good maternity and nursing loungewear will see you through your pregnancy, in part thanks to having more material than a standard nightgown to help accommodate your growing baby bump, and into postpartum life. Great loungewear may even be cute and comfortable enough to stay in your life after late-night feedings are a thing of the past.
Many women are looking for something that they can wear to the hospital for delivery as well, which we have information on below.
We've compiled a list of some of the best robes and nightgowns on the market that will see you through your pregnancy, delivery, and breastfeeding.
How to Choose Your Maternity and Nursing Loungewear
There are a couple of factors to consider when choosing maternity loungewear. It's especially important to know all the stats if you're ordering something online since you can't touch it or try it on first. Here are a few factors to consider:
Fiber Content
Different fabrics behave differently and will affect your experience of wearing and washing a piece of loungewear. Some people also have a sensitivity to certain fibers or simply prefer to wear only natural fibers. It's essential to know what your clothing is made out of to understand how it will feel and how to care for it.
There are a variety of materials used in loungewear, both natural and synthetic. Most of the maternity wear on our list also contains fibers like spandex to give extra stretch to accommodate your changing body. In this article we have a complete guide on the different loungewear fabrics you'll find in our top robes and nightgowns.
Sizing
When you're already losing wearable items from your wardrobe left and right, you don't want to worry about your loungewear not fitting. Some of our favorite maternity and nursing robes and nightgowns are adjustable, so as your body changes, they will continue to fit. All mamas deserve to feel comfortable, no matter how big or small their bump is. And not all mamas were a size two pre-pregnancy either.
It's always important to check the size chart before ordering. Some of the best size charts aren't just based on your dress size, but will also include measurements. Whenever the manufacturer provides specific measurements, we'll cover that in our product information.
Features
Loungewear can be basic, but sometimes extra little features can make it stand out. Extra deep pockets for mamas with a lot on their plates or secret nursing panels can really go a long way to improving your life with a new baby.
Some robes and nightgowns will also have extra accessories available, such as matching swaddle cloths. This is a cute touch that may make the difference to you if you want to take some photos at the hospital after delivery.
Robe or Nightgown
Whether you've just gotten out of the shower, have been spat up on for the fourth time today, or you just don't have the energy to wrestle yourself into real clothes, a robe is the perfect easy thing to wear. Wear it alone or pair it with pajamas or a nightgown for comfort all day.
For a fuller garment to wear for delivery or around the house, a nightgown is a popular choice. Choosing the right one can even help you feel more comfortable at the hospital and avoid uncomfortable and indiscreet hospital gowns.
We explore both options below to help you find the maternity loungewear that is right for you.
Top 10 Best Maternity and Nursing Robes 2020
Your Guide to Everything About Maternity Robes and Nightgowns
After looking at many great choices for maternity robes and nightgowns, you may still have a few questions. Our buyer's guide is here to help you decide precisely what robe or gown will make you feel your best before, during, and after your delivery.

What Can You Wear to the Hospital for Delivery?
Many women don't realize that, in most cases, you can wear your own robe or gown during delivery. Taking advantage of this option can be helpful psychologically. Instead of being shuffled into a scratchy paper gown where you feel like a patient with limited agency, having your own personal and comfortable clothing lets you feel more in control of the situation. It can make you feel more like an individual and less like a number.
You may want to talk to your ob-gyn in advance to see how you're going to be hooked up to monitors during the delivery so that you know where your robe or gown needs to be accessible. If you want the option of an epidural, you should choose something that will give the hospital staff access to your spine.
There are cases where you may not be able to wear your own clothes for medical reasons, such as in the case of c-section delivery. You also might decide to go with the hospital gown during the birth if you don't want to make a mess of your robe or gown. In that case, you can save your loungewear for your recovery time or to wear home.

Guide to Fabrics
So, what exactly is Rayon? Why does everything have spandex in it? Is cotton the best? Without a degree in textiles or fashion, it can be hard to decipher the information on your garment tag. Here are the basics you need to know to be an informed consumer:
Cotton
Cotton is a natural fiber made from the cellulosic fibers of the cotton plant. It's biodegradable, making it more environmentally friendly. Cotton is a popular choice because it's hypoallergenic and breathable. It also has some natural stretch. This makes it great to wear all year round. It's cool in the summer and makes an excellent base layer in the winter to insulate you without trapping any sweat against the skin.
While durable, it will fade and thin over time. Many manufacturers will blend cotton with a synthetic material like polyester to make it more durable and keep its color longer.
Rayon
Rayon was one of the first synthetic fibers ever developed, but it still has an organic source: wood pulp. Some argue that it shouldn't be called a synthetic fiber because of this. It's a popular option for loungewear because it's very soft and supple while mimicking the drape of more expensive fabrics like silk. It's also easy to dye and relatively inexpensive.
More breathable than polyester and more versatile than cotton, it seems like the perfect fabric. However, there are still some downsides. Its production is hard on the environment, creating a lot of pollution. It also doesn't naturally recover from stretching, so if you stretch out the fabric, it may be permanently deformed.
Viscose
Like Rayon, viscose is also made from wood pulp. The two fabrics are very similar, but viscose tends to be lighter in weight and feels more like cotton. Like Rayon, the material is breathable and has a silky drape. They both hold dye very well.
Polyester
Polyester fibers are made from plastic. A polymer is melted and spun into fibers, then woven into cloth to create polyester. Because of this, it's one of the least breathable fabrics on the market. It also will melt if it comes into contact with fire or extreme heat, so it's best not to wear a loose polyester garment while cooking over a hot stove.
It does have some benefits, though. Polyester is resistant to pilling and wear since it is not biodegradable. It can also be woven to have some elasticity to the fiber. Polyester is best used when it is blended with natural fibers.
Spandex
Spandex is another synthetic polymer fiber. Unlike polyester, it's typically added in small percentages to add stretch to clothing. Check the tag on your underwear or athletic wear and you'll most likely see about 5% spandex added to those garments. Sometimes called elastane or by the brand name Lycra, it's an extremely common additive to the modern wardrobe.
More breathable than synthetics like polyester, spandex does have some downsides. Spandex production, like polyester, has a negative environmental impact. Like any plastic, it can melt. If you leave your dryer turned up too high, you may end up peeling your melted underpants off the inner wall. Spandex fibers will also snap if overstretched.

Feeling Beautiful After Giving Birth
Many new moms feel obligated to be photo-ready shortly after delivery. Don't put that kind of pressure on yourself. You just brought a new human into the world; there's no need to be "Instagramable" too. You should do what makes you feel good and what you have the energy to do.
If putting on a cute pajama set, doing your makeup, and snapping a few photos makes you feel good, then do it. If the thought of it fills you with dread, don't. You'll have plenty of opportunities for photos with your little one after you've recovered a bit.
It's completely normal to feel out of sorts after giving birth. Your body has been through a lot and your hormones can wreak havoc on your emotions. You're tired, you're worried about your new addition, and you're probably entertaining tons of people who want to meet them. Understandably, sometimes you end up putting yourself second.
When you choose a piece of loungewear that you can wear when you don't feel like anything else feels comfortable, it can help put you in a better headspace. Choosing one or two pieces of maternity wear that will see you into postpartum life, especially when they are beautiful and comfortable pieces, can make a big difference.
Treat Yourself to a Maternity Robe or Nightgown
It might seem frivolous to take time to pick out a special maternity robe or nightgown, but having something you can feel at home in is incredibly important. Our list gives you a variety of options, no matter your needs.
Whether you want something luxurious, something simple, or something you can wear through all stages of pregnancy, delivery, and nursing, you should pick something that reflects how you want to feel. Put yourself and your needs first during this special time so that you can feel ready to be the best mama possible.
Choose something to make you feel good. Don't worry about how everyone else expects you to look or feel; you only have to please yourself when it comes to choosing your maternity loungewear.