There are few things more curious than a child who's beginning to figure out there's more to their world than just what they see in front of them. They want to explore every nook and cranny that catches their attention, and what's a more tempting mystery than finding out what's behind closed doors?
This is a natural part of growing up, but it can be a handful constantly making sure your kid isn't getting into anything you don't want them to. Easy for an adult to open, but almost impossible for a child, that's where these baby and childproof drawer and cabinet locks come in.
Choosing the Best Drawer and Cabinet Lock
Of the many things you can do to make your home safer for your little one, securing your drawers and cabinets is usually at the top of the list. Even something as seemingly harmless as an insecure spice cabinet can have unintended and dangerous consequences. Kids love to surprise us with how smart they are, and we all know how quickly they can work with our backs turned. If you're trying to stay a step ahead of your toddler, first you'll need to figure out what kind of lock will suit your home best.
Types of Locks
With so many types of locks available, the most important first step is to understand the advantages and disadvantages of each.
Adhesive Mount Locks
Most childproofing locks use some form of adhesive to stick, but these rely on it as the main way to secure the drawer, with little more than a plastic strap or cord connecting the two sides. They're usually the most versatile type, ranging from lever stops to strap-based ones that can secure anything with a hinge.
Magnetic Locks
Magnetic locks usually stick out of sight, on the inside of your cabinet or drawer. The latches are usually controlled by a magnetized key you press against the outside of the cabinet. Not as versatile as the adhesive strap locks, they make up for it in strength and the way they stay out of sight.
Spring-action Locks
These adhere to the inside of a door and latch it closed a lot like a magnetic lock. Unlike a magnetic lock, you can still open the drawer about an inch, letting you press down on the latch to release it without needing to keep track of a key.
Slide Locks
Best used on double-door cabinets, these are hung through closed-loop handles, sliding together to lock the two pieces in place. To release, you usually push or squeeze and they'll gently slide apart. Because of their looping nature, they generally won't work as well on knob or lever-style handles.
Cord Locks
The most traditional kind of childproof lock, these have no adhesive or drilling involved, making them perfect for when you don't want to risk damaging surfaces. Like slide locks, you'll need handles that you can loop the straps around, but they can tighten easily around knob-style handles.
Lock Features
Once you've figured out what type of lock works with both your home and your child, you'll want to take a closer look at unique features. There's a lot to consider here, but we've narrowed it down to a few key categories we thought were the most important to review.
Recommended Age
Anyone with their own little one will remind you how amazingly fast children develop and learn. You don't want to spend the time and money installing a lock to have them figure it out in less than a day! By making sure you're not picking a lock your child has already outgrown, you can make sure it stands up to any attempted mischief.
Installation
Sometimes as simple as wrapping a cord around a knob, others as complicated as drilling holes and mounting screws – it's important to know ahead of time how demanding installing a lock will be. We'll let you know if strong adhesive or drilling is required and what the experience of actually installing it was like.
Security
They may be for children, but the most important feature of a lock is still its ability to keep things secure. We cover how each of these locks stands out from the pack when it comes to actually keeping your child safe.
Durability
Security and convenience are great, but the best locks stand up to any abuse your little ones might throw at it too. Every pick we reviewed is more than strong enough to deter a curious child, but we've got details about the quality of materials and anything that makes them stand out.
Convenience
While all the locks on this list are among the best-reviewed and easiest to use, some might not be as easy to operate one-handed or install in as many places as others. We'll do our best to give you an idea of what actually using each lock is like.
We're sure by now you're already starting to get an idea of exactly what you need to keep your little one safe and secure, but if you're curious about a deeper dive into preparing to childproof your drawers and cabinets, you can't go wrong checking out other considerations at the bottom of this guide. Now, let's move on to our picks for the ten best child and baby proof drawer and cabinet locks.
Top 10 Best Drawer and Cabinet Locks 2021
Why we like it:
Versatile, simple, secure, and impressively durable, this flexible adhesive lock from Munchkin works almost anywhere you're comfortable mounting it, even around corners. We feel like it checks all of the boxes when it comes to childproofing your home.
Editor's Rating:
Quick Notes:
Type: Adhesive mount lock
Age Appropriate: For ages 3 and younger
Contents: 2 locks
Adhesive/Drilling Required: Yes
Installation
Relying on a simple but powerful adhesive, the Munchkin Xtraguard is awesomely easy to install no matter where you're trying to put it. The adhesive sets well enough that we found it was best to either measure or mock up the placement before fully committing. You'll definitely need to either use the included adhesive remover or buy your own to safely remove it.
Thanks to the all-surface adhesion, you can even use this lock on refrigerators or toilets. Anyone who's ever had a toddler that enjoys exploring what sort of expensive things will flush can rest easily with one of these installed.
Security
Featuring a two-button pinch release mechanism and a very solid design, this lock finds that sweet spot between security and ease of use. Most adults and older children shouldn't have a problem squeezing the latch to make it release, while toddlers in its age range won't have the needed dexterity even if their clever minds figure out the method by watching.
Durability
When mounted properly, the strap and latches are strong enough to stand up to even forgetful, sleepy grown-ups putting all their strength into trying to open a stuck cabinet before remembering the baby proof lock they installed. Needless to say, the little ones stand little chance of breaking in when you aren't looking.
Convenience
With so many mounting options and an unlocking method you can easily do one-handed, this is easily one of the most convenient drawer and cabinet locks on this entire list. You can unlatch the lock from either side, an easily underestimated little feature, and once one side is unlatched the other will pivot so the strap falls and hangs out of the way. While only being one size – just under seven inches in total – means no fiddling with adjustments, the somewhat bulky design and length can make it difficult to mount in cramped spaces.
Verdict
Though it may not be as adjustable as similar adhesive mounting locks, we feel like it more than makes up for that small inconvenience. It has a reliable locking mechanism, impressive durability, and an install so simple your little one could probably handle it. If you're looking for an easy solution that covers almost every base, this lock is perfect for you.
Pros
Incredibly versatile, able to install on almost anything with a hinge

Release mechanism is simple but demands dexterity - easy for adults, hard for kids

Strong all-surface adhesive, works on appliances as well

Durable enough an adult won't accidentally snap it
Cons
Large enough there's not enough room for installation on smaller drawers or cramped cabinets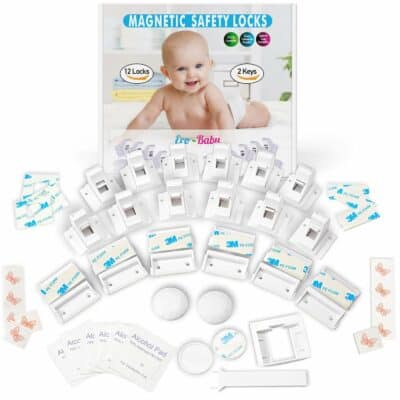 Why we like it:
If you're looking to secure a lot of cabinets at once but hesitating at the mental image of your kitchen covered in adhesive mounted straps, this budget-friendly bulk pack of high quality and easy to use magnetic locks is exactly the solution you need.
Editor's Rating:
Quick Notes:
Type: Magnetic lock
Age Appropriate: For ages 4 and younger
Contents: 12 locks, 2 keys
Adhesive/Drilling Required: Yes
Installation
Though far from difficult, there are a few steps to getting this Eco-Baby offering up and running. The company provides detailed tutorials that will get you up to speed, but time and patience is needed when getting everything oriented before you press the adhesive pads down and commit to the placement. Thankfully, once you've installed one or two as practice the rest come pretty naturally.
Some cabinets and drawers already have a lip the latch can brace against, but each of these locks comes paired with an adhesive-backed catch you can mount inside of the cabinet itself, ensuring a firm and secure seal.
Security
Don't be fooled by their simple appearance and low price – these are awesome, strong little magnetic locks that will keep your drawers and cabinets tightly shut without giving your little one anything to play with outside of the cabinet. We found it just as useful mounted on the bottom or side as the top, so no matter what the inside of your drawer is like you can make it work. The keys even come with mounts of their own, so you can hide them completely out of sight too.
Durability
Using the same powerful binding adhesive as some of the toughest locks on this list, once it's had time to set you're going to need the help of a remover to get it off without breaking plastic or doors. We found the build quality a little toy-like, so it's definitely recommended you be careful about how much abuse you subject them to.
Convenience
Once these things are set up around your home they practically define convenience. The magnet key is strong enough you don't even have to press it against the outside of your cabinet or drawer and risk scratches – just getting close enough will cause the latch to fall.
One of our favorite things about these locks is how you can disable the locking mechanism when you're not using it. Being able to disengage and forget about the latch is awesome, especially for grandparents or other relatives who don't have little ones around constantly.
Verdict
While the installation process can be a bit involved and requires a lot of precision, once these locks are set up they're a brilliant addition to your childproofing regimen. With so many in a single pack, you can easily secure every reachable drawer or cabinet in the kitchen at a very reasonable price.
Pros
Keys come with mounts of their own so you can hide them out of reach

Slim profile can be mounted on the top, sides, or even bottom of cabinets and drawers

Great budget option for securing lots of drawers and cabinets at once
Cons
Potentially confusing installation instructions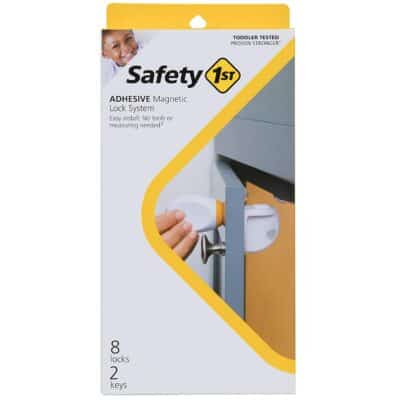 Why we like it:
All of the benefits of a magnetic lock with a sturdy build and a few great luxury features, the Safety 1st Adhesive Magnetic Lock System comes in at a higher price but provides premium quality.
Editor's Rating:
Quick Notes:
Type: Magnetic lock
Age Appropriate: For ages 4 and younger
Contents: 8 locks, 2 keys
Adhesive/Drilling Required: Yes
Installation
We found this lock's mounting process to be a simpler task than many other magnetic locks thanks to the nifty guide tool it comes with. When you mount the catch on the inside of your cabinet, the guide will adhere to the door, making it incredibly easy to align everything correctly on your first try.
What really makes this Safety 1st lock stand out is the inclusion of screws and hard mounting points as an alternative. Many locks include these points but lack the durability to stand up to a hard install, putting this a step above the rest.
Security
Because the install guide makes it so easy to get everything lined up perfectly, Safety 1st shows off all the positives of a magnetic lock here. Getting a snug fit is really important, because leaving small gaps behind is a recipe for a smashed or pinched finger.
The keys included in the package are bulky and hard to lose track of, although we found ourselves wishing it came with some sort of options for storing them. These magnets are more than strong enough, but you'll need to press them against the surface of your cabinet or drawer most of the time to get the lock disengaged.
Durability
If you're tired of flimsy, toy-like plastic, you'll find a lot to love about how well built these magnetic locks are. Just handling them before installation made the build quality clear. That said, while we found the mounting stood up pretty well under stress, we don't recommend letting the older kids put their weight into tugging on it even if it's mounted with screws.
Convenience
We can't stress enough how the simple but clever mounting guide on this lock makes it so much more convenient to install than comparable options. We also really loved the red and green latch indicator – it was great to be able to tell at a glance if the lock is enabled or not before shutting the cabinet.
Verdict
The Safety 1st Adhesive Magnetic Lock System sets itself apart from the pack by understanding new parents have enough on their hands without having to fret with complicated installs just to get a reliable, high-quality magnetic lock installed. The sturdy materials and convenience features help this lock more than earn its premium price point.
Pros
Very easy install for a magnetic lock, includes helpful alignment guide

Made of durable, premium plastic that won't break easily

Nifty little features like the latch indicator feel like a premium touch
Cons
Large size means a harder fit in smaller or unique drawers and cabinets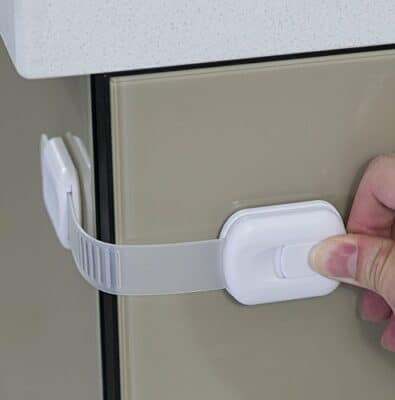 Why we like it:
The adjustable strap on this low profile adhesive lock means it can mount easily even in cramped places, making it not just versatile but a top choice for getting the best fit on drawers.
Editor's Rating:
Quick Notes:
Type: Adhesive mounting lock
Age Appropriate: For ages 2 and younger
Contents: 4 locks
Adhesive/Drilling Required: Yes
Installation
The awesomeness of that adjustable strap is the star of the show here. The smaller adhesive pads means you don't get quite the grip sturdier options do, but the installation is just as quick and easy. Not every drawer or cabinet has the space for a fully sized childproof lock, so being able to dial in the length anywhere from three to seven inches for a perfect fit makes this lock insanely versatile.
Security
In most homes, the Jool Baby Strap Lock will be more than enough to keep whatever you mount it on safe from any little explorers. You unlock it by pushing a small tab down, which slides it to the side and gives you leverage to pull the lock open. We found this really easy to do – sometimes maybe a little too easy, since it's not hard to imagine a little one with enough time on their hands figuring it out through sheer chance.
There's no decoy button like with the Safety 1st OutSmart Flex Lock, so your child might be drawn right to that tab. Since it doesn't take too much pressure to move the tab, they're potentially on their way to solving the mechanism before you know it. We all love watching our little ones be clever, but when it comes to a cabinet lock their safety is on the line.
Durability
When set up properly, Jool Baby's lock easily stands up to abuse from those within its age range. Due to the locking nature of the adjustable strap, though, if it begins to slip from its housing you won't have any way to set it back to where it was without figuring out how to pry it open. We found you can avoid this most of the time by making sure the strap latch is firmly closed before installing.
Convenience
One of the most frustrating situations to find yourself in while childproofing is needing a lock for something and not being able to find one that fits just right. Especially if you've got uniquely shaped furniture or drawers in cramped spaces, the Jool Baby Strap Lock ensures there won't be any slack for your little one's fingers to get caught in
We also found the fairly flat, low-profile design rarely got in the way of a good install. It looks pretty great on white cabinets too, if we say so ourselves.
Verdict
Even though the locking mechanism could be more demanding, we found true versatility in this drawer and cabinet lock. Anyone who keeps finding themselves struggling with finding a childproof lock that fits would do great giving it a look. As long as you take care to make sure it's installed right, you shouldn't have any problems relying on this affordable lock.
Pros
Adjustable, flexible strap that can fit almost anywhere

Slim, low profile that doesn't stand out in a room

Easy to unlock with just one hand, perfect for the busy times
Cons
Potentially too simple to unlock

Adjustable strap may slip if not secured properly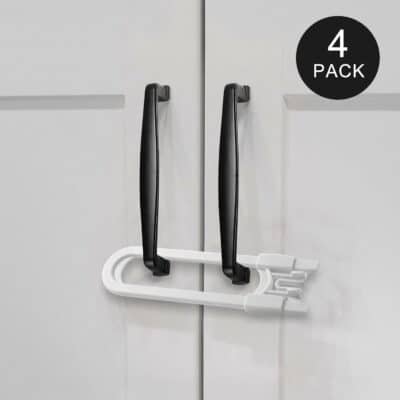 Why we like it:
A sturdy, simple, no adhesive or drilling required slide lock perfect for most double-doored cabinets in your home.
Editor's Rating:
Quick Notes:
Type: Slide lock
Age Appropriate: For ages 2 and younger
Contents: 4 locks
Adhesive/Drilling Required: No
Installation
It's hard to get much simpler than installing a slide lock like this when all is said and done. Fitting through any closed-loop handles or behind any knobs wider than a little under two inches, you simply slide half of the lock through or over the handles and secure it with the latch piece. As long as the handles are a little under five inches or less apart, that's really all there is to it on your part – you can freely adjust the locking distance to remove any slack, but the lock handles the rest.
Security
The two-button unlocking system the Adoric Sliding Cabinet Lock employs is one of our favorites for a reason. Pinching down on both sides of a design like this takes dexterity and finger strength the little ones simply haven't had a chance to develop yet, but a healthy adult could handle it in their sleep.
Durability
Made of a sturdy, U-shaped length of plastic, this lock stands firm under any attempts at opening your cabinet, and it's unlikely a well-made unit will have any slipping going on. That said, this is still just plastic, and without adhesive pads to spread out the tension there's a lot of stress placed on it when an older child or adult tries to open the cabinet without undoing it. For younger children and toddlers, no amount of yanking will snap these.
Convenience
As an adhesiveless lock, you can freely mount and move the Adoric Sliding Cabinet Lock anywhere you please. The pinching unlocking mechanism is easily undone with a single hand, and they can even easily be stowed away when not in use. Like similar no-adhesive options, these come highly recommended to grandparents or other relatives who don't have little ones around all the time.
Verdict
Simple but effective, the Adoric Sliding Cabinet Lock is an incredibly convenient childproofing option that won't leave any holes or residue behind. While we definitely wish it were just a bit longer so it could handle some of our larger cabinets, as long as you measure ahead of time you can't go wrong with this choice.
Pros
Awesome locking mechanism that's both simple and secure

Solid plastic takes real weight to damage - nothing your little one can actually manage

Removal is as easy as unlocking and putting away
Cons
Won't fit on handles further apart than five inches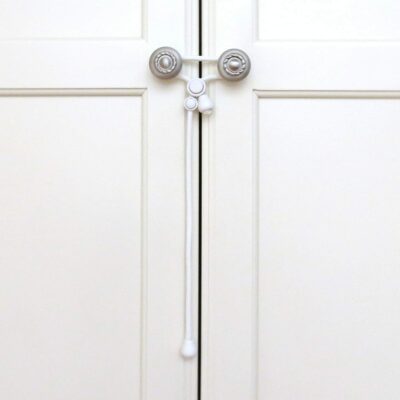 Why we like it:
The most traditional lock on our list, this simple combo of nylon cord and plastic cord locks is perfect for any cabinets with knob-styled handles you need a low-impact solution for.
Editor's Rating:
Quick Notes:
Type: Cord lock
Age Appropriate: For ages 2 and younger
Contents: 5 locks
Adhesive/Drilling Required: No
Installation
Even easier than tying a length of rope around two knobs, you'll realize quickly the Kiscords Home Safety Strap uses a very familiar tightening mechanism – it's the same nylon cord and plastic fastener combination you'll find on any snow jacket sleeve or hood. Just hold the plastic button, loop the cord around the knobs, then tighten the lock. Because it's designed to open as a loop instead of thread, there's no manufacturer-approved way to install it on closed-loop handles.
Security
For the right sized cabinets we found these a great answer to keeping them shut without mounting bulky or obvious contraptions directly onto the handles. Our only issue was the slight give the cord still has even completely tightened – your child won't be able to get in the cabinet, but their fingers might.
Durability
Little ones can pull all day on these cords and the best they'll do is tire themselves out. Because nylon is a flexible, shock-resistant material, even repeated yanking won't stretch it out past usefulness. You do want to make sure you're using it in a dry place, though – nylon and water don't get along very well, a soaked cord losing much of its strength. So take care if you're securing a cabinet below the sink.
Convenience
Being able to secure your cabinets the same way you can tighten a hood around your head during a rainstorm feels great. Because they're mostly nylon, you can even easily fit them in your pocket, making them perfect for parents who are always on the move.
Verdict
We really liked the sheer simplicity of the Kiscords Home Safety Strap – while it would be awesome if it were compatible with more types of cabinet handles, this is easily the most low-impact choice on our list. Tying off a cabinet with a length of cord to keep it secure has been used since cabinets were invented, so Kiscords is perfecting a tried and true method with this offering.
Pros
Easily loosened and removed with one hand

Nylon material highly unlikely to damage your cabinets

Light and small enough to use as portable locks
Cons
Not fully compatible with loop-style cabinet handles

Cabinet doors can still be opened enough to pinch fingers even properly installed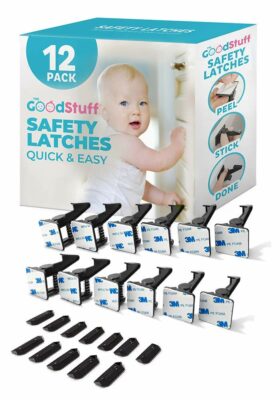 Why we like it:
Easily mounted in drawers or cabinets alike, we think these safety latches are a great alternative to anyone who doesn't want to mess with magnetic keys but still wants an invisible safety option.
Editor's Rating:
Quick Notes:
Type: Spring-action lock
Age Appropriate: For ages 3 and younger
Contents: 12 locks
Adhesive/Drilling Required: Yes
Installation
Mountable on the inside of any drawer or cabinet with a lip, The Good Stuff keeps up the trend of simple installations featured on the rest of this list. Just press the adhesive-backed lock onto the inside of what you're locking and make sure it's lined up with the lip. If one of those isn't present, you can mount one of the included catches to give your latch something to hold onto.
It's important to remember this lock needs to be exposed to unlock. Any drawers with an overhang larger than a quarter of an inch or inset cabinets flush with their frames might not open far enough for you to reach the spring and press on it.
Security
Locking itself automatically when shut, this safety latch sits securely against your frame. We found the spring-action part of this lock extremely easy to unlock. So easy, actually, we recommend mounting them as far out of your little one's reach as possible, because it won't take them long at all to figure out how to disengage the lock once they get their hands on it.
Because you need to open your drawer or cabinet and reach inside to get at the spring, it opens an inch or two by design. As the saying goes, if you give your kids an inch they'll take a mile, so you'll still want to make sure they aren't given free rein around these locks.
Durability
We found out pretty quick the adhesive and plastics are strong enough to stand up to repeated encounters with tantrum-throwing toddlers. The catcher, if installed, does take a lot of potential abuse if the cabinet's opened but not unlocked often, but we never had an issue with it actually breaking or dislodging.
Convenience
Instead of having to fiddle around with magnetic keys and hunting for a lock you can't see, with a spring-action lock, all you have to do is open the drawer and push down on it to get it unlocked. We found it cool that they lock themselves too. What's not so cool is that these latches have such a hard time fitting on more modern cabinet designs, but they leave a big enough gap as it is already, so we understand why they couldn't add more.
Verdict
As the strongest alternative to magnetic locks like those in the Eco-Baby Magnetic Locks kit when it comes to stealthily childproofing your home, The Good Stuff's Child Safety Drawer and Cabinet Latches provide security and good looks as long as your cabinets aren't flush with the frames.
Pros
Works on both drawers and cabinets

Spring-action locking system won't wear out as quickly as pure plastic locks

Company provides awesome customer service and support
Cons
Unlocking is easy for a child if they can reach the lock

Hard or impossible to access spring on certain inset cabinets, or ones with counter overhangs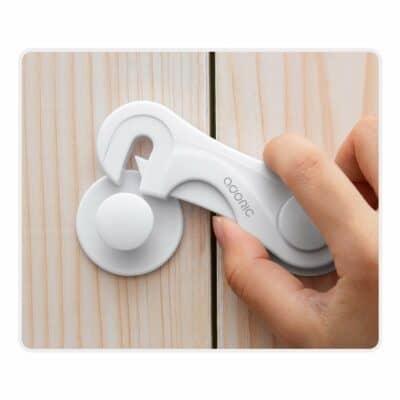 Why we like it:
An adhesive mounting lock with a sturdy and unique latching design, the Adoric Life Cabinet Kitchen System is perfect for cabinets without a wide center post. This is our top pick for anyone who wants a less flexible lock on the outside of their cabinets.
Editor's Rating:
Quick Notes:
Type: Adhesive mounting lock
Age Appropriate: For ages 3 and younger
Contents: 4 locks
Adhesive/Drilling Required: Yes
Installation
These are a really simple installation as long as your cabinet doors aren't more than an inch apart from each other. Adoric Life does recommend you heat the adhesive pads with a drier for a few seconds to get the best results out of them, but we found they worked just as well applied like any other lock. You could probably get this installed on a drawer with the right shape too – especially on flatter, modern style drawers and cabinets.
Security
Adoric is a name that's attached to more than one quality cabinet lock option, and they haven't decided to slack off here. The latch clicks into place with a satisfying sturdiness, and you'll need to firmly squeeze both sides of the latch and put a little strength into popping it back out. We really doubt even a strong toddler could get it open – in fact, if you're an adult with arthritis or finger strength issues, you may have issues squeezing firmly enough yourself.
Durability
Locked securely, this is an incredibly solid piece of plastic. Because of its short length the entire lock absorbs any abuse you or your little one might throw at it. There's no real weak point to snap, so if this lock is going to fail it's going to be either the adhesive or the entire thing.
For the most part we had zero issues with curious toddlers and forgetful adults, but we found the lock quality a little inconsistent. Luckily you get plenty of locks in each pack, so if there's an issue you can quickly swap out and be back in business.
Convenience
We really do love these locks that rely on dexterity tests to unfasten because they're just so darn convenient. Though it lacks the reach or flexibility of strap-based adhesive locks, you won't need to do much measuring beyond holding it up to the cabinet or drawer and seeing if it fits. As a fun little bonus, thanks to its durability and lack of any straps to chew through this can be the perfect solution to any mischievous pets looking to get into the good cabinet.
Verdict
The tried and true latching method used in the Adoric Life Cabinet Kitchen System has been around for years for a reason. With this lock, you can mount one of those latches anywhere you please and rest easy knowing you're getting reliable security at a great price. It may be small enough you can't fit it on every cabinet in your home, but it works brilliantly once installed.
Pros
Durable latch stands up to toddlers tugging on the cabinet

Good budget price for the number of locks you get

Also works great for pets
Cons
Small size means it won't fit on cabinets with a large gap between doors

Inconsistent build quality can mean some locks weaker than others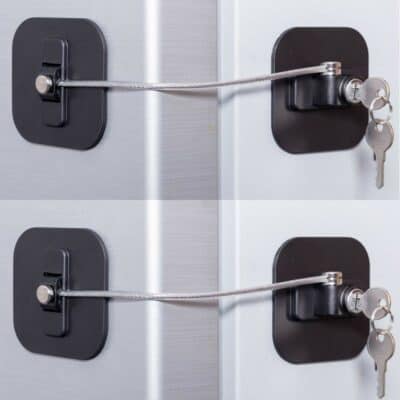 Why we like it:
One look at the vinyl-coated steel cable and large adhesive pads is all you need to know this lock isn't messing around. Strong enough that even a determined adult without the key will have trouble getting through, we think this lock can't be beaten for durability.
Editor's Rating:
Quick Notes:
Type: Adhesive mounting lock
Age Appropriate: For all ages
Contents: 2 locks, 4 keys
Adhesive/Drilling Required: Yes
Installation
Despite the name, this lock still features an all-surface adhesive that means you can mount it on cabinets and drawers along with appliances. Measuring for placement is always important, but with this one we really can't recommend doing so enough. You can't adjust the cable, so if you mount it with too much slack you'll have no choice but to figure out how you're going to remove those three-inch adhesive pads.
Security
BAOWEIJD's lock offering is honestly one of the last stops before you move beyond childproof locks and into actual security locks. We honestly can't imagine a toddler ever making it through, even if you were coaching them the whole time. This lock will stop even a determined adult in their tracks, nothing short of dissolving the adhesive, cutting the cable, or breaking the plastic mounts capable of defeating it.
It comes with several spare keys, and all of them are universal, so there's no need to memorize what key goes with what lock. That also means you can take it to the shop and have extras made, in case the provided ones aren't enough… but if your little one finds one of those lost spares, you'll have to hope they don't decide to start trying it.
Durability
It's obviously difficult to find a more durable material for a lock than steel. There's basically no chance the cable itself will ever fail on this lock, and the adhesive is so strong once mounted correctly it's hard to imagine even an adult prying them off by hand.
Unfortunately, that means the plastic plates housing each end of the cable become a weakness. Since steel is so much stronger of a material, the most common way this lock fails is the cable slipping from or breaking free of its housing, which is a shame given how strong it is otherwise.
Convenience
The keys can be hung somewhere nearby out of reach or even stored on your personal keyring, depending on how often what you've secured needs to be opened. Whatever you do with them, we recommend making sure you've always got a back-up somewhere in case you lose the rest. Uninstalling these locks can take a lot of time and elbow grease, so you only want to do that if you have to.
Verdict
For anybody looking for a childproof drawer and cabinet lock that puts durability and security over almost everything else, this locks down whatever you choose to mount it on. Don't be fooled by the name, either – you can mount it on appliances and cabinets the same as any other lock on our list. As long as you're not subjecting it to outright abuse, this durable lock might last longer than your little one's entire exploration phase.
Pros
Incredibly durable steel cable - you'll need a bolt cutter to get through it

Comes with standard keys you can easily copy spares from

Six-month money-back guarantee and a five-year replacement warranty
Cons
The cable and adhesion are so strong the plastic mounts become a weak link

Hard to move if you place them wrong the first time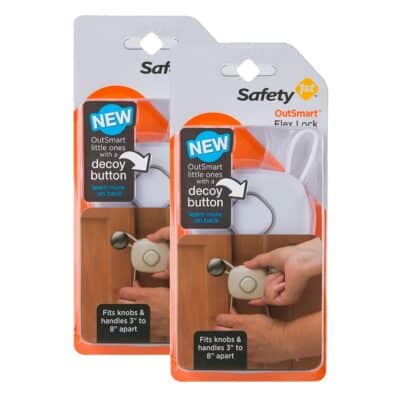 Why we like it:
With a squishy, pressable decoy button that'll keep the little ones from ever figuring out how to actually open it and compatibility with any double-doored cabinet, we loved the Safety 1st OutSmart Flex Lock's ability to stop even curious kids in their tracks.
Editor's Rating:
Quick Notes:
Type: Cord lock
Age Appropriate: For ages 2 and younger
Contents: 1 lock
Adhesive/Drilling Required: No
Installation
Unique for a cord lock, the 'straps' on the Flex Lock are actually thick, durable plastic that works a lot like an oversized zip tie. You can loop them around knobs or hold a release button inside to free the straps and thread them through handles. Once in place, all you have to do is tighten the lock and you're good to go.
We found it a little fussy getting both straps even, just a notch or two of a difference enough to ruin a snug fit, so make sure you're pulling at both sides evenly when tightening.
Security
The decoy button works great, but your little one might be curious enough they can't resist playing with and investigating the lock more than they would have without it. There's nothing stopping them from pulling on the straps and over-tightening the lock either. To actually unlock it, you need enough slack to squeeze at the top and bottom to separate the lock into two halves, so the cabinet doors still need room to open slightly.
Durability
The large plastic straps on this lock definitely require heavy-duty scissors to get through, and the latches that keep it tight are strong enough we never had any issues with them slipping. If those straps end up over tightened, the plastic isn't meant to take that kind of tension for long, so the odds of a break are much higher.
Convenience
It's great being able to mount this on any double-door cabinet you own, but we found adjusting the straps enough of a hassle you're probably better off buying several rather than moving one around. Once open, it's definitely possible to put it back together one-handed, but it's a much simpler task with two.
Verdict
While the actual benefits of the decoy button's attention-grabbing nature are up for debate, this is all around another great cord lock. Compared to similar kits, the Safety 1st OutSmart Flex Lock offers a much sturdier lock at the cost of some convenience.
Pros
Pressable decoy button distracts mischievous kids

Compatible with both knobs and closed-loop handles

Great for wider cabinets, works on handles up to eight inches apart
Cons
Requires slack to open easily, meaning your cabinets can still open a few inches

Straps are very easily overtightened, risking breaks or making the lock hard to remove
Buying and Installing the Best Drawer and Cabinet Locks
Whether you're trying to stop your little one from making a mess of your baking ingredients or protecting them from dangerous chemicals and cleaning supplies, you know it's crazy how fast they can get into trouble with your back turned.
Seeing that fresh bag of flour dumped all over your freshly vacuumed living room floor or your kitchen tiles slippery with blue dish soap is an awful feeling, but nobody wants to discourage a child's natural urge to explore and wonder by shutting it down entirely. By making sure you've locked away anything you don't want them to get into, you can rest easily and let them roam without worrying about the next mess.
There's no need to go running out to the hardware stores and looking for studs in your walls just to keep a toddler out of a few drawers and cabinets. These child safety locks are meant to be a non-permanent solution to keeping your little ones safe while they need it most.
Installing Child Safety Locks
It's important to decide ahead of time what type of lock is best for you and your little one. Even better if you get started before they're six months old – that's about how long most children take to start crawling, so you'll have a window before they really start to explore. Still, six months can vanish in the blink of an eye as a new parent, so don't waste time if you plan on getting ahead of things.
You'll want to consider the style and sizes of your drawers and cabinets, along with what they're made of and how often you need to get inside. Making sure you take measurements ahead of time means avoiding frustrating issues with locks not fitting the way you want them to.
Drilling Vs. Adhesive
Some child safety locks have the option to hard mount, usually involving screws drilled into a firm surface. On some materials, like particle boards, this is the only way you can mount a lock without risking damage to the surface.
Hard mounted locks won't ever have to worry about their adhesion weakening as the years go by and provide a much stronger mounting, but we found that's often way over the top when it comes to newborns and toddlers.
Obviously, not everyone is in a position where they're able or willing to start drilling holes in things for locks that their little one will outgrow before they know it. That's why so many safety locks come with sticky adhesive pads. When they're applied right, you get more than enough strength to stand up against any little one along with a damage-free removal. It's up to you to decide which is best for your home.
Applying Strong Adhesives
The most important part of any adhesive installation is making sure the surface you're applying it to is both appropriate and well cleaned. This can be the biggest difference between a secure lock and a useless one.
The type of all-surface adhesive most commonly used with these locks works great on everything but rough, porous, or fibered surfaces. That means unfinished wood or fabric covered ottomans aren't the best places to mount with adhesive.
For smooth, non-porous surfaces, you're going to want to use a 50:50 ratio of water and isopropyl alcohol while wiping the area down for maximum bonding potential. Though water alone can do a decent enough job removing dirt and dust, the isopropyl alcohol works to cut through light grease or oil, especially important in your kitchen. Once you've dried the surface, it should provide a great place to mount your lock.
Childproofing Your Home
Equipped with your favorite style of lock, ready to install them, you might suddenly be overwhelmed wondering where to even start. There's so much to consider, with toddlers just as good at finding their way into trouble as we are at getting them out if it. Don't be overwhelmed – we've come up with a few of the most common and important places for you to get you started.
Kitchen
Secure things like heavy pots and pans, cleaning supplies, glass and sharp objects. If your little one has fun making messes, set aside a cabinet for baking supplies and open dry foods. These locks work just as well on refrigerators too.
Bathrooms
Medicine cabinets are a big one here, along with any cabinets below your sink if you have those. Many of these locks adhere great to toilets, so you can save your little one from the temptation to throw things in.
Living Rooms
Entertainment centers and openable furniture along with any cabinets containing valuables are the prime targets for kid attention here. A great place for non-adhesive locks, to protect your furniture from removal damage.
Garages
Any tool cabinets or boxes on shelves low enough for children to reach, any drawers and cabinets containing paint or car maintenance materials (antifreeze, motor oil, etc.). An adjustable kit like the Jool Baby Strap Lock would be perfect for keeping all parts of your garage out of your little one's reach.
Offices
Protect your computer and filing cabinets full of documents, along with any drawers full of printer paper and other office supplies. Even your writing utensil drawer can be at risk of an artistic child discovering how fun permanent markers are to use. There are adjustable straps perfect for any sized desk's drawers.
Other Considerations
This is really just the beginning when it comes to childproofing a house. We haven't even mentioned using outlet covers to keep your curious little ones out of danger, and clever use of baby gates can keep them out of entire sections of the house at a time. We want to make our homes a safe and fun place for our children to grow and learn, so even if it seems like a lot to get done, we can't think of anything more worth it than watching them flourish.
Drawer and Cabinet Lock FAQ
When Should I Start Baby Proofing My Home?
The development of every child happens at a different pace, but you usually want to have the most important places in your home secured by the time they've learned to crawl. It's a lot easier to keep them safe before they can start moving around, so we recommend taking advantage of that time to baby proof your home.
Are Childproof Drawer and Cabinet Locks Safe for My Child?
Absolutely, every one of these locks is designed and tested to keep your child safe. But it's still important to take an active role in deterring them from messing around with locked cabinets. The last thing anyone wants is for their little one to get hurt trying to get through the security meant to keep them safe. These locks act as a great deterrent, but they aren't an excuse to give your child free rein over the house.
Can You Use Baby Proof Drawer and Cabinet Locks for Pets?
Yes, these drawer and cabinet locks work just as well for our curious furry companions. Though you'll definitely want to choose the right strength for the size of your pet, many of these are perfect for securing things like trash can lids or the cabinet you keep all their food inside.
How Do You Remove a Childproof Drawer or Cabinet Lock?
Since most locks are backed with a powerful, multi-surface adhesive, we definitely don't recommend trying to pry them off with brute strength alone. Consider using an adhesive remover like GooGone or a hair dryer to dry out the adhesive and force it to detach, but don't forget to take the surface you're dealing with into account. Even though they seem impossibly strong, with patience you can remove them without damaging the lock or mounting surface.
Final Thoughts on Child Safety Locks
The safety of our children being the most important thing in the world is something everybody, no matter who they are or where they're from, can agree on. There's so much to be said on the subject there are even government commissions out there whose entire job is researching and reporting on the best ways to keep children safe.
Finding the best ways to do that for your new family is just the beginning of the long, fulfilling journey that is raising a little one safely. We think you'll agree there's no shortage of choices, so if our guide aids in finding the best drawer and cabinet locks for your children, we're glad to have helped.