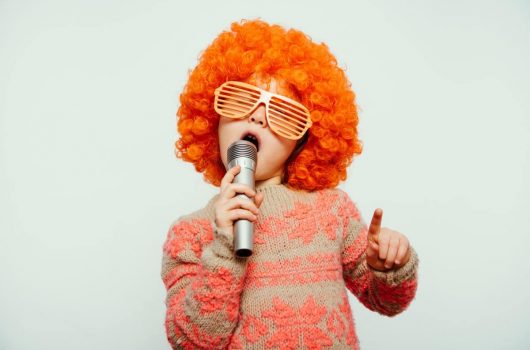 Bonaok Wireless Bluetooth Microphone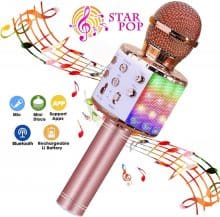 BlueFire Wireless 4 in 1 Bluetooth Microphone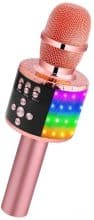 Bonoak Wireless Bluetooth Microphone with Controllable LED Lights
Previous
Next
Does your child enjoy singing while they roam around the house? If so, you should consider purchasing a quality microphone for your budding little star. Singing is an excellent hobby for children of all ages to pursue. Studies have shown that singing is not only fun, but can give a significant boost to a child's self-esteem. So, if you've got a little one in your life that seems to have an interest in music, why not foster it into something real and magical?
It's true, there are specialized microphone toys as well as professional-grade models designed specifically for children and their needs. We've put together the top 15 microphones for kids in a helpful buyer's guide in order to show you the very best products out there on the market today.
What to Look for When Purchasing a Microphone for Kids
Before we dive headfirst into the products, there are a few key factors that you're going to have to keep in mind before purchasing a particular kid-friendly microphone product:
Recommended Age: Be sure to purchase a microphone that is suitable for your child's particular age group. Common sense is very much king here. For example, older children (generally) aren't going to be very attracted to, say, super-pastel microphone colors and things like pre-programmed kids songs. This, however, might be the perfect kind of microphone for a small toddler.
Battery Life: Be sure to check out the battery specs for each and every product you take a gander at. You wouldn't want to purchase a product that barely stays powered for under an hour, right? A good standard is a microphone that can last four to eight hours on a single battery charge, and some, like our top overall pick can last as long as ten hours.
Audio Quality: It seems like a no-brainer thing to look for, but it has to be said anyways. Be sure to buy a good-quality microphone that also has the capacity for excellent sound quality as well. Excellent microphone products will have a noise-canceling function that blocks out most external background noise, giving pristine and quality sound in the process.
Durability: Children can be absolute klutzes a lot of times. As a parent, it's probably pretty obvious to you by now that kids seem to do their best when it comes to smashing and bashing whatever it is that they might be carrying at the time, even if it's for the most part on an accidental level. Make sure you're buying a solid microphone that can take a beating, allowing your child to keep on singing. All of the products on our list should hold up to anything short of total abuse, and our pick for the best microphone for young children even has an ultra-durable full metal body.
With those considerations in mind, let's kick this concert into high gear and jump off the drum riser straight into the product reviews!
Top 13 Best Microphones For Kids 2020
Final Considerations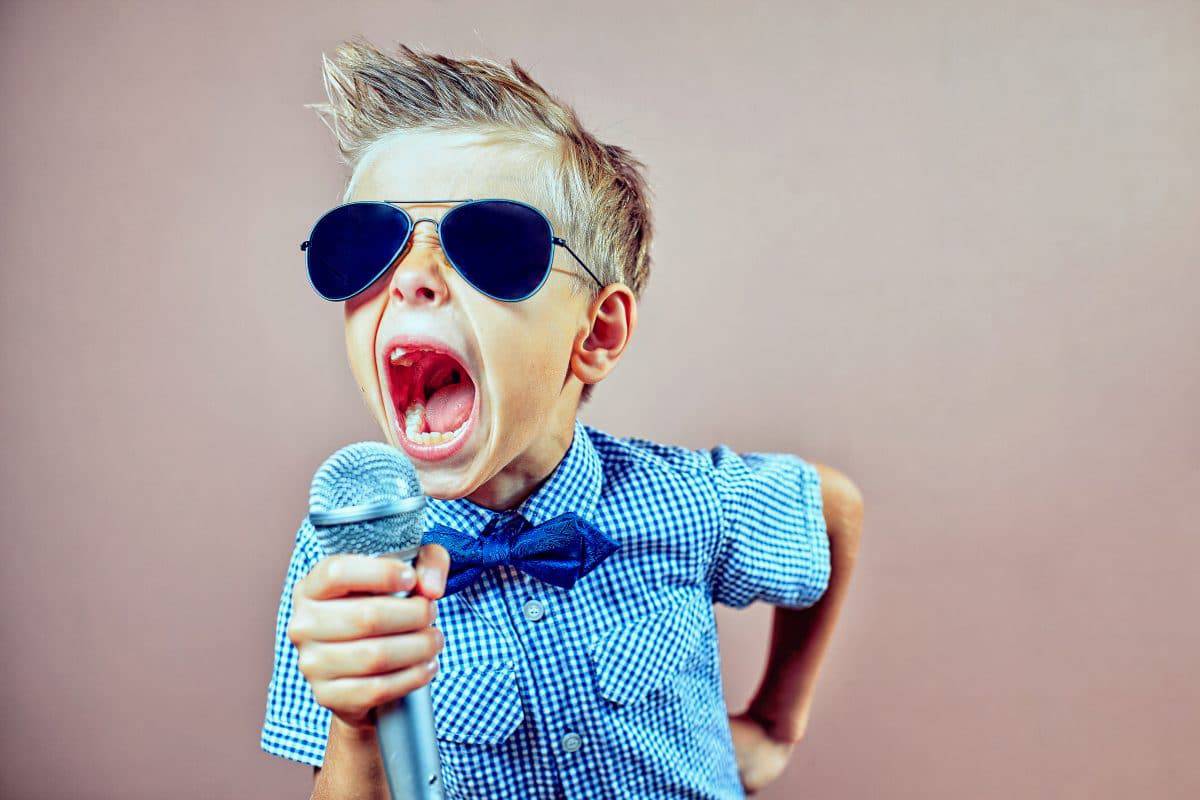 There's a lot of microphones for kids out there in many different styles. This can be overwhelming, but we hope that you've got a better foothold on all of the various types of products out there, their pros and cons, and whether or not they would be the right purchase for your child.
Something to keep in mind is that just because there are top of the line microphones out there that can break the bank doesn't necessarily mean you need to purchase those particular products for your kid, especially if you're not even sure that their interest in singing is a "fly by night" sort of fancy. However, quality and cost don't always have to be synonymous when it comes to microphones for kids. Most of the products on this list, for instance, are all in the very affordable range and will provide your pop star-in-the-making with loads of fun for quite a long time to come.
If you want to boost your child's creative inner world, help them to be comfortable with taking part in social activities, and many of the other benefits of singing that are too numerous to list here… it's clear that it's a great hobby to nudge your child towards. We hope this list has helped you come to a solid conclusion on the best kind of microphone for your kid. Who knows? They might be the next big star!