Top 13 Best Microphones for Kids 2023

Recommended Age: Not specified, but this product seems suitable for all ages.
Review
This beautiful, metal-hued microphone literally shines with the utmost quality upon first glance. It supports both Bluetooth as well as a standard USB cable connection. This allows for a multiplicity of different ways one can use this microphone.
Compatible with all sorts of devices, including smartphones, tablets, and PCs, and even car stereo systems. Something else to note is that this microphone has an incredible 33-foot Bluetooth radius. This allows your child to wander around and sing to their heart's content without losing the mic's signal.
Though it doesn't come with one, this microphone can support an SD memory card of up to 32GB. This is more than enough digital space to store all sorts of songs and beats for your child to along with. On top of that, the microphone also has a rapid-charge internal lithium battery that lasts up to 10 hours total.
The only real con we found with this product is, the internal speaker isn't as loud as it maybe should be. However, that's really up to the individual's tastes, in the end. And if push comes to shove, you can always hook it up to some turbo-charged, Bluetooth compatible wireless speakers!

Recommended Age: 5+
Review
This cool little standup microphone toy comes with the ability to artificially lower the volume of vocals on your little one's favorite songs (when connected to an external sound source, such as a tablet or mp3 player). The toy even comes with some neat extras, like real-time voice-morphing effects to add a little experimental pizzaz to your child's vibrato.
Another awesome thing about this product is it comes pre-configured with eight songs, and it also has the capabilities of recording up to five minutes of your child's own singing with the original tracks. When you mix that on top of the rad disco lights, this microphone toy is a party unlike any other.
Something to note, this is a microphone toy that's made mostly out of plastic, so it has a tendency to tip over easily. Be aware of this if your kid gets extremely rambunctious when they are doing their best Elvis impersonation.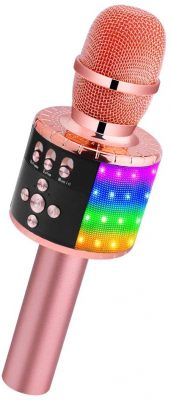 Recommended Age: Not specified, but this product seems suitable for all ages.
Review
The most obvious and eye-catching thing about this particular version of the Boanoak microphone is the built-in LED lights. This allows for the possibility of an almost interactive kind of light show, and we all know those sorts of things can enthrall young ones from all walks of life.
The 48 embedded LED lights are all adjustable and move in sequence with whatever music happens to be playing through the microphone. The louder the song, the brighter the lights get!
Like the other Boanoak product on our list , this comes with Bluetooth and USB capabilities. It can connect with all sorts of devices, including smartphones, tablets, laptops, desktops, car stereos and even wireless stereos on top of all that. The lights are fun, but if you're not interested in them you'd be better off purchasing a cheaper model, as this microphone doesn't add anything else to justify the increased price.
Many microphone products such as these suffer from poor internal speaker loudness, and this product isn't much different. However, the sound quality can easily change depending on what kind of device you have the microphone hooked up to in the first place.
Recommended Age: The manufacturer doesn't mention any kind of specific age, but this microphone should be safe for all ages.
Review
This is yet another great microphone option for your child. Along with the bright LED lights and beautiful color options, it also is a versatile product that works in tandem with most smartphones, laptops, tablets and mp3 devices. It has an internal battery that can last for about six hours on a single charge.
The microphone also has support for micro SD cards up to 32 GB (sold separately). This allows you to load music into the microphone to sing along with. Otherwise, you can connect the microphone via any sort of Bluetooth connection or through a USB cable (which is provided for you in the box).
This microphone is so hot-rodded that it can cause some serious feedback issues, especially at louder volumes, so be extra careful with this product and volume control if you want your kid to rock out while keeping the windows on your house intact!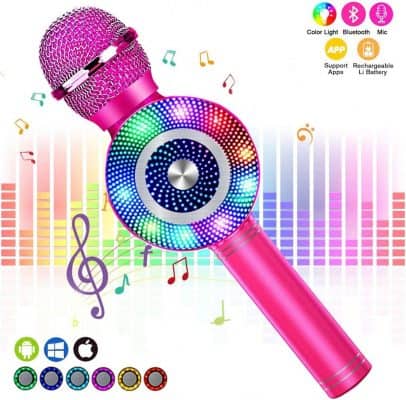 Recommended Age: 4+
Review
This is a fantastic microphone product that, like many of the others on this list, is Bluetooth compatible, and thus can be used wirelessly with many commercially available smartphones, tablets, and even car speaker systems. Not only that, it comes with a lot of cool voice-changing features built-in, morphing your child's voice into different characters, such as an old man.
Some of the downsides of this product are it doesn't come fully charged out of the box like one might expect. Additionally, it seems that the microphone takes a while to charge up to its fullest capacity.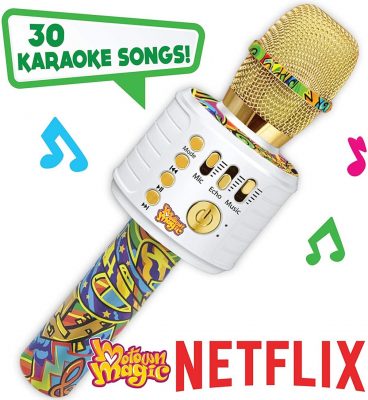 Recommended Age: 3+
Review
The Jackson 5, The Temptations. Their music, and that of many many more, defined an era of American artistry in the recording industry that has extended to the modern day in such titans as Alicia Keys and many other stars.
This microphone product comes pre-loaded right out of the box with great Motown classics for your little radio star to sing along to. Beyond that, you can play any other kind of song that you like through other smartphone/tablet-related apps, such as Spotify, YouTube, Apple Music, and more. On top of that, the microphone has an 8 hour total battery life, and can fully charge within 2 hours.
This product isn't without its downsides, however. The micro-charger that comes in the packaging is difficult to connect to the microphone's body, causing some individuals to have trouble efficiently charging up the microphone in a decent amount of time. Also, this product doesn't come with SD card compatibility, so there's no way to "save" additional songs on the microphone internally.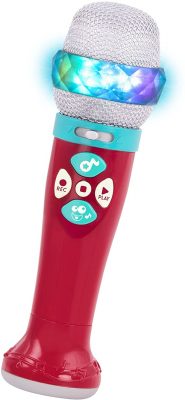 Recommended Age: 3+
Review
This is a truly interactive microphone that will have your little one feeling as if they were a real-life rockstar. It provides a flashing ring of light that can change into various different kinds of colors depending on the song. Your child can even swing the microphone back and forth to make a pre-recorded crowd cheer them on!
This is a Bluetooth-compatible product and comes preloaded with a couple of classic kid-friendly songs, such as the "Itsy Bitsy Spider" and several more. Beyond that, you can rock along with any other song on your smartphone/tablet/etc. The microphone comes with a voice modulation tool that can make your child's voice go up and down several octaves. It also comes with a recording capability, allowing your kid's voice to be recorded on top of any song that you can think of.
Sometimes the microphone requires you to "cup" your hands around it in order to get a decent recording of your voice. Also, the playback sound quality for the recordings isn't super high quality, but this is ultimately a kid's toy for the most part, so take that into consideration.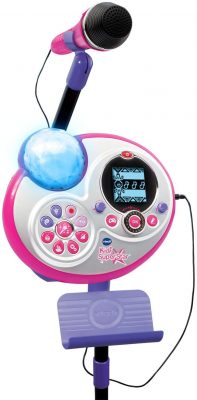 Recommended Age: 4-10
Review
This is a full-fledged microphone toy for children that comes with numerous activities included that go beyond just singing over a pre-recorded tune.
There are pre-loaded games included with the product, along with other attachments like a glowing disco ball and pre-recorded audience responses (such as applause and laughter). There's also built-in voice changing features, which is a typical setup you find with a lot of these sorts of fun microphone products. The single most defining thing about this product, though, is the adjustable microphone stand that allows this toy to literally "grow" with your child as they get taller over time.
This isn't a Bluetooth/wireless item, so if you want your child to be able to sing along with additional tunes beyond the ones provided with the toy out of the box, you're going to need to connect it to a pre-existing MP3 player. Something else to take note of is that the stand itself isn't that heavy, and thus can tip over easily depending on how rowdy your kid can get while singing.

Recommended Age: 5-9
Review
The biggest appeal for this item is that it comes with something called a Music Magic Mode. This is an interesting feature that prompts the microphone to artificially turn down the vocals on whatever track happens to be playing with the already hooked-up microphone (via a smartphone or tablet). This particular innovation allows your child to be the center of attention and have their singing shine through, as opposed to the person normally singing on the prerecorded track.
The lack of Bluetooth with this microphone is a glaring flaw, however. It's completely dependent on the audio cable provided in the packaging. This can potentially create numerous problems with your child accidentally dragging the attached device along with them if they end up getting too lost in the moment singing! On top of that, it doesn't get very loud—which could be a good thing for the parents, but your kids might be a bit disappointed.

Recommended Age: 18 months – 3 years
Review
This is a really cute, fun microphone toy for a small toddler that is a good entry-level product when it comes to singing-related activities.
One of the biggest draws for this product is its learning component. The built-in songs can help your child learn the alphabet, numbers, colors, opposites, and much more. The other draw of this toy is that your child can also record their voice for a few seconds and then play it back, creating lots of fun scenarios for your little toddler.
This isn't really what you would call a traditional microphone by any stretch of the means, however. It can only record a few seconds of voice, and it doesn't pair with any modern devices like smartphones and etc. With that being said, it's fun-factor might diminish quickly as your child ages and wants more advanced things to interact and play with.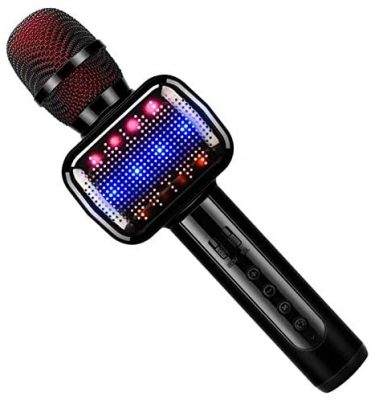 Recommended Age: 3+
Review
This is a Bluetooth capable microphone for kids that also has auxiliary cable and USB connectivity as well, giving it a high degree of flexibility when it comes to being compatible with most of the media devices in your residence.
Like a lot of these microphone varieties for children, the Leeron comes with a few voice-changing settings and embedded LED lights that flash in tandem with the tempo of whatever song you have running through it at the time.
There are some significant downsides to this model of microphone, though. The playback quality is a little bit flat. Your child's voice might sound a bit "off" compared to what they normally sound like. On top of that, the battery life for this microphone isn't the best either.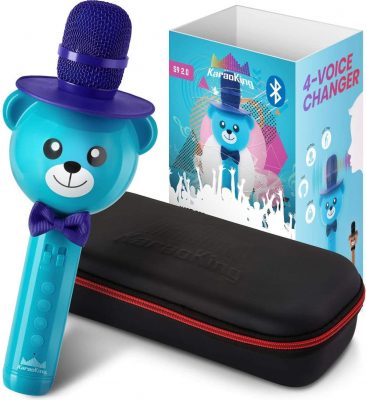 Recommended Age: 2+
Review
The first thing you notice with this kid-friendly microphone is the adorable-looking bear head complete with a very stylish top hat. What's really neat about this design is that the head of the microphone also doubles as the bear's hat—and it's made of solid metal to boot.
This fun microphone toy comes with its own protective carrying case and four different vocal effects for loads of fun singing in different styles. The microphone is also compatible with all Bluetooth-enabled devices. Interestingly enough, you can also connect this mic to televisions and DVD players via a 3.5mm audio jack as well.
Like many of these microphone kits, audio distortion is a very real issue that can rear its head, especially when it's used at louder volumes. The KaraoKing, unfortunately, suffers from this very same issue.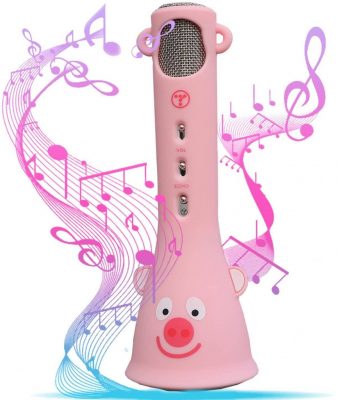 Recommended Age: 4+
Review
This is a cute, high-quality Bluetooth-enabled microphone for kids that can be used for hours of fun, is of considerably high quality, and is quite durable to boot. This cylindrical microphone also has fantastic sound quality and has awesome reverb and echo sound enhancements built into it.
Like many modern-day microphones, this Tosing product is compatible with all smartphones, tablets, and other wireless devices that have Bluetooth capabilities. If Bluetooth isn't an option for you, however, the product comes with a 3.5mm USB audio cable that is compatible with most modern devices. On top of that, just look at the shape and texture of this thing! It comes in three pastel-like colors (yellow, pink as well as blue) which give it a very unique kid-friendly feel to its presentation.
One of the major downsides to this product, however, is while it takes only two hours (give or take) to fully charge, the battery lasts around three to five hours total on this full charge. This is quite less than some other microphone products, especially for the price point. However, all things considered, you can't deny the overall cute factor of this particular microphone, nor scoff at its sound quality!