Top 10 Best Pregnancy Tests 2021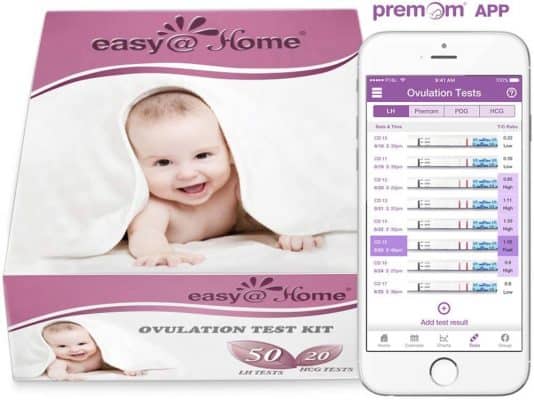 Specs:
Type: Strips
Tests for: LH and hCG
This kit contains pregnancy test strips in addition to ovulation test strips and is sold as a package deal. It contains ample strips to test through two menstrual cycles and perform a couple of pregnancy tests. The brand also has a free online app for both Android and iPhone devices, where users can log their test results to keep track of their progress.
This pregnancy test kit is best for those who are trying to conceive and need to track their ovulation cycles with accuracy. It is especially helpful for women who suffer from PCOS, hormonal imbalances, hyperthyroidism, and related problems and do not have a regular menstrual cycle. It will keep you informed of the hormonal changes every single day and help you figure out when's the most fertile window to conceive.
This is a classic pregnancy test kit with strips that have a control line to validate your tests. Simply dip a strip in your urine and hold for at least 10 seconds. Lay it down and wait for 5 minutes for the result. The lines that appear are dark and clear, with no ambiguity in reading the results. The brand also offers phone support to customers to answer product as well as pregnancy related queries. While the pregnancy strips detect the presence of hCG, the ovulation strips are designed to read the LH levels in the urine.
Protips: Dip the strip for a good 10 seconds before withdrawing for clear lines. LH levels build up during the day so testing around noon, after holding your bladder for a while, might yield the most accurate results for the ovulation strips.
How early can I take it?
Up to 5 days before the first day of your missed period with 95% accuracy. 99% accuracy on the first day of the missed period.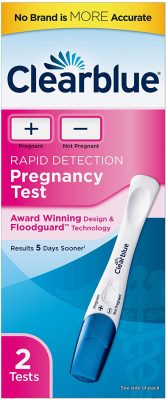 Specs:
Type: Stick
Tests for: hCG
This is an award-winning pregnancy test stick, feted for its design. Instead of the traditional 2 lines model, it shows a '+' or a '-' sign to display positive and negative results. Manufactured by Clearblue, a respected brand name in the pregnancy tests arena, this pack contains two sticks with wide tips that change color. The test tip turns pink to indicate the tip has sufficient urine for the test – whether you choose to pee on it directly or dip it in a cup. And the result could take as little as a minute, justifying the 'rapid detection' tag.
For all the hoopla about the design, if you don't read the instructions carefully, you'll probably end up wasting the sticks. Some people might confuse the separate window that shows the control line to indicate a negative result. Other times there are faint shadow lines for the plus sign already, leading to confusing results.
But, when used according to the directions, the Clearblue pregnancy test is excellent. It's quick, accurate, and sensitive.
Protip: This is unlike any other pregnancy test kit you've used before, so follow the instructions carefully to avoid wasting the not so affordable sticks.
How early can I take it?
From the first day of your expected/missed menstrual period.

Specs:
Type: Stick
Tests for: hCG
This pregnancy test kit is best for those who are either too excited or too worried about conceiving. You don't have to wait until after you've missed your period to take this test. It can accurately predict test results almost 6 days before the first day of your next period. It's an easy to use stick that shows a dark pink control line and another pink line to confirm Pregnancy. It's designed to detect four major forms of the hCG protein in the urine, thereby providing wider coverage for hCG detection and improved accuracy. This line test yields results in 3 minutes flat.
Protip: Since this test is designed to detect a wider range of hCG proteins, you can take it any time of the day and get the same results.
How early can I take it?
6 days before the first day of your missed period. Keep in mind that results taken any earlier than this may be false negatives.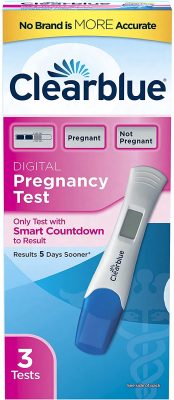 Specs:
Type: Digital stick
Tests for: hCG
This pregnancy test kit is usually available as a packaged deal with the Clearblue Advanced Digital Ovulation Predictor Kit. While the pregnancy test gives sound results, we do not recommend buying the ovulation strips. This kit eliminates the need to wait for lines and the guessing game of correctly reading them. It also has a timer bar that validates the test and also shows its progress. Unlike many pregnancy tests, it presents its results in writing, so you won't have to work to decipher ambiguous lines.
As far as digital pregnancy test kits go, this is the best option. However, fertility treatments, PCOS medication, and other induced hormonal changes throw this test for a loop, and you can't rely on the outcome of the results to be accurate.
Protip: Although the package says you can test as early as 4 days before your period date, for accurate results, the first day of the start of your period is the ideal time to test.
How early can I take it?
Up to 5 days before the first day of your missed period.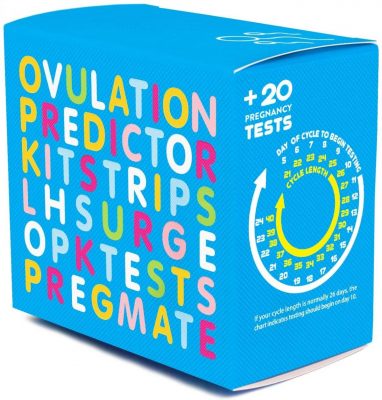 Specs:
Type: Strip
Tests for: hCG and LH
Although this pregnancy test kit is widely popular for its OPK (Ovulation Predictor Kit) tests, this kit is designed to detect even low levels of hCG in the urine, making it a very reliable pregnancy indicator. Be careful while handling the strips, and make sure you don't oversaturate them in the urine—this might make your results less accurate.
If you are tracking your fertile days and maintaining a log to monitor progress, these aren't the most reliable strips as they tend to get darker over time. Even the ones with negative results tend to show dark lines after a few days.
Protip: While the best time to test for hCG is early in the morning or after a few hours of holding in your pee, the best time to test for ovulation is afternoon.
How early can I take it?
Up to 5 days before the first day of your missed period.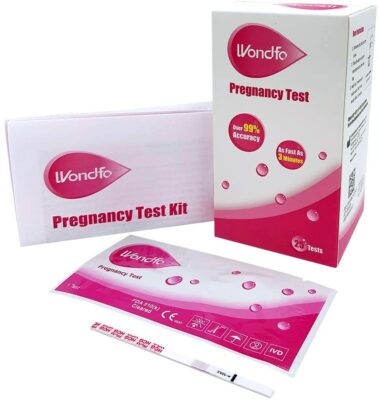 Specs:
Type: Strip
Tests for: hCG
This is as simple as it gets, with a box full of test strips that can be dipped in a cup of urine. The strips are clearly marked to tell the user how much of the strip to dip in. Hold in the strip for 5 seconds max, then lay it down for 5 minutes. Two pink lines indicate a positive result, while only one pink line indicates otherwise.
The official gurantee is an hCG sensitivity threshold of 25 mIU/ml, but the test has been shown to detect early cases with a sensitivity threshold as low as 10 mIU/ml even. Your mileage may vary, so it's best to stick to the official numbers.
On the downside, a few batches of this kit are defective and are known to give false positive results. You should check your batch code online to see if you need to send them back.
How early can I take it?
From the first day of your missed/expected period.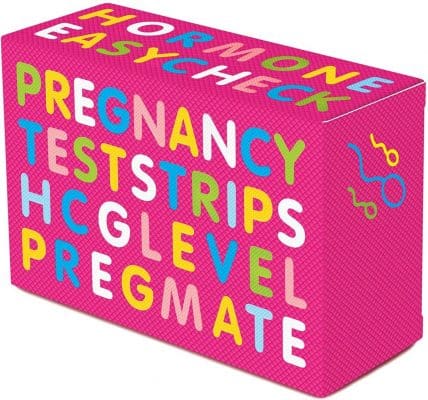 Specs:
Type: Strips
Tests for: hCG
This test has given accurate positive results as early as 9 days past ovulation, making it a very affordable option for early pregnancy detection. The strips in this kit are wide and the lines that appear are clear. Since these are dirt cheap, you can take as many tests as you want to confirm the results. On the downside, it beats the purpose of accuracy if you have to take as many tests to be sure of the results.
As with other cheaply made products, different batches of this product have been shown to produce varying results. On top of that, the test isn't as accurate as some others when taken early, so it's good to double check—especially since these are so cheap.
Protip: Take the test a couple of times to confirm the results. If you're unsure of the outcome, crosscheck results with a different brand.
How early can I take it?
5 days before the first day of your missed period.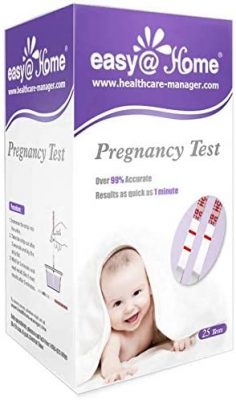 Specs:
Type: Strip
Tests for: hCG
[email protected]/Premom is a reliable brand and this is the affordable version of their standard Pregnancy + Ovulation Test Kit offering with fewer perks. It is as accurate in terms of results as the pregnancy test kit that tops our list. There are no additional perks like the app to log your results on or track progress. These tests give more reliable results as your pregnancy progresses.
This kit is very affordable, offers no additional perks, works like a regular kit with accurate results from the first of the expected period. It's the best deal for those who have regular menstrual cycles and are not anxious about conceiving but just checking in to see if they're expecting. It won't work as early as most tests, and any tests taken earlier than instructed might give false results.
Those who need to track their cycles, are hopeful of a positive result, or need to know the results early, should opt for other pregnancy kits that figure higher on our list.
Protip: This test kit is ideal for those who are looking to conceive naturally and have regular cycles.
How early can I take it?
A day before the first day of your expected menstrual period.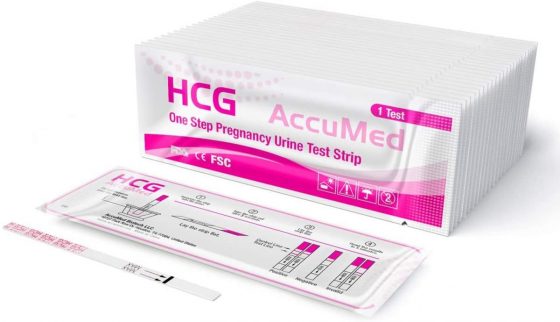 Specs:
Type: Stick
Tests for: hCG
These pregnancy test sticks are designed for an easy grip with a long tapering tip that's easy to hold midstream while you pee. It uses the standard line result method to display results with one line for a negative result and two lines indicating a positive. No line on the column marked C indicates an invalid result.
The test should work well for most people, but the product is inconsistent. Quality control is low, and you should take more than one test each time to ensure that your results are accurate.
Protip: Early pregnancy detection yields very faint positive lines but can be relied on for accuracy.
How early can I take it?
Around 5 days before the first day of your expected period.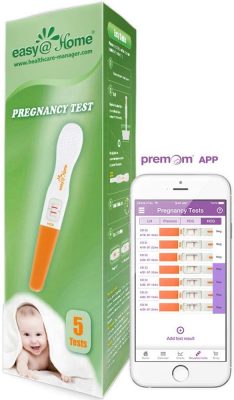 Specs:
Type: Stick
Tests for: hCG
This test eliminates the need to collect urine, wash cups, or use eye-droppers. It is designed for mid-stream usage and can be held by hand near the urine stream while peeing. Then wait for a few minutes and get your results.
A helpful app designed by Premom is available with this product. It stores pictures of the test for easy comparison and progress tracking and eliminates the need to store all your test strips.
They also offer good service with a free customer care helpline that also facilitates easy returns. This is just as well since many of their packages arrive with a stick or two that is damaged, and this relatively low quality control also tends to lead to occasional false results.
Protip: Use this test kit first thing in the morning for the best results.
How early can I take it?
One day before the first day of your missed period.