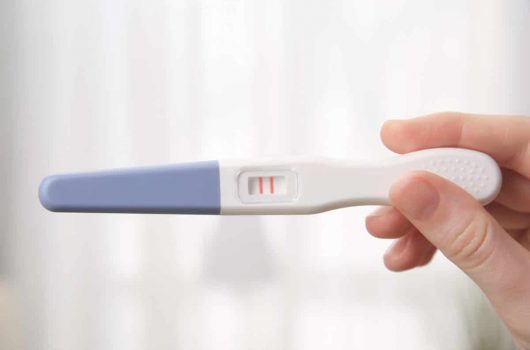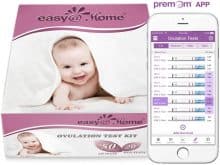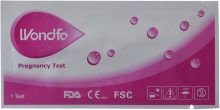 Wondfo Pregnancy Test Strips HCG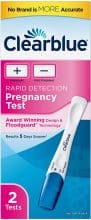 Clearblue Rapid Detection Pregnancy Test
Previous
Next
Since the introduction of at-home pregnancy tests in 1976, women have been empowered to self-diagnose this life-changing event with minimal medical assistance. Almost 5 decades later, home-based pregnancy test kits have become one of the most widely used, self-administered diagnostic tools.
They've also come a long way in accurately predicting the results of the test. The wait for the result of a pregnancy test is beset by a range of emotions, from excitement to hope, trepidation to anxiousness, and everything in between. Skip faulty testing and results by arming yourself with the right knowledge to choose the best pregnancy test kits for your requirements.
Things To Know Before You Buy A Pregnancy Test Kit
Not all pregnancy tests are created equal. You can find a pregnancy test in just about every price range, but they vary greatly not only in their overall effectiveness and accuracy, but in how they're used, too. To separate the good from the bad, it's important consider the following factors.
There are a couple of hormones associated with ovulation and Pregnancy, such as the Follicle Stimulating Hormone (FSH), Luteinizing Hormone (LH), human chorionic gonadotropin (hCG), and more. Most home pregnancy tests, also known as assays, are designed to detect the increased levels of hCG in the urine, as it is the main indicator of the presence of an embryo.
A regular home pregnancy test targets hCG, otherwise known as the human pregnancy hormone. If the ratio of hCG in the urine is less than 5 mIU/ml (milli-international units per milliliter), the test gives a negative result. hCG values above 20 mIU/ml result in positive tests. We'll learn more about hCG later in the article.
Ovulation test strips, on the other hand, are designed to detect LH levels in the urine. These are sold as a packaged deal along with pregnancy test strips to help users determine their most fertile days.
Sensitivity & Accuracy of Test Kits
These two factors are tied together, as sensitivity to hCG makes the results of a test more accurate. Most tests are designed to detect hCG levels of 25 mIU/ml and above. However, some early detection kits boast of lower hCG sensitivity thresholds. If you are looking for an early pregnancy detection kit, and do not want to wait until you've missed your period, be sure to select a sensitive kit.
Types of Pregnancy Test Kits
Pregnancy tests are available in four major designs.
Midstream Tests: Simple pregnancy test sticks that need to be peed on directly. These are no-fuss kits that require minimal efforts. You wait for the appearance of a blue or pink control line to indicate if the test was valid, and a second line to determine whether you are pregnant or not. This is how most non-digital pregnancy test kits display their results.
Dip Tests: Pregnancy test kits that provide a cup to collect urine and strips to dip in it. Most do not provide the cup, just the strips. This method requires a few extra steps. There's also the hassle of cleaning up after usage.
Dropper Tests: Kits that provide an eye-dropper tool along with the test sticks. Collect urine in a cup, use the tool to pick up a few drops, add them onto the test strip well, then wait for the results. There are a few more steps, but they're perfect for germaphobes and clean freaks.
Digital Tests: Pregnancy test sticks that come with an LED display component. Technology removes all doubts about whether that was half a bright line or two faint lines, and instead displays words that spell out the result.
Your at-home pregnancy test should be a do-it-yourself, reliable, and easily readable kit with proper instructions in the product insert. You should know that different pregnancy test kits are designed to react to the presence of different hCG proteins in your urine, and, depending on the day of your menstrual cycle, and the timing of your test, your results may vary. You should also know when certain pregnancy tests will give you the most accurate results, and when they're bound to give you false readings. Based on the various factors listed above, we've created a list of the best pregnancy tests available online.
The 10 Best Pregnancy Tests 2020
Everything You Need to Know About Pregnancy Tests
You may choose any of the above pregnancy test kits based on their price tags, accuracy, response rates, and other perks offered. In addition to the quick tips we've listed above to help you choose the best pregnancy kit for you, we've also compiled a helpful guide of do's and don'ts and good to know facts to help you along in this journey. Whether you're trying to conceive or avoid it, arming yourself with these helpful facts will aid you in getting the most desired outcome.
Know Your Pregnancy Vocabulary
Apart from the official abbreviations used for various hormones and standard medical terms, there's a list of abbreviations that online users employ while discussing pregnancy on popular forums like The Bump. If this is the first time you're stepping into this arena, fret not, we've got you covered with most of the popular terms associated with pregnancy and related discussions online. Here's a list of such terms in alphabetical order:
BFP – Big Fat Positive!!!
Getting an undeniably positive reading on your pregnancy test result.
DPO – Days Past Ovulation
Embryo implantation occurs about 8 to 10 days after ovulation. Pregnancy can be detected as early as 12 to 14 DPO. This window of testing varies for different women. This is also why testing too early may result in false negative results.
DTD – Do the Deed
Take the necessary steps to conceive.
Evap Line – Evaporation Line
A residual line, faint in appearance, that can be seen on a test strip/stick, once it dries up. This is why you shouldn't read a test after the allotted time frame, you might end up with false positive readings. Another reason why you shouldn't rely on tests that are past their expiration date – spurious lines and unreliable results.
FMU – First Morning Urine
Recommended for getting accurate pregnancy test results.
HCG – Human Chorionic Gonadotropin
It's a hormone produced by the embryo after implantation. The production of hCG increases every 48 hours until 11 weeks of pregnancy. Here's a helpful table for those who would like to know the average range for hCG values for each week of pregnancy until the first trimester. HCG mainly helps in maintaining the uterine lining.
HPT – Home Pregnancy Test
LH – Luteinizing Hormone
As LH rises, you move into the window of opportunity for conception. This is the best time to DTD.
LMP – Last Menstrual Period
 OPK – Ovulation Predictor Kit
A pregnancy test that measures LH to determine ovulation, like the PREGMATE Ovulation and Pregnancy Test Strips Predictor Kit
General Pro-tips:
There are a couple of do's and don'ts to keep in mind to get the most accurate results from your pregnancy tests.
Always read the instructions carefully. The same test kit may have different rules for different strips/sticks in the kit.
Choose a pregnancy test kit that caters to your needs specifically. Early pregnancy detection kits like PREGMATE Pregnancy Test Strips are more sensitive to the presence of hCG, unlike regular pregnancy tests. Similarly, some pregnancy tests are not designed to account for fertility treatments and related hormones, so read the package carefully before you buy.
It's always good to use the FMU for HPT as hCG concentration is the highest in this sample. (Getting down with the abbreviations yet?)
Excessive intake of fluids, a few hours before the test, can muddle the results.
If you don't see the control line, the test is invalid.
Specific medications like phenothiazines, chlorpromazine, and more, will mess with the test results. If you're undergoing fertility treatments or taking medicines for specific diseases like cancer, please consult your physician about your results. Most HPTs are not designed to address the presence of these chemicals in the urine.
A good practice to confirm results is to use pregnancy tests from different brands. Some are dirt cheap and can be accommodated in your budget. Since different tests target different hCG proteins, where one test fails, the other can pick up the slack. Some tests, like First Response Early Result Pregnancy Test , measure all four, making them very accurate.
Cheap doesn't imply inaccurate or unreliable.
The most reliable test results will be inaccurate if you don't conduct the test properly. Always follow instructions diligently.
FMU should not be used for OPK strips. LH only starts building up in the urine as the day progresses.
Always check the expiry date on the box before using the contents. Pregnancy test kits can expire and using such kits will give you unreliable results.
Good To Know Facts
Positive results are more often than not more accurate than negative results.
Implantation takes place around 9 DPO, once you've DTD. This is when the hCG levels start doubling every 2 days from their below 5 mIU/ml mark. 2 to 5 days after implantation there's enough hCG in the urine for HPTs to detect. So, count a minimum of 12 to 14 DPO before you take a pregnancy test.
Even if you're using an early detection kit, do not despair if you get false negatives. Every woman has a unique hormonal cycle and what works for most might not work for you.
False negative results are more common than false positive results. This is because most women end up taking pregnancy tests too early, before the 12 to 14 DPO mark.
Most pregnancy test kits have two years shelf-life from the date of manufacturing.
Some women will not have enough hCG buildup in their urine to use early detection kits, even during the stated timeline.
Testing after a chemical pregnancy, a miscarried term, or a recently stopped fertility treatment can lead to false positive results.
It's always best to consult a physician if your test results aren't what you were expecting.
Most women have an average menstrual cycle of 28 days and can begin testing for LH after day 10, and hCG 12 days past ovulation.
Frequently Asked Questions About Pregnancy, Ovulation, and Pregnancy Test Kits
What is the control line?
The control line is the first line that appears when you take a pregnancy test. It merely tells the user that they conducted the test right and the result shown will be accurate.
What happens if the control line does not appear?
If you don't see a control line appear on the stick, then the test is invalid. It means either the kit was faulty or you didn't follow the instructions properly. Do not bother with the result line – even if it is positive if there's no control line as this test isn't valid anymore. If you don't want to fuss with a control line, try an easy-to-read pregnancy test like the Clearblue Digital Pregnancy Test with Smart Countdown.
When can I take an at-home pregnancy test without worrying about DPO, false negatives, and false positives?
Regardless of what the brand claims are, testing on the first day of your missed menstrual period should give you an accurate result. There are no false negatives or false positives from this day onwards as there's sufficient hCG buildup in the urine. If you suspect that your results are faulty, cross-check with a kit from another brand or get a blood test. Past this date, most pregnancy test kits can reliably predict pregnancy with 99% accuracy. If not, then you have a faulty test kit on your hand. Having said that, some test kits like our top overall pick can detect pregnancy nearly a week before the first day of your missed period.
What does 25 mIU/ml mean?
It's a unit of measurement of hCG in the urine. Following international conventions, it's measured on a per milliliter basis. Here's a quick look at what these numbers mean:
<5 mIU/ml – Not Pregnant
5 to 24 mIU/ml – Grey Area (Could be pregnant or it could be something else.) You need to retest for confirmation after a day or two.
>25 mIU/ml – Definitely Pregnant (99% Accuracy)
When does my menstrual cycle begin?
The first day of your menstrual cycle is the first day of your period when you start bleeding. This cycle ends the day before your next period starts.
How many days are in a menstrual cycle?
Regular or normal menstrual cycles can vary from 21 days to 38 days. If you're trying to get pregnant, it's important to know about your cycle duration to markdown fertile days for conception. This is also crucial information to know when to start using ovulation test strips.
I am pregnant, what's next?
Congratulations! And Celebrations! (Or our condolences if this wasn't the outcome you were expecting.)
Next is another test to confirm the BFP, and then a meeting with your physician to chart a course for a healthy pregnancy. Good luck!That brings us to the end of this helpful guide. We've done our best to include all the relevant information regarding pregnancy, pregnancy test kits, and a few details about menstrual cycles and ovulation. You should now be able to track your periods, know their duration, figure out when to start testing for ovulation, and most importantly, choose the right pregnancy test.