Music has always been a part of kids' lives, from learning their first instrument to their first school dance. Of course, music has become all the more accessible these days thanks to digital technology, and we can hold devices in the palms of our hands that contain more songs than a small radio station.
Portable music players have gotten cheap, too. This means buying our kids a good MP3 player for their birthday or Christmas is now a reality we can all have. But what one do we get?
Well, we've done the leg work for you, and looked for the absolute best in MP3 players for kids of all ages, and found some amazing items. From a karaoke player to an MP3 player in a watch, we are sure that one of these will be perfect for the special kid in your life.
What Makes an MP3 Player Good for Kids?
Contrary to what some adults believe, a kids' music player has to be different from an adult's. Kids have different needs than adults. They have more sensitive hearing, they are more likely to get into messes, and they want different features. Caring about "lossless vs. lossy" is unimportant, but being able to choose a playlist using your toys? Now that is fun.
Of course, age matters a lot too. Rarely do you find a teen who wants a player designed for toddlers, and some players have controls that are too complex for younger people. Some players have speakers, some headphones, and some both. Not to mention all the possible extra features like video, games, alarms, and even karaoke! When looking for the best kids' MP3s, we've made sure to keep this in mind, as well as these other important factors.
Storage and File Formats
Yes, the device says it is a music player, but does it play MP3s? And what about other common file formats? Much of the music we get from iTunes and YouTube today are not MP3s but actually AACs. Will this matter to the player we are looking at?
Then there is storage. How much does a kid need? Realistically, anything over 500Mb is enough for a toddler, but if you have a teenager that is a real musicophile, it might be worth investing in something that can hold 32GB or more.
Battery Life
Playing music draws more power than the device just sitting there, so how long it can give us tunes is an important question to ask. The iPod Touch can continuously play music for a day and a half before it runs out of battery, while even our karaoke machine, powering two microphones with it, lasts six hours before a charge is needed again.
Durability and Security
When asking, "Is this device suitable for my kid?" nothing can be more important than how well it handles the life of a child. Sometimes this means finding the player that is invulnerable to damage, while other times it is about ensuring they can't accidentally access the internet and get up to all sorts of trouble. For each of the great devices we have found, we've made sure to mention how it helps us as a parent as much as the child we bought it for.
We know the kid we have in mind for the MP3 player. We know the general functions every player should have. Now let's look for that perfect player for those needs.
Top 10 Best MP3 Players for Kids 2023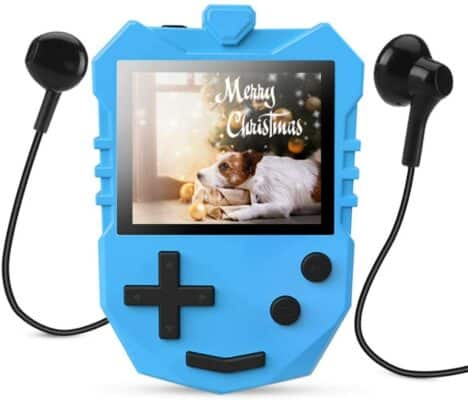 Why we like it:
Not only does it look cool, but this music player has every feature you could dream of and more.
Editor's Rating:
At a Glance:
Suitable for ages three and over
The battery lasts for 26hrs of music after a three-hour charge
Can hold 8GB internally with SD card slot for an extra 128GB
Has both speaker and standard audio jack
For the younger child, it looks like a game device. For the older teen, it's a retro call back to their parent's "Game Boy" of the nineties. It comes in bright blue or rose gold, and has a 1.8-inch color screen that can even play videos and show pictures. Yet, despite all that, the AGPTEK's visual appeal is the least impressive thing about it.
This tiny music player, weighing only 38 grams, can play every type of music file you can imagine, and you can choose if it comes from the built-in speaker or included headphones you can plugin. It includes an FM radio that can store up to thirty stations, has a few classic games you can play while listening to tunes, and can even display lyrics as the song is playing.
The most impressive features, though, are those that are specific to it being for kids. Its buttons are designed for little fingers that are still developing fine motor skills, and the screen is clear and bright. There is even an impressive volume-limiting setting, so your kids don't listen to music too loud.
Younger kids can stumble upon the settings menu on this plug-and-play device. But the worst they can do is change the language, and the player is so easy to use that only a couple of button presses later and you have everything back to normal.
Adding audio, video and even text files to the device is as easy as plugging it into a computer using the included USB cord and then dragging files over into it. For the older student, this MP3 player can also double as a small hard drive to keep their school files on.
The AGPTEK is not a perfect music player. The speaker would never be compared to any high-end player, and the case is not waterproof. Luxuries like these are for devices five times the price. For an affordable player with every necessary function, though, we cannot find anything that comes even close to this amazing little machine.
Pros
Volume lock to stop young children from hurting their ears

A whole suite of functions including radio, video, images, games, and more

Massive 26 hr run time

Stylish look to suit kids and kids-at-heart
Cons
The loudspeaker isn't of the highest quality

It's not waterproof

It is a little too easy for younger kids to accidentally find the settings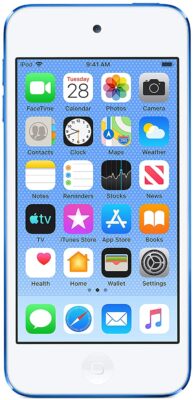 Why we like it:
It's the latest generation of the device that made MP3 players a phenomenon, and it is still the pinnacle of the technology.
Editor's Rating:
At a Glance:
Most suitable for tweens and teens but safe for children as young as 3
The battery lasts for up to 40hrs of music
Can hold 32GB minimum through internal storage only
Has both speaker and standard audio jack as well as Bluetooth capability
A lot of people are unaware that Apple is still producing the iPod, and that it is almost everything the iPhone is without actually being a phone. It contains all the applications, has all the capabilities, including wireless connectivity, Bluetooth, video, and audio.
Your child can learn to change songs using Siri and the built-in speaker is one of the highest quality available. It has volume-limiting for physical safety and can play any format of the file you can imagine. You can even play from your home computer's iTunes or through the Spotify App.
What is most important here is that Apple has produced an extremely robust set of parental controls, which allow us to have complete control over what our child can and cannot use on the iPod Touch. This includes accessing the internet, using apps, and preventing the playing of adult content. A great addition to this is the Find My application, which you can set to always be on.
This means your child's MP3 player is now also a low-impact, high-security way to keep tabs on where they are. These settings are locked behind a password that can only be created using your own Apple identification. Even the smartest of teenage children will have no luck breaking in.
Getting a tough case to put over the iPod is a must, and we recommend the Meritcase for ultimate protection – completely waterproof, shock-proof, and snow proof, the device becomes invulnerable. Other cases can be cheaper and more aesthetically exciting for younger kids, but nothing else will protect the iPod as well.
The iPod Touch may be too distracting, offering too much of what you don't want, and the price is over five times more than the AGPTEK K1. Still, if you want your child to be the envy of all others, and offer them the absolute best in a portable entertainment device, the iPod Touch is the premium option.
Pros
Every feature of an iPhone without the phone

Robust parental controls to limit what your child can do

Great speakers, but also a headphone jack

Can stream through home Wi-Fi and play from Spotify

Can control using Siri

Combined with the cheap but strong Meritcase, becomes invulnerable to even the roughest of child activities
Cons
It is far more than just a music player and may be more than your child needs

Over five times more expensive than our best overall choice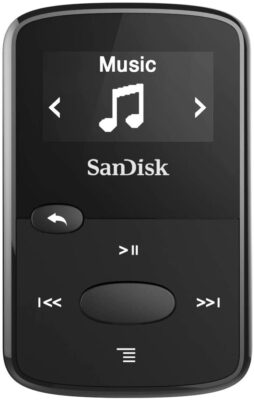 Why we like it:
From a reliable tech company comes a sophisticated product at a reasonable price.
Editor's Rating:
At a Glance:
Best for teens and above
The battery lasts for up to 18hrs of music
Can hold 8GB internally with a MicroSD slot for up to 512GB (card not included)
Earphones only
There is a point in every child's life when they look at something and say they don't want it because "that is for kids." Then we need to scramble around for something that looks like it is for adults but has a reasonable price tag and won't be destroyed by the time we get it home.
Enter the SanDisk Clip Jam. A lightweight MP3 player designed for runners, it has large buttons and an easy-to-read screen that makes life easier for younger kids. While it usually comes in the very adult black, it also comes in a range of colors.
The SanDisk is a light device, running at only 0.8 ounces, but is tough enough for the everyday. While not waterproof, it is water and dirt resistant, and you can get some stylish silicone cases to make it even more rugged. Because it is made by SanDisk, one of the leaders in storage technology, its microSD slot accepts large-storage cards, and so you can hold over half a gigabyte of music. That is over one hundred thousand songs.
It's not fancy in features, though. The SanDisk does only one thing, listen to audio, but it does it very well. The sound through the headphones is clear but never too loud, and it plays both MP3 and the apple format AAC.
For a simple MP3 player that "isn't for kids", get the ultra-reliable and affordable SanDisk Clip Jam.
Pros
Large but unobtrusive buttons

Light but rugged design

Has the potential to hold over a hundred thousand songs
Cons
No extra features

No speaker

Isn't waterproof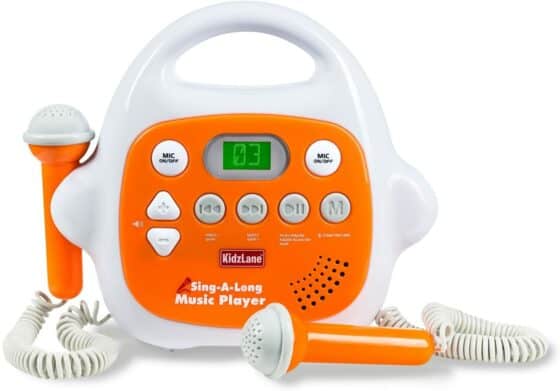 Why we like it:
: With two microphones and multiple ways to play the music, this is an MP3 player dedicated to fun with friends and family.
Editor's Rating:
At a Glance:
Best for toddlers onward
Uses 4xAA batteries for 6hrs of music, or is powered by USB cable (neither included)
Holds 512MB internally plus allows for a USB connection and AUX and Bluetooth
Speaker only
Looking to occupy your kids with cutting-edge toys that will enrich their inner world? Look no further than the Kidzlane Sing-a-Long Music Player that appeals to children of all ages with music and karaoke action in a bright, child-friendly design. Equipped with two microphones, this top-rated toy packs all-day-long fun for siblings and playdates.
For those times where music is the focus, not the background, the Sing-A-Long Music Player is a lot of fun. Most karaoke players for kids only come with one microphone, so having two is a wonderful thing for siblings and playmates alike. The internal storage may be small compared to others, but it will still hold well over a hundred songs.
Even better, all you need to do for more storage is to stick in an ordinary flash drive. No finicky SD cards for this machine! The Kidzlane also allows for Bluetooth, letting us control the music (and volume) from our smartphones.
It's a bit embarrassing to say that, out of the box, the Kidzlane doesn't provide everything it needs. Whether it is the batteries or the cord, neither power source is included with the machine. Fortunately, neither are expensive (check out some high-quality cables here).
The Kidzlane Sing-A-Long Music Player is the most fun an MP3 player could be and is perfect for ages three and up. If you want to upgrade the included microphones, make sure to look at this guide first.
Pros
Two microphones to sing along to the music

Can insert ordinary flash drives for more storage

Can control via smartphone using Bluetooth
Cons
No batteries or charging cable included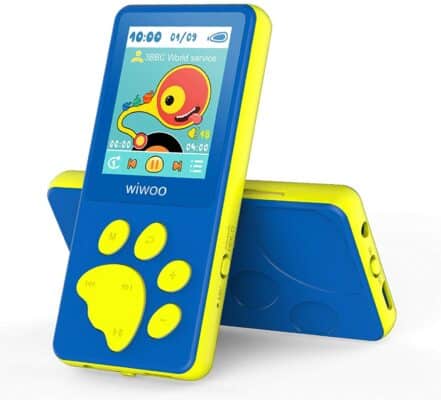 Why we like it:
A cute but functional MP3 player for under twenty dollars.
Editor's Rating:
At a Glance:
Best for kids 3 to 10 years old
The battery lasts for 25hrs of music
Can hold 8GB internally with a MicroSD slot for up to 128GB (card not included)
Headphones only
The perfect Christmas present on a budget, the WiWoo Player for Kids is a solid MP3 player with a couple of extra functions that make it better than something plainer.
For one, it looks adorable. The controls form a beautiful little rubber bear print, while the color scheme is green and red for that real Xmas aesthetic. It has a bright color screen and sits comfortably in the hands of smaller kids.
Inside, it is also quite good. It's able to hold over two thousand songs in most formats, has a couple of fun little games installed (including Tetris and Snake), and a smarter adult can even use it to show pictures. It has an FM radio and even a voice recorder.
For some reason, WiWoo decided to make sure this was definitely a Christmas item, offering only one case which is, well, Christmassy. The earbuds are also not very comfortable, and we would recommend also buying a cheap pair of over-the-ear phones like these ones from Koss.
Even by purchasing the different headphones, you are getting away with a high-quality music player for under twenty dollars.
Pros
The playful presentation including bear-print controls

Holds 2000 songs and plays for over a day without going flat

Includes fun games
Cons
Designed for Christmas

No speaker and uncomfortable headphones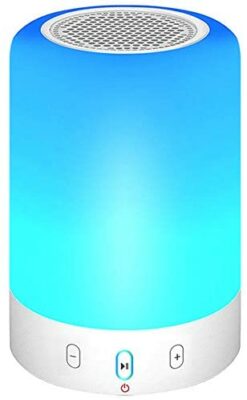 Why we like it:
For a quiet lullaby before bed, this nightlight/music player turns off when you choose.
Editor's Rating:
At a Glance:
For newborns onward
The battery lasts for a minimum 10hrs of music
Holds up to 32GB by SD Card (not included), or streams via Bluetooth
Speaker only
When it is bedtime and you want some soothing music or relaxing sounds for your child to fall asleep to, the VOCH Smart Touch is your best option. While marketed more for its nightlight capabilities (including changing brightness and color at the touch of a hand), among the many things it can do is play music via SD cards or streamed through Bluetooth. It is a lamp that looks beautiful on any table or desk and can run off its battery or cord.
The VOCH can be set for both light and music turn off after a chosen interval, so we don't have to disturb their sleep to turn off their music, and to play, stop and skip songs, all you need is the one button. You do need to know a little about computers as you will need to put the songs onto the card before putting it into the light. There is no way to connect the music player to your computer directly, but you can stream music using Bluetooth.
It doesn't support the range of formats that other options do, nor does it offer a headphone jack, but for soothing lullabies as our babies fall asleep, this is a perfect choice.
Pros
A beautiful music player is hidden in a nightlight

Can set to turn off after an interval

Can stream music through Bluetooth
Cons
Offers only basic MP3 playing functions

No headphone jack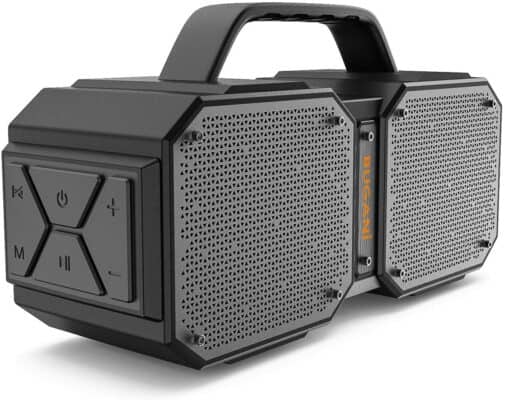 Why we like it:
The toughest music player doesn't care if it falls into the bath, but is also great for family picnics.
Editor's Rating:
At a Glance:
Good for 10+ years
The battery lasts for a minimum 10hrs of music
Holds up to 32GB by SD Card (not included), connects to AUX or streams via Bluetooth
Speaker only
The BUGANI M38 Bluetooth Speaker is the sort of product that will end up having a lot of uses for busy families. It's perfectly safe to perch it on the end of a bath or drop it in the mud at a family picnic. It's a cheap option for your teen's first car sound system and it's great for camping. It can even be used as a phone charger.
It is first and foremost a world-class speaker, or technically four if you include the subwoofers with the two 40W speakers. The sound will be overheard at a BBQ or from the back of your car, and it's designed to last through any conditions. It can play music via Bluetooth, connected directly via USB or AUX, and SD Card.
That said, the SD Card playing is simply, just one song after another, and the controls are designed for adults and older kids to use. Plus, at over four pounds in weight, it is probably best not to leave it where a toddler can end up dropping it on themselves.
For the whole family and not just the kids, this Bluetooth speaker provides great sound and cannot be broken.
Pros
Waterproof, shockproof, mud-Proof

Has 40W speakers and dual subwoofers for amazing sound
Cons
Simply MP3 playback

Not suitable for children under 10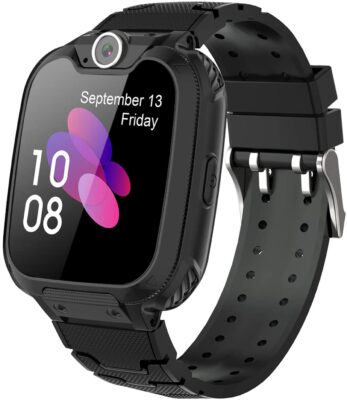 Why we like it:
The watch that doubles as an MP3 player, as well as camera, calculator, and even emergency phone (if needed).
Editor's Rating:
At a Glance:
Good for 5+ years
The battery lasts for a minimum of 6 hrs of music
Holds up to 32GB by microSD (1GB card included)
Speaker only
We didn't expect to be recommending a watch in an article about music players, but here we are doing it. The MeritSoar SmartWatch truly is what it says it is: Smart. It can play music, take photos, record voices, and if you decide to add a SIM card, even double as an emergency phone to contact the parents on. It has games, an alarm and, of course, tells the time.
Now, we aren't prone to just including something because it can function as a music player. The reason the MeritSoar made this list is that the speaker is surprisingly very clear. While it only plays MP3 and not other formats, the sound produced is better than you ever could expect could come from the wrist. It's too bad there is no headphone jack or ability to use Bluetooth headphones, but we love that we can use bigger microSD cards to hold more songs.
It's the MP3 player they have on them all the time and offers a range of other useful functions on top. At under fifty dollars, we highly recommend looking at this watch.
Pros
It's a watch, not just a music player

The sound quality is great for such a small speaker

It's inexpensive for a smartwatch
Cons
No headphone jack

Only accepts MP3 format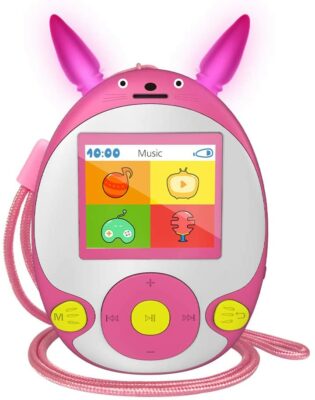 Why we like it:
This adorable little device has great storage, long battery life, and is easy to operate.
Editor's Rating:
At a Glance:
Good for 3+ years
The battery lasts for up to 30 hrs of music
Holds up to 8GB internally and 128GB by microSD (not included)
Speaker, headphone, and Bluetooth
This handheld device has incredible battery life, claiming to last for thirty hours of music, but often lasting longer. It can handle a wide range of file formats and can even share pictures and short videos on its color screen. It has voice recording, FM radio, and even a couple of games. While you can't control it via Bluetooth, it does allow you to use Bluetooth headphones for wireless listening.
What sadly holds this cute little device back is the price. Over twice the cost of its Christmas cousin, we aren't sure it offers enough extras to be truly worth it. Still, it is an adorable music player that will do everything a kid wants, and do it well.
Pros
Incredible battery life

Can listen via speaker and headphones, including wireless

Very cute
Cons
Expensive compared to other products

Cannot be controlled by Bluetooth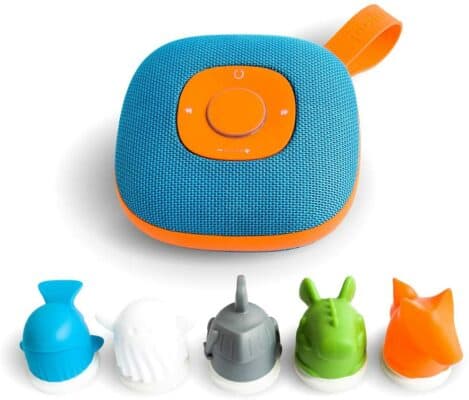 Why we like it:
An MP3 player that is controlled by our phone or our kids' toys. That's right. The toys.
Editor's Rating:
At a Glance:
Designed for children 3 to 7 years old
The battery lasts for up to 8hrs of music
Can hold 32GB via microSD card (not included), or streams wirelessly
High-quality speaker, but no earphone jack
We nearly didn't include the Jooki, because it just seems so unfair to sing the praises of an amazing device that is devilishly hard to get your hands on. It's just such an incredible product that we want you to be informed of, to keep your eye out for when the new generation arrives in 2021.
The Jooki Music and Story Player is truly a sensation. With rave reviews from CNET, The Verge, and BBC, this kick-starter campaign turned success story changes the way our kids can interact with music. It's a screenless MP3 player that also streams directly from our phones. It's tough, sounds great, and has a feature that we wish we thought of first.
Our children get to pick the music. With toys. Yep, cool little figurines that, when they place them on top of the bright round player, play a connected playlist of music, audiobooks, or children's podcasts. These can even be Spotify playlists from our own phone! Jooki is all about enjoying the music and playing, with no distracting screens and no controls for the child to need to learn.
This does, however, mean you definitely need a smartphone, as the Jooki app, which "teaches" the figurines to pick the right playlist, is a must. The app is, thankfully, a breeze to use and is free. You can also buy extra "tokens," which you can attach to other toys, and are very inexpensive.
And just because it is designed for toddlers, it doesn't mean it wouldn't suit older kids as well. It's the tokens that make it work, tokens that can be stickered to look like miniature vinyl, to make a unique music player for the quirky tween or teen.
The Jooki is the new evolution in children's entertainment and one of the best MP3 players we could ever recommend.
Pros
Screenless, with great speakers and the ability to stream music

Can be controlled using toys to choose unique playlists for our kids

Is tough enough to accidentally leave in the yard
Cons
New players are currently sold-out, but new stock and new generations are arriving soon

Does require a smartphone app, even when MP3s are added via microSD
A Guide to Understanding Kids Music Players
Music players have gotten complex. From file formats to storage options, and even whether or not we should be letting our kids wear headphones, there is a lot to unpack as an informed adult. Hopefully, the following guide will help lead to better understanding and less concern about the devices your kids will be using.
Why Do Kids Need Special MP3 Players?
In the big scheme of things, there is little difference between the MP3 player designed for an adult and that designed for a child. They both use built-in software to read music files and push them through a speaker or headphones to be listened to.
That said, there are a few important things a kid's MP3 player does that makes it stand out:
It gives the adult control. From the player that can be controlled by my smartphone to the lullaby playlist that will turn off in an hour no matter what, knowing I don't have to be physically in charge of the device to know my child is okay with it helps a lot. This is especially true with more complex devices. It gives me greater confidence to let my tween son have an iPod Touch when I know he can't be racking up a bill on my Apple account.
It fits the childhood lifestyle. A music player in a bathroom is going to get wet. A music player in the yard is going to get dirty. These are facts of life, but many adult MP3 players were made without these things in mind.
It protects the child. We don't want to give a toddler a player that can present a choking hazard can bite a piece off, and we don't want a player that can give our child deafness. Players that cater to kids are prepared to deal with these situations.
Child Hearing and Headphones
Hearing loss is becoming a major concern for parents everywhere as studies show that it is increasing in school-aged children. Sadly, a lot of headphones do not limit the noises they produce, as they claim. This is where a good MP3 player comes in. By limiting the noise at the source, like many of the above devices do, no headphones would be able to reach the levels that concern doctors around the globe.
A good way to test if your child is listening to their music too loud is to ask them a question from an arm's length away. If they can answer the question, then the level of noise for them is in a safe range (even if you can still hear it).
There are also several things we can do to limit hearing damage:
Make sure our children use headphones for no longer than four hours a day.
Ask them if they sometimes hear buzzing or whistling when things are quiet.
Get their hearing checked by a doctor as part of their yearly check-up.
A Quick Guide to the Tech of MP3 Players
There are a lot of strange initialisms to learn when looking at music technology, so to help you, we have come up with a small glossary to save stress.
MP3 – Stands for MPEG-2 Audio Layer III. It is the most common format of music files. A typical song on MP3 will take up 3MB of space. All our players can read MP3 files.
MP4 – MP4 files are video files, not music files. While some of our players can use video, most will not recognize MP4.
AAC – Advanced Audio Coding. A newer and increasingly popular format for music files, often made when using iTunes to create the files. AAC is also used by YouTube and Spotify. The AGPTEK K1, iPod Touch, and SanDisk Clip Jam all play AAC as well as the other non-standard music files such as WAV, Ogg, WMA, and FLAC
TF Card – TransFlash card, also known as a microSD card. This is the most common form of replaceable storage for MP3 players. They are small cards that will require their own reader for computers to use but are inexpensive and can hold thousands of songs.
MB and GB – Megabytes and Gigabytes. There are 1000 megabytes in a gigabyte, which means a 32GB card can hold around 90,000 songs.
Final Thoughts
The perfect MP3 player for a kid is one that does what they want, makes them happy to use, and gives us as parents peace of mind. The players in our list are all high-quality, safe devices that fit a range of age groups and personalities. We are confident that the right one is in there for your child.