No parent wants to see their child in pain. When you don't know how to help them, you suffer just as much. Issues relating to gas, colic, and indigestion will leave your little angel crying with no end in sight. However, with the right steps, your child can once again become that bundle of joy you love so much.
A baby's tummy problems can often be traced back to how they're feeding. If they are being bottle-fed, there is an easy solution. You can reduce your baby's pain by opting for specially-designed anti-colic bottles. Soon enough, your child will be brimming with happiness again.
How to Choose the Perfect Anti-Colic Bottle
Anti-colic bottles are a great way to reduce swallowed air, slow down their feeding, and decrease bubbles in the breastmilk or formula. All of these will help you reduce the risk of colic in your child.
Below is an explanation of colic and a quick summary covering the basics for choosing an anti-colic baby bottle. For a more in-depth review of what to look for, take a look at our full guide here.
What Is Colic?
Colic is defined as prolonged crying in what would otherwise be a healthy baby. You should remain alert to the possibility of your child being colicky if they are crying for more than 3 hours a day, more than 3 times a week, and more than 3 weeks.
As concerning as it may be, medical experts, unfortunately, have yet to pinpoint the exact cause of colic in infants. However, one of the leading explanations suggests that gas in your baby's tummy may be a contributing factor. Babies run the risk of swallowing air while feeding, which, when in excess, can pose a concern. Moreover, colicky babies are at further risk of swallowing additional air during their extended periods of crying.
For more information on colic and diagnosing it, see here. If you want more information on how to prevent colic, see here. To soothe an already colicky baby, you can find more information here.
Features to Consider in a Good Anti-Colic Bottle
Make sure to accommodate their specific feeding requirements because, as their parent, you know your child's feeding needs the best. To find the best anti-colic bottle for your child's needs, you'll want to keep in mind the following design features.
Nipple Shape
Bottles come equipped with nipples of different shapes and sizes, with many being advertised as natural breast-like shapes. Making sure that the nipple is a good fit will keep your baby from swallowing extra air.
How Nipple Shape Relates to Breastfeeding
If you are choosing to breastfeed and bottle-feed or transitioning your child to the bottle, you'll definitely want to find the most natural option for your child.
If breastfeeding has been successful, you'll want to find an anti-colic bottle that most resembles your baby's preferences. This way you can make sure they'll latch. What you should look for is the length and width of the nipple. Usually, you'll opt for short nipples when young and long ones as they grow older.
Nipple Flow
By reducing food intake, anti-colic bottles aim to prevent colicky babies from further upsetting their stomachs. Feeding quickly with a fast flow bottle makes it more likely for your baby to experience discomfort after eating. Generally, you want to aim for slow flow bottles to best prevent any colic.
On the other hand, colicky babies will swallow extra air if the nipple flow is far too slow for them. A bottle too slow for your child will have them straining themselves to feed and end up swallowing extra air as a result.
So, while you'll want to aim for slower nipple flow, don't overdo it or else all your efforts may be for naught. Keep in mind that nipple flows are generally offered from preemie to y-cut, giving you the liberty to choose the best flow for your child.
A significant determinant in finding the right nipple flow is their age, but other factors can contribute. Read here to better understand which nipple flow is the best for your baby.
Bottle Shape
Similar to the nipple, the shape of the bottle is where you'll want to most accommodate your baby's particular needs. Regarding colic, your biggest concern with the bottle shape will be choosing a straight or angled bottle. Your goal is to keep the nipple full while feeding to keep your child from swallowing any additional air.
Straight
Go for this option for babies that tend to feed in a reclined position.
Angled
If your baby usually eats upright, you'll want an angled bottle that will keep the nipple full.
More generally, keep in mind how much your child is feeding and choose the right size while finding a bottle that is comfortable for you to grip.
Vent System
A built-in vent will take excess air directly to the top of the bottle. By keeping the air from traveling through the milk, you'll keep any extra bubbles from forming. Some bottles are made of silicone, sometimes called liners, which keep extra air out of your baby's tummy by collapsing as they feed. These are the easiest to clean since they don't have the extra vent parts.
Safety
Since your child will be putting the bottle you choose in their mouth, you want to make sure it is safe for them to use. Finding the best fit for them based on age, behavior, and their preferences will keep your worries at bay while they feed.
You want to choose the best material for you, always avoiding harmful chemicals and anything else that could hurt your baby. For more information on choosing the right material, read here.
Now that you know what to look for, we'll go over our top choices for anti-colic baby bottles below.
Top 10 Best Anti-Colic Baby Bottles 2023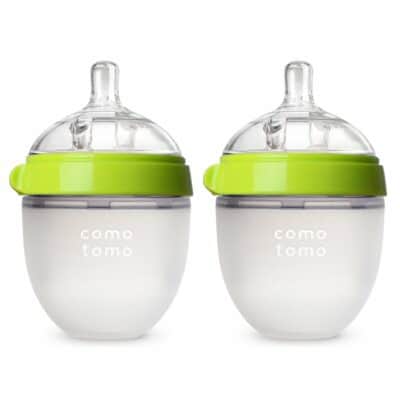 Why we like it:
The Comtomo's dual-valve system, paired with its collapsible silicone bottle, makes it great for reducing swallowed air. The natural-like design will make it easy for your baby to latch and enjoy.
Editor's Rating:
The Comotomo's wide-neck opening makes it easy to clean when it's time to tidy up.
The silicone design makes it soft to the touch. It resembles skin, giving babies an easier time transitioning between breast- and bottle-feeding. Combined with the naturally-designed nipple, this makes it a great option for parents who want to both breast and bottle feed their child.
The dual anti-colic vents in the Comotomo nipple help reduce swallowed air, gas, and spit-up. This makes it especially viable for babies who may be having difficulty transitioning to bottle-feeding or who needed the added precaution against the high flow.
In case the vents aren't enough, the soft silicone is collapsible. It'll give you an extra layer of reassurance that the Comotomo is reducing your child's gas-related colic. Its softness makes it less portable if you want to pre-prepare bottles to take on-the-go in your diaper bag. You should consider the Dr. Brown's Options+ if you go out often and portability is an absolute necessity.
Unfortunately, the dual-valve system leaves the bottle susceptible to leakage. You'll want to make sure to properly clean the valves and seal the bottle to avoid any issues. Leaks are most common with the 8-ounce bottles that Comotomo offers.
Additional Options
The Comotomo bottles are offered in 5-ounce bottles with a slow flow nipple. It's ideal for newborn to 3-month-old babies. Once grown up, Comotomo also offers an 8-ounce bottle with a medium flow nipple intended for children aged 3 to 6 months.
Special Features
Despite its softness, the silicone is highly heat-resistant. It's safe to disinfect in boiling water. You can also buy a sippy-cup handle attachment which is great for when your child is ready to start transitioning to self-feeding.
Pros
Easy-to-clean wide neck

Dual anti-colic vents

Soft silicone bottle
Cons
Leaks when not properly cleaned and sealed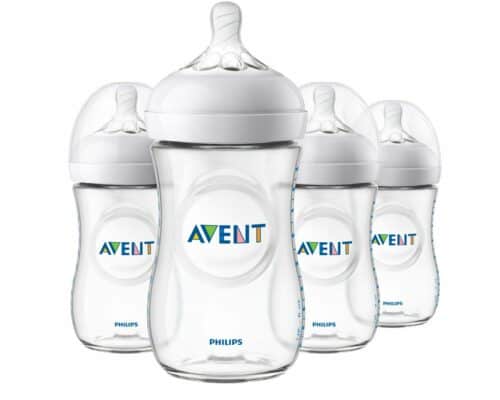 Why we like it:
The ergonomic design of the Philips Avent makes it comfortable for you to feed your child. The Airflex valve built into the nipple will keep your child gas- and colic-free.
Editor's Rating:
The ergonomic design makes it comfortable to hold as a parent. On the other hand, it'll be a bit difficult for younger babies to hold given how wide it is. Thankfully, the wide opening does make it very simple and easy to clean the bottle.
The Phillips Avent comes equipped with an Airflex vent integrated with the nipple, which keeps air out of your baby's tummy. You'll have to make sure to properly align the ventilation system that is built into the nipple. Otherwise, you might find yourself having to clean up a bigger mess.
The naturally-designed wide nipple will give your baby a more recognizable feel. All in all, your baby will be more comfortable and, as a result, less susceptible to swallowing excessive amounts of air.
Additional Options
The Philips Avent is originally available in its 9-ounce size with a slow flow nipple, making it appropriate for children aged 1 to 3-months. Medium and fast flow nipples are available separately. As they grow, you can keep the same bottle and just buy higher-flow nipples to accommodate for your now hungrier baby.
The nipple and caps being cross-compatible with other Philips Avent bottles give you the liberty to buy varying flow rates and adjust to your child's preferences as necessary. Other bottle sizes are also available, and a similar glass model is sold here.
Special Features
The nipple has a spiraled flower design that makes it very flexible. The downside is that it seems to be a little too flexible, leaving it a little flimsy and risking the nipple collapsing on itself. If you'd prefer a sturdier nipple that you can be sure will last you in the long-term, you should consider the MAM Easy-Start Bottle.
Pros
Air valve integrated into the nipple

Wide nipple

Ergonomic shape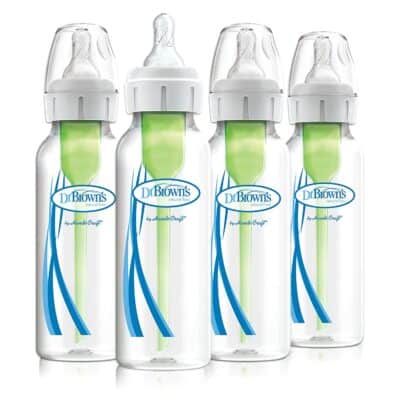 Why we like it:
The attachable vent-system supports the nipples in reducing swallowed air and bubbles in your child's belly. By removing the attachment, the bottle becomes even simpler to use while still offering the benefits of a standard air-valve anti-colic bottle.
Editor's Rating:
The narrow tube design makes it easy to take with you if you need to run an errand or make a visit with your baby in tow. The narrow nipple won't resemble breastfeeding as strongly as wide-nipple bottles.
You may want to consider a wide nipple if you'd like a smoother transition between breast- and bottle-feeding. We recommend the Tommee Tippee Extra Slow Bottle, as a great wide-nipple option for young infants. The bottle plastic cover, however, is particularly weak and more likely to fall off.
Dr. Brown's Options+ Bottle has an attachable vent system. It works by regulating pressure at the top of the bottle and, thereby, reducing how much air is swallowed. As your child grows, they may no longer need the added benefit of the attachable vent, so feel free to take it off once they're ready. That'll make cleaning even easier.
Although Dr. Brown's Options+ works best with the attached vent, the nipple still regulates air intake on its own. The bottle remains comparable to nipple-valved bottles. It has been clinically tested and is, in fact, able to alleviate symptoms in colicky babies.
Additional Options
The Options+ is available in 4-ounce and 8-ounce sizes. Both are equipped with a slow flow nipple. Dr. Brown's also offers a 2-ounce bottle that comes with a preemie flow nipple, intended for newborns who are otherwise struggling to feed.
Special Features
Doctor Brown's Options+ can fit most breast pumps, making it ideal for any mothers wishing to transition their child to bottle-feeding.
Pros
Detachable vent system

Better preserves nutrients in milk and formula

Clinically-tested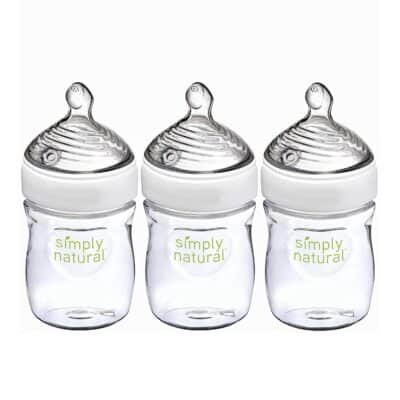 Why we like it:
Thanks to a high acceptance rate, this bottle is an excellent choice for breastfed babies who are having a hard time switching to bottle-feeding.
Editor's Rating:
The NUK Simply Natural has a soft, wide nipple that is very realistic. It may be a little too soft, however, which it leaves susceptible to collapsing. You may want to consider a bottle like Dr. Brown's Options+, which sports a sturdier nipple for more consistent feeding.
Because of its natural designs paired with the multi-hole end, your infant will have trouble telling the difference between breast- and bottle-feeding. If you've experienced issues transitioning your child from breastfeeding and they have been very picky with bottles, this is your go-to option; NUK bottles have an astounding 96% acceptance rate by infants.
The vent system is built into the nipple, making it easier to clean. Since the nipple is susceptible to collapse, you may need to clean the vent more thoroughly and more often.
Additional Options
The multi-hole nipple ranges from 3 to 9 holes so you can find the best flow rate for your child. NUK Simply Natural bottles are offered in varying set sizes up to 12 per set. The 5-ounce bottle comes with a slow flow nipple with 3 holes.
The 9-ounce bottle uses a medium flow nipple with 6 holes. This may be problematic for some parents, because infants may struggle suddenly going from the slow flow 3-hole nipple to the faster 6-hole nipple.
Special Features
The sturdy Tritan plastic design makes it very durable and you can expect the Simply Natural to last. It is crystal-clear, making it easy to mix formula inside it.
Pros
Sturdy, crystal-clear Tritan plastic

High 96% latch rate

Very flexible nipple
Cons
Nipple may collapse

Nipple flow too high on larger models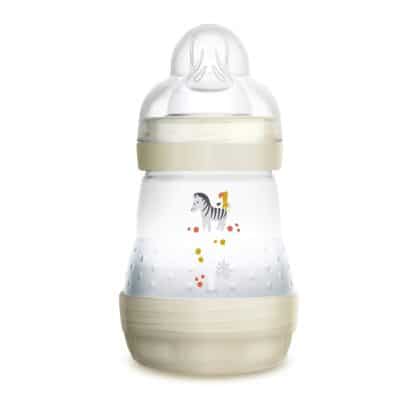 Why we like it:
The self-sterilizing design makes the MAM Easy-Start incredibly easy to clean. It's a great pick for busy parents who want the extra time to tend to their child.
Editor's Rating:
The elongated nipple gives a more natural design. Its textured end works as a grip for your infant. This can help your baby feed more consistently with fewer interruptions.
The vented base regulates the bottle pressure, helping keep air bubbles out of your baby's milk and their tummies. It has undergone testing that indicated a reduction in colic symptoms for 80% of cases. Since the vented base is made of rubber, the bottle will take longer to warm than non-rubber base bottles. The opaque base may make it difficult to notice when the formula has mixed completely. For these reasons, the bottle is most optimal for parents feeding breastmilk.
Additional Options
The MAM Easy-Start Bottle is offered in two sizes. The 5-ounce bottle comes with a slow flow nipple. The 9-ounce model uses a medium flow nipple. If you want to use similar bottles throughout your child's infancy, consider the Philips Avent Baby Bottle. They come in a larger array of bottle sizes and nipple flows to accommodate your child throughout their first year.
There is more customization available for MAM bottles than just the standard colors and designs. The Easy-Start Bottle is available in blue, pink, and a unisex beige for base colors, which can be paired with their Safari or Deep Sea patterns.
Special Features
The studded bottle base gives you a better grip on the bottle as you bottle-feed your infant. If your child is able, it'll make it easier for them to hold on to it as well. This makes it good for parents of babies who feed more slowly. The extra comfort can go a long way as you make sure that your child is well-fed.
The MAM bottle can self-sterilize by microwaving for 3 to 5 minutes with 20 milliliters of water. However, if you opt for a more extensive cleaning, you'll have to deal with six separate parts.
Pros
Anti-colic vented bottle base that regulates bottle pressure

Self-sterilizes in 3 minutes

Studded comfort grip
Cons
The 6-piece design makes it harder to manually clean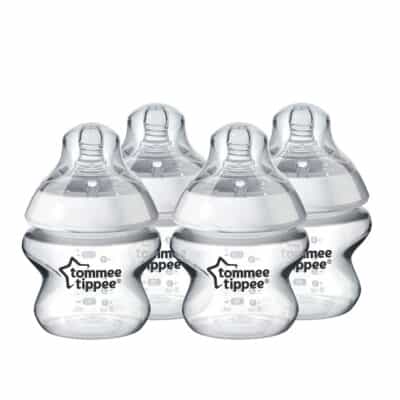 Why we like it:
The nipple flow is extra slow, making it a great option for any new parents of newborns. You won't have to worry about excess food intake with this bottle.
Editor's Rating:
The extra slow flow nipple makes it easy for newborns to feed at an appropriate rate. All the while you avoid any excess spit up and keep them from swallowing extra air. The breast-like wide and flexible nipple makes it easy for babies who are both breast- and bottle-feeding.
The anti-colic valve is embedded in the nipple. There won't be any extra pieces to clean, making it simple and easy to disinfect them. The valve works by reducing excess airflow, so your baby won't be swallowing as much air and unsettling their stomach.
Make sure to give the nipple a light squeeze after storing and cleaning. This way you can be sure the sensitive valve remains open. The wide, curved design leaves the bottle being very short. This may make it uncomfortable for you to bottle-feed your child.
Additional Options
The 5-ounce size and extra slow flow nipple make it a great option for your newborn.
Larger Fiesta editions are available in patterned 3-packs or a rainbow-colored 6-pack. Whatever the case, you'll be able to add a splash of color to your baby equipment. Clear sets are also available here.
Both the multi-colored and clear sets are offered as 9-ounce slow-flow nipples ideal for infants older than 3 months.
Special Features
The extra-slow nipple may be too slow for some infants, which results in excess air being swallowed. If this is the case for your child, consider instead the Comtomo bottle, which is still a great option for newborns but isn't quite as slow as the Tommee Tippee.
Pros
Extra-slow flow nipple great for newborns

More variety is available in larger sizes

Easy to clean
Cons
Nipple flow might be too slow for your infant

The short bottle makes it difficult to hold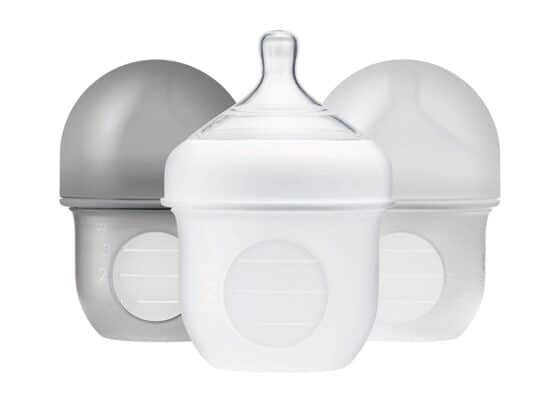 Why we like it:
The 100% silicone and simple design makes it very easy to sterilize in the microwave or boiling water. The wide design encourages latching and makes it easier for it to collapse and reduce air intake.
Editor's Rating:
The wide nipple helps your infant more easily latch. However, it is not as flexible as some other models. As a result, the NURSH is not the best option for you if your infant is transitioning between breast- and bottle-feeding.
Unlike most other anti-colic bottles, the NURSH does not have any vents, valves, or straws. This makes it a lot easier to clean. However, if you take frequent breaks while bottle-feeding your infant, then the collapsed pouch may reinflate. You'll want to make sure the flow and size are just right for your baby.
If you'd prefer to avoid the issue altogether, we recommend the NUK Simply Natural, which is very sturdy.
Additional Options
The 4-ounce bottle is equipped with a slow flow nipple. A larger 8-ounce model is offered with a medium flow nipple. All models are available in blue, gray, mint, or pink color schemes.
Special Features
The silicone pouches are reusable to avoid any added waste. The dome lid gives the bottle a sleek look. But this makes it more difficult to remove the lid when wet or warming the bottle.
The bottle cover provides some extra support, but it allows for water to become trapped between the cover and the pouch. You'll want to double-check that there is no water trapped, especially if you have heated it in a bottle warmer.
Pros
100% silicone for easy cleaning

A collapsible pouch that reduces swallowed air

Pouches are reusable
Cons
The nipple is not very flexible

Difficult to warm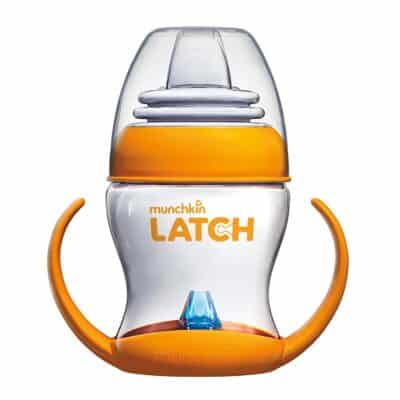 Why we like it:
The Munchkin Latch is a great way to introduce your child to what regular drinking will be like. The anti-colic valve ensures that the transition from bottle-feeding will be stress-free.
Editor's Rating:
The Munchkin Latch Transition Cup has an ultra-flexible spout that makes the transition from bottle to cup that much easier. They'll be able to latch appropriately with minimal worry since an improper latch can make them swallow excess air.
The spout is a little stiff, however, so you'll have to wait until your child is strong enough to feed with this bottle. For a softer nipple, you should consider the Philips Avent.
The additional components make it a little more difficult to clean. The Latch transition cup uses an anti-colic valve on the base of the bottle. It reduces air bubbles to prevent gas-related issues in your baby's tummy.
Additional Options
The Munchkin Latch is only available in the 4-ounce size, so it won't be as effective with older infants. They will likely be feeding more, so the 4-ounce cup just won't cut it for them. But if you've used the Latch Transition Cup when they were younger, they'll have a much easier time using a cup.
Special Features
The Latch Transition Cup comes with a detachable ergonomic handle, making it easy for your child to hold onto. If your infant needs a wider group, just remove it and they can hold onto the comfortably shaped bottle.
Pros
Detachable ergonomic handle

Has a very flexible drinking spout

Anti-colic valve
Cons
Stiff spout

Difficult to clean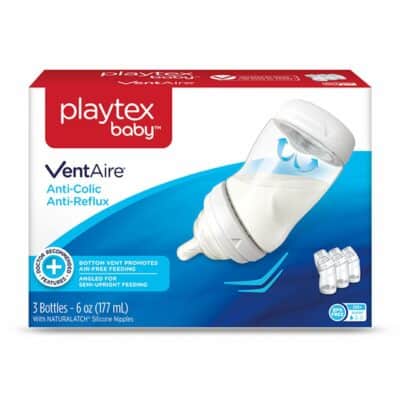 Why we like it:
The Playtex VentAire is angled, making it super easy for your child to enjoy an upright feeding. If you're constantly on the go or your child just prefers feeding upright, this is a great anti-colic bottle for you.
Editor's Rating:
The angled VentAire is designed to make it easier for parents to feed their children upright. This lets you make sure the nipple remains full to avoid allowing air to enter. Unfortunately, the nipple is not 100% effective and some air can pass through the milk.
If you're able to feed at a 45-degree angle, then we recommend the NUK Simply Natural for your infant, which doesn't have the same bubbling issue.
The VentAire bottle is equipped with Playtex's patented anti-colic bottom vent. It reduces air indigestion by keeping air out of your baby's milk. The simple design and vented base keep cleaning easy and quick.
Additional Options
The Playtex VentAire is available as a set of 6-ounce bottles with a slow flow nipple. You can also buy larger 9-ounce bottles that sport medium flow nipples.
Special Features
Its angled design makes it great for upright feeding. If your baby likes sitting up while feeding, this is the option for you. The angled VentAire is also a great option if you plan on traveling with your child. This bottle lets them easily drink on the go.
Pros
Angled design

Low price

Easy to clean
Cons
Limited size and nipple flow selections

Some air can enter the bottle through the nipple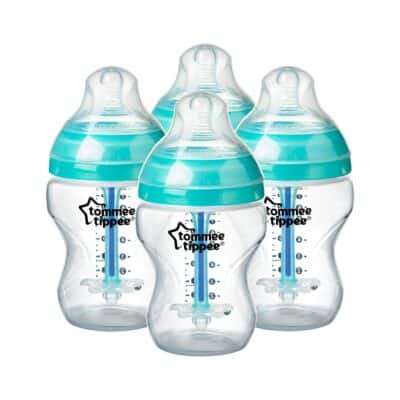 Why we like it:
The heat-sensing straw incorporated into the vent system is convenient for parents who tend to overheat their bottles. The Tommee Tippee Heat-Sensing bottle conveniently marks when it's too warm for your baby.
Editor's Rating:
Like the Tommee Tippee Extra Slow Flow Bottle, the Heat-Sensing bottle has an extra-soft breast-like nipple. This makes it convenient if your child is still breastfeeding or you are hoping to switch to bottle-feeding soon.
The three-part vent system of the Heat-Sensing bottle prevents air from entering your child's milk by keeping excess air at the back of the bottle while feeding.
Additional Options
The Tommee Tippee Heat-Sensing bottle is only available in 9-ounce bottle sets. These come equipped with slow flow nipples. If you'd like to continue with similar bottles throughout your child's infancy, take a look at Dr. Brown's Options+, which offers more options to accommodate for your child at every stage.
Special Features
The straw has heat-sensing technology. It will turn pink if your baby's milk is too hot to feed them. If your bottle warmer leaves the feed too warm, you can use the straw to easily gauge when it's safe to start bottle-feeding your infant.
Pros
Heat-sensing straw

A unique 3-part venting system

Extra-soft breast-like nipple
Cons
Manufacturing defects may lead to nipple collapse

Sometimes leaks
Guide to Buying the Best Anti-Colic Bottle
By now, you should have a good idea of what to look for in an anti-colic bottle to best reduce gas-related colic. We've seen how different vents or valves can reduce your infant's air intake.
Anti-colic designs are integral to you and your baby's happiness. Yet, there is more you can do to make sure you find exactly what you need. Below we'll explore what different bottle materials can do for you and how you can make sure you're doing the most to protect your baby from colic.
Choosing the Right Material
Depending on the material you choose, you may need to be more thorough with your cleaning, while others are highly portable. Whatever your needs may be, each brings its own set of unique benefits to the table.
Plastic
Plastic baby bottles are by far the easiest to find. They are very lightweight and easy to clean. They are very durable given normal use, and they won't break if dropped. They are great if you're looking for an affordable bottle that will last. One of our favorite plastic bottles is the Philips Avent.
You should remain cautious of possible leeching chemicals that can enter your baby's feed when heated. Although most bottles now advertise as BPA-free due to FDA regulations, you should remain vigilant of other possible leeching chemicals. A study found here explains how other chemicals can still pose a risk.
Silicone
Bottles made with silicone are very soft and lightweight. They are squishy, making them comfortable to handle for both you and your infant. Given its pliability, you don't have to worry about it breaking anytime soon.
Silicone bottles are less portable, since they may collapse or leak given how soft they are. A great example for an effective silicone bottle is the Comotomo Baby Bottle.
Silicone bottles are less common so research on them is more limited. We do know that, although they are a safer option than plastic bottles, silicone can still leech chemicals at extreme temperatures.
Glass
Glass bottles are the safest for any concerned parent. You won't have to worry about potentially hazardous chemicals being leeched. As long as you're careful, they will last a very long time. They are not as susceptible to absorbing odors and colors.
Without any accidental drops, they'll look and smell brand-new down the road. Though a great example of a plastic bottle, the Philips Avent is offered in glass as well.
You'll have to be careful with glass bottles. Their added safety comes at a higher price. They tend to be more expensive than comparable plastic and silicone variants.
How Can Anti-Colic Bottles Help My Baby?
As any parent would, you want to alleviate your child's pain in any way possible. Thankfully, anti-colic baby bottles can help reduce the risk of colic and alleviate symptoms in colicky babies.
Anti-colic bottles are designed to reduce air swallowed while feeding, diminish gas bubbles in your child's belly, and slow down their food intake. This aims to prevent any gas-related colic issues.
How to Reduce Colic While Feeding?
There may be a few things you can try differently or incorporate into feeding time to make sure that your baby is at little risk of colic and gas:
Try adjusting the time between feedings. If your infant is overly hungry, then they may try to drink too quickly and end up swallowing extra air.
Make sure to properly clean and sterilize before and after feeding. This will help keep any vents or valves in proper working order.
Stir the feed. Shaking can add extra air bubbles to the milk, which your baby will ingest during the feeding.
If using a straight bottle, feed your baby at about a 45-degree angle. This will also help you keep the nipple full at all times. Otherwise, air may enter when the nipple is empty.
Segment individual feedings with regular burp breaks, rather than waiting until after.
Consider adjusting your diet if you feed your child breastmilk. Sometimes what you eat can upset your baby's tummy. Keep a journal of your eating habits and your baby's feedings if necessary.
Other Ways to Reduce Colic
Given how mysterious the causes of colic remain, one could propose many solutions to the already abundant causes of colic. Below are some solutions that you could practice in addition to anti-colic baby bottles, if necessary. Each may help with reducing gas-related colic.
Probiotics
In prolonged or extreme cases of colic, you may want to ask your doctor about probiotics. These may help to diminish any issues or supplement their health in case they are experiencing other problems.
You can find baby formula supplemented with probiotics to reduce colic and gas. Parents who bottle-feed their infants, this this one by Gerber, may find a great solution to colic.
Simethicone Drops
Over-the-counter medication containing simethicone can help with symptoms of gas and colic. Simethicone acts directly by breaking apart larger gas bubbles. Drops, like this one, can be added directly to your baby's regular feed.
Gripe Water
It refers to a wide array of herbal remedies intended to relieve symptoms of gassiness and indigestion. You can find an example here.
Tips for Comforting a Colicky Baby
You don't want to see your child in pain. To keep them happy and calm, we recommend trying the following:
Hold them closely and tightly to help calm them. Just holding your infant will help to reduce fussiness.
Lie your baby flat and place a warm bottle on their belly
You can sometimes seek chiropractic treatment to help alleviate colic. A study, found here, indicates some positive long-term effects for giving your child chiropractic treatment.
Keep your baby upright if possible. This will make it easier to alleviate pent-up gas.
Try music or some sort of movement, like a swing, to calm and distract your baby. Sometimes, this is all they need to feel better after they have been crying awhile.
Final Words
As a parent, you always want to keep your child healthy and safe from any harm. Colic is just one of the many issues plaguing parenthood, especially when the whining starts. With what you've learned, you can take the proper steps to prevent the harms of colic.
You'll now be able to keep yourself sane from the incessant crying, while your child is safe, healthy, and comfortable. Your only job now is to keep that little bundle of joy smiling.