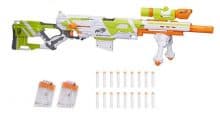 Longstrike Nerf Modulus Toy Blaster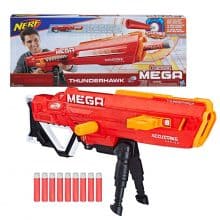 Thunderhawk Nerf AccuStrike Mega Toy Blaster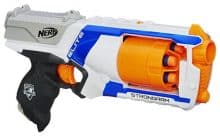 Nerf N-Strike Elite Strongarm Blaster
Previous
Next
Nerf guns are meant to give your kids quality time that features exciting shootout with safe and soft ammunition. This toy is a perfect gift for kids who enjoy physical activity and love action movies and video games. With a Nerf gun, your child can have tons of screen-free fun and play with friends. These toy guns encourage competition and improve your child's fine and gross motor skills.
You can have fun with your child and use the Nerf guns both indoors and outdoors. This means that you can have endless fun all year long. Owing to the popularity of nerf guns, the company has been rolling out new models regularly since 1969, and some other companies have also followed the pursuit. Here's the review of the top nerf guns for kids and toddlers.
Top 30 Best Nerf Guns for Kids 2020
Final Words
This in-detail review was meant to show you a great variety of Nerf gun models you can find online. Before you choose to expand your Nerf gun collection, try to find a Nerf gun model which best matches your playing style. There are models which are meant to give you immense firepower, and there are models which can provide you with outstanding accuracy, but no matter which model you choose, Nerf guns generally feature great quality.
All in all, Nerf gun battles will inspire your kid to be physically active and are beneficial for the improvement of spatial awareness and motor skills development. So, if you want to surprise your kid with a quality present and enjoy exciting Nerf battles, Nerf guns will prove to be a quality investment.