Top 30 Best Baby Gifts for Newborns & Infants 2023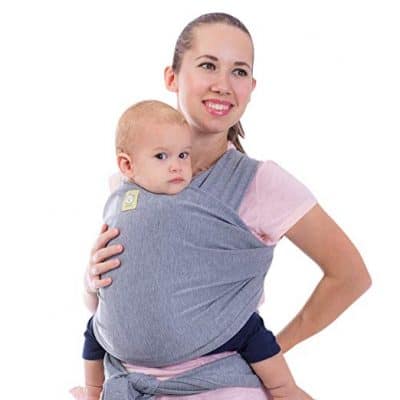 This baby wrap provides the infant with a chance to be close to your face and learn as you speak. It's a baby sling that faces forward and it's designed to help the baby expel wind naturally as you rock your body while the toddler is in the upright position. This wrap also provides the best way for bonding between a new mom and her baby because there is skin to skin contact which stimulates the release of love hormones that increase the production of breast milk. In addition, the baby wrap helps you to nurse while covered in a breathable fabric.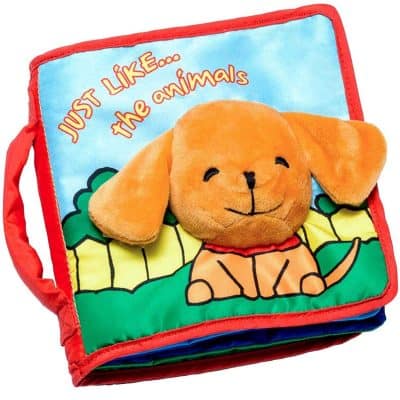 This cloth book features peek-a-boo flap, a small mirror, and sounds that will keep your child happy. The touch-and-feel textures are there to encourage babies to discover new things. This is an educational toy that will promote various skills including language, reading, communication, imagination, and sensory. Never underestimate the capability of your baby and you can start reading to your infant while they are still in their early years. This book has an eBook that comes with tips that you can use in each development stage. This cloth book which is suitable for a boy or a girl is made of soft polyester, it's non-toxic, and it's stitched to make it durable. It also has a carrying handle for easy attaching to a stroller, car seat or even a playpen.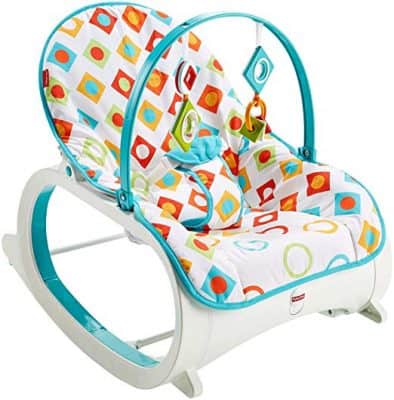 This Infant-to-Toddler Rocker is smooth and modern, making it suitable for newborn babies and toddlers. It's a great playing place for your baby because the colorful toys are overhead for entertainment. It has calming vibrations which help to sooth when it's time for a baby to nap. The toy bar can be removed as the baby grows to make it a toddler rocker. Other features include a three-point restraint to make it secure and a two-position seat recline which you can use to make the baby comfortable. The seat pad is machine washable and dryer safe to make it easy for cleaning.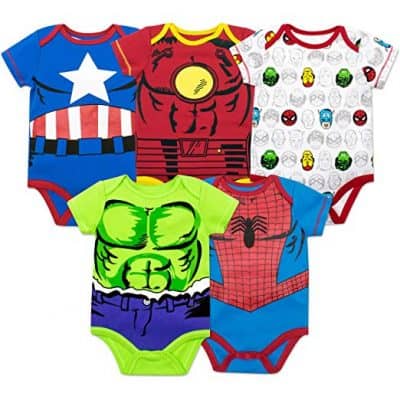 These bodysuits are made of 60% cotton and 40% fabric making them easy to wash. They come in a package of 5 bodysuits featuring the colorful Avengers superheroes including Spider-man, The Incredible Hulk, and Iron Man, which will attract the baby's attention. Parents love the onesies helping them enjoy precious moments with their little ones. The bodysuits feature lap shoulder and they have a 3-snap closure that eases the dressing process. If you're going for Halloween or you just want to dress-up the infant as everyday wear, this is perfect for an infant.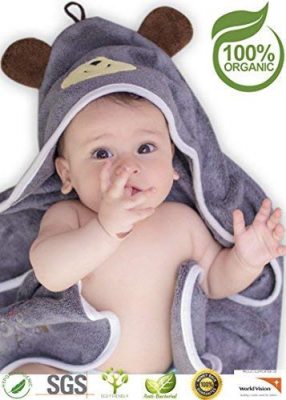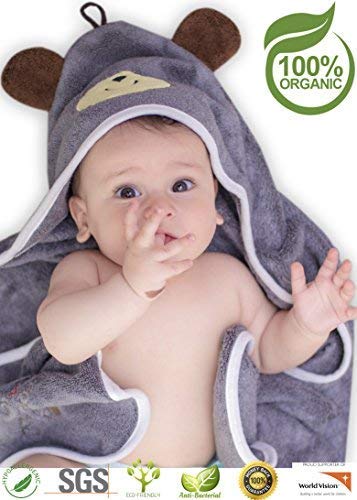 The towel is made of 600 GSM Organic Bamboo material which makes them soft but durable at the same time. Babies are bound to feel cold after a shower, so this towel will keep them warm as you dress them. It will cover your child's entire body as it comes with a hood meaning you can be dressing the rest of baby's body while the head is still in the hood. They are suitable for babies' skins as they have antibacterial and Hypoallergenic properties because bamboo fiber naturally contains them. This towel features a cute bear which moms love to see. It can be used by both girls and boys including infants and toddlers. It comes with a hanging loop to make it easy for hanging. This also ensures that the towel is not on the floor, helping it to dry quickly. The towel comes with cotton baby bib or gloves to make it a suitable gift for new parents.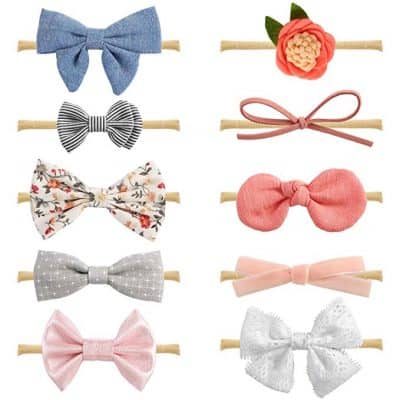 These headbands and bows come in 10 different styles and patterns to ensure that your baby matches to various occasions. The headbands include lace bows, butterfly bows, and suede bows. They are pretty soft and comfortable on babies' skin making sure that they don't feel that they don't even feel that they are wearing the headband. The bands can be stretched to fit the heads of babies and toddler girls. This gives a chance for the babies to keep on wearing them as they grow. These are stretchy nylon bands that fit infants and toddlers of all ages. Each headband set has a display card ready to be presented as a gift to new moms.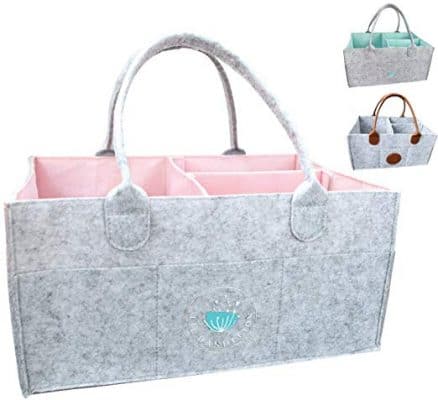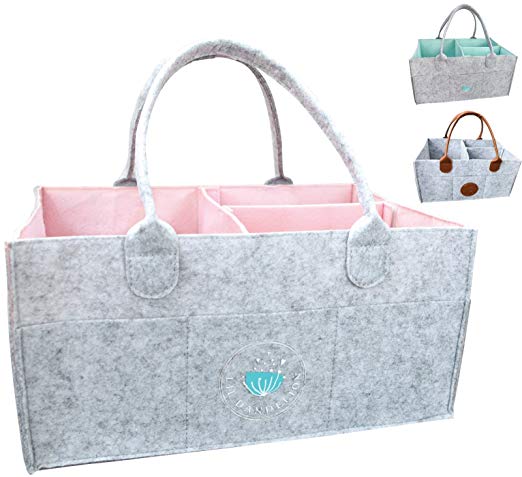 This Baby Diaper Caddy Organizer is suitable for newborns and toddlers. It comes with 8 external pockets which are ideal places smaller items to make it easy for you to pick them out. The adjustable dividers allow you to select the specific things you want to keep in each compartment. This organizer can be used to keep several items including diapers, wipes, lotion, and books. It's sturdy and well-built ensuring that it stays in shape even when you haven't filled it completely. The organizer is also lightweight, can be folded down to help you take it on trips. This is a versatile gift bag which can be customized as your baby grows.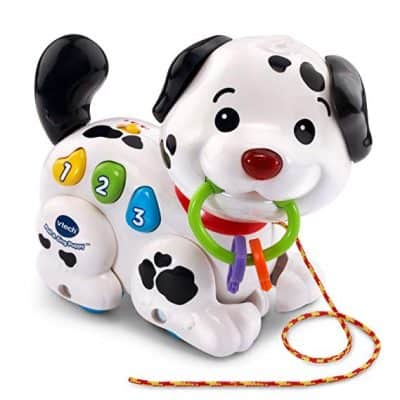 The pull and sing puppy helps your kid to have fun while playing with this toy. The music can be activated by pulling its and it will start playing music and sounds. This is a perfect way for children to build their gross motor skills. It features three colorful buttons which help to develop fine motor skills. The sound and music are a great way to attract the little one's attention. This toy is educational as it introduces numbers, colors and body parts. This is a suitable gift for infants, toddlers as well as preschoolers, who are on the path of discovery and exploration.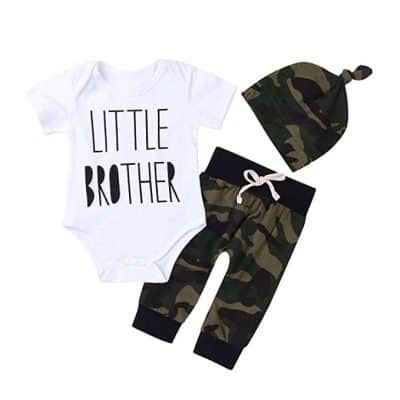 These are great pants as they are easy to wear for babies. They are extremely soft which makes them suitable for infants as they are made of 100% cotton. If you have a photography shoot or you want to present it as a gift, these pants are perfect. The package contains a romper, one legging, and a hat, which are skin friendly. They are also comfortable and breathable to suit the delicate and sensitive skin of infants.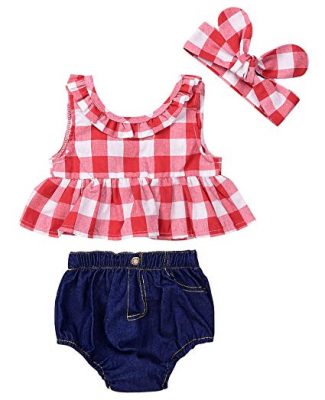 The top and denim shorts are suitable for girls aged between 0 and 3 years. The material is made of cotton blend and it's designed for a photo shoot or baby shower gift. The package comes with 1 piece shirt, 1 piece short pants, and I piece headband. This is perfect for daily wear to make your baby look stunning every day.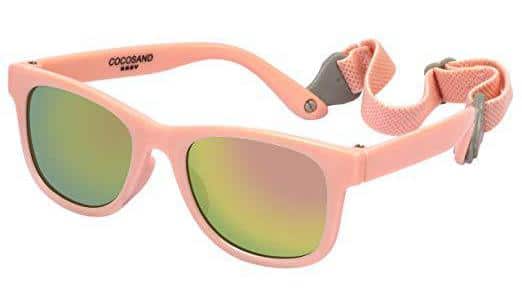 The sunglasses are suitable for outdoor activities including beach and pool activities or kids can wear them as they are playing in the backyard. They can be used as a fashion accessory and daily wear to make your child look cute. The sunglasses have adjustable straps ensuring that they fit your infant. Cleaning them is made easy as they come with a soft cleaning cloth. A tips card is also included to make sure that you keep the glasses in good condition and, to guide you on how to use and clean them. The beautiful packaging helps you to give them as a gift to your loved ones.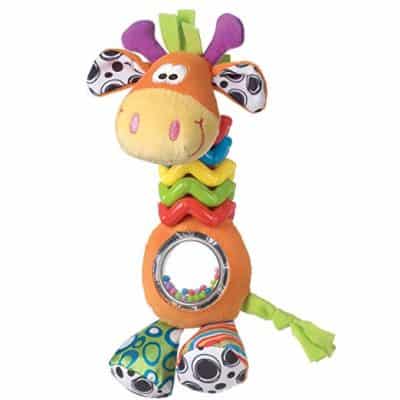 This toy features brightly colored rattle beads and produces click-clack sounds that help to stimulate infants hearing senses. The rattling sounds also encourage the children to have more fun as they grip and shake it vigorously. It's made of a mix of fabrics to promote tactile development. It's easy to hold and the toy has soft and silky fabrics which are skin-friendly to your baby. For babies who are teething, the textured click-clack beads are great for soothing the sore gums.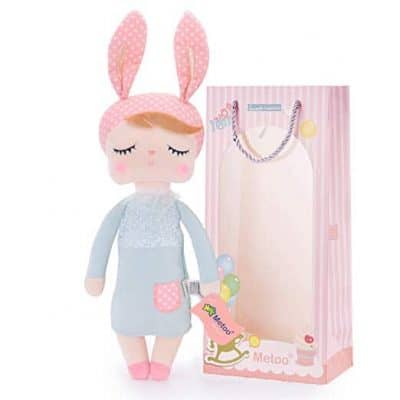 This doll is engaging as it has good size and weight for babies to easily hold and grab it. They can play with the doll as they are traveling. It's made of environmentally-friendly material and can be washed to keep it clean. Children can have a lot of engagement with the toy as they learn how to care for it by bathing and dressing this cute little toy. The bunny long ear can be curved to encourage more fun playing with it. This doll is a perfect gift for new moms and you can give them on memorial days such as Mother's Day. It also makes as a suitable collectible for those infatuated with collecting toys.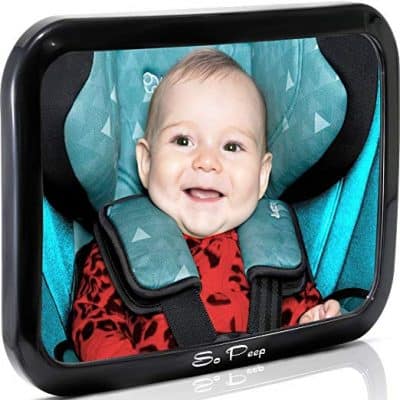 The backseat mirror is designed for parents who drive while their infants are in the car. This is suitable for checking how your little is fairing in the back of your car. The crying and loud baby sounds can be stressing and the mirror helps you to see exactly what is happening to your baby. Apart from helping you to keep a check on the baby, the mirrors are there to develop the infant's cognitive skills and self-awareness. The Baby Backseat Mirror is made of shatterproof glass to give you peace of mind as you're driving. It also has a double strap system to make sure that the child is securely fastened to the headrest. This mirror will give you comfort knowing that your child is secure as you're driving.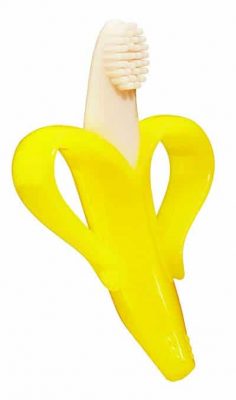 This toothbrush is made up of soft silicone bristles which ensure that it's gentle on the gums and prevents the mouth injuries. It has peeling handles which are easy for little hands to hold. They are available in a variety of colors to give the parents good options for their babies. It's BPA free and it doesn't contain latex or phthalate. The Baby Banana Infant Toothbrush is designed for babies aged up to 12 months old. It's also dishwasher and freezer friendly.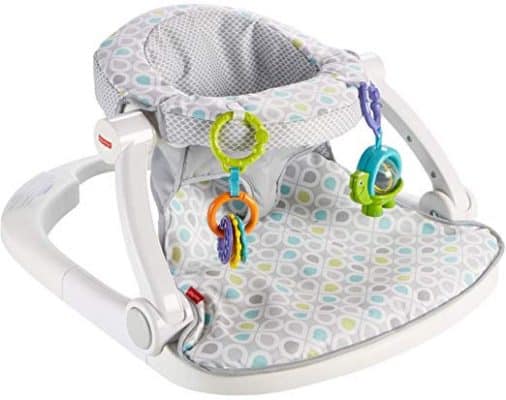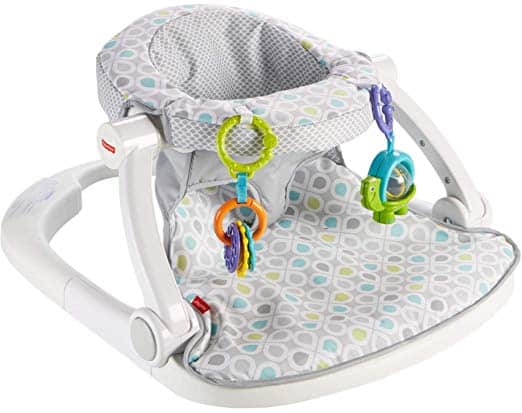 This floor seat is soft but durable meaning it will last for a long time. The cushy seat pad provides the infants with a comfortable seat as they explore the environment. It features a wide and sturdy base ensuring that the child is always comfortable and well supported. They can play with the two cute toys to improve their gross motor skills. The seat has a turtle spinner that has a side mirror as well as fun clackers. You can fold it flat to fit it in storage space. It comes with a handle making it easy to carry when you are traveling. Cleanup is easy because you can remove the seat pad and wash it in the machine.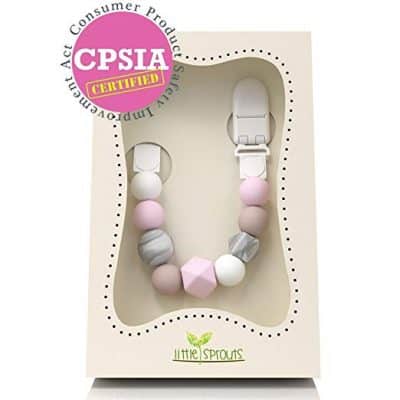 The Pacifier Clip has several beads that sooth the sore gums and massages the teething hums. If you're tired of losing pacifiers, you can use its clip to attach to several of the baby's items including clothes, blankets, teething toys, strollers, and drool bibs. This will ensure that you don't have to purchase a new pacifier every time it's lost. The pacifier is easy to open and close but it's difficult to pull it off. It's BPA free and it doesn't have PVC, phthalate, lead, or metals. This is an easy to clean clip, you can use pacifier wipes which are far much better sanitary-wise than the cotton strap pacifiers. It has silicone beads which are food grade and they don't have bad taste or smell.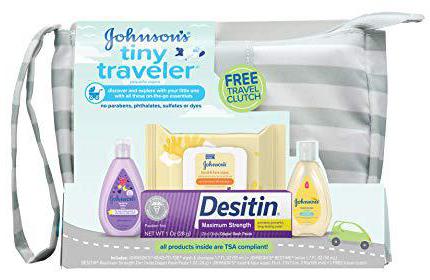 This gift set provides you with a chance to have on-the-go infant essentials with a small enough clutch to carry when you are traveling. The travel clutch will ensure that you don't forget some of the items that your baby might need. It comes with lots of items including 4 baby bath and skin care products, bedtime lotion, diaper rash relief, and body wash and shampoo to keep our baby comfortable. The travel clutch is cleanable as you can simply wipe it clean, this will make sure that it's always in good condition. The clutch is designed to resist splashes making it great for any messy situations. The products included in the travel bag are TSA compliant and they are hypoallergenic.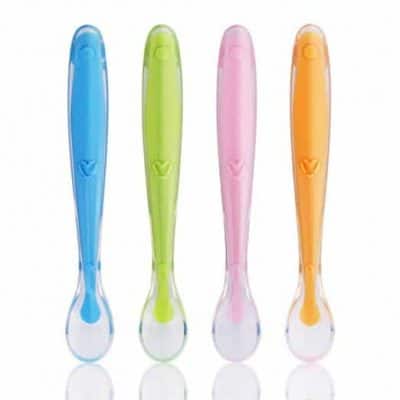 This set of spoons come in the right size to fit in the baby's mouth. Babies have a chance to learn bite and chew food with the spoons. They are designed with a long and non-slip handle to make them comfortable to hold and position as they are feeding. The set consists of food grade silicone which resists dirt and is hypoallergenic. Your baby will be safe because they are BPA, lead, latex as well as Phthalate free. It's easy to clean them as they are dishwasher safe making it easy to remove oils. The spoons are soft on the gums and teeth.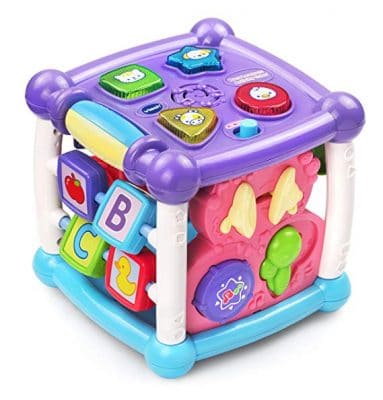 This toy has 5 sides of play that will attract infants to explore and discover. It features 4 light up buttons that play animal sounds and shapes and animal names. That will keep your child engaged for a long time. The activity cube is a pre-k learning toy that has 14 interactive features that will help infants and toddler develop fine motor skills and it encourages babies to sit up to play. It also attracts their attention and promotes crawling because it has funny sounds. Babies are set to get engaged by the 25 playful songs and melodies. This baby gift is BPA free, has adjustable volume, and it has auto shut-off.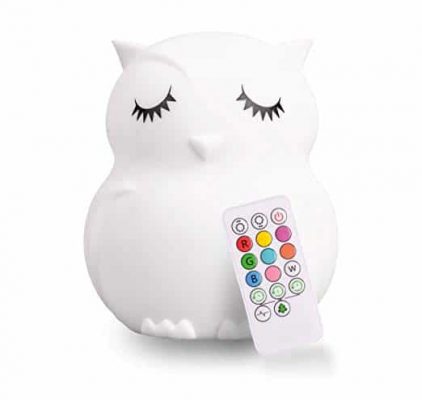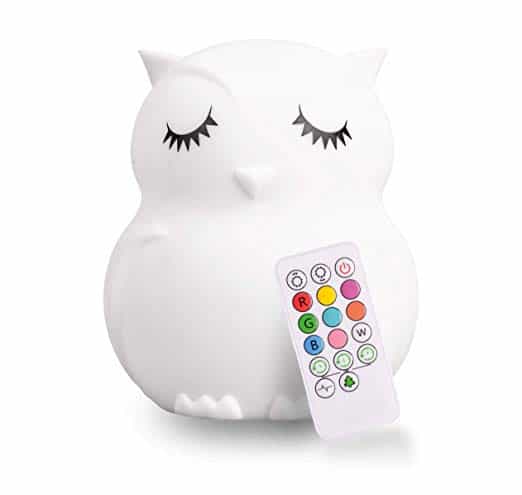 The LED Nursery Night Lights support your child throughout the night by providing a gentle and calming glow. Children are bound to be exhausted after a long day of play, so LumiPet soother nightlights ensure an infant is safely resting in their bed or crib. The lights are cordless and you can use the micro USB outlet plug to charge the batteries. The lamps can be controlled by pressing the buttons on the pet shaped lamp. This turns the lights from white to a variety of 8 colors to give your child an amazing sight. The light is also a focus of attention in the dark for your child, which will comfort them to sleep or it encourages them to get to sleep if they were not willing to. The lamps are lightweight and kids enjoy carrying them around the home providing them comfort and security. They are non-toxic, the silicone material is washable, and are remotely controlled.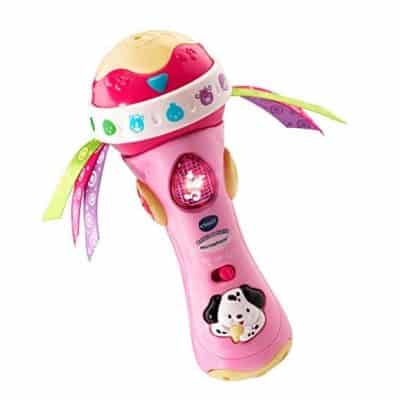 The toy microphone amplifies your infant's voice and when you shake it, it produces fun sounds and phrases. These activities help your child to develop a variety of skills such as motor, language, cognitive, social, and emotional skills. It features a puppy button that promotes children to sing along. There is nothing better in life than hearing your child trying to sing for the first time. This toy will be a good gift to your child as it will help them in this important development phase. There are more than 60 songs, melodies sounds, and even phrases to give your child a long playtime. The ring introduces twelve different types of animals and their sounds.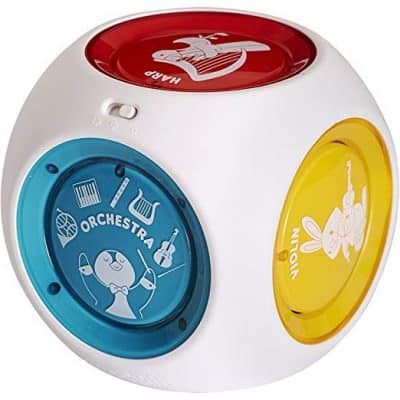 At the same time, the cube also comes with a function which plays all instruments together. Practically, the Magic Cube is an orchestra in the making. This educational toy teaches kids how to create 8 pieces of art attributed to Mozart. If parents are afraid the neighbors are not so much into classical music, they can rest assure the Magic Cube comes with a volume control rocker as well.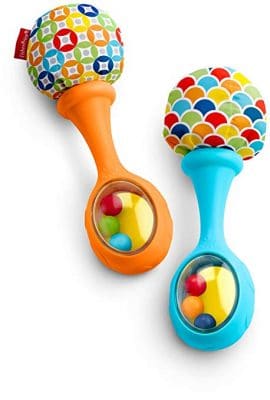 There is something about a rattle that attracts them, and it has been there for hundreds of years. The toy comes with 2 maracas and is suitable for babies aged 3 months and above. It's perfectly sized to fit the small hands of your baby. It's easy to grasp and shake it, all these activities ensure that your infant is developing their gross motor skills. The toy is made up of soft material pom-poms which are in a variety of colors to attract their attention. The pom-pom is also in various textures which will encourage your child to feel it. It's designed with different textures to stimulate your infant's senses.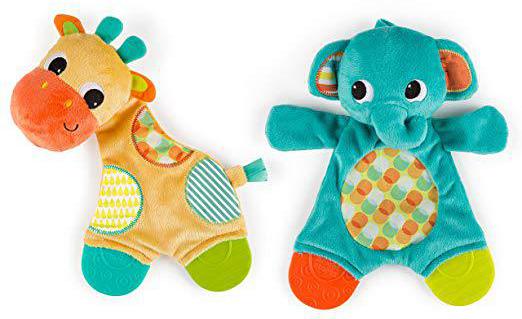 This toy is made up of high-quality material that is soft to ensure your baby's mouth is not injured. The pattern and wrinkle bellies help your child explore their texture which also assists in soothing the gums. It's suitable for babies aged between 0 and 36 months. The toy has an assortment of characters which could be either a giraffe or an elephant. To clean it, you just have to use a damp cloth and wipe the top with a mild soap.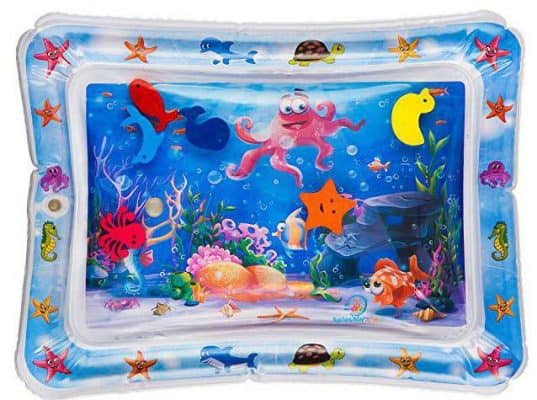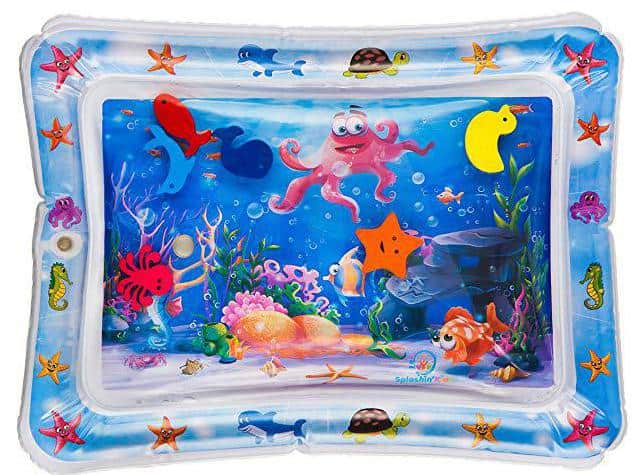 The water splash play mat is made up of heavy-duty PVC and it doesn't leak water or air. Babies love to play on it as they develop several skills and it enhances muscle development including neck and shoulder muscles. It has attractive graphics that will catch the eyes of your baby. The bright colors and beautiful toys will encourage the baby to play with them. This water pad provides long hours of play while stimulating brain development. The fun starts by simply filling an outer ring with air and the inner pad with water. It's easy to fold it when empty and it can fit into the toy bag to take it when traveling. This mat is suitable for babies of 3 months and above.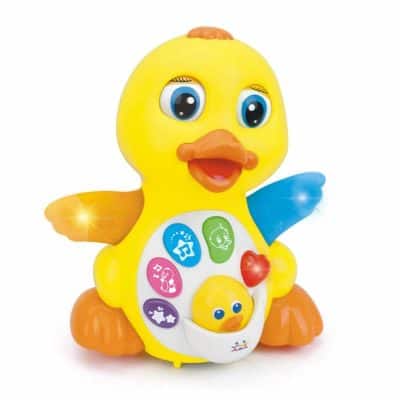 The yellow duck has a flashing lamp that will help your baby to develop their visual abilities. It's great for keeping infants happy as they imitate the dancing styles of the duck toy. Children love to chase the toy helping them to develop motor skills. It has several features including songs which enhance the baby's hearing. The animal sounds can teach and increase your baby's knowledge and the color design will attract the attention of infants improving cognitive skills. This toy is sturdy and durable providing long hours of fun and play. It's suitable for babies aged 18 months and above.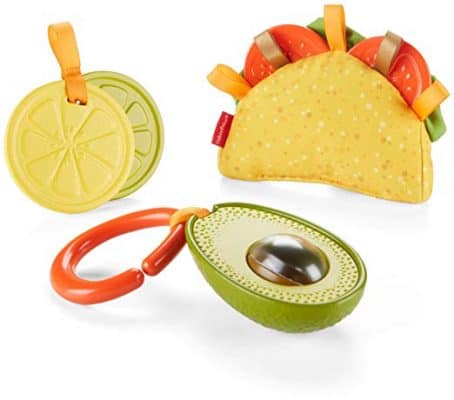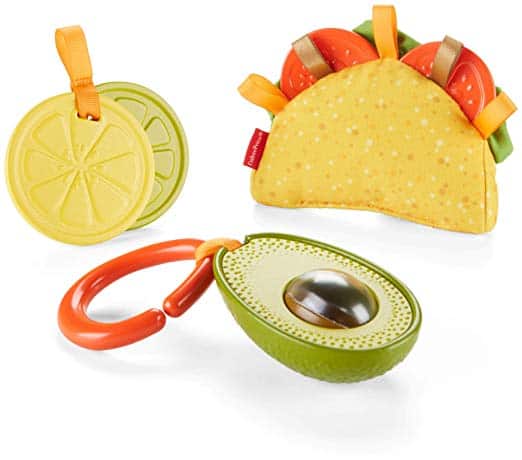 The gift set has three varieties of sensory toys, each contributing to the sensory fun. It has a crinkle shell, soft lettuce, and it also comes with tomato, ribbon, and cheese teethers. The avocado rattle features a textured peel which looks like the real one and a spinning rollerball seed that will provide plenty of fun to your baby as they shake it. It produces sounds that will develop the hearing and thinking skills for your infant.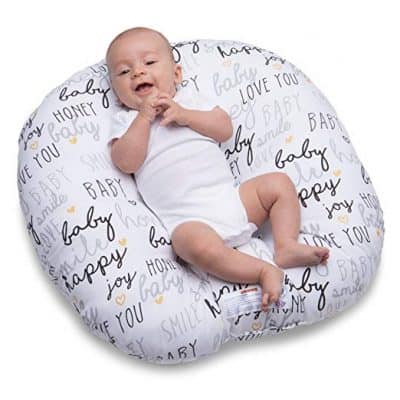 Here's is a perfect gift that will keep babies comfortable as their moms get some free moments. It's designed with a recessed interior great for you to interact with the baby without using your hands. It's lightweight and it features a sewn handle which is convenient and it ensures that you can carry it easily when you are traveling. The fabric for this pillow is wipeable which means you can wipe off small messes. Plus, it's machine washable to remove other large messes. This is a great lounger for infants and it can be used when they are awake.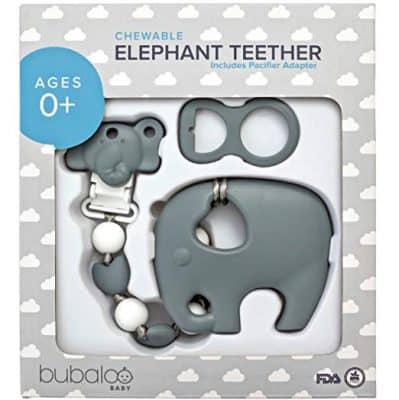 This toy doesn't emit any odor and is safe for infants and newborns from the ages of 0. It's made of silicon which is soft to provide relief on the baby's sore gums. The Baby Teething Toys are free from several elements including BPA, PVC, and Phthalates. You don't have to worry your baby dropping this toy on the dirty ground as it has a clip which can be attached to the universal pacifier adapter. The elephant teether can also be fastened to the other soothers, baby's clothing, car seat strap or baby teething toys. This teether features rubber beads that babies grab helping them to learn how to interact. Children enjoy exploring things, so this set of teething toy gifts are made of food grade silicone rubber, it can bend and you can freeze it. It's machine washable to make the cleaning process easy.