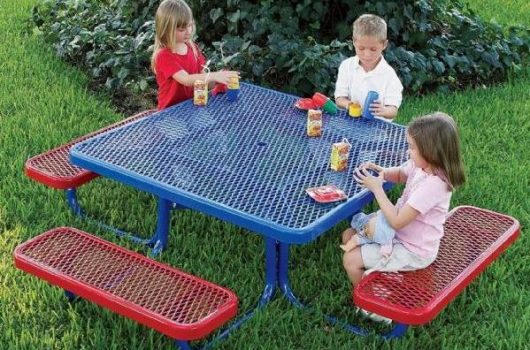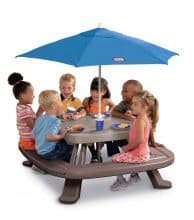 Little Tikes Fold n Store Picnic Table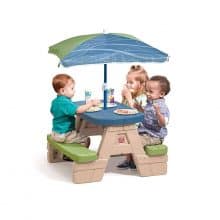 Step2 Sit and Play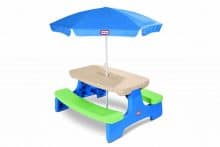 Little Tikes Easy Store Picnic Table
Previous
Next
While play is an integral part of the growth and development of a child, constant supervision is often necessary to keep kids from getting into trouble. An outdoor environment can further complicate the task of effectively monitoring a group of children.
Having a kids' picnic table can go a long way in easing the hassle of overseeing a group of kids. First, such a table provides kids with a platform for playing games and crafts. In this manner, all play activity is confined to the vicinity of the table.
Second, such a table provides kids with a place where they can comfortably sit while having their snacks and meals. A single adult is thus able to ensure that every kid gets to eat their food.
In addition to the above practical uses of a kids' picnic table, they also provide a setting where kids get to develop their social skills.
Factors to Consider While Choosing a Kids' Picnic Table
There are some considerations you need to have in mind when looking for a kids' picnic table that best suits your needs. These factors include:
Age of Your Kids
Different kids' picnic table manufacturers cater to different age sets. Some kids' picnic table models are suited for tiny kids with age starting from 18 months to 3 years.
There are models suited for kids aged 3 to 5 years, while versions that cater to older kids with ages from 5 to 10 years are also available.
Check the recommended user age of kids' picnic table you want to purchase. Doing so ensures that you get a model that suits the ages of your kid or kids.
Construction Materials
A wide variety of materials are used in the manufacture of kids' picnic tables. Classic kids' picnic tables typically use timber from a variety of softwood and hardwood trees, including fir, pine, redwood, and cherry.
Wooden kids' picnic tables do not pose any health risk to small kids. Models made from stainless steel, aluminum, High-Density Polyethylene (HDPE) and Polypropylene (PP) are safe for kids.
You should, however, avoid kids' picnic tables made using Polyvinylchloride (PVC), Polystyrene and Polyethylene Terephthalate (PET or PETE). These plastics are not chemically inert and thus unsafe.
Seat and Weight-Bearing Capacity
The seating capacity of a picnic table indicates the number of kids that can comfortably sit at the table.
However, it is possible to have more than the stated number of kids sitting at the same table. This is because the combined weight of all the kids on a picnic table rarely exceeds the weight-bearing limit.
The weight-bearing capacity of a kids' picnic table depends on its construction and the materials used. Models that make use of benches tend to feature a maximum weight capacity ranging between 100 to 150 pounds. It is possible to seat more kids on bench-type kids' picnic tables.
This is not the case with versions that make use of individual chairs even though chairs have higher weight capacities ranging from 150 to 200 pounds.
Classic Design Versus Modular Design
The classic picnic table design constitutes a wooden table with benches attached to the table's support framework.  The main benefit of this design is that the table and seats come as a single furniture item.
A classically designed kids' picnic table needs to be lightweight and foldable to ease transportation between the indoors and outdoors. However, the use of lightweight materials compromises on the robustness of a picnic table.
This is why you should also consider a kids' table and chair set as a suitable alternative to the classically designed kids' picnic table.
The modular implementation of kids' picnic table sets allows you to seamlessly increase both seating and play space by adding an extra chair or table to an existing set.
Top 30 Best Picnic Tables for Kids 2020
Final Thoughts
Your final choice of kids' picnic table should be a product that meets three essential requirements. First, the product should suit your intended use. If your use of the kids' picnic table is exclusive to the outdoors, then you should go for a product featuring an umbrella, water, and UV resistant coating and weather-resistant construction.
Second, the kids' picnic table needs to fall within your budget. This list has several affordable products made using plastic, natural wood, aluminum, stainless steel, and engineered wood.
Finally, the product you end up buying should be an item that your kids will love. Fortunately, all the products listed above will put a smile on any child, giving them a superb place to eat, play and think by themselves or with their friends.