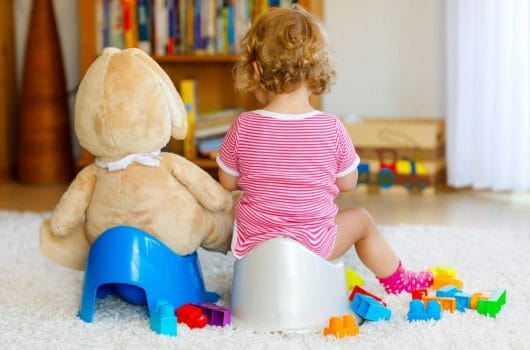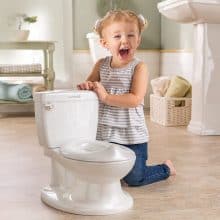 Summer My Size Potty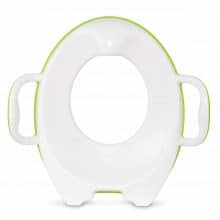 Munchkin Sturdy Potty Seat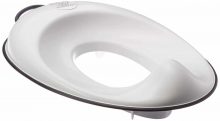 BabyBjorn Potty Trainer
Previous
Next
Once the diapers come off, as a parent, you'll be stepping into a whole new world. The nightmare of changing diapers quickly becomes the nightmare of potty training, and it's no easy task for any parent. While your child may no longer need a diaper, you'll notice that your little one may not be big enough to use the toilet on their own. For boys, it's a matter of reaching the seat and learning to aim, and for girls the toilet seat can be too large to sit on. This can leave you both confused and worried, but you can always be prepared.
So, if you're at this point, you'll be needing a potty chair or potty seat to get the job done. If you don't know much about them, don't panic, because we'll be showing you everything you need to know. We have compiled a list of the 10 best potty chairs and seats on the market, and we've done all the research for you. Read on to get started, and get ready to make potty training a breeze.
Features to Consider in Good Potty Chairs and Seats
There are some things to look out for. These include the types of potty chairs and seats you'll come across, and some features to keep an eye on. Let's take a look at the basics.
The Types of Potty Chairs and Seats
The Potty Seat
A potty seat is a lot more simple than a potty chair. These seats rest directly on the toilet bowl. Some potty seats may have ladders included, which can make them viable for very young children. A potty seat is also portable, easier to clean, and much smaller. We recommend considering potty seats for children that are a little older because it does involve them using the actual toilet.
The Potty Chair
A potty chair acts as a standalone separate toilet. Potty chairs usually have a compartment that catches waste, and they're generally small enough for your toddler to climb upon. This eliminates the need for additional ladders or tools to get them up to the toilet. A potty chair works very well for children who are just starting to learn or are very small, as there is no risk of them falling into the toilet.
Weight Limit
Weight is important to consider when you shop for a potty chair or seat, because if you exceed the weight rating it won't perform well. The weight rating usually won't be too much of an issue, but it's definitely worth considering. For example, if your child is 20 pounds heavier than the maximum rating, the plastic or fabric can wear down quickly. So, before you buy, make sure the weight rating is what you need.
One thing to keep in mind is that weight is more important with potty chairs, because they're a separate unit from the toilet itself. If your child is too heavy for a potty chair, the unit can break and this might lead to injuries. It may sound dangerous, but as long as you're proactive you shouldn't have any issues.
Age
The age of your child is also something that's going to impact their needs. Most potty chairs and seats will have ages listed. For example, if your child is only 12 or 18 months, they're going to have a very hard time climbing on a full-size toilet to use a potty seat.
Once your child is old enough, and tall enough, you'll want to start having them use the adult toilet. This is where potty seats come into play because they'll make sure that your child fits right on the seat, as a small child will have a tough time sitting or standing up with an adult toilet.
Top 10 Best Potty Chairs and Seats 2020
Guide to Buying the Best Potty Chairs and Seats
Now that you've seen the 10 best potty chairs and seats, you might be feeling a bit overwhelmed. With so many great options and features, it can seem like a challenge to figure out the needs of your child. Luckily, we have some great ways for you to narrow the options down.
So, before you buy, make sure you make a mental checklist of these guidelines. If you're not comfortable with potty training yet or what the process is, you can find out more about it here.
The Age of Your Child
The first thing you'll want to consider is how old your child is, and what they're able to do. Younger children do a lot better with potty chairs because it can be hard for them to climb onto the toilet without your help. So, if your child is between the ages of 12 and 18 months, we definitely recommend starting them off with a potty chair. For young children, the Fisher-Price Learn-to-Flush Potty and Summer My Size Potty are great options to start with. The only exception to this rule is if you choose a product like the Spuddies Potty With Ladder because the ladder allows them to scale the toilet seat themselves.
Once your child gets a bit older, you'll want to start considering potty seats. The needs depend on what your child is comfortable with, so be sure to observe what your child can do on their own. Ask yourself, can they climb up on the toilet themselves? If the answer is yes, it's certainly time for a potty seat. A great budget potty seat to start with that works with all ages is the Munchkin Sturdy Potty Seat.
Boys Versus Girls
The gender of your child is also going to have a lot of influence on the potty chairs and seats that you buy. Boys and girls use the bathroom much differently, and this mainly applies to peeing. Boys are trained to stand up, while girls need to learn sitting down. So, for boys, if you don't have a splash guard potty training can be a nightmare. Luckily, most potty chairs and seats come with splash guards to reduce this problem. This applies to both potty chairs and seats, but if you have a girl, that does open up your options a little bit.
For boys, you also might want to consider some additional options as well during the potty chair phase. It can be helpful to mirror the functions of an actual toilet to the best of your abilities. So, for boys, you should definitely consider potty chairs and seats with hinged lids, splash guards, and interactive handles. A great potty chair for this is the Summer My Size Potty.
Portability
One thing a lot of parents forget to consider is how portable their potty chair or seat is. While this may be the case, this is actually a very important thing to look at before you buy it. Not only will your kid need some help in the house, but what about at the park? If you have a younger child (12-18 months), this isn't as much of an issue, but older children should always feel comfortable going to the bathroom on their own.
If you have a young child, and you plan on traveling a lot, the Kalencom Potette Plus 2-in-1 Travel Potty is a great option. It can be set up like a potty chair in most locations, and once they're old enough, it can become a portable potty seat as well. On the other hand, if you have an older child, products like the Grimars Portable Potty Seat and Spuddies Potty With Ladder are both great options.
Storage
Storage is very important because you don't want to have a potty chair or potty seat sitting around the bathroom all day. If your bladder is about to burst, do you really want an added step before you go? So, when looking into a potty chair or potty seat, make sure it can be stored very easily.
Potty chairs can usually be placed off to the side, and storage is not as important, but potty seats will need to be removed from the toilet seat itself in order to be stored. Some potty seats have rings that attach to the toilet, while others may fold away. This is all about your storage preferences, but we definitely recommend a product like the Grimars Portable Potty Seat if storage is a priority. It's foldable design and storage bag means it's easy to store and versatile.
Style
Once you have considered everything else, the last thing for you to focus on is the style of potty chairs and seats. Potty chairs and seats come with a lot of different features, and some of the best potty chairs and seats have great designs to make potty training very simple and fun. So, for styles, think about the additional features that you want.
Potty chairs tend to have more features than potty seats, and these can be the appearance or even sounds that they make. If you want to take the fun route, consider a potty chair like the Fisher-Price Learn-to-Flush Potty or the Training Wheels Racer Potty System. These two potty chairs have fun designs that are great for luring children into the world of potty training in an engaging way.
If it's potty seats that you're after, the style also plays an important role as well. You need to consider whether or not portability is a priority, and how easy it is to remove the potty seat from your toilet. Some great products that make it very easy for both you and your child to use at home or on the go include the BabyBjorn Potty Trainer and Fisher-Price Perfect Fit Potty Ring.
FAQ
What Age Should I Start Potty Training?
Potty training will depend a lot on guidance from you and action from your child. Every child will vary, but normally between 18 and 24 months is a good time to start trying. In some cases, you might have to wait 3 years.
Should I Start With a Potty Chair or Potty Seat?
What you start with also depends a bit on the age of your child. For younger children (under 24 months) a potty chair is often your best bet. For children, over 24 months, or around 3 years old, a potty seat will be the quickest way to familiarize them with an adult toilet.
How Can I Get My Child to Use the Potty Chair or Seat?
Getting your child to use a potty chair or seat is going to be hard work. To do so, you'll need to make sure that you encourage your child in the first instance and help them. This will take time and patience, but this video can help.
Final Thoughts
Potty training may seem like a nightmare, but it doesn't have to be. If you use the best potty chairs and seats, you'll have no problem getting your child to go to the bathroom safely. A little nudge on your part, and a great potty chair, will go a long way.
Keep in mind that kids of different ages have different needs. A potty chair may be great for very young children, but you should always consider going with a potty seat once they start to get older. Also, if you really want a potty chair or seat to last you the life of the potty training cycle, you might want to consider going with a potty chair that has a detachable potty seat. Hopefully this list has given you the options you need to make the best decision for you.