Do you have a little one who has a need for speed? Power Wheels has been a household name in novelty electric cars that have been allowing children to hit the open road and burn some rubber ever since 1984. Power Wheels allow kid's imaginations to run wild while serving to develop specific motor skills and spatial processing as well.
When it comes to choosing the perfect Power Wheels, not all models are created equally. Just like the real thing, specific Power Wheels models are built for style and luxury. In contrast, others are made for performance and durability. Depending on your child's wants and needs, it might be challenging to settle on the perfect car.
Fear not, we have compiled a list of the top Power Wheels for kids, complete with everything you need to know to make the best decision. Much like adult car shopping, Power Wheels come with a range of options and styles. We will take a glimpse at all the factors you should consider before your kid gets behind the wheel.
What Should You Look For in a Power Wheels Car?
Modern Power Wheels are still built for kids, but they come with an array of high-tech features and options. Many features are just for fun, while others can actually improve the functionality of the vehicle. Here are a few options you should consider when you are shopping for your new Power Wheels.
Bluetooth Function
If your child loves to rock out on the road, a Bluetooth sync option will give them the ability to stream their own playlist while they drive.
Seatbelt Options
Surprisingly, not every model comes with a safety harness or seatbelts standard. If your child is planning on driving their Power Wheels offroad or on uneven pavement, a safety belt should be something you consider.
Speeds
Different models of Power Wheels have been known to operate at different speeds. If your child is a speed demon, make sure you choose a model that will keep them safe. When it comes to child drivers, a little speed goes a long way.
Parental Control Options
If your child is a bit on the precocious side, you might want to opt for a model that had either a remote or some type of parental override option. Remember, Power Wheels are all about having fun, and no one has fun when they are hurt. Parental controls will give you a little peace of mind when your child is driving.
Suspension System
If you live in a rural area or plan to take the vehicle off-road, it would be wise to choose a model with a suspension system. There are plenty of models with built-in shock absorbers or suspension systems that will keep your child safe and also prevent any unwanted wear on the car.
Towing Options
Several models also give children the option to tow items behind them as they drive. If your child is interested in construction or working outdoors, this might be a fun option for them to try.
Lighting and Sound Effects
Realistic vehicles create realistic fun and can enhance playtime imaginations. Children love cars that have fun sounds, headlights, and functional horns.
Optional Features
Power Wheels come with a range of optional features that might be of interest to parents and children alike. There are many themed options, as well as features such as a battery indicator that is worth considering.
Even in the digital age, Power Wheels remain one of the best-selling kid's toys around. In order to understand all of the options, we have compiled this list to give you a better idea of which products will best suit your child. With that in mind, let's take a look at some of the most popular
Power Wheels models on the market today.
Top 8 Best Power Wheels for Kids 2023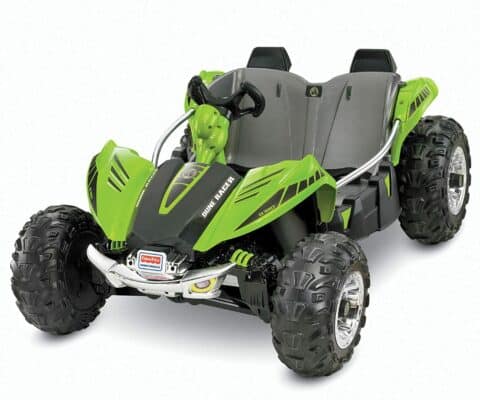 Why we like it:
This vehicle is not only designed to handle the toughest of terrain, but it is also sleek and stylish. The design is perfect for boys or girls ages 3-7.
Editor's Rating:
Quick Facts:
Stylish design and durable construction
Monster traction system for added handling
Working lights and secret cargo storage area
If there is one Power Wheels model that is built for adventure, it is the Power Wheels Dune Racer. This sporty vehicle, complete with a monster traction system, will take your kid's ride and imagination to the next level. This machine is so well-built, it is hard to believe it is made for children. It can handle all terrains with ease and is rated for wet-grass, mud, hard surfaces, and even gravel.
The Dune Racer allows your child to exceed their normal boundaries and expand their playfield for new adventures. The high-performance motor runs off the standard 12-volt battery system and comes with two speeds of 2.5 mph and 5 mph. It can also reverse at a speed of 2.5 mph.
The Dune Racer features a metal side-handlebar for extra support, and it is built with a sturdy and durable steel-reinforced frame that is capable of handling up to 130 lbs with ease. Additionally, the power lock brake system will stop automatically if the child's foot is removed from the pedal.
The interior also features smooth, rounded edges for safe driving and enough space for two kids to sit in comfort. Your kids will love to hunt for treasure and store it in the secret storage space in the front of the vehicle. This model is sure to ignite creativity and foster hours of exciting role play.
Pros
Built to handle all terrains

Spacious interior for two

Included metal side-bars for safety and hand support

Includes a stylish racing wheel

The lights are fully functional
Cons
No battery health indicator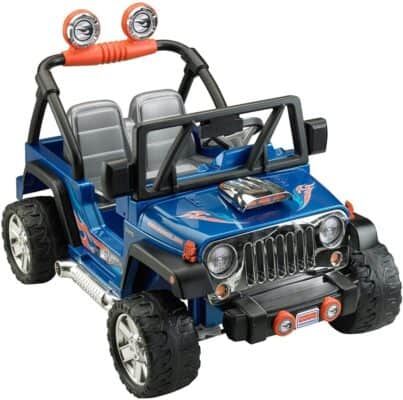 Why we like it:
This durable, all-terrain vehicle is built to handle any road conditions and has excellent safety features for added peace of mind that make it well worth the price.
Editor's Rating:
Quick Facts:
Two speeds with optional beginner mode
Power-lock brakes
Spacious cargo area
There's a reason that the Power Wheels Jeep Wrangler model remains one of the most popular electric vehicles for kids: it's a classic that has stood the test of time. The Wrangler is similar to most other models in that it has two speeds for forward motion and one speed for reverse. It can either drive 5 mph or 2.5 mph in forward gear and goes in reverse at speeds of 2.5 mph. It comes equipped with a standard 12-volt, a rechargeable battery pack that is optimized for maximum power.
This model also comes with power-lock brakes that stop automatically if the driver's foot is removed from the pedal. Just like a real Jeep, this model is capable of handling various terrain. It can be driven on flat surfaces, grass, dirt, and even uphill.
Children love having the ability to haul their toys or other cargo in the spacious rear storage compartment. Additionally, with two roomy seats, your child can bring their friend or sibling along on all of their adventures. This model is rated for children aged 3-7 and is also equipped with additional side-bar protection for extra safety. This model might not come with a ton of extra bells and whistles, but it is a durable kid's vehicle that is built with comfort and safety in mind.
Pros
Spacious rear storage compartment

Forward speeds of 2.5 or 5 mph and reverse speed of 2.5 mph

For beginners, there is an option to lock-out of the 5 mph speed

Power-lock brakes for extra safety

Side-bar protection
Cons
Wheels are built for "all-terrain," but they are still made of plastic

Expensive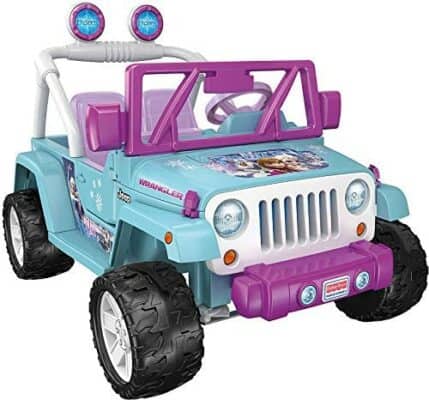 Why we like it:
This vehicle is the perfect choice for fans of Disney's Frozen and comes with some entertaining special features.
Editor's Rating:
Quick Facts:
Working doors that open and close
Pretend radio complete with songs from the movie
Beautiful Frozen graphics and color scheme
This Jeep Wrangler model comes with the same durability as the other models with the added bonus of Frozen-themed features. This vehicle is splashed with colorful frozen graphics that are perfect for any Frozen fan aged 3-7 years old. Not only was this Wrangler transformed by the icy touch of a snow queen, but it also includes a working radio that comes loaded with songs from the hit movie.
This car comes with working doors that open and close, two roomy seats, and extra rear storage that is perfect for toting around all of your child's Olaf toys. It also comes with the standard 12-volt battery system with two driving speeds and lock-out safety features.
This Jeep also features an additional diagonal safety bar, with a rounded edge interior that is perfect for keeping younger drivers safe and comfortable. Like other Wrangler models, the tires are designed to drive on both hard surfaces and grass, so your little Frozen fan can genuinely "let it go." If you like the features of the Jeep Wrangler but want a version without a theme, the basic Jeep Wrangler is a great option.
Pros
Foward speeds of 2.5 or 5 mph and reverse speed of 2.5 mph

For beginners, there is an option to lock-out of the 5 mph speed

Power-lock brakes provide extra safety

Roomy rear storage area

Additional safety side-bar
Cons
The Frozen theme makes this a specialty product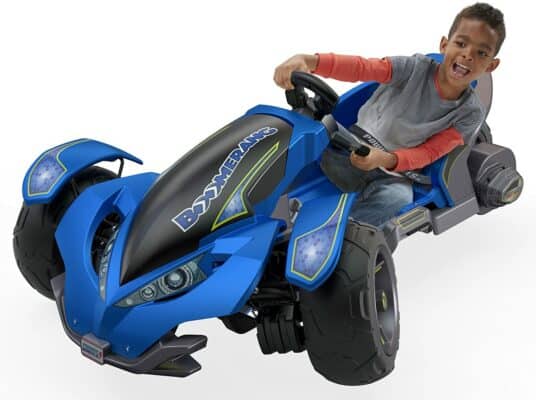 Why we like it:
This thrilling new vehicle is designed for older riders who are looking to do some exciting drifts.
Editor's Rating:
Quick Facts:
Fun and exciting design
Designed for safe drifting
Adjustable seat with a safety harness
While The Boomerang is generally recommended for older children, it can be quite fun for young thrillseekers as well. Its wild shape takes the racing experience to a whole new level. The Boomerang features a one of a kind triangular shape that allows riders to spin into exciting yet safe drifts. It's also less expensive than many other options, meaning your wallet will enjoy it as much as your kids.
This model is truly built for fun and speed, but it also comes standard with all of the safety features that you would expect from a Power Wheels car. It also features high, angular sides as well as an adjustable seat that allow your child to be both safe and comfortable.
Even though this model looks fast, it only reaches a max speed of 5 miles per hour. It is also equipped with safety lock brakes and a harness seat belt.
This model has been safety tested for children as old as 10 years of age. It also runs on a 12-volt rechargeable battery and will generally run for 45 minutes on a single charge. If you are looking for a single-rider model without the extreme drifting, the Kawasaki KFX might be what you are looking for.
Pros
Comes with superb safety features such as a safety harness and power brakes

Relatively inexpensive

Exciting for older drivers who are looking for more thrills
Cons
The 45-minute life span of the battery is relatively short

Only built for a single rider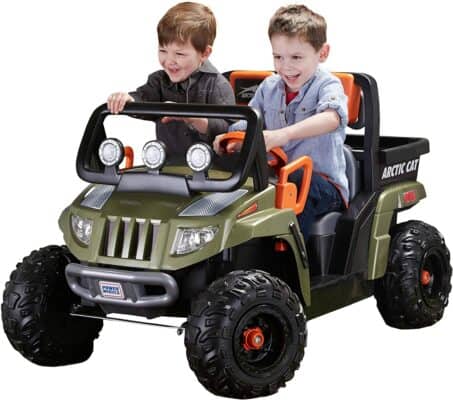 Why we like it:
This vehicle feels like the real thing, with adjustable seats, a heavy-duty cargo area, and a realistic shovel for all of the most challenging jobs.
Editor's Rating:
Quick Facts:
Two speeds with optional beginner mode
Power-lock brakes
Spacious cargo area
The Power Wheels Arctic Cat 1000 does not hold back when it comes to performance and speed. In fact, it can effortlessly drive over a variety of hard surfaces, grass, or gravel. It comes with the standard Power Wheels 12-volt battery pack and operates at the forward speeds of either 2.5 or 5 mph, with a reverse speed of 2.5 mph.
Kids love this model because it feels like they are driving in an actual vehicle. The seats are both comfortable and adjustable for children of various sizes. Like all Power Wheels, the Arctic Cat was designed with safety in mind and features the power-lock brake system, as well as a parental lock-out feature that will keep younger drivers in the lower gear.
By far, the best feature of the Arctic Cat 100 is the fun-sized truck bed and included heavy-duty shovel. Your kids will love loading up the bed with the treasures they find and letting their imaginations soar. The spacious two-seat design allows your excavator to always bring their partner along for the job.
Pros
High Performance 12 Volt battery system

5 mph speed lock-out option keeps beginners safe

All-terrain wheels that are built to last

The truck bed comes with a fully working tailgate

Included heavy-duty shovel
Cons
Only two seats due to the cargo area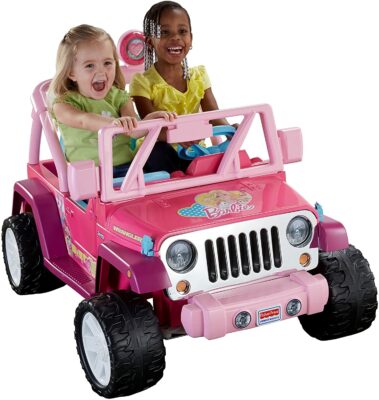 Why we like it:
This vehicle has all of the durability of a Jeep Wrangler in a fashionable pink Barbie theme.
Editor's Rating:
Quick Facts:
Detailed Barbie design and graphics
Fully operational doors
Radio with six jammin' songs
Don't let the Barbie-pink color and design fool you; the Barbie Jammin' Jeep Wrangler packs all the same power as its less colorful counterparts. It comes with the standard-issue 12-volt battery power system, with two speeds (2.5 and 5 mph and reverse of 2.5 mph). Like the other Wranglers, this model also comes standard with the parental lock and brake lock safety features.
This Jeep also comes with fully operational opening and closing doors, two luxurious seats, and an extra storage area to store all of Barbie's friends. To top off this rockin' ride, the Barbie Wrangler also comes with a pre-programmed radio with 6 tunes your kids are sure to love. If your child is more of a Frozen fan, be sure to check out the Jeep Wrangler Frozen Edition.
Pros
Spacious rear storage area

High Performance 12 Volt power system

5 mph speed lock-out for beginners

Included power-lock brake system

All-terrain non-slip wheels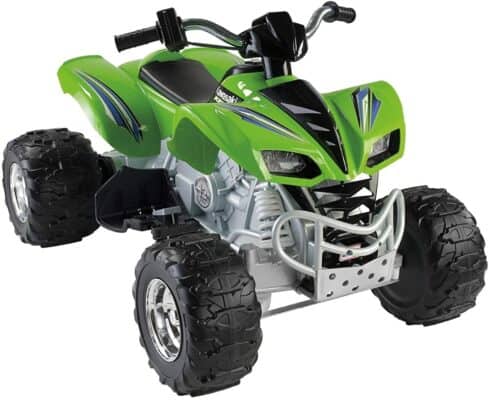 Why we like it:
This vehicle is excellent for those with experience, as it has a little more power. It has a realistic feel and stylish design.
Editor's Rating:
Quick Facts:
Monster Traction provides excellent handling on all terrain
Speeds of 3 or 6 mph (which is faster than most models)
Realistic twist-grip throttle
The Power Wheels Kawasaki KFX is a fantastic option for those looking to experience a real off-road vehicle. Your children will enjoy the sleek and stylish feel that is modeled after the same ATVs that the grownups ride. The oversized wheels provide expertly designed Monster Traction that is perfect for any road conditions. These tires can handle wet or dry grass, mud, gravel, dirt, or flat surfaces. If you are looking for a model that offers significant power in a small package, the KFX is the perfect choice for your little rider.
The KFX comes complete with the standard 12-volt battery system. However, it also includes speeds that are faster than most models, at 3 and 6 mph. The reverse speed even clocks in at 3 mph. This powerful ATV also comes with the power loc braking system that is designed to go to a complete stop when your child takes their foot off of the pedal.
The most attractive part of this model is the realistic action of the twist-grip throttle. Your child can rev the engine and feel the physical rush of powering into high gear. The only real drawback with the KTX is the fact that the battery must be removed to charge. The battery is located under the seat and must be removed to access the battery. In addition, this model is only rated for a single rider at a time. If you are looking for a decent two-person ride, check out the Jeep Wrangler model here.
Pros
High performance 12-volt battery system

Drives 3 and 6 mph forward and 3 mph in reverse

6 mph optional speed lock-out for beginners

Stylish all-terrain wheels

Realistic twist-grip throttle
Cons
You need to remove the seat to access the battery for charging

The vehicle is only for a single rider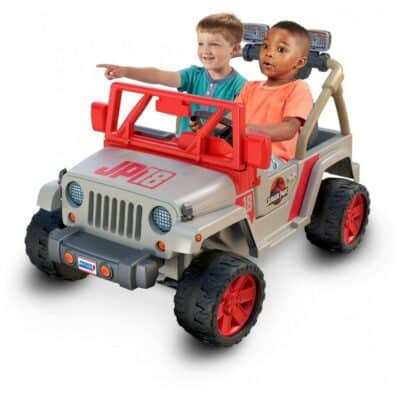 Why we like it:
This Wrangler is perfect for dinosaur or Jurassic Park fans, with all the features we love in the Wrangler models.
Editor's Rating:
Quick Facts:
Detailed Jurrasic World design and graphics
Realistic sound effects
Fully functional doors
In the long line of Power Wheels Jeep Wranglers, the Jurassic World themed Jeep is a hit with any fan of the prehistoric era. Much like the other Jeep editions, the Jurassic World Jeep is capable of forward speeds of either 2.5 or 5 mph when the parent lock is switched off. It also reverses at 2.5 mph.
What sets this edition apart from the others are the eye-popping and realistic graphics, as well as the addition of some fun movie sound effects. The sound effects feature terrifying roars and "chase" sounds. The functional doors and working light bar are also great features, and the extra storage space is perfect for storing fossils or dinosaur bones.
This wrangler supports two children with a weight limit of 130 lbs. It is recommended for children aged 3-7, and each model is tested to meet safety standards.
Pros
Spacious rear storage area

High Performance 12 Volt power system

5 mph speed lock-out for beginners

Detailed graphic decals that are true to the movies
Cons
No key ignition, so it is recommended to take out the battery to preserve battery life
Guide to Buying the Best Power Wheels in 2022
Before you begin your search for the best Power Wheel for your mini-driver, there are a few critical factors to take into account.
First and foremost, all Power Wheels models are rated for appropriateness based on age. Most are approved for children aged 3-7, but some models are more powerful than others. If your child is on the younger side of the age scale, it might be a good idea to choose a vehicle with a little less power.
Secondly, some optional features can make maintenance a little more complicated than other models. If you are looking for a low-maintenance vehicle, there are some options you should consider avoiding.
With all of the options available in the numerous Power Wheels models, it might seem challenging to choose the best option for your child. To help you make the best choice, we put together this detailed buyer's guide for you and your child.
Power Wheels for Specific Age Groups
The manufacturers at Power Wheels are very concerned about the safety of their riders. To ensure that children are riding the vehicles that are appropriate for them, they have a suggested age range for each of their models.
When you are trying to choose the best vehicle for your child, it is essential to remember that children develop at different rates. Even though they might be within the recommended age group for this specific vehicle, they might not possess the motor skills or cognitive function to operate it successfully.
It is up to you as the parent or guardian of the child to make sure that the vehicle is both appropriate and safe for your child's skill level and abilities. Remember that even though these vehicles are designed with safety in mind, they do require adult supervision to ensure that your child is using them properly and safely.
Additionally, you should consider factors such as your child's weight, height, and the type of terrain and weather conditions they will be driving in.
1) 3-4 Years
For this particular age group, there are many options as far as sizes and styles go. There is also a more comprehensive range of vehicle types and themes to choose from. Generally, as long as your child's motor skills are developing correctly, the older they get, the speed limit will increase.
If your child is on the slower side, it would be best for them to stay in the range of 2-3 mph. Older children who have some experience should be able to handle the 5-6 mph speed limit.
For this age group, there are also a handful of extra options to choose from. Most cars come with foot-pedal operation; however, there are also options for hand throttle acceleration. Other options include Mp3 players or realistic motor sounds.
Models for this age group are generally approved for mud, dirt, gravel, pavement, and grass.
Many are also multi-seat vehicles that give children the option to ride by themselves or with a passenger. It is always a smart choice to go with the optional seatbelts or safety harnesses if available. Also, riders aged 3-4 should always wear a helmet.
2) 5-7 Years
In this age group, children should be a little more comfortable with the higher power models, which operate at higher speeds. The vehicles for this age group also come in a variety of styles that include ATVs, dune buggies, and 3-wheelers. These are mostly modeled as a child-friendly version of actual adult vehicles.
These models can be operated safely at speeds of 5-6 mph. They also have features that older children love, such as electric horns, FM Radios, MP3 players, chrome accessories, or real motor sounds.
Even though children are more developed in this age group, it is still a good idea to require a helmet while operating their Power Wheels vehicle. Safety is paramount for any age group.
Generally, these vehicles are not recommended by the manufacturer for children over the age of 7. However, in many cases, the operation is still possible as long as they remain in the recommended weight range.
Vehicle Size
When you are choosing the best Power Wheels for your child, getting the appropriately sized vehicle is crucial. Your child needs to be comfortable as well as stable when riding in the car.
To ensure the best fit for your child, make sure that their feet can comfortably reach the floor of the vehicle and the pedals. Several models have an adjustable seats so that your child can continue to operate the vehicle as they grow.
Weight Capacity
When you are searching for the perfect Power Wheels, be sure to check the weight limit and suggestions for each model. If you are looking for a car for multiple riders, be sure to check out this option.
Safety Features
One of the biggest concerns when looking for a play vehicle for your child is safety. If your child is planning to ride their Power Wheels outdoors or on the hard pavement, they must follow the related safety precautions. Before you make a purchase, be sure that you familiarize yourself with all of the relevant safety measures:
Make sure that the vehicle is appropriate for your child's specific weight and height.
If you want to control your child's speed, make sure that it has the parental speed-lock feature.
Look for a vehicle with automatic brakes.
Look for a vehicle that is sturdy and can withstand hitting other objects or tipping over.
Should You Choose an Electric or Leg-Powered Car?
If you are debating about whether to invest in a fully electric Power Wheels vehicle or a more simple leg powered option, there are a few things that you should consider first.
The main difference between a Power Wheels vehicle and a pedal vehicle is that the Power Wheels generally have a broader base and therefore are much more difficult to tip over.
Additionally, Power Wheels operate on powered batteries that assist the driver with steering. Children can steer more quickly and confidently than a pedal car. The realistic features also allow the child to enhance their playtime through roleplay and imagination.
How Difficult Are Power Wheels to Assemble?
While the multitude of features included on a Power Wheels vehicle might make it seem as if it is difficult to set up, the reality is the cars are relatively easy to set up straight out of the box. The included manual makes set up a breeze.
Are Power Wheels Waterproof?
Unless expressly stated in the manual, it should be assumed that these vehicles are not waterproof. In fact, while the wheels and undercarriage can handle wet grass and mud, it would be quite dangerous to fully submerge a 12-volt battery in water and should be avoided.
Is It Possible to Modify Power Wheels?
While most models are generally limited by the options available out of the box, some additional upgrades can be made to a Power Wheels car. There are official upgrades and accessories, as well as some aftermarket products.
In fact, it is possible to add an aftermarket motor or additional battery to "turbocharge" the vehicle and enhance performance. Just be aware that in most cases, modifications to the machine will void the manufacturer's warranty, however.
How to Pick the Best Off-Road Power Wheels
If you have a child who loves adventure, an off-road worthy Power Wheels is a must. These models should have solid steel frames and robust wheels to maximize stability. These features will minimize impact over rough terrain and make sure that the structure remains level, even when riding over uneven or bumpy surfaces.
For the best off-road experience, look for an electric vehicle with deep treads or Monster Traction to ensure that the wheel can grip the surface well and maintain stability.
Additionally, wide tires are the best when riding over wet grass or mud.
How to Pick the Best Power Wheels for Grass
If you are looking for a Power Wheels that will be mainly used on grassy terrain, you should look for a model that has the parental speed lock option. Locking the speed to the lower option will allow your child to learn in a safe and controlled environment before using a higher speed. Grassy environments tend to be a bit more slippery, which can be challenging to control at high speeds.
The best option for a grassy environment is a Power Wheels model that can limit speed by either using the foot pedal or the twist throttle acceleration.
Best Batteries for Power Wheels
The best batteries and most commonly seen batteries for Power Wheels are the 12-volt standard options. However, as mentioned previously, it is possible to equip an aftermarket battery as well.
The Best Way to Learn to Ride a Power Wheels
As mentioned in the safety section, there is no right way to teach a child to ride a Power Wheels. Still, it should be done under strict parental supervision.
Before you even put your child on the vehicle, take the opportunity to teach them some basic riding vocabulary. Children should learn essential words like right, left, stop, and go before they take to the road.
This can also be a great bonding opportunity for parents and children.
Parents should also take this opportunity to be a positive coach for their children. Parents can use this teaching moment to teach motivation and the value of effort. When children learn to control their vehicles well, they will have more fun.
Once the child has a basic understanding of the controls and how to steer the vehicle, parents can also teach them how to use any optional features like a horn or turn signal, as well as the reverse function.
As the rider gets older, parents can teach them their local road signs, symbols, and rules of the road. A fun activity is to set up a mini-obstacle course using cones or flags and teach them how to navigate through the course successfully.
Final Thoughts on Choosing the Best Power Wheels
If you take the time to study all of the information about the best Power Wheels and all of the options for each vehicle, you will be in a much better position to make the best choice for your child. Remember that your child will be the one in the driver's seat, so it is also a good idea to involve them in the decision as well.
The top-rated power wheels discussed here span from age 3-7 and have a range of available options to help your young driver make the most out of their playtime. Remember to choose a model that they can grow with, while always keeping their safety in mind.
When you bring home the perfect Power Wheels, you are guaranteed hours of quality fun for you and your child.