Top 30 Best Sensory Toys for Toddlers 2022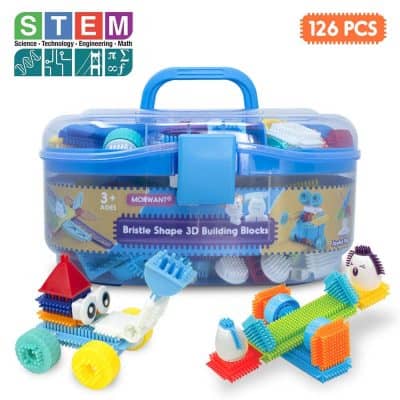 For sensory, cognitive, fine motor skills, and memory development, get the Bristle interlocking blocks. It contains a 3D block that can interlock at any angle. Putting together these bricks will develop baby's muscles. It will also help with hand coordination. In time, your baby's hands will be steady when assembling the blocks.
The toy has bright colors and different shapes. The colors appeal to a child's eye and will help him learn and differentiate colors. Fixing the different shapes together will help in creativity. This toy will keep your toddler engaged for hours trying to create new things.
The toy is safe for toddlers' use. It is free of phthalate and BPA. You can easily clean the bricks since toddlers love testing their toys using their mouths.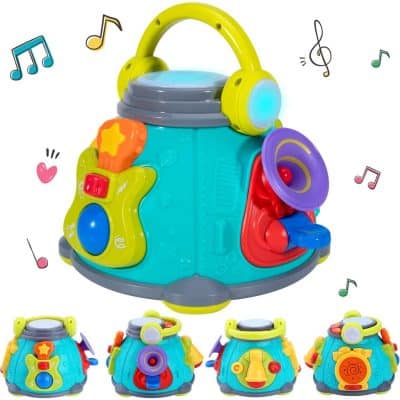 This toy has a jazz drum, guitar, trumpet, and a bass drum. All these will keep your baby cheerful and happy as he listens to the musicals. These musicals will help develop his auditory system. In no time, you will find him echoing what he has been listening too. You can adjust the volume to a perfect setting.
Also, he can perform karaoke with this toy. There is a microphone set for that. This will aid his communication skills. He will feel the urge to articulate the melodies and in so doing, he will gradually develop language.
This iPlay, iLearn toy has been tested by CPSC and has passed all the tests. It is, therefore, safe to be used by babies.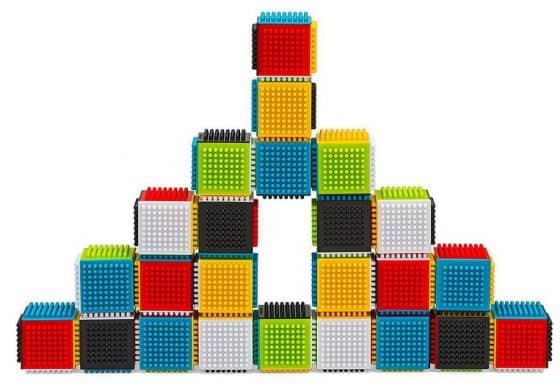 These sensory blocks can interlock from any angle. They are easy to press and pull for different creations. You can stack them horizontally or vertically. This toy will help your baby develop engineering skills. The fact that it is easy to pull the blocks apart will reduce frustrations in kids. He will also feel a sense of achievement once he meets his goal.
This product is beautifully designed to attract attention from babies. By stacking the blocks, your baby's coordination skill will be put to test. In time, they will improve. So will their creativity. He will discover there's more he can create with the blocks.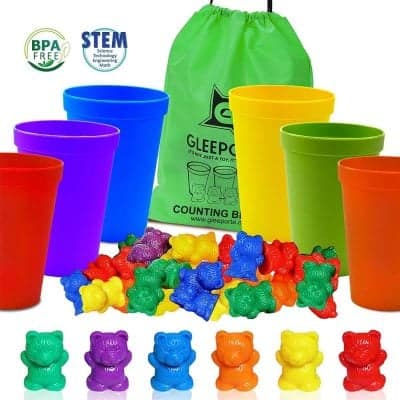 This Gleeporte toy has 60 bears in 6 colors. These bears will help your toddler in sorting things. There are 6 to help your baby store the sorted bears. During this time, his visual senses will develop in time. He will learn to arrange similar bears together. This will also aid in his coordination skills. His hand-eye coordination will be heightened in the process.
As your child grows, these bears will help your child learn simple math. From addition to subtraction, your child will be engaged in a fun learning environment. It is only wise that you applaud his success.
The toy includes a storage bag and 6 cups. After your toddler is done playing, you can instill the value of responsibility by packing his toys inside the bag. In no time, he'll learn the need to clean up after play.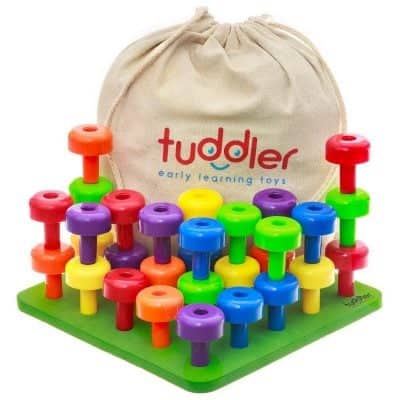 This toy includes 30 vibrantly colored pegs, a baseboard with soft edges, instructions card, a storage bag, and a Digital Book. The plastic pegs are easy to grab and will help your child in matching and sorting colors. She will learn to distinguish and name colors sue to constant interactions with the toys.
The board set has holes to fix the pegs while the pegheads also have spaces for stacking. These pegs will stay in place when your kid fixes them on the board. This will increase his confidence while playing and will not need your assistance in balancing them.
This game will boost your child's cognitive, visual, and coordination skills.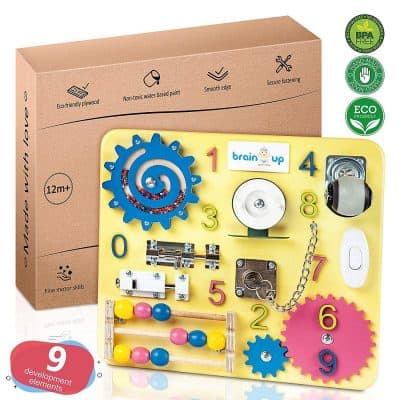 This multiboard is lightweight and portable. You can carry it during trips on for a sleepover. It can be used outdoors or indoors. It will engage your child in hours of fun play.
It contains 9 activities to keep your child busy. There is a spinner with 9 beads, abacus, gear wheels, numbers 0-9, automatic latch, manual latch, switch, noisemaker, and lock and key.
The spinner will help your child learn that actions have consequences. By hitting the beads, they will spin on the board. By locking and unlocking the locks, his muscles will grow. Succeeding in these tasks will be a motivation to try out other parts on the board.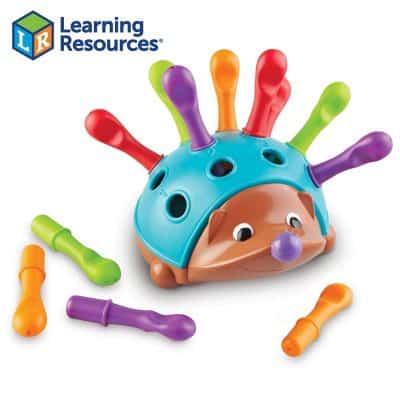 If you are concerned about play items taking up much of your space, consider this toy. This hedgehog tog has colorfully designed quills that fit on the back. Once your baby is done playing, detach the quails and place them in the shell.
These quills are soft for a toddler's hands. Attaching them on the hedgehog will not hurt their hands. Besides, their colorful design will help your kid learn about matching, sorting, and color recognition.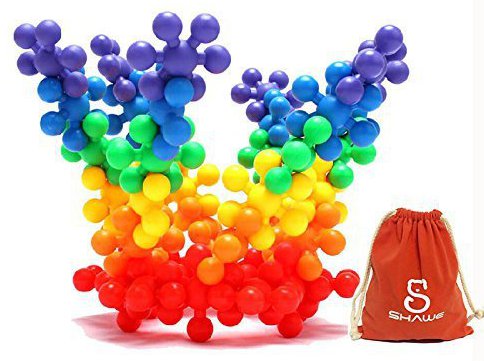 Also called "Smart Plum Flower", this building block is designed to boost your child's development. The colored flowers help in visual stimulation. Your toddler will understand the world is not dependent on a single color. In time, he'll learn to differentiate colors and also match them.
His coordination skills will also be developed while putting the 92 pieces together. Building different patterns will boost his creativity and imagination. His hand-eye coordination will also be strengthened.
This building block will grow with your kid. He will use it while counting and grouping things. The molecular structure will also come in handy in his physics lessons.
This product has met all safety procedures. It is made environmentally friendly, non-toxic materials. If you are concerned, you can disinfect the sets in boiling water.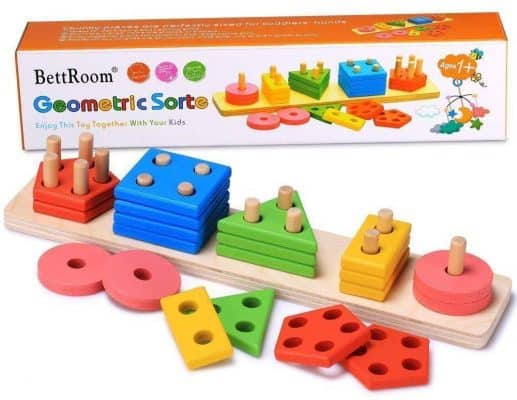 Made with quality, durable wood, BettRoom toys will keep your toddler busy arranging the shapes on the board. These shapes are easy to grasp by tiny hands. You can help your child in sorting the colors and piling them together. During this time, your child's eyesight will develop and heighten his coordination skills. Playing with these blocks will prepare his mind for learning in the future.
Fixing the blocks on the block will improve your child's coordination skills. Each shape has a different number of holes and a designated spot on the board. The Pentagon has five holes while the circle has only one. It may difficult for your toddler to learn the difference but in time, he will learn to fix the shapes at their spots.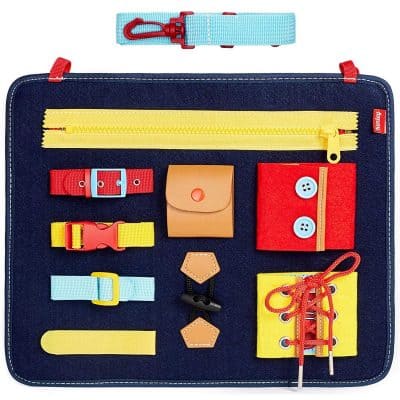 This hands-on-learning kit is designed to teach a child the basics in dressing while playing. There are 9 buckles on the soft wool board, buttons, and ties.
Children may feel dressing is tedious. This educational toy helps toddlers enjoy fixing a tie, tie a shoelace or pull a zip. While practicing these dressing methods, their minds and hands will be in motion. In time, the lessons will help them enjoy dressing in reality.
The wool board is portable and easy to carry. It has a carrying strap that kids can use to carry it around. Also, it can be folded and carried in a bag since it does not have edges.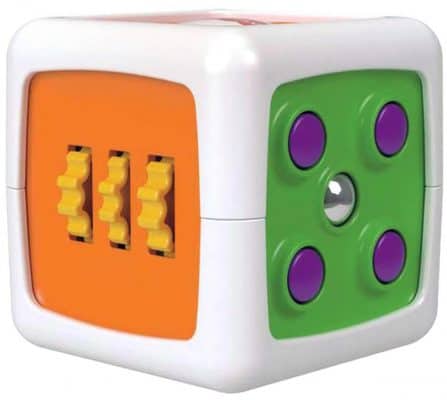 This Fisher-price cube is designed with unique activities on the six sides. There are metal and rubber buttons to push, a toggling switch, rubber joystick, fingerprint scanner, spinning rollers, and an indent.
This toy teaches your little one cause and effect. There are clicking sounds after pushing the buttons. Your toddler will anticipate noises once he pushes these buttons. His coordination skills will develop in the process. The noises will also help in developing his auditory sensory system.
The cube is easy to grasp by small hands. By playing with the block, your baby will boost their dexterity. When pressing, pushing and spinning, his hands will be engaged in a tactile activity. It will also heighten their curiosity.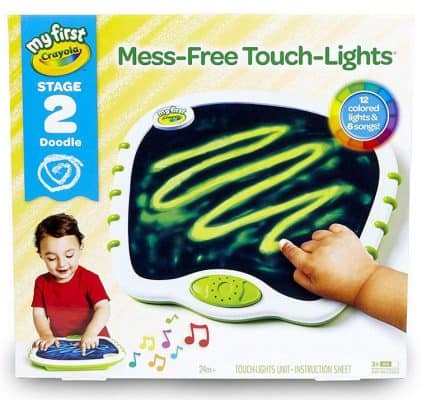 This sensory toy is safe for use by toddlers. It has musical effects from 6 songs. These will entertain your kid as he is busy doodling on the board. This board surface has a sealed gel which enables your kid to draw his sketches without creating a mess. His hand-eye coordination will improve in time.
The musicals are also essential in developing baby's auditory system. The lights stimulate visual perception. They will also help your child differentiate colors. By doodling on the tablet, your child will learn on cause and effect. By sketching, his work will be displayed on the doodle board.
There is so much your kid can do on this tablet. You can be part of the fun-filled activities while bonding with him.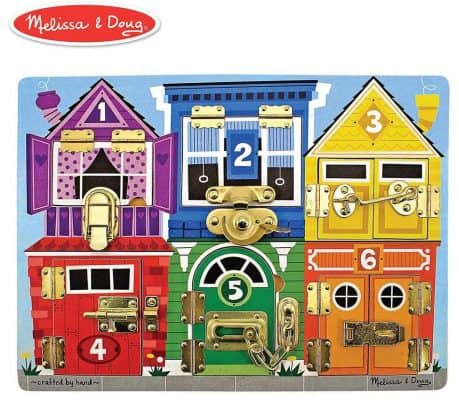 With 6 different colors and six different locks, the Mellissa & Doug latch board will keep your little one engaged. It will provide ground for the inquisitive minds to put their hands in action. Their minds will also be put to test as they figure out how to open the locks.
The colors on the 6 latches are attractive to a baby's eyesight. They will stimulate your baby's sight. Babies love bright colors and this board ensures this feature is incorporated.
The wood used on this toy is soft and sturdy. The edges are smooth to eliminate injuries. There is beautiful artwork behind the latches. This will stimulate a baby to open a latch for more adventure.
Melissa and Doug Company is all about creating a memorable childhood experience during play. They guarantee 100% satisfaction. If you are dissatisfied with their product, you can reach out to them. The customer service is exemplary.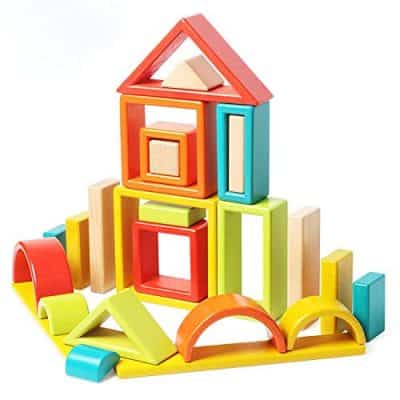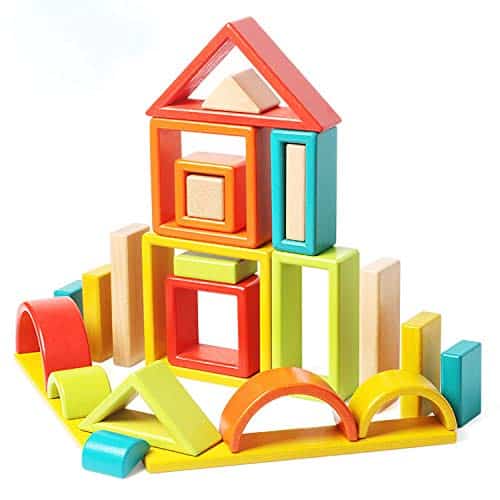 The Agirlgle toy has 16 large pieces of rainbow blocks. The material used is sturdy and non-toxic. It is also soft for a baby's hand. The blocks come in four shapes and colors. They also contain elements inside like beads and insects.
The blocks can be stacked together. Since there are different shapes to stack, this activity will develop your child's creativity. The blocks colors will help your toddler sort and recognize the difference in colors.
Your child will be safe while playing with these blocks. They are large enough and will not choke your baby.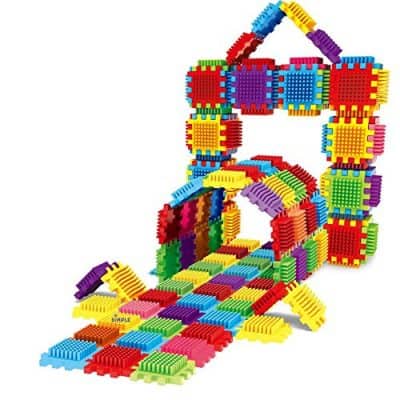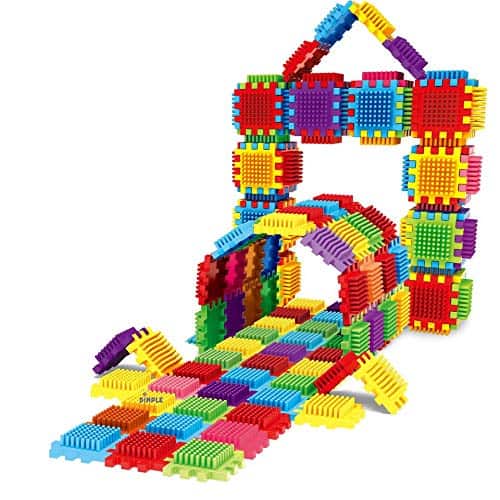 This Dimple set has been made from quality plastic and will last for years. It is ideal for toddlers and will grow with your baby. The 324 pieces provide room for limitless creativity and imagination. The soft prongs on the bricks can be easily attached or detached to match creativity. You can build from any angle.
This product will also boost the language. When your toddler assembles a piece, he will feel inclined to tell you how he did it. In so doing, he will learn to express himself gradually.
Fine motor skills will also be improved. When handling the blocks, the hands will be in constant motion. Actualizing an imagination will heighten his coordination. It will also improve his problem-solving skills.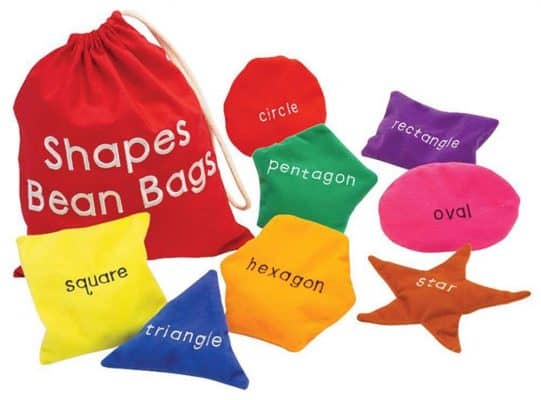 Beanbags have facilitated play and fun for decades and still do. You can play catch with your child. This will boost his vision in time. It will also captivate his attention as he gets eager to catch the ball. His coordination will also improve from continuous play. These beanbags will surely help develop his senses.
There are 8 beanbags in the package. They all have different colors and shapes. The colors appeal to the human eye. Your baby will learn to differentiate shapes and colors using these toys. When he gets to preschool, he will understand the inscriptions on then beanbags about the name of the shapes. This toy will be helpful for years.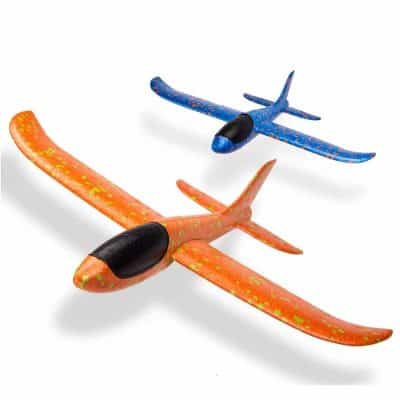 The planes are lightweight and flexible to throw. They offer a practical reality where your toddler can fly his plane while having fun. The planes are durable and have been equipped to withstand impact.
The toys are decorated in blue and orange. These colors will help your baby track down the movements of the plane. They will also get to learn the gliding patterns and in time predict the direction the plane will fall. This educational toy will help in sensory development.
WATINC Company assures you of quality products. They are readily available to help you sort any problems with the toy.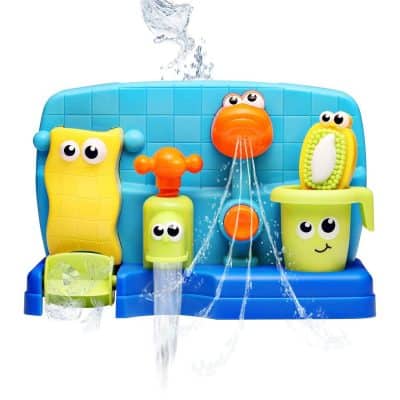 If your baby throws tantrums while taking a bath, get this toy. Bath time will never be the same again. It includes a tap, water jet, and spinning gear. Nothing creates a huge smile on a child's face than watching the water jet. Once you push the orange button, it powers the water jet to release water. Your kid will learn cause and effect in the process and yearn to do this by himself.
It is easy to mount the toy on the bathroom wall. It has a quality rubber sucker that makes it stick firmly on the wall. All parts are packed in the toy.
This product has met all safety requirements. It is made from non-toxic materials that pose no harm to your little one. If you are worried it will fall off and hit your baby, you can mount it at a lower height for your kid to interact with it while seated.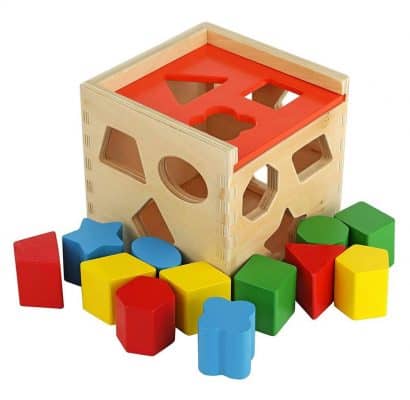 This puzzle toy is made of high-quality BPA material. The wood is sturdy and durable. It has smooth edges to avoid injuring your baby. It is also built to withstand bumps from kids.
This product has a sorting box and different shapes that need to be fixed on it. The shapes come in different colors and sizes and have unique places on the blocks. The pentagon cannot fit on the triangle space. This means your child will learn how to sort the toys for a perfect finish.
This colorful toy will also help your baby's coordination skills. Fixing the shapes on the box will flex his muscles and coordination. It will also boost his imagination and creativity. Also, his problem-solving skills will develop.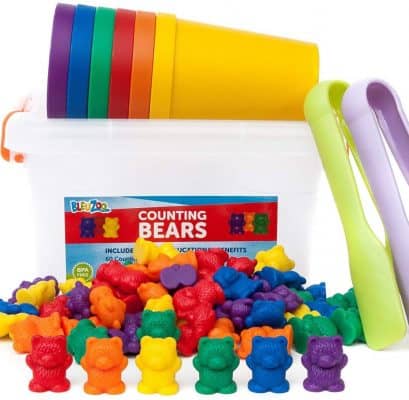 This kit contains 60 bears with 6 different colors and matching cups. The colors are easy to differentiate and will present a fun time for your kid. This toy will help him sort colors and match the same bears together. You can use the matching cups to store similar bears.
As tour toddler grows, the same kit can be used to teach counting, subtraction, and addition. The bears are made of high-quality materials and will withstand rough handling for years.
BleuZoo ensures you are happy with their products. They offer 100% refund if you are dissatisfied. This means they have put a lot of effort to please you and your baby.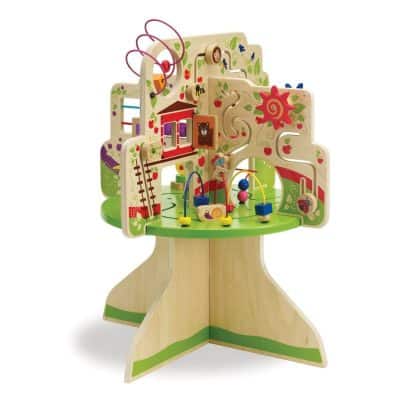 This treehouse has attractive colors and a perfect finish. There are 6 animals designed to glide across the toy. The frog, ladybird, bear, snail, bee, and monkey are beautifully colored and look just like in the cartoons. Helping them move from one room to the other will help your baby flex his hands and in the process, strengthen his coordination skills.
This Manhattan toy will also boost his creativity. By moving the toys around and having a reason for it, his imagination will come in handy. Meanwhile, his communication skills will also develop.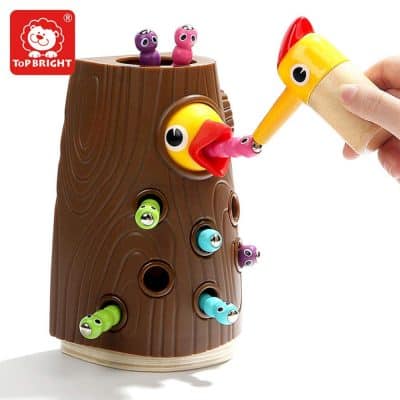 It is time to bring nature to your home. This TOP BRIGHT toy has been designed to help you teach your kid about nature. Made with hardwood, the toy has a mom bird, her young one and cute right caterpillars.
You can play pretense with your kid. Help the mom bird feed her young one. While having a dialogue, your child's communications skills will develop. He will learn to express himself through play.
Feeding the young bird instills a sense of responsibility. Your child will get to understand the vital role a parent plays. This lesson will be grounded in his mind for years to come.
This toy will not mess your house nor take much of your storage space. The tree has a hollow trunk where you can store the cute caterpillars.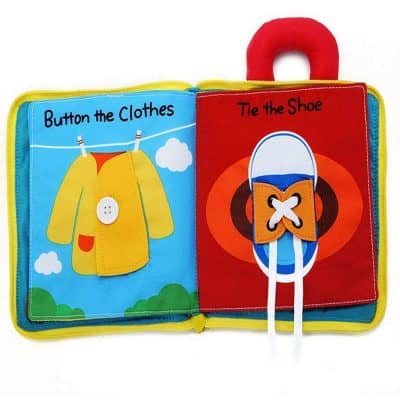 This book has been developed by experts to help you bond with your kid. There are nine activities in the book. Experts have ensured there is limited text to help you create a story with your own words. This way, you will mold your child in your way.
Listening to your stories will promote your toddler's audio-sensory system. He will also try to respond to your conversations thus triggering language development. The pictures are brightly colored to stimulate vision.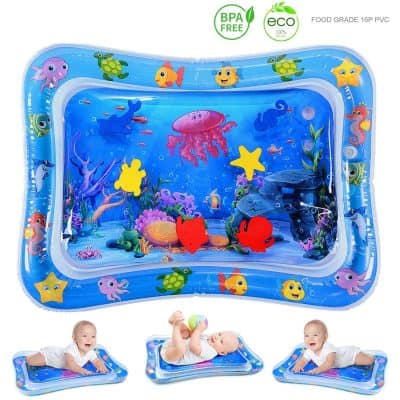 For fun tummy time on this toy, inflate it using water. It has been tested to ensure no leakage occurs. The mat is made of BPA free elements which are also no-toxic. This is an environmentally friendly mat that is safe for your baby.
Your baby will be delighted to watch floating toys on the mat. Gradually, he will be triggered to want to catch them. Without his knowledge, his hands and knees will support his weight and in no time, he will be crawling on the mat.
Besides, the colors in the sea world will keep your baby fascinated for hours.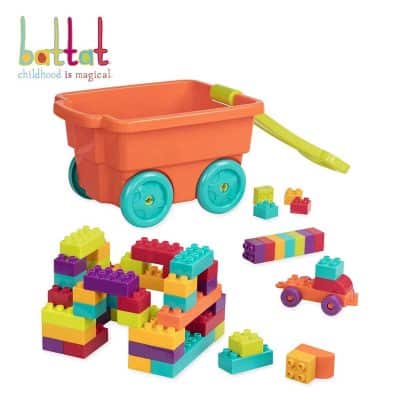 You child has the chance to create numerous possibilities with these blocks. Whether it's a house or a plane, the ideas can be actualized. They are easy to hold, put together or pull apart.
This toy bricks will last for years. During this time, your child's creativity will develop and build more concrete ideas. This toy will grow with your baby.
The blocks will not take up much storage space. There is a wagon included in the purchase. Once playtime is over, toss the bricks in the trunk and set it aside.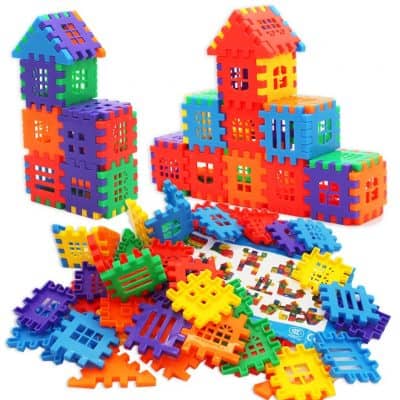 This block play will enable your kid to build a product with his hands. His creation will be from his mind and heart. By building his imagination, he will feel that he can realize his creativity. This will boost his confidence.
The toy will also boost his language skills. Sharing his imagination with you will build his self-explanatory skills.
Help your toddler discover his world. You can chip in or stay back and watch him play and have fun.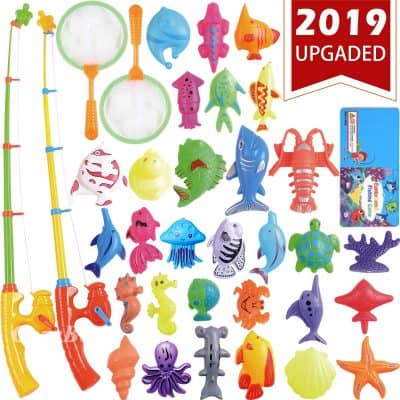 This product will assist in interpersonal skills. You can compete on who gets more fish or find him a playmate. This competition will build his communication skills as he tries to win.
The fishing rod is sturdy while the fish are magnetic. Fishing will strengthen his muscles and increase his hand-eye coordination.
For more fun, you can put the animals in his bathwater, pool or the beach. Create wonderful memories wherever you are.
The sea animals have a 3D presentation. They look just like live animals on TV. They have colorful graphics that are attractive to a baby's eye.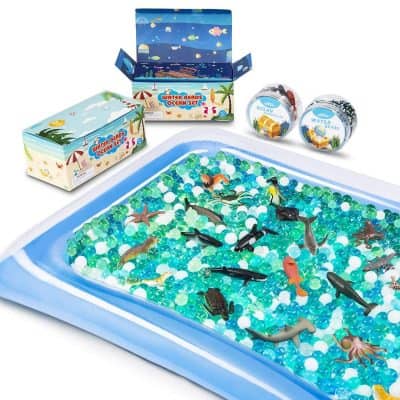 This toy is designed to help your toddler create an adventurous, beautiful world. The inflatable mat provides ground to place the sea animals, the beads, and water to create an ocean view.
The MONILON beads are harmless and contain non-toxic materials. They are reusable and are environmentally friendly. When they absorb water, they swell and become elastic. You may be tempted to smash it. However, you can dry them in the sun for another fun adventure.
There is a handbook on the 20 animals. Each animal has been described. As a parent, you can read out to your toddler. His listening skills will be heightened as he interprets your reading.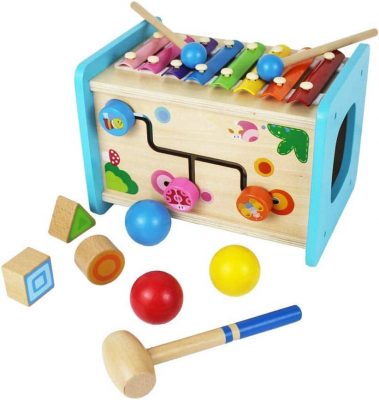 This product has been tested and has met all safety regulations. The cube is made of high quality, sturdy and durable material that is safe for a toddler's use. The paint used on the toy is non-toxic. The wooden surfaces have been polished and the edges are smooth.
This UPSTONE toy will engage your child for hours. He has 4 activities to choose from. He can play the xylophone or help the animals move about the cube. The balls are brightly colored. They will help your toddler recognize colors. The shape sorters will assist him to learn about the different shapes.
This is a thoughtful gift to present for a birthday, Christmas, or an achievement event. UPSTONE provides guarantee satisfaction to its customers. If you have complains about the product, you can opt to get a refund or a replacement. Either way, you become a happy client.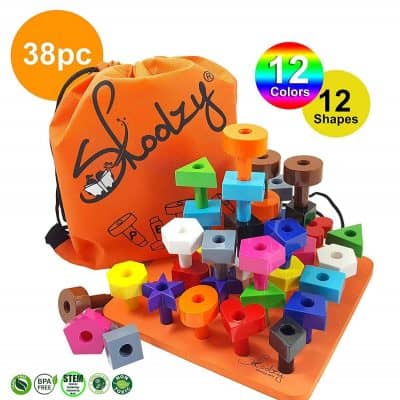 These pegs help in color recognition. Your child will distinguish the difference after engaging with the pegs at length. They also come in different shapes. Your baby will learn about shapes from this model.
The pegs can be mounted on the pegboard. They also have a hole in the top side where you can stack more pegs. Stacking pegs will help your child develop fine motor skills. He will also improve his creativity while trying out new ideas.
The toys are easy to grasp by small hands. They can also be used by autistic, Alzheimer's, or special needs babies.