Our galaxy has always captured the imagination of children. The best telescopes for kids are here to prove that even something so inexpensive can help the little ones explore stars and planets. There are many types of telescopes to consider. Some may work out of the box while others need small lens adjustments. But all of these telescopes are ready to offer kids a new perspective of the sky during the night. From the quality and alignment of the lenses to the adjustability features, the following telescopes are an inspired gift idea for the little ones.
Top 30 Best Telescopes for Kids to Buy 2020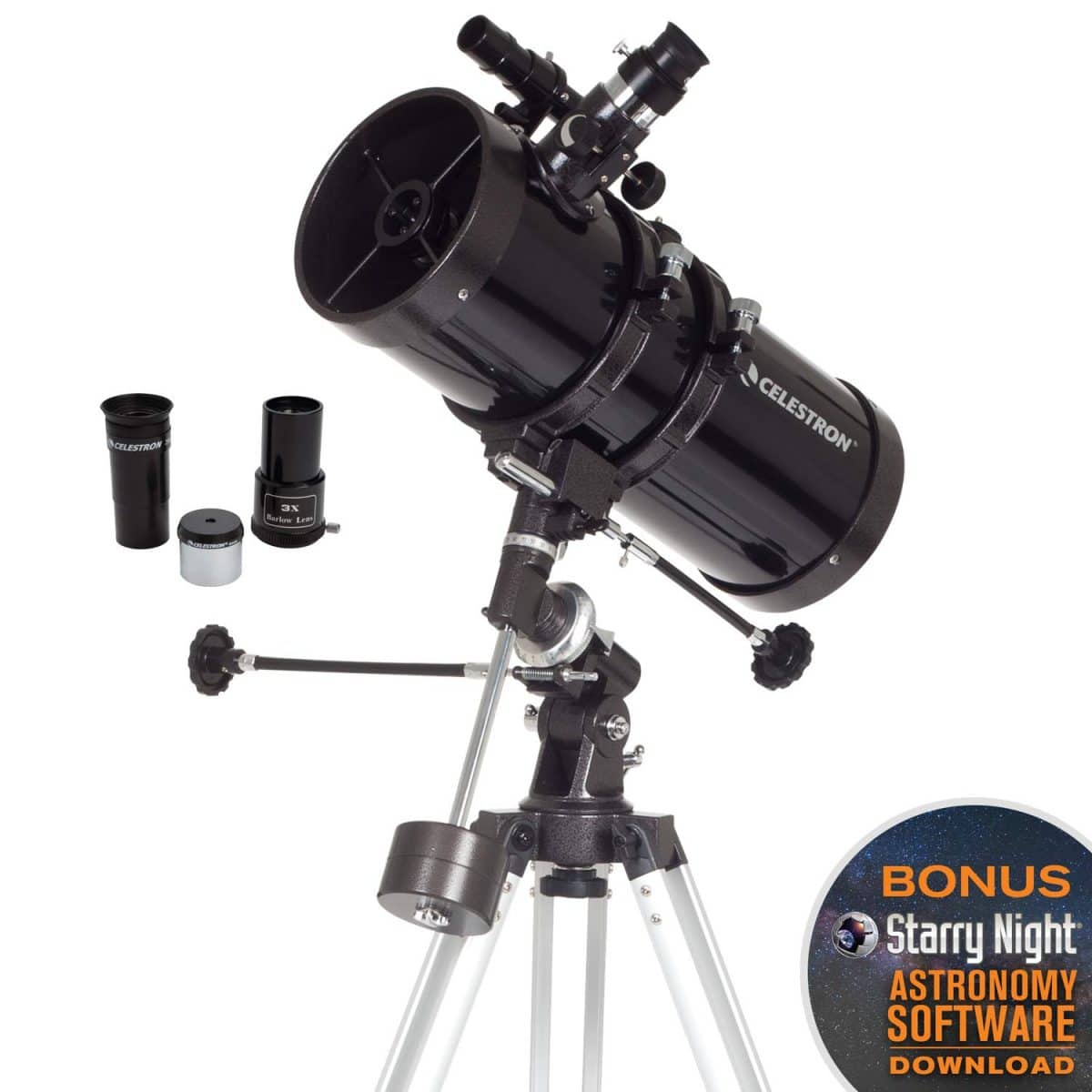 This telescope is one of the most popular and for good reasons. It comes with two eyepieces, one of 20mm and another of 4mm. They are backed by a Barlow lens which triples their reach.
Kids can value some of its beginner features which make it use simple. For example, they can track moving objects during the night time smoother. This is where the manual German Equatorial mount does its job the best. With large slow-motion controls, the telescope is easier to handle than most similar beginner designs.
The telescope is also portable. This is yet another reason for kids to choose it over most other designs. It is why they can take it to camp or the weekend cabin with them. So what can they see with it? Objects include planets such as Saturn or Jupiter, they can explore Orion's Nebula the Andromeda Galaxy and many others.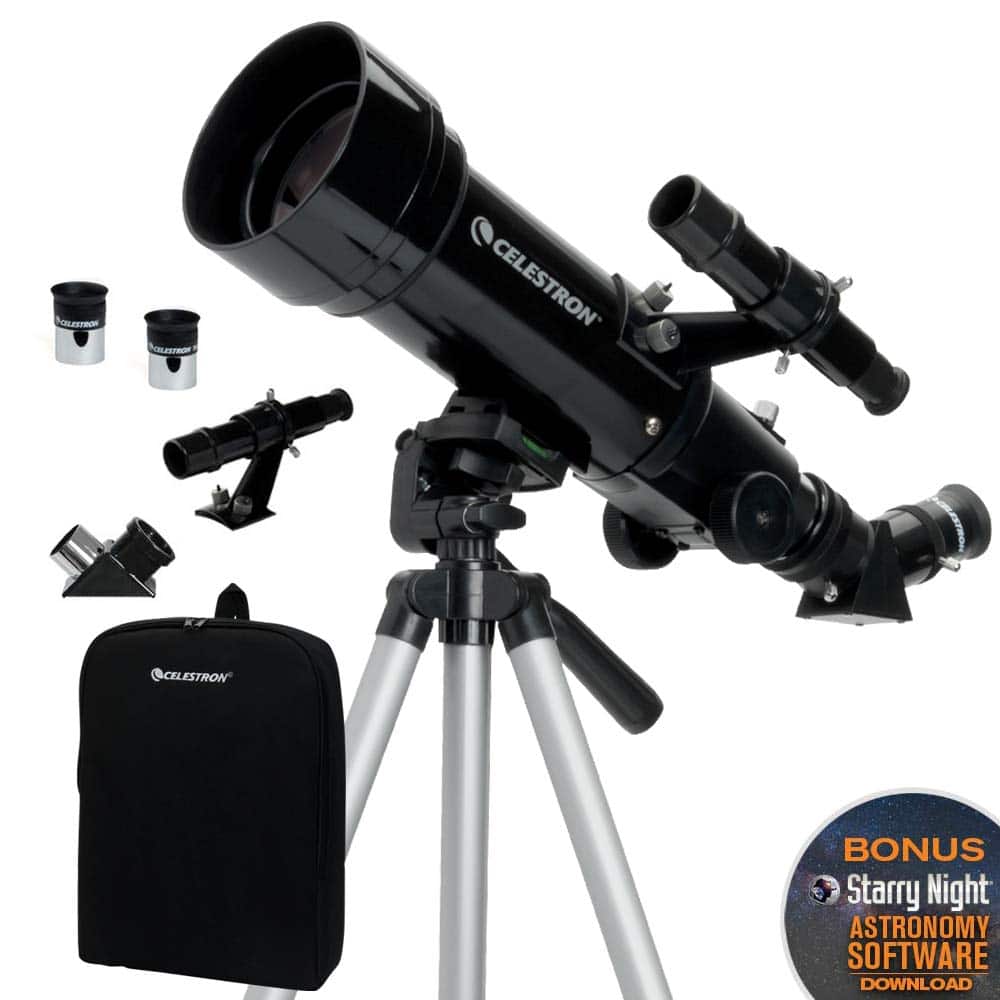 As a smaller telescope, it might be one of the options for kids to move around the house when the sun goes down. It is also suitable to pack in the family car and get ready to drive away watching and exploring the sky away from the city lights.
There are 2 eyepieces included in the set. A 20mm and a 100mm eyepiece can be selected by children. Another 70mm aperture refractor lens is also used on the telescope. Sitting on a 1.25" steel adjustable tripod, the telescope is easy to maneuver with its panhandle.
But the biggest advantage of this telescope is its versatility. It can be used for both terrestrial and astronomical observation. Its fully coated glass optics provide sharp images on the ground and luminous views of the moon and other planets.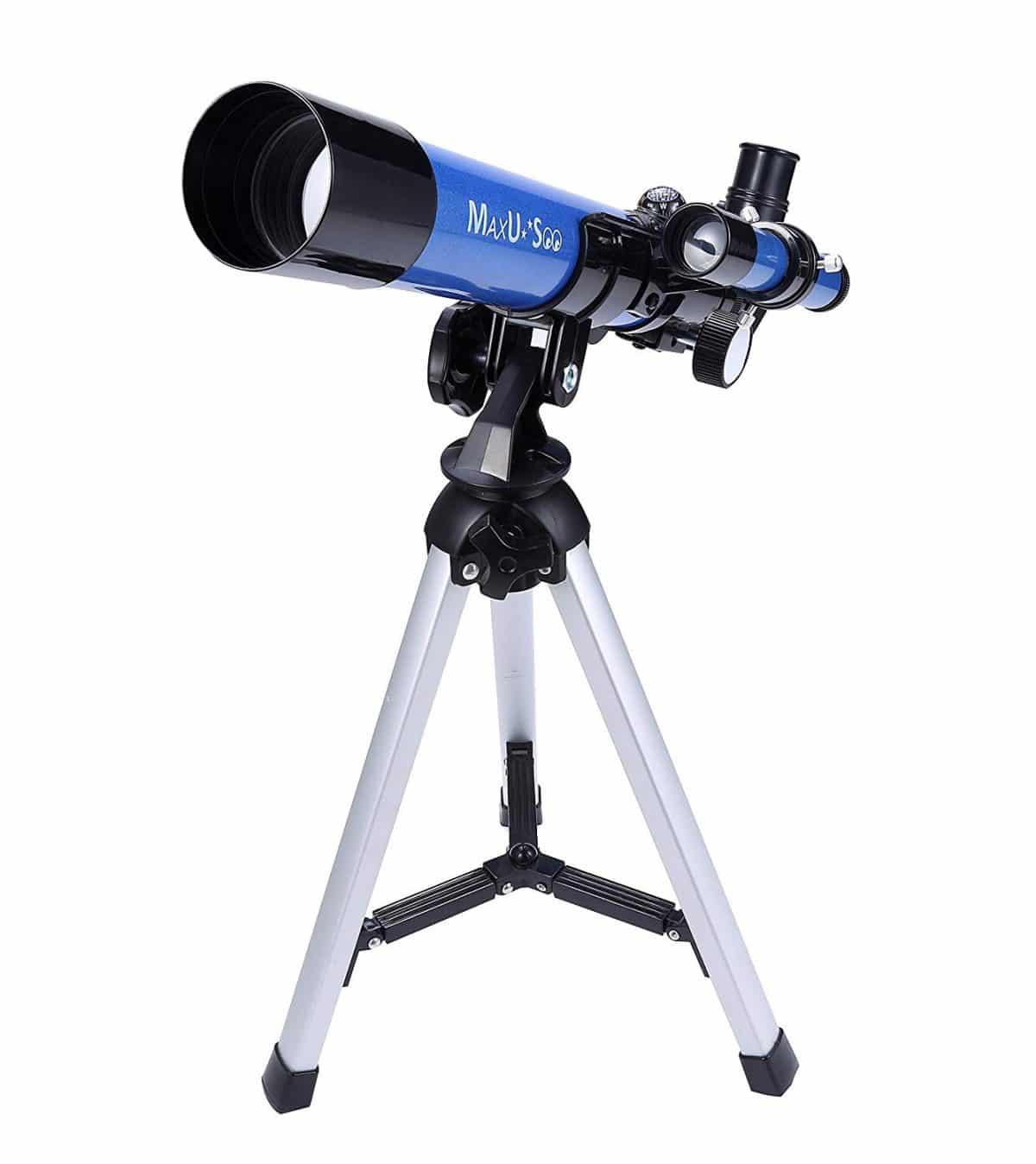 As one of the potent telescopes for kids, it's reassuring to know this MaxUSee design is so easy to use. It also looks great with its blue color sitting on its tripod. It has a powerful magnification of 20X and 32X. Kids can also learn to calculate the magnification themselves. Simply put, they divide the focal length of the telescope, which is 400mm in this case, by the focal length of the eyepieces which are 12.5mm and 20mm in this case.
The manufacturer also adds a moon mirror in the set. Its main role is to reduce glare and it offers kids a better view of the moon's details. But at the same time, it sharpens other objects as well, which means it's another purchase they won't have to make.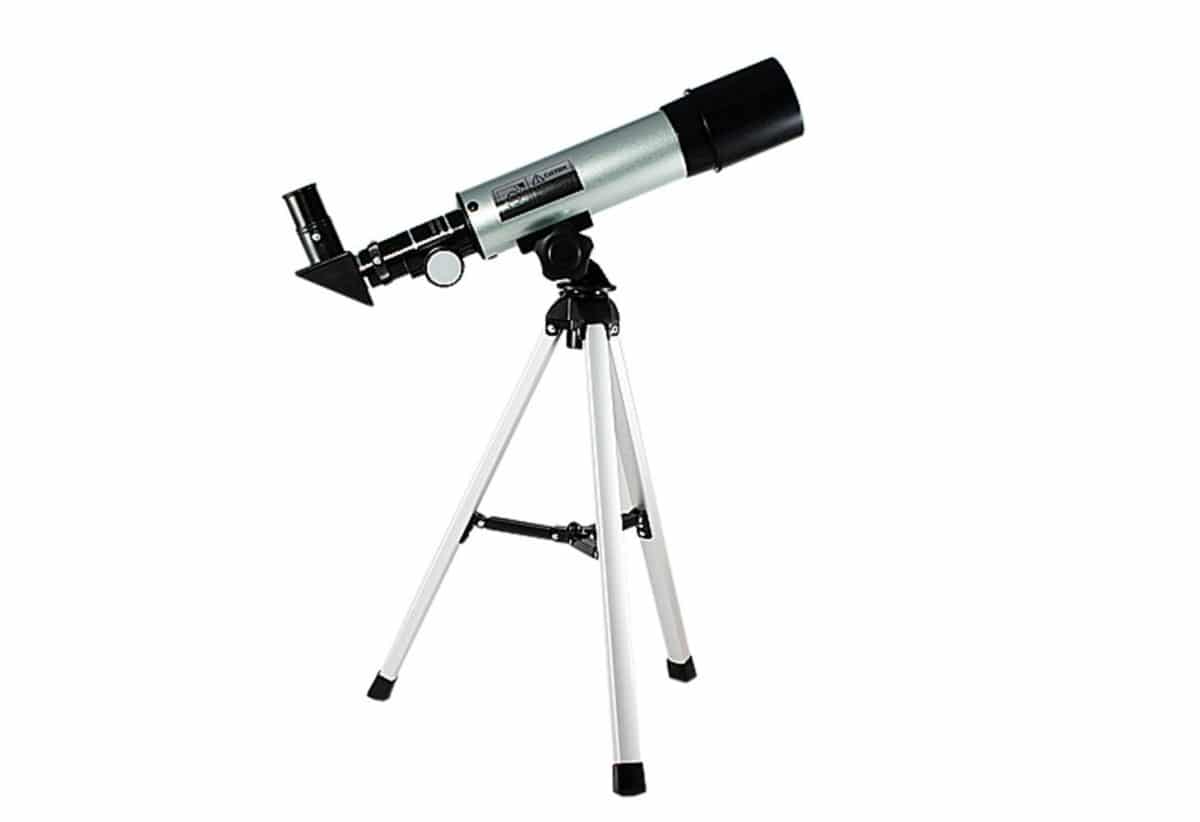 With two eyepieces, magnification is solid with this telescope. It ranges from 18x to 90x and it represents one of the best options for those who like to explore a bit more details. Kids can explore the surface of the moon using this magnification. They can see anything from regular plateaus to craters and volcanoes.
Kids also love just how easy this telescope is to use. The sole adjustments they need to do are the vertical and the horizontal adjustments and the coated lenses do the rest. Sitting on a tripod, this telescope can also be a scientific travel companion.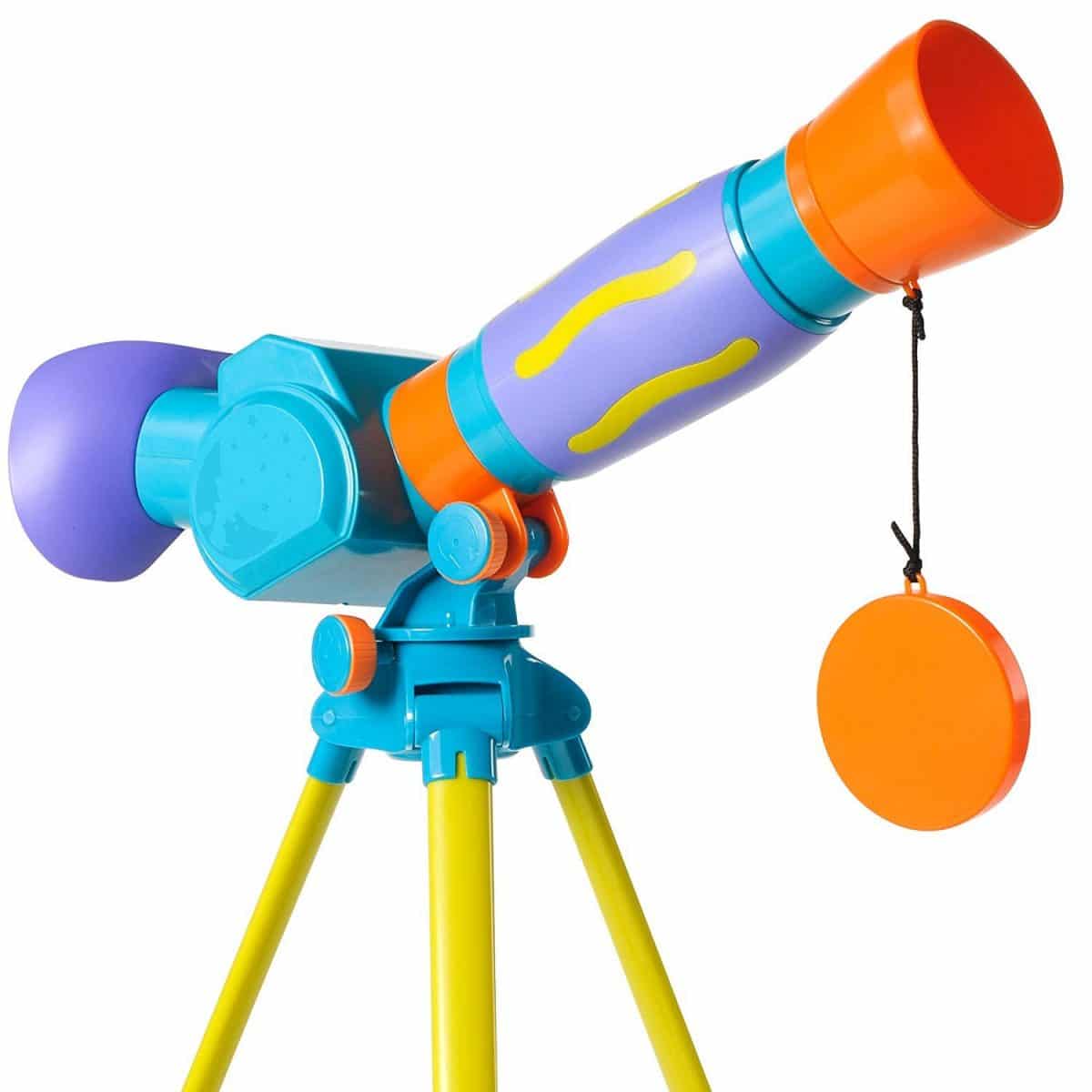 It is not about the specs with this telescope. Most kids can use it freely without too much training and this is what can spark their interest in this in the first place. Made with a friendly design, the telescope is among the leading options for those seeking to spark an interest in Stem toys as well.
However, being closer to a toy than to an actual telescope, it is one of the products with a few drawbacks only an adult can see. One of the biggest drawbacks is the actual height limitation of the telescope. Practically, kids have to kneel to see through it as it sits on a tabletop tripod. But as a toy, it can teach kids much more than any other simple design suitable for their age.
With an elegant design, the telescope is here to show that even at its low affordable price, such designs are still sustainable. It comes with a 50mm lens usable for terrestrial and space explorations. But it also includes 2 eyepieces. They are the 20mm and the 9mm eyepiece.
These lenses support magnification from 18x to 80x. Having a small body, it is also made with small controls such as a compact focus ring, perfect for the small hands of children. But at the same time, such a compact telescope can also support learning on the go. Parents can use it with their children even when they leave home. For most kids, this is a unique opportunity to use a sleek design which will not break their savings jar.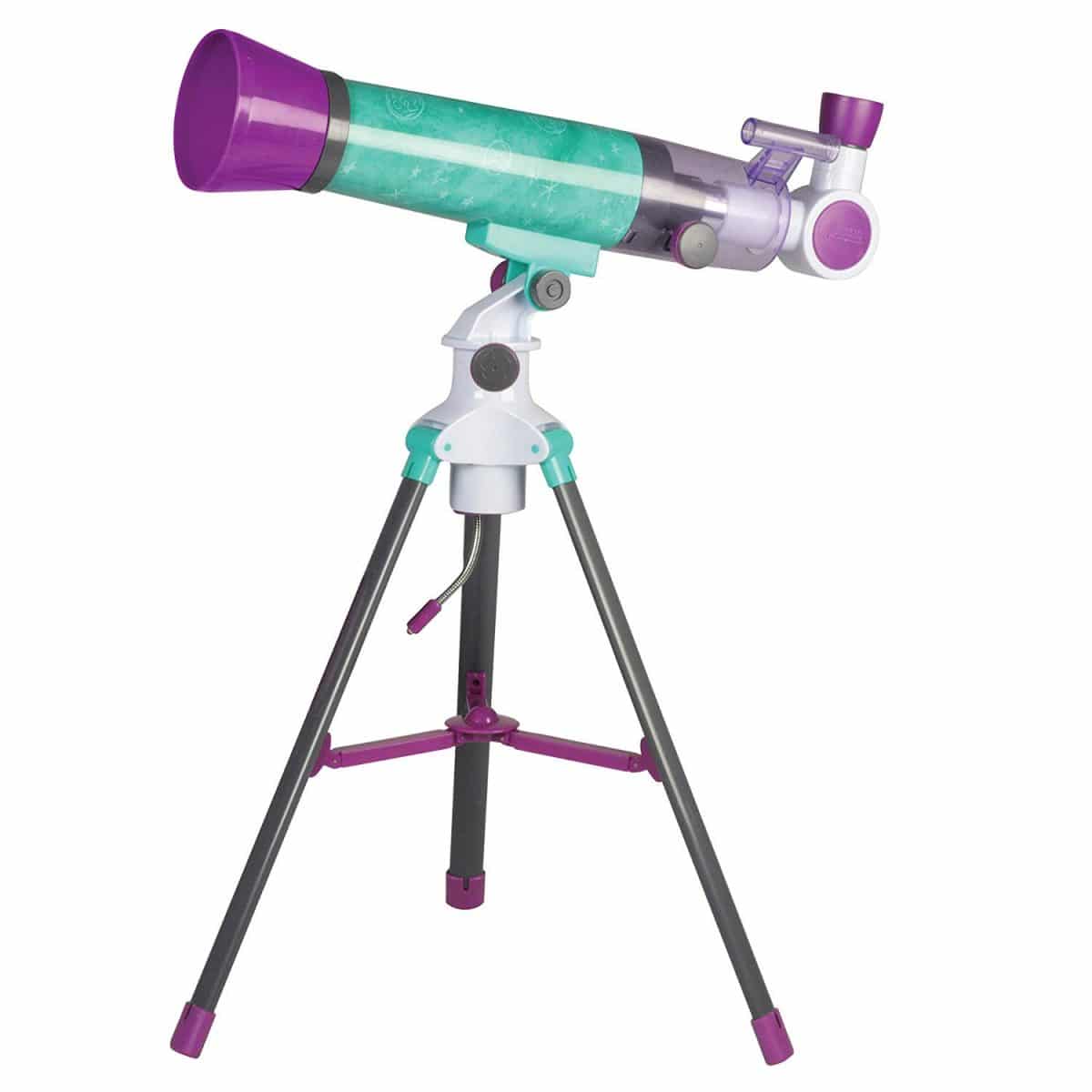 The simple Educational Insights telescope uses optics principles to offer a glimpse of the sky. It is still a toy and it is made to be understood quickly by children. However, it works to see stars and planets. This is why it includes 2 eyepieces of 4mm and 20mm, just like a telescope for adults.
There's an included 22-page guidebook as well. It is one of the main reasons parents consider this telescope as a gift as kids can use this book to get started in their celestial adventures. Most kids have no clue what to look at anyway and the guidebook can serve as an assistant. With an included tripod, the telescope can also travel with kids. Together with its accessories, it fits in a backpack, which is great for those who travel by plane.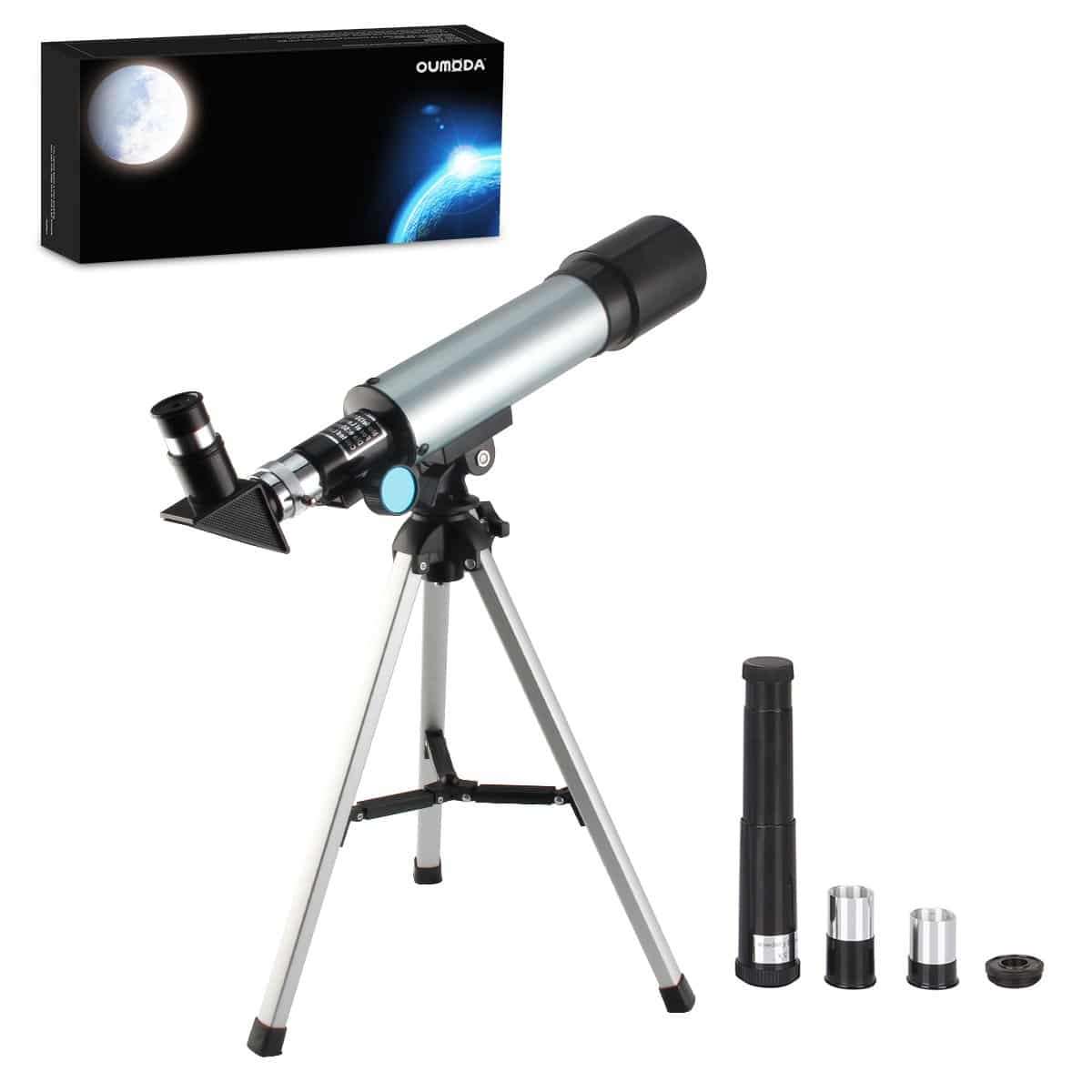 With its 360mm aperture, the telescope is backed by 2 eyepieces. At 6mm and 20mm, they are recommended for a wide view but they can also support 90x magnification. These eyepieces are recommended for different scenarios.
The H20mm eyepiece is recommended for terrestrial use. Kids can use this eyepiece to look further on the ground and to spot animals. Its H6mm alternative can be used together with the moon lens. With full glass coating, the telescope is one of the main drivers of those seeking powerful optics with reduced glare and image distortion. However, the main benefit of the telescope remains its size. This is why this compact design is often preferred to other more powerful but larger alternatives.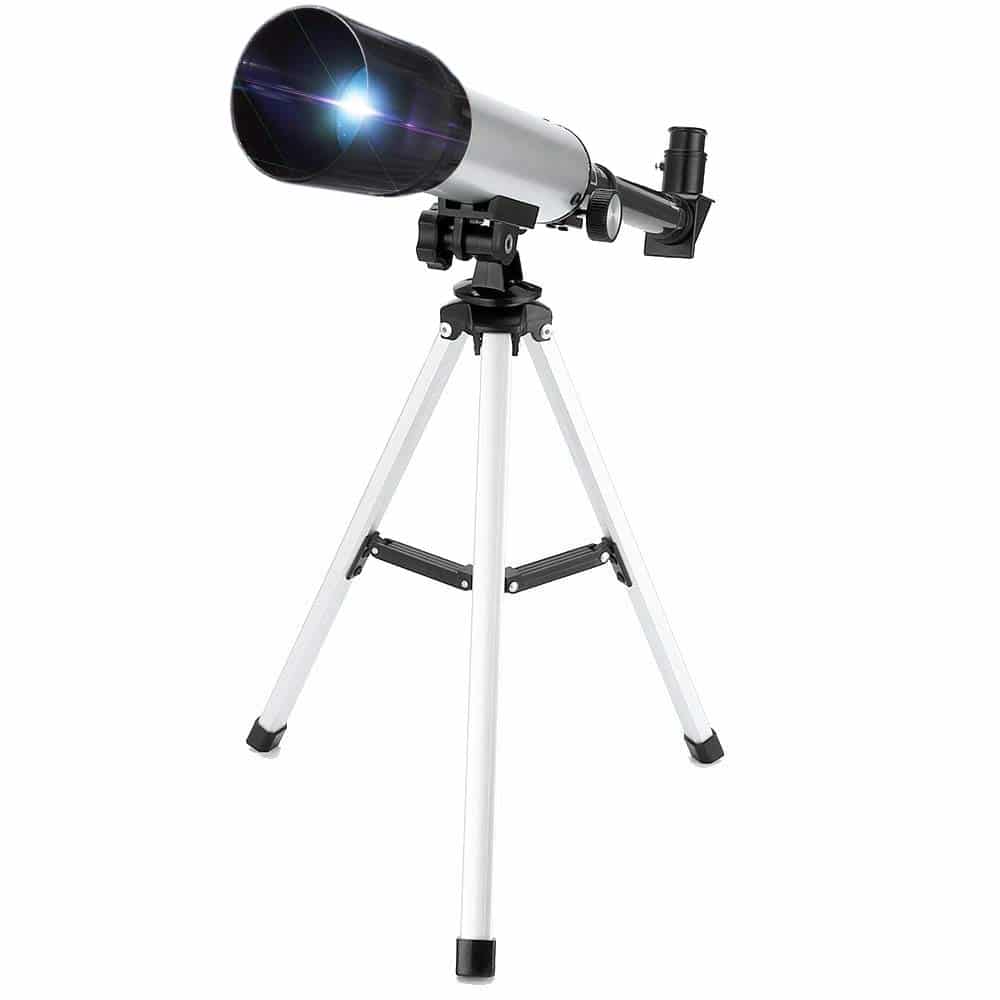 Based on a compact design, the telescope can be one of the entry-levels suitable for kids to play with. Unlike a few other designs in this affordable range, it comes with a 360mm focal length. This is based on an opening which can gather sufficient light during the night.
There are 2 included eyepieces in the pack. Also, the maximum 90x magnification makes it a reliable name when it comes to proper details. However, the biggest advantage of this design is that it comes with such a compact size. Kids can travel with it around the house, take it out on the porch or simply use it while traveling. At the same time, it doesn't require too much space in the luggage. However, as most will already expect, it would also need a taller tripod, especially when using it out in the open and not at home.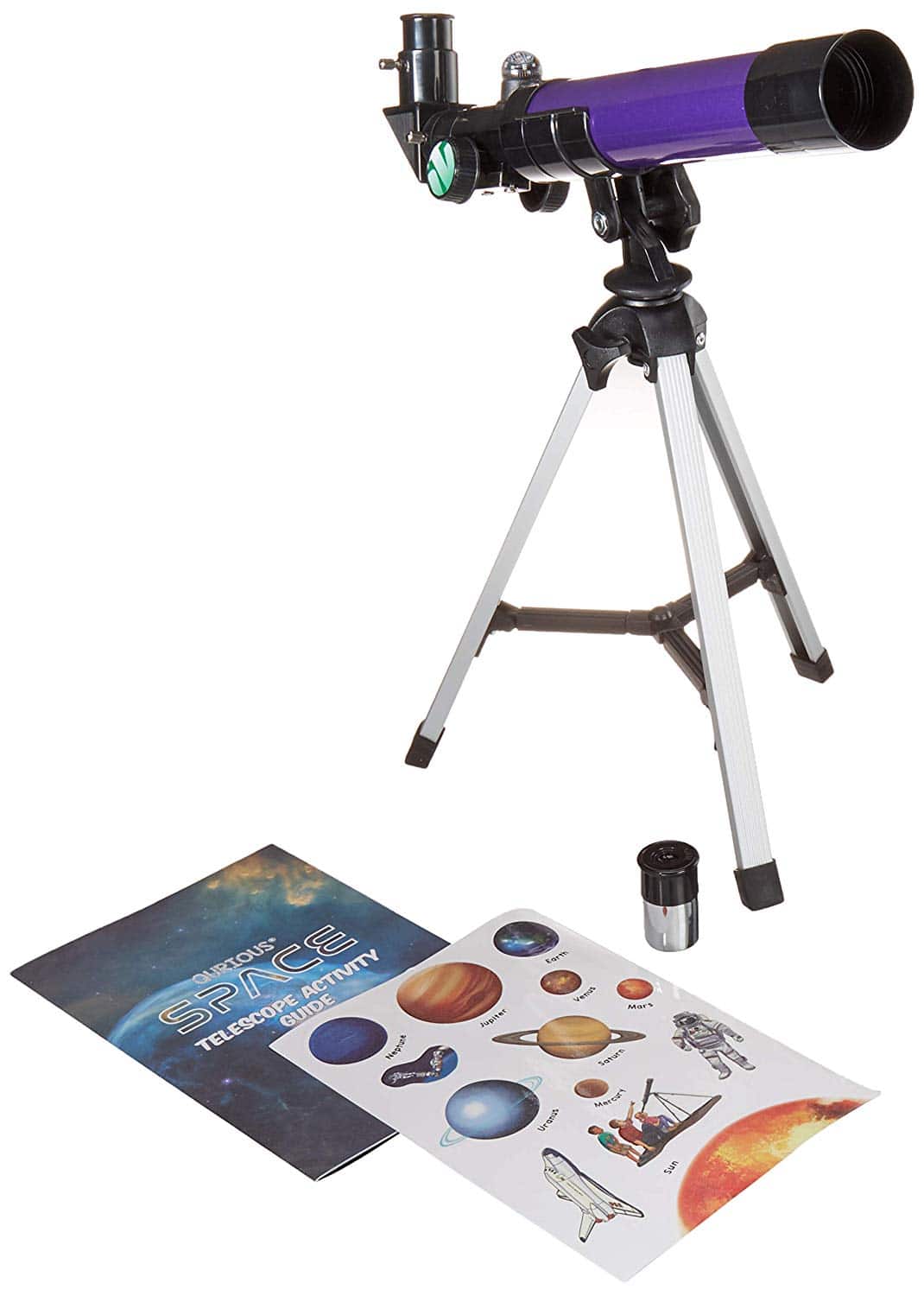 Made to represent an affordable route towards the telescope world, this solution is perfect for kids. It is easy to use and it can work even during the day. Some kids might not be able to stay awake when the night falls but they can still play with this telescope. The included finder scope makes it a good design to look at plants and animals during the day.
With 12x and 6x magnification, it is not the strongest optical performer of its class. However, this telescope has 2 eyepieces and it even includes a simple carry case. Made out of recycled materials, the carry case can keep the telescope and all of its accessories together and kids can easily take it to the park or weekends away. Its kit also includes an activity workbook as well as a lunar and star chart.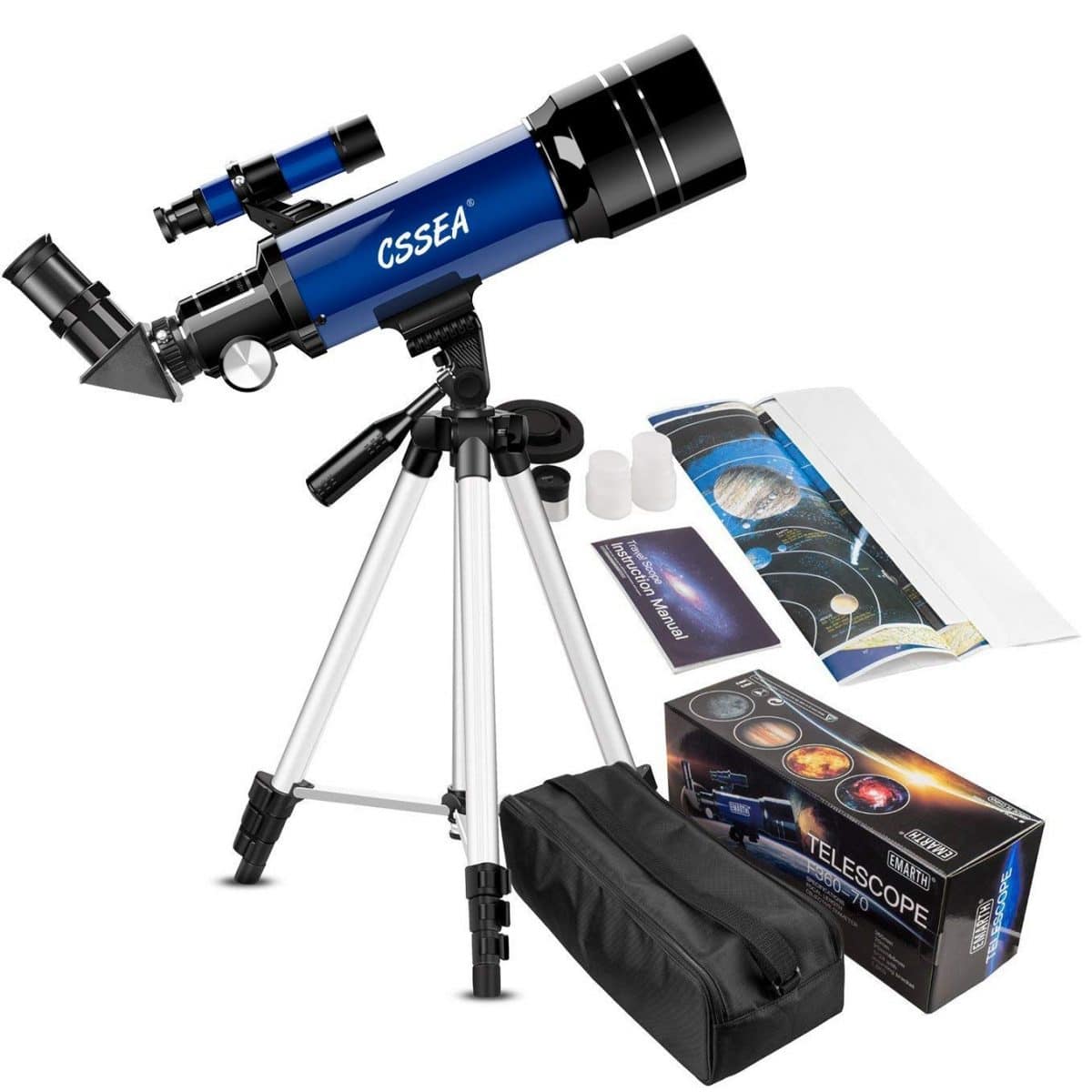 It is not just the actual focal length of the lens which matters. The telescope also shows the quality of the lens and its treatments can make the difference as well. But even comparing options, its 360mm focal length makes it a suitable option for children.
The set also includes 2 eyepieces of 10mm and 25mm. This being said, the telescope might also look at its surroundings on Earth, not just in space. Its coated lenses make it a sustainable solution for those who seek a simple telescope to look at animals and flora.
But this telescope also features an equipped finderscope. Its small cross-type finder allows a more convenient use, especially with moving objects such as with birds. With an included bag, the telescope can power many day time and night time Stem-type play sessions.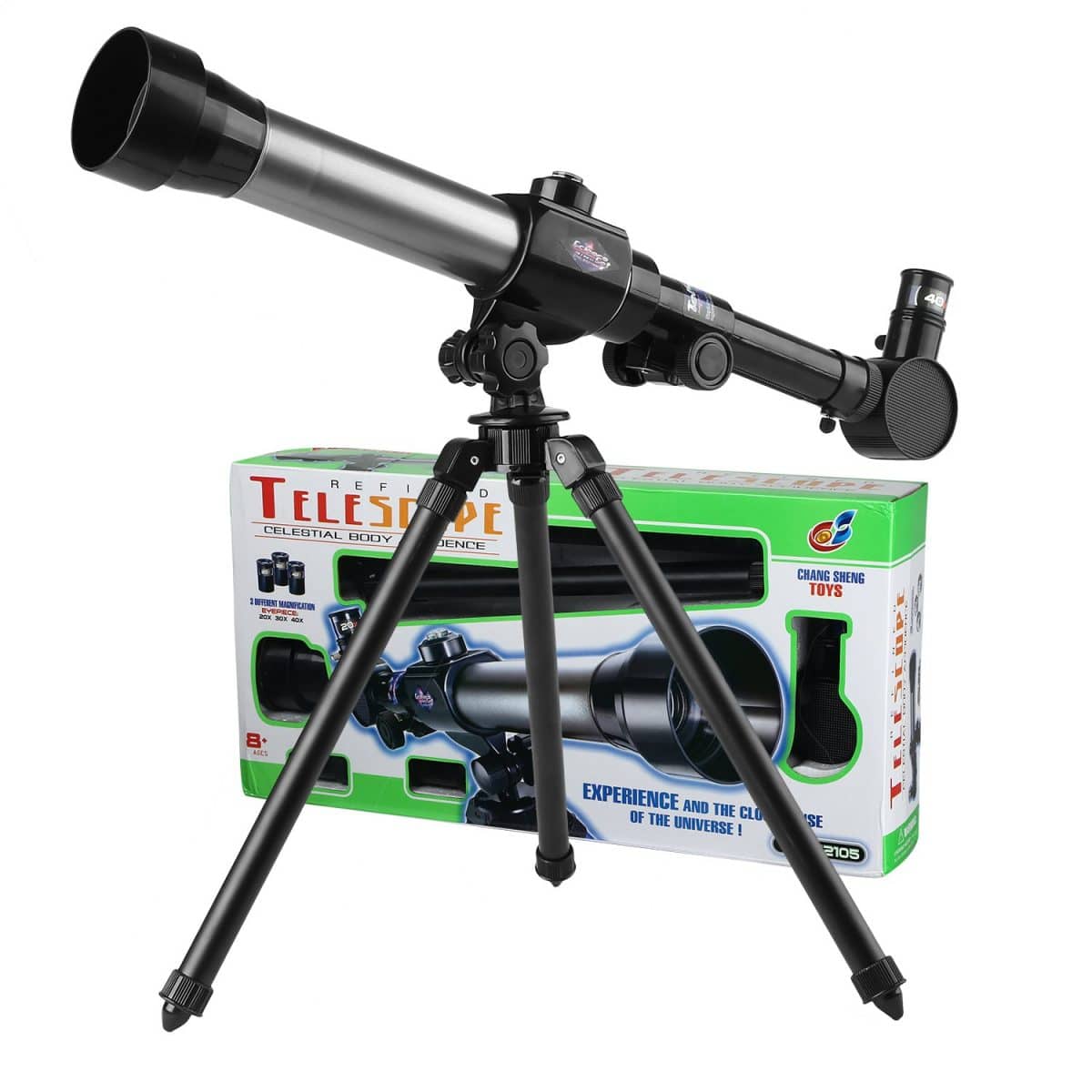 Made from ABS plastic, the durable telescope is one of the best in its class. It represents a valuable design when considering its overall characteristics backed by affordability. Made for a kid who wants to expand their learning horizon, the telescope is among the leading options for ease of use.
A locking function has been installed as well. It allows children to lock the object they're looking at. They can also change the lenses to see it better or they can adjust the focus to see it clearer. Since it is an object which also comes with small accessories, it is not a recommended gift for kids under the age of 5. Older kids might find it a top design for their scientific interests.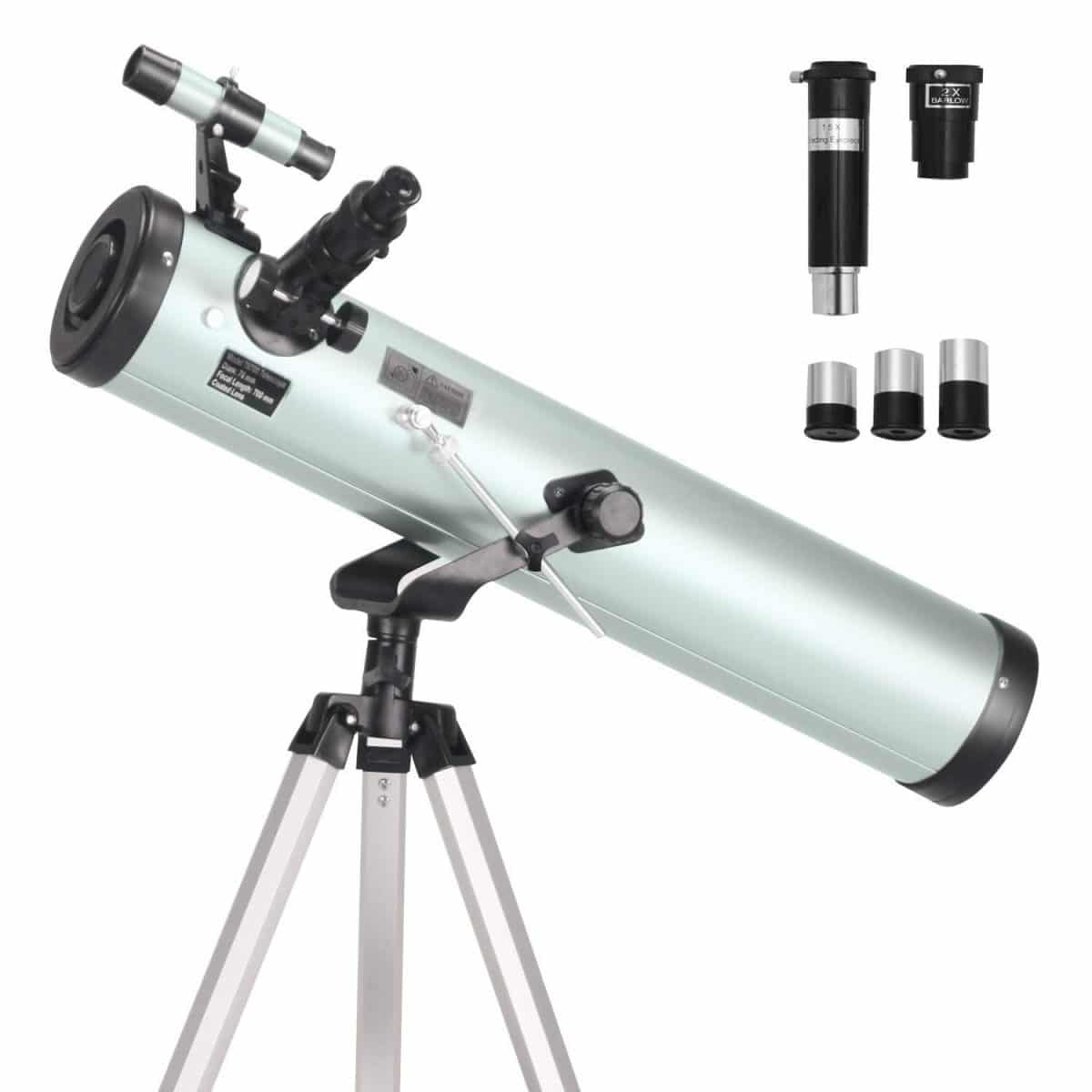 Not many affordable telescopes can boast so many accessories and lenses. But the ToyerBee design is made for the ultimate magnification and it includes a large number of accessories. Among them, the 3 eyepieces make it a strong contender for many types of uses. At the same time, it is one of the best when it comes to Barlow lens variation. If most designs of its class only include one such lens, the telescope includes two of them.
At 76mm and 700mm, it offers one of the best perspectives for high-quality details. This can range from landmarks on Earth to all types of planets. Made with a moon filter, it also dies a good job at improving contrast and bringing up those details lost with a plain lens.
This elegant telescope comes with 3 eyepieces and offers kids a type of versatility which is rare at this price range. It includes a 70mm refractor with a 400mm focal lens. This is sufficient to see everything from wildlife to planets and further.
There are 3 Barlow lenses in the set and kids can also count on a surprise HD binoculars. Made with multi-coated lenses, the binoculars are perfect for a wide range of uses which include camping, hiking, wildlife watching, and sporting events. At the same time, both the binoculars and the telescope can be a starter kit for kids into science who are also traveling. They both fit in a backpack with a bit of patience.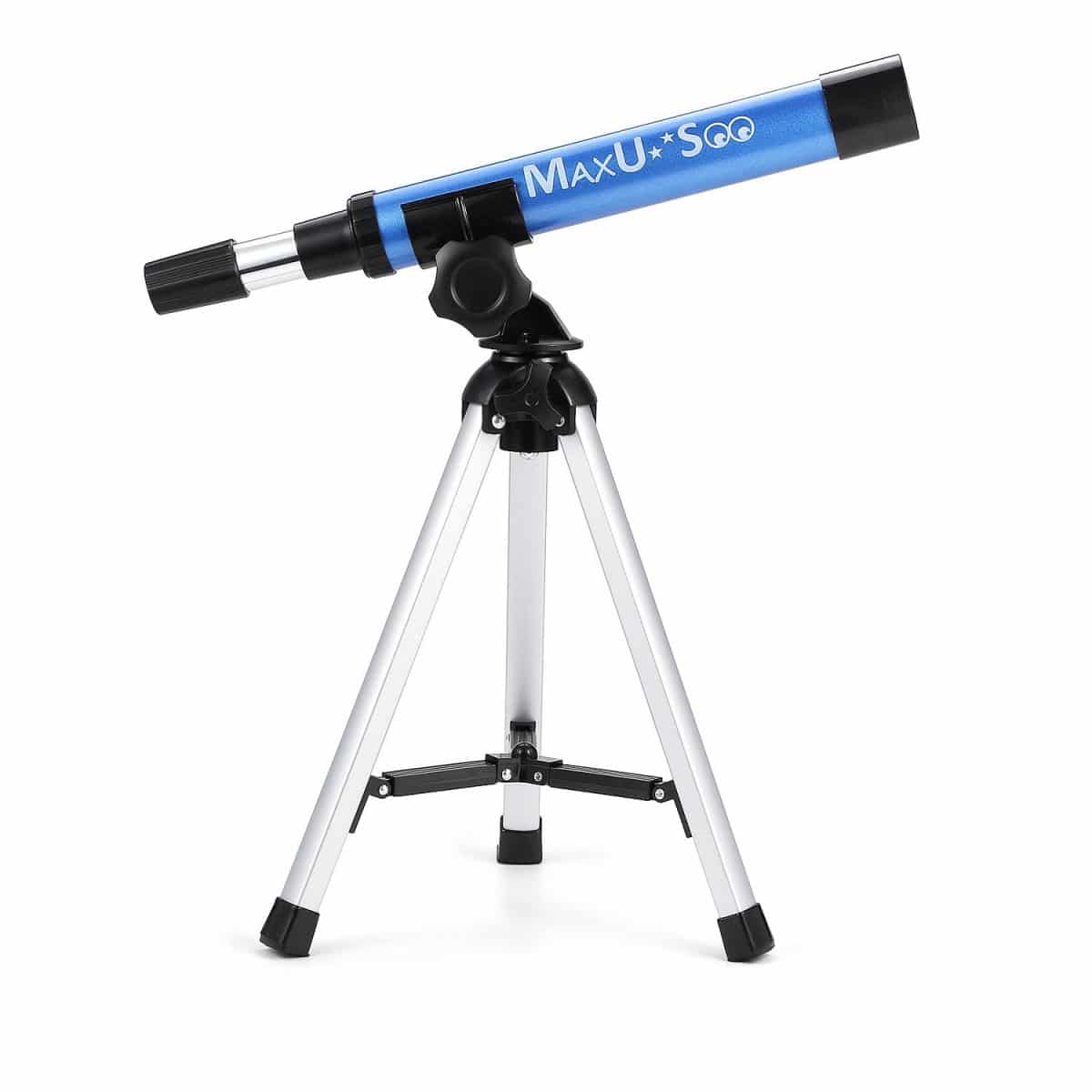 As one of the most affordable designs of its class, the telescope still manages to offer reliable image quality. It is based on a 300mm focal range and 30x magnification. Kids will probably make their first contact with the telescope world with it and they will be blown away as they would be able to see planets.
But the telescope is also easy to use and younger kids will not have to worry about too many functions, apart from focus. But many can also tell that it is also quite small for its focal range. This is why it can be placed in a backpack with its small tripod and taken around to the park or to camp to make the most of its magnification. With a metal optical tube, it also feels more expensive than it is.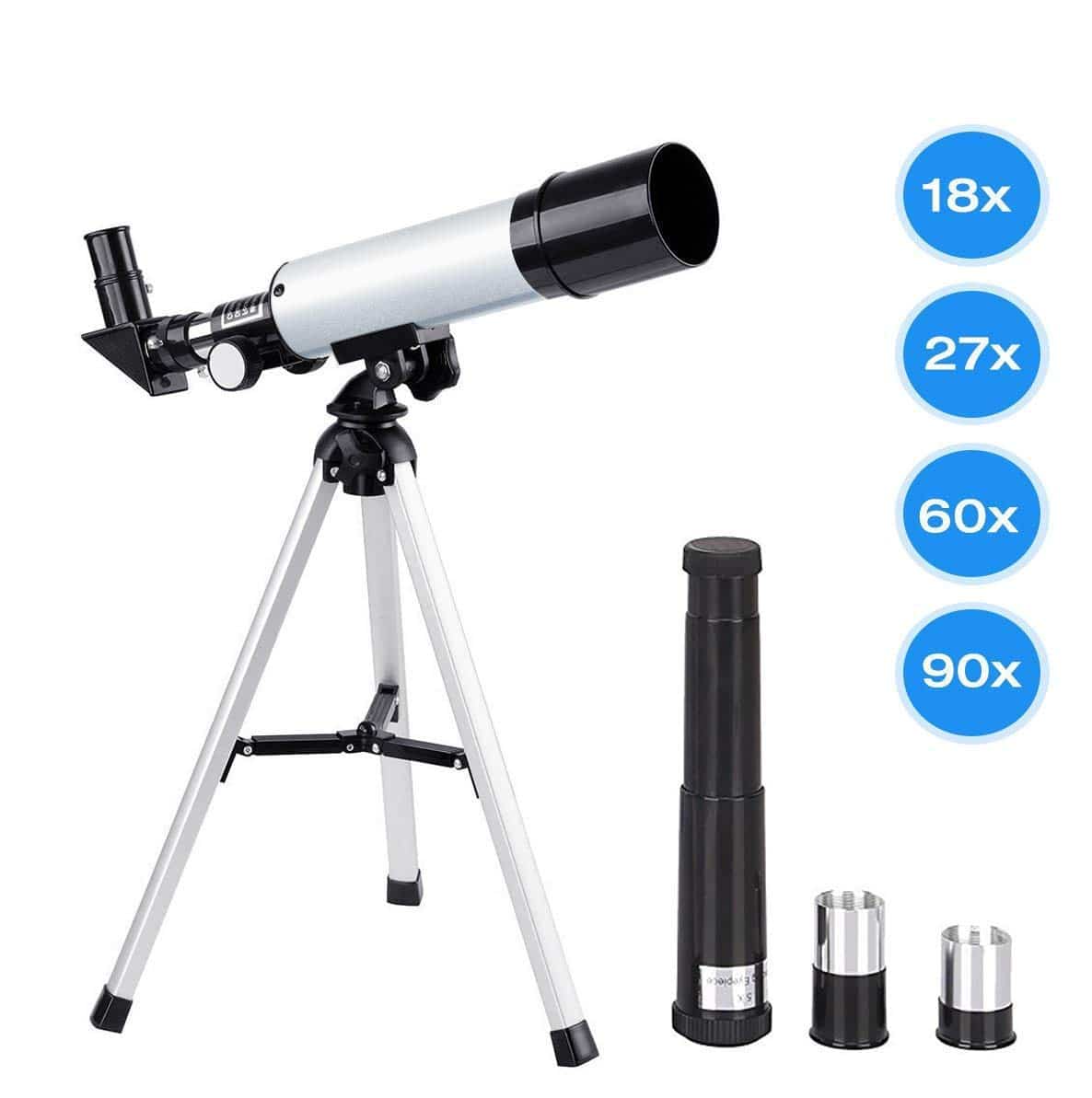 As most similar telescopes in its class, it includes the important parts, without too many accessories. An objective is placed on the mirror body. An eyepiece and a focus adjustment ring are placed at its back.
Its 360mm focal length makes this a versatile product which is used in various scenarios. Some kids only use it to look at the moon, when the weather is perfect. Others only use it to watch wildlife. However, most kids use it in a combination of situations. Its 90x magnification allows it to work to a high standard with all types of objectives. Those who want to explore the moon can also count on a specialized moon lens, which brings up essential details of the image.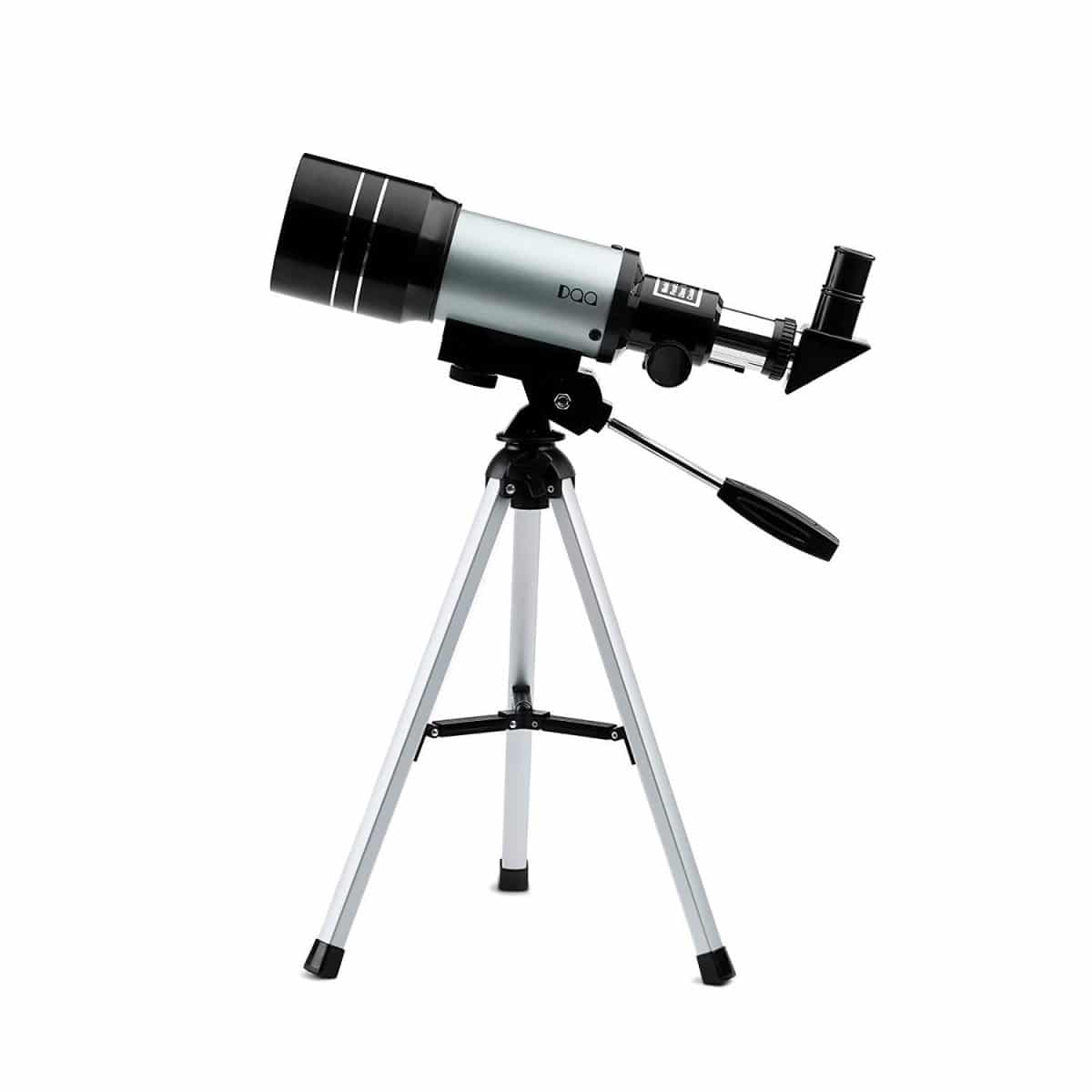 As some of the best telescopes for kids, the DQQ design comes with 2 eyepieces. They can be changed according to what the kids want to see. With a weight of just 3.5lbs, it is also quite lightweight, even if it doesn't look like it at a first glance.
The telescope is mainly recommended for kids who are at least 8 years of age. Unlike a few other designs, it has a specific installation which kids can perform themselves. It needs to be placed on its tripod first. Once fitted, the diagonal mirror needs to be inserted at the end of the telescope. To use it for the first time, kids also need to remove the dust cap from the end of the telescope. Based on its 300mm focal length, it can be used for anything down on Earth and for planets and stars up above.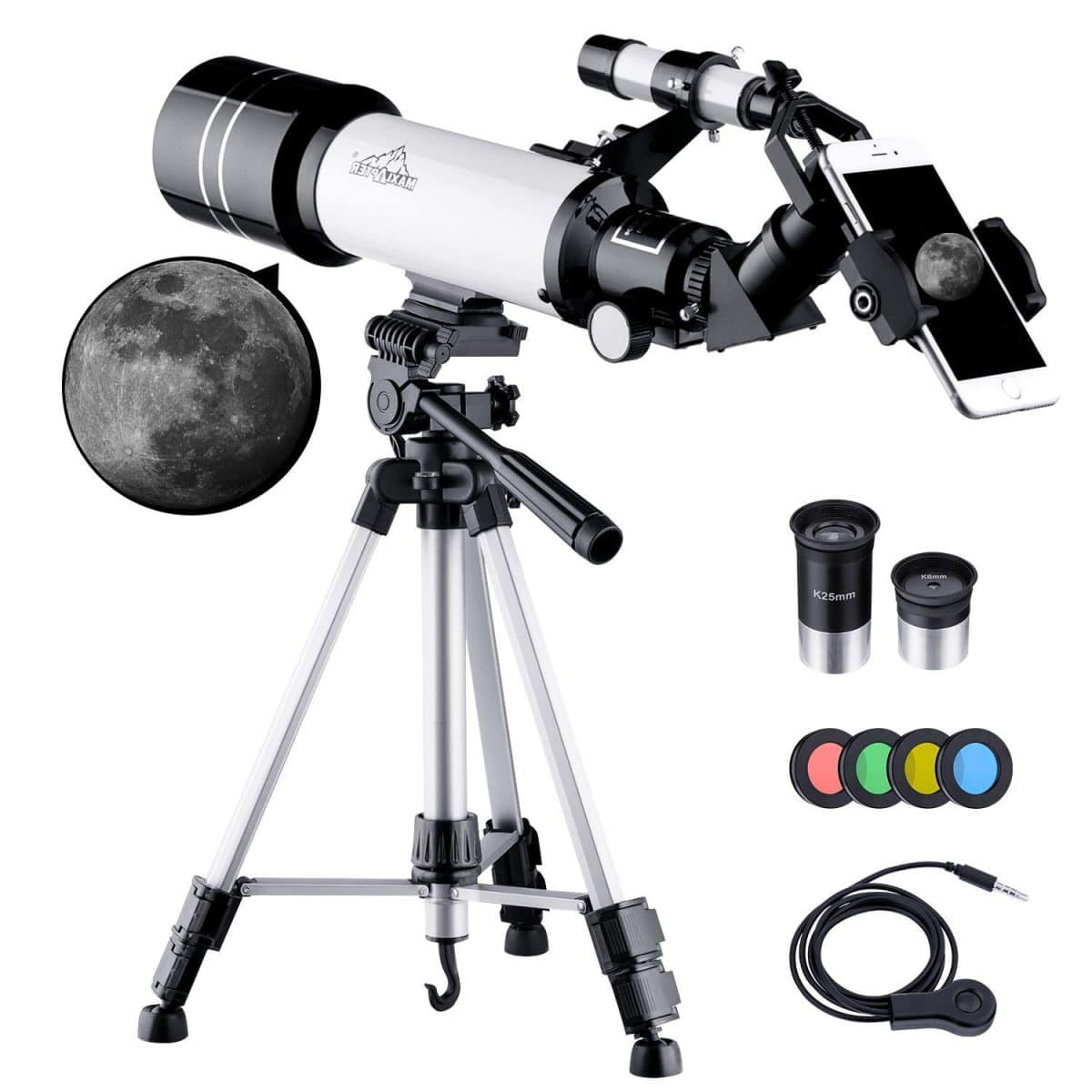 Kids today are different than kids who grew up generations ago. Now, their work and passions are often shared online. This is why this is one of the few telescopes which features a smartphone adapter. It is the main driver to immortalize whatever the telescope sees.
At the same time, the telescope also comes with included filters. They represent a top solution for various objects and they can even be used during the day when they can reduce glare. Apart from an added Zenith mirror, the telescope also comes with a camera shutter control wire and a detailed manual. Kids can store all of these accessories in the included zipped bag when traveling.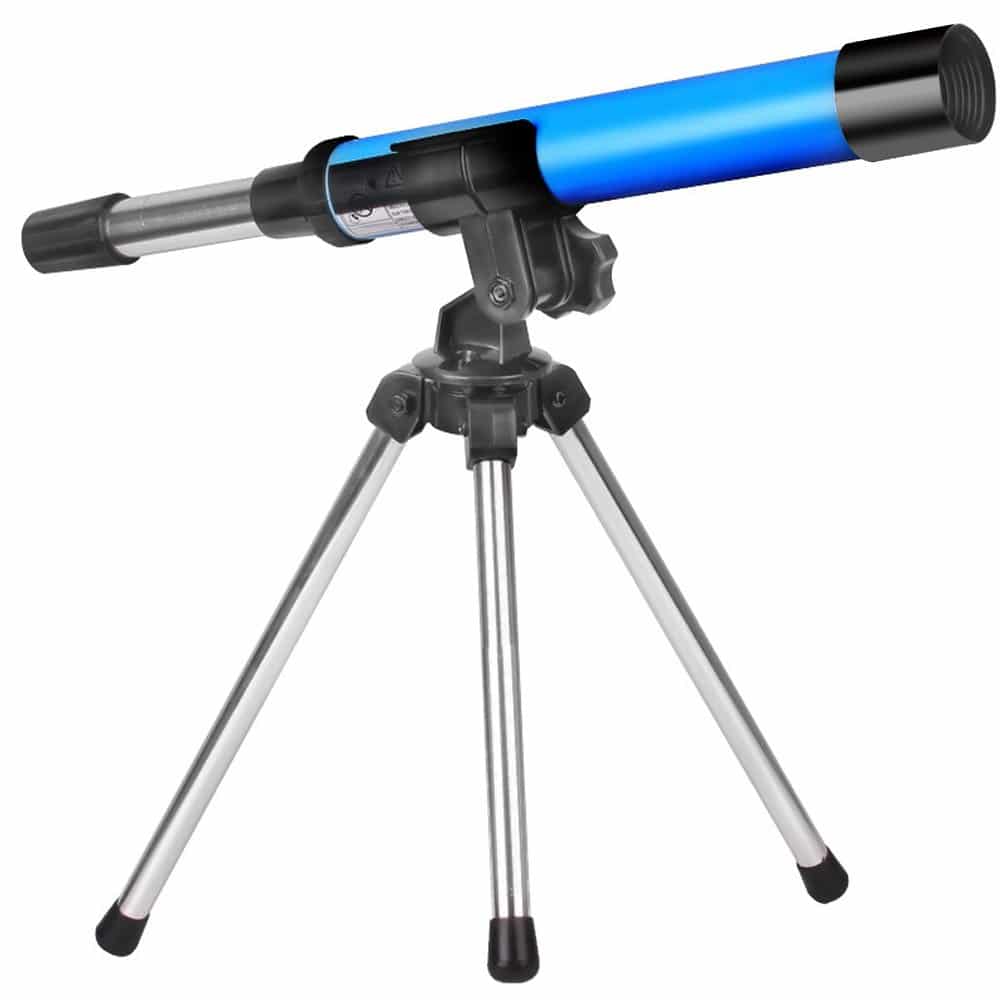 As kids might already know, light and the way it looks on the lens with its sharpness determines image quality. But with a 1.2 aperture, the lens of this telescope is almost in a league of its own. It works very fast and the focus is instant as well.
Kids can also rely on one of the best focal ranges of the class. With a 600mm focal length, the lens represents one of the leading options for overall versatility. Its finder scope also helps kids keep an eye on their surroundings, especially when used for terrestrial observation. A smartphone holder is also included. Kids can immortalize their favorite images with their smartphones as a result.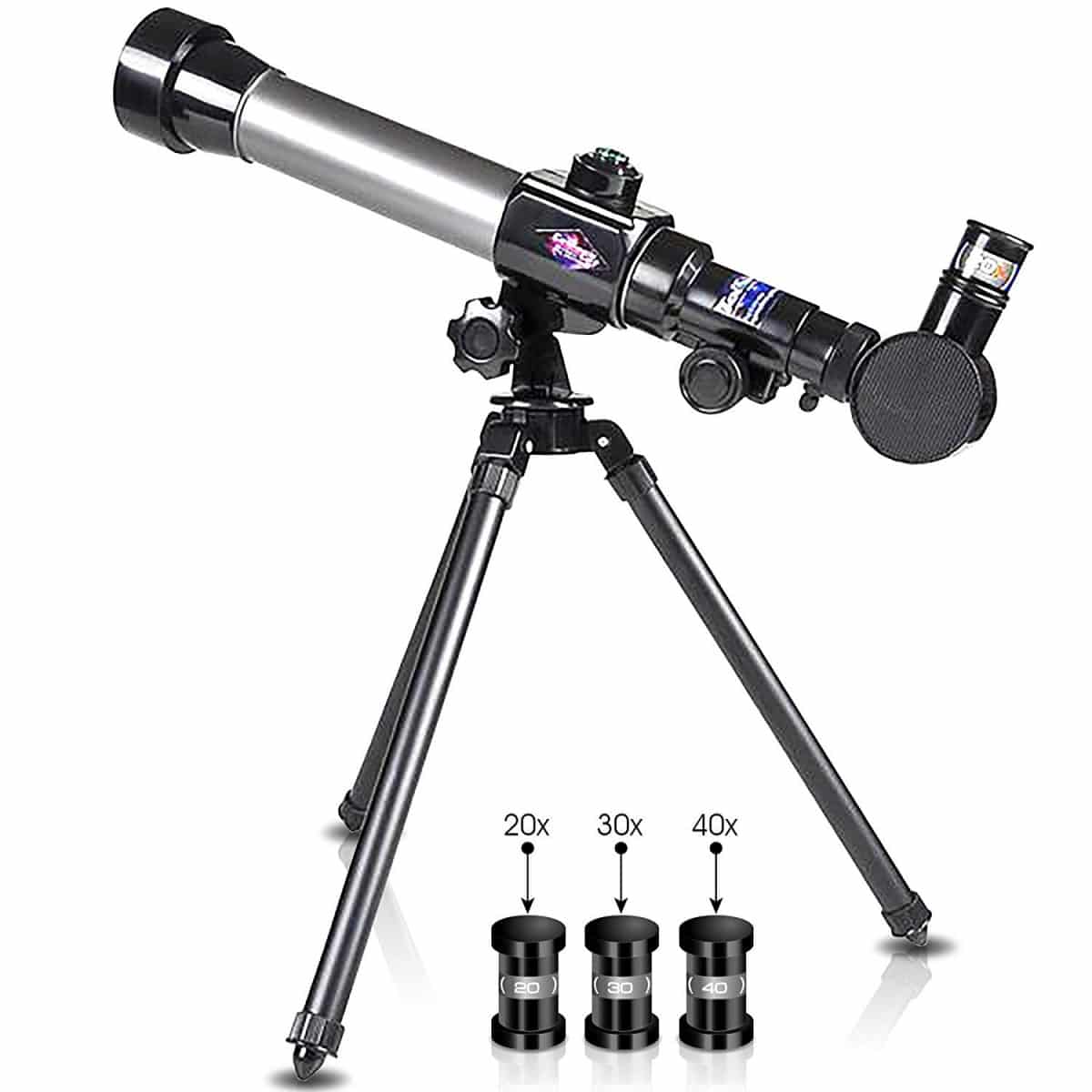 Designed for easy operation, the telescope represents one of the most sustainable products when it comes to ease of use. It's no wonder that kids as young as 3 can use it on their own. It comes with everything needed in the pack and after a short setup, it is ready for action right at home.
With 3 different eyepieces, it also supports different types of magnification. This includes 20x, 30x, and 40x. Its potential is immediately discovered by kids. From watching ducks on the lake to taking a closer look at landmarks or to seeing the curious surface of the moon, it can offer it all at an affordable price.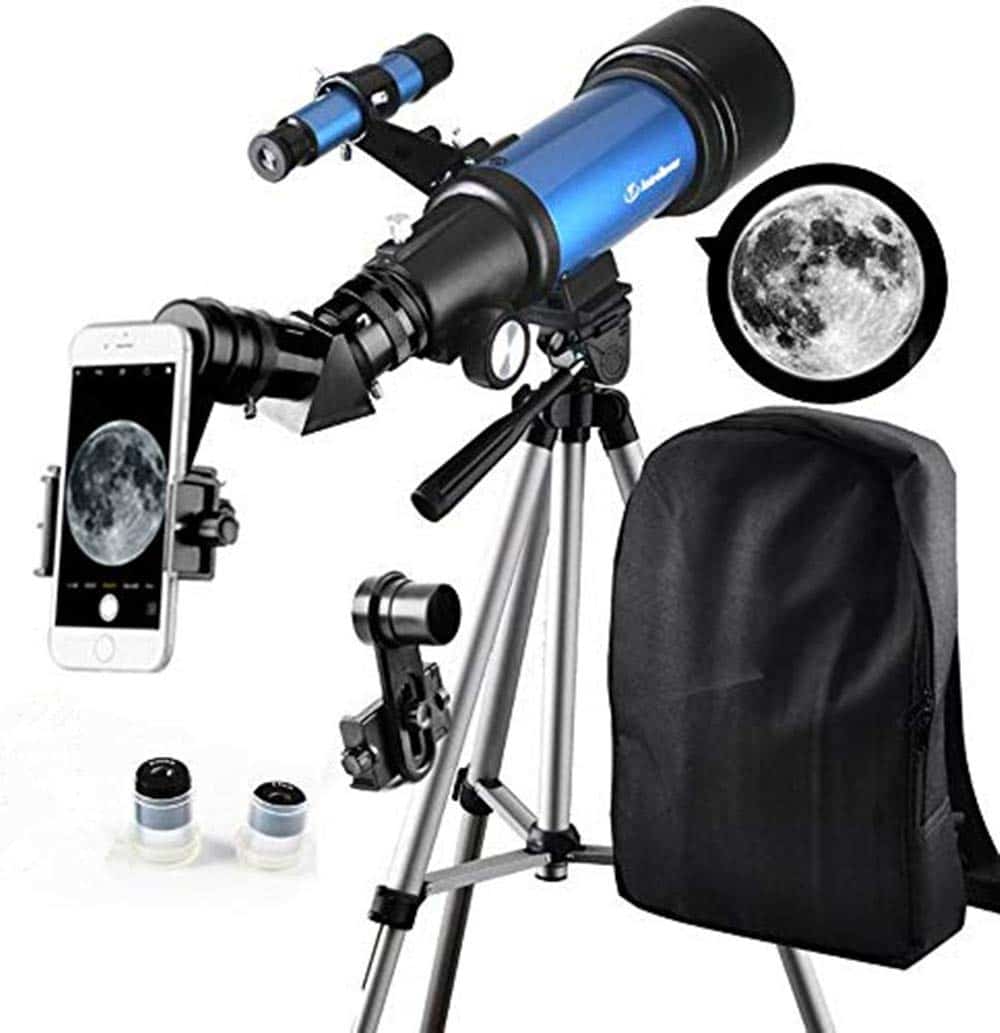 Kids just starting in astrology can rely on this telescope, if the weather conditions are not too demanding. With its 400mm focal length, it is easily used for wildlife watching. Kids can see the fastest birds and the most remote animals in their natural habitat. When night falls, they can also see the moon.
Since kids love the magnification of the telescope, they might also use in to capture photos. This is a skill in itself. First of all, the telescope needs to be in perfect focus. The smartphone camera also needs to be in perfect focus. Wind needs to be non-existent in order not to move the tripod and add shakiness and blur to the photos. But with a bit of practice, kids can have their animals and moon immortalized for eternity. However, a considerable drawback of the telescope is given by its 5.7 aperture.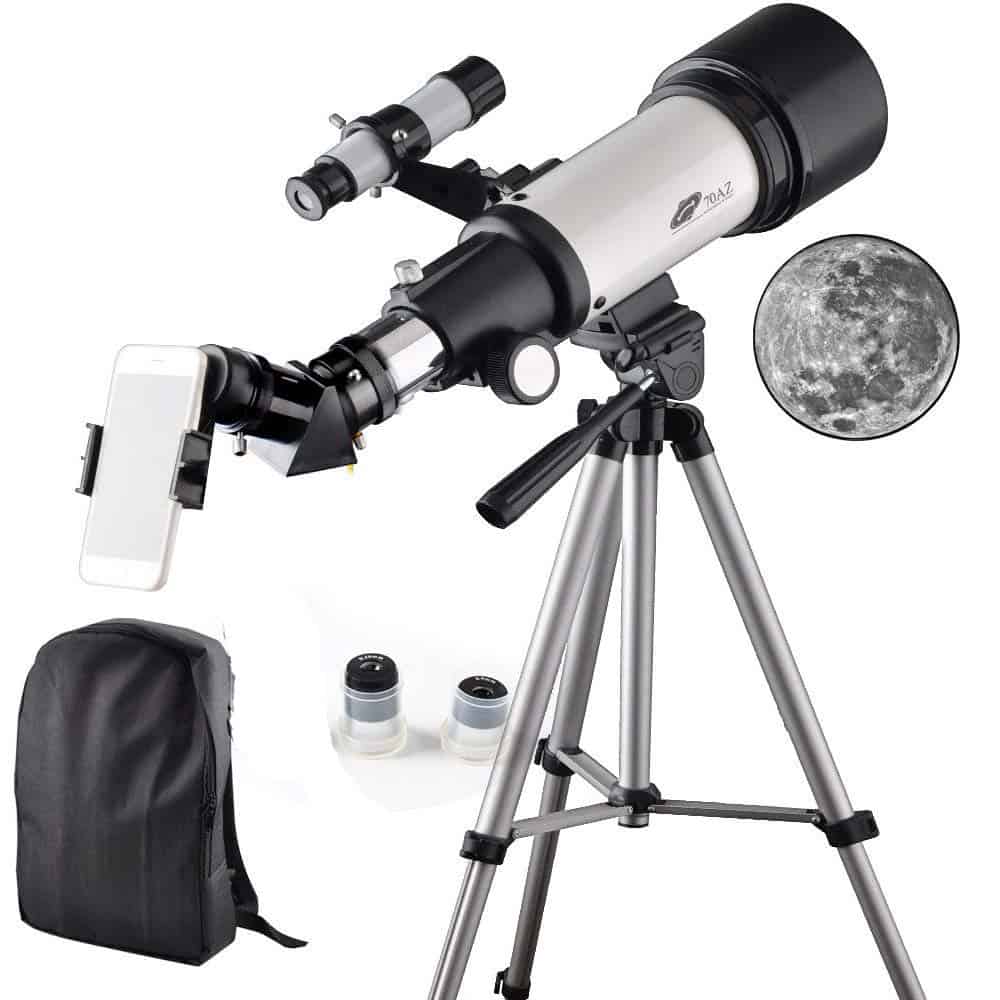 With multi-coated optics, the telescope has a similar image quality with its 600mm alternative. However, at 3.2kg, it is a bit lighter. As a result, it is highly recommended for travelers. Even kids who often go to the park or carry it to the backyard might prefer it does it its more manageable weight.
With 9mm and 20mm eyepieces, it is also one of the most versatile options in this focal range, where the market is already crowded. But kids can use this telescope to see wild animals in their natural habitat as well.
However, there is another considerable drawback compared to the DoubleSun 600mm alternative. Its 5.7 aperture is considerably slower than the fast 1.2 aperture of its bigger brother. However, given it is placed on a rock-solid surface, it might be enough for kids to have fun with.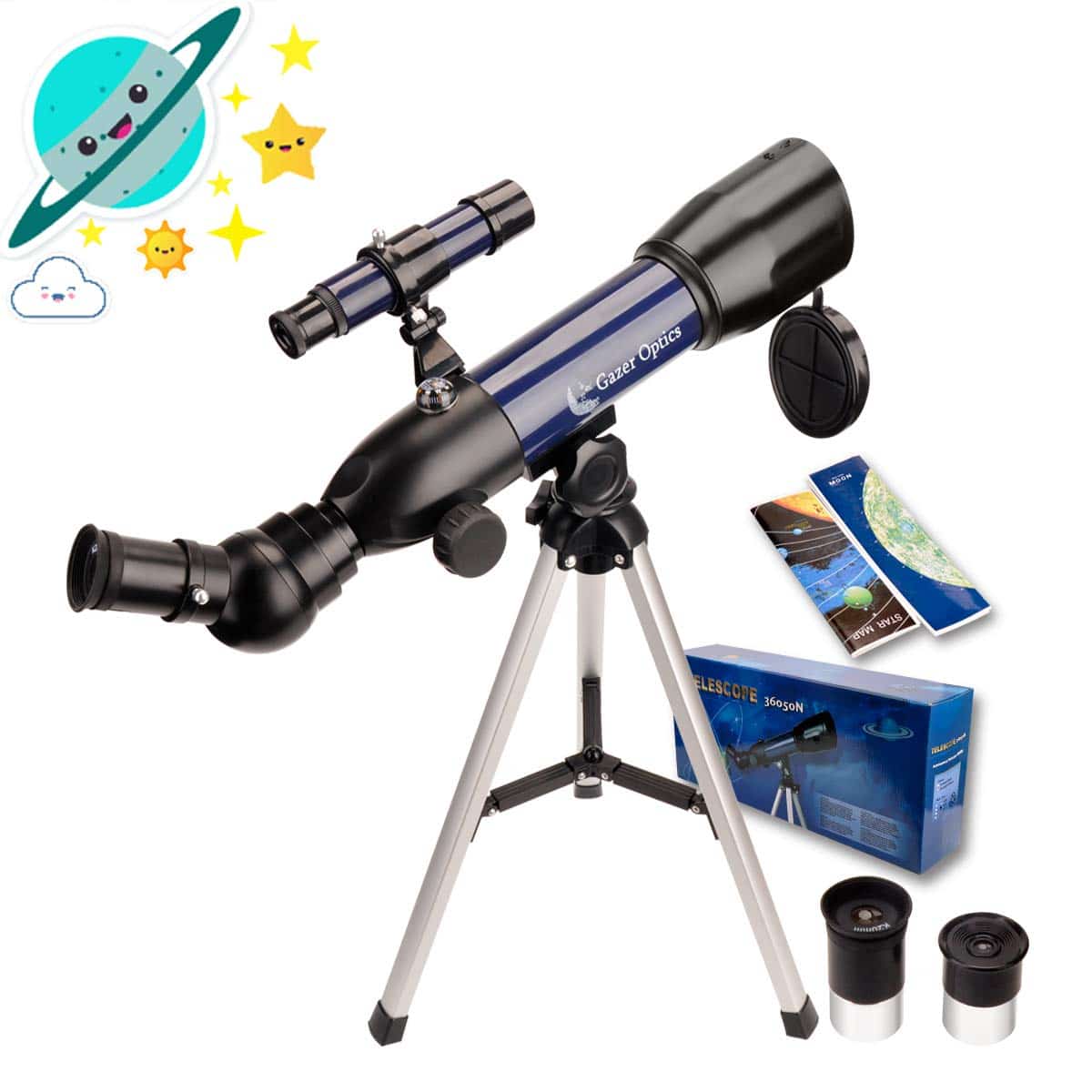 While it can be used during the day to look for animals and landmarks, this telescope is made to show the true potential of its optics during the night. Kids can enjoy it even more than other designs as it is not as fragile and while it is made from plastic, it is still one of the products which are very fast to assemble.
Its 360mm focal length is a proven profile in many other astronomy products. With a 5×24 finderscope, it is also ready to deal with some of the most demanding moving objects. However, the main advantage of this scope is that its simple design means kids can learn how to use it on their own, without any input from parents.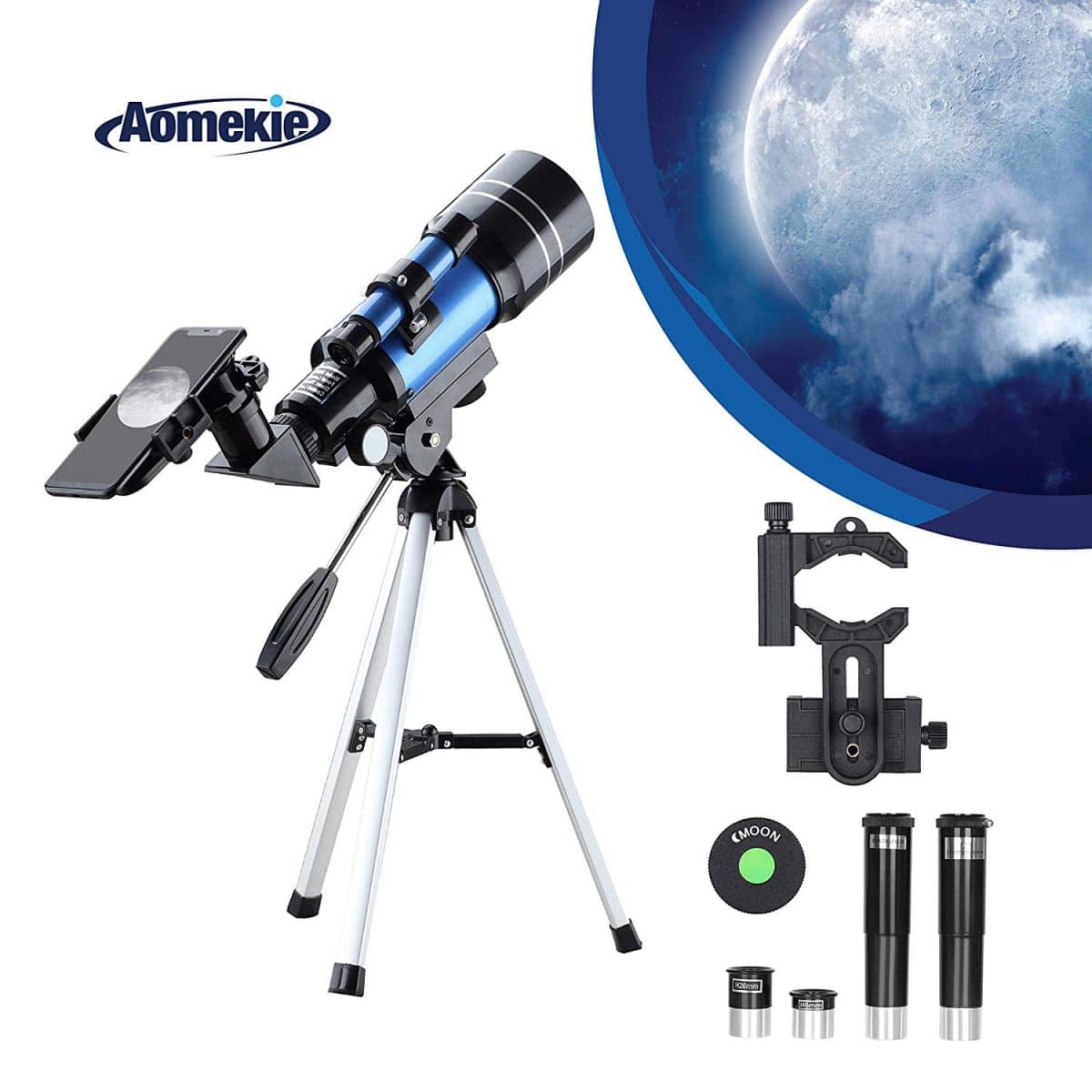 Made with an elegant blue design, this telescope might just be an inspired gift idea. As many parents already know, the way a gift looks is just as important as what it does. This is why the aesthetics of this telescope recommend it for better overall versatility and friendliness. Its 2 eyepieces and its finderscope recommend it among the reliable mid-range options strictly made for kids.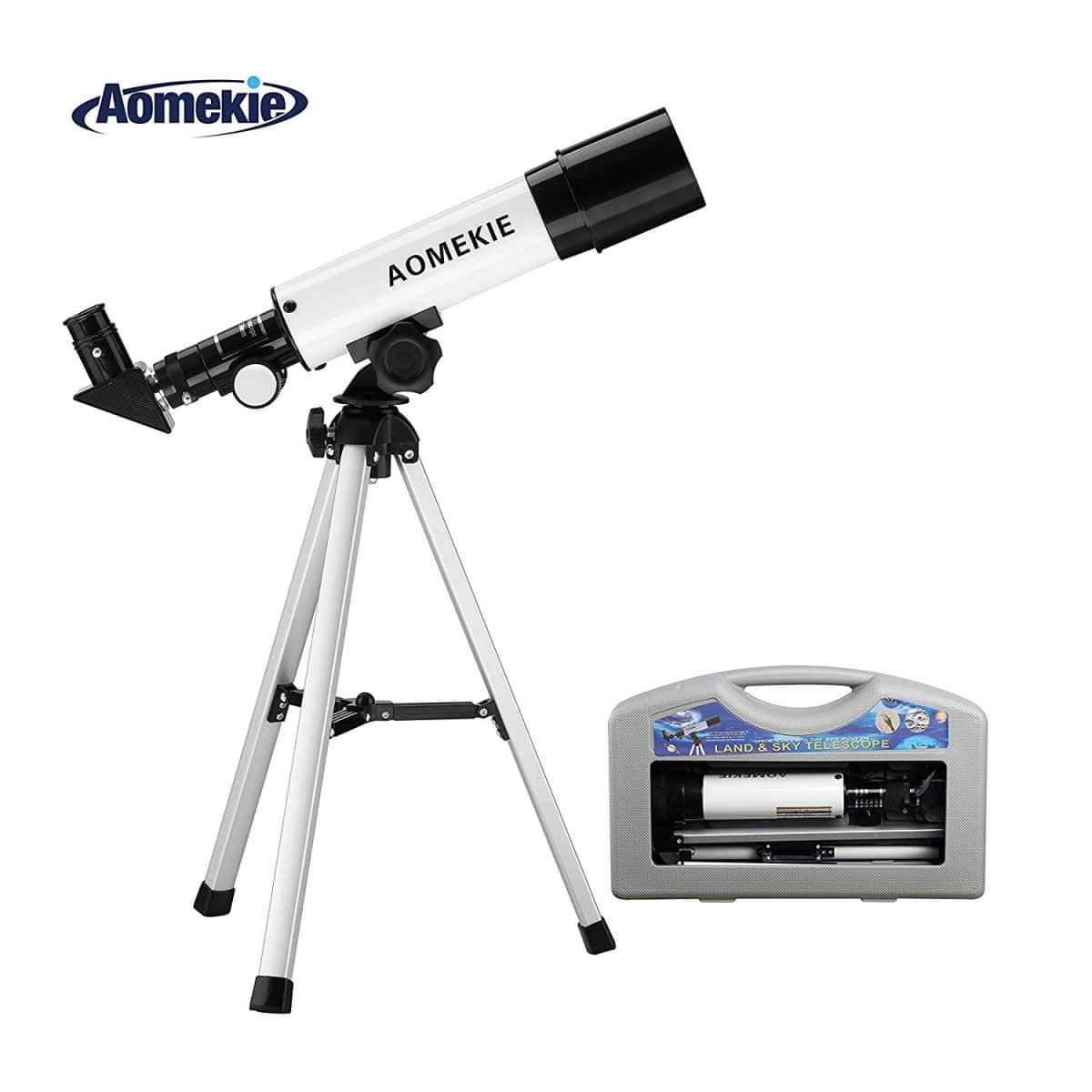 The astronomy telescope is one of the best designs as a gift. Unlike many other options, it is stored in an anti-shock suitcase. It is the main reason why it resembles a few professional designs. But its optics are not bad either. Its focal range reaches 360mm. The supported magnification ranges from 27x to 90x. With its coated lenses, the telescope is also reliable when it comes to high-quality details. However, its maximum magnification should only be used on clear objects, such as the moon.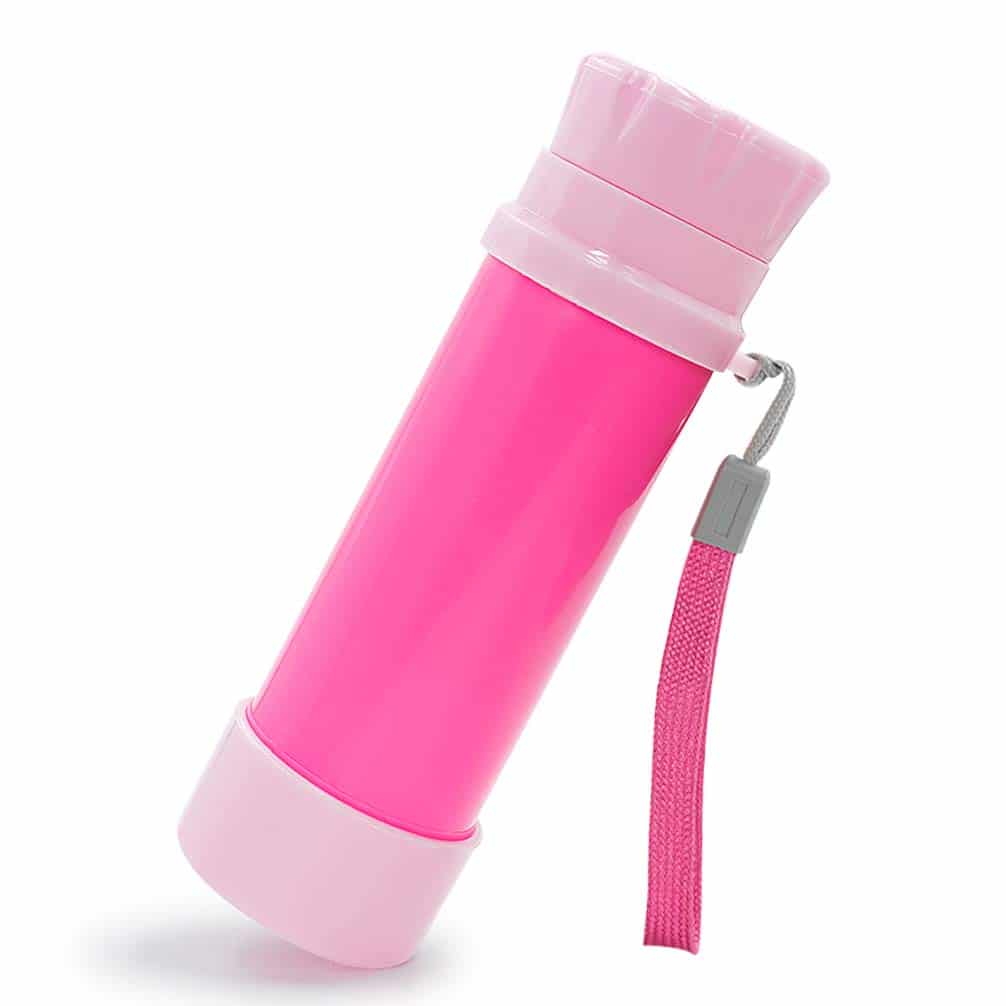 This small telescope comes with a monocular design. As a result, it needs no tripod and it can be handheld. Kids can use it similarly to any other monocular either during playtime or when out camping. With its sturdy design, it can even take a few hits here and there without any physical damages. With 30x magnification, it can also be a stealth product used during various hide and seek games. Based on a 30mm lens, it can be used as a learner telescope by younger kids.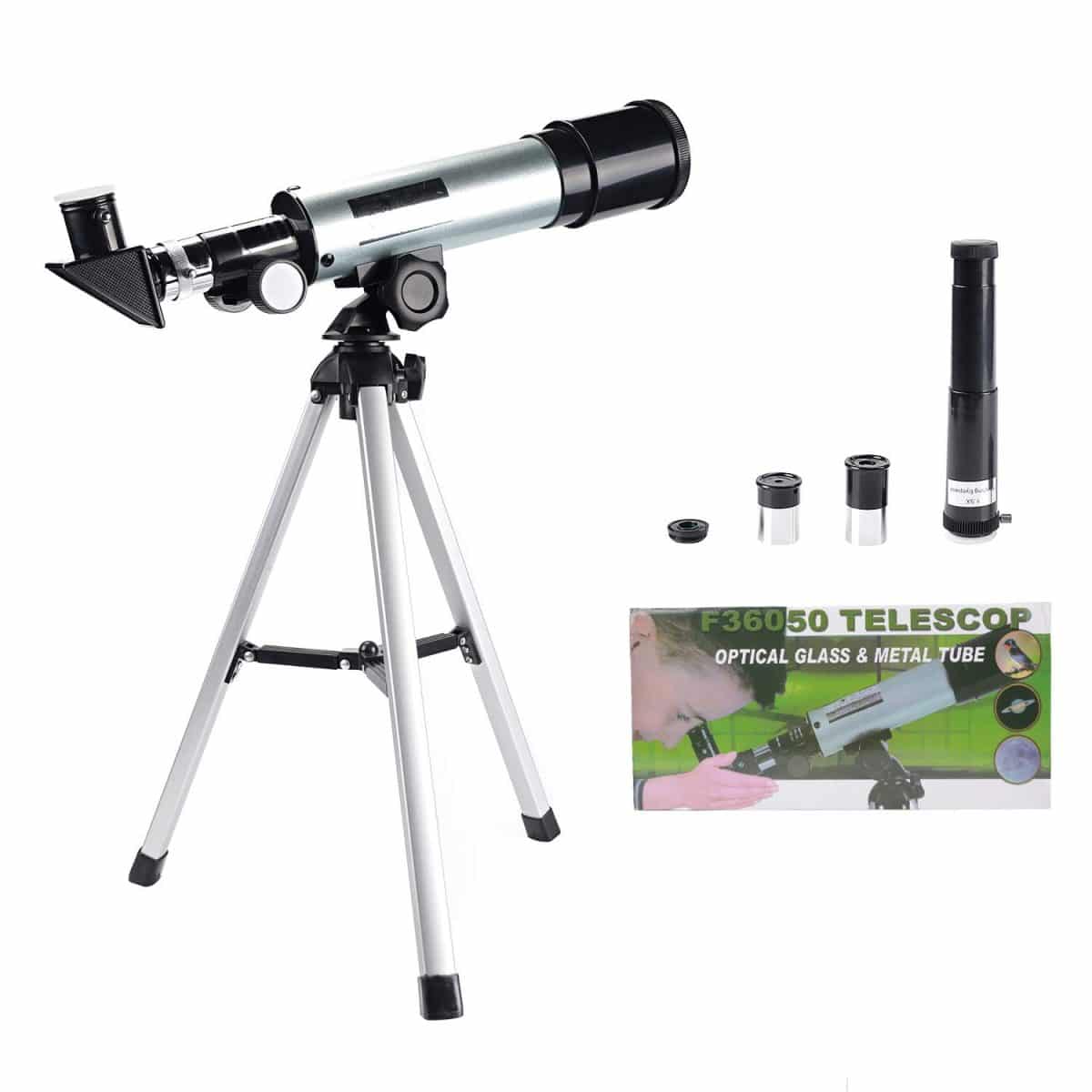 Kids can lay this compact telescope directly on the ground. When waiting for their perfect start to shine, they can use its 360-degree horizontal rotation for the ultimate freedom of movement. Furthermore, they fully support multiple magnification increments. It debuts with 18x and 27x but it can also go further to 60x and 90x.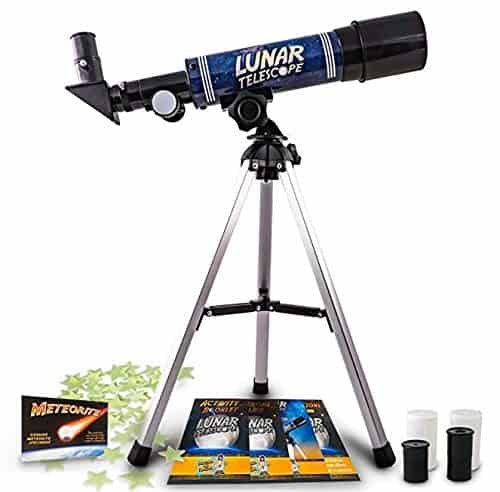 Made to support 90x magnification, this simple telescope is one of the distinct options for adults to consider mainly as a gift. Astronomy fans can expect their first telescope which can reach the moon but it also comes with a real meteorite specimen from Campo del Cielo in Argentina. Kids love the story behind this unique rock.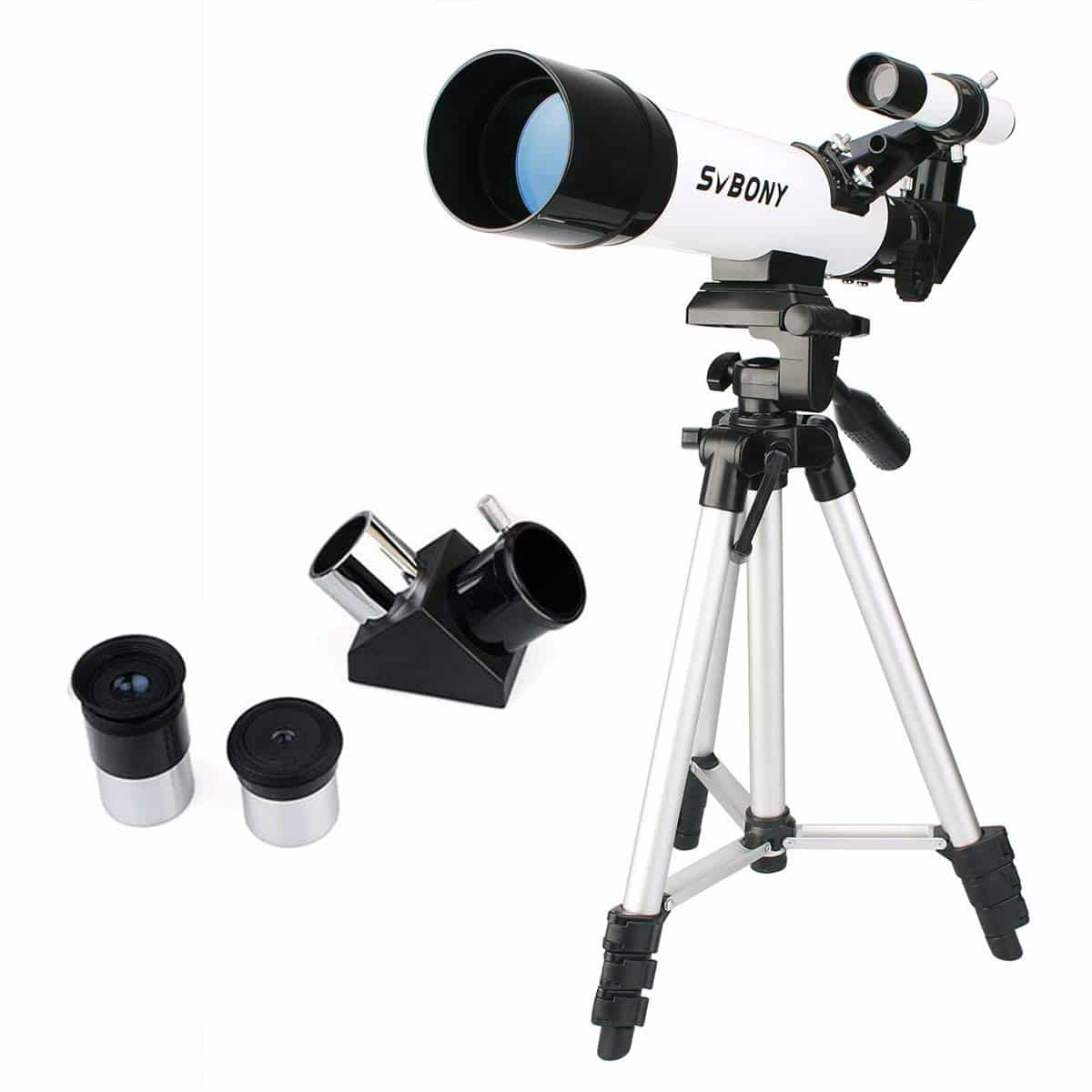 The main attraction of this telescope is the way its lenses are placed and treated with a coating. The manufacturer did a good job at aligning the lenses so that they reduce glare, one of the biggest enemies of future astronomers. The lenses also increase light transmittance. The result is seen in clear images of the moon and its detailed craters.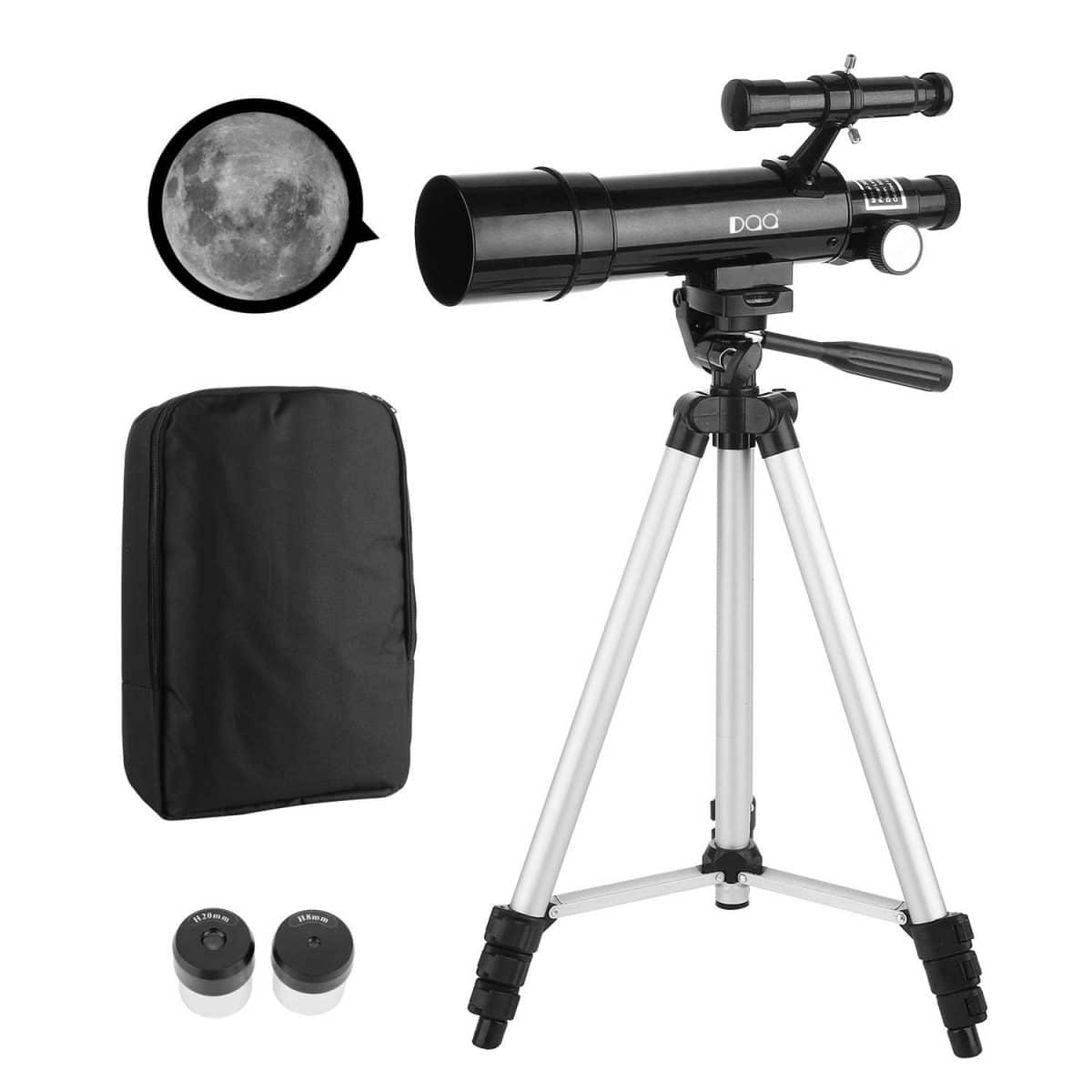 Not many telescopes are as lightweight as the DQQ design. Even its 300mm alternative is heavier. But the 360mm Finderscope is ready for action with added clarity. Under better light and weather, it can produce impressive images. Most kids immediately look out at the moon when they get their hands on it and for this task, it is as good as telescopes can get for kids who don't have the patience to learn complicated features.
Final considerations
At the moment, some of the best telescopes for kids are made to last forever. Their body might not be made from metal as with some of the adult alternatives, but the lenses are getting better and better. Some of the lenses of these telescopes are even known for producing sharp images. However, one of the main issues with them is their stability which increases the chance of blurry images. At the same time, the focus mechanism can be off with some of these child-orientated designs. This is why only the best can be truly considered for a true astronomy fan.