Toddlers might still get the grips of playing with toys. The best toy cars for toddlers grab their attention immediately. These simple toys might be hard to replace as they already stood the test of time. Most toddlers will be playing with toys cars sooner than with any other type of toy. This is why such a gift is always inspired. But since not all toy cars are made the same, the following options come with their strengths and weakness. But the best part is they are all safe for toddlers to play with.
Top 30 Best Toy Cars for Toddlers 2020
The cars are available in multiple colors. A few characteristics make them an interesting option for toddlers. Their large size is perfect for kids who might not have the locomotor skills mastered at the moment. Furthermore, kids also can push them over all types of soft surfaces due to their oversized rubberized wheels.
But an interesting aspect of these cars is that they make sounds as well. This sound doesn't come from speakers as it comes from the wheels. With included rattle beads inside, they are among the most interesting in their class, especially when it comes to a longer interest from kids. Of course, they can also take a beating as they are quite durable.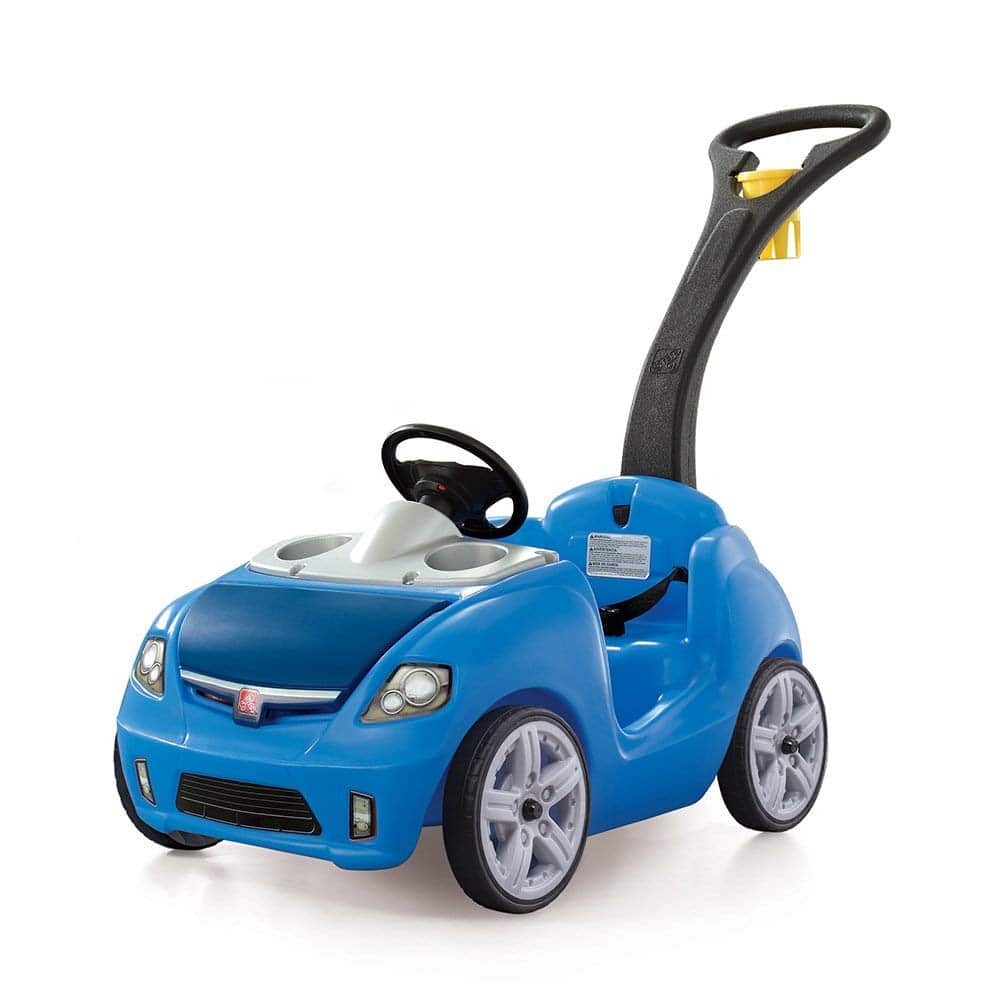 The large push car is one of the options toddlers can play with for hours. They can sit in it while their parents push them around the house or they can push the car themselves. Furthermore, pushing the car themselves allows toddlers to enjoy a better perspective on balance and control while taking the first steps.
With a maximum weight capacity of over 22kg, it is one of the durable toys which can be played with my siblings as well. Without doubt, it is also one of the most interesting of its class as it also comes with included storage space. There's room for extra toys under the hood.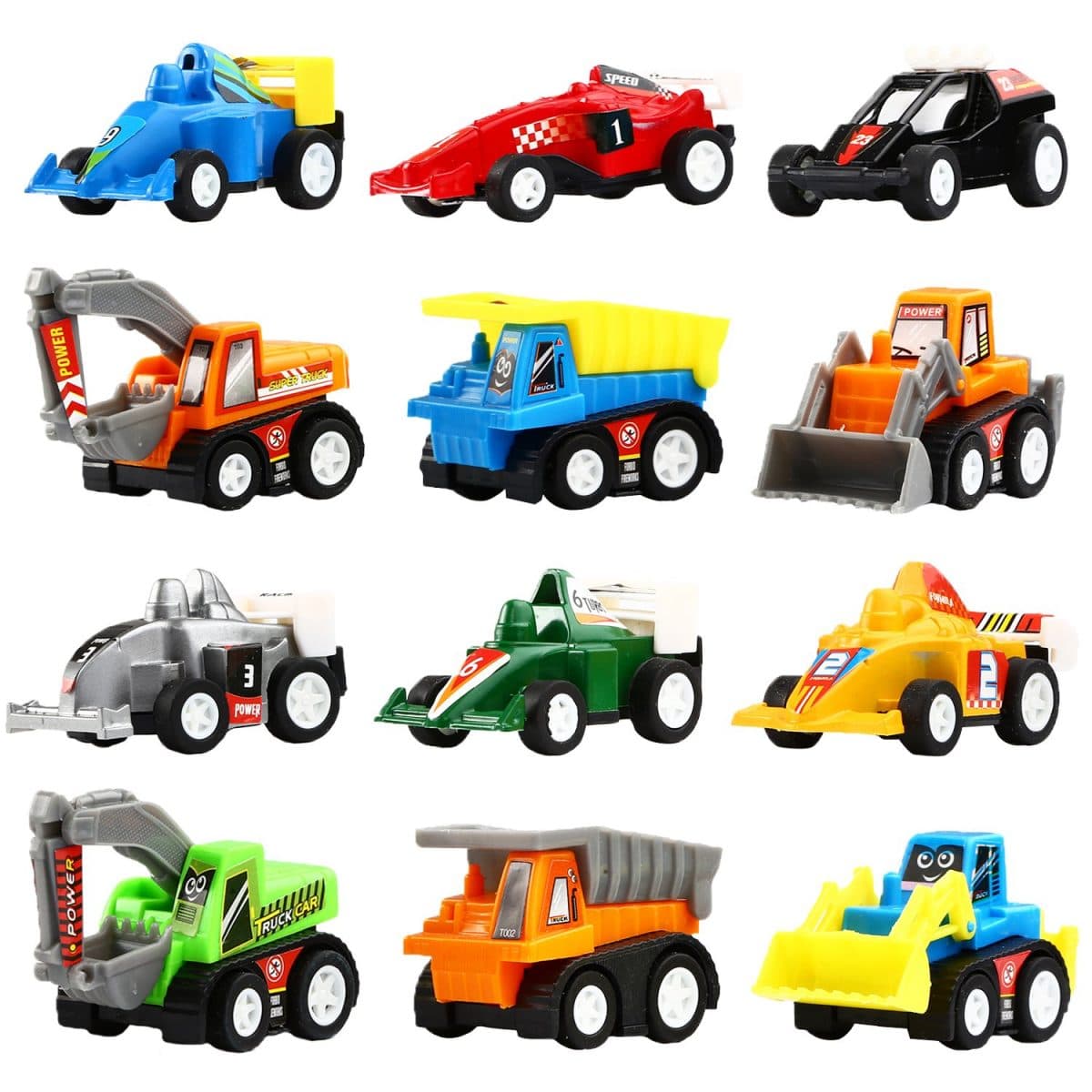 Why settle for a single-car when toddlers can have them all in the set? This could the slogan of the Yeonha Toys' vehicles. They include 12 vehicles fit for various purposes. Toddlers can pretend they are on a building site with construction vehicles.
6 race cars are also included in the pack. All of them come with pull back action. This is why they are interesting from a young age. Since there's so many of them, it is also easier for toddlers to start sharing them with friends. Furthermore, adults can also join in the fun choosing one of the vehicles.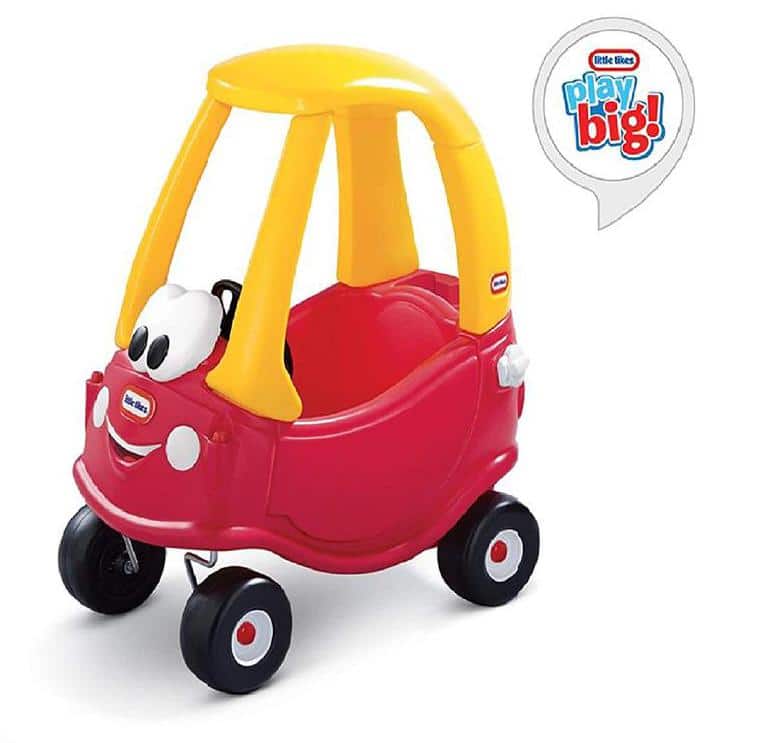 Teaching toddlers how to master walking, the car features a removable floor. They can use their strength of feet to move around freely. But toddlers can also sit back while their parents push them around the block or out at the mall.
There's sufficient storage space for two bottles of water. Hydration is checked, especially during hot days in the sun. But a particularly interesting feature of the car comes with its 360 front wheels rotation. It is one of the main reasons why this car can work take sharp turns when needed. Made from durable plastic, it also handles the occasional wash to keep it free from germs.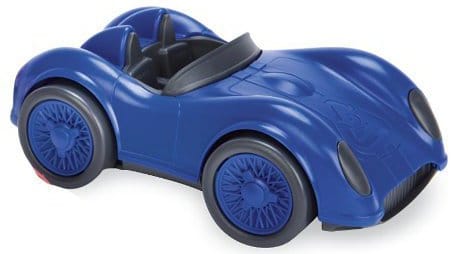 One of the distinct aspects of this toy car is that it's made from recycled materials. The manufacturer used milk containers to make this car. This automatically places it among the greener options in today's toy industry.
The car itself is available in multiple colors. It is why both boys and girls can enjoy its versatility. It has one of the top designs for versatility with its oversized wheels. Being able to tackle various types of surfaces including carpets, it is a top design for kids to play with both indoors and outdoors.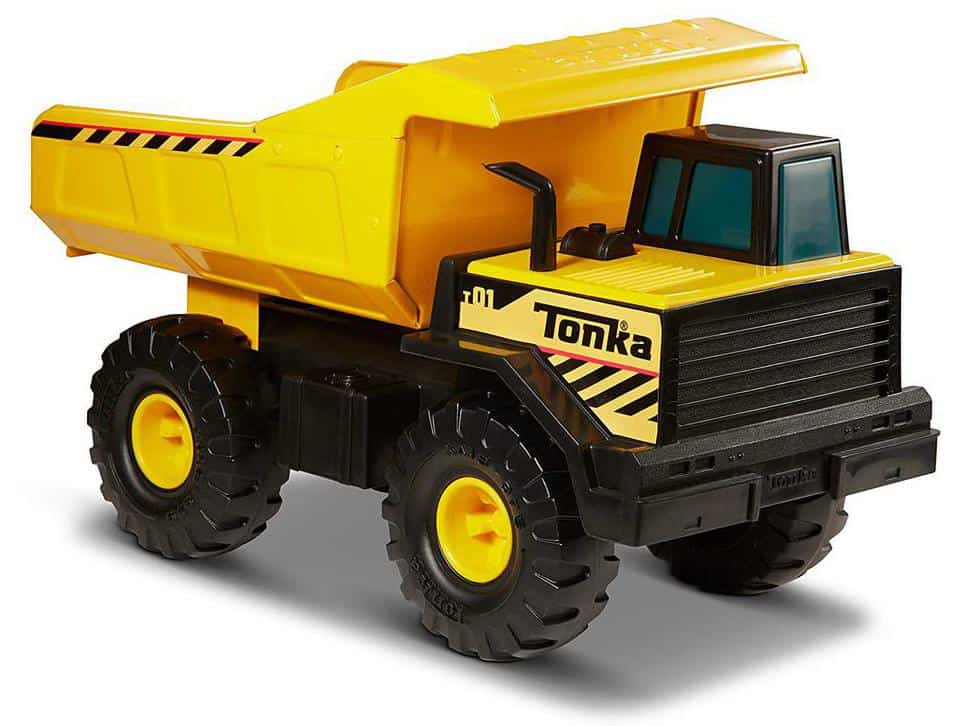 Made with impressively-large wheels, this truck vehicle is ready to tackle all types of tasks, even outside the house. Toddlers can push it around freely on grass and sand. Since it is quite large, it is also one of the suitable designs to hold on to when still mastering the first steps.
Its oversized wheels also mean this truck is ready to run over objects such as carpet edges with ease. Kids might even use it to transport other toys with its large carrying capacity. To make it look even batter, the manufacturer also added a few side stickers.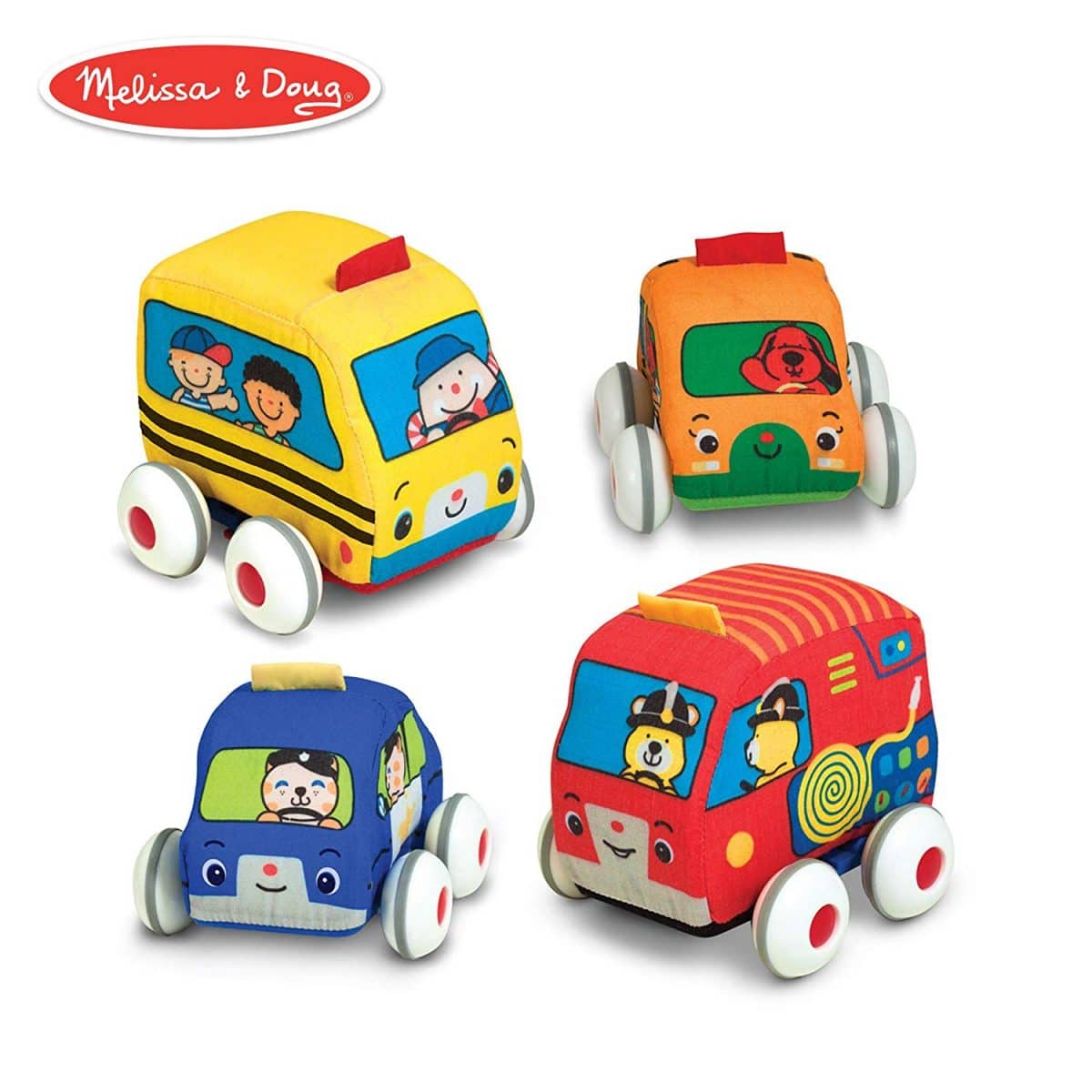 4 cars are included in the set. They can be used for various purposes and they represent one of the sustainable options for parents who might worry about their kids' safety. This is why they are one of the few designs entirely based on soft materials. The risk of accidents is considerably reduced as a result.
Another interesting characteristic is given by the rev up feature of the vehicle. Practically, it accelerates the direction given by the user. For toddlers, this means they can play with the cars in the set with considerably reduced effort.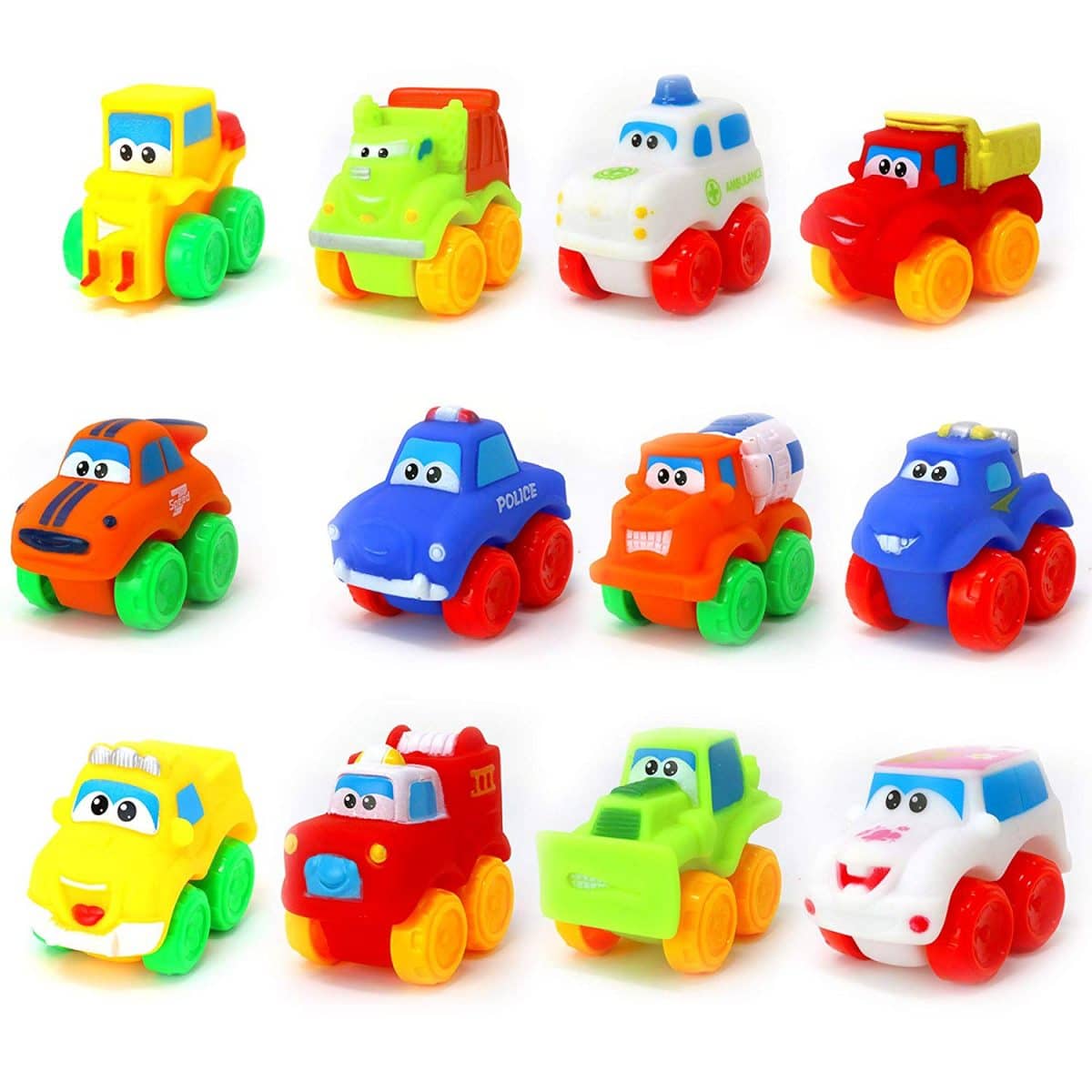 The set includes 12 fun cars. As many designs for toddlers, they are made to look funnier or friendlier. But kids will still immediately recognize an ambulance or a fire truck in the set. With large oversized wheels, the cars are not too difficult to push around either.
But their materials are chosen to a high standard as well. These cars are all made from rubber and they are all non-toxic and safe for toddlers to play with. Most importantly, they have no sharp edges and kids can't hit themselves too hard with them since they are already so soft. With a solid grip on each vehicle, crawling kids or those just learning to walk can feel like they have multiple options to play with every day from the set.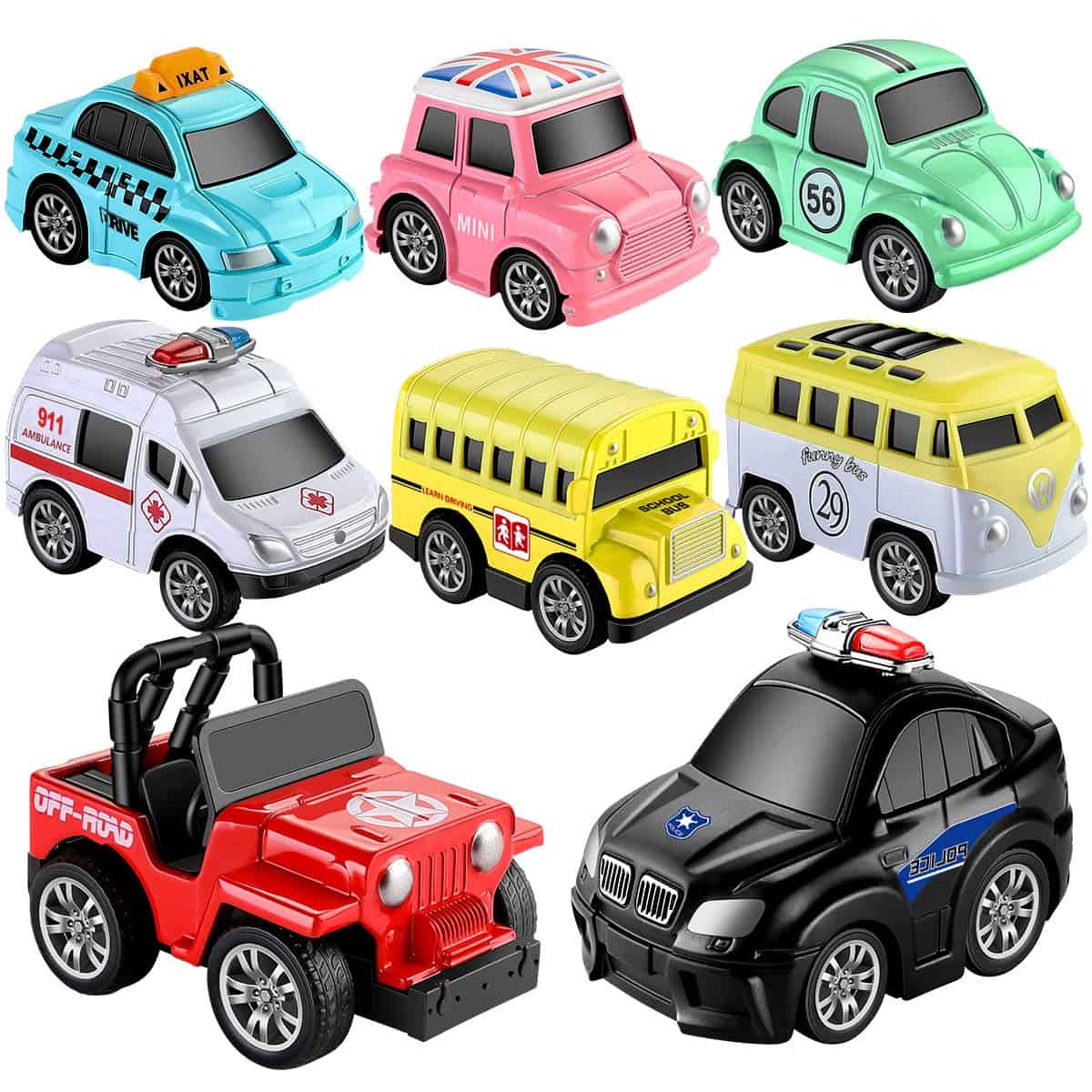 There are 8 cars in this unique set. All of them are made from an alloy which means they feel more expensive than they are. Most kids have the freedom to even drop them without parents having to worry on them breaking. Furthermore, the cars look fantastic.
Inside the set, the vehicles are of different size and importance to kids. But they will recognize a school bus, an ambulance, an off-road vehicle, a taxi car, a police vehicle, a summer van, a racing car, and a smaller city car. Normally, these vehicles cover a large number of options and they are safe for all users. At the same time, all of them are powered by pull back action which allows them to race each other.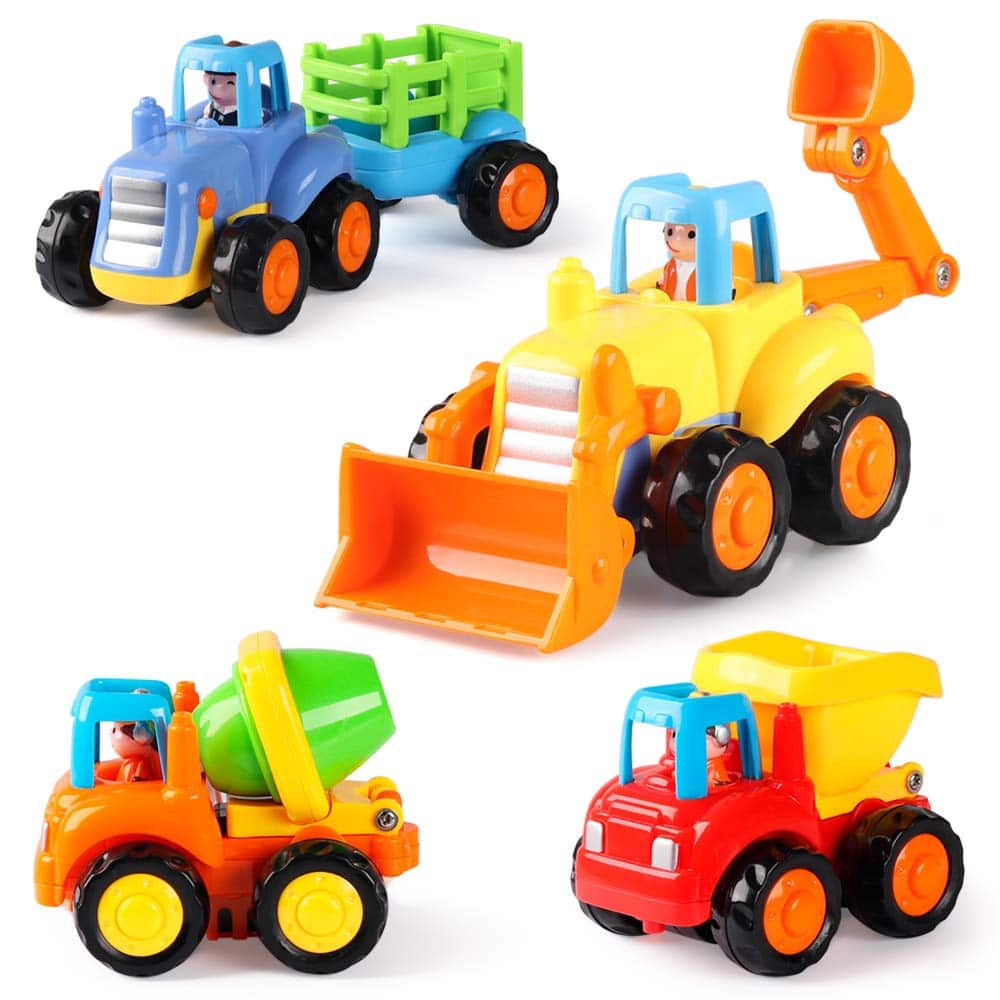 A construction vehicle set is one of the interesting gifts toddlers can receive. At their age, most of them are fascinated by how construction vehicles work. At the same time, construction vehicles are very different from their family car and this is another reason why they are so preoccupied with these strange trucks.
The set can be used for playtime with all of the vehicles together or separately. Kids can pretend to build a home and they can include the toys in their set of building toys easily. Moving the vehicles around and parking them is not complicated, even for someone their age. There's a friction mechanism inside which makes this easier. Luckily, the mechanism is not too loud and they can start playing early in the morning without disturbing siblings.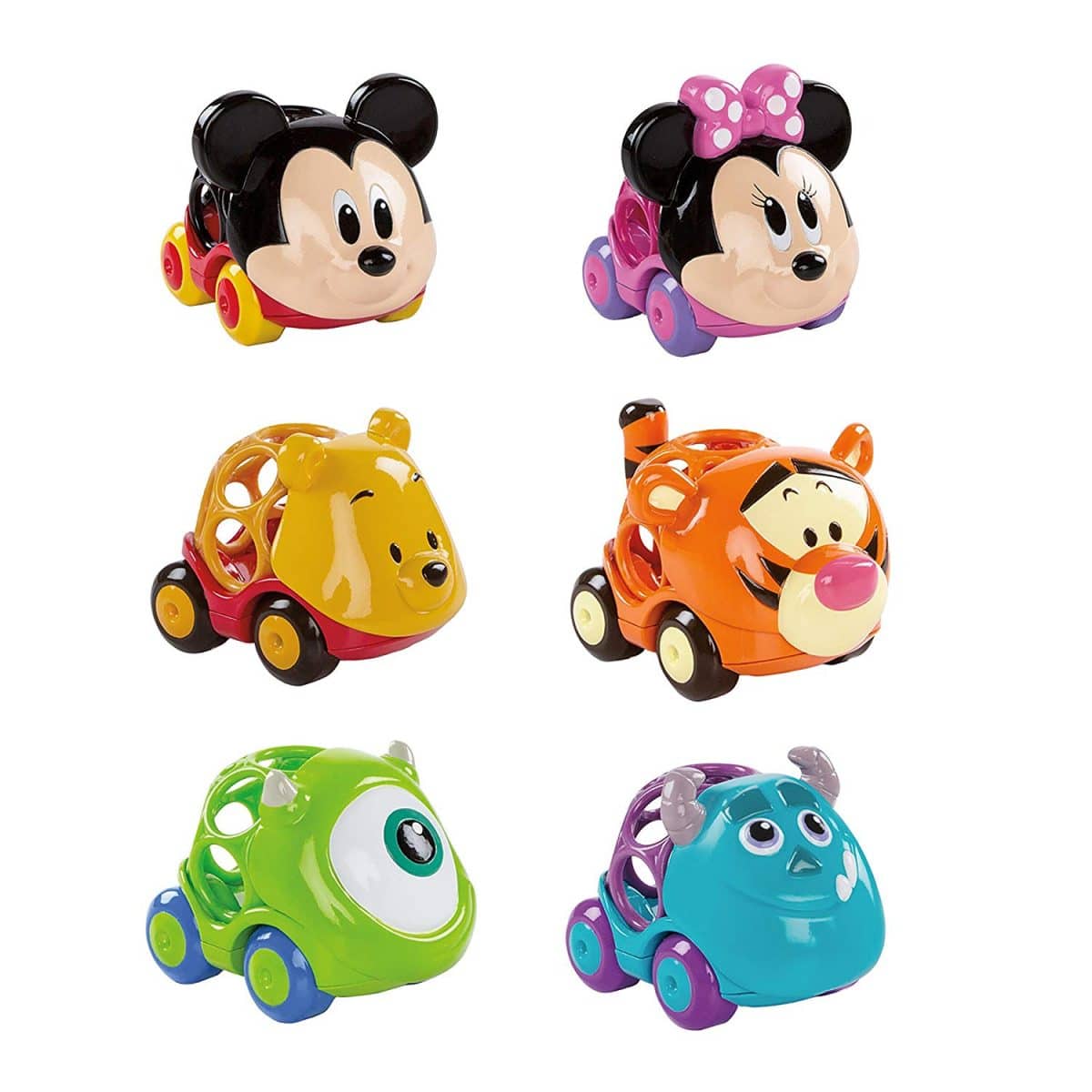 There are 6 cars included in this funny set. Toddlers can choose to play with Mickey and Minnie-inspired vehicles as well as with Winnie and friends. With a colorful profile, these vehicles are a fun way of starting to play with cars.
With small wheels, toy cars are fast for their size. However, they might not be the fastest on surfaces such as carpets. This is why kids will mainly play with them on smoother surfaces, especially when going for speed.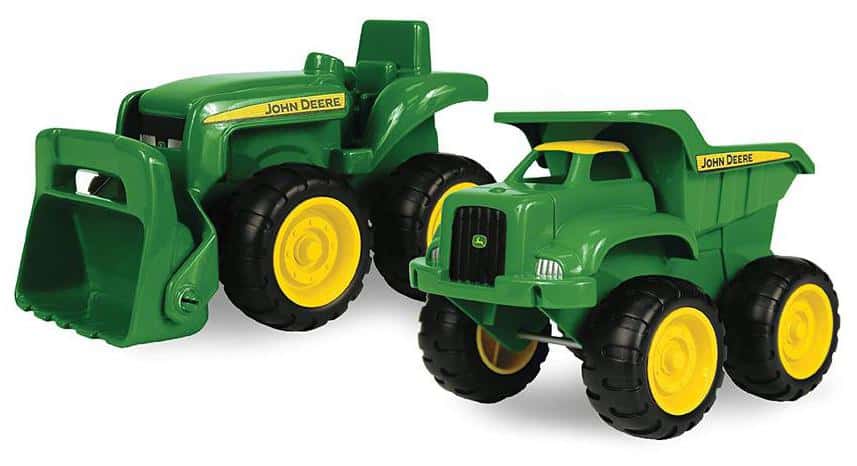 Toddlers playing outside can find this set to be an interesting option. Both tracks are made with large wheels which freely roll over the dunes. As a result, toddlers can use them to have a bit of fun outdoors, without the trucks being damaged by sand particles. Parents can quickly wash the trucks at the end of the day to keep them clean for longer.
One truck comes with a moving front loader which works for shifting sand and other objects around. Another truck comes with a moving dump bed which kids can raise to get rid of the sand. The set of two trucks is one of the top solutions in its class for the ultimate play freedom for outdoor play.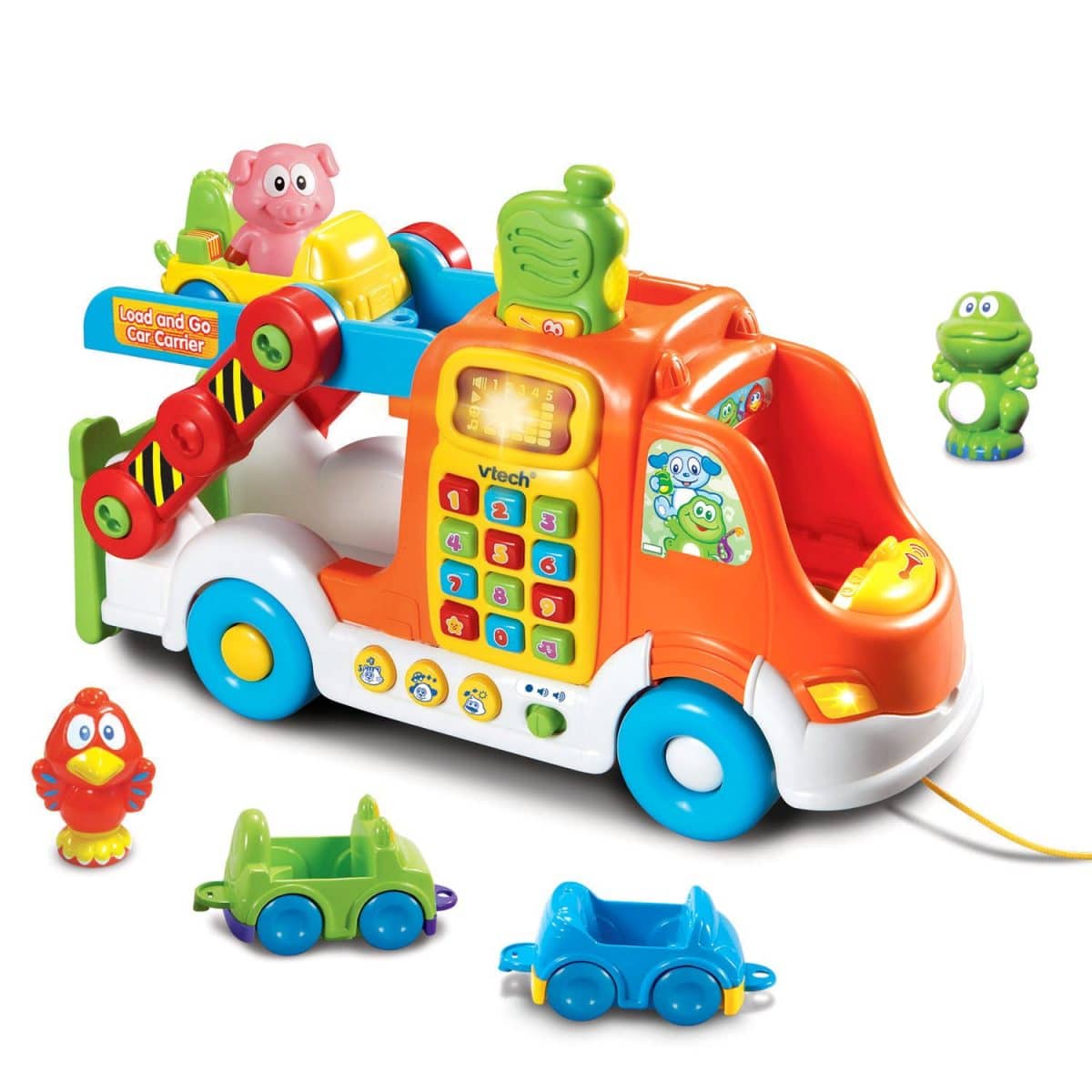 This toy car includes multiple other toys which kids can play with for a more immersive experience. The large truck holds 3 smaller cars with characters such as a pig and a frog. Kids can use these smaller cars for imaginative play.
On the side of the large truck, toddlers also find a few dials with numbers and lights. They also have attributed sounds to them. This is where they can start developing important cognitive skills and start memorizing the various sounds and their attributed dial number. Introducing these different color dials to their playtime is a sure way of starting to make them think on their own.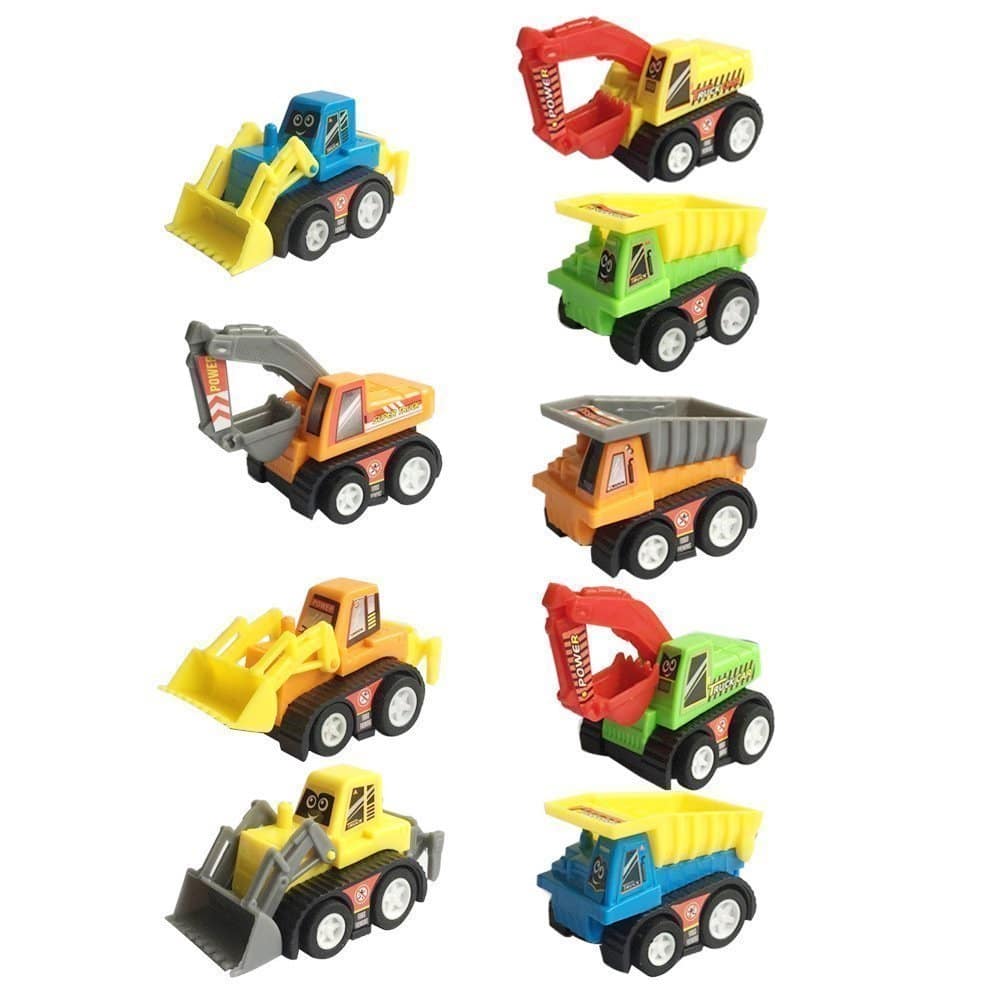 Kids have the option of choosing various vehicles made with the same purpose form this set. There are 9 vehicles to play with. 3 of them are bulldozers. 3 of them are excavators. Other 3 are dump trucks. But the fun part is not over. All of them come with pull back action. This is why they can be so interesting when it comes to a bit of construction racing fun.
The vehicles are small and they can fit in one hand. But this also means they are fast. The combination of a small body with pull back action makes them one of the sure solutions to achieve higher speeds. But kids can also pretend to construct the next Empire State building as well.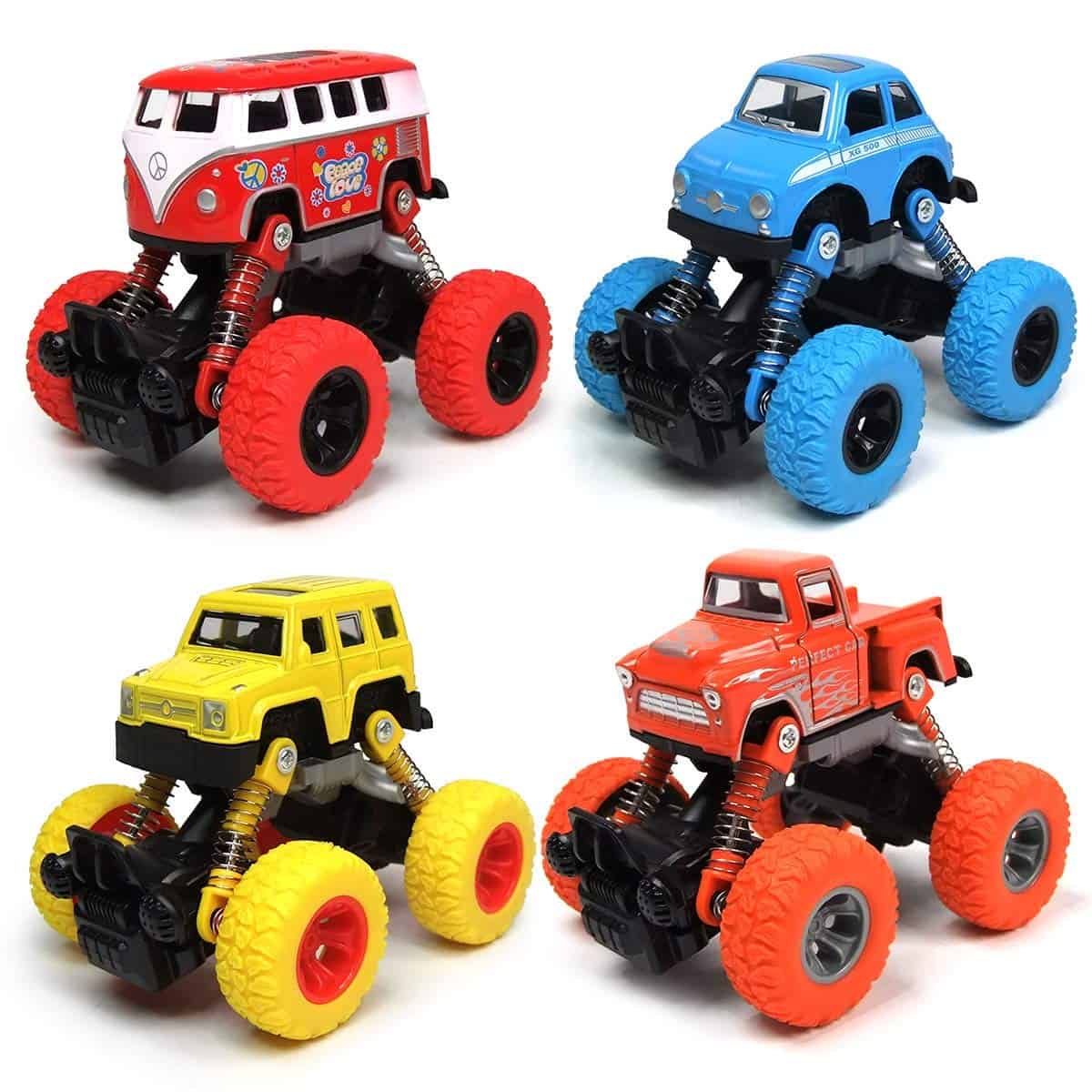 Similar to monster trucks, 4 cards of the set are unique and robust. They can freely tackle all types of surfaces such as carpets. Even more, they are among the top options in their class for practicality as they are also very robust.
Sitting on large wheels is not their only strength. They also come with large springs which allow kids to push them down for a more realistic suspension action. But these cars are still small. Based on their pull back action, they represent a suitable design for all of those seeking a bit more speed. Since they are so small, they can also represent a suitable travel solution.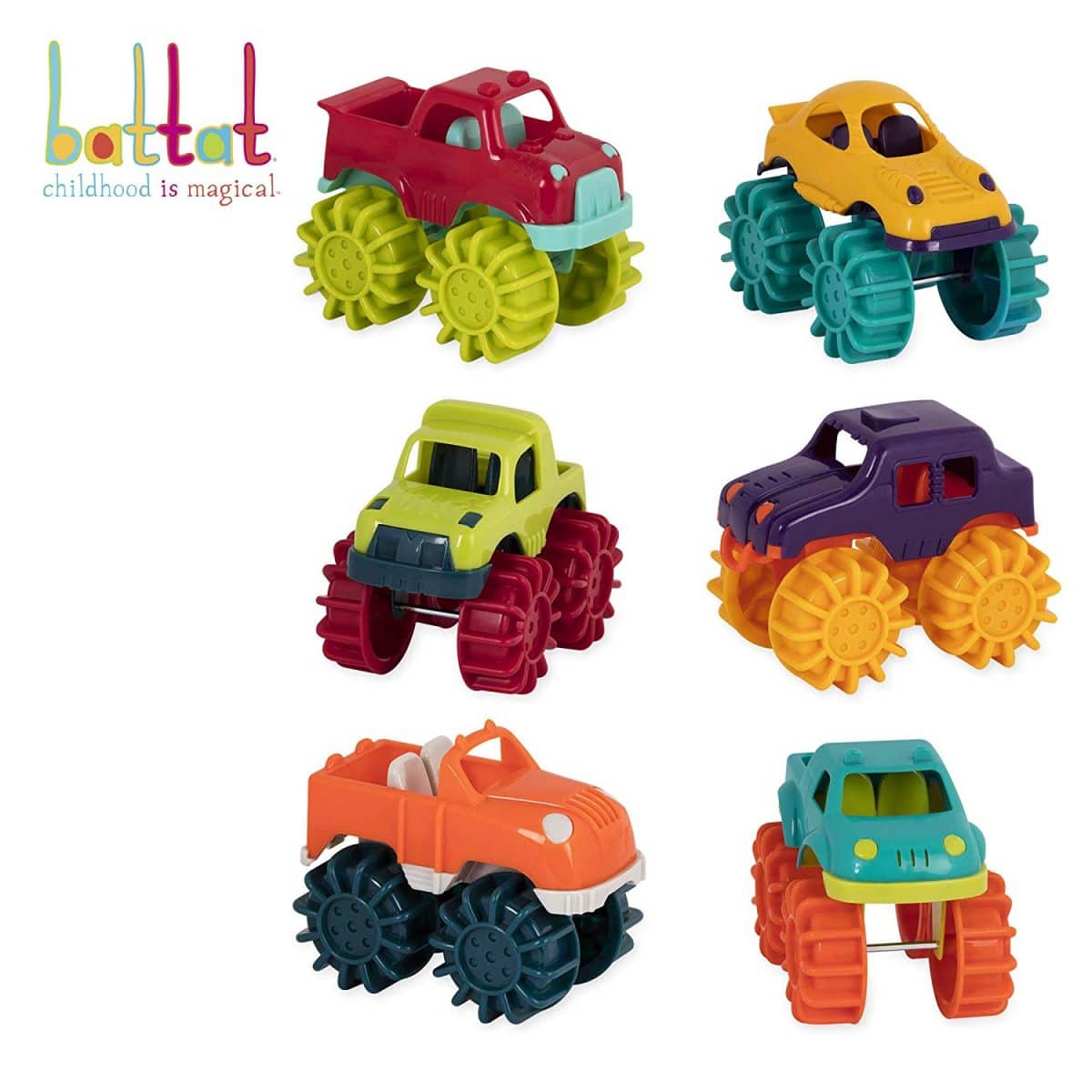 There are 6 colored monster trucks to choose from in the set. They are a great choice for indoor and outdoor fun. Since they can pass over any type of obstacle, toddlers might also take them to the park. Made to be tall but still compact, they are easy to grab.
All of these monster trucks are made with the toughest plastic. They are among the simplest and most efficient when it comes to the best durability as they meet and exceeds safety recommendations. Placed in a see-through storage bag, they are easy to put away after the monster playtime is over.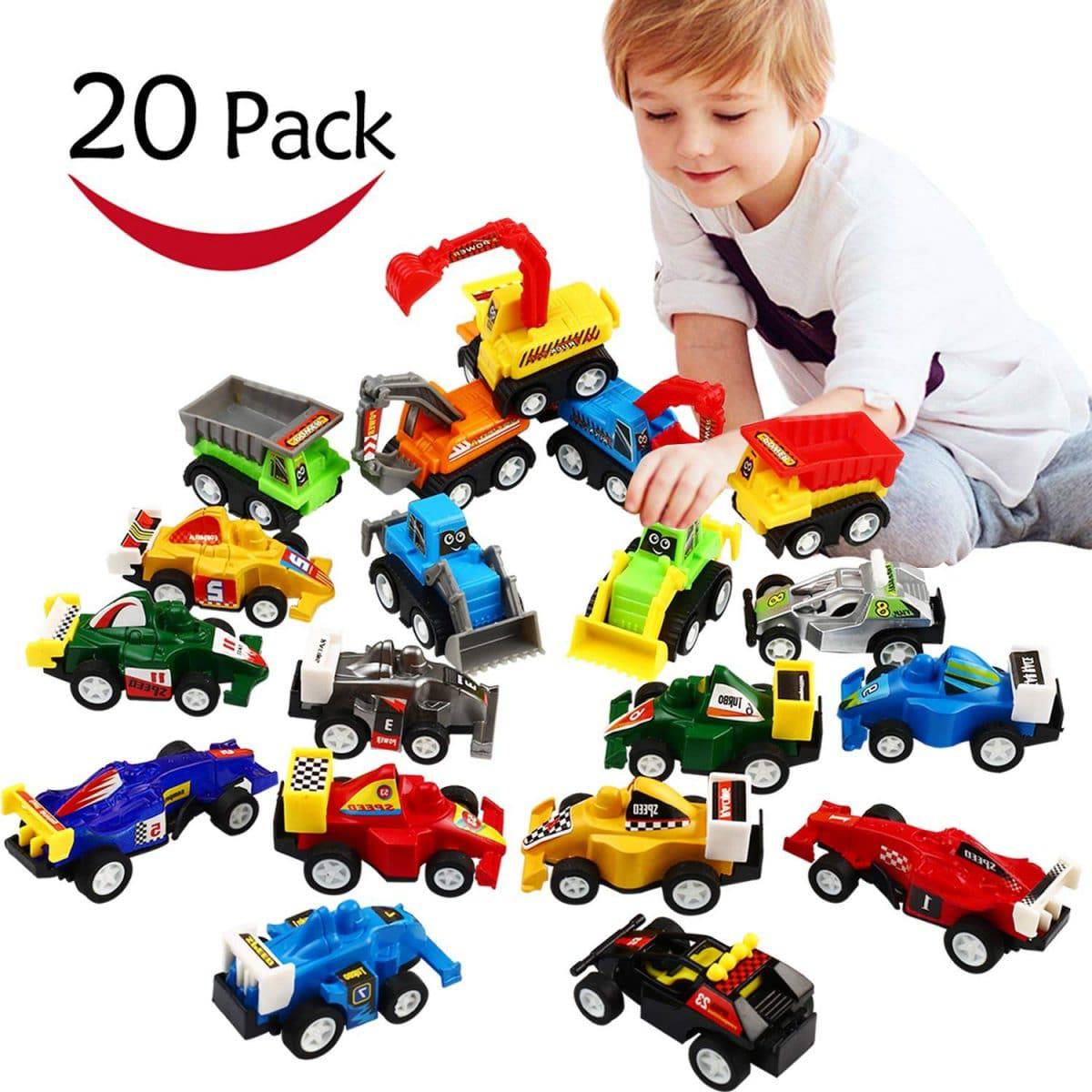 There are 20 different vehicles to choose from in the set. They range from the racing vehicle such as formula cars to construction vehicles such as bulldozers. As their name suggests, all of these vehicles are powered by pull back action. One of the best parts about this is that the vehicles can be raced.
Toddlers can play with siblings and friends and since there are so many vehicles to choose from, they won't feel like not sharing.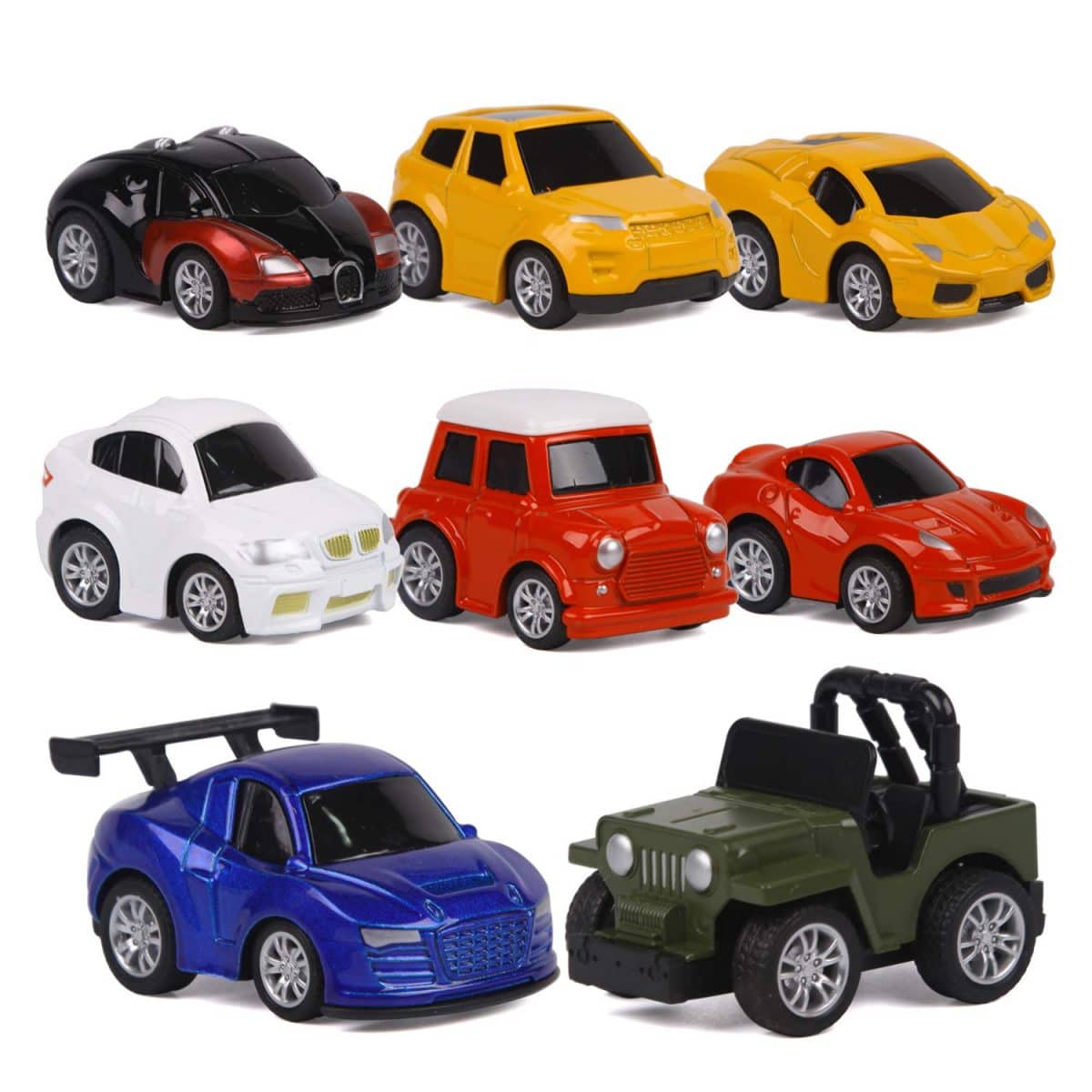 Made with a compact design, all the cards of the set are suitable for toddlers. They are lightweight and easy to handle. Some of them, even resemble real-life cars such as the fast Veyron. With off-road vehicles, sports vehicles and city cars, toddlers can find their car to rely on.
At the same time, the set needs no batteries. The friction power of the vehicles is one of the mechanical methods of adding power without drawing energy from batteries. Furthermore, all of them are easily among the best when it comes to top-quality materials. Made from non-toxic materials, these cars can put smiles on toddler's faces for a long time.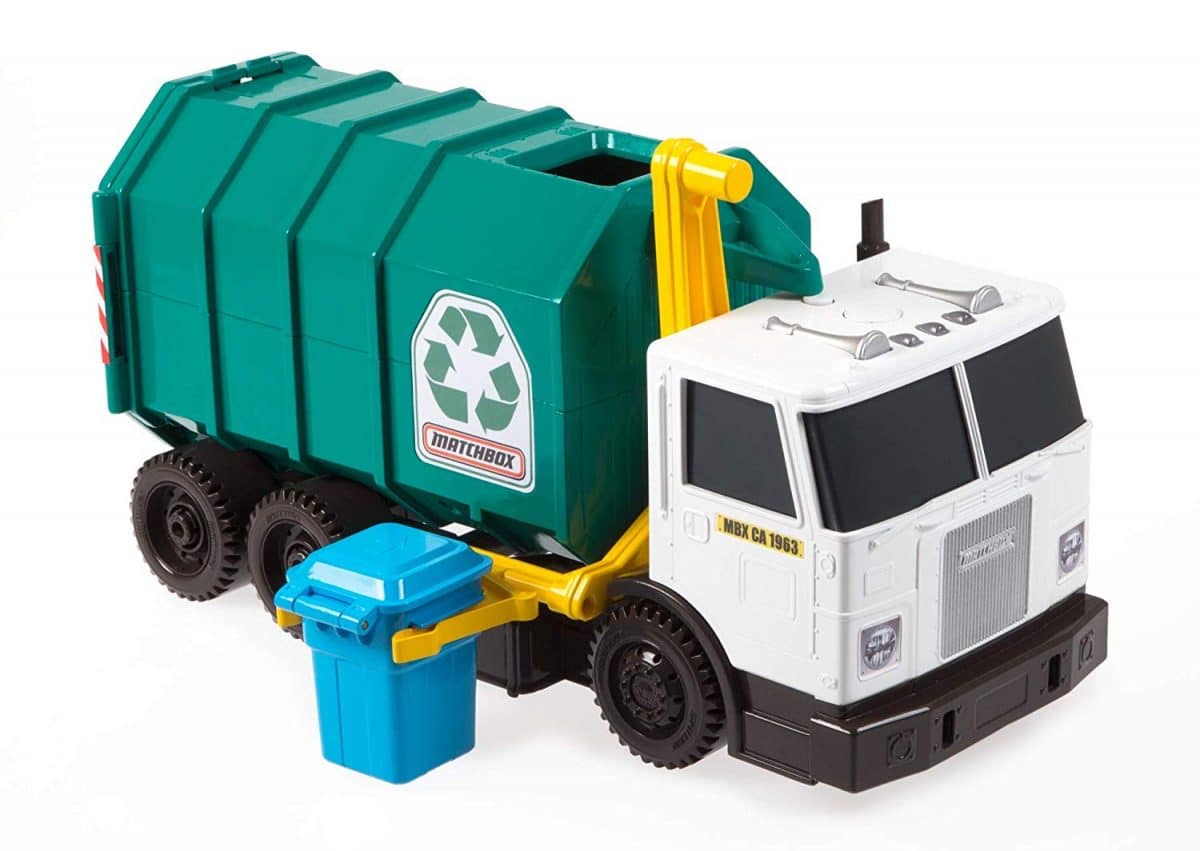 Garbage trucks have always inspired kids. Many toddlers sit and look through the window when they are in action on their streets. This Matchbox design allows toddlers to play with their garbage truck. But this is not just a simple truck. It is made to fully support all types of garbage truck features.
Its bin raises and lowers as needed. Kids can simply make the most of the design by actually pressing the lever which raises and lowers the bin. When the truck is on the move, it also makes specific sounds to alerts incoming traffic. This is why this large truck is realistic and it keeps toddlers entertained for hours.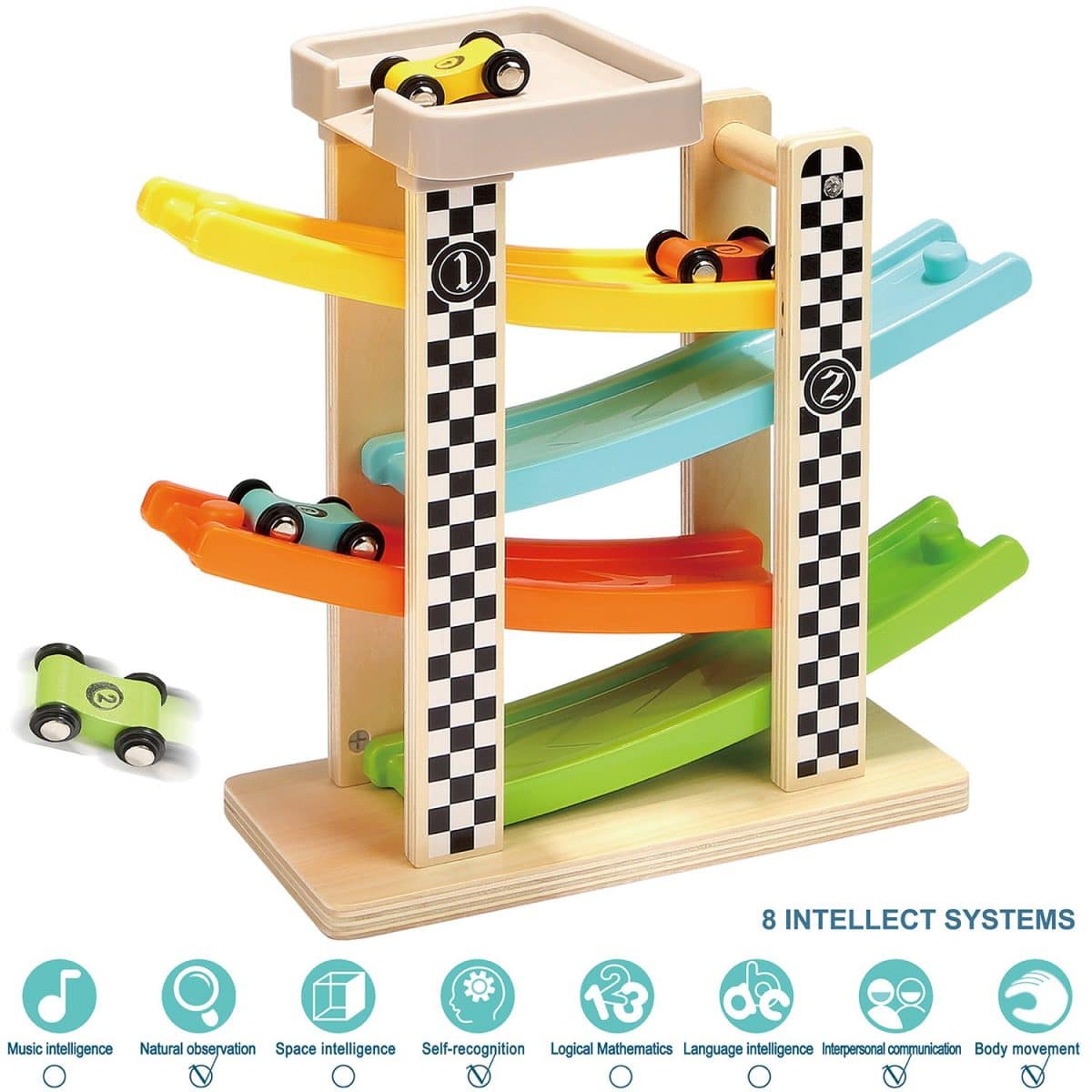 Made with 5 elevation levels of racing fun, this set is specifically made for toddlers. It is less complicated than a similar alternative for older kids but is equally as fun. This is why it comes as one of the main names in the industry where it has a large capacity when it comes to group fun ideas.
There are 4 included cars in this set. Kids can share their favorite moments with friends and allow cars to travel from high above to the bottom level. At the same time, cars are simple and durable. This is why they survive any type of drop, even from high above. Toddlers will love their speed and agility as they are among the fastest in the race track world.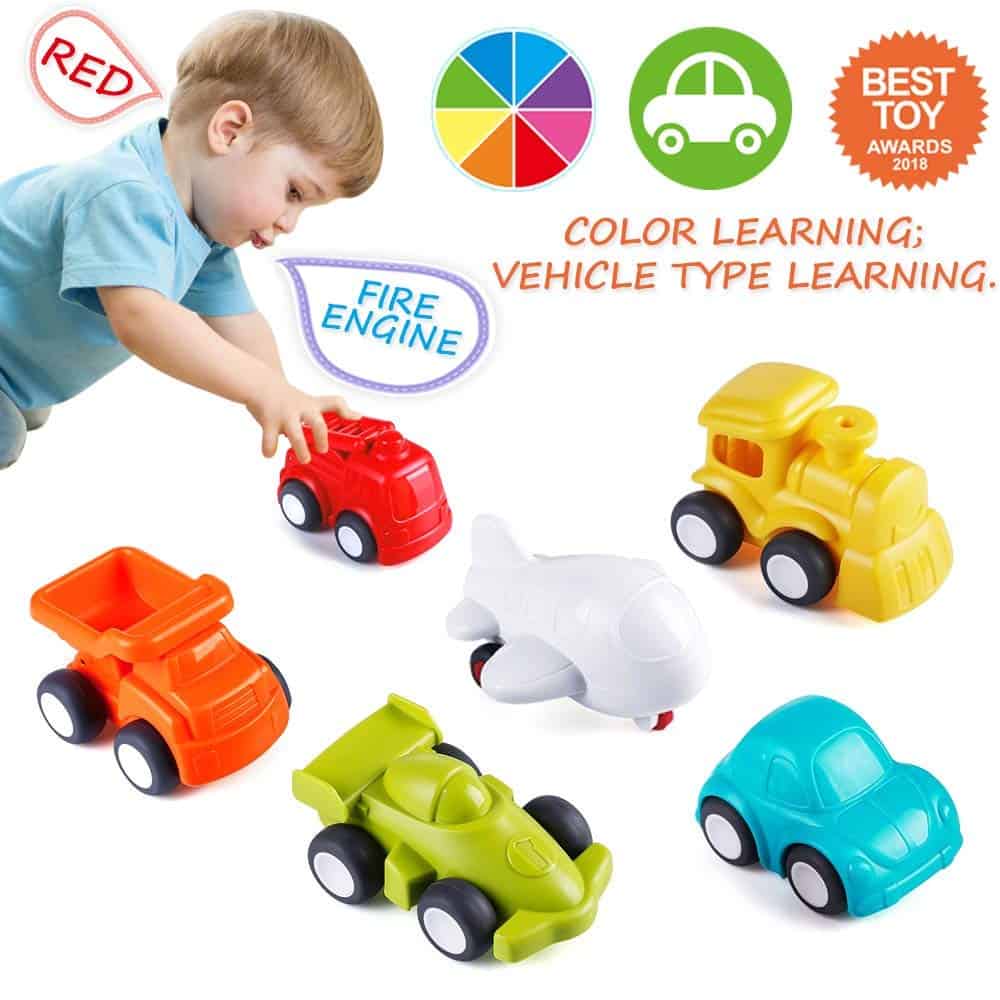 Each vehicle of the set comes in different colors. Kids can make the most of them by learning colors such as red, blue and yellow. Since the vehicles only feature one color, the learning process is less confusing.
There are 6 vehicles in total. Kids can make the most of them simply by following the same steps which allow them to play as with any other set. They can move one from one car to another as they want. There's even an included airplane in the set, which still sits on wheels.
Made from ABS plastic, these cars are among the most durable of their class. This material is known to be one of the toughest. This is why these vehicles are also made to resist scratches and drops. Toddlers can even throw them around without parents running to catch them to avoid accidents. There are no batteries to worry about either. All the vehicles move freely without electric power.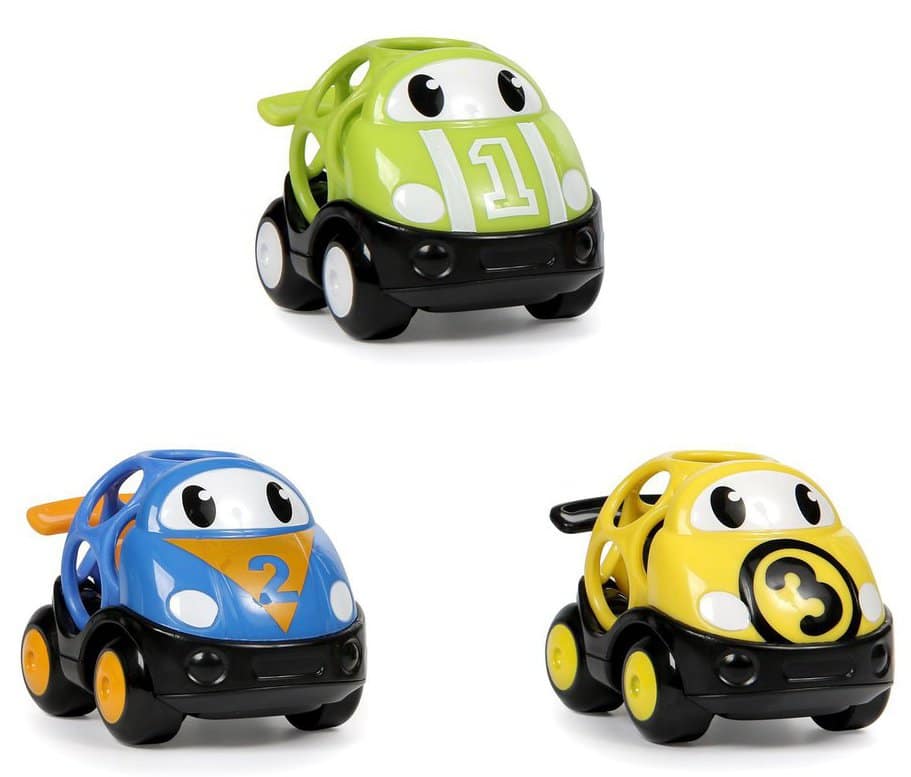 There are 3 cars included in this Oball set. The manufacturer is already one of the most popular names in the industry and the set is a confirmation of its position. This is why it's important to find the products which work for best for toddlers, and Oball is a specialized name.
This means all Oball characteristics are abided by in this set. The vehicles are small and they only fit their little fingers. Furthermore, all of the cars are made so that they last a long time. Made from thick plastic, they can take hits and the unavoidable accidents when bumping into furniture.
Furthermore, the 3 cars are made in different colors. This is the main reason they look as great as many would expect. Attracting all eyes, they make toddlers interested in their bright looks and pushing them around becomes a fun experience.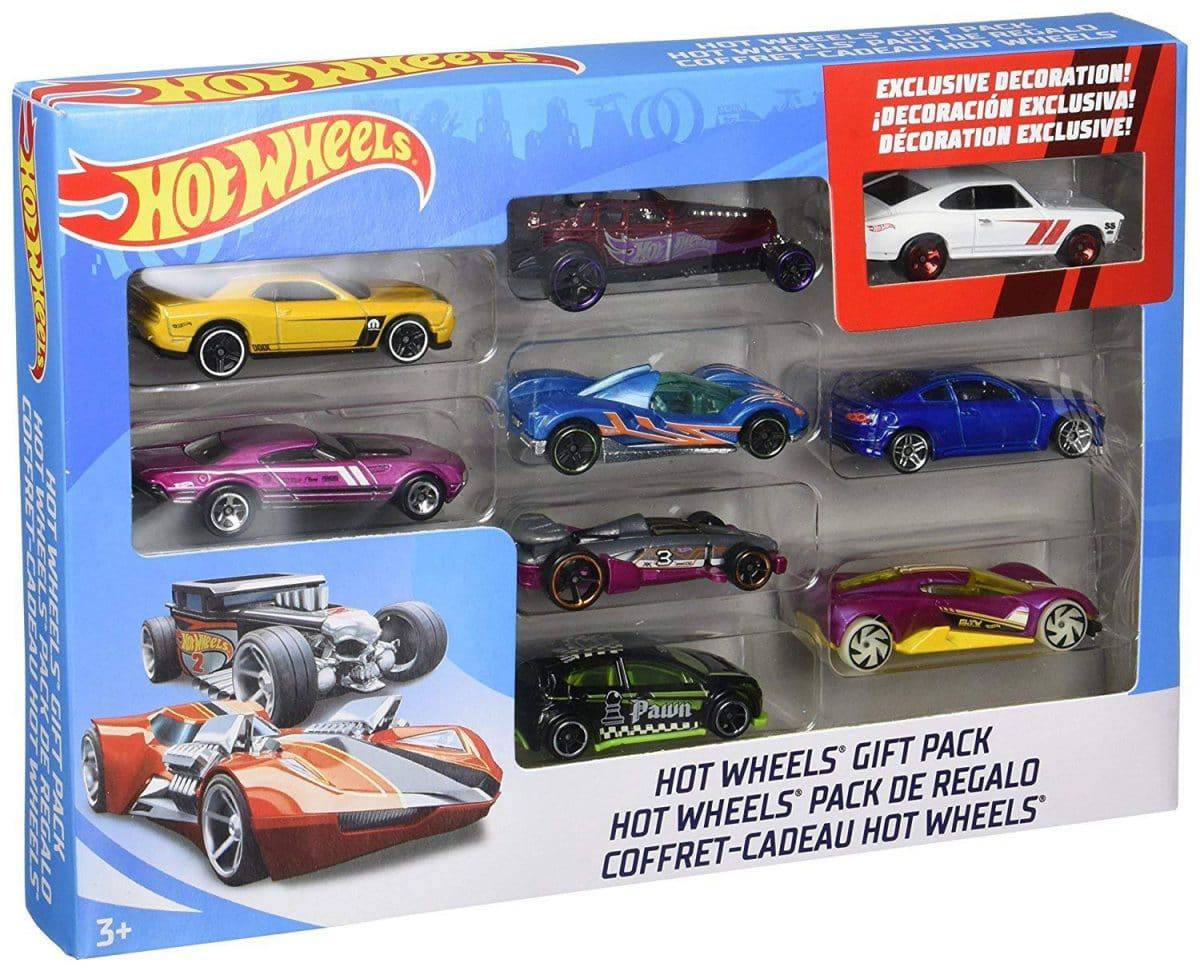 Made by Hot Wheels, this set comes with authentic vehicles which some toddlers might already know from TV. They are mainly played with my older kids but some toddlers find their detailed designs to be worth a try.
Made to an accurate 1:64 scale, these care looks similar to the real representations they are mimicking. Furthermore, they are among the highly desired hot rods kids love to play with. Made from die-cast materials, they also feel heavier and solidly built. However, these materials will not support toddlers tossing them around the room. If they are dropped, it is a matter of time until they fall apart. This is the sole reason these cars are not recommended for high energy toddlers.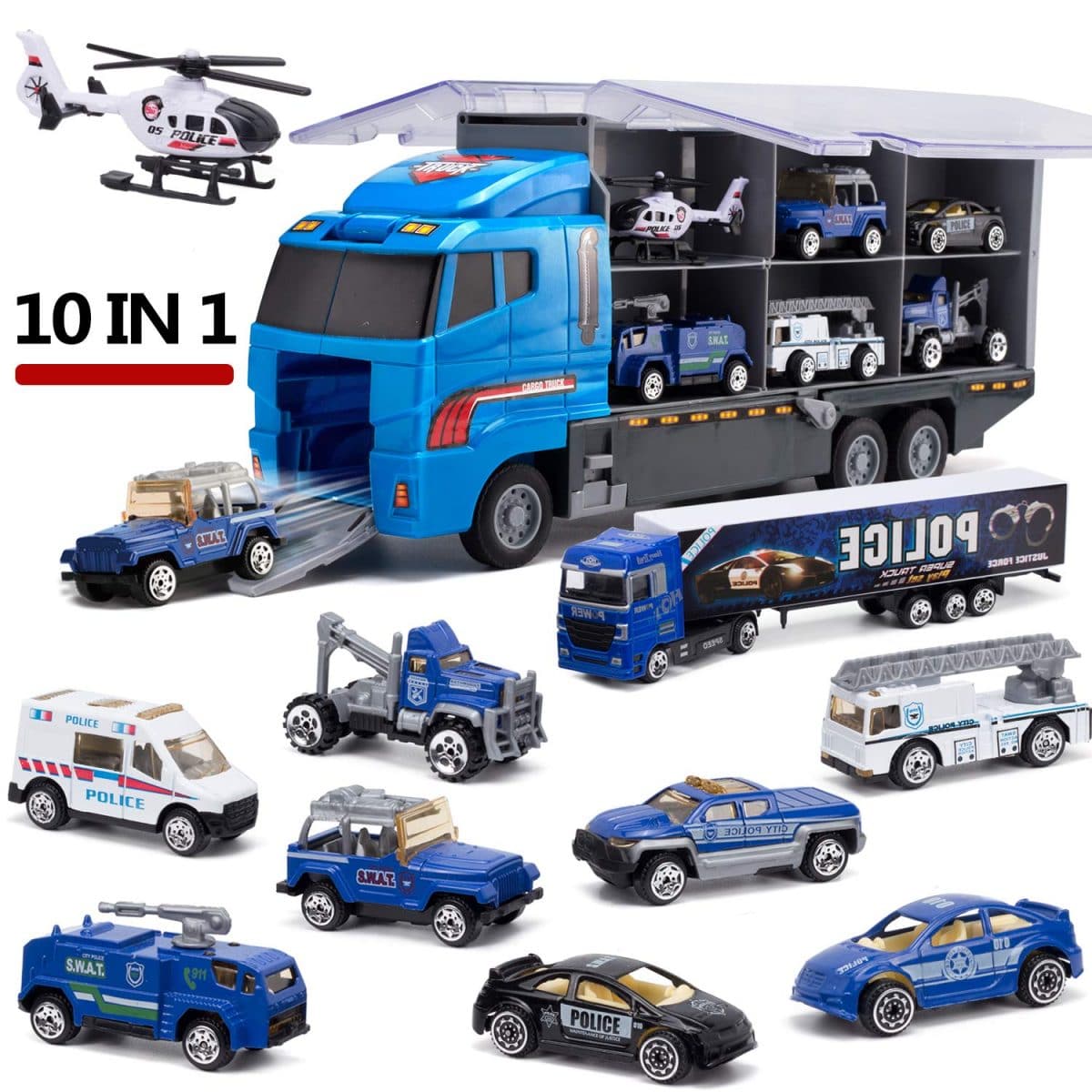 There are 10 total vehicles included in this set. All of them represent police vehicles and they can be used by kids to pretend on being the next best law enforcer. Unlike many other similar sets, the small vehicles are held inside the large truck. It is this truck which can also be used by toddlers and pushed around the play area.
If some of the police cars are a bit small for their little fingers, the large police truck is certainly what they will find most interesting. At the same time, they can develop essential motor skills by placing each small police car inside the truck.
The quality of the playset is at a high standard as well. All the smaller vehicles are made from alloy. The large truck is made from durable plastic and it allows cars to be loaded and unloaded from the sides and the font of the vehicle. At the same time, the truck can serve for storage purposes.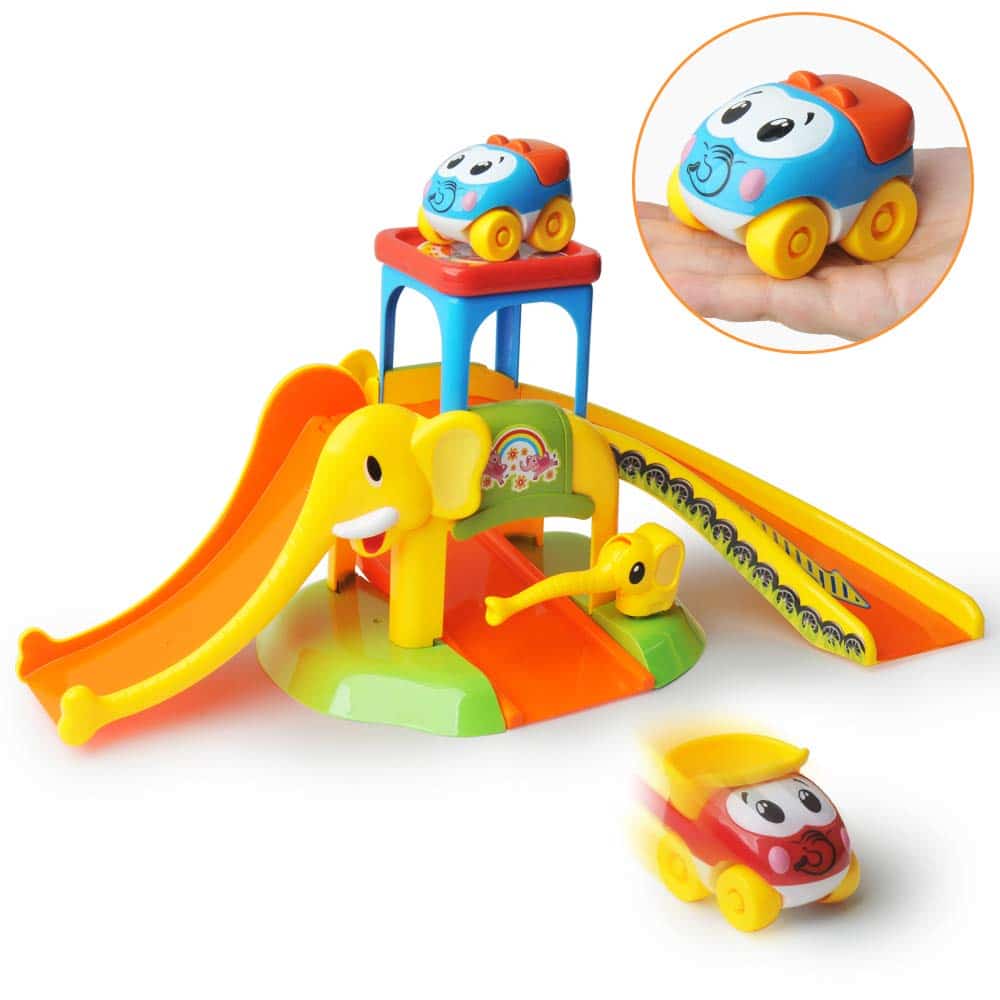 There's a unique track inside this set which captures the interest of all toddlers. It allows some room for adjustability and this means the track doesn't always have to look the same. Some toddlers might handle putting it together while others might need a bit of help from adults. However, all toddlers will handle playtime with the 2 included cars on the track.
At the same time, it could also be one of the few toy cars for toddlers which requires some type of coordination and planning as they go through its pieces putting it together. Made with an age-appropriate design, the track is not too complicated to put together.
Two quirky cars are also included in this set. They run fast down the track. But they can also be played with outside the track. Parents can pack them in their bags for weekends away as they are quite compact.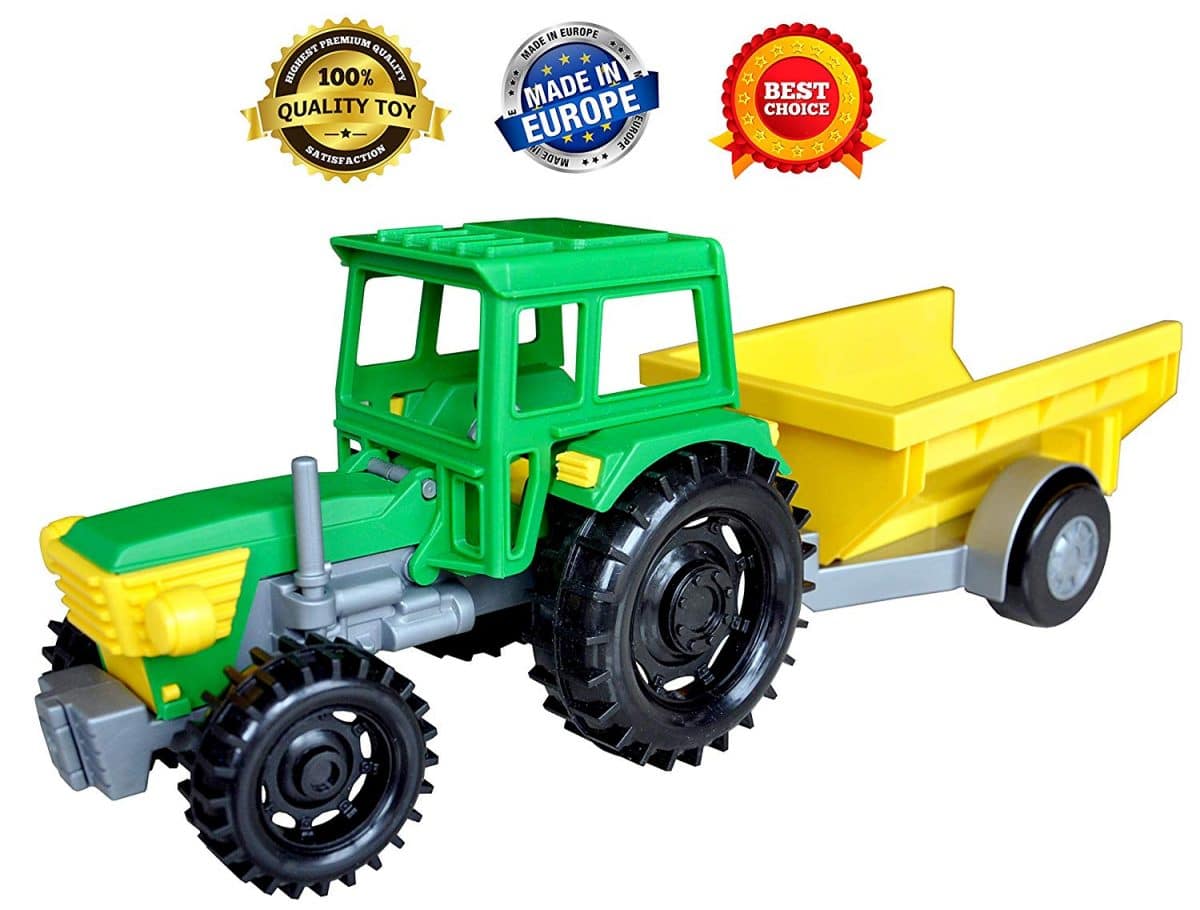 A simple toy tractor can intrigue the little ones. This tractor is pulling a dump trailer which means it is one of the best solutions in its class for functionality outside the home. Kids can transport sand or other toys with the help of the truck. At the same time, it is one of the few designs which can take a hit and be washed without any repercussions.
Made with eco-friendly materials, the truck also features large wheels which can go over multiple surfaces. Even pushing it on sand proves possible as a result. Kids who love to play outdoors might find it one of the suitable options to resist the various obstacles and bumps which inevitably happen outside.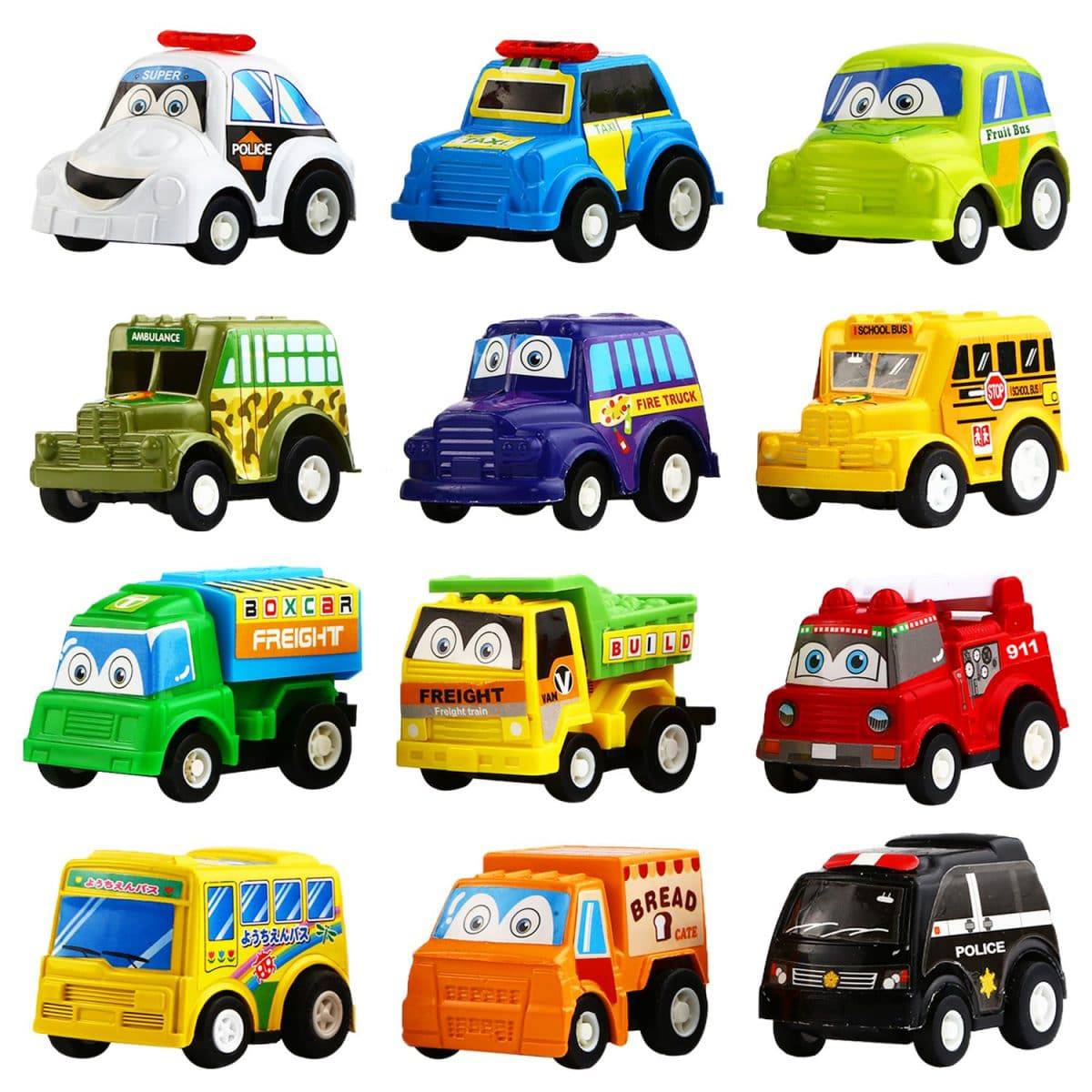 With a size of just to 2.2", the small vehicles of the set are among the best when it comes to comfort. Many kids can find it difficult to grip larger vehicles, but this is not an issue with the Functor Toys set. If other similar toys come with wider alternatives, the manufacture went down the practical route.
Apart from their size, these toys also come with pull back action. They need to go back and then released to gain full speed. There are 12 vehicles inside the Funcorn set. This includes police vans, school buses, trucks, and fire trucks.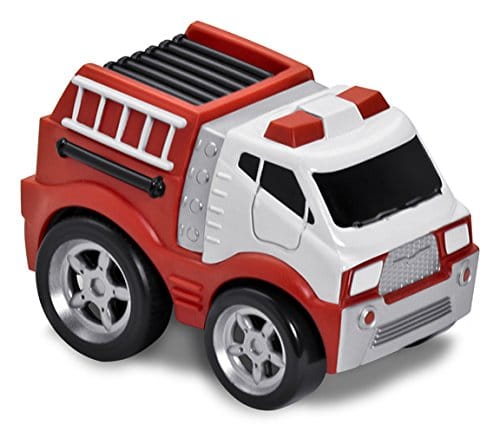 Part of a special series, the fire truck is one of the top choices for the little ones if the size is important. The truth is at its size, the fire truck has no real competition. With large wheels, it can be used on various surfaces.
Most kids can also consider its pullback option, a feature which is not as popular with such large vehicles. When on completely flat floors, the pullback feature allows the truck to reach distances of up to 30 feet on its own. Toddlers can collect them all with alternative police cars, race cars or school buses.
Specifically made for toddlers, this set is one of the fun options which include all types of vehicles. A ladder vehicle is included in the set together with a tractor and with an ambulance. Kids can use these vehicles to improve their imagination and play freely according to the vehicle they love most.
Made from ABS plastic, these vehicles are also shatter-proof. Without doubt, they represent one of the most suitable designs when it comes to proper overall durability as they can survive drops from any angle.

Made for toddlers and kids just getting their grips with walking, this set is one of the most comfortable options for them. All of the 3 vehicles included are a hit as kids already love farming vehicles. Inspired by the famous John Deere tractors, the vehicles are small and they can be gripped with extra strength by children.
Final considerations
Some of the best toy cars for toddlers are now made with impressive durability. As seen above, they are considerably stronger than the toy car for every other age group. Since many toddlers get creative with their toys, cars are the perfect gift idea. They can get toddlers moving. Most importantly, toy cars for toddlers are fun to use and many come with some quirky designs to remember.