If you have a child in the terrible twos you probably aren't asleep long enough to be woken by your alarm in the mornings. In fact, it may be more normal for you to open your weary eyes to an energetic tot at your bedside – one that thinks if they're awake, you should be too. If your love of coffee is the only thing that gets you through the day, you could benefit from getting your child their own toddler alarm clock. Unlike adult alarm clocks, these special sleep training devices help build healthy sleep habits for your little one, stop them from getting out of bed too early, and keep parents in fighting form, too.
There's a lot of choices available though, so to save your tired eyes the research time, we've put together a complete guide to the best toddler alarm clocks in 2022. Before we dive straight into our reviews, let's first take a look at the most important features to bear in mind when choosing an alarm for your tot.
Features to Consider in Good Toddler Alarm Clocks
Definitions of toddler vary, depending on where you look and what you read. So just because an alarm clock is advertised as being for toddlers, that doesn't necessarily mean it will be suitable for your child's current stage of development.
Don't worry though, we've included a broad range of toddler alarm clocks in our reviews to satisfy tots of all levels. Many products in our list focus on helping your little one learn when it's time to start their day. These are known as 'ok to wake' alarms and change color to let your child know when they can get out of bed. Others are designed for older toddlers and include functions to help teach them time-telling skills. Some help ease scared children into a sound sleep, with a soothing night-light. For a more detailed break-down of toddler alarm clock functions, you can skip over to this section.
Whichever functions are most important to you, there are some features common to all toddler alarm clocks that you should pay attention to. In fact, these are the features we used to evaluate the best toddler alarm clocks on the market today:
Durability
You already know that toddlers are prone to breaking everything in sight. So, it's important that the alarm clock you choose is made from something durable enough to withstand the trauma of being pushed, pulled, thrown, hit, and bit. Don't worry about not being able to get your hands on the products to test this, we've got it all covered for you in our individual product reviews.
Child-Friendly Design & Display
A toddler alarm clock needs to look exciting enough to hold your child's attention. You also need big, colorful displays that send a clear message to your kid about whether they should be going back to sleep or waking up. Plus, the design should be child-proof; a toddler alarm clock may have an impressive feature list, but that's no use if your little terror can tamper with the settings once you're out of sight.
Variable Sounds
The sound of an alarm is enough to make most adults wince in pain and we're sure you'd prefer your child to wake up more peacefully. We suggest child-friendly tones like animal noises, sounds of nature, or your tot's favorite song – which we're sure you already know every word of. You should also choose an alarm with a suitable volume for its placement in the room. Many toddlers are prone to night terrors, so you have to be careful here. It needs to wake your child up, without scaring the life out of them.
Adjustable Lighting
A great way to teach your tot about appropriate sleep and wake times is with a light that gradually dims or brightens, or a stop-light system that changes between red-yellow-green, depending on the time. Toddlers can be light-sensitive so you should prioritize adjustable choices, which we note in our reviews.
Top tip: When you first use an alarm, start with the lowest settings. While lights and sounds may appear dim or quiet when tested in the daytime, things feel much more intense in the early mornings. It's better to gradually work up the levels for a few nights than to startle your child and leave them afraid of using the clock again.
Simple Set-Up (Ease of Use)
Getting a toddler into bed is hard enough, you don't want to spend another 5 minutes every evening trying to reconfigure an alarm. You need simplicity here so it's important to have intuitive buttons and a memory function.
With these features in mind, it's time to break down our picks for the 10 best toddler alarm clocks of 2022:
Top 10 Best Toddler Alarm Clocks 2023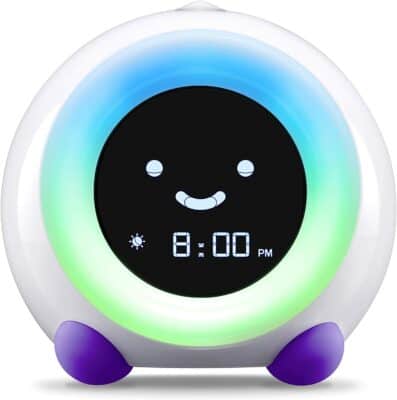 Why we like it:
The LittleHippo Mella Ready to Rise has a beautiful design, intuitive set-up, and comes packed full of sleep training functions. It's the perfect all-in-one solution for parents looking to help their tots learn positive sleep habits.
Editor's Rating:
Durability
The Mella is incredibly well-made and the most durable alarm clock to make our list, so for those with little ones who are prone to temper tantrums, this should be your go-to choice. The unit has a smooth, rounded design and is perfectly sized for the hands of a child, so the chance of your child losing their grip and dropping it is low.
Design & Display
The Mella uses a fancy LED display that changes color according to three stages – sleep, play, and wake. It also displays a digital 'smart face' which smiles at your child when it's time to get up. We love this feature as it gives your little one two different 'ok to wake' cues in the morning – doubling your chances of success. The buttons are well hidden on the clock's underside, making it less tempting for your child to touch. If they do find the buttons, there's also a child-lock switch that gives an extra level of protection against tampering.
Bonus: Unlike many of the competitors, the base unit is also available in 4 different colors.
Sounds
The Mella comes with 3 different alarm choices and a soothing sound machine. The sound machine feature will stay on all night if desired, which most competitors don't offer. This can really help to settle your little one if they wake up alone during the night. One feature unique to the Mella device is a 'silent mode' for older children, so your child isn't likely to out-grow this device anytime soon.
Lighting
The built-in night-light can be set to one of five different colors and the brightness is fully adjustable. So, no matter how picky your little one is, there should be an option to keep them happy. Plus, the 'ok to wake' light and the audible alarm can be set to go off at different times. That means if your child wakes up early, they'll know to stay in bed. But if they drift back off to dreamland, they can still be woken up later by the alarm function.
Unfortunately, the pre-wake yellow light can't be disabled. If your child is light-sensitive they may be woken prematurely by this yellow light, rather than the green light as is intended. To get around this you have to set the pre-wake time as the time you actually want your child to wake up – a suitable workaround, but not ideal.
Ease of Use
The Mella also includes a battery back-up, so if you experience a power outage all settings will be restored as soon as you can run off an outlet again. Very few competitors are able to offer this. However, it cannot run on battery power; it must be plugged in.
Pros
Impressive array of functions (sleep trainer, night-light, nap timer, and alarm)

Striking LED display

Fully adjustable sound and light settings

Back-up battery memory
Cons
Must be plugged in to run

Pre-wake light cannot be disabled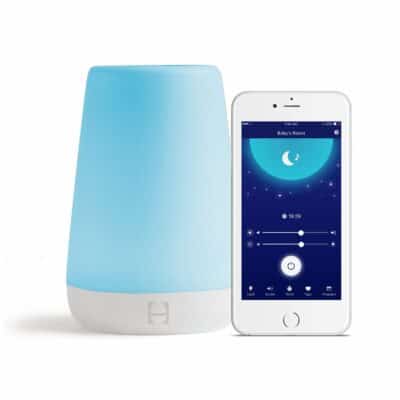 Why we like it:
Smart-phone controlled settings make the Hatch Baby Rest a wonderful premium option for parents who want a do-it-all sleep trainer that they can control from the sofa.
Editor's Rating:
Durability
The Hatch Baby Rest is built to last and this is reflected in its more premium price. As it's controlled remotely and the on-device buttons are minimal, there's not much your child can break.
Design & Display
As with the Mella, this device is a great all-in-one solution and offers a night-light, soothing evening sounds, and an 'ok to wake' feature. It is the most expensive clock we reviewed, but this is reflected in the smart-phone remote control design. However, this sleek design may not be so visually appealing for younger toddlers who could prefer something like the Big Red Rooster.
Sounds
The Hatch Baby Rest has a whopping 10 sound choices, which is the most comprehensive of every unit we reviewed. The sound level is adjustable but for the more sensitive young ones, you may find that even the lowest level is still a little loud.
Lighting
There are 10 preset color choices (including a rainbow effect), but if you prefer you can even choose custom hues from your smart phone. No other offering comes close in terms of lighting customization, so if your child is very sensitive to visual stimuli The Hatch Baby Rest is a safe bet.
Ease of Use
The most technologically advanced toddler alarm clock available, the Hatch Baby Rest is set up entirely via a smart-phone app (both Android and iOS) so you don't even need to move from the sofa to make changes. For those with lifestyles that require their child to wake at different times during the week, this is by far the most convenient clock. It also means the device is completely child-proof – the settings are locked remotely so there's no danger of accidental turn-offs.
Pros
Settings controlled from a phone app

Incredible color customization options

Fully child-proof as it is locked remotely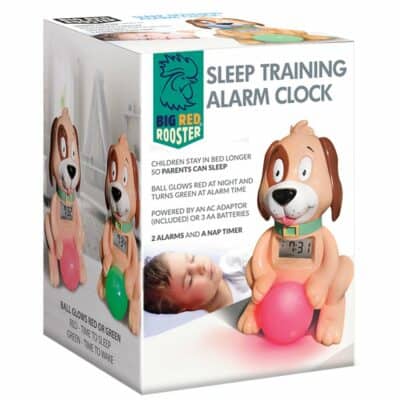 Why we like it:
The use of a dog and ball in the Big Red Rooster is a strikingly simple yet effective tool for teaching young toddlers when it's appropriate to sleep and when to wake.
Editor's Rating:
Durability
The Big Red Rooster doesn't have the premium finish of the Hatch Baby Rest or the Mella, but that doesn't mean it's not durable. It's a strong, sturdy, and well-made device that can handle the occasional rough treatment from your toddler.
Design & Display
Compared to some of our other selections this is certainly a less 'high-tech' design. But if your child loves pups, you may find they connect better with a playful looking dog telling them when to sleep/wake compared to a more traditional or robotic alarm. Simple and effective, the Big Red Rooster sticks to the basics. The 'ok to wake' system is a ball that's lit red when it's sleep-time and green when it's time to rise. For younger children, this is perfect; it's a simple system to teach, with no fancy features to confuse them.
Sounds
The sound is akin to a traditional adult-sounding alarm. There's nothing wrong with this, but you may find it a little more abrasive than some of the other 'gentle-wake' offerings.
Lighting
The brightness can be adjusted in stages e.g. 25%, 50%, etc. So, no matter where you place the device in your child's room, you'll be able to find an appropriate intensity. If your current issue is an early-waking child, this alarm clock could transform your mornings.
Ease of Use
We love that you can choose between batteries or a plug on this alarm clock, so it's easy to set up if you travel often or simply want to avoid the trip-hazards of a wire. Many other alarm clocks on our list require power to function, so this is a big advantage. There's no function to automatically repeat the alarm though. You have to press a button to reset each evening and the small buttons aren't the most user-friendly.
Pros
Simple but effective 'ok to wake' system

Adjustable brightness fits for all rooms

Can function with either a plug or batteries
Cons
Only one alarm sound option (traditional alarm tone)

Small buttons mean it's not as easy to set-up as other offerings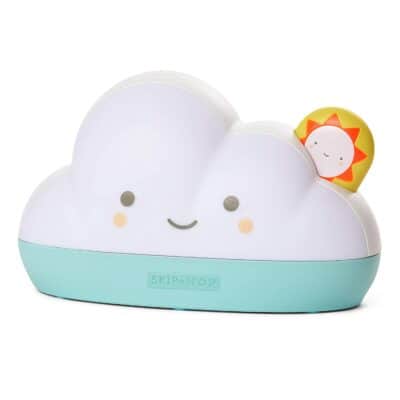 Why we like it:
The Skip Hop Alarm Clock has our favorite design and will look very cute and cozy in your toddler's bedroom.
Editor's Rating:
Durability
Don't expect the Skip Hop to hold up over time as well as the more premium options we've reviewed. But for most parents who aren't intending to use it as a portable alarm device, the Skip Hop is more than fit for purpose.
Design & Display
The Skip Hop has a very cute design. It's our favorite alarm clock to look at and would make a welcome addition to any young one's bedroom aesthetic. There's no clock displayed on the Skip Hop though. For younger tots this doesn't matter, but if your child is old enough to start associating numbers with time, we consider this a significant drawback.
Sounds
The Skip Hop's sound is fully adjustable with 8 different levels to choose from, so it's perfect for all room sizes. The night soothing mode also comes with three classic options – white noise, gentle rain, and lullaby.
Lighting
The Skip Hop uses a 3-step sleep training light system where red means 'time for bed', yellow means 'almost time to wake' and green is 'time to wake'. This graduated response is preferable to a straight red to green system, as it helps to give your child a sense of how time is passing. That said, the red color only stays on for 20 minutes, so if your child wakes up during the night, there will be no color displayed at all, which could be confusing.
Ease of Use
The simple 4 button set-up means you'll be up and running in no time with this device. There's nothing tricky to set up and not much for your child to tamper with, either.
Pros
Cute design that looks great on a little one's bedside

Sound is adjustable with an impressive 8 levels

Simple set-up
Cons
Night-light turns off after 20 minutes

No visible clock displayed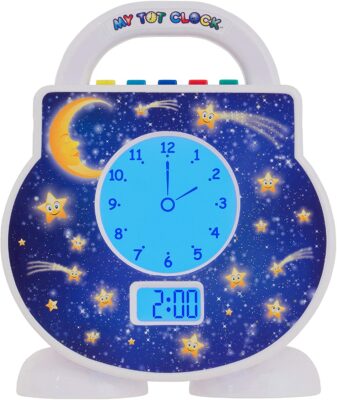 Why we like it:
With customizable faceplates and an impressive feature list, My Tot Clock is an exceptional teaching tool for your little one to learn about the concept of time as they grow older.
Editor's Rating:
Durability
There's a useful carry handle at the top of this clock, making it easy to transport from room to room and less likely to be dropped by an over-eager child.
Design & Display
A unique feature of My Tot Clock is the changeable faceplate, which you can remove and replace with a design to match your little one's interests. Plus, all of the parental controls are located behind this plate, so there's very little your child can do to mess with the settings. Out of all the products reviewed, this is the best child-proofing design. My Tot Clock also includes a digital analog clock to teach your child how to tell the time. This is a feature we've only seen in one other competitor, the PlayMonster Teach Me Time.
Sounds
As well as a variety of typical sounds My Tot Clock can even play bedtime stories. This is a totally unique feature for this device and another excellent teaching method. If you prefer, you can also disable wake-up sounds altogether so that your child has a gentle lights-only start to their day.
Lighting
My Tot Clock illuminates in 5 colors: blue for bedtime, yellow for waketime, cyan for naps, green for fun, and red for timeouts. This is very comprehensive but does make it more challenging for your child to learn. For the younger tots out there, they may find a simple red/green system simpler to grasp. Notably, the wake-up color on this clock is yellow whereas, on almost all other devices it's green. If you're switching over from another device this could be a little confusing, as you'll have to re-teach your child what the colors mean.
Ease of Use
You have to remove the faceplate to make changes, so last minute or late-night changes are less convenient than an option that allows for remote smart-phone control, like the Hatch Baby Rest.
Pros
Changeable faceplate

Analog clock face to help teach time-telling

Effective childproofing
Cons
Must remove the faceplate to change settings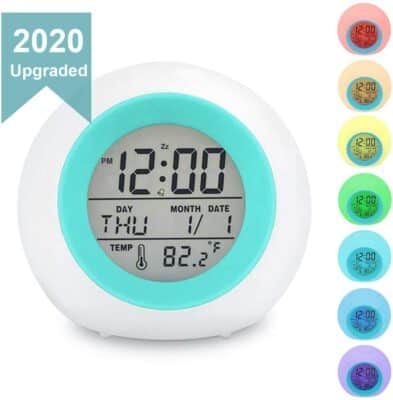 Why we like it:
The Kids Digital Alarm Clock is a simple device with an impressive 7-color night-light and a very affordable price tag.
Editor's Rating:
Durability
The lovely rounded design means it's unlikely to suffer damage and it's also small enough to be portable. Plus, it runs solely on batteries so you won't have to worry about your child pulling at wires, which can be a cause for concern with other toddler alarm clocks.
Design & Display
This Kids Digital Alarm Clock keeps things simple, as you might expect for a budget option. It doesn't include an 'ok to wake' function so this is better for children who aren't prone to overly early starts. But it does have an impressive 7-color night-light for those who struggle to fall asleep. Suitability here will depend on your child's primary sleep issue. The LED display shows the time, day, date, and temperature. The temperature display is a great feature, making it easy to check your little one isn't overheating in the hot summer months, very important for younger toddlers who are less expressive. While the time and date displays are useful as your child ages, these functions will be lost on younger tots.
Sounds
This clock comes with a choice of 8 different sounds from famous lullabies (Twinkle Twinkle Little Star) as well as more typical alarm sounds. The sounds on this device are superior to many of the competitors and you can progress to more classic alarm sound options as your child gets older.
Lighting
This toddler alarm clock uses a 7-color night-light which cycles in constant rotation. It's also 'touch on/off' so your toddler can easily turn the night-light on and off as they please. If they wake up scared in the evening, they're just one finger tap away from the night-light. There's no option to set a fixed night-light color, which is a common feature in most other devices.
Ease of Use
The alarm feature has a built-in memory, so you don't need to adjust the settings every night. In fact, as long as you want your child to have a consistent wake time, the set-up is very minimal. However, you do have to press the alarm button at the bottom of the device to switch off the alarm sound, and younger toddlers are going to struggle with this if you're not there to help.
Pros
Very affordable price

Easy to active night-light

Room temperature display
Cons
No 'ok to wake' function

Not suitable for the youngest toddlers

No fixed night-light color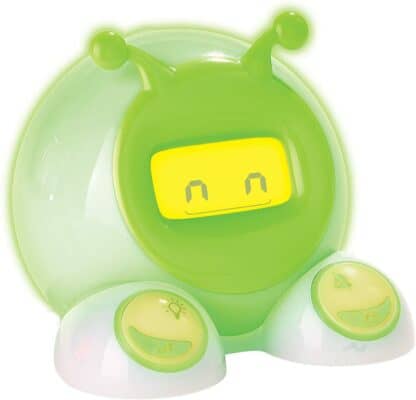 Why we like it:
The Mirari Ok to Wake! has impressive lighting options and alarm functions simple enough to use that even young toddlers can operate the clock without help.
Editor's Rating:
Durability
You may find some issues with the cord over time and for that reason, the Mirari scores poorly on durability.
Design & Display
As an 'ok to wake' clock, the green light and changing facial expression is a simple visual indicator that does a great job of letting children know when it's time to rise. The clock also has fun animations to help keep your child engaged in the early mornings, and we find these simple to self-activate.
Sounds
On the Mirari Ok to Wake, the 'ok to wake'' function is a silent color change with a changing facial expression, similar to the Mella. We actually find this silent approach very effective. Still, there is a simple alarm function you can use if you prefer and may find it particularly useful for afternoon naps.
Lighting
This device is well-lit with a warm glow without being excessively bright. While the night-light doesn't stay on all night, you can alter the switch-off time from 5 minutes, all the way up to 2 hours. This is a great way to save energy while also making sure your child has sufficient time to fall asleep before the night-light cuts out.
Ease of Use
The alarm will continue to sound until turned off, but it's very easy for a toddler to do this by pressing the alarm symbol on the foot. Your child can also cycle on the night-light just as easily. The instructions for use are attached to the back of the hinged door that protects the buttons, which is a nice touch. As well as childproofing, it means you can easily figure out the buttons, without referring to a physical manual.
Pros
Optimal light brightness

Easy for a toddler to switch-off the alarm and turn on the night-light

Instructions are conveniently written on settings panel
Cons
Cord vulnerable to damage

Night-light doesn't stay on all night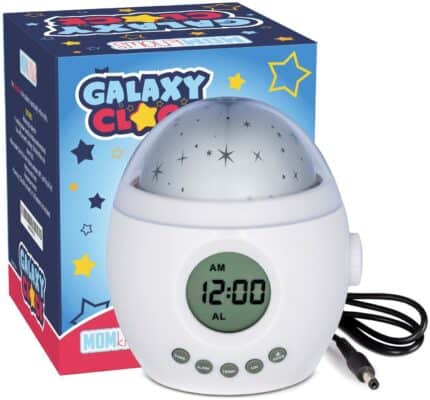 Why we like it:
With a stunning starlight ceiling projection, the MomKnows Galaxy Clock has by far the most impressive night-light function we've seen.
Editor's Rating:
Durability
The night-light projection bulbs are not replaceable, and you may find they burn out with frequent use. Unfortunately, the lights don't turn off automatically either.
Design & Display
The Galaxy Clock's night-light feature is completely different from all the other alarm clocks. This device actually has a star projector that casts a beautiful twinkling star effect pattern on the ceiling to hold your toddler's attention. However, there's no 'ok to wake' function on this device, so it's not the best choice for tots that wake up too early.
Sounds
The Galaxy Clock has excellent sound options, including 7 calming nature sounds e.g. birds, beach waves, and rainfall. There is even a 'womb simulator' feature to help young children sleep. This is more suited to younger toddlers but it's a totally unique feature we've not seen on any other clock. Impressively, it also includes a music speaker that works with your own device. You can attach your iPhone, Android, or other devices to play your child's favorite songs, which we feel are more likely to soothe them than any pre-programmed generic options.
Lighting
The twinkling star projection is this alarm clock's stand out feature. You can even cycle between different projection colors. If your child's main issue is falling asleep, this is ideal.
Ease of Use
Instructions are simple, but it's not a device that you can just set-and-forget. You'll need to turn off the lighting effects and manually alter alarm times for weekends or other schedule changes.
Pros
Stunning twinkling star projections

Unique 'womb simulator' feature

Can play your child's favorite music with iPhone or Android
Cons
No 'ok to wake' feature

Night-light must be turned off manually each evening

Lights prone to burn out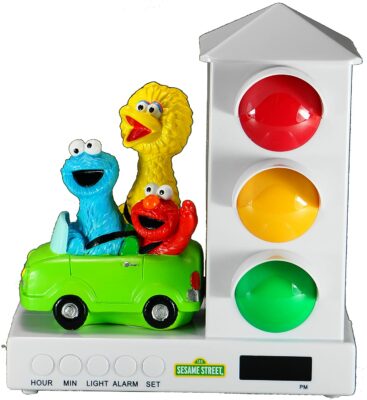 Why we like it:
The It's About Time Stoplight uses a unique stoplight system along with popular TV characters to effortlessly teach your child when it's time to start the day.
Editor's Rating:
Durability
It's About Time Stoplight isn't as well-made as some of our higher scoring choices. While this is unlikely to be a problem for most users, if your little one likes to bop and bash things, you may do better with a more durable choice, like the Mella.
Design & Display
If your toddler is a fan of Sesame Street this alarm is the obvious choice. There are several Sesame Street character variations to choose including Elmo, Elmo & Abby, Elmo & Cookie Monster, and Elmo & Friends. The clock uses a red-yellow-green 'ok to wake' system in a unique fashion, with the use of a miniature stoplight figure. This makes it even easier to teach your little one, as there is an opportunity to reinforce these signals during daily life. Notably, the yellow light must be turned on manually as it's more of an optional night-light. As the 'stoplight' doesn't transition from red through yellow and to green as you may expect, this could be a little confusing for your tot.
Sounds
No sounds come from the characters themselves. Instead, there's a simple beeping alarm. This does the job but pales in comparison to other products we've reviewed.
Lighting
The lights are bright and clear and work very well as part of the stoplight. Plus, the 'ok to wake' green light will stay on for a full hour in the morning (unless turned off). This is much better than many competitors and makes sure that if your child wakes up late, they're still likely to see the green light, rather than a switched off device.
Ease of Use
This is a very easy to use alarm clock, which is a function of how simple the set-up options are. It must be plugged in, so it isn't as portable as other choices.
Pros
Includes popular character choices

'Ok to wake' light remains on for a full hour

Visual stoplight system is an excellent cue
Cons
Only one alarm sound and no character voices

Poor quality build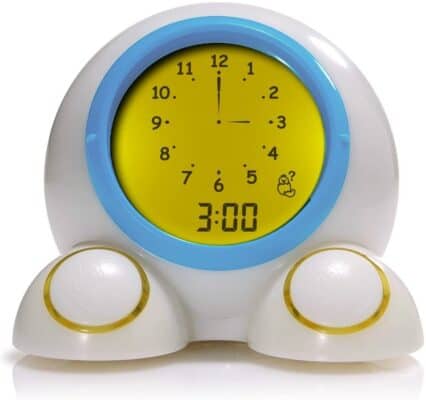 Why we like it:
The PlayMonster Teach Me Time is hands-down the best educational toddler alarm clock on the market, with adjustable skill levels to teach your child about time for years to come.
Editor's Rating:
Durability
Previous iterations of this product had cord issues. But the manufacturers listened to customer feedback and made changes. The power cord has now been replaced with an improved USB cord with battery back-up. This is a major improvement. If the cord breaks, it can now be replaced easily. This is the only toddler alarm clock on our list we can say that for.
Design / Display
This clock is designed as an all-inclusive sleep trainer. It functions as an 'ok to wake' device, a night-light, a regular alarm clock, and even as a time-teaching educational game. For older toddlers, this clock is truly amazing. The interactive time-teaching game has five adjustable skill levels and teaches time-telling concepts on both analog and digital clock faces. However, the visual display won't be appealing to younger toddlers and we find it to be the least visually intriguing of all the products we reviewed.
Sounds
The standard alarm sound will do a great job of waking up your toddler, but there is only one sound. For sound-sensitive little ones, an alarm clock that includes gentle wake-up sounds would be better suited.
Lighting
The PlayMonster Teach Me Time uses a three-color system, all of which are bold and bright. The clock face itself is a little too bright though, even when the night-light is turned off. Some tots will find this disturbing, especially if it's kept very close to their bedside.
Ease of Use
As this clock has so many functions, it's not so easy to set-up. The payoff is worth the hassle for toddlers who are starting to learn about time but it's a little inconvenient for those with younger children, who would benefit from a simpler device.
Pros
Impressive feature list for complete sleep training

Incredible tool for learning to tell the time

Improved cord design
Cons
Tricky set-up

Clock face too bright

Limited sound options
Guide to Buying the Best Toddler Alarm Clock
Our product reviews highlighted several different functions that are common in toddler alarm clocks. Let's take a closer look at each of these to help you decide on the functions you should prioritize for your toddler:
Toddler Alarm Clock Functions
Much of the terminology used to discuss the features of toddler alarm clocks are highly specific. This glossary will help you be sure you know exactly what your toddler alarm clock is offering:
Sleep trainer: Any device which aims to give children better sleep patterns. All of the alarm clocks covered in our guide are considered to be sleep trainers. Sleep training is considered to be an effective way to reduce the stress of your little one, help them sleep faster, and wake up less.
'Ok to Wake': A device function that tells children when it's time to wake up and start the day. This is usually done with a changing color or picture. For example, if a red light shows a child knows to stay in bed and if it's green, they know to get up. This can help children learn about the concept of time via visual and auditory cues. Most children don't begin to properly understand the concept of time until around 5+, so this can be a great tool to introduce younger ones to regular sleeping patterns in a relaxed way.
Child alarm: Simply an alarm device, only more gentle than adult versions, with softer sounds and often colors. These are typically most useful for slightly older toddlers who may be prone to oversleeping or simply want to feel more like a grown-up.
Night-light: A light-emitting device that keeps your child's bedroom illuminated with a soft glow during the nighttime. A night-light is a popular tool for reducing night terrors and to soothe children who are scared of the dark. This is your best option if your child can't sleep and is always looking to crawl into bed next to you. Night-lights also make it easier to check on your child without switching on the main light and disturbing them.
Top tip: Shades of red and orange have been proven as the most effective night-light colors.
Choosing an Alarm Clock for Common Toddler Sleep Issues
If you're not sure where to start when choosing for your little one, we advise that you pick an alarm clock that's made specifically to address the primary sleeping issue that you're dealing with. Here are the most common:
A Changing Schedule
Does your schedule change day-to-day? For moms and pops with varied work lives, this can be a tricky issue to deal with… it's hard enough to teach a toddler to wake up at one time! Even if your work schedule is consistent, your weekend routine is still likely to differ from the working week. For you, the feature most important is being able to effortlessly alter alarm times such as with the Hatch Baby Rest.
An Early Riser
If your child's main issue is not knowing when to get out of bed i.e., they're a chronic early-riser, then an 'ok to wake' alarm clock should be your go-to. At this stage, it's not too important for your child to know what time it is right now, or whether that time means it's appropriate to bounce on your bed. Instead, you just want them to understand that the light means either a) stay in bed or b) time to get up. The Big Red Rooster is a great example of this style.
Night Terrors
Your child's odd sleeping habits may be due to their night-time fears and an inability to fall asleep soundly. In these cases, alarm clocks that focus on helping your child relax and drift off into sleep are the way to go. Our advice here is to opt for a clock that has a night-light feature and can help your child doze off by using sounds or lights. The MomKnows Galaxy Clock is the best toddler alarm clock we've found for this purpose.
Another important feature in these cases is using non-startling alarm sounds and lights. A gradual wake up is better and clocks like the LittleHippo Mella Ready to Rise do a great job of this as they slowly welcome your child to the day with a pre-wake setting and soft sounds.
Even if your child isn't currently dealing with sleep issues, toddler alarm clocks are still recommended for their educational benefit, especially for older tots.
Educational Benefits of Toddler Alarm Clocks
As well as for a better night's rest, a toddler alarm clock is an opportunity for learning and education. This is especially true for children heading towards the upper end of their toddler years. If your precious one is at the lower end of that age range, we suggest opting for a simple 'ok to wake' style-device. But if they're pushing 3 it's worth investing in an option that can grow with your child and actually help them learn how to tell the time. Devices like the PlayMonster Teach Me Time include time-teaching games, with varying skill levels and both analog and digital clock faces.
What's Your Budget?
Lastly, how much are you willing to spend on a toddler alarm clock? With multiple designs and functions on the market, getting an alarm clock that suits your pricing range shouldn't be a problem. We've offered a variety on this list for you to choose from, including budget options like the Kids Digital Alarm Clock to the most premium offering, the Hatch Baby Rest.
FAQs
When Should I Start Using a Toddler Alarm Clock?
The best time to introduce an alarm clock is once you have transitioned your child from a crib to their own bed. Of course, each child learns at a different rate, and in their own way. But generally, the younger you can teach your tot about regular sleep and wake times, the better sleep for them, and the rest of the family.
You may have reservations about introducing an alarm at such a young age. It's helpful to remind yourself that you're not looking to train your child to use an alarm clock in the way most adults do i.e. to cut sleep short! Instead, you're using it as a tool to help teach them about healthy wake and rest cycles.
How Should You Introduce a Toddler Alarm Clock?
While it's not uncommon for toddler alarm clocks to transform sleeping habits quite rapidly, for some tots the process will require a greater degree of patience. We suggest that you start slowly and ease your little one into sleep training rather than making any radical changes. For example, if your child routinely springs to life at 5 am, rather than setting the alarm for 7 am, try 5:30 am for the first few days. You can then gradually push this time back in 20-minute increments, every few days.
You should also talk with your child about the alarm clock – how it works and what they need to look out for. Treat it as a special device that can help them be a big boy or girl, rather than something that's putting restrictions on what they can do.
At What Age Do Children Wake Up Alone?
There's no clear age for when this should happen. As with most things, it will take some children longer than others so don't feel you have to rush. A toddler alarm clock will definitely help to speed up the process though. In fact, after your child has become accustomed to waking up to the alarm's schedule, you may find their sleep patterns begin to self-regulate and that the alarm is no longer required.
A Toddler Alarm Clock Can Bring Good Mornings
Buying a good toddler alarm clock can mean the difference between a night full of beauty sleep and a caffeine-induced breakdown. For your little one, a toddler alarm clock can help address their sleep issues and build healthy night-time habits, as well as provide learning opportunities.
After reading our Best Toddler Alarm Clocks in 2022 guide, you're now fully armed with all the information you need to select the best device for your kiddo. Just remember, effectively sleep training your child does require some patience and you won't see results overnight. But get it right and you'll be paid back in the form of extra snooze-time for months to come!