As the weather heats up, it's time to enjoy the outside world as a family. We're all invited to the outdoor summer party, but unfortunately so are the bugs! It would be much nicer for everyone if they weren't there, disturbing your relaxation time, especially when there are little ones to consider. It's particularly important to protect babies not only from the unpleasant bites and stings of these annoying pests, but also from the threat of disease that comes along with them.
Using a bug repellant is a great option if you want to run free, not being clad head to toe in clothing as if it's still winter. However, choosing an appropriate bug repellent can be a little daunting, as you may not be sure which is the safest option for the baby. We'll give you an overview of the options you have as a parent, so you can make the best decision for your child. As a bonus, all these products are just as effective when used on adults, so if you're also under attack you can give yourself a quick spray too!
Choosing a Safe and Effective Bug Spray
While some may argue that using chemical bug sprays on children is bad, insisting you should 'stay natural', having your baby bitten by bugs and potentially be infected with a virus is definitely not worth going 'au naturel'. Keeping the baby dressed in natural fiber clothing is effective and completely safe, but this may not be an option for some in certain situations. Instead, to ensure that your bug spray is as safe and effective as possible, there are a few things to keep in mind.
Active Ingredients
There are several active ingredients that make a bug repellent effective, which we cover in the guide below. These ingredients have been studied extensively and tested for safety and effectiveness, with the research being extensively available to the public. Products that use one of the active ingredients can be registered with the United States Environmental Protection Agency (EPA), ensuring you get exactly what's advertised. The American Academy of Pediatrics (AAP) recommends using EPA registered products on your children to ensure their safety.
There are a range of active ingredients approved by the EPA that you can choose from, giving you the peace of mind that they will be safe and effective. While you can divide the products by 'natural' and 'synthetic' active ingredients, it's more important to choose a repellent for your baby that will work well, rather than falling for the "natural is better" advertising.
Natural doesn't always mean better, or safer for that matter – assuming natural bug sprays are even effective at all. Natural ingredients can be more irritating and cause sensitivity and allergies, particularly if not used correctly.
Synthetic products have their own downsides as well, but let's remember that they wouldn't be so popular, and approved by authoritative bodies, if they were dangerous – they have to be safe. These products are specifically formulated to do one job, and don't contain a lot of the potentially irritating compounds that natural products do.
What you chose in the end should be based on personal preferences, health, and pediatric advice, but we have compiled a broad range of best repellents on the market for you to choose from.
Duration of Effect
Different active compounds will have different lengths of time for which they stay effective – we will refer to this as the 'effectiveness time'. The concentration of the compounds plays a huge role in how often you need to reapply. You want to go for the lowest concentration that will be effective in your situation, as to avoid unnecessary chemical exposure to your baby's skin.
Some companies choose to not disclose the effectiveness time (indicated in this article by 'NA'), essentially making no claims as for the effectiveness. In these cases, it's alright to assume the duration of effect by looking at the concentration of the active ingredient. However, do stay vigilant to make sure the repellent doesn't wear off.
Safety and Contraindications
While the products are approved and safe to use, you should still make sure your baby is reacting well to the chemicals applied. If you're unsure about one of the products you're considering, it is a good idea to contact your pediatrician to confirm that the product will be safe to use on your child.
Although the repellents are safe to use on the skin, they may not be safe for other household surfaces or objects. Some ingredients can melt and decompose certain plastics found in clothing, which is definitely something to consider. Some compounds can also react badly with sunscreen which is surely applied (we hope!) any time your baby is exposed to the sun.
The EPA has a lot of great information on the topic, as well as tools to help you find the right product. With their recommendations in mind, we have selected some of the best products out there to consider for you baby.
Now that you know what you're looking for, let's get into the recommendations!
Top 10 Best Bug Spray for Babies 2022

Why we like it:
A great all-round spray for your baby that lasts all day. It's fragrance-free and can be used on clothing, too.
Editor's Rating:
Quick Facts:
Active ingredient: Picaridin 20%
Hours of protection (mosquitos/ticks): 8/8
Spray type: Pump, spray, or aerosol
This picaridin bug spray is great not only for your baby but for the entire family. It's safe to use on babies as young as 3 months, as well as on their clothing and buggy.
Sawyer makes their formula available in a pump spray, aerosol, and lotion giving you plenty of options depending on your situation. The products are available in various sizes: whether you want to keep a big bottle at home or keep a smaller bottle in the baby bag just in case, Sawyer's repellents have you covered.
Effectiveness
Sawyer claims the spray to be effective up to 12 hours against mosquitoes and ticks, and up to 8 hours against biting flies, gnats, chiggers, and sand flies. However, the EPA registration indicates effectiveness up to 8 hours across the board. An effectiveness of 8 solid hours is still plenty as it will protect your baby for most of the day, being in line with the one application a day recommendation.
Due to the lower picaridin concentration, it's not potent enough for areas with a very high bug density, and an additional physical barrier is recommended.
Safety and Contraindications
Picaridin is safe for babies from 3 months of age, and the concentration of 20% is strong enough to keep flying nasties at bay, while being safe for the young child and minimizing the compound absorption. The formula is fragrance-free, reducing the potential risk of irritation and sensitivity.
Pros
Fragrance-free

Available in either aerosol or pump spray

Safe on fabrics
Cons
Not potent enough for high bug density environment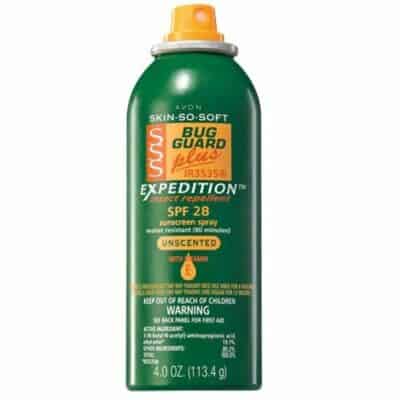 Why we like it:
It's one of the few repellents with SPF included, which is a great addition. The IR3535 is a perfect active ingredient for little ones.
Editor's Rating:
Quick Facts:
Active ingredient: IR3535 19.7%
Hours of protection (mosquitos/ticks): 8/None
Spray type: Aerosol
While Avon doesn't exactly specialize in bug repellents or baby products, they have some of the best repellents out there. This specific bug spray uses IR3535 as its active ingredient, and is formulated with sun protection. The formula contains vitamin E to care for the skin, however, it's also a little greasy.
Effectiveness
This bug spray provides up to 8 hours of protection against mosquitoes, gnats, no-see-ums, sand flies, and biting midges. However, this repellent is not effective against ticks, which can be a dealbreaker to some people.
Safety and Contraindications
The formula is unscented to minimize irritation and be more pleasant for the sensitive nose. Marketed as hypoallergenic and dermatologist tested, you can be sure that this is a safe option.
The SPF of 28 is a great addition considering the usual Contraindications between sun protection and repellent. Although SPF 28 isn't the best (as a perfect level of sun protection should be at least 40 with UVA and UVB), it's better than nothing. But, do remember to reapply sunscreen without the repellent every couple of hours.
Pros
Unscented

Contains SPF

Hypoallergenic
Cons
Not effective against ticks

Can be a little greasy

Why we like it:
A very mild formula, which is great for short trips in low bug density areas.
Editor's Rating:
Quick Facts:
Active ingredient: DEET 7%
Hours of protection (mosquitos/ticks): NA
Spray type: Pump spray
Cutter specializes in chemical bug control, providing effective products for all occasions. The personal bug repellents are EPA registered, however, the company chose to not disclose the working time against both mosquitos and ticks. The All Family bug repellent is particularly great for babies due to the low DEET concentration, despite the lack of information about the duration of effect.
Effectiveness
This repellent is effective against mosquitos, ticks, gnats, biting flies, chiggers, as well as fleas. While the company doesn't disclose the duration of effect against the nasties, it's safe to assume that a DEET concentration of 7% will be effective for about 2 hours. At such a low concentration, it's perfect for babies between 2 and 12 months old, as it will repel bugs while minimizing the risks of sensitivity. At the same time, due to this bug spray containing only 7% of DEET in its formula, it's not too useful for older children or adults.
Safety and Contraindications
Due to a lack of disclosure regarding the duration of effect, you can't be sure of exactly how long it's going to work for. If needing protection for more than 2 hours, opt for a spray such as Sawyer's Picaridin spray, which is EPA registered with solid effectiveness claims.
Pros
Mild formula for the youngest of babies

Also available as aerosol or wipes

Non-greasy due to alcohol formulation
Cons
No official effectiveness time disclosed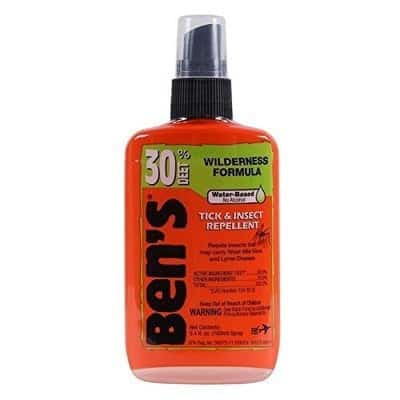 Why we like it:
A strong formula that is water-based and fragrance-free, minimizing any potential irritation while providing great protection.
Editor's Rating:
Quick Facts:
Active ingredient: DEET 30%
Hours of protection: 2/2
Spray type: Pump spray
On the opposite end of the spectrum to the 7% Cutter repellent, this is a very potent formula for a baby. Although the concentration is high, the EPA registration shows only 2 hours of solid effectiveness against both ticks and mosquitos.
Effectiveness
With DEET at 30%, it's the highest concentration you should use on young children and babies, as reported by the AAP and CDC. This bug repellent can be used on babies as young as 2 months old, but due to the high potency it's best reserved for bug-infested areas.
Safety and Contraindications
Ben's 30% bug spray is formulated without alcohol or fragrance, making it suitable even for very delicate and sensitive skin. As this bug spray is DEET based, do remember that it can damage plastics and certain fabrics.
Pros
Water-based formula

No fragrance

Alcohol-free
Cons
Very short effectiveness time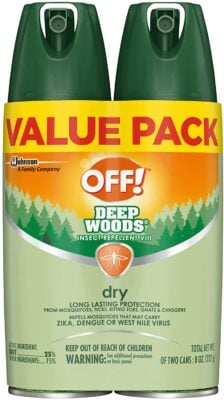 Why we like it:
It's a great affordable option for high bug density areas, where solid protection for your child is required.
Editor's Rating:
Quick Facts:
Active ingredient: DEET 25%
Hours of protection: 8/NA
Spray type: Aerosol
Very similar in formulation to the OFF! Family repellent, but with a higher concentration of DEET making it suitable for higher bug density areas. This is one of the strongest formulations you can use on your baby safely, without having to worry about the potential toxicity.
Effectiveness
The formula is effective against mosquitoes, ticks, biting flies, gnats, and chiggers, with an increased effectiveness time of 8 hours compared to the Smooth and Dry repellent. It has a great all-around strength the entire family can use, not just the baby. However, the duration of effect against ticks hasn't been disclosed by the company.
Safety and Contraindications
The alcohol formulation can be drying to the skin, however by aerosolizing it would evaporate much quicker compared to a pump spray. The downside of the aerosol is the higher risk of inhalation of the spray by the baby, even if you spray the repellent into your hand.
Pros
Great for high bug density areas

Non-greasy formulation with starch

Solid 8 hours of protection
Cons
May be unnecessarily strong for low bug density areas

Efficacy against ticks not disclosed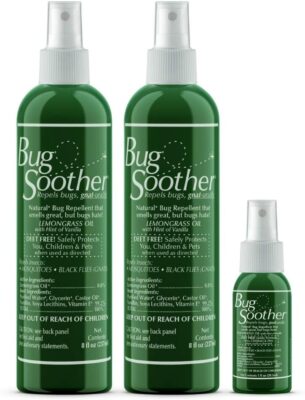 Why we like it:
It's a good repellent based only on essential oils, but it's expensive and not regulated by the EPA.
Editor's Rating:
Quick Facts:
Active ingredient: Lemongrass oil 0.8%
Hours of protection (mosquitos/ticks): NA
Spray type: Pump spray
The Bug Soother spray has been formulated with lemongrass essential oil as the active ingredient against mosquitos. As they don't use any of the recommended insect repellent active ingredients, this product is exempt from registration by the EPA.
Effectiveness
Bug Soother claims to repel gnats, no-see-ums, sand fleas, black flies, and some mosquitoes, however, they don't disclose for how long the spray is effective, nor does it protect against ticks. Since it's not possible to compare it to other products containing lemongrass at this concentration, it's difficult to give an estimation.
This spray is good to try if you're alright with re-applying the repellent often and you want to try something natural for your baby. If you're in areas where disease is prevalent, though, you may want to opt for something that's guaranteed to work instead.
Safety and Contraindications
While the bug spray may not be very effective against flying nasties, it won't do any harm to use it either, aside from the higher risk of your baby getting bitten. The formula is water-based and contains vitamin E as well as glycerin, and castor oil to care for the skin. The smell is amazing due to the lemongrass essential oil and vanillin mix.
Pros
Smells great

Pleasant to use
Cons
EPA registration exempt

No effectiveness time disclosed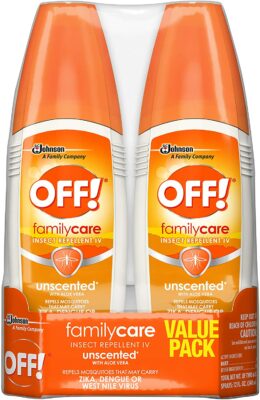 Why we like it:
This is a good and effective low concentration repellent, with the addition of aloe vera to soothe the skin.
Editor's Rating:
Quick Facts:
Active ingredient: DEET 7%
Hours of protection (mosquitos/ticks): 2/2
Spray type: Pump spray
The OFF! Formula contains 7% DEET, yet lasts as long as some of the other products containing higher concentrations of the active ingredients. This low-repellent concentration is the lowest you can use while still remaining effective, making it a good option for your baby's skin.
Effectiveness
The manufacturer states that the repellent is effective against biting flies, gnats, no-see-ums, ticks, chiggers, and mosquitoes. The bug spray is EPA registered, with the certification indicating 2 hour of protection against both mosquitos and ticks.
Safety and Contraindications
The usual downsides of DEET apply – it's not safe on plastics and certain fabrics. The formula is alcohol-based and contains fragrance ingredients, despite being advertised as being unscented. Due to alcohol, the OFF! bug spray can be irritating on sensitive skin, with the sensitivity potentially exacerbated by the fragrance. However, the formula does contain aloe vera, which can soothe any potential irritation.
Pros
Contains Aloe vera

Good amount of protection for the concentration of repellent

Value packs available
Cons
Has fragrance despite saying it's unscented

Alcohol-based

Why we like it:
While it should be reserved for children who are at least 3 years old, this oil of lemon eucalyptus bug repellent is one of the best out there.
Editor's Rating:
Quick Facts:
Active ingredient: OLE 30%
Hours of protection (mosquitos/ticks): 6/NA
Spray type: Pump spray
This oil of lemon eucalyptus spray can be considered as the most natural option among the EPA-registered active ingredients. Although more natural than DEET, this repellent is unsuitable for the youngest of babies. As it is an OLE formula, it should only be used on kids who are 3 or older.
Effectiveness
The OLE formulation from repel is one of the more effective ones out there, but it is restricted to slightly older kids. It is registered with the EPA to work for 6 hours against mosquitos, however, there are no claims as to the duration of effect against ticks.
Safety and Contraindications
If you're an advocate of natural ingredients and don't want to use DEET or picaridin, this is as close as you can get without undermining the effectiveness of the repellent. OLE formulas are only safe for older kids, and not necessarily for younger toddlers.
Pros
As natural as you can get while still being effective

Smells nice without any added fragrance

Non-greasy
Cons
Not for children under 3 years of age

Why we like it:
It's a great low DEET concentration alternative to some of the other products on the list, with added ingredients to keep your skin safe.
Editor's Rating:
Quick Facts:
Active ingredient: DEET 7%
Hours of protection: NA
Spray type: Aerosol
This product has a slightly different formulation from the Cutter All Family bug spray. It includes a few skin-nourshing ingredients and has the same 7% DEET concentration. It comes both in an aerosol and a spray pump to cater to your needs and preferences.
Effectiveness
Similarly to most formulas, this bug spray repels mosquitos, ticks, gnats, biting flies, chiggers, and fleas. Due to the low DEET concentration, the repellent efficacy is best suited for babies between 2 and 12 months of age; toddlers and children should be using something with a little more oomph.
As with Cutter's other products, they don't disclose the duration of effect of their product, though at 7% DEET you can assume a working time of about 2 hours.
Safety and Contraindications
As with the All Family bug spray, this formula is alcohol-based to make the repellent feel non-greasy. But, at the same time, this can be quite drying to the young skin. However, to offset the potential irritation and dryness, they've included aloe vera as well as vitamin E which will soothe and care for the skin.
Pros
Contains aloe and vitamin E to care for the skin

A choice of aerosol or pump spray

Nice scent
Cons
Contains alcohol

No effectiveness time disclosed

Why we like it:
The repellent avoids a greasy feeling by including cornstarch for a dry and comfortable feel.
Editor's Rating:
Quick Facts:
Active ingredient: DEET 15%
Hours of protection (mosquitos/ticks): 6/NA
Spray type: Aerosol
The smooth and dry formula is achieved through the addition of cornstarch, which will give your little one a non-greasy, but powdery, feel.
Effectiveness
This OFF! bug spray repels mosquitoes, biting flies, gnats, ticks, chiggers, and fleas. While the effectiveness time for repelling mosquitoes is 6 hours, the company chose to not disclose the actual working time against ticks.
With a 15% concentration of DEET, this formula is not only great for babies as young as 2 months of age, but also toddlers and young children, and is a great middle-ground in terms of strength of the bug repellent.
Safety and Contraindications
Aside from including DEET, this bug spray has a very strong scent, which can be annoying and irritating to some. Since many babies are very sensitive, the smell can cause discomfort and headaches.
The inclusion of cornstarch to achieve the smooth and non-greasy feel can be a downside to some, as the spray leaves a white powdery cast on the skin. As cornstarch is a solid and doesn't dissolve in the alcohol formulation, it can also block the nozzle, making the spray uneven.
Pros
Has a non-greasy powdery feel

Great for toddlers as well

Solid 6 hours of protection
Cons
Has a strong scent

Leaves a slight white cast

May clog
A Complete Guide to Baby Bug Spray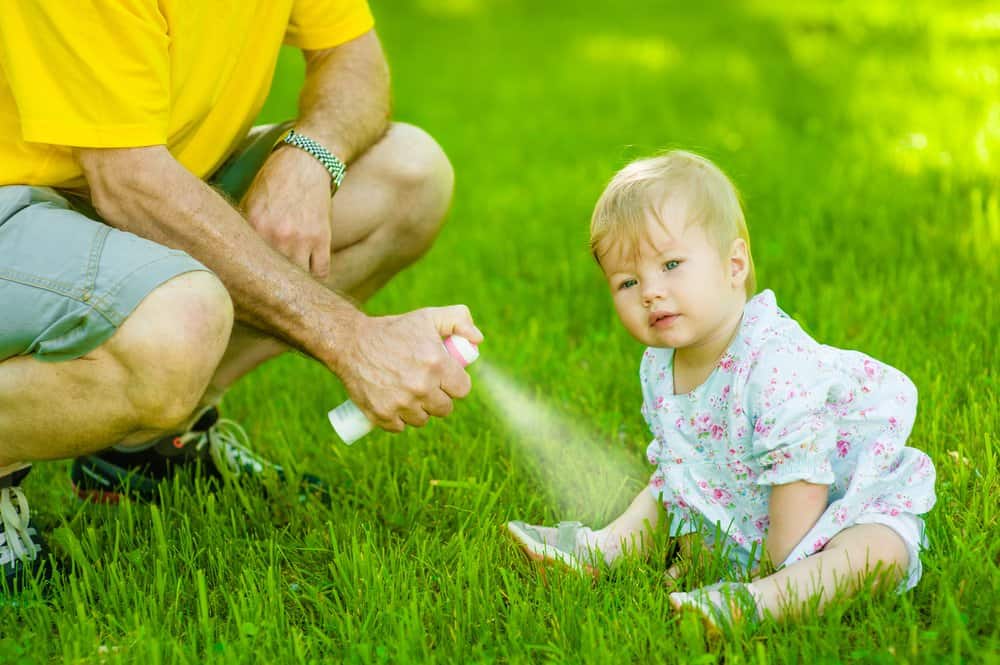 Everyone wants to look out for the safety of their baby, but that's easier said than done. This guide should give you an overview of the bug repellent field so you can make the best decision for your little treasure.
Why Are We So Attractive to Insects?
Insects have specific sensory receptors that help them find a blood meal – i.e humans and other animals. Our skin gives off compounds that signal to the insects that we're a juicy snack. Compounds such as lactic acid, ammonia, carbon dioxide, octanol, and phenols are what attract the insects, with the temperature and humidity playing a big role. Putting a repellent on our skin masks these odors, so the insects don't detect us as a meal.
The Link Between Insects and Disease
The most important reason for equipping yourself with a good bug repellent is to protect yourself and your family from disease. Insects are vectors for pathogens, which makes them a serious risk due to the number of insects we encounter.
Some of the most infamous diseases spread by the insects are malaria, lyme disease, zika, and many more. In the USA, the most prevalent virus transmitted by mosquitoes is the West Nile Virus.
The full list of the specific insect vectors and the pathogens they spread can be found on the WHO website. With this you will be able to ensure the repellent you pick will work for the area you're living in.
Active Ingredients
This question really is not as important as you may think. Any ingredient whether natural or synthetic has its pros and cons which should be considered all the same. After all, you want something that works in practice not just in theory.
Here we'll go over the available active ingredients, and the associated pros and cons of each.

Synthetic
The synthetic active ingredients have been specifically engineered to do one job, and do it well. Although it's trendy to go "all-natural", the synthetic ingredients have been extensively studied to ensure the best effectiveness and safety depending on age. The safety of synthetic repellents has been established, keeping the youngest among us in mind.
DEET
It is the most common active ingredient found in bug repellents which can be applied to the skin or to clothing. Initially developed in 1944 for the US military, it repels insects such as mosquitos, ticks, fleas, chiggers, leeches, as well as other biting insects.
Plenty of research went into determining the mechanism of action of the repellent and it was found that, depending on the insect species, DEET either masks our attractive body odor, or actively repels the insect.
The AAP recommends concentrations between 30-50% to prevent the spread of pathogens for adults, and between 10-30% for infants and children as young as 2 months. The concentration of DEET is correlated with the duration of effect, with 100% concentration providing protection up to 12 hours, and 20-34% concentrations offering 3-6 hours of protection.
While DEET shouldn't be used under clothing or on broken skin, it is a safe and effective bug spray if used correctly. It's constantly being improved and researched to provide the best repellent properties while remaining safer than ever.
It has been found that DEET should not be used at the same time as sunscreen as the compounds found in the sunscreen increase the DEET penetration, leading to a higher chance of toxicity. If both need to be applied, it's recommended to apply sunscreen first, wait at least 30 minutes, and then apply DEET.
Also, DEET is a solvent and does have the ability to dissolve some materials such as plastics, rayon, spandex, as well as other synthetic fabrics, and painted or varnished surfaces (that includes mom's nail polish).
Many baby-safe bug sprays, including our top budget pick include DEET.
Picaridin
Developed by Bayer, picaridin, also known as icaridin, can be used directly on the skin and on clothing. It's reported to be as effective as DEET and even superior to it, as it's not an irritant like DEET can be for some, plus it doesn't dissolve plastics.
While DEET is being used by the US army, the Australian army uses a 20% solution of picaridin instead. Both work in a very similar manner, by reducing odor volatility and therefore making the body odor invisible to insects.
Though less common, our our top overall pick includes picaridin.
Fun fact: Picaridin is part of the piperidine family, where piperine is responsible for the spicy black pepper taste.
IR3535
The super un-memorable ethyl butylacetylaminopropionate, has a much easier trade name of IR3535. Intended to be applied on the skin, just like DEET and picaridin, it's safe to use on infants, pregnant, and breastfeeding women. It's completely biodegradable with no risk of bioaccumulation either in the body or in the environment.
IR3535 has confirmed efficacy against mosquitoes, sandflies, ticks, lice, flies, wasps, and bees. It's a great repellant and does not kill the insects so you don't need to worry about potentially harming the bees while protecting your baby.
As babies will put anything in their mouths, with this active ingredient you can rest assured they will be fine, as any ingested spray is excreted in urine and doesn't pose any major health risks. The bitterness of the compound will deter children from eating it anyway. The IR3535 repellents are not irritating to the skin, and only a mild irritant to the respiratory system and eyes.
Infants and children under 5 should only have the repellent applied once a day compared to older children and adults being able to apply it twice a day. For infants under 1 year of age, it is better to use physical protection rather than chemical repellents but they can be used safely still if required. Just like with DEET, you can use sunscreen first followed by the repellant—or choose a spray that includes SPF, like Avon Skin So Soft Plus IR3535 Expedition Unscented Bug Spray.

Natural (sort of)
Active ingredients derived from nature can be seen as better for a child and for the environment. However, this is not necessarily true as unprocessed, pure, essential oils have very low efficacy. The processed, naturally derived ingredients such as OLE, are very effective, but still can be considered as synthetic due to the extensive processing. These ingredients are also classed by the CDC as not necessarily suitable for infants.
Oil of lemon eucalyptus/PMD
The repellent activity of the oil of lemon eucalyptus (OLE) was discovered back in the 1960s. OLE is also known in the trade as Citrosynthol, Citrepel, and Citriodiol. While most of the active ingredient, PMD, is obtained from C. citriodora, some of it is from the synthetic citronellal.
The OLE is not the same as the c. citriodora oil, as the concentration of PMD is very different, 1-2% for the essential oil vs 70% in OLE. When used in similar quantities to DEET, OLE is just as effective as a repellent, and it is just as good against mosquitos and ticks. But beware of "pure" OLE as this hasn't been approved by the EPA as an insect repellant due to lack of testing.
It's fairly uncommon, but it works well when used in high concentrations, like in Repel's OLE spray.
Essential oils
Oils such as citronella oil, cedar, geranium, peppermint, and soybean oils are thought to have insect repellent properties, but are not EPA registered due to lack of research. These ingredients have been tested for safety but not for effectiveness, meaning they won't do much harm but are most likely a waste of money at best.
Other Options
If you want to minimize chemical exposure for your infant, and don't want to take any chances with essential oils, physical protection is best. Equipping yourself with fly nets, and keeping your baby's skin covered is a good way to keep bugs at bay.
What Doesn't Work
Trying to 'hack' your way around using a repellent instead of using it as recommended can be futile at best, risking your baby being bitten. Soaking wristbands or pieces of cloth in the repellent won't do anything, as the skin is still exposed and giving off a scent. Ultrasonic devices marketed as insect repellents don't work either, and they haven't been studied in terms of effectiveness.
Bug Repellent Pro Tips
Using more repellent doesn't make it more effective. Use enough to cover the skin and outside of clothing
Don't reapply the repellent on your baby unless absolutely necessary
Apply the repellant to your hands first and use your hands to apply it to the baby. Don't spray any repellents directly onto the baby.
When back indoors wash your baby with soap and water to remove the repellant from their skin.
Wash clothes that have been treated with a repellant before wearing them again
Don't apply insect repellant to infants under 2 months of age
Don't use repellant on irritated skin or wounds
Never put repellant onto child's hands
Don't use repellants on animals or pets
What If My Bug Spray Doesn't Work?
Sometimes your chosen repellent may not work, or not work as well as you expected. It's important to be vigilant about how the repellent works and how your baby reacts to it. If there's anything you aren't satisfied with, try a different active ingredient or a different concentration, and consider consulting with your pediatrician.

Chemistry Corner
How Does Bug Repellent Work?
As it's currently understood, a repellent works by reducing the activation of olfactory neurons of the insect by reducing human odor volatility. Some species of mosquitoes are actively repelled by active ingredients as the compound binds to a certain type of olfactory neurons. The active ingredients also have direct-contact repellent properties.
Why Did My Bug Spray Stop Working?
It has been found in a study that mosquitoes can temporarily adapt to the repellent effect after an initial exposure. This hasn't been confirmed just yet, but it may be one of the reasons why you may observe the repellent not working properly.
Why Is There Variation in the Effectiveness Time of Different Bug Sprays?
To enable lower concentrations of DEET, or any other active ingredient, polymers are added to reduce the evaporation rate and extend the release of the active ingredient. Every company will have its own formulation which will feel different and potentially have a slightly different duration of effect.
Final Thoughts
Bug spray may not be an absolute necessity for your baby, but depending on where you live and the time of year it might be a total game-changer. If you happen to live in an area where insects make the great outdoors inhospitable for months at a time, one of these products is sure to help you and your child enjoy the beauty of nature (or even just the backyard) without feeling like you're constantly under attack.