For many of us, there are no childhood memories we cherish greater than those of our first bike. Learning to ride is a rite of passage that we never forget: the feeling of your parent's hands, steady on your back, then the thrill of discovering you're propelling yourself faster than you thought possible, feeling the wind in your hair and seeing nothing but the open road ahead.
We all want these wonderful memories for our own kids, so why wait? General guidelines suggest three years old is a great time to start, but the right bike can lay the foundation at a much younger age and give your child a kick-start in development.
Learning to cycle is a big milestone, and it's emblematic of a kid's growing confidence, coordination, and independence. The best bikes are ones that are safe, easy to use, and allow your child to indulge in the newfound sense of freedom that comes with free-wheeling around the park or in the back yard.
With this in mind, there are many options out there to choose from, but we've done a lot of the hard work for you. We've compiled a list of ten of the highest quality and most highly-regarded bikes and trikes suitable for younger kids for your browsing pleasure. Read on. By the end, you will have a good idea of which products suit your child's needs best.
Choosing the Right Bike for Your Toddler
While you may be eager to give your child the best start in their cycling passion, it is worth being very careful when selecting just which bike to begin with. There are many considerations to keep in mind and without proper research, your little tyke may be in for a disappointing birthday or holiday. We'll outline the basics of what to look for here, but if you stick around for our in-depth guide we'll cover in more detail the issues that are particularly important when making the big decision to buy.
Types
There are three major types of bike or cycle to consider when browsing the market, and they are suited to different ages and abilities.
Balance Bikes
These have seen a surge in popularity over the past decade or so, for a good reason. Lacking any pedals or brakes, they are designed for a toddler to stand astride and maneuver by walking. Often, footrests allow them to raise their feet and ride properly when they have some momentum. These bikes are designed for kids who are just learning balance and though not a 'proper' bike, still deliver a great deal of fun and enjoyment.
Two-Wheel Bicycles
These are classic bicycles, as we have known them. With two wheels, pedals and brakes, they are suitable for kids who are a little older and can manage more weight. They often come with training wheels to help develop balance.
Tricycles
Trikes are three-wheeled cycles that have pedals but often no brakes. They are most suited to younger toddlers who are not capable of balancing a bicycle, allowing them to develop pedaling skills and coordination.
Size
When purchasing a bike perhaps the number one most important consideration is the size. The right size bike can make all the difference and encourage your child to ride more, developing those important skills. We will talk about this in more depth later, but here are the simple facts.
Bicycles and balance bikes are measured by the size of their wheels, with measurements ranging from 12 inches at the lowest end, all the way up to 26 inches or more.
12-inch wheels are suitable for children aged 2-3, while 14-inch wheels are suitable for those aged 2-4. Your specific choice will depend upon your child's height and the measurement of their inseam.
For trikes, this is a lesser concern, though we have included the specs of each in their listing, and they should be considered. Some trikes are particularly small, such as the XJD 3 in 1 Kids Tricycle, and may be more suited to younger children.
Brand
There are many companies out there producing quality products these days and it is often difficult to separate the good from the bad. We've done our research and we've found that the pedigree and experience of a manufacturer is often a clue to the quality of the bikes they produce. If you have heard of a company, then there is usually a good reason why. All products on our list are from reliable suppliers, but if you decide to shop for yourself, we urge you to always bear in mind who you are buying from and if they are reputable.
That's not to say a bargain can't be found, or that lesser-known companies should be overlooked. It is just worth considering the peace of mind you're paying for when deciding to buy a name brand.
Extras
While we have tried to keep this list to relatively basic, quality products, it is worth keeping an eye open for the additional extras that some manufacturers offer with the sale of their bikes. This may include features such as water bottles, or bells. Alternately, it may be personalization options such as specific colors, stickers or baskets. A prime example of this is the Radio Flyer 4-in-1 Stroll 'N Trike, which is packed with additional value.
Of course, these may not be particularly important to you if the base product is high quality, but they may be attractive nonetheless, and especially so for kids. We've tried to make their inclusion obvious where applicable.
Top 10 Best Toddler Bikes 2023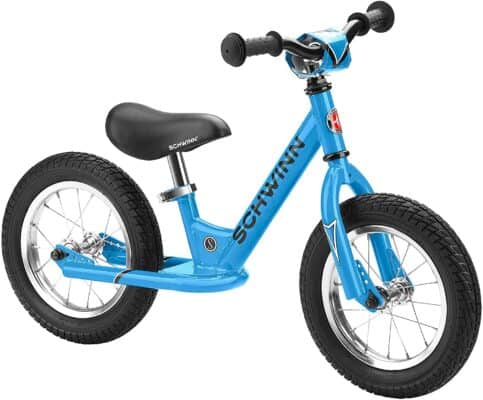 Why we like it:
A winning product from a winning brand: the robust simplicity and reasonable price of this bike make it a very safe purchase for a toddler just starting their cycling journey.
Editor's Rating:
Quick Facts:
Brand: Schwinn
Type: Balance bike
Size: 12-inch wheels
Schwinn is a long-established and well-trusted brand, regarded by many to be the gold standard of kid and adult bikes. An American legend, with over 125 years of experience, they continue to deliver quality products to this day, and many of us will remember with nostalgia our own Schwinn bike from childhood. This particular offering is beautiful in its simplicity. A balance bike that rivals any on the market, it has few extraneous features, but is robust enough to last your child for years.
The lightweight steel frame is strong and sturdy, designed to take the kind of beating a rambunctious toddler can dish out. Its foot-to-floor design makes it easy to use for kids who haven't quite managed to develop the balance needed for pedals while preparing them for that momentous step up to a 'big kid' bike.
The handlebar is 'easy steer' with reassuringly chunky grips, and has a limiter built-in to keep the bike steady for beginners. Additionally, the seat is adjustable and requires no tools to do so, allowing the bike to grow with your child for years of enjoyment. When making your choice Schwinn offer a few styles to choose from, though all conform to a similar shape, and there is also a broad selection of colors that will suit any young boy or girl.
While coming from a brand known for reliability and quality, there is a consideration to keep in mind when buying this bike. It has been known, on rare occasions, for the seat to break loose. This may occur during general use but is most common when being adjusted, rendering the bike unsafe for your child. This is not a common occurrence, but has been reported numerous times.
Criticism aside, Schwinn has delivered where it counts, on ease of use and accessibility. A balance bike to rival the best out there, this product is a winner. If you're looking for the first step in your child's cycling journey, this may certainly be worth a look.
Pros
Simple but robust

Reliable brand

Good price for the quality
Cons
Seat has been known to break on rare occasions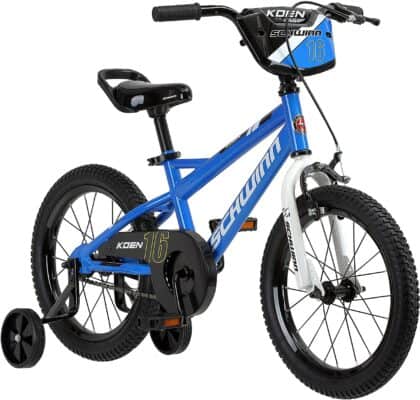 Why we like it:
A 'boy's bike' that is suitable for all kids, this one may come with a premium price tag, but its SmartStart tech makes it specialized for young riders, and you'll agree it's worth spending a little extra for.
Editor's Rating:
Quick Facts:
Brand: Schwinn
Type: Bicycle
Size: 12-inch wheels to 20-inch wheels
Bikes from Schwinn are featured a number of times on this list, and that alone should reflect their commitment to quality. With years of experience and a great reputation, they certainly don't disappoint with this product. The title names it as a 'boy's bike' but we think it's suitable for any adventurous rider, and we won't tell if you don't!
A simple, but attractive design is bound to appeal, and while it comes at a slightly higher price tag than its competitors you will agree you're paying for a high-class ride.
Made of lightweight steel, the frame of this bike is built with ease of use in mind – your child should have no problem handling its weight. Additionally, the bike is designed with Schwinn's SmartStart tech, which means its shape is particularly suited to young riders. The pedal positions are narrower and the gearing constructed for easier starts.
This all means less effort and more comfort, which will keep your child riding for longer. The purchase includes training wheels, to make things easier for beginners, and a dual-system brake. A handlebar caliper controls the front brake while a rear coaster operates the back.
The seat is adjustable without tools, to allow the bike to grow with your child and provide years of fun. Finally, a number of different sizes are available along with three options for color.
While a quality product overall there have been complaints concerning the tires, which are prone to problems. In some cases, the inner tube has been known to pop out when being inflated, and on rare occasions the tire itself won't seal to the rim of the wheel. We recommend you assemble and appraise your bike in advance of any birthdays or holidays if you decide to purchase, to make sure your child is not disappointed by this issue.
Schwinn is always a safe bet and their legions of happy customers are a testament to the fact. This product is no exception and, while the price is relatively higher for a simple product, you are paying for peace of mind. Just be aware of the issues we have outlined and always assemble in advance. Additionally, if your child is put off by the fact this is labeled as a boy's bike we recommend you look at this alternate option, specially made for little girls.
Pros
SmartStart technology helps make the ride easy and comfortable

Dual-system brakes give kids a start on learning to use handlebar calipers

Attractive sporty design
Cons
Tires can be prone to failure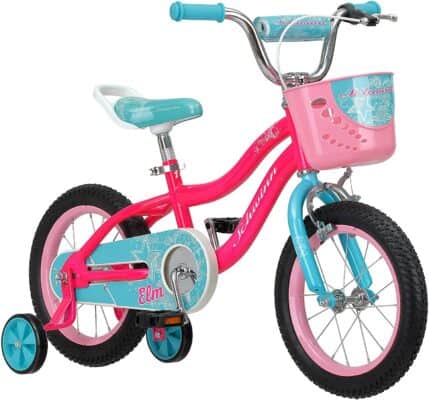 Why we like it:
An attractive and elegant looking bike that's designed to appeal to little girls, this is still nonetheless a quality and robust product that has the potential to last for years of use.
Editor's Rating:
Quick Facts:
Brand: Schwinn
Type: Bicycle
Size: 12-inch wheels to 20-inch wheels
Another product from Schwinn, a brand with a long pedigree and a well-earned reputation for making excellent bikes. With over 125 years of experience, you can expect a certain degree of quality, and this particular offering certainly doesn't disappoint. Made especially for girls, this is a two-wheel pedal bike that stands out as a great start for children just learning to ride – training wheels come as standard, but can easily be removed as your child develops their passion.
Constructed of steel, the frame is sturdy enough to wear heavy use, mistreatment and accidents. We all know how careless children can be, so the robust quality of this product is a reassurance when you are paying a comparatively higher price. Particular effort has been made to gear the bike for young riders, with the pedals moved forward and in a narrower position compared to a normal bicycle, which should help make riding effortless.
Also, a dual-brake system is in place for safety. The caliper brake on the handlebar slows the front wheel, while moving the pedals backwards will slow the rear wheel. This is a good way for your child to transition and practice caliper brakes, which are standard on fully-sized bicycles.
The seat is fully adjustable and, while the handlebars are not, this should allow the bike the grow with your child. This means it will last them until they are ready to graduate to their first real bicycle. Additionally, this product comes in a variety of sizes and colors, which should make it easy to suit the particular needs of your little cyclist.
Schwinn states that the 14-inch variety should be suitable for children 3-4 years old, but you may want to check our guide for more info.
A major criticism of this product focuses on the pedals. Due to the nature of how the pedals are assembled, there is the possibility that they can unscrew during use and potentially fall off. This doesn't seem to happen too often, but you may want to keep a close eye on this if you purchase the product to prevent any mishaps.
This is a great first bike that is attractive and accessible. The variety of colors should please any little princess and the overall quality has the potential to deliver countless great adventures on the road.
Pros
Attractive design in a number of appealing colors

Designed specifically for ease of use by young riders

Sturdy enough to stand up to years of play
Cons
Pedals may be a weakness that needs attention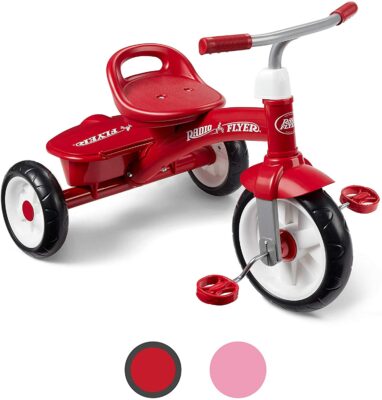 Why we like it:
An iconic red trike from Radio Flyer – you can't go wrong with this product as your child's first introduction to riding. Quality construction combined with a reasonable price tag make this one a winner.
Editor's Rating:
Quick Facts:
Brand: Radio Flyer
Type: Tricycle
Size: 22.24" (L) x 26.97" (W) x 21.02" (H)
Radio Flyer is another well-known brand in the market, specializing in trikes and toys for younger children. A treasure of American culture, everybody has seen their iconic red wagon, which is a staple of childhood memories, and still remains popular to this day. With this particular product, they continue their tradition of quality, offering up a trike that's a great first-ride for toddlers aged 2 1/2 to 5 years, while also not skimping on features or breaking the bank.
The frame of the trike is a sturdy steel design, which is robust enough to see your child through many adventures, while also light enough for even the youngest riders to maneuver. Quiet-ride wheels help minimize noise, which is a feature that may be designed with parents in mind! No more loud trundling around the back yard or through the park.
The trike also comes with an adjustable seat and comfort-grip handlebars, so those long journeys are easy on the hands. A rear-mounted storage bin allows for haulage of many important items such as toys and snacks, also, and is a nice, additional feature that is not seen in most other products. Finally, the trike comes in two colors, pink or red, which your child will appreciate.
There are few criticisms of this product, but those that exist focus on the assembly of the trike, as well as its wheels. The trike is not pre-assembled, and some construction is required, which some may find difficult. Additionally, while the tires are advertised as quiet-ride, they are made of plastic and don't find as much purchase on the ground as their rubber counterparts.
Overall, Radio Flyer has brought a product to the table that is fun, reliable, and robust. Trikes are a good stepping stone to pedal bicycles, and this one has the potential to be a great choice for your child – one that will lead on to a life-long love of cycling.
Pros
Reliable, well-known brand

Quiet-ride wheels keep down noise

Lightweight design for a trike
Cons
Assembly may be a chore

Plastic wheels do not provide as much grip as other options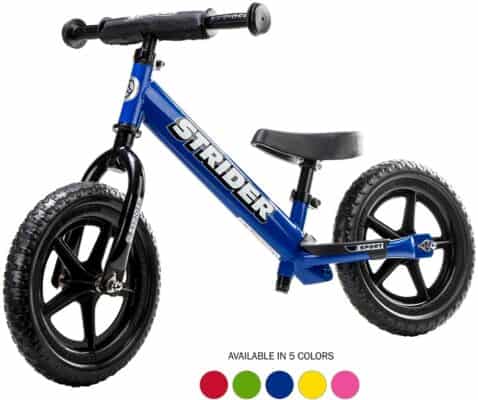 Why we like it:
Strider is the market leader when it comes to balance bikes, and this product shows it. Sturdy and attractive, it's bound to get your child excited to ride.
Editor's Rating:
Quick Facts:
Brand: Strider
Type: Balance bike
Size: 12-inch wheels
Started in 2007, Strider may be young compared to other brands, but it has quickly become a rockstar company in the world of kids' bikes. Boasting a reputation for quality, they specialize in balance bikes, with a philosophy that learning to ride should be fun and easy.
A premium price tag does come attached to this, so be aware, but you can be assured you are paying for years of expertise. This product is emblematic of the company's values – it's simple, well-built, and a lot of fun. A balance bike without the bells and whistles, but one that will last.
A robust bike that almost looks like it's made for off-road adventures, it is built with a durable steel frame that can withstand a whole lot of punishment. At 6.7 pounds overall, it's still light enough for young hands to maneuver while staying comfortable enough that your child will want to play for hours.
The never flat, no-maintenance tires give peace of mind that there will be no mishaps on the road, and assembly is a breeze, with no tools required. As with other bikes on this list, this product is fully adjustable.
Both the seat and the handlebars can vary in height, which Strider claims can match your child from 18 months to 5 years old. That's plenty of years of practice before stepping up to a pedal bike. The product comes in a wide selection of colors, too, to reflect your child's personality and make them stand out among their friends.
Criticisms of this product are few, though there have been some cases that are worth mentioning. It has been said that assembly isn't as easy as it seems, with difficulty arising when aligning the handlebars with the wheels. Additionally, there seems to be a weakness in a specific part of the frame that may result in warping. As we have said, however, you should bear in mind that these issues are particularly rare.
This is a very strong offering from Strider that is striking in its simplicity and quality. You will be paying a premium price for this product, but if peace of mind is what you're looking for, this may be the right bike for your child. If the price is a sticking point, and you are interested in a more budget option, we recommend looking at this balance bike by GOMO.
Pros
Sturdy, high-quality construction

Attractive 'off-road' design

Both seat and handlebars can adjust in height
Cons
Assembly may be more difficult than advertised

Frame known to warp occasionally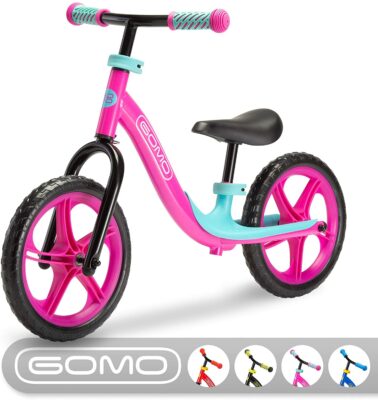 Why we like it:
A great budget option when considering balance bikes, this product does not skimp on simple quality while also not breaking the bank.
Editor's Rating:
Quick Facts:
Brand: GOMO
Type: Balance bike
Size: 12-inch wheels
Who are GOMO? A lesser-known brand in the field, GOMO (which stands for 'Get Out More Often') is owned by the Nextsport label, which is a company based in California that specializes in bikes, scooters, skateboards and other sporting goods. They claim to be a company committed to innovation, quality and customer service. This bike, suitable for toddlers between 18 months and 5 years old, is a product of those values and certainly looks appealing as a budget option.
Lightweight but robust, the frame is made of steel, with an overall weight of 6.4 pounds, which makes it one of the lightest balance bikes on the market. This makes it suitable for younger children, but should also be able to easily bear their weight (max 60 pounds) all the way up to 5 years old.
The seat is adjustable to allow the bike to grow with them, though the handlebars are fixed. This should not be a problem, however. Additionally, safety is a high priority with this product, and the handlebars have a turn limiter to prevent any accidents for less coordinated toddlers just learning to ride.
A custom footrest is also included with safety in mind, and a padded seat keeps things comfortable when the road gets bumpy. As an assurance of quality, the product comes with a 2-year warranty, which offers peace of mind when purchasing. Finally, while already an attractive-looking bike, it also comes in a selection of colors, including gold.
The major criticism of this product comes from the fact that the adjustable collars for the seat and handlebars are made of plastic and have been known to break. This renders the bike unusable, and a replacement part is needed for repair. This should not be a problem with the extended warranty that comes with the purchase, but it may be disappointing for a child who won't be able to ride until the new part is sent.
An attractive, quality product from a lesser-known brand – this is certainly worth a look for parents on a budget. There are cheaper options out there, but few offer this much bang for your buck. A perfect stepping stone to a 'big kid' bike, this has the potential to last your child for many years of enjoyment.
Pros
Very lightweight design makes it easy to use

Turn limiter helps prevent accidents

2-year warranty included
Cons
Adjustable collars on seat and handlebars known to break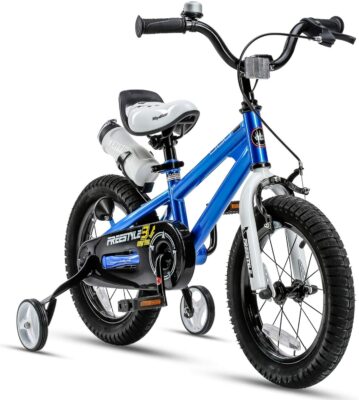 Why we like it:
This is a sporty, attractive bike from a company with a dedication to your child's safety. It may not come under the name of a well-known brand but still delivers where it counts.
Editor's Rating:
Quick Facts:
Brand: RoyalBaby
Type: Bicycle
Size: 12-inch wheels to 20-inch wheels
RoyalBaby isn't an immediately recognizable brand in the field of kids' bikes, but they seem determined to make a name for themselves with a broad selection of quality and attractive products.  Their tagline 'Safer Riding, Better Life' reflects their commitment to safety, which they claim is forefront in their designs.
This particular offering, a two-wheel pedal bicycle, comes with a premium price-tag but seems to stick closely to their values, with many features included with your child's well-being and enjoyment in mind.
The bicycle is made of steel in a particularly attractive design, which is sturdy enough to take the rigors of daily use. Training wheels come with the purchase and can be used, or not, depending on your child's level of experience. This makes it a good first ride, or an introduction to their eventual 'big kid' bike.
Like similar products on this list, it is built with a two-brake system, with a front caliper brake on the handlebar and a rear coaster brake, which allows the rider to pedal backward to slow down.
The seat is soft to ease long rides on bumpy roads and can be adjusted as needed to allow your child to continue using it as they grow. A variety of sizes are available for purchase, as well as several different colors, so you can find the perfect fit. Additionally, there are a number of small features included with the price, such as a water bottle and a bell.
While the overall build quality seems high, there have been a few issues arising that are worth considering before making the purchase. The weight of the product can be a downside for some, as it can make pedaling difficult, especially for younger riders. There have also been complaints that the tires do not hold air as well as other options on the market, requiring repair and replacement more often.
Overall, this is a very good-looking bike that will definitely get your child excited to ride, though you will be paying a top-end price.
Pros
Sporty design that looks great

Two-brake system allows for kids to learn to use caliper brakes

Comes with some small, additional extras not seen with other products
Cons
Weight can be an issue for younger children

Tires may deflate prematurely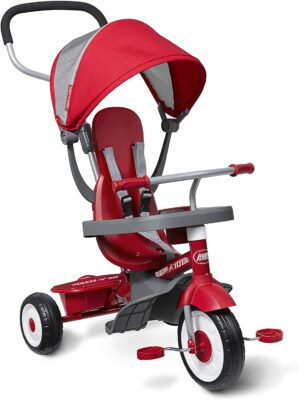 Why we like it:
This transforming trike is a wonder, beginning life as a stroller but developing with your child's growth and needs. A great investment if you're looking for something that'll provide years of value.
Editor's Rating:
Quick Facts:
Brand: Radio Flyer
Type: Tricycle
Size: 28.7" (L) x 22" (W) x 41.3" (H)
Another winner from Radio Flyer, who are a brand that needs no more introduction. Renown for quality and responsible for much childhood nostalgia, they have delivered a product that lives up to their usual build quality and reputation for fun. This is a transforming tricycle that can take your child on a riding journey from ages 18 months to 5 years. It comes with many modular parts and features, and all at a very reasonable price that won't empty your wallet for the privilege.
The selling point of this product is its transforming, 4-stage design that develops with your child. First, it is a baby stroller that safely straps your child in, and can be pushed by parents via a removable handlebar for trips around town.
Second, it's a steering trike, with all the features of the first stage, but allowing your toddler more control on the direction you go. Third, it's a learn-to-ride trike which allows for steering and pedaling, though retains the parental handlebar for ultimate control.
Finally, it's a classic trike with all the independence and fun that comes with it. Along with this come the usual benefits of Radio Flyer products. Quiet-ride wheels are standard, and the overall design is robust enough to last long after its promised 5-year life. It also comes in a more pricey 'ultimate' version, which includes seat padding and a larger rear bucket, which are both desirable features if you plan on using the stroller form a lot.
One of the most common criticisms of this product is that the plastic seat is small and can be slippery for children who don't have the coordination to keep themselves upright. This means that your child has the potential to slide forward until they fall off, even with the straps attached.
This can be remedied with the padding included in the 'ultimate' version, but you should not have to pay extra for such a basic function. It is worth noting that this does not affect all children, though you should bear the possibility in mind when purchasing.
A great option on a budget – this trike can save you money in the long term due to its extended usage life. Many features and accessories are included in the price so if value is on your mind you should definitely give this one a look. If you just looking for a more simple trike, however, you can't go wrong checking out this product from the same company.
Pros
Configurable, modular design allows for a variety of uses

Ultimate version is available with some attractive extras

Quiet-ride wheels help minimize noise
Cons
Plastic seat is slightly sloped, making it difficult to sit in for some children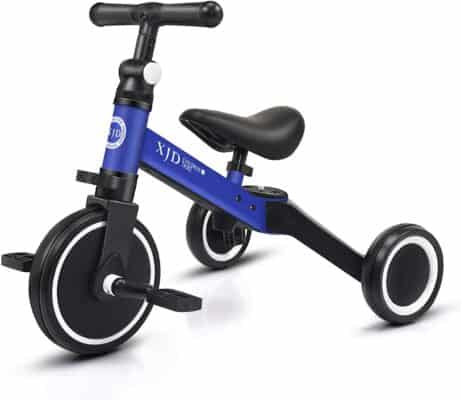 Why we like it:
This is a product that is beautiful in its apparent simplicity, though boasting hidden depth. Fully transformable, this has the potential to be a trike, balance bike and more.
Editor's Rating:
Quick Facts:
Brand: XJD International
Type: Tricycle and balance bike
Size: 23" (L) x 17" (W) x 19" (H)
XJD International may not be as well-known or iconic a brand as some of the others on our list, but that does not mean they are lacking in quality. Specializing in bikes, scooters and trikes for young children, they have broad experience in the field and reassure us that, while safety is their number one priority, fun comes a close second.
This product particularly encapsulates their flair for innovation. A transforming trike-to-bike combo, it can grow with your child, starting as an easy-to-ride tricycle before becoming a balance bike when their confidence develops.
While the product has a lot of adjustable, moving parts, it does not mean the overall design lacks in durability or sturdiness. A carbon steel frame keeps things held together in the hands of rambunctious tots, while the soft-grip handles and seating provide a comfortable and enjoyable ride. The wheels are EVA foam, which are low-noise, and can handle indoor or outdoor playtimes.
The true selling point, of course, is just how much you can change this product to suit your toddler's needs. Almost every part is adjustable, from the handlebars and seat, to the angle of the rear wheels. This means it can potentially suit for child's needs for many years before being outgrown. It also comes in a selection of appealing colors, though not quite as many as other brands may offer.
While a promising product with many qualities going for it, there are nonetheless some issues that you will need to be aware of when considering purchasing it. First, the trike is quite small compared to others on the market, so larger toddlers may find it difficult to ride. Additionally, it has been reported that due to the uneven distribution of steel alloy and plastic making up the frame, it has the potential to have a high center of gravity in certain configurations, which can make it topple easier.
A product with the potential to be great – XJD's focus on safety and fun shine through here. They claim it will see your child through ages 1-5 and, while your mileage may vary, that equates to many years of journeys on the road and many dollars saved.
Pros
Transformable design makes this suitable for any young rider

Very sturdy considering how adjustable all parts are

Great value for money
Cons
Small compared to other, similar products

High center of gravity

Bland in terms of appearance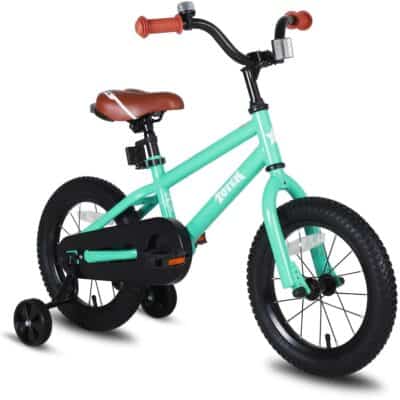 Why we like it:
A very simple and straightforward product that may lack in features compared to others, but can still deliver a ton of fun on a budget.
Editor's Rating:
Quick Facts:
Brand: JOYSTAR
Type: Bicycle
Size: 14-inch wheels to 18-inch wheels
JOYSTAR is a company that has been making kids' bikes since 1997, their credo being 'Customers are Everything'. The Totem Kids Bike is a good example of their expertise: a robust product that delivers no-frills fun and function at a good price. It serves perfectly as a first-time bike, or a follow-on stepping stone to a full bicycle.
The frame is steel and built to last, though designed to be light enough to suit younger children. It is backed by a limited lifetime warranty for peace of mind – though it should be noted that this only applies to the frame specifically. Training wheels are included, and it is your choice whether you attach them.
There is no caliper brake, which may be seen as a downside, but instead a rear coaster brake is used to stop the bike. This means your child will have to pedal backwards to slow down. For most this is quite intuitive, but a caliper is desirable as it lets young riders practice using one for the eventual step-up to a normal bicycle.
Assembly is easy with 85% of the work already done. A pump is required, however, to inflate the tires. Finally, the bike is available in a number of different sizes and colors, so you can be sure to find one that's just right.
While the general quality is quite high when used properly, there have been reports that the bike does not stand up well in the hands of particularly destructive or rambunctious toddlers. As said, the frame itself is covered by a limited lifetime warranty, so should not be a problem, however the moving parts are not and have been said to break or buckle during accidents. This should not happen with everyday use, but as all parents know, mishaps are unavoidable.
A strong option for a two-wheel bicycle on a budget, it lacks some of the attractive features of other, more expensive products, but delivers on a robust, basic level and should see your little rider through to their first big bike. If you're looking for a more premium bicycle, however, we recommend this product from Schwinn.
Pros
A reasonably priced option for a two-wheel bicycle

Simple design means less things can go wrong

Comes in a number of different colors
Cons
Does not stand up very well to misuse

No caliper brake
Guide to the Best Toddler Bikes in 2022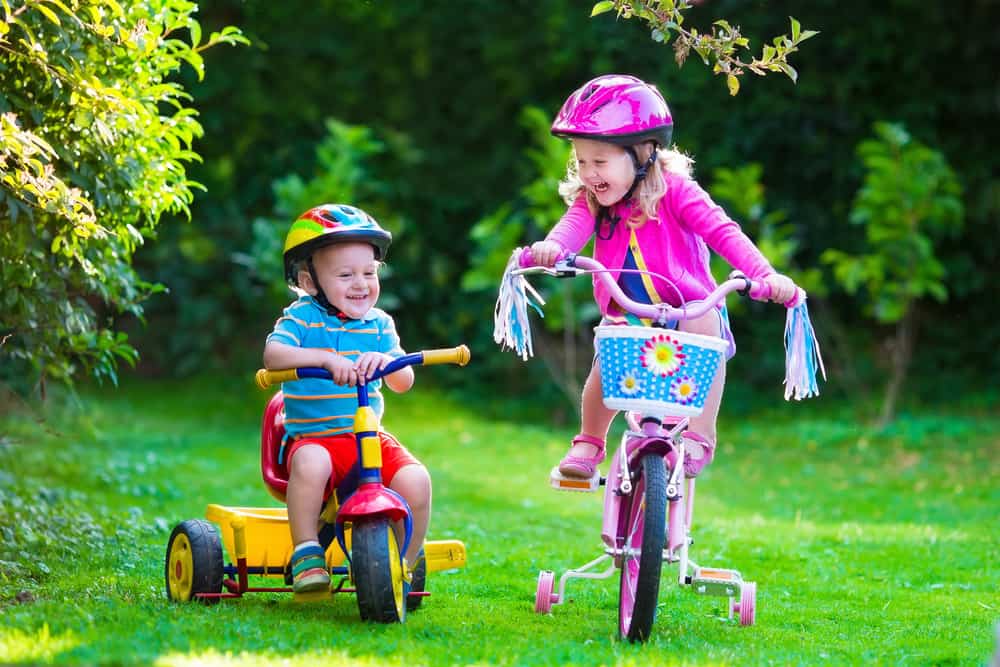 So now that you've seen some of the best toddler bikes on the market currently, there may be a few questions you still have before making your big decision. We've armed you with a little knowledge so far, but let's go into some of the issues in more detail and hopefully, by the time we're done, your little prince or princess will be well on their way to enjoying the bike that's perfect for them.
Bikes Are an Important Part of Childhood
The process of learning to ride may be difficult, and result in a few spills and tears, but the end result is definitely worth the effort. Why go through it? First and foremost, it's fun. Every child can learn to love their bike and nothing quite compares with the eventual thrill of speeding around the neighborhood, fast and free.
Secondly, which is especially important in toddlers, it helps develop many core skills that will serve them greatly in life. Coordination, core strength, balance. These are all key for growth into a healthy, happy adolescence. Finally, it's great for physical and mental health. Research has shown that kids who bike to school perform better than those who are driven.
There are plenty of other reasons besides, and this article by Medibank elaborates more than we can here. We recommend you take a look if you're still on the fence.
When to Teach Your Child to Ride a Bike
Every child develops differently and at different rates, so there is no straightforward answer to this question. Put simply, it's 'when they are ready'. In general, most children learn to ride between the ages of 3-8. Some may be late bloomers, though others can start early, especially if provided the right bike to begin with.
If you want to give your child a head-start as early as possible, we recommend beginning with a tricycle. This will allow them to begin to learn the basics and develop the core strength needed to sit up, steer and pedal at the same time. The Radio Flyer Red Rider Trike on our list would make an excellent first ride in this case, as its simple design is very easy to use.
If you want to wait a little longer, then balance bikes are specifically designed to help toddlers aged 2 and above quickly learn the balance needed to stay upright on two wheels. Unlike bicycles with training wheels, they are particularly light and encourage play, which gets those skills developed sooner. We recommend looking at the Schwinn Balance Toddler Bikes on our list as a good example of these.
As we have mentioned, however, it is worth bearing in mind that your own child's development may be unique, so do not be frustrated if they do not show progress. The best thing you can offer your child, aside from a suitable bike, is continued support and encouragement. Given time everything will click into place and they'll soon be able to enjoy their newfound passion.
Picking the Right Sized Bike
As a general rule for toddlers, their feet should be able to touch the ground while they are seated on their bike. If they do not then the bike is too big and could be unsafe, leading to accidents. Balance bikes and two-wheel bicycles are measured by the size of their wheels, with 12 to 16 inches considered suitable for younger tots. We recommend you measure your child's inseam to be able to best decide on what size to buy.
An inseam measurement of 15-18 inches is best suited to a 12-inch wheel, while a measurement of 15-20 inches would suit a 14-inch wheel. Finally, an inseam measurement of 16-22 inches best suits a 16-inch wheel.
Two Wheeling Tots has a great guide here that elaborates on this topic and explains how to properly measure your child for this purpose.
Toddler Bicycle Weight
When taking weight into consideration for younger children, lighter is always better, of course. If a bike is too heavy it will be difficult to handle or pedal and become a chore to ride, killing any fun or developing passion. As we want our kids to be riding as much as possible this always worth checking.
Generally, a bike should be less than 40% of your child's overall weight. This is a good rule of thumb, though not set in stone. At this weight a bike will be easily maneuvered and not pose any risk when the eventual spill happens.
Safety First
It goes without saying, but, the absolute number one concern when your child is biking should be their safety. This means constant supervision for young children and always, always making sure they wear a helmet. Elbow and knee pads may be less important, but are also still desirable. Accidents are unavoidable, of course, but as parents, we should always minimize any risks as much as possible.
Happy Trails!
We find ourselves at the end of our guide and hopefully, by now, you're well on your way to deciding on the bike of your tot's dreams. Our list contains a broad selection of some of the best bikes and trikes on the market, so you can be sure you're getting a good perspective on what's out there.
Whether you're choosing from our selection or using it as a jumping-off point for your own research, we hope that you find exactly what you're looking for. Whatever you choose, make the decision with your child's best interests at heart and find the bike that's perfect for them.
Until next time – happy trails!