Toddlers do so many things to elicit a contagious, childish joy. Watching a child delight in jumping into puddles is certainly one of those things. There is something instinctual about their need to jump, splash, and play outside—rain or shine. Having a reliable pair of rain boots is essential for keeping their little feet comfortable and dry to promote a long afternoon of fun.
One simple search online, however, will reveal that the market is saturated with hundreds of options. To help you get the perfect rain boots for your toddler, we have compiled this list of the ten best options to help you decide what will be the best boot for your little one.
What to Look for in Rain Boots for Your Child
Apart from looking cute and pleasing a toddler who tends to have strong opinions, there are some crucial characteristics of rain boots to thoughtfully consider before making a purchase. When creating our top ten list, we analyzed a number of key factors. Learning about what makes a rainboot great will help you find the perfect one for your child.
Materials Used
The material used in the rain boots will have a big impact on the durability, but that is just the beginning.
Waterproof
Of course, you want the boot to be made of a waterproof material, or it would defeat the purpose entirely.
Safety
While most rain boots are made using some type of plastic compound, some parents will want to make sure that it is safe; others won't be nearly as concerned since your kids will not (hopefully) beat putting the boots in their mouth.
Lining
In addition to looking at the materials used on the outside of the boot, you will also want to think about the materials used for the liner. This is what is going to help keep your child's feet comfortable, warm, and dry. Some rain boots do not have a liner, and others will have lining that is thick so it can also serve as a snow boot.
Knowing how your child will use these boots will help you to choose an option that will work perfectly for their situation.
Design of the Boot
There are a number of different designs and styles for rain boots. The color and other aesthetics of the boot will be mostly a matter of personal preference, and only you can know what your child will like best.
The way the boot fits, however, is very important and will impact your buying choice. Some rain boots are designed to go up just a little bit above the ankle. Others will go up to your child's knee. Finding the design that will work best to keep your little one's feet dry, while also being fun and cute, is going to be important for any purchase.
Durability
For some people, durability is one of the most important things to look for in a rainboot. For example, if you want to be able to pass the boots down to a younger sibling or relative, it is critical to choose a brand that is going to last. If, however, you are just buying the boots to get through one season for your child, durability may not be as much of a factor.
Price Is Always a Factor
No matter what type of purchase you are making, price is always going to be something that you factor in. When buying something for your toddler, price may become even more important because you know they are going to outgrow them in just one season.
There are certainly many factors to consider when looking for the perfect pair of rain boots for your child. Read through our top ten toddler rain boots for 2021 list and find the ones that are right for you. If you are still having trouble choosing a pair, make sure to read our full buyer's guide near the bottom of this page.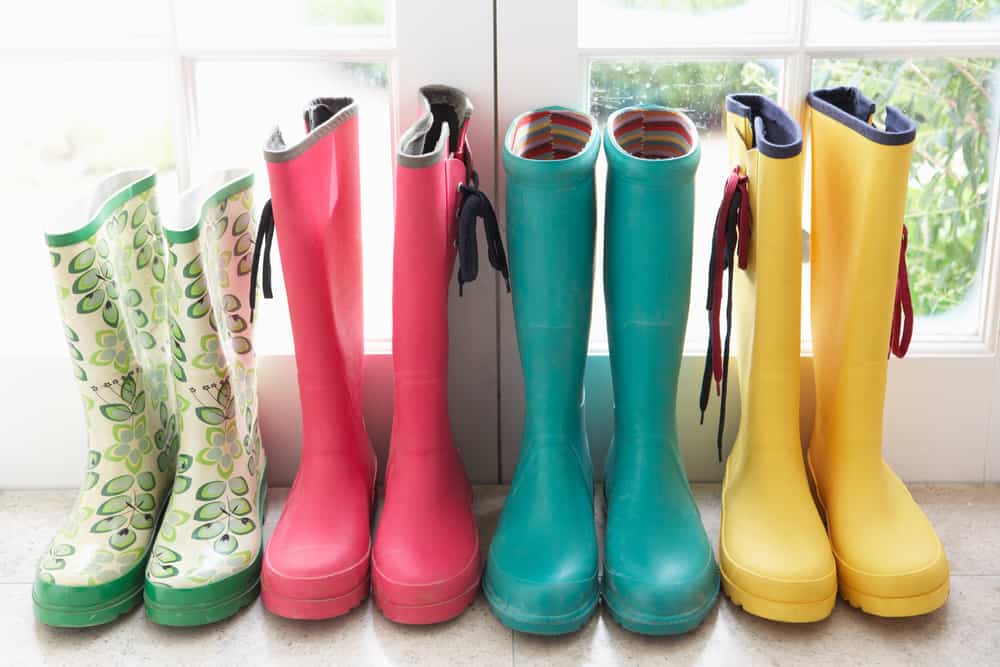 Top 10 Best Toddler Rain Boots 2021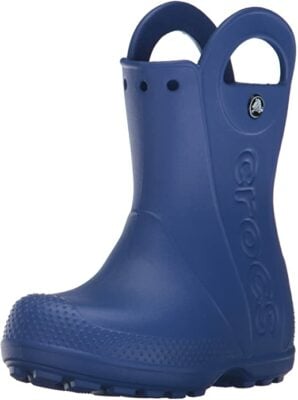 Why we like it:
The boots are very durable and easy to clean. They are also easy to put on and take off for your toddler.
Editor's Rating:
While Crocs may get mixed reviews from style experts in adult fashion, there is no denying that parents of youngsters swear by the quality and comfort of Crocs footwear. Similar to their other footwear options, Crocs rain boots are easy to get on and off and lightweight enough for active toddlers.
While boasting a sleek, lightweight style, do not fret that these boots won't be able to stand up to the lifestyle of an active toddler. These boots really have it takes to last for multiple seasons. Also, as toddlers master their own autonomy, the large handles on the top of the boot assist in taking them on and off without trouble.
One of their best characteristics is the fact that they are manufactured as one piece to minimize the places for wear and tear, which could cause an opportunity for leakage. Even the best puddle jumpers will come home with bone dry feet in these Crocs.
This seamlessness is also to thank for how easy it is to clean these boots. There aren't many nooks and crannies along the tops and sides of the boots where mud could cake up. A simple wipe down keeps them looking good. And speaking of their good looks, these rain boots come in a large color variety to please parents and even the pickiest toddlers.
Pros
Seamless design to prevent any opportunity for leaking

Lightweight for comfort yet very durable for longevity

Easy to clean

Easy to use handles that allow toddlers to easily pull them on and off
Cons
We found the sizing tends to run on the small side, so you may consider ordering up a size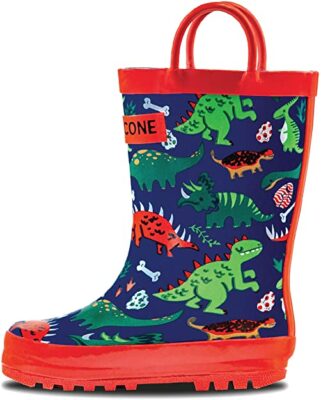 Why we like it:
The great design options make these boots a favorite for young children. You can pick from 30+ different designs!
Editor's Rating:
Loved for their durability and fun designs, the Lone Cone rain boots have kept families coming back to them for high quality, attractive rain boots. For conscientious parents, these boots are free from harmful chemicals and materials.
They are built to last with the expectation that your kiddo will outgrow them before they need replacing, and customer service seems willing to back up this promise. While the rubber is certainly made to last throughout the rough and fun play of a toddler, it's also soft and flexible, unlike those old-fashioned rubber boots of the past.
They have cute, easy-to-grab handles at the tops of the boots for independence in getting them on and off your little one. Unlike the super cheap, low-quality boots, these handles are integrated into the design of the boot's body to prevent the chance that a handle might pop off when being yanked and tugged. The lining of the boot is soft cotton so there won't be able direct rubbing on the rubber itself.
Perhaps the most beloved feature of this boot is the variety of designs offered. Lone Cone works alongside local artists in their area to produce unique patterns that are irresistibly delightful. You and your little one will have a hard time deciding between the numerous options offered! If you're looking for something with a more traditional style, take a look at the HUNTER Classic boots instead.
Pros
They promise to be long-lasting, durable rain boots

Boot material is free from harmful chemicals

The look and feel are designed with the child in mind, holding up to hours of play

A plethora of quality, cute patterns available to choose from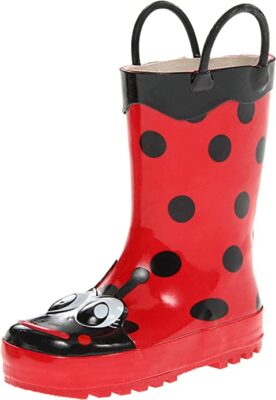 Why we like it:
These boots won't just keep your child's feet dry, but they will be comfortable too, thanks to the cushioned insoles. They also come in styles for
boys
.
Editor's Rating:
Western Chief boots are a staple in many households because they get the job done. These toddler rain boots are reliable for checking all the "must-have" boxes without breaking the bank. While not designed to be seamless, the joints of the seams are well sealed and unlikely to crack or come apart with standard, active toddler play.
The outer material is a natural rubber which, while not exactly lightweight, will endure countless hours of activity, rain or shine. Western Chief toddler rain boots have a soft lining that is "moisture-absorbing" for stray splashes and raindrops to prevent your child's feet from getting damp. Unlike basic rubber rain boots, these Western Chief boots have a comfortable, somewhat padded insole which can be easily removed if needed.
These boots do have the convenience of handles on the tops for kids to easily pull them on themselves. However, these handles don't feel as reliable for holding up to a whole lot of pulling over time. Lastly, these toddler rain boots are offered in a variety of colors and styles that will reflect your child's interests and personality. You will find that the design options are broken up by gender, which may be seen as a convenience or a hindrance depending on what you are looking for.
Pros
Removable insole for added comfort

Moisture absorbing liner

Lots of fun design options
Cons
Boots run slightly small – Order a size up

Handles are not as rugged as other brands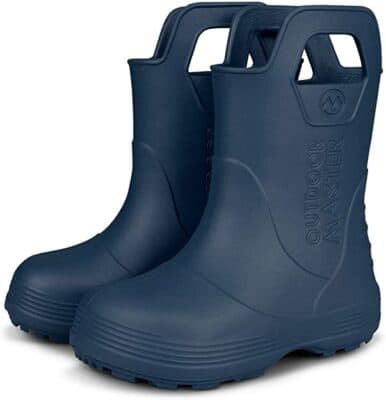 Why we like it:
These boots weigh about a half a pound, depending on the size. They are very lightweight, though still very durable.
Editor's Rating:
For a simple, fuss-free rain boot option that will not leak or break the bank, consider the OutdoorMaster Toddler rain boots. They are constructed as one seamless piece, so leaks are virtually impossible, and cleaning them could not be easier. The heavy-duty foam-line material is incredibly lightweight and comfortable, making these a terrific choice no matter your toddler's age.
The boot's profile is high enough to offer adequate protection from water while splashing in puddles, yet it's not so high that toddlers will have an impossible time struggling to put them on. Another desirable feature of this boot option is that the handles are constructed right into the boot's body, making them strong for pulling them on.
While they are not lined with cotton or other fabric, the material isn't uncomfortable for little feet. Since there is no lining, however, you will want to make sure your little one wears warm socks if it is cold and rainy. We also found that these boots are not the best option if your toddler's calves are on the thicker side as the opening may be too narrow to comfortably accommodate both leg and pants.
Pros
Lightweight and comfortable

Seamless construction protects against cracking and leaks

Pull-on handles are built into the body of the boot

Inexpensive

Easy to clean and quick drying
Cons
No fabric liner

Top opening is not very wide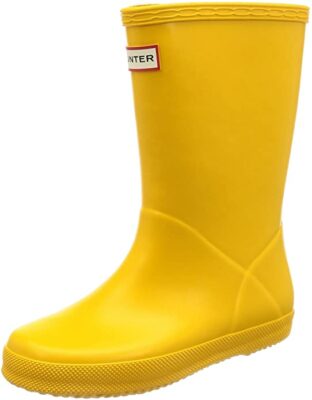 Why we like it:
Made with top quality materials that will last through multiple children even with regular use.
Editor's Rating:
For parents who are willing to make a little more of a financial investment for a name brand rainboot that is sure to last, the HUNTER rain boot is adored by just about every customer. HUNTER makes boots for people of all ages which are known for their sleek, stylish, timeless design and their well-made durability that will stand up to the test of time. This standard applies to the toddler boots as well.
Numerous parents become brand-devoted to these boots because of their looks and comfort. For being a well-made and strong boot, they are not too heavy for all-day wear on even a little toddler. They fit snuggly to stay on the foot without being overly clunky.
The difficulty with very young toddlers and these boots is that the youngsters usually aren't too helpful about putting on boots, and these HUNTER boots do not have handles to help pull them on. Your kid's age and cooperation or coordination for being able to put his or her foot into a boot are things to consider before buying this boot.
Another aspect of this rain boot to consider is the price. Because little kids grow out of footwear so quickly, this may deter some parents. If you're looking for something inexpensive, consider the Outdoor Master rain boots.
The HUNTER brand is well known for their stylish matte finishes and solid colors that go with a variety of outfits. For that reason, you won't find the same playful, childish patterns that many other rain boot brands offer.
Pros
Stylish design

Excellent quality construction

Variety of colors available
Cons
No handles for pulling them on

Quite expensive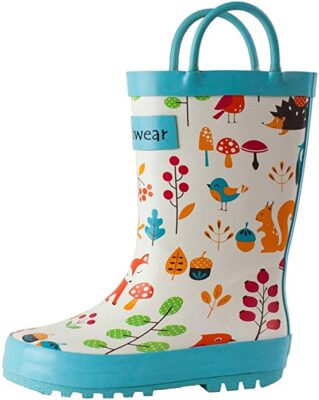 Why we like it:
The traction on these rain boots is both durable and designed to give added traction in slick environments.
Editor's Rating:
Another well-loved and durable rain boot option for your toddler is the OAKI Kids waterproof rain boot. The material used for the construction of these boots is made of a blend of natural rubber designed to be lightweight for hours of comfortable play and flexible while also reducing odor. Also working in favor of your toddler's comfort and as an added layer of warmth is the interior lining of the boot which is 100% cotton.
The sole of the boot is designed with a strong tread to ensure a stable and firm grip on slippery surfaces, making them ideal for running. While there are seams on this boot between the sole and body, they are of low profile and tend not to buckle or break. Furthermore, the sleek design and material make these easy to clean off. The handles on these boots, while not constructed as part of the body of the boot, are pressed into the top of the boot and sealed for strength and longevity.
For kids who are extra hard on shoes and will wear these a lot, don't expect them to last quite as long as other brands, as we found that when these are used as primary daily footwear, the lining tends to come away from the boot.  For a more durable boot, consider the Kamis Stomp rain boots. A notable feature of these boots is that they come with a comprehensive 6-month warranty. OAKI offers an extremely wide variety of prints, colors, and designs for these rain boots, so you are sure to find something perfect for your little one.
Pros
Well-constructed boot body to prevent buckling and cracking

Durable tread on the soles for safe running

Natural rubber material that is both lightweight and flexible

Numerous patterns and designs for your toddler's taste
Cons
They may not last as long as the pricier options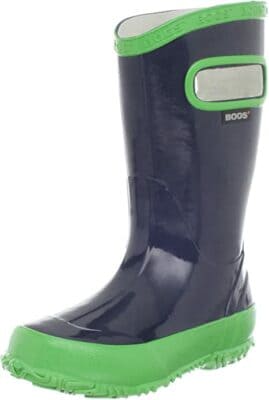 Why we like it:
These rain boots come up higher on the leg of your toddler to help ensure their feet stay dry.
Editor's Rating:
If your little one really loves splashing in the puddles or playing out in the rain, these high legged boots may be perfect. Since the boots go up nearly to their knee, it will be difficult for water to find its way to their feet. While the boots reach up high on a toddler's calf, the material is a soft and flexible rubber, which is lightweight and comfortable.
The built-in cut-out handles definitely aid in pulling these tall boots on. The lining of the boot is constructed with their "Max-Wick" material to wick away moisture from splashes and sweaty feet. They also feature a comfortable, contoured insole made of EVA which boasts their anti-odor "DuraFresh" technology.
The sole has a medium tread, though we have found this boot's tread does get worn down rather quickly. While they can work great for numerous kids, they tend not to last more than a year with heavy, daily usage. These rain boots do come with a good warranty, however, so this may not be a problem for some!
Pros
High legged boots to keep kids' feet dry

The lining and insoles promote dryness and odor protection

Competitive warranty
Cons
Not as durable as other options

Difficult to put on and take off for younger kids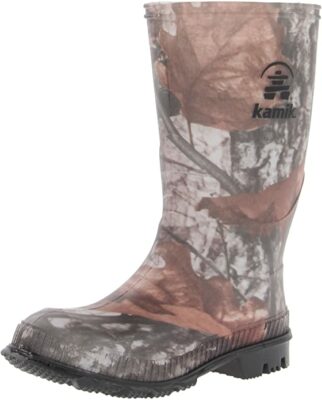 Why we like it:
The design of these boots looks and feels much like rain boots designed for adults, which many older toddlers will love.
Editor's Rating:
Parents have returned again and again to the reliable Kamik brand for a rain boot that is absolutely sure not to leak. These boots, with their sturdy, long-lasting rubber body are the ideal option for kids who will be taking on extra intense activity in them such as fishing and farm work.
Their tall profile gives a little extra protection around your kid's calf to ensure dryness, and with minimal seams in the boot construction, there isn't a concern of cracking and buckling causing leaks.
Because of their slightly taller design, these are best for kids who are old enough to put on and take off their own boots, as it may be difficult for parents to assist their very little ones with these boots. The Kamik Stomp rain boots do not have handles at the top of the boot for assisting with putting them on, so one must guide their foot down by feel or by grabbing the top of the boot body on either side.
You will love that these boots come in a variety of solid colors and a camouflage option, which is enough to please most kids and parents. They do not, however, have any playful childish patterns available like other brands offer, which is another reason these may only be best for older toddlers and young children.
Pros
Very durable boot body

Tall boot giving more protection

Soft lining for comfort and to reduce rubbing
Cons
No "easy on" pull handles

Boots can be difficult for young children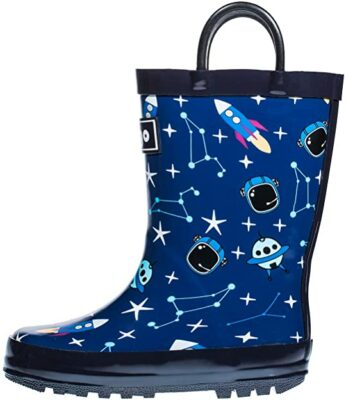 Why we like it:
Easy to put on and off, and very comfortable, making them a great option for young toddlers.
Editor's Rating:
For a fair price point and a cute, classic rain boot, the Hibigo natural rubber toddler rain boots are a great choice designed in one piece to minimize seams to prevent cracking and leaks. They are made from natural rubber which is BPA-free and flexible. The brand boasts of an anti-aging rubber for a long life out of this boot that will not end in crumbling, cracking material.
This brand also incorporates a flocking rubber material into the treads of the boot to prevent them from being too heavy and clunky for little kids while maintaining a safe non-slip surface. The lining of these boots are a soft, organic cotton, and they also include insoles that are made of EVA to promote breathability, wick away moisture, and combat odors from all-day wear.
The handles at the top of the boot are large loops, easy for a small toddler to grab, and they're sealed into the sides of the boots to prevent snapping them off.
The rain boots are available in a variety of patterns for boys and girls, but that seems to also be where a problem comes in. We have found that after some usual wear and wear, the colors and playful designs sometimes fade or get scratched away from the surface. So, while the integrity of the boot may stay intact, they won't be looking brand new for too long if your kiddo likes to climb, stomp, and the like.
Pros
Classic rain boot for a reasonable price

Handles for pulling them on are large enough for small hands to grab

Made from child-safe materials inside and out
Cons
Colors and designs may wear off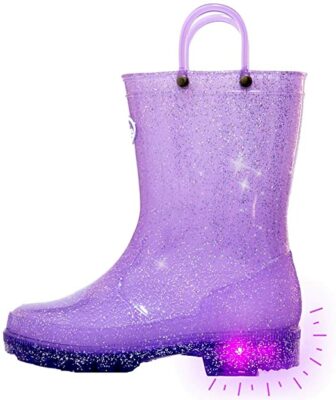 Why we like it:
These boots have a flashing light in the heel, making them both fun and safe for outdoor play at night.
Editor's Rating:
These durable boots are designed not only to keep your little one's feet dry but make it fun to play outside as well. They come in multiple different fun colors, all of which are made to stand out even more by having glitter infused throughout the boot.
The best thing about these great rain boots, however, is that they have a flashing light built into the heel. Not only will your children love this fun feature, but it will also make them more visible at night, which can help to keep them safe.
Like many of the other boots in our list, these are designed with a convenient loop at the top to help your little one put them on more easily. Unfortunately, the loop is not molded into the boot itself, so it is not as secure as it otherwise could be.
Pros
Comes in many fun colors

Light up heel improves visibility and safety

Durable materials
Cons
Marketed only for girls

Pull on loop is not molded into boot
How to Find the Best Toddler Rain Boots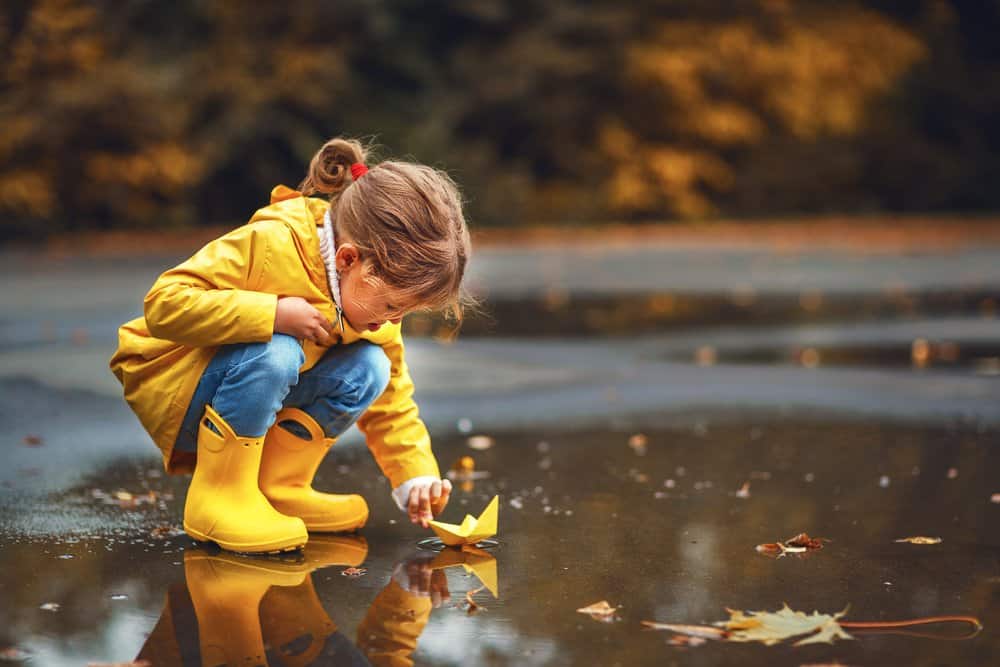 Parents want to make the best decisions for their little ones while also balancing the financial side of such decisions. When shopping for a toddler's footwear, quality matters. These youngsters are still rather new to the world of walking and running, and they need comfort and support that will encourage a healthy gait. Of course, there is no denying that quality matters because of how rough they can be on shoes and boots.
As an added challenge, little toddlers might not be able to adequately verbalize how a boot or shoe feels on foot, which can make it difficult. This is why it is often helpful to rely on reputable companies to make comfortable, quality products.
As kids enter the toddler years, they also begin to form their own wonderful tastes and preferences, especially when it comes to style! So, finding a boot that is pleasing the kids while also meeting the requirements of the parents takes thoughtful consideration. Below are the qualities in a boot which you will most value and what to look for in each.
100% Waterproof Material and Design
It's a no-brainer that at the top of the priority list is the functionality of the boot. A rain boot absolutely must keep your toddler's feet dry through extended use and play. Make sure you look for boots that have durable material without being so heavy that it makes walking difficult. Toddlers are still relatively new to walking, so their footwear must help promote a proper, healthy gait.
When shopping for rain boot, pay special attention to the seams of the boots. The seams are where the body of the boot meets the sole of the boot. Look for well-made and adhered seams that will not crack with movement and bending of the foot.
It's also important that the rain boots aren't just waterproof, but also leakproof! To eliminate this possibility altogether, there are some terrific boots on the market that are made entirely as one piece without any seams at all.
Another design element to keep in mind while shopping is the sole of the boot and the treads on the bottom. Since rain boots are almost exclusively used in wet, slippery conditions, a strong tread made of a hardy material is essential. Just like shopping for car tires, look for deep, grippy grooves on the bottom of the boot.
Lastly, there's no shame in appreciating a cute pattern or color for a child's rain boot! Make sure you and your toddler won't grow tired of looking at them—there are so many cute options on the market.
Consider Every Part of the Boot
One of the best ways to find the best rain boots for your toddlers is to think about each aspect of the boot itself. By understanding what they are made of, and the different options on the market, you will be able to find a great boot that will keep your little one's feet dry today and long into the future.
Type of Materials
While just about every rain boot will, of course, claim to be waterproof, not all boots are made of the same material. Cheaper boots on the market will be made of a blend of synthetic plastic and rubber. For parents who are conscientious about purchasing only natural products, there are many natural rubber boots available, though these will tend to be a heavier weight which may not be ideal for younger toddlers.
The natural rubber tends to stand up to movement and bending well over time, provided that they are stored well and maintained.
Lining and Insoles
You may also want to consider the quality of material being used in the lining of the boot and the insoles, if they come with those things. Since these are very close to the child's skin, you may wish to consider materials that are free from harmful chemicals. Organic cotton linings are fairly easy to find for children's boots.
Apart from the material used in the lining and insoles, the design of these features is also worth considering. A thicker polyester lining, for example, may seem like a nice option for warmth and comfort, but the thicker linings often tend to pull away from the boot's walls over time.
Numerous brands have designed their rain boot linings to be moisture-wicking to keep your little one dry. This can also be a characteristic of insoles, which is helpful if stray splashes or raindrops sneak their way into the boot. Some brands also use a composition in their linings and insoles that fight foot odor—parents rejoice!
Also worth considering is whether the insoles are removable. In one sense, a removable insole is helpful for taking them out to speed up drying time or to replace them if needed. On the other hand, if the insole is cheap, thin, and flimsy, a removable one may slip and slide around underfoot getting bunched up and uncomfortable, so structure is important.
Pull-on Handles
Well-designed, sturdy handles on a toddler rain boot will leave parents wondering why all kid's footwear doesn't come with these useful handles! The most commonly found handle design is the loops at the top of the boot body on either side. For most reputable companies, these do the trick just fine. But beware that for cheaply made, lower quality boots, these types of handles have a tendency to snap off with consistent pulling and tugging.
We all know that people aren't the gentlest during their toddler years. The loop handles aren't the only option, though. Some brands, such as the Bogs waterproof rain boots, use a cut-out design for their handles. These are reinforced holes in the sides of the boot walls where kids can slip in their hands, grab, and pull. The only downside to this design is that the handles create an entry point for water that is below the top of the boot body, so it might not be ideal for serious water wading and puddle stomping.
Lastly, a trusty handle design is one that extends over the boot body but is constructed as one constant piece with the body of the boot, like the Crocs "Handle It" boots, for example. These are strong and resistant to ripping while also maintaining the higher boot profile without calling for holes cut into the boot walls.
Not every toddler rain boot on the market has handles. Some, like the iconic HUNTER boots, have none at all. Older toddlers who have some mastery over their feet and ankles, may be able to get these on by themselves just fine. Younger toddlers might need a hand pulling on a boot without handles, depending on their abilities and the design of the boot.
Boot Height
Speaking of ease of getting the boots on and off, a major contributor to this equation, apart from the handles, is the height of the boot shaft. Preference on the boot's height will basically boil down to how the boots will be used. F
or a family who spends lots of time outside exploring bogs and swamps or working on a farm, for example, will value a higher cut of boot such as what is found on the Kamik Stomp rain boots. For the occasional walk in the neighborhood after a spring rain, parents may opt for a lower cut boot for their little one. Consider how they will be used and choose appropriately based on your own needs.
Consider the Price
As with many toddler apparel products, the market is absolutely swamped with options ranging from cheaply made and low quality all the way up to designer level apparel. Most parents will opt to choose something right in the middle of the two extremes.
Toddlers grow very quickly and can often only get one season out of footwear before needing to size up the next year. So, with that in mind, a parent might not prioritize choosing a boot that will last years and years if it means a higher price point. Other parents might consider handing these boots down to younger siblings in the future and will want to invest in something that is sure to last multiple years.
You know your own toddler best, so if he or she is particularly hard on shoes and boots, do not opt for a boot of cheap construction. While considering price, also do a little research on which companies offer warranties on their products and what the warranty details are. You may find that a more expensive boot becomes worth the price because of an excellent warranty on the product.
Let Your Kids Play Enjoy Rainy Days With the Right Boots
If your toddler loves playing out in the rain, or around puddles of water, it is important to get them the right boots to keep their feet dry. Now that you know all the different aspects of rain boots, and how to choose the right ones, it is time to make your purchase. Check out our Top Ten Toddler Rain boots list and find the perfect pair for your little one.