Running, always a popular pastime for adults, is now becoming more popular with kids. And there's lots of equipment to go with the rise of that popularity.
In this article, we've found and reviewed ten of the best kids' running shoes to help you buy something great for your kids. Without good running shoes, kids (just like adults) risk pain. Though kids' bodies are adaptable, good running shoes are still essential, and kids without the proper equipment can get sidelined by injury.
Just as importantly, good running shoes make running better, more enjoyable and more fun. We've included options for all types of little runners, wherever and however they run. For the best kids running shoes, we've got you covered.
Selecting a Kids' Running Shoe
Good kids running shoes should be lightweight, bouncy and comfortable. When choosing between the best running shoes for kids, you should consider when and where your kids run. Do they run on asphalt? On trails? On varied ground? You should also consider the type of feet they have.
When choosing between the best kids' running shoes, here are the most important things to consider:
Ground Type
What type of running is your little person doing? Short distances? Long distances? On trails? On hard ground? Think about how far they run and the terrain they run on.
Cushioning
Cushioning is key because it protects the joints. Without good cushioning, ankles, hips and knees can become injured or be susceptible to long-term repeated-use injury. But certain levels of cushion are only right for certain levels of running. Trail running, for example, requires a different type of cushion to road running.
Pronation
Pronation refers to how exactly a foot hits the ground. If a foot is neutral (as are most feet), the foot lands on the outside of the heel before rolling in. If a foot overpronates, it rolls in excessively. If the foot underpronates, it doesn't roll in enough. It's essential to buy shoes for the running stride of the user.
Style
Okay, adult runners might not care too much about what their running shoes look like (though many do). But kids will. So make sure you're buying something with a style they'll love.
Comfort
No-one wants uncomfortable shoes! But different runners find different things comfortable. While some like a tighter, sturdy shoe, other kids will prefer a softer and more sock-like shoe. Breathability is another important feature of comfort – if the kid you're buying for runs in heavy heat.
Below, we've listed ten of the best kids' running shoes. We've considered each by the following criteria:
Ground Type and Pronation
Cushioning and Support
Look
Comfort
We've also included a list of pros and cons for all of the shoes on our list.
No matter what type of young runner you're buying for, we've got the perfect pair of running shoes. Here are our top 10 picks for the best kids' running shoes:
Top 10 Best Kids' Running Shoes 2023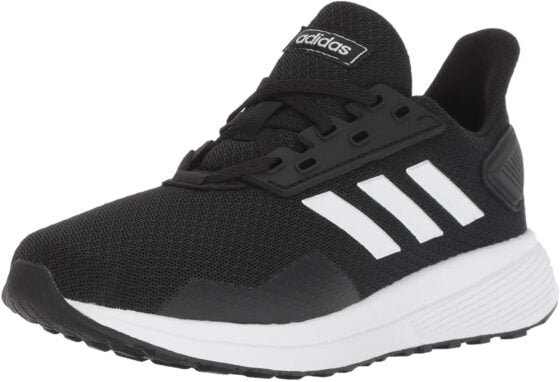 Why we like it:
Basic, cushioned, affordable and with great neutral support, this is a great running shoe if the kid you're buying for is looking for something simple and entry-level. While it's not an ultralight racing shoe, it's an excellent all-rounder.
Editor's Rating:
Ground Type and Pronation
Built for neutral runners, these are comfortable, responsive and supportive for road running. If your kid likes to run on trails, these won't be supportive enough, but for the average young road or track runner, these are excellent.
Cushioning and Support
For an affordable shoe, these have an excellent cushion. The mid-sole is very responsive and bouncy, they feel stable and supportive, and there's lots of cushion around the entire foot. At this price point, you won't find a better cushion.
Look
With a classic Adidas three-stripe design and a bold, chunky style, these are great. Many running shoes have a certain 'highlighter' aesthetic, but these look more like your average sneaker, so they'll be popular with kids who want to keep things cool
The sole is thick, making for great cushioning and great fashion.
There are many different color options. Some are bold and simple, whereas others are a little more colorful and detailed. All look excellent.
Comfort
For a relatively inexpensive shoe, these have great comfort. In addition to lots of support, cushion and bounce, they're fairly breathable and have a pretty flexible upper.
These don't offer the flexibility and breathability of more expensive shoes, but for the price range, they're very good at what they do.
Pros
A responsive, cushioned, basic kids shoe

Great neutral support

Good durability

Great price point

Excellent aesthetic
Cons
Don't have the flexibility of more expensive shoes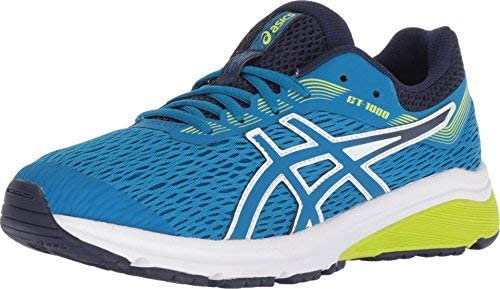 Why we like it:
If your kid wants a great shoe that works for overpronation, these provide excellent support. But along with great injury prevention, there's also fantastic cushioning and comfort.
Editor's Rating:
Ground Type and Pronation
Crafted for overpronators, these provide excellent support for kids whose feet roll in excessively. But these shoes are also suitable for neutral runners too. Best for running on roads, these have enough flexibility that they can be used on light trails, but kids who want something more robust for heavy trail running might want to look elsewhere.
Cushioning and Support
These have excellent support throughout the entire shoe, with lots of great features. The technology used helps to balance out the front and the heel of the shoe, reducing impact throughout the entirety of the foot and helping with landing and takeoff. If your kid wants shoes that will help them to build a more natural motion, these are excellent.
Look
These shoes have the classic Asics design with bold, bright colors and a busy design. Overall, they look great. They come in four different color options.
Comfort
These have fantastic comfort and breathability, with a plush tongue and collar, mesh built for staying cool and an upper which dries quickly. If you want breathability, softness and comfort at a good price, this is an excellent shoe.
Pros
Crafted for overpronation

Excellent cushioning

Great breathability

Very stable and supportive
Cons
Don't have the best durability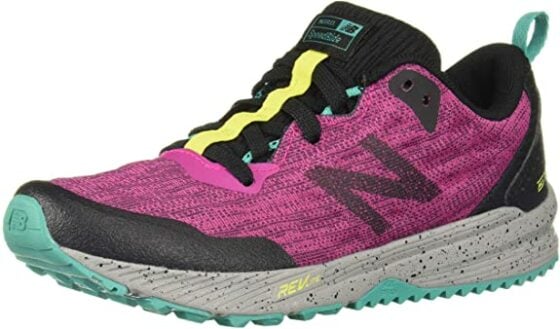 Why we like it:
It can be hard to find good trail running shoes for kids. But these are an excellent pair with rugged, hearty tread which doesn't sacrifice weight or flexibility in the pursuit of a robust run.
Editor's Rating:
Ground Type and Pronation
These are built with trails in mind, and provide excellent traction on all but the most technical trails. They're also pretty versatile, so they're a great choice for kids who like running both on trails and on the road. They're crafted for neutral runners, but the arch support is pretty strong and sturdy.
Cushioning and Support
With an EVA-injected midsole, there's a significant amount of cushion, support and shock absorption. There's a heel counter for locking kids' feet in place while they're tackling tricky terrain, and the molded upper keeps feet supported from all angles.
The lugs on the bottom of the shoes offer fantastic traction, offering great grip while providing excellent support over rocky terrain. They don't offer the greatest traction in wet conditions, but they're otherwise brilliant.
Look
These look fantastic. They have a classic running shoe design with being overly garish, bright or tacky. All four color options are great. For a trail runner, they look lightweight and sleek.
Comfort
For a trail runner, these are very lightweight and comfortable. They take very little break-in time, so your kid will be ready to hit the trails straight away. The no-sew mesh is also very soft, breathable and flexible, for a shoe that feels good and performs well.
Pros
Crafted for trail runners

Excellent cushion and comfort

Versatile

Lightweight

Good price point
Cons
Don't have the best durability

They run a little narrow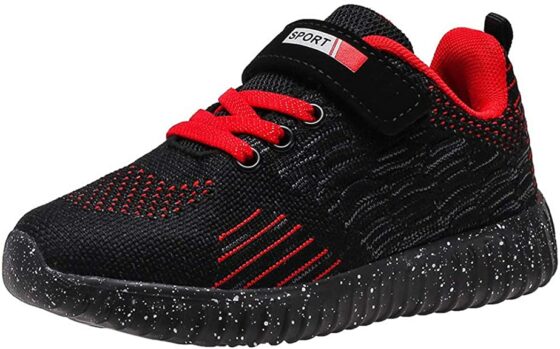 Why we like it:
These aren't anything special, but a pair of budget-priced runners is great if your kids just want something basic and comfortable without any particular technology or support.
Editor's Rating:
Ground Type and Pronation
For basic short runs and neutral feet, these are great. Though they aren't anything incredible, they're a pretty good step-up from simple shoes if your kids have never experienced real running shoes before.
Cushioning and Support
With a padded collar, a shock-absorbing midsole, decent flexibility and a lightweight build, these offer simple cushion and support. But if your kids want something rugged for trails, long runs or intense runs, these likely won't hold up to heavy abuse.
Look
These do look a little cheap, but that's because they are cheap. While there are several color options, you're not getting designer looks here.
Comfort
They're a little thin and unsupportive, but they otherwise feel pretty good, with a comfortable inner. They'll feel very comfortable to someone who's never owned running shoes.
Pros
Very affordable

A good basic running shoe

Great comfort for the price
Cons
Don't have great durability

Don't have the quality build or support as pricier shoes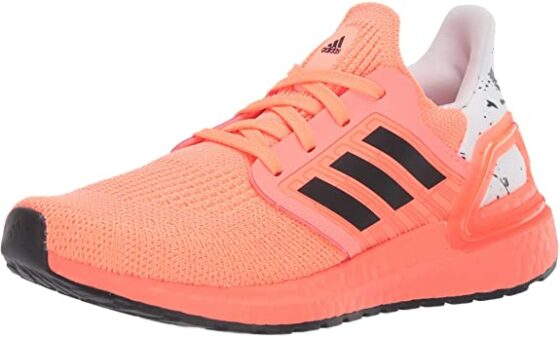 Why we like it:
These are mega comfortable. They're a pretty standard running shoe, built for neutral runners who like to hit roads rather than more difficult terrain. If your kid is running mostly on the track or the road, you won't find them anything more comfortable than this.
Editor's Rating:
Ground Type and Pronation
For kids who need neutral support for road running, these are great. But because the arch support is excellent, they're also a pretty good choice for kids who underpronate. They provide a little more grip than your average road shoe, but they aren't really built for anything more rugged than the most gentle of trails.
Cushioning and Support
This is where these shoes perform excellently. They feel snug and comfortable, the upper is incredibly soft, the heel cap is soft, supportive and cushioned and the reinforced stitching wraps around the foot fantastically.
For road running, there's so much cushion and support. With some elastic in the build, they shape themselves around your feet beautifully.
Look
These look great. Like the other Adidas shoes we've featured (Adidas Duramo 9 and Adidas Originals Swift, these are way more sleek and stylish than your average running shoe, so they're great for fashion-conscious kids whose priority is looking cool while staying supported.
With many colorful options, there'll be something great for whichever kid you're buying for, although an expensive price point means that some buyers might be more attracted to a budget shoe like the MONTAAS Kids.
Comfort
If the kid you're buying for is seeking a comfortable shoe, this is it. The midsole has a huge amount of shock absorption, the whole shoe feels soft without sacrificing support, and there's a good lightweight build here. These shoes are very well-suited to longer runs, as they have a great deal of comfort.
Pros
Fantastic comfort

Great cushion and excellent shock absorption

Support throughout the shoe

Lots of bounce

Great for long runs
Cons
Sizes run a little small

Very slightly lacking in breathability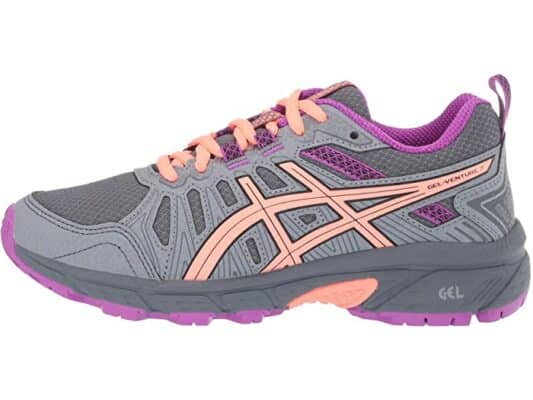 Why we like it:
A basic, simple and effective trail runner, these are a great pick if your kid is starting to hit the trails. Though they don't have the support and design of more expensive trail runners, they're an excellent pick for simple and mid-level trails.
Editor's Rating:
Ground Type and Pronation
Built for simple and mid-range trails, these are an excellent pick for an entry-level neutral trail runner, making them a fantastic choice for any youngster who's looking to get off the roads and onto something more adventurous. The outsole offers surprisingly good traction for the price point.
Cushioning and Support
With gel cushioning on the rear foot, there's a huge amount of shock absorption, which is perfect for pounding the trails. The footbed also has lots of cushion, while the padded tongue and collar offer both comfort and support. Though these aren't as rugged as some other trail running shoes, they're perfect for mid-level to low-level trail runs.
The outsole has fantastic traction for something of this price range. There's a lot of sturdiness around the collar and sides of the shoe, which provides excellent support on trails.
Look
They're not the coolest or trendiest trail running shoes, but there are lots of bright color options, so you should be able to find something great for the kid you're buying for.
Comfort
The sizes occasionally run a little off, but these shoes are otherwise very comfortable. The fabric lining is breathable, the shoes feel soft, and they're comfortable for even the longest of runs.
Pros
Very comfortable

Great shock absorption

Excellent for trail running

Great traction

Good price point
Cons
Sizes are sometimes a little off

They don't look the coolest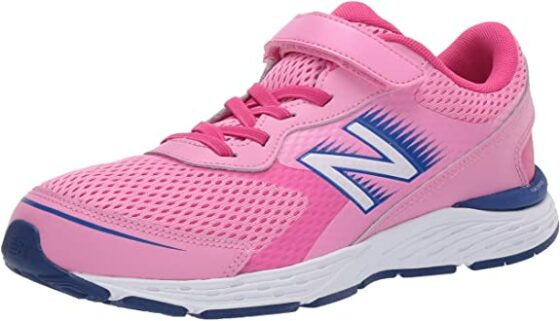 Why we like it:
Simple, affordable and comfortable, the wide version of these shoes is a great option for kids with wide feet. Finding running shoes for kids with wide feet can be a struggle, but these do the job brilliantly.
Editor's Rating:
Ground Type and Pronation
These shoes are for neutral runners who run on roads. They don't offer anything too special, but they do offer excellent support for wide-footed runners at a great price. If you find that your kids' shoes often can't accommodate the swelling of their feet when they run, these shoes are also a fantastic solution.
Cushioning and Support
With a lightweight build, a soft synthetic upper and excellent cushioning in the midsole, this is a great option for kids seeking a good entry-level shoe. If your kids want something more advanced, there's not the traction, grip or heel security offered by more expensive shoes, but these are excellent for the price. The space in the toe box allows the feet to swell a little without being squeezed.
Look
These look great. The mesh contrasts nicely with the rest of the shoe, the colors are bold and the Velcro closing adds a great little cute touch. Because of the trendy hybrid lace/Velcro design, kids will love these.
Comfort
These shoes are thick and responsive with excellent midfoot padding and pretty good breathability for the price point. But the most appealing aspect of these shoes is its extra-wide option, which is great for any kids who struggle to squeeze into narrower shoes. The sizes sometimes run a little small, so don't be afraid to size up a half size.
Pros
Excellent for kids with wide feet

Great shock absorption for the price point

Great padding and cushion

Fantastic price point

Great looks
Cons
Don't have the support of more expensive shoes

The sizes run a little small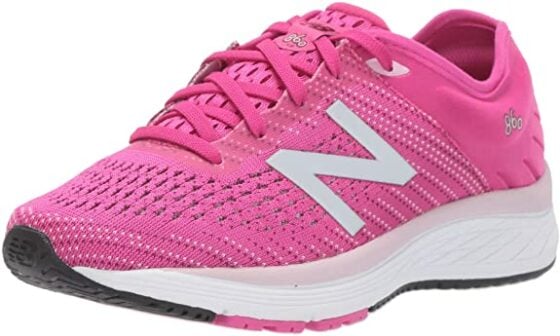 Why we like it:
Another great shoe for overpronating kids, these provide great stability. They're also an excellent choice for kids who like lots of support on longer runs.
Editor's Rating:
Ground Type and Pronation
Perfect for kids who overpronate and like to run for a while, these are built largely for road running, but they're rugged enough for minor trails. Because they're a little heavy but feel fairly light, they provide good responsiveness on varied ground. There's a great deal of heel support here, which is great for uneven ground.
Cushioning and Support
The built-in heel support is excellent at preventing the foot from rolling inward, while a springy midsole offers lots of bounce with a great deal of supportive cushion. There's lots of assistance on takeoff and landing, which is fantastic for supporting the ankle, and there's a good amount of space in the toe box. There's a decent amount of traction on the sole of the shoe, but not enough for any tough trails.
Look
There are only two color options, but they look stylish. They're more attractive than your average running shoe, but not incredible.
Comfort
These shoes have a great deal of flexibility, but because of their dense build they're a little firmer than some runners may like. Though these are still very comfortable, they don't have the soft cushion offered by some others on this list, such as the Adidas Ultraboost 20. They're very breathable.
Pros
Great for kids who overpronate

Excellent flexibility

Good for long runs

Pretty good traction
Cons
Some kids might find these too firm

Only come in two color options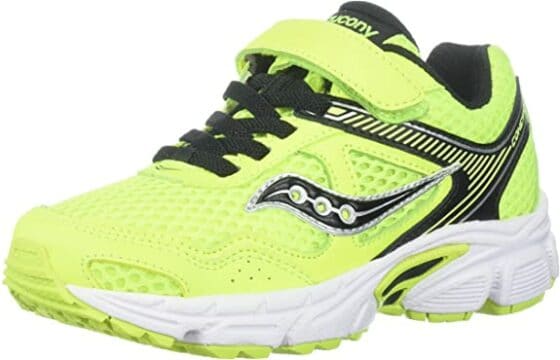 Why we like it:
Since it can be very hard to find shoes for kids with high arch support, these are great for kids who underpronate. They're also suitable for those with neutral feet.
Editor's Rating:
Ground Type and Pronation
Though Saucony shoes often have a decent amount of versatility, the traction on these isn't great, so they should only really be used for road and track running. But for underpronators who do indeed want to hit the roads, these are a great pick.
Cushioning and Support
These are cheaper than most other Saucony running shoes, but they still offer some great cushion and support. The midsole is comfortable and spongy and the arch support is great, but the arch might be a little narrow for some. These don't have the rugged heel support that some shoes offer.
Look
These aren't the most attractive kids running shoes, and they might look a little chunky and clunky for some, but there's a nice Velcro strap along the top of the shoe which looks pretty cool. These shoes come in lots of different color options.
Comfort
The upper is very light and comfortable, with a breathable mesh and lots of comfort for the price. These are pretty good for long runs, as they have excellent shock absorption.
Pros
Great for kids who supinate

Excellent price point for Saucony

Very breathable mesh
Cons
Sizes run a little small

Durability isn't great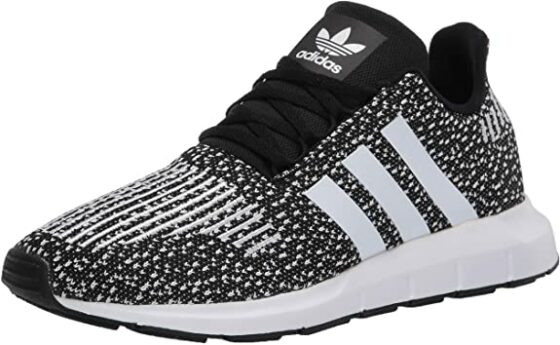 Why we like it:
If your kids are mini fashionistas, they'll love these. With cool color options, a patchy design and a sleek shape, these look nothing like your average running shoe, but perform very well.
Editor's Rating:
Ground Type and Pronation
These are crafted for runners who run on asphalt and want neutral support. They're not particularly versatile or nuanced (though they do perform well). Instead, they're built to look good.
Cushioning and Support
With a lightweight build, a stretchy upper, EVA cushioning and a shock-absorbing midsole, there's lots of cushion here. But though there's lots of cushion, there isn't a huge amount of support, so those seeking a lot of structure should look elsewhere.
Look
This is where these shoes shine. They look great, with a sleek aesthetic, the archetypal Adidas three stripes and a fantastic selection of color options. If your kids want good running shoes which look good and perform well, you won't find any better than this.
Comfort
These shoes are very comfortable. The stretchy knit upper wraps the foot well, for a good fit for most feet. The interior is soft and comfortable, the easy entry collar feels good on the ankle and the upper mesh is breathable and soft.
Pros
They look fantastic

Decent price point

Breathable
Cons
Not particularly versatile or supportive
Picking a Pair of Kids Running Shoes
There you have it – the top 10 best kids' running shoes!
These shoes are all great for the right little runner. But before you choose the right shoes for the young runner in your life, there are lots of things you need to consider. Below, we've unpacked exactly what you need for the runner in your life.
Brand
Some of the most common running shoe brands are Nike, Adidas, Asics, Brooks, New Balance, Saucony, Mizuno and Altra. If you want to get some top-quality running shoes, any of these brands is a good option. If you're looking for something very basic, a shoe from a direct-to-consumer brand might suffice, but for serious running, you should buy something from a trusted brand.
Fit
You should typically buy a half-size up from the size your kids wear for their everyday shoes. That's because feet swell during running, and you should buy shoes that can accommodate this swelling. If you don't, running shoes can be tight and uncomfortable and cause injury.
If your kid already owns running shoes, you should consider whether their current running shoes fit properly in order to check which size you should buy for their next pair. Here's how you can tell if your kid's current running shoes fit properly:
There should be a thumbnail's width between their longest toe and the end of the shoe.
There should be no uncomfortable running or friction when they run.
When their laces are tied, there should be ample space to fit a finger between the knot and their foot.
Running Socks
You should buy good running socks to go along with your kid's good running shoes. Everyday cotton socks aren't good for running, as they retain moisture, causing discomfort and potentially chafing. On every run, your kids should wear shoes that are built for running, and ensure they wear socks that are fresh, clean and dry. This goes for both adults and kids.
Here are some features you should look out for in good running socks:
Seamless construction to reduce chafing.
Compression to improve blood circulation and reduce swelling.
Protection and padding on the toes, heel and ball of the foot.
Anti-blister technology
Ankle support and arch support.
Though none of these features are essential, they can all be very useful. The more good features running socks have, the more they improve the performance and feel of a run. For a good basic option for kids, try these Under Armour Youth socks.
Replacing Running Shoes
No matter how good your kids' shoes are, how well you look after them and how durable they are, shoes will eventually get worn out and need replacing.
Most runners replace their running shoes too late, and that's especially the case with kids running shoes. But it's essential you replace your kids running shoes in a timely fashion, to make sure your kids are staying pain-free and injury-free. Running shoes typically last between 300 and 500 miles before they lose their quality, but since no-one wants to spend their time counting up how many miles their kids have run, here are some signs you can look for:
The treads are worn: this leads to your kids' shoes not supporting their natural gait.
The midsole has become tough rather than spongy: this means that the cushioning of your shoes has been compressed – and therefore compromised.
Your kid keeps getting blisters, sore feet or new aches and pains.
If some of the above are happening, it's probably time to replace your kids' running shoes.
How to Clean Kids' Running Shoes
While shoes are still at their best, it's important to keep them clean, so they can look good and perform properly. Kids running shoes should be cleaned in much the same way as adults running shoes. Here's how to do it:
Use a toothbrush (or another similarly-soft brush) to wipe away dirt, mud and debris.
Place laces and insoles into a pillowcase. Wash these in your washing machine.
Mix water with some laundry detergent. Use a toothbrush to scrub this mixture into the shoes.
Rinse the shoes with a warm cloth.
Air dry all parts of the shoe indoors at a normal room temperature.
Though kids' shoes often get muddy and dirty, this method will keep them sparkling and pristine. You shouldn't machine-wash running shoes.
Pronation and Arch Support
Pronation and arch support are intrinsically linked, and it's essential to buy running shoes that are suited to the arch and pronation of the kid you're buying them for. But it's important to know what these terms mean and how they are linked:
Neutral: Neutral pronation is when the foot hits the ground on the outside of the heel, then rolls slightly inward. This is associated with normal arches, and typically leads to a lower chance of injury (though all runners can, of course, get injuries).
Overpronation: Overpronation is when the foot hits the ground on the outside of the heel before rolling in excessively. This is associated with low arches and flat feet, and can cause many injuries. Our favorite shoe for overpronators is the Asics GT-1000 7 GS
Underpronation: Underpronation is when the foot hits the ground on the outside of the heel, and doesn't roll in enough. This is associated with high arches and can also lead to injury. Our favorite shoes for underpronators are these Adidas Ultraboost 20
When buying running shoes for kids, it's essential you know whether they have neutral feet, or suffer from overpronation or underpronation. If you buy the wrong shoes for the wrong feet, kids can get injured or hurt.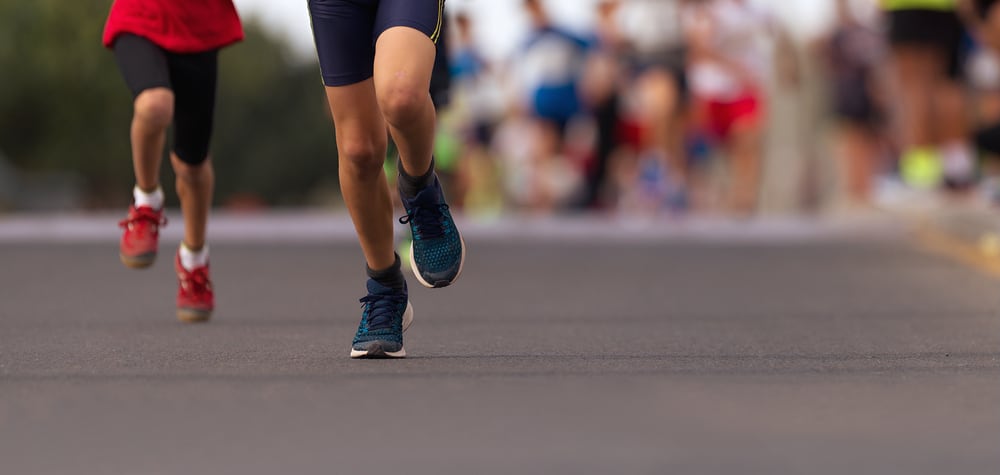 Frequently Asked Questions
Can Kids Wear Normal Sneakers for Running?
The simplest answer? No. A normal pair of running shoes can cause poor performance and can lead to pain and injuries. Though your kid might feel okay with running with normal sneakers, this is bad for their body in the long term. With budget shoes like the MONTAAS Kids coming in around $25, it's worth the investment.
Can I Purchase One Size Too Big So My Kid Grows Into a Shoe?
No, you definitely shouldn't do this. Though you should buy a slightly larger size (about a half size up) as outlined above, you shouldn't buy any bigger than this. Though it's tempting to buy bigger shoes in order to accommodate for the growth of your kids' feet (and therefore save a little money), overly-large shoes can result in injury and pain.
What are Some Common Running Injuries?
There are many common running injuries, many of which can be prevented by wearing good running shoes and making sure that you run safely and properly.
The most common include runners' knee and shin splints, both of which can be very easily fixed with good footwear. They can also be very easily and quickly caused by wearing poor, low-quality, unsuitable footwear.
If your kids are wearing good, well-fitting footwear, running properly and always stretching before and after a run, they should stay free of injury and pain.
Your kids should have a good warm-up routine (which they practice before every run) to help them to avoid injury.
At What Age Can My Kid Start Running?
Whenever they want to! But depending on their age, kids should be limited to certain amounts of running, since overtraining can lead to injuries and other physical problems. While an 18-year-old can feasibly run a marathon, a child under 9 shouldn't run more than 1.5 miles at a time. There are different rules for different ages.
But an important note on age – kids grow quickly. You should plan accordingly, and don't buy expensive shoes if you think your kids will soon outgrow them. Though it's important to buy quality running shoes, you don't want to splash hundreds of dollars on running shoes if they'll be useless in three months.
How Durable Should Running Shoes Be?
Kids can be hard on their footwear, so it's important you buy shoes that are especially durable. Cheap ones wear fast, so you can typically ensure good longevity simply by investing in shoes crafted by a high-quality, reliable brand.
What Should I Do to Maintain Running Shoes?
Because running shoes can be expensive, you, of course, want to maintain them properly so they can keep functioning properly and productively for as long as possible. Here are some things you can do to prolong their shelf-life:
Keep them away from heat and direct sunlight. If you keep them in hot conditions, you can reduce their cushioning due to excess hardening.
Don't crush them by storing other shoes on top of them.
Alternate between pairs. You should give your shoes 48 hours of rest between runs, to allow the materials to rest and decompress.
Keep them clean and wash them when they get dirty.
Always tie and untie them properly. If you force your feet into your shoes without untying the laces, you can damage their structure.
How Much Should I Pay for Running Shoes?
You can get good running shoes at almost any budget. Though some ultra-high-end adult running shoes can cost upwards of $200, it's possible to get good shoes for under $50, and in some cases (as with the MONTAAS Kids) even around $25. Another trick? Buy last year's model for a significant discount.
For example, if a brand has recently released a shoe, you could buy an older version of that shoe for a lower price. This shoe might not be as good as the most recent release, but it'll still be of good quality.
Final Thoughts
Good running shoes are essential, even for kids. While running is a brilliant sport with lots of benefits, it's only safe and healthy if little ones are wearing the correct footwear. If you want your kids' runs to be better, safer and more fun, you should buy some shoes from this list.
All of the shoes we've featured are excellent for the right runner. Think carefully about the little kid you're buying for, how they run and where they run, and select the right running shoe based on their needs. With a little luck, they'll fall in love with running for years to come.