Top 15 Best Tow Truck Toys 2023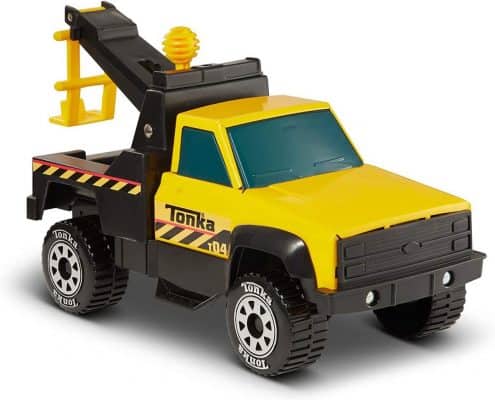 Item Dimensions: 13 x 5.5 x 6.5 inches
Item Weight: 1.96 pounds
Batteries Required: 3 AA batteries required
Age: 3 to 6 years
Design:
Beloved American toymaker Tonka has become a runaway success around the world for its adorable range of tough construction vehicles, and this life-like toy tow truck exemplifies the brand. Made from solid steel and sturdy plastic, the Tonka Tow Truck is tough enough to come with a lifetime guarantee. Passing this one down between children (or even generations!) won't be an issue as Tonka products are built to last.
The adjustable winch on the truck bed comes with four different height settings, allowing your little one to tow cars of various shapes and sizes. A realistic design and deep cleated tires will have them feel like they're driving around in the real thing.
It's not the cheapest toy tow truck on our list, but for a life-like classic that'll stand the test of time, you can't go wrong with Tonka.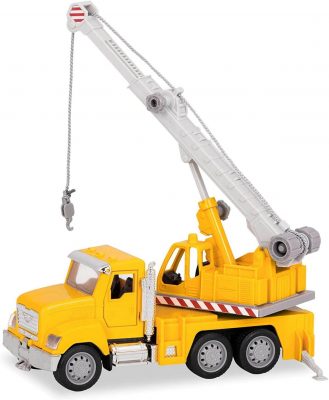 Item Dimensions: 7.5 x 3.2 x 3 inches
Item Weight: 5.6 ounces
Batteries Required: 3 LR44 batteries included
Age: 4 – 10 years
Design:
Sometimes a parent just wants an affordable toy to keep their tot entertained and away from the screen. And this cool little toy truck from Battat is the ultimate budget-orientated option. For just a smidgen more than ten bucks, you'll get a fully functional and fun toy tow truck to entertain your child.
The best thing about this cheap option is just how many cool extras come part of the package: flashing lights, sounds, a toy car on the back, and loads of moveable parts. Your little one will love opening the doors and admiring the detailed interior, not to mention adjusting the truck bed extensions and fiddling around with the pulley and ramp. They can even pop the hood and check out all the cool pistons underneath. Kids from 4 to 10 will get the biggest kick out of this model.
Best of all, batteries come included, so there's no more to pay—a turnkey solution for the budget-conscious parent.
On the downside, the plastic material in use here isn't the most durable, and the basic design probably won't blow your child's mind. Nevertheless, that's hardly surprising given the low price point at play.
Item Dimensions: 20.1 x 9.1 x 7.5 inches
Item Weight: 5 ounces
Batteries Required: 2 LR44 batteries included
Age: 3-10 years
Design:
Some parents are prepared to pay a premium to give their precious little one a toy they'll cherish for years to come. And those parents tend to shop with Bruder, an upmarket German toymaker with a reputation for producing some of the finest construction toys on the market.
Bruder's 02535 MB Sprinter doesn't come cheap. But the hefty price tag is worth it in our book for the quality on offer.
The first thing you'll notice about this toy is the level of detail involved, from the treading on the ramp to the roll-up winch, and the interior cabin of the truck. The front doors open and shut, the loading ramp can be extended, and even the side tool boxes open out to store a collection of tiny little tools, including the mandatory wheel chocks. You'll also get a light and sound module as part of the deal. All this gives your child a more realistic towing experience, which equates to a lot more fun.
Bruder builds their stuff to last—the 02535 MB Sprinter is made from durable ABS plastic.
If you like the idea of a Bruder set but this doesn't take your fancy, check out the Bruder MAN TGA instead.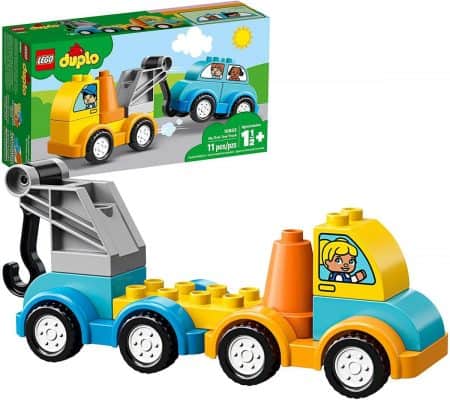 Item Dimensions: 10.3 x 5.5 x 2.8 inches
Item Weight: 9.1 ounces
Batteries Required: No
Age: 18 months +
Design:
We all grew up playing with LEGO, and most of us—although we might not quite remember—started off our make-believe construction career with DUPLO. As the babies and toddlers range of the internationally renowned toy manufacturer, DUPLO combines play with creativity as younger kids get to build their own toys.
Included in the 11-piece package is a traffic cone and hook, which winches up the broken down car to give small children their first taste of the towing experience. The set-up is smart, simple, and practical, encouraging learning and development through action-packed play.
We love how light and compact this mini set is; it's easy to lug around between houses or even take with you to the dining room table. And the Duplo range covers a whole host of other vehicles, which you could combine to create an impressive automotive ensemble.
The only downside? It's far too simplistic for big kids, so either get them our top LEGO pick or our favorite Technic tow truck .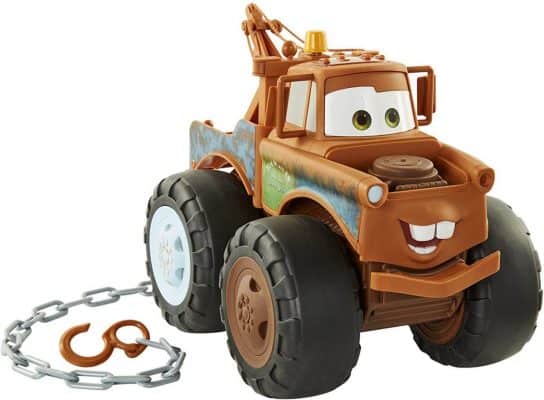 Item Dimensions: 15 x 9 x 15 inches
Item Weight: 6.81 pounds
Batteries Required: 6 C batteries included
Ages: 6 – 9 years
Design:
Older kids in love with the Disney series 'Cars' will adore this heavy-duty toy tow truck, which is capable of hauling one heck of a large load. Based on the classic character Tow Mater, this charming veteran of Radiator Springs entertains its audience with 50 unique phrases and sounds. Your kids will get to choose between two play modes—Turbo Speed and Max Power—for faster travel or optimal torque for towing.
What we really love about this model is its immense pulling power. Just like the real Tow Mater in the movie, this toy is capable of hauling a massive amount of cargo on its trusty chain and tow hooks thanks to a powerful engine. The set-up will drag large wheeled objects over smooth surfaces, although the manufacturer's claims of up to 200 pounds aren't realistic. Nevertheless, kids just love hooking it up to other toys and watching it tow them around the room.
Parents with sensitive hearing should approach this one with caution because Tow Mater can be a little on the annoying side. Worse still, there's no way to turn off the sounds while still keeping the towing functionality (the best part of the toy). Sticking electrical tape over the speakers does help mitigate the problem, though.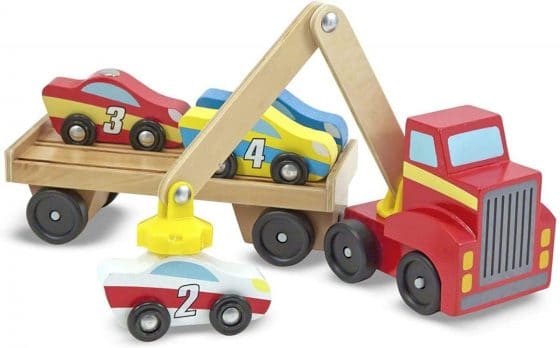 Item Dimensions: 14 x 6 x 3 inches
Item Weight: 1.45 pounds
Batteries Required: No
Age: 36 months to 6 years
Design:
We just love wooden toys, partly for the look and texture of the material and partly for the old-school nostalgia value. So it stands to reason this classic wooden tow truck set from Melissa & Doug would get top marks from us.
What it lacks in realism, this beautifully carved and painted tow truck makes up for in sheer aesthetic appeal. Rather than boorish bright colors, it adopts a sleek minimalist approach that adds character to any toy chest. Little kids love the look and feel of this set, and us will adults find it hard to disagree.
Unlike most tow trucks, your kids will get four individual cars to pick up and play with. Each comes with a unique number to encourage early organizational skills, and the cool magnetic crane will blow a youngster's mind. A durable solid wooden chassis and smooth-rolling wheels ensure it'll be good to play with for years to come.
Melissa & Doug have been making this sort of sleek vintage-style toy for 30 years and counting, and all their gear comes with a "happiness guarantee" or your money back.  If your child wants to play with a life-like tow truck, you might have to take them up on that offer because this set is certainly more whimsical than realistic.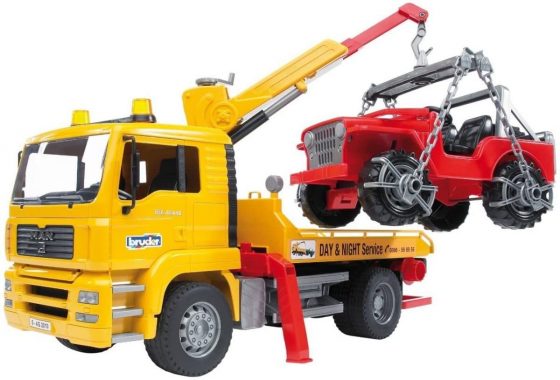 Item Dimensions: 20.5 x 10.5 x 7.5 inches
Item Weight: 3.69 pounds
Batteries Required: 2 AAA batteries required
Age: 4 – 8 years
Design:
The Bruder MB Sprinter got our top gong for the best premium toy tow truck, and this superb model from the same brand offers an excellent alternative. The functionality here is significantly less than the 02535 MB Sprinter, but you may be more appealed by the aesthetic.
What we love about this model—and Bruder in general—is just how detailed the whole towing system is. Its life-like loading platform is fully removable, and the crane can be retracted, extended, and swiveled around. There's even an extendible wheel lift with tracks, wheel clamps, and a stabilizer—just like the real thing. All this comes in high-quality ABS plastic that's built to last.
Unlike the MB Sprinter, the MAN TGA Tow Truck doesn't come with a sound and light module, although one can be purchased for an additional fee (bladder within that size range). For parents who prefer peace and quiet, however, the missing sound module is a blessing.  You also can't open the doors to the cabin, and kids under five might need help from their parents in getting it set up.
Item Dimensions: 3 x 17.5 x 5.1 inches
Item Weight: 1.49 pounds
Batteries Required: No
Age: 36 months – 7 years
Design:
If your child has a thing for Hot Wheels, then the Mega Hauler Truck from Mattel is a must. This gigantic oversized lorry boasts six expandable levels to house up to 50 Hot Wheels at a time, and the big rig looks incredible when fully loaded with these sleek, exotic cars.
Expanding and detracting the extendible levels is done via a simple locking mechanism, and there's a handy connection piece so they can drop their two fastest cars straight into a Hot Wheels orange track race (sold separately).
Be aware that this product is more of a storage unit or display case then a towing toy. Although the Mega Hauler can move around, the cars will fall out the minute your tot puts the pedal to the metal. You also won't be able to fit Matchbox Cars in here, which is a real shame for fans of the franchise. More annoying still, some of the bigger Hot Wheels won't even fit well in the lower levels and will have to ride up top. Also, if you don't already have a sizable Hot Wheels ensemble, then give this thing a miss because it's pretty useless on its own.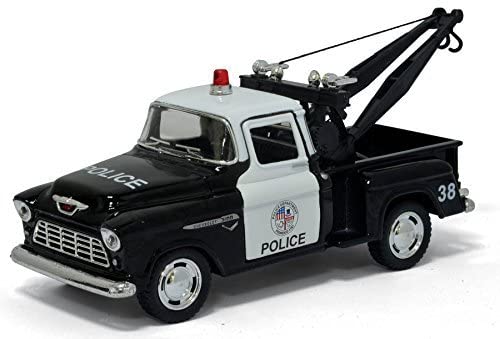 Item Dimensions: 5.9 x 2.8 x 2.7 inches
Item Weight: 3.84 ounces
Batteries Required: No
Ages: Three months+
Design:
If your kid loves old cars as much as we do, they're going to love this awesome vintage pick-up truck. The classic Chevrolet chassis is a nostalgic throwback to the '50s and looks as charming as it ever has, even today. And the fact that it's a police car and a tow truck at the same time multiples the cool factor.
Although we're in love with the look of this thing, it doesn't make for the most engaging toy. First off, functionality here is highly limited: the lights don't flash, the doors don't open, and the wheels don't turn. It's also rather flimsy, so don't hand this one out to kids who like to play rough. The elastic tow lines, in particular, are prone to snapping, even though they're designed for play. And finally, at less than 6 inches long, it's just a wee bit too small to be an exciting toy for most kids.
Nevertheless, it looks cool as a cucumber and only costs a few dollars, so there's no harm in adding this classic vintage model to your child's (or your) toy car collection.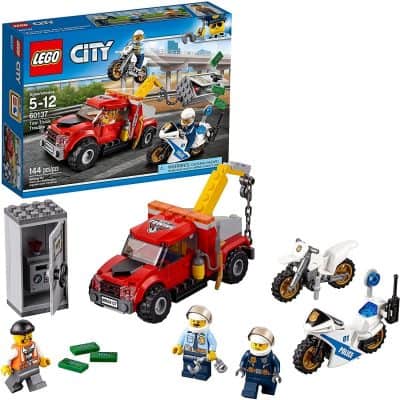 Item Dimensions:10.3 x 7.5 x 2.4 inches
Item Weight: 10.9 ounces
Batteries Required: No
Age: 5 – 12 years
Design:
Everyone loved playing with LEGO when they were younger, and the esteemed Danish toymaker is still capturing the hearts of children today. The LEGO City Police Tow Truck steps it up a notch by giving your child the chance to play one of the best games in LEGO land: Cops & Robbers.
The charming little set consists of two burly police officers on high-powered motorbikes, a stereotypical looking robber, a tow truck, and a large safe full of loot. To give you the gist of the game: the robber steals the safe from a city bank and hurtles through the LEGO streets with the police in hot pursuit. As you can imagine, it's a hoot if your child already has a sizable LEGO city collection they can use to help set the scene. Nevertheless, the toy is still a whole load of fun on its own.
As always, the functionality is rather impressive here. The tow truck comes with a movable towing arm with a hook and chain to string the safe behind, and the safe opens up to reveal a stash of cash, jewels, and other treasures.
The 144-piece set takes most kids about a half-hour to construct and is an excellent opportunity to spend high-quality time with your kids.
Got smaller kids? Then check out our top DUPLO tow truck instead. Older kids and teens will probably prefer Technics.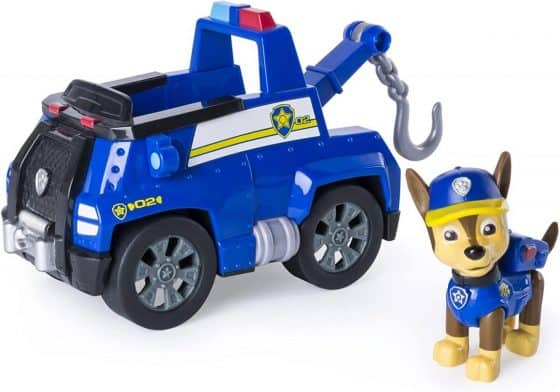 Item Dimensions: 3.8 x 8.5 x 7.5 inches
Item Weight: 10.9 ounces
Batteries Required: No
Ages: 3-5 years
Design:
A police dog driving a tow truck—what's not to love?
While most tow truck toys on the market are self-driving or feature a boring old human at the wheel, Paw Patrol puts our favorite four-legged friend in charge. Constable Chase wears an adorable doggy police uniform and rides up top to navigate the tow truck through treacherous terrain en-route to another ruff-ruff-rescue.
It's a fairly basic toy, which is reflected in the low price point, although it does boast a decent amount of functionality, including a set of slick spinning wheels. The towing winch, however, is the primary mechanism at play: the crane can pivot, and the chain can retract. Chase fits perfectly in the cabin up top to guide the tow truck on its merry way.
If your child digs the whole canine law enforcement theme (who wouldn't?), then you're in luck because the tow truck works wonderfully with other Paw Patrol figurines. However, the towing hook is a little low and thick to connect to most other toys.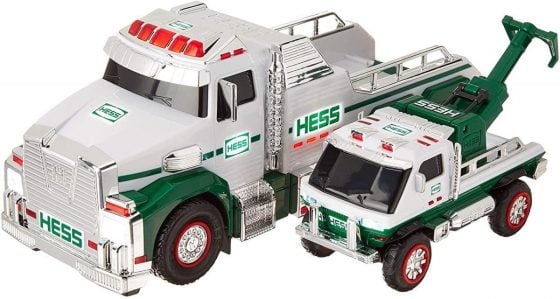 Item Dimensions: 13 x 4 x 4 inches
Item Weight: 2.38 pounds
Batteries Required: 1 LR44 battery included
Ages: 12 months and up
Design:
Boasting over five decades of experience in the business, HESS knows a thing or two about building tough toy cars—both in terms of aesthetics and durability.
This 2019 elite Rescue Team is the very first tow truck to join the HESS collection. And the company has gone all out by including not one but two tow trucks as part of the deal. The bigger truck, as you can see, is an enormous flatbed with a semi-trailer-style chassis. Inside, a smaller—although still tough-looking—tow truck has a moveable mechanical towing arm with a recovery hook and a separate wheel lift.
The functionality here has room for improvement, though. The mechanical arm is a little on the rigid side, and the hook isn't a compatible size with most other toys. Nonetheless, you still get double your towing prowess for a single purchase price.
But speaking of price, the HESS' toy automobile fleet are premium products, so don't expect this model to come cheap. Nonetheless, little boys will adore the aesthetics and iconic HESS green and white color theme. Roaring engine sounds and 45 hyper-realistic cabin lights add to the excitement, making this a worthy investment for fans of the series. Like all HESS toys, this one is super sturdy and durable, too, so you can expect to get plenty of use out of it.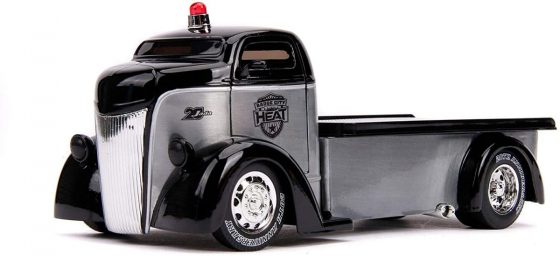 Item Dimensions: 7.5 x 3 x 2.5 inches
Item Weight: 1.81 pounds
Batteries Required: No
Ages: 8 years and up
Design:
The first thing you need to know about this attractive Ford flatbed truck from JADA is that it's more of a collector's item than a kid's toy. The small and metallic flatbed has no moving parts (aside from the opening front doors), no lights, and no sounds, but its chunky vintage design makes it a fantastic addition to any model/toy car collection.
Having said that, older children are still going to love playing around with this one, mostly because it just looks so damn cool. And at a beefy 7.5 inches, there's plenty of room on the flatbed to store little toys like Hot Wheels or Matchbox Cars.
One of the things we love about JADA is the materials in use. Rather than ocean-polluting plastic, you'll get die-cast metal and real rubber on the tires, which look and feel lovely. JADA released this one for its 20th anniversary, and they've done a fine job of making a memorable product to mark the occasion.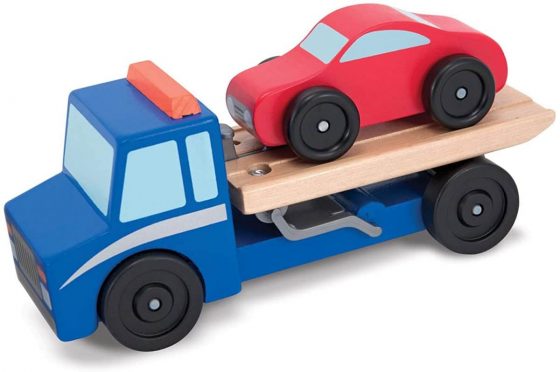 Item Dimensions: 10 x 5 x 4 inches
Item Weight: 15.8 ounces
Batteries Required: No
Ages: 3-6 years
Design:
Melissa & Doug make superb wooden toys, and this petite toy truck is perfect for the budget-conscious and/or space-saving parent. The Magnetic Car Loader Wooden Toy Set got our pick for the best wooden toy tow truck, but this model features the same high-quality design for about half the price—perfect for moms looking for an inexpensive addition to the toy chest.
Like other Melissa & Doug toys, we love this tow truck for its chic minimalist design. The simplistic color scheme looks fantastic, and the smooth texture of the pine feels fabulous to touch. Natural materials like wood are just so much nicer to play with than plastic.
The toy is surprisingly functional given its basic appearance. Smooth-rolling wheels let it glide along the ground, and the included mini car slips snugly into place on the grooves of the flatbed. And then when you want to unload the cargo, the flatbeds snaps into place on the floor so the car can roll off. The only downside is the latch that holds the car in place isn't great, so it's prone to fall off at high speeds.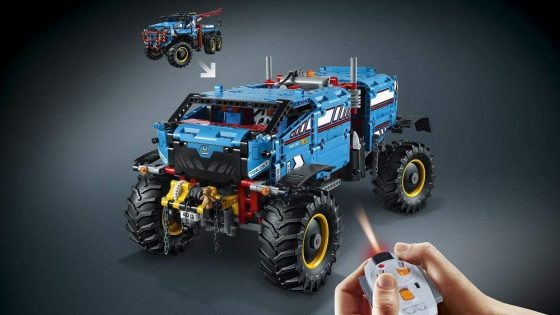 Item Dimensions: 18.9 x 4.9 x 22.9 inches
Item Weight: 8.42 pounds
Batteries Required: 1 Lithium-ion battery required.
Ages: 11 – 16 years
Design:
And now one for the bigger kids.
This 6×6 Tow Truck from LEGO's Technic range is perfect for budding engineers who love constructing complex machines. The set features 1,862 pieces in total and takes several fun-filled days to put together—an excellent exercise in problem solving for children aged between 11 and 16.
The best thing about Technic is LEGO's impressive attention to detail. This is by far the most functional toy tow truck on our list, with a plethora of moving parts achieving all sorts of different things. A battery-powered motor makes the remote-controlled machine move around or lower/raise its winch, and you can even operate the crane from afar.
Truth be told, it's a little tricky to assemble, so opt for something easier if your child has never built a 1,000-piece Technic set before.
The icing on the cake? Once you're done building and playing around with the set, you can tear it apart and build the Research Explorer Vehicle instead—two-in-one fun you can enjoy with your kids.
Love LEGO but have younger kids? Check out our picks for the best LEGO tow truck and the the best DUPLO tow truck instead .