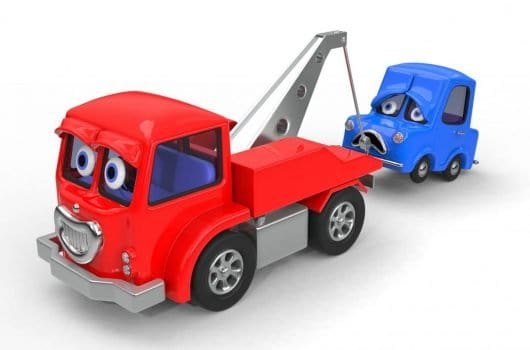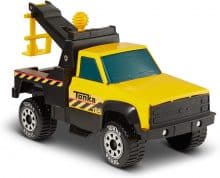 Tonka Steel Tow Truck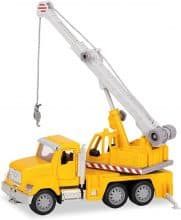 DRIVEN by Battat – Micro Crane Truck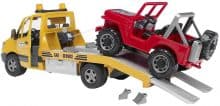 Bruder MB Sprinter
Previous
Next
Toy tow trucks are one of the best toys a little kid could own, especially boisterous young boys (and girls) who love playing with automobiles. With such a wide variety of models available on the market, the toy tow truck can add a little muscle to any automotive set.
Not only are these tiny little tow trucks fun to whisk around on the play mat, but they're also perfect for the sandpit. This will help your tot appreciate the outdoors from an early age. Toy tow trucks even teach basic mechanical concepts and hone hand-eye coordination.
So for a fun and educational toy that'll last your little one for years to come, it's hard to look past the toy tow truck. But which model should you gift your kid for their next birthday or Christmas? Check out our top 15 toy tow trucks to help you pick the perfect little mover.
Features to Consider
Before we get stuck into the best toy tow trucks on the market, it's crucial to understand what to look out for when shopping for your child's new treasure. Not all toy tow trucks are created equally, and some are more suited to certain types of kids. Keep the following considerations in mind as you browse through our list.
Price: Like all things in life, you get what you pay for with the toy tow truck. While the best models on the market might set you back as much as $100, cheaper, no-thrills trucks can be found for as little as $10—there really is something on offer for every budget. However, be warned that the cheapest toy tow trucks will be more prone to falling apart, especially in the hands of an energetic young child who gives their toys a jolly good workout. If you want your toy tow truck to stand the test of time (and use it for multiple children), then it's usually worth shopping at the higher end of the range.
Age: There's no point picking out a baby's toy tow truck for a pre-school-aged tot—they won't even entertain the idea of playing with this overly basic item. Likewise, handing a big and complex toy tow truck to a teeny little infant is equally futile as they'll feel overwhelmed by the moving parts and intricate design. Save your money and stave off boredom in your child by choosing an age-appropriate toy tow truck for them. To make life easier, we've included a rough age range with every product on our list.
Aesthetics: The cooler a toy tow truck looks, the more your little one will love it. Age comes into play here, with older children preferring more realistic, life-like designs. Bright colors, intricate details, shiny paint jobs, and flashing lights all add aesthetic appeal.
Size & Weight: Be sure to factor in size and weight when picking out the ideal toy tow truck for your tot. First and foremost, you need to ensure the toy won't be too big for your child to whip around. Heavier toys are designed for stronger kids, and the same applies in reverse. Also, consider how large your child's other cars are. The toy tow truck is supposed to be carting these around, so you want to make sure they'll fit on the winch. A tiny toy tow truck lugging around an enormous car isn't going to captivate your child's imagination.
Cool Extras: Moving parts make toy tow trucks more enjoyable for young children, allowing them to operate the winch or open and close the bonnet and doors. As a nice little bonus, this early discovery teaches them a few things about the automotive world. Other cool add-ons to consider include battery-operated or wind-up movement, sirens, and flashing lights. Just be sure the blaring sounds aren't going to drive mom and dad mad.
Top 15 Best Tow Truck Toys 2020
The Verdict
There we have it, fifteen of the finest, little load-hauling tow trucks on the market. These teeny weeny kids' toys are crazy fun for the tots to play around with while honing their motor skills and teaching basic mechanics at the same time. So take another gander through our top recommendations and grab a model your little one will love.