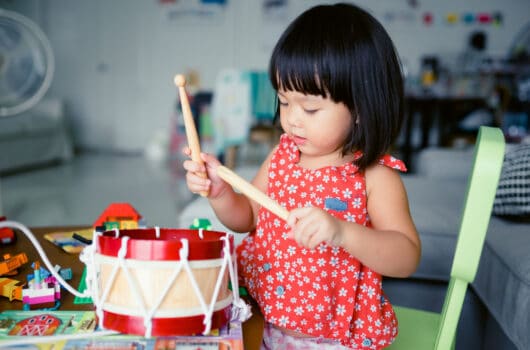 O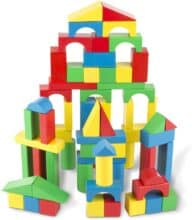 Melissa & Doug 100-Piece Wood Block Set
B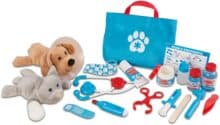 Melissa & Doug Pet Vet Play Set
P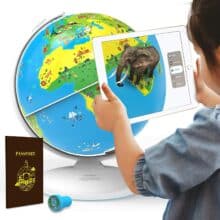 Shifu Orboot Augmented Reality Interactive Globe for Kids
Previous
Next
A 3-year-old can be harder to shop for than you think. They're at that odd in-between stage where baby toys are too simple and boring but toys for older children are still too complicated or too much of a choking hazard.
How do you find something that will be stimulating and engaging but not too complicated for them? In this guide, we'll talk about how to match toys and gifts to the developmental level your toddler is at so you can make an informed choice.
If you want to skip the guide and start looking at the products, you can go straight to top 15 picks for the best toys and gift ideas for 3-year-olds.
How to Choose Toys and Gifts for 3-Year-Olds
For young children, especially toddlers, playtime is more than just a way to fight boredom. It's a way to explore, learn, and develop the skills they will need to function as adults. Toys that are designed to help with specific areas of childhood development don't have to be boring or "just educational." They can also be a ton of fun.
In this section, we'll discuss where the average 3-year-old is at in terms of cognitive, physical, and social development. We'll also talk about which toys help improve skills in each of those areas.
Toys for Cognitive Development
By three, children are full of curiosity. They're asking tons of questions and, especially, wondering "why" and "how" rather than just "what." They're also retaining a lot of the information they're learning. They can name colors and objects. They can make comparisons. They can pretend and imagine. This is an age of rapid development and they're eager to absorb as much new information as they can.
Memory
At this age, children are starting to remember things consciously. They'll be able to recall details from stories and sort out their memories in time. For example, they'll understand the difference between "this morning" and "yesterday afternoon."
Now is the time to start introducing toys and gifts that strengthen those skills. That includes games that require memory like this set of memory matching cards. Books with longer, more detailed narratives than picture books are also a good choice.
They may not be able to read on their own yet, but they are ready to start listening to and engaging with longer, more complex stories like this choose your own adventure book.
Learning
3-year-olds are not just capable but they are very eager to learn. Their curious minds are starting to consciously observe the world around them and, naturally, they want to know more about it. By this age, they might be showing interest in particular subjects like science, math, or natural history.
Gifts and toys that teach them about a specific interest they have will be a huge hit. This interactive globe is a great example of an educational toy that would be perfect for a toddler who's interested in exploring their world.
If you don't know of any particular interest yet, any toy that encourages learning and exploration of ideas will appeal to their curious minds.
Creativity
They're just as creative as they are curious. Creative activities are a way for children to work through and apply all their new knowledge. You'll find them drawing pictures of shapes, animals, and other objects that interest them.
But they're also developing strong imagination skills and able to create their own stories and ideas. Toys and gifts that offer more open-ended play or create opportunities for more creative engagement are ideal.
This mess-free drawing mat is a great example of something where your toddler can create freely and use their imagination. A set of blocks or a camera are also great options for encouraging and developing creativity.
Toys for Physical Development
3-year-old children are past the adorable toddler-waddle stage and now starting to walk with much more confidence and balance—and maybe just a little bit of waddle now and then. By this stage, they can throw and catch a ball, climb up and down things, balance on one foot for up to five seconds, and bend over without falling.
Their fine motor skills are also starting to develop. They unscrew jar lids, maneuver small objects like crayons and pens, and perhaps even write some letters. They can also dress and undress themselves, though they probably still need help with buttons and laces.
Motor Skills
Hand-eye coordination and dexterity are the two key motor skills that will start to appear at this age and will need some practice. Toys and gifts that require fine motor movements and coordination include toy cleaning supplies like this popular sweep and mop set or this toddler-sized basketball set.
Balance
Now that they've likely been walking for a little over a year, the muscles in their legs and core are strong enough to handle more complicated balancing acts. Their ready to start doing more agile physical movements so now is the time to put them in a dance class or get them involved in a sport.
A great gift to help with balance would be a balance bike like this one. It's an ideal first bike to help them get used to the idea before they start learning how to ride an adult bike, and it will help them strengthen their ability to balance with just their core muscles rather than their core and their legs.
Coordination
The ability to coordinate different body parts or to handle multiple movements at once takes a lot of practice. Your 3-year-old will only just now be developing some basic coordination skills. Toys that require self-propelling but allow the child to sit down are ideal for this because it means they can work on coordination without also trying to keep their balance.
Now might be the time for your toddler's first tricycle for example. They can develop the skills of both peddling and steering while enjoying the stability of training wheels. The classic Sit 'n Spin is another great option for developing coordination without requiring too much balance.
Your little one's vocabulary is starting to explode by this age. They're likely speaking around 200 to 500 words and can understand thousands. They can speak clearly, although they might still have some difficulty pronouncing more complicated words. They know their own name and age and can answer simple questions.
They are also likely starting to show affection and express a wider range of emotions. With the burst of new imagination, they may also start to show some empathy or ability to understand how their actions might affect others.
Language
With the basics of language already learned, this is the age when they start absorbing new words left and right. They will likely be experimenting with using words even when they don't know the meaning of them. As they learn to say and understand new words, they are also ready to start learning to read and write them.
This is a great time to get them their first reading and writing workbook. At three, they're getting closer to kindergarten and ready to be introduced to these basic skills.
It's also the time when you can start introducing them to a new language. The earlier they start learning a new language, the better. Since they're already eagerly collecting new words wherever they can, a dual language book like this one is a great opportunity to expose them to a new language in a fun and playful way.
Empathy
The combination of greater imagination and burgeoning social skills creates the perfect conditions for helping your little one develop strong emotional intelligence. As they get better at expressing their own feelings, you can also help them learn to recognize those feelings in others.
The best toys for teaching empathy are ones that encourage nurturing or create opportunities for making up their own stories during playtime. This vet play set is a toy that does both. As children pretend to care for sick animals, they can make up stories about how the animal is feeling and what they can do to help the animal feel better.
Baby dolls like this one also encourage empathy. Your toddler is at an age where they're going to be mimicking you and other adults heavily. This doll is a chance to copy your parenting with a baby of their own.
Conflict Resolution and Decisions
As their empathy develops, they'll be better equipped to understand cause and effect as well as learn how to resolve conflicts. Since these skills are all brand new and not fully developed, they'll also likely be getting into some conflicts, especially around sharing with other children or saying hurtful things using their growing vocabulary.
The best way to deal with conflict is to create stories out of them to better understand the sequence of events and how to make decisions.
Choose your own adventure books like this one are designed specifically to help toddlers and young children start thinking through the kinds of conflicts they'll likely encounter at their age. Books like this let them practice making decisions and then directly seeing the consequences of their decision.
Now that you've got a better understanding of where your toddler is at in terms of physical, cognitive, and social development, let's take a look at our favorite toys and gift ideas for helping them further develop those skills.
For each one, you will see a "messiness rating." The lower the number, the easier it is to clean up and the less likely it is to lead to damage like marks on the walls or broken furniture. Let's go!
Final Word
It can be a struggle identifying toys that are appropriate for your little one's current developmental stage. That's why we've put together a list of the best toys and gift ideas for 3-year-olds. They strike that ideal balance of being challenging enough to stimulate their young minds but not so difficult that they'll become frustrated and give up.
As you shop for your toddler, you might think about what developmental area your child might need a little extra help in. Maybe they're talking a mile a minute but their hand-eye coordination is a little weak. In that case, this basketball set or another fun toddler-sized sport set can help them improve coordination and motor skills.
If their coordination is great but they're struggling to empathize and understand how their actions affect others, toys that encourage nurturing and caring for others, like this vet set or this doll can be a great way to help them develop those important social skills.
Above all else, these gifts are fun. They'll get hours of joy out of every one, and you'll get the same pleasure watching them – or maybe even participating yourself! Enjoy finding a gift for your little one.