When your toddler first makes the transition from crib to bed, the last thing you want to hear is a "thump" in the middle of the night. With bedrails, both of you can get a satisfying night's sleep without you having to worry about your little one rolling off their new bed. With a bedrail or bumper, they can make the transition to a bed much easier and safer for everyone involved, and it can slowly help your toddler to foster confidence in their newfound independence.
How to Choose the Perfect Set of Bedrails
Bedrails are what keeps your toddler from falling off of their mattress in the middle of the night. Bedrails rise a little higher above the mattress to keep your toddler from the edge of the bed when they move around at night.
This is the best way to help them become adjusted to their new environment with no one getting hurt – or losing sleep. With the right set of bedrails, you won't have to spend the night worrying nearly as much! If you want to take a deeper look at picking out bedrails, check out our full guide at the bottom of this article.
Types of Bedrails for Toddlers
The variations in different types of bedrails could make a huge difference in your child's rest at night. Some are suited for travel, while others need to be installed directly onto the primary bed frame that you'll be using. Some types are definitely more secure than others.
If you want to know which bedrail types are best suited for a toddler's independence, check out our more in-depth analysis below. For a quick overview, here are the main types of bedrails that you might want to look into.
Fixed Bedrails
Fixed bedrails are installed directly under the mattress and rise up several inches above the bed. There's usually room on the sides for the toddler to get in and out of bed. This option is simple and less expensive, and is suited for older toddlers that are growing more independent by the day.
It may not be as protective as other options, but it does its job in keeping most toddlers safe at night. These bedrails are less popular now, as people favor of fold-down bedrails. They also can't be moved or adjusted in any way.
Fold-Down Bedrails
Fold-down rails are perfect for toddlers who may still need some parental attention at night. These can be locked into place to keep the toddler safe and swing down when your child wants to climb on and off the bed. These rails are also fairly light, and they're perfect for younger toddlers that are first making the transition.
Larger Sized Bedrails
Some bedrails rise higher than the typical rails and may enclose one or multiple sides of the bed. These larger sized bedrails can cover the entire length of the mattress to mitigate any risk of them falling off when they first make the transition.
These rails can also offer extended protection on many sides, and many are high enough to keep a toddler from climbing out. However, they are not always adjustable or portable like some of the other options.
Adjustable Bedrails
When you have a toddler, they're growing fast. Very fast. With adjustable bedrails, you can lengthen the height, width, or length to match your toddler's size (and mattress size!) as they grow. This way, the rails can continuously keep them safe.
They're one of the more flexible options, and they can also be used to replace one side of the crib walls in addition to normal beds. With adjustable bedrails, they can get used to the same bedrails throughout their growing process.
Foam and Inflatable Bumpers
Foam and inflatable bumpers are a soft barrier between the child and the bed, almost like a large pillow set in place. They're the most comfortable option here and are small enough to be portable and unobtrusive.
It only takes seconds to set it up, making it the most convenient option. However, these bumpers also offer the least protection as your toddler can easily climb over them if they wanted to. The bumpers also don't rise as high as the traditional bedrail does.
Factors to Consider When Buying a Bedrail
Bedrails come in different sizes, shapes, and appearances. Picking out the right one takes more than just appreciating how it looks – you'll want to make sure you nail the perfect choice so that your toddler can be comfortable in their new bed.

Material
Besides just the way it looks, the material of the bedrail can also determine how safe or comfortable it is. Different materials may also require different methods of cleaning when they inevitably get dirty.
The material can also affect the durability, weight, and comfort provided. One thing is certain – look for more than just a bedrail that matches your child's room. You can take a closer look at different materials used in our full guide.
Mattress Base
Ask yourself, how big is the bed you plan on fitting the bedrail on? If you have a light mattress, be careful about the weight of the bedrail – one that's too heavy may not be held in place by the mattress. If you have a sunken bed, you'll want to invest in bumpers, since traditional bedrails are hard to fit in.
Watch out for the size of the mattress as well! Take the length, width, and height to make sure the bedrail will fit. You can read more on sizing in our sizing guide.
Safety
Some bedrails come with extra safety precautions and certifications, which you can learn about later on. When you're buying a product to keep your child safe, you definitely need to look at the safety features before anything else. Some bedrails may come with rounded corners, while others have soft cotton wrapped around harder edges to keep toddlers from hurting themselves.
Now that we've looked at some of the basic things to consider, let's dive into our top bedrail and bumper picks that will keep your toddler safe as they dream!
Top 10 Best Toddler Bedrails and Bumpers 2023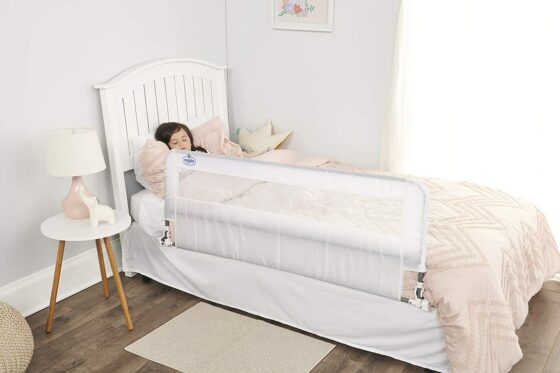 Why we like it:
The Regalo Hideaway bedrail can easily be stored underneath the mattress during the day so it doesn't take up extra space. As one of the longest bedrails here, it offers extra protection for your little one at night.
Editor's Rating:
Quick Facts
Type: Larger sized, fixed
Material: Nylon mesh and steel frame
Dimensions: 54 x 2 x 20 inches
Safety: GapGuard technology
This extra-long bedrail by Regalo is perfect for toddlers who need a little more protection. It covers the longest length out of all the bedrails in this list. In addition, it features a "HideAway" strap to help parents easily tuck the bedrail away underneath the mattress and out of sight during the day. The bedrail can be used for any size from a twin to a queen and works best with box spring beds. Once it arrives, there's no further assembly needed.
The nylon material is easy to clean and covers the steel frame so that your child won't accidentally hurt themselves. The fabric is also machine washable, and the mesh helps with breathability so that your child won't get too hot. It also comes with GapGuard technology so that there are no gaps between the rails and the mattress. However, the length of the bedrail can make it difficult for your child to get out of bed by themselves if they are more independent. If your child puts their weight on the frame as they try to climb out, this could end up bending the top steel bar.
Pros
The longest bedrail on list, offering more protection

No gaps between rails and mattress

Can be hidden away under the mattress

No installation needed

Machine washable fabric
Cons
The toddler cannot leave the bed without help

The top steel bar will bend if toddler puts weight on it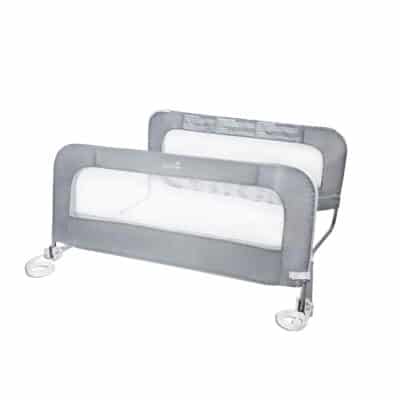 Why we like it:
Coming as a set of two, the Summer double safety bedrails are connected by metal bars to keep them secure on both sides of the mattress. The adjustability lets this bedrail be used on almost any mattress size, from twin-sized to queen-sized beds.
Editor's Rating:
Quick Facts
Type: Adjustable, Fold down
Material: Polyester fabric with metal frame
Dimensions: 42.5 x 1 x 21 inches
Safety: ASTM certified
The Summer double safety bedrail comes in a set of two, with thin metal bars that slide under the mattress. The bedrails come mostly assembled and can be adjusted for any size, from twin to queen beds. This pair of bedrails is suited for platform and box spring beds. One side also folds down so that you can easily let your child out when morning comes. The adjustability and the secure metal bars as anchors make these bedrails reliable and sturdy.
However, you need to install two bedrails with this set, and there's no option to only install one. Therefore, only purchase this set if your toddler's bed is in the middle of the room and not against a wall. If you are interested in a single bedrail purchase, take a look at the Hiccapop Convertible Bed Rail Guard.
The height of the Summer bedrails is also taller than some of the other bedrails, making this fold down guard a little safer for younger toddlers. However, this fold-down guard can be somewhat stiff to use when paired with the steel bars running under the bed.
Pros
Fits a large range of sizes for mattresses

Metal bars anchor bedrails and keeps them secure

Bedrails rise higher than many other options

One fold-down bedrail offers accessibility to the mattress

Works for box spring and platform beds
Cons
Must use both bedrails together

Fold-down bedrail is a little stiff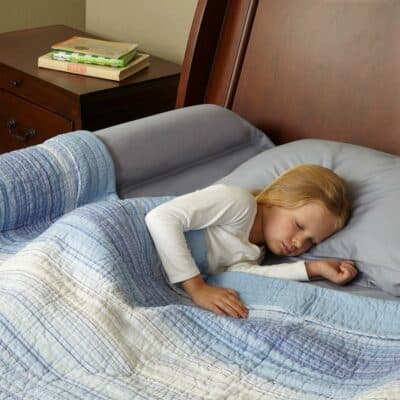 Why we like it:
This budget-friendly foam bumper is enough to keep your child safe and snug at night. The hypoallergenic material is soft and won't injure toddlers, stretching long enough to cover the length of the entire bed so that they won't fall through any gaps.
Editor's Rating:
Quick Facts
Type: Foam Bumpers
Material: Foam with a silicone bottom
Dimensions: 52 x 7 x 4.5 inches
Safety: CertiPUR-US certified, hypoallergenic
The Hiccapop toddler bumpers are made of soft foam that rises 4.5 inches above the bed. It's covered with sheets, and the silicone bottom works to keep the bedrail from moving out of place at night when the child rolls against it. However, even with the bottom, there is still a chance that these rails may move out of place when very active sleepers push against it. The cover of the foam is machine washable to make this easy to clean.
Finding sheets to fit the bed may be difficult as well. While these bumpers rise higher, you'll need larger sheets to make sure that the bedrail bumpers stay in place and are completely covered. While the bedrails will stretch for almost the entire length of the bed, younger toddlers may have a tough time making their way on and off the bed by themselves.
These bumpers also come with a lifetime warranty, but they are also made of foam, which isn't as durable as PVC inflatable bumpers such as the Shrunks inflatable bumpers.
Pros
Can be used on any bed

Silicone bottom keeps these bumpers stable

Machine washable and easily cleaned

Made with CertiPUR foam
Cons
Need larger sheets to hold bumpers in place

Active sleepers may dislodge these bumpers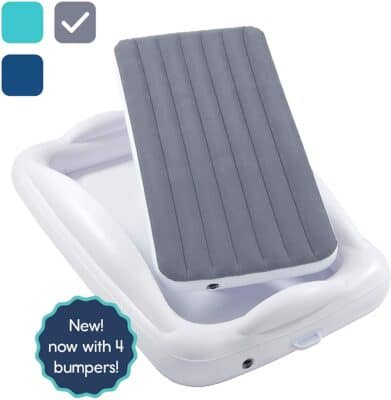 Why we like it:
The Hiccapop inflatable toddler travel bed can fit into a small, cylindrical travel bed, making it easy to carry anywhere. Paired with a lifetime warranty, this bed can withstand any trip, no matter how rugged it may be.
Editor's Rating:
Quick Facts
Type: Inflatable
Material: Inflatable PVC and velvet mattress
Dimensions: 62 x 12 x 48 inches
Safety: Patented inlay-enforced vinyl, exceeds federal standards for child safety
The Hiccapop inflatable toddler travel bed comes in either grey or blue. An electric turbopump is included to inflate the bed and mattress in under 30 seconds, making this hassle-free for you. The bumpers are also higher than many other inflatable bumpers, and the material is easily washed. When it is uninflated, it fits into a small travel bag and can easily be taken anywhere.
However, as everything is inflated, this bed and bedrails aren't as soft as some of the other choices. The toddler can still climb out on their own, and the bed is still smaller than traditional beds. While the vinyl is thicker than its competitors, which makes it more durable, it also makes this a little bulkier and heavier to pack into the small travel bag that comes with it.
The bed meets all federal safety regulations but does not have an official certification. It comes with a lifetime warranty as well, making it a solid choice if you're looking for something durable. For a softer portable bedrail kit, check out the Milliard portable nap mat.
Pros
Inflates in 30 seconds using included turbopump

Fits into a small travel bag

More space in bed compared to other portable beds and bedrails

Exceeds federal safety regulations

Lifetime warranty
Cons
Bumpers are not as high as traditional bedrails

Still less space than traditional beds paired with bedrails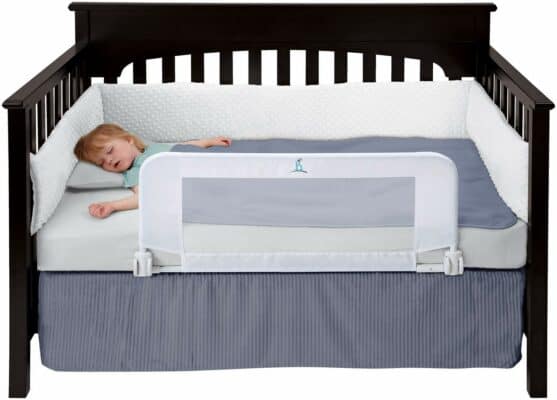 Why we like it:
The steel bars that anchor the Hiccapop convertible crib bedrail guard make this choice more secure than all other options. The steel clamps on the bars attach directly to the bed frame, making sure this bedrail is stable no matter how much your child moves around.
Editor's Rating:
Quick Facts
Type: Fold down bedrail
Material: Steel, nylon, plastic
Dimensions: 33 x 16 x 3.3 inches
Safety: Anchor bars latch to bed frame, no phthalates or Lead
The Hiccapop convertible crib bedrail is made of hardened steel and high-quality nylon to keep fraying from occurring. It also comes in two colors, white or grey. Unlike other companies, this bedrail comes with two steel bars that clamp to the bedrail to keep it secure as its anchor system. With this anchor system, your child would never roll out of bed while they are asleep. While this makes this the most secure bedrail on our list, the steel bars may be uncomfortable if you have a thin mattress.
Like other fold down rails, this can easily be folded out of the way if you want to enter the bed as well. However, the shorter length of the bedrails means that there will be gaps where your child can leave the bed on their own at one end of the bed. This can help foster independence in more mature toddlers, but if your child is younger, this could be dangerous as they could fall out when playing on the bed.
The materials that this bedrail is made of pass federal safety regulations and can be machine washed, making it easy to clean. The bedrail fits most styles of cribs except for ones from IKEA.
In addition, you will need to assemble this bedrail when it comes, though it should only take a few minutes. It also comes with a lifetime warranty, like many other Hiccapop products. However, it only comes as one bedrail. If you want a set of two, check out the Summer Double Bedrails.
Pros
Secure anchor bars keep bedrail more stable than others

Shorter rails leave space for your child to leave their bed by themselves

Lifetime warranty

Fabric is easily cleaned and machine washable

Available in two colors
Cons
Steel bars can be uncomfortable if you have a thin mattress

Shorter rails may be more dangerous for younger toddlers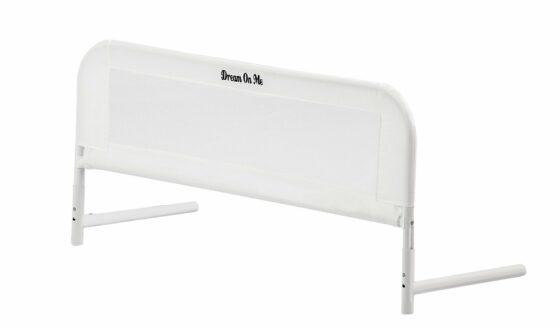 Why we like it:
The Dream On Me security rail comes in multiple color options so that you can pick one that matches the room. The rails are designed to fit twin-sized beds perfectly, and the bedrail arrives fully assembled to make your job easier.
Editor's Rating:
Quick Facts
Type: Adjustable
Material: Mesh with a steel frame
Dimensions: 33 x 10 x 15 inches
Safety: Rounded steel corners
This is one of the few bedrails that is available in multiple colors, with pink, blue, grey, and others. However, the mesh fabric is always white and will need to be cleaned often. The bedrail comes fully assembled with no more work needed on your part, and the mesh allows the bedrail to stretch to a maximum of 33 inches along one side of the bed. The corners of the bedrails are rounded, so while they are metal, it's difficult for your toddler to hurt themselves on it.
However, this bedrail can only be used on an adult-sized twin bed. As a result, it's designed to fit the specifications perfectly and keeps your child protected on beds of that size. The mattress must also be at least 10 inches thick for this bedrail to work.
In addition, the rails aren't as high as some other bedrails, such as the Summer Double Bedrails, making it a little easier for toddlers to climb out on their own. The rails also leave some space on the ends of the bed so that your child can climb in and out by themselves without much help from the parents.
Pros
Rounded steel edges keep your child safe

Multiple color options to choose from

Arrives assembled with no installation needed

Space at end of the bed allows your child to climb out by themselves

Mesh fabric can stretch as needed to become a long or short bedrail
Cons
Only useful for adult twin beds

Space at the end of the bed can be dangerous for younger toddlers

Mattress must be at least 10 inches thick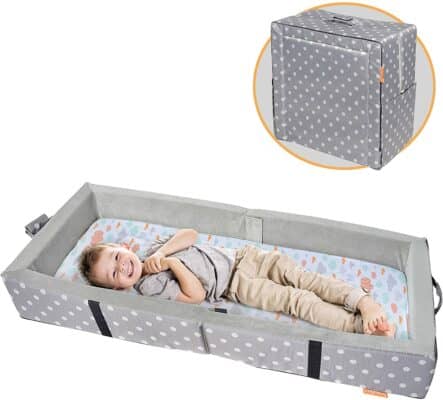 Why we like it:
The Milliard toddler travel nap mat can be taken anywhere you want and comes with the bed, bedrails, and sheets. Folding into a neat box, this nap mat is safely enclosed on all four sides to keep your child protected as they sleep.
Editor's Rating:
Quick Facts
Type: Fixed
Material: Plush velour
Dimensions: 55.12 x 25.98 x 7.09 inches
Safety: CertiPUR-US certified, Velcro flap closures
The Milliard nap map makes going on vacation with your child a breeze. The mat folds out into a bed enclosed on all four sides so that your toddler can stay safe and secure when they sleep. The sides rise high enough so that they won't roll out while resting, and the included mat and sheets give you everything you need for them to get cozy. The best part is you won't have to worry about the size of the mattresses in the hotel or whether your bedrail will fit – this kit comes with the toddler bed included!
However, this mat was designed to be portable above all else, and its size reflects that. Your child also won't have as much room to move around in this bed. It can be a little cramped, especially once they enter with their stuffed animals and thick blankets.
A less cramped portable bedrail set would be the Hiccapop travel bed. The mattress is also thinner compared to a traditional mattress, and the walls are short enough that they can enter and leave the mat themselves.
However, the portability also allows you to fold the bed up into a neat box for easy packing and transporting. There is no installation needed for this bedrail. The Velcro flap closures also ensure there are no gaps.
Pros
Easily portable

Comes with the entire bed, bedrails, and sheets

Soft and cozy material

CertiPUR certified

Velcro flap closures get rid of gaps
Cons
Smaller, cramped space to nap

Shorter walls allow a toddler to climb in and out themselves

Bed is thinner than a traditional mattress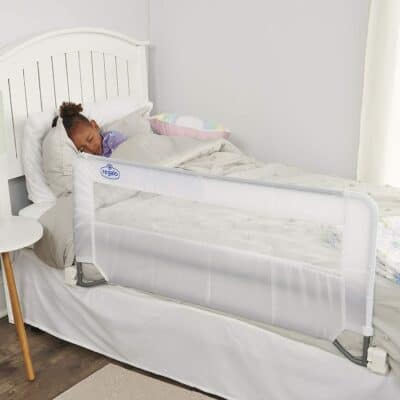 Why we like it:
The Regalo swing down bedrail is certified by ATS and JPMA, making this a safe choice for protecting your toddler. It also has GapGuard technology to keep your toddler from falling into gaps between the rails and the bed.
Editor's Rating:
Quick Facts
Type: Fold down
Material: Nylon mesh, steel frame
Dimensions: 43 x 1 x 20 inches
Safety: ATS and JPMA certified
The Regalo swing down bedrail is ATS and JPMA certified, so you know your child is safe when they sleep with it. The bedrails are also lighter than other bedrails, weighing less than half a pound. It also comes with the patented Regalo's GapGuard technology that prevents gaps between the bedrail and the mattress for increased safety. It also comes with an anchor strap to keep it steady and stable when used.
However, these bedrails swing away from the mattress when it folds down, so you'll want to make sure you have a clear area before letting it down. The steel frame is not surrounded by any soft cotton which can make this bedrail not as comfortable as other choices on this list.
If you do want a more comfortable choice for your toddler, check out the Kooldoo bedrail. The white mesh can also be easily stained but is more comfortable than other fabric choices. In addition, this bedrail only works with box spring mattresses.
Pros
ATS and JPMA certified

Lighter than other fold-down bedrails

GapGuard design keeps toddler safe

Anchor strap holds bedrail in place
Cons
Only works with box spring mattresses

Steel frame not surrounded by cotton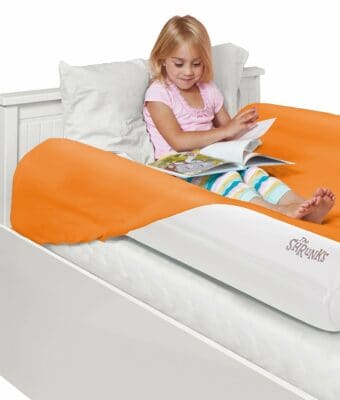 Why we like it:
These inflatable bed bumpers come with a foot pump, making this one of the most easily installed bedrails on the list. Once you blow up the two bedrails and hide them under the sheets, your job is done. No screws, safety bands, or joints to worry about.
Editor's Rating:
Quick Facts
Type: Inflatable
Material: PVC
Dimensions: 48 x 7 x 4 inches
Safety: No polyurethane foam, BPA, Phthalate, or Lead
These Shrunks inflatable bed bumpers come in a set of two for both sides of the bed. The kit comes with a foot pump to make inflating and installing bumpers are much easier than any of the traditional bedrails. Simply blow it up and hide it under the sheets!
Bumpers are easier to fit since you won't have to worry about the height of the mattress. The bumpers are much softer than traditional bedrail guards, but they don't rise as high or offer as much protection.
However, while the material of the bumper makes it easy to clean and resistant to stains, they are hard to use under bedsheets that fit tightly to the bed. In addition, a very mobile child could potentially dislodge the bumpers in their sleep. Unlike the Hiccapop bumpers, they don't have a silicone bottom to keep them from slipping. The bumpers also inflate a lot and take up a fair bit of space on the bed, making it more cramped for the child as well.
Pros
Easy and hygienic to clean

Comes with a foot pump for easy inflation and installation

Fits most beds

Resistant to stains

Softer than traditional bedrails
Cons
Hard to fit under tightly fitted sheets

Could be dislodged by toddlers in sleep

Takes up a lot of space on the bed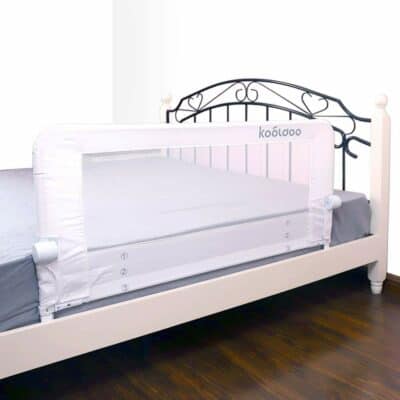 Why we like it:
The Kooldoo fold-down bedrail comes with three settings for height to accompany most mattress sizes. The soft cotton around the metal poles makes this a comfortable choice for your toddler.
Editor's Rating:
Quick Facts
Type: Fold down bedrail, adjustable
Material: Metal, Foam Cotton, Polyester
Dimensions: 43 x 8.7 x 3.5 inches
Safety: CertiPUR-US certified
The Kooldoo fold-down bedrail is 43 inches horizontally. It's still larger than most fold down bedrails but will not cover the entire bed. It is a little more expensive than some of the other fold-down bedrails, but it's also made with higher quality fabric to keep the rails soft in case your child rolls against them.
It also comes with a safety belt to make installation easier, but this makes for a flimsier anchor. A more secure fold-down bedrail would be the Regalo swing down bedrails.
The metal roads are covered with foamed cotton to make them soft. The fabric is formaldehyde-free and non-toxic. It also comes with three different gears for matrices as thin as 5 cm to mattresses thicker than 15 cm. However, the material is not as breathable as some of the other options, and the color comes in a plain white, which can be easily stained. It is also over 6 pounds, which may make it too heavy for the smaller cots.
Pros
Larger fold-down bedrail for more protection

Foam cotton covering metal keeps child safe and comfortable

Three settings allow it to accompany a large variety in mattress size

Safety belt makes installation easy

Durable material lasts longer than mesh
Cons
May be too heavy for small cots

Bedrail has a flimsy anchor

Material is easily stained and not as breathable
Guide to Picking the Best Bedrails for Your Child
When looking at bedrails and bumpers, there are so many choices and variety out there. Even from within the same company, you're hit with different styles and types of bedrails to choose from. And since you really only need one or two sets, you want to make sure you pick the right ones for your toddler. Below, we'll take a closer look at how you can find the right bedrails for your toddler's needs. We'll look at the size of the bedrail, the independence level of your young one, the certifications and materials you need to look out for, as well as providing some general safety tips.
Sizing
When it comes to bedrails, sizing is the most important factor to keep in mind. You're making an investment in your toddler's safety, and ill-sized bedrails may fall off or not extend high enough above the mattress. While you should measure all three dimensions of the mattress (length, width, and height), height should be the most important one to consider. The height of your mattress determines if the bedrail will fit snugly and stay steady when your child rolls against it.
With fixed and fold-down bedrails, they often only come in one size. Unlike adjustable bedrails, you don't have any leeway with how thick your mattress may be, so you have to get it right the first time. Even with adjustable bedrails, you should keep a close eye on the dimensions it can support to be safe.
Independence and Bedrail Types
Depending on how old your toddler is, you may want to change the type of bedrails that are suited for them. Below, we'll take a deeper look at the different stages of independence, and which bedrails you might want to invest in.
Very Young With Little Independence
If your child is younger and this is earlier in their child development phase, you should look at fixed bedrails. While they are going out of fashion with all the space they take up, these bedrails make sure your child won't escape the bed on their own. They can be made with wood or steel and are often installed onto the bed frame. These are meant to be used on the same bed for a while and are the least portable option.
Another option would be the extra-long bedrails. These stretch close to the entire length of the bed, and you'll be able to make sure that there are very few gaps where your child can slip out on their own. They're more affordable than fixed bedrails and sometimes take up less space. Either way, both fixed and extra-long bedrails keep your little one in bed until you decide otherwise.
Our favorite bedrail pick is both fixed and extra-long, giving your little one extra protection. The Regalo Hideaway is perfect for younger toddlers who don't have as much independence yet.
Quickly Growing and Gaining Independence
Does your child grow quickly? Do you think you'll want them to upgrade beds soon? You may want to look at adjustable bedrails that can stretch to different lengths and widths to fit a variety of sizes mattresses.
Often, they won't be tailored for one specific size, so you'll probably have gaps on either end where your child can climb on and off the bed by themselves. If they're mature enough to handle it, these are a solid option that can help foster their independence. Our favorite adjustable bedrail is the Summer double bedrails.
You can also look at fold-down bedrails that allow your little one to climb in and out of bed on their own. If you feel like they might be able to spend a night without bedrails, you can leave them down and see how it goes. Otherwise, you can keep the bedrails up until you think they're mature enough.
Fold-down bedrails also usually have space left at the ends of the beds so that they can climb on and off by themselves as well. One of the more secure fold-down bedrail choices is the Hiccapop convertible bedrails.
More Mature With Greater Independence
If your toddler enjoys doing everything on their own, you should look into bedrail bumpers. Bumpers don't rise as high as bedrails do, but offer enough of a hump to keep most toddlers from rolling off as they sleep. If your toddler doesn't move around as they rest as much, they likely won't dislodge the bumpers either.
Once your toddler grows more independent, bumpers are an affordable way to keep them from falling out of bed. For example, the Hiccapop bumpers rise just high enough to keep them safe at night. Even better, they'll be able to climb in and out all by themselves with no help from you!
Material
The material that the bedrails are made of can change their overall purpose. Most importantly, it can determine the types of beds they are and aren't suited for. When you're looking through the products, the material should be the second most important factor in your choice. Below, we'll examine the various benefits and drawbacks that each material presents.
Foam
Foam is one of the softest materials possible when it comes to bedrails. While it guarantees comfort for your toddler, it is also not as strong as other materials. The foam can be placed under sheets to raise up the edges or used to soften any sharper parts of bedrails.
Sometimes, the steel frame can be lined with foam cotton. Often, bumpers are made with memory foam. Foam also is not as breathable as the other materials and can lead to the bed getting too hot on warmer days. The Hiccapop bumpers are our favorite foam bedrails.
Polyester
Polyester is less soft when compared to nylon, but more resistant to wear and tear. Bedrails made with polyester can be more durable due to its resistance to abrasions. It also dries faster than nylon fabric, which can be useful if your child spills something on their bedrails.
Polyester is also less likely to unravel and takes longer for the color to wear out. Polyester mesh is also very breathable and keeps the bed cool. The Summer double bedrails are a sturdy option that's made from polyester.
Nylon
Nylon is stronger and softer than polyester, making it a more comfortable choice for your toddler. However, it is less durable and may wear out quicker as the ends are more prone to fraying. While it is resistant to water, it still takes a while to dry, and color for nylon mesh can wear out faster than it would for a polyester mesh.
It is less breathable than polyester, but much more breathable compared to foam. The Regalo Hideaway is our favorite nylon choice.
PVC
PVC, or vinyl, is often used for inflatable materials. It's a strong, lightweight, and bendable plastic that is resistant to punctures. Its natural waterproof qualities make this material easy to clean in case of spills.
However, it is also not as breathable as normal fabrics and tends to insulate heat well. PVC is more durable than cloth and plush, but it is also less soft in comparison. Our favorite inflatable PVC bedrails are the Shrunks inflatable bumpers.
Velour
Velour is similar to velvet and is made from cotton. It is one of the softest options here, second only to memory foam. While it's not very breathable, it is very comfortable for your toddler when used for the bedrails or mattress cover. For winter nights, velour is a solid option to keep your child warm.
However, during the summers, you'd be better off using lighter materials such as nylon, polyester, or even PVC. Our favorite bedrail kit with velour is the Hiccapop travel bed.
Certifications
Bedrails are all about child safety, so you'll want one that's proven to work. Some bedrails are certified, adding a level of credibility and accountability. Below are some of the certifications that a product might have.
CertiPUR-US Memory Foam Certified
CertiPUR-US certified foams are made without any harmful materials, such as ozone depleters, PBDEs, TDCPP, or TCEP. In addition, they don't contain any mercury, Lead, or heavy metals. They're also don't contain formaldehyde and follow guidelines from the Consumer Product Safety Commission (CPSC). Thus, CertiPUR foam also follows CPSC guidelines. You can read more about the certification on their website.
American Society for Testing and Materials (ASTM)
ASTM forms the basic guidelines for many products in the United States, making sure that they don't contain any harmful ingredients or materials. This is especially important when it comes to bedrails, since ASTM certified products also follow the CPSC (Consumer Product Safety Commission) guidelines. You can read more about ASTM guidelines on their website.
Juvenile Products Manufacturers Association (JPMA)
JPMA follows all ASTM guidelines with extra standards put in place since products certified by this company are usually used with younger children. They primarily deal with product safety and have a large role in the regulation of many baby products. You can read more about JPMA standards and guidelines on their website.
Bedrail Installation
When your bedrail arrives in the mail, you'll want to be sure that you install it correctly. Bumpers are the easiest to deal with. You just have to put them under your child's sheets and make sure they're aligned with the ends of the bed where you want your child to stay safe. If the bumper isn't long enough to extend the entire length of the bed, prioritize the part by your child's upper half first.
With more traditional bed frames, you may have to use a few screws. Often, beds can come with Velcro straps with simple instructions on how to secure the frame. Follow them closely, since this can make the difference between a useful bedrail and one that falls with your child off the bed. While fitting the rail, you'll want to keep around 19 inches of free space on either side of the rail if they fold down.
General Safety Tips
If you want your toddler to be safe in bed when they first make the transition, there are several things to keep in mind. While bedrails will prevent them from rolling off the mattress, there are things you can do to make the bed an even safer place for your little one.
Mechanical Elements of the Bedrails
You need to make sure the bedrail stays in a safe and working condition. If your toddler is one that likes jumping around, you'll need to periodically check on the joints and screws for both the bed and the bedrails. When shopping for bedrails, you'll want to stay away from fancier bedrails, since they may not last as long as durable ones. Taking a quick look every other month to tighten any loose screws could make a world of difference.
Bed Height
Choosing a bed that's closer to the ground can help mitigate risk. This way, when your toddler is climbing in and out of bed, they can do it on their own with a low chance of injury. Having a lower bed also means that they fall a shorter distance if something does go wrong with the bedrail. If you want to be even more careful, you can place a soft cushion on the ground so that they stay unharmed if they slip while climbing down from the bed.
Hygiene in Bed
You'll want to make sure you clean the sheets and bedrails often. Toddlers, while adorable, are much messier than adults, and their beds will reflect that. Washing and cleaning the sheets and bedrails regularly will keep the germs away so that your toddler stays healthy. Some bumpers are machine washable to make cleaning even easier.
Furniture Layout
How many times have you accidentally knocked something over on your nightstand? Toddlers will do the same, so make sure you don't have any lamps or breakable objects in reach of the bed. The layout of the bedroom can affect how safe it is for toddlers, however rowdy they might be. Placing the bed against the corner is another straightforward way to increase safety so that there's only one side the child needs bedrails for.
Bedrails and Bumpers FAQ
Why Should I Buy Bedrails for My Toddler?
Bedrails are one of the safest ways to make the transition from crib to bed, and getting a bedrail ensures your little one won't fall off the bed in the middle of the night. They'll have much more space in their new bed, and they might move around in their sleep a lot more at first.
One thing is sure – with a bedrail, you'll never hear that scary "thud" in the middle of the night when your toddler falls. You'll be likely to sleep better as well, knowing that your toddler is well protected with their bedrails.
When Should I Start Using a Bedrail?
This changes from kid to kid, but you should consider bedrails when your toddler is first transitioning from the crib to a bed. Not every kid may need bedrails, but if your child likes to move and roll about as they sleep, you should think about getting one. The moment you realize your little one is climbing out of their cribs on their own, you'll want to start the transition to their bed with their new bedrails.
When Should I Stop Using a Bedrail?
Bedrails are all about improving and facilitating the transition period from cot to bed, but it's your call for how long you think your child might need it. They're meant to be an aid, not a permanent addition to the bed.
If you have an adjustable bedrail, you can begin lowering the height until you're sure your toddler doesn't roll around as much. Every kid is unique, but typically by the age of 5, they stop moving around as much in their sleep.
Bedrails Are Expensive! How Can I Save Money?
You can reduce the number of bedrails you need by changing the bed placement. If your bed is against a wall, you'll likely only need to purchase one bedrail rather than two. In addition, bumpers can be made by hand with some long pieces of foam and fabric, if you want to go the DIY route. However, keep in mind that bumpers don't offer as much protection as the traditional bedrail will.
Final Words
Buying a bedrail is the best way to keep your little one safe at night when they're tossing and turning. The right bedrails will help both you and your child sleep better, all while making sure they don't roll out of bed again. With so many bedrail options to choose from, there's definitely a set of bedrails that will suit your toddler's needs, no matter how much they might move around in their sleep. Enjoy our list of bedrails and bumpers and finding something to create a safe place for your toddler to sleep.