Top 30 Best Trampolines for Kids 2021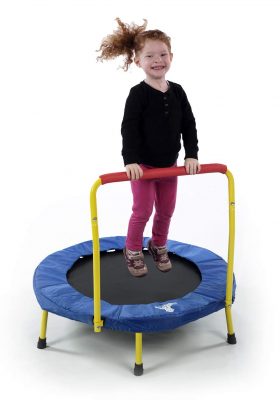 This product's frame is easily foldable and doesn't have bungee cords. It also comes with pre-assembled trampoline mat to ease the assembly process. It measures 36" by 35" to provide ample play area for your kids. Original Toy Company Fold & Go Trampoline holds up to one child with a maximum weight of 150 pounds.
The Original Toy Company Fold & Go Trampoline is a good product of choice for children with special needs. It can be of help to kids with ADHD in expanding their natural energy abundance. For better stability, it comes with pads on all the 6 legs.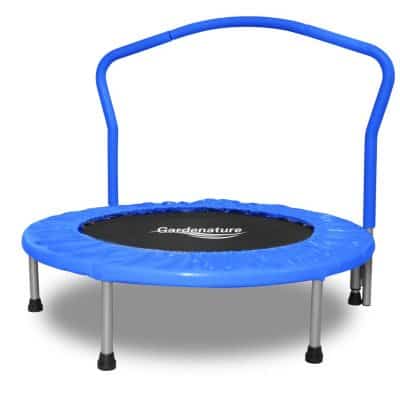 Starting with what makes most enthusiasts worried, this product is overly easy to assemble. It comes with a user-manual with easy-to-follow steps. It also has very few components that further makes it simple to put together.
The entire trampoline also weighs approximately 20 pounds, making it very portable. You can switch your kid's source of fun from the living room to your small outdoor garden without much hassle. The frame balances well, making it easier for your kids to balance and coordinate their jumping activity with ease.
Gardenature also provides a full lifetime guarantee on this product, perhaps a reassurance on its quality make.
The trampoline is made from heavy-duty polypropylene mesh that ascertains a tough yet enjoyable bounce. Holding the mesh apart is the galvanised steel construction that provides much strength and rust-resistant. It meets GS safety guides and supports weights of up to 220lbs.
Assembling the North Gear 8-Foot Trampoline is quite easy. Despite its size, you can get jumping by simply following the manufacturer's guide. It is also quite affordable compared to other 8-foot outdoor trampolines available on the market. It is neither big or small, thus can fit even to small backyards.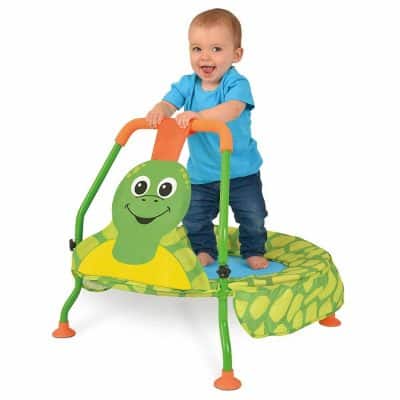 This trampoline's frame is sturdy and overly durable and can support toddlers weighing up to 44lbs. Its sturdiness provides an assurance of a stable play, free from collapsing. Assembling it requires only two people, thanks to its simple construction and straightforward user manual.
The handle comes with a padded cover that provides an easier grip. The non-slip rubber feet also provides a safe, stable, and exceptionally comfortable bouncing experience. Perhaps meant to entice your toddler into "trampolining," it is designed with a smiley-face on its front part. It is suitable for toddlers aged 12 months and above.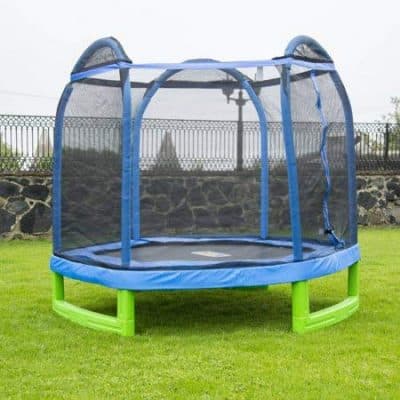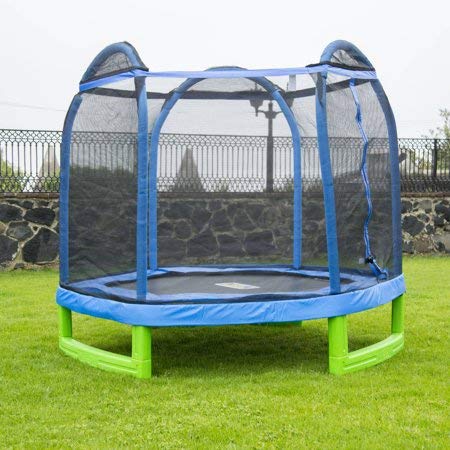 This product comes with a three-arch safety enclosure that prevents kids from falling as well as giving supervisors unrestricted visibility to their playing kids. Due to its size, assembling the trampoline is quite engaging. However, manufacturers provide a clear manual on the steps to follow.
Bounce Pro Trampoline for Kids feature a rust-resistant steel frame that is galvanized to prevent damage. The UV rays resistant netting with a jump mat-molded plastic with U-leg design adds to the safety of this product. It is a perfect birthday or Christmas gift for any child aged more than 3 years.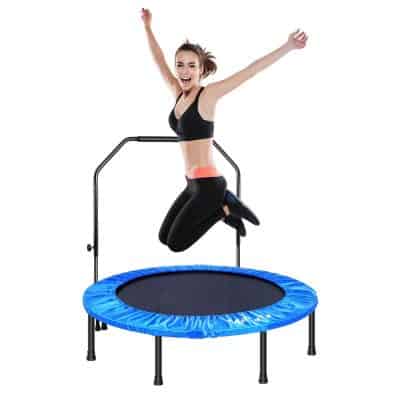 The MOVTOTOP Folding Indoor Trampoline comes with an adjustable U-shaped handle that can be tweaked to the height of your need. The handle not only provides support but also a source of solid balance for exercise routines. It also features a steady frame made of super thick steel pipe for amazing support.
The other attractive feature of this trampoline is how easy it is to install. You won't require many hands for the installation process and won't take much time. Due to its wide nature, it is best for both kids and adults looking to exercise or have fun.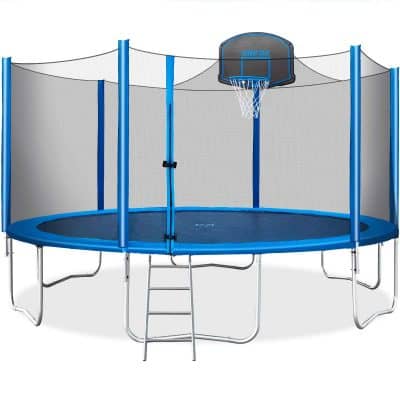 Apart from that, it also comes with 5 foam padded poles and an extra thick pole which supports the trampoline enclosures to ensure that the parts don't fall apart. This trampoline also comes with a 4-step steel ladder thus the kids can easily maneuver in and out. The ladder is very convenient especially for the smaller kids who need support to climb up the trampoline.
Lastly, this Merax 15 FT trampoline offers impressive bounce because it is designed with springs which are securely attached to the frame and the jumping mat. You don't have to worry about your kids getting stuck the gaps because they are covered with frame pad that guarantees your kids' safety throughout. The mat is also tightly woven hence it can support the weight of the kids.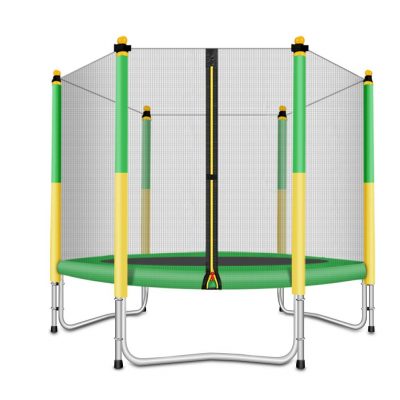 Besides that, this trampoline weighs about 220lbs thus convenient for both indoor and outdoor. You can easily move it from one place to another without having to dismantle it if it rains because it is not too heavy. It also comes with essential tools needed during the assembling so you don't have to buy the tools separately.
Apart from that, this trampoline features a UV-protected spring pad that offers impressive bounce for your kids to have fun as they jump up and down. It is also easy to set up because it comes with clear instructions and illustrations on the manual.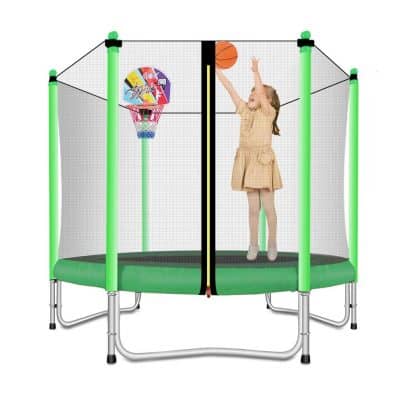 The Lovely Snail trampoline weights about 220lbs hence it is easy to move around. Also, it is made from high-quality materials that can withstand rain so you can leave it outside if you don't want to go through the trouble of moving it back to the house during the rainy days.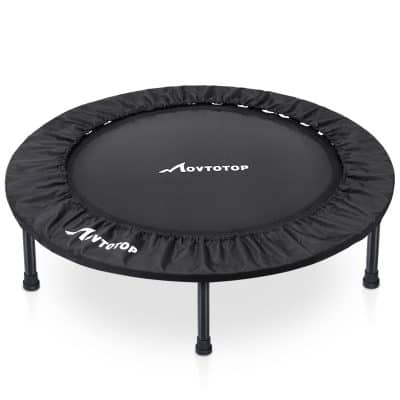 The 32" super strong springs are designed with a secure triangle design that provides satisfactory elasticity and can support weights of up to 100kgs. Its sturdy construction also features 6 metal feet with a safety pad around the frame to distribute weight on the trampoline. This prevents kids and adult fitness aficionados from being thrown out or scratched.
For long hours of fun, the MOVTOTOP Rebounder Trampoline for Kids and Adults features waterproof, wear-resistant and breathable mesh. It can't be deformed regardless of the intensity of the moves thanks to its exquisite sewing process.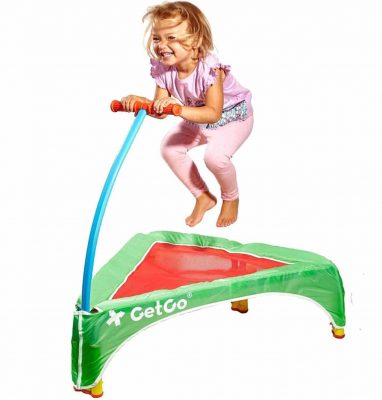 Its foldable nature makes it super easy to set up and store. It is slim that it can be fitted anywhere, be it the indoors or any other part of the house with limited space. The handle provides the much-needed confidence for kids to jump by ensuring balance.
The Digging Foldway Mini Trampoline for Kids' padded frame protects your toddler from unexpected dangers of the frame. The trampoline comes assembled; thus, there is no course to worry about doing any assembly. It is additionally lightweight, making it overly portable.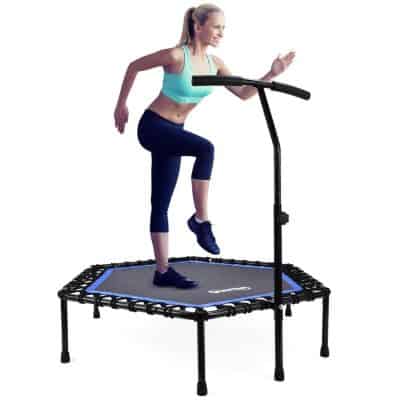 The trampoline netting is made from the tough bungee ropes that are not only elastic but also sturdy and durable. They are comparably safer and quiet compared to traditional metal springs. The netting further has a rubber mat that is wear resistant and bounces softly.
The adjustable handrails make it perfect for use by people of all heights. Installing the Newan 48" Mini Trampoline for Kids and Adults is pretty easy. By following the instruction manual, enthusiasts will easily set up the trampoline for hours of fun.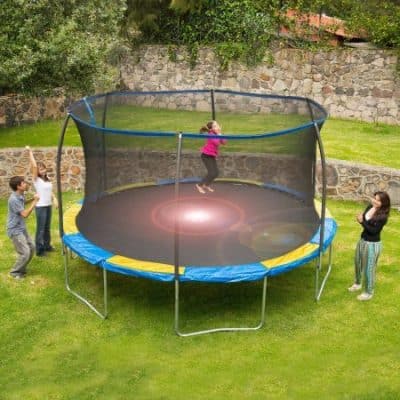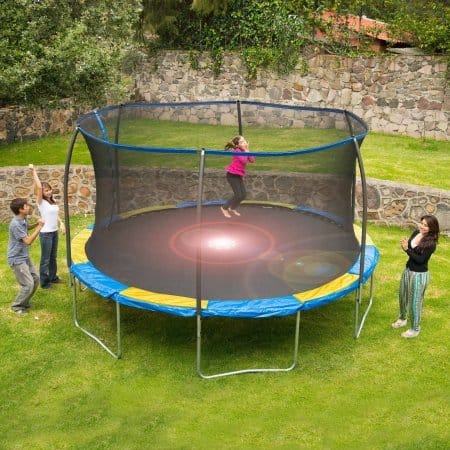 This Bounce Pro 12' trampoline comes with a strong frame made from galvanized steel so it is sturdy and strong. Apart from that, all the materials used to construct this trampoline are water resistant hence they can withstand rain and other extreme weather conditions.
To wrap it up, this trampoline come with long springs that comes with a padded protector so you don't have to worry about the safety of your kids.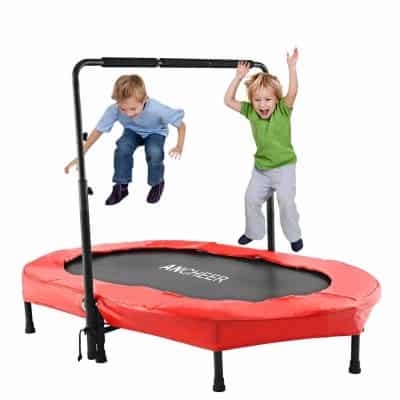 Also, it features an adjustable handle bar that has 5 levels heights. It is adjustable from 38 to 45 inches to accommodate the height of different kids. The handle bar is designed to help the kids to keep balance as they are bouncing on the trampoline.
This trampoline also comes with a heavy-duty frame that makes it very sturdy and stable. Lastly, the high-quality mat, PVC safe pad cover and rubber-tipped leg tube offer a safe environment for kids to play.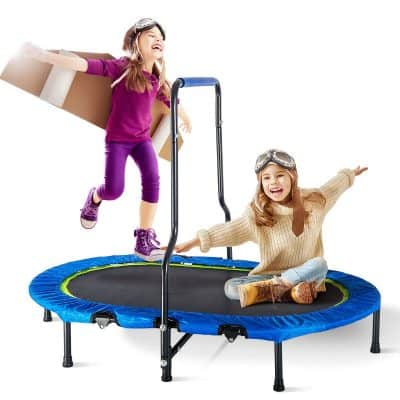 Besides that, this trampoline features rust-resistant frames so it can withstand harsh weather conditions. It remains in good condition for a long time. The oval rebounding surface is pretty spacious so it can accommodate 2 kids. It is also stable hence it guarantees the safety of your kids even when you are not monitoring them.
Last but not least, this trampoline weighs about 180 lbs thus easy to carry around when you need to move it from one place to another.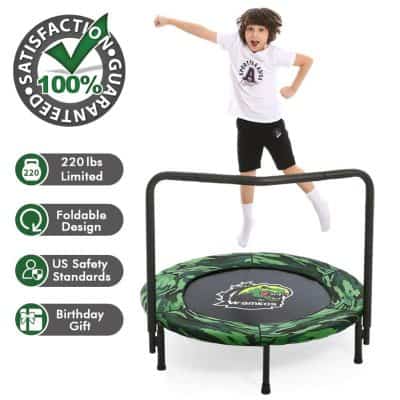 It is also easy to assemble and comes in a foldable design that makes it convenient to carry and transport from one place to another. It doesn't require a lot of space to store when not in use. Besides that, the sturdy steel frames, durable jumping mat and the rubber-tipped legs offer a safe playing space for kids.
The company offers you a 30 days money-back guarantee that allows you to get a refund if anything gets damaged. You can opt for replacement or free repair in case you still want the trampoline.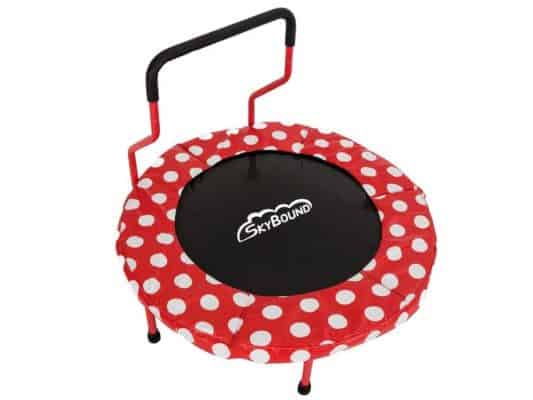 For both outdoor and indoor use, the SkyBound Mini Trampoline comes with rubberized feet with superior UV and rust protection. The foam padded handle also extends to the inner side for better support and centres the user squarely on the mat.
The SkyBound Mini Trampoline is also designed with thick vinyl foam pads that attach to the frame adding on its level of protection around the frame. Your kids will also like the brightly colored frames that are not only attractive for play but also prevents early rust due to oxidation processes. It is best for toddlers aged 3 to 6.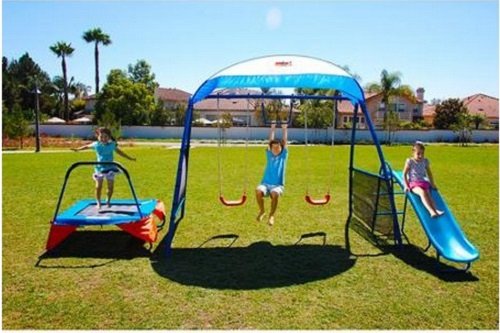 For starters, the trampoline enables the kid to improve on their balance and full body coordination. It also strengthens the hamstring muscles, knees, and legs. The swing burns calories and engages a group of muscles, including the quadriceps and hamstrings. It also builds more endurance on the hips and knees.
The third item, the monkey bar, helps eliminate the excess weight through tough exercising, strengthens the shoulders, arms, and chest. Lastly, the fitness slide helps develop the kid's confidence and adds an intriguing appearance to the entire set. Above all, these are all sources of endless hours of fun for your kids.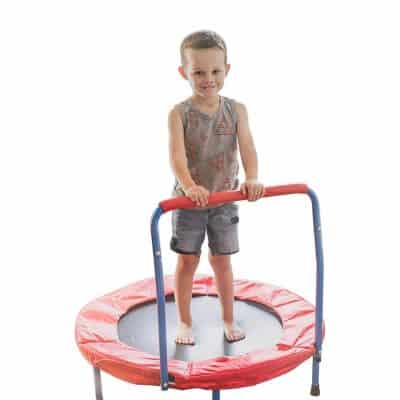 The Toy Goodkids Portable Trampoline can be used indoors and outdoors, thanks to its "fold and go" feature. It is overly easy to fold, assemble, and disassemble as well. Once your child is done playing, you can wrap it up for storage quickly. Note that its easy assembly and disassembly feature doesn't compromise on its sturdiness.
This trampoline also features durable and safe construction. It is fitted with a fully padded handlebar that provides extra support and makes it easy for your children to hold it when playing. Due to its simple make, it is best for use by kids aged three years and above.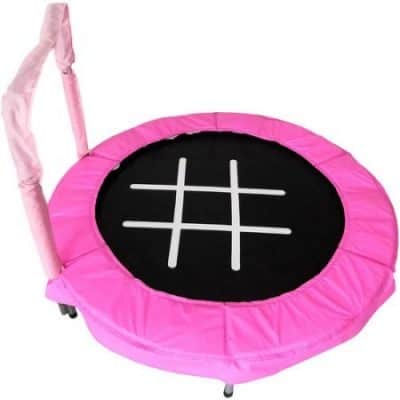 Unlike other trampolines in this list, it features a foam-padded handle that adds to its safety. It prevents possible injuries that can occur when your kid is jumping. Trampolines are not only a source of fun but also helps kids develop their motor skills and remain active. This is what manufacturers of JumpKing Trampoline Bouncer for Kids sought after.
For extended periods of use, this product is made from galvanized steel with a maximum weight capacity of 100lbs. With its small size, you will find it easy assembling the entire trampoline.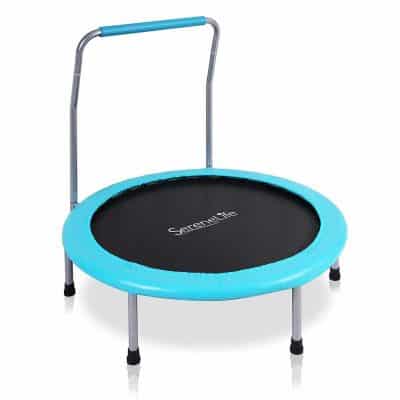 The frame cover is also padded and spring-free hence the trampoline offers a safer pad for kids to jump on. Also, this trampoline is both foldable and portable hence it doesn't consume so much space when you want to store it if it's not in use. Its size allows you to carry it from one place to another without straggling so much.
It comes with a detailed instruction manual that has clear guidelines on how to assemble the trampoline. Therefore, it is easy to assemble and dismantle when the kids are not using it.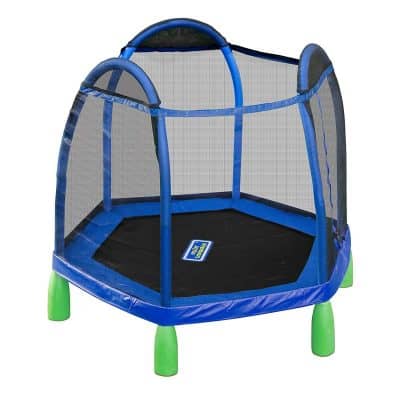 The base is low to the ground thus stable and convenient for younger kids who can't climb up a trampoline that is too high. Also, it weighs about 100 lbs hence easy to transport around to either use it indoors or outdoors.
Lastly, the poles of this trampoline are padded to offer maximum protection when the kids are jumping on it. Each pole is designed with its own pole cap to secure the padding.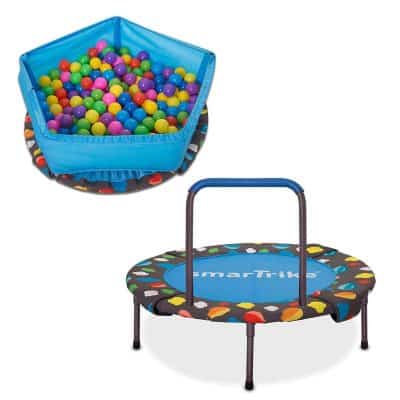 This trampoline is designed with a high-quality elastic mat that offers maximum bounce. Also, it features a strong, elastic band that guarantees the safety of your kids and even bounce. The trampoline and the ball pit are also foldable and they do not consume too much space if you want to store them when they are not in use.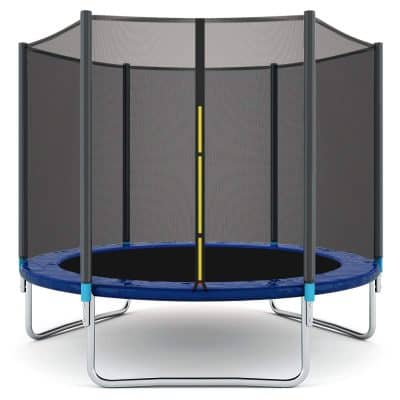 This company has different sizes for options so; you are able to choose one that suits your kid's height and weight. Lastly, the thickened spring made of galvanized steel doesn't get deformed easily.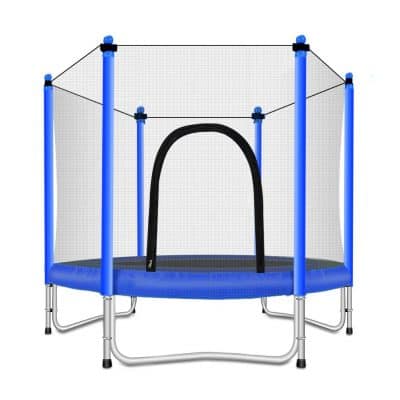 Apart from that, this trampoline is not too heavy to move around the yard or the rooms. You can easily carry it back indoors if it rains. It also comes with all the tools required for the assembling and clear instructions on how to go about it.
This trampoline also comes with a UV-protected spring pad that ensures that the kids are totally safe while jumping on it.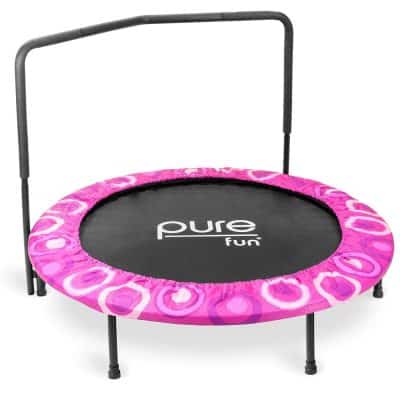 The galvanized steel springs are also padded with a spring cover for additional protection. Besides that, this trampoline is also cushioned. The cushions protect the kids from falling on to the springs because they absorb as much impact as possible.
Lastly, the heavy-duty steel frame is high-quality so it can accommodate up to 100 pounds without dismantling the trampoline.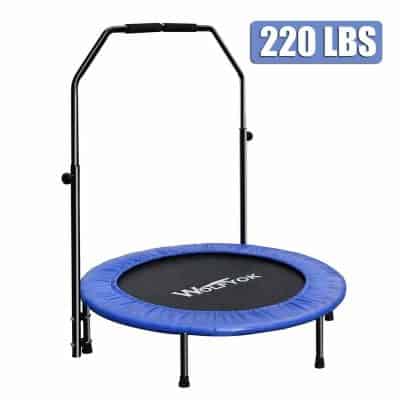 It comes with a detailed assembly instruction manual hence the assembling and dismantling is easy. Apart from that, this trampoline is designed to fit in small spaces in the playground or indoors thus it doesn't consume so much space.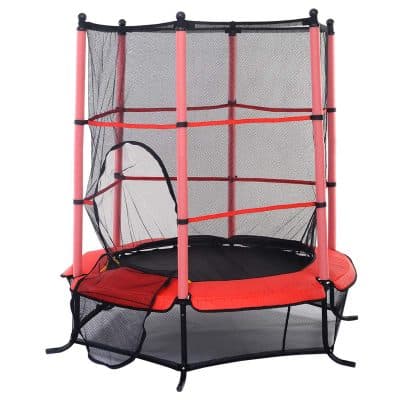 It is also light weight so it is convenient to move from one place to another. Apart from that, the trampoline can be disassembles easily to store it when not in use and it doesn't consume too much space.
The entrance net door is convenient because it allows the kids to go in and out of the trampoline easily. Besides that, the netting enclosure and the 6 legs which disperse the gravity guarantee the safety of your kids when playing.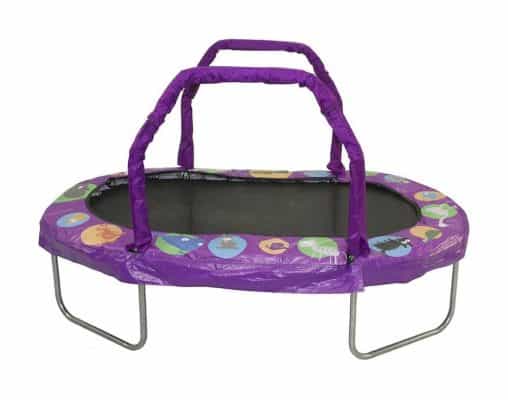 Starting with its jumping surface, it features a heavy-duty UV resistant polypropylene that satisfies the much-needed strength and durability. The handlebars are also foam padded with sleeve covers to provide additional protection. Connecting the jumping material are galvanized springs that are heavy duty to support weights of up to 110lbs.
For better support when in use, the JumpKing Mini Oval Trampoline comes with a galvanized steel frame with welded T-connectors. Adding to this is the 4-leg design that reduces movement when in use, besides providing support.
With all these features, the JumpKing Mini Oval Trampoline is a good product of choice for those searching for a perfect birthday gift for their kids. For additional safety, it comes with colourful purple animal print safety pads included in the mounting straps that secure the pads.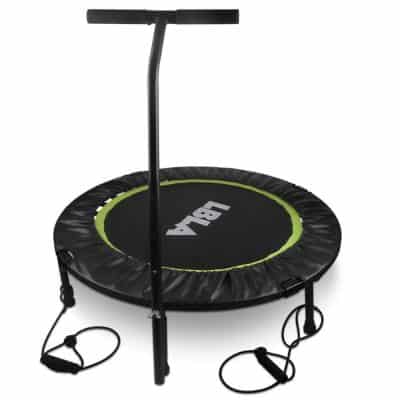 Like other multipurpose trampolines, the Beebeerun 36" Kids Trampoline features an adjustable handrail and handlebar connectors whose height can be adjusted to 47.2 inches from 39.3. This makes it perfect for use by both kids and adults. The trampoline also comes with 2 pull ropes for better exercising.
You will enjoy how easy it is to assemble and disassemble this unit. Simply follow the instruction manual, and your trampoline will be ready for play and workout. It can be installed in any indoor or outdoor setting to offer active play. Lastly, this Beebeerun 36" Kids Trampoline has foldable ports for easy portability and storage.