Top 30 Best Play Food Set Toys 2023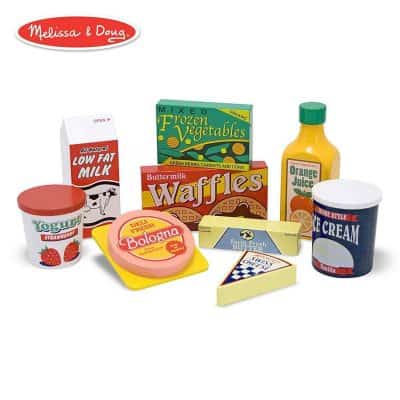 For something a little more familiar and kid-friendly, perhaps a common fridge pretend food set is exactly what your little one needs. The set comes with all the foods they see on the regular in their own fridges, such as waffles, lunch meat, ice cream, and cheese, just to name a few. It's great for a pretend kitchen because kids will practice learning what should and shouldn't go in the refrigerator by practicing on their own. By using foods that most kids love, they'll be more apt to play with them and come up with new and creative ways to incorporate them into imaginative play. The Melissa & Doug Fridge Food Set is one of the most realistic play food sets on the market as it's geared towards everyday common foods that kids see in their refrigerators. It's safe and durably made for hours of pretend-play as each item is made out of hand-painted wood. For that reason, none of the food included in the set has an expiration date, ensuring years of fun to come.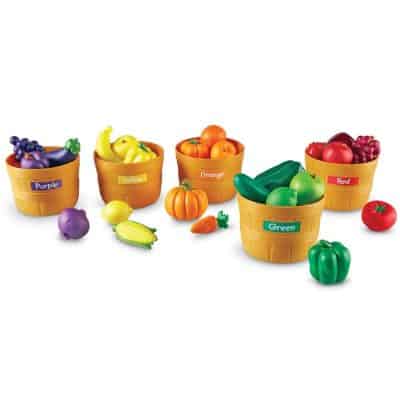 The Learning Resources Farmer's Market Color Sorting Set includes twenty-five different fruits and veggies ranging in five colors. Along with the pretend food, there are five plastic baskets, stick-on labels, and an activity guide included with the purchase. Each stick-on label read a different color and is designed to be placed on one of the baskets. Using the labels, your child can sort the food by color. The font on the labels is large and easy to read. The baskets are designed to mimic real bushel baskets that your child may have seen at their local farmers market. Each basket is four inches tall thus making it super easy for your child to use. Besides helping kids improve their matching skills by differentiating between colors through food, this fun food game can be used as a counting game. It's an all-around great learning tool and something kids will want to use because of the familiarity of the foods included.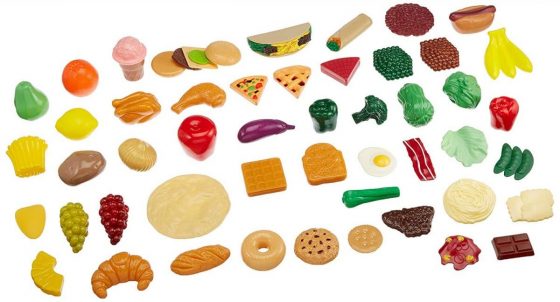 The huge play food assortment set is essential for every kid who already has a play kitchen. With a large variety of food choices, your kid can identify many different foods and colors, create and serve meals as well as pretend grocery shop. The plastic is very durable and can hold up well against rough play and not-so-pretend eating, as the food looks so realistic that smaller kids may try to bite into it. For the fact that the food pieces come equipped with drainage holes, they could easily be used during baths or in the pool for extra fun. The set would be a perfect addition to a pretend kitchen but works well enough for imaginative play on its own as well. Each food group is represented here for the most part, and with 101 well-designed pretend food pieces, your child will have no shortage of creative meal ideas. It's the perfect all-inclusive pretend food set that your little culinary gourmet needs to set off their cooking career.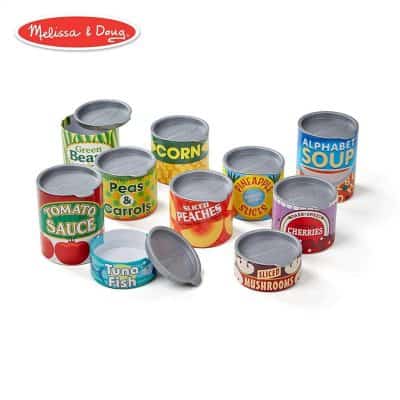 Pantries aren't complete without canned goods. This food set is excellent for teaching your kid about the convenience and essentiality of canned goods in daily life. With their brightly printed labels, kids can begin to identify what letter each food begins with and eventually read the names of each canned good. The cans include realistic nutritional labels on the back so that kids can learn about the basics of nutrition. The canned food set promotes independence as the lids are easy to take off and put on without adult assistance. Moreover, the labels on the cans represent real foods that kids would find in the supermarket any day, and it can teach them a valuable lesson about what they want and don't want in a canned food item. It's also a great way to teach them how to read and more specifically, how to read in regards to food and their health.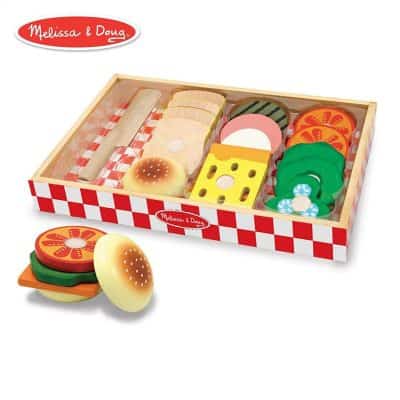 The Sandwich Making Set from Melissa & Doug is a fun way for kids to do what they see their parents doing every day, but without the mess and the need to eat the sandwich. The set gives them a unique way to be creative with food, especially for toddlers who aren't old enough to cook or prepare food for themselves yet. The crunching sound as the wooden knife slices across the food pieces can help introduce the idea of the freshness of ingredients. This helps in expanding a kid's imagination and creativity. The set contains everything a child could dream of to layer on a sandwich or even multiple sandwiches. It's a great starter set for pretend food and will give kids a sense of independence and know-how for when they finally are old enough to start cooking.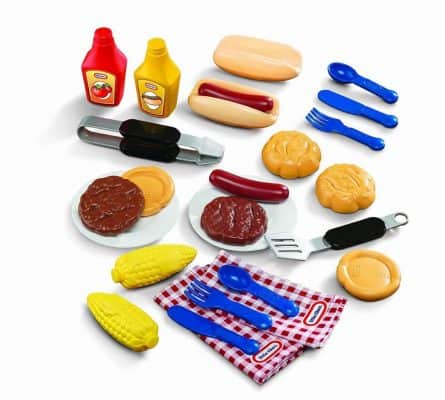 The Grillin' Goodies pretend food set is perfect for kids who love summer and being outdoors while the family barbeques. If your kids are always looking to help you with the grill but are just way too young to do so, this is a great set to consider to give them a chance to "make" their own BBQ fun. The set features everything they need (except a grill) to put together their own spicy and savory feast and definitely doesn't skip out on realism or design to do so. The set even provides kids with the condiments that you always need to have on your own picnic table beside all the tools they need to flip some burgers or turn a steak. It's a cute set that has the feel of a real BBQ dinner and will give kids a sense of pride and creativity when they're playing with it. Besides encouraging kids to use their imagination and engage in pretend play, your child can improve their social skills as they share the set with friends.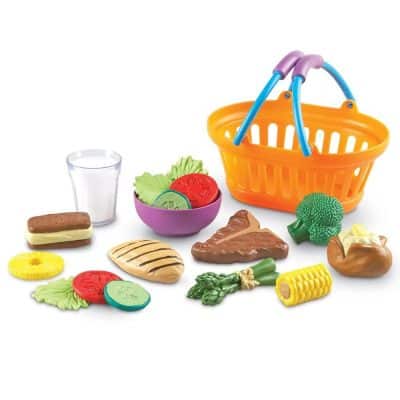 The Learning Resources New Sprouts Dinner Foods Basket is an amazing way to introduce culinary arts to young aspiring chefs. The crush-resistant, highly durable food set has everything that a pretend chef needs to create a gourmet dinner. With its vibrant colors and the realistic food in the dinner basket, your kid will have a blast serving themselves and others, as the food set comes with a serving bowl. Besides learning real-life skills such as creating meals and serving others, your kid will expand their vocabulary as they learn the names of the different items that are in the food basket. The dinner set is great for travel since it comes with plastic to fit all the foods back into, and would make an adorable toy to take on a real picnic. While your child is setting up their pretend food, you can bring the real thing.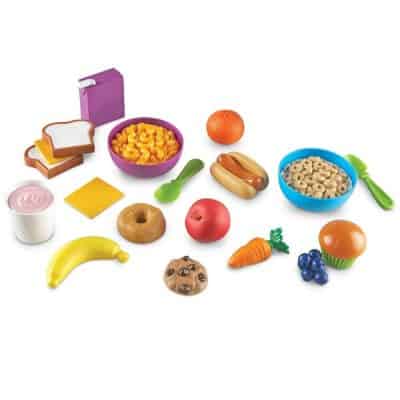 The New Sprouts Munch It toy by Learning Resources is one of the most realistic sets on the market that'll keep your kid interested as they play. Its life-like bowl of cereal and macaroni 'n cheese are sure to make you do a double take. Make-believe play with this faux food set will encourage kids to expand their vocabulary and mimic daily mealtimes. Unlike many faux food sets, the set includes a variety of foods that your kid may already be familiar with. Moreover, the set will teach kids about moderation and give them a chance to see almost every food group represented in front of them besides encouraging them to act imaginative play. This is one instance where it's totally acceptable and beneficial for them to be playing with their food.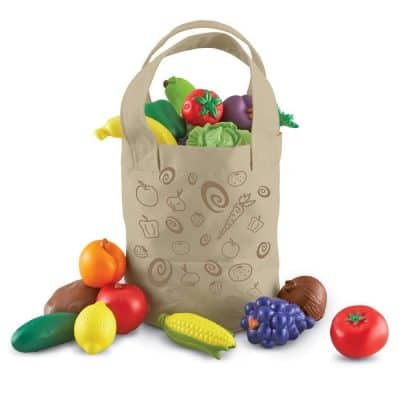 The Fruit and Veggie Tote by Learning Resources is perfect for kids just beginning to learn about fresh produce, and it's a great way to cement the idea of freshness and healthy foods at a young age. It's one thing to see their parents buying fresh produce, but it's a whole new experience for them to have their own. By giving your child fresh produce to play with, they'll learn about all the things that are healthy for them and can carry it around in a cute little shopping bag. Each piece of produce is composed of a soft rubber-like plastic material. The material not only feels pleasant to touch but also gives each item a high level of durability. All of the fruits and vegetables are crush resistant. The included grocery bag is designed to be reusable and will survive countless grocery shopping trips. The set comes with an assortment of sixteen different fruits and vegetables in a canvas tote. Children ages two and up can increase their sensory skills by feeling the different textures of each piece of produce. The bright colors will further develop your child's knowledge of color recognition. The canvas tote is still light to carry even with all the pieces of produce inside. The attached handles make it easier for your child to transport the playset from place to place.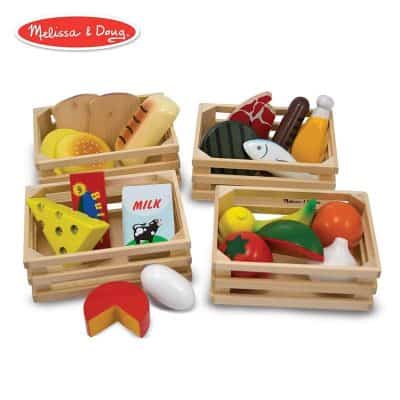 Food groups are something that every child learns about in their health class at school, and one thing that can be reinforced at home. Just because the food they're playing with is fake, doesn't mean that what they learn has to be. The food set by Melissa & Doug perfectly represents several food groups including grains, produce, dairy, and meats. Each food group is crucial to the development of a human being and your kids will have the chance to understand how important it's to have each one of these through imaginative play. The foods also come in their own separate crates so they're easy to carry, transport, and put away when not in use. These wooden crates can also come in super handy for kids learning how to create a well-balanced meal, and they can practice mixing and matching various food groups to create something well-rounded and fun.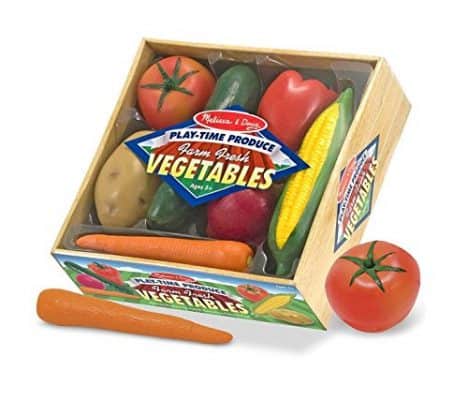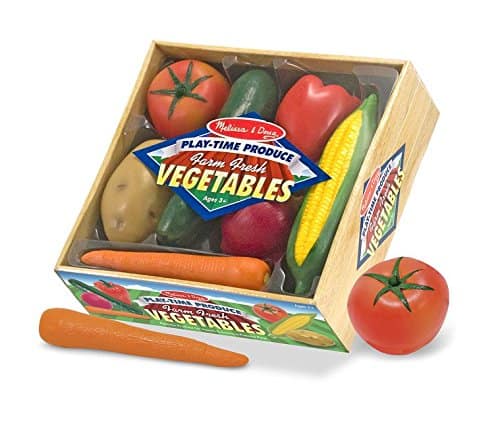 Instead of offering a bunch of plastic foods, the Playtime Vegetable Play Food Set has foods from the main five food groups. You can, therefore, use the set to teach your child about the importance of proper nutrition. The set comes with four wooden crates, into which your child can stack food items. You get cereals, eggs, fish, and a host of other foods that children over the age of three should be familiar with. Melissa & Doug have used wood to create each piece making the set quite sturdy. You also don't have to worry about the possibility of toxic plastic materials such as BPA or PVC coming into contact with your child's skin. Moreover, you can combine it with other play food sets.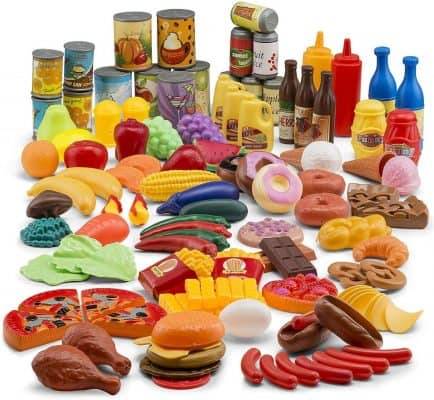 Variety is the spice of life with this huge play food set. It comes with 122 pieces that range from simple fruit and vegetables though to condiments and cans of food. You essentially receive the contents of your average kitchen, giving your child plenty to play with. JaxoJoy uses BPA-free plastics for all of the food items. They're also surprisingly durable and easy to wipe clean after use. The striking colors catch the eye, and there are so many items here that your child can imitate almost anything that you do in the kitchen. However, there's junk food in the set: carton of fries, burgers, and donuts that you can always remove before giving the set to your child.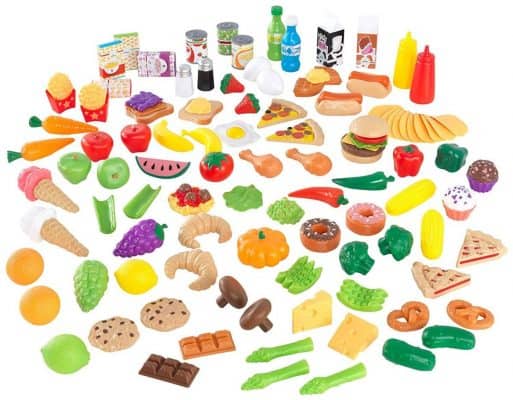 The KidKraft Tasty Treats Play Food Set comes with 115 pieces with plenty of variety in the mix. There are only two pieces of each item, giving you about 60 types of food in all. The set comes in a sturdy storage box that makes it a great gift. The pieces are large enough for kids aged three and up. The food pieces have been made from BPA-free plastic, ensuring they're safe for kids to play with.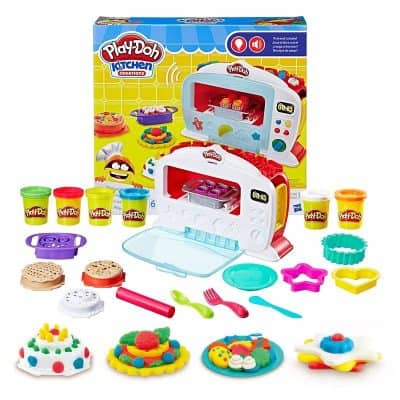 The set comes with the titular oven, six pots of Play-Doh, and several accessories your kid can use to shape the Play-Doh into various food items. The oven makes the set stand out. It has a simple lever that activates the oven. The light changes to red to show your child that the oven is active, plus there's a little "ding" sound that plays when the "baking" ends. The set is very realistic, making it a great teaching tool. There are instructions included that you can use to teach your child how to make different foods. It's important to watch kids that like putting things in their mouth. Also, bear in mind that the oven needs three AAA batteries to work that isn't included in the set.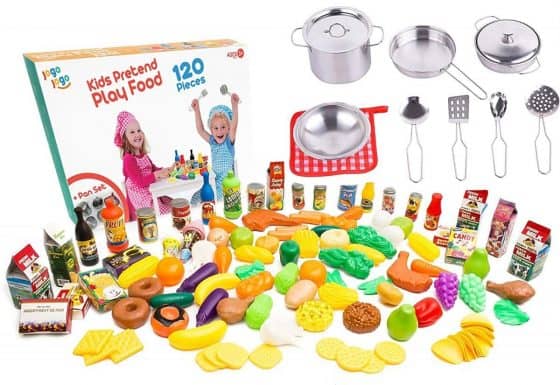 This set may be one of the more versatile play food sets available. You receive dozens of plastic foods, all BPA-free. It's the accessories, however, that make it one of the most inspired sets around. It comes with four stainless steel pots and pans, four other steel accessories, and a small apron. Your children can use the pots and pans to emulate the way that you cook. You need to keep an eye on your child just to make sure that they don't start swinging the heavy steel pans around. The box that comes with the set folds in several ways so you can create a quick cooking surface or kitchen sink for your child. That's great if you don't want to buy a full kitchen set.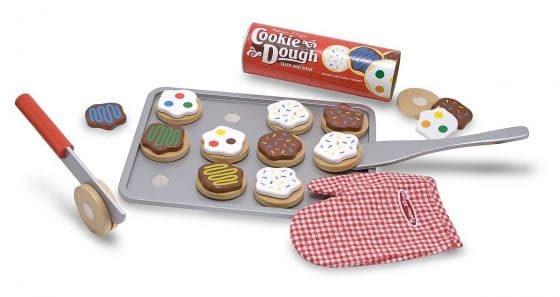 The Wooden Cookie Play Food Set focuses on baking cookies and contains everything your little one could need to become a miniature baker. Along with 12 cookies and toppings, you also receive a baking tray, slicer, and oven mitt. The dough tube gives you somewhere to store the cookies when they're not in use. Unfortunately, the set does lack variety. Your child only gets cookies to play with meaning it may serve better as an addition to an existing play food set, rather than as a standalone toy.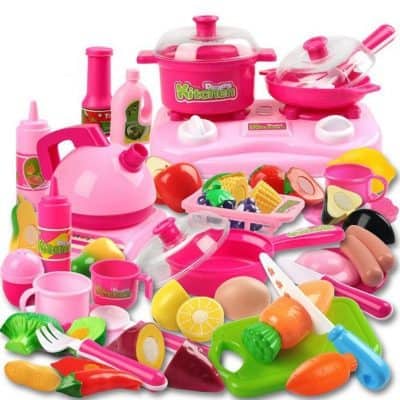 The Kimicare Kitchen Cooking set focuses mostly on healthy foods that include fruit, vegetables, and healthy meats. The only junk food you'll see is the pizza. The set comes with a plastic chopping board and knife that are safe and easy to use. Apart from being fun, these can also teach basic hand-eye coordination. The backpack also makes it one of the best choices for kids who want to take their play sets to a friend's house. It also offers a handy place to store the set once your child is done playing.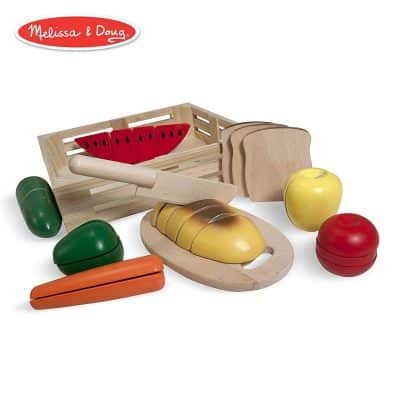 This is another great wooden play food set from Melissa & Doug. Every one of these sturdy pieces is beautifully painted with realistic details using vibrant, lead-free paints. Designed for children ages three to five years old, this set is a fun addition to any play kitchen. The pieces are held together with small Velcro tabs and make a nice "crunch" noise when they're "sliced" apart. Furthermore, the "cutting" design of the pieces helps facilitate the use of fine motor skills, hand-eye coordination, and cognitive development. That's definitely a nice bonus feature for such a fun toy.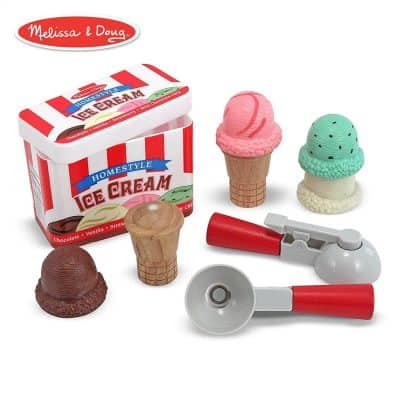 The ice cream scoop set available from Melissa & Doug will look great in the freezer of your child's play kitchen. To ensure safety, the set is made with a nice combination of sturdy wood and BPA-free plastic. Small internal magnets are also used to help hold all the pieces together. This set is specially designed to allow two kids ages three to five to share a "frozen" treat together. It encourages them to build social skills and facilitates the use of fine motor skills while still providing plenty of fun. The set offers a perfectly sweet way to spend an afternoon.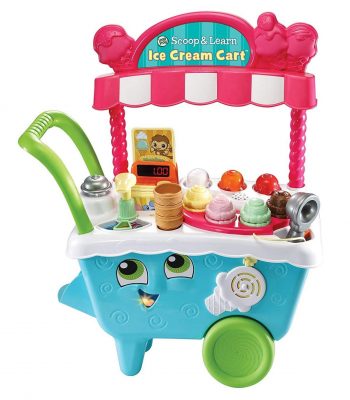 The LeapFrog Scoop & Learn Ice Cream Cart could be your toddler's new favorite toy. The set includes a cart, toppings, ice creams, a scooper, and cones. One of the best parts about the cart is that it's educational, with a counting feature and six activity cards included. Thanks to the big wheels, your 2-year old can easily push the cart around the house or yard, in true ice-cream cart style, with sounds and music.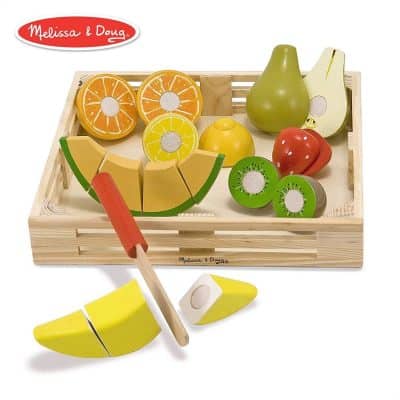 Let your child prepare you a delicious fruit platter with this cute set. It features seven kinds of fruits, including strawberry, orange, lemon, and melon. The fruits look so realistic and will be a delight for 3-year olds, and older children as well. Your child can use the wooden knife to "cut" the fruits into pieces as they learn the concept of a quarter, half, and whole, for example. It's a good time to introduce the basics of knife safety as well. All items are made of high-quality wood, and when playtime ends, there's a crate to store all the fruits in.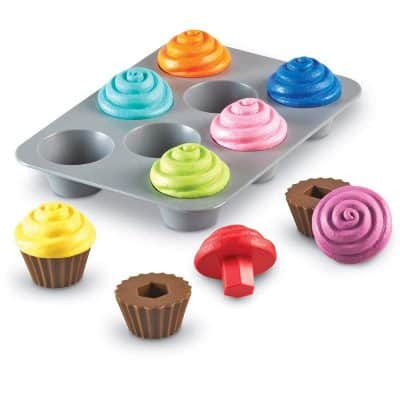 These colorful cupcakes not only look mouthwatering, but they're also educational. Each cupcake top comes with a unique shape on the underside that has to match the appropriate bottom piece. The set is suitable for children aged 18 months and up. This type of sorting game is great for young toddlers. It not only teaches them various shapes but also helps to develop their fine motor skills. The set comes with eight cupcakes and a pan.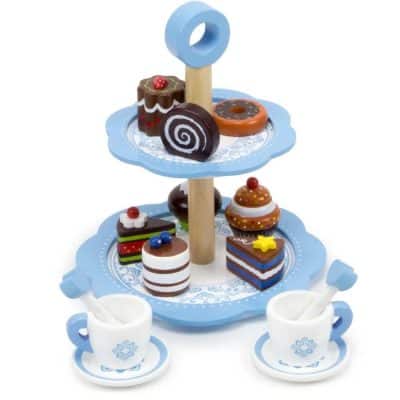 The two-tier time and pastry tower will make you wish your daughter had invited you instead of Barbie. The set features a variety of cakes and pastries and two teacups. Saucers and cute spoons are included to complete the experience. The design of the tower is classic and inviting. All of the pieces are made of high-quality wood that's been painted with water-based paints. For children ages 3 and up including pre-schoolers would enjoy it with friends, especially girls.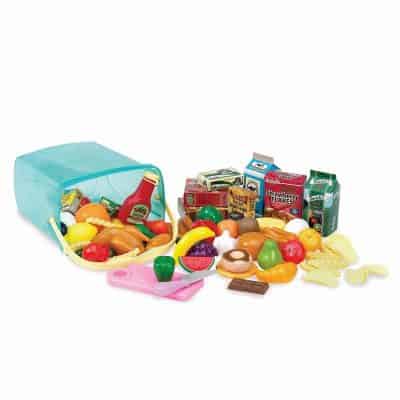 The toy food set comes with 79 pieces of plastic food toys and a storage box. Your kids will enjoy playing kitchen with the toy food and discover the world of pretend cooking and grocery shopping. The plastic dish set is made of BPA-free, non-toxic and recyclable plastics. The material is hard and durable enough. The set includes a storage box with Snap-on Lid, a cutting board, a plastic knife, 9 pieces of boxed food, 67 pieces of vegetables, fruits and other items of kids plastic food.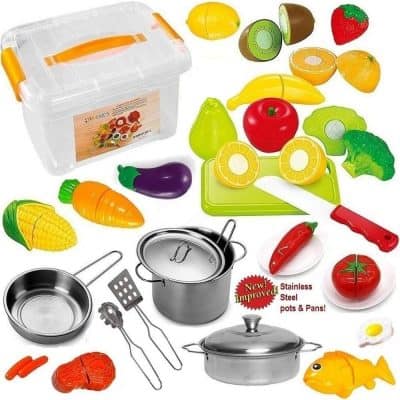 The FUNERICA Pretend Play Food Set for Kids is made from the highest quality material that's durable, safe, washable and crush resistant. It's a bright, colorful toy cutting food that'll amaze any child. The nice play fruits and vegetables come apart with hook-and-loop self-stick tabs. Your kids will be delighted by cutting it. Kids play dishes include a cutting board and a plastic knife, and 3 stainless steel pots with lids and utensils so children will enjoy to pretend play cook or fry their fresh homemade food.
The Joyin Wooden Cutting Pretend Play Food Set includes 29 pieces of 12 different kinds of wooden kitchen and food toys. The items in the set are made with natural wood and feature vibrant colors with non-toxic water painting. You're assured of no strong chemical smells with the set. Quality Velcro tabs hold the pieces together strongly and don't come off easily. The set comes with a wooden kitchen knife and cutting board. All the food looks realistic with details on the intercept faces. Cutting through the pieces feels realistic and comes with crunching sounds. For ease of organization, there's a wooden box included.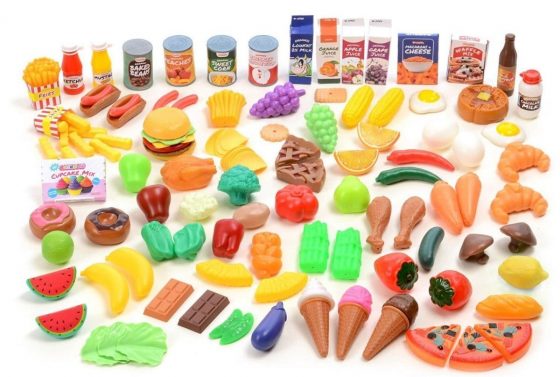 The Kangaroo Deluxe Pretend Food offers 120 pieces in its collection. While you get plenty of variety, there's one aspect of the set that sets it apart. Some of the foods carry an "organic" label that opens up the opportunity to teach your child about the benefits of organic foods. They're lightweight too making them great for toddlers who've just discovered the joys of throwing things about. You won't have to worry about your toddler hurting themselves through vigorous play. It may be one of the better sets for parents concerned about toxic products, as each item is BPA-free. However, Kangaroo Deluxe has used paper for the packaging of the boxed items making them less durable. There's also a chance that your child will tear the paper off and eat it.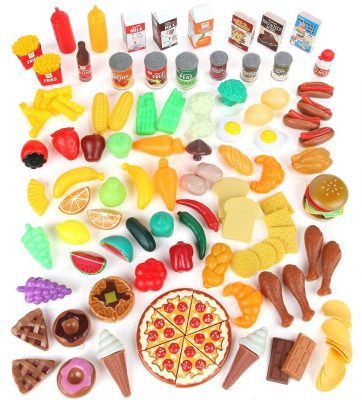 The deluxe play food set offered by Mommy Please is a fabulous choice for children aged three and up. The pieces are made from a strong and colorful BPA-free plastic making them durable and appealing. It also offers more food options than others do with its selection of a hundred and twenty-five pieces. The huge variety of familiar foods includes a whole pizza pie for a creative pretend food cutting pizza party. Plus, there are organic options mixed in and food fact labels for even more learning opportunities. Moreover, the set can be used alongside Melissa & Doug and KidKraft kitchen sets.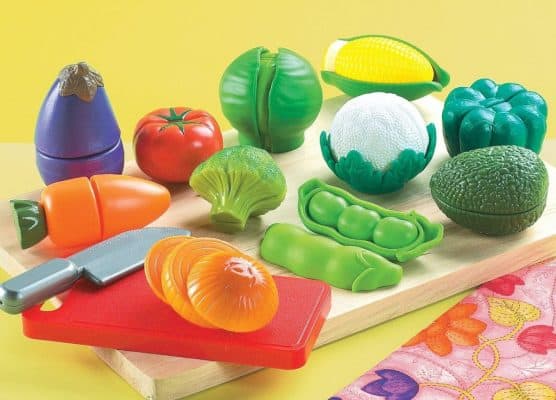 This food set is another fun option for kids to learn about fresh vegetables and healthy eating habits. The set is made with durable BPA-free plastic and each food item is held together by small Velcro tabs. The play set has been specially designed for children aged three to five years and encourages hours of imaginative play. This particular play food set includes a plastic cutting board, a plastic knife, and eleven healthy vegetables. The Velcro on the food items allows kids to "peel" and "slice" fresh ingredients while they pretend to cook. After playtime, the pieces fit right back together for easy storage.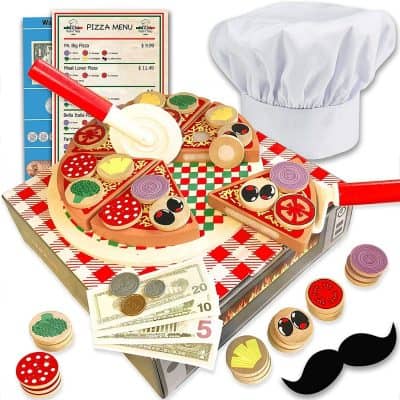 If your child loves pizza, they're sure to love the themed set. Here, they get to create their own, using different toppings, such as olives and salami. The toppings attach to the pizza with Velcro, so they won't be sliding off when the pizza goes in the cardboard oven. The set comes complete with a chef's hat, six mustaches, and a menu for ordering. Also includes is a drawer of coins and bills for check time, to make the play even more realistic. The whole shebang is ready for your young pizza maker aged three and up.