Bathtime can be one of the biggest joys of parenting. It's a time to splash and play with your baby, and it provides a great opportunity for bonding. Besides, who doesn't love the smell of a freshly washed baby?
Getting ready for bathtime can also be stressful, though, because babies have very specific bathing needs. The products we use on adult skin may not be gentle enough. Besides that, babies seem to need their own arsenal of equipment when it comes to washing.
Don't worry though, even if you're a first-time parent who's been staring down the bath products aisle with apprehension, our guide will walk you through the best baby bath products across multiple categories to help you have everything you need by the time your little one arrives.
What Products Do You Need for Bathtime?
Babies can't just hop in the shower and use the shampoo and soap you use. You'll need a complete set of different bath products as well as special equipment to ensure your baby has a safe and pleasant bathing experience. This guide is designed to cover some of the best basics you'll need to get your baby started.
Equipment
In this guide, we have a few equipment suggestions that we believe new parents should invest in to make their baby's bath safe and comfortable. Choosing a baby bathtub, particularly one that can fit in a sink, will help you wash your child when they're very small. It will save you from wasting water to fill a full-size tub for one seven-pound child, and it will also give your knees a break from having to crouch on the bathroom floor. We would recommend a sink insert for most parents.
You should also invest in a few tools to make the bath more comfortable. Babies can't handle being rinsed by water directly from the spigot or showerhead. Using a rinse cup makes it much more comfortable to remove soap from your baby. You may also want to use a washcloth or sponge to lather up more effectively and scrub sticky messes from them.
Products
Choosing some gentle washing products will help keep your baby's skin healthy and comfortable. Our guide has some suggestions for shampoo/body wash combos, as well as lotions and ointments to use after the bath.
While newborns don't typically need lotion after the bath, older kids are more prone to dry skin, particularly when exposed to dry indoor heating during the winter. Thicker ointments that can help with dry patches and diaper rash may also be applied shortly after the bath.
Choosing a Safe Option
Fortunately, most products geared toward babies are automatically tear-free. This means that it won't sting your baby's eyes if some of the baby-friendly soap or shampoo gets on your child's face.
When choosing products, it's still important to be aware of the ingredients beyond whether or not a product is tear-free. Many potential skin allergens and harsh chemicals are included in adult products, so using baby and sensitive skin products is a better option. Of course, some baby products may still contain potentially irritating additives.
When it comes to newborns, we recommend using products free from artificial fragrance, parabens, phthalates, and sulfates. If allergies or skin conditions run in the family, you may want to use extra caution, even as your child gets older.
Avoiding exposure to the world of the largely unregulated chemicals in personal care products is probably best for the whole family (particularly in America, which has far fewer restrictions than many other countries). It can be hard to comb through ingredients on every product you buy, so you can always use the EWG for resources and recommended products.
Even natural ingredients have the potential to be irritating, so you may want to test any new products on a small patch of their skin before you use it on their whole body.
Here's our top ten list of products you should consider for your baby's best bath experience. You'll find a range of products and a few essential pieces of equipment to take some of the guesswork out of it for you.
Top 10 Best Baby Bath Products 2023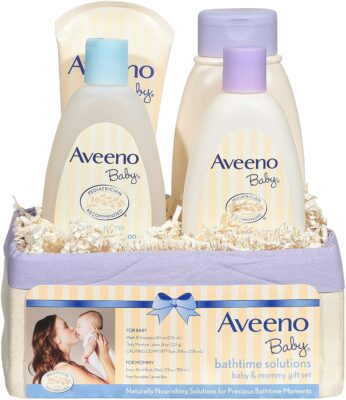 Why we like it:
This set has everything you need for bathtime and doesn't forget that parents need a little pampering too.
Editor's Rating:
Quick Facts
Product Type: Shampoo, wash, lotion
Ages: Six months to adult
Ingredients/Materials: Oat extract, glycerin
The Product
Aveeno's Baby line is a popular choice among parents for its soothing oat extracts. Oat is great for adult skin but especially soothing to delicate baby skin. It can help moisturize skin, relieve irritation, and form a protective barrier to help keep bacteria and UV rays from damaging your baby's skin.
This set has all the bath products you need to get your little one clean. It includes a shampoo and body wash combo, a calming bath liquid, and an after-bath lotion for your baby. Thoughtfully, the set also has a stress-relieving body wash infused with lavender, chamomile, and ylang-ylang for you too.
All the baby bath products in the set are hypoallergenic and tear-free. The comfort bath liquid is a perfect addition to your nighttime routine. It's scented with lavender to help your little one relax and prepare to drift off to sleep.
Things to Watch Out For
Even though the product this intended to be used with babies as young as newborns, we don't recommend this until they're a little older, in most cases six months and up. While this product has a lot going for it, it can be a little too harsh for very young babies. For a gentler ingredients list that tends to work better with younger babies, you might try our pick from The Honest Co.
Also, be mindful that while lavender is a gentle natural additive, a small percentage of babies may have a reaction to it, which can cause itchiness and discomfort.
Who It's For
If you're looking for a complete set of bath products, it's hard to beat this one. For most parents and children, this will save you from painstakingly choosing each individual product. Conveniently bundled in a little basket at a moderate price, there's plenty to clean, soothe, and moisturize your child, as well as a little extra something to help take care of you at the same time. Maybe it will help your fussy little one be less reluctant for bed after a lavender-infused bath.
Pros
Complete bathtime set

Relaxing lavender

Healing oat extract

Relaxing body wash for parents included
Cons
It May be harsh for newborns

Lavender can be an allergen for some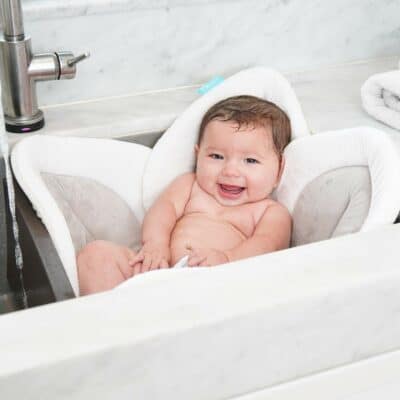 Why we like it:
This insert allows you to comfortably bathe your baby in the sink.
Editor's Rating:
Quick Facts
Product Type: Baby bathtub
Ages: Newborn to 6 months
Ingredients/Materials: Plastic
The Product
While you could just kneel on the floor and wash your baby in the tub, this product makes it easy and comfortable (for both of you) by turning nearly any standard sink into a cozy baby bath. Contoured petals cradle your little one to keep them comfortable. The center of the flower has an 8-inch diameter, just the right size for your newborn to rest in, and each petal is 33 inches long.
The size and shape help give full coverage to the inside of the sink, which helps protect your child from cold hard edges that could lead to bathtime tears. It also allows you to stand while bathing them and keeps everything a little less slippery.
The pad is washer and dryer safe on the gentle cycle. It's also easy to hang dry if you don't have a machine at home.
Things to Watch Out For
It can be a little cumbersome to clean this when compared to standard plastic washtubs. If you're washing your baby in the kitchen, you'll need to carry a slightly drippy bath pad to the bathroom for a hang dry or the laundry room for a spin in the dryer.
The plush material, while extra comfortable, is a little harder to spot clean and sterilize, which can be annoying if your child is prone to accidents in the bath. For a full run-down of our top ten baby baths, check out this article.
Who It's For
If you need to wash your baby in the sink and want it to be the most comforting experience, this can make your kitchen into a baby spa. It may be tough to clean if you don't have a washer and dryer at home, but this is one of the best options for newborns who are simply too small for many of the other baths on the market. This will make a great bath companion for your child until they outgrow sink baths.
Pros
Fits in most standard sinks

Supportive and protective

Cushioned for comfort
Cons
Harder to spot clean and sanitize

Hard to air dry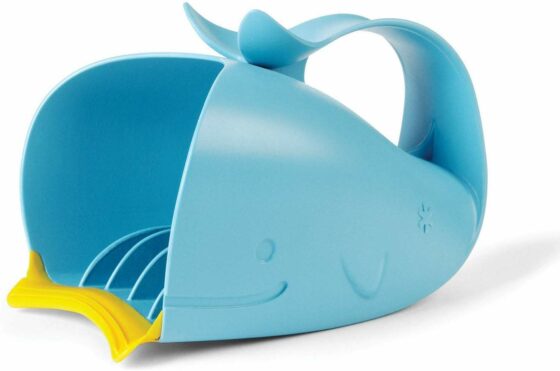 Why we like it:
This little rinse cup has a smart design that helps you gently rinse shampoo and soap from your child.
Editor's Rating:
Quick Facts
Product Type: Rinse cup
Ages: Newborn to toddler
Ingredients/Materials: Plastic
The Product
The water that sprays out of a showerhead may feel relaxing to adults, but that water is too intense for a baby. Using a rinse cup is a gentler option for washing the soap off your baby and ensuring a tear-free bath time. This inexpensive tool can become a major asset to your washing routine.
The whimsical whale design enables play between you and your child during bath time. A comfortable handle allows you to easily scoop up water from the tub when it's time to rinse. The curved flat edge of the cup makes it easy to place against a child's forehead to rinse their hair without water going everywhere or pouring in their eyes.
This brand, Skip Hop offers a full range of cute whale accessories for the bath. As your child gets older and starts learning to wash themselves or begins standing in the shower for the first time, their spout cover is also a great product to invest in to prevent any accidents.
Things to Watch Out For
If your child is particularly fussy or wiggly, this rinse cup might not keep all the water out of their face. It does require a small degree of cooperation, namely, the child being willing to tilt their head back so that the edge can be held against their forehead. That edge could also be a little softer and more molded.
Since it diverts some water to the side, you might also end up with a little water in their ears. So be sure to dry them thoroughly after bathtime.
Who It's For
If you're looking for something a bit more fun and ergonomic than a toothbrush cup to rinse your child's hair with, this has a few extra features to recommend it. The shape of the lip helps create a more even, widespread waterfall to rinse more effectively. It's also a fun toy they can enjoy playing in the bath as they get a little older.
Pros
Comfortable handle

Curved edge to go against the forehead

Fun whale design

Gentle rinse option
Cons
To be effective, the child must cooperate

Can get more water in ears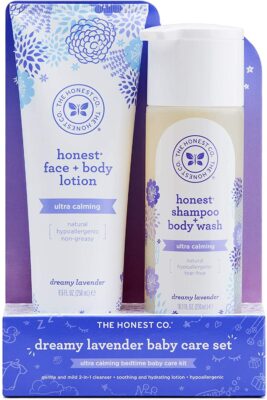 Why we like it:
Infused with herbs and nourishing oils, this set is soothing and gently lavender scented to help your baby wind down.
Editor's Rating:
Quick Facts
Product Type: Shampoo/wash and lotion
Ages: Newborn to adult
Ingredients/Materials: Aloe, chamomile, shea butter
The Product
This two-pack of dermatologist-tested shampoos and lotion by The Honest Company is super gentle. All the ingredients are naturally derived and free from harsh allergens. The products are infused with soothing and moisturizing ingredients like aloe and shea butter as well as herbs like chamomile and calendula.
The shampoo and body wash combo is an easy all-over cleanser. It's a tear-free formula infused with lavender (though the company also makes a fragrance free version if that's what you need). The lavender is relaxing for both you and your little one. The wash also comes in a convenient pump bottle, so dispensing it is a one-handed job.
The lotion is a lightweight formula that absorbs quickly and leaves your baby's skin (or even yours) feeling softer. It doesn't leave a greasy residue behind and the fragrance is light on the skin, not cloying.
Things to Watch Out For
Some might find the lavender in this product to be almost too light and subtle. If you're looking for a more intense aromatherapy effect, this may not be strong enough. Lavender can be an allergen in some small children, so it seems that the brand errs on the side of caution by keeping it extra gentle.
This product could also irritate babies with eczema. Choosing a product specifically formulated for child eczema (like this bath treatment from Aveeno) is a better option if you suspect your child has it or if it runs in your family.
Who It's For
For a mild, calming bath experience, this easy two-piece set is hard to beat. The mild lavender smell helps your child prepare for sleep while the gentle, skin-nourishing products keep their skin from getting too dried out. They can be bundled up for bed feeling comfortable after a bathtime featuring these products.
Pros
Gentle naturally derived formula

Nourishing skin moisturizers

Tear-free all-over cleanser

Light, non-greasy lotion
Cons
Lavender may be too subtle

Could irritate babies with eczema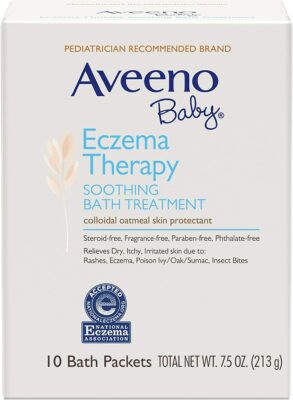 Why we like it:
By harnessing a traditional remedy, Aveeno has created a product with little risk of allergens that can help relieve eczema symptoms.
Editor's Rating:
Quick Facts:
Product Type: Bath treatment
Ages: Newborn to adult
Ingredients/Materials: Colloidal oatmeal
The Product
Oatmeal has long been used as a home remedy for a multitude of skin conditions, from poison ivy to dry winter skin. It turns out that grandma was right; oats really do have a whole bevy of health benefits internally and externally. Besides that, it's incredibly gentle and unlikely to trigger any side-effects.
Oatmeal has antioxidant and emollient properties that soothe and repair your skin. For people with eczema, this means that it can relieve the irritation from the condition, but it can also help create a protective barrier on the skin to help it maintain its optimal pH level and be less affected by environmental changes.
This bath treatment by Aveeno is 43% colloidal oatmeal. The rest of the ingredients are mineral oil to provide additional moisture and some mild surfactants and emulsifiers to help clean your child and let the product blend more easily with water. It also means that you don't have to worry about following up with soap after their soak. This will help get your child clean while they enjoy their oatmeal bath.
Things to Watch Out For
While the simplicity of this product leaves little to complain about, there are a few things that you should know about. This product uses mineral oil, which is a petroleum-derived ingredient. While that doesn't have to be a deal-breaker, some people have concerns about its long-term usage. It also isn't the most nourishing or helpful oil to use, particularly for eczema. While it adds some hydration to the skin, coconut oil, jojoba oil, and many other plant-based options have more beneficial results for eczema.
Since this product does contain a few extra ingredients, it can leave a fairly significant residue in the tub compared with your standard oatmeal soak.  It may be less messy (and less expensive) to use some of the oatmeal you may already have in the pantry to give your child a bath and apply some coconut oil to their skin as soon as they get out.
Who It's For
If you're a busy parent who needs a convenient solution to your child's uncomfortable skin condition, this is a handy and effective option. The oatmeal is pre-ground and comes in a packet already mixed with the other ingredients. While it might be possible to make your own version of this product, this takes the guesswork out of it. The benefits of using oatmeal for eczema are clearly backed up by science, so you'll have a good chance of finding relief for your little one.
Pros
Can relieve irritation

Helps soothe and protect skin

No need to use soap afterward

Low risk of an allergic reaction
Cons
Uses mineral oil

Leaves messy residue

Can be made at home easily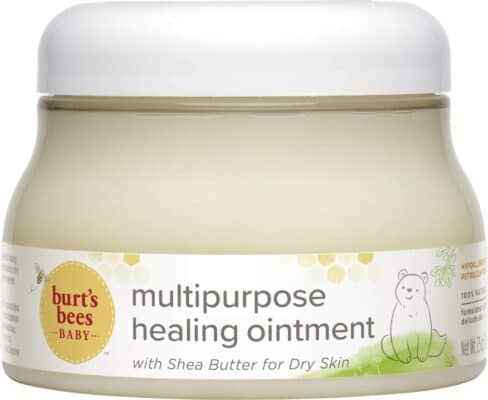 Why we like it:
For use after the bath, this ointment can handle dryness all over the body and even diaper rash.
Editor's Rating:
Quick Facts
Product Type: Ointment
Ages: Newborn to adult
Ingredients/Materials: Coconut oil, beeswax, castor oil
The Product
Since babies have extra sensitive skin that's also thinner and more porous than an adult, using organic and all-natural products can be even more important. Burt's Bees formulates their baby line to be extra gentle with no parabens, phthalates, or petroleum products.
This multi-purpose ointment is great to put on as soon as you pat them dry after the bath to prevent your child's skin from drying out. It can also be used on diaper rash, eczema irritation, and any small scratches or cuts. It has been pediatrician tested for gentleness and efficacy.
Formulated with a number of richly nourishing oils, this helps put moisture back in your little one's skin. It also contains beeswax and lanolin to help create a protective barrier on the skin. This helps prevent dry, chapped skin in a variety of environments while relieving and healing any previous damage.
Things to Watch Out For
This product is very thick and takes quite a bit of warming up in the hands first, and then a thorough rubbing in on your child. While this thick texture gives it excellent protective properties, it can make it quite a hassle to get on to your baby. It may even feel a tad gritty when you first scoop it out of the jar.
If your family is vegan, this product probably won't be ideal because it uses both beeswax and lanolin, which comes from sheep's wool. Even if your family isn't vegan, if you or your partner has a wool allergy, there is a very small chance that lanolin could be an allergen trigger for your baby. Lanolin can also be dangerous if consumed, so to be on the same side, don't use this to moisturize lips.
Who It's For
When your child is suffering from uncomfortably dry and peeling skin or a bad case of diaper rash, it can be hard to know what products to choose. It gets harder if you're looking for something more natural. This is a strong option for intense moisture that will let your baby avoid synthetic chemicals. For many parents, that means more peace of mind.
Pros
Can be used all over the body

Nourishing plant-based oils

Creates a protective barrier on the skin

Relieves dryness and discomfort
Cons
Very thick and sometimes gritty

Not suitable for those with a wool allergy

Should not be used on lips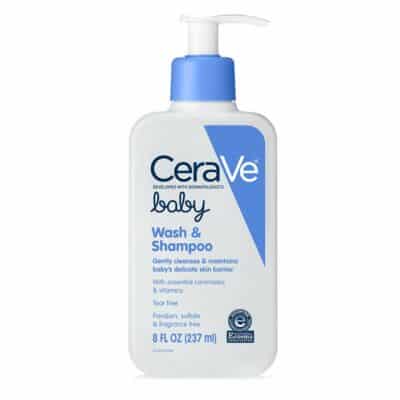 Why we like it:
By avoiding fragrances and detergents, even the most sensitive babies can typically handle this wash.
Editor's Rating:
Quick Facts
Product Type: Shampoo/body wash
Ages: Newborn to toddler
Ingredients/Materials: Ceramides, hyaluronic acid
The Product
CeraVe has designed a full line of extra sensitive products made especially for babies. This wash is free from all fragrances, parabens, and sulfates. They've also received a seal of acceptance from the National Eczema Association for meeting their criteria for use by those with eczema or similar conditions.
Besides what this wash leaves out, there are a few interesting things it includes. This cleanser is formulated with hyaluronic acid and ceramides. Hyaluronic acid is naturally produced by our bodies, particularly when we're babies. Scientists have reproduced this compound and it's now found in many anti-aging creams for its ability to deeply moisturize and replenish skin. Ceramides are waxy lipids naturally found in human skin. By adding this compound into your baby's skin products, it helps boost their natural protective skin barrier.
The tear-free formula is easy to use to clean your baby from head to toe. CeraVe also uses more conscientious packaging to make its production and shipping more efficient. They strive to be good for you and the environment.
Things to Watch Out For
While this product is gentle and non-irritating overall, it does fall short in some areas. The added hyaluronic acid and ceramides aren't always enough to add moisture into your child's skin if they suffer from dryness. In such cases, it will need to be immediately followed up with a lotion to prevent their post-bath skin from drying out.
It also does an underwhelming job of getting them really clean. While lightly sudsy water might be fine for a newborn, sticky toddlers may need something more intense to get them clean. It's hard to get a good lather from this product.
If you're looking for a deeper clean with more moisture, you might try the set from The Honest Co. that combines a sudsy wash with a light lotion.
Who It's For
For newborns who really struggle with most other washes, this is one of the gentlest options available. Until they outgrow their extreme sensitivity or baby eczema, sticking to a product like this might be your safest bet. Just be sure to have a gentle lotion ready in case this isn't moisturizing enough for your child. Fortunately, CeraVe has an equally gentle lotion available in their baby line.
Pros
Gentle and non-irritating

Approved by National Eczema Association

Infused with skin barrier protecting ingredients
Cons
Doesn't add moisture back into skin

Watery formula

Hard to clean messy toddlers with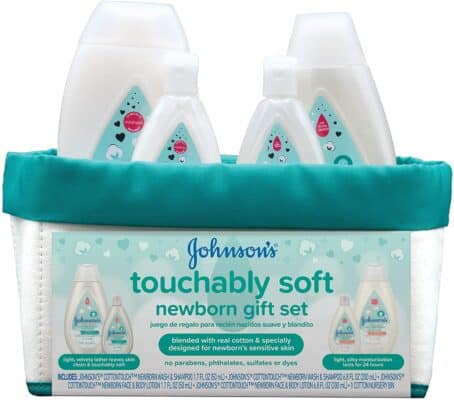 Why we like it:
A classic set of products that also includes an unusual ingredient might be the simple solution you're looking for.
Editor's Rating:
Quick Facts
Product Type: Shampoo/body wash, lotion
Ages: Newborn to toddler
Ingredients/Materials: Cotton extract
The Product
This set contains a shampoo and body wash combo and body lotion. Both products are included in a large and travel size. The whole set it packs into a cotton nursery bag that can be repurposed in multiple ways.
The hypoallergenic products are designed to be gentle enough for newborns. Both the wash and the lotion contain cotton extract. Cotton is a natural source of vitamin e and other fatty acids, along with being a source of antioxidants. Cotton also has anti-inflammatory properties, which have made it become more popular as a skin care additive in recent years.
The wash promises to thoroughly clean your baby without stripping their natural moisture. The formula is intended to help preserve their natural pH balance. The lotion is rated to be effective for up to 24 hours, meaning you won't need to frequently reapply.
Things to Watch Out For
Despite being packaged as a gift set, this basket comes across as a little cheap. The full-size bottles of the product are propped up on a plastic liner to make them appear larger in the set, but really, they are rather small. You end up getting two bottles each of the same product, one just smaller than the other. For more variety and potentially more value from a bath gift set, you may prefer our choice from Aveeno.
While this is intended to be gentle enough for newborns, the products contain synthetic fragrances, which can be very irritating to some babies (and sensitive adults). This could lead to break-outs. The lotion isn't as hydrating as you would expect, either. Without other rich plant oils to support it, the cotton extract doesn't do much.
Who It's For
For a light and simple wash and lotion set, this isn't a bad choice. For babies and toddlers without extreme sensitivity or dryness, it will probably be fine. The wash lathers and cleans while being tear-free. And the lotion does provide some light moisture without leaving behind residue. If simplicity combined with that "baby fresh" scent is what you're after, you may like this set from Johnson's.
Pros
Convenient travel size included

Hypoallergenic products

Anti-inflammatory cotton extract
Cons
Full-size bottles are still small

Contains synthetic fragrance

May not be moisturizing enough for dry skin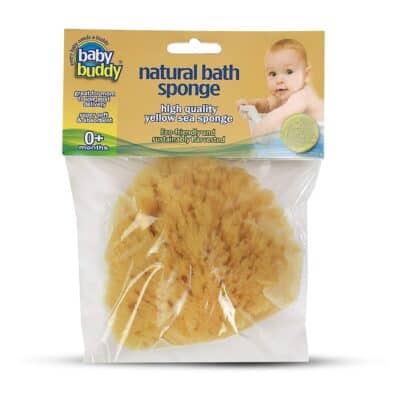 Why we like it:
As an alternative to just using your hand or a washcloth, this sponge is soft and gently exfoliating.
Editor's Rating:
Quick Facts
Product Type: Sponge
Ages: Six months to adult
Ingredients/Materials: Natural sea sponge
The Product
When you give your baby a bath, you want everything that touches them to be comforting and gentle. Rather than introducing more plastic products to their lives from the beginning and putting more microplastics into our homes and environment, some people have started opting for natural sponges in the bath.
Sustainably harvested from the sea, these sponges make it easy to create a creamy lather with only a small amount of soap. They also absorb water easily without dripping and offer gentle exfoliation to scrub away grime without discomfort. This extra soft variety of sponge is particularly well-suited to a baby's sensitive skin.
Natural sponges are biodegradable, but they tend to last longer than synthetic sponges. Unlike artificial sponges, they are resistant to tearing, easy to clean, and less likely to grow mildew. They are also less likely to take on an unpleasant smell after multiple uses.
Things to Watch Out For
Since this is a naturally produced item, there can be an issue with consistency. Some sponges will be extra soft and perform even better than your average baby washcloth, but others can have rougher areas that may not be appropriate for young children or babies.
Since it's a biodegradable product, with regular and vigorous use, it can start to deteriorate and loose pieces. This depends on your shower habits, but it can potentially start to fall apart within a few months. For a sponge that costs quite a bit more than your average scrubber or washcloth, that can be disappointing. As children get a little older, it is possible for them to start ripping pieces off as well.
Who It's For
If you're looking for a more eco-friendly option for washing, these can actually be a really good choice. Using a natural sponge isn't just a gimmick. They really do resist mildew and have a good balance of softness and scrubbing ability. However, you'll want to check each individual sponge you buy to make sure it really is soft enough before using it on a very young baby.
Pros
Better for the environment

Lather well

Resist mildew

Soft, but scrubby
Cons
Inconsistent softness

Can fall apart or be ripped by children

More expensive option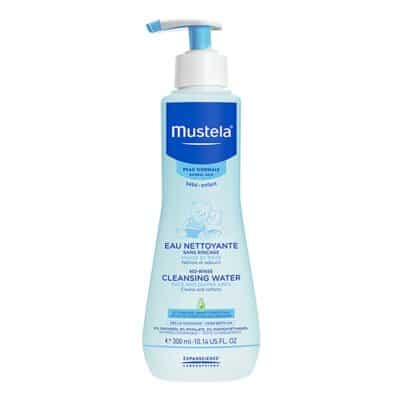 Why we like it:
A baby wipe alternative, Mustela helps you clean your baby on the go with a product that can actually help treat baby acne.
Editor's Rating:
Quick Facts
Product Type: Cleanser
Ages: Newborn to toddler
Ingredients/Materials: Aloe, castor oil, avocado
The Product
The thing about babies is that they aren't just messy at home. So, if your baby makes a mess while you're out of the house, you need a good cleaning option. Rather than using whatever soap and scratchy paper towels you can find in a public restroom or going through half a package of wipes with each clean-up, Mustela has created an alternative.
This pump bottle cleanser is micellar water made to be gentler for a baby's sensitive skin. Micellar water is designed to loosen dirt and oils without harsh soaps and they require no rinsing. Apply a few pumps of cleanser to a cloth or tissue and wipe down any messy hands or faces quickly.
The product is also recommended for children with baby acne. It won't strip their skin of natural oils, which could make the condition worse. Instead, this formula has castor oil, which can add moisture back into the skin.
Things to Watch Out For
While this product has some naturally derived ingredients, it also includes a few ingredients that have been flagged as common allergens, such as propylene glycol and synthetic fragrances. Not every child or adult will be affected by these ingredients, but babies tend to be more sensitive, so cleaner, more naturally-derived ingredients like our option from The Honest Co. may be more desirable.
For extreme messes and diaper clean-up, this product may not be much more effective than plain water or baby wipes. It also is a tad expensive, considering how quickly you might go through it if your child is going through a particularly messy phase.
Who It's For
If your child is suffering from baby acne, this product does seem to be effective at relieving the symptoms. Ask your pediatrician, of course, but using this for after-meal clean-ups instead of baby wipes that often include drying ingredients like alcohol, could help reduce your child's symptoms. And if you want something to gently wipe down sticky hands and faces on the go, this might be a good choice for you.
Pros
Alternative to baby wipes

Won't strip natural oils

Can be effective at treating baby acne

Helps with messes on the go
Cons
Includes some allergy-triggering ingredients

Not effective for diaper clean-up

Expensive and runs out quickly
Troubleshooting Your Baby's Bathtime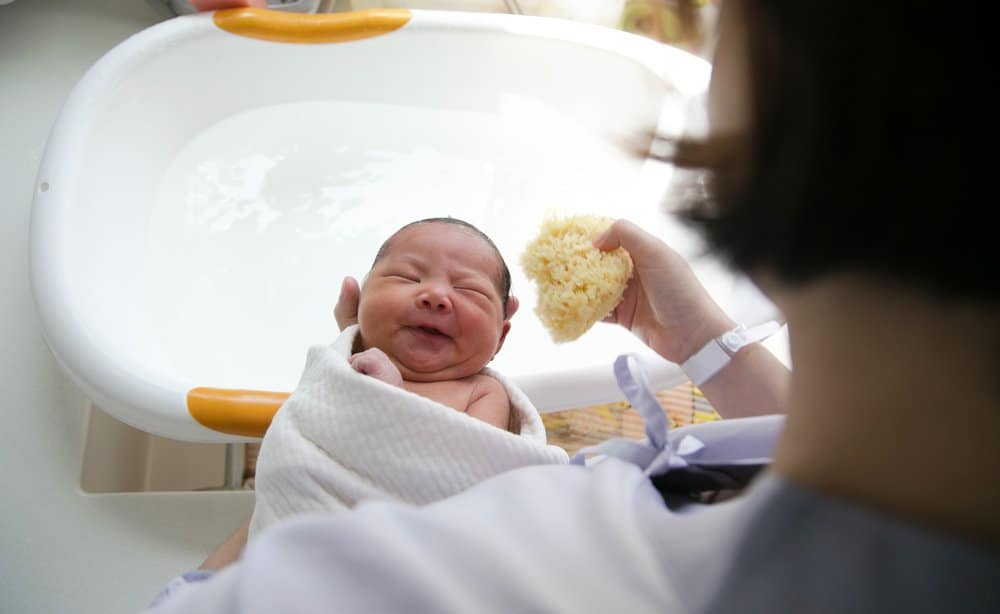 Babies can't tell us exactly what it is they need and want so it can be tough to figure out why your baby might be bathtime-averse. We've compiled a few tips and guidelines to help both you and your little one to enjoy the fun of bath time.
How Do You Bathe a Newborn?
Starting with the basics, there are a few techniques that doctors and parents recommend when it comes to bathing a newborn.
You should always securely hold your baby. Even when using a baby tub or insert, a newborn needs constant support. Keeping the water to only about two inches high is also important. You don't want to submerge your child, but keep rinsing them with water gently poured from a cup.
The water should be warm but kept below 110 degrees Farenheight. If the water's too warm, that can cause tears and discomfort. Stick to using gentle products and softly lather it in their hair (if they have enough to need washing) and on their body with one hand while the other holds them.
Most newborns won't need lotion after the bath unless they have a dry skin condition. But you should thoroughly pat them dry immediately after the bath.
How Often Should You Wash Your Baby?
Babies are messy, no one can possibly deny that. So it's tempting to give them a bath every day, or if your baby finds it relaxing, every night as part of your wind-down routine. Doctors have cautioned that even adults should avoid washing every single day at the risk of drying out their skin and disrupting their natural microbiome, and this goes double for babies.
It's not recommended to wash your baby more than three times a week if they are under one year old. This protects their more delicate skin and makes them less prone to dryness, irritation, and makes them less susceptible to harsh environmental elements.
Of course, you may need to spot clean their face, hands, and diaper area every day. Use gentle wipes that are alcohol-free for cleaning up in between baths. And maybe save extra messy play experiences for bath days.
Can You Bathe With Your Baby?
Skin to skin bonding is an essential part of spending time with your newborn. It helps your baby feel calmer and learn to trust you. It can also help you feel more connected with your little one. Bathtime is a great opportunity to practice this.
It's perfectly safe to bathe with your baby as long as you take a few precautions.
Bathwater
While you might like a scalding hot bath or shower to melt away your tension, babies can't handle the heat. Keep the temperature close to body temperature, maybe just a few degrees warmer than your skin.
Also, make sure you don't overfill the tub. About three inches of water is ideal for you and your baby.
Prepare
Have all the products and sponges you need easily within reach from inside the bathtub. Once you're in the tub with a slippery baby, you won't want to be rooting around for what you need, only to discover it's in the cabinet across the room.
You should also have either your spouse or a child safety seat placed just outside the bath. That's where the baby should wait while you get into the tub. Once you're settled, then your spouse can hand you the child, or you can lift them out of their seat. To get out of the bath, you'll reverse this process by putting your baby safely out of the tub first.
Washing
Once you're both in the tub, it's important to get them seated comfortably. One of the best ways to position your child is to have them rest against your legs, facing you. This lets you support them with your legs when you need to lather them (or yourself) up with soap. Try to always keep your hands on your baby to keep them from slipping.
Use a wash cup to keep regularly pouring water over your baby so they don't get too cold.
Parting Words
We hope this article has helped take some of the stress out of bathing your baby. It can be hard to know everything you need to make them safe and comfortable, but by choosing a few key pieces of equipment and some gentle products, you can enjoy a clean and happy baby.
If you suspect your child might have a skin condition like baby acne or eczema you should consult your pediatrician right away.
These professionals can suggest products that can help your child's condition or prescribe them medication if necessary. Always patch test new products before incorporating them into your child's routine and if you suspect they might be allergic, discontinue use immediately.
Bathtime really can be an enjoyable experience that helps bond you and your child. We hope this guide lets you worry less and enjoy it more.