Top 30 The Best Art Sets for Kids 2022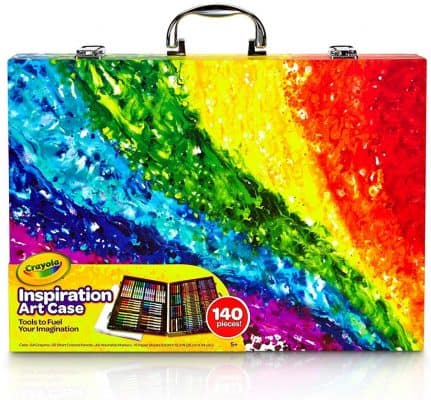 Crayola is one of the most enduring makers of art supplies for kids, especially coloring instruments. There's no way imaginable that anyone has graduated from grade school without ever getting their hands on the classic coloring cylindrical sticks of Crayola. This set comes with 64 signature crayons from Crayola, 20 pieces of Super Tips highly washable markers, and 20 pieces of Pip Squeak washable skinny markers. Both markers come with a versatile tip designed to draw either thick or thin lines depending on whether your kid uses the Super Tips or the Pip Squeaks, respectively. There are also 18 pieces of colored pencils and 25 sheets of drawing paper so your child can go on creating their own colorful masterpieces at once.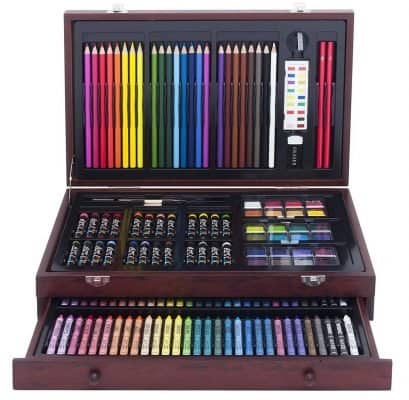 This 142-Piece Wood Art Set has a luxury look and feels because of its elegantly designed wooden organizer. You would think that this is some really expensive gem you're storing and not some drawing kits for your kids. This set has the goods to provide young artists with the medium for creativity. It contains 60 pieces of vibrant colored crayons, 24 sticks of oil pastels, and 24 pieces of colored pencils. This trifecta of coloring instruments can already make for an excellent kit for any kid. It also includes 24 cakes of watercolors complete with 3 mixing palettes and 2 paint brushes. This should add a certain element of watery lightness to your child's masterpiece. To help in refining their creations, there are 2 pieces of sketching pencils perfect for making drafts and lines before finishing them up with the rest of the coloring tools.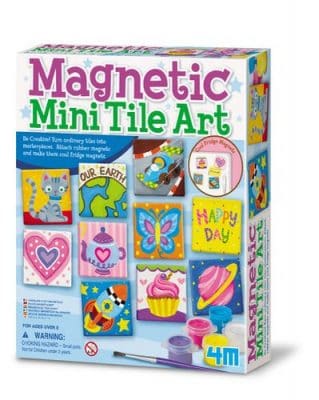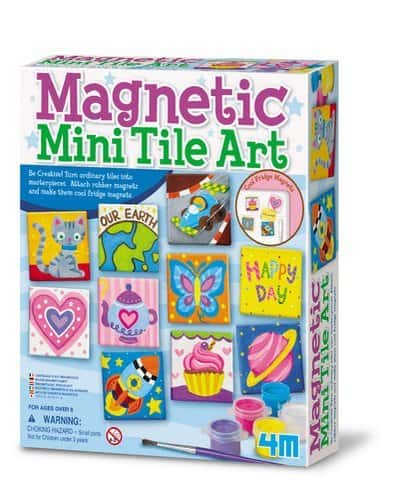 Once your child is done painting the tile, they simply attach a magnet on the back place them on any metal surface for display. Your fridge, locker, or filing cabinet will instantly become more glamorous. Children ages 8 and up will have a blast painting their tiles. With this set, your child can easily create and display original pieces. This set includes 12 tiles, rubber magnets, a paintbrush, five different colors of paint, double-sided tape, and detailed instructions. Each tile is 2 by 2 inches, making them a great gift for kids. The size of the tiles and the colors included will provide your child with a little bit of a challenge as they create their works of art. Your child will learn patience as they wait for their creations to dry. The adhesive on the magnets is highly durable thus guaranteeing that your child's works will securely stay where they are placed. The fine-tipped paintbrush will allow your child to add small details to their pieces. With 12 magnets included, your child can paint with their friends.
Allowing their creativity to be expressed through art is a wonderful outlet. Many kids find completing artwork calming. Rock painting isn't only calming for the creator, but the finder will share the experience as well. This set comes with everything they need to create their own customized rocks. This set even includes 10 rocks. All the art supplies like the paint, design transfers, and stickers are waterproof. The stickers feature tracking information so that others can share on social media when they find them. Painting and hiding rocks have been a new way that people all over the earth are spreading kindness with.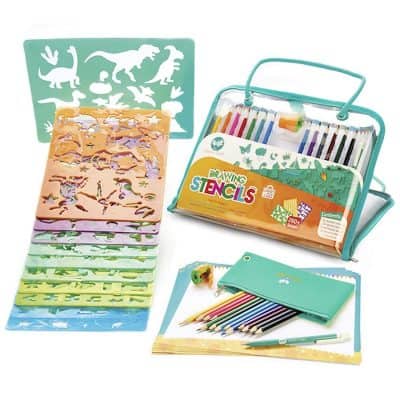 If you're looking for the ultimate set of stencils for your kid, look no further than this product from Creabow Crafts. Kids can use more than 260 stencil templates with a variety of themes to create full scenes from their imaginations or create messages with perfect lettering. This product includes 13 coloring pencils, a sharpener, as well as a mechanical pen to get them started with their creations. This set will teach kids the basic forms of their favorite animals and plants, helping them get better at drawing over time. The wide variety of shapes will give them hours of constructive time creating scenes of ancient dinosaurs in their natural habitat, or constructing an underwater home.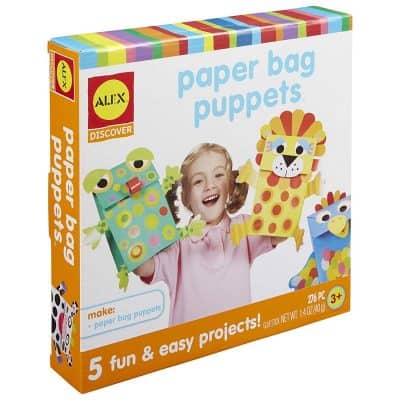 Paper bags no longer have to strictly be used for sack lunches. The Alex Toys Little Hands Paper Bag Monsters kit has everything you need for your child to turn a classic paper bag into a colorful monster. There are more than 200 stickers, fiver paper bags, a glue stick, paper shapes, and easy-to-read instructions all included in this set. All of the bags are packaged separately so each one can easily be stored until your child is ready to craft. Children aged 3 and up will have no trouble following the step-by-step instructions as there's no reading required. Your little one will increase their fine motor skills as they work to peel and place the stickers and glue on fun paper shapes. This craft will stimulate your child's imagination and encourage them to engage in pretend play. This is a great kit for beginners as it teaches your child techniques that they can use in future projects.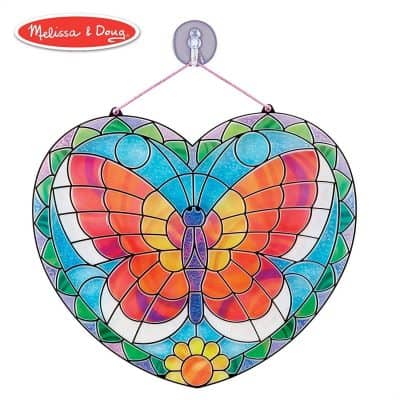 The very first stained glass kit featured a cool design featuring plastic inserts that were able to be painted. When you held it up to the sun or a light source, it seemed to glow from within. Melissa & Doug have created an updated version of this with a fun butterfly design as well as stickers rather than paint. This craft couldn't be simpler, just peel the stickers, press the colors where you want, and hang in the window to watch this butterfly come to life. You no longer need to worry about your kids making a mess when they want to create stained glass art. Some psychedelic-looking stickers and cute butterfly design, and they'll be handing up beautiful creations in no time.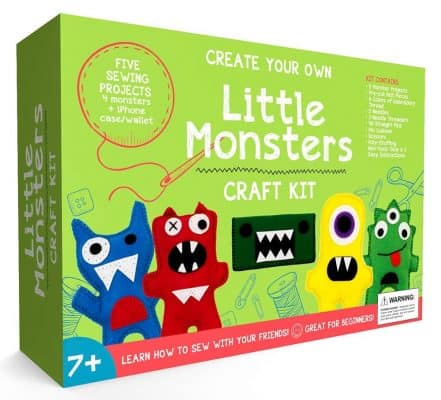 These forest animals are adorable and what's even better is they're easy for your kids to make. Craftster's has created a well-thought-out sewing kit that's perfect for kids ages 7-12. This kit has been designed for more than one child and comes with a  total of five sewing needs, as well as enough supplies for five different woodland creatures. It's great for parties and celebrations and will allow kids to work together as well as help out while they learn a new skill. Additional kits can be purchased for groups larger than five. Furthermore, sewing is one of those skills that you don't realize is important until you need to hem your pants or reattach a button to your shirt. By teaching kids at a young age how to do these things, they're more likely to remember, especially if their first sewing project was a cute little animal.
It can be quite challenging keeping kids busy. With the Alex Discover My Giant Busy Box, kids can create up to 16 different projects with all the materials. They can mold a dog, create a farm college, and make a paper bag puppet. Some of the materials included are; buttons, dough, flowers, eyes, bags, frames, doilies, paper, boards, and so much more. It also features some instructions to help guide kids in creating something great. The kit is best for kids over the age of 3 years old. Some creativity, a bunch of crafting materials, and positive directions allow kids to be able to express themselves. This set includes enough materials to create some fun projects that little ones will love doing. The instructions included inspire a creative direction, but the rest is up to them. It's a fun rainy day activity that'll keep your kids engaged for hours.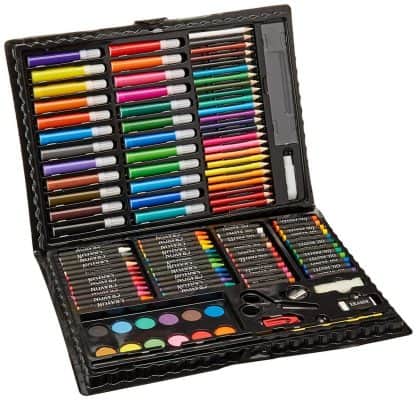 The Deluxe Art Set by Darice is a versatile gift choice, in that, it comes in four different sizes. There's a 68-piece set, an 80-piece set, a 120-piece set, and a 131-piece set. No matter which sizes you choose, the set will include markers, crayons, oils pastels, watercolor cakes, palettes, paint brushes, and color pencils. That's a good long list of art supplies, and it also comes with a sharpener, a ruler, a pair of scissors, an eraser, and a sponge. To make life easier, all of that comes in a convenient carrying case that's small enough a child can carry it to school or elsewhere. Overall, this set is a good deal.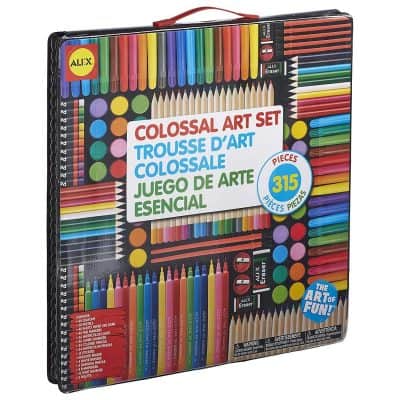 The Artist Studio Colossal Art Set by Alex Toys is geared towards those children that already have a good grasp of drawing and coloring. This art set for kids comes with 315 pieces of art supplies. A partial list of those art supplies includes 40 large sheets of heavyweight paper, 36 watercolor cakes, 36 jumbo markers, 48 fine tip markers, 40 crayons, 20 oil pastels, 12 colored pencils, 12 watercolor pencils, and many other accessories. This is a great set for children to improve their artwork and boost their creativity.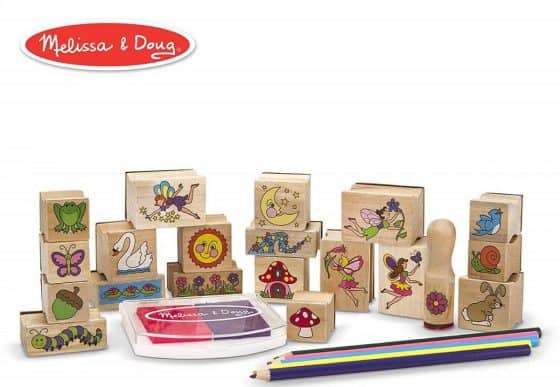 The Stamp-a-Scene Pad: Fairy Garden by Melissa & Doug is really an accessory to the other drawing and coloring sets. Once a child has drawn something, the child can add special flavor with their choice of twenty different fairy garden stamps. It's quite evident that kids love stickers. This set is better than stickers because they use the ink pads so they don't run out of stamps. It includes a 2-color pad plus 5 colored pencils. This set is going to be great with your kids.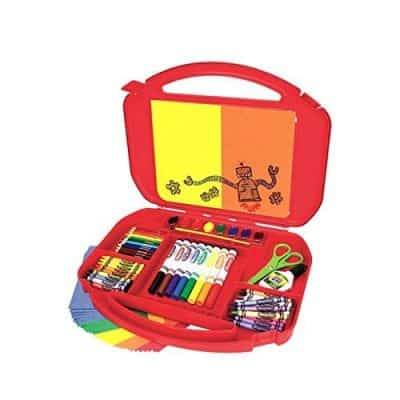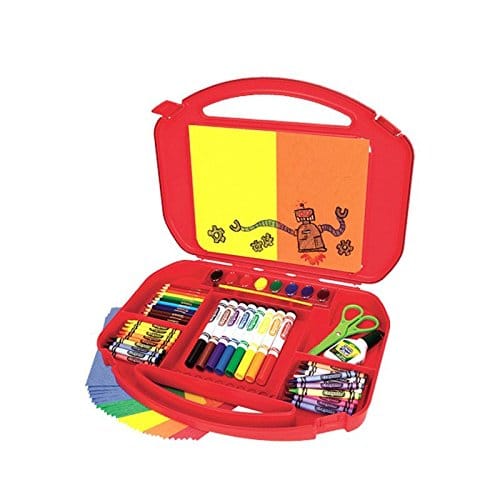 The Ultimate Art Case with Easel by Crayola will be a nice starter art set for younger children. The Ultimate Art Case with Easel comes with crayons, markers, colored pencils, some washable watercolors, a paint brush, 30 pieces, or colored paper, a pair of safety scissors, and some washable glue. All of these items are stored in a carrying case so that the child can take this to school, on a long drive, or even over to grandma's house for an overnight.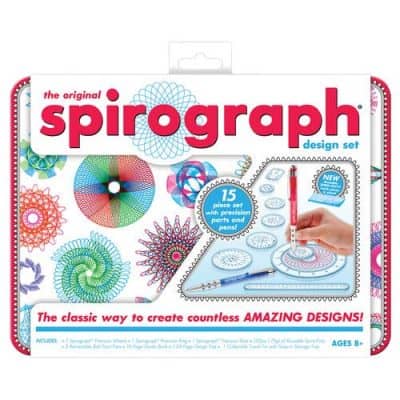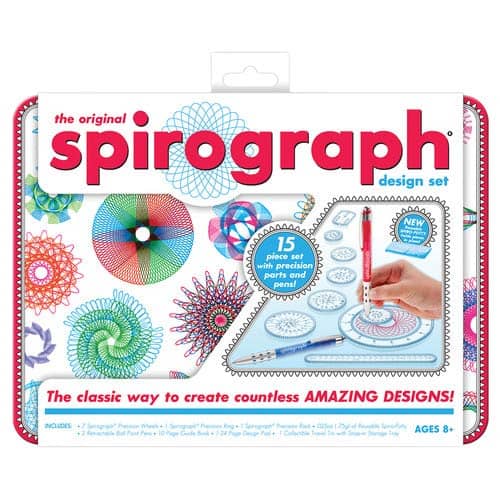 The Spirograph Design Tin Set by Kahootz is a unique art set, in that, it's completely based on drawing spirals. It's truly amazing what drawing spirals can produce. Any child will have fun drawing things like flowers, gears, tornadoes, and hurricanes. The kit comes with nineteen different gears that children mix and match to create wonderful patterns. This drawing kit will open the child's eyes to great art possibilities. Besides, this among the top rated art sets.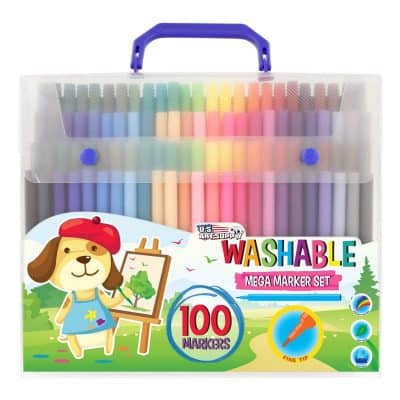 The 100 Mega Count Washable Marker Set by US Art Supply contains one hundred washable markers. Markers are the next step up from crayons. Little children love crayons, but as the child grows, they want something more. This set comes with so many different colored markers that a child will be happy for a long time. And best of all for, the parent, these are completely child-safe and 100% washable.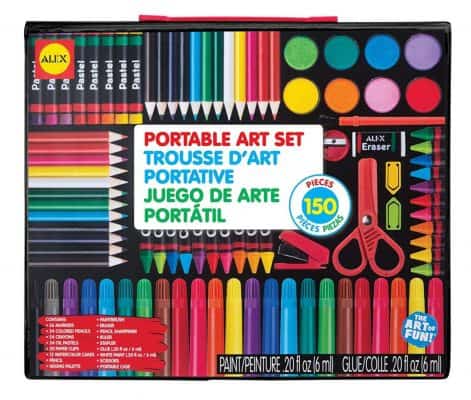 The Artist Studio Portable Art Set by Alex Toys is a complete set of art tools for any child. The quantity of items contained in this kit is kept to a manageable size so that this set can be portable. You can easily take it on a long drive in the car, to a friend's house, to a friend's house, to school, or to grandma's house without losing any pieces. Still, this kit contains all the items that a young child will need. These include watercolor cakes, large tip markers, fine tip markers, and crayons among others.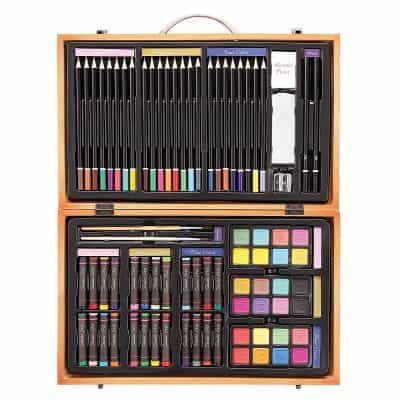 This Deluxe Art Set by Darice will make your skills shine with an unmatched experience. The premium crafted kit lets all artists from beginners to experts get real experience and quality work. It features 24 watercolor cakes, 24 color pencils, 24 oil pastels, 2 paint brushes, and other vital accessories. The case is elegant and robust to keep the tools intact and safe. Boasting wood construction, it holds the accessories tightly to ensure maximum safety. Moreover, the nap shut handle lets everything remain in place while moving it. The lightweight design is also outstanding as it allows you to enjoy your art whenever without bulkiness.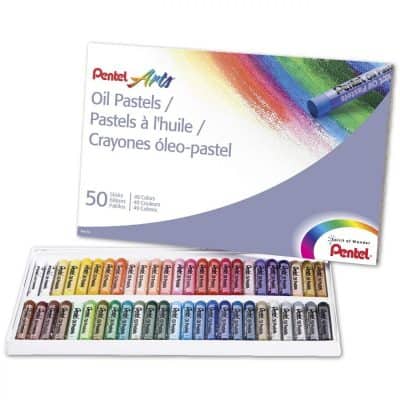 The fun of coloring extends from kids to adults. This is why this color set is available to make your work thrilling. The coloring accessories are safe and won't affect you or your child's health. Therefore, the kit is ideal for all ages use. This set comes with an assortment of colors, unlike other sets. The 50-colors will give you unlimited color mixing for fantastic results. Unlike chalk pastels that will last for only a few days, these are durable making them ideal for more fun. They work perfectly under all conditions with high resistance to humidity effects thus great consistency. Moreover, with acid-free design, they are ideal for papers, canvas, and boards.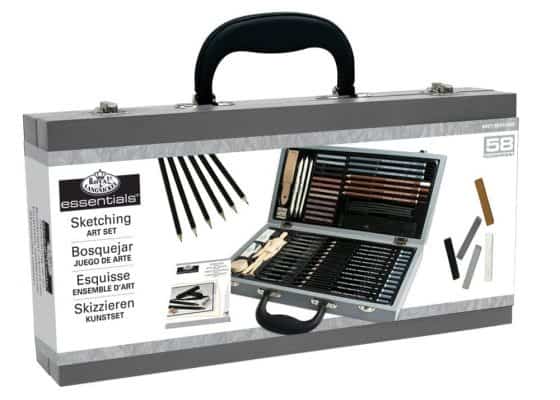 With this artist box set, it's easy to mix your tricks and expertise to deliver incredible performance. This is a premium kit with high-quality drawing tools for exceptional sketching and drawing. Every tool in this kit is useful and ready for utilization. Regardless of whether you are a beginner or expert, the box is full of versatile tools. With this, it becomes easy for kids to experiment with perfect color combination sketching and drawing. As a result, it's an ideal kit for nurturing talents. With this art box set containing an array of tools, they're essential and vital to keep your kid going. It includes 12 graphite pencils, 5 compressed charcoal sticks, 6 compressed graphite sticks, sharpener and more. The wooden storage box is sturdy and secure. It can be used as a drawing platform for great convenience.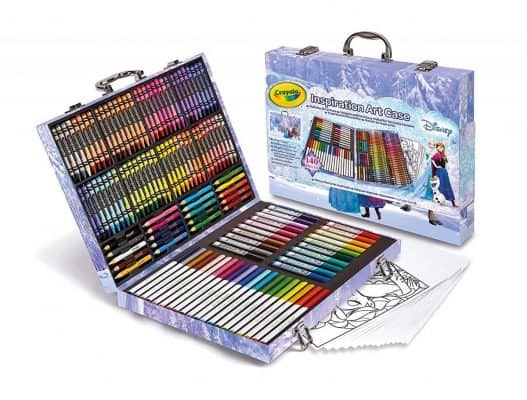 This Frozen Inspiration Art Case from Crayola brings great inspiration to everyone, whether kids or adults. The tools within give your work an excellent touch. The ability of your child to draw and color their pictures has been made simple with this art case. Each set boasts of 140 pieces dedicated to drawing. A combination of crayons, short colored pencils, washable markers, and others makes a perfect combination for drawing and sketching. Besides, the casing is durable to keep everything safe. With neat and organized drawing pieces, it makes it easy to retrieve when drawing.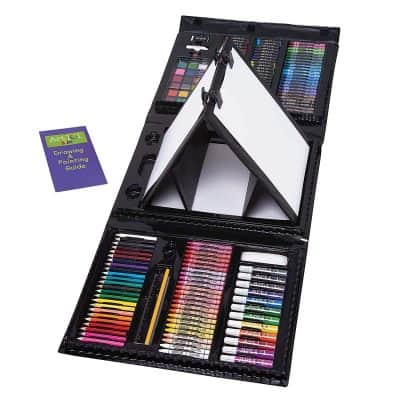 One of the qualities that every parent should choose this set for their kids is the double-sided trifold easel. You don't have to buy a separate drawing platform. This has a pop-up drawing easel for instant action. Whether you're on vacation, or outdoors, it gives kids comfortable and enjoyable time. They can draw and color everywhere hence keeping them engaged. Besides being greatly portable, the set comes with a variety of drawing pencils and markers. All featuring tools are kid friendly and non-toxic hence maintaining health and safety. It comes with 48 crayons, 18 watercolor cakes, 12 markers among other essentials.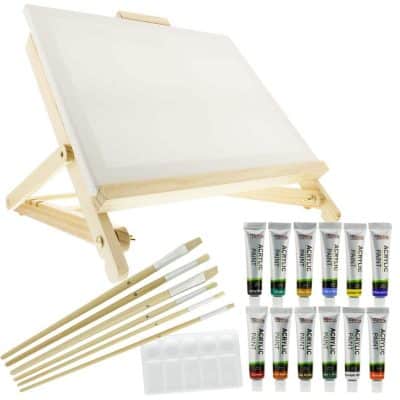 The US Art Supply Acrylic Set gives you the best performance and experience while in the field. It's ideal for all level of artists and features a laptop easel for instant drawing. Therefore, whether outdoors relaxing or traveling, your kids can enjoy drawing. Unlike other sets, this comes with professional drawing brushes making it possible to enjoy your favorite type of brushes for excellent work. Each of the six brushes has a unique shape and structure giving your kids the perfect painting as well as drafting.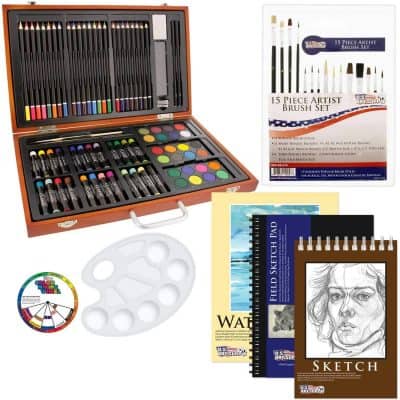 This art set has been designed with a  variety of essential items and delivers great versatility and ease of use. Amazingly, you don't need to buy drawing charts once you acquire this kit. Instead, it has sketchbooks that ensure you enjoy drawing everywhere. Whether traveling or relaxing, books are small and easy to carry. Moreover, it boasts of 24 color pencils, 24 oil pastels, 3 mixing trays and brushes among others.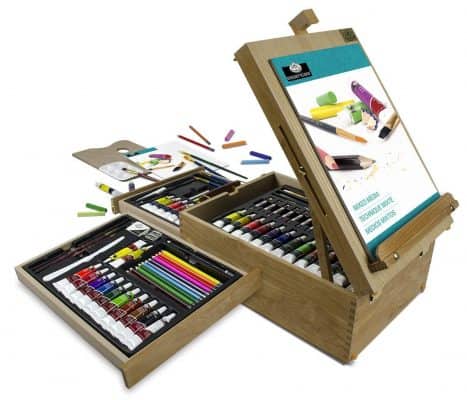 This All Media Easel Artist Set by Royal Langnickel is the perfect choice for every artist whether kids, adults, beginners, and professionals. The sleek case is made of wood that's highly sturdy to keep your tools secure. Amazingly, it converts easily into an easel which allows you to draw while everywhere. With the interior offering an organized structure, it makes you like easy even when retrieving your tools. It features oil paints, artistic oil pastels, watercolor sheet papers, sharpeners, and ruler among other essentials. Despite having a variety of components, the box is compact and easy to carry.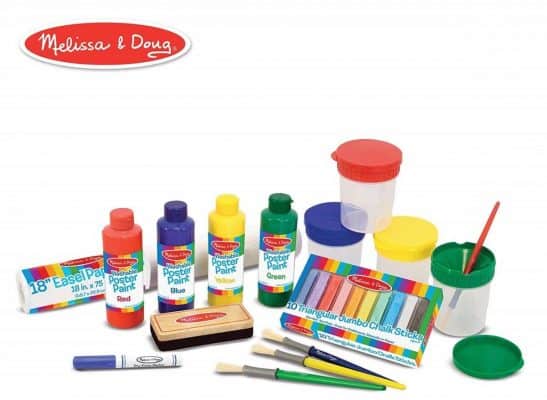 This art set is everything your child needs to start creating masterpieces when inspiration strikes. The variety of painting materials which come in large sizes will allow them to paint for a long time and you'll be able to save money. There are 4 poster paint packages in easy-to-squeeze 8-ounce bottles. The colors are red, blue, yellow, and green. The 4-spill-proof paint cups allow mixing of the paints with water without mixing them with the rest of the colors. In this set, you'll also get 4 medium-size paintbrushes, a dry-erase marker and eraser, and a roll of white bond paper. If your child ever gets tired of painting onto a paper, this set includes 10 jumbo colored chalk sticks to draw while playing outside.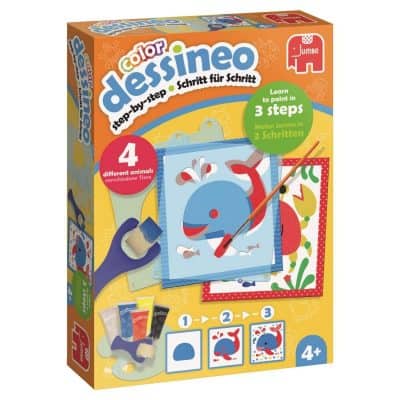 This is a learn to paint kit that lets you paint an octopus, elephant, crab, and whale, using stencils in an easy-to-follow 3-step process. It includes 5 stencils, 5 paints, 4 sheets with a colored border, a roller, a brush, and a palette.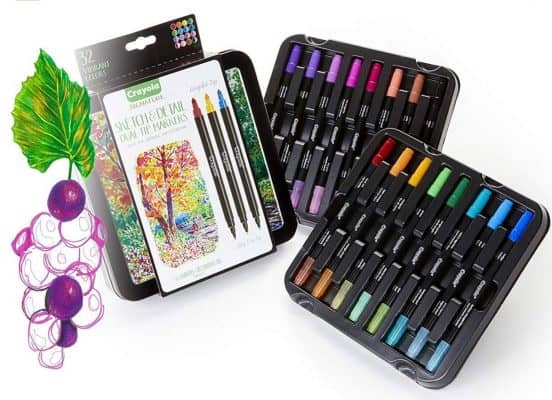 This set can mean fun for the entire family. Children can enjoy the high-quality markers and the sketch papers whereas adults can boost their drawing and sketching skills with the 32 double-tipped markers.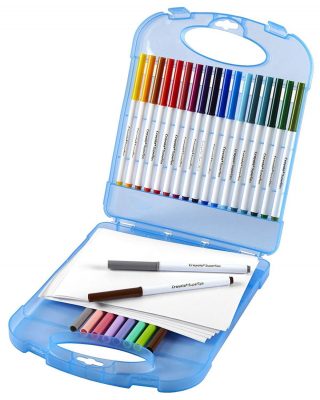 Introduce the basic of drawing and coloring to your child with this extended set by Crayola. It has 25 markers and 40 sheets of paper for your little one, and all washable markers for your convenience. It also comes with bonus sketches that your child can color. This is a great boost for kids to draw better elements.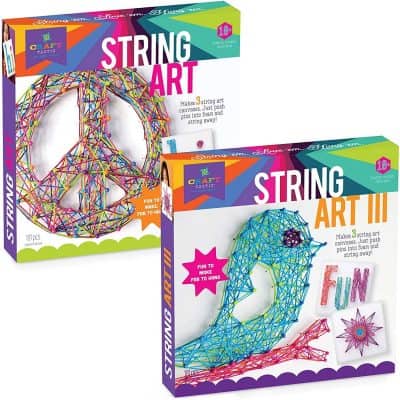 String crafts are so interesting and allow kids to creatively express themselves with some simple materials. This kit includes 3 different foam square canvases to create a string art on along with all the materials to create the designs. The set does feature templates for helping to design the art or it also allows the little crafter to create their own design. No hammer or nails are needed as you only need to simply press the pins into the foam board to create the design and string away. Once the string art has been completed, they make awesome decorations to hang up in their rooms. Art created with strings is one of the most interesting crafting activities that kids will have. These sets include everything that's needed for kids to sit right down and start creating a fun display. The cool string art that they create is a great way to encourage sensory system development. The pushing and pulling as they create something cool right before their eyes are amazing.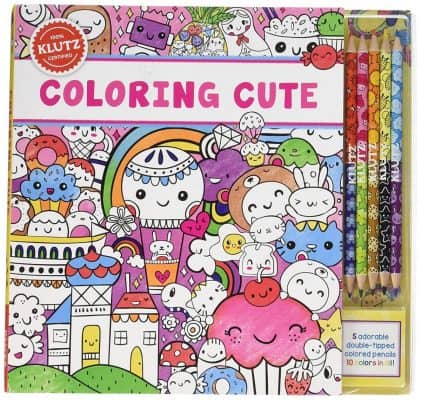 The Klutz Coloring art set lets your child bring the cutest characters, sweets, and monsters to life. The great thing about this art set for kids is that it comes with 5 double-tipped colored pencils in 10 colors and a coloring book of 72 pages filled with imagination boosting patterns. Let your little one develop fine motor skills by coloring within the line of the drawing. An art set like this will encourage their interest in different patterns, color combinations and a better understanding of art.