Top 29 Best Scooters for Toddlers 2023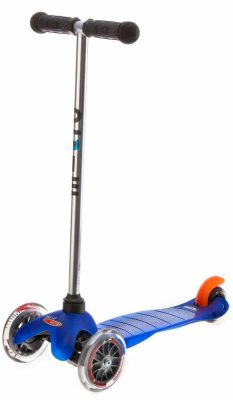 The Micro Kickboard Mini Scooter is perfect for children aged between aged 2 and 5 years old, making it perfect for younger kids if a bit too slow for older ones. Kids love that this scooter has a lean-to-steer design. It has three wheels and low-to-the-ground, which contribute to its stability.
The lean-to-steer mechanism enables kids to learn to turn, which is a necessary skill that is used for balance and coordination. Your child will not disturb your day with noise, because this scooter has a smooth and quiet ride.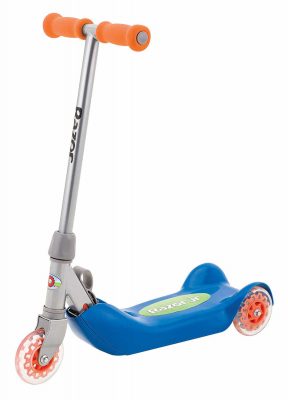 Razor Jr. Folding Scooter is a 3-wheel scooter that provides a lot of stability for new beginners. This scooter is made up of high-quality aluminum, steel alloy, and plastic to give it durability. The folding mechanism allows you to store it conveniently and it can fit in the car when you're traveling.
The urethane wheels hold on nicely to most of the surfaces and the grip has soft foam handles ideal for small hands. This is an easy to assemble scooter, which means it won't take you long before your child starts riding it.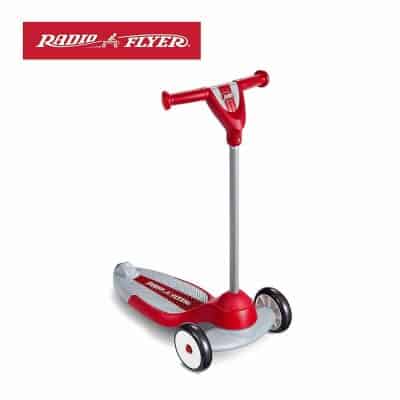 My 1st Scooter is designed for beginner riders and it comes with a wide base to help kids find the right balance. It has a wide base which is near to the ground and features two wheels in front to give children more stability and safety.
The hand grips are comfortable for small hands. It has a good turning radius which provides safety while it's mobility is not affected. The deck is textured for extra traction and stability as they are riding. This scooter is ideal for toddlers aged between 2 and 5 years old.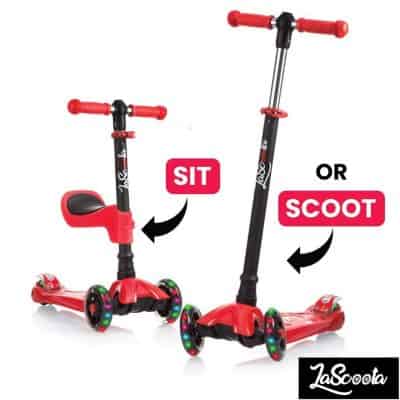 Lascoota 2-in-1 Kick Scooter has a feature which makes the turning wheels to light up in different colors, providing plenty of fun to the ride. It has an adjustable and removable seat for the kids to ride-along or they can adjust it to scoot mode when they gain some confidence. The handlebar features 4 adjustable height options which can be changed to suit the height of your toddler.
This scooter is designed for kids aged between 2 and 8 years old. This is a self-balancing scooter which has a smooth ride, the right stability and support for your toddler. This means it moves smoothly even on rough and bumpy surfaces. The extra-wide deck that fits both feet will ensure that kids find the right stability. It's made up of aluminum alloy and strong stainless-steel parts to make it durable.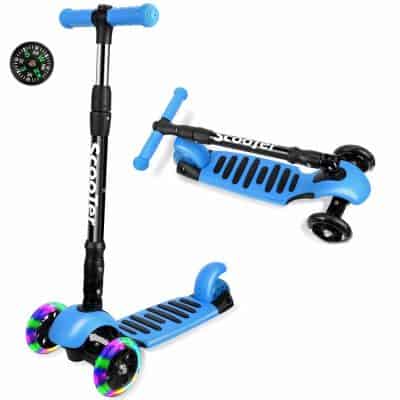 Icode Scooter is a three-wheel design that provides a lot of stability for kids. It has wide and sturdy pedals to ensure the little ones don't slip and they are safe while riding. The anti-slip handlebar and twisting lock gives more grip and control. This scooter will grow with your child as it's made up of a durable aluminum frame and carbon steel alloy.
The front wheels flash, making it fun and cool for the little ones. It's suitable for kids aged between 2 and 8 years old. The rear brake design makes it easy to stop quickly because your child will just have to tread on the rear brake.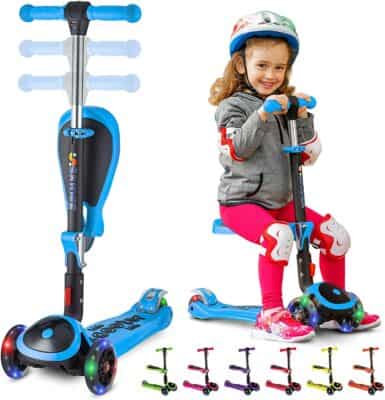 The Scooter for Kids is suitable for children aged between 2 and 8 years. It's has a seat which can be folded up to make a fast and comfortable ride. The seat can be placed in front of the handlebar, waiting to be used at any point in time. The lean-to-steer is perfect for children to learn how to turn around sharp corners.
This scooter provides entertainment and safety to kids through the wheel flashlights that spin around. The lights make it easy for a parent to observe in the dark how your child is scooting. It has a wide brake pedal to stop the scooter safely and easily. The grip is secure and comfy as they are made up of padded rubber so that kids don't have to complain about sore hands.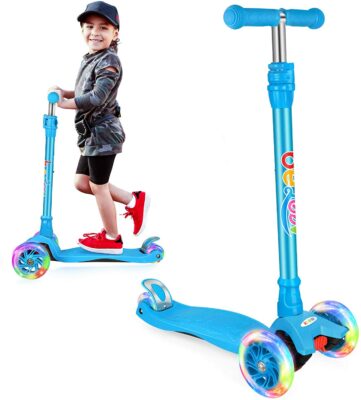 BELEEV Kick Scooter has a 4-level adjustable height to enable you to adjust it to fit your kid's height. The wheels light up as your child scoot to add fun to the ride. Just lean the scooter to steer, making it easy to ride. This scooter is lightweight so that your child can have better control turning.
The large aluminum rear wheel foot brake helps your child stop the scooter quickly. The non-slip deck and ABEC-7 bearings make the scooter glide smoothly and quietly. This is great because your kid will have a safe and comfortable ride for hours. It's also sturdy enough to carry children of up to 110 pounds.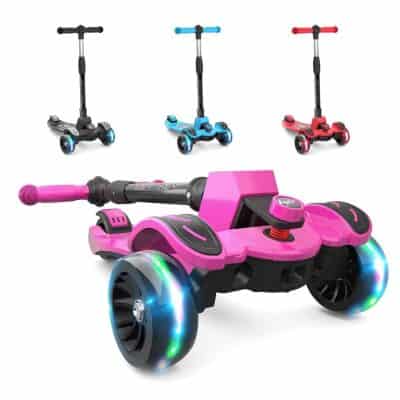 6KU Kids Kick Scooter comes with an adjustable handlebar to accommodate children aged between 3 and 8 years old. It has 2 large LED wheels in front and rear LED wheels that light up as your child rides. The lights are bright enough to be conspicuous during the day. The wheels are safe to be used on wood floors without leaving behind any scratches.
This is a lean-to-steer scooter which offers great control while turning. Your child is going to improve their coordination and balance as they ride. The wide deck can hold up to 110 pounds and it's wide enough to put both feet on the deck.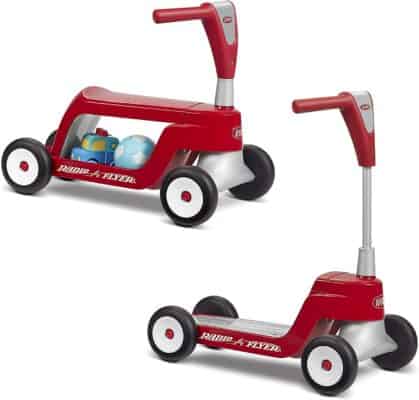 Radio Flyer Scoot 2 scooter features a flip base that your child can ride on or else it can be transformed into a scooter. It's easy to convert it and it doesn't require any tools. It comes with four wheels to allow beginners to have better stability as they improve their confidence levels and balance.
It has under seat storage, a sturdy frame, and it has durable rolling wheels for durability. This scooter has a capacity of 44.1 pounds. The adjustable handlebar provides options to accommodate kids of all heights.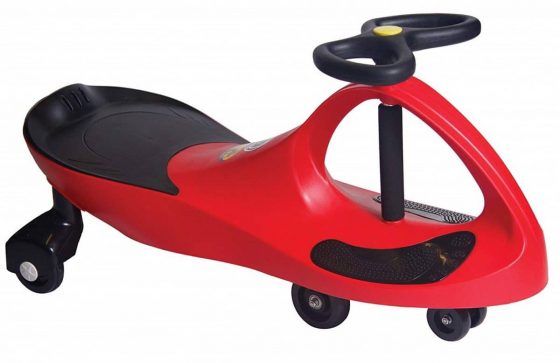 The Original PlasmaCar is suitable for kids aged between 3 years and above. This scooter is able to reach speeds of up to 6 mph or 10 km/h to give more fun for the kids. It's easy to use because your child just needs to place their feet on the footrests and turn the steering wheel to get riding. As children get used to moving faster and more precisely, their motor skills improve.
This scooter is also perfect for beginner riders because they can push it with their feet to get it moving. It's designed to provide a smooth and quiet ride as it doesn't have electronics or a motor installed in it. It turns well in small spaces indoors and your kid can also ride it outdoors.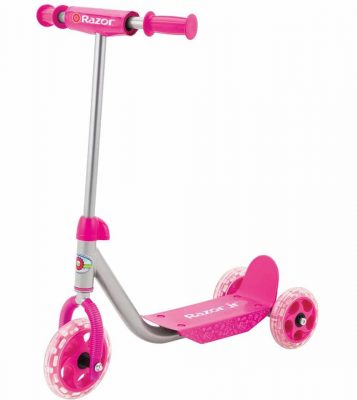 Razor Jr. Lil' Kick Scooter has a wide deck which is slip-resistant to keep your child safe on their feet. It's a low-profile scooter that helps kids scoot easily while having fun.
With its large smooth-rolling wheels, children will find it easy to roll and it gives them a balanced ride. The flame is sturdy and made of steel for durability. The soft grips are for a better feel while riding and the wheels are made of polymer for good grip on the surfaces.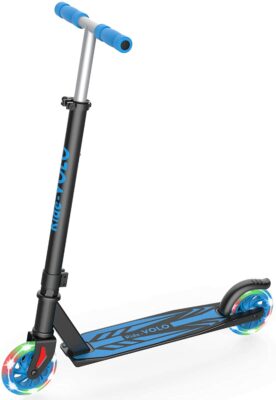 At a reasonable price, this scooter from manufacturer RideVolo is pretty impressive. While most toddler-oriented scooters have three wheels to make balancing easier, this model from RideVolo is virtually a miniature professional model, with all of the great features that a full-sized model might have.
It's got a sturdy metal deck that holds up to 110 pounds, and it's wide at 4.7 inches, making it great for tricks. The handlebars are adjustable, which means they can raise as your child grows. There's one last touch: LED light-up wheels, which will make this a favorite of any young rider. One con, though, is that it's a bit heavy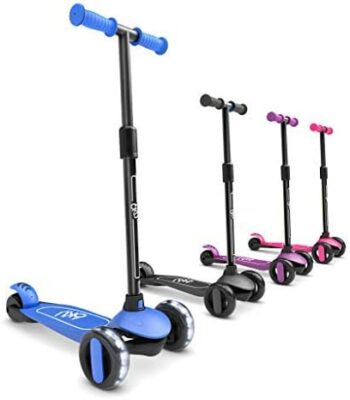 This model from manufacturer 6KU appears expensive at first glance, but it's incredibly feature rich at a second glance, making well worth the price in our book. It's a three-wheeled scooter, and both front wheels light up, which isn't only cool for kids, but improves safety when scootering in the evenings. An adjustable stem and handlebar will grow with your child, while a non-slip deck plate allows your toddler to make quick turns.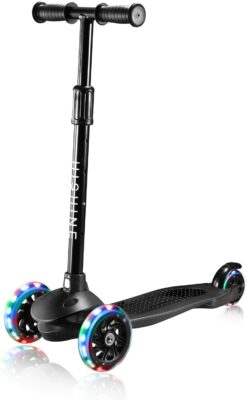 This toddler, with it's black and blue styling, is perhaps designed more for boys than girls, but works for any child. It's got three wheels, helping with balance and steering, although, like any scooter, it will take a bit of time to learn. It's incredibly adjustable, accomodating kids from 2 to 8 years old. This means it can be used by multiple kids or grow with your child. It's foldable, mainly plastic, and lightweight.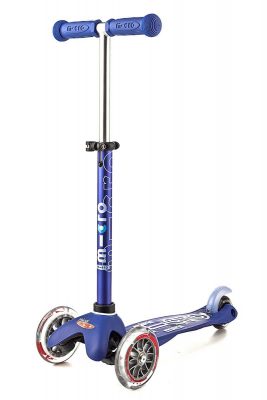 Micro Mini Deluxe Kick Scooter has a weight capacity of up to 75 pounds and an adjustable T-bar to accommodate kids as they grow. It has smooth gliding wheels and a deck which is low-to-the-ground to make it easy to ride.
Young toddlers will love the stable steering of this scooter which provides long hours of fun. This scooter has a lean-to-steer design, meaning that your child will use their body's weight to lean to the right and left to steer it. The flexible fiberglass reinforced deck ensures that it absorbs bumps.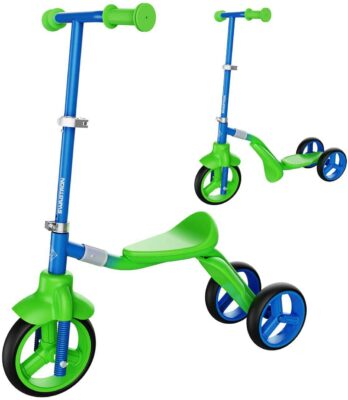 Swagtron K2 Toddler is a 2-in1 tricycle that can convert from a scooter to a tricycle by simply twisting and clicking it. The 3-wheel design prevents your kid from tipping over and provides a lot of stability. It features an adjustable stem to make sure that children of all heights can use it.
This scooter is suitable for kids aged between 2 and 5 years old. You don't have to worry about the weight of your child because it's designed to hold children up to 44 pounds. The frame is made up of high-quality material for your child to have many years of riding.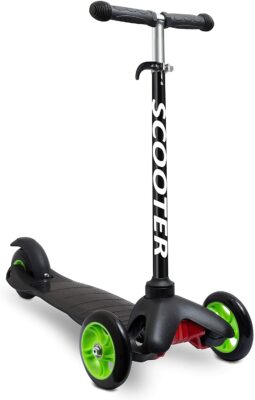 Scooters for Kids Toddler Scooter has a 3-wheel design and a T-style handlebar that locks in place to give it stability. The wide deck ensures that your child is safe while riding. The wheels are made up of high-quality material to give it a smooth and quiet ride. In addition, it has great bearings that reduce excess vibrations.
This scooter was built to last long as the frame is made up of aluminum and it has carbon steel alloy. Handles also have got comfort grip pads for the little hands. The easy to use rear brake will quickly stop the scooter when pressed.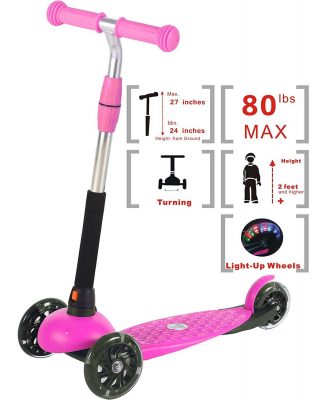 Voyage Sports scooter is suitable for kids aged between 2 and 5 years old. It can handle a weight capacity of 80 pounds. This scooter has light up wheels to provide a lot of entertainment to kids. The variety of colors create a high flashlight in the dark for kids to see where they are riding.
The adjustable T-bar ensures that kids can use it as they grow. The low-ground deck design provides children with a perfect balance. This is a 3-wheel scooter that has good stability to keep children safe. Plus, it comes with a rear fender brake to stop the scooter, and a durable steel aluminum frame makes it long-lasting.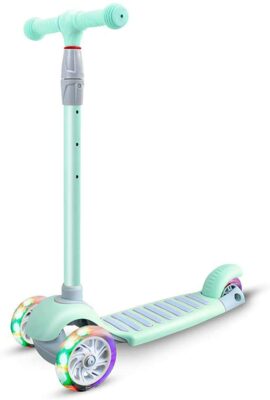 67i Kick Scooter features a 4-level adjustable handlebar, which means your child will keep on using it as they grow. The adjustable height options accommodate kids aged between 2 and 14 years. It comes with PU flashing wheels, 2 front LED wheels and one on the rear part of the scooter. The lights are powered by rolling, so they will get brighter the faster the scooter moves.
This scooter can be used indoors or outdoors. The 3-wheel design enables kids to have stability and support while offering a smooth ride. The lean-to-steer mechanism allows children to have better control when turning and balance. It also has a rear-wheel foot brake for an easy stop.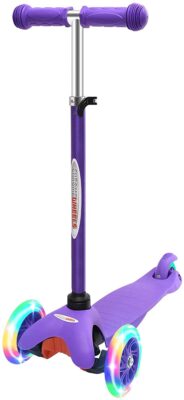 ChromeWheels Scooter is suitable for toddlers aged between 3 and 6 years old. The three wheels ensure that children have the perfect balance to make it easy for scooting. The handlebar is adjustable to cater for all kids. The maximum weight for the scooter is 110 pounds, which is great as it can be used for a long time while the kids grow.
Another important feature is the rear brake pedal which is easy to access to make it safe and have a quick secure stop. The PU wheels light up and they have magnetic steel that brightens as the scooter gains speed. The ABCE-7 bearings provide a smooth and speed glide. This scooter has a long-lasting aluminum frame. The anti-slip deck makes it a safe and stable ride for your toddler. It has a detachable design for easy storage, which also makes it convenient for traveling.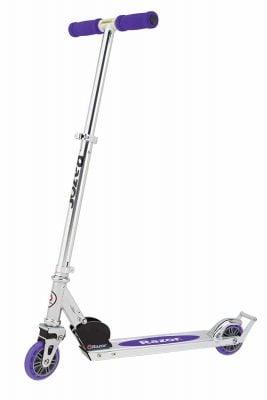 When you think of a classic childhood scooter, you're probably thinking about a Razor. These bombproof scooters have a full-metal construction that's impressively durable. They're easy to learn and have a single rear brake, although they're a bit more difficult to use as they only have two wheels.
For ages five and up, something like this is a great step up from a three wheel scooter, but its large and heavy for younger scooter riders.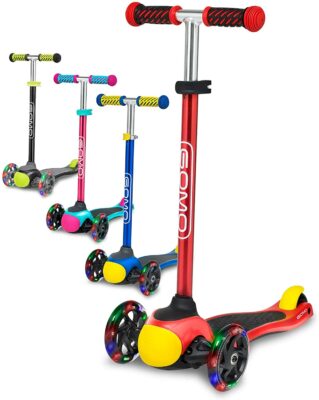 This scooter has been blowing up lately, a great option for any parents seeking a durable and well-equipped three wheel scooter for their toddler. While it's primarily made of metal, it's still light enough to carry without much trouble, and it folds away for transport.
A rubber grip deck helps little tykes keep good grip, while a wide deck makes it easy to balance. The grips are ergonomically molded so that they're easy to handle, while the polyeurethane wheels absorb bumps in the road. It comes equipped with a two year warranty.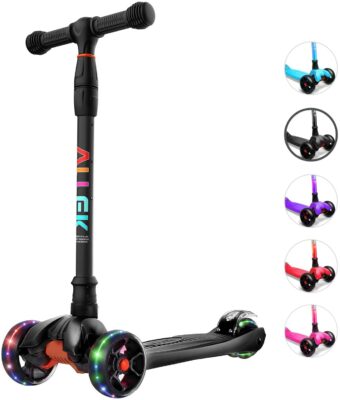 With light-up wheels and a matte-black coat of paint, this scooter looks straight out of a science fiction film. Light up wheels activate immediately while the polyeurethane material doesn't scratch floors indoors. It's also got a safety brake and a 100% satisfaction guarantee.
It's got four levels of adjustable height, which is impressive, but doesn't have the continuous adjustability of some scooters. This scooter relies on four distinct notches, meaning you might not always have a perfect fit for your toddler.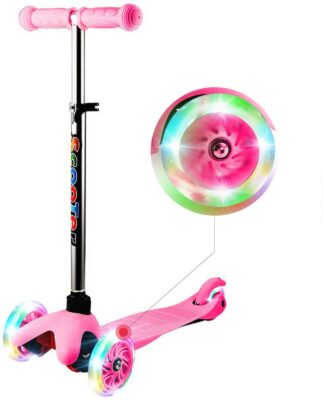 The Hikole Kids Toddlers Kick Scooter has a 5-in-1 mode and is suitable for kids aged between 1 and 6 years old. This scooter comes with a baby walker, a stroller, a sitting mode scooter, standing mode scooter, and a surfing scooter. The scooter features an adjustable and removable seat as well as an adjustable back handle for parents. This handlebar is adjusted to make it grow with your kid.
Other features include a lean-to-steer element, low-to-ground desk, anti-shock pedal brake that has a fender to make it safe for children, and a soft hand grip. The removable front basket can be used to keep items such as toys to make it convenient for toddlers and parents.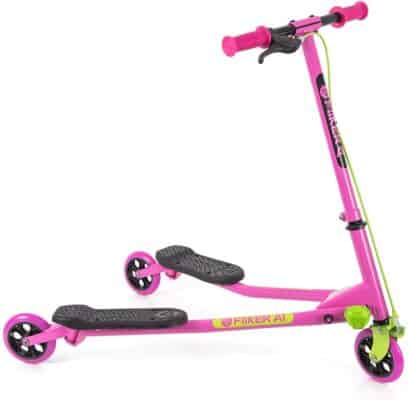 While this Y Fliker scooter might at first glance look pretty similar to a standard scooter, it's actually hiding incredible innovation: the self propelled scooter doesn't require you to put your foot down, instead moving forward as the user carves back and forth.
It's foldable, safe, and has a lightweight construction. Best of all, they offer a 100% quality guarantee, although be aware of the fact that younger riders (anyone four and under) might be better off with something a bit more stable.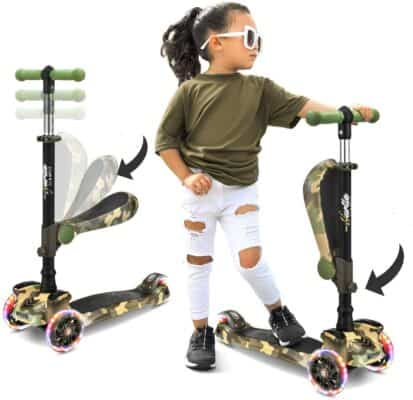 This design from Hurtle is similar to other three-wheeled toddler scooters except for one thing: this scooter has a seat. It folds down from the handlebars, enabling your toddler to use it conventionally or to sit down and push forwards while seated.
It comes in eight different colors, with each design featuring a new, cool pattern. There's camouflage, a futuristic rainbow design, and more. Watch out for the brake, however, as it's a relatively flimsy piece of plastic that doesn't inspire too much confidence.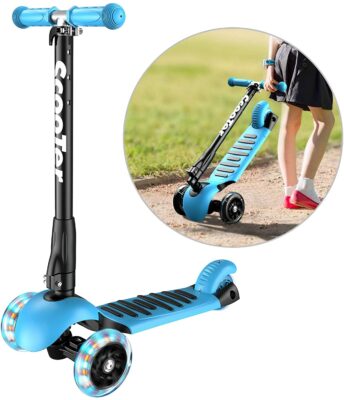 This scooter from Banne is a great option for beginners with a wide deck and grippy surface. It's got great colors, nice finishes, and light-up wheels. While we generally see largely-plastic construction as a negative sign with scooters, we actually like it for this scooter. Since it's got so many beginner-friendly touches, we figure this will take a lot of abuse, and the plastic is less likely to cause damage to furniture (or your toddler, for that matter) than metal.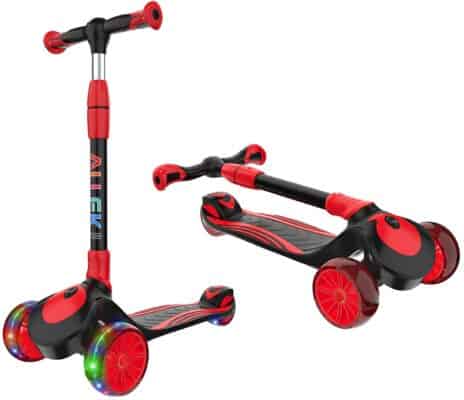 The Allek scooter is a great present for toddlers who can ride outside. It's lightweight plastic construction folds up, making it perfect for any toddler who loves to bring their scooter everywhere. It has a lean-to-steer mechanism so your kid can learn balance while piloting the colorful scooter. It also features a wide brake pedal for children to stop safely and easily. The comfy grip ensures that your child's hands are not hurt as they are riding. It's a bit pricey for its completely-plastic design.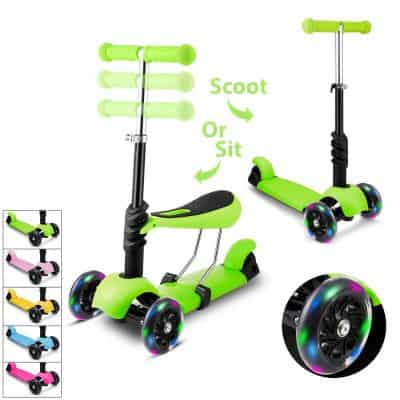 WeSkate Kids Children Scooter has an adjustable handlebar to change depending on the kid's height to enable it to grow with the child. This scooter is great for children aged between 2 and 8 years old and it has a weight capacity of 115 pounds. It has an easy to fold design with a removable seat for easy storage.
The removable seat weighs just 5 pounds, making it easy enough for kids to carry it around and travel with. The scooter turns by leaning for great balancing and coordination. Babies will love to sit down on this comfortable seat. While riding, the toddlers will develop motor skills, gain confidence, and will have plenty of time to play outdoors.