Top 30 Best Water Toys for Kids 2023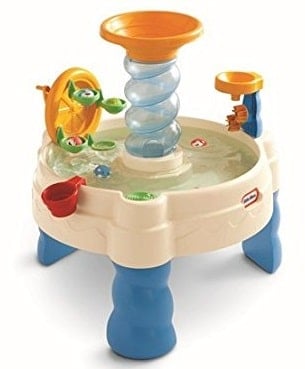 If you're looking for the best water toy play table that enhances fine motor skills, then this is your ultimate deal. Little Tikes is a reputed manufacturing company that produces kids' items that offer much fun. The table holds 7 gallons of water, which is meant to keep the kids happy and engaged for hours. It comes with a cup where you pour water into the funnel to power the unique twin water wheels. The five character balls can be used as squirt balls. More so, the tool comes with a manual guide that will help you in assembling it. The table allows toddlers to develop "put and take" skills and promotes social life.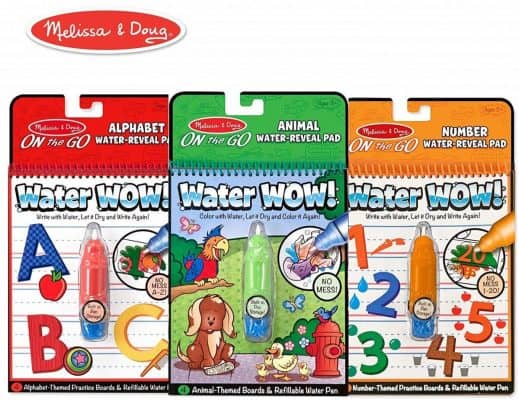 Melissa and Doug do not disappoint when it comes to making kids happy, and this water toy is no exception. It's an educational and fun way to keep kids away from the screen. The 3-pack water toy with water on the go activity includes animals, alphabets, and numbers. The reusable white pages feature colorful images when in use and simple line drawings when dry. The compact, spiral-bound of this activity pads are ideal for travel. The toy is suitable for kids aged between three and five years.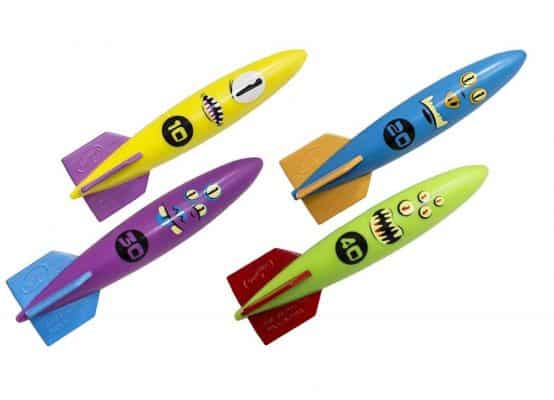 SwimWays takes children's fun to the next level. The torpedo-shaped dive toys can rocket through the pool water with fantastic hydrodynamic action, making it a great daily toy for pool parties and play. Furthermore, it encourages kids to practice swimming at a tender age. The Toypedo can swiftly glide underwater up to 20 feet. The design is ideal for kids to grip and throw. The four colorful bandits got designed around the hydrodynamic principles of nuclear submarines.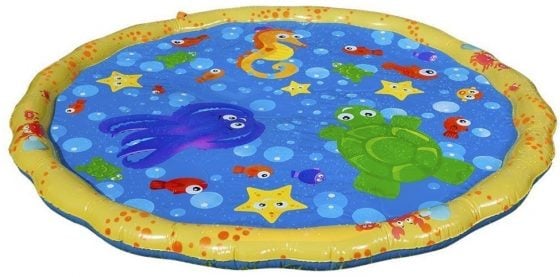 As a parent, it must be demanding to keep up with your toddler. But with a play mat, you don't have to worry about that anymore. It keeps the kids away from the screen and PC games. The 54-inch diameter water-filled sprinkler mate will keep 18+ months kids busy and entertained. More so, you can easily attach the mat to any garden hose. Weighing only 1.15 pounds, the rug is lightweight, and you can carry it with you to any destination. More so, you don't need to blow it up because water fills it up. To prevent mold from growing, ensure you squeeze the water out and hang to dry.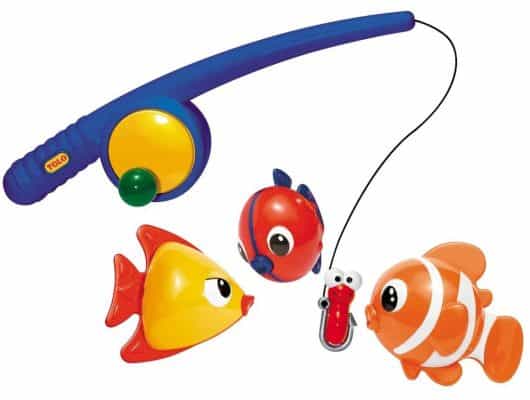 When it comes to playing, kids love imitating their parents. You can teach your kid to take a turn with you by having a mini-fishing competition. Tolo Toys is a reliable and unmistakable manufacturer that produce items that are educational and designed with durability and safety in mind. The highest grade material used can withstand kids rigorous play. Tolo bathing toy is ideal for teethers and also fuel curiosity and creativity in other toddlers. It can be used to support kids' development across their learning years.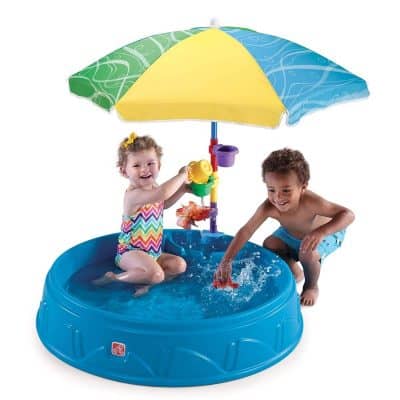 The toddler pool part comes with two molded-in seats, funnel cups, spinning wheels, and umbrella for endless and fun. The toy is designed to hold a 101.6 cm umbrella that nests firmly providing shade for your children. The pool base features molded-in seat to make the child sit comfortably and molded-in ocean creature designs for added fun. The accessory set includes a 7-piece water playset and the shade umbrella which are easy to assemble. It's made of hard molded plastic to make it sturdy and more durable.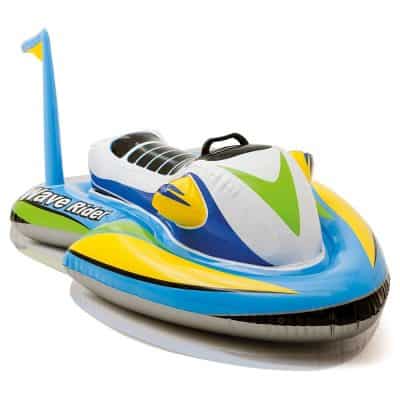 When it comes to kids' fun, Intex lead in creating fun-looking and vibrant toys to keep your child entertained. If you want your kid to have endless fun in the pool apart from swimming, then this is the right toy to invest in. The rider-on dimensions are 45 x 30 x ½ inches to make it easy to store. Furthermore, it's made of 10-gauge vinyl to make it more stable and durable. The sleek-bold design makes it attractive and a hit in the market! Children can pretend on a jet ski. For added stability, the Wave rider comes with a  broad base.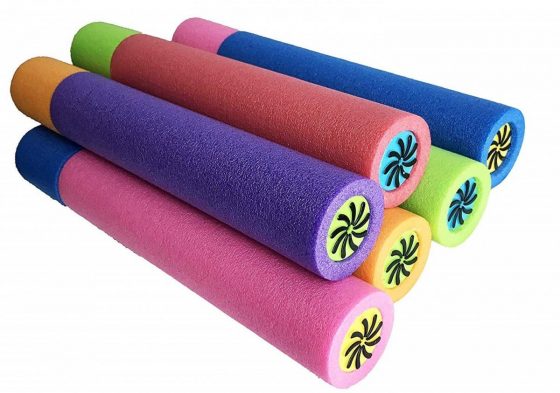 As a parent, if you have been looking for great ways to provide fun for your young one, then this water toy is the perfect gift. It offers hours of fun for a group of teens or kids. These water shooters are designed like the ordinary pool noodles. They are easy to use since the child will only pull the handle, load it with water, and take aim. To blast water, the child will push the handle and aim at the opponent. Measuring 2 x 2 x 12.5 inches and weighing 14.4 ounces, the water blaster is easy to handle, store, and transport. Each toy can shoot water as far or as high as 30 feet.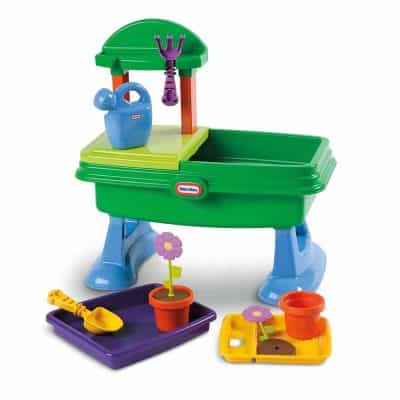 Many are the time when kids are hooked and glued on screens watching cartoons or playing games. It's time to break the boredom and present them something that will provoke their social skills. The garden table is strongly build to ensure it stands the rigorous play of kids. Kids will have fun planting and watering flowers the set comes with 12 accessories that are easy to assemble and disassemble for easy storage.
It's time to train your child fishing skills. The best thing is that you don't have to go to the lake or ocean, you can do it right from your home compound. The bath toy comes with a fishing net, fishing rod, two strain scoop toy, three squirts toy, and an organizer bag. The organizer bag makes it easy to store and carry the gadget. The toys are great for kids to play within the swimming pool or in the bathtub. Kids can learn about grasping fish with net and rod, and it promotes fine motor skills.
Allow your child to feel in charge buy getting her this beautiful and ergonomically designed pirate ship. The interactive features move the floating objects. It's designed with a center mast which is a constant-flow water fountain. You can keep the water moving by pouring or pumping water into the crow's nest. Your child will have fun by aiming and squirting water from the water cannon. Alternatively, the child can spin the steering wheel and control the anchor. The realistic ship play table makes your kid become the captain. It comes with sea-faring accessories which include a squirting shark, boat, scooper, strainer, two pirate characters, and character-sized life preserver.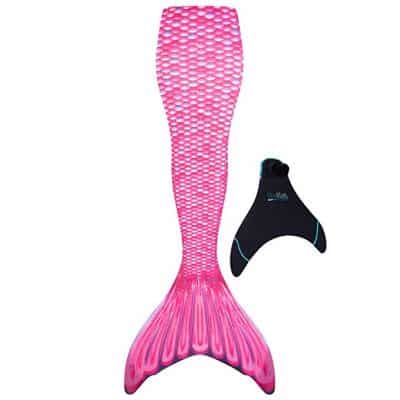 Let your girl transform into a real mermaid with this beautiful mermaid tails. These tails are ideal for adults and kids. They feature exclusive patterns made of fade-resistant, premium fabric that can stretch in four ways. This promotes hours of fun at the beach or pool. The tails are designed with reinforced tail tip technology which guards the tails against rips and tears. Made of soft, dive-grade neoprene, the patented monofin secures comfortably and snugly around the ankles for a pleasant swimming experience.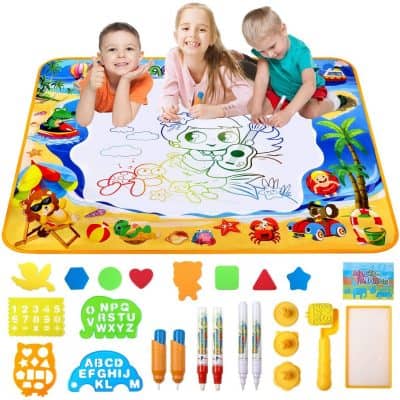 The colorful mat is endowed with large size sea world pattern to create more fun. The soft polyester material is eco-friendly and safe for the little ones. It helps the kids to draw on doodle board mat where the marks magically disappear after three to ten minutes. It's easy to use and can be folded to a compact size for easy portability. The doodle mat is suitable for indoor and outdoor activities. More so, the carpet promotes social skills by allowing your kid to interact with other children. It enhances hand-eye coordination and color perception. It develops creative and painting skills.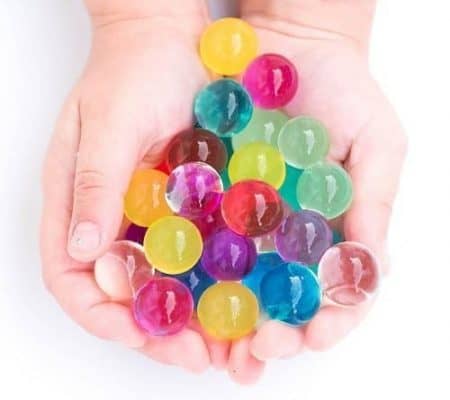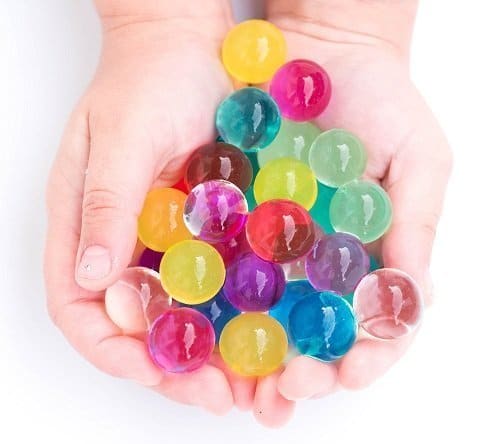 If you want an affordable toy that will keep your little one entertained for hours, then water beads should be your next investment. This is a great toy for parents with autistic kids as it offers a calming effect. The colorful magic water balls are created to capture kids' attention and encourage play. The beads also make learning fun. The ball game teaches children how to count, colors, and enhances fine motor skills.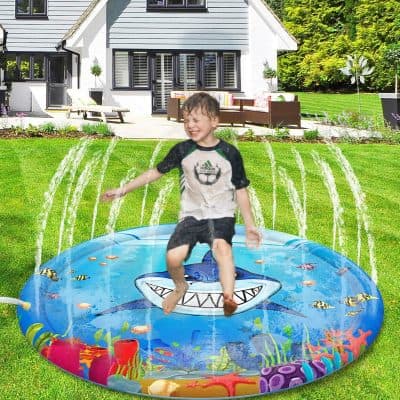 Often, children need items and products that will help them grow. This sprinkler pad allows children to play with water and spray, creating enthralling moments of passion and endless fun. At the same time, the play enriches some knowledge and help them thrive- both physically and mentally. The water toy is designed using eco-friendly, durable, non-toxic PVC fabric, and dielectrically welded to ensure unparalleled quality. It's an easy-to-use mat which you can insert into a garden hose. The installation takes a few minutes.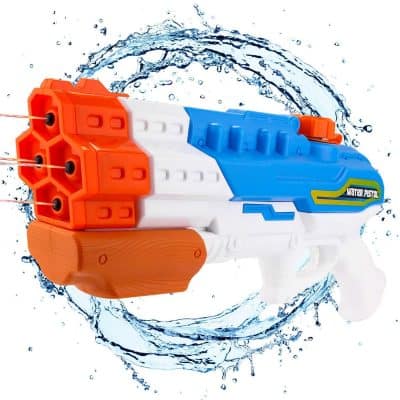 Are you worried about your kids being on the screen all the time? Worry no more. This great water toy will keep them entertained outdoors. The water gun is made of high-quality ABS plastic material which guarantees durability. It has a moisture capacity of 1200CC with 4 streams. The shooting range of this gun is between 26 to 32 feet away. The versatile gun can be used in a water park, at home, and in seaside. The toy is not only fun to use, but it also develops kids' intelligence and eyesight. It also enhances emotion and relationship in the family.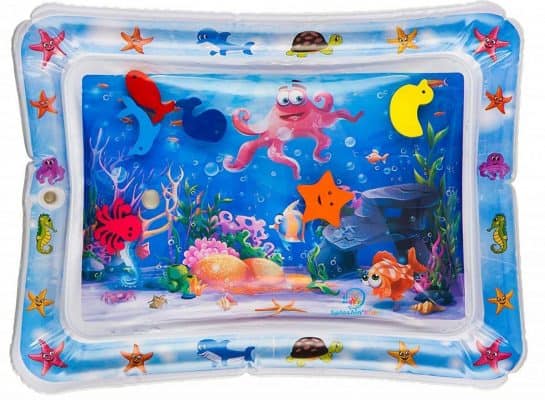 Splashin'Kids has been in the company for too long with the necessary experience to make children happy. With this inflatable water mat, you're guaranteed of safety for your child. The mat is designed with heavy-duty PVC material that has been tested and tried to ensure it does not leak. As the baby tries to swim, his head, neck, and shoulder muscles will strengthen. Watch your little one immerse in the fish tank fascinated by vibrant colors, cute floating toys, and sharp contrasts. The splash bad will offer hours of healthy and stimulating fun.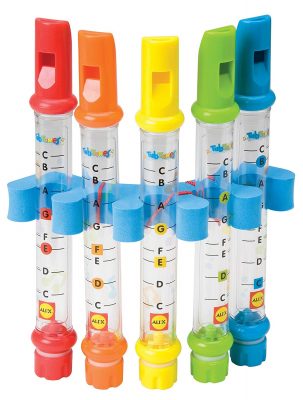 Music is therapeutic .in nature. Both old and young ones love music in equal measure. It's time to introduce your three-year-old child on how to discover music notes and sounds delightful. The set comes with five flutes, which can be filled with water to create different, enthralling tones. Kids can follow the instructions to help them learn simple songs. The circles and squares on each flute display notes that can be used to create a tone.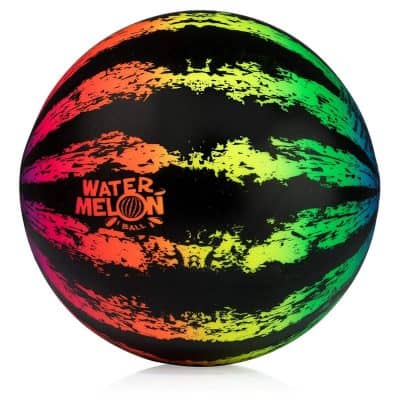 Exercises are important even to the children. Keeping fit does not only apply to adults. But how can you encourage exercise for your kid? This watermelon ball is the perfect deal. It's a swim toy that makes kid get active in the pool and encourages exercise. To fill the ball, you're needed to attach it to the hose adapter. It comes with filling needles and a detailed instructional manual on how to use it. It can dribble like a basketball and passed up to eight feet.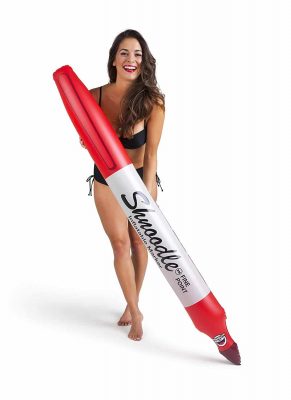 BigMouth Inc has been in the industry for a long time, and it's reputed in making durable products for kids. The company seals its mark with this giant-five-foot inflatable marker pool float. The fun design and sturdy build make it the right choice for your kids. The thick, durable, UV fade-resistant material does not degrade. When deflated, the raft stores easily and you can transport it seamlessly. It comes with a repair patch. The raft can inflate over five feet, making it suitable to play pool games.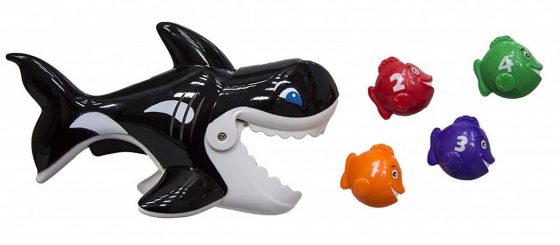 The 5.6 ounces' water toy is ergonomically designed to help preschoolers learn colors and numbers as they have fun. The hungry whale has one thing in mind, guppies! To open the mouth, children are required to squeeze the toy. Each colorful guppy has numbers 1 to 4 for the educational experience. Furthermore, if you want to turn bath time fun and easy, then this is the perfect product to buy. The guppies don't have holes; hence, water will not leak in. All four guppies can fit in the shark's mouth.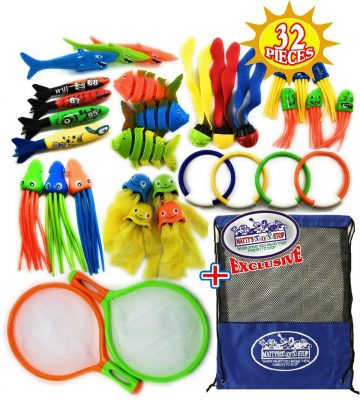 The ultimate set comes with several accessories like dive fish, dive balls, fishing nets, among many others which promise to provide hours of fun. The set ensures the entire family enjoys the day at the pool or the beach. The dive toys sink onto the bottom of the pool, and then you dive to go for them. It encourages swimming skills among children. Weighing only 2.95 pounds, the pieces are incredibly light for kids to hold and play with them easily.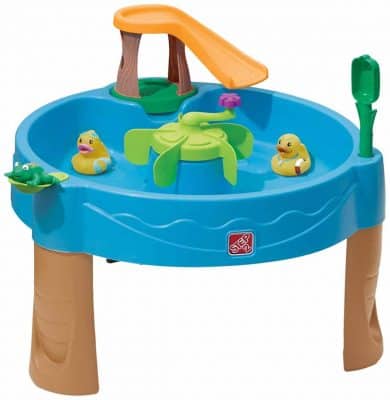 This fantastic water play table will keep several kids engaged and occupied with splashing fun. If you want the best way to keep your kid away from the screen, then this table will be a fantastic buy. The pond-themed table comes with two decorated ducks, water spinner, a frog squirter, and frog launcher. Children will love taking turns in the center spinners to get water swirl. The water table is designed with a water tower with a water slide. Kids will have fun watching the ducks race back into the pond.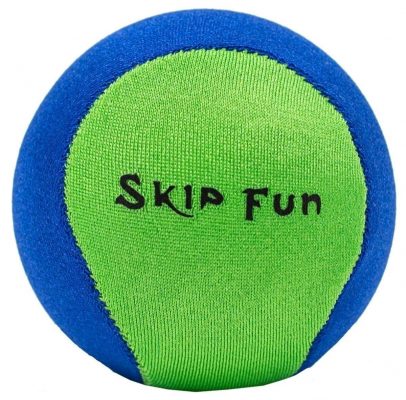 Have you been looking for great fun outdoor activity for your child? Search no more. The skip fun balls and pool games are designed to make your outdoor fun more exciting. Let the child take a break from the gadget and play outside. The awesome balls bounce on water, and you can carry them with you whenever you travel. Say goodbye to boredom by introducing this handy and bouncy balls to your children. Each purchase comes with convenient nylon travel back for secure storage and skips fun ball.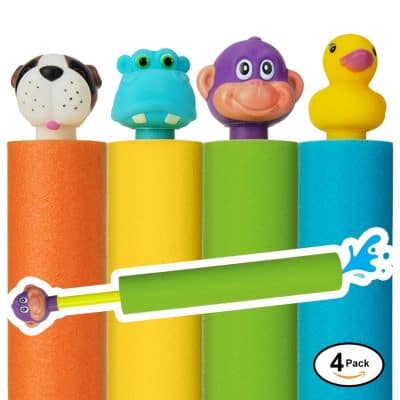 If you have been looking for a safe water game that will provide endless happiness for your kids, then this water blaster by Atlasonix is your perfect buy. It comes with cooper the monkey that is accompanied by his friends' ducky, doggy, and hippo attached to the green, orange, red, and blue foam water blasters. Made of plastic and foam, this is the lightest and safest water pistol to use in the market. Measuring 14 inches and lightweight, the blast is easy to take on vacation.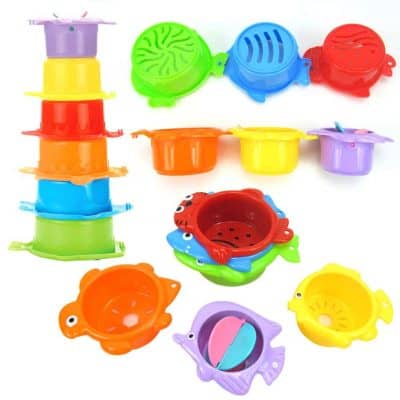 Bathtime has never been this simple and fun. The best way to get the attention from the little one is by giving them something that will provoke their imagination, and this pool water table by Bigib is the perfect gift. Your kid will have fun as you bath hon. Furthermore, it's phthalate-free, lead-free, and certified BPA free. The sturdy plastic material used in designing the toy makes it durable. Your child will have a fun way of learning numbers and colors. It weighs 8 ounces and measures 4.4 x 3.6 x 2.9 inches making it easy to carry.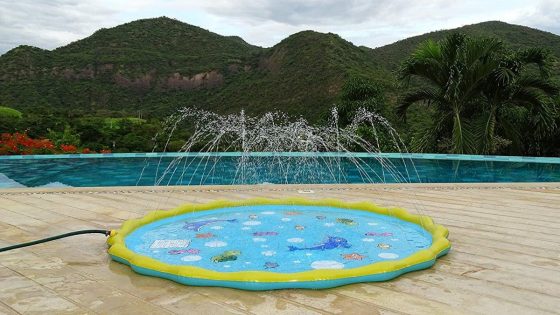 Have you been looking for a year-round toy? Then this is the ultimate product. The play mat can be used in fall or spring, which offers endless fun. You don't need to get worried about your child's safety since the toy is chemical free. It does not contain phthalates or lead. The 67-inch diameter provides an ample space to play and contains beautiful animal prints that your kids will love. This is a highly versatile play mat that can be used on grass and pavements.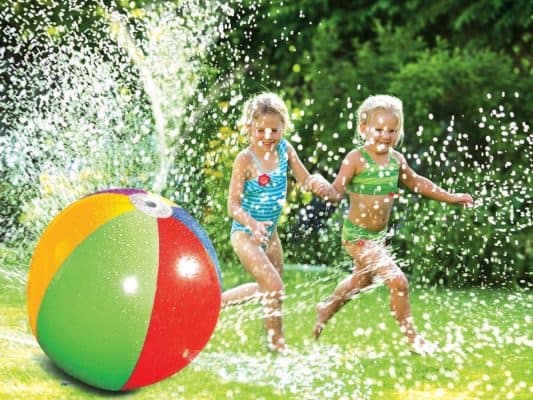 If you have been searching for a versatile water toy for your kids, then splash and spray ball is the perfect product. It can be used in a swimming pool or enjoy it while on vacation on the beach, or use it on the grass at home. The cool sprinkler is designed to combine fast and fun with water play. The inflatable ball shoots out beautiful streams of water in all sides, creating a pool of fun play.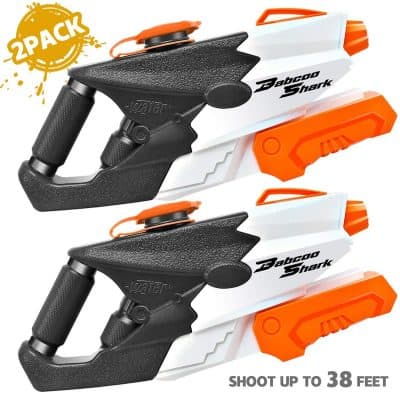 If you have been looking for a well-priced water toy for your child, think about investing in this Babcoo water toy. It's easy to use as you only need to fill the tank with water, pump pressure and then pull the trigger to shoot. The higher the pressure, the more shots the kids will have. This ergonomically designed water gun can shoot up to 36 feet. This is a leak-free tank. The ABS plastic material makes it durable.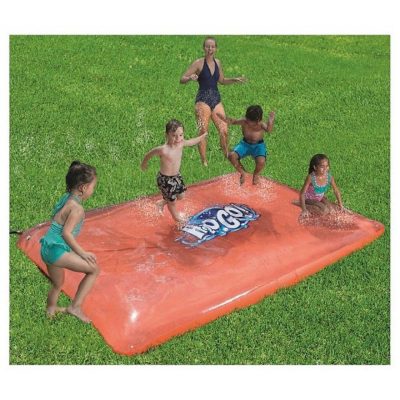 In today's world, children happen to get hooked to screens, which sometimes make them inactive. This mat helps you to awaken the vibrant sense in kids. They will enjoy having endless fun as they jump, slide, and splash in this 9.8 x 6.6 feet mat. The water-filled giant spraying splash mat comes with a built-in hose attachment. It has a water capacity of 239 gallons which provides hours of non-stop fun.