Babies love being toted around by mom or dad, but if you have chores to get done or errands to run, carrying around your baby can difficult and tiring. If your child needs to see you or feel your closeness for them to sleep, a baby carrier will come in handy. It also allows you to complete your housework without taking a break to snuggle a baby while lying down.
Not only that, but travel can be hectic with a stroller in places like an airport or stadium: but you won't go pushing through people when you have a carrier. You'll even be able to bring the baby when taking walks and hiking trips. No matter what you use it for, a baby carrier provides the convenience of being able to go about your daily tasks hands-free with your baby comfortably in tow.
Features to Consider in a Baby Carrier
There are three main categories to consider in a baby carrier: the features that make it comfortable and safe for your baby, the ones that make it comfortable and easy-to-use for you.
What Your Baby Needs
The most important aspect to a baby carrier is keeping your child safe and comfortable. To make that happen, watch for support, padding, and pleasant, breathable materials that keep your child at the proper temperature.
Body Support
A traditional carrier should have interior padding for the baby's lumbar support. Other, more minimal baby carriers use swaddling techniques to keep a baby's body well supported.
Leg Holes
Leg holes should be padded and be of the proper size to keep your baby's legs comfortable. Poorly-designed leg holes can cut off circulation or irritate sensitive baby skin.
Padded Headrest
When carrying a newborn baby, it's crucial that they have ample head support because they can't naturally hold their heads up. A padded, rigid headrest will provide ample support so you can easily monitor the baby's breathing against your chest. Swaddling style carriers are a bit trickier to use, but great for supporting a baby's head.
Attachable Hood
This comes in handy when you want to cover your baby when they are sleeping on a hot day. It should be flexible enough to be tucked away when it's not in use and UV proof to keep your child from getting sunburnt.
Material
Baby carriers are constructed from either natural or synthetic fabrics. The material determines the strength, breathability and comfort of the carrier. The most common materials are polyester and cotton. Recently, manufacturers have shifted to more natural fabrics. These materials are popular because they are soft, breathable, and friendly for the environment.
Also look for mesh areas, which provide ample breathability for the baby during the hot months. Remember, it can get uncomfortable in a padded space for a small baby. If your baby has sensitive skin, look for a carrier that has anti-allergic properties. It's also important to find a carrier that's easy to clean, and even better if it's machine washable.
What You Need
While your baby is the #1 priority, you've got a right to stay comfortable and happy as well. Look for these features to help you out on a day out.
Robust and Comfortable Straps
The straps should bear the weight of the baby and also feel comfortable on your shoulders. You don't want to feel like the straps could dig into your shoulders, especially if you are carrying a child over a year old, as the older your baby gets the harder they are to carry around.
Sternum Strap
A sternum strap (something that wraps around your shoulders) is an essential piece as it prevents the shoulder straps from slipping. When carrying a heavy baby, it provides a lot of security and comfort as you handle daily tasks.
Simple Fasteners
You'll find different types of fasteners depending on the brand you buy. Fasteners are typically buckles or rings. Quality fasteners will hold up to extensive use. If you pick out a swaddling-style baby carrier, you'll have to put in some time learning how to tie it, though many parents find these more comfortable, especially on larger and smaller body types.
Waist Belt
A waist belt is important, especially for older children, since it distributes the baby's weight across your lumbar. Shoot for an 80/20 weight split between your hips and shoulders, although newborns are light enough to not require a hip belt.
Without further delay, let's get into the best baby carriers on the market, many of which cover slightly different needs. From newborn babies to carriers that can haul around twins, we've got it all covered.
Top 10 Best Baby Carriers 2023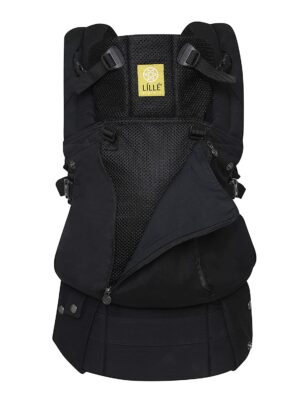 Why we like it:
Six different positions will help you carry around your baby from their first month to well beyond their first year.
Editor's Rating:
Functionality
Let's start off with the supportive design of the LILLEbaby carrier. This carrier comes with a removable insert for infants and newborns to make sure their heads are well supported at all times. Even with heavy-duty support, it's still a lightweight model that won't weigh you down too much as you go about your day.
You will love the adjustable head support, which will protect your infant's head and neck. This way, your child's spinal column will always be well supported. The LILLEbaby carrier is made from 100% cotton and includes a highly breathable 3D mesh: it's suitable for all seasons, after all. Air can circulate freely in and out of the carrier so that they will not be uneasy as you go about your daily tasks, although it's a bit warmer than LILLEbaby's summer-specific model, the Complete Airflow Child Carrier.
Hip-Healthy Carrier
This carrier has been evaluated by the International Hip Dysplasia Institute as a carrier that provides optimal positioning and ergonomic support. This means the baby's hips will sit naturally so that their bone structure can develop in a healthy way.
Six Carrying Styles
As previously indicated, LILLEbaby offers six carrying styles. First, you've got the fetal tuck with feet in the carrier. This position can accommodate babies as small as 7 pounds. Second, we have the tuck with the baby's legs out, and then you will also choose either facing in and out as the baby grows. Positions three and four are variations on the tuck. The trendy hip-hug is the fifth way to carry your baby, and the sixth is the back carrier, which is best suited for bigger kiddos up to 45 pounds.
Verdict
We can't exhaust everything there is to say about the LILLEbaby All Seasons Six-Position Carrier. But we are confident it has every feature that every parent would want to have in their carrier. From the adjustable carrying positions to the mother's lumbar support waistband, customized carrying, and mesh lining, LILLEbaby has done their homework on this one.
Pros
Six adjustable carrying positions

Ergonomic design for baby's support from infancy

Zippered pocket flaps down to reveal mesh lining

Can carry older babies up to 45 pounds

Mesh stays cool
Cons
A pocket can be difficult to access when you open the flap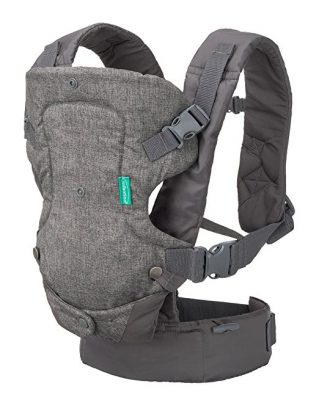 Why we like it:
This convertible four-way carrier designed by Infantino carries babies from newborns all the way up to 32-pound toddlers.
Editor's Rating:
Functionality
Many baby carriers require that you put in a structural insert to securely accommodate newborn-sized legs. But you won't have to worry about any extras with this Infantino design. This model allows you to narrow the seat to make it comfortable enough for small infants. This way, you won't force them into a wide leg position which can stretch their hips unnaturally.
When your baby is out of infancy, you will be able to expand the carrier and provide the needed support for knees and hips for older kids. It'll accommodate kids up to 32 pounds, or about two years old.
Comfortable Carrying
With the extra-padded straps, Infantino's carrier is comfortable for carrying a baby. It even includes a waist strap which comes in handy when distributing the weight of heavier children. The shoulder straps are also adjustable, meaning they will fit every body type for both moms and dads.
Thoughtful Design
Infantino has a wonderful cover bib that protects your carrier and you from drool and spit-up, minimizing the number of times you'll have to throw it in the wash. This cloth sits across the headrest when you carry the baby facing out.
Verdict
The Infantino carrier is not only well designed, but also comfortable. It has a convertible seat that's flexible for any age baby up to two years old. Not to mention that you can carry the baby in four different positions.
Pros
Can carry infants and toddlers from 8-32lbs

The convertible seat provides narrow and wide sitting positions

Wonder cover bib protects the carrier from drool

Adjustable, extra-padded shoulder straps

Comes with a waist strap
Cons
Straps may not distribute weight well for some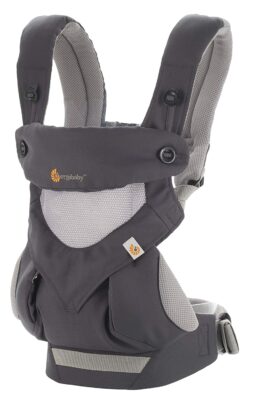 Why we like it:
This premium-priced baby carrier offers hands-free convenience in a sophisticated style.
Editor's Rating:
Functionality
The Ergobaby 360 is all about comfort and ergonomics. You will be able to use this carrier from your baby's first month up to their second year, although younger babies will require a baby insert to support their neck. Thankfully, the bucket seat is adjustable to provide natural baby positioning such that the spine can be in a neutral position and the legs will either be tucked with an insert or in a frog-leg position.
Versatility
Whether you want to carry the baby facing in or out, this carrier has an option for you. It has adjustable buckles to suit all body sizes. You can also wear it as a hip or back carrier. It works for most body sizes for both men and women as the shoulder straps are adjustable from 28-46 inches, while the adjustable waistband can go from 26-52 inches.
Unrivaled Back Support
This baby carrier takes mothers who had C-sections in mind, using wide straps to distribute a baby's weight across the body. This includes an extra-wide wrap-around waistband that offers additional support for the baby while keeping your back in the correct position. It takes away any stress by bearing and distributing the baby's weight. The padded shoulder straps are easy to use and buckle
Verdict
Ergobaby has done a great job in ensuring that both parent and baby are happy. It's well designed for proper hip development, and it can hold up kids up to around 24 months. It's constructed of a premium cotton blend that makes cleaning super simple, as it's machine washable. Best of all, it grows as your baby does.
Pros
Adjustable to all carrying positions

Wrap-around waistband for exceptional back support

Uses 100% premium cotton that is machine-washable

Adjustable bucket seat for natural baby positioning

Customizable fit for multiple wearers

Includes babyhood for sun's protection

It's a healthy hip product
Cons
Needs a baby insert to carry infants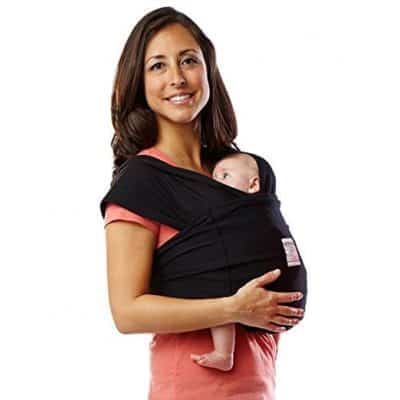 Why we like it:
Unlike more structured baby carriers, the Baby K'tan Original Baby Carrier is sized to fit all parents, while still providing support for the neck and back of the baby.
Editor's Rating:
Functionality
If you get tangled up using a traditional wrap like the Boba Wrap but still want something flexible and comfortable, a good option is the Baby K'tan Original. Designed to be of great help for all new parents, this carrier is excellent for mothers who need a little help toting a baby around in their early months.
The cotton fabric stretches one-way to fit the baby's size. It comes with double loops with double fabric that allow the baby to rest and feel support from the head to the lumbar and even the hip area. The International Hip Dysplasia Institute approves this carrier for healthy hip development of your baby thanks to the double loops. You will not need to worry about stretching the baby's hips, especially during the first few months.
Comfort Features
This baby carrier slips on like a t-shirt, and it's as comfortable as a t-shirt as well. You can now strap on your baby quickly, as there are no buckles or rings to deal with. The stretchy fabric holds the baby to your chest, swaddling them. This means, though, that the weight limit isn't as much as other options.
Versatile Performance
This carrier is adjustable, allowing proper positioning of the baby against your body. Just pull on the loops if the baby is sitting below the chest. Watch out, as it loosens over time and shrinks in the dryer. While it's meant to be simple, it can be used in five different configurations thanks to its universal and flexible design.
Verdict
The Baby K'tan baby carrier is a thoughtful sleeve for new mothers who would like to use a buckle-in baby carrier. It provides skin-to-skin bonding without any of the hassles with learning how to tie a sling or a swaddle.
Pros
Machine wash and dryer safe

It has adjustable loops with five wearable positions

Flexible to fit different body sizes

Material stretches to a snug fit

Approved by International Hip Dysplasia Institute
Cons
It may become too loose after using it for a long time

Can't support the weight of larger babies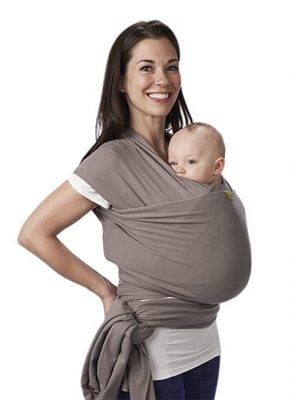 Why we like it:
This baby wrap is designed to give close bonding time for a healthy baby's development. From the materials to the ease of cleaning, this wrap is all you need for your baby from infancy to toddlerhood.
Editor's Rating:
Functionality
This carrier gives you a totally hands-free experience, swaddling your baby instead of buckling them in. It comfortably holds your baby for hours so you can complete house duties and even have more time to explore the world with your baby. It can also support your newborn by contouring to your child to provide support in all the right places.
With a simple, no guess-tying style, you will be able to fasten the wrap in just a few minutes. This way, you won't be fussing with the wrap every time you need to take the baby with you to the grocery store.
With a stretch cotton fabric, you have a wrap made from a solid material that's still flexible when it comes to nursing time. You will love how easy it is to feed with this wrap, as it enables positions that make feeding comfortable for both you and your baby.
Durable Fabric
This wrap has a construction of 95% cotton and 5% spandex. This makes it super durable since the material will not stretch and lose support when you wash it. The carrier is machine-washable, meaning when it gets soiled it can just be thrown in the wash.
Versatile Usage
Since this baby carrier stretches and conforms to your baby, it goes without saying how versatile this wrap is. You can use it as a back and front carrier to suit your immediate needs. You can even stretch the fabric further to cover the head of the baby when it's sunny without bringing in an additional cover. The only difficulty is the learning curve, as it takes some time to figure out how to tie it properly.
Verdict
The manufacturer has designed something light and adventure-worthy with this a simple tie-and go baby carrier. It is easy to clean, quick to operate, and comfortable for both you and your baby. Knowing that it is breastfeeding ready gives it even more practicality.
Pros
Machine washable

The material is soft and stretchy

Maintains its shape throughout the day

Good for breastfeeding
Cons
It is not suitable for babies under 5 pounds

Steep learning curve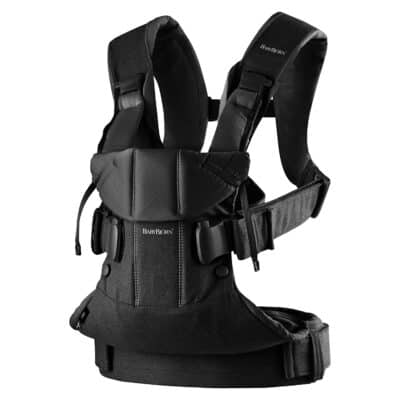 Why we like it:
Perhaps the most ergonomic baby carrier comes from BabyBjorn. Backed by the design help of pediatricians, this carrier offers the ultimate support for the head, neck, spine, and hips.
Editor's Rating:
Functionality
Are you looking for a carrier that will provide safe development for your baby? Then you will find the BabyBjorn great. It was designed to offer complete support for the baby for healthy development.
With the extra padding in the interior of this carrier, it's extra comfy to help cuddle a newborn. It fits securely with the proper adjustments to help prevent any sleeving, even with small newborns.
Adjustability
This model is developed with the baby's health in mind. The leg and hip area are positioned correctly to allow proper sitting of the baby. Not to mention, the baby will be able to move their hands and legs freely in the carrier, thus promoting healthy motor development.
The head support is firm and adjustable. It gives the baby a comfy area where they will rest the head and the neck when carrying the baby facing in. If you choose to carry the baby facing out, the head support can be folded out to provide a good view of the world.
You'll be using color-coded buckles that come with a safety click so that you are sure the baby is secured.
Comfortable Materials
BabyBjorn Baby Carrier One uses safe and certified fabrics in the construction of this carrier. It is hypoallergenic and safe to taste and chew as it meets all international textile safety standards and does not contain health-hazardous substances.
Verdict
The BabyBjorn Baby Carrier One offers closeness that you and your baby need during the first year as you learn to interpret the needs of your baby at all times. It is firm, well-padded, adjustable, and it sits upright for proper breathing of the baby.
Pros
Ergonomically designed for correct positioning of baby's legs and hips

It maintains an upright position

Buckles have a safety click

Adjustable head support

Small leg holes prevent the risk of baby slipping out
Cons
It does not come with a waist strap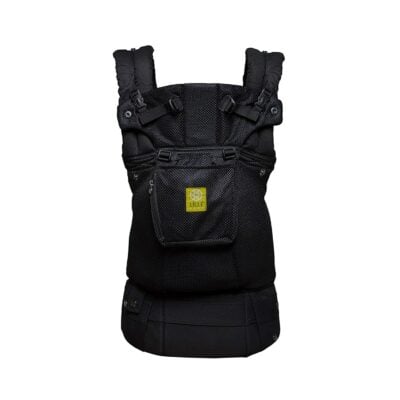 Why we like it:
Constructed of an easy-to-clean fabric that incorporates an airy mesh to prevent overheating of you and your baby both on hot days, the LILLEbaby Complete Airflow Child Carrier is perfect for summer.
Editor's Rating:
Functionality
A front-facing and back-facing cotton baby carrier, LILLEbaby has improved on their six-position carrier to create an ergonomically designed versatile product. It counts on the same rough design as the original LILLEbaby design, there are six positions to pick from.
Two-way straps mean you can carry your baby on the front of your body or on your back, although it's more comfortable when facing forwards than when worn on the back. Really, though, where it stands out is in terms of cooling. It's got a zip down panel facing outwards as well as a removable sleeping hood that can keep your child warm or cool them off depending on the conditions. While it does include clips, the seat itself is comfortable and doesn't have any buckles, keeping it comfortable.
Summer Cooling
This product stands out in high heat. It's lightweight at only 2.25 pounds, with a minimum recommended weight of 7 pounds and an impressive maximum of 45 pounds. As a 100% cotton product, the thin layer separating you and your baby is wicking and pulls sweat away from the body, cooling you off in the process. The carrier is also loaded with mesh, which will help with airflow.
Verdict
Slightly less durable than LILLEbaby's flagship product, the All Seasons Baby Carrier, this cotton-constructed transporter is inspired by minimalist design and does a phenomenal job at keeping things light as simple. While it isn't meant to hold up to years of abuse like other designs, it's still impressively simple, comfortable, and beautiful.
Pros
Clean, minimalist design

Six carrying positions to pick from

100% cotton with mesh stays cool

Ultra-lightweight 2.25 lbs weight
Cons
Not as durable as other designs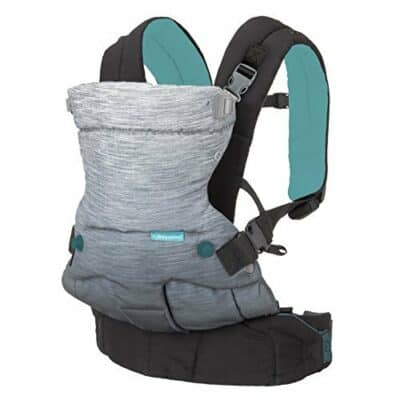 Why we like it:
This Infantino Go Forward carrier comes in a gender-neutral style and has dimensions that should fit dads' hips and shoulders.
Editor's Rating:
Functionality
Every dad desires to be close to their baby, and the Infantino Go Forward Carrier will help with close bonding time. The model is useful from a baby's infancy until they're ready to take on full days on their own.
Three Carrying Positions
This versatile carrier can be used in three positions. You can carry the baby facing in, facing out, or in a backpack-style position. It also can accommodate infants from 8 pounds to toddlers weighing as much as 32 pounds. It's adjustable, growing as your child does.
Total Convenience
If you are taking your baby out on a hot summer day, you'll have the comfort of a breathable mesh fabric. It provides air circulation to help the baby feel comfortable when it's scorching. You will like the padded straps and the chest strap that helps to distribute weight and provide a snug fit. The side detaches so that you can get the baby out with ease.
Verdict
You don't have to wait until the baby can sit up to have some cozy time while mom takes a rest. Infantino Flip Front 2 Back Carrier is all you need to connect and learn all about your new baby.
Pros
Adjustable shoulder straps

Three carrying positions

It can comfortably accommodate infants

Breathable mesh helps to regulate baby's temperature in the sun
Cons
Thick, dark shoulder straps can heat up in hot weather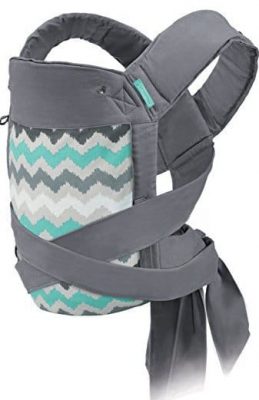 Why we like it:
This buckle-less Mei Tai design has an ergonomic seat for correct positioning of baby's legs and hips.
Editor's Rating:
Functionality
This baby carrier is versatile on a whole new level with the Infantino Sash Wrap and Tie Baby Carrier. The model brings you the convenience of a supportive structure while still being easy to wear. It covers both aspects of baby carriers to fit parents who favor the tie-down style but with a firm frame for added support.
The sash design is traditional, but Infantino brings flexibility into this modern variation. One thing you'll notice is that it adjusts to your body and the baby both, making it a comfortable experience for all.
Versatility
This model allows you to customize the way you wear it. You are not restricted to a front-facing style, as it also allows back carrying for heavy babies. You'll love the hip-hugging belt, especially as your baby grows.
Comfort
Infantino designs this carrier using a natural seat. It provides equal distribution of the baby's weight. The padded straps and sash can be comfortably set up for lumbar support.
It also has a detachable hood to provide some shade when it is sunny. You will love it for the polyester construction as it regulates the baby's temperature, remaining comfortable even if it is scorching. The frame of the carrier is breathable cotton.
Verdict
Infantino is inspired by mei tai (also known as meh dais or bei dais), an old style of babywearing. It offers a natural fit for you and the baby, meaning it is great for all body types. With three wearing positions, a detachable hood, and a natural seat, the Infantino Sash Wrap and Tie is a winner.
Pros
Carries babies from 8 to 32 lbs

Made from 100% cotton

Three carrying styles

Machine washable

Detachable hood offers sun's protection
Cons
Straps may be too thick for some users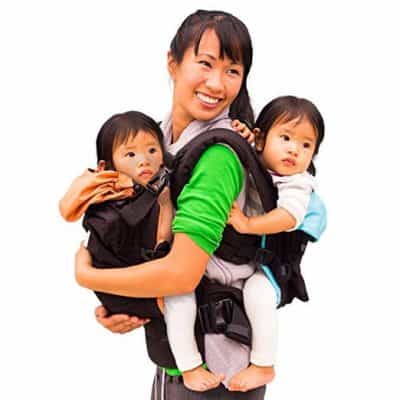 Why we like it:
TwinGo can carry two kids simultaneously, with one in the front and one in the back. It's an award-winning product for parents with twins or two small children.
Editor's Rating:
Functionality
Caring for twin babies can sometimes be an overwhelming experience. The TwinGo has you covered as it has taken into consideration all the possible scenarios for carrying two babies. This carrier is our favorite since it has a back and front carrier following an ergonomic design. The two carriers are connected using sturdy buckles.
Convenience
The TwinGo consists of a base and an attachment carrier. The base comes with a blue interior and permanent straps, while the attachment comes with an orange interior and removable straps. The hoods protect the babies from the sun and can also be folded to act as additional head support for small babies.
It has a set of large pockets where you can put on-the-go essentials like diapers and wipes. Better still, it has adjustable shoulder straps to accommodate parents of different heights. You will like that it has a cotton construction so that it feels comfortable for you and the kids.
The TwinGo carrier can accommodate up to 70 pounds with both carriers, while each one can take kids from 7 lbs up to 45 lbs. It's good to have such a wide weight accommodation so it will be of use even when your babies are toddlers.
Verdict
TwinGo has designed a remarkable product for twin parents. It can be divided into two single carriers or be used as an ergonomic dual-baby carrier. It is an economical model knowing that buying two separate carriers can cost a lot more than just buying two separate models.
Parents of twins might also be interested in looking at our guides to the best twin-specific diaper bags and dual strollers, too.
Pros
Thick straps for comfortable carrying of two children

Supports baby's natural position

Can separate into two baby carriers

100% cotton construction

Large weight capacity
Cons
Can take time to get ready

Steep learning curve
Buying the Best Baby Carrier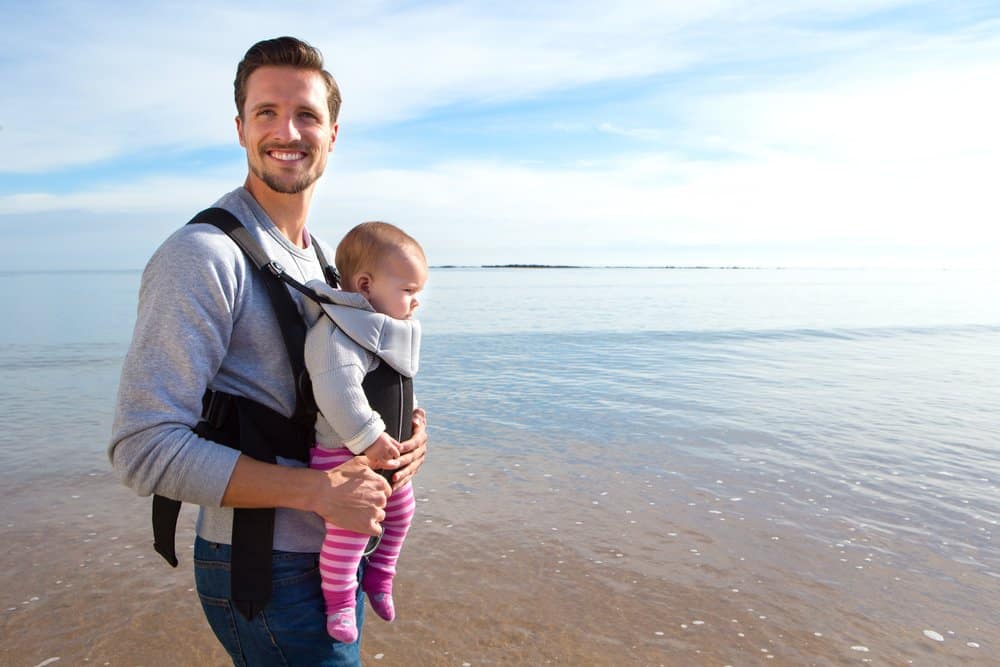 It's hard to underestimate the simplicity of carrying your baby against your chest or on your back. A baby carrier leaves your hands free to complete tasks as well as helping you more easily move around in crowded places.
Here a few notes to make the process go as smooth as possible when buying your next baby carrier.
Types of Baby Carriers
There's more than one way to carry a baby: from ancient techniques like mei tai to modern carriers with space-age materials, there's an option out there that will work for your lifestyle
Front Carriers
These carriers are common, making up a majority of the market and our list, and are also ideal if you have a back problem. They come with two straps to support the fabric seat. This type of carrier will allow carrying of the baby facing in during infancy, and later the baby can be carried when facing out or on the back according to the brand.
Sling Carriers
Sling carriers like this one-size-fits-all model are structured as a long swath. It is worn across the torso with one side over your shoulder. They can be padded or unpadded depending on your personal preference, and these carriers usually have rings for easy adjustment.
Wraps
This type of carrier, one of which earned a spot as our best budget carrier, is a wide fabric but it is worn over both shoulders. These carriers provide versatility in positioning the baby, making them a trendy choice. Adjusting it for comfort is as easy as pulling on the fabric. To learn how to put on the Boba Wrap, watch this video.
If it is slings and wraps you really prefer over traditional front carriers, be sure to check out our list of the best baby wraps on the market too.
Key Considerations When Picking a Baby Carrier
There's plenty to consider when picking out a baby carrier, whether relating to comfort, health, or ease of use. Consider the following when shopping.
Ergonomics
The health of your baby is the most important consideration, and this is where ergonomics comes in. The carrier you choose plays a significant role in the healthy development of your baby. If you are selecting a carrier for a newborn, the carrier should promote a natural C spinal alignment when their legs are tucked up in a position known as the fetal tuck.
When your baby is beyond infancy and from their third month, the carrier should help keep their legs in an M or frog-leg position. You do not want the legs to dangle and force the baby's leg into a stretched-out position. This could bring about a condition called hip dysplasia. You can read more about how to use a baby carrier to avoid hip dysplasia here.
Again, with regards to ergonomics, it's essential that the carrier allows carrying the baby high enough on your baby. The baby should be close enough such that you can kiss their forehead, so you can monitor their breathing and at all times.
Versatility
Your carrier should be designed to grow with your baby. For example, it should be shaped to accommodate an infant even without requiring an extra baby insert. It should also allow carrying the baby as they grow and in different positions. This can be two positions, i.e., facing in and out, three positions to include a hip-hugging position, to six positions with a high-end model like the LILLEbaby All Seasons Baby and Child Carrier.
Comfort and Safety
A comfortable baby carrier will have wide straps to help distribute the baby's weight on your body. Most of them use a sturdy fabric to support the baby's head, neck, and spine. The carrier should also be of a soft material like cotton to provide a comfy feeling for the baby.
When it comes to safety, do not forget to look at the stitching, the seams, zippers, and the strength and quality of the buckles, rings, and clasps.
Ease of Use and Cleaning
You will also want a carrier that is easy to maintain. Remember, kids can be messy and you'll be busy, so constant hand-washing may not be an option. Machine washable carriers provide the most convenience.
Final Words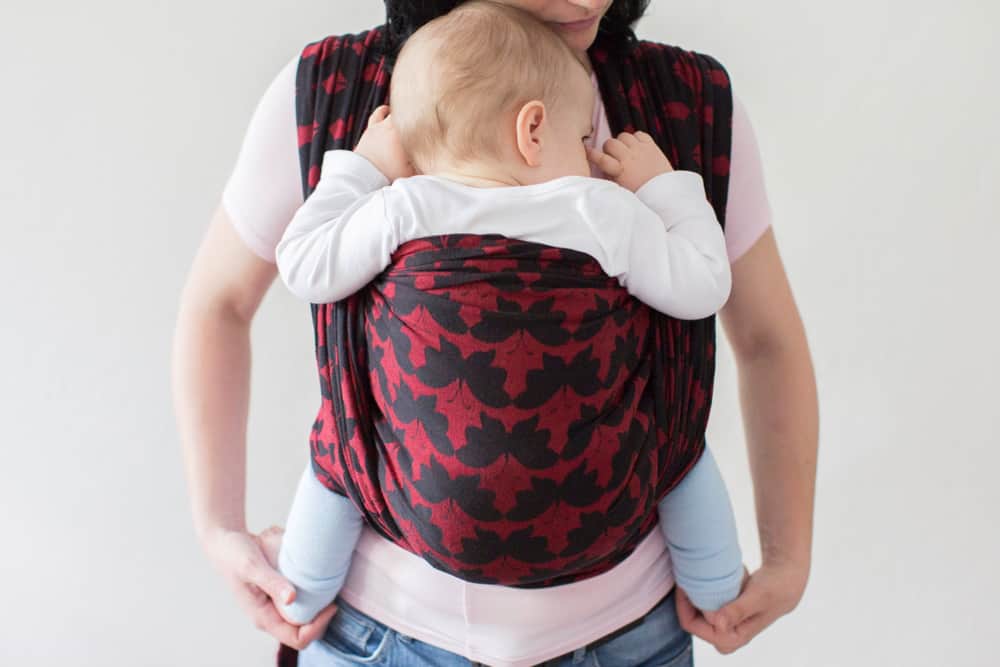 Baby carriers play an essential role in caring for your baby. From a hands-free experience for doing chores to a comfortable method of cradling your baby while out and about, a baby carrier is something you do not want to go without.