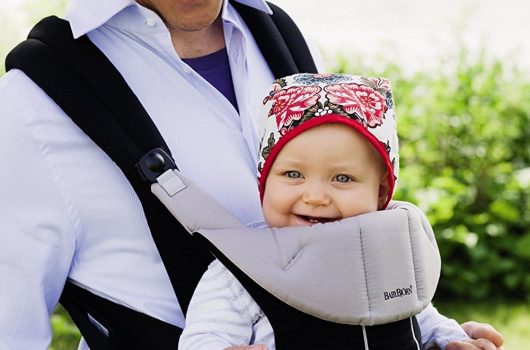 1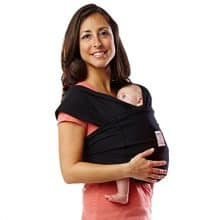 Baby K'tan Original Baby Carrier Stretch Cotton
2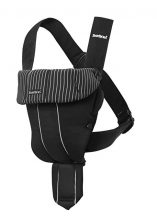 Baby Bjorn Baby Carrier Original
3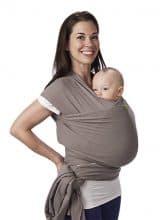 Boba Wrap for babies 0-36 Months
Previous
Next
Babies love being totted around by mum or dad. But if you have chores to complete, it's near impossible to carry them in your hands for hours. A baby carrier provides the convenience of being able to go about your daily tasks hands-free with your baby resting against you.
This article evaluates our top best baby carriers to cover various needs. From newborn carriers to twins baby carriers, and even hiking brands, we've got it all covered.
Features to Consider in Good Baby Carriers
Body Support
This is the comfort needed for your baby as they rest in the carrier. The carrier should have interior padding for the baby's lumbar support. Fortunately, many of the baby carriers in today's market include the internal padding so it should not be very challenging to choose.
Size of the leg holes
You should look for small holes to prevent your baby from slipping through especially when carrying the baby when they are facing in.
Padded Headrest
When carrying a newborn baby, it's crucial that they have ample head support because they do not have the required control for the head and neck. The padded headrest will provide ample support so you can easily monitor the baby's breathing against your chest.
Solid Material
Baby carriers have a construction from different fabrics that can either be natural or synthetic. The material determines the strength, breathability and the comfort of the carrier. Most materials are either cotton or polyester. They can also be an organic fabric which is even better because of the additional strength.These materials are popular because they are known to be soft, breathable and yet very strong.
It's also crucial that you look for a carrier that has anti-allergic properties, and is easy to clean even as it is comfortable and easy to use.
Robust straps
The straps should bear the weight of the baby and also feel comfortable on the shoulders. You don't want to feel like the straps could dig into your shoulders especially if you are carrying a toddler (you know how heavy they can get).
Sternum Strap
This is an essential piece as it prevents the shoulder straps from slipping. When carrying a heavy baby, it brings a world of difference because it offers a sense of security and comfort as you handle daily tasks.
Fasteners
You'll find different types of fasteners depending on the brand you buy. The fastener could be a buckle or rings. You should be able to fasten and undo the straps with ease. Also look for ergonomic fasteners which allow adjusting the length as your baby grows.
Waist belt
A waist belt is important since it distributes the baby's weight across your lumbar.
Vents
These are mesh areas which provide ample breathability for the baby during the hot months. Remember it can get uncomfortable in a padded space for a small baby.
Attachable hood
This comes in handy when you want to cover your baby when they are sleeping on a hot day. It should be flexible enough to be tucked away when it's not in use.[/su_list]
Top 10 Best Baby Carriers 2020
Guide to Buying the Best Baby Carrier
We cannot underestimate the simplicity of carrying your baby against your chest or on your back. They leave your hands free to complete tasks as well as being able to navigate easily in crowded places.
Here a few notes when buying your next baby carrier.
Why do you need a baby carrier?
If your child needs to see you or feel your closeness for them to sleep, a baby carrier will come in handy then. It allows you to complete your housework without taking a break to snuggle a baby while lying down.
Not only that, travel can be hectic with a stroller in places like the airport or stadium. You won't go pushing through people when you have a carrier. You'll even be able to bring the baby when taking walks and hiking trips.
Types of Baby Carriers
Front Carrier
These carriers are common and are also ideal if you have a back problem. They come with two straps to support the fabric seat. This type of carrier will allow carrying of the baby facing in during infancy, and later the baby can be carried when facing out or on the back according to the brand.
Sling
This is a fabric type of carrier that is structured as a long swath. It is worn across the torso with one side over your shoulder. They can be padded or unpadded providing different feels. These carriers usually have rings for easy adjustment.
Wrap
This type of carrier is also a wide fabric but it is worn over both shoulders. These carriers provide versatility in positioning the baby making them a trendy choice like the Boba Wrap. Adjusting it for comfort is as easy as pulling on the fabric.
Here's how to wear a Boba wrap
Key considerations when picking a Baby Carrier
Ergonomics
The health of your baby is the topmost consideration and this is where ergonomics comes in. The carrier you choose plays a significant role in the healthy development of your baby. If you are selecting a carrier for a newborn, the carrier should promote a natural C spinal alignment when their legs are tucked up in a position known as the fetal tuck.
When your baby is beyond infancy and from their third month, the carrier should help keep their legs in an M or frog-leg position. You do not want the legs to dangle and force the baby's leg into a stretched out position. This could bring about a condition called hip dysplasia.
The International Hip Dysplasia Institute has more about choosing a baby carrier to avoid hip dysplasia here
Again on the ergonomics, it's essential that the carrier allows carrying the baby high enough on your baby. The baby should be close enough such that you can kiss their forehead. You will want to monitor their breathing and ensure it is normal at all times.
Versatility
Your carrier should be designed to grow with your baby. For example, it should be shaped to accommodate an infant even without requiring an extra baby insert. It should also allow carrying the baby as they grow and in different positions. This can be two positions, i.e., facing in and out, three positions to include a hip-hugging position to six positions with a high-end model.
Comfort and Safety
A comfortable baby carrier will have comfort features which include wide straps to help distribute the baby's weight on your body. Most of them use a sturdy fabric to support the baby's head, neck, and spine. The carrier should also be of a soft material like cotton to provide a comfy feeling for the baby.
When it comes to safety, do not forget to look at the stitching, the seams, zippers, and strength and quality of the buckles, rings, and clasps.
Ease of Use and cleaning
If you are having trouble putting on the Baby Bjorn, you can check out this video and have a feel of how to go about it.
On this point, you will also want a carrier that is easy to maintain. Remember kids can be messy, and your hands can be full, so constant hand washing may not be an option. Machine washable carriers provide the most convenience.
How much should you spend on a baby carrier?
Carriers have a vast price range it can be difficult choosing a carrier based on the price alone. The cheapest carriers can be as little as less than $25 while others can go up to $200. Usually, the price goes hand in hand with the features of the carrier. A baby wrap will be cheaper than a structured carrier that provides six carrying positions.
Final Words
Baby carriers play an essential role in caring for your baby. From a hands-free experience to a comfortable method of cradling your baby in the streets, a baby carrier is something you do not want to go without.
We have covered some of the popular baby carriers from well-renowned brands. You will find a model for newborns, older babies, for twins, high-end models, and even inexpensive ones. Whatever your preference, this list is all you need to make an informed choice.