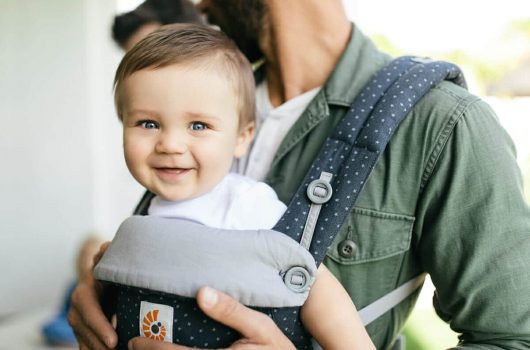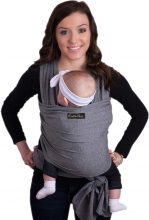 CuddleBug 9-in-1 Baby Wrap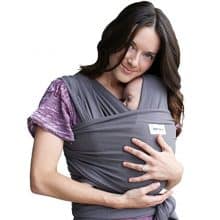 Sleepy Wrap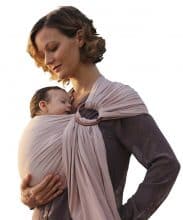 Nalakai Luxury Ring Sling
Previous
Next
If you have a child that's under 18 months old, there is a good chance that you've heard of baby wraps. But you may not know how they can help provide comfort to you and your child. A baby wrap is essentially a piece of fabric that you tie in a knot around your torso to create a little pouch for your baby. The idea is that you can still get those precious cuddles in with your little one, but at the same time you'll be able to get things done around the house or on the go. Plus, if you haven't seen social media already, wearing a stylish baby wrap has become a fashion trend of its own.
While this may be the case, finding the right baby wrap for you and your child is not always an easy task. You have to make sure you have the right fabric, and that both you and your baby are comfortable. Plus, you might not think that a 10 to 30 pound baby is heavy, but when you have them tied to your chest we bet you'll start to feel it. This is why the baby wrap you choose also needs to keep the weight of your child evenly distributed across your back, chest, and shoulders. If this sounds overwhelming, don't panic, because we did the research. We'll be showing you the 10 best baby wraps to choose from, and discussing everything you need to know in order to help you make the right choice.
Features to Consider in Good Baby Wraps
Before we dive right into the 10 best baby wraps, there are a few things that you should keep an eye on.
Weight Limit
One of the first things you need to consider is the weight of your child. Every baby wrap that you come across will have a specific weight limit, and going over that weight limit can be harmful for both you and your child. The maximum weight depends on the wrap, but most baby wraps will usually hold up to around 30 to 40 pounds. A good rule of thumb to follow is that once your child is 5 pounds over the recommended weight, it's time to move on from baby wraps.
Material
The material of a baby wrap is all about preference, but some materials are better than others. You'll come across cotton baby wraps that are great for comfort, but you'll also come across baby wraps that are made with elastic fabrics. This is all about what you need, and if you need both, we recommend considering a baby wrap that incorporates a blend of cotton and elastic materials.
There are also some unique materials on the market as well. These materials include bamboo, Lenzing modal, and spandex. Each material may have a different reaction and feel for you and your child, so experimenting with different materials is always a good idea before you choose a baby wrap.
Size
Baby wraps can either be a one-size-fits-all product, or a product that has a lot of different sizes. This can make shopping for the perfect baby wrap very tricky because you need to find a size that's comfortable for both you and your baby. The good news is that the sizes aren't too complicated, and there is a wide variety. For example, seeing a baby wrap with several size options from extra small to extra large is very common, and you'll also notice that a lot of baby wraps are one-size-fits-all.
Top 10 Best Baby Wraps 2020
Understanding Baby Wraps, and How to Choose the Right Product
Knowing the Knots and Holds
Baby wraps seem complicated at first, and with no prior knowledge, it can seem like an impossible task to tie the perfect knot. So, before we get into the benefits of a baby wrap, we want to take some time to explain each of the knots you'll come across. If you don't know how to tie them, don't panic, we have some great videos for you.
Front-Facing Cross Carry
The front-facing cross carry is one of the most common ways to use a wrap. Most products baby wraps will come with instructions to show you how to tie the appropriate knot, and it provides plenty of support for newborn babies. This is a knot and position you can use from birth to 18 months. One thing to consider with this carrying position is that it can place some strain on your back.
A great product to use for a simple front-facing carry is the Boba Baby Wrap . The Boba Baby Wrap promises a quick and easy knot tying experience for every parent.
Hip Carry
The hip carry is a position that allows you to take some strain off of your back and shoulders. The location of your child will be lower, and closer to your hips than your head. This position is best for children that are at least 5 or 6 months old because there is less support for their head. The hip carry is a great position to use if your shoulders or back begin to feel a bit worn out. If you're looking to take the pressure off your back, some great products to consider are the Hip Baby Wrap or CuddleBug 9-in-1 Baby Wrap . These wraps both offer a carrying position that takes the strain off your back.
Another alternative to a baby wrap that relies on your back and shoulders is the Nalakai Luxury Ring Sling. This wrap functions the same as the Hip Baby Wrap, but it utilizes a ring to feed the fabric through. This places the baby in different positions based on your preferences.
Kangaroo Carry
The kangaroo carry keeps your baby swaddled in a small pouch on your chest. With this wrap option, your baby should be within kissing distance, and your child should always have their head exposed. This wrap option is both comfortable and effective and can be used for nursing and swaddling. This is a wrap that's safe for children of all ages, and it isn't too hard to tie.
Kangaroo carry positions are great for babies, but they can place some strain on your back and shoulders. If this position is something you'd like to consider, products like the CuddleBug 9-in-1 Baby Wrap and Moby Classic Baby Wrap are great choices.
Back Carry
The back carry is a position where the baby has their back facing you. This position is great for parents that have children that are a bit older because it lets them explore the world through your eyes. Most of the products on the list, including our top overall pick can be switched to a back carry wrap, so the options are really up to you.
How to Tie Baby Wraps
Tying baby wraps is not easy at first, but it's something that all new parents should try and learn. The basic knots like the front-facing cross carry and kangaroo carry are the easiest to learn, and some products like the Boba Baby Wrap pride themselves on being easy to use. If you're not familiar with how to tie a baby wrap, we definitely recommend watching a video first. While it won't show you how to tie every knot out there, once you know the basics you can begin experimenting with other holds.
If you want to use a lot of different positions, we definitely recommend looking at a product like the Moby Classic Baby Wrap . This baby wrap comes with a list of instructions for you to follow, and if you have any questions, you can always consult with their extensive customer support team.
What makes Baby Wraps Special
Baby wraps may seem like they're only made to help you carry your child, but there is a lot more to the story here. Baby wraps are proven to increase parental and infant bonding, and they can even help mothers with nursing and swaddling. In order to know which baby wrap is right for you, take some time to read over these benefits and companion products.
Swaddling
There is a period of time after birth that's referred to as the "4th trimester." This is the timeframe from birth to about 3 months, and it can cause your baby to be a bit uncomfortable without a parent close by. This is why swaddling is important, because it helps your baby feel as if they're still in the womb.
To get the most out of a swaddle wrap like the Sleepy Wrap, always keep your child close to your chest. Hearing your heartbeat while being swaddled can ease crying, and make a baby feel comfortable in a new environment. This is why front-facing carrying and kangaroo carrying are great choices for the first 3 months.
Breastfeeding
Babies need to be breastfed fed, or formula-fed, for a long time after birth. This is where they get their nutrients, and it can help strengthen their immune system. Breastfeeding is not always an easy task to accomplish, and it can be uncomfortable if you're in the wrong position. This is where baby wraps come into play, making nursing far easier.
A good baby wrap will provide the support you need for comfortable breastfeeding, and any baby wrap on the list is good for this. We also know that some mothers may need to breastfeed on the go, which means that you'll want a baby wrap that offers a bit more privacy. Baby wraps like the WeeSprout Baby Wrap provide plenty of privacy, and can even provide you with storage for things like baby bottles—which aren't all created equal, so be sure to check out our list of the best baby bottles on the market today.
Putting a Baby to Sleep
If you're having a rough time getting your baby to sleep, a baby wrap that also serves as a swaddle can definitely be helpful. If this is what you'll be using a baby wrap for, always consider a wrap that keeps your baby's head close to your chest. When it comes to wraps that help you and your child get the sleep you need, the Sleepy Wrap can't be beat.
Back Relief
As a parent, carrying a baby can quickly become very difficult. This only gets worse as little ones reach upwards of 30 pounds, which can cause strain on your back if you keep carrying them without a wrap. Most baby wraps on the list will provide some type of back relief, but our favorite for back relief is the Hip Baby Wrap , which holds the baby lower and makes sure the pressure is off your back. If switching up your baby wrap isn't enough, there are also some tips that you can follow to help train your body to carry your baby.
Style
The style of a baby wrap is important, especially if more than one parent will be using it. If more than one parent is involved, one-size-fits-all wraps that have a lot of different color and style options like the Baby K'tan Print Wrap and Acrabros Baby Wrap are great choices.
Materials
There are a lot of different materials out there, and the material you choose is really about preference. Premium products like the Nalakai Luxury Ring Sling have high-quality materials that provide comfort and support, but they tend to cost more. A great blend for new parents is a product with a cotton and spandex blend. These blends are typically machine washable, and they provide plenty of elasticity for growing children.
Can Men Wear Baby Wraps?
It may seem like baby wraps are only for women based on how they're often marketed, but this isn't true at all. Both men and women can wear baby wraps and provide the same benefits to a child. The only difference is that men tend to have a larger frame, which can make it tricky to tie knots. This problem can be mitigated, however, by using baby wraps designed to be gender-neutral like the Acrabros Baby Wrap.
Final Thoughts
Shopping for a baby wrap may seem really simple, but there are a lot of things you need to consider. Make sure that you take some time to really think about what you need a baby wrap for. While some parents may just need some hands-free swaddle time, others may need to nurse on the go. This can make certain baby wraps work better for different parents, so take your own needs into consideration before you buy.
Baby wraps can be great for both you and your child, and they can help strengthen that maternal bond. Whether you need to do things around the house, or nurse on the go, a baby wrap is perfect for parents that need to multitask. Now that you've seen the options and know the facts, which baby wrap is the right fit for you?