What is on your "must-have" list for when your baby arrives? Hopefully, a crib with a suitable mattress is right at the top. The mattress is the most important part of your baby's crib, having a good one to sleep on is essential for their comfort and safety at night.
Features to Consider in Good Crib Mattresses
A Good Mattress Keeps your Baby Safe and Comfortable
Becoming a new parent is both exciting and nerve-racking. There are so many things to consider when preparing your child's nursery. If you want to create a safe & comfortable environment, selecting the right crib mattress is one of the most important decisions you will make. As your baby will spend most of his or her time in a crib, we recommend all parents should invest in a good quality mattress to put their mind at ease when their baby is sleeping. Keep reading for our top picks for crib mattresses for your baby in 2020.
Choosing a Mattress for your Baby
Buying a crib mattress can be far more complicated than choosing the theme or color for the nursery. There are so many options available that it can leave you confused. Let's summarize some of the important factors you should consider when purchasing a crib mattress.
Babies need Special Mattresses
If you're buying a mattress for your newborn, make sure to select a crib mattress that's specifically designed for babies. The major difference between a mattress for babies and a mattress for adults is the firmness of the mattress.
Although a firm mattress might be uncomfortable for an adult, this firmness is an absolute requirement for babies. A firm mattress will help prevent SIDS in babies which is probably the number one concern parents with newborns have. It will also help with your baby's muscle & strength development. A toddler mattress can have a slightly softer surface.
A Two-in-One Mattress can Grow with your Baby
If you're looking at a long term option for your baby you can select a two-in-one mattress. These mattresses have different levels of firmness on each side. One side of the mattress will be firm enough for a newborn or younger baby and the other side will be softer for when the baby grows older.
Check the Size before you Buy
It's extremely important that the mattress you buy is not too small for the crib. There are different crib sizes and even shapes. It's advisable to buy your crib before you order a mattress. This way you will know the exact size of the mattress you need to buy.
Always follow the two-finger rule. You shouldn't be able to fit more than two fingers between the mattress and side of the crib. This is to prevent your baby from getting stuck between the two and accidentally suffocating.
Go Green
More and more parents are investing in organic mattresses and medical professionals agree that it's a better option. Harmful chemicals are left behind on mattresses after the manufacturing process. The chemicals might aggravate any medical conditions your baby might already be suffering from such as asthma. Organic mattresses will ensure a safe & natural environment for your baby.
Airflow is Important
Mold, bacteria & odor happens because a mattress is wet. Mattress vents will prevent moisture from building up thus keeping the mattress clean and hygienic. It'll also allow for easier breathability if your baby accidentally rolls to a face-down position on the mattress.
Now we've gone over some baby mattress basics, let's run down 10 of the best mattresses available on the market today.
Top 10 Best Crib Mattresses 2020
Why we like it:
An amazing investment, the Moonlight Slumber mattress offers two sleeping surfaces so it can last for several of their early years.
Editor's Rating:
This performance-tested mattress has an easy to clean waterproof fabric. The fabric is also a medical grade stretch knit making it anti-microbial and odor resistant. You don't need to worry about bed bugs living inside your little one's mattress as it has SafeSewn seams preventing dust mites from penetrating the mattress.
The mattress is two-sided. One extra-firm as well which is excellent for infants. Then, after a certain age, just flip the mattress over for a softer foam mattress that'll be great for your toddler. The two-in-one feature helps economize over the long haul as your baby grows.
Pleasingly, the mattress is water resistant and stain resistant so you won't damage the mattress by spilling things on it accidentally. Of course, you may still wish to clean it. If so, don't use any harsh cleaning products on the mattress, and that includes diaper wipes. To clean the mattress, use a damp sponge or cloth without any cleaning products.
Safety
The mattress is made of non-toxic material and is also PVC-free, lead-free and anti-bacterial. This means it's free of chemical nasties that could hurt your infant. It is GREENGUARD certified, which is a mark of quality.
Size
27.5" x 5" x 52"
Material/Fabric
The mattress is made of four layers. A nylon cover, a woven fire barrier meaning should the worst happen the infant will be better protected. A high density foam enriched with plant oils and finally a firm-high density foam. It offers an excellent, safe and ideal sleeping surface for your young one.
Pros
Antimicrobial

Anti-odor control

Dual design.

Quality fabric.

SafeSewn seams.

Water-resistant.

Stain-resistant.

Easy to clean.

Quality tested.
Cons
The toddler side might still be too firm.
Why we like it:
The Graco Premium Foam Crib and Toddler Mattress is a great baby mattress at an amazing price.
Editor's Rating:
This premium foam mattress from Graco is exceptional value. Instead of the memory foam used in adult foam mattresses, this one uses polyurethane foam for safety. The Graco Premium Foam Crib and Toddler Mattress fits all standard cribs and toddler beds
We really like the washable cover that comes with this mattress. Made from 100% polyester, the cover is easy to remove, easy to wash either by hand on in your machine and does a great job protecting the foam mattress underneath. You should also aim to wash the mattress itself regularly with cold water and mild soap. The foam mattress is breathable and maximizes airflow and it's also stain resistant.
Safety
The Graco Premium Foam Crib Mattress has GREENGUARD certification, ensuring it has been thoroughly tested for any chemical emissions or hazardous materials. It also meets all CPSC and ASTM safety standards.
Size
52" x 27.6" x 5"
Material/Fabric
In order to provide the proper firmness and airflow to keep infants safe while in the crib, the mattress is made from 100% polyurethane foam. The removable cover is made from waterproof polyester.
Pros
Amazing value

Arrives in a convenient, lightweight box

Polyurethane foam provides excellent support and airflow for infant safety

The removable cover makes cleaning easy
Cons
If the crib mattress is not opened within 2 weeks of purchase, it may not fully expand
Why we like it:
The most hygienic mattress we reviewed, the Newton Wovenaire is completely washable and is recommended by pediatricians to increase airflow and reduce suffocation risk.
Editor's Rating:
The Newton Wovenaire crib mattress comes with a machine washable removable cover that can also be tumble dried which makes it easy to clean. There are spaces in the material that lets air flow through it.
The design ensures your baby can breathe through the fabric if they turn over in the night. Pediatricians recommend this mattress for this reason. It also promotes good temperature regulation so your baby is not too hot or cold. Finally, it's very comfortable for your little one!
The unique blend of materials mean you should make sure not to use warm water or apply any excessive heat to the mattress as it will shrink. This means you tumble dry the mattress itself. Wash it with cold water and then hang it up to dry.
Safety Features
As well as being GREENGUARD and CPSC certified. This mattress unique material does do more to help prevent SIDS than other mattresses. The difference may be minor compared to other mattresses but if it's something you are worried about then you can be assured that the airflow of this mattress is second to none.
Size
52" x 28" x 5.5"
Material/ Fabric
The Wovenaire core is 90% air and 10% food-grade Polymer and is 100% recyclable.
Pros
The removable machine washable cover has a beautiful 3D cloud design.

Mattress cover is tumble dyer safe.

You can wash the entire mattress.

Extra breathability allows a decreased risk for SIDS.

100% recyclable.

Hypoallergenic.

Waterproof cover.

The breathable fabric allows for temperature regulation.

Lightweight design.
Cons
Might be too firm for a toddler.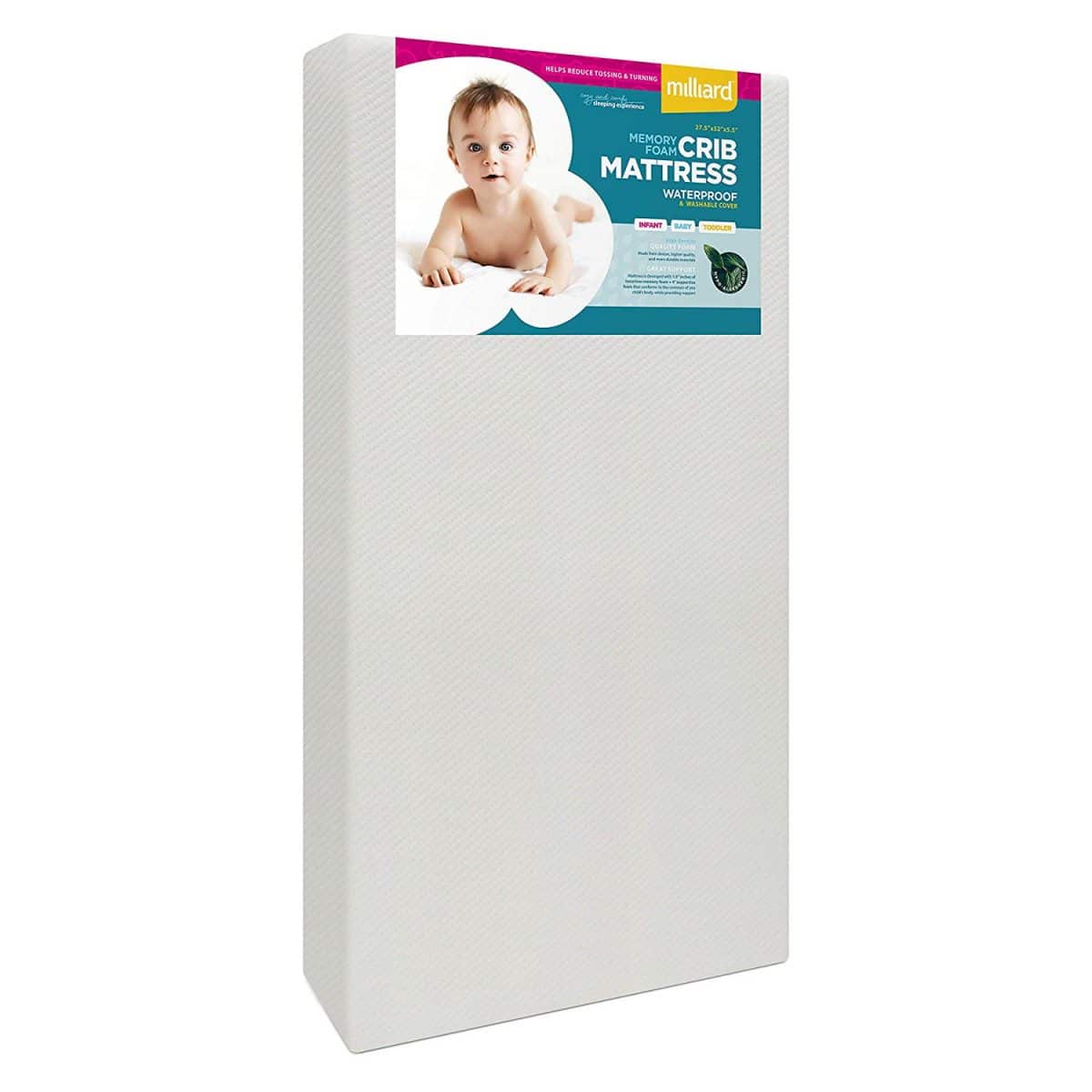 Why we like it:
The Milliard memory foam mattress offers you so many extras for its low price. We love the removable bamboo cover and that it is dual-use for babies and toddlers.
Editor's Rating:
The Milliard crib mattress offers your baby comfortable and affordable luxury. Designed with comfort in mind, this mattress features special airflow to regulate your child's temperature. The mattress cover made from bamboo is machine washable and waterproof so you can easily remove & wash the cover.
The memory foam is made with 3lb. construction that'll not bottom out over time allowing your young one to use & enjoy this mattress as long as they'll fit on it. It's dual use makes it suitable for infants and then toddlers. It's even suitable for young children if you're needing to make the budget stretch.
When cleaning, wipe the waterproof surface with a damp cloth for spot cleaning or remove the cover and wash in the washing machine, allow to dry before re-covering the mattress. The mattress can be spot cleaned using a wet sponge or cloth or alternatively it can be steam cleaned.
Safety
Certified non-toxic materials used throughout the construction. The natural fiberglass lining meets all fire safety standards. It is also CertiPur-US certified.
Size
27.25 x 52 x 5.5".
Material/ Fabric
Bamboo mattress cover, memory foam, foam base, natural fiberglass lining.
Pros
The removable bamboo cover allows for easy cleaning.

Quality brand and fabric.

Memory foam allows for comfortable sleep.

Hypoallergenic.

Waterproof cover.

Foam base ensures firm surface for babies.

Dual use for babies and toddlers.

No need to iron the bamboo cover as it's a anti crease design.

No noise when baby sleeps.

You get a lot for the money you pay.
Cons
Memory foam is a possible safety hazard
Why we like it:
A tremendous amount of research was put into making this mattress safe for your baby as well as the environment. It's organic & GREENGUARD gold certified. It's also lightweight which makes it easy to change the sheet, a big help for any parent.
Editor's Rating:
The Colgate Eco Classica offers you an orthopedic style mattress. It's dual use means your child can use it as they grow, making it a good investment. Just turn it over to the softer side once they become a toddler.
It's a high quality, breathable organic mattress. The foam is infused with plant oils making it a safe chemical free option for your baby. The certified organic waterproof cover will keep your baby dry & warm.
The foam is made with non-food plant oils. The mattress is six inches thick, firm and is hypoallergenic. It's also water resistant if a spillage occurs it won't damage the mattress.
When cleaning it, be sure to use a damp cloth with cold water.
Safety Features
It's GREENGUARD and CertiPUR-US certified. It's also free from lead. The firmness that you expect from a baby mattress helps prevent SIDS.
Size
51.7" x 27.5" x 66".
Material/ Fabric
Lead free foam & organic cotton.
Pros
Easy sheet change.

GREENGUARD Gold certified.

Dual design.

Safe eco foam.

Sleek design.

Water resistant.

Organic cotton cover.

Easy to clean.

No chemical smell.
Cons
The mattress cover can't be removed to be cleaned separately.
Why we like it:
Weighing only three pounds, the Dream On Me 3 Mini is our favorite mattress for travel cribs.
Editor's Rating:
For parents needing a lightweight baby mattress on the go, the 3 Mini from Dream On Me is our top pick. Weighing only three pounds, this is the perfect mattress to pair with any portable crib. Even though it weighs practically nothing, this 3" thick baby mattress offers great support for your baby. Made in the USA using only quality materials. Due to this mattress's size, it's only suitable for infants and shouldn't be seen as a permanent baby mattress for the home.
The vinyl cover is very durable, which is useful if you're travelling a lot and also makes it easy to clean. That said, the mattress is stain resistant so shouldn't get dirty easily. If you do need to clean it, wipe clean with warm water and mild soap.
Safety Features
It's made of non-toxic materials and is GREENGUARD certified. The material is lead and phthalate free. The mattress promotes airflow which is crucial for making sure the baby can breathe.
Size
38" x 24" x 3".
Material/ Fabric
It's a foam mattress with a vinyl cover.
Pros
Only weighs three pounds

Fits most brands of mini travel cribs

The vinyl cover allows for easy cleaning

Made in the USA
Cons
Should not be used as a permanent crib mattress
Why we like it:
This mattress offers an anti-sag design to give your baby optimal support. The hospital grade cover is a hygienic surface for your baby to sleep on. This mattress also has a luxurious feel and look.
Editor's Rating:
The Sealy baby firm rest provides optimal orthopedic support with a 204 high coil system mattress. It'll offer a safe space for your child while also giving them maximum comfort. The coils provide a very firm surface for the child to rest on, while the hospital standard material is excellent at helping to prevent illness. It's also offers an impressive lifetime warranty which is a testament to the quality of the workmanship and the confidence the manufacturers have in the product.
Be careful when cleaning this mattress not to use any harsh chemicals as it will damage it and the mattress will absorb them, and then your baby might absorb them too. So be wary of that. Just wipe the waterproof surface with a damp cloth if it's stained.
The firmness of the mattress makes it perfect for infant as they rest. It also has hypoallergenic cushioning which only adds to the comfort for the child. This is certainly a luxurious mattress for any little king or queen.
Safety Features
GREENGUARD certification and flame resistance alongside the hospital grade material make this mattress very safe for your little one.
Size
27.25" x 51.63" x 5.75".
Material/ Fabric
204 Coils, two layers of non-allergenic cushioning, Staph-Gard hospital grade cover.
Pros
Easy to clean
Quality brand
Antibacterial
Hypoallergenic
Waterproof
Firm yet comfortable
Cons
The mattress can be quite noisy when baby moves around
Why we like it:
Lightweight enough to take with you anywhere, the Dream On Me Foam Pack N' Play Mattress is our top choice for pack n' play cribs.
Editor's Rating:
Does your baby love their pack 'n' play? A little bit larger than a typical crib, a pack 'n' play allows a little extra room for activities. Fitting a wide variety of pack n' play models, this 3" mattress from Dream On Me only weighs 3 pounds and has lots of features that make it safe and easy to clean. This is a hypoallergenic mattress that is waterproof and keeps good airflow.
Especially important for pack 'n' play mattresses is that the bindings on the edges have been lock stitched. This means there will be no loose threads causing potential safety issues, even after hours of play. This also prevents mold and mildew from seeping inside the mattress.
However, do not leave the mattress in the pack 'n' play when you're done with it, and store it in a cool dry place to ensure that it remains good quality for year to come. The antibacterial cover wipes clean easily with warm water and soap.
Safety
It's fitted to prevent gaps between the mattress and the walls of the pack n' play. The stitching also prevents loose threads from appearing on the seams. Like most other mattresses on this list, it has GREENGUARD certification.
Size
37.5″ x 25.5″ x 3″.
Material/ Fabric
This pack n' play mattress is made from 90% foam and 10% vinyl.
Pros
Dream On Me mattresses are Made in the USA using non-toxic materials
Lightweight
Fits most brands of pack n' play
Cons
Sizing for pack n' play cribs can be confusing. Make sure to check the dimensions to make sure it will fit with your pack 'n' play.
Why we like it:
Designed with safety in mind, This mattress will offer you dual use so it will work for your child as they grow from infant to toddler.
Editor's Rating:
The Safety 1st mattress is a lightweight mattress with two sides: One side for your infant that's firm enough for optimal safety and the other side for when your baby grows into his or her toddler years. The cover is made with waterproof fabric to allow for easy cleaning & to prevent liquids from penetrating into the mattress.
It has a five year warranty which is a testament to its workmanship and it won the women's choice awards. The cushioned side is very comfortable for your little one.
You can't place the entire mattress in the wash but this one still offers easy cleaning, spot clean when needed and use a damp cloth or sponge to wipe off any dirt.
Safety Features
It meets federal flammability standard and has the GREENGUARD Gold certified. It's also PVC certified. The firm support for your child means you can rest easy knowing they are.
Size
52" x 27.5" x 5".
Material/ Fabric
100% PEVA, high-density thermal bonded fiber.
Pros
Dual-use for babies and toddlers
Waterproof material layer
Cushioning for toddler use providing extra comfort
Hypoallergenic
Firm & safe base for newborns preventing SIDS
Cons
You can't wash the entire mattress
The waterproof cover isn't removable
Why we like it:
We love good craftsmanship. How and where the mattress is made matters. This mattress is made with soybean oils provided by American farmers. The soybean foam core provides an anti-sag comfortable surface.
Editor's Rating:
The Sealy soybean mattress has a cotton cover that's stain, odor and water-resistant. The extra firm base is lightweight and provides optimal safety for your newborn. The square corner design provides a snug fit for most US cribs and toddler beds.
This mattress is suitable for newborns & toddlers. However, you may need to eventually replace it when your child reaches the upper end of the toddler age. The firmness is eventually too much for them and you'll need something softer since suffocation is less of a risk.
It has a plush cotton cover and waterproof lining and the soybean oil-based fabric is a unique offering that doesn't compromise on comfort or safety for your baby.
Don't use any cleaning material on the mattress surface. This mattress isn't suitable for washing with detergents. Spot clean if needed. Use a damp cloth or sponge to wipe off any dirt without using any harsh chemicals.
Safety Features
CertiPur-US approved and with a PVC free cover, this mattress is very safe. The firmness provided by the foam is perfect for infants.
Size
27.25" x 51.36" x 5".
Material/ Fabric
Soybean oil-infused fabric, natural woven fibres, cotton cover.
Pros
Soybean oils provide a more natural option

The cover is stain resistant

The cover is odor and waterproof resistant

The firm base for newborns

The material provides a cool surface
Cons
You can't wash the whole mattress

The waterproof cover isn't removable

Might be too firm for a toddler mattress
Guide to Buying the Best Crib Mattress
Certification & Standards
Most mattresses will have an approved certification & that's something you should definitely look out for. But do you know what the certifications & standards mean?
Oeko-Tex Standard 100 certification: This is a worldwide uniform certification. If you see this certificate you'll know there are no heavy metals in the mattress & some flame retardants were also not used in the making of the mattress.
GREENGUARD environmental institute: This institute will test the mattress for harmful emissions.
USDA logo: The logo that'll tell you how the organic fibre was grown.
GOTS: The Global Organic Textile Standard will be given to any mattress with a minimum of 70% organic fibres.
Preventing SIDS
SIDS or sudden infant death syndrome can be a frightening thought when you're a new parent. When a baby under the age of one year dies unexpectedly while sleeping without warning or any specific reason, it's called SIDS. It's important to know that SIDS is still a mystery & there's no cure. You can, however, make sure your baby's crib & environment is as safe as possible to prevent accidents from happening:
Sleeping position: Your baby should be sleeping on his or her back for the first six months. This will prevent them from accidentally suffocating due to not being able to turn or lift themselves up. It's recommended that your baby stays on his or her back until the age of 12 months. It will, however, become harder to control this as they'll be able to move around by themselves.
Soft toys: While it's cute for cuddling outside the cot soft toys shouldn't be left in your baby's cot before the age of one year. Even after a year it's best to keep the cuddle friends outside the sleeping area. Synthetic materials that are used to make soft toys can cause suffocation.
Side by side: According to research having your baby sleep in your room for the first few months can possibly prevent SIDS. Put the crib next to your bed so you'll be able to hear your baby's breathing easily.
Monitors: Invest in a baby monitor that also has a breathing pad. If your baby stops breathing the monitor alarm will go off to let you know.
Heavy blankets: Although heavy blankets or duvets work great to keep older children warm and improve sleep, it's recommended to cover infants with lightweight cotton or muslin blankets to prevent suffocation.
Smoke free zone: Smoking during and after pregnancy has been linked to SIDS. Second-hand smoking can increase your newborn's chance of developing lung-related illnesses such as asthma.
What Does Organic Really Mean?
If you're concerned about the hazardous materials & fabrics inside your child's mattress you'll probably look for a natural or organic mattress. There are numerous toxic materials used in adult mattresses that might cause or aggravate health problems in babies such as:
Plastic
PVC
Chemicals that produce carbon emissions
It's unsettling to think that your baby will be surrounded by toxins while sleeping so selecting an organic, eco free & natural mattress is a great choice. There are unfortunately no legal standards for this which makes it harder to select the best mattress. The mattress might be labeled organic referring to some parts of the mattress but not necessarily the whole mattress. In other words, the organic mattress might have an 80% plastic cover.
When you purchase a mattress don't simply read the label. Ask a few questions such as what other materials the mattress consists of. Look out for some safer fabric options such as:
Cotton
Coir
Bamboo
Plant based foam
Natural latex
Second Hand vs New Mattresses
Buying necessities for your newborn can become costly. Optioning for second hand products can be a great way to save on unnecessary costs. However, some items are best to get brand new and a crib mattress is one of them.
You'll benefit from a new mattress for a few reasons:
Hygiene: Bodily fluids & other liquids such as milk will most likely be left on a crib mattress. Cleaning the mattress doesn't guarantee that you'll get rid of mold which is growing inside the foam or any other bacteria that might be present.
Quality: Buying a second-hand mattress from an unknown source might leave you with a "fake" label or brand. Buying a new one is the best way to know what you'll be getting.
Long lasting: You have no way of knowing how long a second-hand mattress has been used before the owners sell it to you. When you buy a new mattress you'll have an accurate idea of how long the mattress will last.
Firmness: The firmness of a crib mattress will wear out over time making it unsafe for a newborn. Buying a new mattress will enable you to get the best out of the mattress.
Mattress Covers
Some mattresses come with a built-in mattress cover. Most of these covers aren't removable making it harder to clean properly. It's advisable to get a waterproof mattress cover if yours doesn't come with one in order to prevent liquids from penetrating into the mattress.
A mattress cover can be easily removed for proper cleaning. If you prefer a cotton cover you can get a waterproof mattress pad that's placed between the cover and mattress to protect your mattress.
The Importance of Warranties
When buying appliances and products the first thing consumers look for is a warranty and the longer it is then often the better the mattress is made. Although a warranty can be a good indication of the manufacturers' confidence in their products it's not necessarily worth paying more for one.
Don't worry too much, any good quality well-known brand mattress should last you long enough. A lifetime warranty isn't really a necessity with a baby mattress!
Types of Mattresses
There are different types of mattresses available for your newborn and toddler. Here are a few of the options available:
Foam based
Innerspring
Organic
Dual mattress
Memory foam mattress
Your selection will greatly depend on what you're looking for in a mattress. Innerspring mattresses are great options for parents looking for a firm mattress whilst memory foam mattresses provide a comfortable surface for toddlers.
Final Words
Parents will know that the famous saying "sleeping like a baby" is not always the case, especially when your baby reaches milestones like teething. However, when you're lucky enough to have a sleeping baby in the crib, you want to be confident that your baby is safe & comfortable. Start this exciting journey of parenthood by investing in a good quality mattress for your baby from day one.