Feeding a baby with formula is relatively straightforward, but there is no doubt that it gets quite tedious and repetitive with the number of bottles an infant goes through on any given day. Measuring out the proper amount of water, then scooping the precisely measured powder, followed by shaking to mix may not be a big deal for some, but many parents enjoy the convenience of a formula maker.
Baby formula makers make fixing a bottle a much simpler task while ensuring a smooth consistency without air bubbles. If you are thinking about getting a baby formula maker for your infant, it is important to get the best one based on your needs and your budget.
How to Choose the Right Baby Formula Maker
There are quite a few different baby formula makers available to choose from. Finding the one that will meet your specific needs is important. Taking a moment to learn about the different types of formula makers will help you to understand your options and make sure you pick one that will meet your needs as your infant grows up.
A Baby Formula Maker Can Make Your Life Easier
While preparing for the arrival of a new baby you will likely be flooded with a market that is saturated with a million "must-have" baby items. It is important for new parents to ask themselves what they really need for their new bundle of joy. While on the surface it is not difficult to make a bottle of formula, it can get tedious over time. In addition, some babies are more sensitive than others to air bubbles and other issues that can be caused from a hand made bottle. For parents who will primarily use breastmilk to feed baby, an expensive formula maker probably will not be necessary.
For families who will use numerous formula bottles a day, however, having a machine to help really simplifies the feeding process significantly. Furthermore, these makers help achieve an ideal consistency of formula without clumps or air bubbles, which is difficult to do when shaking is your mixing method.
Types of Baby Formula Makers
The formula makers on our list come in three main categories.
First, there are mixing pitchers available in both manual and battery-powered. These pitchers not only that make it easy to prepare large batches of smooth formula, but also store it to have at the ready. While these pitchers make mixing formula a snap, they still require measuring and warming the formula for the bottle at feeding time
Second, there are all-in-one systems that are more of a kitchen appliance than a pitcher. These sit on the countertop and do it all at the push of a button. This type will measure, mix, and dispense the warmed water straight into the bottle so there is little to no preparation work on the part of the parent. Once you fill the machine with formula and water, you are good to go throughout the day. These machines are terrific, but they are pricier and do take up some real estate on your kitchen counter.
The third option you'll find on our list are simple mixing wands. These little hand-held tools help with the preparation of individual bottles as opposed to making large batches.
Now that you know a little bit more about your options for hassle-free formula prep, lets get right to our list of the best baby formula makers to buy this year. We included several of each type of baby formula maker in our top 10 list so you can find the one that will work best for you and your growing family.
Top 10 Best Baby Formula Makers 2023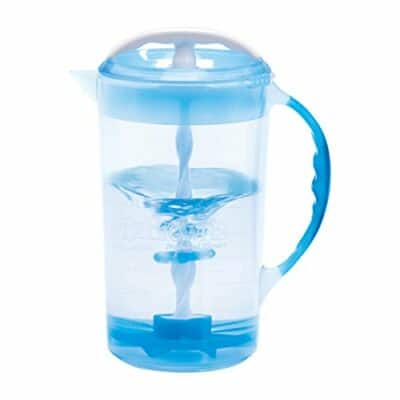 Why we like it:
This is just a great well-rounded formula maker. It is easy to use, functions properly, and is extremely affordable.
Editor's Rating:
Sometimes, when it comes to baby gear and gadgets, simple is best. That is why we absolutely love the Dr. Brown's formula maker. Dr. Brown's is a very reputable brand when it comes to baby items; they take quality seriously, ensuring an excellent product.
This formula maker, at first glance, looks like a standard pitcher in which you would find lemonade or another drink. This unique pitcher, however, has a clever mechanism that allows parents to easily mix up to 32 ounces of formula at a time using specially designed blades created to properly mix baby formula.
To use it, you simply fill it with water to the desired level using the clearly marked measurements along the side of the pitcher in both ounces and mL. Next, add formula to the pitcher using proper measurements according to your preferred formula brand. Then comes the fun part. Inserted through the lid of the pitcher is a set of plastic blades that whirl up and down through the mixture as you pull and push the handle. A convenient locking feature on the stem of the blades can be set to the proper height so that it is impossible for air to be incorporated into the mixture. This means the formula is silky smooth without any clumps or bubbles.
Because the pitcher is a convenient 8.5 inches high, it can be stored as-is in the refrigerator, and you can pour out your desired amount of formula throughout the day. Or, since the formula is smooth and ready to be used right after mixing, you can pour it into bottles to have them pre-prepared in the refrigerator waiting for use. Pouring is easy with a lid that locks on and a soft-grip handle. The entire thing is easily taken apart and dishwasher safe, as all parents will enjoy. The plastic is also BPA free. This is also one of the most affordable formula makers on the market, which all new parents will appreciate.
Pros
Easy to use and effective for silky smooth formula

Easy to assemble, disassemble, and clean

Will not break the bank
Cons
This is just a mixer, so it does not warm bottles like some machines do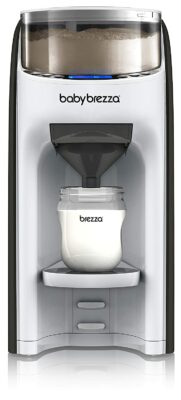 Why we like it:
This is an extremely advanced machine that really does it all. You will not find an easier way to have your baby's bottle made.
Editor's Rating:
This all-in-one time-saving machine takes all the work out of preparing perfectly measured, mixed, and warmed bottles for your baby. No need to meticulously portion out water and powder ratios or worry about a bottle full of air bubbles. It prepares bottles anywhere between 2 and 10 ounces of formula and can be set to warm the bottles to one of three temperature settings: body temperature, warmer than body temperature, or room temperature.
The tray that holds the bottle can be moved up and down to make this machine compatible with any bottle brand or shape. Furthermore, this machine is also compatible with any standard formula powders. The powder reservoir on this machine can hold enough powder to make up to 20 8-ounce bottles, meaning you will not need to refill it very often.
The water tank holds a whopping 50 ounces of water. It is also removable and dishwasher safe. The settings are easy to select on the LCD panel. Simply choose your settings and push the start button.
It is an absolute sanity saver especially for preparing bottles in the middle of the night. While the machine is BPA-free for safety, it is also sleek looking and something you will not hate having to forfeit some countertop space for. The convenience and time it will save you make giving up that small counter portion more than worth it!
Pros
Complete bottle preparation machine

Quickly make the perfect bottle with just the touch of a button

Large water and powder reservoirs are very convenient

Extremely attractive machine

Make anywhere from 2 to 10 oz of formula at a time
Cons
More expensive than other options on our list.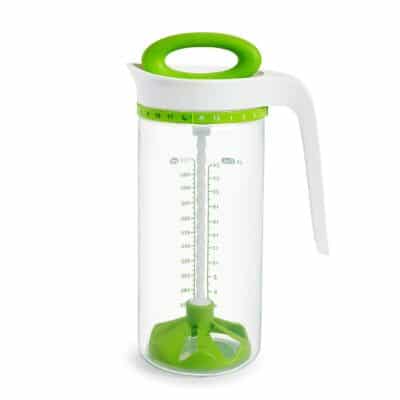 Why we like it:
This is a very simple mixer to use that will last for years. We also love the convenient time setting, so you know how old each batch of formula is.
Editor's Rating:
For the parents who may already be overwhelmed with lots of baby things without a whole lot of storage, the Munchkin formula mixing pitcher is the perfect option as it is compact and has a small footprint in storage or in the refrigerator.
This formula maker is a pitcher with whirling blades for mixing smooth formula without air bubbles. Mixing takes just a few seconds, and when done the formula can be consumed immediately or it can be safely stored in the refrigerator. It makes up to 24 ounces of formula at a time. While its capacity is not huge, it is still a major time saver compared to individually making and shaking bottles.
To use it, simply take off the lid, use the measuring indicators to fill with water to your desired amount, then add the proper measurement of formula powder according to the formula instructions. Then, place the lid with the handle and plastic blade back on the pitcher and begin mixing. This lid conveniently locks into place for a secure mix and for storage.
One particularly unique feature of this pitcher that sets it apart from others is the adjustable time ring at the top of the pitcher. This is used to indicate the time of day or night the formula was mixed so that even the most sleep-deprived parent knows when the refrigerated formula will expire. The main issue we saw with this model is that if you are only making a small amount of formula, the mixing blade may rise above the surface of the liquid.
This can introduce air bubbles into the formula, which should be avoided. Also, the printed-on markings on the side of the container can wear off after extended use. All parts of this formula maker are BPA free and able to be washed in the top rack of the dishwasher.
Pros
It does not take up a lot of space in the refrigerator

The lid seals very securely

Has a time ring indicator to easily keep track of when the formula was mixed
Cons
Printed measurements can wear off over time

Mixing blades may rise above liquid, causing bubbles in the formula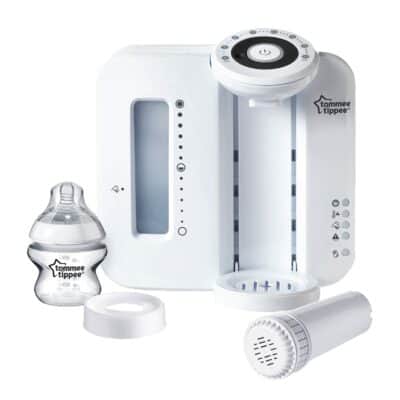 Why we like it:
We love it that this formula maker filters the water before making the formula.
Editor's Rating:
Tommee Tippee is a familiar brand for bottle-feeding parents, as they are serious about comfort and convenience for all their baby products. This bottle preparation machine is no exception. The machine prepares bottles between 4 and 11 ounces in just two minutes.
While Tommee Tippee makes a great bottle, and some of these machines even come with one, the adjustable bottle tray can move to accommodate any bottle brand you have. This machine is different from others, though, in that parents still need to measure out formula powder and add it to the bottle.
Once the bottle is placed and the machine is activated, it delivers a "hot shot" of water to the bottle which kills any bacteria that may be present in the formula and also helps to start dissolving the formula powder. This is when the parent then scoops the formula powder into the bottle and gives it a shake. Then, the machine adds the proper amount of cooler water to the bottle to give the final result of a body temperature bottle.
Perhaps the most unique feature of this machine is the water filter. It features a built-in filtration system to remove impurities from the water as it is dispensed, ensuring that your baby is getting pure, fresh water every time. This model also has an indicator light to let you know when the filter needs to be cleaned. You will also appreciate the soft glow nightlight that allows you to mix the formula without having to turn on an overhead light.
Pros
Built in water filtration system

Easy bottles in just two minutes

Back lit buttons make operation easy

Indicator light when cleaning is needed
Cons
Does not dispense the baby formula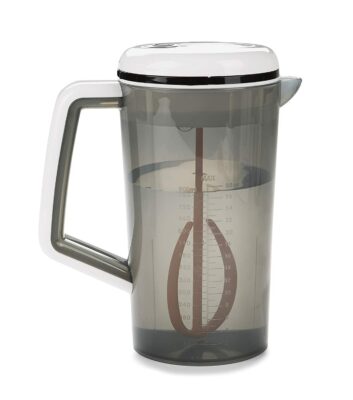 Why we like it:
This is the most affordable motorized formula maker on the list, and it is very easy to use.
Editor's Rating:
This pitcher is very similar to other formula mixing pitchers on the market, but with one major difference: it's motorized! Yes, this pitcher takes on all of the manual work of mixing the formula that would otherwise be done following the water and formula measuring. To operate, you fill the pitcher with the desired amount of water using the measurement indicators along the side of the pitcher. Then, add the proper amount of formula powder per the formula instructions. Finally, once the lid with its uniquely designed mixing wand is securely placed on the pitcher, just push a button to let the mixing begin!
There is no cranking up and down of a mixing handle like there is with the manual mixing pitchers. When the formula is done being mixed, it is ready to be poured easily with its comfort grip handle and no-spill spout. The formula comes out silky smooth and without any air bubbles or clumps.
All parts of the machine are BPA free, and the pitcher portion is dishwasher safe. However, because of the battery unit which houses the required 3 AA batteries, the lid is not dishwasher safe. It needs to be cleaned with caution to avoid any water getting near the batteries.
This is a good middle-of-the-road option for parents who want some of the convenience of an all-in-one electric formula maker without the price tag or additional countertop appliance. This electric mixing pitcher can also be used for other things after baby outgrows formula. Customers enjoy using it for chocolate milk, protein shakes, and the other beverages.
Pros
Small and sleek with a compact design that makes it easy to store

The battery-operated motor is nearly silent when in use

It has some of the convenience of an all-in-one maker while being a more affordable option
Cons
The lid is not easy to clean because caution must be used to avoid getting the battery area wet

The batteries will need to be changed every few months with regular use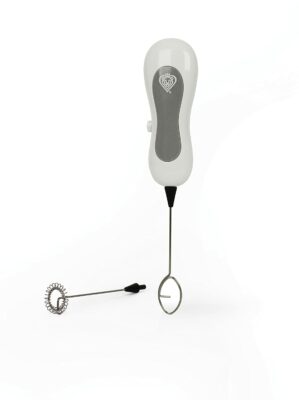 Why we like it:
The mixing wand can be used for formula while your baby is young and then swapped out to mix drinks for older kids too.
Editor's Rating:
Just about everyone will agree: this little gadget may be small, but it sure is fantastic for mixing bottles! This mixer will cut down bottle prep time significantly, eliminating the shaking and all concerns about air bubbles or clumps in the bottle.
The mixer is simple; it is a handheld mixer with a handle that houses 2 AA batteries. In the wand is placed the mixing blades which are extra-long to reach the bottom of bottles. You simply add the water and formula powder to the bottle, submerge the mixing end, and turn it on. Just be warned, you will want to keep an extra set of batteries with you as this mixer goes through them quickly.
A small movement of the wrist ensures you have mixed all of the formula, then volia, you are done. Make sure to turn off the wand before bringing it out of the liquid so you do not splash or cause the creation of any air bubbles. One of the great advantages of this formula maker is that it is completely portable.
While you can't bring a countertop formula appliance nor a mixing pitcher to a park or to a store, this Prince Lionheart mixer is easy brought along to make sure the bottles you mix on the go are silky smooth to keep baby's stomach happy.
This mixer also comes with an additional attachment for frothing milk for espressos. Of course, this attachment should be avoided for mixing formulas. Furthermore, parents who are conscientious about their spending will be more than happy about the price tag for this option. Both of the mixing wands are dishwasher safe so you can easily keep them clean.
Pros
Easy to pack up and take with you on the go

When used properly, it prevents clumps and air bubbles
Cons
The mixer needs to have the batteries changed regularly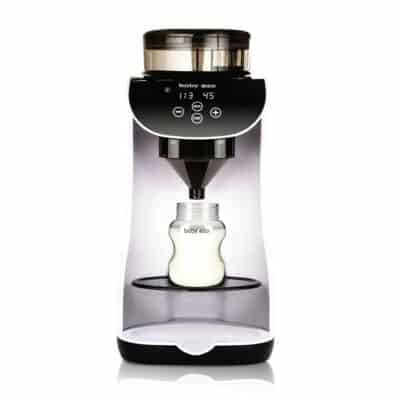 Why we like it:
This high-tech formula maker produces a perfectly mixed bottle of formula in just seconds with just the touch of a button.
Editor's Rating:
This high-tech machine takes care of preparing a perfectly mixed and warmed bottle with just the push of a button. Similar to a single-serving coffee maker, this is a countertop appliance with customizable settings to get the perfect size and temperature bottle that you need at that moment. The machine dispenses the precise amount of powder needed from the powder box and mixes it with the proper amount of water from the large capacity water tank.
The design of the dispensing funnel is such that it produces smooth formula without the air bubbles you would get from shaking a bottle to mix it. The formula box has a unique seal that prevents even the slightest bit of moisture from entering the formula powder area. It can be used with any powder formula, and the machine can be used with any brand of bottles, as it features an adjustable bottle tray to fit your bottle shape.
All the parts that need regular cleaning are easy to disassemble and submerge in warm soapy water for a washing. The water and powder tanks are also dishwasher safe. Make sure you do clean the machine as recommended or it will become clogged relatively easily.
All parts of the machine are BPA free. The machine is also very fast, making a warm and smooth bottle in just 10 seconds! Another unique feature of this machine is that it allows you to make a one-ounce bottle if you need a little more to top off the baby. With many other machines, they require making a minimum of two ounces, which can end up being wasteful.
Pros
Very quick at producing a perfectly made and warmed bottle

Accurately measured formula powder and water ratios every time

Large capacity water and powder tanks

Absolutely perfect for parents of multiples who need bottles fast
Cons
Without regular cleaning, it can be prone to clogs

Quite expensive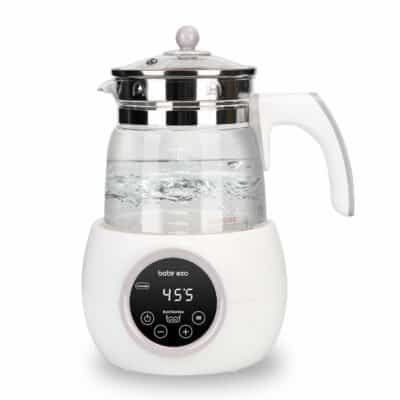 Why we like it:
It keeps water the right temperature so mixing a bottle is fast and easy.
Editor's Rating:
The BabyEXO Baby Formula Kettle is a unique item on this list. It does not actually mix the formula for you, but rather gives you a convenient place to do it while keeping the water at an ideal temperature. You fill the kettle up with clean water and set the temperature to the baby formula setting. The kettle will heat the water to the desired temperature within seconds and then keep it at that level for up to 24 hours. This way you have the perfect temperature water when you need to make a bottle
This is a great option for parents who need to make bottles at night. You can set up the kettle to keep the water warm, then prepare a bottle with just the formula already in it. When your baby wakes up, simply add the warm water to the bottle and give it a quick shake and you will be ready to go.
The kettle is made with glass and metal, so you don't have to worry about BPAs or other contaminants entering your baby's formula. It can hold up to 1.2 liters.
While this is ideal for making formula, it can be used for a variety of other things as well including making warm water, coffee, tea, or even oatmeal. The kettle has various temperature settings to make it easy to use for all of these things and many more. You can wash the kettle in your dishwasher between uses, or if you are just using it to heat the water for your formula, it doesn't even need to be cleaned.
Pros
The water warms up extremely quickly

Great for preparing for nighttime bottles

Can be used for much more than baby formula

Easy to clean
Cons
Does not actually mix the baby formula for you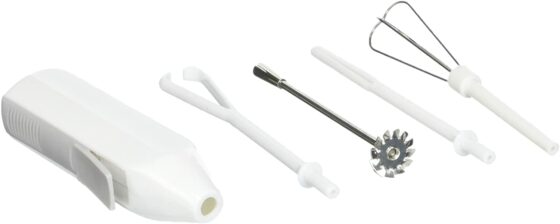 Why we like it:
This is a very affordable mixer that can be used for baby formula and much more.
Editor's Rating:
For achieving a smoothly mixed bottle in just seconds, the Norpro Mini Mixer is a convenient, battery powered tool to that can be a lifesaver to have on hand. While this is designed as a multi-purpose tool, we love it for mixing formula into bottles with the mixing tip. It requires very little effort to submerge the mixing tip, turn it on for a few seconds making sure all the powder is mixed, then remove the tip after turning it off to prevent splatters or adding air to the liquid.
As the title indicates, this mixer is rather small. It cannot be used to prepare batches of formula ahead of time, but rather is great for individual bottle preparation. Because it is battery operated, it is easy to take with you outside of the house to make sure that your little one has well-mixed, smooth bottles anywhere you go!
As an added bonus, this little mixer comes with a total of four attachments, meaning you can use this for multiple mixing tasks. We think you will appreciate using it to froth beverages such as coffee and help with hobbies like mixing small paint containers. It can also be used to whisk one or two eggs at a time.
The design of this item makes it very versatile, and surprisingly long lasting. The small motor has plenty of power to mix up your formula, but it does not drain the AA batteries that it uses very quickly. The detachable mixing attachments are dishwasher safe for easy cleaning and storage.
Pros
This mini tool is in 8.5 inches with the attachment in place, so it is easy to transport

Has a long battery life using 2 AA batteries

Dishwasher safe attachments

Can be used for much more than baby formula
Cons
Can only be used to prepare one individual bottle at a time, no batches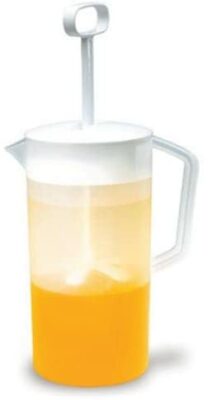 Why we like it:
The large capacity and very durable construction make this a mixer that can last a lifetime.
Editor's Rating:
The Rubbermaid mixing pitcher comes from a brand many people know and trust. The sturdy walls of this pitcher and convenience of being dishwasher safe come as no surprise. This mixing pitcher is designed with the manual plunging spinning blades that move up and down through the formula to mix and dissolve all of the powder.
As long as you are careful not to raise the blades above the top liquid line, air bubbles cannot get stirred into the formula. A few plunges up and down will achieve a smooth consistency for a large batch of formula ready to have on hand in the refrigerator. Just be careful when mixing since the lid does not lock securely in place.
Something unique about this mixing pitcher is its large capacity. This mixing pitcher holds 64 fluid ounces (2 quarts). Because of its capacity, this Rubbermaid pitcher is a terrific option for parents of multiples who will be going through much more formula in a 24-hour period than families with just one infant.
The large capacity will also be a handy feature once your baby is done drinking formula because it can be used for so many other beverages. You will find that it is a good way to mix juiced from frozen concentrates as well as large batches of drinks from powders such as lemonades and sports drinks.
Pros
Great for a long life of multiple uses even after baby grows out of formula

Large capacity is especially helpful for parents of multiples

Entire mixer can be cleaned in the dishwasher
Cons
The lid does not lock in place
The Complete Guide to Purchasing a Baby Formula Mixer
Now that you have looked at ten of the best options on the market for baby formula makers, it is almost time to make your decision. If you still are not sure which model is right for you, read through this complete guide to choosing a baby formula maker. In it you will learn everything you ever wanted to know about this great tool.
What to Consider Before Buying
Parents should ask themselves what is most important to them when selecting a formula maker. The market is full of baby products, and new parents or expectant parents do not have the time to sift through each and every product out there. Here are some key considerations parents should think about before taking the plunge
Budget
If your budget is tight, but having silky smooth formula is a top priority, a simple mixing wand such as the Norpro Cordless Mini Mixer may be all that you need. These are fairly similarly priced to many of the pitcher options, so a mixing pitcher may also end up being a good option, depending on what you value most: fridge space, portability, mixing large portions at a time vs. individual bottles, etc. Both the pitcher and the wand types range in price from right around $10 up to the high $30's in most cases.
Counterspace
It may feel like the baby already has a significant patch of real estate on your countertop if you have a drying rack for bottles already present. But if counterspace is not too hard to come by in your home, an all-in-one formula maker like the Baby EXO Formula Maker may be a nice addition to the kitchen. Some customers even create a station for their maker in the baby's room for convenient night feedings. No matter where it is, it is crucial that it is set up in a safe area where it cannot be tampered with by other small children.
Fridge Space
Are you already lamenting about the difficulty of finding fridge space for your grocery on a weekly basis? For families that do a lot of meal prepping and do not have much space in their fridge to spare, they may opt for a stirring wand or a countertop maker instead of a mixing pitcher. The pitchers are wonderfully helpful if you do have enough space to safely store the pitcher in the fridge for the 24-hour period that the formula is good for. Mixing an entire day's worth of formula at once with the help of the mixing blades saves time and makes pouring a fresh, smooth bottle a breeze.
Features of the Maker
Above all, parents need to ask themselves what features are "must haves" in their formula maker. All of them make smooth formula minimizing clumps and air bubbles, but not all of them automatically measure and warm the bottles.
Sometimes hearing a baby wail for a bottle in the middle of the night while waiting for the bottle to safely get warm enough is enough to drive a parent to absolutely prioritize a warming feature to their maker. Not all babies require warm bottles, though, and not all parents mind warming them up, so it may be okay for some to pass on the warming feature.
Materials Touching the Formula
If you are like most parents, you want to make sure your child is safe and healthy at all times. This means making sure that the formula that they are drinking is not contaminated with any toxins or other issues. With this in mind, it is absolutely essential that you choose a baby formula maker that is either made with glass, or is at least BPA free plastic.
All of the products in our top ten list were specifically screened to ensure they are BPA free and safe for use on and around baby formula, so you don't have to worry about a thing.
Why is Smooth, Well-Mixed Formula a Must?
Without a formula maker of any kind, manual or electric, the way parents will need to prepare their infant's formula bottles involves measuring water into the bottle then adding the appropriate amount of formula powder to the bottle according to ratios given by the formula manufacturer. Then, to mix the water and powder together, a parent must shake, shake, and keep shaking that bottle until the formula is well incorporated.
Shaking a bottle is an effective way to mix the formula into the water, but it has some unwanted side effects. These side effects can cause potential problems for you and your little one. These can include issues such as:
Clumps of Formula
The shaking method of bottle preparation often leads to small clumps in the bottle, even after minutes of vigorous shaking. This is because the powder and water can sometimes create a sticky bond. It usually gets caught on a ridge within the neck of the bottle until dislodged. Sometimes this is not a huge issue and small little clots can be washed away when the bottle is cleaned. However, clumping has two main issues.
First, if the powder clumps, that means the formula is not actually mixed with the proper ratio of formula and water because some of that powder is stuck somewhere in the bottle. Second, feeding a baby a bottle that has clumping can be incredibly frustrating because the flow of the bottle becomes blocked. This leaves an annoyed baby whose milk was just cut-off and an irritated parent who has to dislodge the clump to continue feeding.
Air Bubbles
When you shake a bottle to incorporate the formula, you must shake a lot and with some vigor lest you end up with clumps. But the more shaking that happens means the more air bubbles that form in the bottle. Even bottles with special venting features to reduce baby's air intake cannot mitigate all air bubbles. And, of course, consumed air bubbles can cause a gassy tummy for baby. And gassy babies, in turn, make for babies who are fussy, cannot sleep, or even have colic. All babies have different sensitivity levels to this, but it is always better to have fewer bubbles in your formula.
Uneven Heating
When making a bottle it is recommended that you carefully turn your faucet to the proper temperature, measuring it to ensure it is not to hot or to cold for your little one. If you must heat the bottle up once it is made, you are supposed to run warm water over the outside of the bottle while slowly turning it until it is the correct temperature. One should never microwave a baby bottle because it can result in hot sections of the formula, which could burn your baby.
Most parents know these rules, but the reality is, few of them follow them with every bottle. There are times when a baby is fussy or it is the middle of the night and parents end up taking shortcuts, thinking that they can just shake the bottle a little extra to ensure it is safe. If you are not extremely careful, this to can lead to potentially dangerous hot spots that could hurt your child.
Proven Mixing Techniques Solve These Problems
Baby formula mixers eliminate all the problems mentioned above about mixing a baby's bottle by shaking it. This is because they are specifically designed to ensure the entire contents of the bottle is properly mixed up, and the heat is evenly distributed. Some models will even have a precise temperature setting so you know exactly how warm the formula is before you give it to your little one.
This is done by using various types of mixing fins that agitate the water either around in circles, or back and forth, to make sure all the formula is completely dissolved into the water. This will also quickly move hotspots around until the entire bottle reaches a uniform temperature that is safe for your child. Finally, since the mixing is all done below the surface of the water, air bubbles are not introduced into the formula.
Do Not Stress About Your Decision
It is certainly important to do everything you can to take good care of your child. For many parents (especially new parents), however, it becomes easy to obsess about every little decision you make. Choosing the right baby formula maker is important because you want to find one that will work properly and make your life easier.
The fact is, however, that no matter which one you pick, just the fact that you are taking the time to research shows you are going to be a great parent and the method you choose to make your child's formula will not impact that at all. Congratulations on your little one.