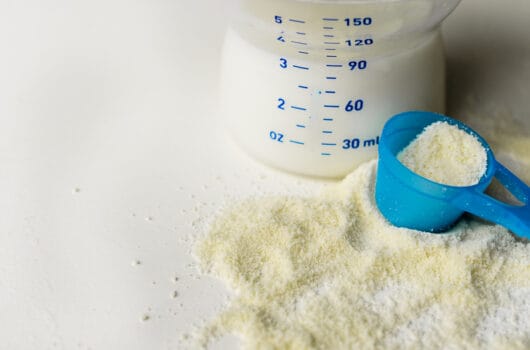 O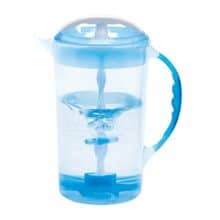 Dr. Brown's Formula Mixing Pitcher
B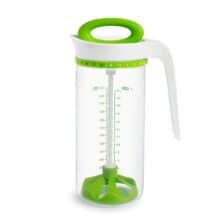 Munchkin Smart Blend Formula Maker
P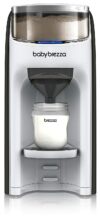 Baby Brezza Advanced Formula Machine
Previous
Next
Feeding a baby with formula is relatively straightforward, but there is no doubt that it gets quite tedious and repetitive with the number of bottles an infant goes through on any given day. Measuring out the proper amount of water, then scooping the precisely measured powder, followed by shaking to mix may not be a big deal for some, but many parents enjoy the convenience of a formula maker.
Baby formula makers make fixing a bottle a much simpler task while ensuring a smooth consistency without air bubbles. If you are thinking about getting a baby formula maker for your infant, it is important to get the best one based on your needs and your budget.
How to Choose the Right Baby Formula Maker
There are quite a few different baby formula makers available to choose from. Finding the one that will meet your specific needs is important. Taking a moment to learn about the different types of formula makers will help you to understand your options and make sure you pick one that will meet your needs as your infant grows up.
A Baby Formula Maker Can Make Your Life Easier
While preparing for the arrival of a new baby you will likely be flooded with a market that is saturated with a million "must-have" baby items. It is important for new parents to ask themselves what they really need for their new bundle of joy. While on the surface it is not difficult to make a bottle of formula, it can get tedious over time. In addition, some babies are more sensitive than others to air bubbles and other issues that can be caused from a hand made bottle. For parents who will primarily use breastmilk to feed baby, an expensive formula maker probably will not be necessary.
For families who will use numerous formula bottles a day, however, having a machine to help really simplifies the feeding process significantly. Furthermore, these makers help achieve an ideal consistency of formula without clumps or air bubbles, which is difficult to do when shaking is your mixing method.
Types of Baby Formula Makers
The formula makers on our list come in three main categories.
First, there are mixing pitchers available in both manual and battery-powered. These pitchers not only that make it easy to prepare large batches of smooth formula, but also store it to have at the ready. While these pitchers make mixing formula a snap, they still require measuring and warming the formula for the bottle at feeding time
Second, there are all-in-one systems that are more of a kitchen appliance than a pitcher. These sit on the countertop and do it all at the push of a button. This type will measure, mix, and dispense the warmed water straight into the bottle so there is little to no preparation work on the part of the parent. Once you fill the machine with formula and water, you are good to go throughout the day. These machines are terrific, but they are pricier and do take up some real estate on your kitchen counter.
The third option you'll find on our list are simple mixing wands. These little hand-held tools help with the preparation of individual bottles as opposed to making large batches.
Now that you know a little bit more about your options for hassle-free formula prep, lets get right to our list of the best baby formula makers to buy this year. We included several of each type of baby formula maker in our top 10 list so you can find the one that will work best for you and your growing family.
Top 10 Best Baby Formula Makers 2020
The Complete Guide to Purchasing a Baby Formula Mixer
Now that you have looked at ten of the best options on the market for baby formula makers, it is almost time to make your decision. If you still are not sure which model is right for you, read through this complete guide to choosing a baby formula maker. In it you will learn everything you ever wanted to know about this great tool.
What to Consider Before Buying
Parents should ask themselves what is most important to them when selecting a formula maker. The market is full of baby products, and new parents or expectant parents do not have the time to sift through each and every product out there. Here are some key considerations parents should think about before taking the plunge
Budget
If your budget is tight, but having silky smooth formula is a top priority, a simple mixing wand such as the Norpro Cordless Mini Mixer may be all that you need. These are fairly similarly priced to many of the pitcher options, so a mixing pitcher may also end up being a good option, depending on what you value most: fridge space, portability, mixing large portions at a time vs. individual bottles, etc. Both the pitcher and the wand types range in price from right around $10 up to the high $30's in most cases.
Counterspace
It may feel like the baby already has a significant patch of real estate on your countertop if you have a drying rack for bottles already present. But if counterspace is not too hard to come by in your home, an all-in-one formula maker like the Baby EXO Formula Maker may be a nice addition to the kitchen. Some customers even create a station for their maker in the baby's room for convenient night feedings. No matter where it is, it is crucial that it is set up in a safe area where it cannot be tampered with by other small children.
Fridge Space
Are you already lamenting about the difficulty of finding fridge space for your grocery on a weekly basis? For families that do a lot of meal prepping and do not have much space in their fridge to spare, they may opt for a stirring wand or a countertop maker instead of a mixing pitcher. The pitchers are wonderfully helpful if you do have enough space to safely store the pitcher in the fridge for the 24-hour period that the formula is good for. Mixing an entire day's worth of formula at once with the help of the mixing blades saves time and makes pouring a fresh, smooth bottle a breeze.
Features of the Maker
Above all, parents need to ask themselves what features are "must haves" in their formula maker. All of them make smooth formula minimizing clumps and air bubbles, but not all of them automatically measure and warm the bottles.
Sometimes hearing a baby wail for a bottle in the middle of the night while waiting for the bottle to safely get warm enough is enough to drive a parent to absolutely prioritize a warming feature to their maker. Not all babies require warm bottles, though, and not all parents mind warming them up, so it may be okay for some to pass on the warming feature.
Materials Touching the Formula
If you are like most parents, you want to make sure your child is safe and healthy at all times. This means making sure that the formula that they are drinking is not contaminated with any toxins or other issues. With this in mind, it is absolutely essential that you choose a baby formula maker that is either made with glass, or is at least BPA free plastic.
All of the products in our top ten list were specifically screened to ensure they are BPA free and safe for use on and around baby formula, so you don't have to worry about a thing.
Why is Smooth, Well-Mixed Formula a Must?
Without a formula maker of any kind, manual or electric, the way parents will need to prepare their infant's formula bottles involves measuring water into the bottle then adding the appropriate amount of formula powder to the bottle according to ratios given by the formula manufacturer. Then, to mix the water and powder together, a parent must shake, shake, and keep shaking that bottle until the formula is well incorporated.
Shaking a bottle is an effective way to mix the formula into the water, but it has some unwanted side effects. These side effects can cause potential problems for you and your little one. These can include issues such as:
Clumps of Formula
The shaking method of bottle preparation often leads to small clumps in the bottle, even after minutes of vigorous shaking. This is because the powder and water can sometimes create a sticky bond. It usually gets caught on a ridge within the neck of the bottle until dislodged. Sometimes this is not a huge issue and small little clots can be washed away when the bottle is cleaned. However, clumping has two main issues.
First, if the powder clumps, that means the formula is not actually mixed with the proper ratio of formula and water because some of that powder is stuck somewhere in the bottle. Second, feeding a baby a bottle that has clumping can be incredibly frustrating because the flow of the bottle becomes blocked. This leaves an annoyed baby whose milk was just cut-off and an irritated parent who has to dislodge the clump to continue feeding.
Air Bubbles
When you shake a bottle to incorporate the formula, you must shake a lot and with some vigor lest you end up with clumps. But the more shaking that happens means the more air bubbles that form in the bottle. Even bottles with special venting features to reduce baby's air intake cannot mitigate all air bubbles. And, of course, consumed air bubbles can cause a gassy tummy for baby. And gassy babies, in turn, make for babies who are fussy, cannot sleep, or even have colic. All babies have different sensitivity levels to this, but it is always better to have fewer bubbles in your formula.
Uneven Heating
When making a bottle it is recommended that you carefully turn your faucet to the proper temperature, measuring it to ensure it is not to hot or to cold for your little one. If you must heat the bottle up once it is made, you are supposed to run warm water over the outside of the bottle while slowly turning it until it is the correct temperature. One should never microwave a baby bottle because it can result in hot sections of the formula, which could burn your baby.
Most parents know these rules, but the reality is, few of them follow them with every bottle. There are times when a baby is fussy or it is the middle of the night and parents end up taking shortcuts, thinking that they can just shake the bottle a little extra to ensure it is safe. If you are not extremely careful, this to can lead to potentially dangerous hot spots that could hurt your child.
Proven Mixing Techniques Solve These Problems
Baby formula mixers eliminate all the problems mentioned above about mixing a baby's bottle by shaking it. This is because they are specifically designed to ensure the entire contents of the bottle is properly mixed up, and the heat is evenly distributed. Some models will even have a precise temperature setting so you know exactly how warm the formula is before you give it to your little one.
This is done by using various types of mixing fins that agitate the water either around in circles, or back and forth, to make sure all the formula is completely dissolved into the water. This will also quickly move hotspots around until the entire bottle reaches a uniform temperature that is safe for your child. Finally, since the mixing is all done below the surface of the water, air bubbles are not introduced into the formula.
Do Not Stress About Your Decision
It is certainly important to do everything you can to take good care of your child. For many parents (especially new parents), however, it becomes easy to obsess about every little decision you make. Choosing the right baby formula maker is important because you want to find one that will work properly and make your life easier.
The fact is, however, that no matter which one you pick, just the fact that you are taking the time to research shows you are going to be a great parent and the method you choose to make your child's formula will not impact that at all. Congratulations on your little one.