Every parent knows that changing diapers can sometimes be a wrestling match with your children. If you are using regular cold wipes that can send shivers to your baby's delicate areas, consider purchasing a baby wipe warmer. This will keep your little one warm and comfortable through all of your child's diaper changing. This is especially helpful when changing your baby in the middle of the night since the warmed wipes won't stimulate them, causing them to remain awake longer than necessary.
How to Choose the Best Baby Wipe Warmer
Diaper changing can be a dreaded time for new and even experienced parents. When using baby wipes at room temperature, cleaning your little one's sensitive areas can jolt and send your baby into an uncomfortable screaming and shivering fit. Using a baby wipe warming dispenser can solve this discomfort. Not only are the wipes warmed to a comfortable temperature, some even have built-in, softly lit nightlights so you can change your baby at nighttime without turning on bright overhead lights.
When researching baby wipe warmers, we looked at many different factors, and recommend you do the same. The following are some of the key aspects to consider when deciding which baby wipe warmer you want to purchase:
Reliability
You will undoubtedly be using baby wipes for at least a couple of years, and you want your warmer to work well the entire time. A good quality baby wipe warmer should work well not just for your current little bundle of joy, but for all future children you have as well.
Extra Features
There are quite a few different types of extra features that are available on baby wipe warmers. Things like nightlights, one-touch controls, battery power, and other features can really add to the convenience of this product.
Location of Warming Element
In general, baby wipe warmers will either have the heating element at the top or the bottom of the device. While both can work well, having a top heated design is able to provide a more consistent temperature for the wipes you are using.
Temperature
All baby wipe warmers are designed to keep the wipes at a temperature that is warm and comfortable, yet still safe for use on your child's sensitive skin. In addition to the overall temperature, we also looked at whether the temperature stayed consistent over time.
Capacity
The number of wipes that will fit into the warmer is going to determine how often you need to refill it. While refilling the warmers is quite simple, the last thing you want is to reach for a wipe and have it be empty when you're halfway through changing a diaper.
Price
Of course, price is almost always going to be a factor in any purchase. While the exact cost of a particular warmer may change over time, we factored in the general price range of a given model when ranking each one.
There may be many different infant products available on the market today for new parents, some of them you might not even really need. However, among the multitudes of different gadgets, one of the most highly recommended among experienced parents is a baby wipe warming dispenser. For your convenience, we have looked at all the best baby wipe warmers on the market today and ranked them to help you choose which one is right for you.
Top 10 Best Baby Wipe Warmers 2023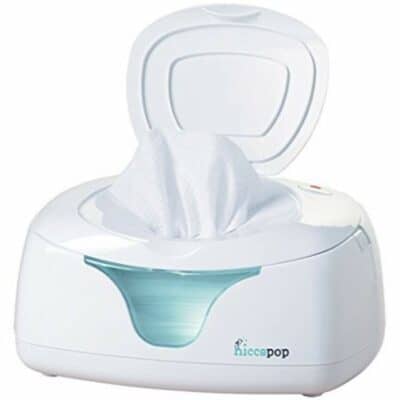 Why we like it:
Innovative and practical baby wipe warmer for any little one.
Editor's Rating:
The Hiccapop Baby Wipe Warmer is an extremely popular model with over 3 million units sold. The innovative design is made with a silicone seal that helps to keep the moisture in so that the wipes don't dry out. The Hiccapop Wipe Warmer is available in two colors: snow (white) and stone (darker gray). The wipe warmer used relatively little electricity and is equipped with a power adapter that can help keep it protected in the event of a power surge.
There is a convenient nightlight on the front of the warmer that will provide you with enough illumination to successfully change a diaper without stimulating your little one to wake up more than they already have. The front of the dispenser has a see-through window, so you do not have to question how many wipes you have left. The dispenser holds about a week's worth of wipes and has a top heating component so that the wipes you use first will be the warmest.
Overall, the Hiccapop Wipe Warmer is an excellent option for any family. One critique we have is that the warmer does not keep the wipes as warm as some other models. While it is important to avoid overheating wipes, it would be nice if this model had an option to get a little warmer for babies who prefer that comforting heat. If you choose this warmer, make sure you add about a quarter of a cup of water into the warmer with each pack of wipes to help ensure they don't dry out.
Pros
Nightlight for easy nighttime changing

Low voltage design

Viewing window so you know how many wipes are left

Top heater warms wipes from the top down
Cons
Does not keep wipes as warm as other models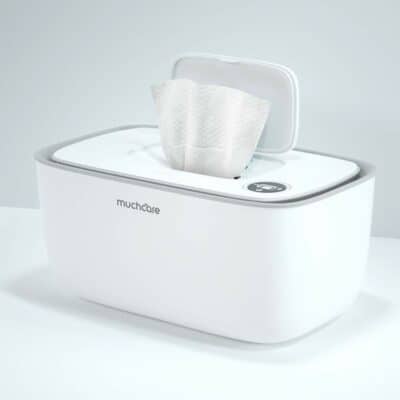 Why we like it:
High tech, sleek baby wipe warmer built for convenience and comfort.
Editor's Rating:
This is a newer model to the market, but its unique features earned this product a spot on our list. It was designed to not only keep your baby wipes warm, but also look great in the process. The sleek and sophisticated Muchcare Baby Wipe Warmer is highly revered for its simple use and practical design.
The Muchcare Wipe Warmer is designed with top heating, which ensures that the wipes are more evenly heated than wipe warmers that dispense heat from the bottom. You can even adjust the temperature to the perfect level for your baby.
The Muchcare Wipe Warmer comes with a pop-up lid, so busy parents can quickly remove a wipe with one hand while their other is occupied. A power button easily turns the dispenser off and on. This dispenser can hold at least 80 wipes at a time regardless of what brand you use.
If you prefer some of the thinner baby wipes, you'll be able to fit quite a bit more than 80. The warmer is designed to fit in even relatively small places with a compact size of just 8.4''x4.9''x3.1''. For even more convenience, the dispenser is charged by USB cable and even comes with a car charger for when you are on the road.
Made of BPA free and environmentally friendly materials, you can be sure the Muchcare Wipe Warmer is safe for you and your little one. The dispenser does not need to be consistently plugged in for use either, so you can conserve energy and be in more control of the heating system. The nightlight feature also helps keep your little one from a rude awakening in the middle of the night from overhead lights.
The one potential downside to the design of this warmer is that if you don't place the wipes in just right, it can be difficult to get just one wipe at a time. When you pull, you'll end up with two or three if you aren't careful.
Pros
Soft nightlight for nighttime changing

Power button with temperature adjustment conveniently located on lid

Lightweight and portable, with a car charger

Charged with USB cable
Cons
Can be difficult to get one wipe out at a time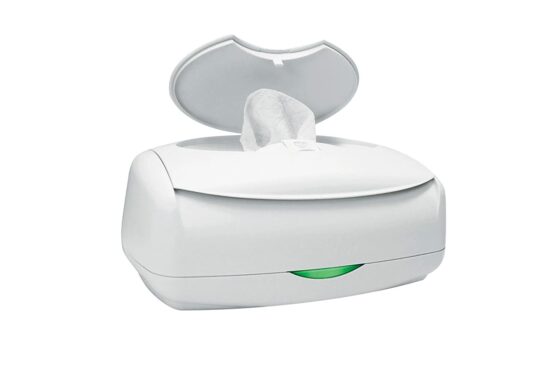 Why we like it:
This is one of the least expensive models on the market, but still offers excellent quality.
Editor's Rating:
Since 1973, this family-owned, parent-operated business knows the importance of using warm wipes and has been producing safe and effective ways to keep little bottoms warm. The company behind this product has had quite a few popular baby wipe warmer models, and this is certainly one of the best.
In fact, the Prince Lionheart brand has sold more warmers than any other in the world.
This model has many great features. Perhaps the most important is that it is treated with an antimicrobial product to keep wipes safe and clean. This will help to minimize the risk of mold, mildew, or other unwanted things from contaminating the wipes you will use on your child. The Prince Lionheart Wipe Warmer also features other things that make it stand apart from other dispensers.
For example, this model has a soft nightlight for late night changes, a pop-up top for easy wipe grabbing, and is also compatible with cloth wipes as well. The feature that makes this product unique is its patented 'everFRESH Pillow System' that is designed to keep wipes moist while also ensuring that the wipes don't become brown due to exposure to the heating element.
There has been some scrutiny with the Prince Lionheart Wipe Warmer lid staying closed. Over time, it seems like the clasp sometimes becomes ineffective and can be hard to stick shut. Another thing to keep in mind is that the everFRESH Pillow should be changed every three months, which some people may find inconvenient or easy to forget.
Overall, this is one of the best options on the market for those who are looking for a budget-friendly baby wipe warmer.
Pros
Affordable

Antimicrobial product treated

Compatible with cloth wipes

Nightlight for late night changes
Cons
Lid has difficulty staying closed at times

Ever-fresh Pillow needs to be replaced every three months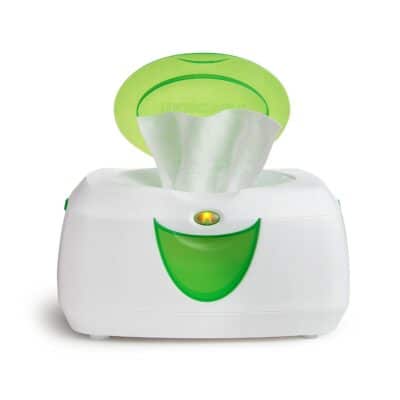 Why we like it:
This warmer will work with both traditional disposable baby wipes and reusable fabric wipes.
Editor's Rating:
The Munchkin Warm Glow Wipe Warmer is well designed for quick and easy use. It is made to hold up to 100 standard baby wipes at a time, dispensing them easily through the flip-top lid. The dispenser is designed with low voltage heating elements to keep the amount of electricity used as low as possible. In addition to the warming feature, this model also has a soft glowing nightlight that automatically shuts off after ten minutes.
The nightlight is bright enough to see what you are doing in the dark but gentle enough to avoid causing your baby to get excited. The warming system dispenses heat from the top down, ensuring that the first wipes are ready for use every time.
This unit does a good job at keeping the wipes warm enough to avoiding startling your child. It is even strong enough to be able to heat up the often-thicker fabric baby wipes that may people prefer to use. These reusable wipes often can't be effectively warmed in lower quality models. So if you are someone who prefers this environmentally friendly option, this is a great warmer to consider.
The dispenser is easy to take apart, so cleaning is simple. This is important as depending on what type of wipes you use; the warm moist environment could cause mold or mildew to form in the unit. Overall, this is a great baby wipe warmer, and will certainly meet the needs of any parent.
One thing to note, however, is that this unit does not have an on/off switch. If you are going on vacation or otherwise will not need to use it for a while, you will have to unplug it from the wall, which may be inconvenient.
Pros
Can be used with reusable fabric baby wipes

Convenient nightlight with a 10-minute auto shutoff timer

Easy to clean
Cons
No on/off switch, need to unplug when not in use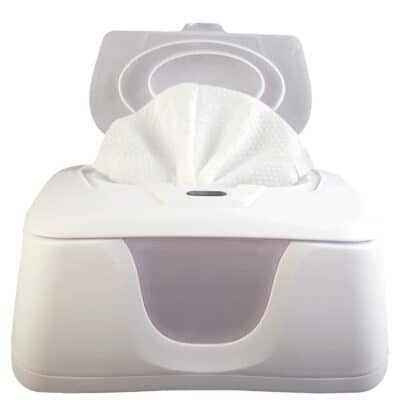 Why we like it:
This affordable baby wipes warmer is easy to use and is able to hold more wipes than most other warmers we reviewed.
Editor's Rating:
The Gogo Pure Baby Wipe Warmer is a fashionable and practical addition to any baby nursery. It has quite a few great features and is still priced very affordably, which makes it a great option for many people. The Gogo Pure Wipe Warmer has an easy on/off button, so you do not have to unplug when it is not in use. The dispenser is designed to hold 100 wipes at a time and has a silicone seal on the top to keep the moisture inside of the bin. The lid is a flip top and the dispenser features safety locks so you can keep the top sealed as much as possible, preventing drying and browning of the wipes.
The built-in nightlight can be turned on and off manually using the convenient buttons, or it will automatically shut off after 10 minutes to avoid wasting any energy. This nightlight uses four LED bulbs, which can provide more light than most other warmers on the market today. The lights are shaded with a clouded white plastic to avoid disturbing your child. In addition to having the light come out the main area on the front, this model also illuminates the top of the dispenser so you can easily see the wipes for easy access.
Overall, the Gogo Pure is an excellent baby wipe warmer that is well designed and easy to use. While the design is set up to completely seal the container, the wipes can get dried out over time from normal use. Anyone who experiences this issue should just add a half of a cup of water to the container to ensure they stay moist.
Pros
Simple to use

Holds 100+ baby wipes

Illumination comes from front and top
Cons
Wipes may dry out over time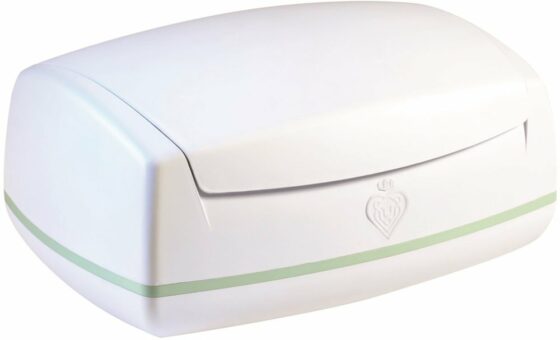 Why we like it:
Designed specifically for cloth wipes, this model is also made from materials derived from bamboo for an eco-friendly product.
Editor's Rating:
Also known as The Prince Lionheart 9001, the Prince Lionheart Warmies Wipe Warmer is a lightweight, 3-part heating system wipes dispenser that is designed for parents who prefer using cloth wipes. The dispenser keeps the cloth wipes at a perfectly warm temperature that keeps your baby's bottom from any cold shocks that can make changing time difficult.
The Prince Lionheart Warmies Wipe Warmer comes with 4 cloth wipes to help you get started. A lot of parents prefer cloth wipes over disposable wipes so they can ensure their little one has a warm wipe every time. 100% made from Rayon derived from bamboo, the dispenser is durable and built to last while also being very environmentally friendly compared to traditional plastic models. This option comes with a micropore pillow to keep cloth wipes fresh and clean. The lid can be conveniently opened with 1 hand to make diaper changes quicker.
Like most other wipe warmers, the Prince Lionheart Warmies needs to be plugged into an outlet in order to keep the wipes consistently warm. You can unplug when not in use, such as overnight or if you are gone for a while. The wipes will stay warm up to about an hour after unplugging. We found that the built-in nightlight can be a little overpowering. It would be nice if they offered an option to dim the light a little bit, but since that is not an option, some parents will simply turn it off and use an alternative light source for night time changing sessions.
Pros
Comes with four cloth baby wipes

Designed specifically for cloth wipes (though it will work safely for disposables as well)

Convenient one-handed opening
Cons
Light can be a bit too bright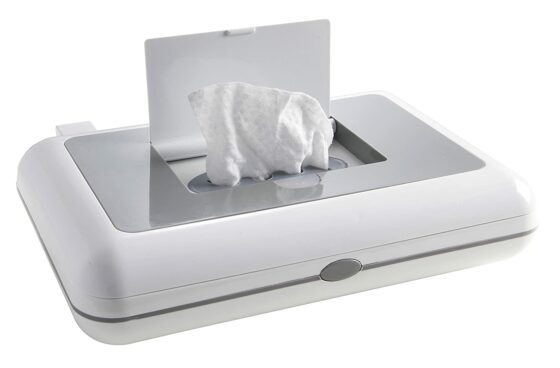 Why we like it:
The Prince Lionheart Compact is easy to tote around for any diaper changes on the go.
Editor's Rating:
Prince Lionheart manufacturers know that messy surprises can happen anywhere. Whether it is at the park, grocery store, or a trip away from home, be sure to be ready with a compact baby wipe warmer. The design is compact enough to fit into any diaper bag, purse, or even some larger pockets.
When you purchase this warmer, you will get both the standard wall outlet power option and a convenient car charger so you can keep the wipes warm anywhere you happen to be. Once the warmer has brought the temperature of the wipes up, they will stay nice and warm for about an hour, even with no additional power.
You can order your Prince Lionheart Compact with either grey or green trim, giving it a personal touch. This option is smaller than most because it is designed as a travel solution. It is able to hold up to 30 wipes at a time, which is more than enough for any normal outing. The lid pops up for easy wipe grabbing.
Once you are done with the wipes, make sure to carefully close the lid and make sure it is kept safe while in use because the lid is not attached as strongly as it should be. If it catches on something when sliding it into your diaper bag, for example, it could snap off. The wipe warmer is made with EPA approved additives to prevent the growth of bacteria, so you know it is safe for little bottoms.
Most people will not want to use this as their only baby wipe warmer because if it is used for every new diaper you would have to refill it all the time. As a secondary option that is used when you're on the go, however, it is perfect. Overall, the Prince Lionheart Compact is a fantastic addition for a family that already has a wipe dispenser at home and takes their little one with them on the go.
Pros
Perfect for on the go diaper changes

Different colors available

Wall and car adapters included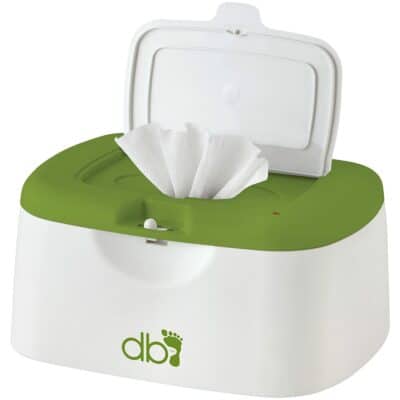 Why we like it:
Guaranteed to prevent wipes from drying out or getting brown.
Editor's Rating:
For parents who feel like a baby wipe warmer might be a luxury but not a necessity, the DEX Baby Wipe Warmer is one to consider. For its affordable price and no extra bells and whistles, the DEX is one of the underdogs of childcare products.
The innovative design warms the baby wipes from the top down, so the first wipes ready to be used are kept the warmest. The DEX Wipe Warmer does not heat the wipes past a lukewarm temperature, and the wipes at the bottom of the container do not receive the heat as well as the top will. Since you aren't likely to be using more than 3-4 wipes at a time, however, this is only a minor concern for most people. The bin can hold an entire pack of 100 baby wipes, so you won't need to constantly be refilling.
There have been some issues concerning the lid of the DEX Wipe Warmer and how fragile it can be. We have found that even after just normal use, the lid can break. As long as you are careful and don't apply any extra pressure, however, this won't likely be a big problem. Also, this product comes with a lifetime warranty so if it does break, you can get it replaced without much hassle.
Pros
Affordable

Top heated design keeps the wipes at the top ready for use

No sponges or moisture pads necessary
Cons
No silicone opening so wipes can be hard to grab from the dispenser

Would be better if the temperature got warmer

Lid can break easily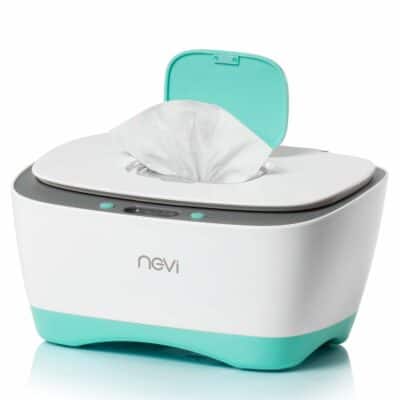 Why we like it:
Very advanced compared to most other warmers, it offers an LED screen, several temperature options and more.
Editor's Rating:
The NCVI Wipe Warmer is quite an advanced option that is relatively new to the market. It offers many great features that users seem to really love. While this model has not been available for as long as many others, it is clear that it is going to be very popular and loved by many.
To help keep the wipes moist, you will need to add 14 ounces of water to the container. The water goes directly onto a specially designed sponge in the container that will release the water slowly over time. Place the package of wipes in and adjust the temperature to the amount of heat you need. You'll have three separate temperature levels that you can choose from. Allow a few hours for the container to warm the wipes completely. The heat dispensed by the steam inside keeps the wipes perfectly warm and toasty, so your little one will never have another cold shock to the bottom again. The magnetic lid seals the top shut so heat does not escape as easily when pulling out wipes.
Compared to the other wipe warmers, the NCVI is a bit on the expensive side, but it is easy to see why. This model will also use a little more electricity than most other wipe warmers. This helps to not only keep the wipes nice and warm, but is also used to power the LED screen, nightlight, and other features. While designed as a traditional at-home wipe warmer, it does come with a car charger as well so that you can use it while on the go.
Pros
Easy temperature adjustment for the desired amount of warmth

Large amount of storage for up to 100 wipes

Car charger for easy traveling

LED indicator to help adjust settings
Cons
More costly than most other models

Still relatively new to the market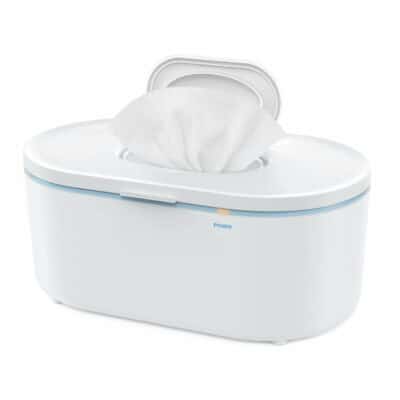 Why we like it:
Heating elements surround the wipes to help provide for a more even temperature.
Editor's Rating:
This warmer has a very basic look to it, but it is actually quite effective. It can easily fit about 100 wipes of most commercial types thanks to its large holding chamber. The lid has a duel gasket style seal to help minimize the amount of moisture that is able to escape while it is closed. This helps to keep the wipes moist for longer without much need to add any water.
One of the best things about this warmer is that rather than having the heating element at the top or the bottom, they actually put it both at the bottom and along the sides. This surrounds the wipes with heat so they have an even temperature throughout each one. Having an even temperature throughout all the wipes is important for ensuring you don't startle your little one while changing their diaper.
Of all the warmers on the market today, this one seems to actually get the hottest. While it is nowhere near hot enough to cause a burn to your child, it is something to be aware of. Related to this is the fact that the outside of the device will actually be warm to the touch, which is normal for this model. Just make sure not to place other wipes or heat-sensitive items near it or the warmth could cause problems.
Pros
Simple design that looks great for boys or girls

Heating elements surround the wipes for an even temperature

Designed to keep wipes as moist as possible
Cons
The device will actually be warm to the touch from the outside
The Complete Guide to Purchasing a Baby Wipe Warmer
For parents, changing a diaper can seem like a chore. If you are using cold baby wipes, this can make every diaper change a challenge for both of you and your little one. Baby wipe warming dispensers are a great way to prevent the shock of a cold wipe and keep your baby-and yourself-at ease.
A baby wipe warmer is typically a tabletop appliance that has the ability to heat and keep multiple amounts of baby wipes at a time, though many models can also be brought with you in the car. While these warmers can be kept in any location, they will almost always have to be close enough to a power outlet to allow them constant access to electricity, which is what is used to create the warmth.
Every parent knows that when the baby is happy, everyone is happy. So why make your child go through the shock of a cold, wet wipe? Babies are not able to regulate their own temperatures when they are little, meaning a cold wipe can cause distress, and make diaper changing time dreadful. The cold wipe actually closes the pores, whereas a warm wipe that will keep pores open and prevent the bacteria from becoming trapped, which can result in a diaper rash.
Now that you have read through our top choices for wipe warmers available, be sure to read through our buyer's guide to find what type of warmer is best for you and your family.
Key Considerations
As with most products on the market today, there are many different models to choose from. This great level of selection makes it possible for each person to get exactly what they need. It can also make it confusing for those who aren't sure exactly which features are important and which will just add to the price. The following are key things to think about when deciding which warmer is best for you and your baby.
Types of Wipes
There are two general types of wipes available: disposable wipes and cloth wipes. Most wipe warming dispensers are designed for use with disposable wipes, so you may not be able to use cloth wipes in certain warmers. If you prefer to use cloth wipes, make sure your new wipe warmer is compatible with cloth wipes.
Heating Mechanism and Location
Wipe warmers use either radiant or steam heat to warm wipes. Radiantly heated wipe warmers turn on and warm wipes with the touch of a button, while steam-heated wipe warmers need water added regularly. Steam heat can keep the wipes moist since it uses the water from the steam to gently heat the wipes. Radiant heat wipe warmers are able to get even warmer, so there is an added risk of the wipes becoming dried out. In addition, the location of the heating mechanism is something to consider. Heating elements located on the bottom of the device often leave the top wipes cooler, which is undesirable. Having the heating take place at the top will ensure the wipes you will use first are kept the proper temperature. Another option is to have the wipes surrounded by heat on all sides, which can also provide for an even temperature throughout the entire container.
Capacity
The number of wipes that a warmer can hold can be an important factor in decision making. The more compact products can hold about 30 to 50 wipes, which makes for a space-saving wipe warmer or one to take during travel. However, if you plan to use wipes in one area and over time, a wipe warmer that can hold 100 or more is more suitable since you won't have to add wipes so often. Warmers that are made for cloth wipes will hold far fewer since cloth wipes are much thicker.
Lid Type
Some wipe dispensers are designed with a pop-top lid that makes one hand grabs for a wipe easier. Some wipe warmers have a manually lifted lid, meaning you might have to use two hands to get a wipe out, which can be a bit of an inconvenience. While this may seem like a minor thing at first, just think about how much of a challenge it can sometimes be to hold your squirming infant while attempting to grab a wipe!
Power Type
Wipe warmers require electricity to keep the wipes heated. Virtually every wipe warmer will run on electricity, which means it has to be located near an outlet. Some will come with car adapters as well so you can plug them in to your vehicle for convenient on-the-go warming.
Portability
As mentioned above, some wipe warmers have the ability to travel compactly. If you and your children plan to travel often, consider a lightweight wipe warmer that you can pack on the go. Keep in consideration that portable wipe warmers are smaller, meaning they will not hold as many wipes in most cases.
Safety Features
Since a wipe warmer is for use on your little one, making sure that it is made with safe materials is a good thing to consider. Choose a model that is BPA free and not made with any harsh chemicals. Some wipe warming dispensers also have antimicrobial additives to prevent the growth of bacteria on the wipes.
Prices
Like most things you can buy online, competing wipe warmers can come in a variety of prices due to how many wipes they can hold and anything special they feature as well. Most wipe warmers cost somewhere between about $20 and $40 depending on what features they offer. There are good options at every price point within this range, so take the time to evaluate how much you want to spend and then select the best model at that price point.
Tips
The following are some quick tips that will help you when thinking about how you will use your baby wipe warmer and figuring out which model you want to buy.
You can save money on electricity usage by unplugging the device when you are not going to use it for a day or more. Just keep in mind that it will take about an hour to get the wipes back to the desired temperature once it is plugged in.
Be mindful of the number of wipes the warmer can fit. If you try to overfill the container, it may not heat as evenly and could easily become dried out.
To keep the warmers clean and free of any harmful bacteria, be sure to clean each time you refill the wipes. Take a soft cloth and wipe the inside to clear out any residue that might be left behind.
Make sure the power cord connected to your wipe warmer never gets wet. If you do happen to spill water on it, unplug it immediately and wipe it dry before using it again.
Always read the manufacturer's instruction guide carefully. Each product can have different ways to best maintain your wipe warmer.
FAQs
New parents often have a lot of questions about any product that will be used on or around their infant. The following are some of the most commonly asked questions about baby wipe warmers.
Are Baby Wipe Warmers Safe to Use?
Wipe warmers are designed to use low voltage electricity to maintain safely warmed wipes. While they do take the chill out of disposable wipes, they do not necessarily make them hot so you don't have to worry about burning your child. Of course, make sure to feel each wipe before applying it to your child to ensure it is the proper temperature.
How Long Does it Take to Warm the Wipes?
This is going to depend on which model you choose. Most wipe warmers are able to warm the wipes within about an hour. The number of wipes in the container will also need to be factored in to how long it will take to warm them completely, so it might take longer for a larger amount to warm.
Should the Wipes be Taken Out of Their Package Before Adding to a Warmer?
Yes. In virtually all cases, you will want to remove all packaging that your wipes came with before adding them into the warmer. Most parents will be able to save money by buying the bulk baby wipes and adding in the number that they need each time rather than purchasing the wipes that come with heavy packaging.
Will a Baby Wipe Warmer Grow Mold or Bacteria?
This is a real concern that you need to take seriously. Warm, moist areas are perfect breeding grounds for mold and bacteria. Many baby wipe warmers are treated with antimicrobial materials to keep the risk of this problem as low as possible. In addition, many baby wipes contain ingredients to help kill off these things. The best thing to do is make sure to clean out the baby wipe warmer each time you refill it to keep any mold or bacteria from forming.
It Is Time to Make Your Decision
You should now have all the information you need to make an informed decision on which baby wipe warmer is right for you. There are many great options out there, so as long as you take the time to really look at all the features of each model, you'll find one that will work great for you today, and long into the future.