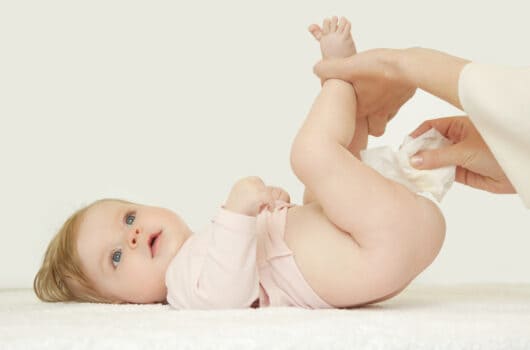 O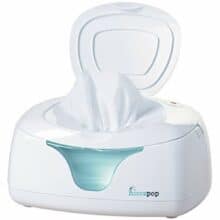 Hiccapop Baby Wipe Warmer
B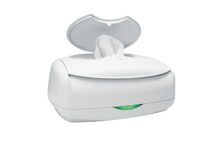 Prince Lionheart Ultimate Wipe Warmer
P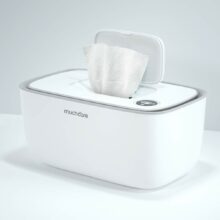 Muchcare Wipe Warmer
Previous
Next
Every parent knows that changing diapers can sometimes be a wrestling match with your children. If you are using regular cold wipes that can send shivers to your baby's delicate areas, consider purchasing a baby wipe warmer. This will keep your little one warm and comfortable through all of your child's diaper changing. This is especially helpful when changing your baby in the middle of the night since the warmed wipes won't stimulate them, causing them to remain awake longer than necessary.
How to Choose the Best Baby Wipe Warmer
Diaper changing can be a dreaded time for new and even experienced parents. When using baby wipes at room temperature, cleaning your little one's sensitive areas can jolt and send your baby into an uncomfortable screaming and shivering fit. Using a baby wipe warming dispenser can solve this discomfort. Not only are the wipes warmed to a comfortable temperature, some even have built-in, softly lit nightlights so you can change your baby at nighttime without turning on bright overhead lights.
When researching baby wipe warmers, we looked at many different factors, and recommend you do the same. The following are some of the key aspects to consider when deciding which baby wipe warmer you want to purchase:
Reliability
You will undoubtedly be using baby wipes for at least a couple of years, and you want your warmer to work well the entire time. A good quality baby wipe warmer should work well not just for your current little bundle of joy, but for all future children you have as well.
Extra Features
There are quite a few different types of extra features that are available on baby wipe warmers. Things like nightlights, one-touch controls, battery power, and other features can really add to the convenience of this product.
Location of Warming Element
In general, baby wipe warmers will either have the heating element at the top or the bottom of the device. While both can work well, having a top heated design is able to provide a more consistent temperature for the wipes you are using.
Temperature
All baby wipe warmers are designed to keep the wipes at a temperature that is warm and comfortable, yet still safe for use on your child's sensitive skin. In addition to the overall temperature, we also looked at whether the temperature stayed consistent over time.
Capacity
The number of wipes that will fit into the warmer is going to determine how often you need to refill it. While refilling the warmers is quite simple, the last thing you want is to reach for a wipe and have it be empty when you're halfway through changing a diaper.
Price
Of course, price is almost always going to be a factor in any purchase. While the exact cost of a particular warmer may change over time, we factored in the general price range of a given model when ranking each one.
There may be many different infant products available on the market today for new parents, some of them you might not even really need. However, among the multitudes of different gadgets, one of the most highly recommended among experienced parents is a baby wipe warming dispenser. For your convenience, we have looked at all the best baby wipe warmers on the market today and ranked them to help you choose which one is right for you.
Top 10 Best Baby Wipe Warmers 2020
The Complete Guide to Purchasing a Baby Wipe Warmer
For parents, changing a diaper can seem like a chore. If you are using cold baby wipes, this can make every diaper change a challenge for both of you and your little one. Baby wipe warming dispensers are a great way to prevent the shock of a cold wipe and keep your baby-and yourself-at ease.
A baby wipe warmer is typically a tabletop appliance that has the ability to heat and keep multiple amounts of baby wipes at a time, though many models can also be brought with you in the car. While these warmers can be kept in any location, they will almost always have to be close enough to a power outlet to allow them constant access to electricity, which is what is used to create the warmth.
Every parent knows that when the baby is happy, everyone is happy. So why make your child go through the shock of a cold, wet wipe? Babies are not able to regulate their own temperatures when they are little, meaning a cold wipe can cause distress, and make diaper changing time dreadful. The cold wipe actually closes the pores, whereas a warm wipe that will keep pores open and prevent the bacteria from becoming trapped, which can result in a diaper rash.
Now that you have read through our top choices for wipe warmers available, be sure to read through our buyer's guide to find what type of warmer is best for you and your family.
Key Considerations
As with most products on the market today, there are many different models to choose from. This great level of selection makes it possible for each person to get exactly what they need. It can also make it confusing for those who aren't sure exactly which features are important and which will just add to the price. The following are key things to think about when deciding which warmer is best for you and your baby.
Types of Wipes
There are two general types of wipes available: disposable wipes and cloth wipes. Most wipe warming dispensers are designed for use with disposable wipes, so you may not be able to use cloth wipes in certain warmers. If you prefer to use cloth wipes, make sure your new wipe warmer is compatible with cloth wipes.
Heating Mechanism and Location
Wipe warmers use either radiant or steam heat to warm wipes. Radiantly heated wipe warmers turn on and warm wipes with the touch of a button, while steam-heated wipe warmers need water added regularly. Steam heat can keep the wipes moist since it uses the water from the steam to gently heat the wipes. Radiant heat wipe warmers are able to get even warmer, so there is an added risk of the wipes becoming dried out. In addition, the location of the heating mechanism is something to consider. Heating elements located on the bottom of the device often leave the top wipes cooler, which is undesirable. Having the heating take place at the top will ensure the wipes you will use first are kept the proper temperature. Another option is to have the wipes surrounded by heat on all sides, which can also provide for an even temperature throughout the entire container.
Capacity
The number of wipes that a warmer can hold can be an important factor in decision making. The more compact products can hold about 30 to 50 wipes, which makes for a space-saving wipe warmer or one to take during travel. However, if you plan to use wipes in one area and over time, a wipe warmer that can hold 100 or more is more suitable since you won't have to add wipes so often. Warmers that are made for cloth wipes will hold far fewer since cloth wipes are much thicker.
Lid Type
Some wipe dispensers are designed with a pop-top lid that makes one hand grabs for a wipe easier. Some wipe warmers have a manually lifted lid, meaning you might have to use two hands to get a wipe out, which can be a bit of an inconvenience. While this may seem like a minor thing at first, just think about how much of a challenge it can sometimes be to hold your squirming infant while attempting to grab a wipe!
Power Type
Wipe warmers require electricity to keep the wipes heated. Virtually every wipe warmer will run on electricity, which means it has to be located near an outlet. Some will come with car adapters as well so you can plug them in to your vehicle for convenient on-the-go warming.
Portability
As mentioned above, some wipe warmers have the ability to travel compactly. If you and your children plan to travel often, consider a lightweight wipe warmer that you can pack on the go. Keep in consideration that portable wipe warmers are smaller, meaning they will not hold as many wipes in most cases.
Safety Features
Since a wipe warmer is for use on your little one, making sure that it is made with safe materials is a good thing to consider. Choose a model that is BPA free and not made with any harsh chemicals. Some wipe warming dispensers also have antimicrobial additives to prevent the growth of bacteria on the wipes.
Prices
Like most things you can buy online, competing wipe warmers can come in a variety of prices due to how many wipes they can hold and anything special they feature as well. Most wipe warmers cost somewhere between about $20 and $40 depending on what features they offer. There are good options at every price point within this range, so take the time to evaluate how much you want to spend and then select the best model at that price point.
Tips
The following are some quick tips that will help you when thinking about how you will use your baby wipe warmer and figuring out which model you want to buy.
You can save money on electricity usage by unplugging the device when you are not going to use it for a day or more. Just keep in mind that it will take about an hour to get the wipes back to the desired temperature once it is plugged in.
Be mindful of the number of wipes the warmer can fit. If you try to overfill the container, it may not heat as evenly and could easily become dried out.
To keep the warmers clean and free of any harmful bacteria, be sure to clean each time you refill the wipes. Take a soft cloth and wipe the inside to clear out any residue that might be left behind.
Make sure the power cord connected to your wipe warmer never gets wet. If you do happen to spill water on it, unplug it immediately and wipe it dry before using it again.
Always read the manufacturer's instruction guide carefully. Each product can have different ways to best maintain your wipe warmer.
FAQs
New parents often have a lot of questions about any product that will be used on or around their infant. The following are some of the most commonly asked questions about baby wipe warmers.
Are Baby Wipe Warmers Safe to Use?
Wipe warmers are designed to use low voltage electricity to maintain safely warmed wipes. While they do take the chill out of disposable wipes, they do not necessarily make them hot so you don't have to worry about burning your child. Of course, make sure to feel each wipe before applying it to your child to ensure it is the proper temperature.
How Long Does it Take to Warm the Wipes?
This is going to depend on which model you choose. Most wipe warmers are able to warm the wipes within about an hour. The number of wipes in the container will also need to be factored in to how long it will take to warm them completely, so it might take longer for a larger amount to warm.
Should the Wipes be Taken Out of Their Package Before Adding to a Warmer?
Yes. In virtually all cases, you will want to remove all packaging that your wipes came with before adding them into the warmer. Most parents will be able to save money by buying the bulk baby wipes and adding in the number that they need each time rather than purchasing the wipes that come with heavy packaging.
Will a Baby Wipe Warmer Grow Mold or Bacteria?
This is a real concern that you need to take seriously. Warm, moist areas are perfect breeding grounds for mold and bacteria. Many baby wipe warmers are treated with antimicrobial materials to keep the risk of this problem as low as possible. In addition, many baby wipes contain ingredients to help kill off these things. The best thing to do is make sure to clean out the baby wipe warmer each time you refill it to keep any mold or bacteria from forming.
It Is Time to Make Your Decision
You should now have all the information you need to make an informed decision on which baby wipe warmer is right for you. There are many great options out there, so as long as you take the time to really look at all the features of each model, you'll find one that will work great for you today, and long into the future.