Top 10 Best Baby Formulas 2023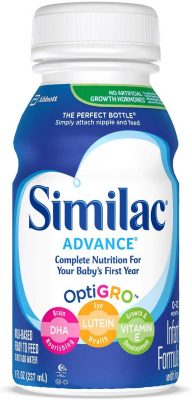 Quick Facts:
Amazon Subscribe & Save: Yes
Type: Cow's milk
Style: Powder concentrate
Similac is the #1 brand of formula chosen by mothers. Similac Advance is a milk-based powder and a nutritionally complete formula made from high-quality ingredients. It features OptiGRO, a proprietary blend of several ingredients proven to assist with the physical and mental development of your child. Because this formula is so affordable and comes in large, convenient containers, this is a great choice for families with multiples.
Ingredients: Similac Advance is made using OptiGRO, an exclusive blend of lutein, vitamin E, and DHA to provide nutrition and a variety of developmental benefits. Similac is a leader in the industry and was the first formula company to eliminate any ingredients that contain artificial growth hormones.
Benefits: Each component of the OptiGRO blend is designed to provide a specific benefit to a growing baby. Lutein is proven to provide a benefit to the eye health of growing babies, vitamin E assists with growth and development, and DHA provides an important boost to the development of your infant's brain. Parents can feel confident that they are providing their infants with all the required nutrition for their first year with Similac Advance. Unfortunately, some babies with certain needs like allergies or constipation will need a more specialized formula.
Value: At under $1 per ounce, Similac Advance is one of the most affordable complete nutrition formulas available. Parents ordering online can also take advantage of Amazon's "Subscribe & Save" option to save more money.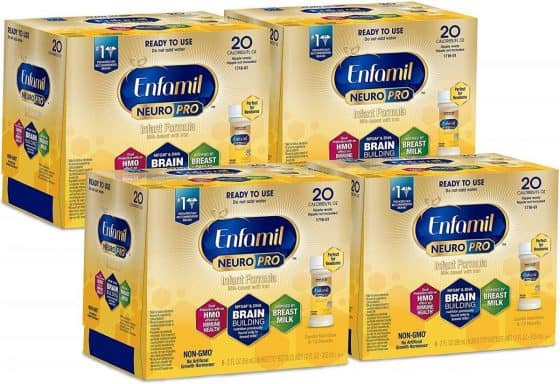 Quick Facts:
Amazon Subscribe & Save: Yes
Type: Cow's milk
Style: Powder concentrate
Enfamil NeuroPro Baby Formula was created in response to emerging research showing the powerful effect that MFGM has on cognitive development in babies. Offering complete nutrition for babies under 12 months, this formula is a great example of why Enfamil is routinely rated #1 among pediatricians. This formula is made using only non-GMO ingredients and each container has enough powder to fill about 18 eight-ounce baby bottles.
Ingredients: The result of years of research by Mead Johnson, Enfamil NeuroPro Baby Formula is the only formula to contain a blend of MFGM & DHA. MFGM stands for Milk Fat Global Membrane. It is a three-layered membrane that is normally found in breastmilk. The MGFM in this formula is made from cow's milk. There are no artificial growth hormones, but there the formula does contain dual prebiotics.
Benefits: Because Enfamil NeuroPro Baby Formula is so closely inspired by breastmilk, it also offers many of the same benefits. The MFGM & DHA combine for a boost to your baby's mental development. Additionally, the prebiotics has an HMO effect on your baby's immune system. This formula is also easy to digest.
Value: Sold at a moderate price, Enfamil NeuroPro Baby Formula is a great choice for parents who are willing to pay a few extra dollars on their baby's formula in order to give their brains a developmental boost.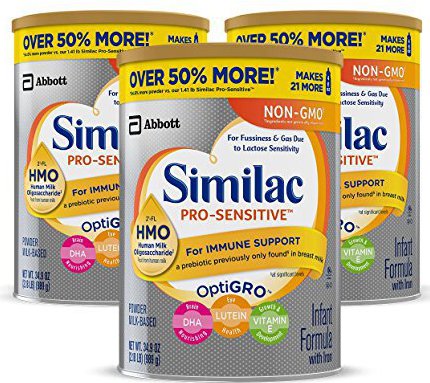 Quick Facts:
Amazon Subscribe & Save: Yes
Type: Cow's milk
Style: Powder concentrate
This Similac Pro-Sensitive formula is the only product on the market that has 2'-FL Human Milk Oligosaccharide (HMO). This is a prebiotic that helps to boost the immune systems of infants and could only be found in breast milk. This allows some of the immunity function gaps between formulas and breastmilk to become much smaller.
Many parents are hesitant when they find they need to use formula with their babies. Whether you are unable to breastfeed or are going through the transition that comes with going back to work, this formula can help make things go a lot smoother.
Ingredients: All ingredients in this formula are strictly non-GMO and include no trace of artificial growth hormones. It's formulated with the Similac patented Optigrow ingredients of DHA, lutein and vitamin E, supporting brain, eye and rapid cell development.
This milk based infant formula is specifically designed to address issues of lactose intolerance in infants. By breaking up the lactose proteins into tiny particles it makes it much easier to digest without a harsh reaction. It is not for use for children or babies with galactosemia, and it has been known to cause constipartion.
Benefits: Found to reduce the occurrence of feeding time spit ups, this formula helps babies improve their tolerance for lactose products and is gentle on their stomachs. Less mess equals more food staying in your baby's tummy.
This is the #1 brand that is recommended by moms. It comes in a choice of plastic refillable container or a classic cardboard and tin can. Both options have a convenient scoop holder on the outside so the scoop doesn't have to be put back into the powder.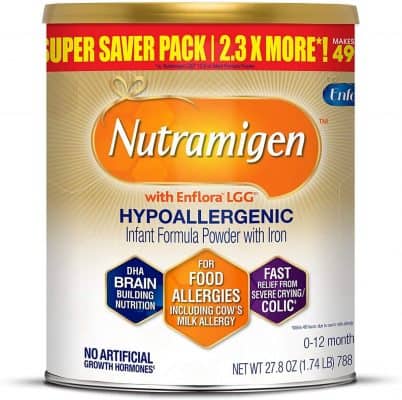 Quick Facts:
Amazon Subscribe & Save: Yes
Type: Cow's milk
Style: Powder concentrate
A colicky baby can be incredibly stressful. More than simply crying, a baby suffering from colic may scream so intensely that it seems like they are in pain. Babies affected by colic may cry three or more hours every day. One of the most common causes of colic is food allergies. Enfamil Nutramigen Hypoallergenic Colic Baby Formula is lactose-free and provides quick relief for babies who have an allergy to lactose.
Ingredients: Enfamil Nutramigen Hypoallergenic Colic Baby Formula is the only formula with Enflora LGG, a compound that assists in managing colic that occurs as a result of allergies. This formula also contains ingredients designed to boost your baby's development in a variety of ways. This includes iron, DHA, and ARA.
Benefits: Enflora LGG is proven to relieve colic caused by cow's milk allergy in less than 48 hours. This can be an absolute lifesaver for parents who are being kept up at night by crying babies. Additionally, because babies who are allergic to cow's milk are more susceptible to other kinds of allergies as they grow older, LGG is formulated to help reduce the chance of future allergies by up to 50%.
While it's not the most expensive formula we reviewed, parents do have to pay a premium for the hypoallergenic ingredients in this baby formula. We still think it's an excellent value for parents of babies with allergies.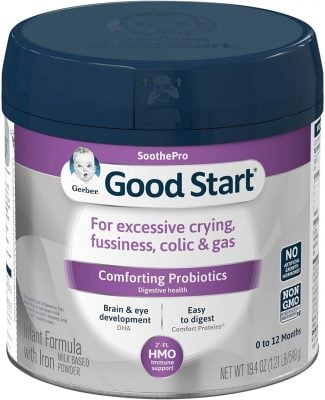 Quick Facts:
Amazon Subscribe & Save: Yes
Type: Cow's milk
Style: Powder concentrate
Babies only start using their own digestive systems after they are born. Prior to birth they are solely reliant on the umbilicus to provide them with their nutrients straight from their mother.
After babies are born, it can take some a little while to adapt to eating differently. Some time is required to allow the digestive system to adapt. It can take some time for the proper bacteria to accumulate in the digestive tract causing some sensitivity to some formulas.
Gerber Good Start Gentle Powder is specially engineered to protect sensitive stomachs from any harsh ingredients that may be irritating. Gerber uses their patented Comfort Proteins that have been broken down to help ease the digestion process. Smaller particles are easier for the new digestive systems of infants to digest making them less fussy and unhappy, though it may cause some light gas or constipation.
Ingredients: This formula is closely modeled after natural breast milk. It is the only one that has DHA, pre- and probiotics as well as antioxidants to aid in the breakdown of protein. The formula is milk-based and is formulated using only non-GMO ingredients.
Benefits: There is no strong odor with this product that is commonly found in other powder formulas. Sometimes a strong odor from a formula can translate to the taste causing your baby to reject it. It is suitable for infants from birth to 12 months without having to change up a level.
It can greatly reduce the amount of spit up accidents during feedings. This helps ensure that your baby is getting the proper amount of nutrition and not wearing most of a bottle on their bibs.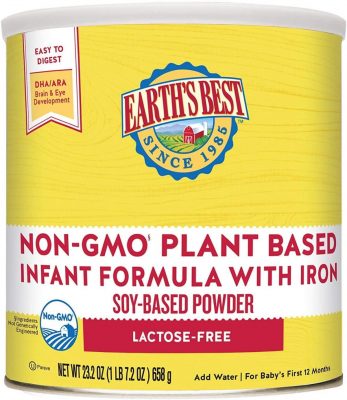 Quick Facts:
Amazon Subscribe & Save: Yes
Type: Soy
Style: Powder concentrate
The Earth's Best Organic Soy formula is easy to digest and is formulated after natural breast milk. It is nutritionally complete and complies with all FDA requirements and is suitable for infants from birth to 12 months.
Ingredients: This soy-based formula is enriched with iron and completely lactose-free and gentle on fussy stomachs. Lactose intolerance in infants is what generally causes gas build-up resulting in unhappy and fussy babies. It is a great option for babies with allergies while still providing maximum nutrition. For parents that wish to promote a vegan diet to their infants, this is an excellent option. Soy infant formula has not been scientifically found to be unsafe, but many parents still prefer to avoid it, so only buy this formula after reading the debate surrounding this controversial ingredient.
It contains twice the level of DHA fatty acids that is found in other milk-based formulas. The high amount of this quality protein will help ensure the proper development of the brain and eyes.
Benefits: This formula is certified by the USDA to contain only the highest quality and inspected organic ingredients. There are no artificial colors, preservatives, GEI, pesticides or herbicides in any parts of the contents. This ensures that parents are only giving their baby the best the earth can offer.
It has been shown that this lactose-free formula can help reduce eczema as well as colic caused by allergic reactions to milk products. Keeping your baby free of gas and much more comfortable and happy after feedings is important to the comfort of the whole family. This is not specifically a treatment for allergies but a reliable option for those that are dealing with the symptoms of colic and cow milk intolerance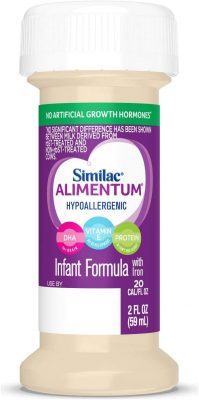 Quick Facts:
Amazon Subscribe & Save: Yes (only available in the quart size)
Type: Cow's milk
Style: Ready-to-feed
Similac Alimentum is a hypoallergenic and lactose-free formula option for babies that are suffering from allergies to the sugars found in cow's milk.
While still providing excellent nutrition to your baby, the lactose-free formula will calm your baby's gas, fussiness and eczema symptoms within 24 hours. Keeping babies happier and letting parents get a little well deserved rest.
Ingredients: This fortified formula has added iron and is Omega-rich with DHA and ARA proteins that help aid in normal organ, brain and bone development. There is no need for parents to be concerned that this formula for allergies is lacking in any nutrition for their babies.
Although it is lactose-free, the Similac Alimentum formula contains a milk protein that is vigorously broken down to the tiniest particles. The proteins are so small that they can eliminate any allergic reactions for babies that are intolerant to cow's milk—though some minor constipation may occur.
Benefits: The formula contains no palm olein oil and is corn product free. The larger size packaging can provide you with 60% more 6 oz bottles than with most formulas, making it last longer with fewer trips to the grocery store. Because the Similac brand name is known around the world, you will not have any problems picking up your formula at any store or online.
Quick Facts:
Amazon Subscribe & Save: Yes
Type: Cow's milk
Style: Powder concentrate
Babies who are constipated are in pain, and most parents will try and do whatever they can to help relieve that pain. Thankfully, Reguline baby formula from Enfamil is a great solution that can ease your baby's digestive issues in just one week. More importantly, this formula can be used every day in order to promote soft stool until they are ready to begin adding solid food to their diet. It also contains 30 nutrients for growth and immune health.
Ingredients: The key ingredient in Enfamil Reguline that is used to promote healthy digestion is the patented dual-prebiotic blend. Additionally, this formula is made using only easy-to-digest proteins. It is also packed with vitamins and nutrients intended to promote the development of their baby's mind and body.
Benefits: Of course, the primary benefit of Enfamil Reguline is that it contains a proven prebiotic blend that can help relieve your baby's discomfort caused by constipation. This blend works by feeding good bacteria with a carbohydrate that can also be found in breast milk.
Only slightly more expensive than most value-priced baby formulas, Enfamil Reguline is a bargain for parents with babies that have digestion problems. Unfortunately, unlike other Enfamil products, there is not a larger value size.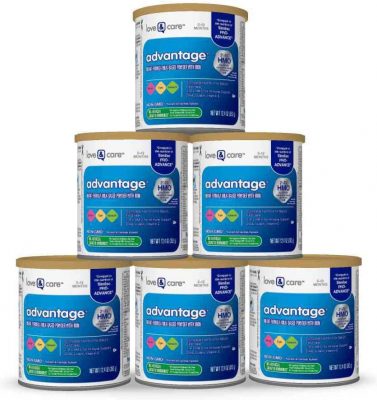 Quick Facts:
Amazon Subscribe & Save: Yes
Type: Cow's milk
Style: Powder concentrate
Sold under the "Love & Care" brand name, this baby formula is a good choice for parents who want to offer their babies superior nutrition without paying a premium price. Each large container contains 23.2 ounces of milk-based powder and contains no artificial growth hormones. Love & Care formulas are produced in Vermont and Ohio in the USA. We encourage parents with any budget to try a generic formula once as it can save you a lot of money in your baby's first year.
Ingredients: Even at the low price, Love & Care Advantage Infant Formula contains many premium ingredients that are often only found together in premium baby formulas. These ingredients include DHA, the probiotic HMO, zinc, Lutein, and vitamins A, C, and E.
Benefits: Love & Care Advantage Infant Formula provides complete quality nutrition for any baby between 0 and 12 months. One area where this formula does not perform as well as its brand-name counterparts is taste. While there are many babies that take this formula with no complaint, babies tend to reject it at a slightly higher rate.
Value: For babies who like it, Love & Care Advantage Infant Formula carries the best nutritional bang for the buck of any of the baby formulas we reviewed. Parents using this formula instead of a comparable brand name can expect to save over $300 in the formula during their baby's first year.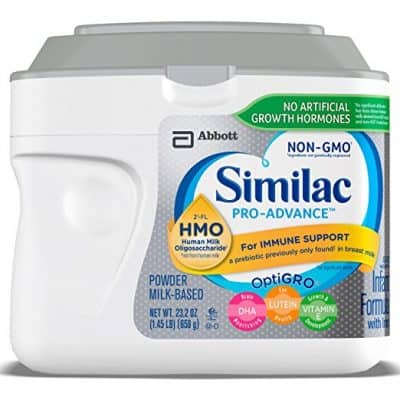 Quick Facts:
Amazon Subscribe & Save: Yes
Type: Cow's milk
Style: Powder concentrate
The Similac Pro-Advance Non-GMO formula is the #1 choice of mothers and the most used formula in hospitals. It contains excellent levels of nutrition that will support healthy growth and development in your baby through the first year.
Ingredients: This is the only brand of formula that contains 2'-FL HMO, an immunity-boosting probiotic that can only be found in breastmilk. The gap that can be found between breastfeeding and formula feeding is narrowed with this product that is the closest match to a mother's milk.
The Similac Optigrow formula contains healthy levels of DHA, lutein, and vitamin E to promote excellent brain, eye, and bone development. There are no growth hormones in this formula and all its ingredients are tested to contain only the highest levels of nutrition—though the powder does have a slightly off milky order.
Benefits: By developing a strong immune system in your baby, you are protecting them in the most critical stage of their development. The presence of the 2'-FL HMO probiotic is a step ahead of other products in keeping babies safe from infection and viruses.
For the parent's convenience, this formula comes in a choice of powder or Ready to Use formats. When making the transition from breast milk to formula, parents agree that this product was easy to integrate into their baby's routine.