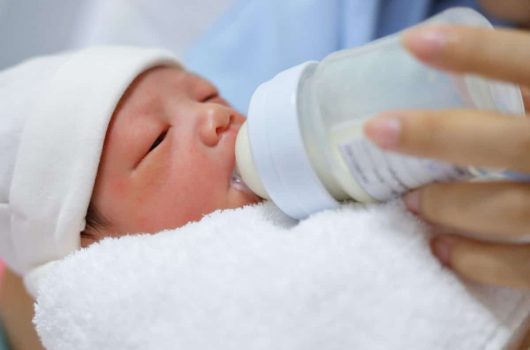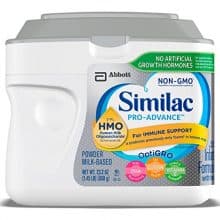 Similac Pro Advance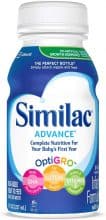 Similac Advance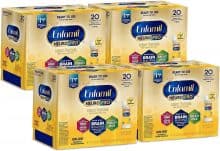 Enfamil NeuroPro
Previous
Next
Making sure your baby has healthy, nutritious food is one of the most important things a parent can do during their baby's first year. Conventional wisdom says that the best way to do this is by breastfeeding, but advances in baby formula have made it so that no parent ever has to feel guilty for supplementing or replacing their infant's food with formula. A good baby formula provides all the nutrition a baby needs for the first 12 years of their life. Parents have a huge selection of formulas that address a wide variety of health and developmental needs. To help you pick the right one for your newborn, here are the 10 best baby formulas to buy in 2020.
Where can you find popular baby formulas?
What to Know Before Picking a Formula
Formula Basics
The first year of your baby's life is an exciting time, but it can also be confusing. With so many decisions to make, most parents don't have the time to research every ingredient in their baby's food, leading them to fear that they are feeding their babies the wrong thing. Thankfully, baby formula and its ingredients are not as complex as it may appear at first glance. Here are the basics you should know before picking one.
Types of Baby Formula
The first decision parents need to make concerning their baby's formula is what the base ingredient can be. Here are some of the common ingredients used as a base for baby formula.
Cow's Milk: The most common and least expensive type, baby formulas made from cow's milk should be most parents' first choice unless their pediatrician suggests one of the alternatives below.
Soy Milk: The most frequently used base for vegan formulas, Soy milk is often used for ethical or environmental reasons. Earth's Best Organic Soy Infant Formula is our favorite soy-based formula.
Lactose-Free: Allergies to cow milk can cause colic, intense crying for three or more hours per day. Enfamil Nutramigen is our pick for babies with allergies
Formula Style
Now that you have an idea what kind of ingredients you are looking for, the next thing to consider is preparation. As a new parent, you will be making lots of baby formula over the course of the next year. You have a few options when it comes to how you'll be preparing your baby's formula.
Powder concentrate: This is the most common type of baby formula, the least expensive, and the one we strongly suggest most parents choose, especially if they want to order formula online. Preparing this formula is done by mixing equal parts of powder and water in a bottle.
Ready-to-use: Usually delivered in individual bottles, ready-to-use formula arrives in liquid form and requires no preparation. While this can be useful in some situations like while traveling or at a theme park, the large increase in cost means that most parents will want to pick powder for their everyday feeding. Our favorite ready-to-use baby formula is Similac Alimentum.
Liquid concentrate: The worst of both worlds, liquid concentrate is more expensive and still requires mixing! Especially when buying formula online, be sure to avoid this kind of baby formula.
Added Nutrients and Benefits
Finally, once you have it narrowed down to a few different formulas, you'll want to make your decision based on the additional nutrients and benefits offered in each formula. Some are meant to address specific conditions and needs, while others are intended to provide a more general boost to your baby's development. Here are some common additives seen in baby formula.
Iron: Iron is an important mineral that aids in muscle growth and bone building. Iron has a reputation for causing constipation, but this is a bit of a misconception as the amount contained in baby formula is usually not enough to cause this.
Prebiotics/Probiotics: These ingredients are made to aid in digestion and soothe babies who are having tummy troubles. While most baby formulas contain some of these, formulas like Similac Pro-Sensitive are specifically designed for sensitive stomachs.
DHA/ARA: Synthesized fatty acids originally found in breastmilk, one or both of these additives are found in most formulas available. They are important for healthy brain and eye development.
Now that you have a better idea of what to look for, here is our list of the top baby formulas for 2020.
Top 10 Best Baby Formulas 2020
Guide to Buying the Best Baby Formula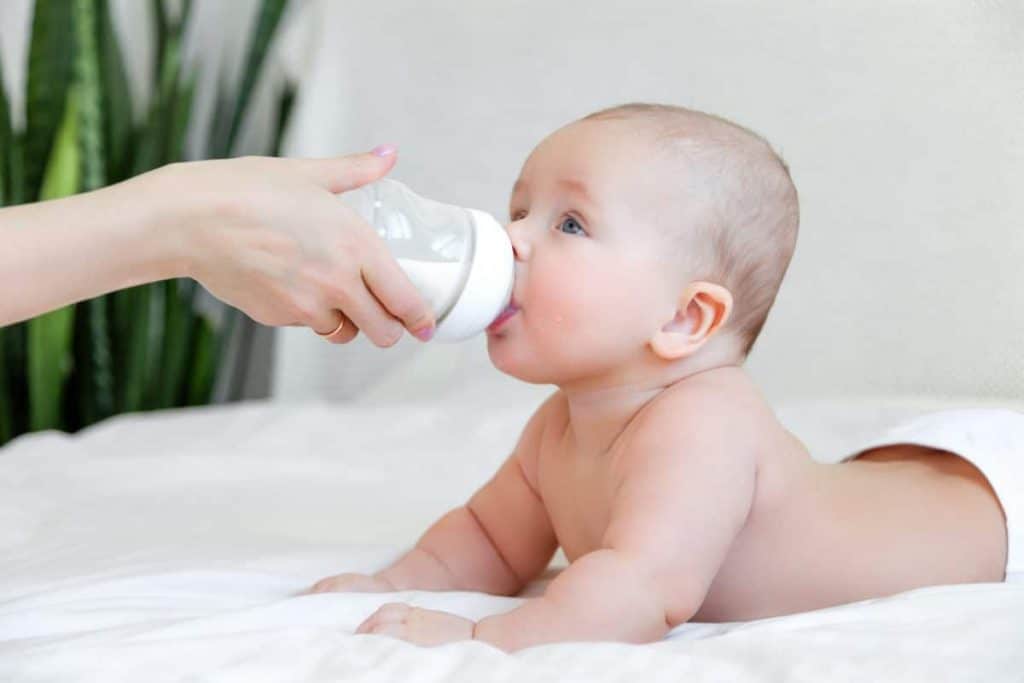 For many parents of newborns, there can be a high level of anxiety that comes with the desire to provide only the best products for their babies.
Science is still unable to fully replicate the undeniable benefits of breast milk but it is coming closer every day. Many parents that are starting the transition to formula feeding can be overwhelmed by the sheer options that are available on the market.
Knowing the facts about formulas and the ingredients that will be most beneficial to your baby is the best place to start. Every formula is required to meet specific nutritional guidelines, but not all products are equal.
Some products are engineered to address certain infant issues like lactose intolerance, or difficulties in proper digestion. Each baby has very different needs and having all the information about your choices can make your decision a bit easier.
Let's take a look at some of the basic information about formulas. The different serving styles, formats, and specific formulations. Getting to know what will work the best for your baby's needs will save you time and headaches and help keep your baby happy.
Formula Base
Infant formulas come in a variety of base ingredients. From cow's milk to lactose-free mixtures there are several options to choose from. Most babies are content with a cow's milk formula, however, the following options are also available to meet the specific needs of your baby and lifestyle.
It is important to not switch formulas too often. If your little one is having difficulty with a certain brand, talk to your doctor about the symptoms, and get a recommendation as to what may work better. Having constant changes in a formula can make digestion difficult and cause tolerance issues to become worse.
Cow's Milk:
This is the most common formulation in formulas and contains an altered milk protein that makes it easier for infants to digest without gassiness or spit ups.
Often the most economical choice and is widely available in stores and online
Soy Milk:
This is a popular choice for families that are living a Vegan lifestyle
Contains altered plant proteins that are broken down for easier digestion
An option for babies who are intolerant to lactose causing them issues
Lactose-Free:
This type of formula is used for babies that are lactose intolerant or have allergy issues
It is not readily available in all brands and can be slightly more expensive
Corn syrup is used instead of lactose to provide needed proteins
Hydrolyzed:
Newborns have very sensitive digestive systems that are often still developing and can be sensitive during protein digestion
The hydrolyzation process breaks down the proteins into tiny particles that allow babies to more easily digest the formula with less discomfort
Often used for infants that have protein absorption issues or allergies
Metabolic:
Generally prescribed by a doctor for babies that are ill or premature
Specifically designed enzymes, hydrolyzed proteins, and added nutrients can be necessary for proper development in babies that may be struggling
Though many babies can benefit from soy milk and lactose-free formulations, hydrolyzed and metabolic formulas are only needed in rare cases.
Formula Serving Options
Powder formulas used to be the only option available to parents, but with changing times, and advanced technology, many brands come in a variety of serving options. With lifestyles that are on the go, having more choices in the preparation of formula can be a great time saver for parents.
Powder:
By far the cheapest option available
With containers primarily made from recycled cardboard, this is the most environmentally-friendly option available
No refrigeration required
Has the longest shelf life
Easy to mix equal parts water and formula
Widely available in stores and online
Ready To Use:
If you are concerned about the water quality where you live this is a safe option to use
Convenient pre-filled bottles that require no mixing or measuring
Safe to use from birth to 12 months
This is the style that is used by many hospitals to save time
They have a short shelf life and must be refrigerated
Liquid Concentrate:
A slightly cheaper option than the Ready to Use format, but more more expensive than powders
Not available in all brand names
Requires an equal mix of water and concentrate
Needs to be refrigerated
No messy powder
Nutritional Additives
Formulas are designed to provide the closest to breast milk nutrition for your baby. Although this is generally good enough on its own, many brands have added certain minerals, probiotics and nutrients to enhance the benefits of their formula.
DHA/ARA:
Omega 3 and Omega 6 fatty acids that are associated with proper brain and eye development
Found naturally in breastmilk
Iron and Calcium:
Fortified formulas have higher levels of vital Iron and/or Calcium
These are often added to formulas that are non-milk based to balance out the lack of natural ingredients found in lactose
There are low iron formulas that are available but can cause an iron deficiency in some infants if used long term
Prebiotics and Probiotics:
Developing digestive tracts in babies can struggle with not having enough healthy bacteria to aid in proper digestion of proteins
Pre/Probiotics help in the breakdown of foods and keep babies more comfortable
These are not necessary if you are only supplementing with formula as they are naturally found in breastmilk
Keep These Tips in Mind When Shopping For Formula
Most parents want to be as prepared as possible for the arrival of their child. Stocking up on things like diapers and onesies is a great idea, but be careful not to invest too much in pre-bought formulas.
It is impossible to predict what type of formula will work best for your baby. Take advantage of the samples that are given out by hospitals and find out what type of formula is already being given to your baby.
Once you find a formula that works well, it's time to shop in bulk. Powder formulas have the longest shelf life and are easy to store with no refrigeration required. Keep an eye out for product sales and brand coupons to help you save some money.
Make sure to check the dates on all of your formulas. If you are buying in larger quantities, you don't want to end up having a stockpile of formula that won't be good for very long.
Consider using a store brand of formula. Most of these options are highly recommended by parents and physicians and can help cut the costs of feeding your baby. Keep in mind that milk-based powder formulas are almost always the cheapest option.
BPA
Many brands of formula will list directly on their packaging as to whether their product is free from BPA. This is a chemical that is used in manufacturing to produce the container lining.
In certain conditions, this lining can break down and contaminate the package contents. You are more likely to find BPA-free options in formulas that come in cardboard tins than in plastic containers.
You'll also want to ensure that the bottle you're using is free of harmful chemicals, so don't forget to look at our list of the Best Baby Bottles available today.
Homemade Recipes
Although there are many family recipes that can be found for infant formulas, they are not recommended for regular feedings. There is no way to know if the levels of nutrition are sufficient enough to provide proper nutrition to your baby. The lack of certain nutrients and proteins in homemade formulas can potentially cause harmful effects.
Preparation Tips
For first time parents and for those using formulas for the first time keep these guidelines in mind to ensure safe and proper preparation of your formula.
Thoroughly wash your hands and the preparation surface before starting to mix formulas
Follow all of the directions on the brand label
Boil water before mixing. Bottled water is not recommended.
Do not try to stretch out your formula as it can lead to issues of malnutrition
Mix as you go. It is wise to only make one days worth of bottles as they should only be kept for up to 24 hours
Keep all bottles clean and sanitized (Check out our guide to the Best Bottle Sterilizers for product recommendations and tips)
Unfinished bottles should never be reheated or put in the refrigerator for later. If feeding is not finished it is best to throw it out.